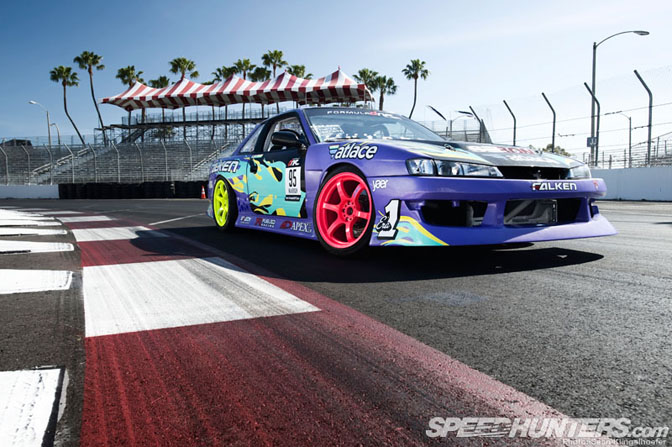 One of Formula D's best looking cars just got a little gnarlier over the offseason and although style is still on the agenda, Walker Wilkerson is looking to be competitive. This means some drastic changes have been performed since Irwindale, many will be of dismay to purists, but this new build might just put one of 2011's "hardest chargers" onto some podiums.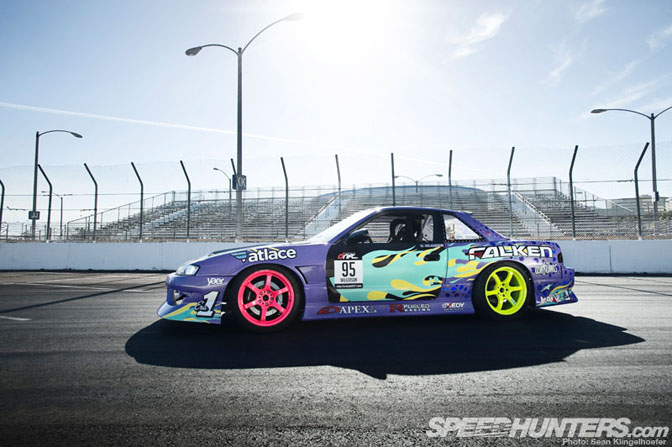 While the purple-disco-spots-on-purple-disco-paint livery remains, the first thing most of you have likely noticed is the new nose section on the car. Although some, myself and Walker included, might have some minor reservations about the conversion there's no arguing that add it adds a little more aggressiveness to the character of the car… a theme continued under the hood…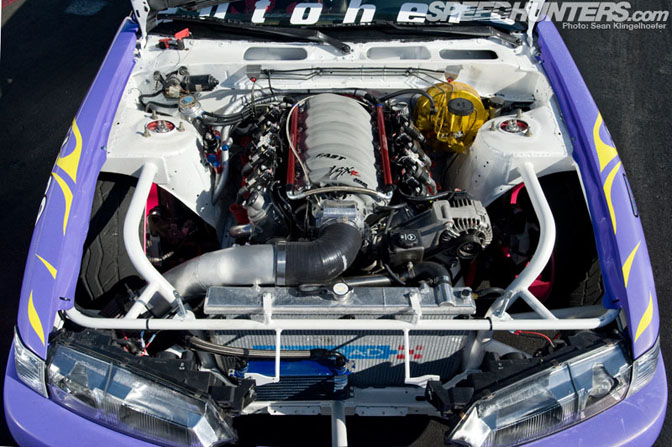 Surprise, surprise – a 7.0L V8 now occupies the bay which formerly housed a highly strung SR. Being competitive these days requires not only power, but torque by the boatloads and this is a proven winning combination, just look at last year's champ. Even in stock form the LS7 makes 505hp / 475lb-ft at the flywheel, numbers which Walker essentially replicated (roughly 500hp / 500lb-ft) at the wheels with the help of just a few readily available bolt-ons and a tune.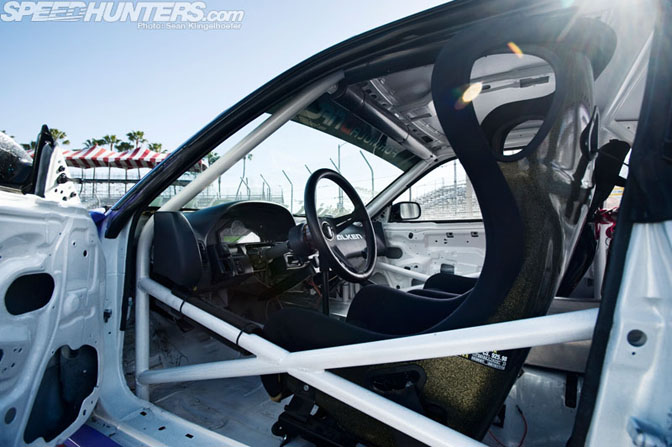 Inside the cockpit things are fairly standard fare for a drift car with a few additions and updates from last year. A few custom pieces of sheet metal have found their way into the cabin including a new transmission tunnel cover and the-soon-to-be-the-in-thing-in-drifting that Walker refers to as "the mailbox". While it may look silly, the mailbox is essentially a scatter shield for the inboard mounted Accusump system. Should something go wrong and the system were to rupture the mailbox prevents Walker from being burned to death by an oil fire.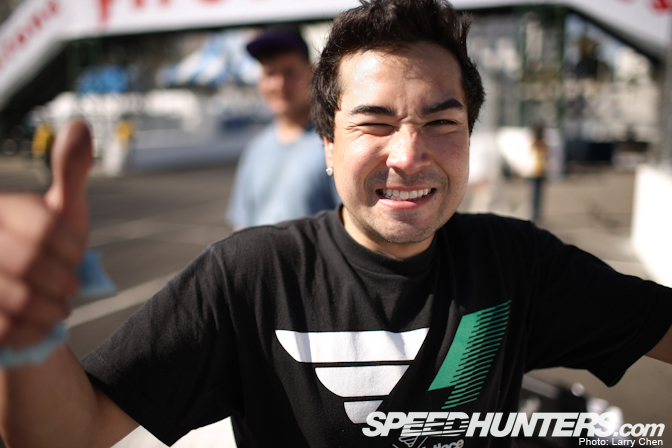 Walker's pretty juiced about the car, as you can see here, and why shouldn't he be? For a young kid like Walker to have placed 18th in last year's championship with a privateer car powered by an SR20DET is astonishing. This new setup should give him a fighting chance.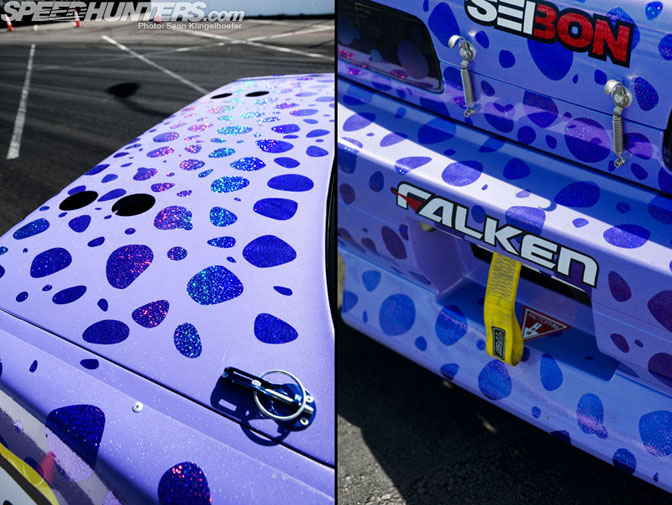 But before we go back to look at all the bells and whistles let's take a minute to admire the spot-on gaudy styling of the car. With corporate money and sponsorships flooding into drifting it seems that many drivers end up piloting moving billboards rather than expressions of their taste. You have to admire that Walker has the balls to compete in what many people would take one look at and write off as "a girl's car."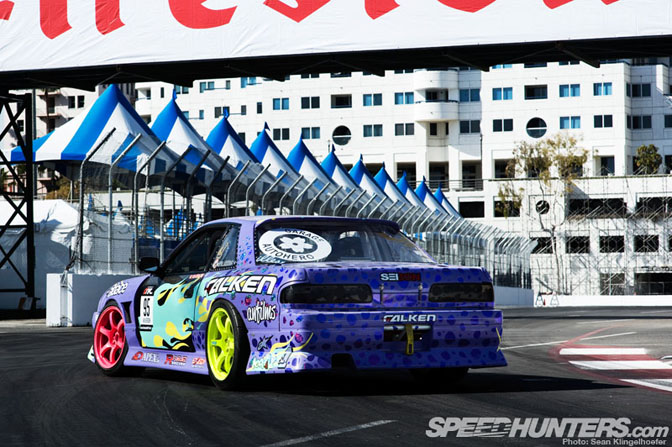 Yet at the same time the aggressive body and low ride height are about as masculine as drift cars come. The mis-matched day glow eighteen by nine and a half Gramlights put the finishing touches on the outside of the car.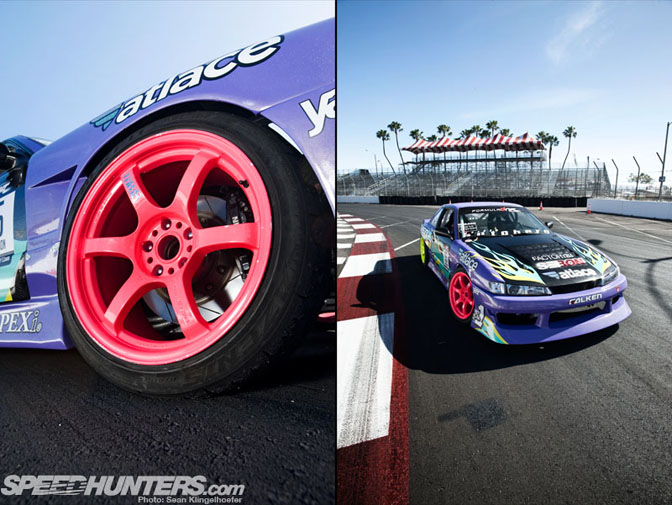 Lurking inside the barrels of the difficult to photograph wheels are a surprisingly straightforward brake setup consisting of R32 GT-R clappers front and rear, closing up on rotors from Powered by Max up front and Brembo in the rear. If it ain't broke, don't fix it.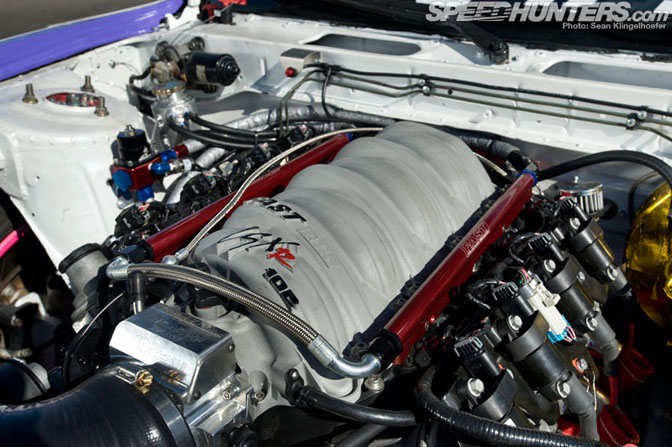 As I mentioned earlier the LS7 engine is truly state of the art from the factory and remains largely stock aside from some internals from Comp (cam, valvetrain, pushrods etc.) accompanied by a few bolt-ons from FAST (intake manifold, throttle body and fuel rails) thrown in the mix. The engine is mounted using a Fueled Racing kit and the car also utilizes the brand's long-tube headers which lead to a custom exhaust.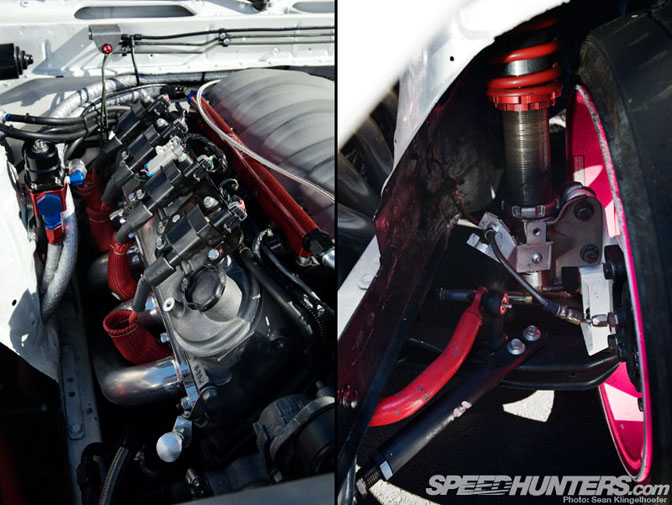 Those of you that are familiar with the car from last year will have undoubtedly noticed that the front end conversion isn't merely cosmetic as the formerly tubbed front end has been discarded in favor of a new tube skeleton. With nothing left in the fender well to restrict the extreme wheel movement allowed by the Era1 knuckles the inside of the front wheels have now been introduced to SPL tension rods and begun to self-clearance.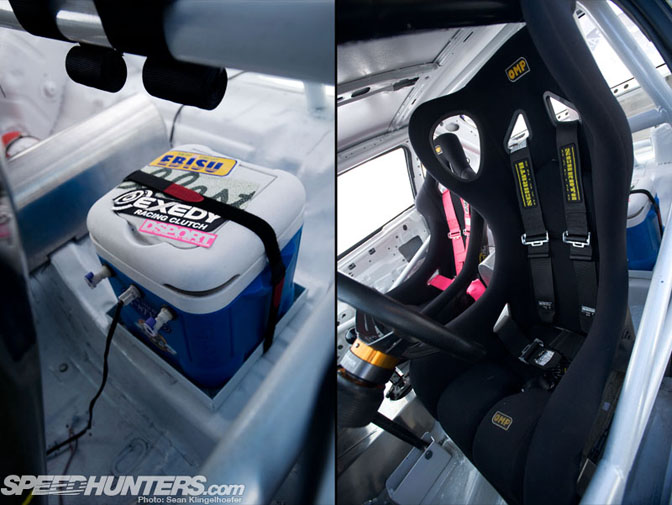 Here we see the cooler that Walker can use to store a couple of cold ones, or hook up his cool suit to, depending on his mood. Just beyond the cooler you can get a sneak peak at the aforementioned "mailbox" – pretty rad huh?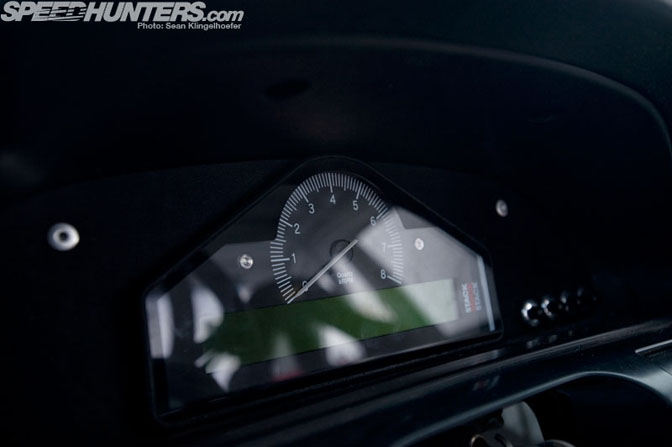 These days a STACK dash is almost the defacto must-have for competition vehicles in this segment. Although they aren't cheap, they offer all the vitals in one easy to read display that's fractions of the cost of many competitors. In addition to cost, STACK claim that most drivers react more predictably to the movement of an analog quartz stepper gauge than that of a fully digital display.
The Long shifter not only looks cool, but places the throw reasonably close to the both the hydraulic and conventional handbrake levers. Just beyond the shifter you can see a very clean switch panel wired up with a Painless harness that eventually terminates into a MoTec ECU.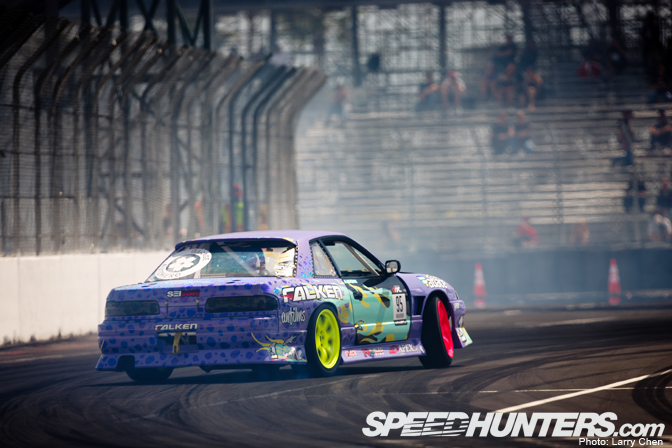 Initial driving impressions from Walker were very good and I think he may have been being modest with his review of the car. His new found power is going to open up new strategies during tandem battles and I'm excited to see how he muscles the car around.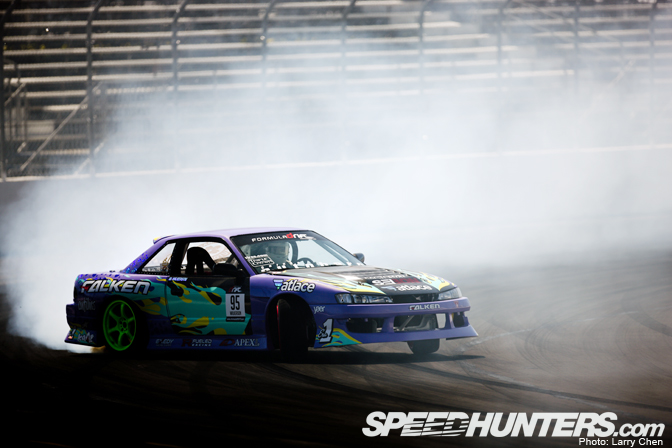 Look at that steering angle, I can just hear the tension rods grinding away!
Specs
Engine:
7.0L LS7 Chevrolet Corvette Z06 engine; Comp Cam, pushrods, rocker arms, titanium retainers, valve spring seat, valve stem seals; FAST intake manifold, 102mm throttle body, billet fuel rails; PRC dual valve springs; Aeromotive fuel pressure regulator, A1000 fuel pump, fuel filter; Accusump oil accumulator; GReddy oil cooler; Koyorad aluminum radiator; Fueled Racing tubular headers, motor mount kit, special Moroso oil pan; Garage Autohero custom 4″ exhaust
Engine Management:
MoTec ECU tuned by John Reed of Portland Speed Industries; Painless wiring harness
Suspension and Chassis:
A'PEXi S1 coil overs; Ikeya Formula tie rods; OEM S14 front lower control arms, tie rod ends; Era1 modified drop knuckles front and rear; Nismo Power Brace; SPL tension rods, toe arms, rear upper control arms, traction rods, solid subframe bushings; Tanabe sway bars; energy suspension steering rack bushings; aluminum steering bushing; Garage Autohero custom tubular front and rear end construction, Formula D compliant roll cage
Drivetrain:
G-Force GSR dog box transmission; Exedy twin disc clutch; Fueled Racing driveshaft, transmission mount; KAAZ R32 GT-R 2-way LSD; OEM R32 GT-R axles, rear hubs
Brakes:
R32 GT-R front and rear calipers, rear e-brake drum; Powered by Max front rotors; Brembo rear rotors
Exterior:
Bmagic Kouki S14 front bumper, S13.4 conversion fenders, 50mm rear over fenders; BN Sports Type 2 side skirts, Type 3 rear bumper; Seibon carbon hood, carbon doors, carbon trunk lid; 326 Power roof spoiler; graphics by Ian at Factory 83
Wheels and Tires:
Rays GramLight 57D 18×9.5+12; Falken RT615K 235/40/18 (F), 255/40/18 (R)
Interior:
OMP Pista seat (driver); TRS seat (passenger); Nardi 350mm Deep Corn steering wheel; STACK gauge cluster; custom transmission tunnel cover and Accusump "mailbox"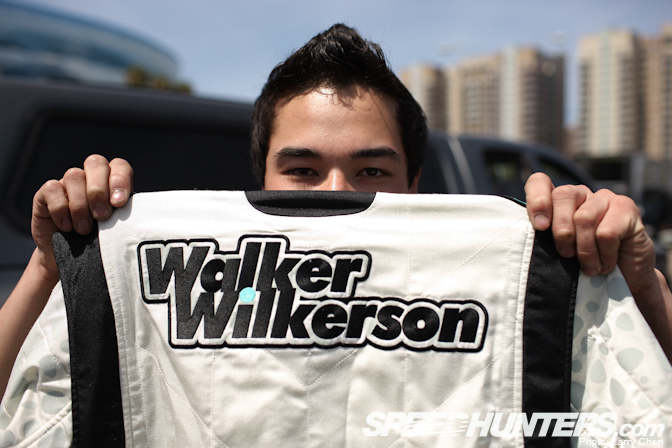 Look out FD, this man is coming for the title! On behalf of Speedhunters I'd like to wish Walker good luck this weekend, we'll be watching you!
More Formula D stories on Speedhunters
More stories by Sean Klingelhoefer on Speedhunters
-Sean