Let's get stuck into the HKS Premium Day and begin to check out all the tuner cars and owner cars that showed up this year, all combining to make the usual amazing event that this has quickly become over the last couple of  years. There were probably a little fewer cars than in 2011, probably not as many participants to the Hyper Challenge as we are used to seeing, but saying this the paddock and pits were full to the brim with so much track-ready goodness.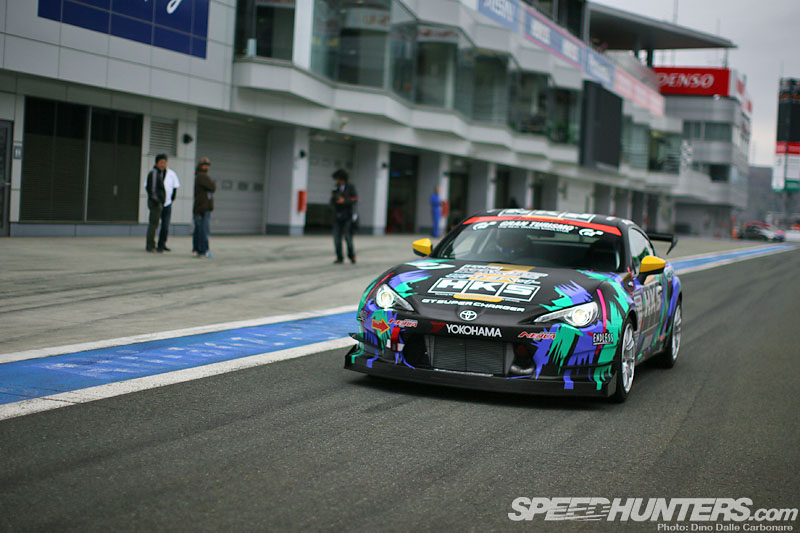 Nob's new HKS-built D1 86 led the 1-lap 86/BRZ parade. It looked and sounded like it's ready to go so let's hope Nob will be out in this at the next D1 round in Suzuka.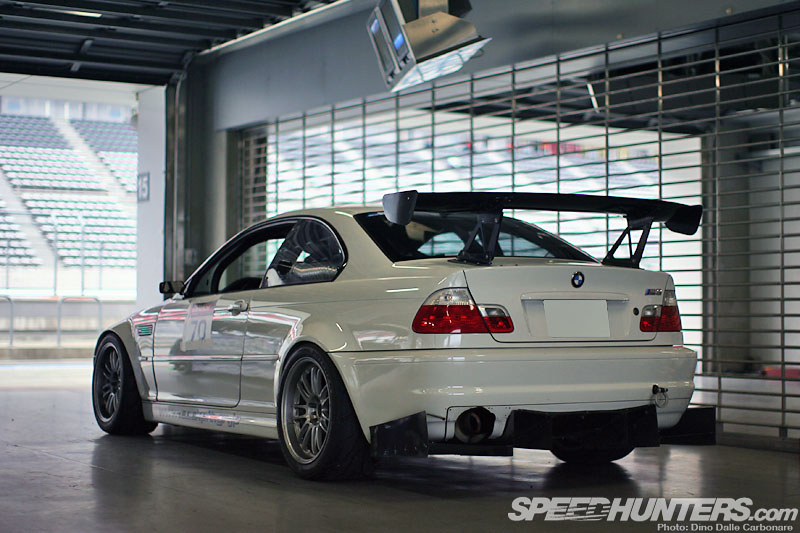 The whole concept behind the HKS Premium Day is to celebrate the collaboration the tuning giant has with all of its dealers, affiliated tuners, shops reselling their products and of course the customers. This means there are always a wide selection of cars participating, including imports like this time-attack ready E46 M3 on RE30s. Of course the title I chose for this post, "the best of JDM" also refers to imports because as we know the Japanese know how to make their imports stand out in the most unique and cool ways thanks to use of Japanese parts like wheels or aero.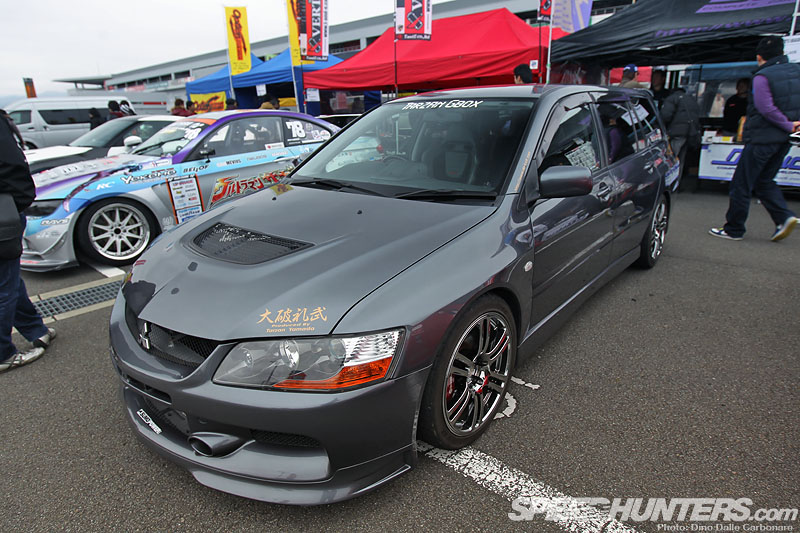 Countless well-known shops in the industry had booths with lots of parts and cars on display like Do-Luck, which has just collaborated with crazy-man pro-driver Tarzan Yamada on a new line up of digital G-sensors for the Evo and GT-R.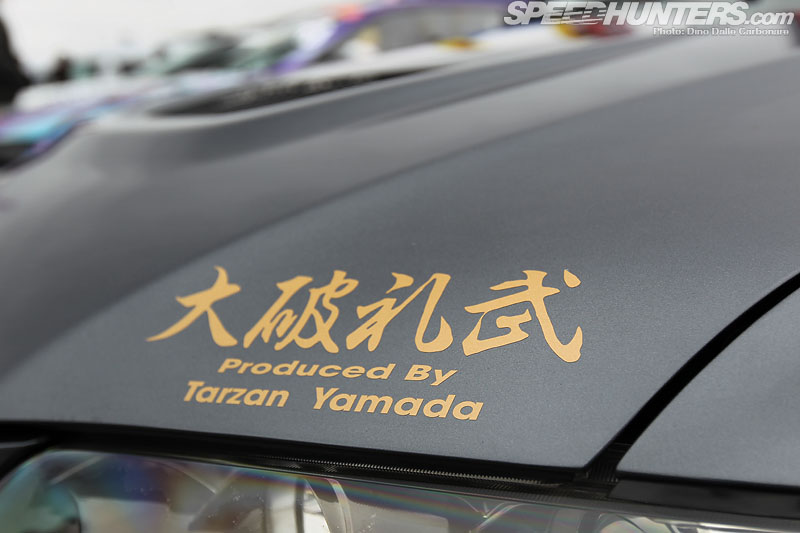 I got to chatting about this to Ito-san of Do-Luck and we have decided to get together with Tarzan and test one of these new gadgets out on my R34, which is still running the factory mechanical G-sensor unit. Now all I have to do is make sure Tarzan doesn't treat my car as a time attack machine!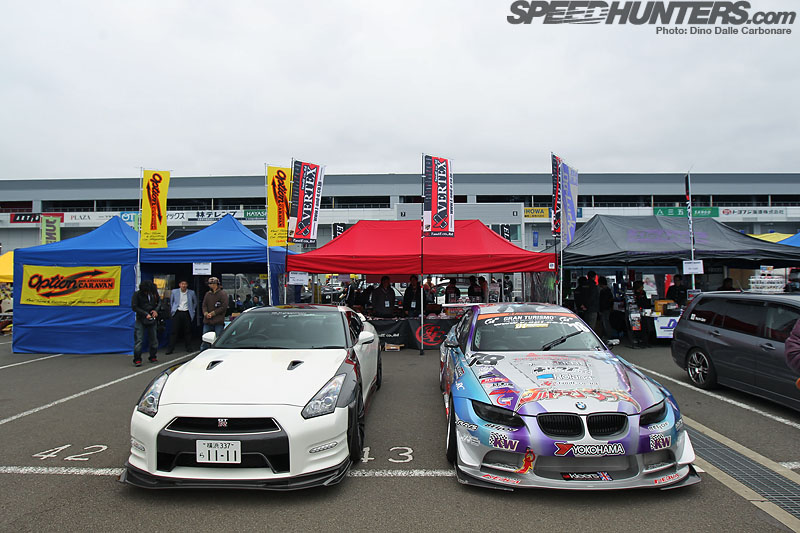 This is the third weekend in a row that I bump into the guys at T&E, first at the Nagoya Exciting Car Showdown, then in Odaiba for last weekend's D1 and now Fuji. They had Ueno's "smoke machine" along with their R35 demo car which is sporting more and more carbon parts!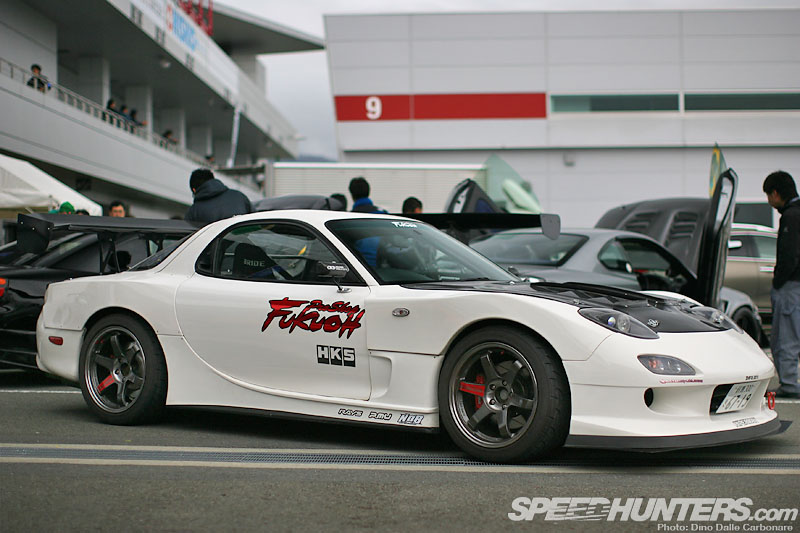 If you are into your rotaries then there was much to see at the Premium Day starting off with this Pro Shop Fukuoh FD which was brought up all the way from Nagoya.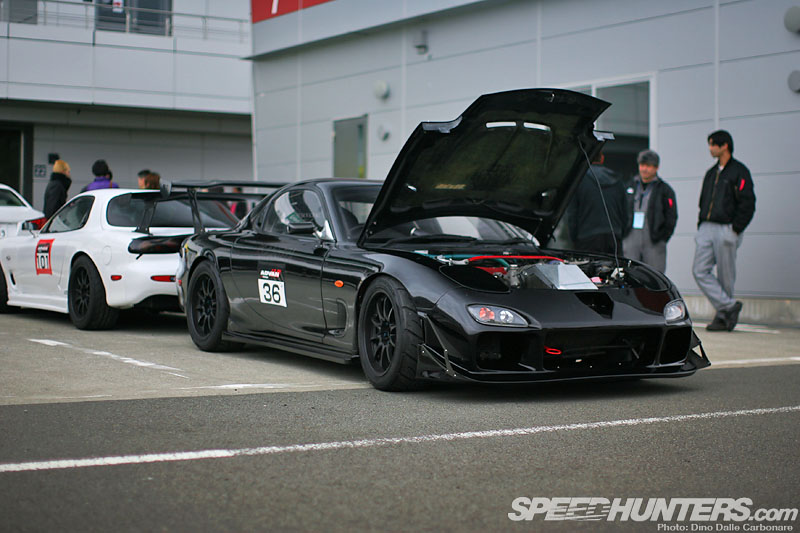 RS Pantera. along with their countless customer cars that were overflowing out of the pit they were using for the day, had their mean black demonstrator…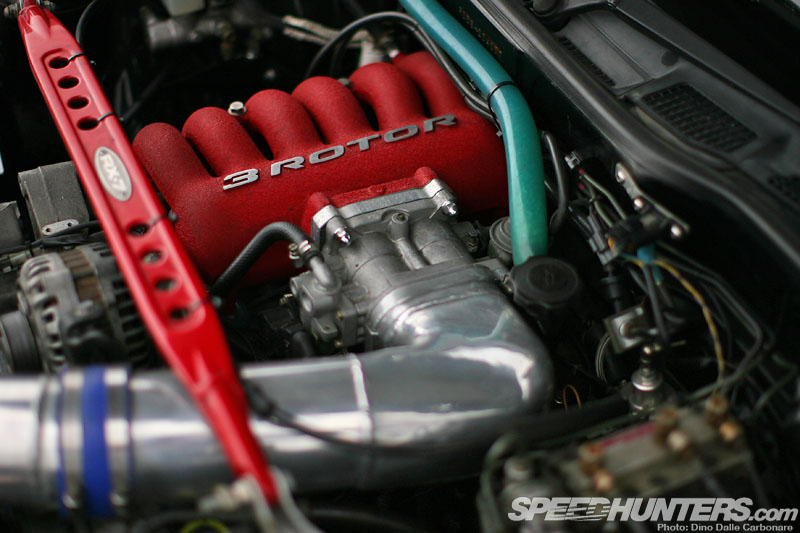 …which sounds menacing as hell out on track thanks to its 3-rotor NA set-up. Yes I know, I need to visit these guys sooner or later, I even spotted a work-in-progress customer FD running the same 3-rotor swap.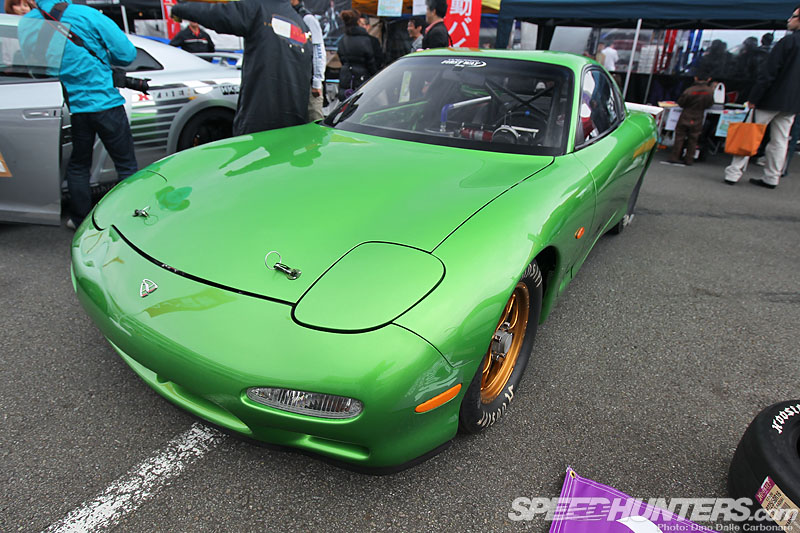 If you prefer your 7's a little more extreme then First Way Racing had something rather special on show.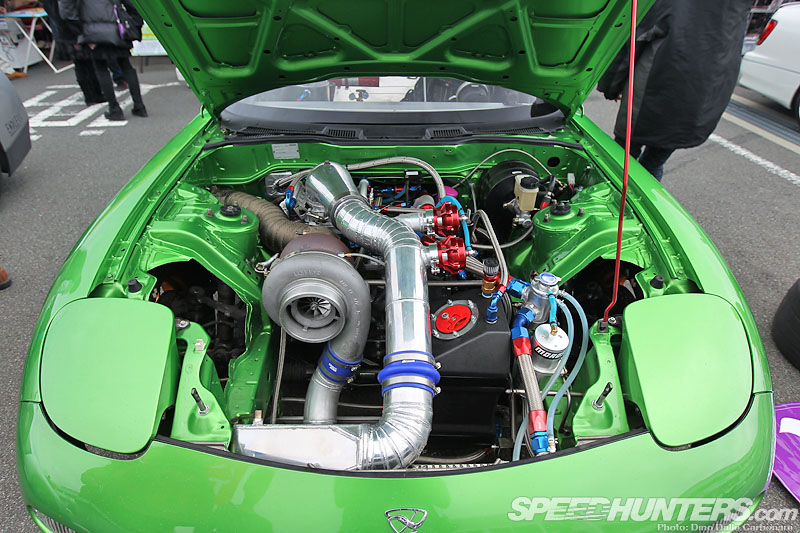 With drag racing in Japan having died down to an almost non-presence in the yearly racing calendar, it's always refreshing to see cars like this beast. Under the hood was a huge Garrett GTX45 turbo which is probably the same size of the 13B, nestled somewhere in there!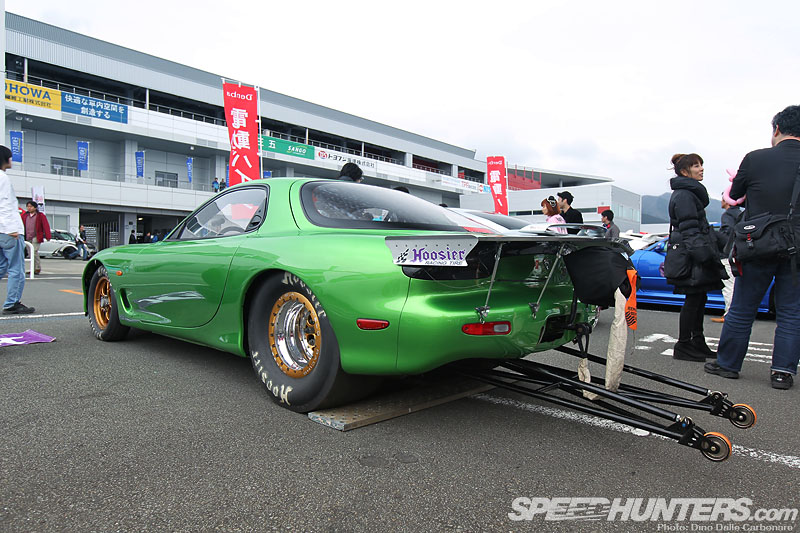 Checking out drag racing in Japan has become pretty hard, and now that Sendai Hiland is once again closed following more damage from strong winds last month there isn't really a track on this side of Japan that is set up to host a proper drag event.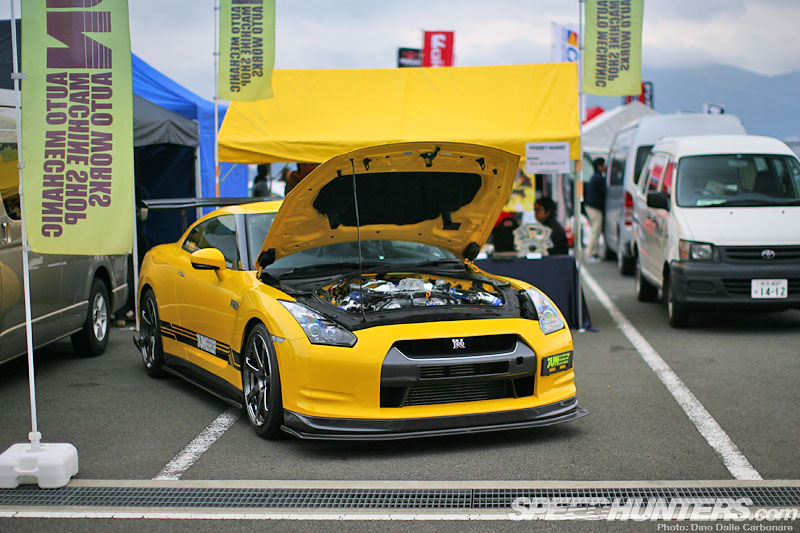 JUN may be a competitor of HKS's but there is obviously no bad blood between the two recognized and respected brands. Of course JUN uses a lot of HKS products in the cars that they build, things along the lines of turbines and various electronics. Their R35 GT-R is looking more and more serious as time goes by but it was a pity it wasn't participating in the R35 time attack event.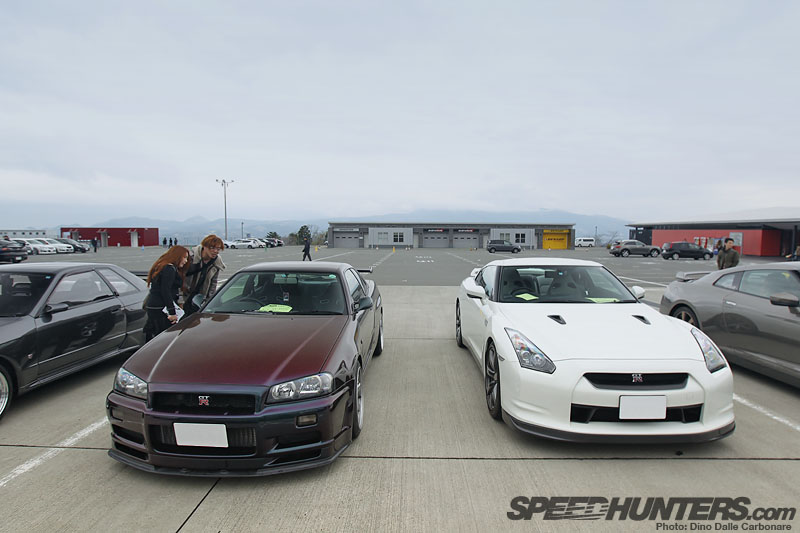 Which one would you choose?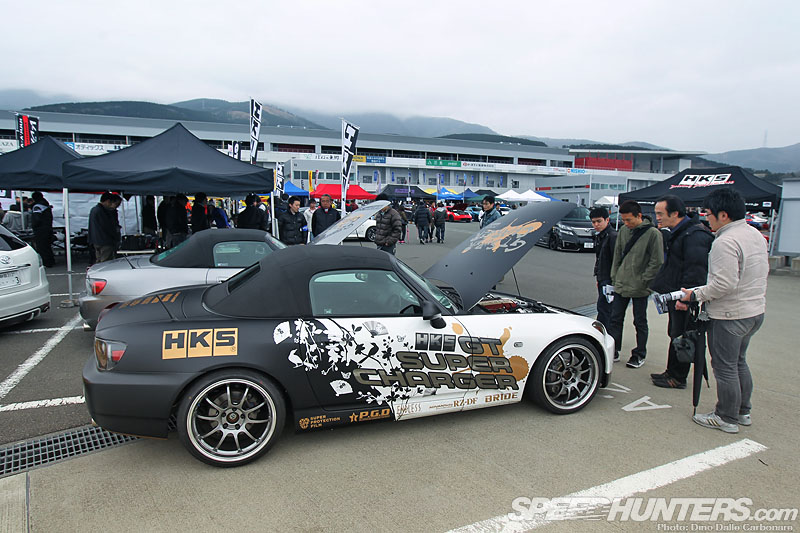 HKS's hot new upgrade for 2012 is a supercharger kit for the S2000 that was on display earlier in the year at the Tokyo Auto Salon.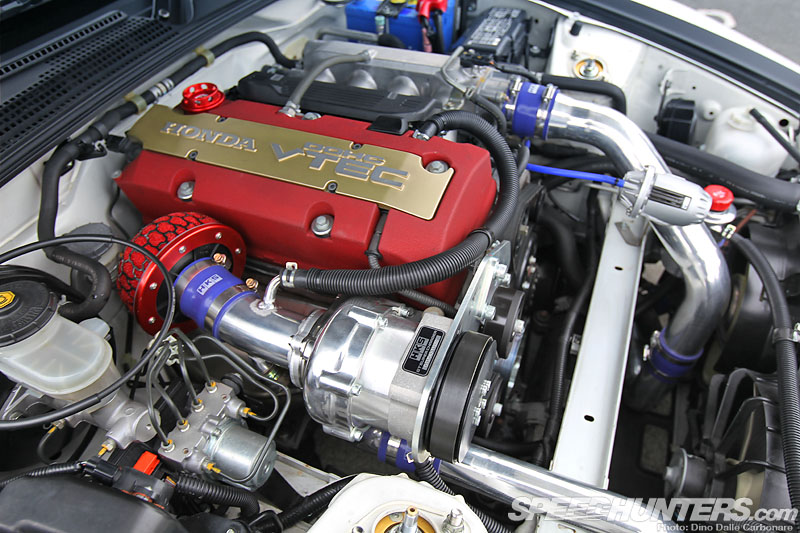 The kit has been revised a little since its debut at last year's SEMA show and is a very interesting proposition for S2000 owners, a relatively simple kit to fit, running within the limits of the stock fueling system and engine. It delivers a safe 350 HP and I'd imagine a great deal of fun!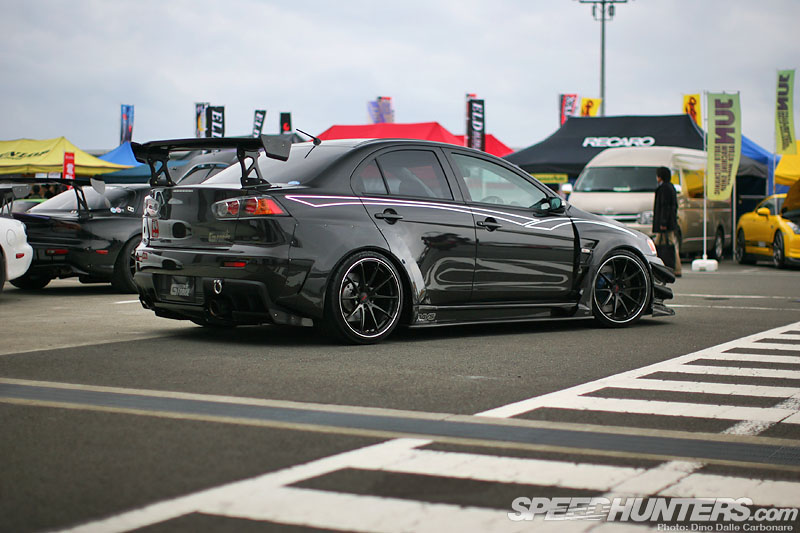 You guys seemed to like the Garage G Force CZ4A so here is another shot, this time form the rear so you can see those riveted-on rear overfenders.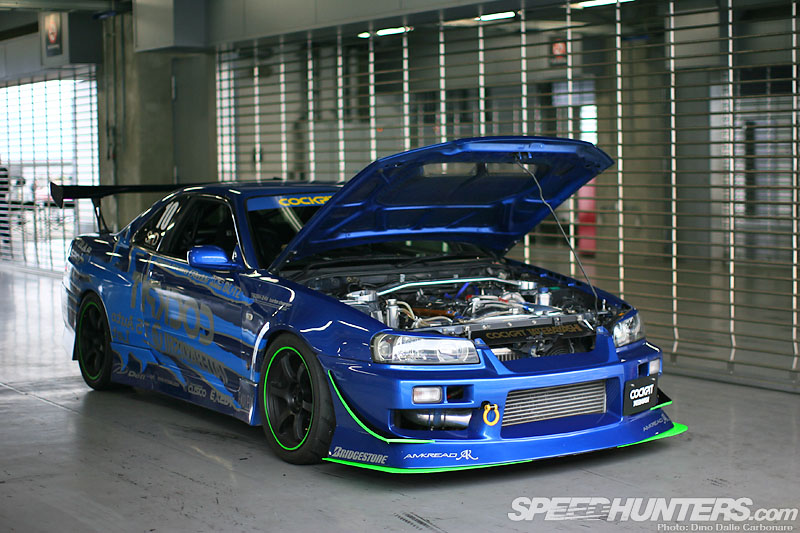 Cockpit Tatebayashi has this ER34 GT-t entered in the Option Fuji Superlap and it managed to get a fastest lap of 1'54″274 before the rain started. That is impressively fast and the time was also possible thanks to the skills of pro driver Yasushi Kikuchi.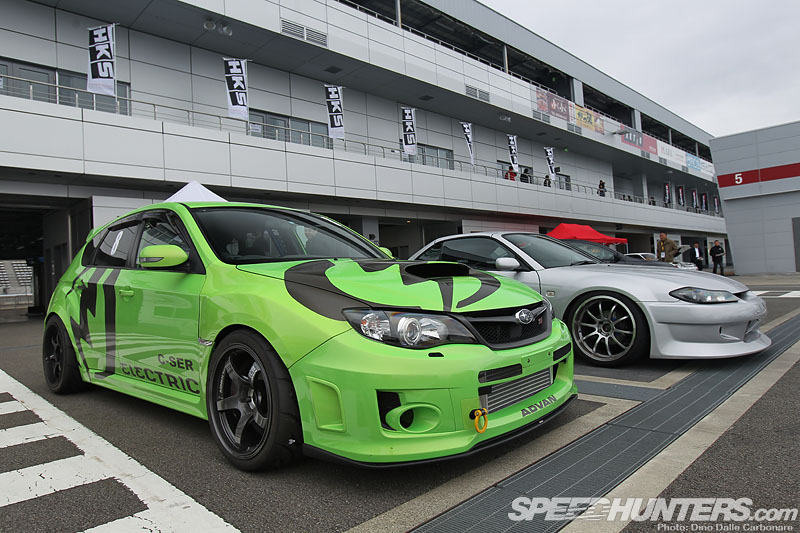 Okamura-san from Yashio Factory was out in his GDB and participating in the 4WD class and posted a best of 1'53″580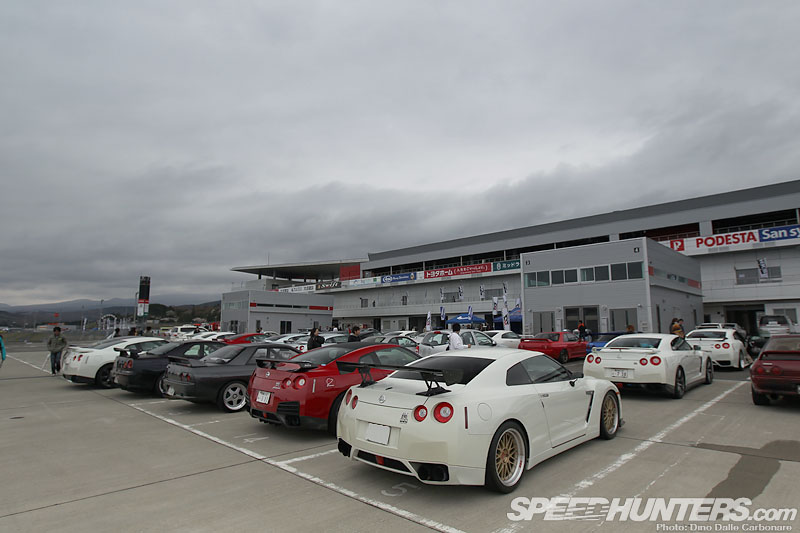 If you are into GT-Rs then the HKS Premium Day is a must, as you not only see all the tuner cars but also a big number of private cars and what owners do with them.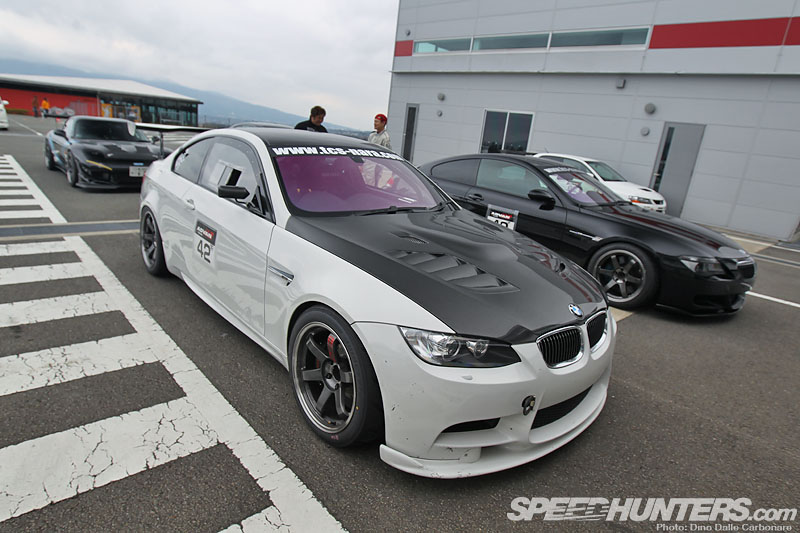 Another JDM-ized M3, this time an E92 on TE37SLs from Total Car Produce Nara.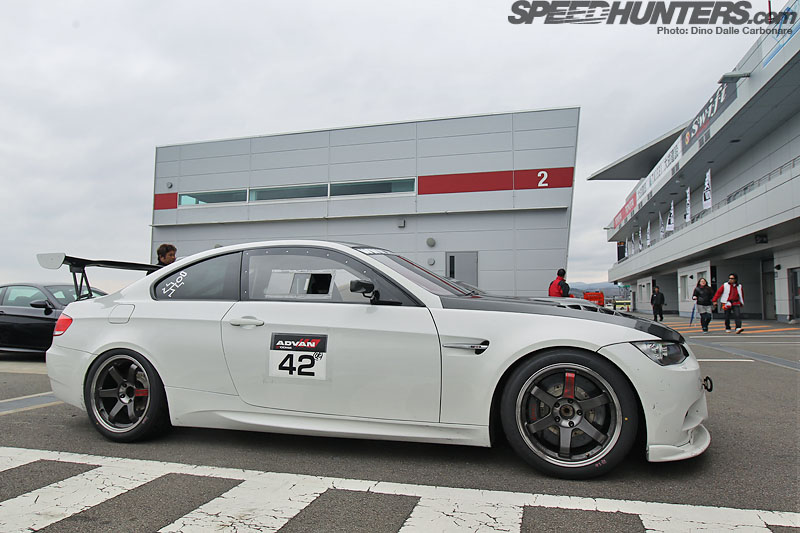 This is obviously one serious car, the shop having even replaced the glass for lexan race windows. Oh and have a look at the massive Endless monobloc braking system filling up the Volks!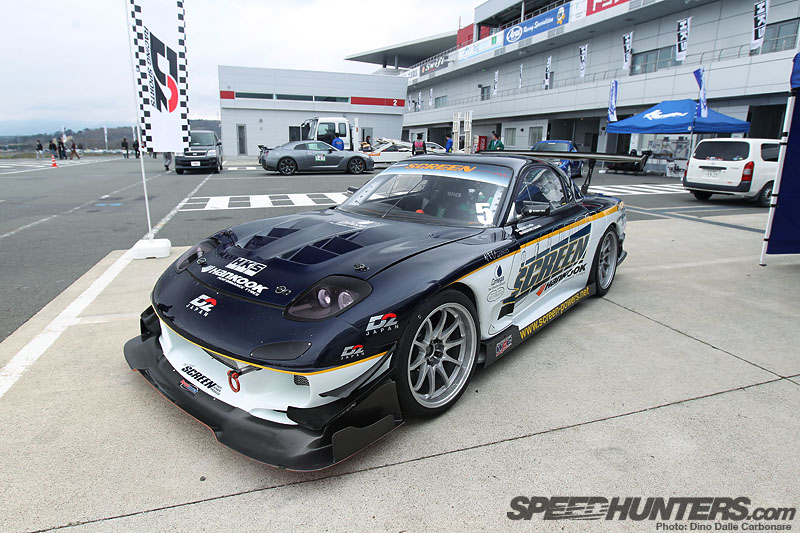 Screen posted the fastest 2WD-class time with their FD3S, a 1'47″651. Before a light drizzle started late in the morning there were almost optimal air and track temperatures for time attacking.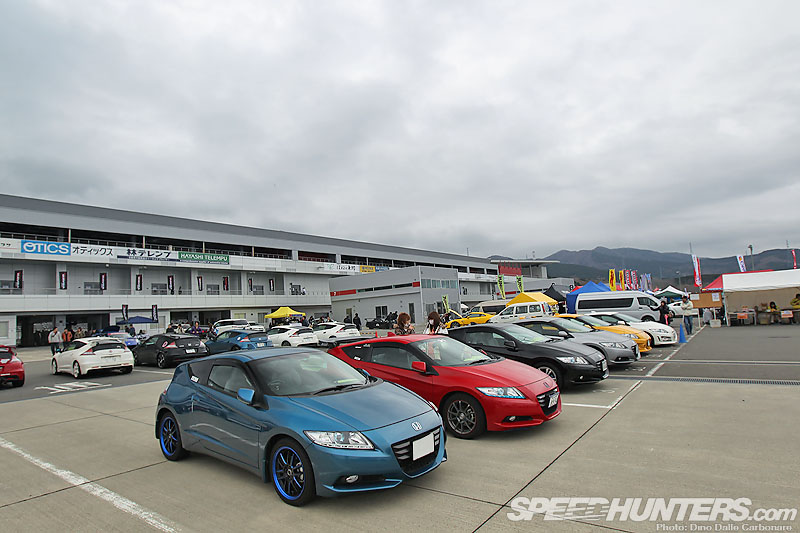 The CR-Z has been very well received in Japan and as you would expect almost everyone has upgraded their car in some way or another.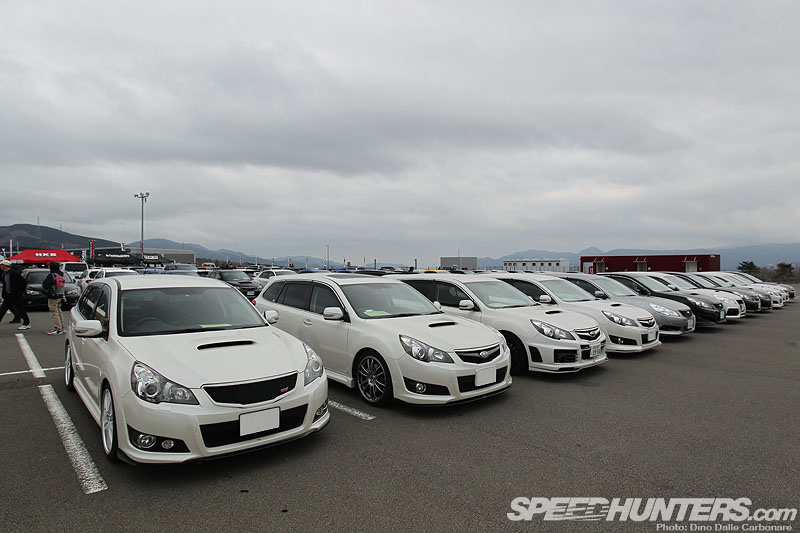 Check out this line up of new-gen Legacies! The car has grown to almost SUV-like proportions from the BL/BP but with a few choice parts and upgraded wheels people are really making them look pretty damn good!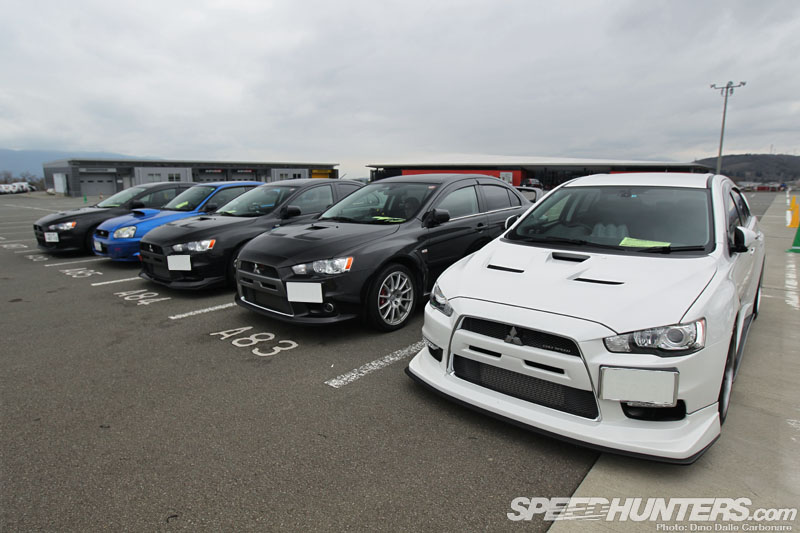 There were quite a lot of Imprezas too, but the Evo showing was minimal this year.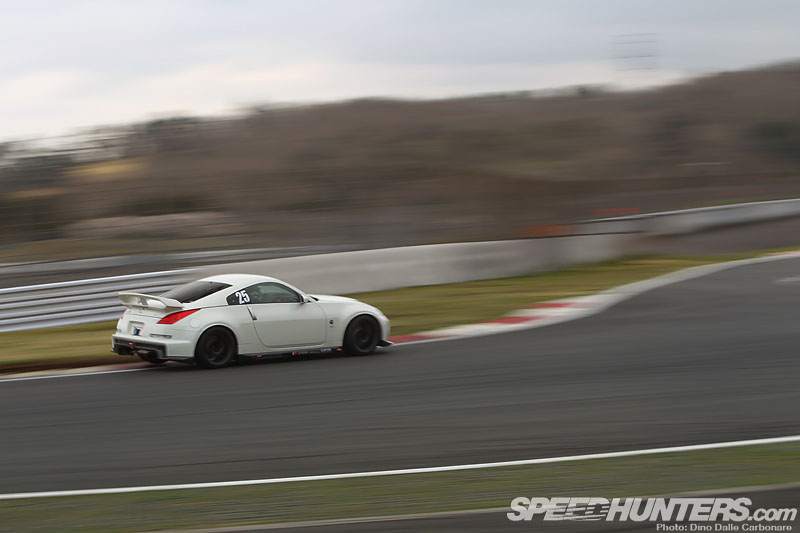 Super Autobacs Sunshine Kobe brought their Nismo 380RS based Z33, entering it in the 2WD class. It did rather well dipping under the 2-minute barrier with a 1'57″103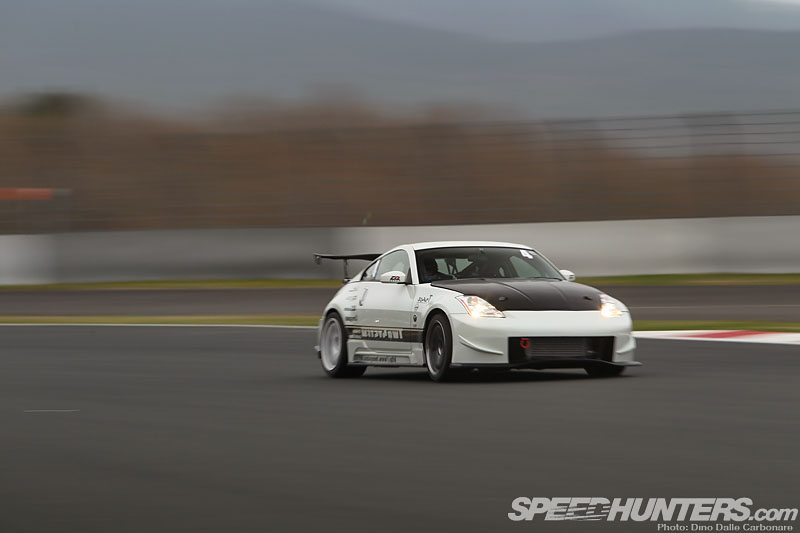 I was very impressed by the 1'53″929 that the Garage Mak supercharged Z33 managed to record thanks to Manabu Orido's skills behind the wheel. It was also by far the loudest car at the event!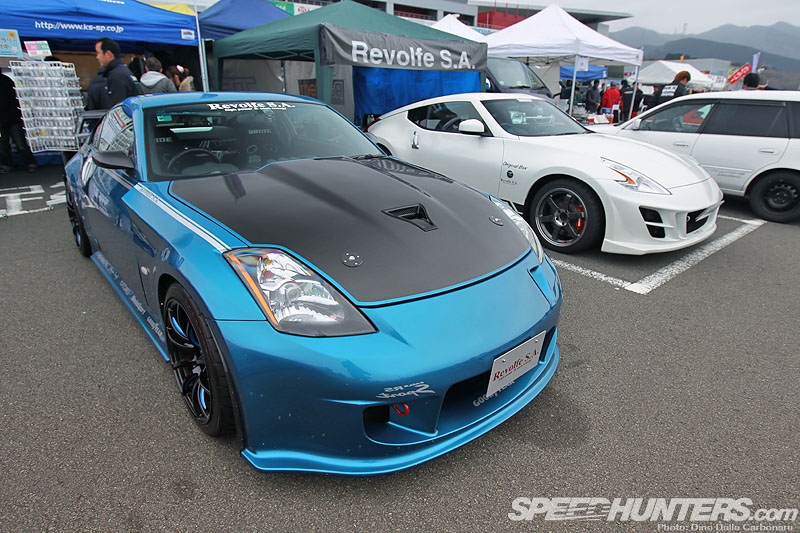 And here is another Z33 that stood out on the day, a collaboration between Revolfe S.A. and Do-Luck, a car we previously saw at the Tsukuba Super Battle in December last year. It was just on display on Sunday however, next to their new Z34.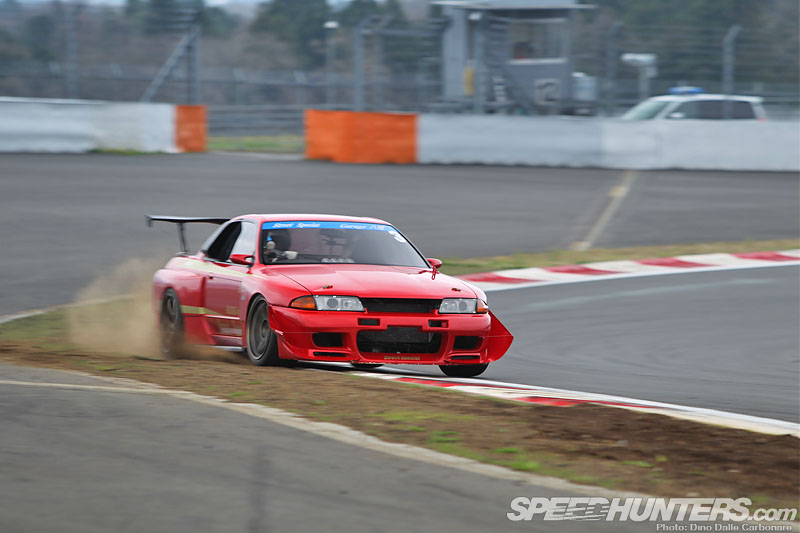 After posting the second fastest lap on the day, a 1'44″267 on board the Garage Yawata BNR32 (yes the bizarre twin-turbo set up from TAS has been removed), Orido had a little close call on the penultimate corner, running a bit wide due to understeer caused by the drizzle that by then had started.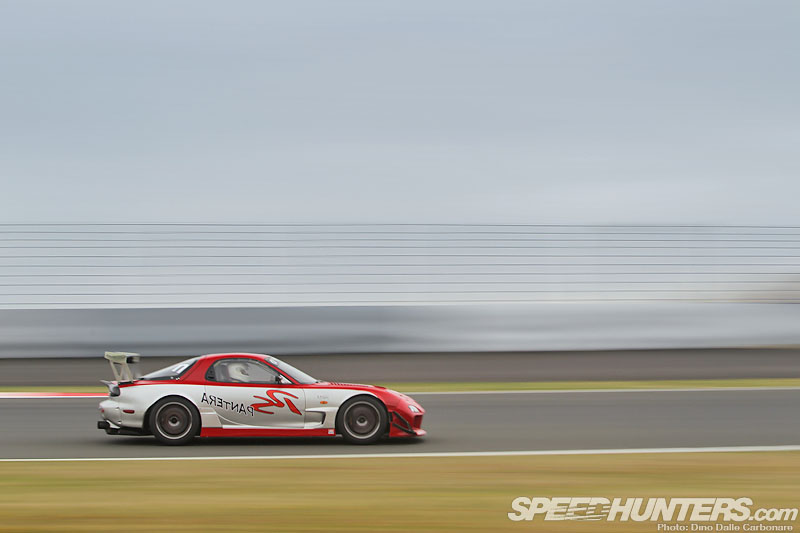 The RS Pantera TA FD sounded phenomenal blasting around Fuji. Best time on the day was a 1'50″020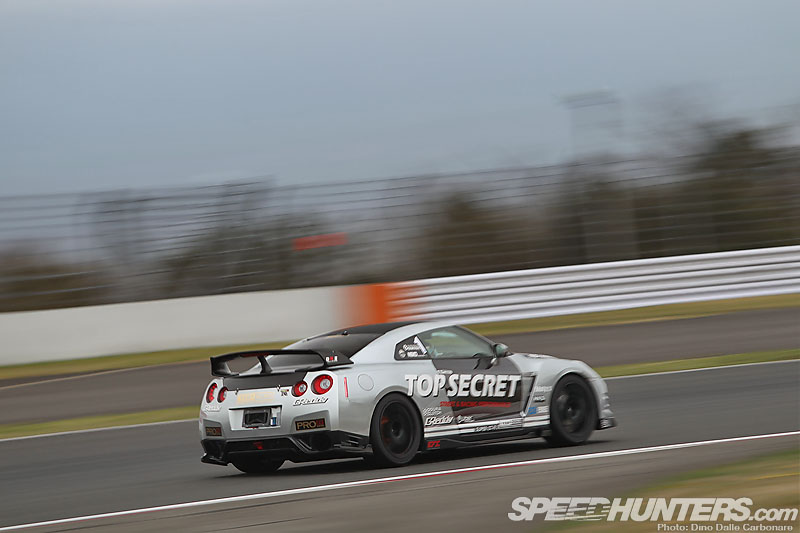 Top Secret had both R35 demo cars out, this more powerful 1000 HP silver car participating in the Option event, managing a 1'46″688 – just over a sec slower than the HKS GT1000 R35, as well as the gold one entered in the R35 GT-R Fuji Speedmax session.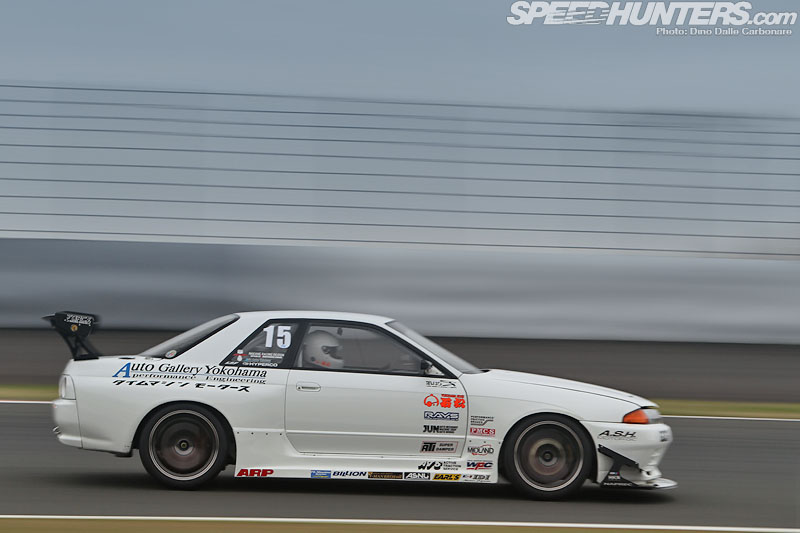 Fastest car of the day, before it developed some engine issues, was the Auto Gallery Yokohama BNR32, a car that has always dominated Fuji Time Attack events in the past. Now sporting an updated set-up running a GCG turbocharger, it blasted around Fuji in 1'43″661.
That's it for now, more to come soon.
HKS Premium Day 2012 coverage on Speedhunters
Previous HKS Premium Day coverage on Speedhunters
-Dino Dalle Carbonare