Time to continue on with our look at this year's HKS Premium Day, an event that was cut a little shorter than planned due to the weather taking a turn for the worst. Still, there is quite a lot to get through in this final part, cool cars I want to show you all…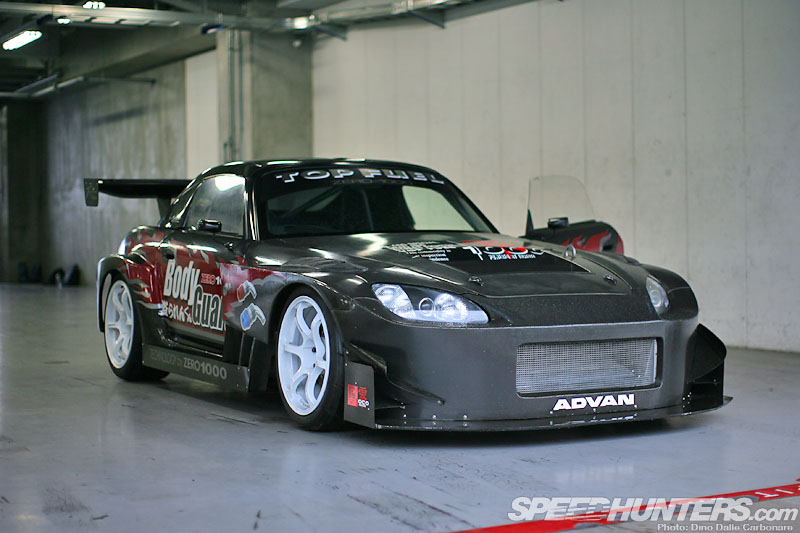 …like the Top Fuel Zero 1000 S2000 that actually never made it out on track. I'm not sure if the Top Fuel guys were waiting for better conditions, but it I was a bit sad not to see this crazy machine in action.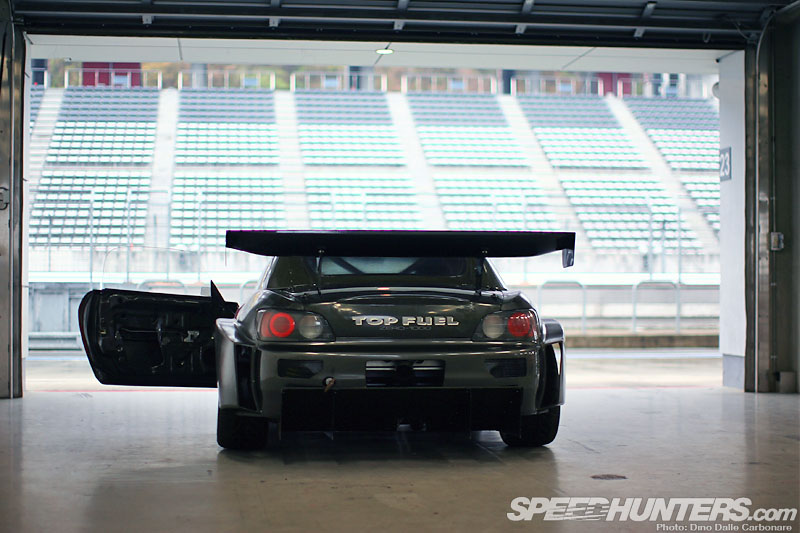 It looked so purposeful just sitting there all alone, the carbon fiber aero exaggerating the lines of the body.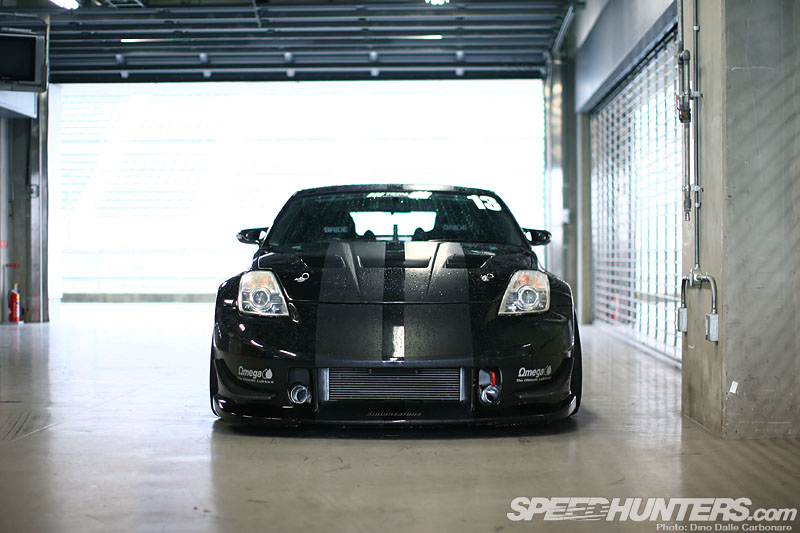 Garage Total, a specialist in custom exhausts and pretty much anything else that a high performance JDM or import would ever need, had this mean looking Z33 out at the event. Before the rain started to come down hard it managed to set an impressive 1'52″137 with Taniguchi at the wheel.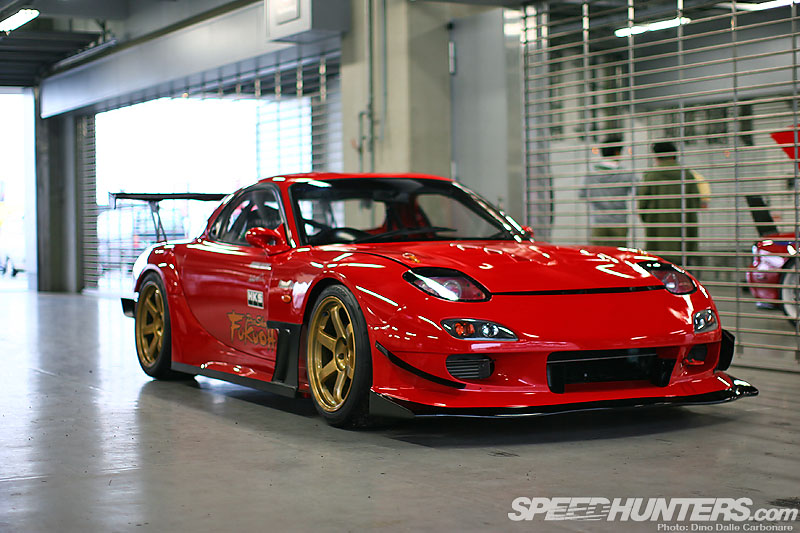 Isn't it incredible how the FD3S just refuses to age? It's not even the looks of the car that have stood up to the test of time, but with rotary tuning continuing to evolve, it remains one of the most potentially fastest cars around. Just like the Garage Fukuoh demo car…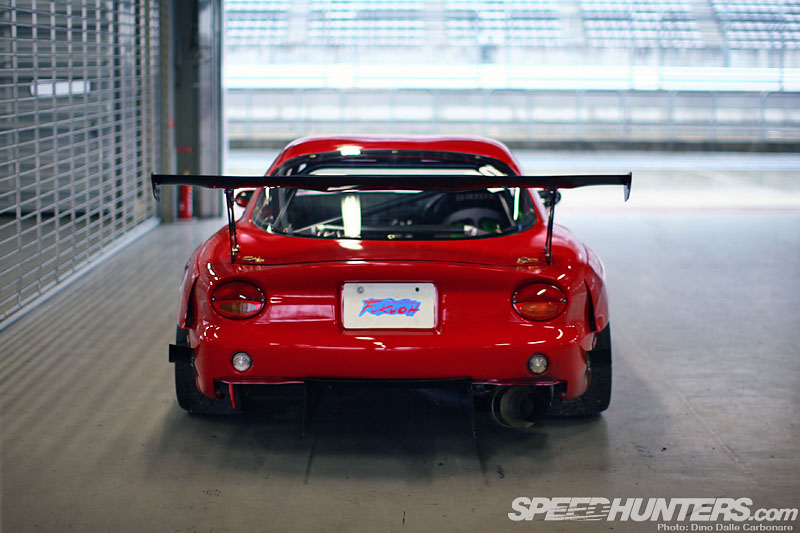 … a perfect example, which lapped Fuji in 1'49″617, the fourth fastest in the 2WD-class of the Option Fuji Superlap. The RE-Amemya rear end might be an acquired taste but you can't argue that it doesn't look menacing!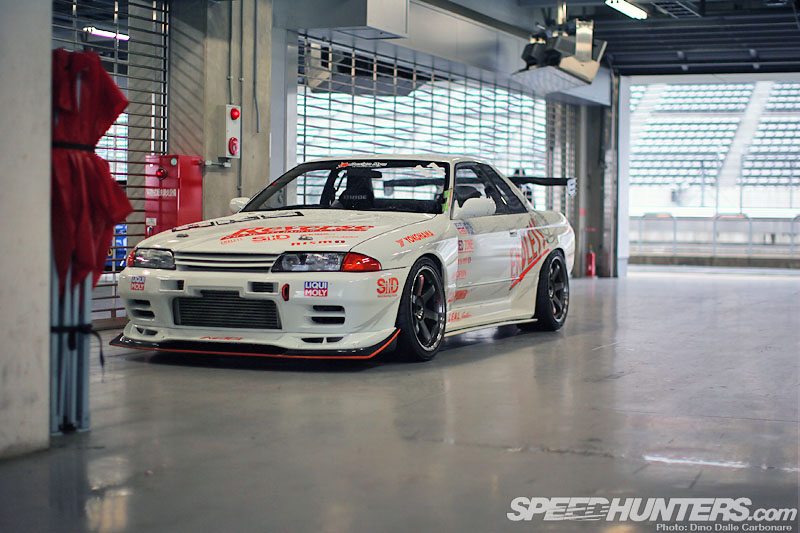 Reverse from Tochigi-ken never miss the opportunity to drive the shop demo car at time attack events and it has progressively been getting faster over the years. Best time on the day was a 1'51″207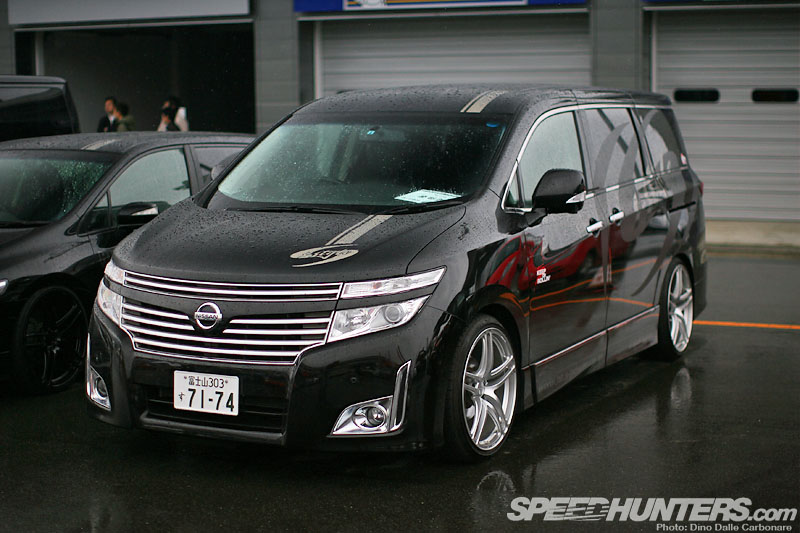 Out in the tuner display area there was plenty to look at like a couple of HKS-tuned Nissan Elgrands running HKS dampers and a VQ35 supercharger kits. These big minivans are very popular in Japan so it makes sense that big companies like HKS develop parts for them.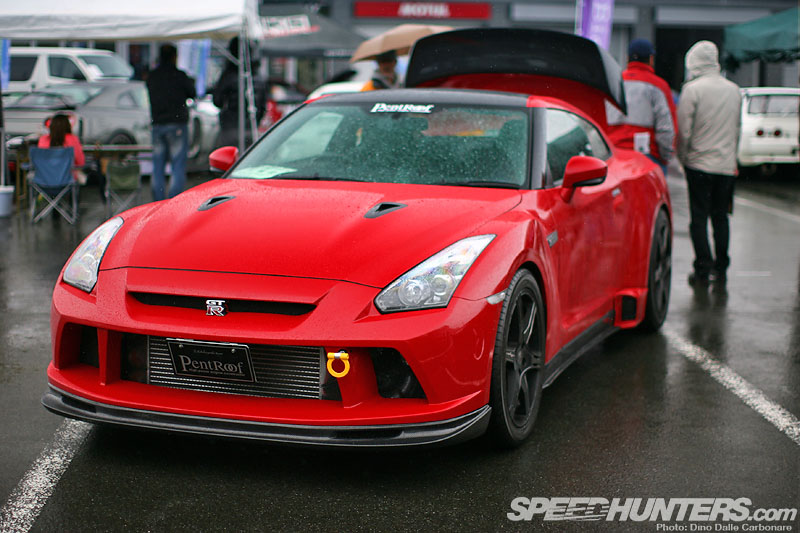 PentRoof had this Abflug-kitted customer R35 GT-R on display. Check out the widened rear fenders! Crazy stuff.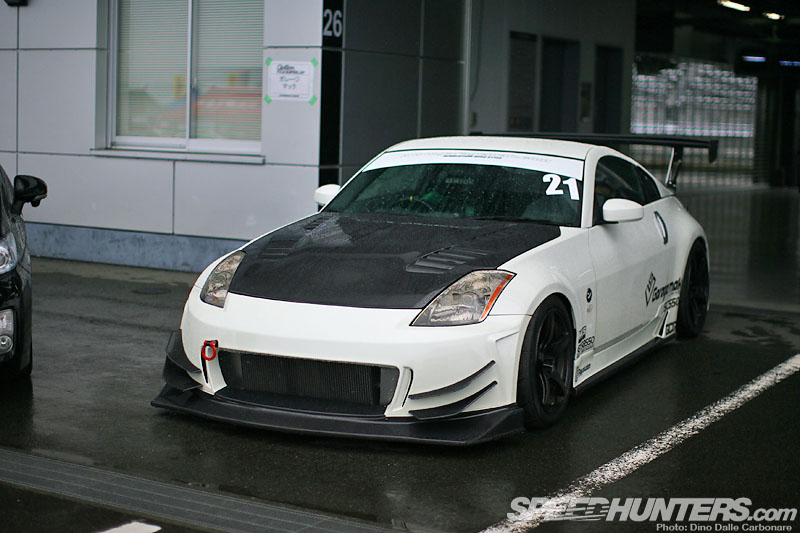 Garage Mak from Nagano competed in the time attack session with their supercharged Z33 I featured last year. If you recall this is quite the serious car, built for circuit work and pushing out around 450HP.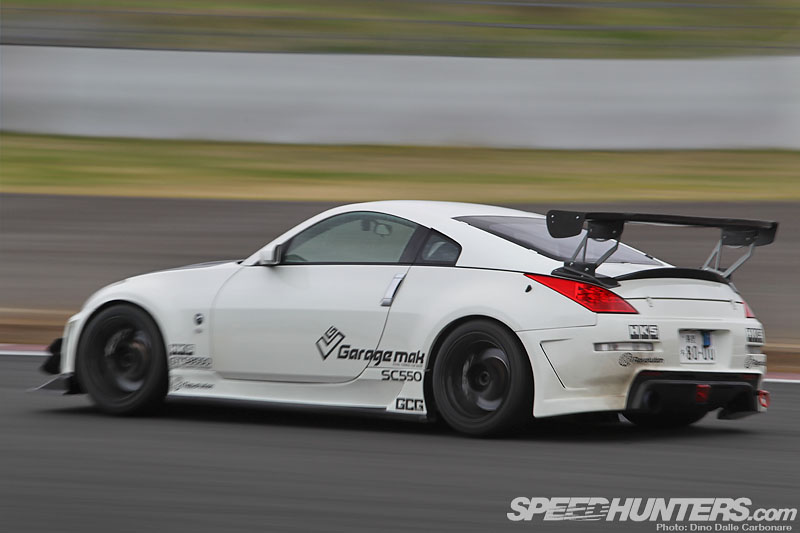 The 1'53″929 Orido managed to get out of it is a very respectable time, and it was by far the loudest car at the event! You could literally hear that eardrum-piercing NA scream all the way from across Fuji Speedway…and as you know FSW is one big track!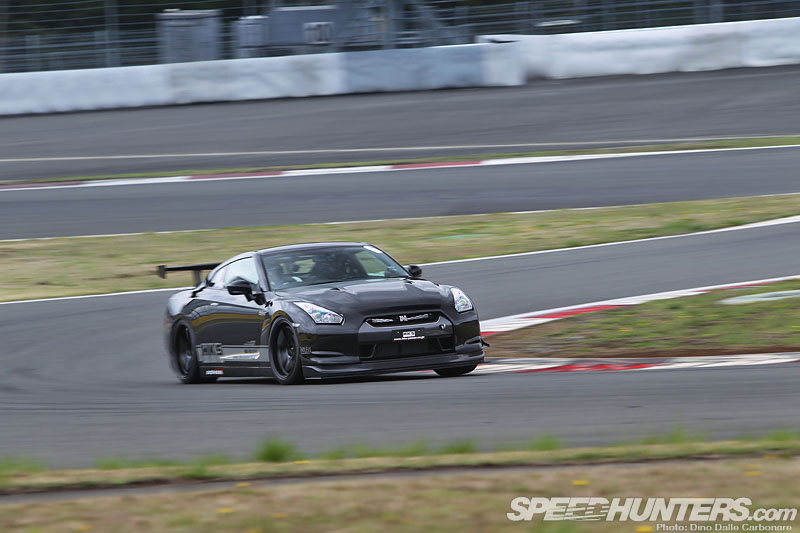 In the R35 GT-R Fuji Speedmax event Nob Taniguchi beat the other five entrants, on board of HKS's GT1000 development car with a 1'45″577. The car hit a top speed of just over 200 mph on the main straight, faster than most modified cars can manage at FSW but obviously due to its weight, lost out in the corners to cars like the Auto Gallery Yokohama BNR32. There is still a lot more to come from the R35 in the next years, but it seems to be requiring some pretty big power figures to accomplish these times. However, 1000 HP in an R35 can easily be used on a day to day basis, whether 1000 HP in an RB26-powered, previous-gen GT-R might be a bit harder to live with! Which would you guys rather have?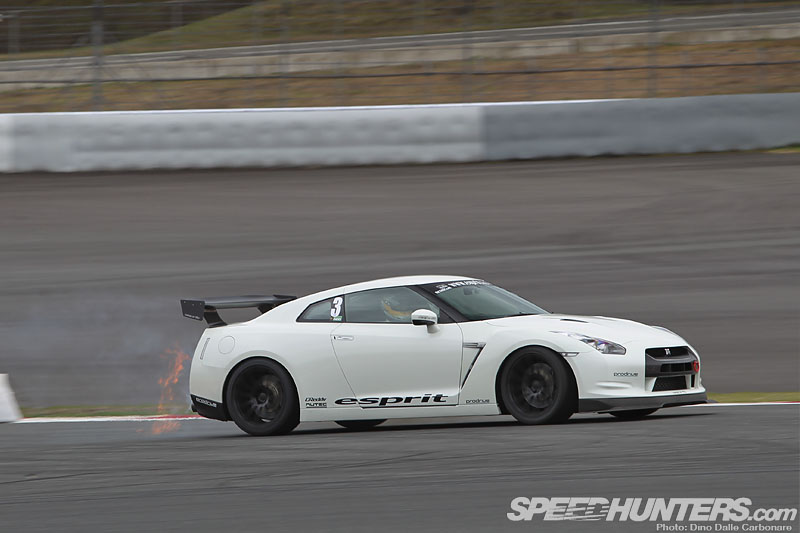 The Esprit R35 was unable to go for a time attack attempt due to some unexpected engine trouble.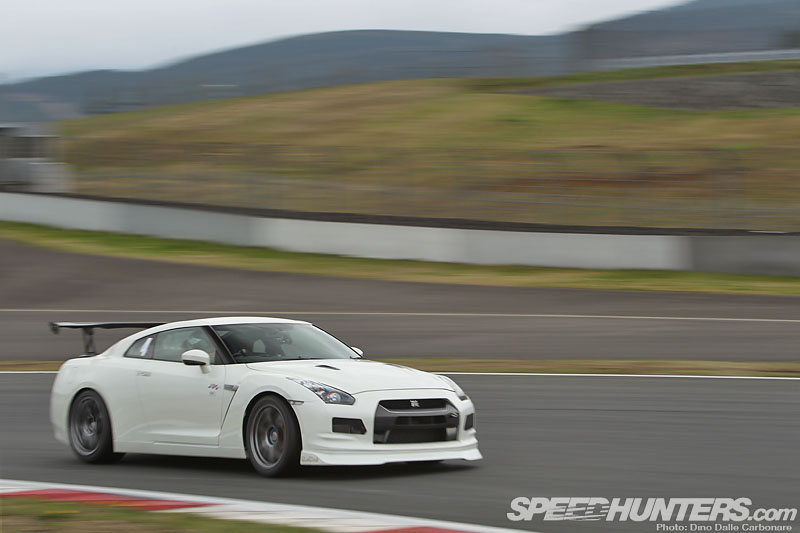 Here is another car we have seen before, the Garage Yawata R35, now running some cut outs on each side of the bumper for extra cooling. 1'48″497 was its best time, not bad for a street car.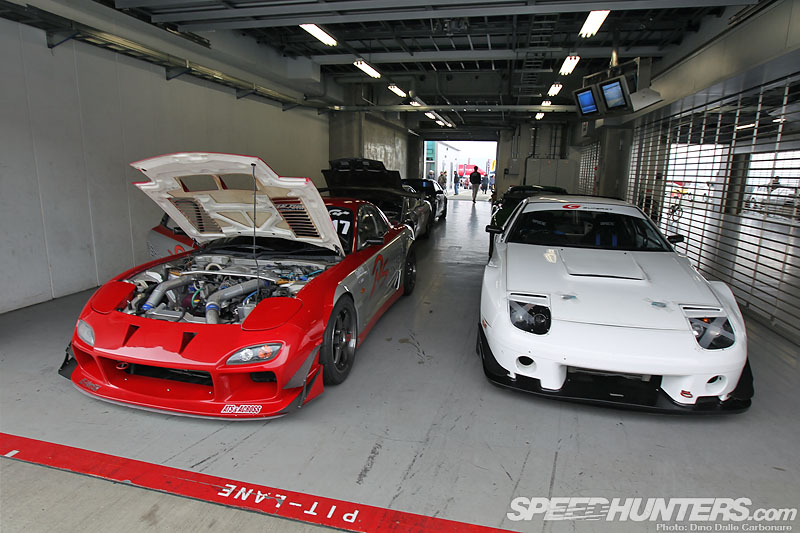 More rotary win at the RS Pantera pits.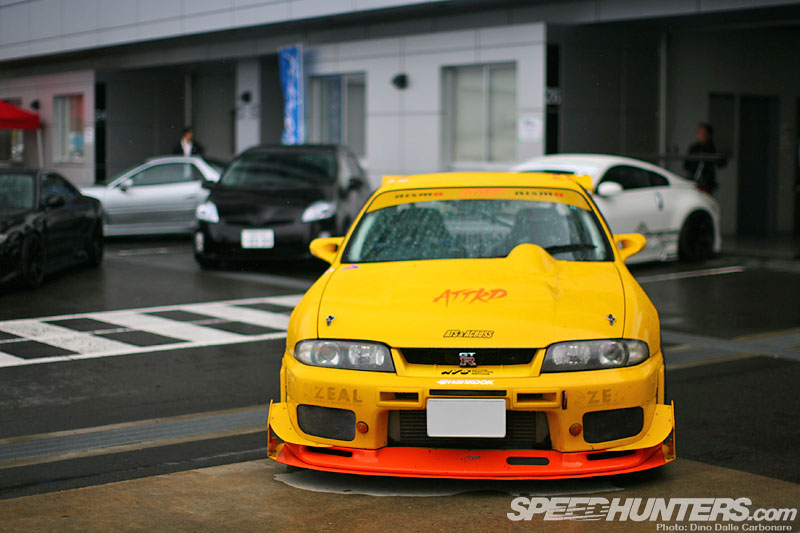 I'm pretty sure this is the old JUN Hyper Lemon BCNR33, a car that has swapped hands quite a few times and is now being looked after by the guys at Autech Tsukada in Nagano. Unfortunately, this car too was not participating in the time attack session.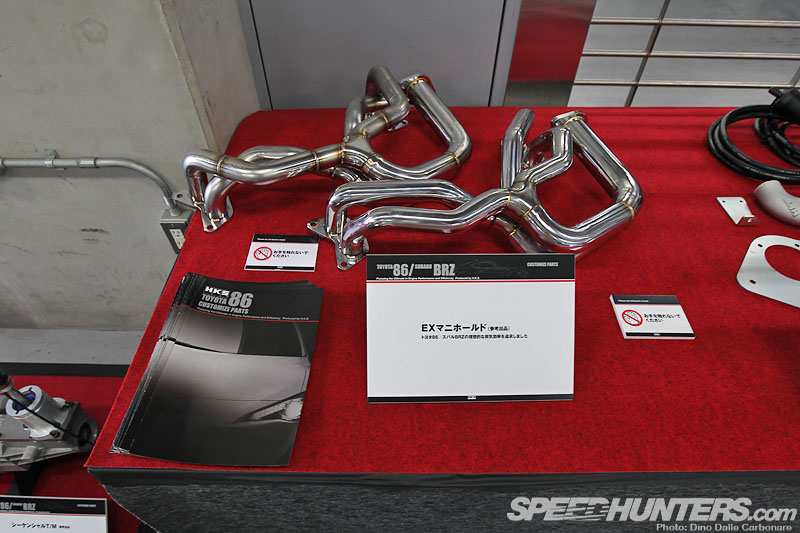 HKS has been very busy preparing lots of upgrades for the 86/BRZ, and in one of the pits there was a whole line up of cool gadgets that new owners will be able to purchase soon, starting with these exhausts manifolds…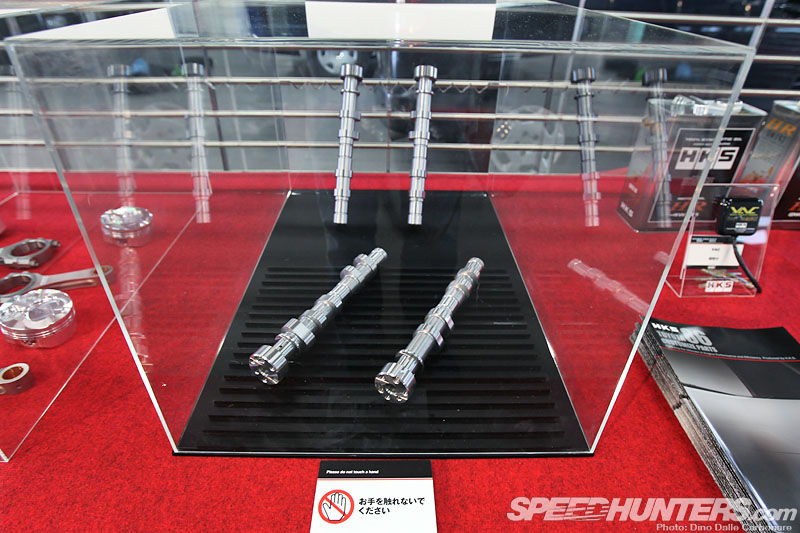 …hotter cams…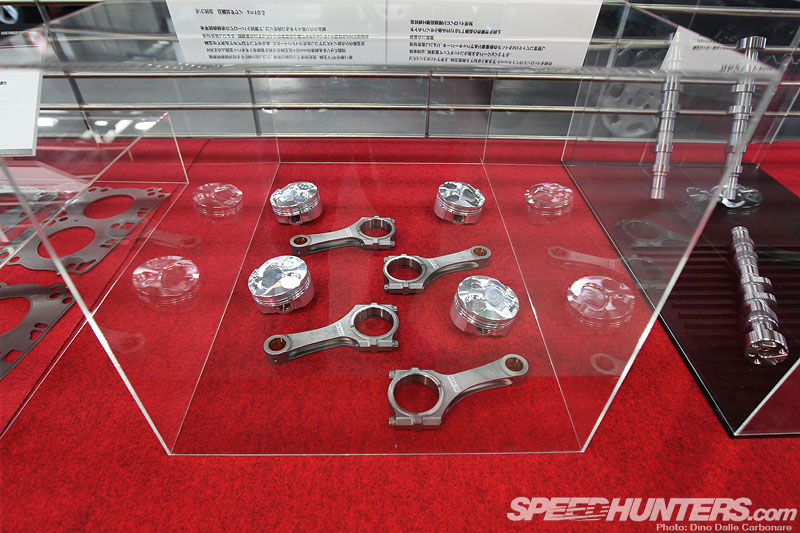 …H-section connecting rods and forged pistons…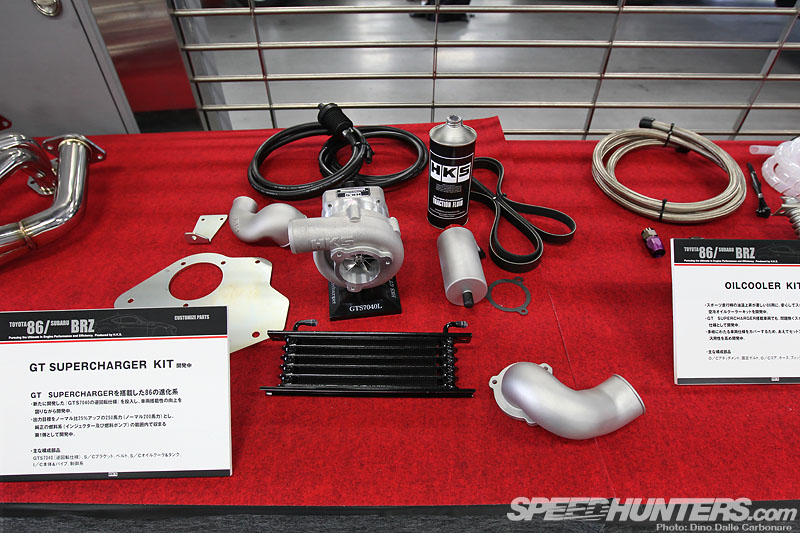 …and soon a bolt on supercharger kit similar, but most likely a little smaller, than the one fitted to Nob's D1 car.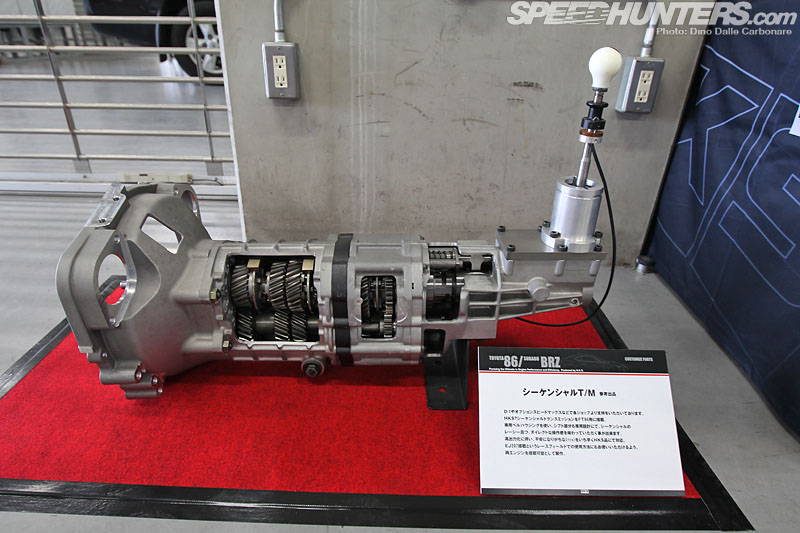 For those that want to really go full out on their hachirokus then HKS has even converted their popular S15 6-speed sequential transmission with a new bell housing, so that it can be bolted on to the FA20 flat-4. Nice!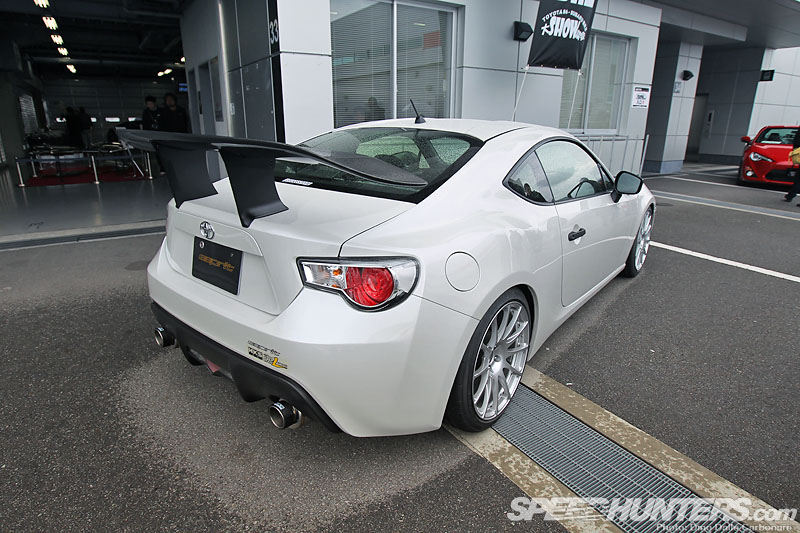 Take a look at Esprit's dry carbon wing for the 86/BRZ. Pretty wild!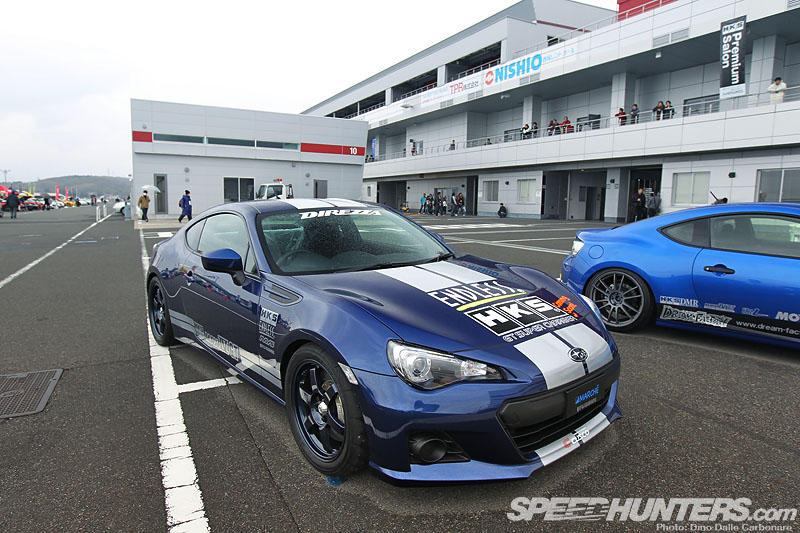 Any well set-up car always requires upgraded brakes and Endless has already got a series of kits available, like this BRZ built in collaboration with Marché shows.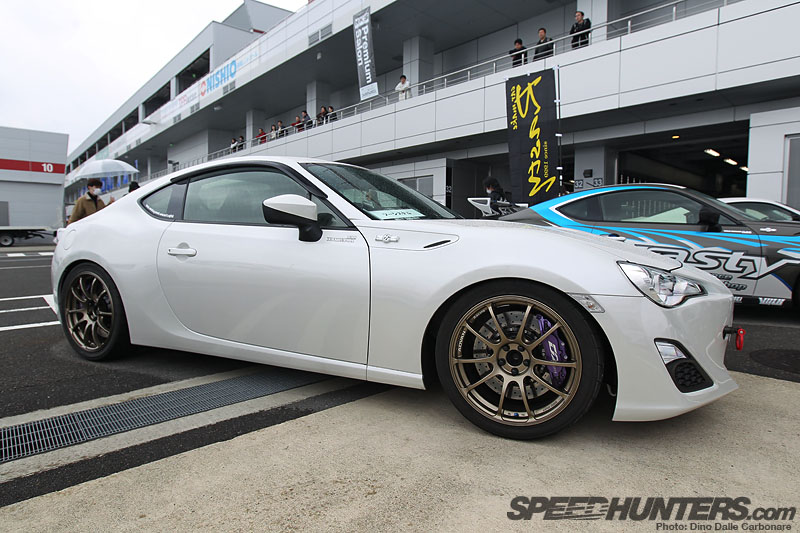 D2 also has a big brake kit already available.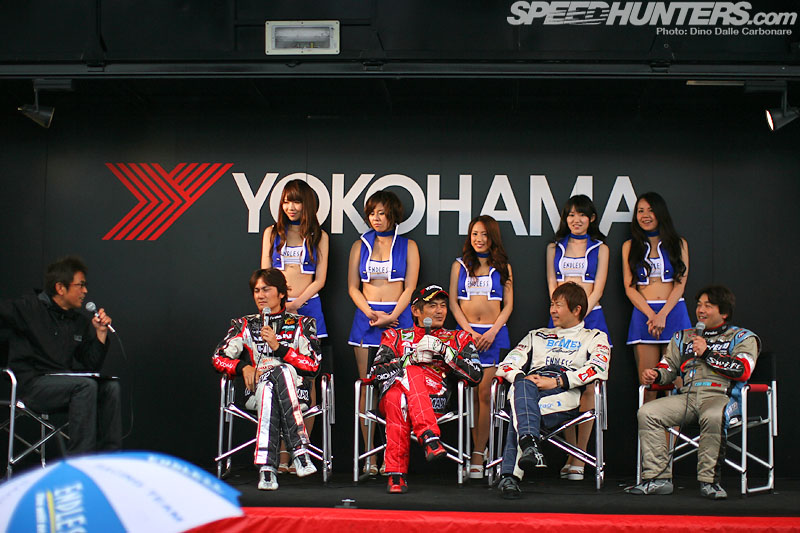 A talk show is always a must at any Japanese event and Taniguchi, Orido, Aoki and Kikuchi were chatting with Mana-P about their experiences driving the time attack cars earlier in the day.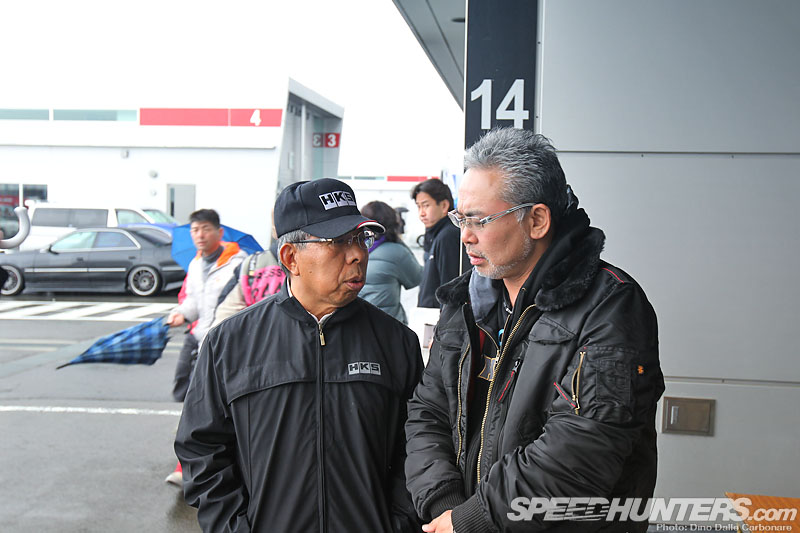 Walking through the pits, in an attempt to stay dry, I bumped into HKS President & CEO Hasegawa-san, having a chat with Hisada-san from Bozz Speed.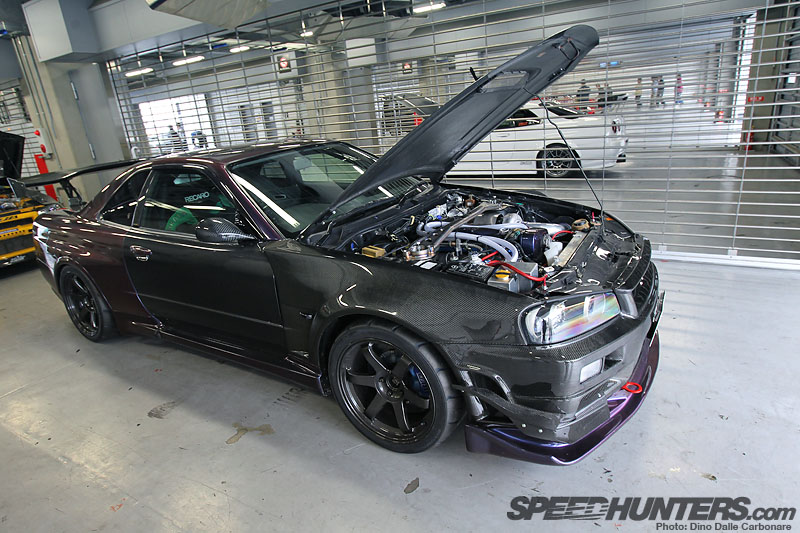 It's good to see that there are people suffering more from the carbon bug than I am, and a big difference is that they can actually afford to do crazy and wild things to their cars like the owner of this Auto Select BNR34 has done! Absolutely nuts. And good for him for not being afraid to drive it on track!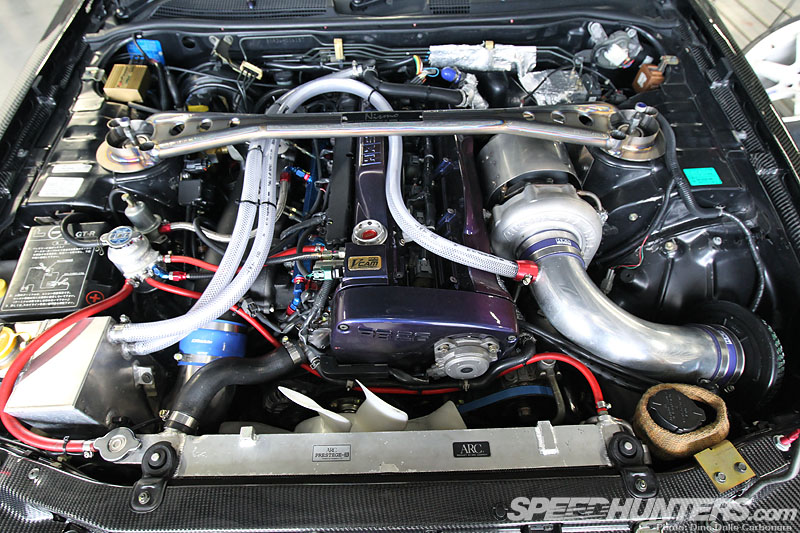 Under the hood of course things are just as wild, it is an Auto Select-built beast after all!  So on top of a 2.8L stroked RB with V-Cam there is a mid-sized T04Z HKS turbine there to supply enough boost for about 700 HP.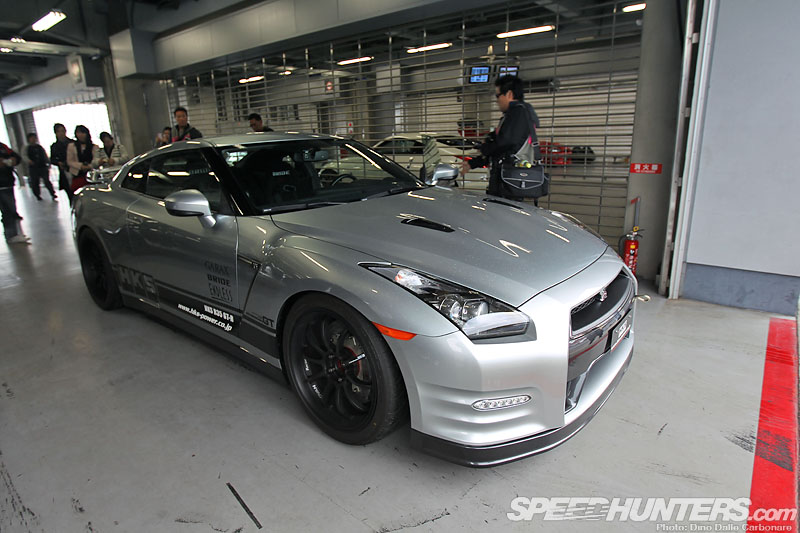 I even had the pleasure of being taken out for a ride in the old HKS USA R35 demo car…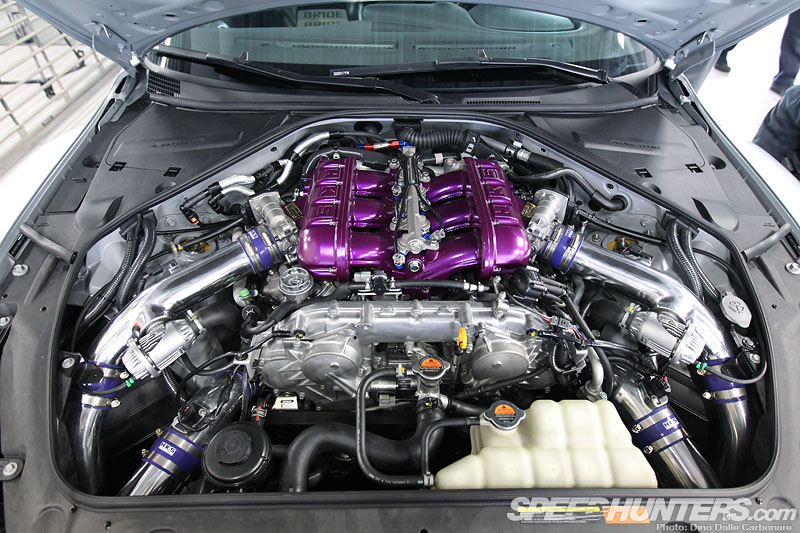 …which if you recall from TAS earlier this year is running the GT800 engine kit plus a few other upgrades like the new HKS intake plenum, all good for close to 900 HP. Except due to the rain we were doing more drifting than actual gripping!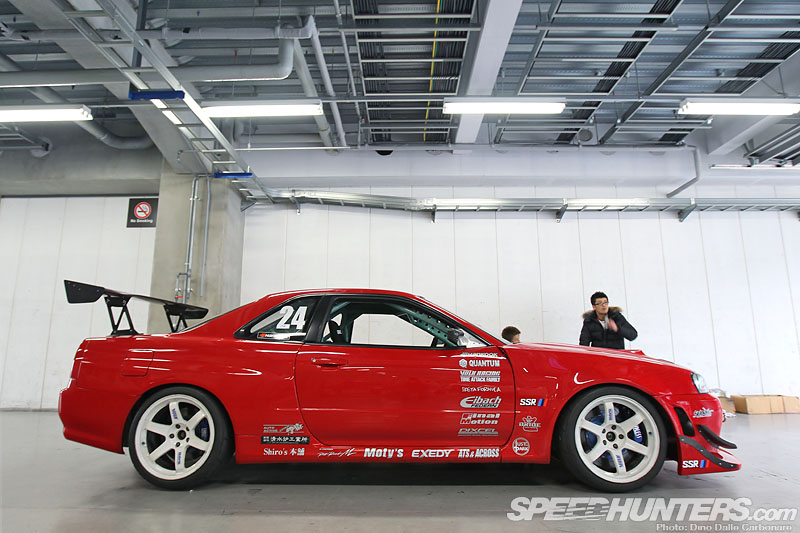 It's great to see Garage Ito making it to events on the east side of Japan. If you remember Ito-san is the man that single handedly built the crazy Pro Stock time-attack BNR34, the car that to this day hasn't run and is sitting at the Pro Stock shop waiting for an interested buyer. This new R34 was the second fastest 4WD car on the day, just 0.6 of a second behind the Auto Gallery Yokohama R32 with a 1'44″267. It was also fitted with the Tarzan version of  the D0-Luck digital G-sensor, which apparently speeds up the Attesa's torque split reaction time by 30 times!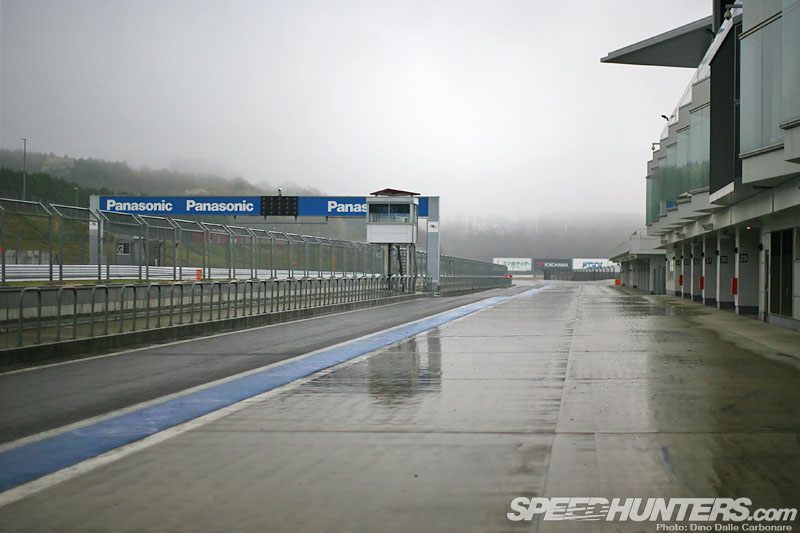 With the rain coming down hard, the track sessions were cancelled; no point in risking crashes to set times on the wet.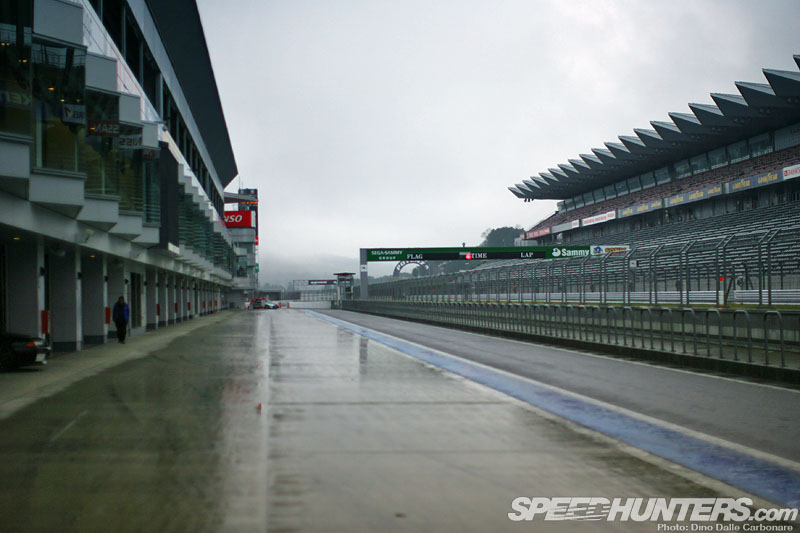 Most tuners began to pack, taking the opportunity to get on the road a few hours earlier than scheduled as a lot of them drove from far away corners of the country.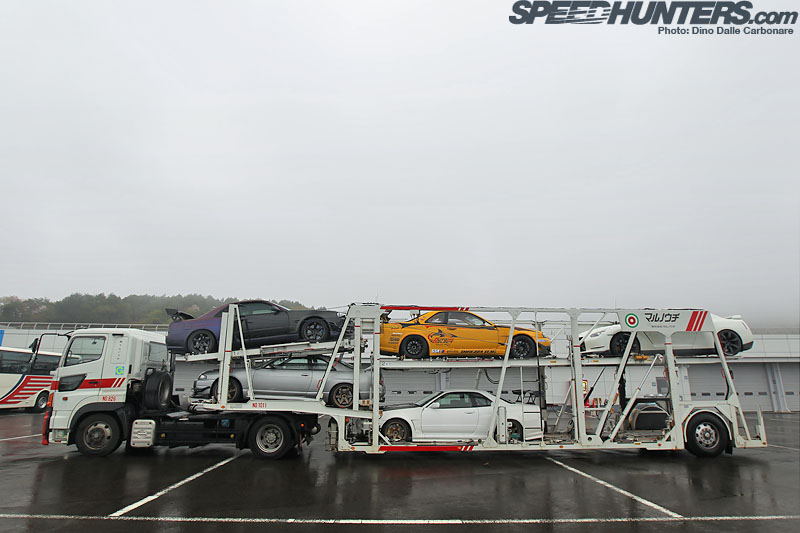 I'll leave you with this shot of the Auto Select transporter, ready to leave for the long journey back down to Osaka. That's a lot of horsepower on that loader!
2013 will mark HKS's 40th Anniversary so you can expect next year's Premium Day to be very special! Thanks to all the HKS Staff for their hard work in putting on yet another great event!
HKS Premium Day 2012 coverage on Speedhunters
HKS Premium Day coverage on Speedhunters
-Dino Dalle Carbonare