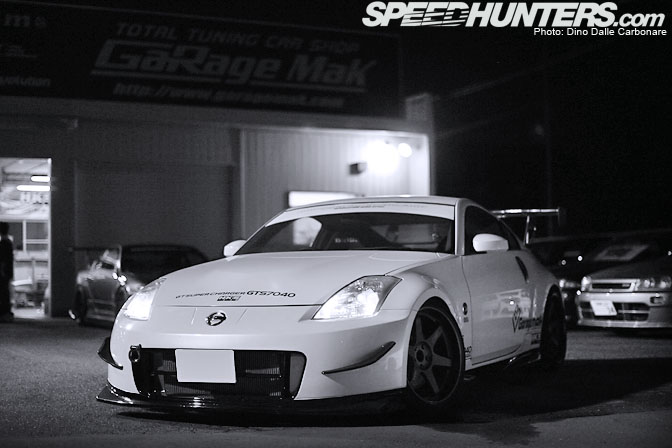 At times it pays to be a little nosey. If it wasn't for my usual curiosity whenever I visit tuning shops, I would have probably never spotted the Z33 350Z you see here. Built by Garage Mak in Nagano for one of their demanding customers this is one Z that I instantly knew I had to grab a few shots of. It was sitting in the far corner of the workshop, slammed low on its 19-inch TE37s looking ready to hit the track then and there.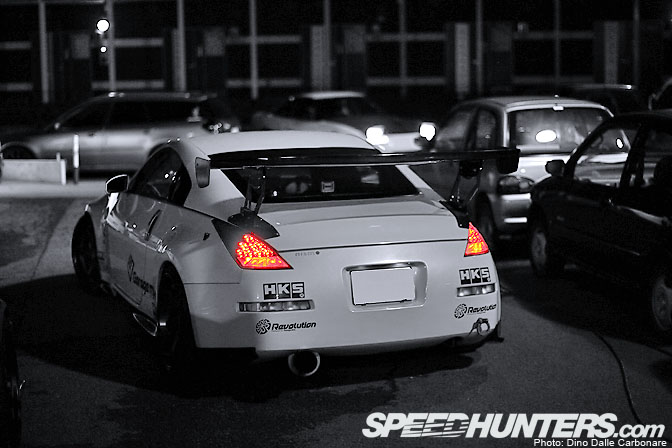 I did feel a little bad for requesting the car be moved outside into what little light there was at such a late hour, but the Miyagawa brothers, the owners of Garage Mak, kindly obliged despite needing to move half a dozen cars around to do so! The owner of this Z obviously enjoys driving hard and to satisfy his needs had it prepared with some choice parts.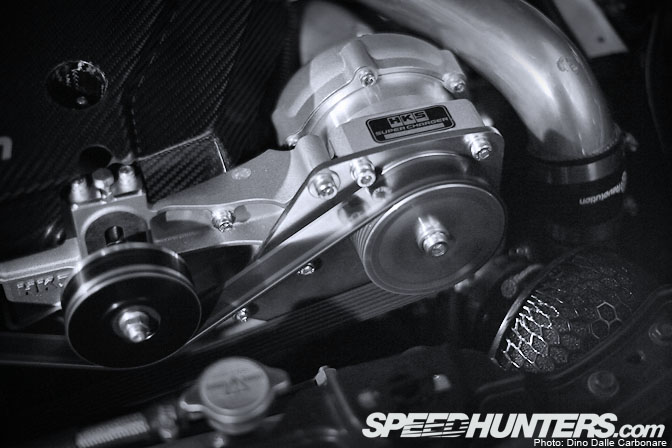 First up is the HKS GTS7040 Supercharger kit. This is one of the easiest and most reliable ways to get decent power out of the VQ35DE, requiring little or no additional parts as what is already included in the kit. However, the owner did want more. Boost is run at a reasonably mild 0.5 bar…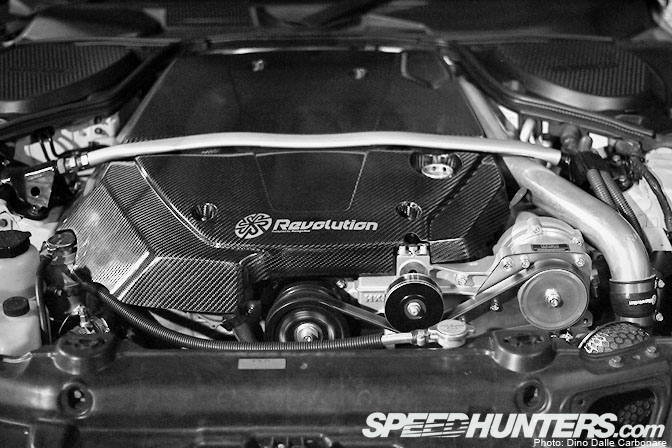 …but thanks to custom ECU tuning and special parts like a full Garage Mak…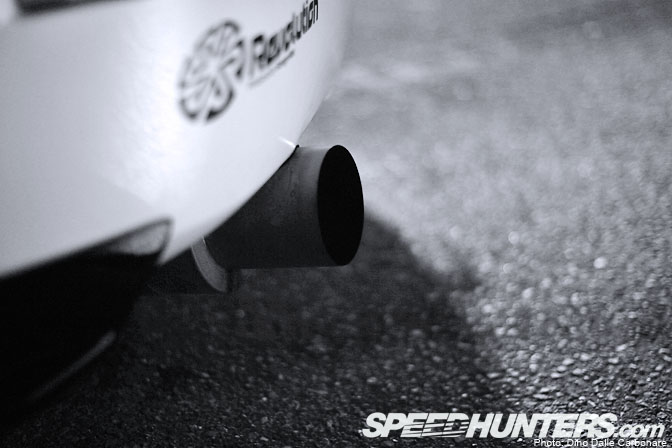 …exhaust system, the VQ develops 450HP. Hiding the not so aesthetically pleasing stock VQ35DE intake plenum is a Garage Mak Revolution carbon engine cover. Although the 150 or so additional horses the engine now develops weren't going to be a problem for the stock 6-speeder, the owner decided to get rid of the long-geared transmission altogether and fit an HKS 6-speed sequential. This is a pretty rare modification to for a Z33 and it's the first car I've come across with one fitted. Badass-level +10 points right there!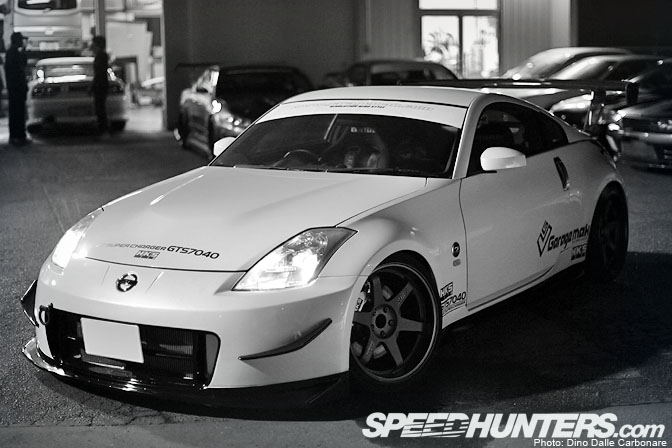 The 19×9.5 Volk Racing TE37s are a perfect match to the exterior, which has benefitted from a few choice parts like the Nismo front bumper, the black side and rear skirts and of course the rather large Garage Mak rear carbon GT wing.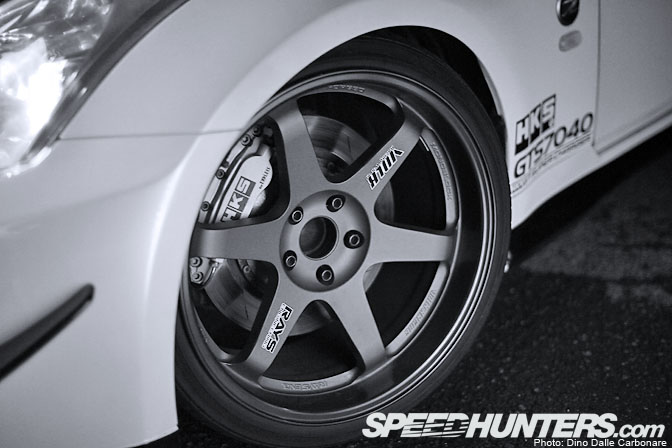 The fade-prone stock Brembo brakes were just not going to cut it with the upgraded performance so were replaced with a complete HKS system. This is made up of 6-pot front calipers and ø355 mm front 2-piece slotted discs and slightly smaller 4-pots for the rear along with ø322 mm rotors. This kit is made for HKS by Endless, so you know it's going to perform well!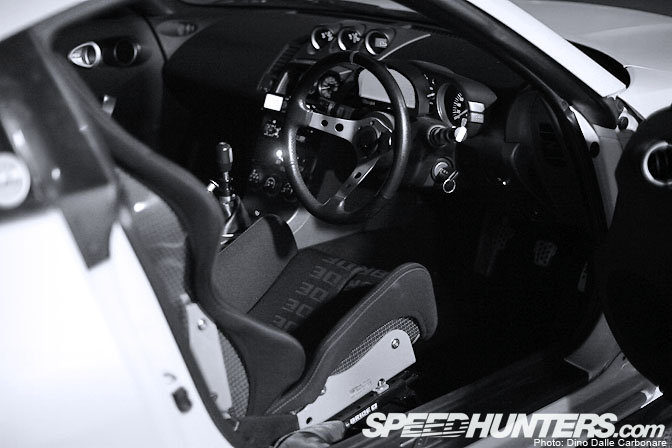 Obligatory Bride racing seats have found their way into the interior, carbon-Kevlar lightweight GIAS2 items to be precise.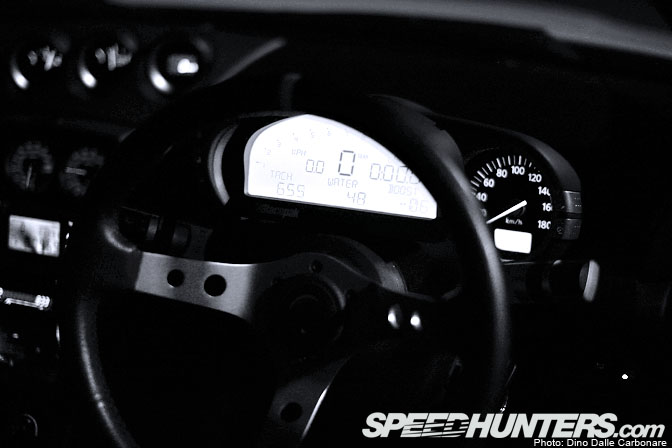 Set in front of the stock instrument binnacle is a Racepack IQ3 digital dash and data logger…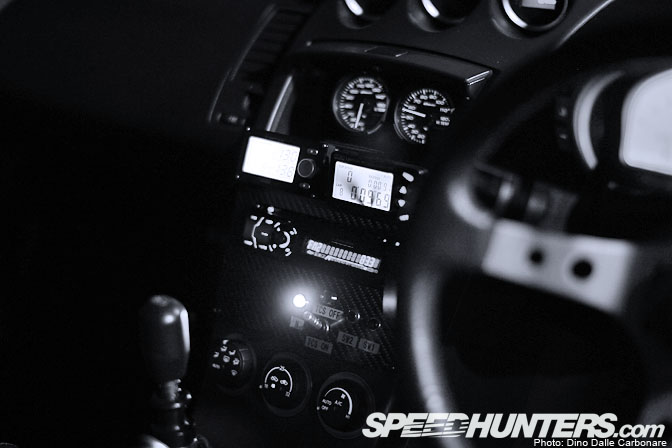 …while the center console has been converted to house a multitude of additional gadgets like the HKS boost controller, A/F meter and Defi gauges. Above the controls for the A/C is a custom switch panel and you can just about see the Nismo titanium shift knob, one quick and decisive yank bank on that lever and you will engage gears in the blink of an eye!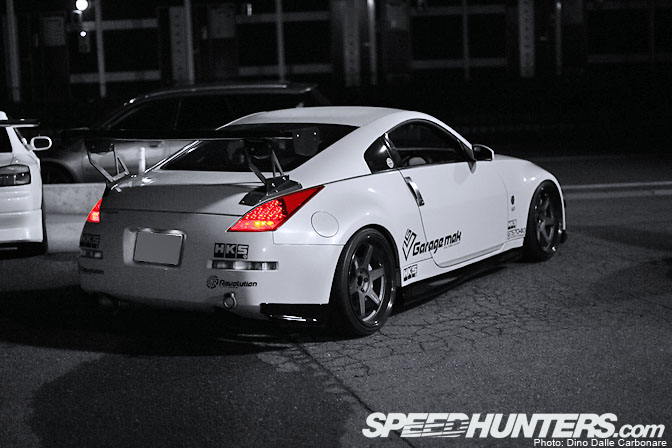 Subtle exterior modifications will always be an instant win in my book; add a few well-executed mechanical upgrades and you have yourself one hell of a car.
-Dino Dalle Carbonare