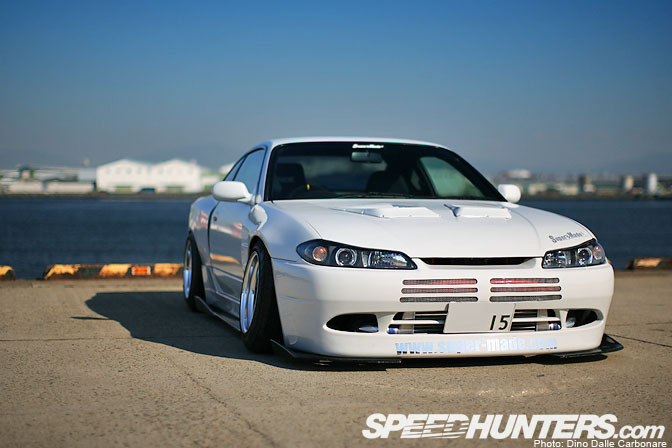 I think it's pretty safe to say that by now, anyone with a remote interest in drifting, will be familiar with Super Made. Out of the ton of drift shops in Japan, the guys at Super Made have established themselves as obvious innovators. As you may recall last month, we took a look at one of their latest cars, a JZS161 Aristo, which beautifully fuses VIP and drift styles together in an attempt to push the boundaries of what customization is all about. The result may not please everyone, but you will find analogies in other very different art forms, where those that step out of the box are equally commended and criticized for their work.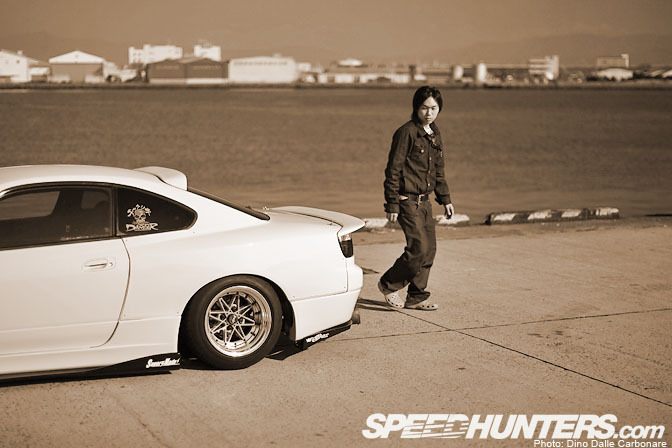 Yoshida-san is probably as eccentric as his creations, a cool and chilled out guy who loves to do what he does and continuously pushes himself to move forward. One of the most talked about cars he has built is the S15 Silvia that he made for last year's Tokyo Auto Salon, a car I spotlighted back in Jan 2011. However, seeing such a controversial ride under the lights of a show is one thing…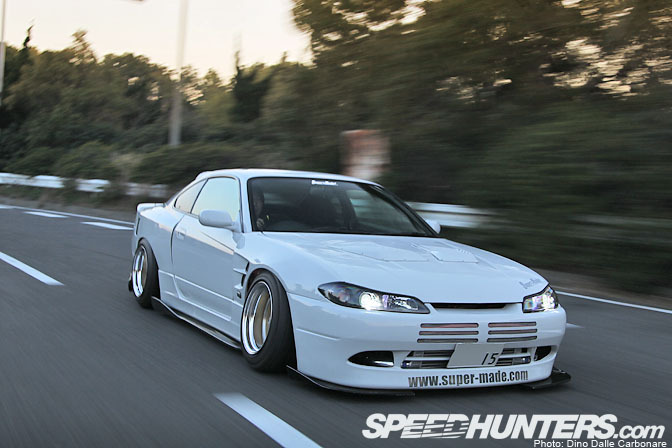 …but seeing it in its element on the street, is something entirely different.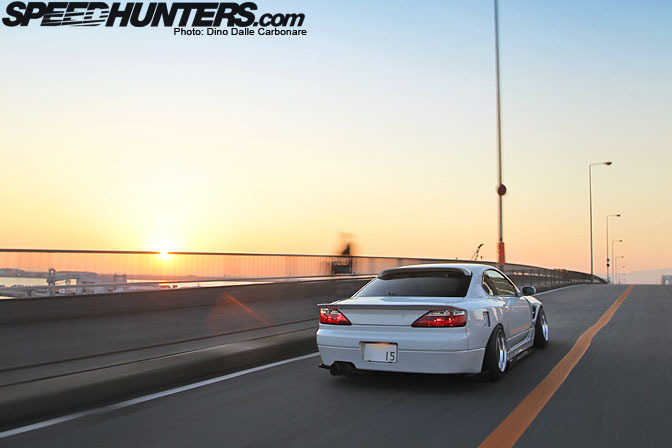 So when I found myself back down in Osaka recently, there was no way I was going to pass up the opportunity to take the S15 to a cool location on the docks of Osaka Port and chat cars with Yoshida-san all day.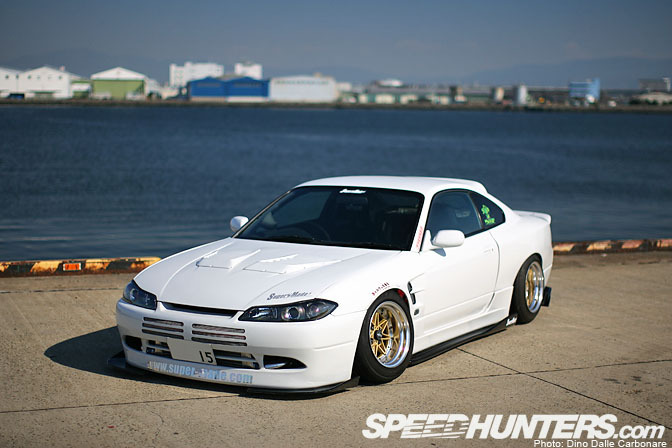 Drift cars are much like all the bippu rides we have been seeing this week from the Excite King meet in Fuji Speedway. They are similarly very style driven, owners always trying to better each other at doing fun and cool things to their cars. Everyone is out to make a statement and nobody is afraid of exploring new ideas, colors what ever else might pop into their heads. Add to that an almost addiction-like need to drive fast, very sideways and with as much showmanship as one might dare and you get pretty close to understanding why drifting is one of the most intense representations of modern-day car culture.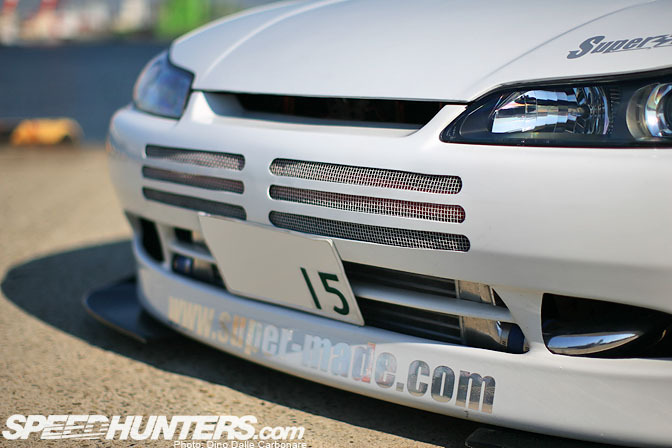 Yoshida-san wanted to move things along and come up with something different, something that would be instantly recognizable as his work but at the same time achievable by anyone, and most importantly of all in a budget-conscious way. That's why he decided to cut vents into the existing Instant Gentleman front bumper, rather than develop a whole new, and potentially more expensive vented item…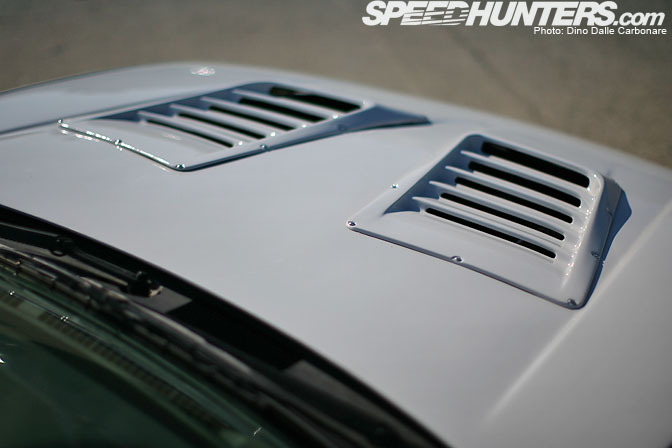 …and the same goes for the hood, why spend extra money on an FRP or carbon aero hoods when you can achieve the same cooling effect with a pair of simple bolt on air outlets. This means more money…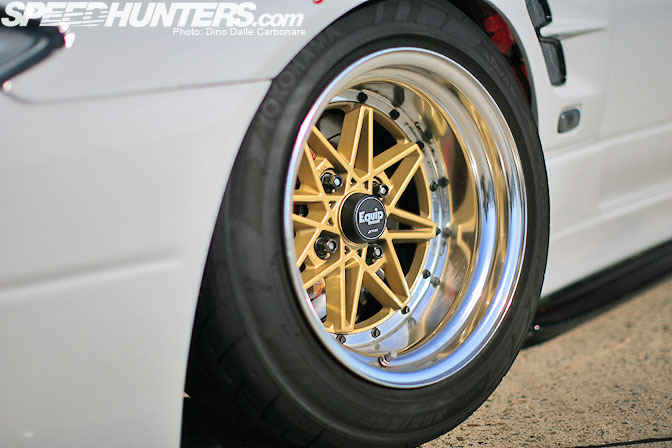 …to blow on rubber! And here too, without a doubt the most evident detail of this Super Made S15, Yoshida-san took a budget-oriented route. By fitting S13 4-lug hubs it allows the car to run smaller 15-inch rims, an automatic saving on actual tires. But all of these cost-conscious ideas aside, let's tell it like it is…this car looks badass in every way, from the way it sits slammed on the chunky sidewalls of the Neovas…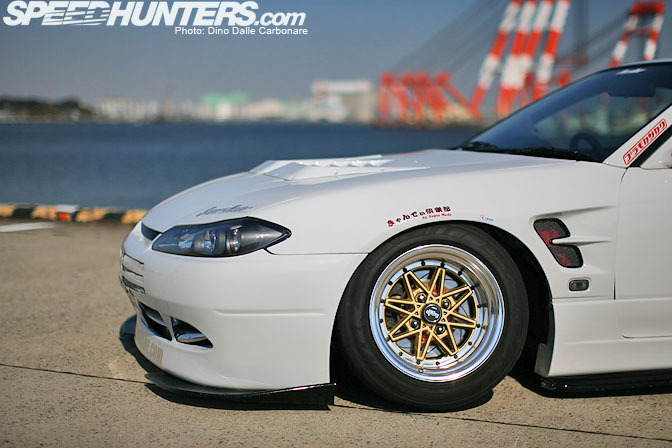 …to the unique look the Work Equip 03s give to an S15.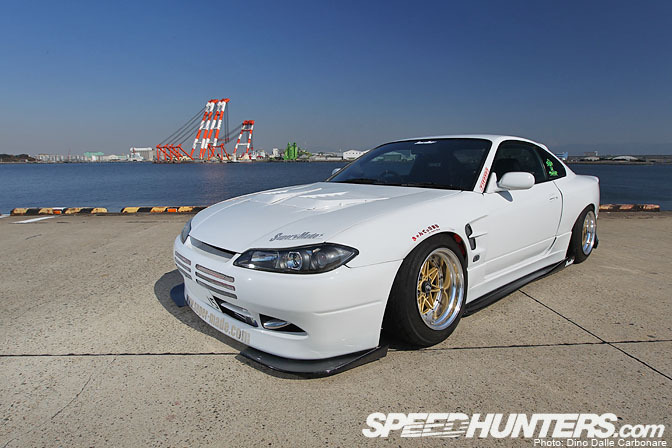 Like the car didn't sit low enough Yoshida-san fitted under canards underneath the Instant Gentleman bumper for added effect. The front wider fenders, again from the Super Made's Instant Gentleman's line up…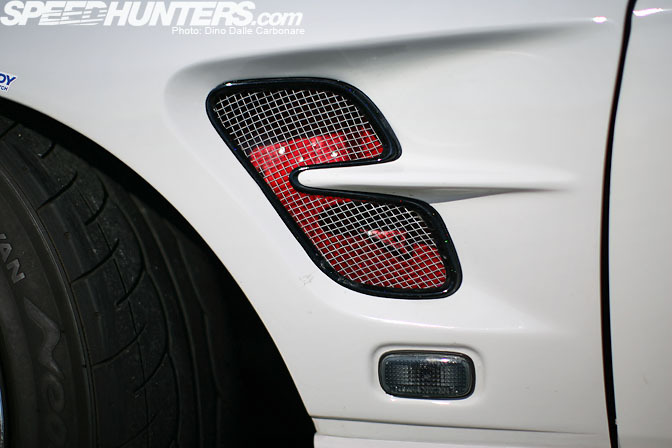 …feature a side air outlet that gives a glimpse to the candy red chassis underneath. It's all about the details as they say…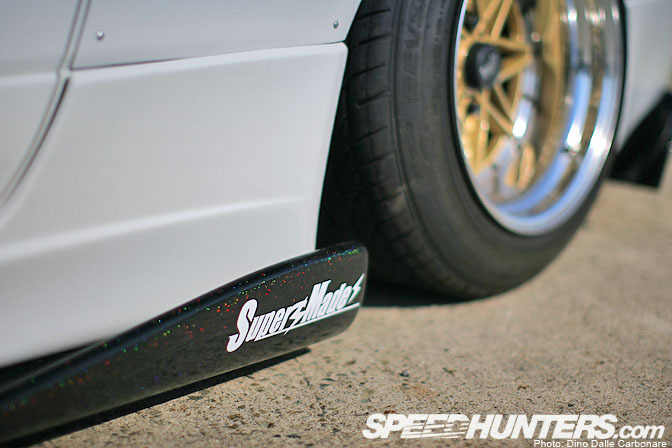 …and if you look closely at the black under skirts you will notice they have been finished off with some flake, for an extra little bit of pop!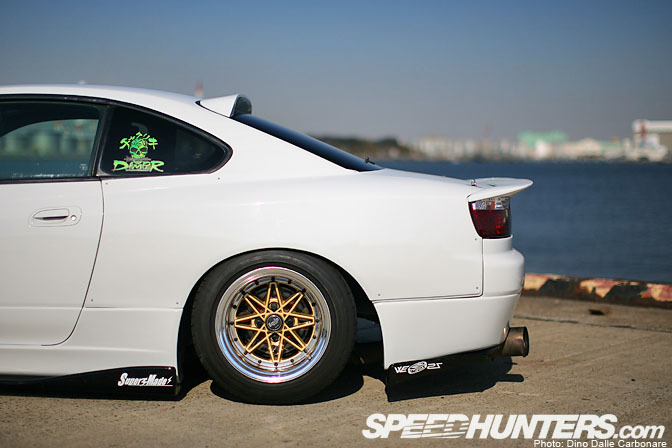 326 Power from Hiroshima supplied the roof spoiler…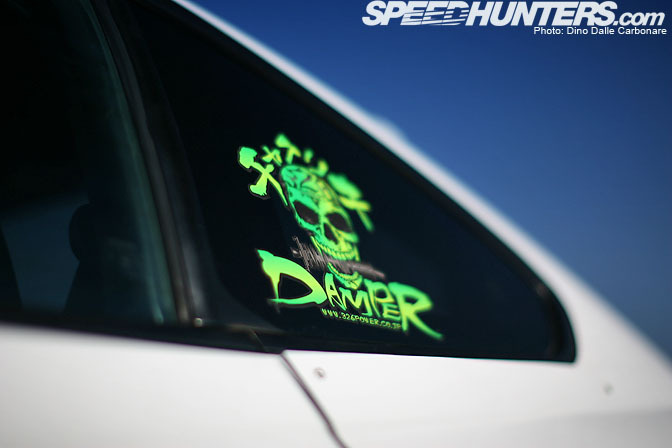 … as well as the adjustable suspension and front camber plates to give the S15 just the right amount of stance!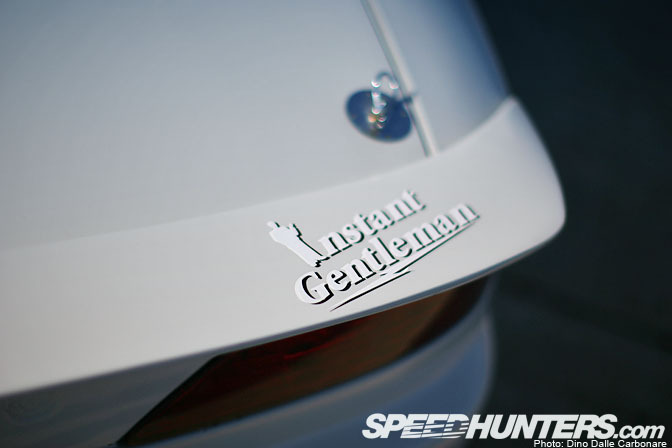 Yoshida-san finished off the rear end with a lightweight FRP trunk lid and Instant Gentleman spoiler…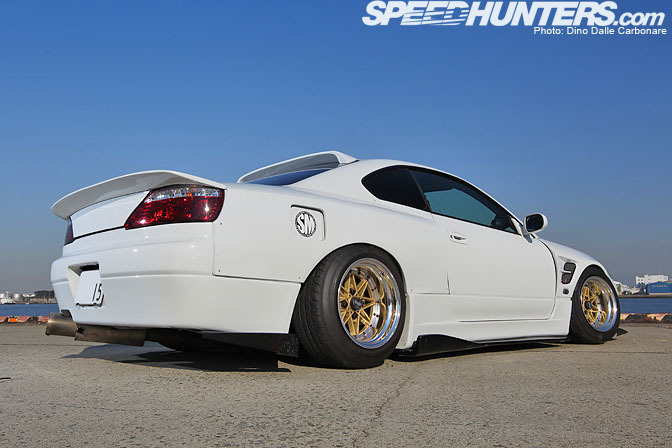 …and rear bumper. No matter what angle you look at this thing from, it just oozes style and the Equips are a big part of it. The wheels measure the same 9.5Jx15″ front and back with a -10 offset with pretty aggressively stretched 205/55R15s all round. The fronts get sticky Advan Neova AD08s, while at the rear any cheap tire Yoshida can get his hands on will do. The cheaper the better! As for the things you don't see, there is plenty of stuff under the car to make sure it is a capable drifter, from the Super Made steering knuckles and tension rods to the BCNR33 stabilizer bar to stiffen up the rear end. Smaller wheels mean that brake upgrades don't really fit, so to boost braking performance Apex slotted discs along with Project µ pads have been thrown on.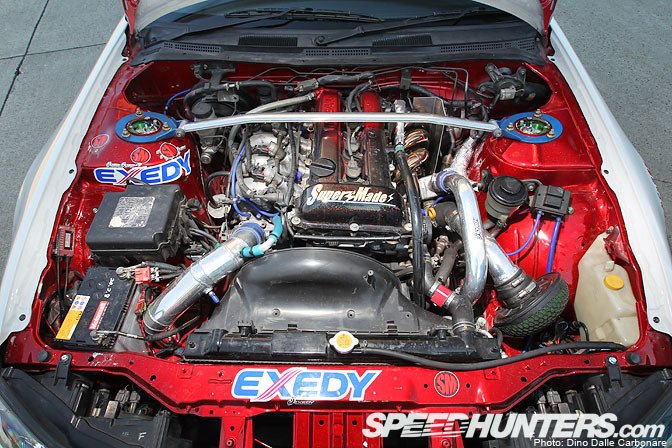 Seeing engines usually get pretty heavily beaten on during drift sessions, Yoshida-san made sure the SR20 powering his S15 could take the abuse. The head was fitted with an HKS Step.2 head system which replaces valve springs and retainers as well as adding coated rocker arms. A slightly thinner metal head gasket followed, there to marginally increase compression ratio in order to boost response.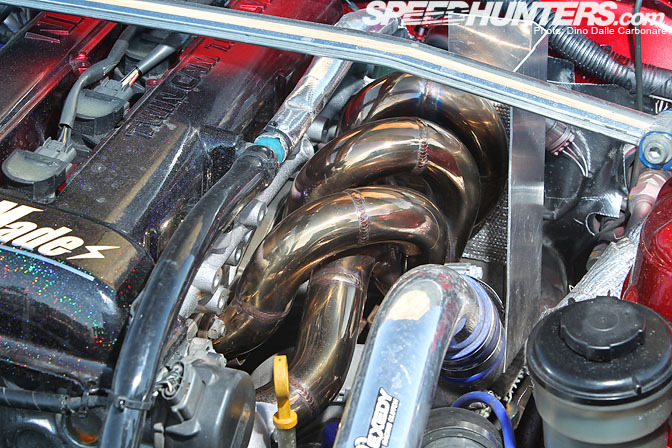 Turbo upgrades followed in the form of a stainless steel Super Made exhaust manifold and a Trust T518Z blower along with a full Super Made exhaust system. Fueling is handled by 800 cc/min injectors and a Nismo fuel pump with other upgrades including a Blitz intercooler and Super Made hard piping.  An Apex Power FC ECU makes the most of the modifications, which combined give a very useable 400 HP at 1.5 bar of boost. An Exedy twin plate clutch and ATS 2-way diff make sure the driveline can cope with the extra performance and abuse from the continuous clutch kicks!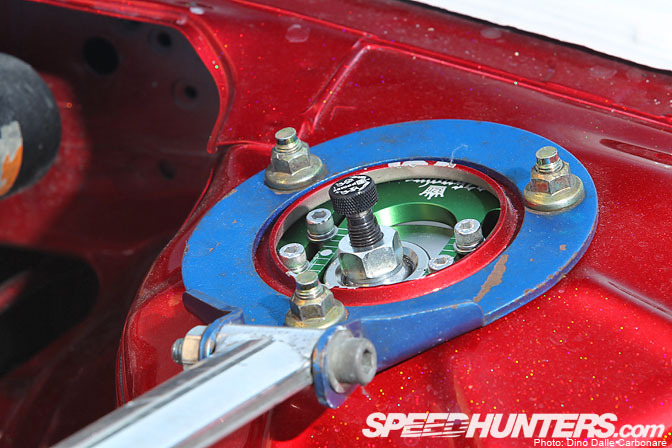 A Cusco strut tower bar keeps the front end nice and stiff.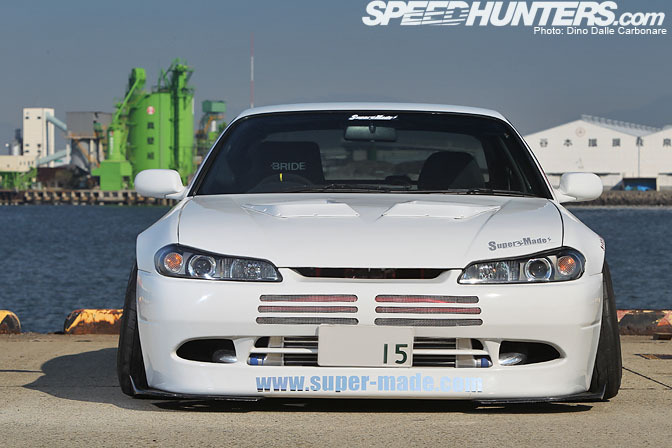 This results in a rather well set up drift car which has plenty of performance to back up those exterior looks.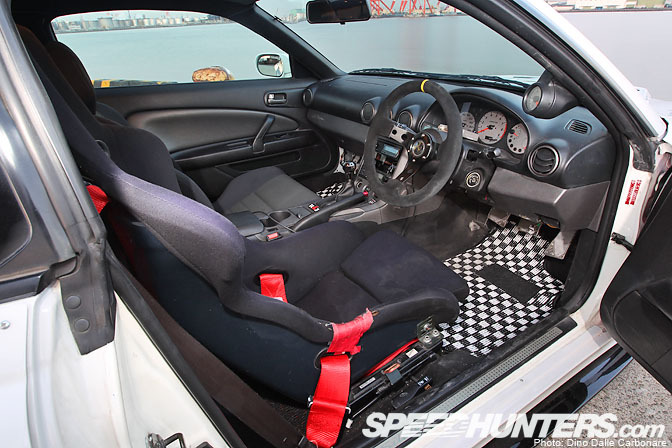 In the interior the driver sits nice and tight in the Bride Gita III bucket seat along with a Ziix harness. Yoshida-san picked up the thick-rimmed steering wheel on Yahoo Auctions and has no idea what brand it is!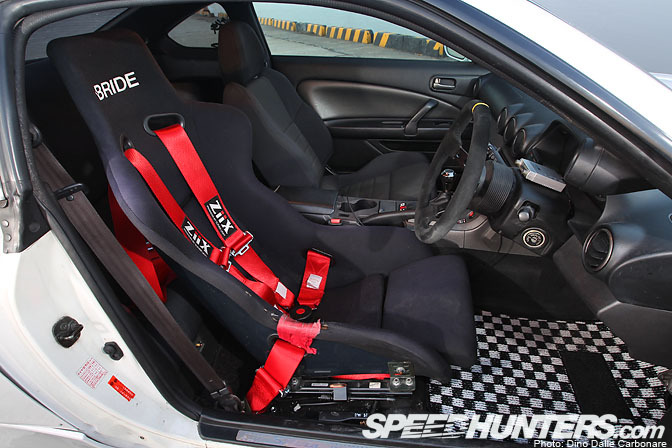 The Blitz boost controller offers on the fly boost adjustments while the Power FC commander is perfect to check a variety of engine information without the need for messy gauges littering the dashboard.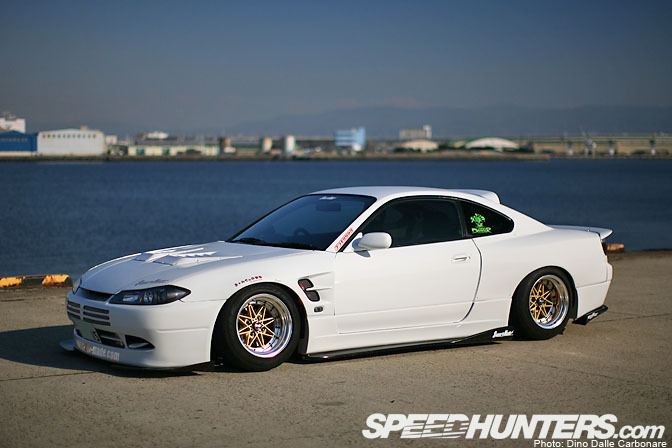 Super Made has quickly become synonymous with style and innovation and this S15, along with the Aristo we have already seen, couldn't emphasize this further.
Super Made Features on Speedhunters
-Dino Dalle Carbonare