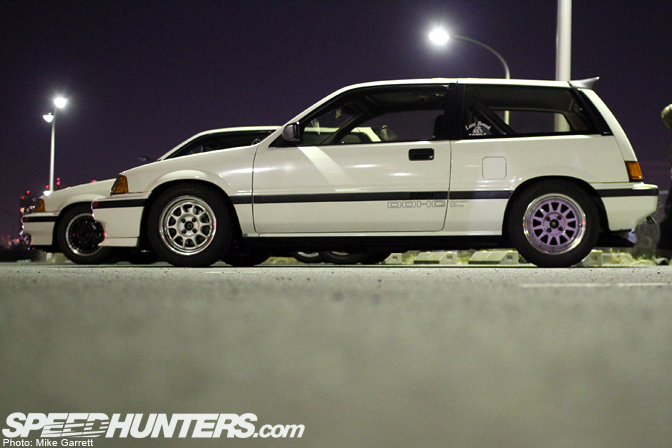 As I finish up the recap of my action-packed and unforgettable weekend in Osaka, I'd like to share some more scenes from Saturday night's M&L Party. It's already been a week since this meet, but I still can't stop thinking about how much fun it was to stand in this harbor-side parking lot on a cold February night.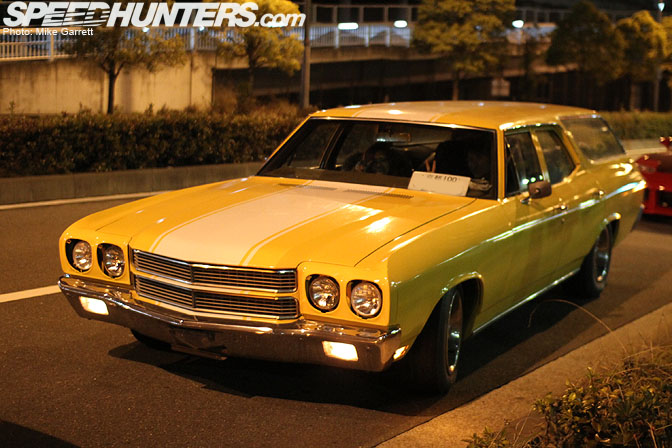 At one point very late in the night I came across a group of cars parked on
the street outside the lot. From what I recall, the pack
included a Stagea, a Celica, an FD RX-7 – and this. Was I hallucinating from
lack of sleep, or was I actually seeing a Chevelle Wagon cruising
with a bunch of tuner cars at 3 am in Osaka? Only at the M&L Party.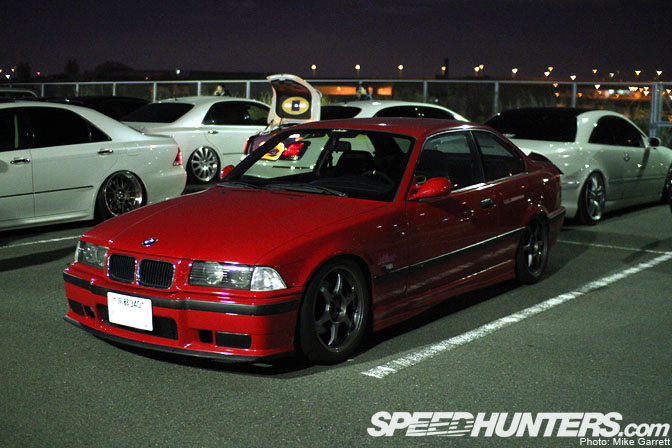 Back to reality now. Love the simple look of this E36. It's one of those vehicles that makes me want to hop on Craigslist and look for project cars that the wife would certainly not approve of.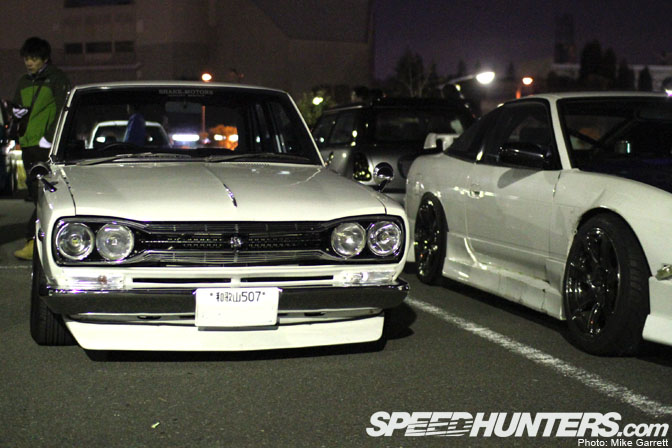 This four-door Hakosuka was part of a small group of Japanese classics that dropped by.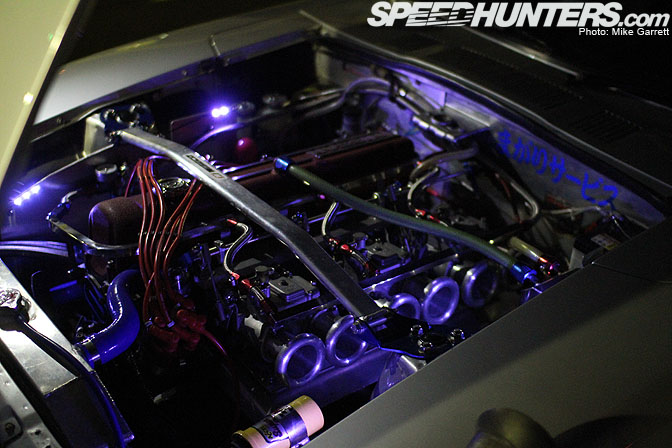 Engine bay lighting illuminates the built L-series motor under the hood of an S30. I also sighted a 510 and a Sunny Truck in the mix, but before I could come back for more shots they were already gone…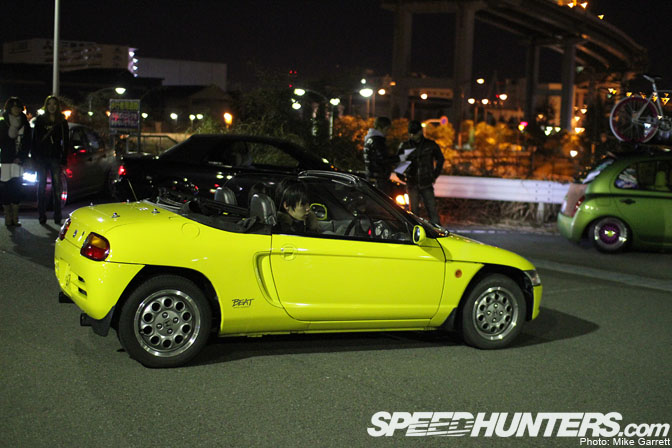 This is one of Shimomukai-san's customers – an active bicycle racer who decided he wanted to start racing cars as well. His new Honda Beat project car should be a great way to get some four-wheeled thrills.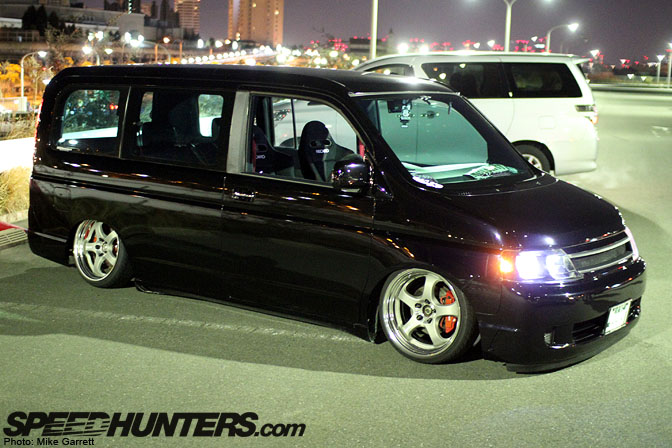 Shakotan Step Wgn with Recaros. Can't say no to that.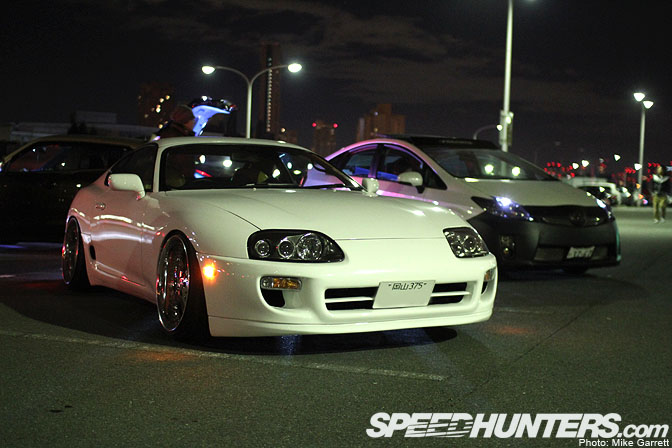 The "mild body + aggressive stance" style looks to be gaining momentum in Japan – as evidenced by cars like this Supra.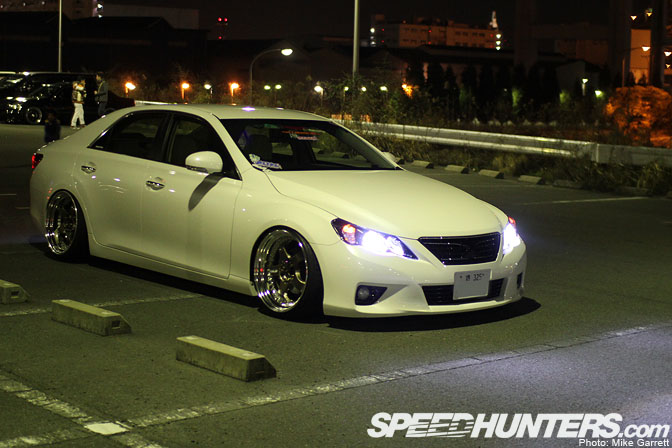 Masashi Kameoka went a similar route with his Toyota Mark X, done in what you might call "USDM stance style". I think it's cool to see Japanese enthusiasts take popular styling elements from around the world and apply them to their own home market vehicles.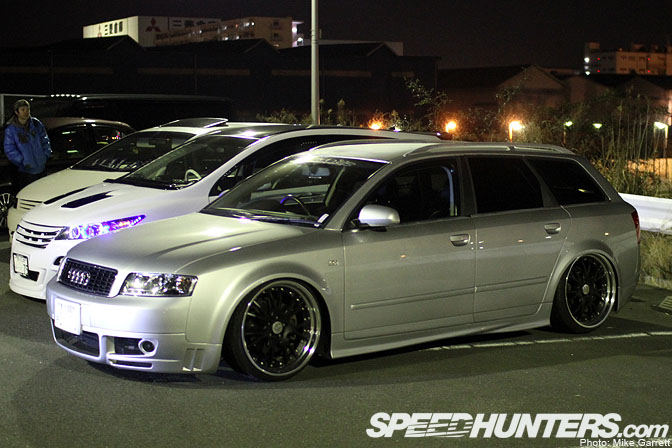 Another one for the Euro fans. Again, it was so great to see all these different types of car lovers get together for a relaxed night of fun.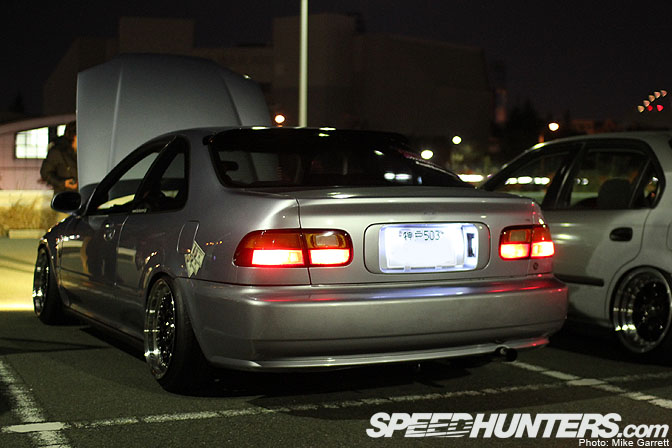 This Civic Coupe belongs to another one of Tactical Art customers. It's actually a LHD US market car that recently underwent a B16 swap.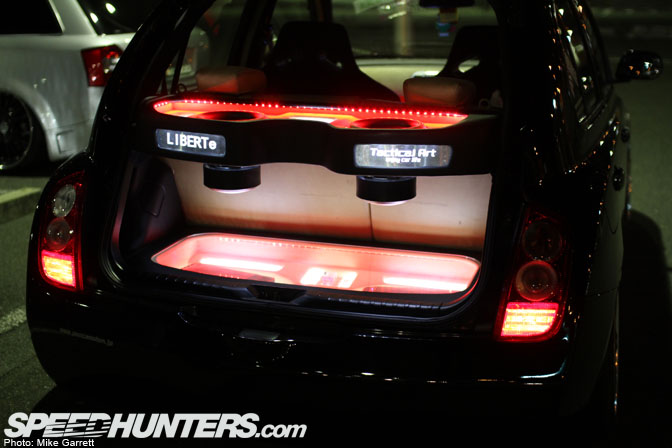 Late nights may not be the best time to look over the details of a car, but they're the perfect occasion to show off trick lighting setups.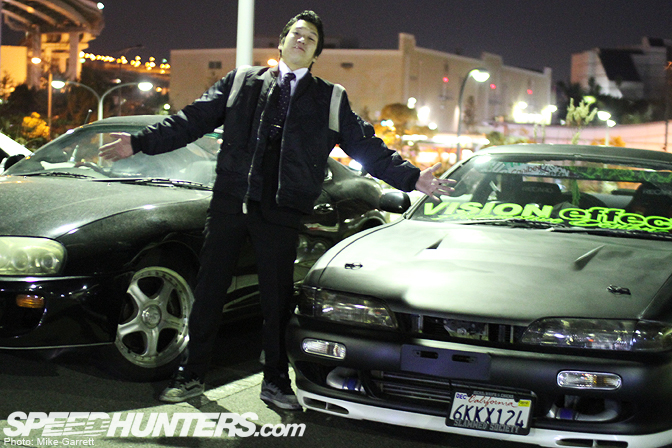 The Japanese are truly masters of the "standing in front of your car" pose. Nice job with the California license plate!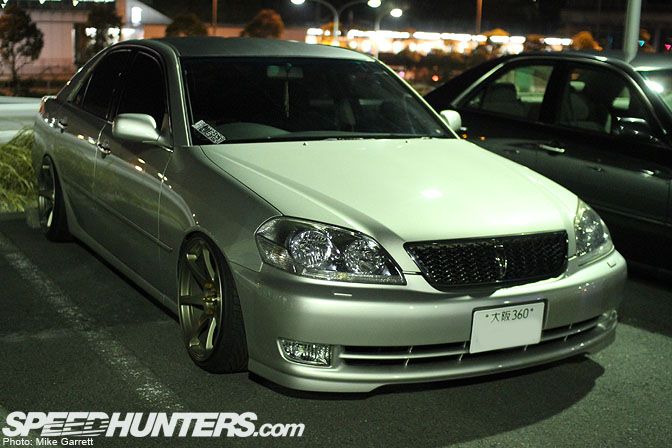 With a just a few simple changes, the look of the conservative 110 Mark II is completely changed.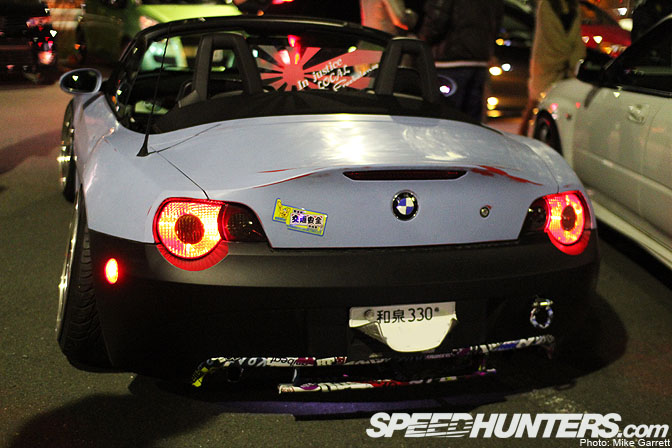 Insane is the only word I can use describe this BMW Z4. The car was formerly painted red, and I wasn't sure if the owner
Mizote-san was going for the rat look on purpose, or if it was being
redone.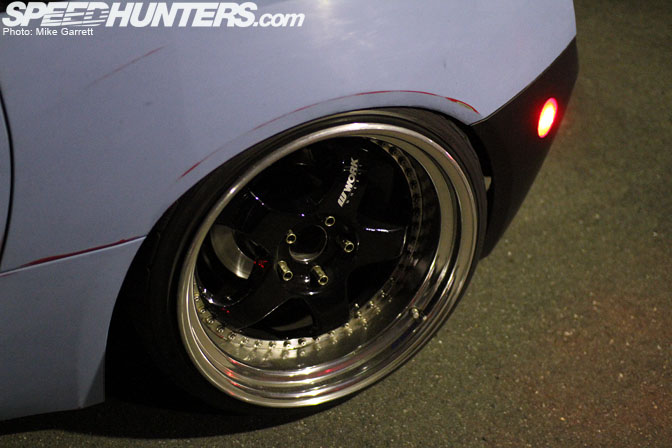 After talking to him, I found out it's going in for new paint next month. He's quite the character, much like his car.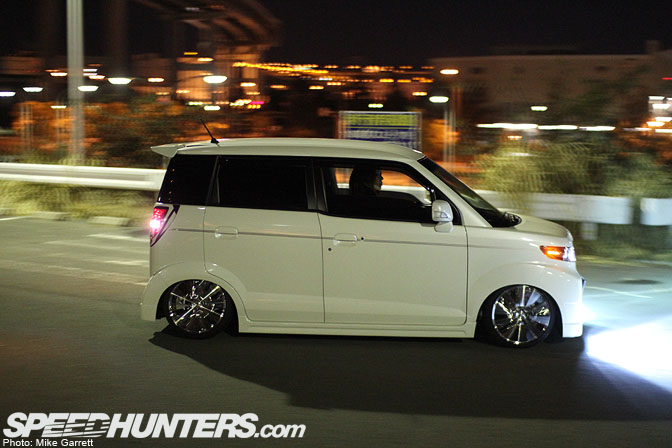 Kei scrape!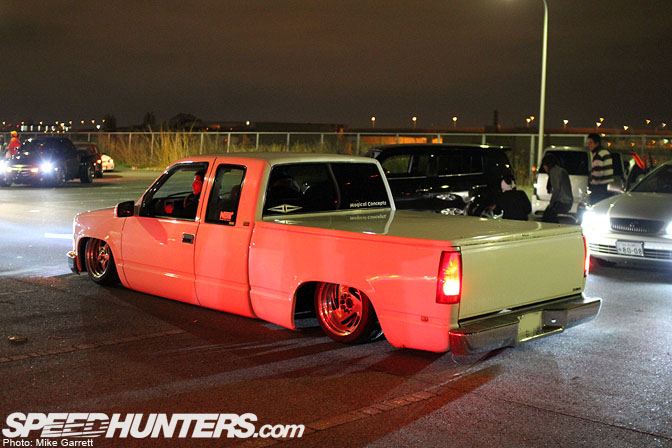 Here's another view of the slammed Chevy I posted earlier. Back around my home in
Central California, dropped pickups like this are quite popular. Seeing one
thousands of miles away in Osaka, Japan was both strange and cool to me.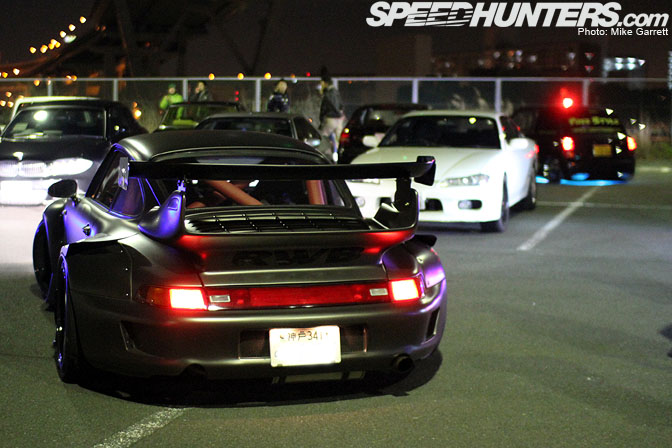 Afromania rumbles off into the night – destination unknown.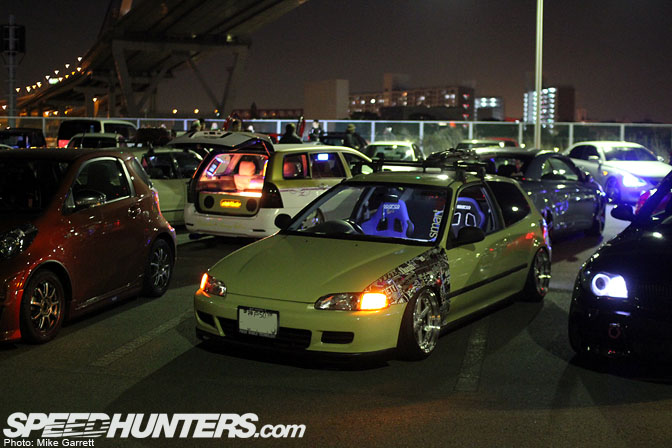 Osaka? LA? San Francisco? Where are we again?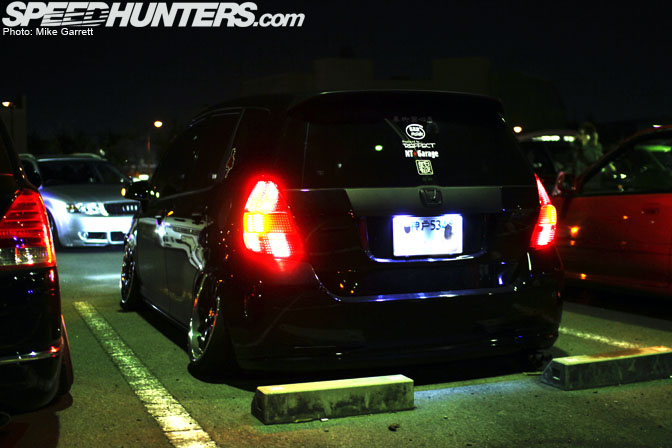 First generation Fit with just a bit of negative camber out back…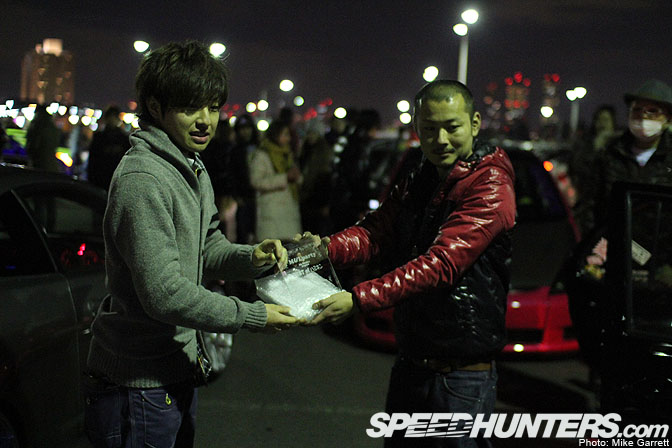 While the meet was very informal, the organizers even included a few lighthearted awards – such as "The Best of Hamikin" for crazy wheel fitment. Surprisingly, the guys even asked to make my own selection as a "Speedhunters Choice" award.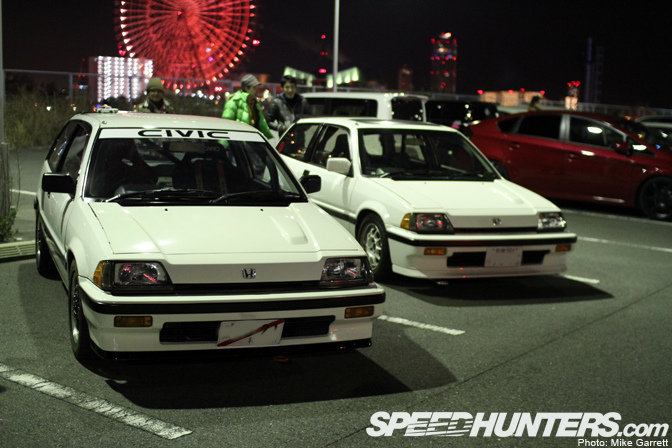 Now this was something I was unprepared for – and with the hundreds of cool cars that came out, a very difficult choice. In the end, I just couldn't resist the appeal of the Osaka Kanjo racer.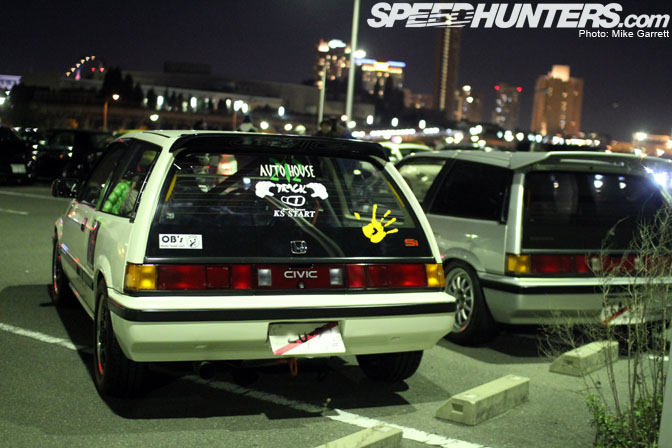 While there were several legit Kanjo cars that were worthy, I went with Saeda-san's "Wonder" CIvic from Team Trick.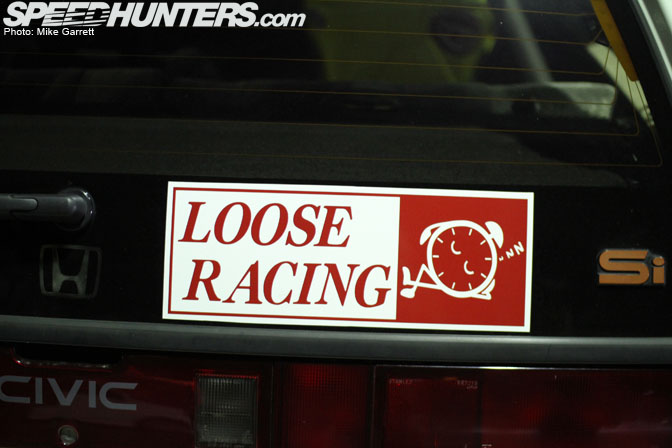 There was just something about this car. From the marks of Osaka's infamous racing teams…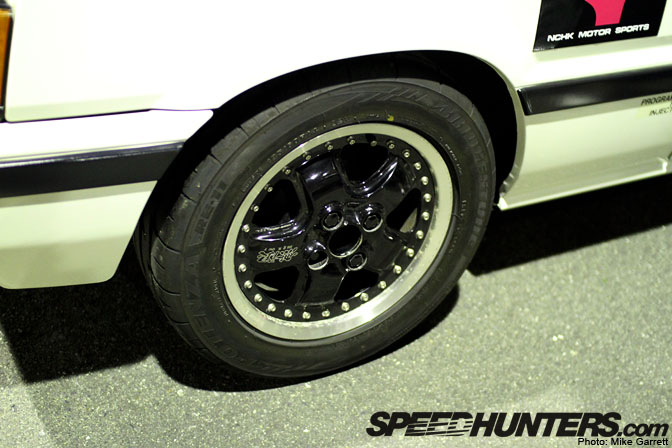 …to the period correct Mugen MR5 wheels. To me, this car represented the heart of Osaka and I suppose that's why I chose it.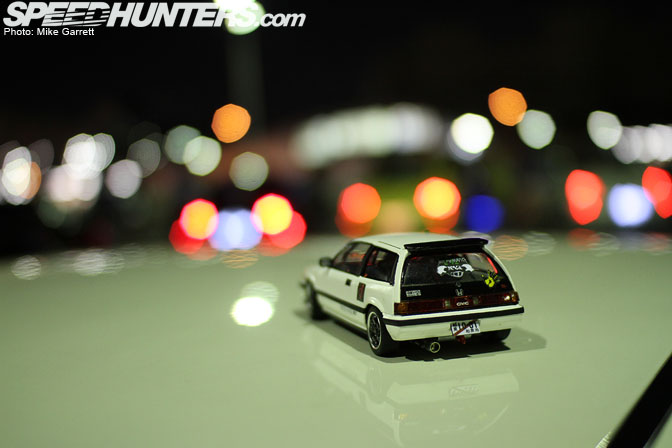 Saeda-san even built a 1/24 scale replica of his car, down to the decals and all. I thought that was really cool as well.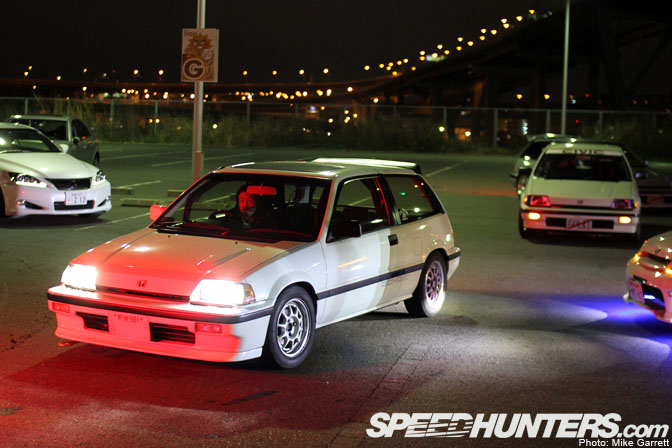 After the impromptu awards presentation, the hang-out continued on for a while before everyone began to head out. Even though it was well into Sunday morning by this point, I'm sure the night's adventures were just beginning for certain cars…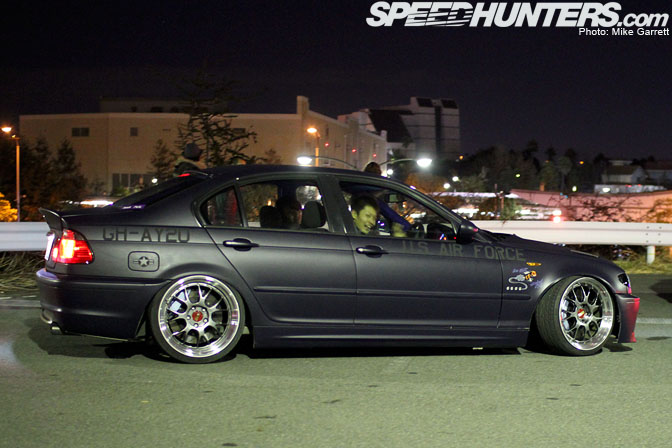 As the cars rolled out, everyone waved and thanked the organizers for their hard work with an "otsukaresama-deshita".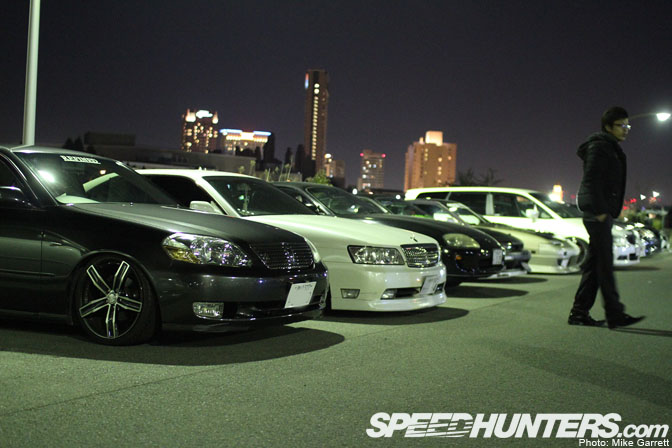 So that does it for the first-ever M&L Party. I sincerely have to thank Shimomukai-san and everyone involved for putting on such a great event, and treating me so well during my time in Osaka.
Thanks to them I now know the true meaning of the term "Kansai hospitality".
Needless to say, I'm already looking forward to my next visit.
-Mike Garrett