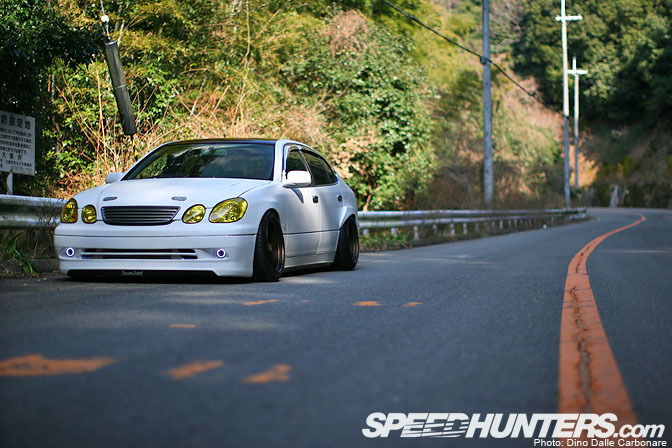 Much like fashion, car culture evolves, matures and varies according to a variety of factors. Where there might have been a very fine border between styles in the past, these days it's no longer frowned upon to mix and match, experiment in an attempt to satisfy that continuous drive that pushes us to be just that little bit different. Thanks to the far reaches of the internet we are bombarded on a daily basis with images of fresh new cars from all over the world and more often than not these glimpses originate from Japan. There is no hiding the fact that the Japanese know a thing or two about modifying cars, they have what has to be one of the most varied car culture in any one country…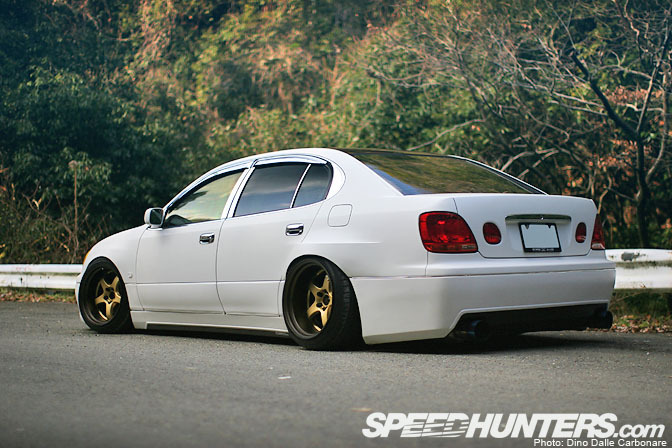 …and for this are some of the biggest trendsetters out there. But with all that is out there, so many established styles, how do you go about creating something fresh, something that gets you noticed?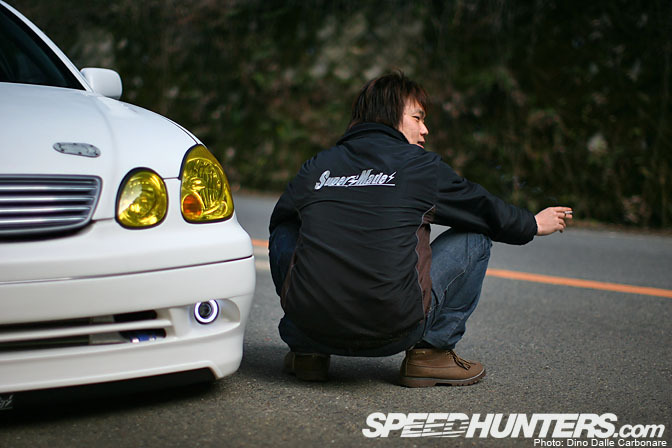 Yoshida-san from Super Made is one guy that has a pretty good idea what the answer to that is. Over the last couple of years he has really made a name for himself, first in the drift scene with simple yet aggressive aero kits for S-chassis and more recently with an interesting new take on VIP style.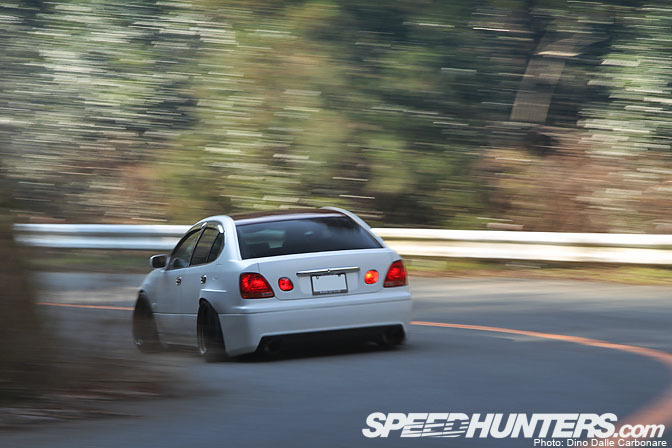 So as soon as I knew that I would be in Osaka last week for a few shoots, I called him up and told him I really needed to take a look at his latest creation, the car that took the Osaka Auto Messe by storm.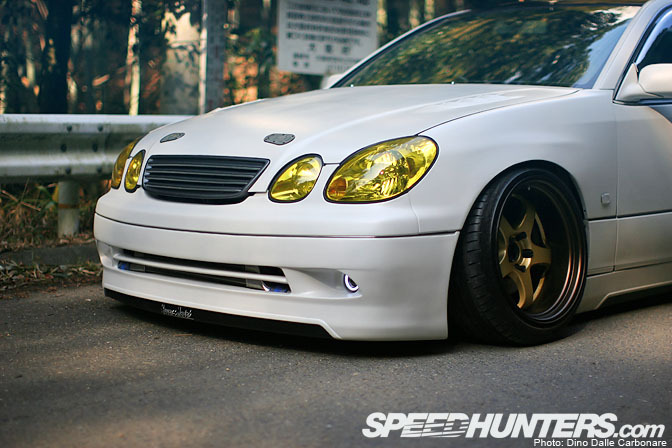 Shooting a big JZS161 Aristo in a touge might seem a little out of context, but bear with me a second here. Yoshida-san, much like when he created the SR20-powered drift-spec Y34 Gloria back in 2009, has decided to fuse two very different styles with this latest demo car of his. As he puts it, it's a "VIP-Sports," combining the best aspects that make VIP so cool like a slammed stance…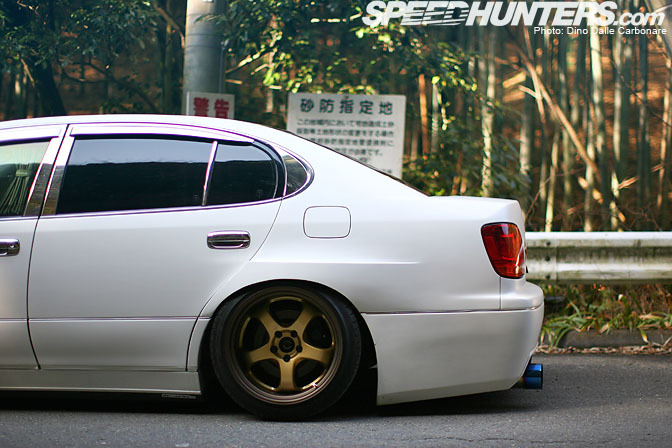 …with more sports car oriented wheels thanks to the 18" Work Meister S1Rs, 9.5J front and 10.5J rear. The offset choice has been critical in making sure the wheels sit as aggressively as possible…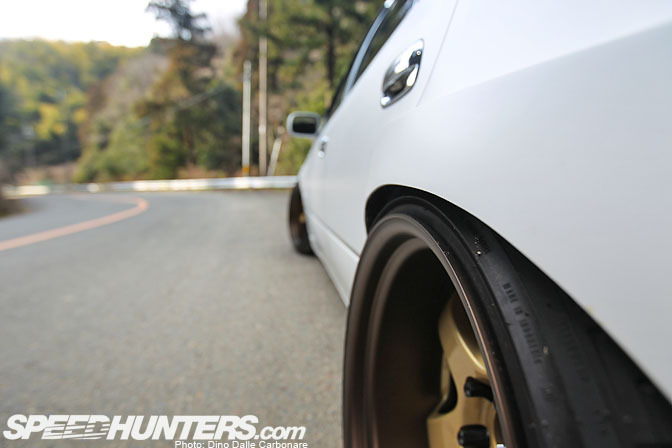 …with the new aero he has designed and created for it. The front offset is -20…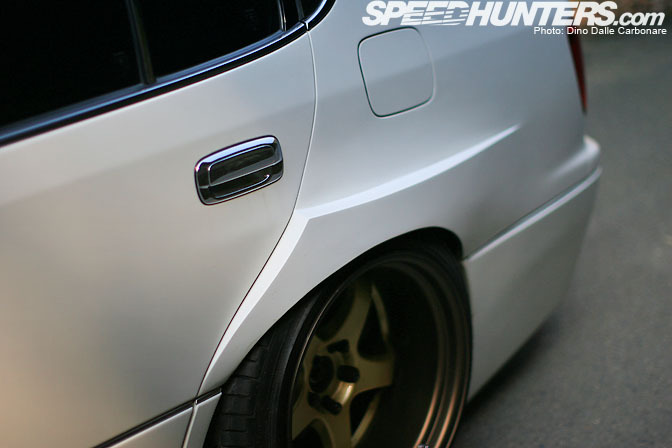 …with the rears sporting -30. These wheels combine Work's new bronze anodized rim with a custom painted gold center, a very unique color combination. Yoshida went for some Pinso tires in 225/40R18 front and slightly wider 235/40R18s at there rear.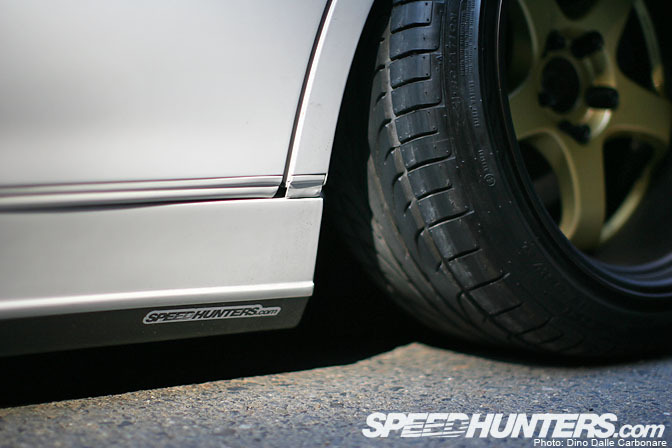 Yoshida-san pointed me to the subtle placement of some Speedhunters stickers I had given him last year. Very nice!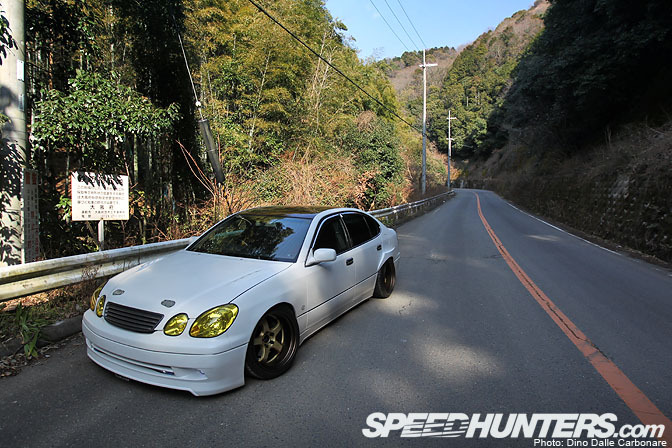 The matte white Aristo wears an all-new Super Made Instant Gentleman kit…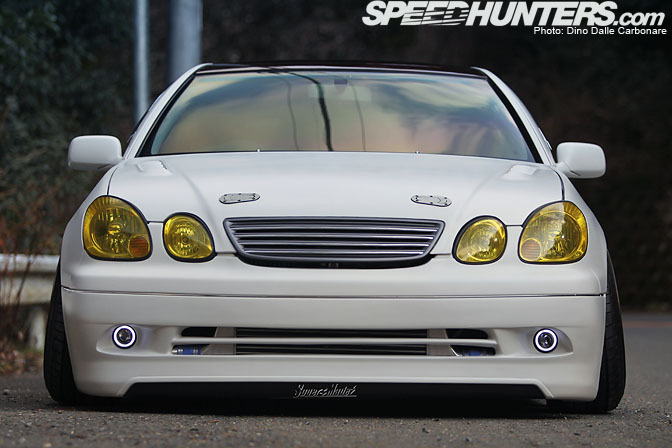 …comprising of a smooth front bumper with lower grille section, helping supply the upgraded Trust intercooler with a nice flow of air. HID driving lights are also part of the kit, sporting a BMW-like angel eye look for daytime driving. The headlight covers have been painted in clear yellow, something you either love or hate.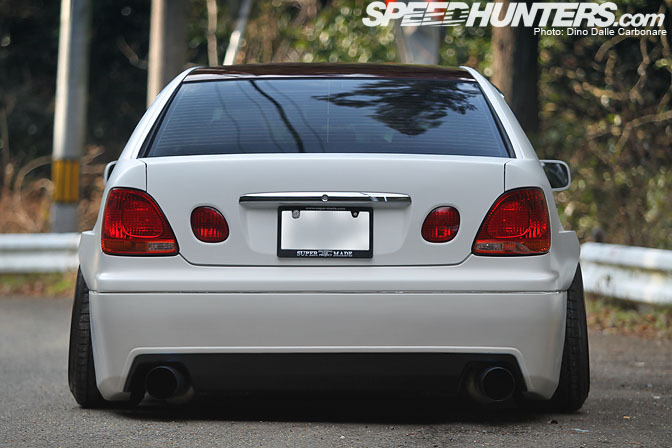 The rear bumper is very subtle, extended downwards to help bring the car closer to the ground and painted back in the center section…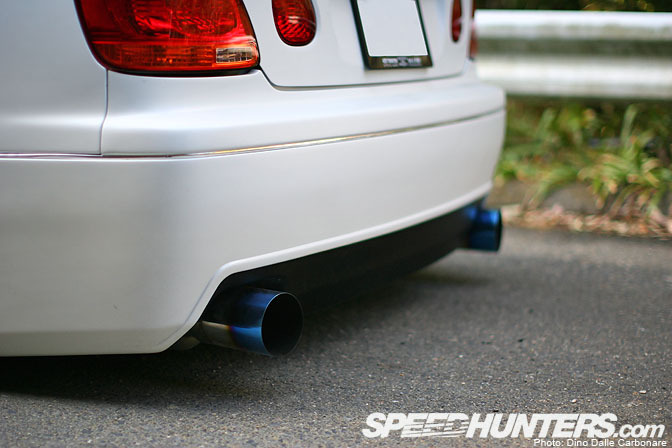 …from where the two big titanium exhaust pipes poke out from.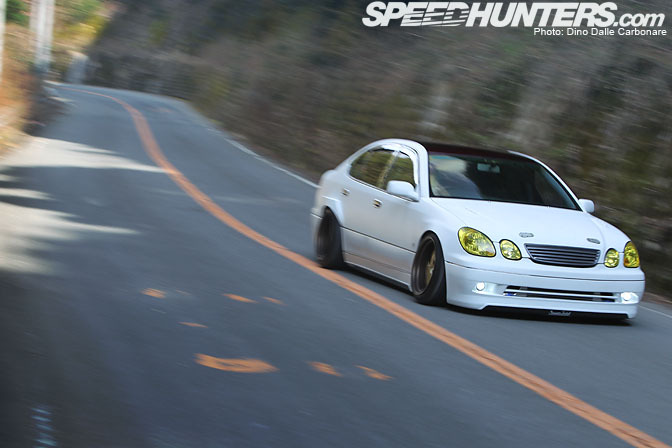 Both the front and rear fenders have been widened, the rear more obviously so due to the very angular contours of the blistering, again something very different which adds a touch of individuality to the car.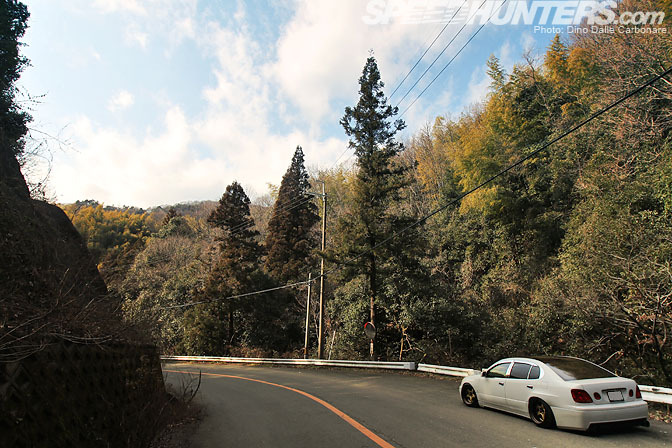 No matter where the Aristo is parked it looks mean as hell, millimeters away from scraping its bodywork all over the road.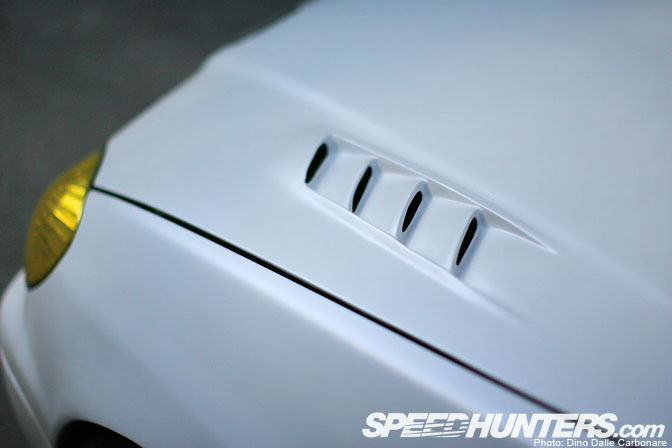 Lift the vented bonnet…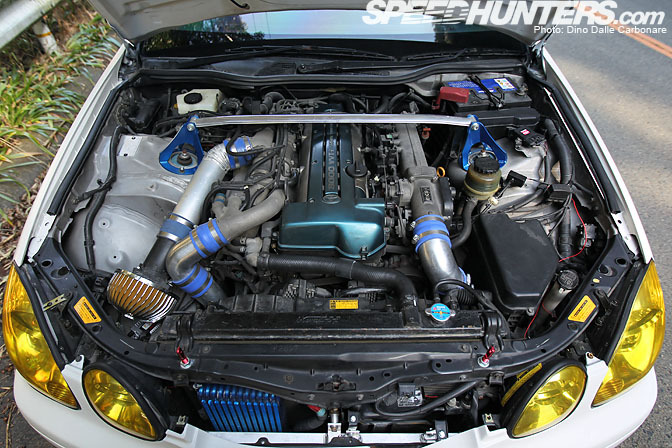 …and the 2JZ that powers this Vertex V300 version of the JZS161 is revealed. The engine has been lightly tuned with a custom intake using GReddy Airinx filters, while the Trust intercooler and hard piping kit lowers intake temperatures to boost power.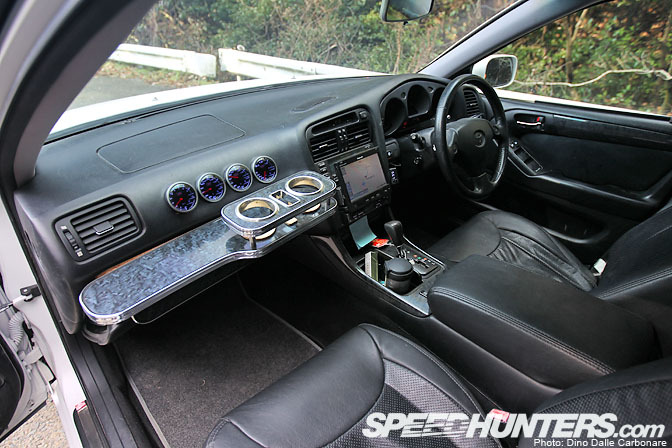 Like the exterior, the interior boasts an evident mix of classic VIP touches with more sports car oriented gadgets, so the passenger is treated to a small dash-mounted table and cup holder…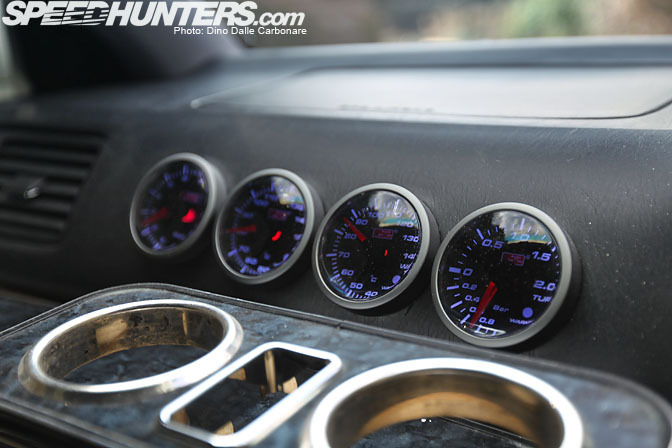 …as well as a set of Auto Gauge gauges. An interesting combination!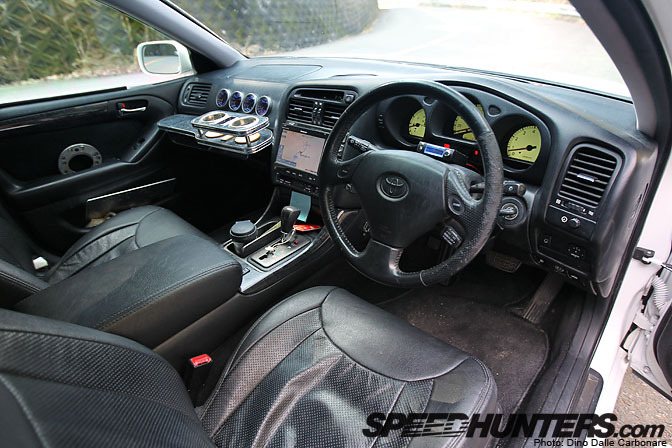 The stock leather seats are comfortable enough to soak up the rather firm ride of the Cusco suspension…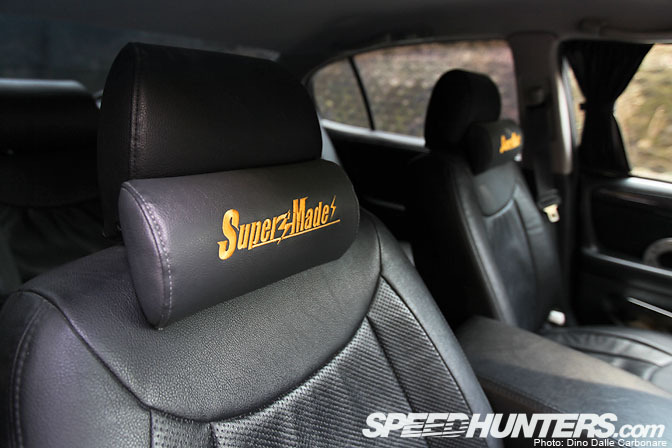 …while these SuperMade neck supports add a little more comfort when you just want to relax and cruise.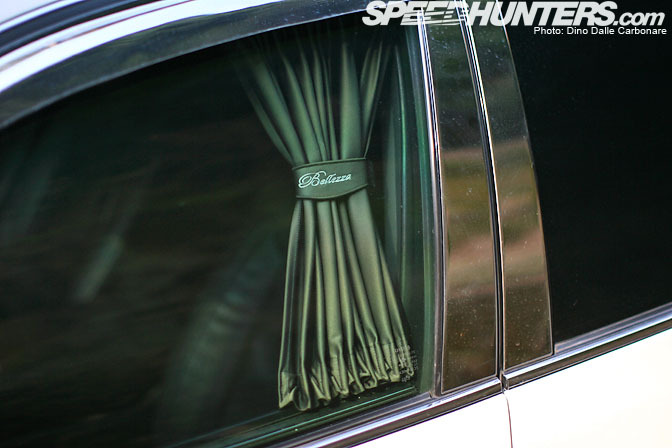 Oh and lets not forget the curtains to keep your identity hidden from peering eyes!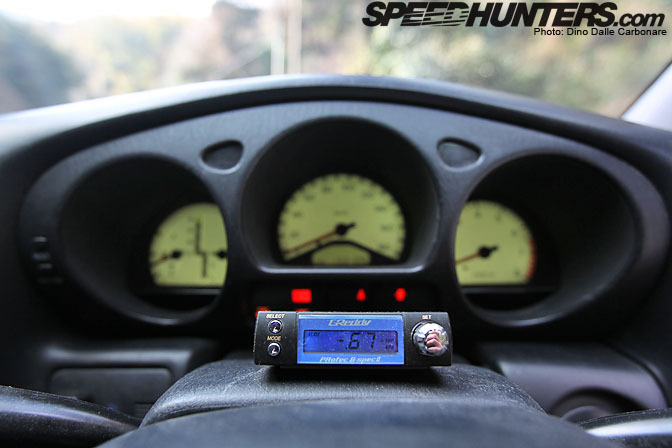 The 2JZ supplies about 330 PS thanks to higher boost settings controlled by this GReddy Profec B module.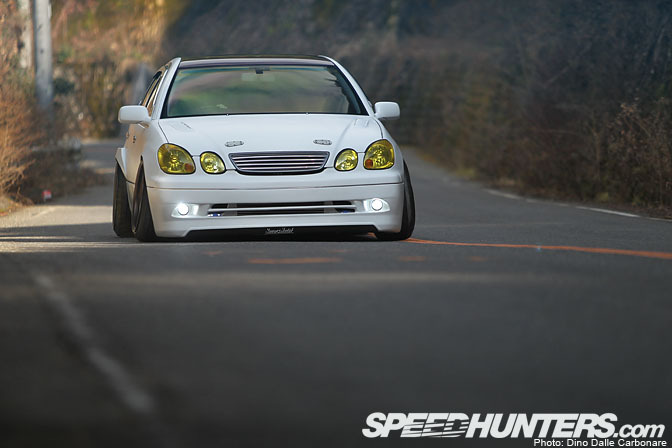 It might appear aggressively slammed and mean in these pictures but believe me it looks even more so when you see it with your own eyes. This car makes a statement; it shows that when done properly…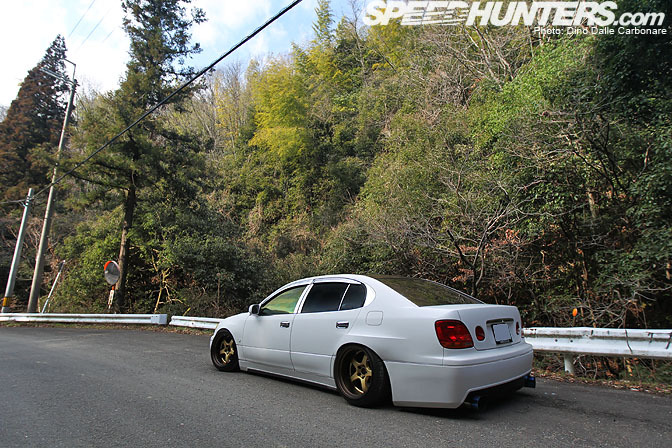 …styles can be successfully mixed, which is why it looks as perfect rolling down the busy streets of central Osaka as it does in the touge roads up above Kyoto where I shot the car, and even drifting around a track as Yoshida tells us, something he has tried a few times already. Not everyone out there can be trendsetters, Yoshida-san definitely can.
-Dino Dalle Carbonare