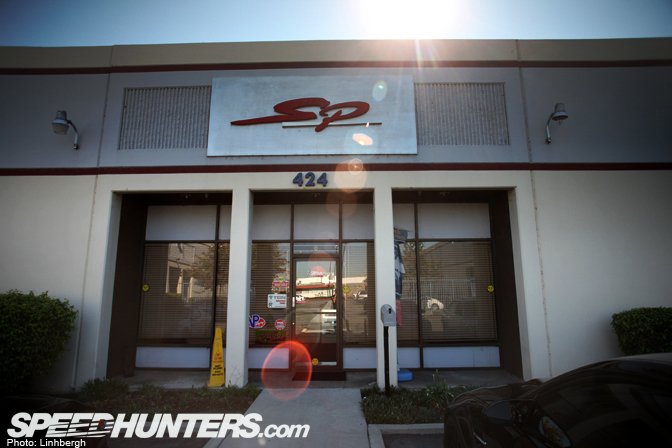 The City of Industry in southern California is home to wide range of car tuners. One of those is SP Engineering. Founded in 1996 by Alex Shen, SP immediately began making a name for itself by building all sorts of cars for customers. Focusing initially on the Japanese aftermarket industry, word began to spread about SP's powerful and reliable street cars.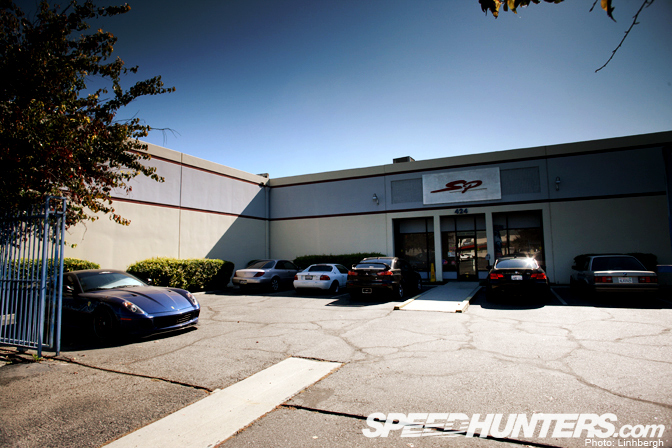 Their 13,000 sq.ft. facility houses five lifts, a Dynojet chassis dyno, office space for their sales staff and warehouse space to house all the various aftermarket parts they carry. SP became the first ever master distributor to be number one in sales simultaneously worldwide for HKS and GReddy.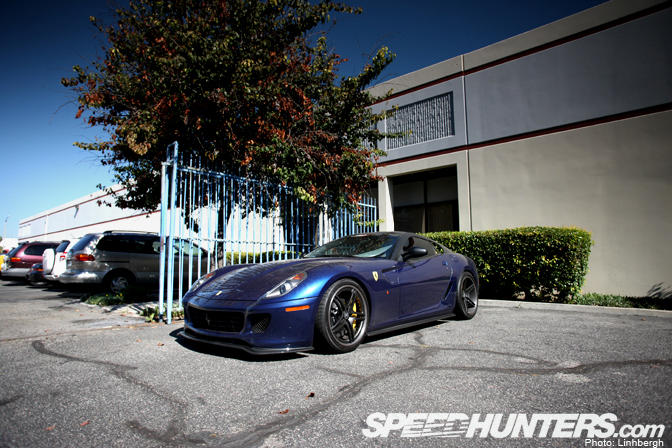 When I first arrived to the shop, I was kindly greeted by this lowered and fully carbon fiber lip-kitted out Ferrari 599.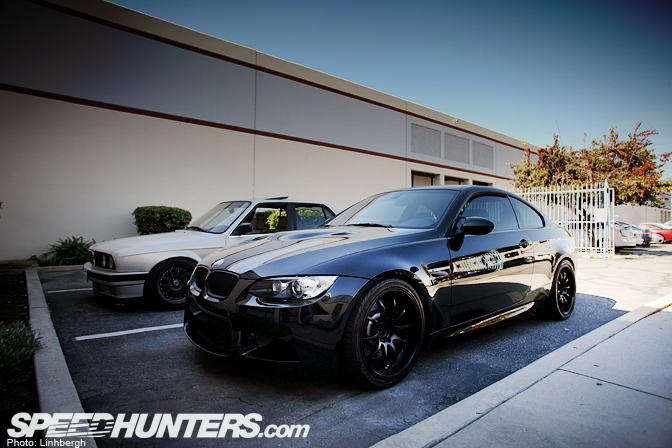 I parked the humble E30 and immediately felt rather Bavarian inadequate next to this E92 M3.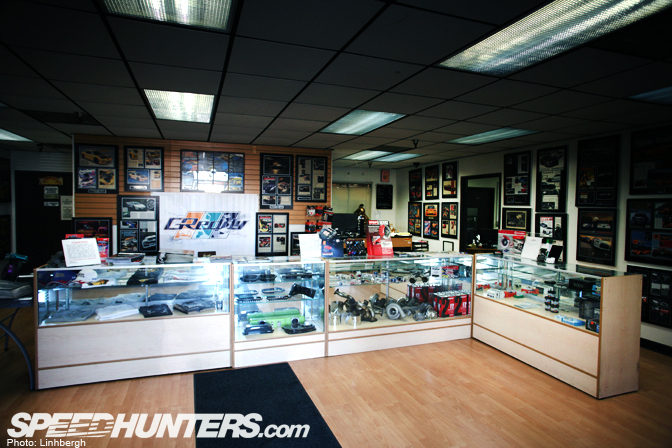 Most car builders or tuners show rooms are smaller affairs, but not with SP Engineering. There were many goodies to be seen in their very spacious show room.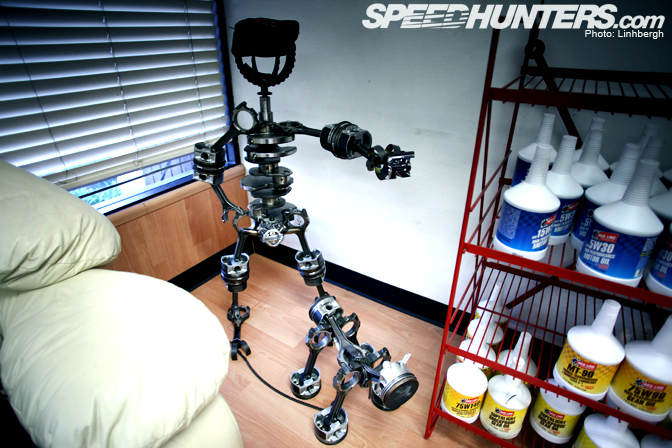 Hidden in a corner of the show room was this fantastic little metal creation complete with a metal best friend.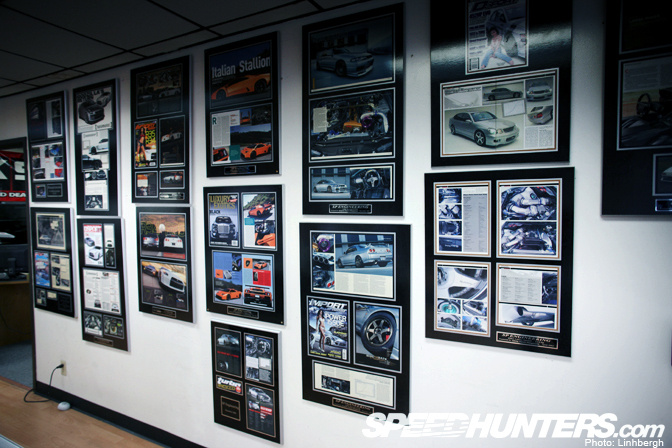 If you find yourself somehow getting bored of all the tuner parts on display, you can spend hours looking at the walls as they're covered with pages from magazines featuring their car builds. Some of these features stretch back quite a bit.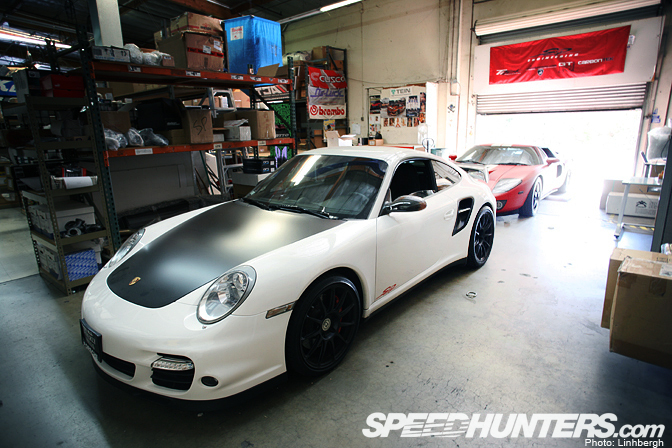 Finished with checking out the show room, I headed to the warehouse/workshop space in the back.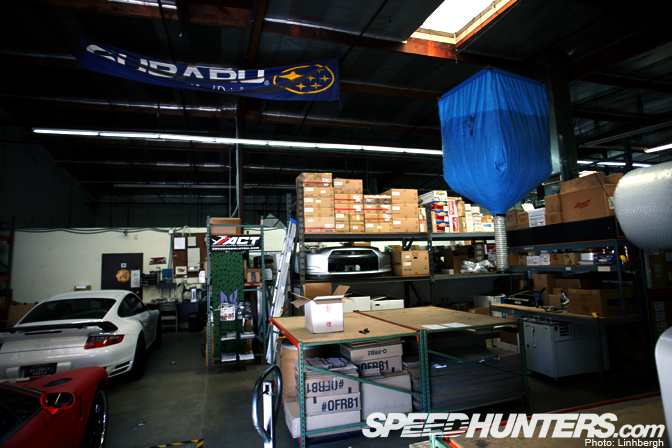 Straight out of the show room and into the back, you're greeted with the shipping area. A packaging popcorn vending machine? Oh yeah!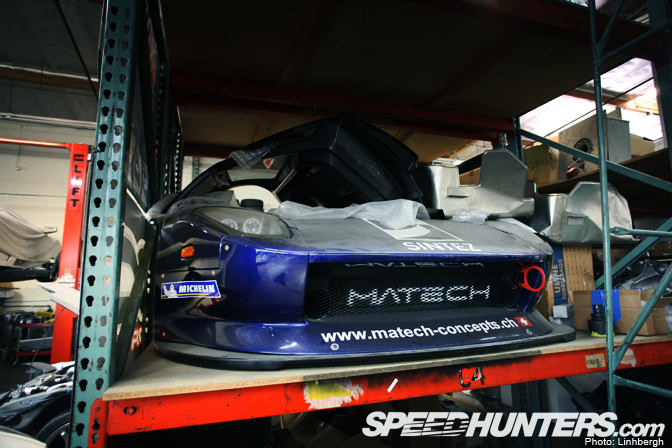 The warehouse also serves as a storage area for automotive nicknacks that SP Engineering collects over the years. It was a rather pleasant surprise to see a Matech GT1 Ford GT bumper sitting on the shelves collecting dust. It would make a great wall decoration….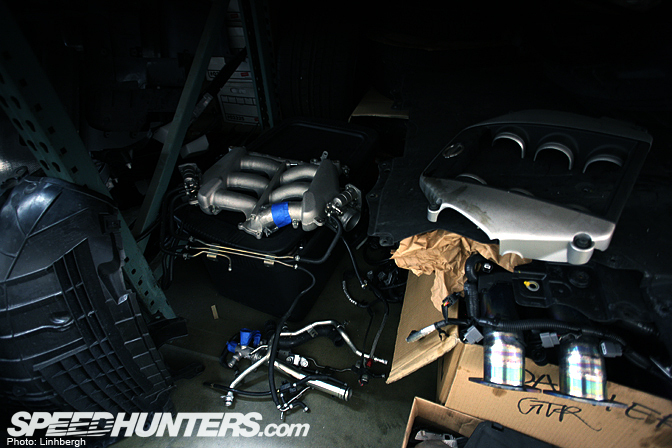 SP Engineering is well known for their knowledge of tuning GTRs. So seeing spare GTR parts throughout the shelves is a common thing.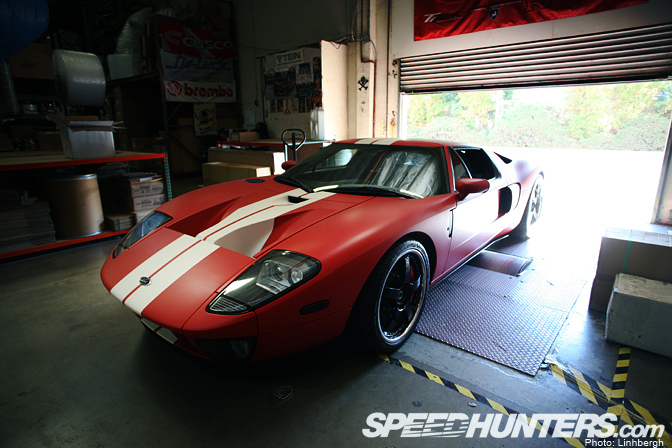 SP Engineering originally focused solely on Japanese cars but then started to slowly broaden their horizons as they thought about the prospects of building exotics and european vehicles.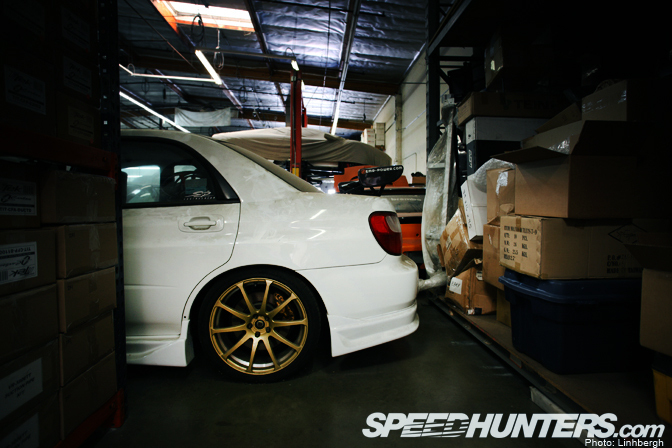 A lone WRX sits in dark corner gathering dust.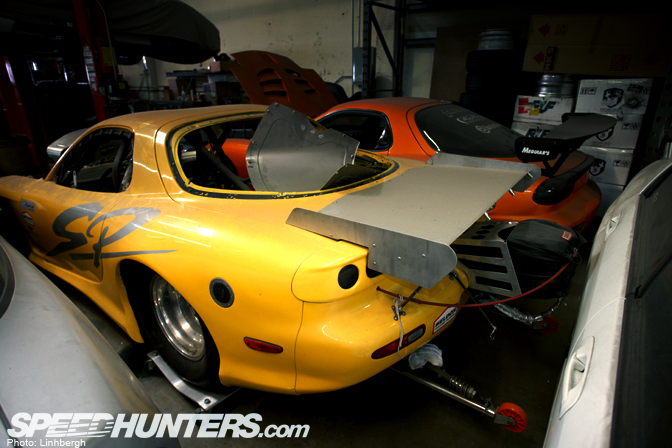 In addition to building customer cars, SP has been well known in the drag racing circuit and building their very own project vehicles for competition. Sitting next to the white WRX is a pair of FD RX-7s. The yellow one is of particular interest…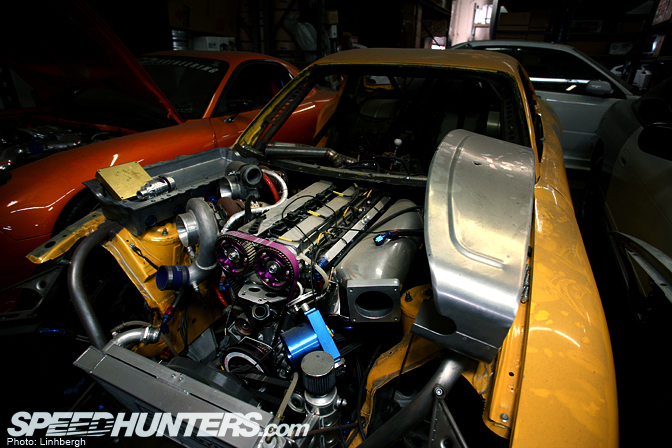 …as it houses a 2JZ!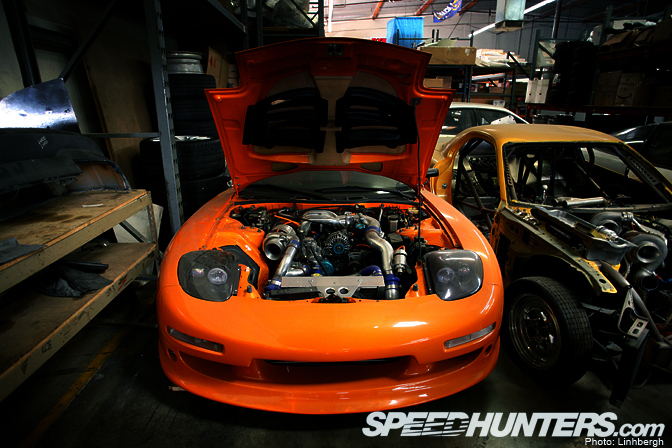 For you rotary purists, the orange FD, which sat next to the yellow 2J powered FD, stayed true to its RX-7ness and retained its spinning triangles.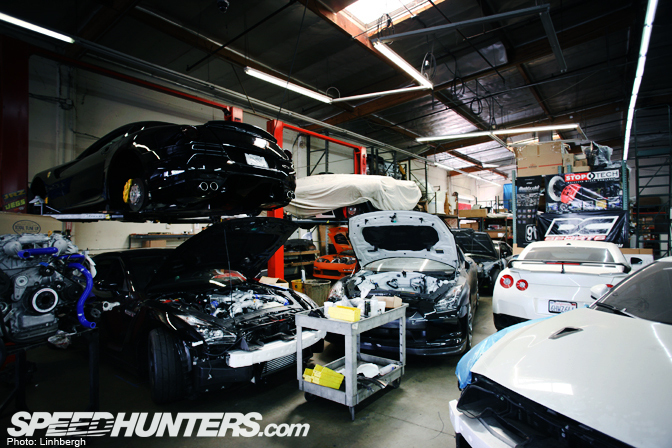 Further back into the warehouse area is the car storage and work shop area.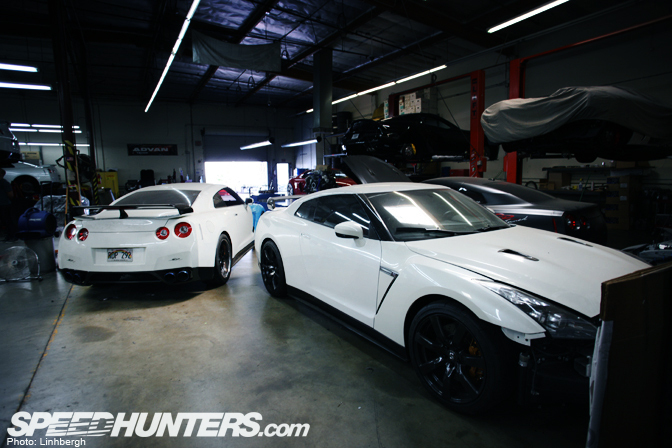 As you can see, the Nissan R35 GTR is fast becoming a popular choice for tuners and hobbyists alike. SP Engineering was working on 4 different GTRs during my visit.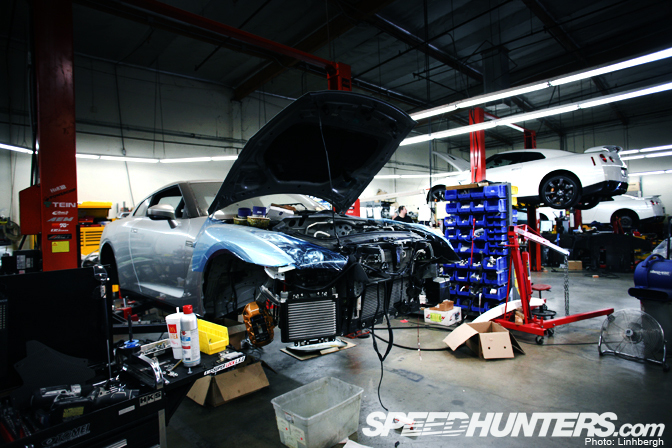 This particular GTR was seeing a suspension and power upgrade.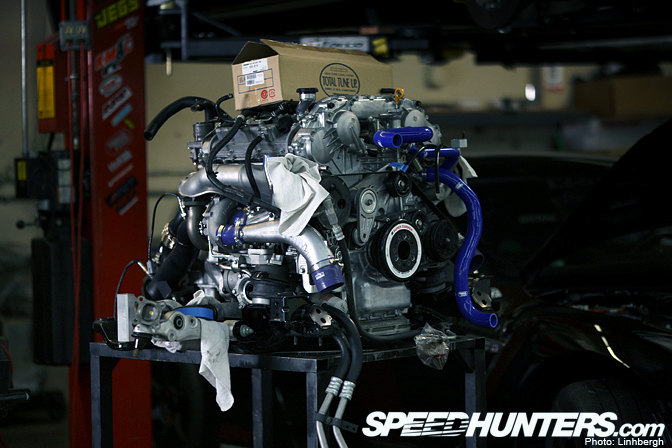 Since the R35's motor is so big, the guys from SP engineering found it much easier to remove out the motor from the underside of the car, do whatever needs doing, and then hoisting it back up.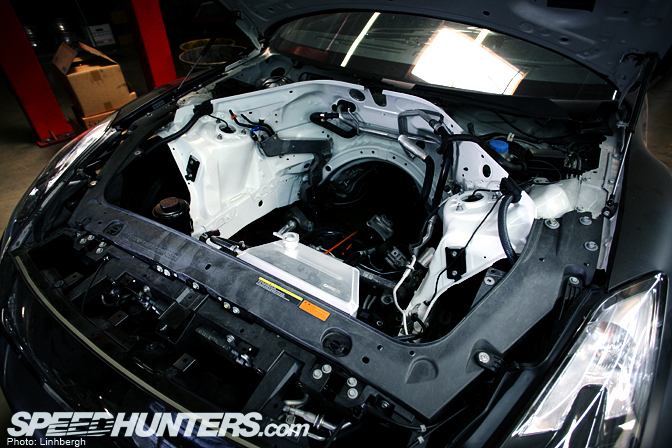 At SP it is also a common sight to see empty GTR engine bays. A motor comes out stock…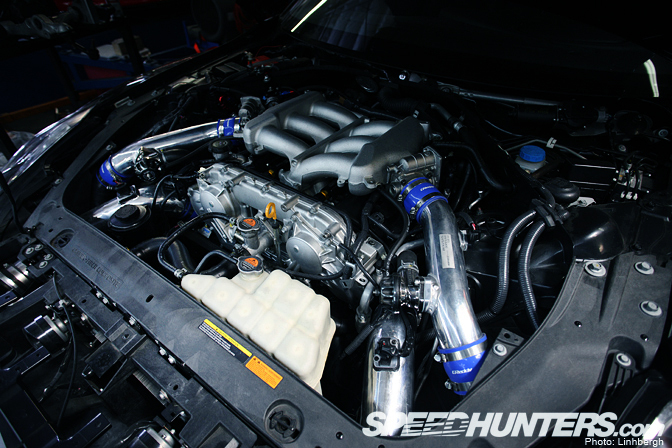 …but comes back in with some shiny new toys.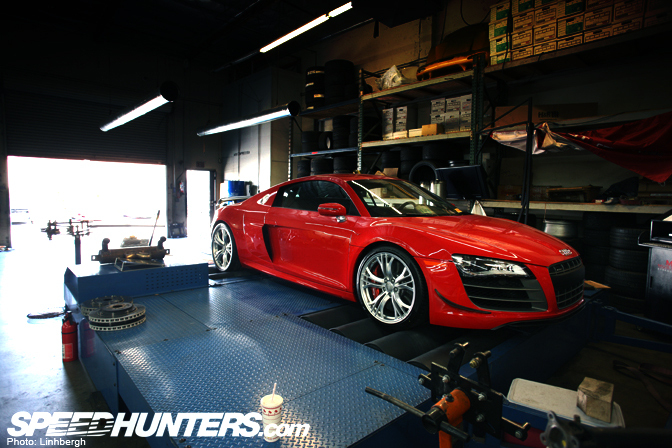 SP also has its own chassis dyno on site.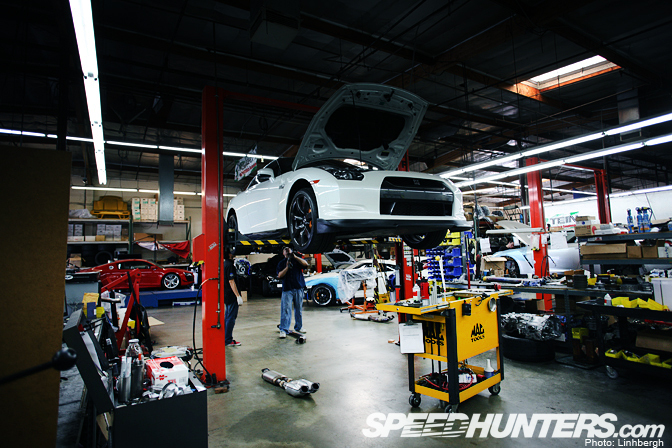 There are three different working bays with lifts at SP.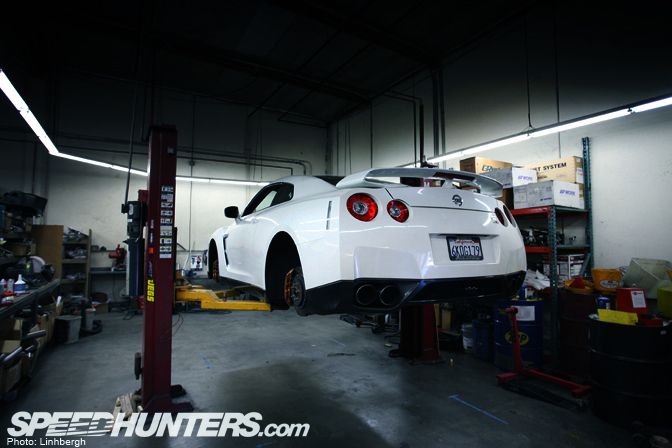 I found the fluorescent lighting around the edges of each bay made for some awesome light on the cars.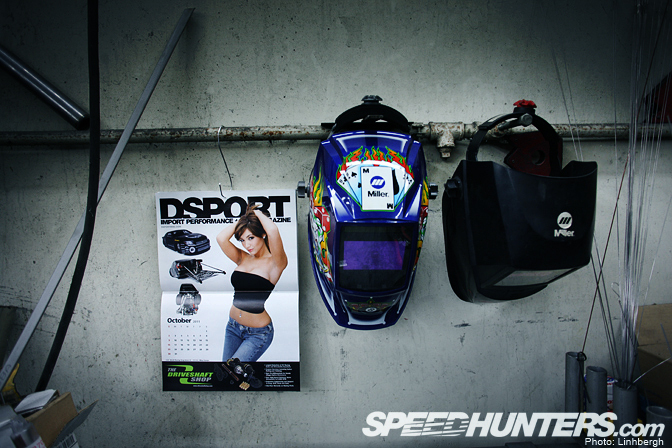 Welding masks and Miso Campo, all part of a well balanced SP Engineering breakfast.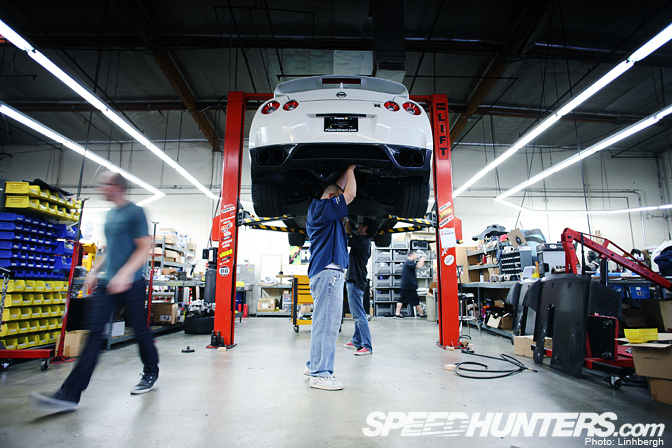 There are jobs and then there are jobs. SP Engineering is the latter pick. Not too many people in the world can say that their day-to-day includes late model imports, GTRs, Porsches, Lamborghinis and Ferraris. And on top of that, they take what was already great about these cars and make it even better with a bit of SP Engineering magic.
-Linhbergh
More Car Builder stories on Speedhunters