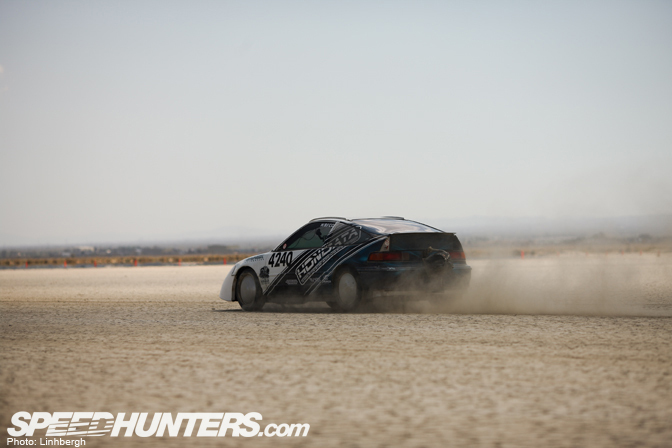 In the high desert of Southern California, about two hours northeast of the greater Los Angeles Area, there lies a rather large dry lake bed which land speed racers have been coming to for more than half a century. This dry lake bed is called El Mirage. And compared to the vast expanse of the Bonneville Salt Flats, El Mirage is the next best thing when it comes to going flat out.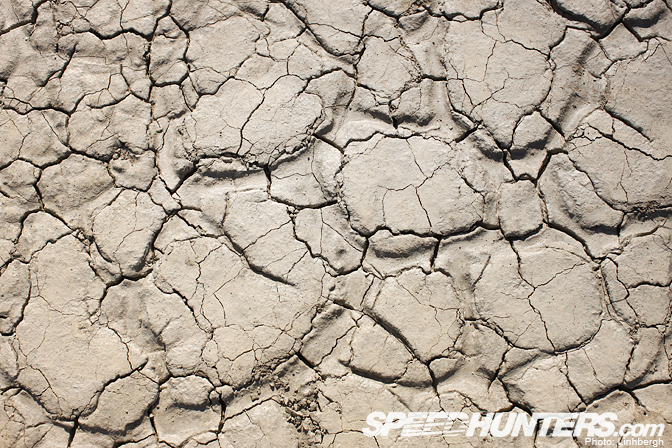 The salt flats of Bonneville feels as though you've stepped into an out door emergency room. Everything feels pristine, perfect and clean. El Mirage is the opposite of that. It is extremely dry and dusty. 
Just like how Bonneville's salt is a main character in the play of Speedweek, the dust of El Mirage is the main character in its own performance. 
I planned to check out the event earlier this year, but my trip was cancelled do to rain. This past sunday was no different with rain threatening to cancel the event once again. But I was determined to make it out since it was the last El Mirage event of the year.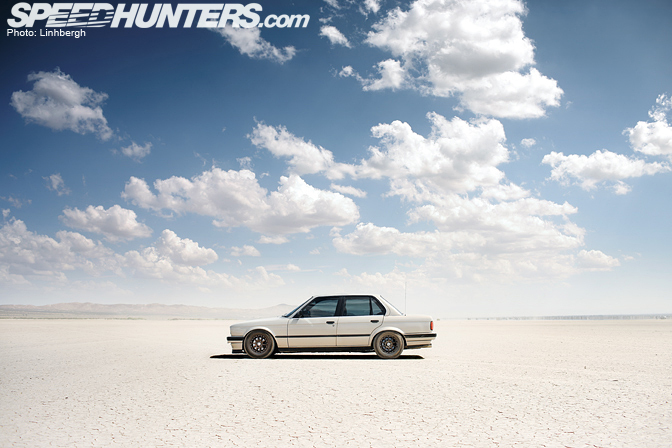 I checked the weather throughout the day while I was in attendance at JCCS, an event which wasn't just threatened by rain, but was affected by it in the early morning. Luckily, the weather stayed away from the El Mirage area.
So, in the early morning on Sunday, I climbed into my trusty E30 and made the two hour trek out to one of land speed racing's temples of speed.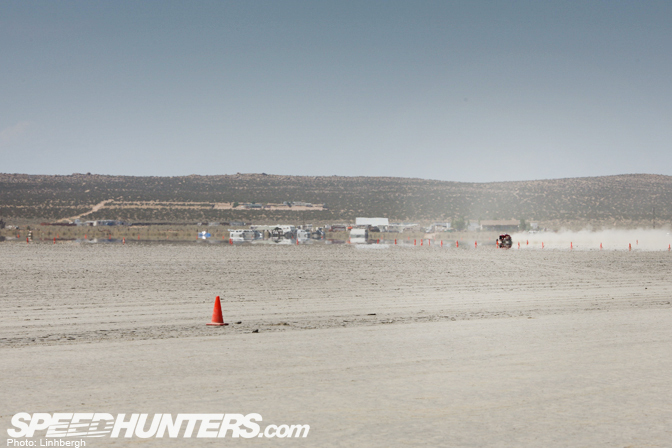 When I arrived, the event was already underway. But unlike Bonneville where you can hear the cars run from miles away, sound doesn't travel as far at El Mirage.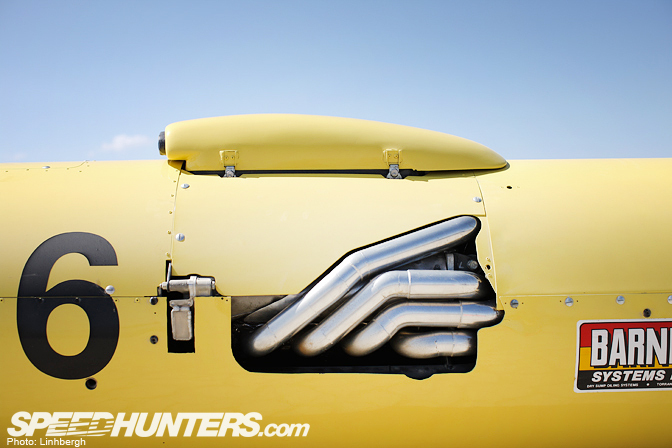 You can't hear the thunderous V8s until you step onto the lake bed itself.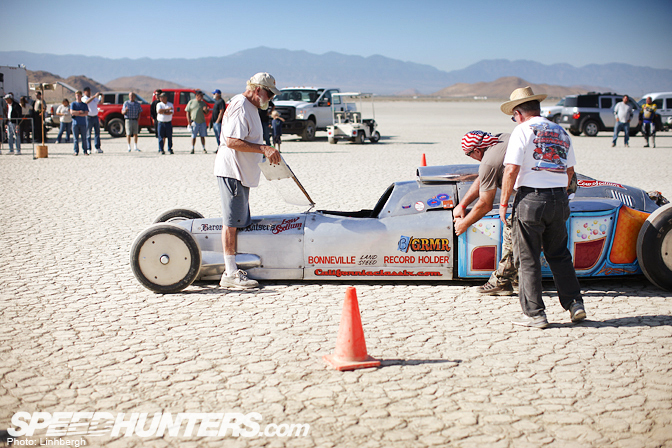 What you won't see at El Mirage are the 400MPH streamliners from Bonneville. It's best to think of El Mirage like a mini-speedweek. The track is not 7 miles long and the cars aren't as big.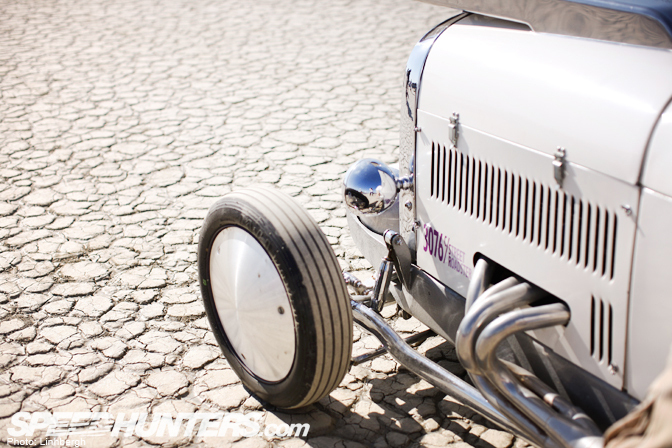 This particular roadster's built quality was one to marvel at.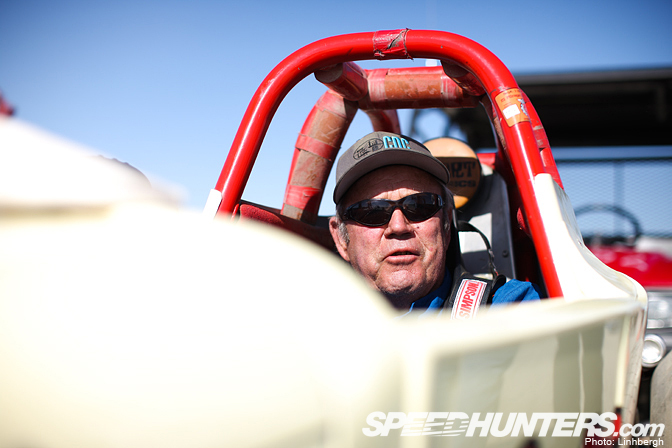 Here on the dry lake bed, racers are out to join the coveted 200 MPH club.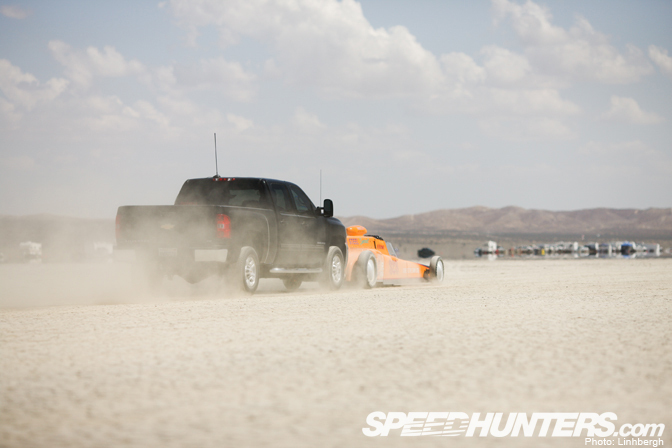 Even though the track at El Mirage is shorter, there are a few cars that still require a good push before they can run on their own power.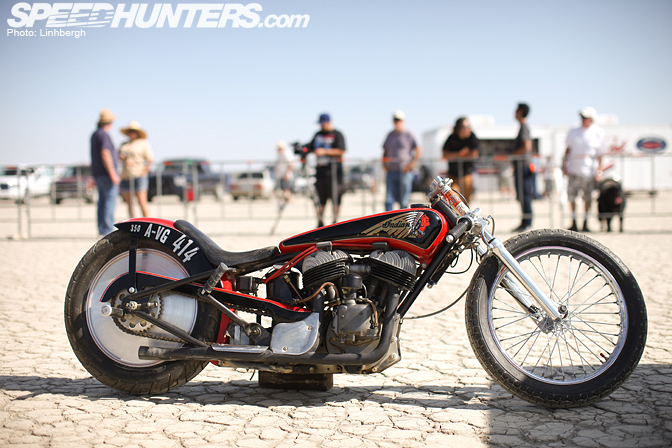 And like Bonneville, motorcycles of all shapes and sizes can be found.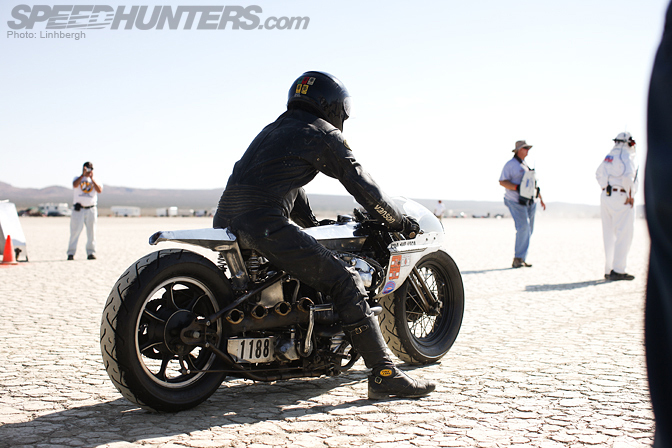 I was caught by surprise when I saw Shinya Kimura from Chabott Engineering out on the starting line. Seeing him at El Mirage and Bonneville made me realize just how dedicated he is to his art and to land speed racing.
If you haven't seen the film featuring him and his shop, check it out here.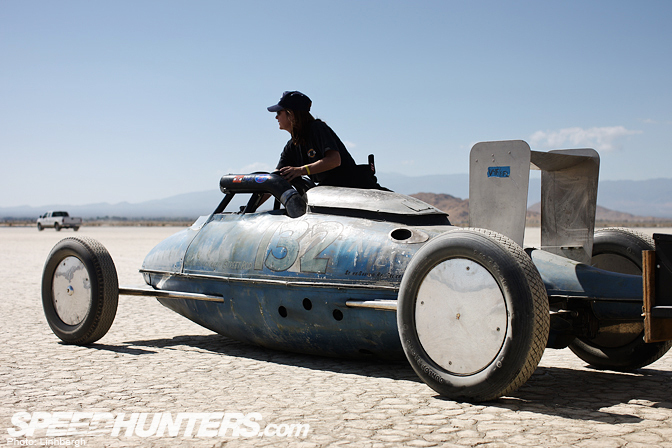 This belly tanker is another car that has competed at Bonneville previously.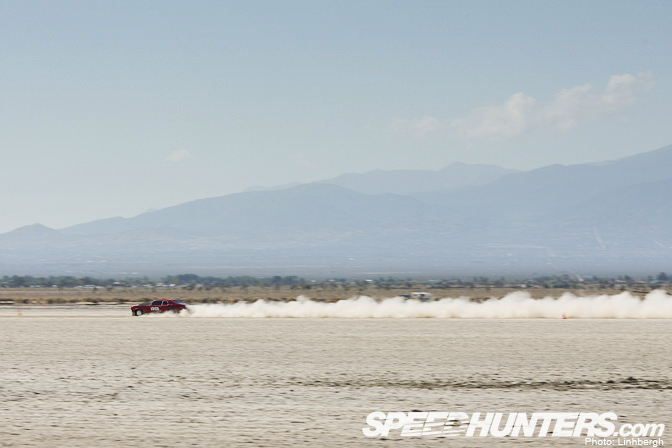 The dust is what differs the most from Bonneville. When the cars make their runs, they kick up an insane amount of dust in their wake. On certain cars, you can see how the aerodynamics of the car work by how the dust trail is blown back.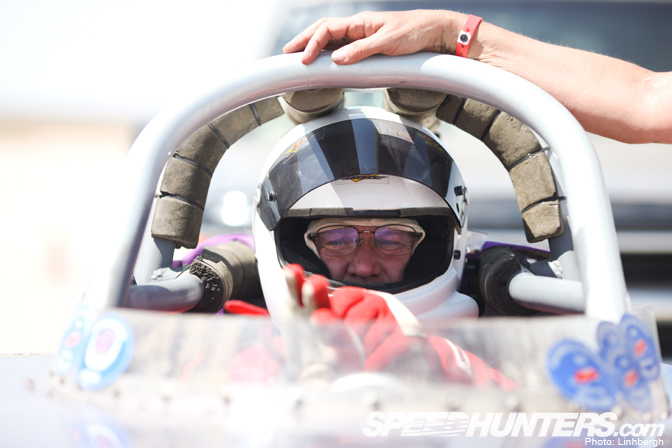 The eyes of a land speed racer are a bit more calm than those I've seen that of road racers or professional drifters.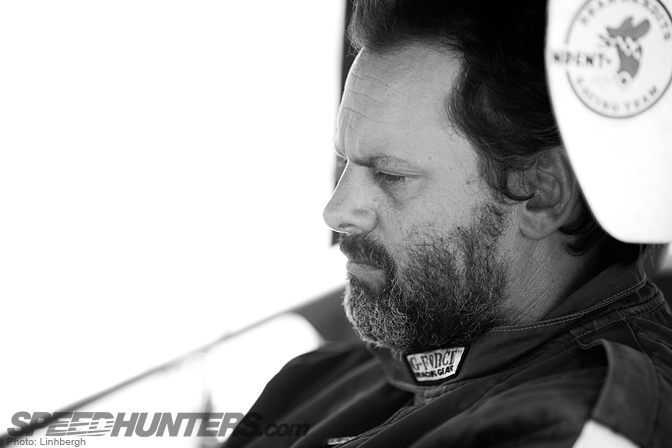 Their eyes are intense, yet there's a wave of calm that envelopes each and every one of them. It's a totally different sort of "in the zone" than that of other motorsport disciplines.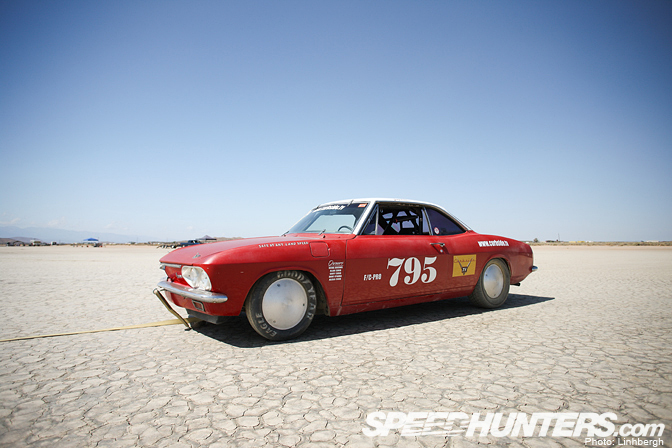 Now here's something you don't see everyday, a land speed racing prepped Chevy Corvair.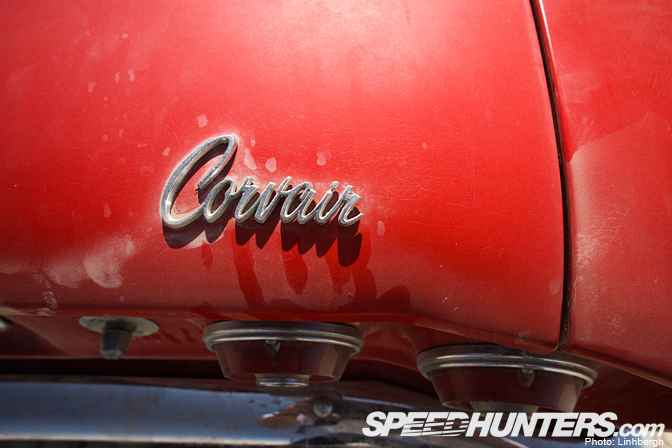 The dust gets everywhere.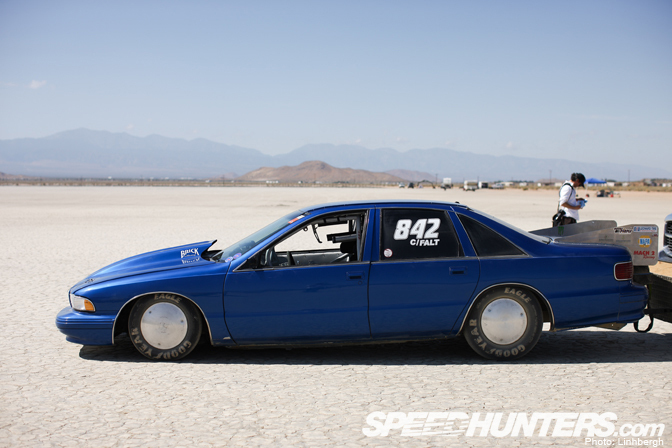 And here's another unlikely LSR prepped car, this Chevy Caprice.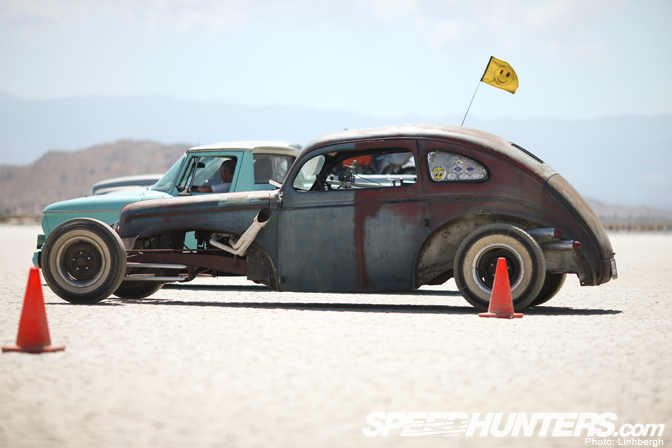 Hot rod culture is a bit more scarce on the lake bed than on the salt flats of Utah, but those that come out are still quite the lookers.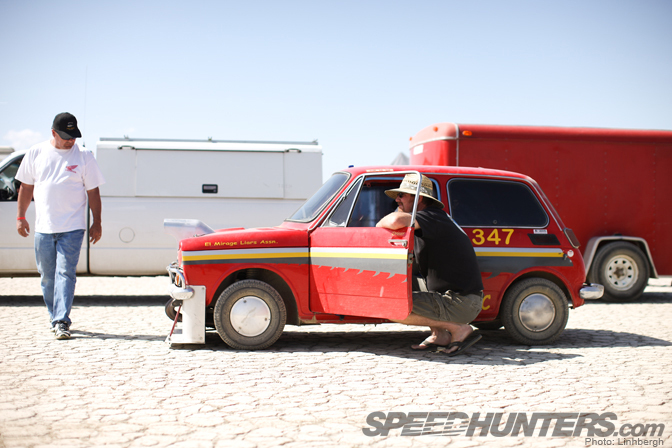 Loved this little Honda N600…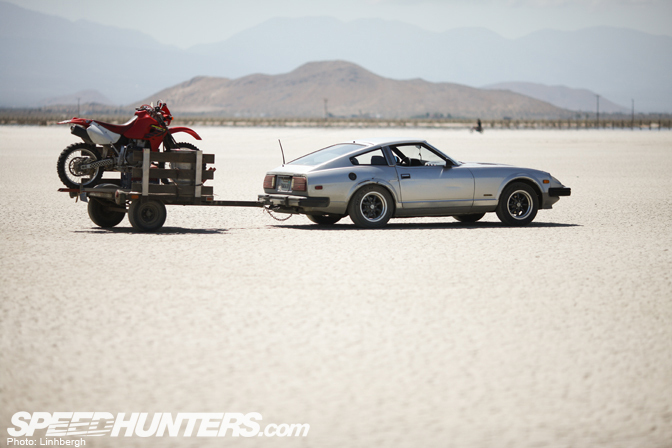 … this 280ZX tow vehicle.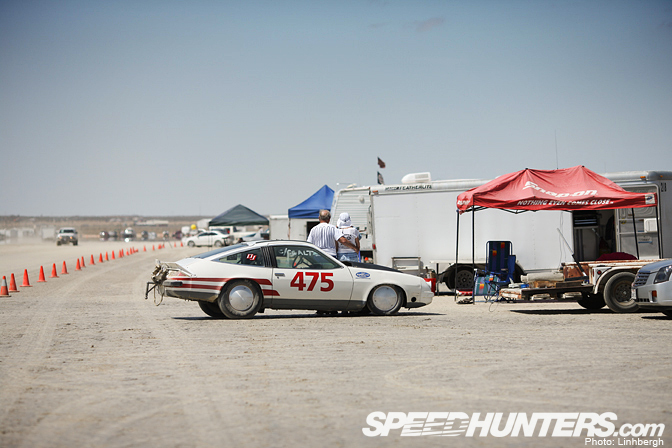 …as well as this Chevy Monza.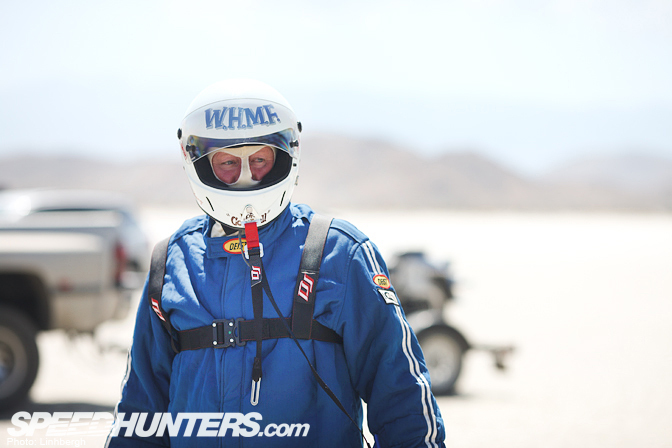 Seeing racers fully decked out in their safety gear walking around in the desert was like re-watching the infamous scene walking from the movie, "The Right Stuff."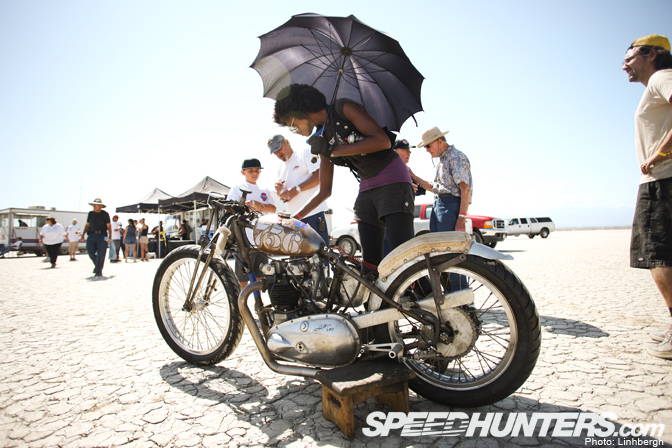 I absolutely loved this custom built bike.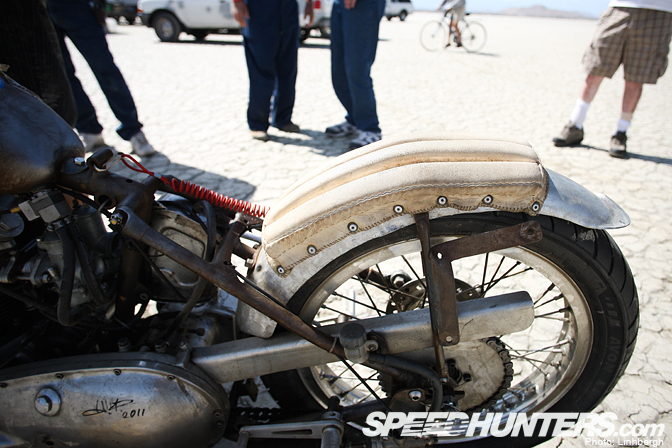 What struck me the most about this bike was the seat that was mounted on the rear wheel fender.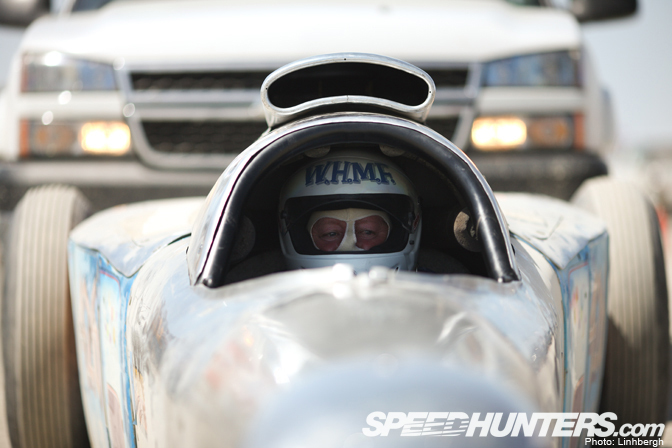 If you're a land speed racer sitting in front of the starting line at El Mirage…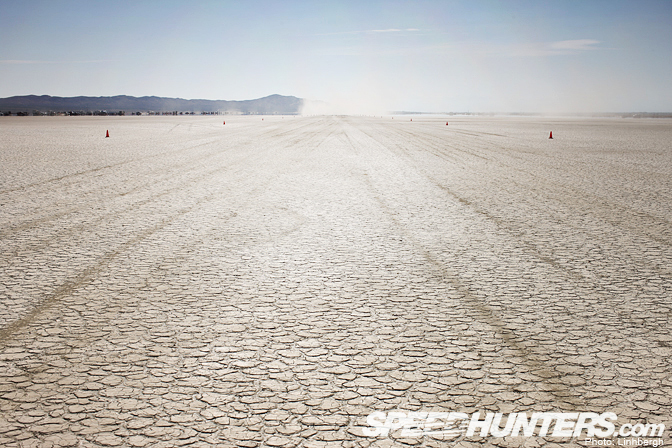 …this is what lies before you as you stare out from your car. 
More to come from El Mirage!
-Linhbergh