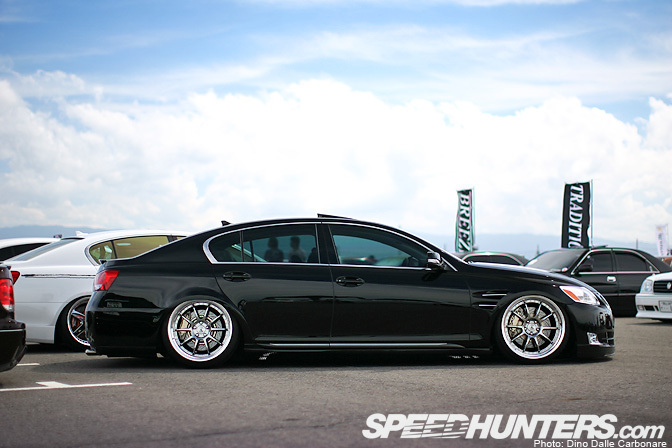 Time to dive right back into the massive VIP gathering I attended in Osaka this past Sunday and take a look at some other cool cars I came across. Starting off with this Lexus GS, slammed right on the ground and sporting a brake upgrade that wouldn't look out of place on a time attack car.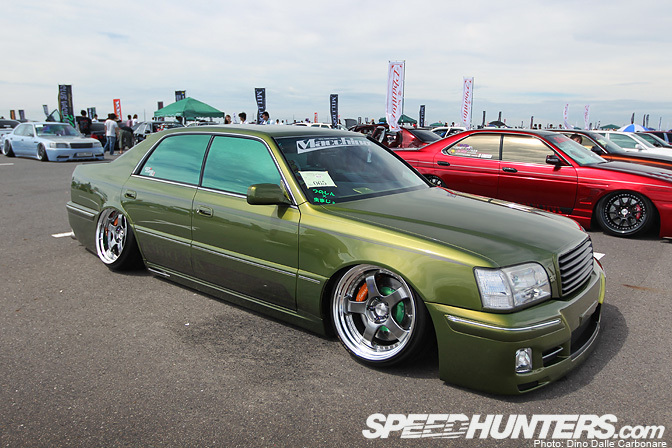 I have to give it to the guys and gals that build these crazy machines, it's not easy to make your car stand out among a selection of 600+ of the best rides in the country. Take this S150 Crown Majesta, painted in an unusual metallic olive green and sitting on 19-inch SSR Professors…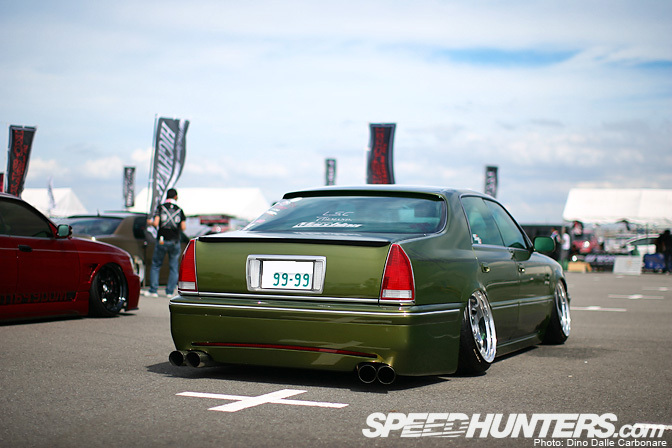 …neatly tucked into the gently rolled fenders. Number plate was pretty cool too!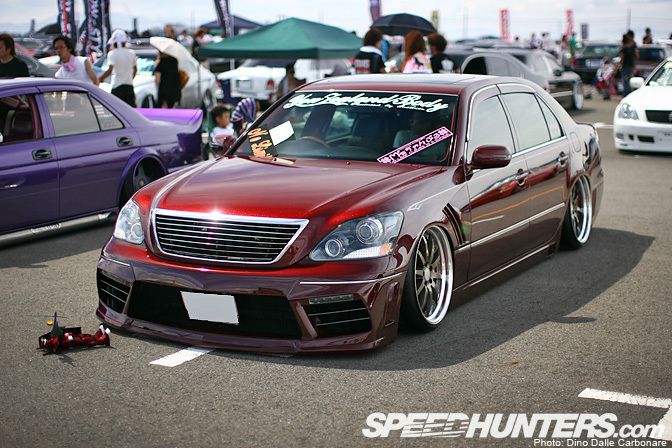 It seems that a lot of people involved in the bippu and bosozoku scenes are die hard fans of Gundam, often taking inspiration from the anime series when it comes to creating new looks for their cars.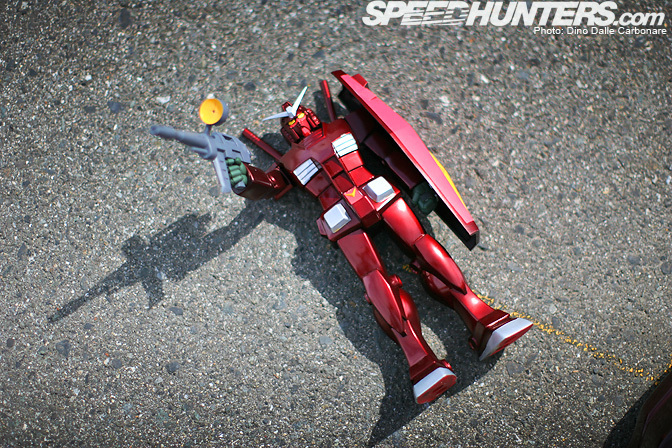 The above Celsior even had its own body-color-matched Gundam mascot…taking a little lie down here, probably overheated due to the extreme heat!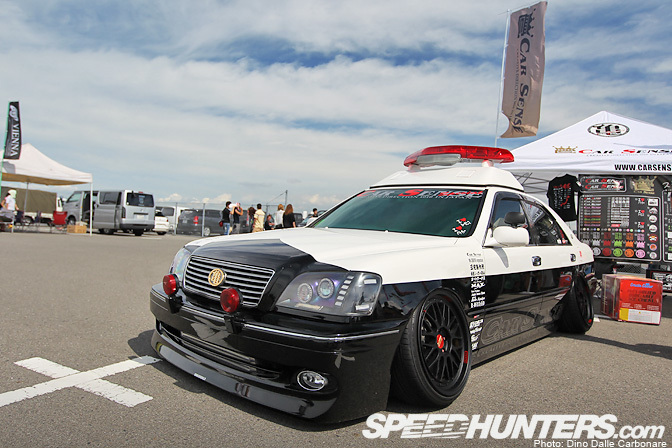 I had to ask the owner of this pato-ka (short for Patrol Car) if he actually gets away with driving it on the roads. Obviously even the somewhat lenient Japanese Police won't accept anything like this so he has to resort to getting the car to and from shows on a transporter. If you recall we saw this Crown at the Tokyo Auto Salon earlier in the year.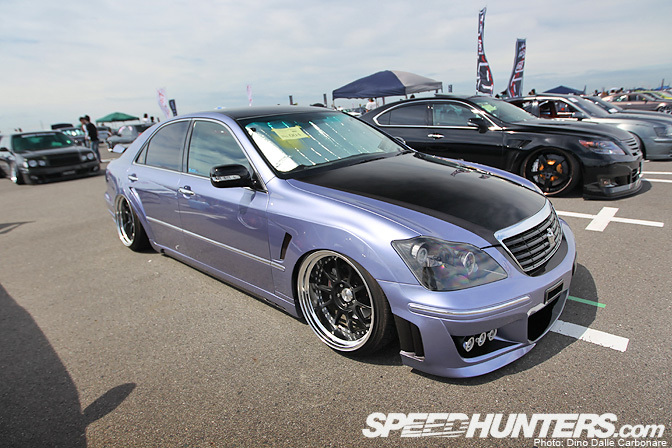 I was enjoying looking at how the sports car theme was executed on some of these sedans. The custom front aero fenders on this Crown Athlete…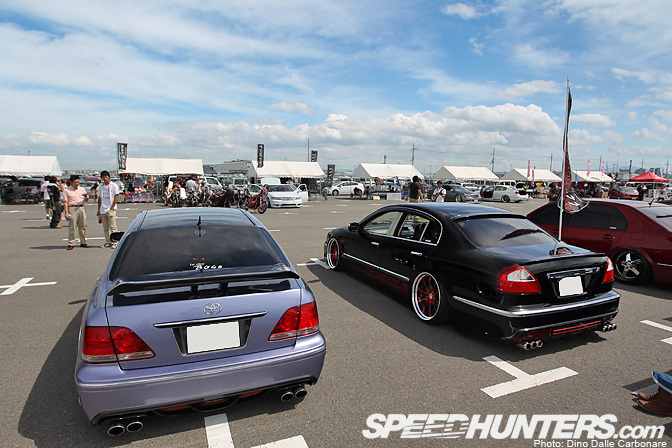 …were complemented with a rear wing. Aside from small trunk lip spoilers you never really see wings on these kind of cars. Must be a new thing?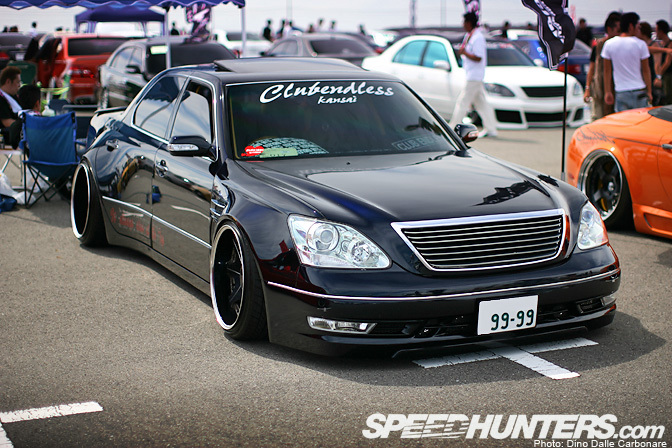 I had to do a double take on this Clubendless Celsior. The glossy black body almost concealed the widened dimensions of the front end…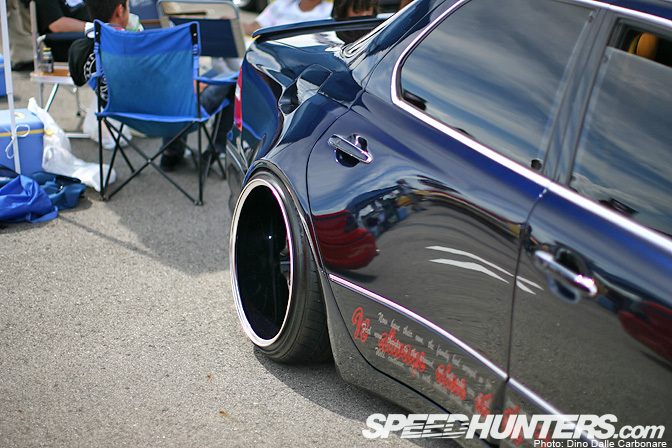 …but it's hard not to notice what has happened at the rear!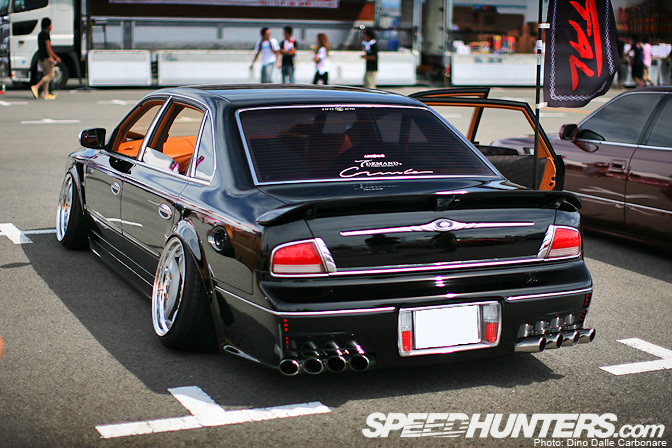 We saw a front view of this President in the first part but it's the rear end, as always, that impresses the most on bippu cars. Yes, those are eight tail pipes!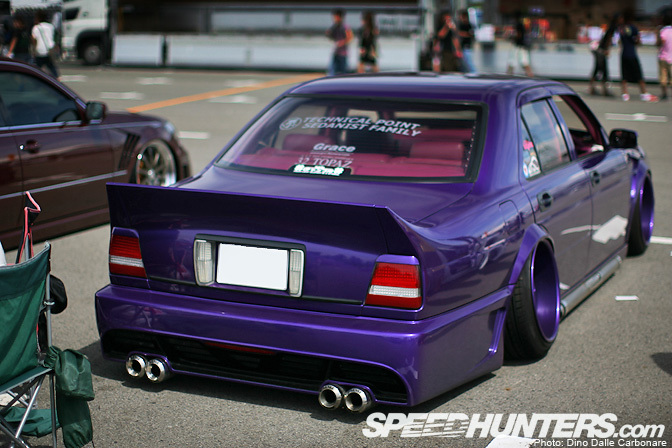 This Cima kind of confused me. On top of the four motorcycle-like silencers at the rear, there are also twin side exhausts running along the sides. Wonder if they are all functional.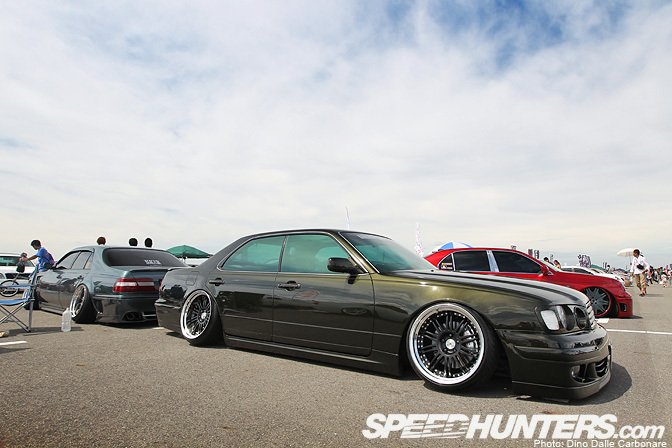 Up until this King of Sedan Festival I don't think I realized just what a sleek and cool car the Y33 Cima is! The best thing is these cars are going so cheap these days.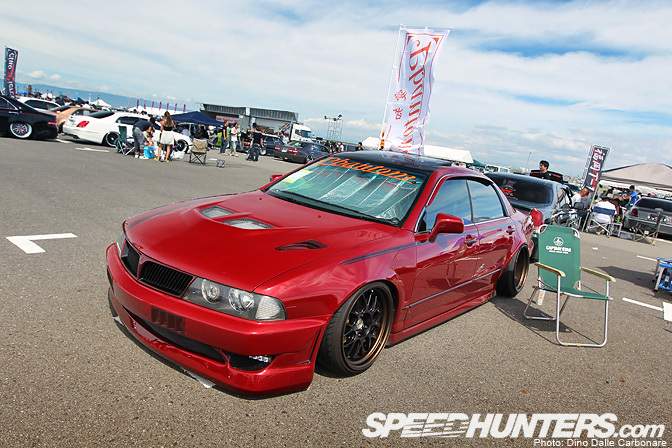 While Toyotas and Nissans pretty much rule the VIP world there are some out there that prefer to do things slightly differently, like the owner of this Mitsubishi Diamante. Up front, details include a Lancer Evolution style vented hood with NACA intake for the airbox…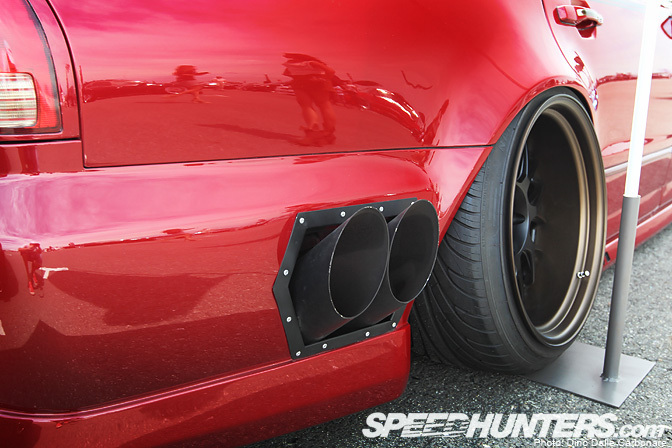 …while the rear gives us a very in your face take on the whole side-exit exhaust concept. Of course pictures can't show what these cars sound like, which is a pity as a lot of them there were idling for most part of the day. A VIP car should always look mean and have a menacing sound to complement the whole package.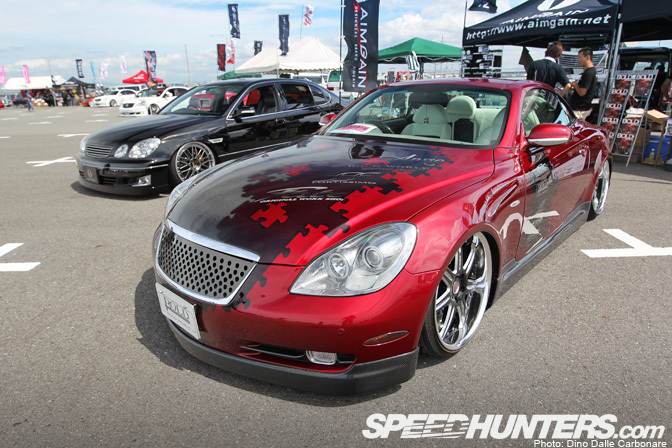 OK so it isnt's a sedan but the whole bippu movement has began to accept a lot of different versions of this most unique of JDM styles…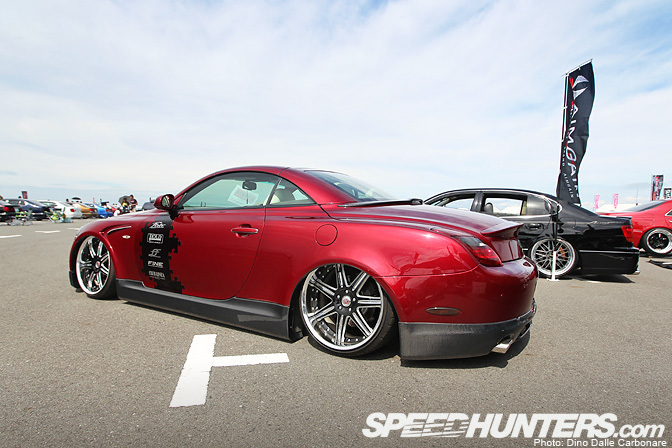 …as this Soarer at the Aimgain stand perfectly shows.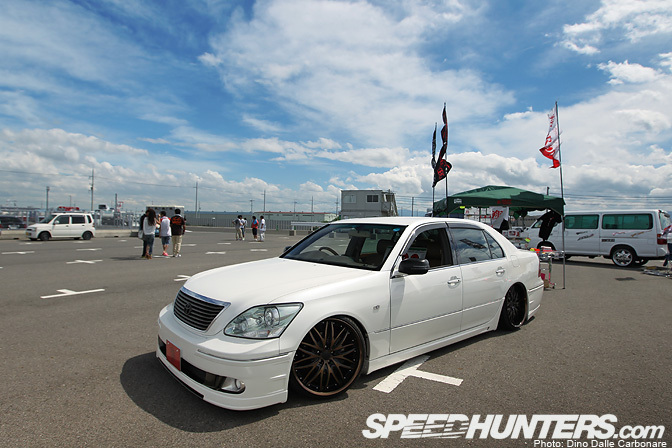 Simplicity can often work so well as this Celsior shows us. Stock fenders, sedate aero upgrades, obligatory low suspension and very big wheels make for a great package.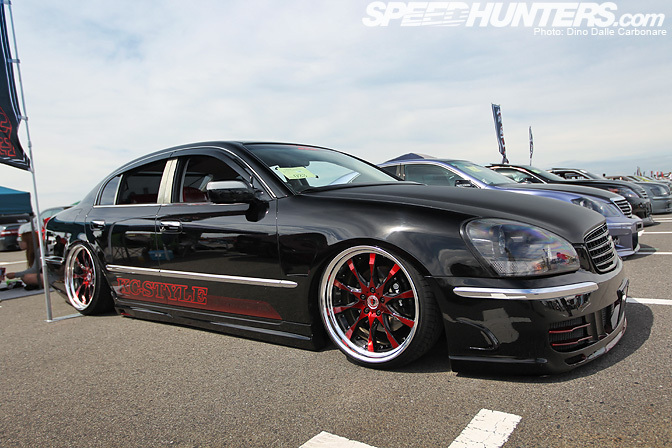 KC Style was killing it, every car they collaborated in creating standing out with a unique look, like this F50 Cima.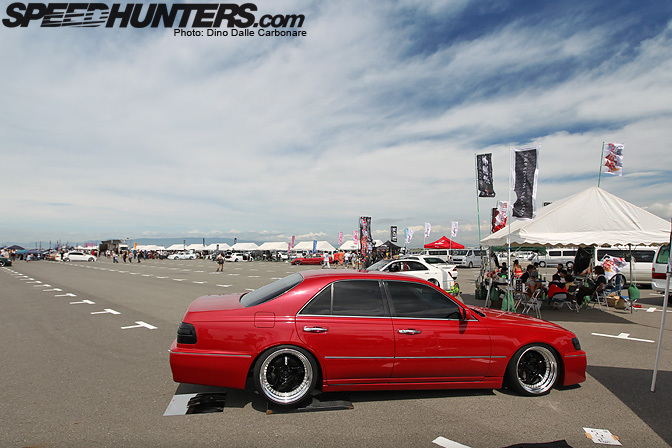 Y33 Cima on Works. It just plain "works."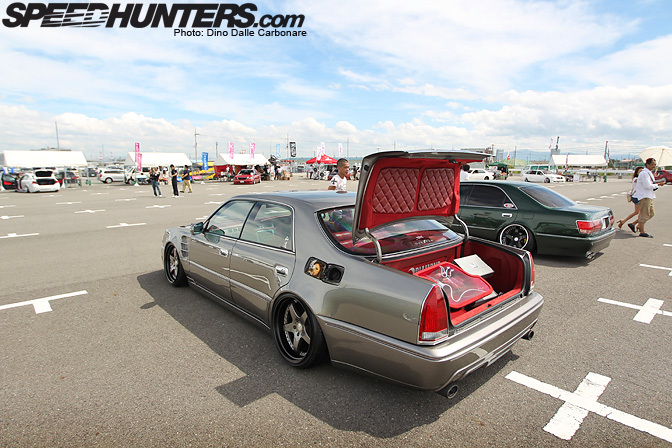 The more show-oriented VIP cars really do need to be checked out in detail as custom work often extends out to the trunk with custom audio and video installs…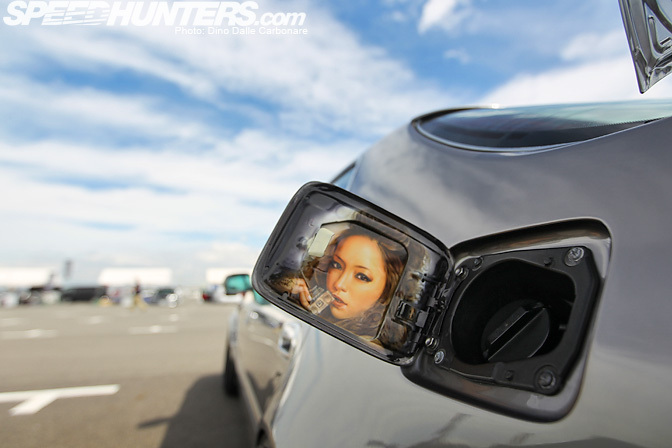 …as well as on the inside of the fuel filler cover! In case you are wondering this is an airbrushed image of Amuro Namie, a famous Japanese R&B and pop singer.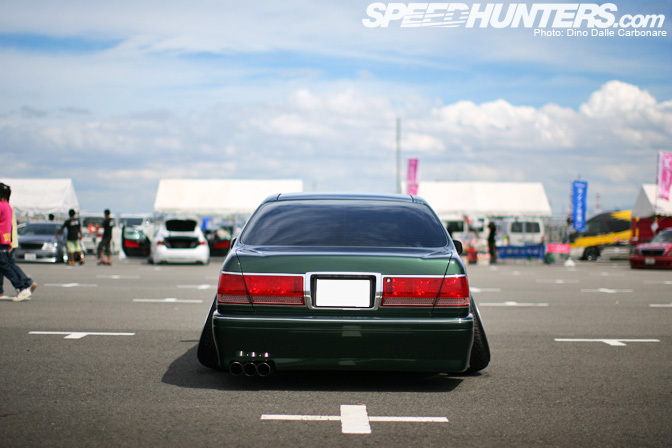 Like what you are seeing so far? Want more? Then make sure you don't miss more cool VIP rides from the King of Sedan Festival coming up in Part 3.
King Of Sedan Festival coverage on Speedhunters
-Dino Dalle Carbonare