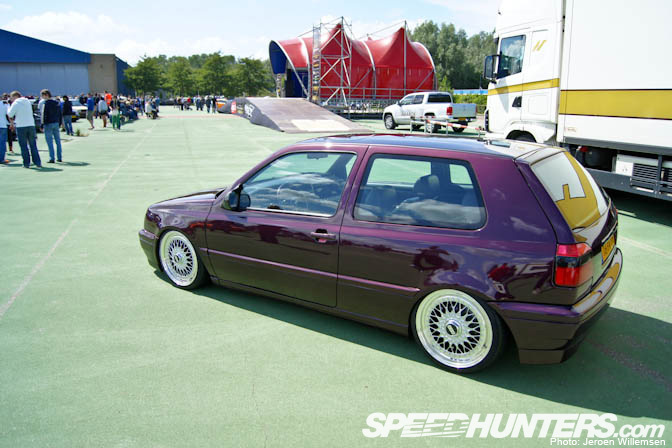 Time for my
final report on the M.I.V.W. show after part one and part two. Don't worry I still
have some spotlights coming and at the end of the month there will another
major VW show that I will be attending.
This purple
MKIII looked very clean on a set of BBS mesh wheels. In the back you can see
the podium and the off ramp. During the day all sorts of cars would get their
minute of fame whilst the audience watched.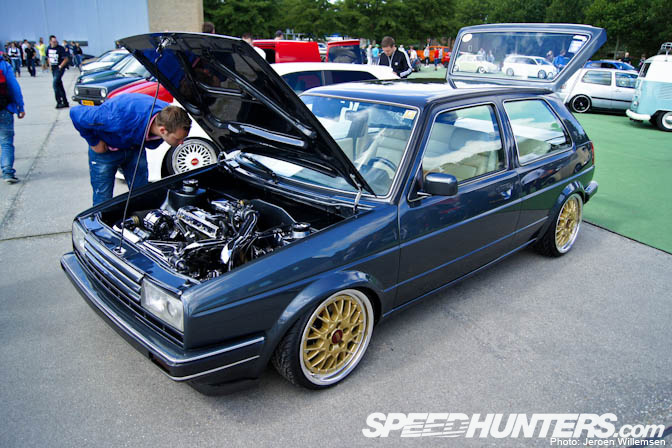 I saw a lot
of people commenting on the fact that there weren't any track prepared cars or
that all of them are hard parkers. But you couldn't be further away from the truth.
A lot of the cars at the show are more than capable of posting fast laptimes if
they wanted to.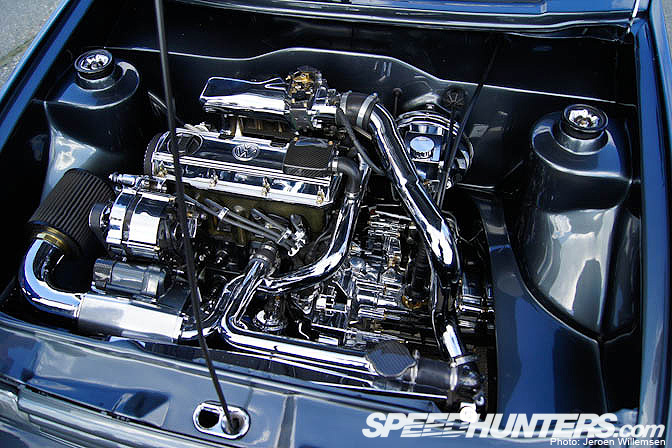 Take this
car for example. The owner has taken the utmost care of his engine and completely
rebuilt it with the best parts available and after that chromed every piece. Why
would you want to race a car like this with the risk of damaging everything? For
all we know he has another car waiting for him at home to go racing and leave
this pristine MKII for what it is.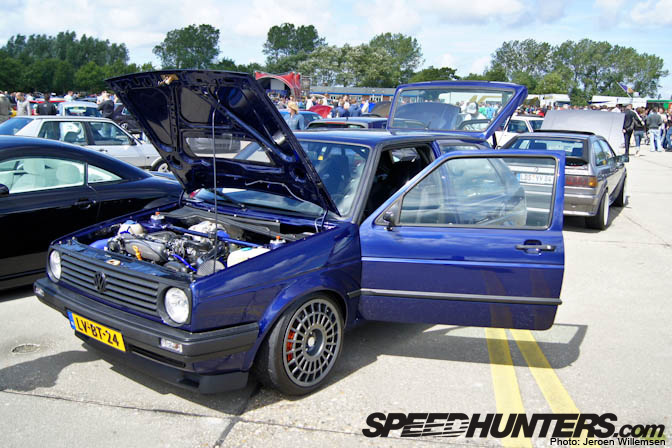 This car
has been built with a completely different reason. Because this one is a true
circuit racer with a license plate. It has everything from a gutted interior to
a set of 17″ Compomotive Motorsport wheels.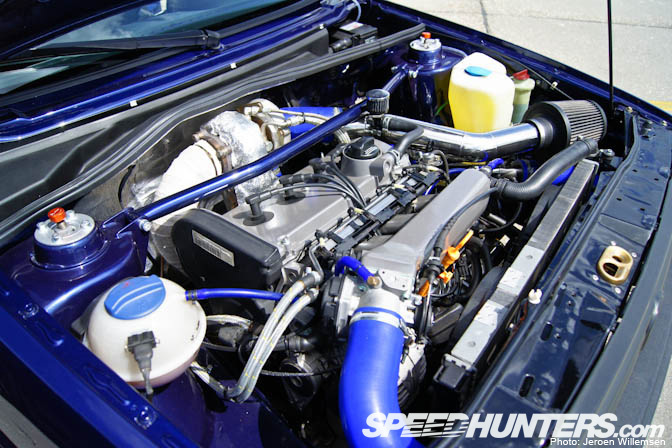 The car
uses this four cylinder turbocharged engine to move its wheels. Too bad I haven't
been able to find the owner for some more detailed info but I will be on the
lookout for it at the next VW event.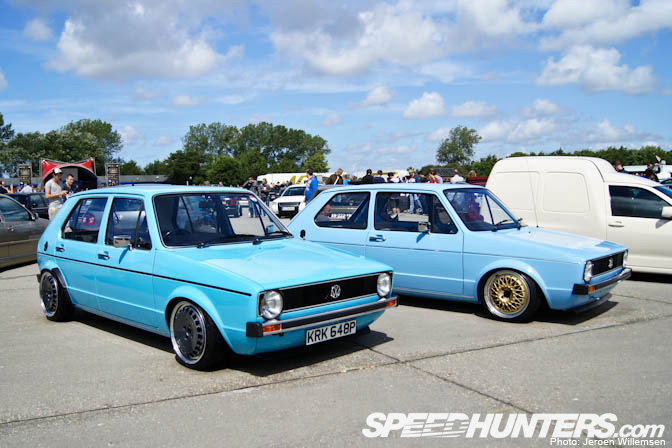 A nice pair of smurf blue MKIs that both have the same style going except for different rims.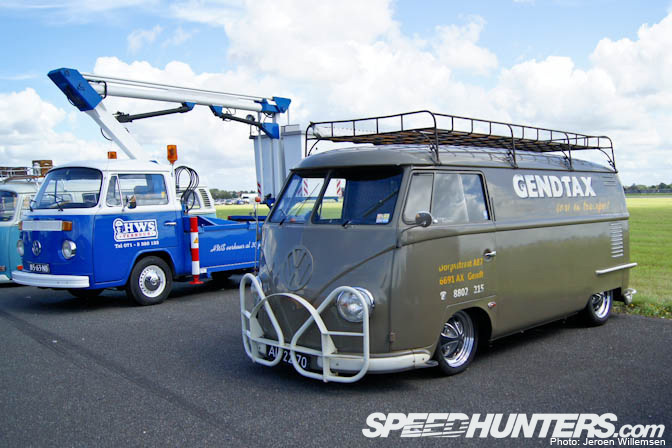 Like I
mentioned in part one there was part of the runway that was reserved for the
aircooled cars. One of them was this cool VW van. I loved everything about it with
its cool wheels and old school logos on the side.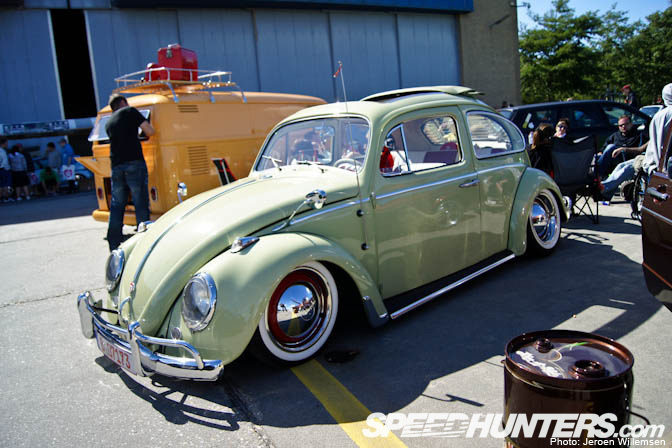 Some of
these old VWs were in true concourse condition like this Beetle.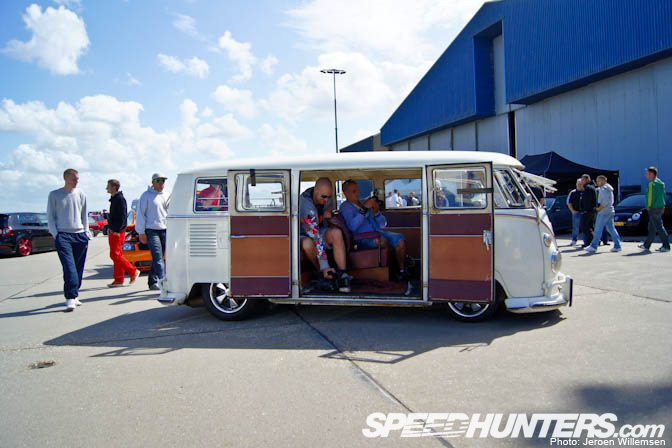 They used
this van to roll around through the lines of cars and shoot some video.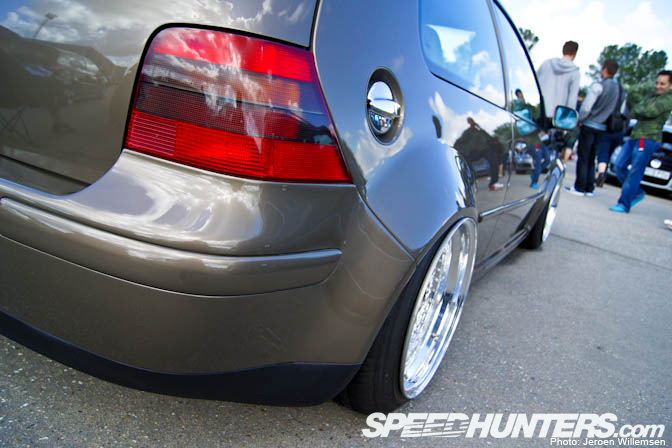 Another shot of the Golf MKIV I showed you in part one with its perfect stance, hardparking at its finest.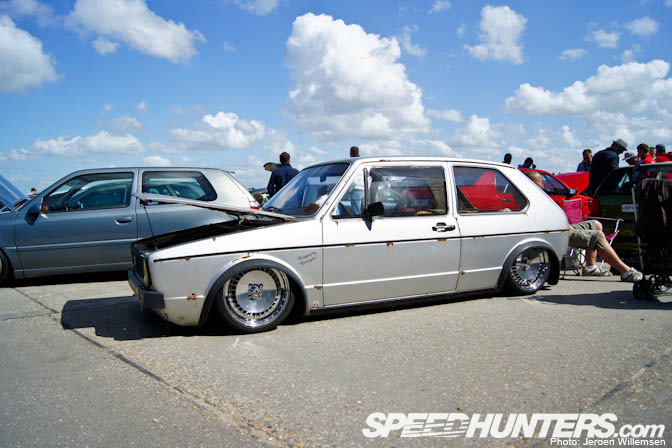 This MKI was
truly dumped on the ground, when you want to call something a hard parker then
this would be it.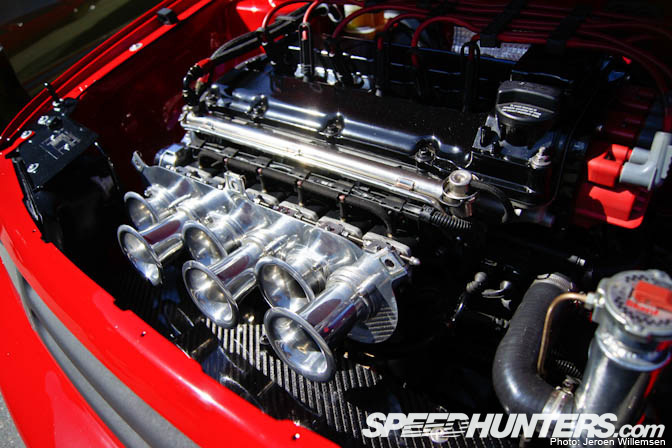 A nice set
of trumpets on this VR6. Would have loved to hear this fire up.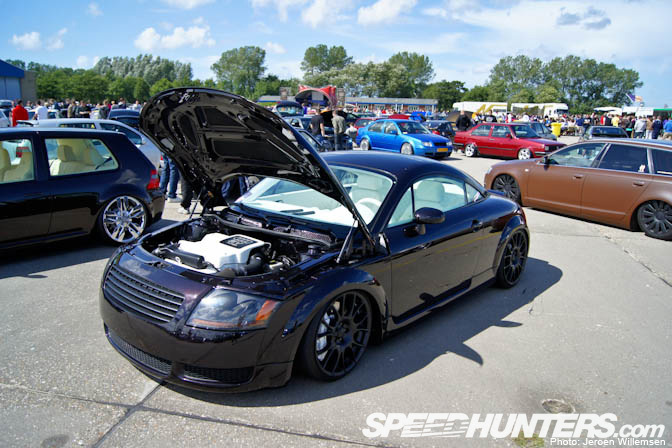 I lost
count of how many different TTs I saw but this one looked particularly clean.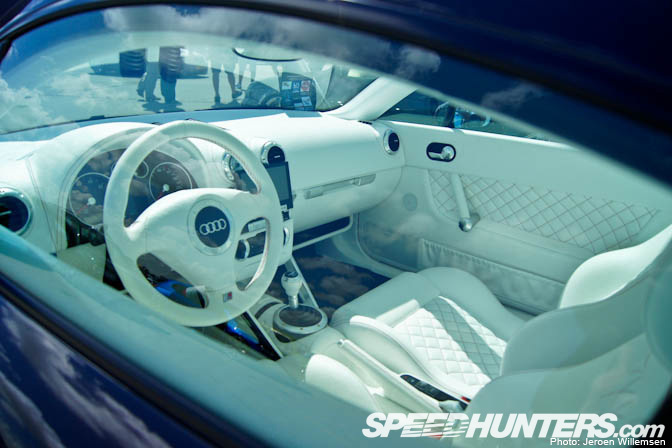 The interior
featured diamond stitched leather on the seats and the doorcards. Handle with
care or at least wear gloves.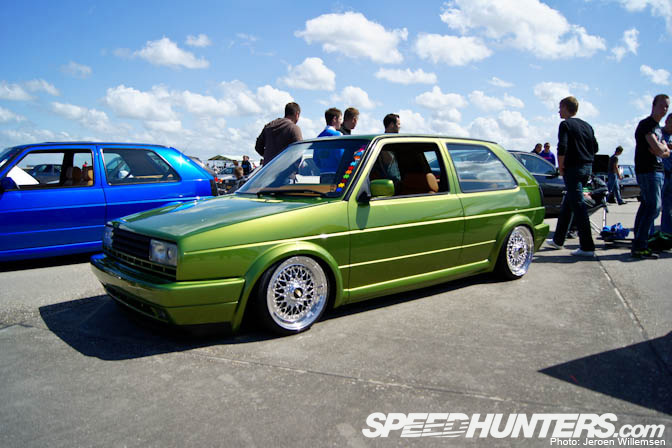 This car is
a member in the Dutch Rainbow Crew that explains it striking green color.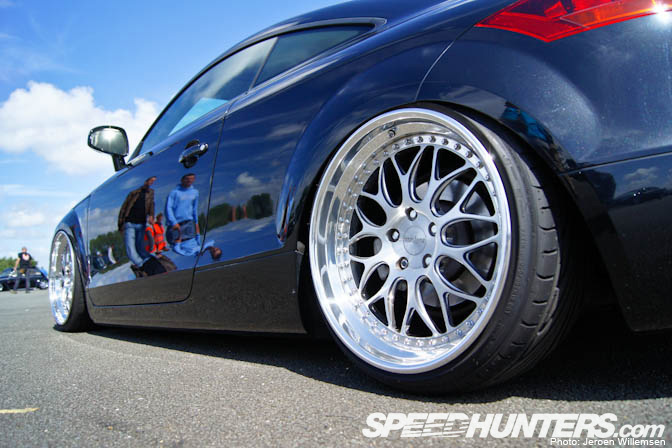 Another TT
but this time on the new Rotiform DAB wheels.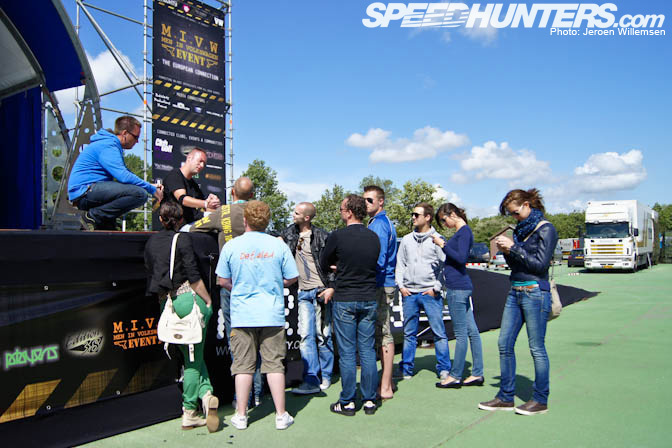 Here is Cor
van Leeuwen on the podium in the black shirt. He is the one responsible for the
event but of course he couldn't have done without the help of the dozens of
volunteers.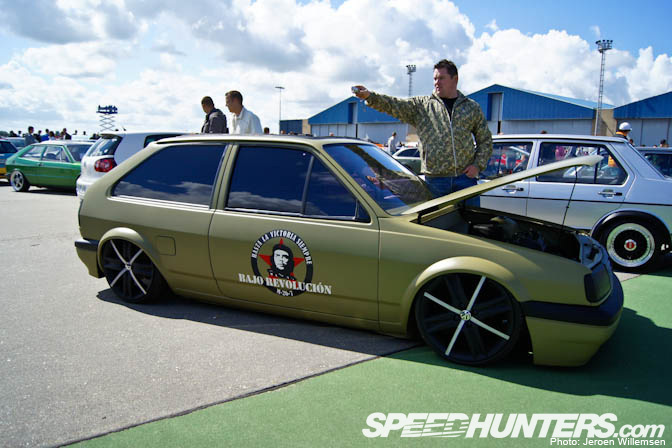 This Polo
had me scratching my head. When I walked up to it a lot of people were looking
through the roof of the car so I was curious …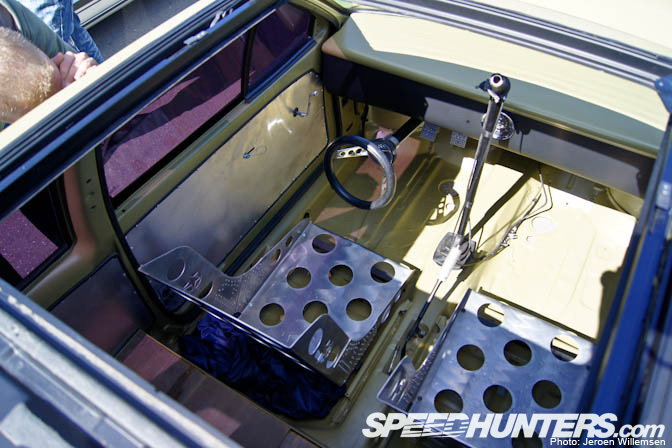 .. and this is
what I saw. There were only two pedals and it seemed that the driver used a hand control
just like on a motorcycle to power the throttle. True hotrod style on a VW.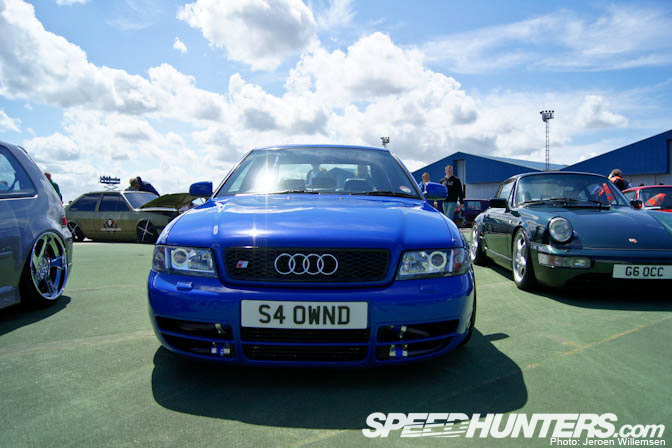 Never waste
an opportunity to show an Audi S4 right?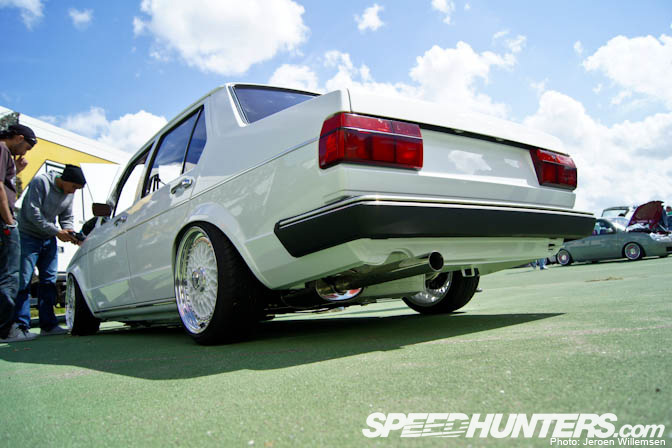 The
cleanest Jetta in the world? Quite possibly but you have to take my word for it
because I won't show you anymore right now. I'm planning a full shoot with this
car.
-Jeroen
Willemsen