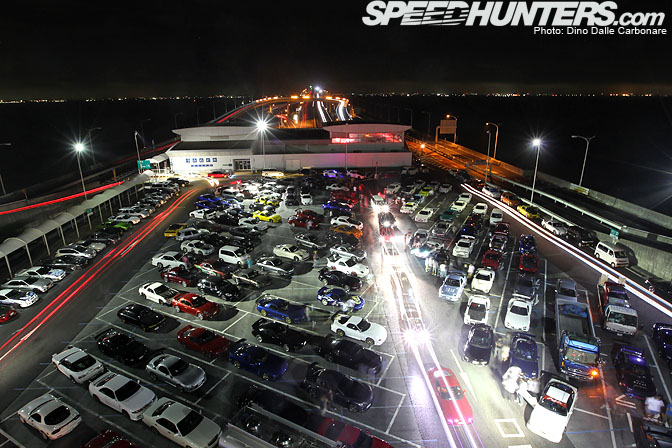 I thought the 7's meeting might lose momentum on its move from Daikoku PA to Umihotaru PA, but boy was I wrong! Despite an unexpected accident in the Aqua Line tunnel after a young kid in an FD decided to start slaloming through traffic at speed, the influx of buzzing rotary engines was very much constant until later on in the night. In no time at all, most of the cars that were at Daikoku had taken over the parking area, both the lower ground level…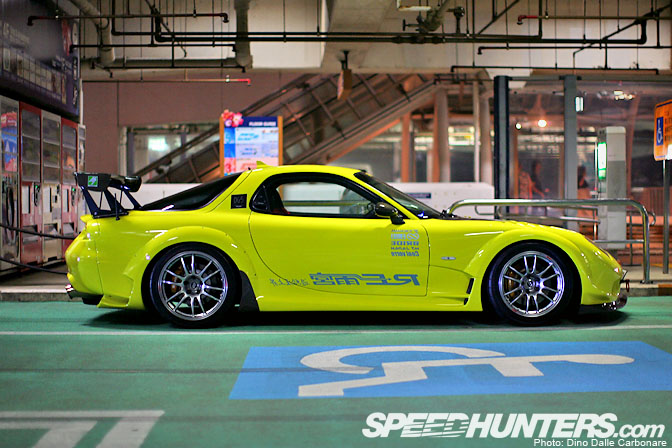 …as well as up on the third floor. Now the party had really kicked into high gear!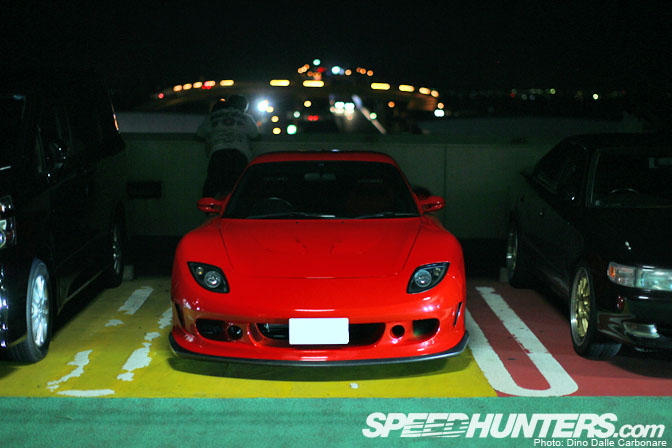 The venue alone contributed greatly to the atmosphere, a nice calm and quiet parking area that just happens to sit on a man-made island in the middle of the Tokyo Bay! Only in Japan!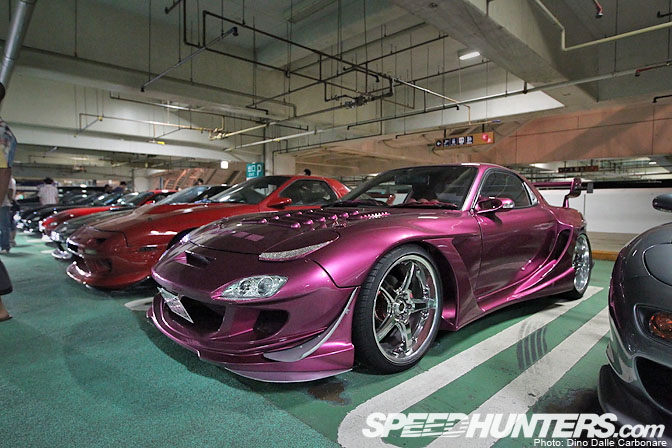 Walking around I began to come across cars that I didn't have a chance to shoot at Daikoku, cars like the legendary Abflug Pink Spider FD.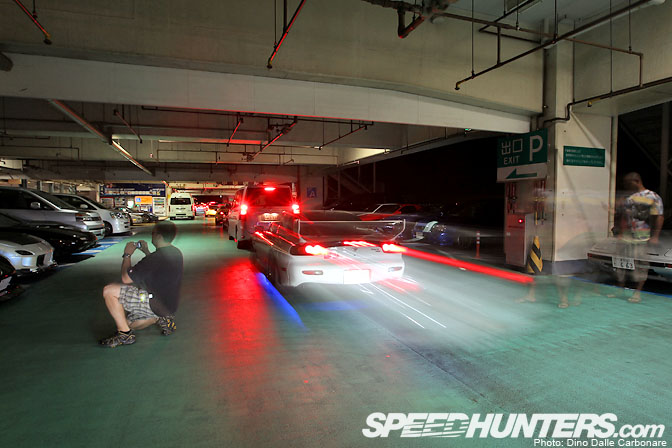 With most of the second floor getting filled up quickly a line began forming as cars kept on arriving…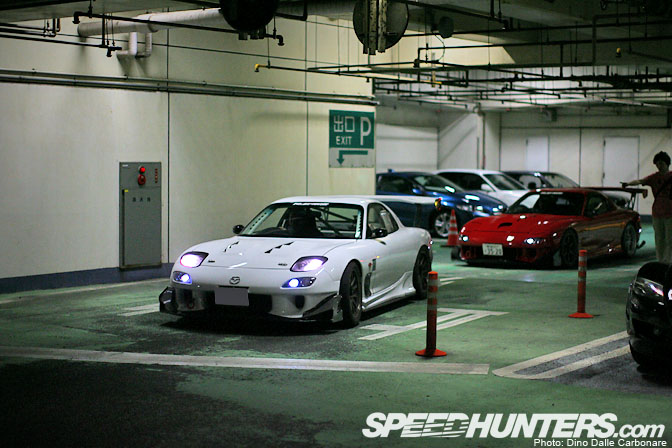 …and RX-7 owners kept driving around hoping that a spot would free up.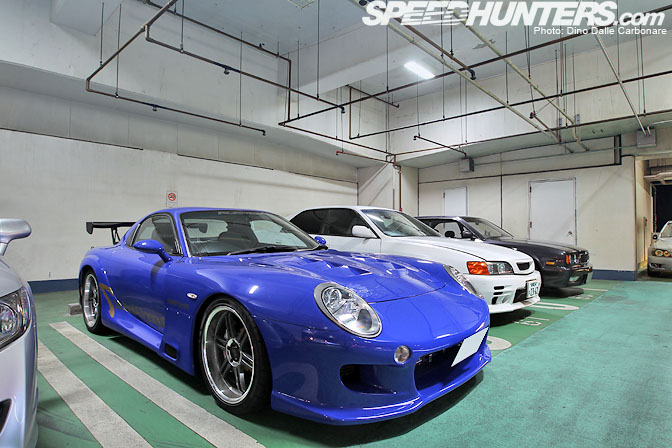 Seriously, how many RE-Amemiya Super GReddy 7s have we seen so far! All in different colors.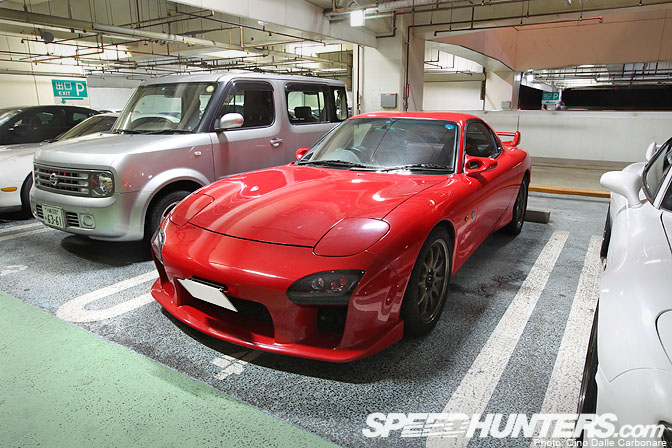 The same A-spec we saw at Daikou, but looking far more menacing under the PA's illumination.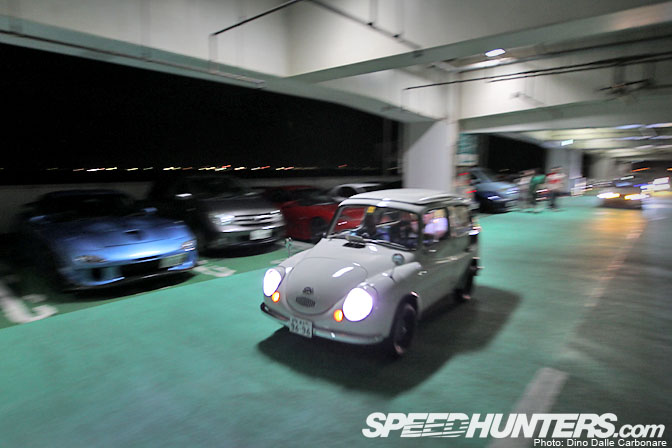 At one point I noticed this familiar looking Subaru 360 pull in…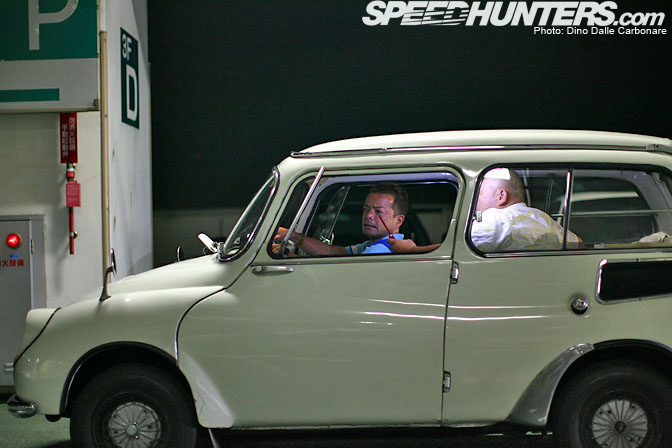 …with a pretty well known D1 driver at the wheel. Nomuken, like last year, had come over to Umihotaru with the Video Option crew to film the event and interview a few owners.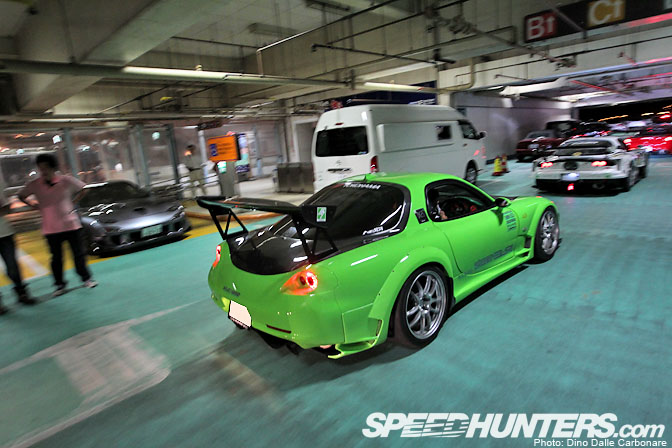 It wasn't too long before the RE-Amemiya crew arrived in convoy, with Suenaga…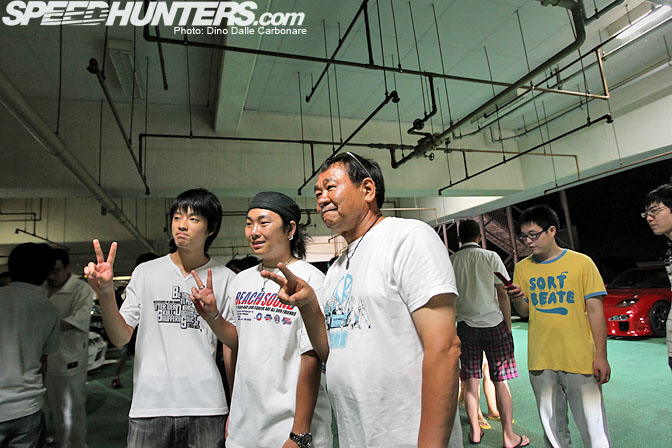 …and the man himself there to mingle with rotary enthusiasts. Amemiya-san spent most of the night posing for pictures with his fans, giving the obligatory JDM peace sign salute!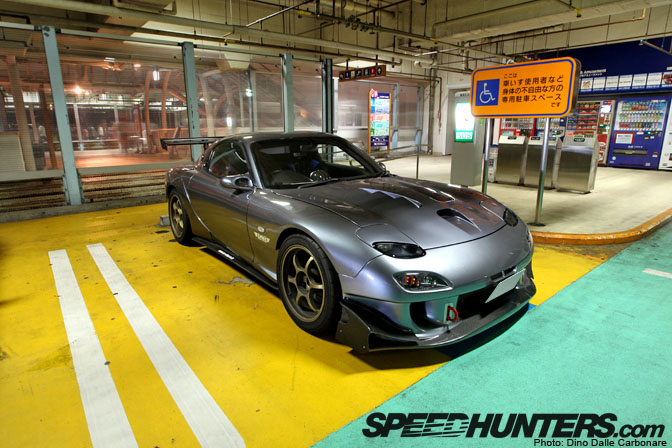 The time attack look is easily achieved by bolting massive carbon fiber canards onto your bumper as it's perfectly demonstrated on this mean silver FD.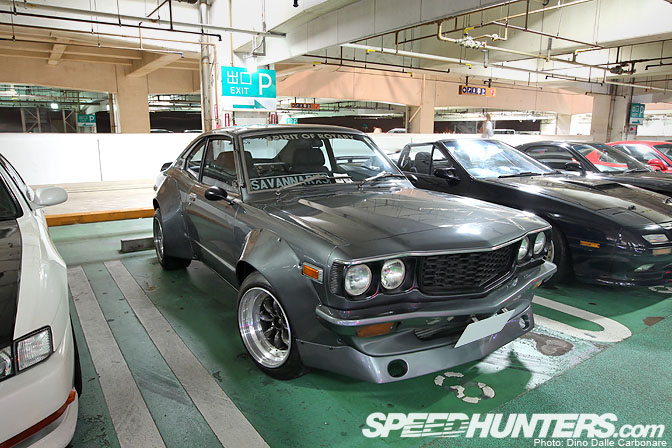 No meeting would be complete without some vintage style, something this RX-3 with massive N2-like overfenders was representing rather well.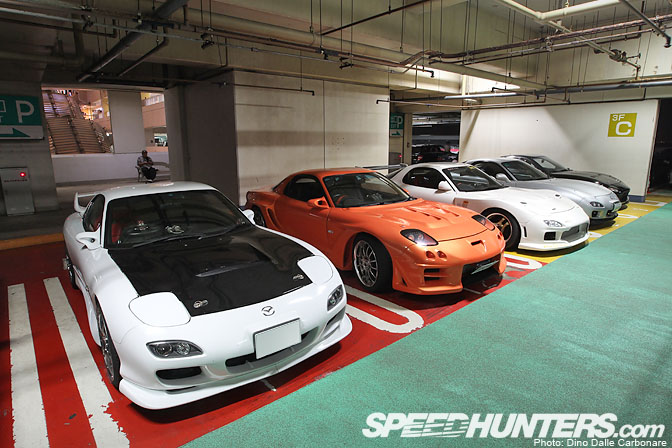 FD only parking on this side of the third level!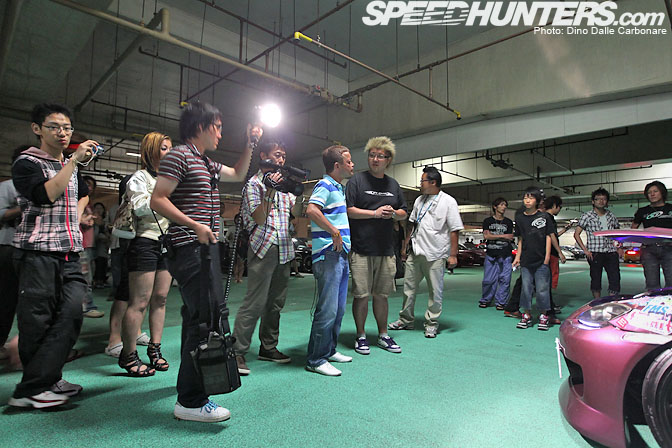 Nomuken was probably intrigued with the roof rack on the BN Sports FD with RX8 front end. Here he is interviewing the owner of the car.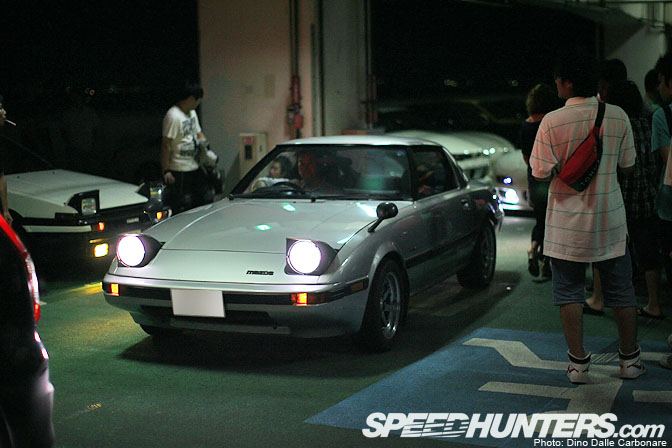 Variety is definitely important at a gathering like this…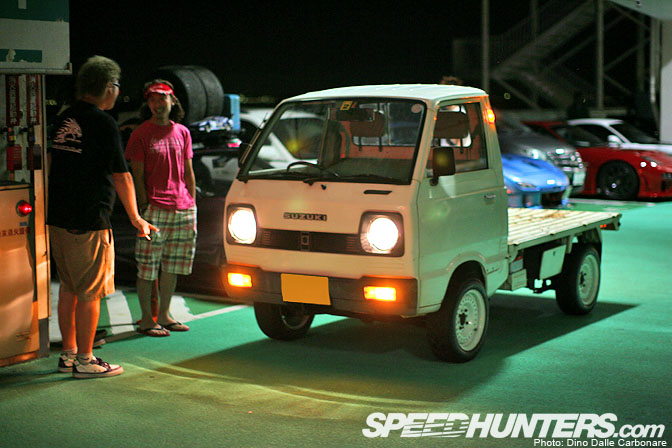 …but I never though I'd see something like this Suzuki Carry kei pick up truck show up. Turns out the owner has transplanted a 12A rotary motor into it, making it a one of a kind mid-engine Wankel powered performance machine!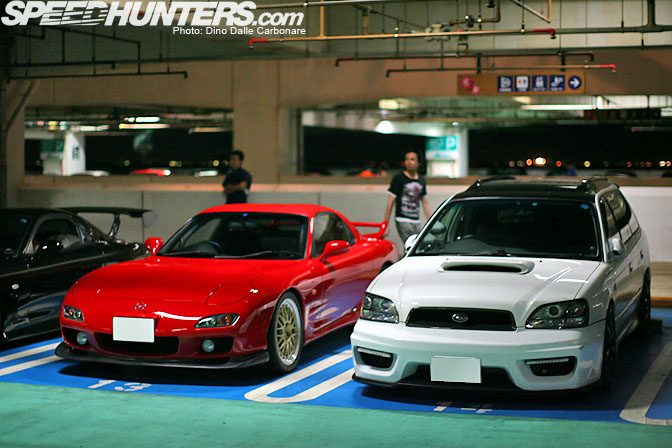 Simplicity often works well as this last-gen FD3S shows. Pretty cool BH5 Legacy Wagon too.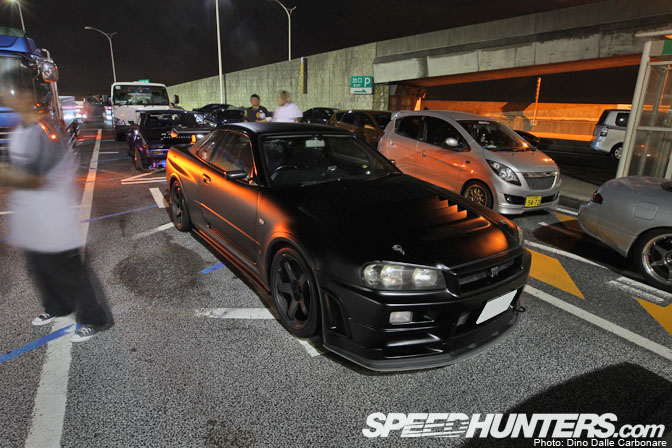 Outside on the ground level I came across this matte black BNR34 I saw drive around looking for a parking spot earlier in the night.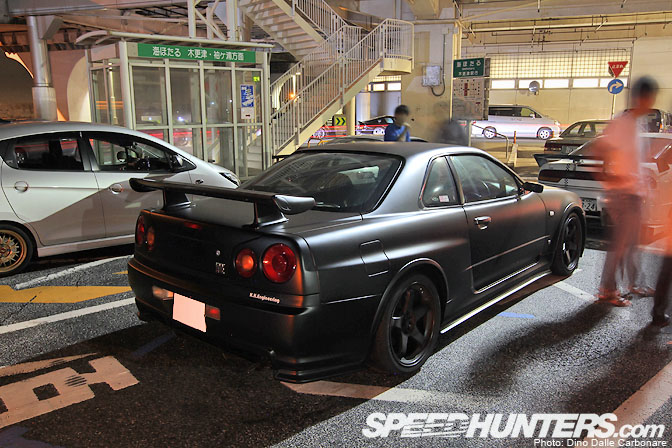 I initially thought it was wrapped in vinyl but it turns out it was actually painted. The complete Nismo Z-tune looked mean beyond belief in the satin finish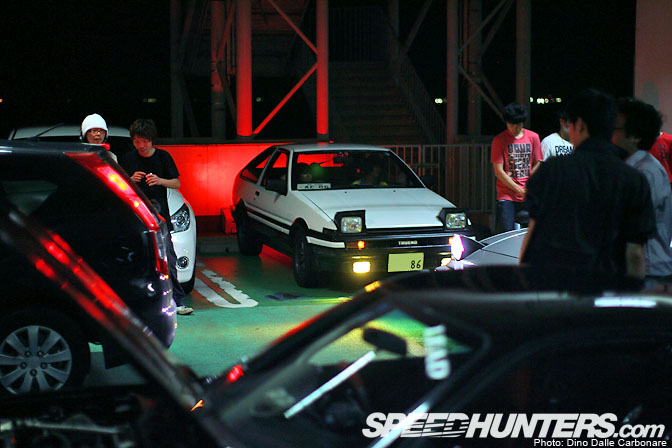 Obviously there were plenty of other cool cars that had dropped by to check out all the rotaries, like this little lonely panda AE86.
I've got one more selection of images to share with you to warp up the coverage of this year's 7's Day. Don't miss it!
-Dino Dalle Carbonare