There's a saying in racing that if there's one person you must beat, it's your team-mate. In FD Florida, Team Need for Speed had a glimpse of that when Matt Powers and Fredric Aasbo were paired against each other in the top 32. It was an incredible, no-holds-barred battle between the two team-mates. And while both drivers are known for being aggressive on the track, what are they like off it? To find out, Speedhunters stuck a voice recorder between them to see what really goes on in the TNFS pits. What ensued was a rather candid discussion…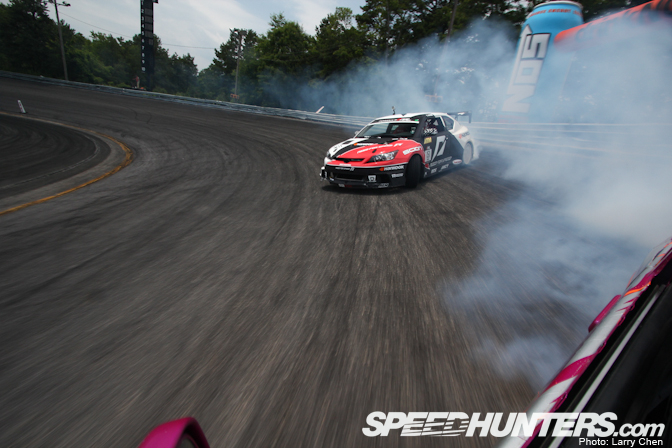 Powers: How did Thursday's practice go for you Fredric? This is the first time for you at this track.
Aasbo: We came here and we had a different strategy following last round. The goal was to go out there and do the exact same runs and not care so much about results or wins and losses or anything. Instead, we tried to go out there and pretty much do our own race and be on the right line and not overshoot. I also tried not to hit too many walls and to not go hold stumt too much. Basically I tried to be consistent. It went pretty well considering it was the first time here. We were happy; it was fun.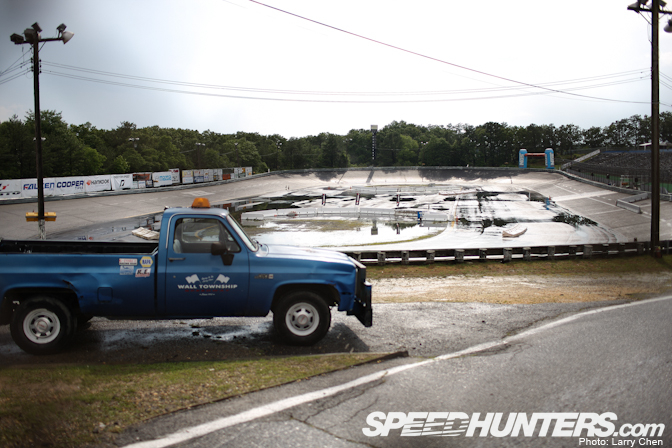 Powers: How do you like the track and the scenery?
Aasbo: The scenery here is like home – except for the thunder storm. I know a lot of guys who hate this track but I really like it because it flows well. It's more like a road course because you flow through the turns. I think it's pretty cool.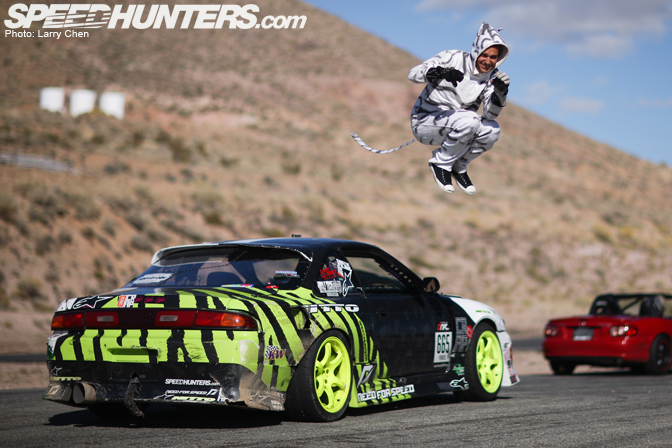 Powers: Yeah I like the track because last year I felt like it was one of the few tracks where it was small and I could drive super hard. It's like balcony at Willow Springs I guess. On Thursday I was spinning out all day and I had issues with my steering. So that didn't go to well. I guess that made me psyched out for Friday.
Aasbo: How did qualifying go for you?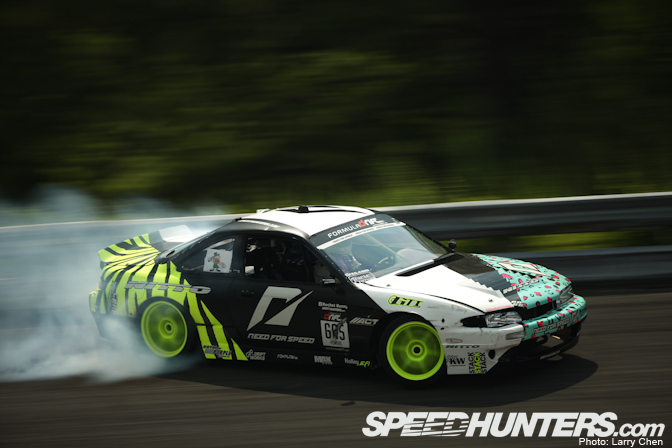 Powers: My first lap was going pretty well but then I went up on the outer bank about half a car length when I was on the inner bank. But there weren't enough drivers to qualify. Even 27 points got you qualified in 31st. So I went out on my second run and I did a pretty cool wall ride but I spun out in the end. I ended up qualifying 25th. How did you do?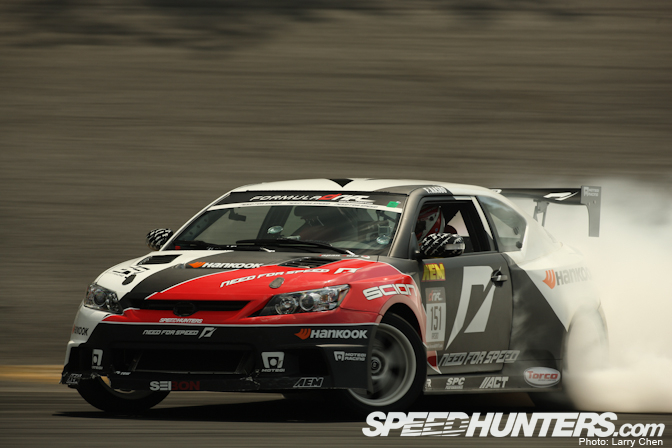 Aasbo: I set out to do the same thing. Maybe slightly stepping it up in the second run. I got a fair drive with little corrections for the first one. No insane angle, no insane transitions, nothing like that. So I got a 72 something and ended up 19th. For the second one I tried to step it up with more angle and instead of trying to do it in the transitions, I reeled it in through turn 2 and 3 and lost points because I ended up with more corrections. I am still happy because I kept the same line throughout the day because I treated it as a learning experience.
Powers: Do you have visual markers on the course for where you transition everywhere? Or do you just feel it out?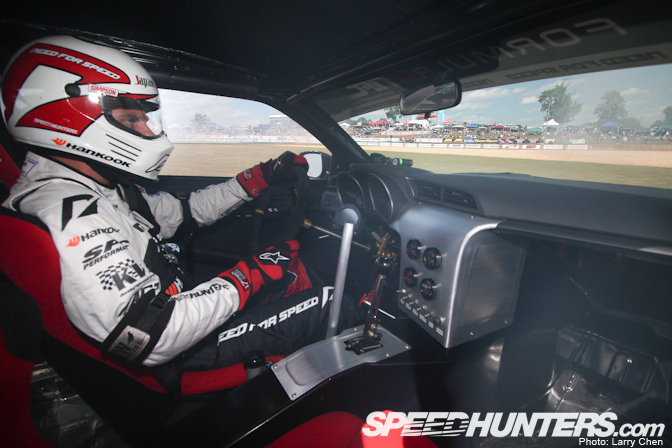 Aasbo: I feel it out, how about you?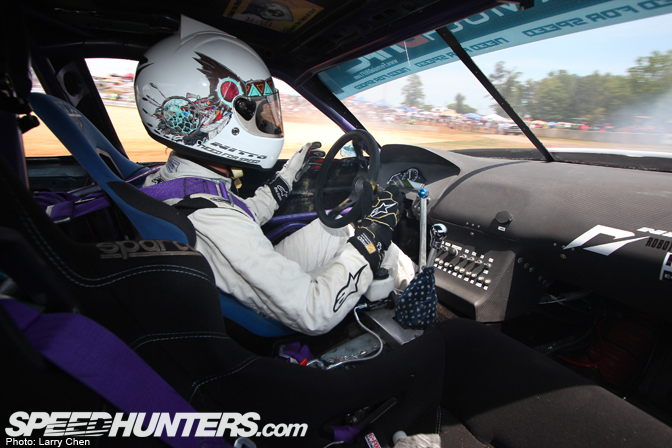 Powers: Yeah I just feel it out. I do try to look for stuff but I just get over it. Ultimately what do you think is the better way?
Aasbo: Uh, I think visual markers are better.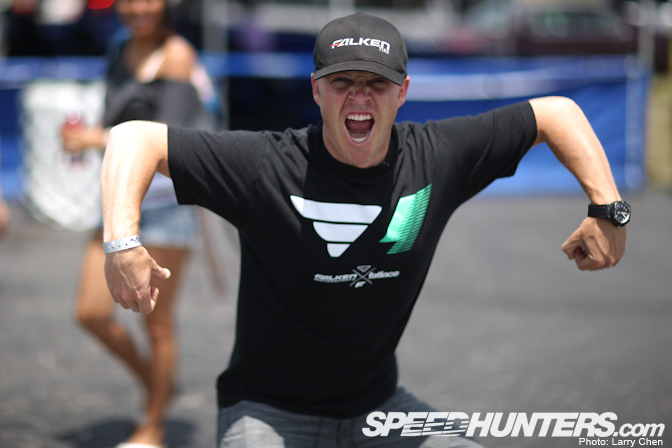 Powers: That feels like grip driver status, like at this point you stab the brakes no matter what. I feel like that's how Tyler McQuarrie or Sam Hubinette drives.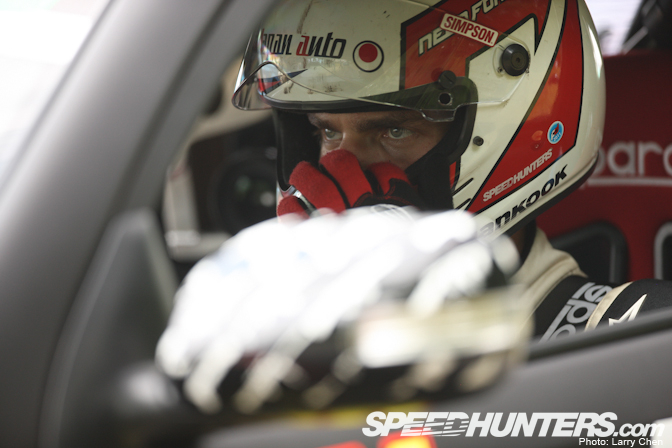 Aasbo: I was struggling with too short of a sight. I've been really working on keeping my eyes up and looking ahead.
Powers: So you mean you don't look at the next clip?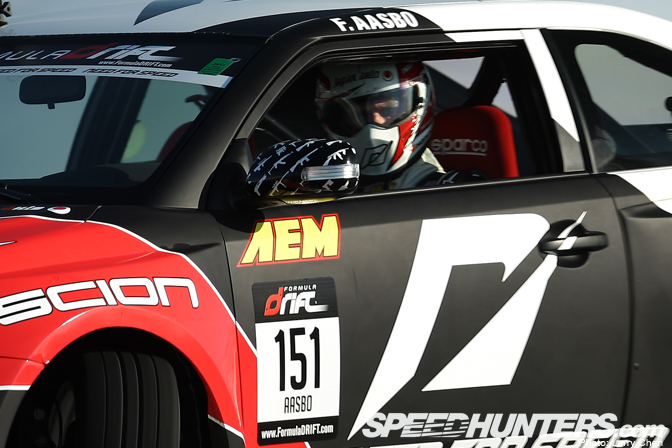 Aasbo: I have a tendency to look at where I have been, or where I am very close to being instead of looking around the turn. [It works] when things are going well and I am doing what I know but if something unusual happens then I mess up. I'm working on that.
Powers: On a different note, I heard a pole almost went through your car?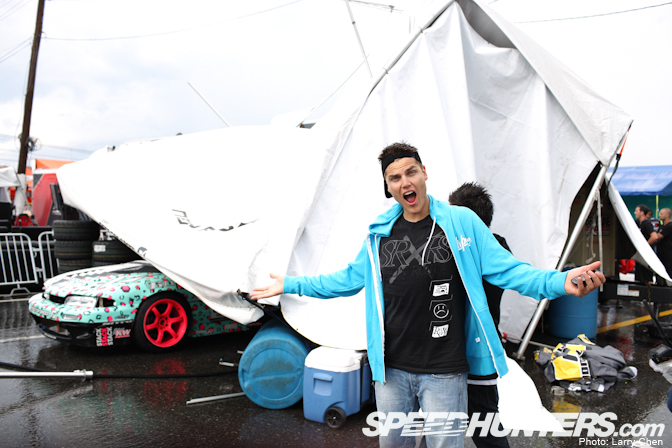 Aasbo: Yeah, that was insane. I was laughing my head off at the drivers' meeting. It was like a cartoon. As soon as Jarod Deanda said who the 25th qualifier was, boom, lighting strikes.
Powers: All the drivers got scared too. They all huddled together.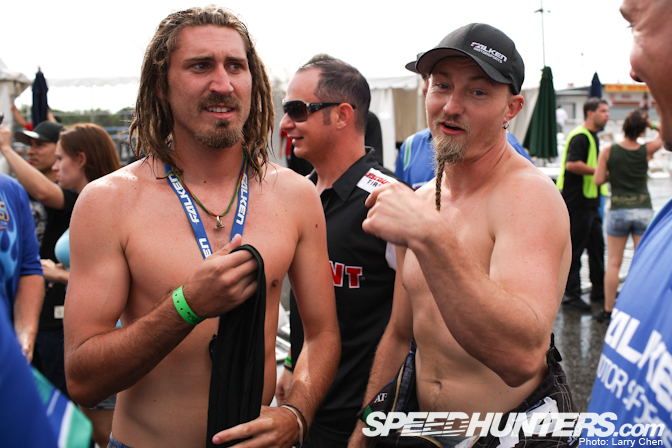 Aasbo: Except for Ross and the guys. They were dancing a rain dance. It was cool. Then I looked out and saw our entire pit space flying over Stephan's truck and Gardella's rig. Apparently a pole got some speed and flew through the air. It's a good thing the car did not get hit. How about your car? Did it get any dents?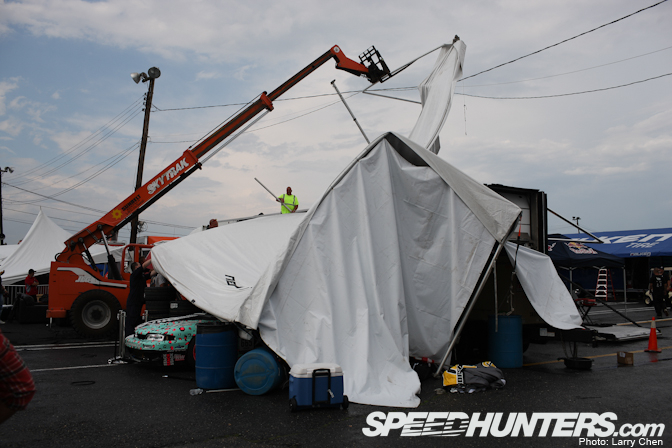 Powers: The peak of the tent collapsed in the storm. It reversed in on itself and all the water accumulated in there and made a small pool that was resting on the roof of my car. I felt it and I was thinking if this thing blows, my car would be so wet. But luckily it held together. I don't really know how they got it out. I saw some guy with a forklift fixing it. My phone was the casualty though. I lost my phone in the storm!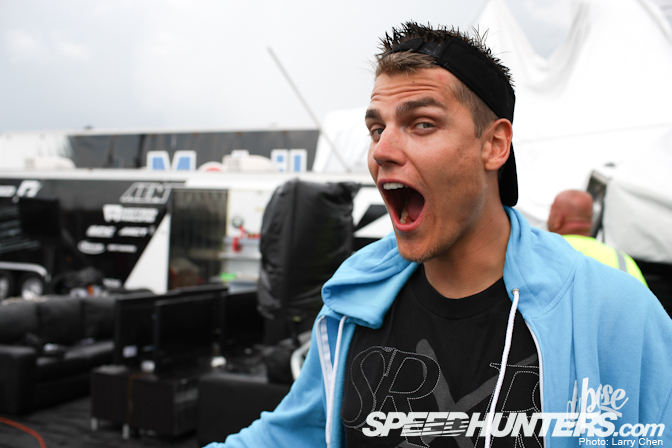 Aasbo: Yeah that was insane. As crazy as it sounds, it was fun. I am sorry for all the mess that happened.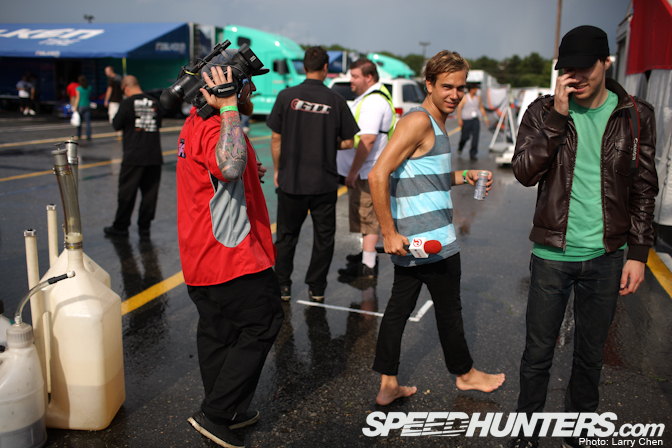 Powers: Is this bad that I am laughing about all this? If people see me laughing are they going to think I'm inconsiderate?
Aasbo: One for the record books! [laughs]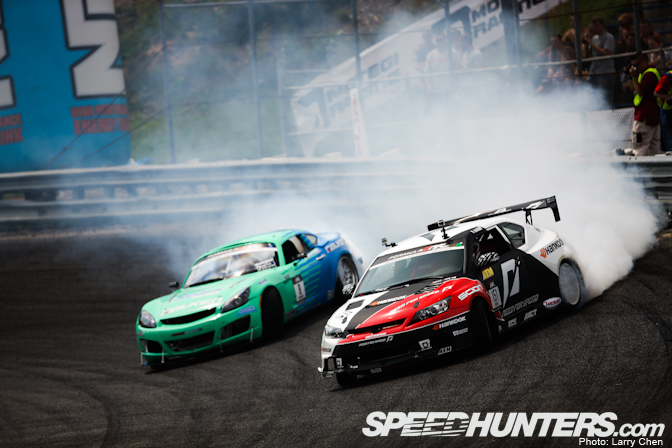 Powers: So how did you feel to draw Dmac for the top 32 battle? That was a pretty stacked battle! You don't see battles like that very often.
Aasbo: t was an unfortunate pick but you make your own luck.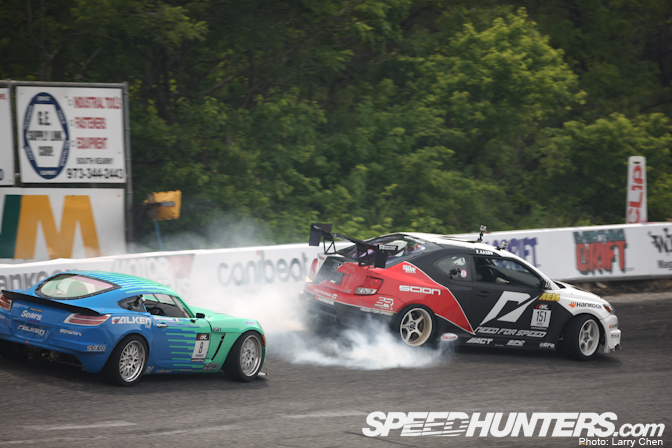 Powers: But do you really think there is such a difference between, say, a 72 and a 73 point? Like if you saw your run and the guy who qualified higher than you back to back could you tell the difference between a 72 and a 72.45?
Aasbo: Probably not.
Powers: Yeah probably not huh? I don't believe in all that stuff. It's a little bit of luck too.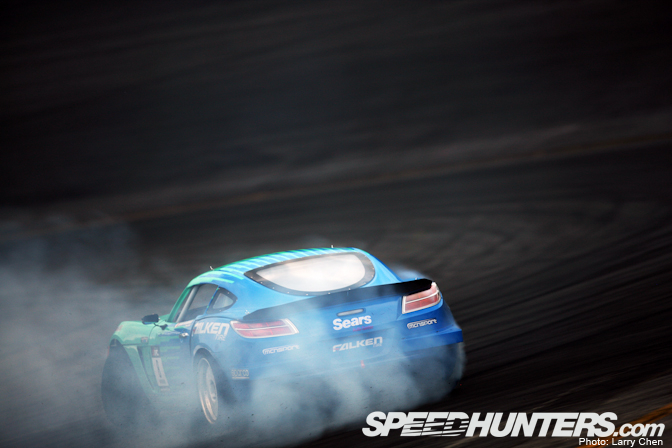 Aasbo:  Well I agree but when isolated it was unfortunate but over time it equalizes. We took it for what it was. For DMac's zero on his first run, his second was definitely aggressive. And you had Russakoff? Who qualified 8th?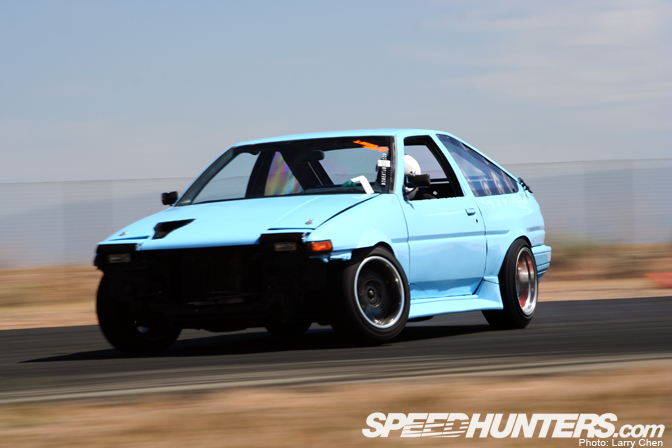 Powers: The first thing that went through my head was, "I don't want to go against an ASD car and Forsberg right now." At first Tommy said you got Forsberg but I guess people don't know how to calculate it. So I looked at it and I saw that I had Russakoff. I thought it was funny because in 2008 he was one of my favorite drivers and when I was an amateur he was always more advanced than me. He was one of my favorites because he would push it hard all the time and go balls to the wall and crashing. He's flipped his car three times.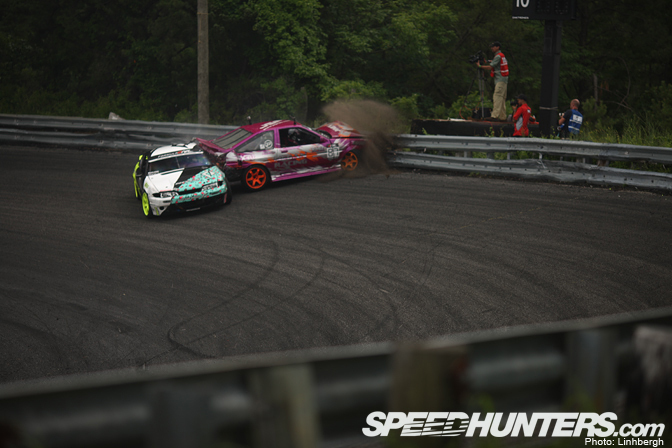 Powers: Last year he sponsored me; he did some fab work for my car. I've known him for a long time and I think he's a cool guy. So I thought running against him would be cool. Tommy said his runs were kind of hit or miss. I just wanted to make sure I was high enough on the bank following him. If you drop a little bit on the bank it's hard to come back from that and it's so apparent to the judges. It also looks whack. Then when I was following him, he just did a one-eighty. He said he had some diff issues or something. It drove straight into the bank and I couldn't avoid him and I just drifted right into him. It was scary. His taillights were literally in my face and they exploded. I was pretty shaken up. My roll-cage bent two inches in.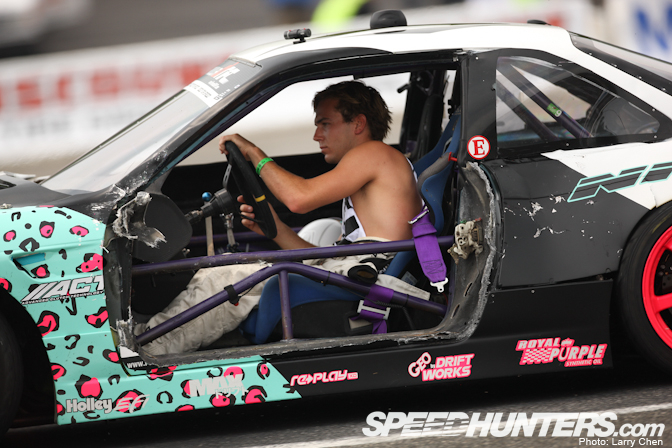 Aasbo: [Whistles] Will the shell buff out?
Powers: Costa wants to get a new shell but I don't think it's going to happen.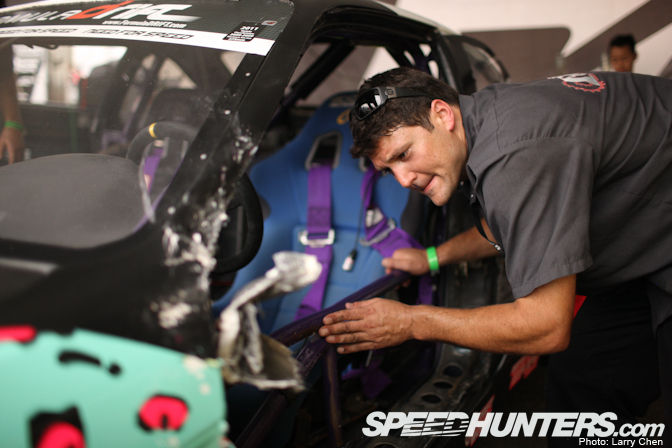 Aasbo: Yeah, why? If it aligns good…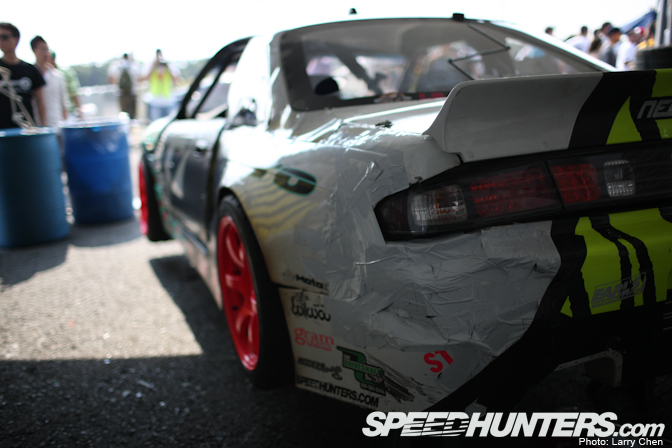 Powers: Yeah that's how I feel too. I've had that car for so long. It's like my version of Chucky. But I definitely need a new car for next year. 'Cause at first I was like, I'm going to drive this car next year too. But I think after 'Jersey I realized I need a new car. How did your runs with Dmac go?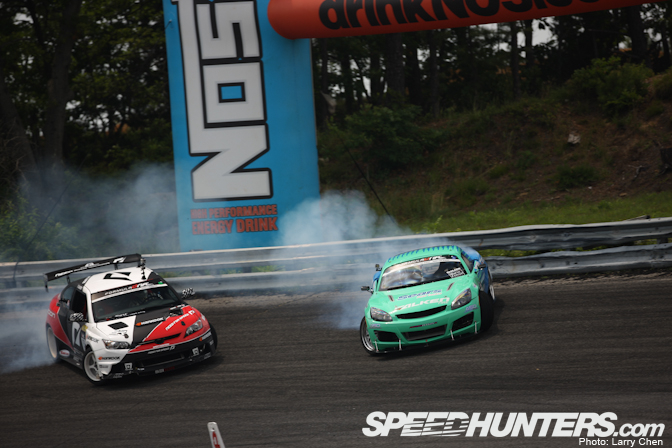 Aasbo: I feel like this event was the best event we've had this year. Looking at the results they are not my best. I had errors in every run I did but the things that we were shooting for I actually did. And that gave me a little of my confidence back. That way I can set forth what I am planning on doing. I held my line and we had one judge go for one more time. I am very happy with the line except with the bank for both of my runs with Dmac. I went a little low on the bank at first and wobbled a little bit before I settled on the higher line. Otherwise I felt the line was good. I think they are all signs of me finally getting used to the car. The speed we had surprised many people including Dmac – and ourselves. We were able to handle pretty well and it was hard to tell if Dmac was holding back or whatever it was. Overall I was much happier with this event compared to last time. Against you [in Florida] I wanted to bring a better battle you know? I missed a clip. I wanted to battle, instead of just taking myself through.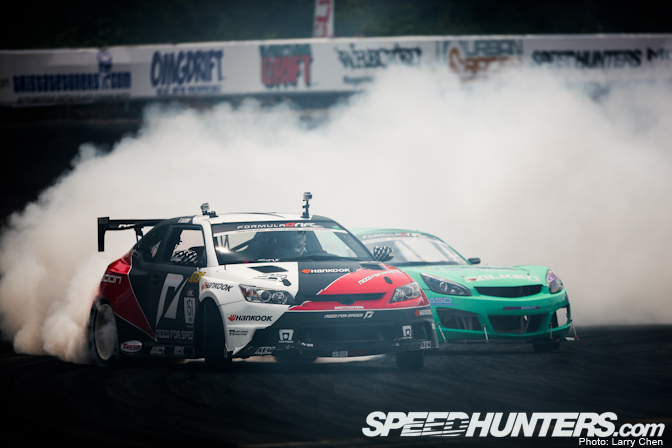 Powers: So you think even though you lost in the top 32 here, you can consider the weekend a success because you fulfilled your goals and you left with a confident feeling? You can draw a really tough battle like yours with Dmac, which could easily be a top 4 battle. Or you could get 4th and drive whack. That's what happened to me in 2009. But I know what you're saying. You could do terrible quantitatively but in terms of your goals and what you set out to do you completed them and come out successful.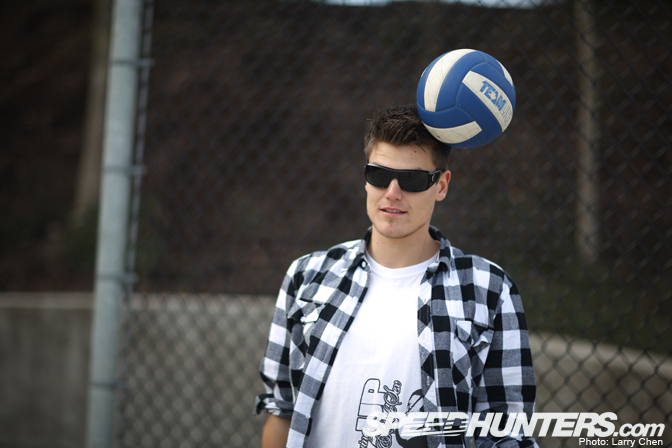 Aasbo: I feel like these feelings are hard to describe outside of the world of drifting because it's so different from all the other sports. Like even in soccer cups you get a second chance.
Powers: Yeah in drifting you have one shot. One mistake and your weekend is done.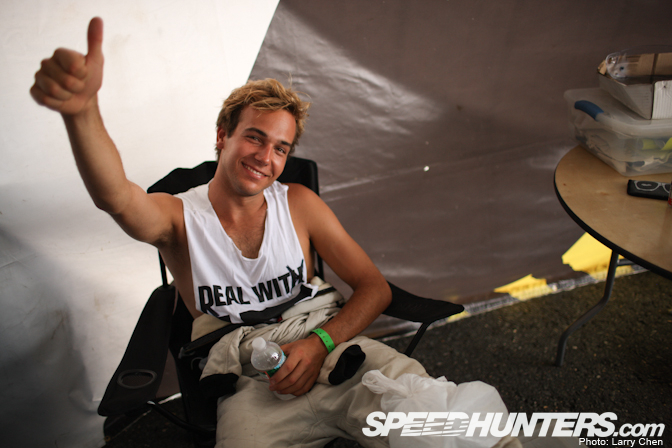 Aasbo: How about you? How do you feel?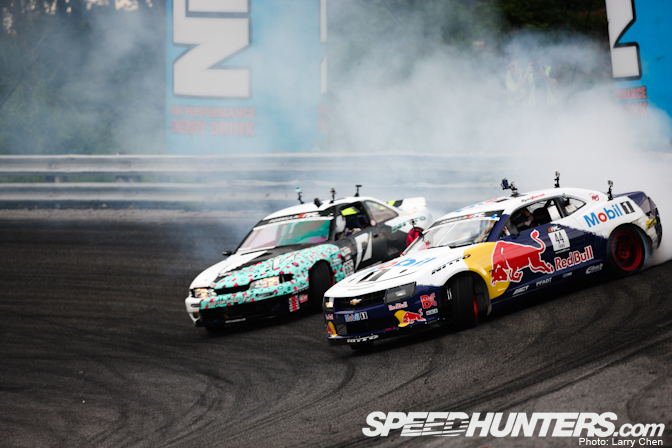 Powers: I feel good. My last runs were kinda sloppy. I was following Tuerck on the bank and I forgot to put the clutch in. I went to check up on the e-brake and I had a huge bobble. It was kinda like a bobble to understeer to drift kind of thing. I almost straightened out. But besides that my follow was really good. I thought I was going to crash into him for a little bit.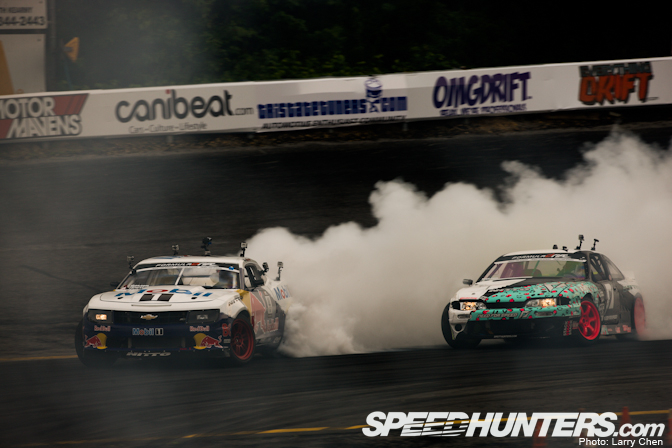 Aasbo: I remember that battle so well. Because you reeled him in, in that second transition, that was amazing.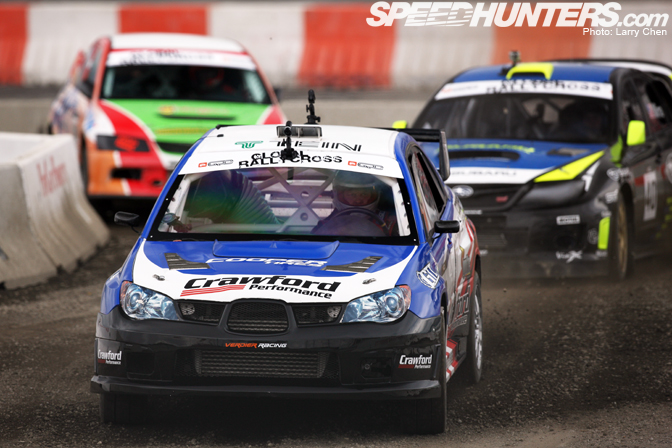 Powers: I was like 'oh ****!' I was not trying to hit Tuerck but I was like 'Ooooh I'm gonna hit him!' I was thinking 'people are going to be pissed!' Drifting, whether you like it or not, is racing and all the time cars bump into each other. I was watching a video from Rally Cross and it was on-board Stephen Verdier's car and he just bumps Tanner Foust for no reason at all and he didn't even care. After watching that I realized you can give people love taps. Some people go 'Oh my God my car', but it's not like you're driving your daily driver to a practice event at Willow Springs. It's completely different now. You are a professional driver. That's just the consequence of when you push and it's OK to do that. So right at that second when I was following Ryan I thought 'people are gonna be pissed if I hit Tuerck' so luckily I didn't hit him. And I felt good about that.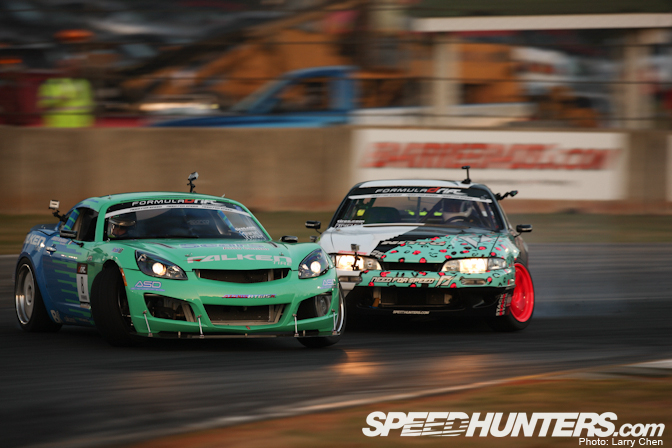 Aasbo: It's not like your contacts have been hard. They have been perfect.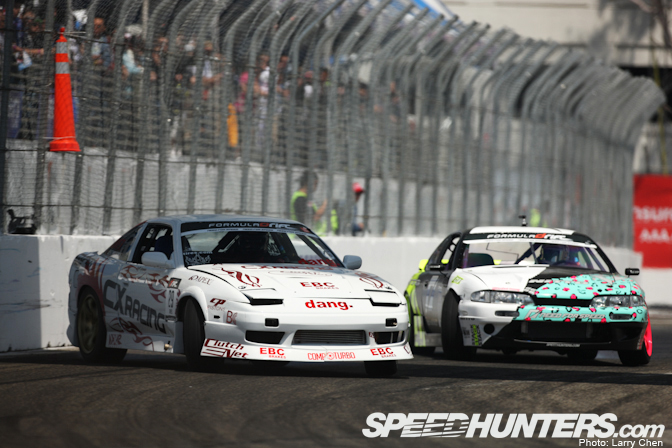 Powers: I bumped Jeff Jones and it kinda added angle but he didn't spin out. I feel like I beat him either way so I don't feel bad about that. It wasn't important.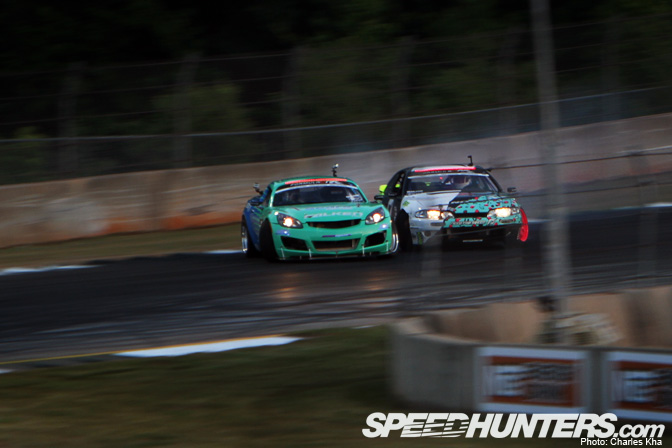 The contact with Dmac [in Atlanta] was an accident. I did everything I could not to hit him. I was trying to be super aggressive, because I knew I botched my lead run. I knew I had to get freaking crazy to, at best, get a one more time. I needed to pressure him into a mistake or something. It was my last to chance do something cool for the weekend so I wanted to go nuts. His car just slows down way faster than mine. I was not used to being on the foot brake through there and stuff. Cars usually slow down faster than mine and I always suck up on people in braking zones. I added angle, I was on the foot brake, I was on the e-brake. Not much else I could do then and I was just like, 'alright, we're going to hit'. It ended up not being nearly bad as I thought.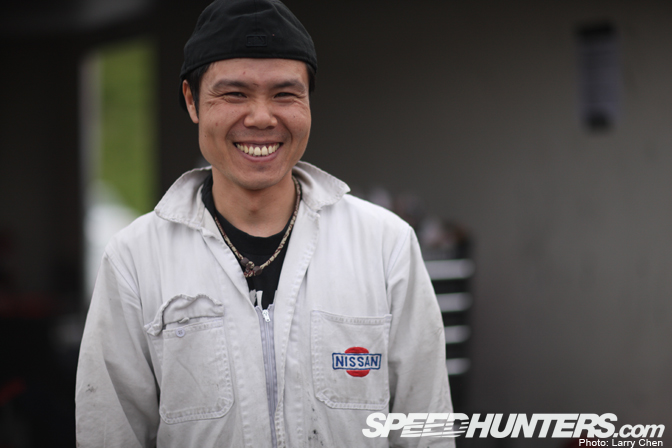 For top 16 I had Yoshioka. He has a dog box like you and I have, but his kept popping out of gear. I told him to use a bungee cord. He was having to drift in practice holding it in gear the whole time on the bank and throughout the whole course. So he bungeed it and fixed the problem and we ended up going against each other and I was like '****, I shouldn't have told them that!'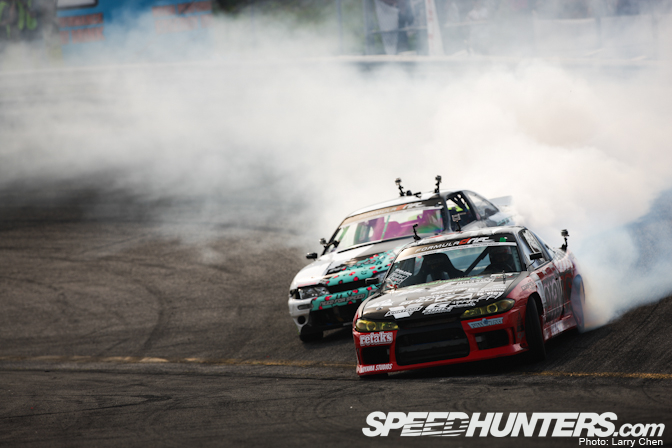 After what happened with Russakoff, I was kinda psyched out and kinda scared when following Yoshioka. What was in my head was if he crashed into the wall like Russakoff did and I went straight into him again. I thought "I'm gonna be so mad if that happens, he better not crash!" I was still kind of fazed as Jarod said. I was low on the bank following him but luckily I made up for it and did a decent follow run. Then my lead run was the best run of the weekend so far and he was pretty shallow. It went together good and I ended up winning so that was cool because I really wanted to beat Tuerck in top 8.  How was hanging out in the judges' stand?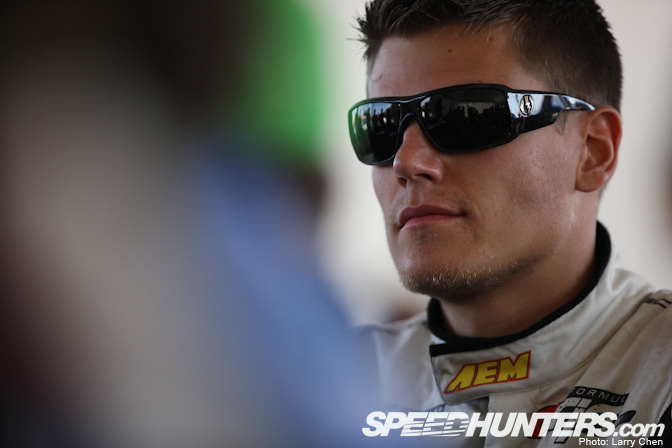 Aasbo: It was cool to get that inside glimpse and it was amazing to see all the stuff people put up on the drift stream. It's so internal I guess. All those people who chat on there know each other without really knowing each other. They all have their lingo, which was cool. I kinda felt my way through commenting on that. I got a lot of questions about myself and the Supra. A lot of guys were rooting for you. Also a lot of hate.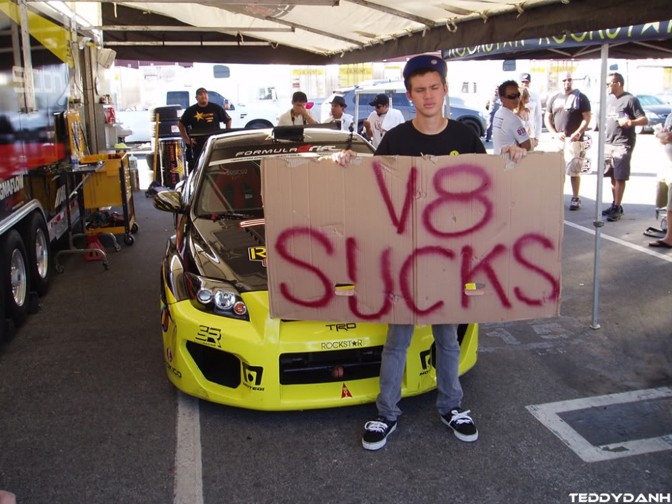 Powers: Dude there's so much hate. The internet is nothing but hate I swear.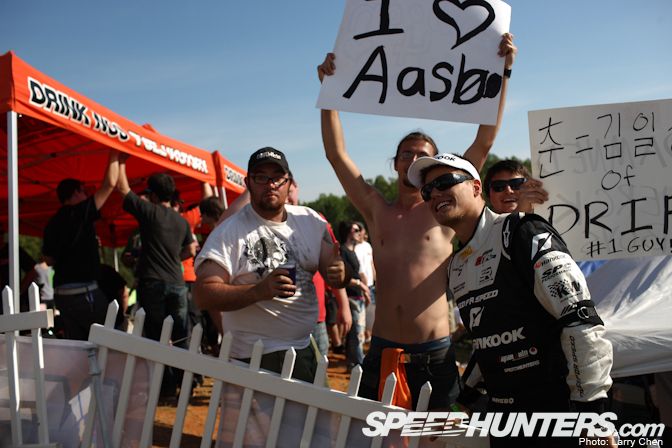 Aasbo: It's funny because people say it's easy to hate but it's easy to be nice as well. I don't get it but that is a different story. It was cool to see it from the inside and see how they are working up there. See how Ryan Sage works, keeping an eye on things. It was cool to try and give my insight on what happened. It helped also because I am trying to get more fluent in English.
Powers: Your English is very good!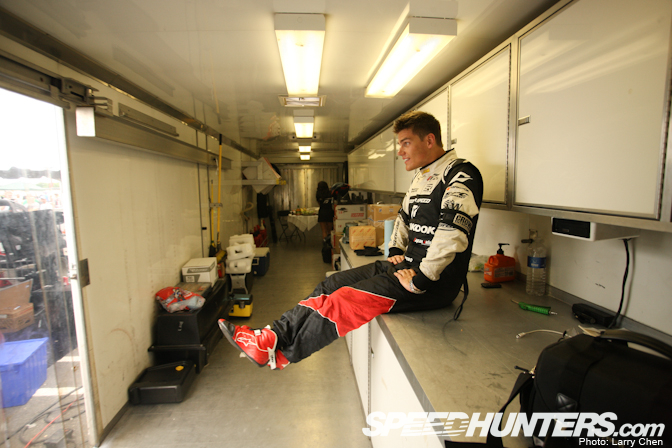 Aasbo: You think so? I would rather be a better driver though…
Powers: I was thinking you speak better English than I do. Cause I don't try to sound proper! You speak in an educated manner and I don't speak like that.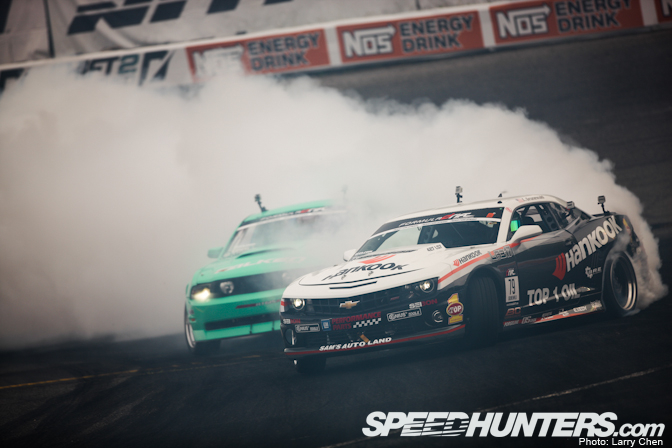 Aasbo: I think the finals with Conrad Grunewald and Justin Pawlak shook up a lot of feelings. There were a lot of emotions and discussions. It's controversial, which I like. 'Cause ultimately it's about equalizing the sport and bringing it forward. In my last blog I tried to speak up a little bit about the feeling that people have that FD is all about speed. Spectators are asking what the judges are looking for. The next event should be interesting.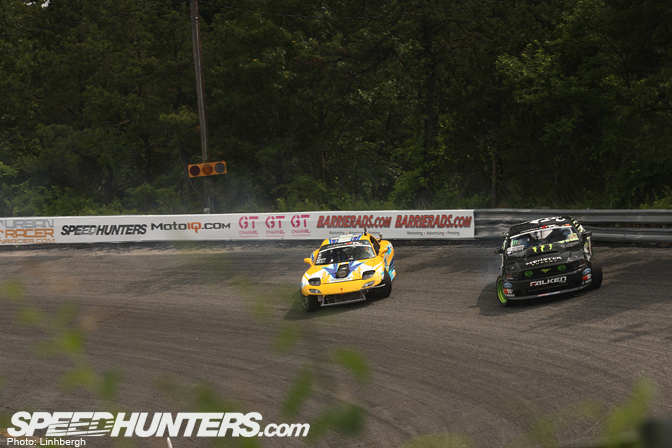 Powers: I feel like literally there is nothing you can do when you go against a car that is really fast. It's really hard to do sick tandem with them. I feel like Justin is fast. Dude, Justin is so fast and the only person who can keep up with him is Vaughn. He kept up with JTP pretty sick in that top 8 battle.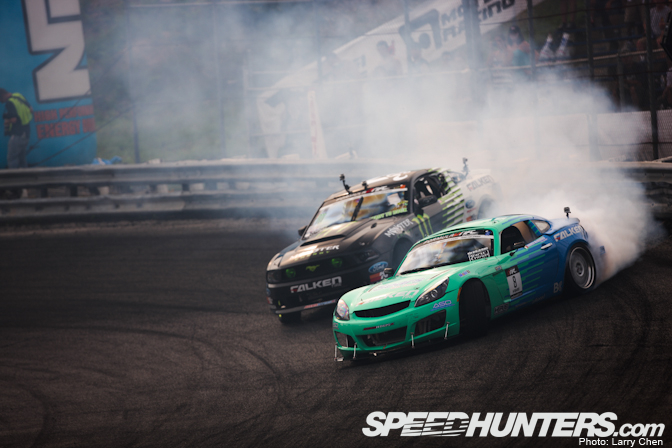 Aasbo: Then there was Dmac and JR.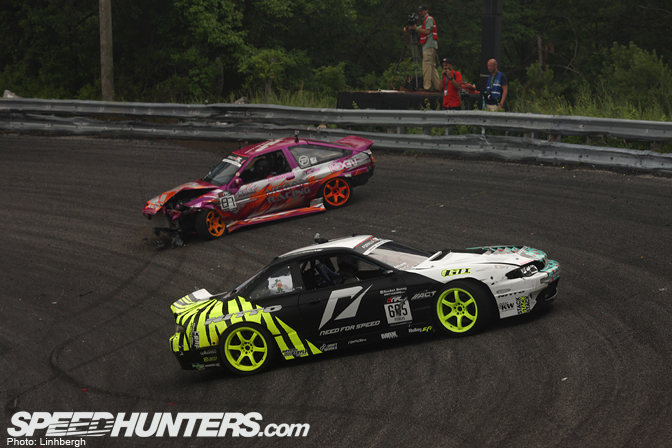 Powers: Your whole side of the tree was just way gnarly. Our side was way easier!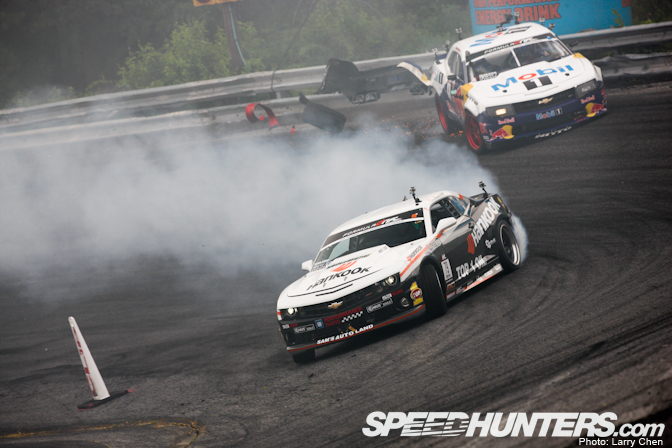 Aasbo: Did you see Tuerck's car? It got opened like a can. It shredded open.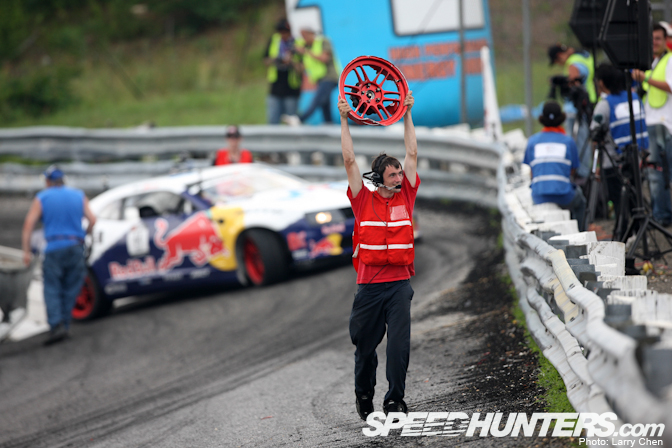 Powers: I thought he just hit a tire wall and a tire rolled. I was like 'why is everyone freaking out? It's just a tire off the wall.' Then I saw a chunk of his wheel roll down, and I was like 'What the hell just happened?'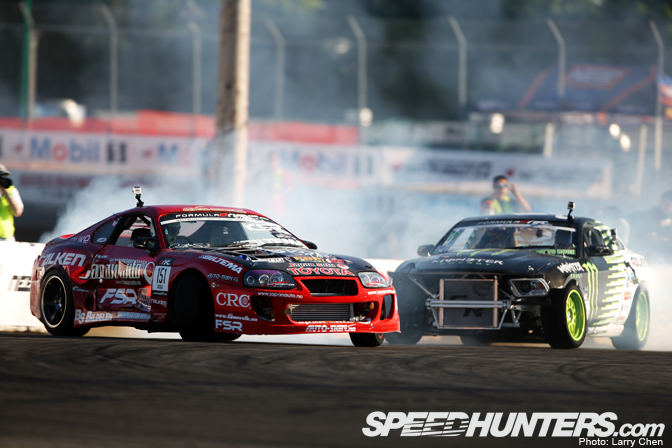 You did well at Seattle last year. Are you pumped to go back there? How do you think the car is going to do at Seattle and what are you going to do in the meantime?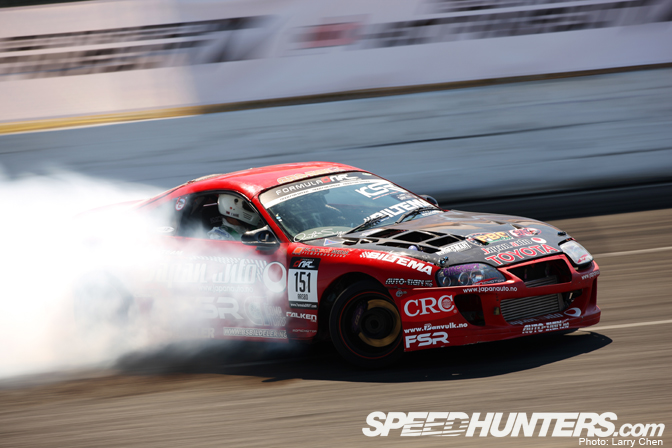 Aasbo: I like the Seattle track a lot. That first bank is super cool, because you're on the throttle for so long. I'm very stoked to go there. I think the car will be good. The exception would be the straight because it's very long, and we are running pretty low numbers in terms of power. But we're gonna re-tune the car and try to pull more power out. In the meantime I'm going back to Norway for rally cross and Tanner is going to be there. I'm driving the Supra but I'm doing the demo. Then the Norwegian drift series back in Oslo. After that I'm doing Gatebil with Larry Chen, hanging out for a little bit then coming back to the States. I'm stoked to have a lot of seat time and a lot of fun.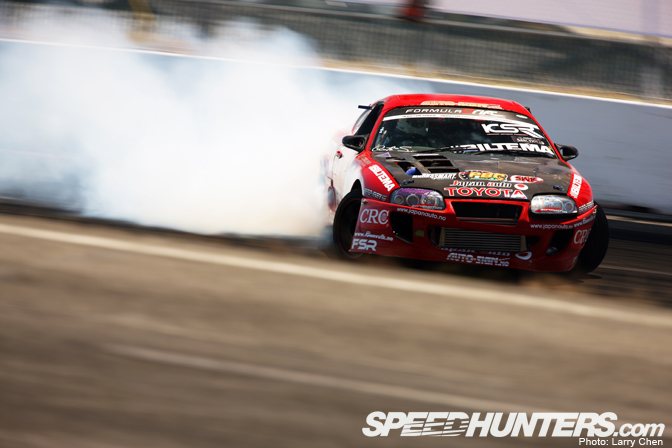 Powers: That's sick! In the Supra did you floor it down the whole straight in Washington?
Aasbo: Yeah.
Powers: You did?
Aasbo: Yeah!
Powers: I think most people don't floor it that whole way…
Aasbo: Really?
Powers: Yeah…
Aasbo: Why not?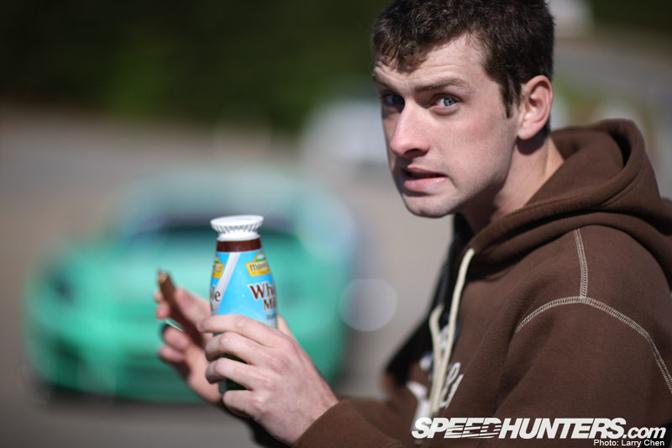 Powers: I don't know. Because it's so long. I know Dmac doesn't…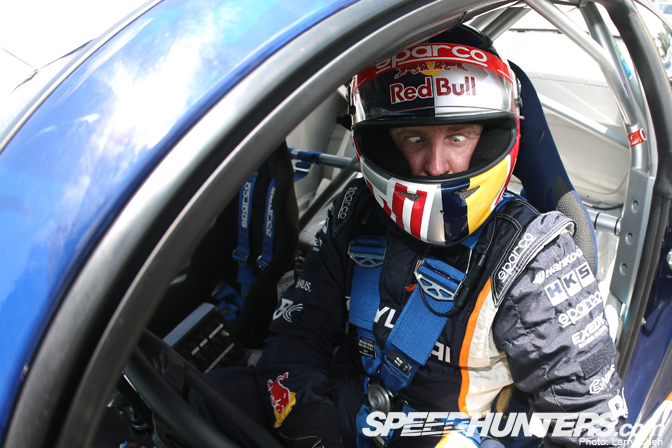 Powers: …And Rhys Millen doesn't.
Aasbo: Really?
Powers: Yeah…
Aasbo: Never?
Powers: Never! In Washington? Are you kidding me?
Aasbo: Really?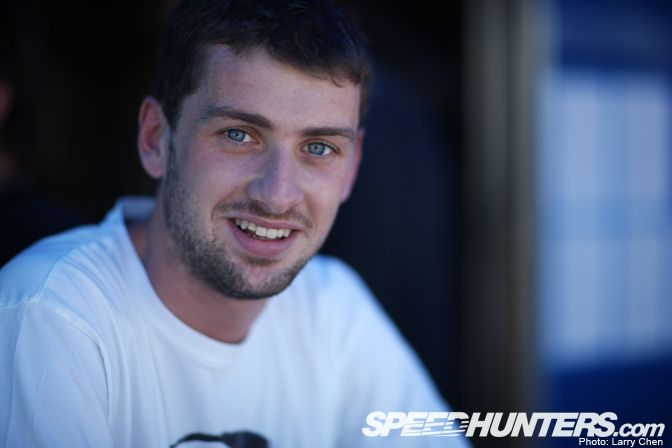 Powers: No! I asked Dmac and he was like, 'no way man!'
Aasbo: Wow, well I do. Maybe I had to because I shift so slow in that car. I want to see how you do it in your car. I think the Scion will be good especially through the last S-turn. How about you? Are you looking forward to it?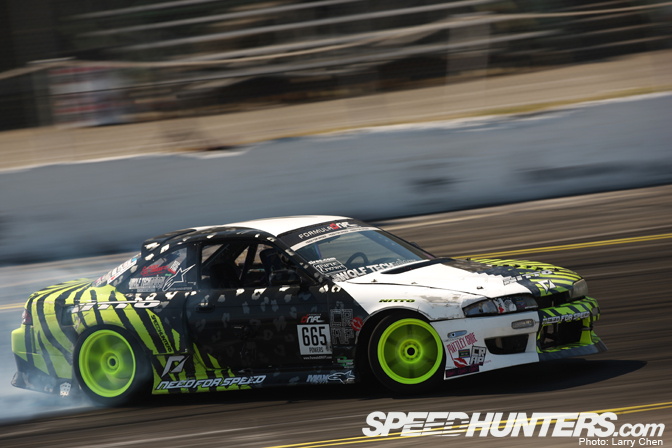 Powers: Yeah I'm excited to get on the big bank with more power and more wheel speed and see how it is. I like the bank there because it's so long. You set up and you have so much time to kinda play with your line on the bank. It's not so steep that it's impossible to get high. It's obviously a very serious track because it's very fast and long but it's also very fun. I like the track,  the scenery and everything.
Aasbo: I remember last year hitting the wall there. It felt kind of cushioned if that makes sense, especially at the point where I hit it. That was unusual for a bank like that, at least compared to the back at Irwindale. I also like the bits of old camping trailers laying around the track from demolition derbies.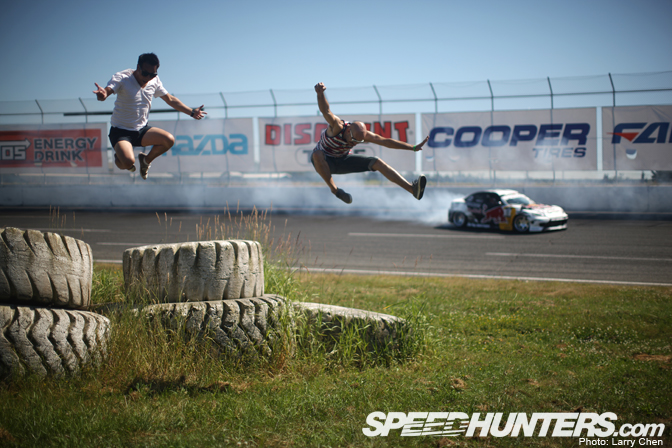 Powers: And tractor tire clipping points and bikini coffee drive through places…
Aasbo: Huh, what?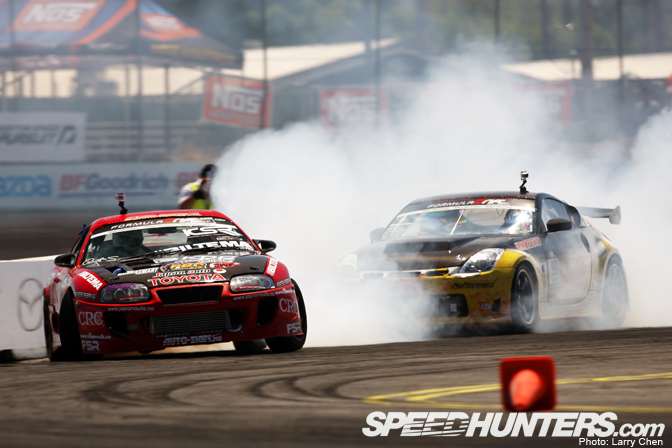 Powers: They have drive through coffee shops were girls wearing bikinis.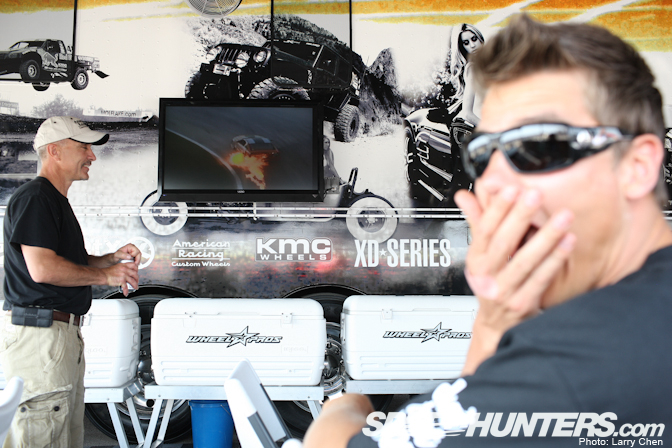 Aasbo: Wow.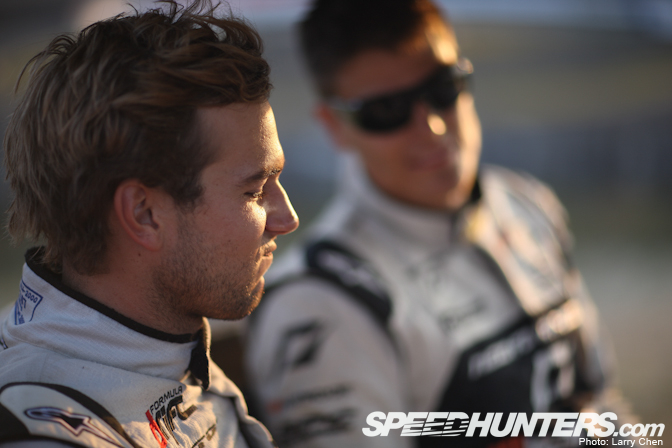 Powers: I like it.
- Matt and Fredric
Transcribed by Larry Chen