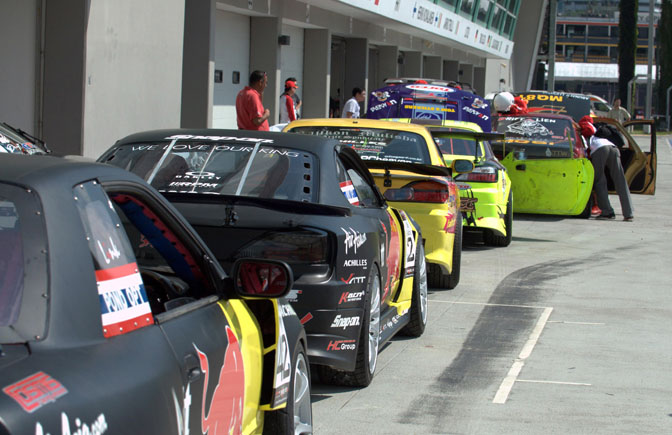 The Formula Drift Asia 2011 season officially launched last weekend with the VIP Formula Drift Singapore Presented by Achilles Radial. Held again at Turns 1, 2 and 3 of the Formula 1 Marina Bay street circuit, 44 drivers from Japan, Australia, New Zealand, Malaysia, Thailand, Indonesia, United States and of course Singapore pitted their skills to get the coveted carbon fiber trophies.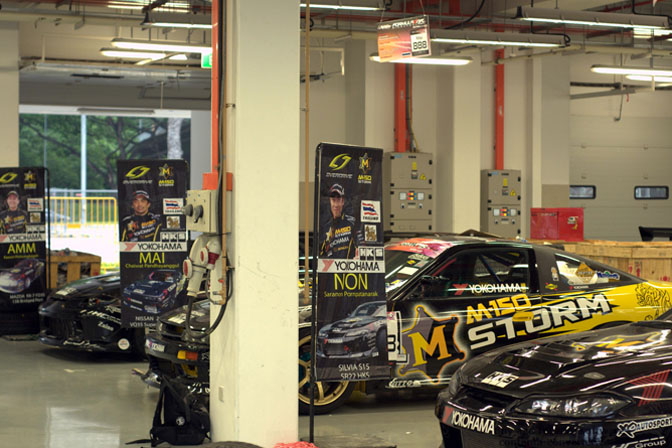 This year's Formula Drift Asia series has a team championship award, similar to that of Formula 1's constructors' championship, and we witnessed great team spirit.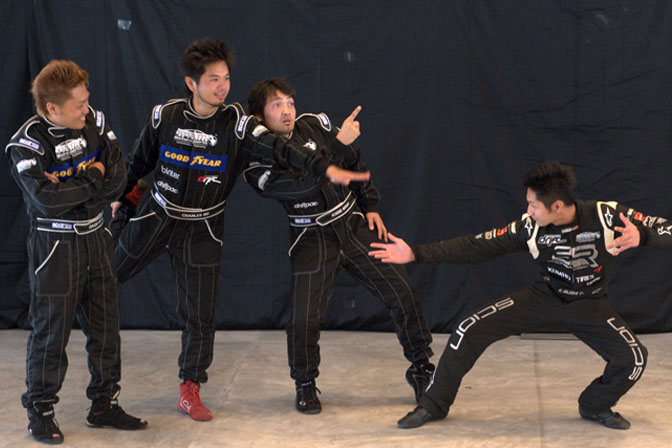 Local workshop SPARK Motorsports signed on a four-man foreign talent drift team consisting of D1GP 2008 champion Daigo Saito, Formula Drift USA regulars Robbie Nishida and Ken Gushi, as well as Charles Ng of Hong Kong.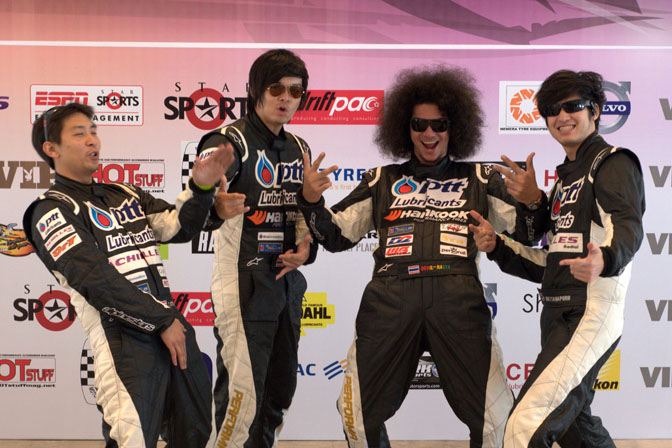 The PTT Performa team is filled with entertainment celebrities such as actor Joe, DJ Dre and singer M.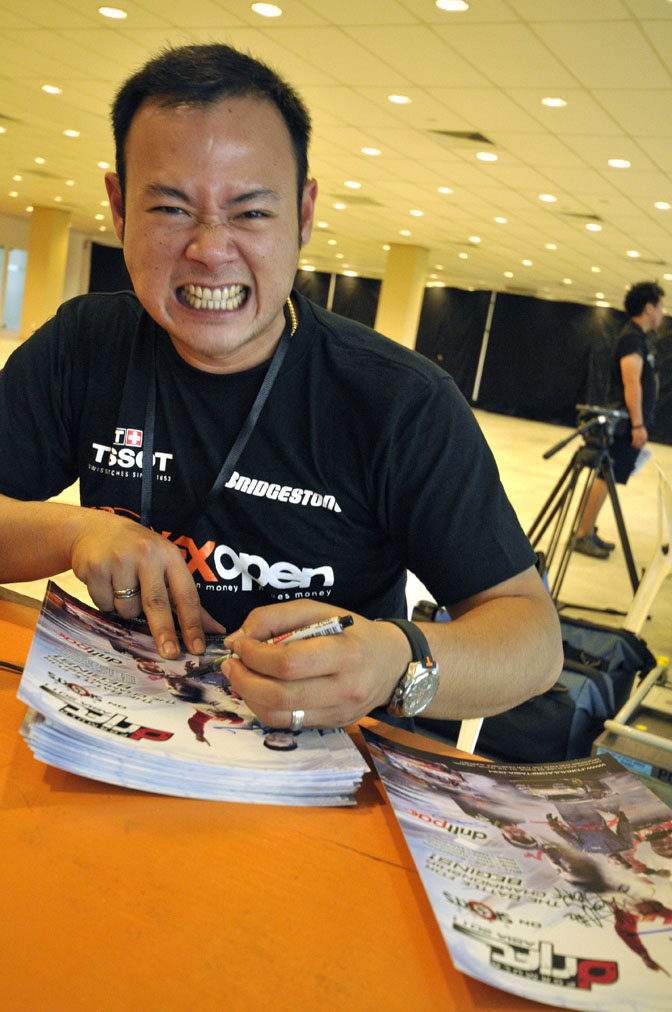 Last year's Formula Drift Asia champion Tengku Djan was present at the event though he was not one of the competing drivers. I managed to get him to autograph 150 of these limited edition Formula Drift Asia posters though!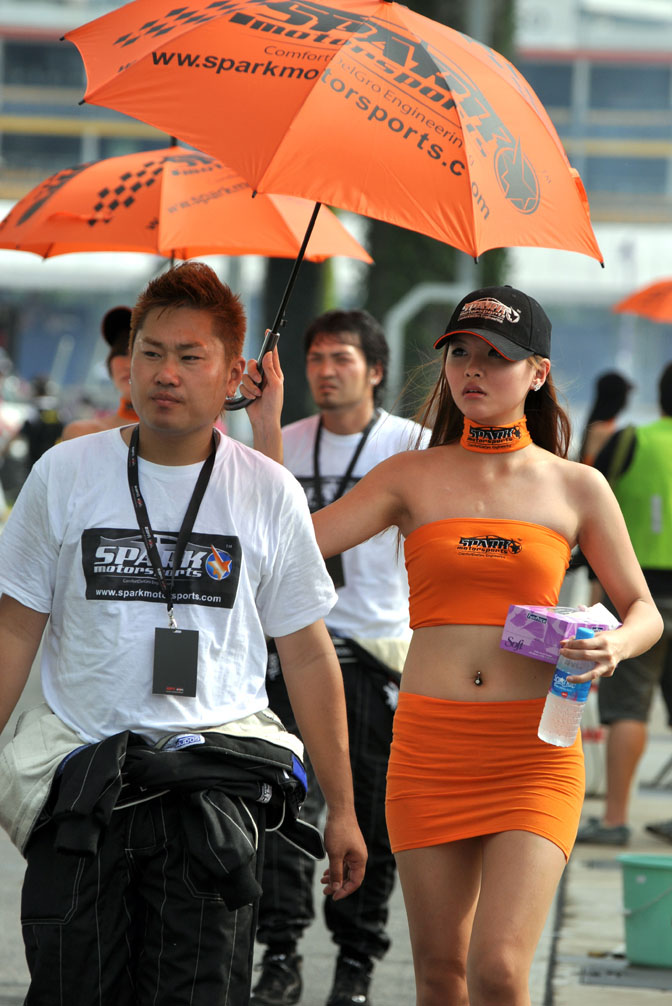 The competition standards rose dramatically due to the presence of the Japanese drifters, whom SPARK Motorsports took every measure to make sure their drivers were well taken of throughout the entire weekend.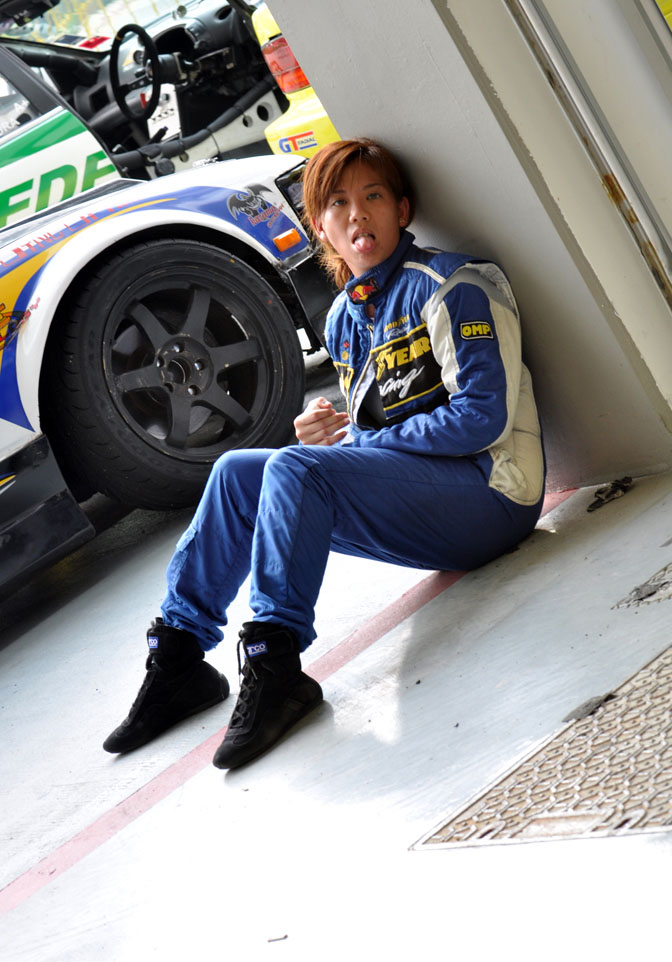 Jane Cheah, the only female ever in Formula Drift Asia, was feeling under the weather during official practice on Saturday.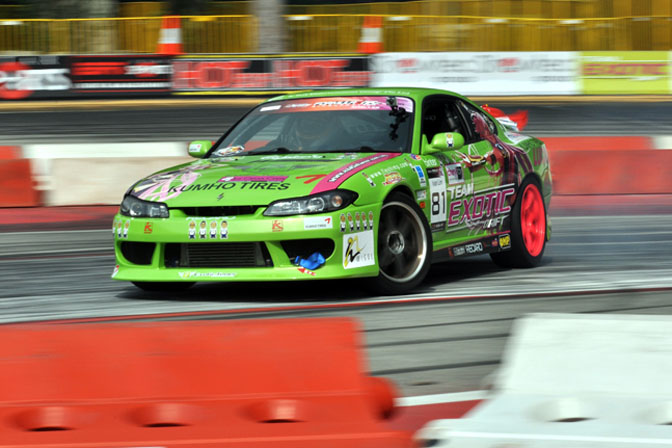 Halfway through the session, a thunderstorm hit the area and practice was halted. Upon continuation of the session, the cars were slipping and sliding all over the wet ground. Cars like the S15 of Singapore's best drifter, Ivan Lim.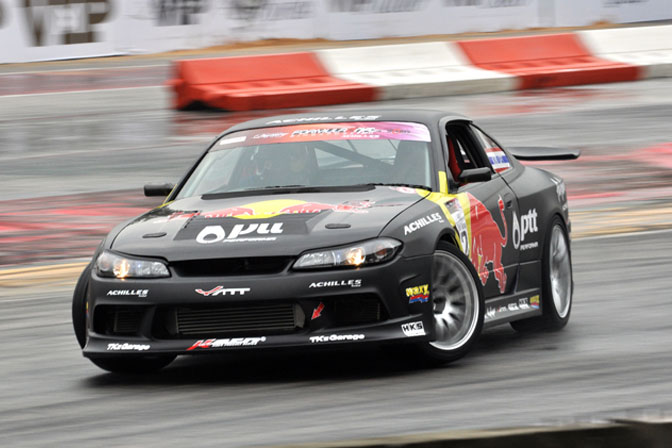 Qualifying was also done in the wet, and many like Kiki Sak Nana struggled to get grip. The result was only 31 drivers qualifying for the Top 32.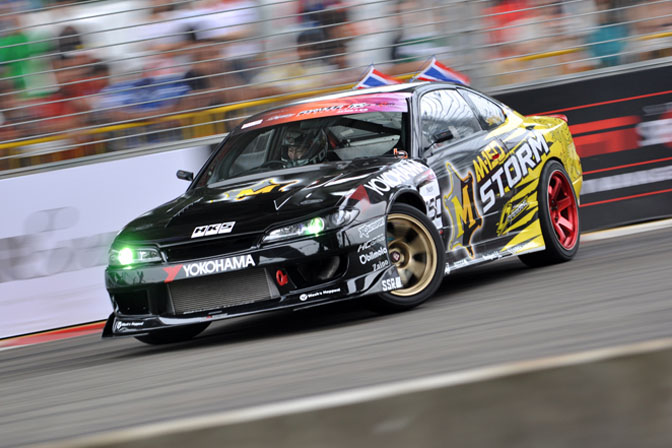 The Malaysians were going strong with Tan Tat Wei, Ivan Lau and Ee Yoong Cherng qualifying in the top three places respectively. Thai Drift God Saranon Pornpatanarak (Non) was the highest Thai qualifier in sixth.
Daigo was doing very well during practice earlier, but he spun on his first qualifying run and had to keep it safe the second time, hence only qualifying in 16th place.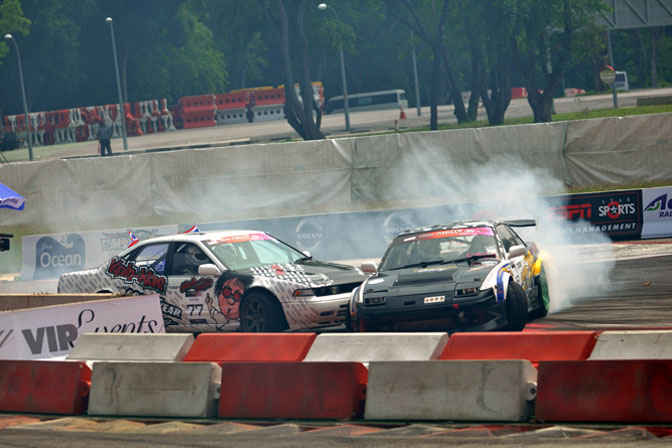 Tandem battles were held on Sunday, starting with the Top 32 where there was an incident between D Kohkae of Thailand and Ariff Johanis of Malaysia.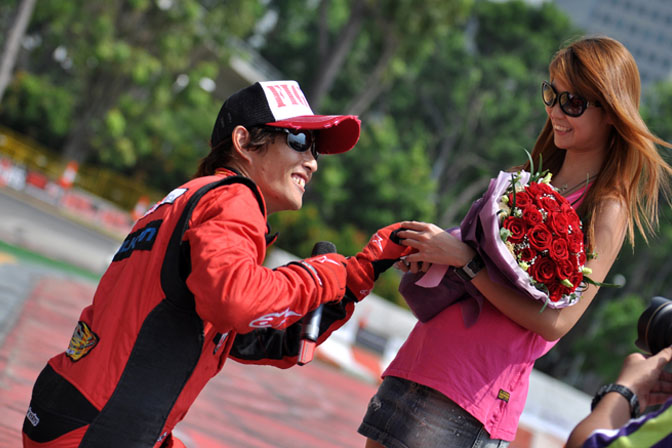 During the interval before the Top 16, there was a marriage proposal by Singaporean drifter Adam Toh on the track, who met his wife-to-be Grace Tai through drifting. Aawww!
There was also a drivers' autograph session at the public pit walkabout and Daijiro Yoshihara (who was one of the judges that weekend) was doing his bit for Japan like he usually does at Formula Drift USA.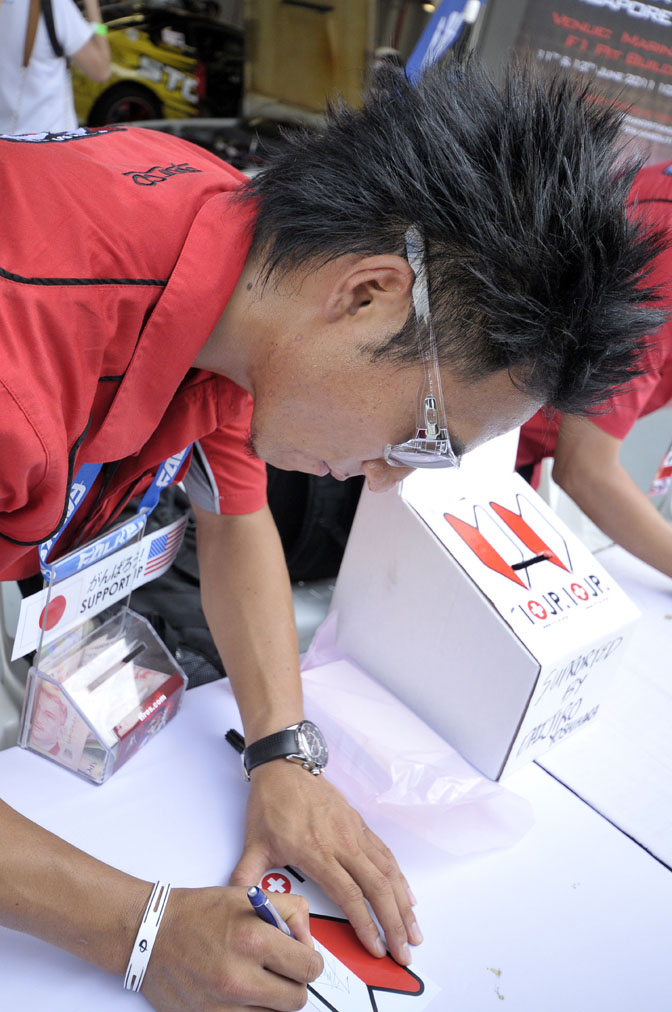 Easily recognisable by his signature hairstyle, fans were rushing for his autograph too.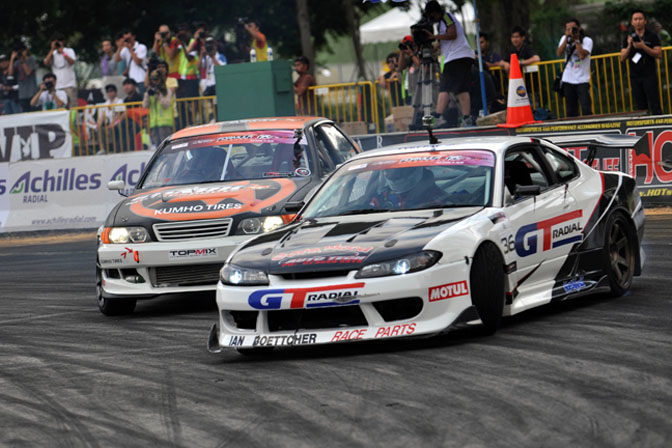 In the fight to the top, while Daigo was smoothly battling his way to the Top 2, Ken Gushi was also trying his best to get to the final, meeting people like Josh Boettcher from Australia. Josh was also at Formula Drift Asia for the first time.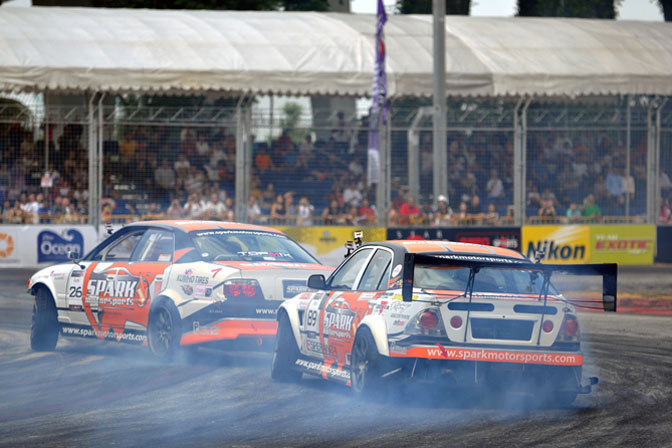 Eventually, Daigo and Ken met in the semi-finals and Daigo's Altezza was just too powerful for Ken's Chaser. Ken then went on to win third place.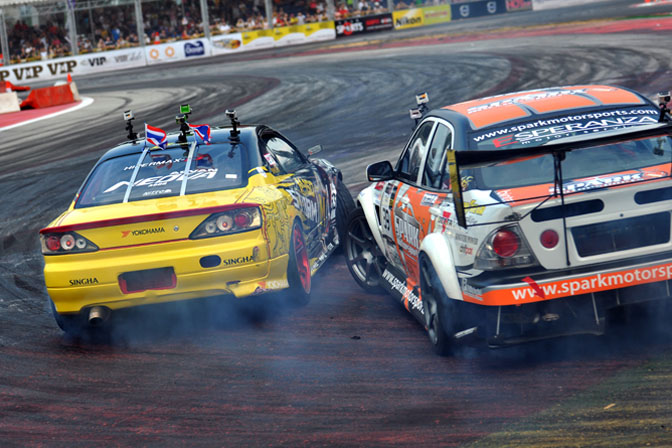 Taking on Non in the final, Daigo proved too strong with his hardcore Altezza and emerged victorious.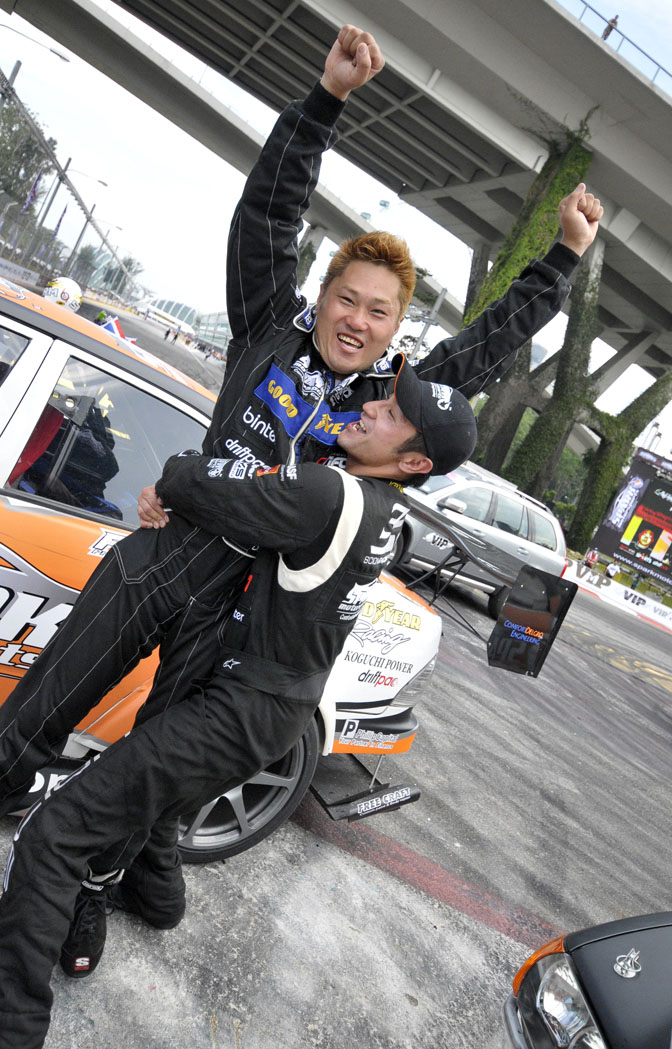 Having won in Malaysia last December on his Formula Drift Asia debut, Daigo seems ready for a winning championship season.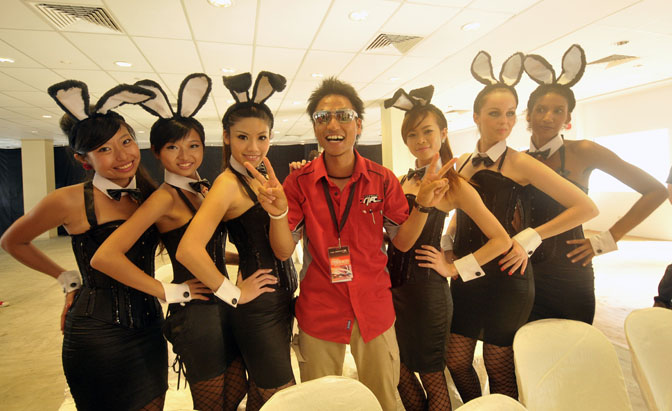 Once the awards were given out and the weekend came to a close, Dai Yoshihara decided to make friends with the VIP Playmates!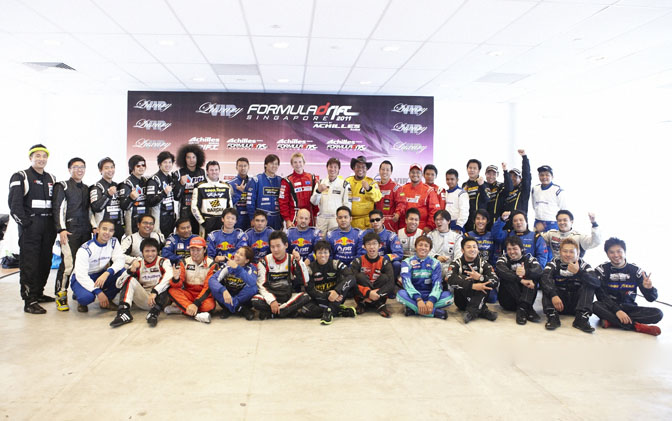 The next round of Formula Drift Asia takes place in Indonesia in October, followed by Thailand in November and the finale in Malaysia in December.
- Cheryl Tay
Photos by Cheryl Tay