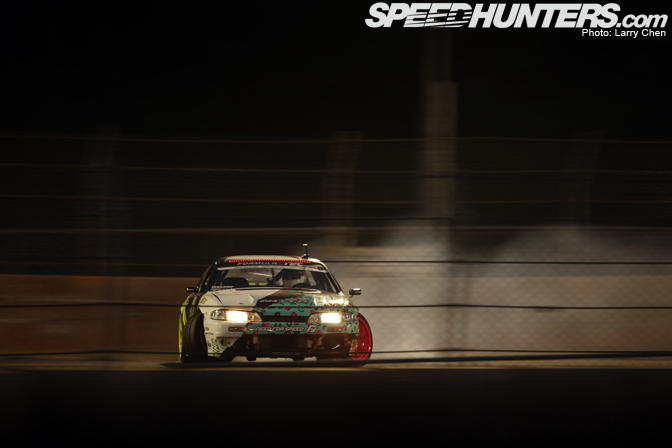 Hello Speedhunters. How are you? Let me share with you my driver's blog from FD Atlanta.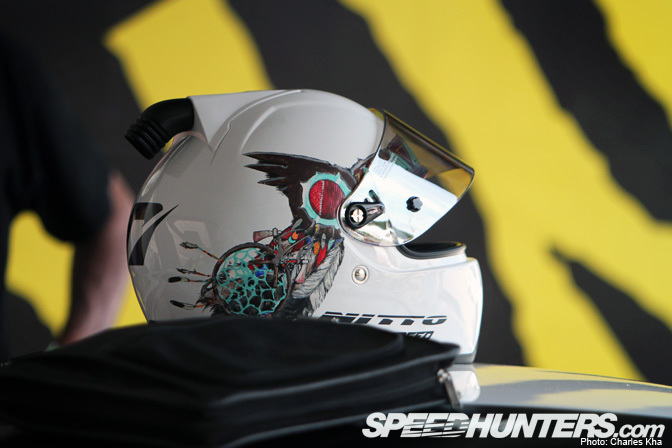 I got a new helmet this year. I had it before Round 1 but I was waiting to bust it out. It has the parker pumper air vent which I don't use while I drive because it restricts my head too much. My buddy Dillon Schmersal did the painting for me. I think my theme for this year is to wage war at every event, against everyone, including myself. At least on the track. Why would you only want to keep drifting fun? Warriors aren't afraid of war!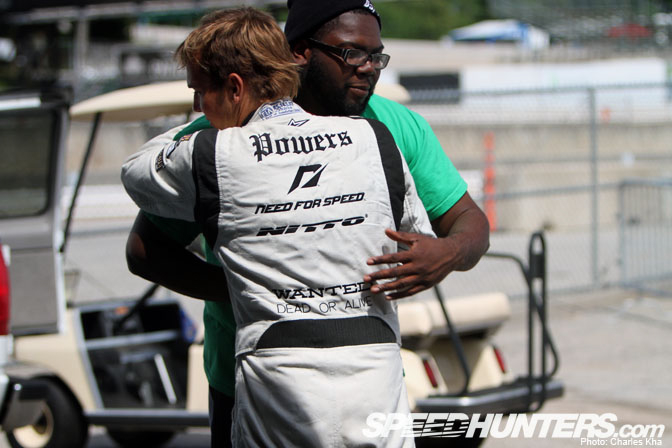 This is my brother from a different mother, BG. Last year in New Jersey we did karaoke to "Baby Got Back" by Sir Mix A Lot. I killed it which led him to award me to be an "honorary black guy." I think that's way cooler than an honorary PhD so I rep it.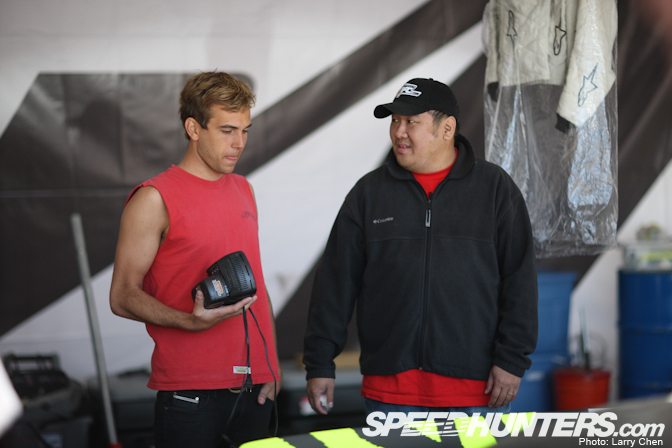 This is Andy Luk. He runs a lot of the Formula D stuff. He's been pretty cool to me since I started doing FD. When he saw my car at tech this year he was pumped.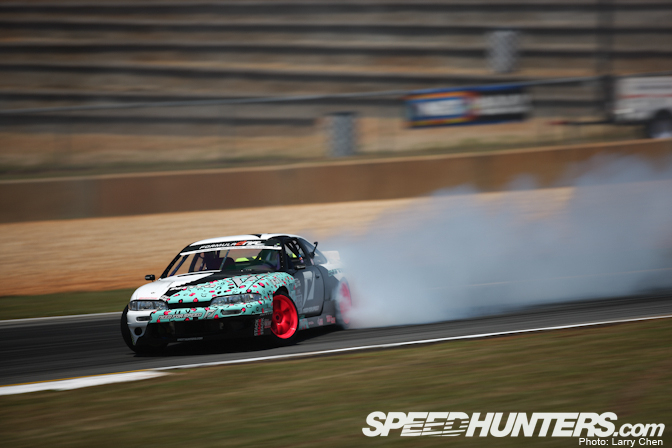 This was practice on Thursday. My main focus in practice was doing a sick entry and taking a wide line in the horse shoe. Both of these areas are where I think I fell short last year at Atlanta. I definitely thought about that a lot and was disappointed in my performance last year. I'm quite certain that I'm my biggest critic.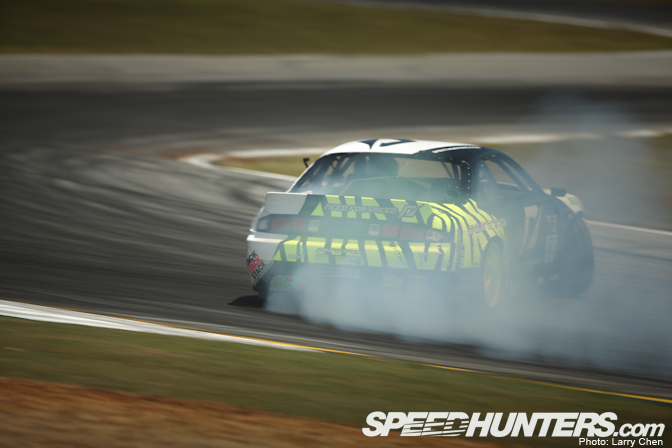 I also thought that on the whole my angle last year was pretty weak. It was a combination of car setup and driver outlook. I was super focused on trying to keep up with everyone and being fast that I sort of stopped having good angle. That's another personal goal I've set for myself this year.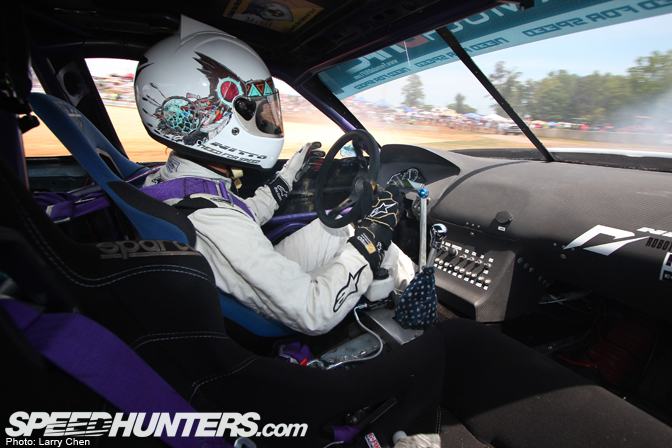 If you watch JR drive he never lets go of the steering wheel, ever. He steers the car to full lock. I remember people making a big deal about that when I was competing in amateur events. I never really cared much. I think if you want to have the big entry or hard transitions you probably have to let go of the wheel, I don't think you can steer fast enough to flick it.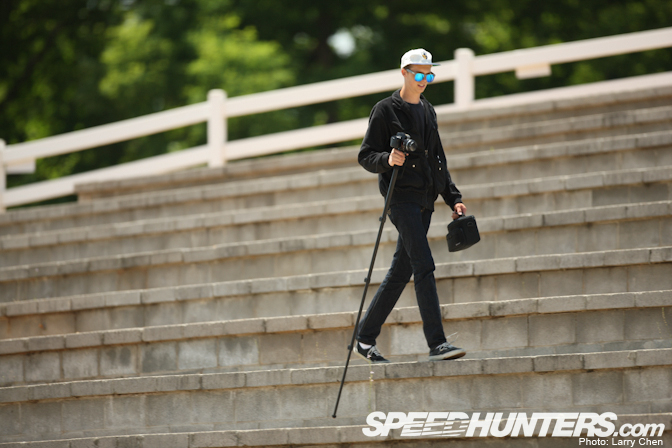 Nate getting the shot. Replay XD was cool enough to give him some of their new cameras and send him to all the events this year to document the festivities.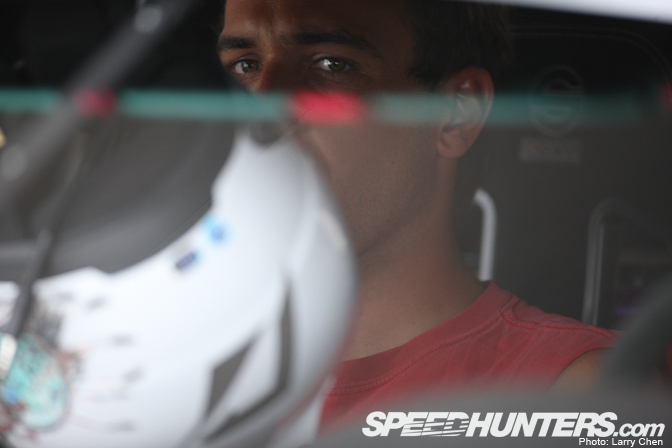 Eye of the tiger.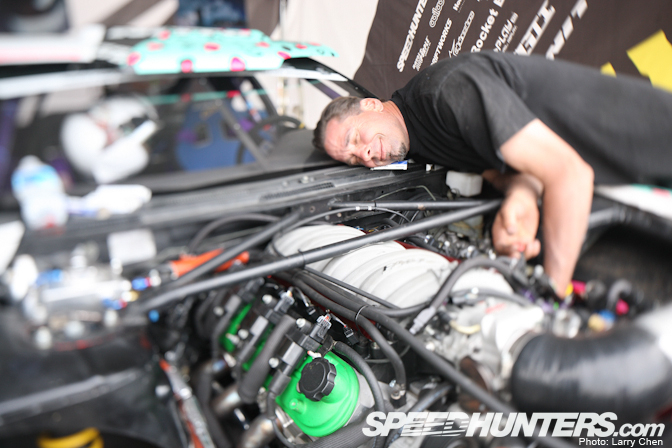 I think big Tom was tired. Tommy, Nate, and him all took the red eye from San Diego to Atlanta that landed at 5am. That was the first time big Tom had been on a plane since 1992!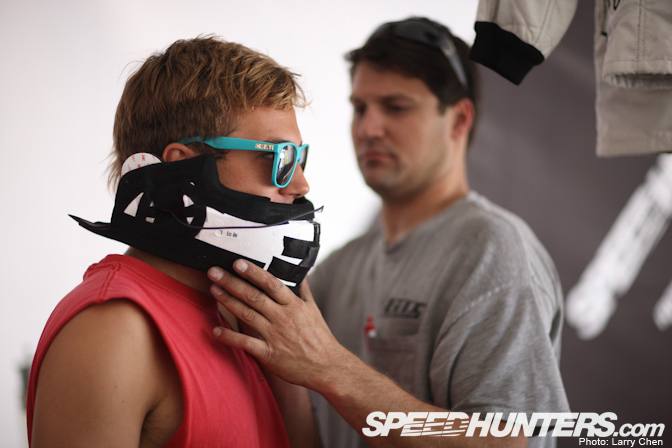 Costa did a last minute radio install from PCI on my helmet at the track. Here I'm test fitting the liner/ear pieces.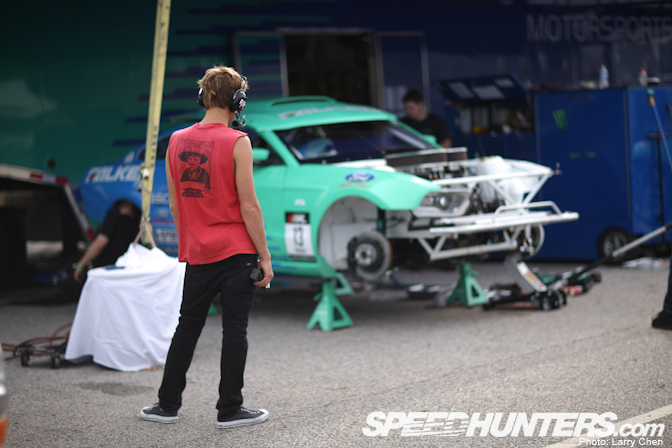 JTP crashed in practice pretty hard, similar to how I did last year, but harder and faster. I went over to check the car out while we tested our radios. I don't think you see the ASD cars crash very often, but when they do, it's hard. The only other ones I can think of are JR at Vegas 2009 and Dmac at Irwindale 2010.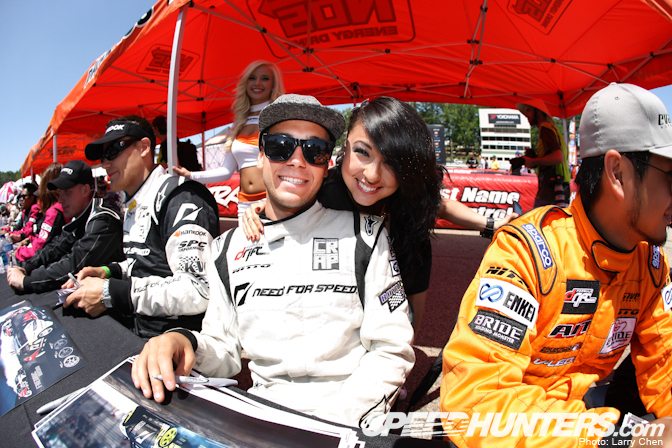 I forgot my posters for the autograph signing, which was a bummer because I know I have a lot of fans in the south that would've dug them. Luckily Melinda had my back and got some new ones printed up. I want to make out with that blonde girl in the background.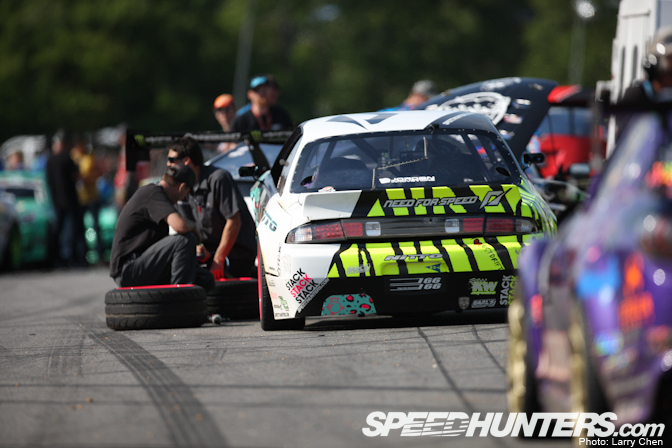 I bent a wheel in my last practice lap before qualifying by going up on one of the gators.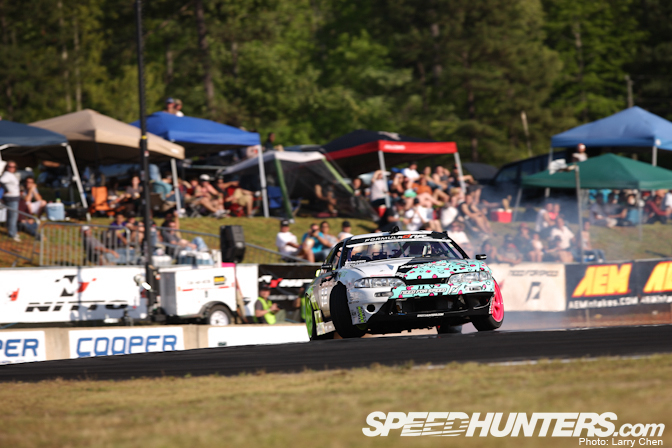 You can see all the tents and stuff in the background. Atlanta is pretty cool because people bring their own tents, coolers, whatever, to the track and hang out and party. When we went back Sunday morning to load up the track was trashed.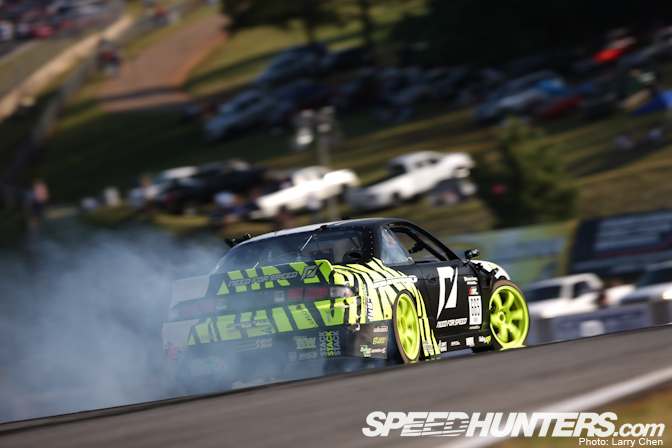 This shot's cool because you can see how much elevation change there is at Atlanta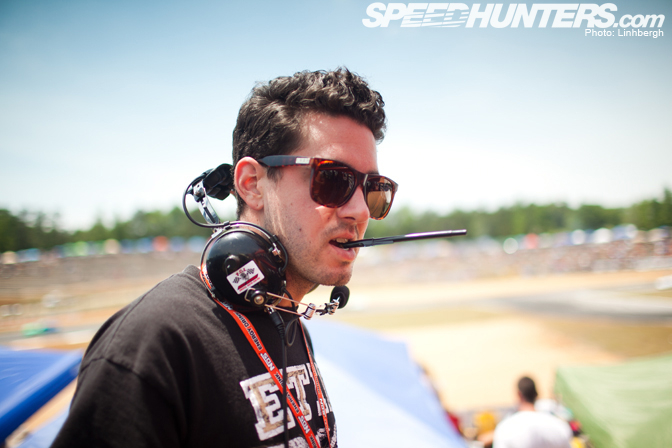 Me: "How was that entry?"
Tommy: "It was good, one of the best ones in the field."
Me: "Would the drunken fans on the hills be pumped?" 
Tommy: "Ya they would love it."
Me: "OK just making sure it's enough."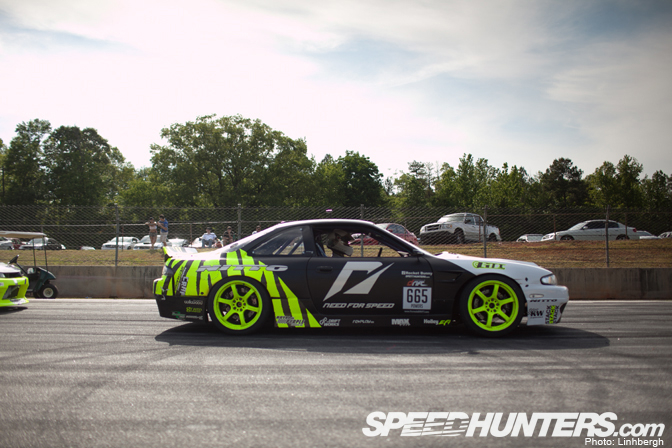 I like the way my car looks way more this year.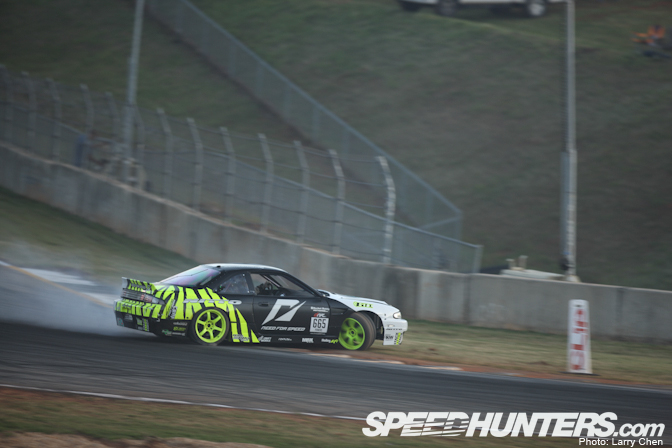 My first qualifying run I got an 89.8 which is my highest qualifying score in Formula D so far. I was pretty pumped. That run put me in 7th place but I was definitely aiming for the top spot and wanted to go super hard on my second run. I threw it in with a ton of angle, super backwards. It was a good backwards too; I think it's weak when it's an average entry with a bobble of backwards, or a slow flick. I think 90 degrees with a flick is cooler than a slow, non dynamic backwards entry. So I threw it and held it a bit over 90 degrees for a while. I thought I had it; all I needed was to get around the clip…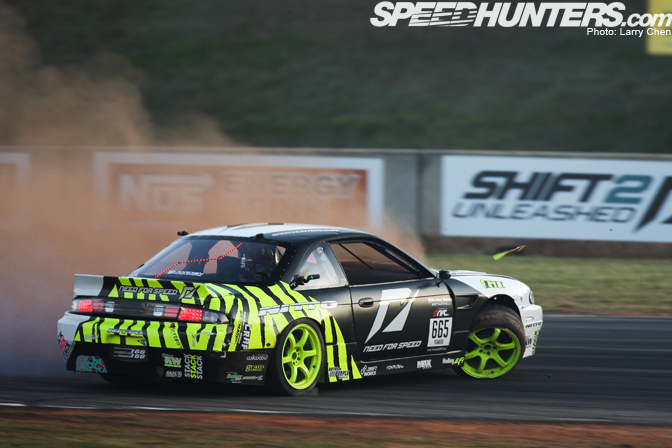 …My front went over the "gator," which basically resulted in the face of my wheel smacking dead on a curb. As I was sliding back I saw a chunk of my wheel by me haha! It sucked to have so much damage to the car from just an off course, not even a crash. Here is the VIDEO.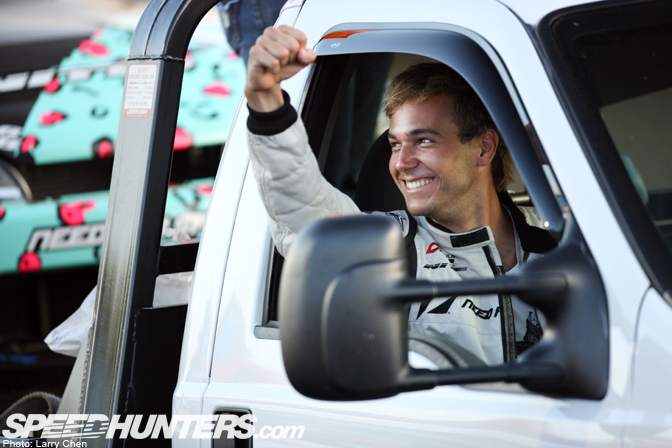 I was a bit bummed to break the car and not move up in qualifying rank, but I know the fans love that kind OF stuff and I was stoked to put on a good exciting run for them. I like the flick and sound coming from the video. If I had to guess I would say the fans probably preferred me to explode my wheel than make it haha. They got the best of both worlds: an exciting run and some carnage.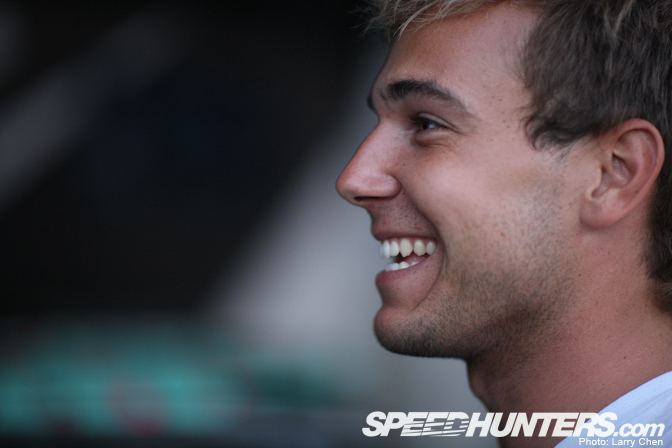 I dunno, to me there is still something funny about crashing, breaking parts, or doing stupid ***. Even though I broke some stuff and I felt bad for creating extra work and putting extra stress on the team, I still can't help but laugh about it – and at myself – a bit.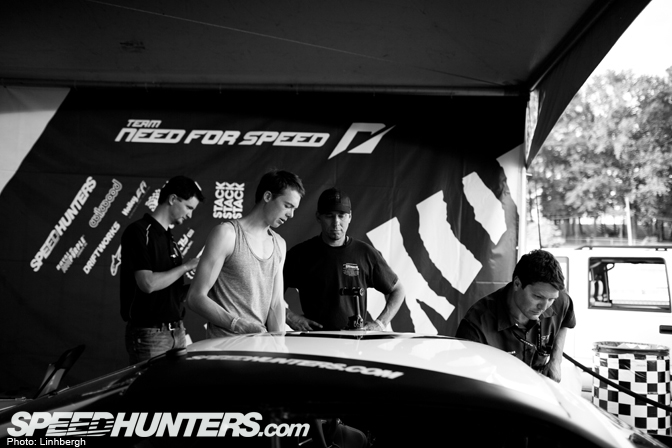 I challenge any other FD team to a walk-off. I feel that I have the most handsome FD team!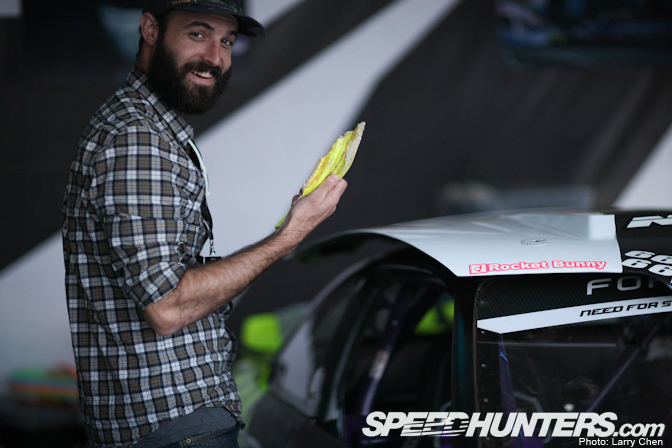 Andy Laputka from Drift Alliance/Monster wanted my wheel. He texted me as soon as I crashed asking for it! That was the second wheel I broke that day and the third wheel this season (two events).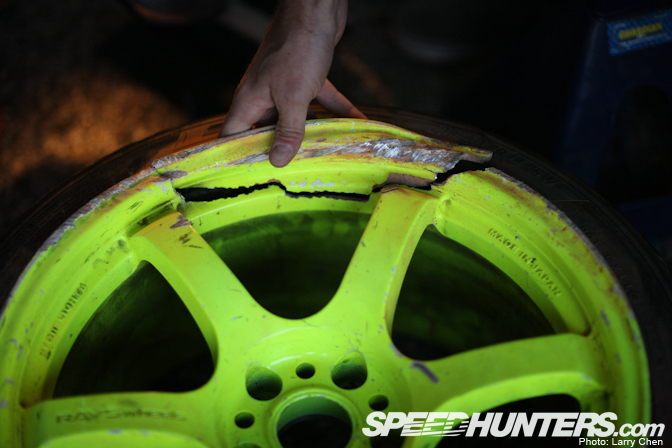 RIP wheel number 3 this season.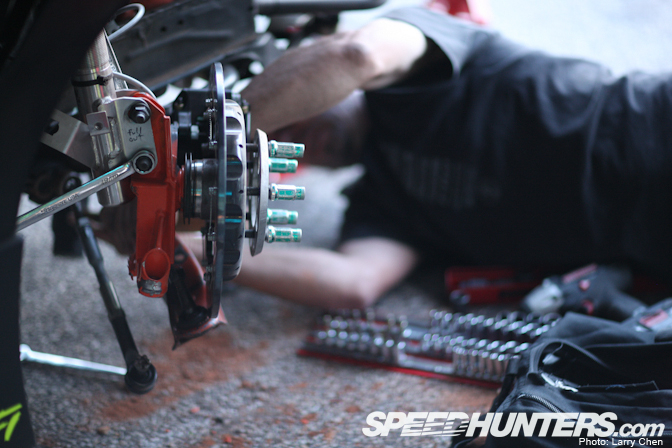 Ended up breaking the lower control arm, tension rod, and tie rod on that side. The KW coilover and Geomaster hubs were fine. Still though, Costa and Big Tom had some work to do!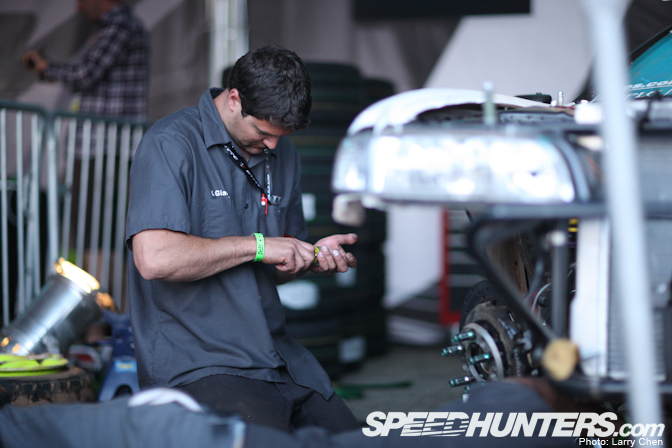 I felt a little bad making work for them. I asked them if they were bummed and they said no, so I felt better. I guess sometimes it's just a consequence of going for it and they know that.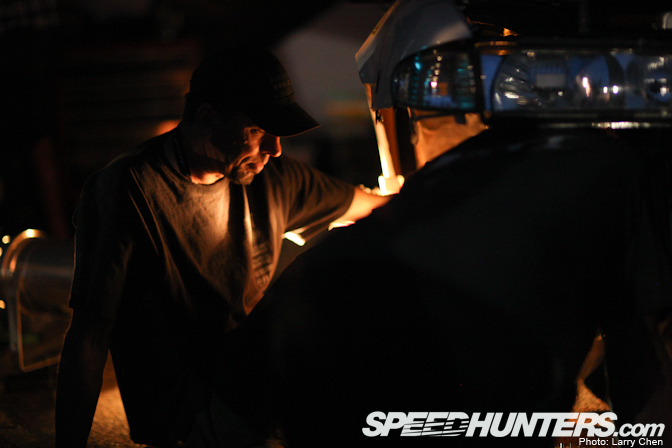 At this point I really do much. I organized some lighting, pulled out the spare parts and then they handled it all. It was sweet. I like this. Last year in Atlanta I was up until 4am fixing my car from the crash I had after qualifying.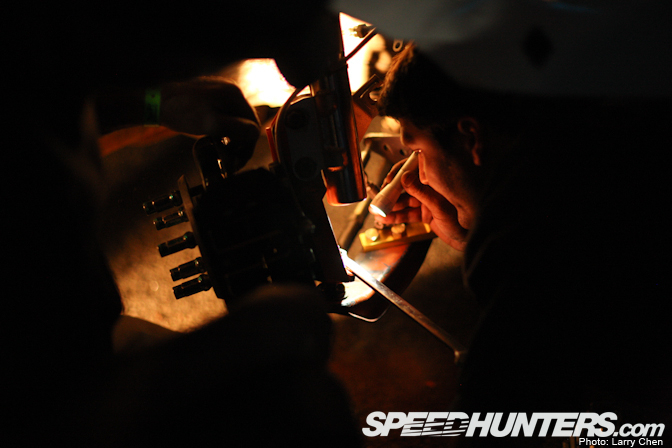 My car was actually finished in time for practice, but I had another wiring problem that made me run with no fans during my qualification laps. Luckily it wasn't too big of a deal and we caught the fan issue before I overheated, but finding and fixing the issue took the length of the evening practice and I didn't get to run. Lessons learned.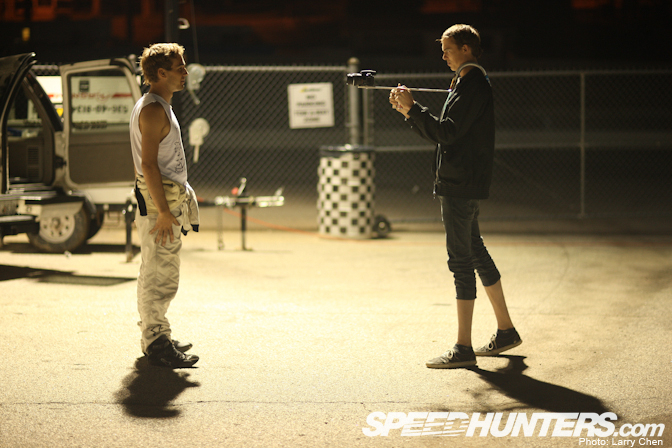 Nate asking me some questions about qualifying/off roading for the Replay XD Atlanta video he is working on. Our friend Max made his shoulder camera mount.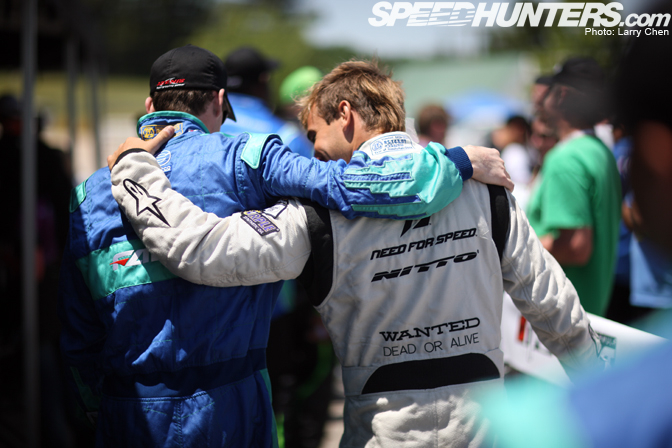 After the drivers' meeting and bracketing I saw that I would most likely be going against DMac in the top 16. He's a solid competitor. I think about his tandem battles last year with Tanner Foust all the time in amazement and jealousy. Last year I watched so much from the sidelines and it sucked. Watching those guys go at it was amazing and I wanted to be able to have a car that could hang with that. I also wanted to become a good enough driver to be able to do that. Specifically, their Washington and Irwindale battles were great, Jersey was good too. Stuff like that is part of my inspiration for this year and I told him that. I was excited to go up against with him and he was pumped and ready to go 100%.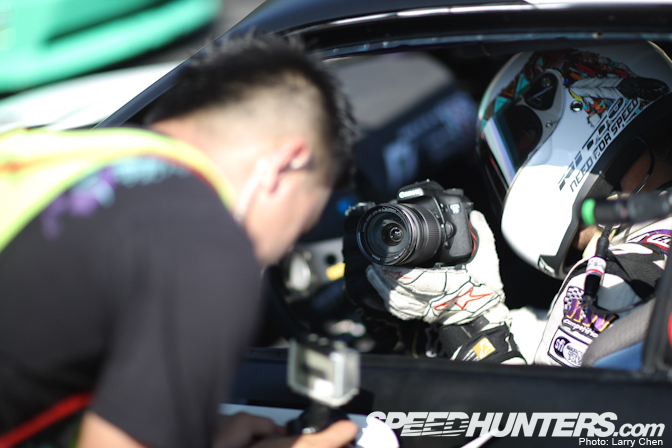 One of the filmers from Nitto asked me to hold his camera while he mounted a camera on my car so I took some photos of him for him.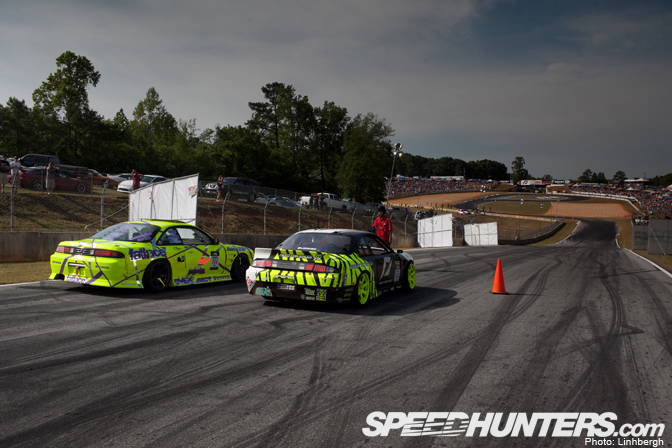 During the first run of the top 32 Conrad spun out and gave away the top 16 advancement. In general the top 32 was really ugly. Lots of sloppy runs. I was a bit worried about messing up. I was paired up with number 26 qualifier Matt Fields.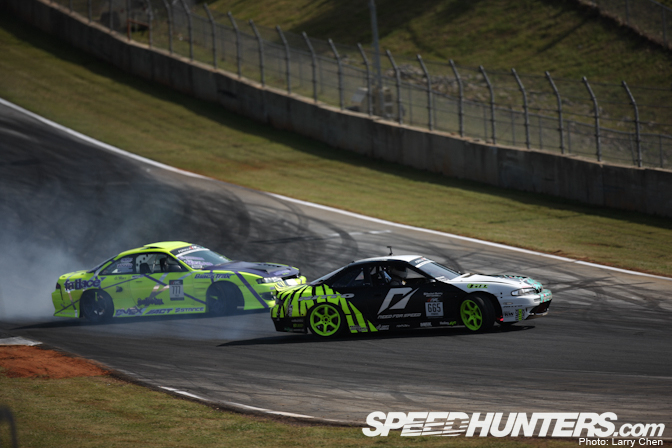 I thought the only way I would lose was if I messed up. I didn't want to push too hard and blow it for no reason. I would save the push for top 16. So I decided to take it a little easy. I also hadn't really had a good lap all day.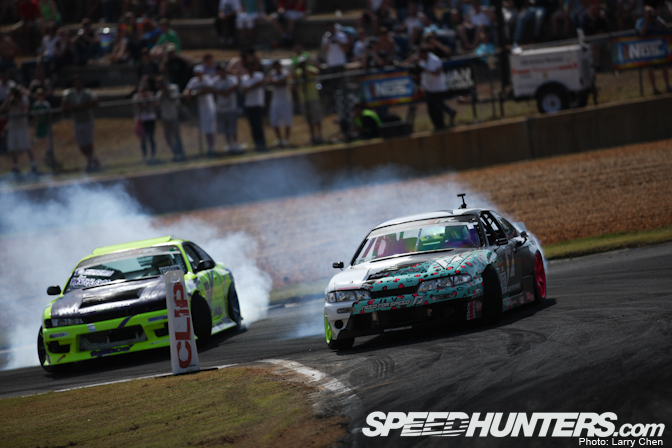 Not the most glorious thing, but I view top 32 as doing the minimum you have to do to advance. Top 16 is where you go balls out 100%. And continue to do so, or even harder, the deeper you go in the competition.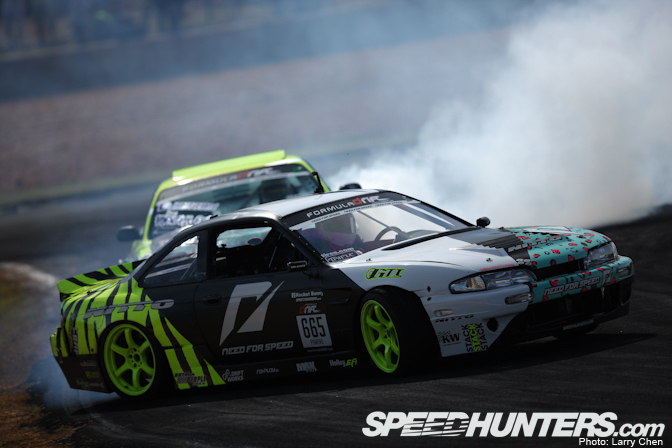 My strategy worked OK; it was a pretty average run butI pulled a decent gap coming back down the hill.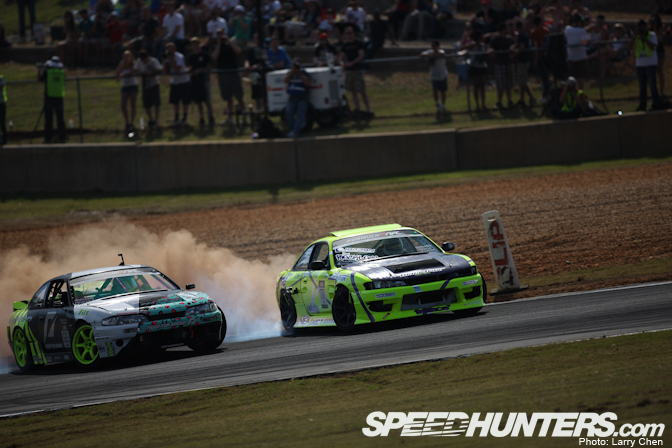 My strategy for following was to run a clean and solid chase run, which became quite difficult. Fields off coursed three turns in a row and I had to make a big correction in an effort just to stay on track behind him. I think he just pushed a little too hard, and there wasn't much grip because of the high track temperatures.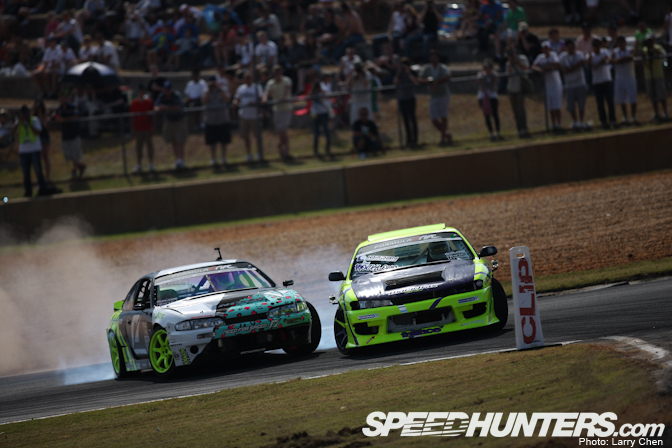 I got a little closer to him than I wanted entering the horse shoe.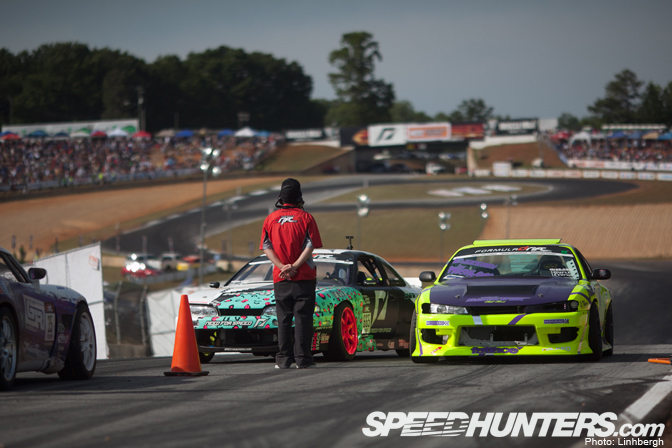 Overall my strategy worked but I didn't feel very good about the win. It was another pair of kinda ugly runs and the last run wasn't very good from either of us. Stoked to advance, but not that excited on the driving overall. It's OK, that's for top 16.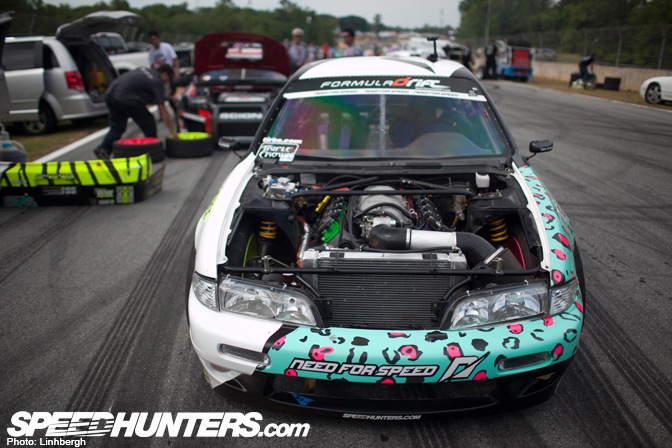 Ah. The engine bay looks so simple. Love it.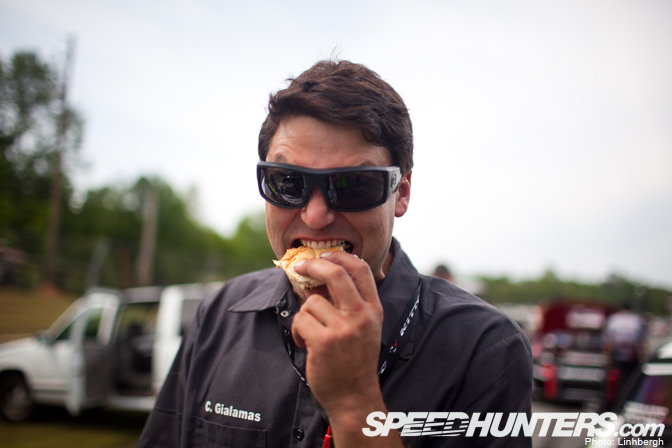 So that's where my pizza went.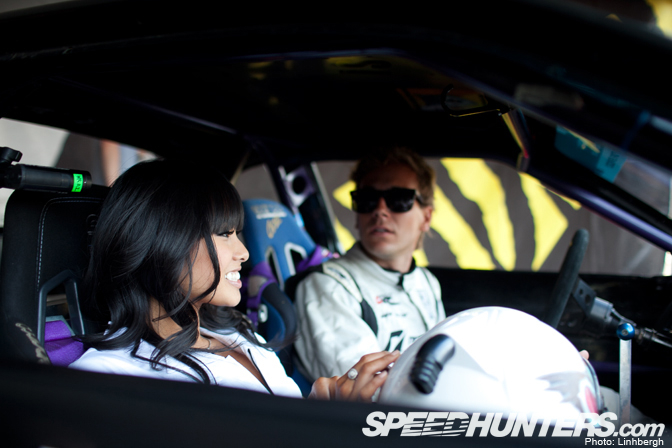 This is the new Need for Speed model Victoria. She is hot.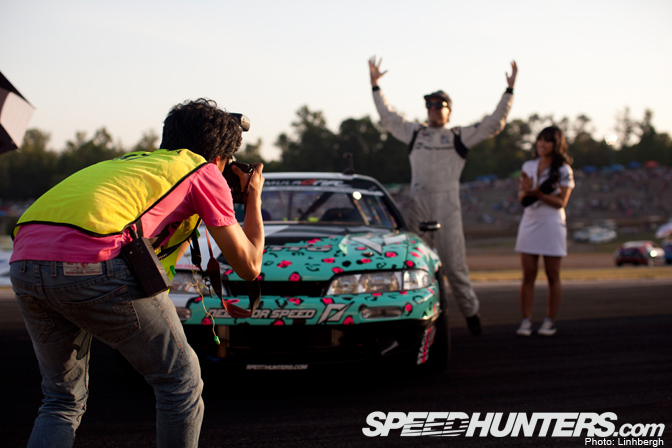 There were no fences to climb in Atlanta so I didn't know what to do. I wanted to get in touch with the crowd and see how loud they cheered for me. I was satisfied. I think top 16 is when the show starts: the fans get pumped, the drivers turn it on, the action starts. It's quite inspiring and motivating. I wanted to see how hard they wanted me to go. I think one time I had lost early and was watching when all the cars fired up came out for the top 16 introductions. I literally got the chills. It's good to be back on the other side of that.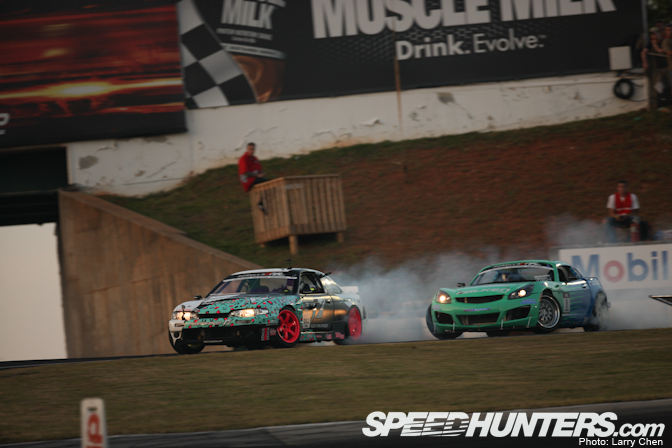 While leading I had a bobble/correction after trying to do a big entry. I refused to give up on doing a big entry. I remember last year watching the competition from across the track on the hill, and when the lights of some cars were pointing at me on entry it was pretty inspiring. I wanted to be one of the guys doing that. So I had to go for it.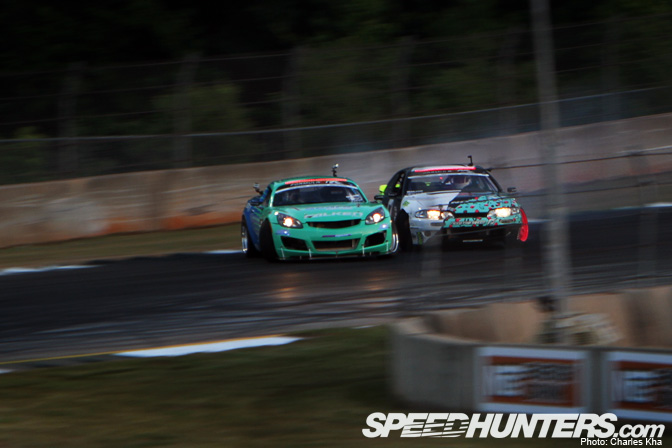 Tommy told me that my correction was quite obvious and I needed to go 100% to at best receive an OMT from the judges. So that was my plan, I was going to initiate right next to him.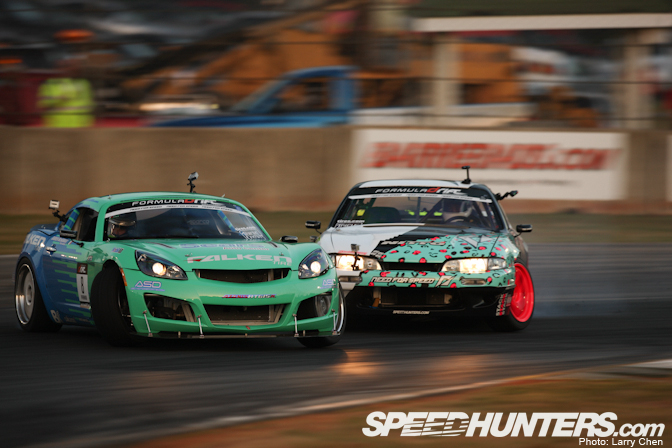 Later that evening I noticed that Dmac often brakes in the straight line, sometimes before he even initiates. That car slows down really fast and I was so close and did everything I could to avoid hitting him, riding the foot brake, more e-brake, adding angle, etc. I held it for a while but ended up tapping him. Neither of our drifts were altered much from this and he didn't seem mind at all.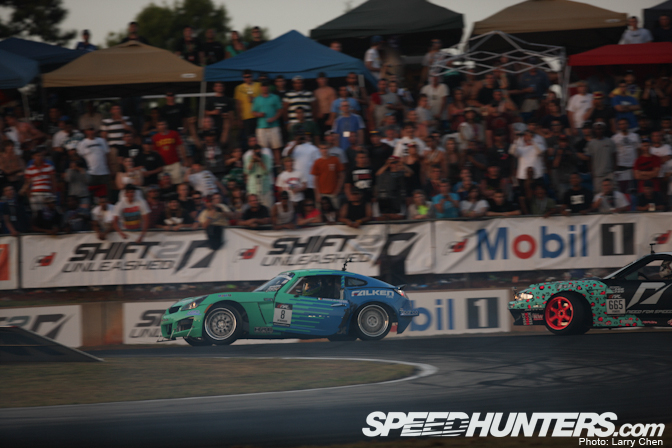 Watching the videos after, it seems a big deal was made because his door came off. On a race car like that, taking the door off is probably analogous to taking off a sideskirt because of the fiberglass door, weight removal/door release mechanisms, and on that car it is the thing that protrudes farthest from the body. It's sometimes an outcome of pushing hard. Last year Dmac took off the entire rear end of Dai's car, and the three Dmac/Tanner battles last year all had contact between the cars. That's what happens when you are going 100%. The majority of feedback about the contact from fans and other people was that they loved it, as I think you should.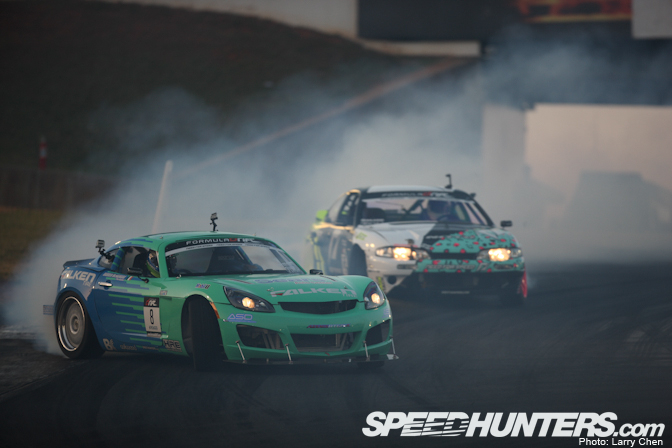 Dmac – I think – actually liked the tap. He said, "I don't care, I don't have to pay for it!" I love that. I was wondering if he would try to shut the door while we were drifting, then I realized that his car is RHD so we was on the other side. He said he didn't even notice until he got back to staging. In the end I lost, I think it was because of my lead run. If I hadn't of corrected, I think at worst the battle would've deserved an OMT.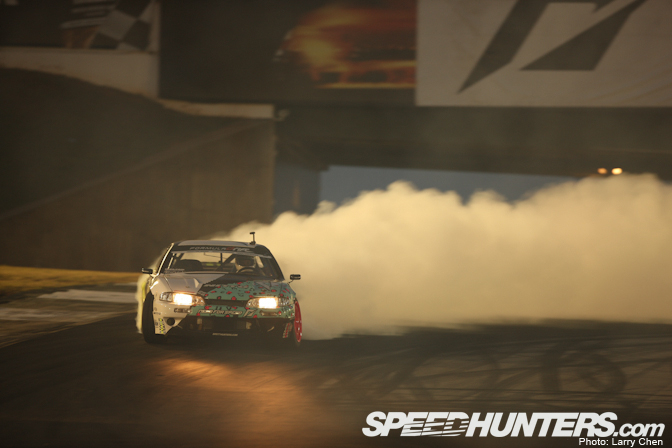 Later on there was an oil spill in competition and FD asked If I would go test/clean the track. I was excited and ready to avenge myself haha! This would be a run where I could just do what I wanted. But on my first run I just flew off track. I flicked it really hard though. I did some burnouts on the oil and dust to try to clear as much of it as possible. They wanted me to do another lap and the track felt better. I entered super early and left foot braked the majority of the track to make a big smoke show for the crowd. They seemed to be stoked with it, although my brakes were stinking up from the heat haha!
Kinda a bummer to lose early like that, but at the same time it's satisfying to fulfill my other goals which are to drive awesome and be one of the most exciting drivers in the series. A few people later posted on my Facebook that my runs were "beast." I take that as quite a compliment and based off that I consider the weekend successful, although a win would have been better! To be continued in Florida!
Matt