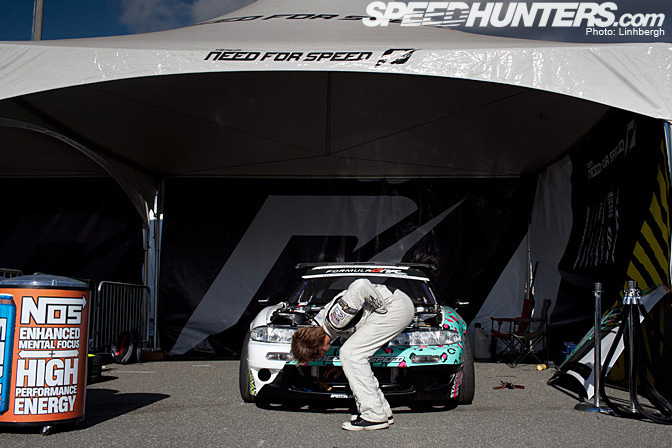 Hey Speedhunters what's up! Long time no talk. Happy to have the Formula Drift series back up and going again. I got a good chance at Long Beach to vent some built up aggression from doing nothing but working on my car for a month and a half.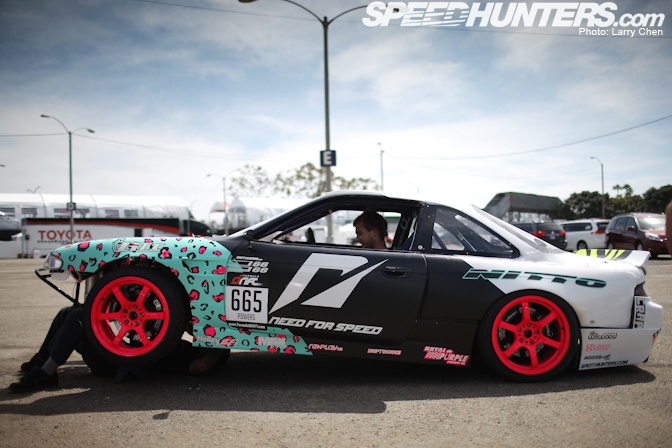 Bleeding the clutch at media day. We switched the clutch master cylinder over to a smaller Wilwood unit to make the pedal softer. Costa also made a custom throttle pulley so that the pedal was lighter and felt more like my KA one did. The goal was to make the car feel as much like last year's as possible, with moderately improved suspension and with a much better engine with the LS7. It felt good but still the same car. The power wasn't insane but it was a lot easier to drive. Although I don't think you need the V8 power at Long Beach, the extra grunt should be a huge help come Atlanta and New Jersey. A lot of it is a confidence thing. Every run last year I felt like I was just waiting for an axle, a diff, my engine or transmission to break, which sucks.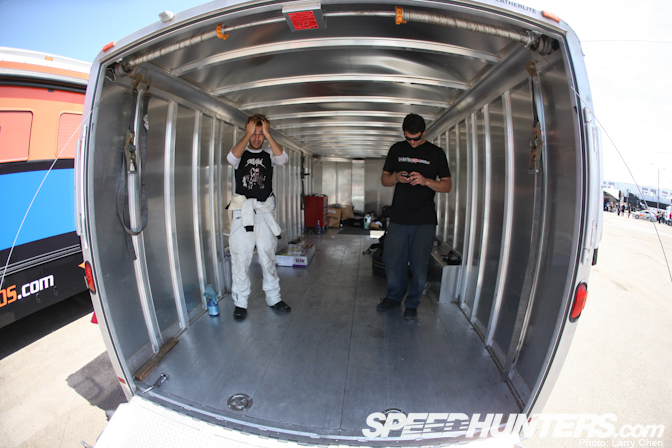 This is Costa and I at the Media Day. To get here we worked on the car through the entire night, after being up the night before until 3am. I was falling asleep in my car at staging! Then the clutch started slipping when I would clutch kick and the power steering stopped working – all just two days before Long Beach! Would it all work out? I still hadn't even really tested the car since I couldn't push it very hard without power steering and with the slipping clutch.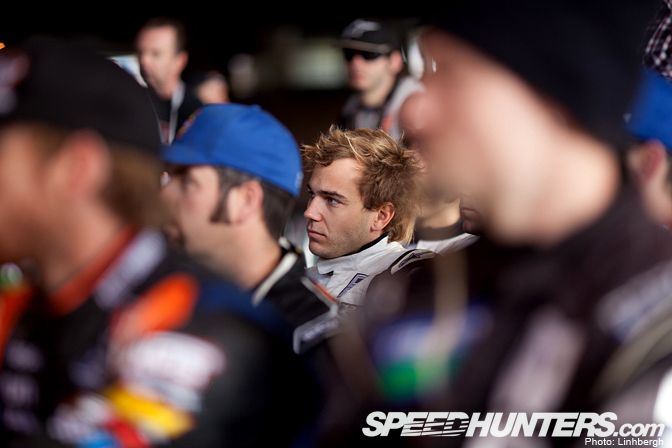 This is what a month and a half of working on the car all day and most of the night will do to you haha. Team Need for Sleep! The build wasn't terribly difficult, it's mostly off the shelf parts, the main difficulty was the timeline that I had to build the car in.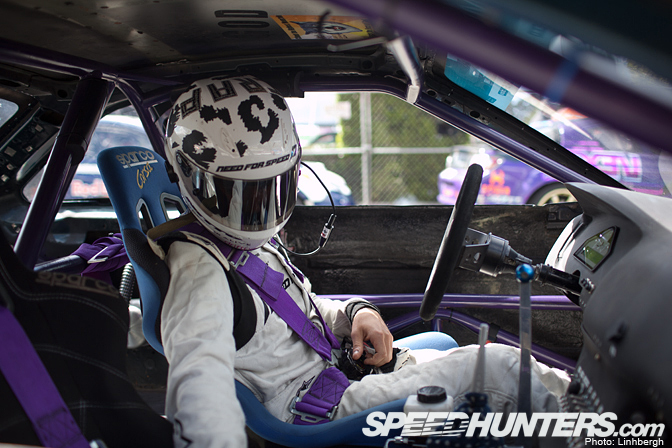 For qualifying sometimes I get a little nervous. This time I think I was too tired to be nervous. Last year my car broke an axle before my second qualifying run at Long Beach, which sucked because I felt like that was my chance to lay down a solid qualifying run. This year I wanted to push it hard and strive for a Top 16 qualifying spot. I ended up in 4th place with an 87 point run which is the highest I've ever gotten in qualifying. I was pumped!
I ran with Dai in practice. I think he is a pretty underrated driver, which is a weird thing to say since he is consistently on the podium, but man he is so sick at drifting. This is one team I would love to take out and feel some rivalry with!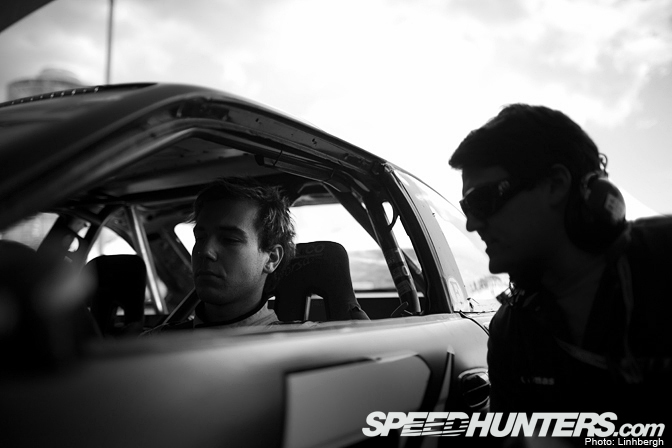 It was time to give the big boys a run for their money. Twilight of the Idols.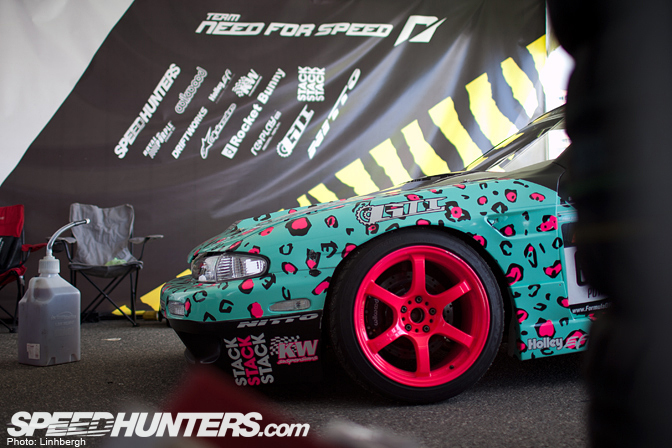 I think the sponsor branding in my pit area is a cool addition from last year's design; it makes it feel more like a race car should go there. I also like not having speakers pointed at my pit area blasting techno (sorry Miki!) haha!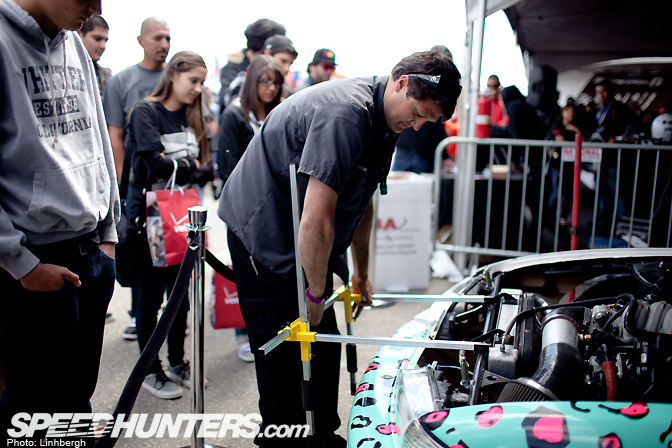 I bought the smart strings last year and never used them. I got them towards the end of the season and I was so blown out I pretty much stopped caring about my alignment. I think these got used three times this past week which helped the car stay consistent through the event. My camber had slipped so they rechecked the whole alignment. Costa and Big Tom are as down to work on the car as I am to drive, it's awesome.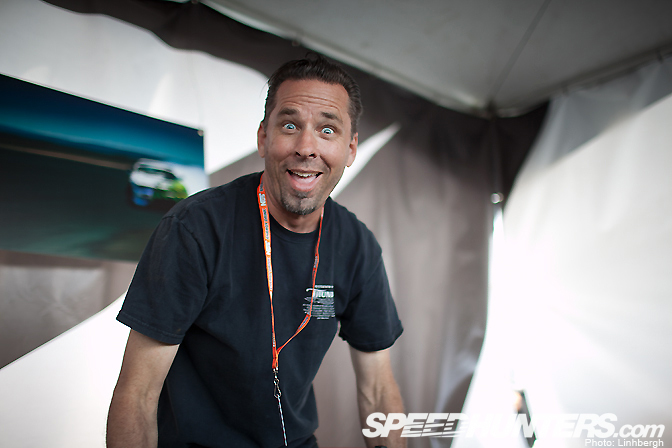 This is Big Tom, he is Tommy Roberts' dad. He has helped me out a lot in my drifting and I am pumped to be able to bring him to all the rounds. The coffee that morning must have been pretty strong or something. Big Tom being part of my pit crew is also something that helps keep the overall feeling of my team similar to last year. Last year was a pretty radical change for me and it took some getting used to, so this year I wanted to try and keep it somewhat similar. I think it's cool that instead of leaving my friends at home and hiring an alien pit crew that I was able to piece a crew together that is as competent as any other team but is comprised of my long time friends (and Costa, who I first approached because I thought he was cool)!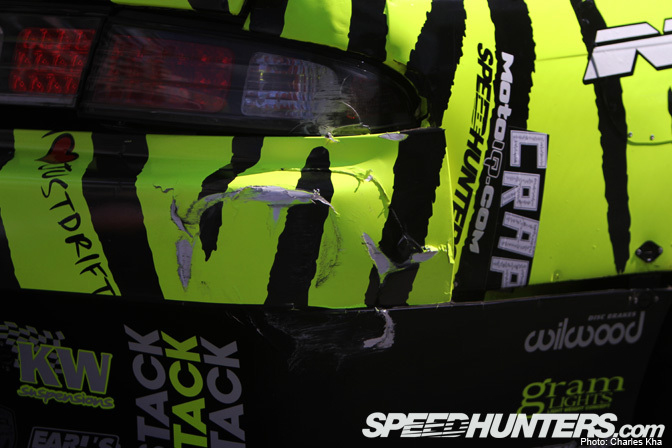 I love this. I hit the rear in the outer clip in the middle of the second turn. I also liked that my bumper stayed on through this! Last year I would just initiate and my bumpers would fly off. I like how deep the mark is, it means I hit the wall with good angle.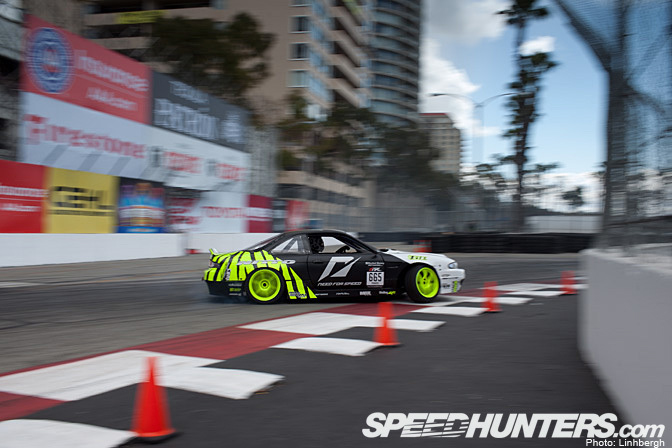 I think the car looks much more evil than last year. Very happy with the change.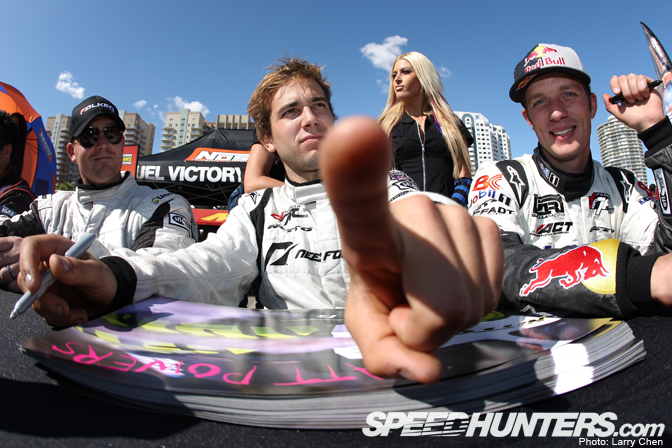 Sitting with Jeff Abbott and Ryan Tuerck. Jeff was one of my first buddies in drifting. My second event was his first event. We both sucked for a while but had lots of fun.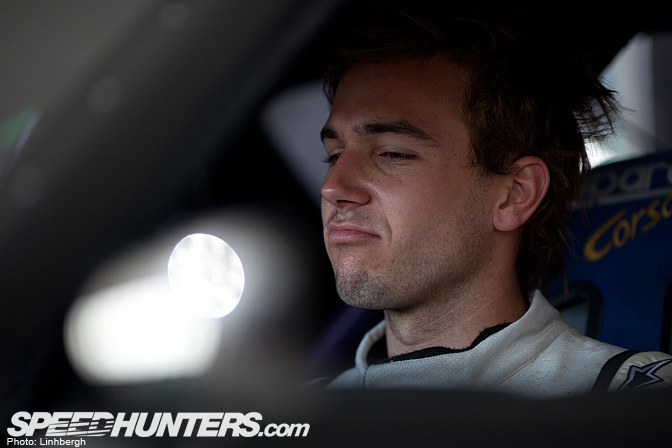 I'm feeling pretty good right here.  After the morning practice on Saturday I felt like I could beat any of the drivers I was paired up against. I had some really good chase runs and the confidence in myself and my car was pretty solid. Last year I sort of assumed I would lose based on my car mostly, and I guess that turned into self doubt. Now that I have a car that can keep up in I feel pretty good. A lot of frustration from last year had to come out as well haha!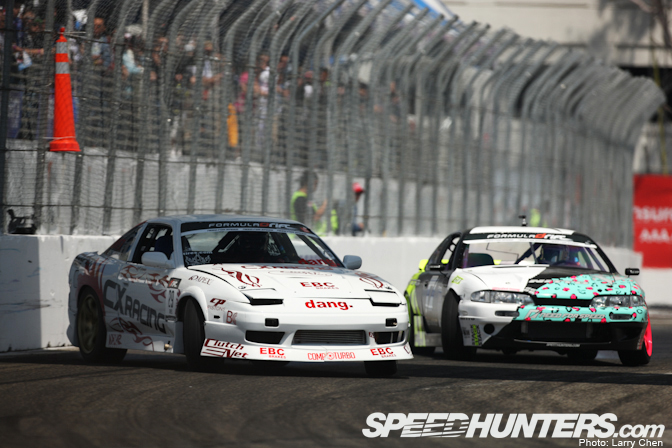 In Top 32 I was matched up with Jeff Jones. We started competing together as amateurs in 2007. On my lead run I had a 4-5 car gap, and for my follow run I was pretty close, even tapping him at the last hairpin. I was fairly confident in my bracket and knew I had a good opportunity to make Top 8 at least.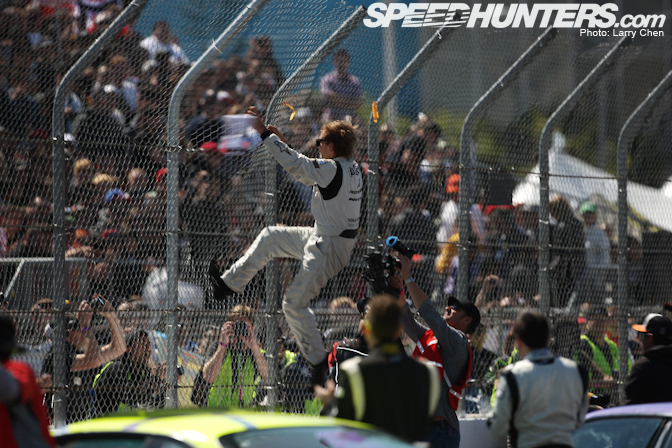 I personally find the driver intros and Top 16 ceremonies kind of awkward. But if it must be done then I like to climb the fences. I should start wearing gloves though, would be a bummer to slice up my hand before the main event!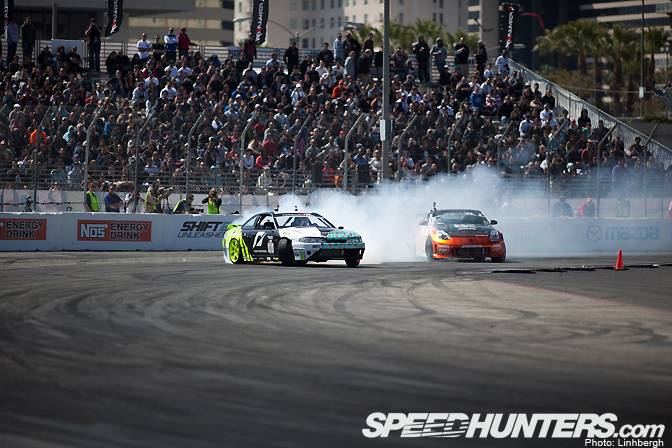 It's OK to hold a little back in Top 32, but once it's Top 16, it's time to BRING IT. This is when everybody starts pushing hard and this is when the crowd really goes nuts. I always wait for chances like this and last year I sat mostly on the sidelines frustrated as hell that I wasn't one of the guys pushing hard and making the crowd wild. Here I'm giving Waldin a little taste of some NT05 smoke.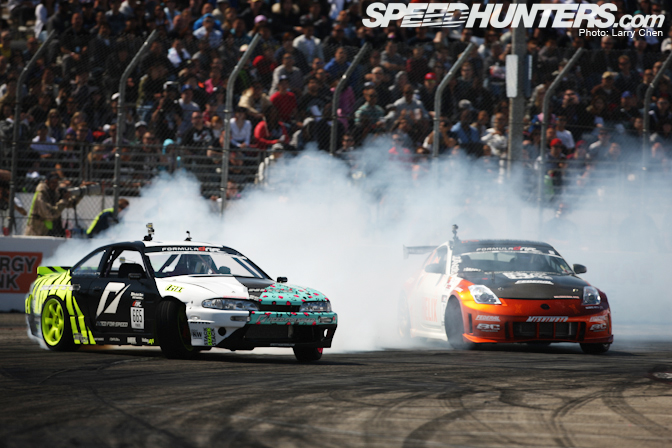 I would say the steering angle on my car is pretty impressive. I switched to the Drift Works GEOMASTER hubs for this year and I'm running them front and rear. The front control arm is stock, unmodified. Usually you have to notch the control arm to get this kind of angle. They also didn't take any special adjusting to which is awesome!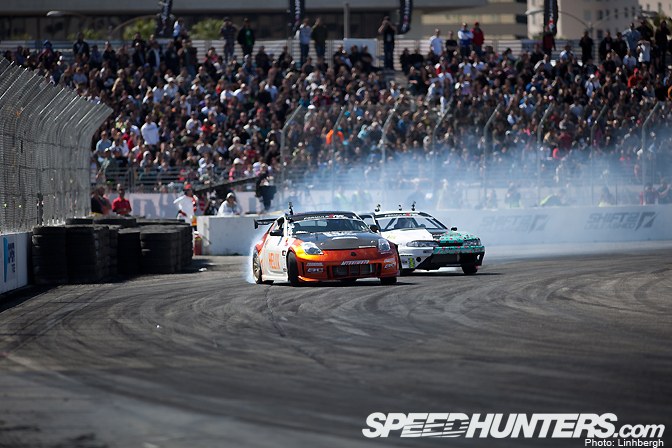 I knew he laid down a decent follow run but nothing incredible, so I did what I had to do to advance to the Top 8. Right around this time my idle air control valve failed and my car started idling at 3500rpm. This was an issue because it was making my car run weird and making my oil temps climb constantly. I was a little stressed about this later in the competition but I tried my best to ignore it. Then my car wouldn't start, so I couldn't turn the car off to let things cool down. It would have been a simple fix if I had a decent spare parts bin but because I decided to spend most of my budget on improving the car I didn't have the funds for both! The car was literally pushed to the podium after the finals.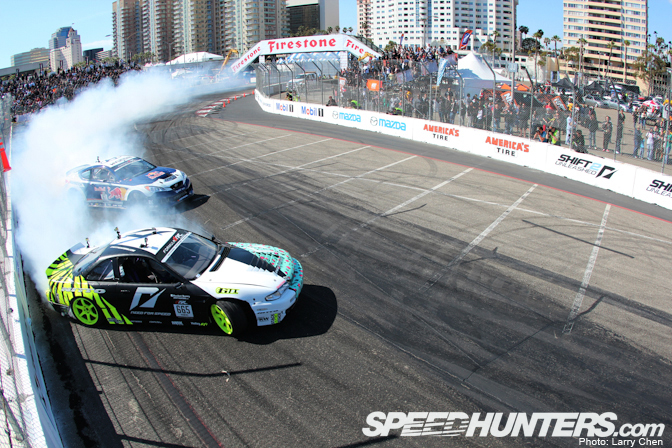 I think the hardest technical aspect of drifting is getting the rear of your car in a clipping zone in the middle of the turn. Transitioning against a wall (like the first outer clip at Long Beach) is easy, but setting up the turn, in advance, so that the rear of your car is within close proximity to a certain zone in the middle of its natural line, is quite difficult. The Vegas track is especially hard and sketchy for this reason.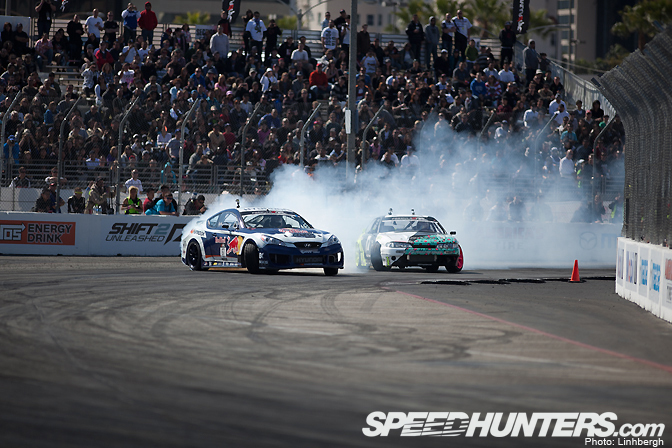 In Top 8 I met up with Rhys Millen. He and I mess with each other a bit I guess. I quite like him and have enormous respect for what he has done in motorsports. Last year when we got paired up for Top 32 in Seattle I saw him at the coffee shop and said "Hey Rhys, you're f*cked!" and he said, "No I'm not." Turns out he wasn't when he beat me! He came over the day before and let me know his speeds were at 63mph on the outer clip. My car is quite fast this year and I just said "That's cool, I've hit 63mph too."  Once I saw the bracket I was hoping to meet him in the Top 8. Leading, I did a pretty solid run and he chased well, following I had a good run too. I think I told Tommy before we ran that I wanted him to chase me really well so I could hit him haha!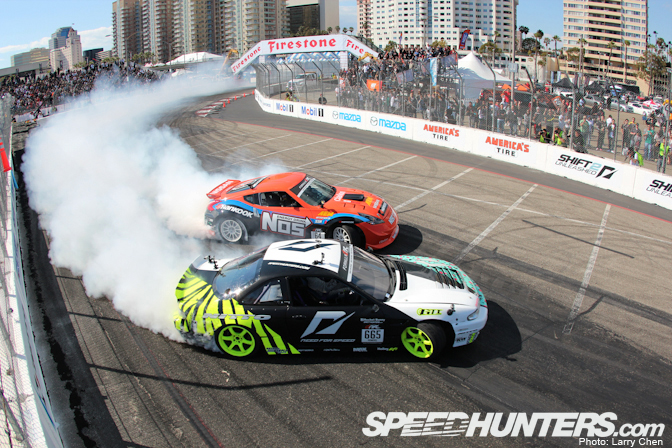 I guess my goal was to just commit to that section of the track in my runs.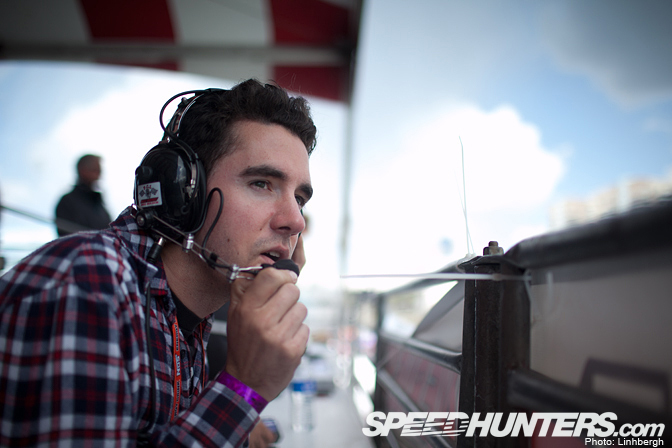 This is "my spotter" Tommy Roberts. My spotter drifts better than your spotter. He tells me how my runs are, what to aim for, how people I am running against are doing, and if hot girls are watching.  For example, when I ran with Forsberg in the final 4, he said Chris laid down a really solid run behind me. So I said, "Do I need to hit him?" and he said, "Yes." So I did. Check out a special "spotters blog" here.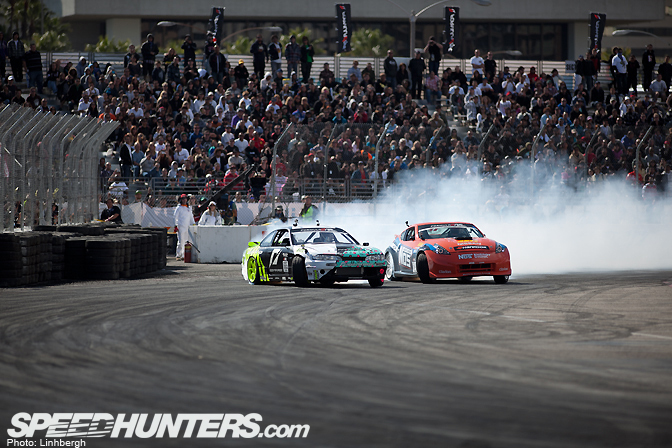 You can see Chris did an excellent job following me. He is a very consistent and solid driver. I often watch some of his battles and someone will do a really good chase run behind him, and think to myself "wow Chris is in a pinch right now after that run, I'm not sure if he will be able to match that." Then he not only matches them but does better. That's why he won overall in 2009.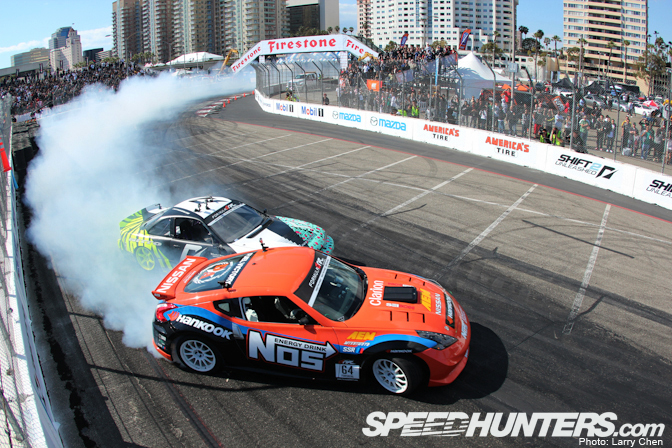 Following, I knew I had to bring it really hard if I wanted to win, so I did that. My project was just to stay on people from the very beginning of the course when you come into view until the very end. In my single runs I still have lots of room for improvement and have a lot to learn in terms of qualifying, but in tandem I know I can drive very aggressively. Tommy and I have been doing really close tandem for years together. It's just hard to apply that experience into Formula D and also it's difficult to have a car that's capable of competing with the top cars. It feels awesome to finally have a Top 16 level car.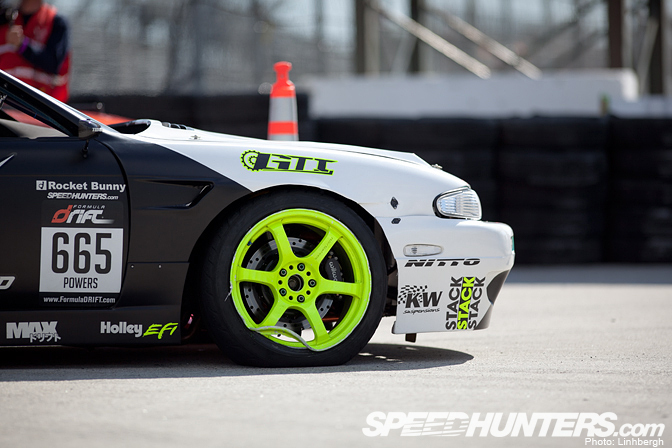 After I tapped Forsberg, transitioning into the hairpin I could tell something was wrong with the car. Luckily the wheel took all the impact and the rest of my suspension was fine; all we needed to do was mount up another front tire on one of my wheels since I didn't have a spare front specifically.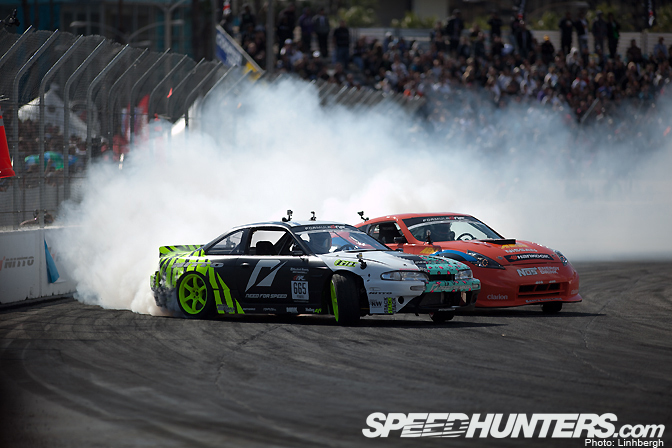 Then came the OMT. I knew I had to bring it so I tried to transition really hard coming into the main turn. I almost spun out… it felt a little backwards. When I watch the livestream video now I love Jrod's reaction, going from a somewhat excited commentating to a huge "WOOOO!" I've wanted to be the guy who makes that happen for the past year.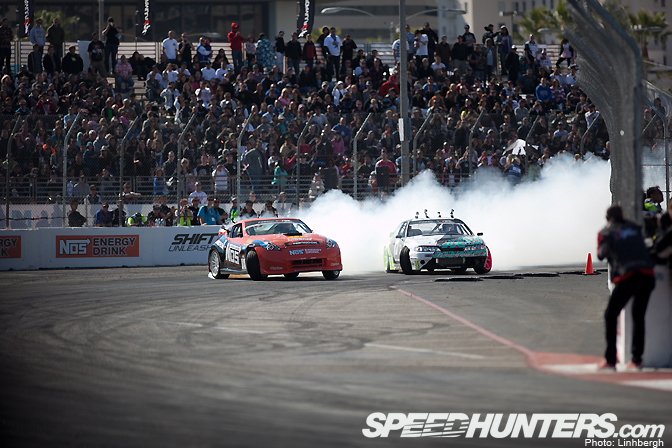 In the chase I tried to transition against Forsberg really close but not hit him this time. I think I was consistently closer in my second follow run. It was really close again. The judges said the tie breaker was my transition on my lead run.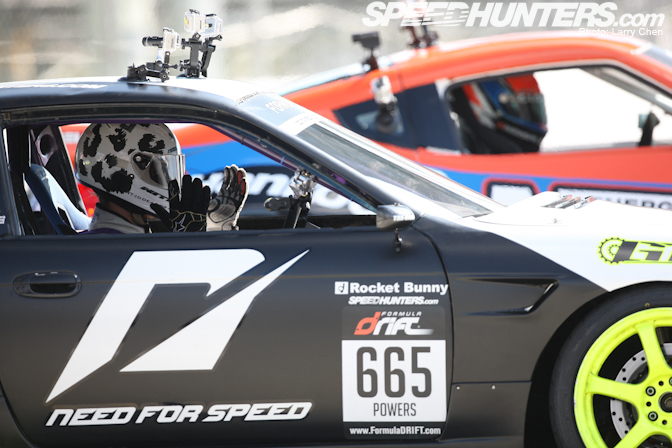 What? Am I in the Finals? F*** YA!!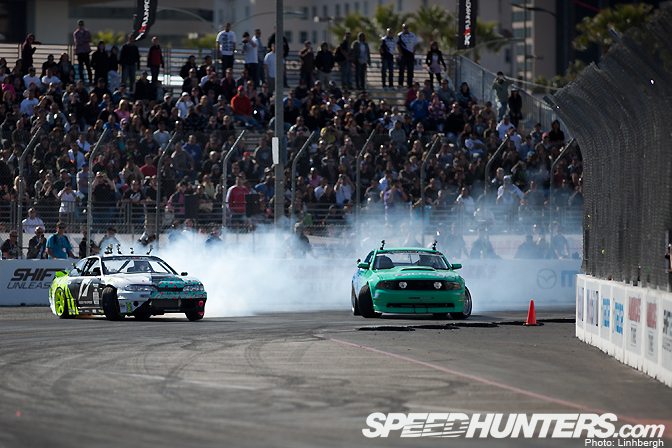 JTP was my idol in drifting for a long time because of his super aggressive driving style. He started doing Just Drift events when he was learning and was on his way out and into the professional ranks as I came into amateur competition. Both of us learnt in the same area and on the same tracks. When I was in my first Formula D event in Long Beach 2009, he gave me his gloves, and since he was my favorite driver I wore one of them haha. It's pretty crazy to think that both of us ended up in the finals against each other. Actually, come to think of it, after qualifying I said, "Hey Justin I out-qualified you!" I probably told his parents too haha. He told me he thought he was going to win this weekend, he qualified 11th, was saying in room 111, that kinda stuff. Then I said, well then I'll be seeing you in the finals!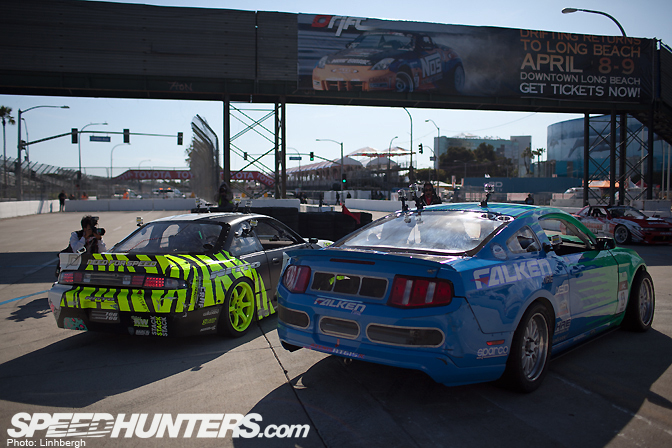 I led first and definitely had an advantage. Wow, could I have really won the event right there? While following I went overly wide, and still had sideways momentum when he was already starting to go forward. I knew right there that it was likely over. I tried to close the gap but it was too much. Kinda sucks that the final battle was lame.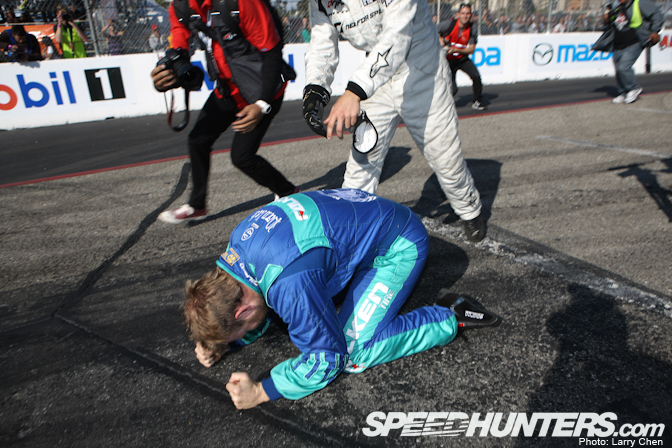 Justin was trying to hold my hand up as if I had won but I knew he was going to be the winner. When his name was called he went to the ground and I think I just started giving him a pink belly or something. I was still really pumped. My first podium and to be on it with two of my favorite drivers was insane. Obviously winning would have been glorious, but losing the final battle isn't really what I remember most from this weekend.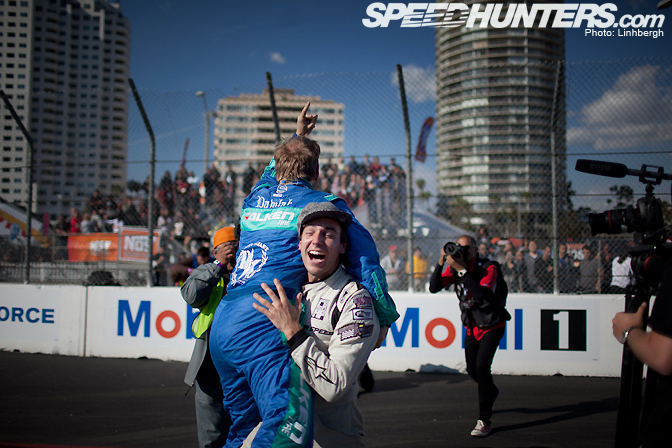 I was really excited for myself and also really excited for Justin. It was a huge moment for both of us.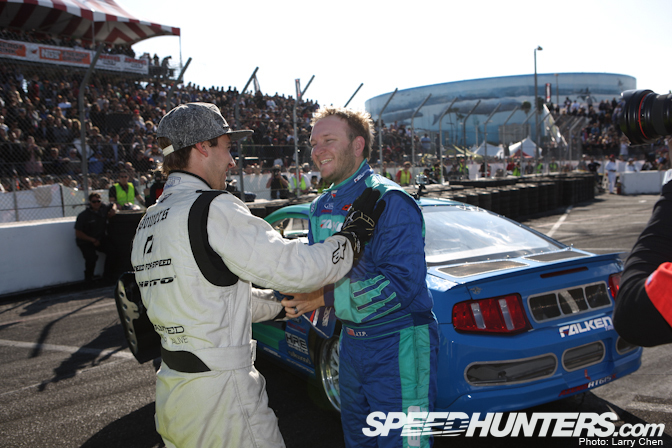 I know I could have easily won. I told him if we did it again I definitely would have won, which I believe to be the case. Even his wife told me after the first round she thought I was going to win haha. I definitely let him know that! JTP is also one of my biggest rivals in Formula D. With all of my rivals it's more of a friendly rivalry. I definitely hope we can meet up somewhere deep in competition in Atlanta!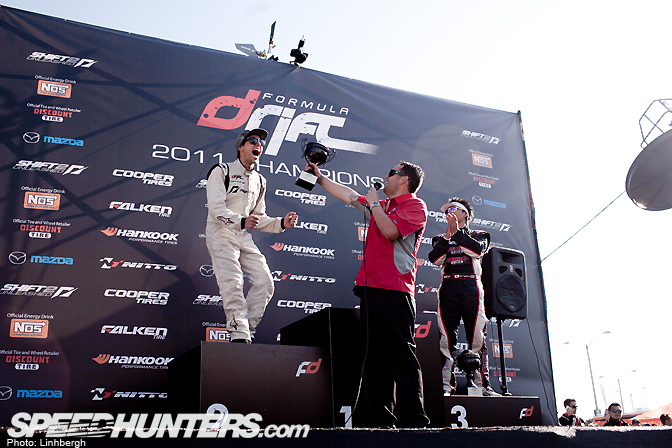 I had visions of me getting on the podium and letting out a weird growl or grunt or something all during the off season, so that's just what I did. Yarrrrrr!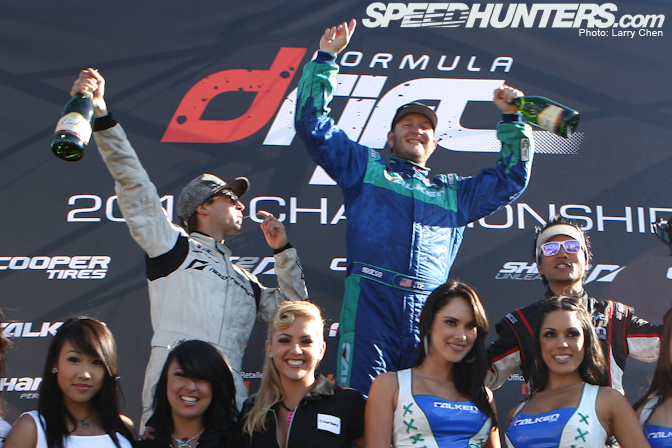 Payback wet willy!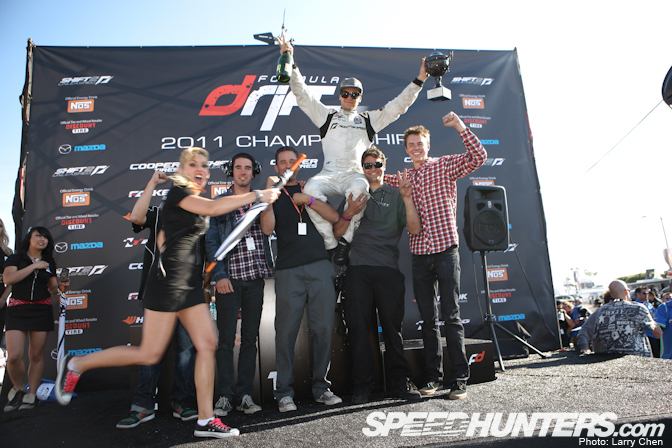 Team Photo on the Podium!!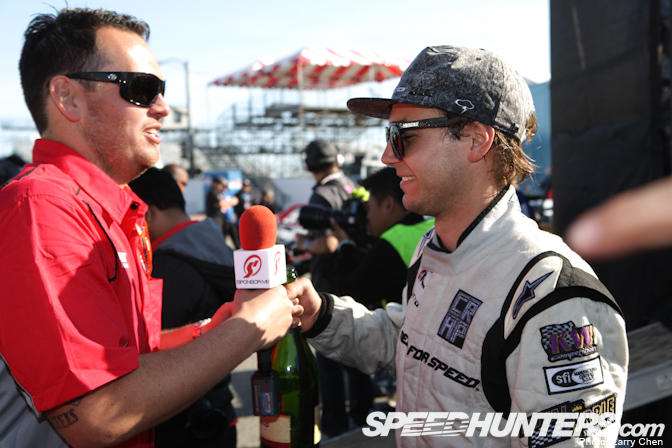 I always tell Jarod to announce me more excitedly. I guess my driving last year was just boring and I didn't give him anything to work with haha! When watching my runs at Long Beach I'm definitely happy with it all. I guess I just had to drive cool to bring it out of him.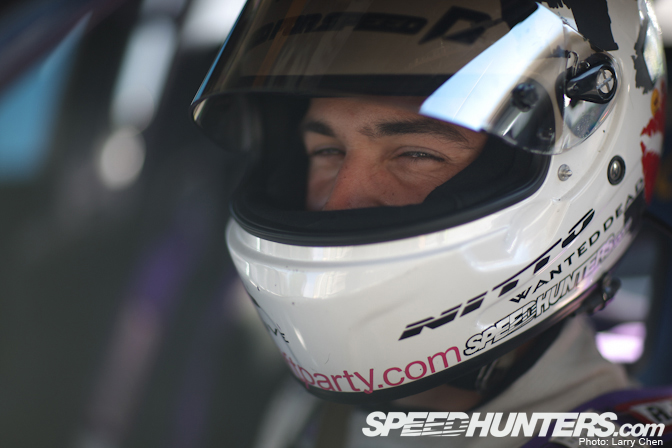 Now I've got two weeks to get the car all fixed up before it leaves for Atlanta. Can't wait!
-Matt