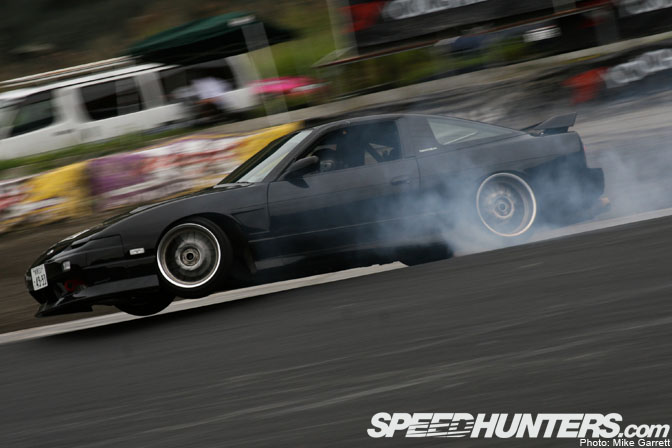 For this year's S-Chassis week, we thought it would be cool to try something a little different – a roundtable discussion of sorts between some of the Speedhunters staff about the S-Chassis movement.
Below you'll find a rather interesting discussion between Charles Kha, Matt Malcolm, Linhbergh, and myself covering several different S-Chassis topics – including the popularity of the cars, our most influential examples, and even the hot V8 swap issue.
Shall we start gentlemen?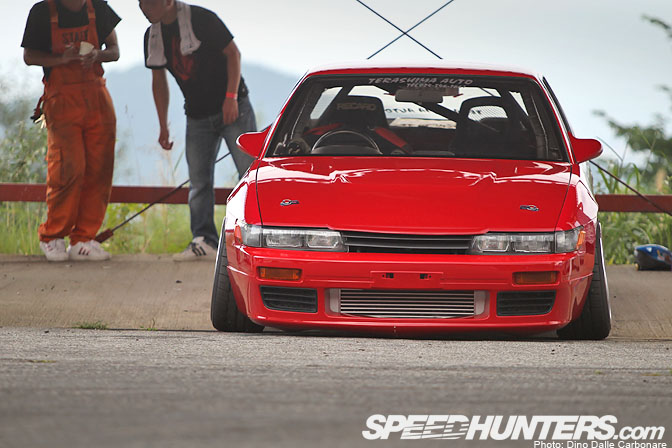 OVERALL IMPRESSIONS OF THE S-CHASSIS. WHAT MAKES THEM SO POPULAR?
Mike: To
me the Nissan S-chassis is one of the world's great cars. There are
great dream cars like the Ford GT or the Ferrari F40, but the appeal
S-Chassis is more along the lines of icons like the Ford Mustang or the
BMW 3-Series. It's a great car that is also affordable and accessible.
It has great looks, a potent chassis from the factory, and a massive
aftermarket following. It has the perfect balance of practicality and
performance, without being overloaded with fancy gizmos. It is one of
the best, and most versatile build platforms ever.
Charles: I
agree with Mike that affordability played a big role making Nissan's
S-chassis so popular. The fact that Nissan didn't tamper with 'the
formula' over consecutive models – such as the 13, 14, 15 platforms –
was also a pivotal reason why they're still popular til today.
Effectively it meant that the aftermarket could build on the parts they
had already developed, and didn't need to start from scratch when a
replacement model came along. The huge aftermarket catalogue that
S-chassis owners have is certainly a reason why they continue to be
attractive cars to own.
Matt: In
my opinion the S-chassis is a true and almost pure drivers car. An FR
layout and a distilled and minimalistic cockpit with no TCS or Stability
Systems. Effectively what you saw was what you got. Three pedals, a
steering wheel, a gear stick and if you were lucky, no rust for those
with sunroofs! Mike and Charles both acknowledged the affordability, and
availability, and this is especially true here in New Zealand. Both of
these traits have played a large and integral part in making such a
popular motoring icon. Not to mention the colossal amount of aftermarket
performance bolt-on's available to turn lame-duck SR20's, CA18's and
KA24's into fire-breathing monsters which really made them popular
tuning icons for the masses.
Linhbergh:
It wasn't until recently that I understood just why the S-Chassis have
always been known as "cheater-chassis" to those that drift other cars.
When I had the chance to drive Mark Arcenal's S14, I saw the light.
They're excellent learner cars for anyone looking to get into drifting.
You can feel the car and predict exactly how the car is going to react.
It's that reason, plus its affordability, huge aftermarket support, and
the fact that it looks damn good when absolutely slammed has definitely
solidified its popularity.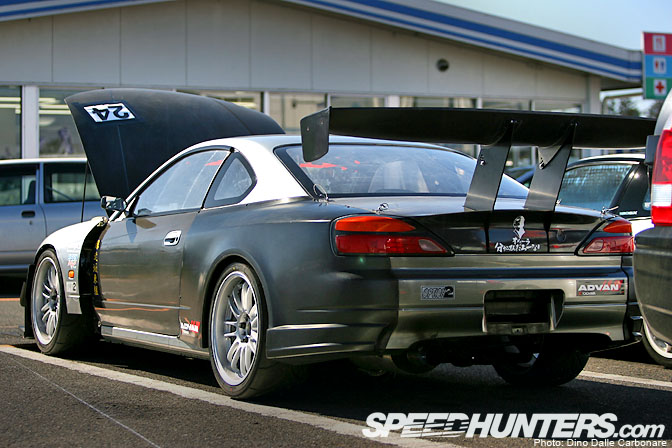 YOUR FAVORITE CHASSIS AND WHY
Mike:
My personal favorite of the three main chassis has to be the S15. While
theS13 might be the most iconic, there is just something about the
ichi-go – it's one of my favorite automobiles of all time. First off
there is the styling. Styling-wise, the S15 looks like it could almost
be the budget Ferrari that never existed. Underneath, it has more power
and a chassis that Nissan perfected after years of development. Even by
2011 standards, it could compete with everything else on the market.
Charles:
I was a big 180SX fan when it came out, and in high school I adored the
Kouki S14. But the S15 is still the one that I'd own. In my opinion the
S15 is the perfect blank canvas to build a potent performance car.
Matt: Forever
it would have to be the Kouki S14. Everyone loves their first car, and
mine just happened to be a Kouki S14. It rolled into my driveway late
one summers evening, a stock standard, poverty pack model, not much to
look at but at least it was mine. Over the years it turned from a NA,
non-LSD, 4-lug wimp of a car into a 5-lug, LSD, manual, half-caged,
SR20DET, money-pit of endless love and frustration. Would I change
anything about it? Hell no!
Linhbergh:
I'm a big fan of the Sil80 because of its
the-future-according-to-the-1990s look. I like the styling of the S15,
but the S15 steps into douchebag driver/owner territory for me. A la Top
Gear cool wall, you rarely ever see cool person own a really sweet
street tuned S15 –at least that's how it is in the States.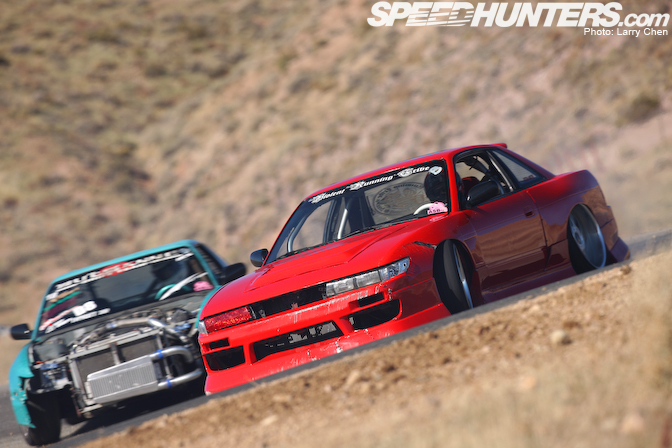 S-CHASSIS NEGATIVES
Mike:  Due to the
immense popularity, it can be extremely hard to find them in good shape.
Here in the US at least, it seems like half of all 240SX's are
primered, junky, and beaten half to death. A stock, untouched 240 on the
streets of SoCal is rarer than a Ferrari. At the same time, as an
American it's hard not to think that we got the short end of the deal
when it comes to the S-Chassis. While the rest of the world got the cool
turbocharged engines, we had to make do with less-inspiring KA24. It
also seems that about 80% of all the S13's and S14's sold in the US came
with automatic transmissions, yuck. On the bright side, at least us
Yanks GOT the S-chassis. That's more than can be said for a lot of the
cool Japanese cars out there…
Charles:
[laughs] Well I guess I can't complain; in Australia we were fortunate
enough to receive SR20DET S14s and S15s, and the S13s are available as
grey imports. Overall I think they're really solid, but there are some
things in the design of the SR20 head that can be limiting… and I also
think they're rather unimpressive in stock trim!
Matt: Top
bellhousing bolts, Spigot bushes, leaky sunroofs, rusty sunroofs, ughh
where do I start guys?! When I think about it, and if I really had to
pick one negative, it would be the simple demand and supply economics we
all know. The problem is that they are so damn popular that it's
starting to become hard to find an untouched example. And when you do
finally find one they are just so damn expensive!
Linhbergh: To
me, the biggest negative for the S-Chassis is its own popularity. It's a
double edged sword. It saddens me everytime I see updates on the
various social networks and forums of people's S-chassis getting
stolent! I don't think Formula D driver, Cody Parkhouse, ever recovered
his stolen drift car.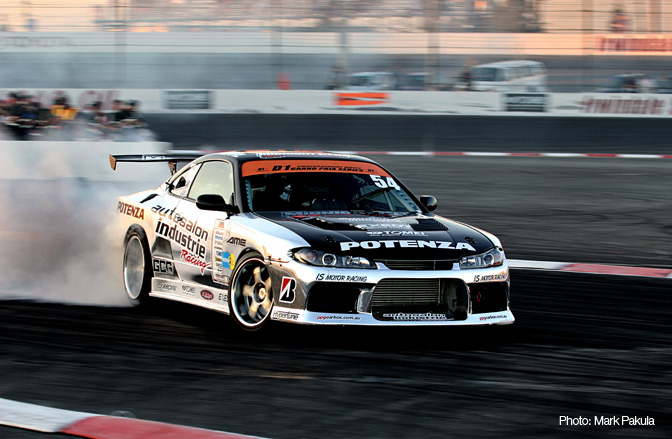 MOST INFLUENTIAL S-CHASSIS EXAMPLES
Charles: On
a personal level it would be the Auto Salon Industrie S15 drift car, as
I was involved with it from the start. It taught me a lot about the
S-chassis. But in terms of being the most influential for the scene, my
vote would be for the HKS RS2 Hyper Silvia that Taniguchi drove in D1GP.
That's the one S-chassis that really stands out in my mind.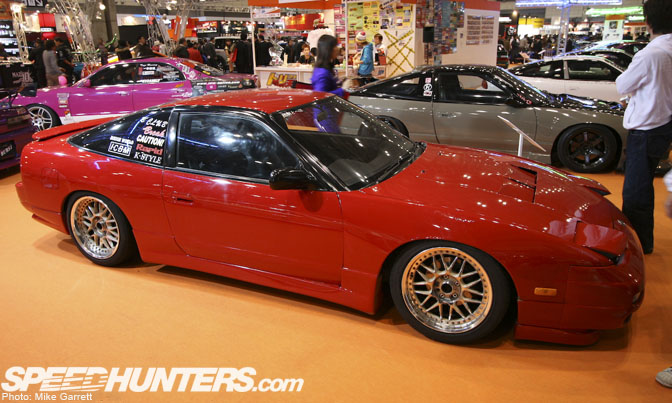 Mike: Since
I am partial to street cars, there are two specific S-chassis cars that
stick out to me. One of them has to be Koguchi's original street 180SX.
It looked awesome, it was low budget, and he drove it like a mad man.
It represents everything that's great about the S-Chassis. The car (and
the man behind the wheel) converted many into S-Chassis beleivers. On
the other hand, a perfect modern example would be Dai Yoshihara's
Formula D car. Yes it's been extensively modified, and is powered by a
V8, but it is one of the top cars in pro drifting and a testament to
the longevity of the chassis.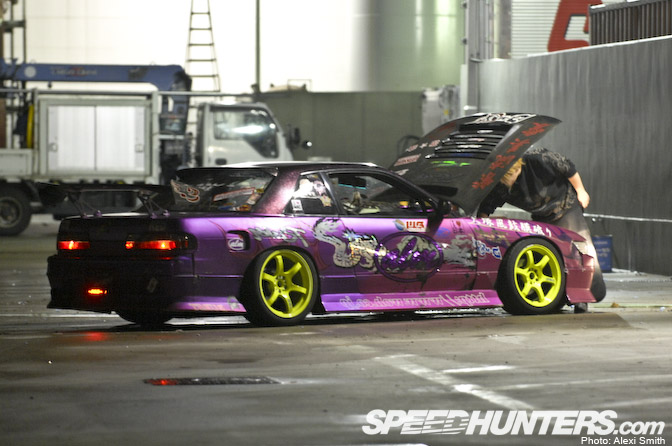 Matt:
Well said Mike, Koguchi's street 180SX was definitely an awesome
example of an influential car. But I would have to say that Nakamura's
S13 Silvia from Team Burst in Japan would have to be one of the most
personally influential Silvia's. It immortalizes the S13's spirit, the
crazyness, the fun, and the fact the car just takes so much abuse and
comes out wanting more at the other end. How could you not love it!?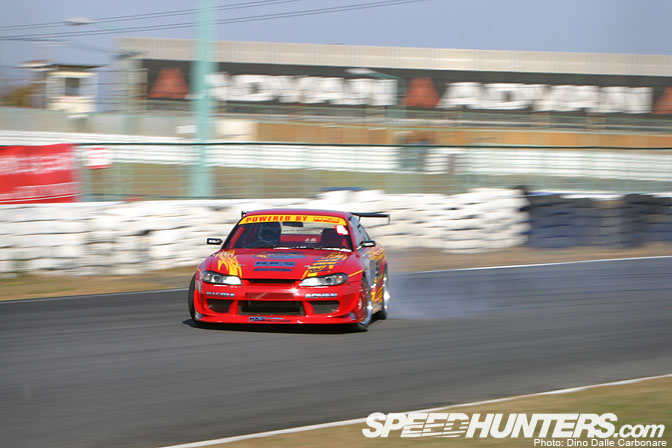 Linhbergh:
I'm going to have to agree with Charles about the HKS RS2 Hyper Silvia
being the most influential. That car skyrocketed the car into the
limelight it has now. But the S-Chassis that made me completely fall in
love with the S-Chassis is Joshua Maghirang's Rootbeer colored Risky
Devil 180SX. The shots of it with the hood off blew my mind. Up until that point, I've never seen an S-Chassis that "hard" looking.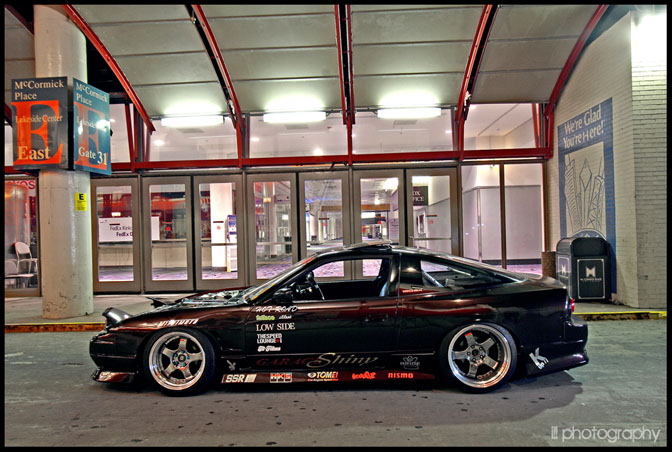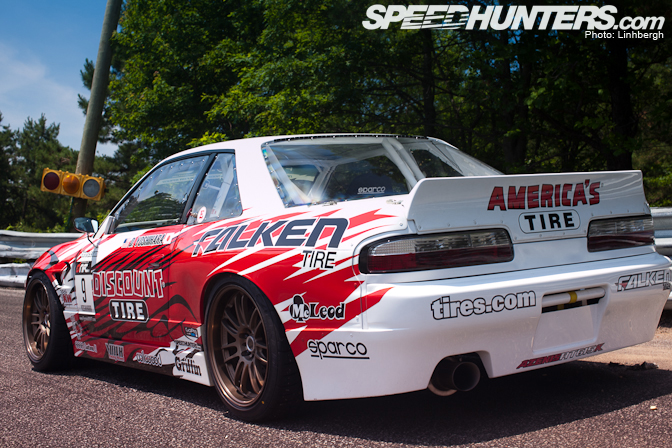 V8'S IN S-CHASSIS
Mike:
Any time a V8-powered S-chassis pops up on Speedhunters, a huge
debate ignites in the comments section. Personally, I don't see what the
big issue is – it's just an engine. V8s make lots of easy power, they
have a good sound, and are plentiful and cheap here in the USA. Apart
from the performance difference, you also have to remember that the
SR20DET and other turbocharged engines were never available in the
states, making them a bit more difficult to build and maintain. If the
car is driven well and has good style, who cares what's under the hood?
Charles:
When I was over in LA, Will, Linhbergh, Larry and I were actually
discussing this over dinner. I think I'm on the fence with this one. I
can understand both sides of the argument, and both have valid reasons.
But if I owned an S-chassis myself, I'd stick with building an SR20.
Matt: A
touchy subject indeed guys, with claims of ruined handling, poor weight
distribution and all the other stigma that follow a V8 swap it does
make for an interesting and quite personal argument. I feel at the top
end of the scale, where top competition drivers are striving for rel
ability and wider torque bands that a V8 power plant does make very
practical sense. On the other side of the coin though, I can see more
and more 1JZ and 2JZ swaps becoming increasingly common with amateur
drivers, partially due to how easily they can make good usable power and
dare I say it, partially because of how reliable the Toyota motors are.
Regardless, I feel the SR20 is a timeless and fairly robust platform,
and at the end of the day whichever road you take you will be certain to
cross the different pros and cons of each.
Linhbergh: Cheap
reliable power and you don't have to source parts from Japan to repair
it. Break your drift car in the middle of nowhere America? Hop down to
any GM dealership and parts are right there. I totally support this
movement.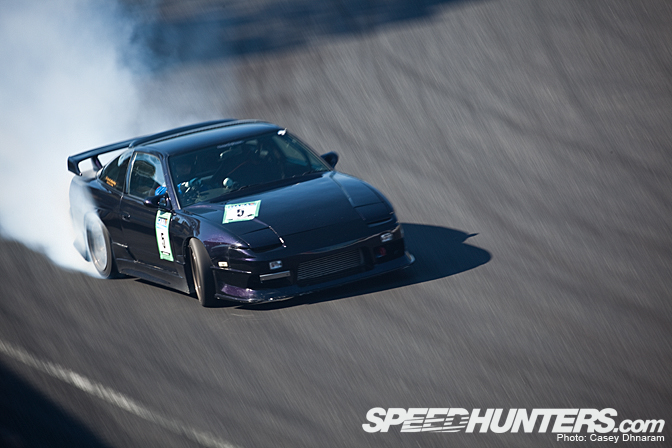 WHERE DO YOU SEE THE S-CHASSIS GOING IN THE FUTURE?
Mike: As
for the future of the S-chassis, it's uncertain whether or not Nissan
will release a new version of the car. Until then, I don't think the
enthusiasm for the existing S-chassis will fade at all. One thing that might become an
issue is availability – there are only so many of these cars to go
around. In a way, rarity might be a good thing as there will be more and
more quality-built cars out there. Whatever happens, I'm sure we'll
still be talking about the good old S-chassis in the years and decades
to come.
Charles: I'd love to
see Nissan continue with the S-chassis, particularly as they've done
such a great job with the Z33/Z34/R35. Regardless, I think enthusiasts
will still have affection for the current crop of S-chassis platforms
because they're so versatile. The biggest attraction I think is that you
can build a competent S-chassis drift or circuit car without it having
to be an absolute pig on the street. That's a big plus in my books.
Matt:
Future and S-Chassis in the same sentence? Please Nissan hear my cries!
Because the S-Chassis as Charles mentioned is such a versatile platform
I think its only natural that we will see a further evolution in terms
of both style and the range of engine swaps. Different trends will come
and go but one thing is for sure, the chassis will continue to grow and
develop with the years. In the meantime, I'm just going to cross my
fingers and toes that Nissan develop and build a platform that is true
to the driver and that has the same longevity as our beloved S-Chassis.
Linhbergh:
I'm with all of you on this one. It'd be great to see a new S-Chassis,
but I'm afraid for it as well. Any new S-Chassis will probably be a
heavy, bloated, luxury sport sedan, impossible to modify, and with
electronic gizmos controlling your every input. Look at how far the
current generation of 3 series BMWs are from the original E30. Not even
the 1 series can be considered a worthy successor. Maybe I'm just
pessimistic but we do live in a world where cars are designed by a
corporation's board members and shareholders looking at profit margins
rather than passionate car designers.