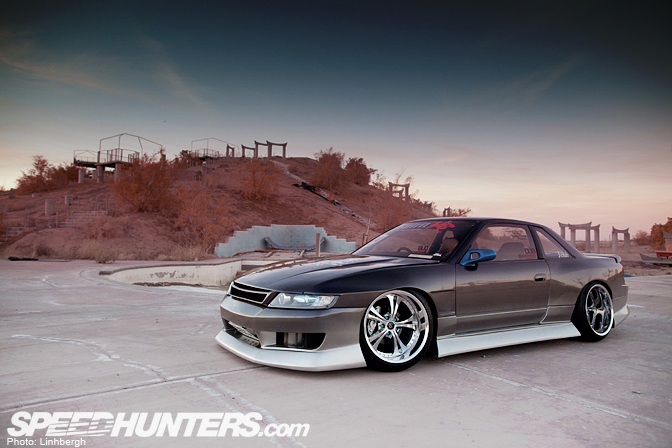 Mortality is a subject many of us try not to think about. The thought of our day-to-day lives coming ending is, quite frankly, an unpleasant one. So, I think its safe to say that many of us wish to somehow be remembered long after we've passed. It's a comforting thought. 
Inanimate objects such as buildings, and automobiles strangely have that same will to live on forever. No, it's more like we humans want these inanimate things to live on long after they've had their use to us. Think of all the famous old monuments: the Great Pyramids of Giza, Stonehenge, Pompei, and the Great wall of China.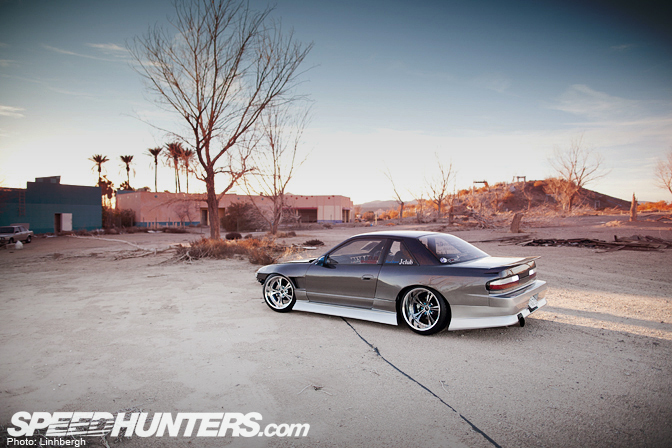 Last November, I spent only one day (4 1/2 hours) walking the SEMA show floor. And those that have been to SEMA before know that one day is not enough to see everything. I power walked through the two gigantic convention center halls, glanced at things which caught my eye for a few milliseconds, briefly experienced the demonstration area, and travelled at the speed light through the DUB car show floor. I was experiencing SEMA: Fast Foward edition.
Somehow through my less-than-brief SEMA experience, I was able to remember this S13.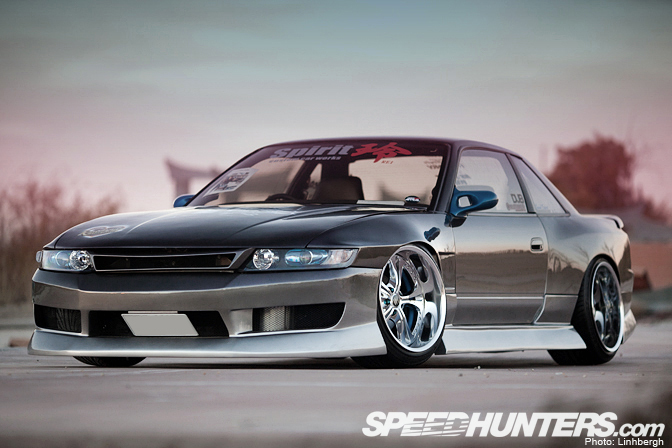 By the end of 2010, I've seen the whole gamut of tuned S13 variations. But this very 1991 Nissan Sivia S13, the Mastermind Restore/Spirit Rei Edition Odyvia, was in a class of its own.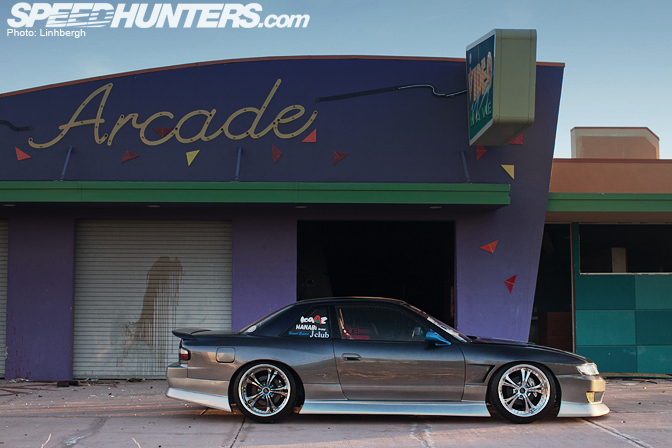 The thing that stikes you first is the extremely low ride height, then its graduated paint scheme.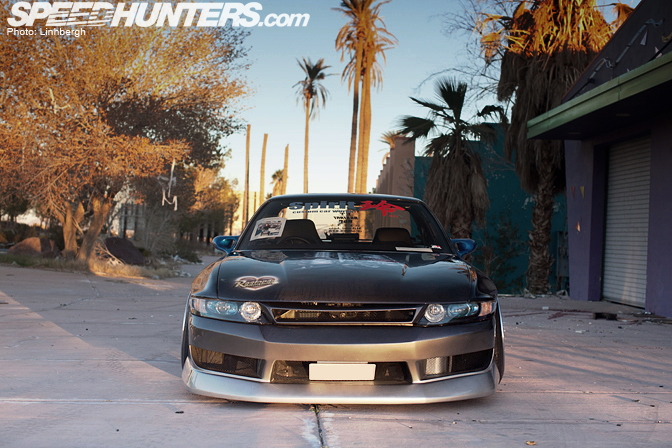 Next is its very unique front end which comes from a JDM RB1 Honda Odyssey Head Lights.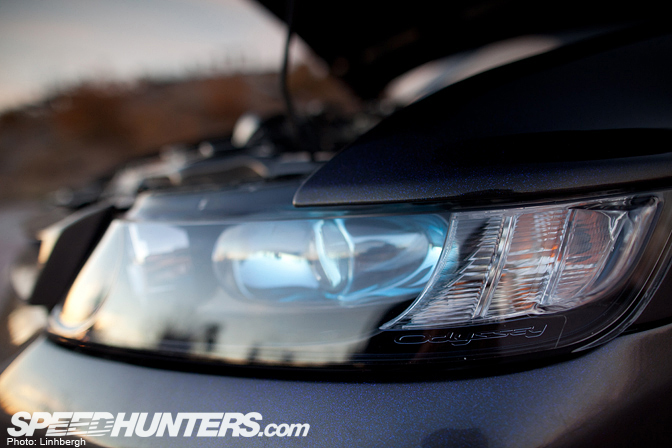 Odyssey + Silva = Odyvia. I didn't know that till now. It makes sense.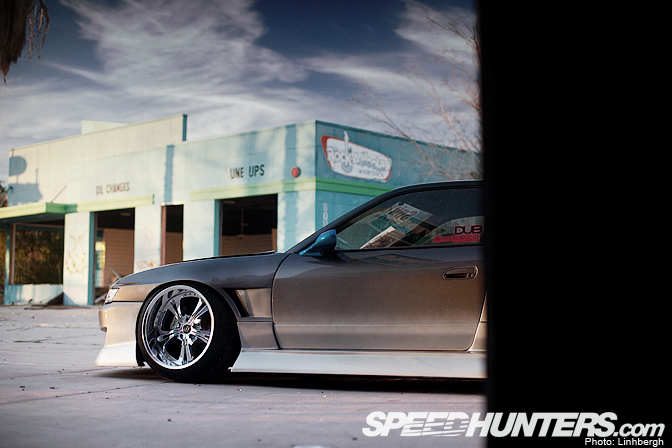 A set of Kei Office Full Tap coil overs makes the low ride height possible…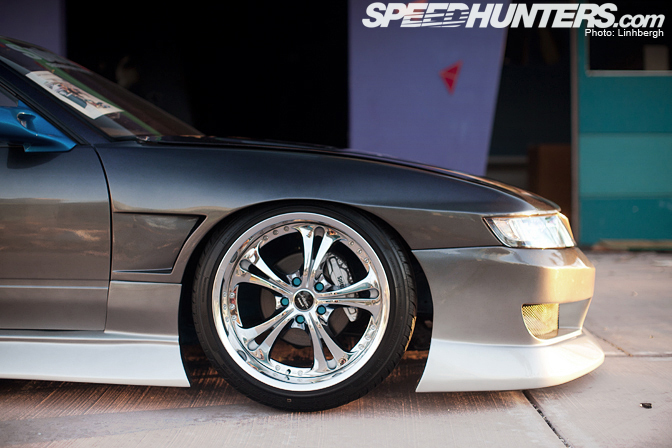 …and is rolling on a set of Weds Kranze Cerberus II. 18×10.5 -22 for the front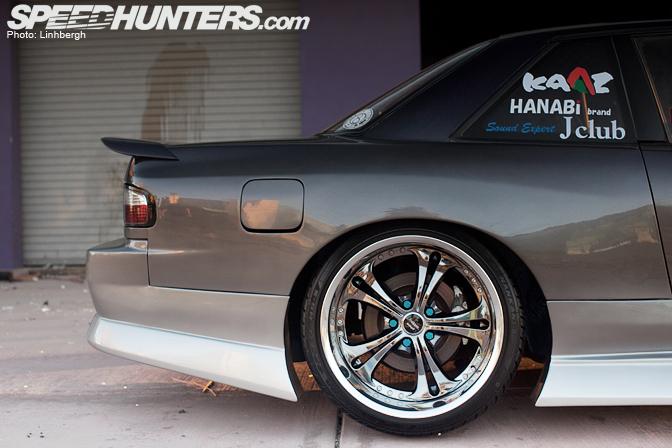 …and 18×12 -31 in the rear.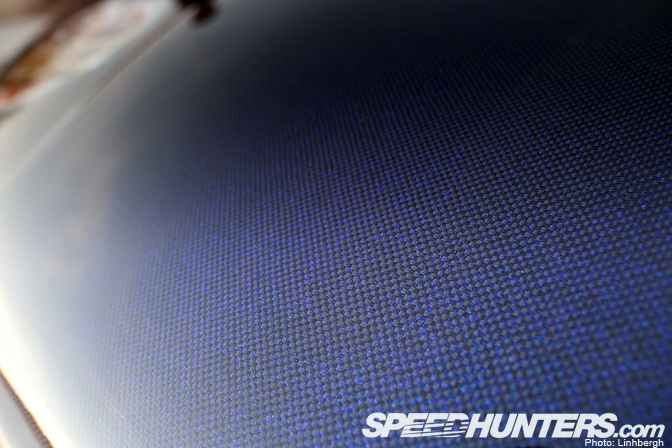 The carbon fiber Spirit Rei Hood has a layer metal flake in its clear coating…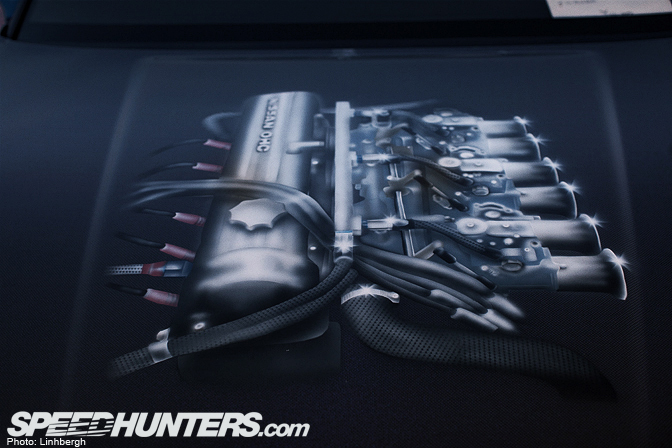 …and the airbrushed engine on the hood is a clear indication that things aren't normal under the hood.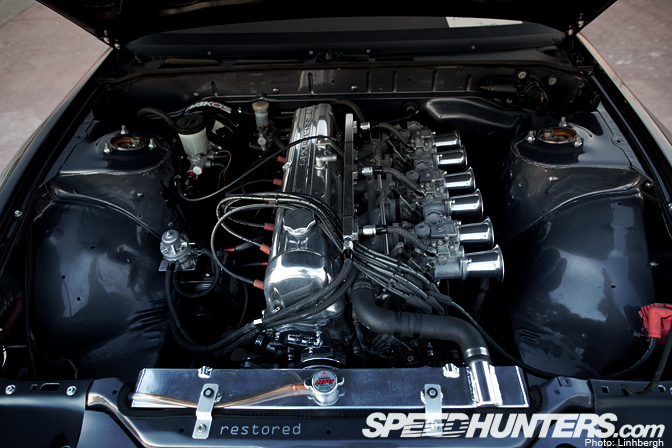 Open up the hood and you won't find a KA, SR, RB or even a CA. But rather a carbureted L28 inline six!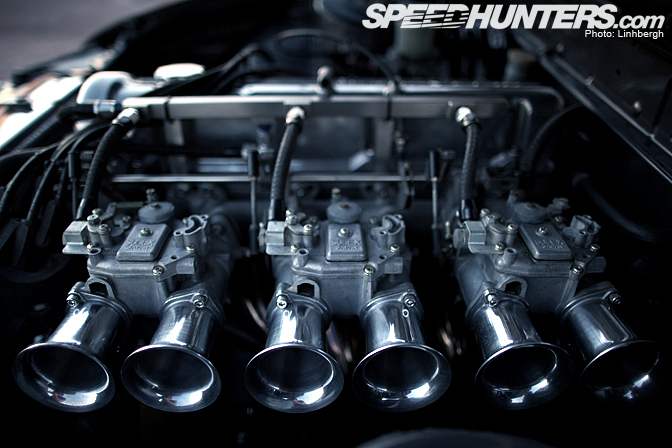 The L28 features a set of Nismo Solex 44 HH carburetors, a Wako jet block, a CA18 to L28 big port export cam, Kameari slide cam sprockets, Kameari distributor kit, Kameari twin idler gear, and an MSD 6AL. Yes, MSD in an S13!
We'll get into why this motor was chosen for this car in a little bit.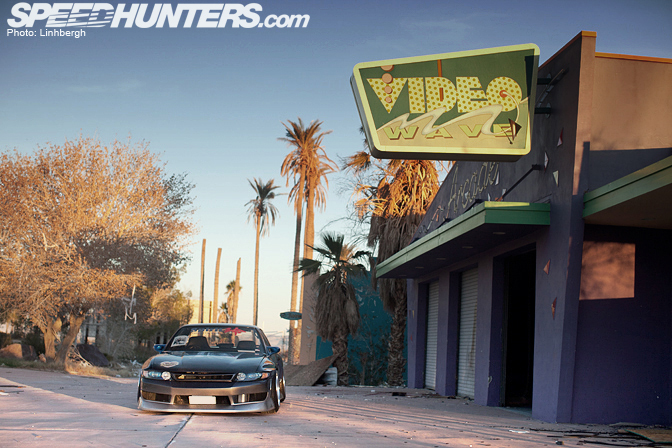 When I contacted Tony Borriboonratana, from Mastermind, we started discussing the location where we'd shoot the car. In his mind, he was thinking somewhere local the shop in Anaheim. In my mind, I wanted to get the hell out of the greater southern Californian area. I proposed to him the idea of an abandoned waterpark two hours North East of Los Angeles thinking the most crazy of ideas would be shot down first. 
To my surprise, he agreed to it.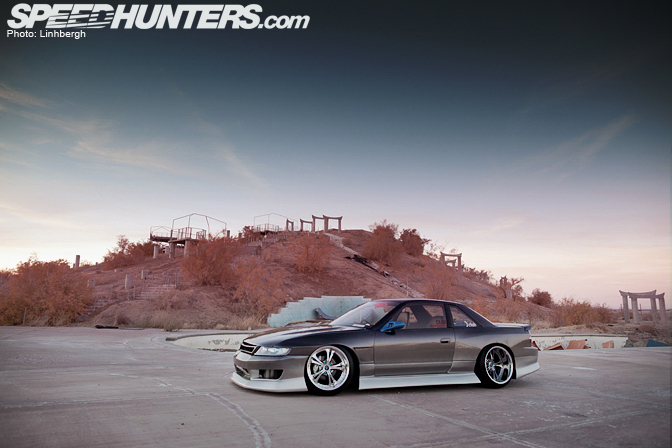 The "abandoned paradise" look throughout the water park proved to be a perfect place for this fairly new car with a heart yearning for the yesteryear.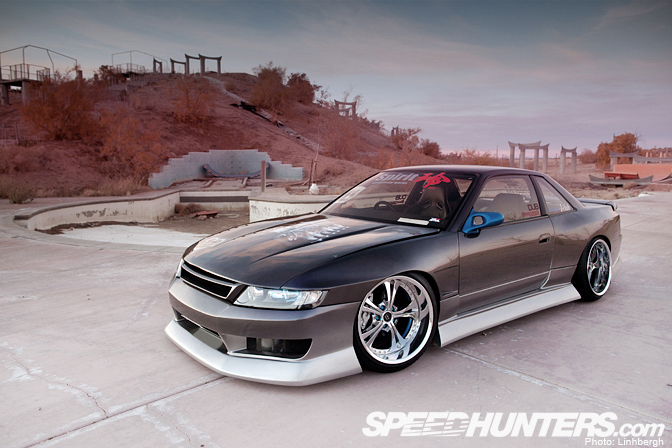 Though the flared-out body kit style is on its way out, the complete Spirit Rei widebody kit is a good look on this car.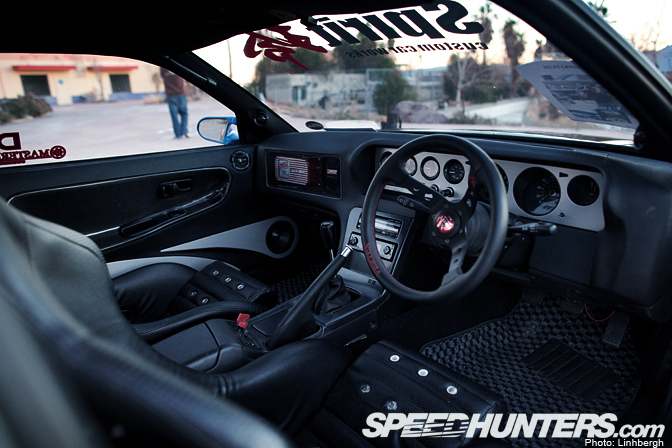 There's very little S13ness left on the interior. An FRP Kenmeri Skyline dash board sits in place of the original dash. A Kenmeri GT-R Aluminum meter panel and a Vertex steering wheel add to the nouveau-retro inspired theme throughout the car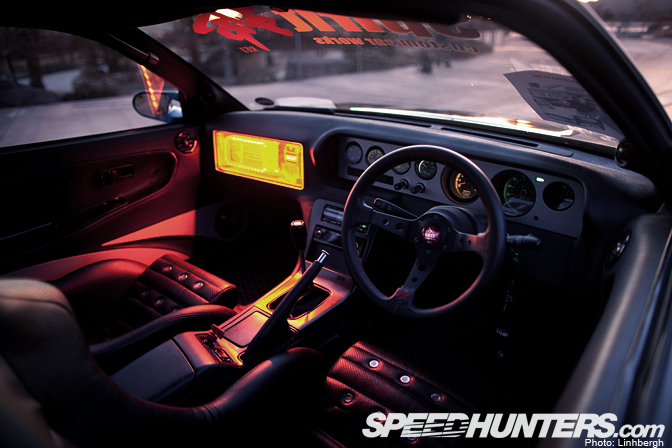 I've always said that every car enthusiast is allowed one free rice mod. This Spirit Rei Odyvia's rice mod of choice is the glow from the MSD box. If I had MSD in my S13, I would want to show it off also.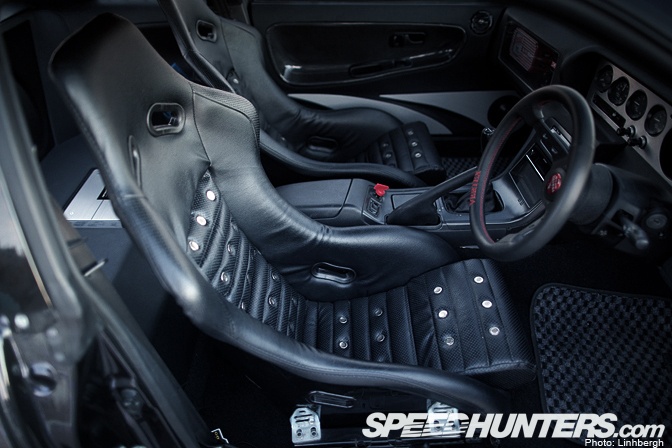 A pair of Datsun type full buckets replace both the passenger and driver seats.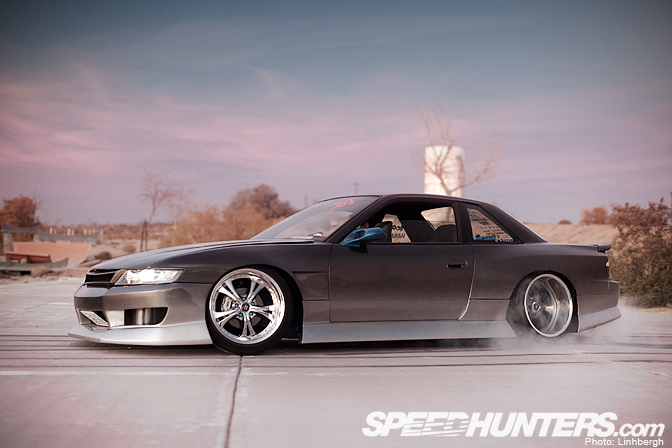 Though the L28 might not have a whole lot of ponies powering it, it sure has enough to burn up some rubber!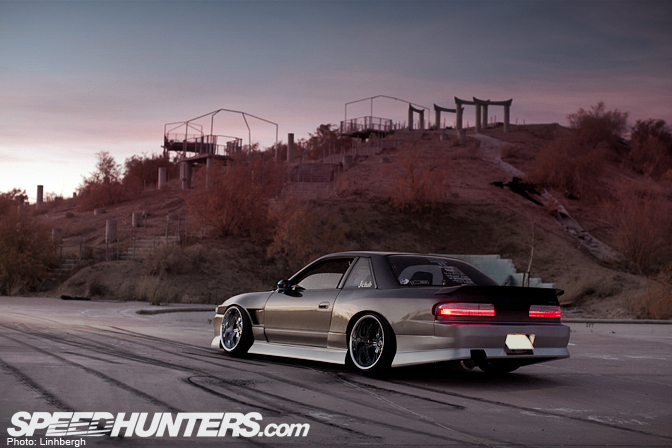 Mastermind's associate from Restored Japan, Seji Inata, provided a bit of background to the Restored/Spirit Rei Odyvia:
"Restored Japan specializes in 'restoring' classic Japanese vehicles such as Datsuns and Toyotas. Because of Restored Japan's extensive knowledge of classic cars, the L28 swap was an obvious choice for us. My apprentice, Toshiki Fujii, and I began the build in June. We wanted to have the car displayed at SEMA to showcase our blend of Japanese classic vehicle with modern design."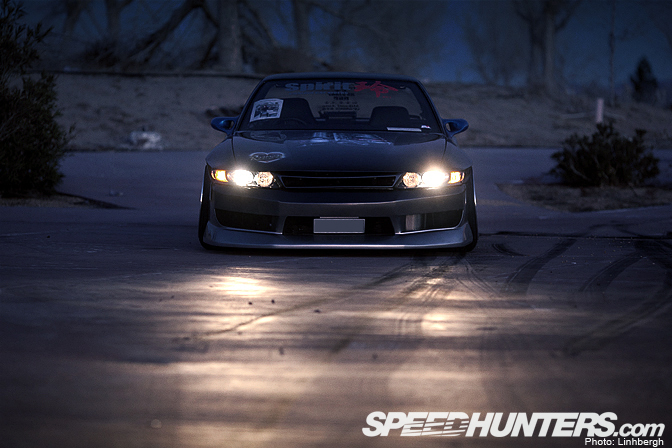 Toshiki Fuji, Restored Japan's apprentice's favorite vehicle was the S13. He also had a brian condition which he never mentioned to anyone. He was having symptoms for quite sometime but didn't want to disrupt the build process. He diligently worked on the car for six months.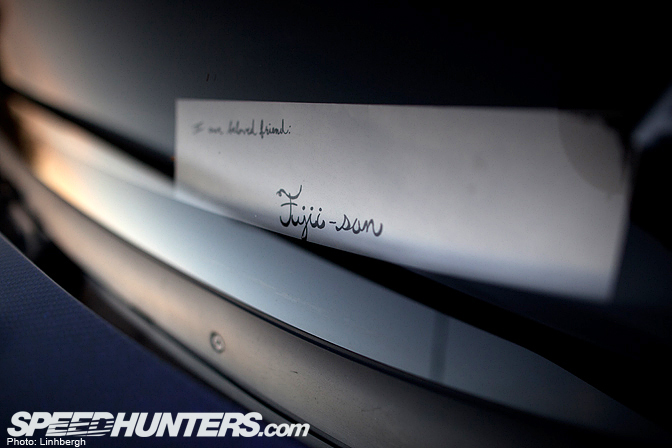 The car was finished, shipped to the US and was shown at SEMA. November 6 was the last day of SEMA. Fujii-San passed away on November 29 from a brain hemorrhage. Fujii-San was willing to sacrifice his own life to get this build accomplished.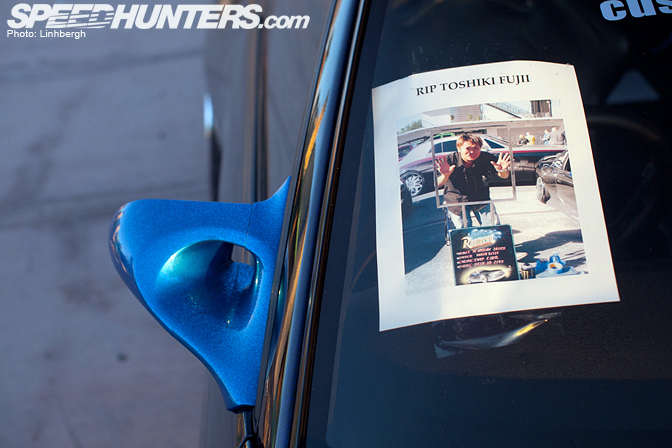 Inata-San left these words for us about his friend, Toshiki Fuji:
"The Restored/Spirit Rei Edition Odyvia build for SEMA was Fujii-San's biggest event of his lifetime and I am honored to have spent time alongside him to support his Odyvia. This Restored Odyvia is now a treasure for me and the best car I have in my collection. Rest in peace."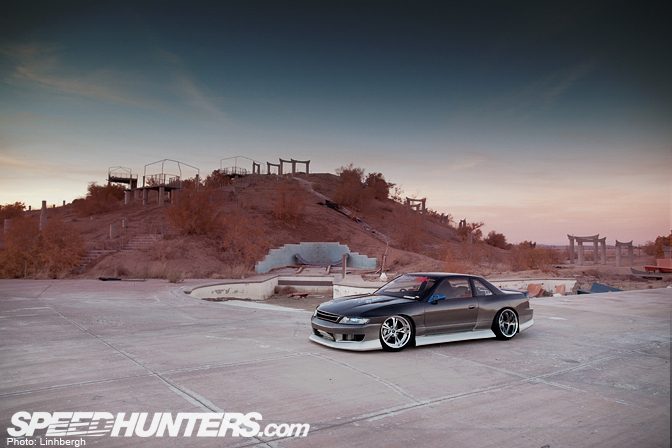 Imagine believing something so strong that you're willing to give your life to it. Then imagine the shear will power it takes to stay alive for the long months it took to finish the car. Fuji-san knew that his life going to be cut short but wanted the comfort that he's leaving a legacy behind. 
What a legacy. 
-Linhbergh
Spirit Rei Edition Odyvia
1991 Nissan S13 Sylvia
Exterior:
- Complete Spirit Rei Japan Widebody kit
- Spirit Rei Front Bumper
- Spirit Rei Side Skirts
- Spirit Rei Rear Bumper
- Spirit Rei Wide Front Fenders (55mm)
- Spirit Rei Wide Rear Quarter Panels (85mm)
- Spirit Rei Hood
- JDM RB1 Honda Odyssey Head Lights
- Air Brush on Hood
- Redtail LED Tail relay modified?            

Interior:
- FRP ken and Marry Dashpanel 
- Ken and Marry GT-R Aluminum meter panel
- Oomori oil temp
- Oomori water temp
- Oomori oil pressure
- Oomori fuel gauge 
- Autometer tach 
- Datsun type full bucket sheet
- Carrozzeria High end Audio and speaker
- Vertex Deep steering wheel 
Engine & Drivetrain:
- CA18 to L28 big port export cam
- Kameari slide cam sprockets
- Nismo solex 44HH
- Stainless header 
- S13 modified muffler
- Kameari distributor kit 
- Kameari twin idler gear
- MSD 6AL
- MSD blaster SS coil
- HPI all aluminum radiator
- Wako jet block
- KaaZ LSD 
Brakes & Suspension:
- Front: S14 rotor and caliper 
- Rear: R32 rotor and caliper
- Kei Office Fulltap coilover
Wheels & Tires:
- Kranze Cerberus II 18inch F10.5J -22  R12J -31Bridgestone Tires
- Muteki Black Lug Nuts