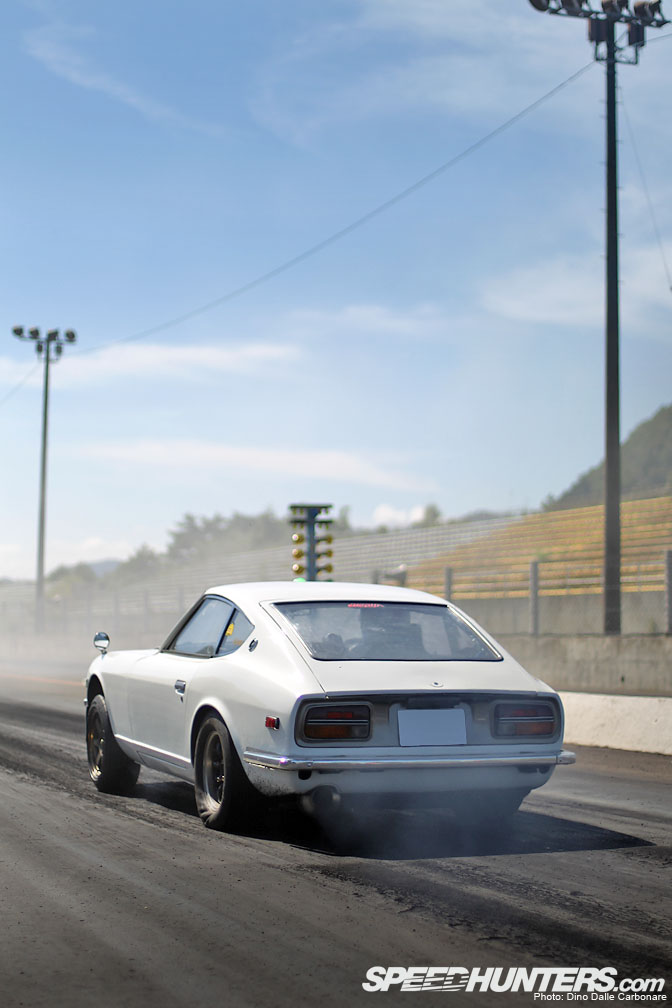 And here I was thinking that drag racing in Japan was well and truly dead! Like most scenes that lose popularity, you can always bet that there will continue to be a small group of people that stick to what they know and enjoy doing, something I found out this past weekend when I headed to Sendai Hi-Land for the G-Works Magazine organized drag event. Back in the decade that spanned from the mid-eighties to the mid-nineties, it was all about high power, drag racing and 0-300 km/h trials. With most tuners eventually moving towards time attack and drifting, interest in zeroyon, how drag racing is referred to in Japan (0-4, meaning 0-400 m), faded into the background.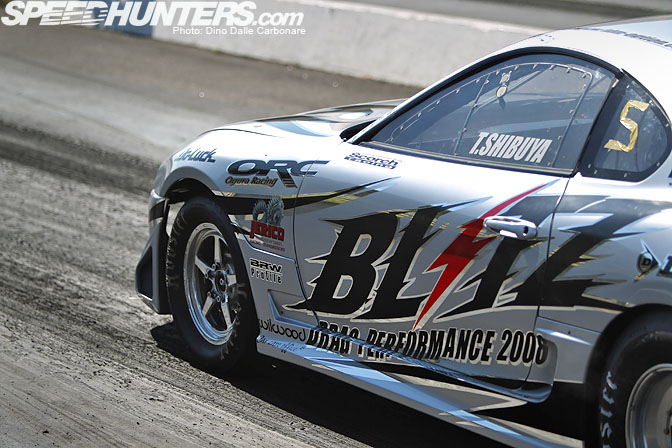 Back when I first arrived in Japan in the early nineties I remember magazines like Option and Car Boy featured tons of drag cars and covered lots of events at Sendai, pretty much the only official drag strip in Japan. I used to go to a stretch of unfinished road close to the coast to check out illegal night drags, my first real exposure in the art of acceleration. For a car-obsessed kid in his teens seeing R32 GT-Rs shoot down a dark strip of road at night, with all four wheels spinning under extreme power, was pretty much what cemented my love of Japanese car culture. Fast forward 17 years and finally I got to witness some more crazy Japanese drag action…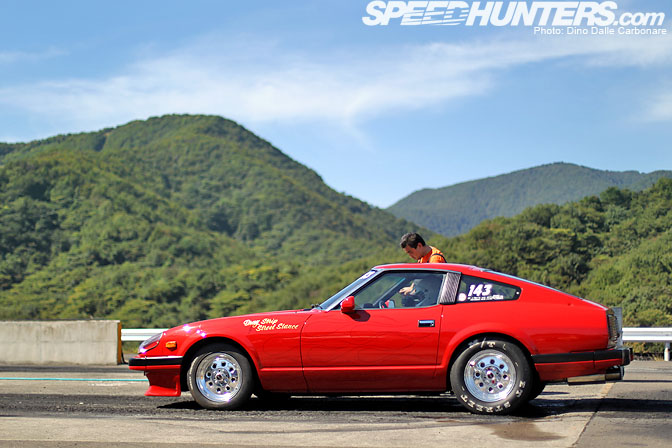 …this time with a little more emphasis towards vintage cars!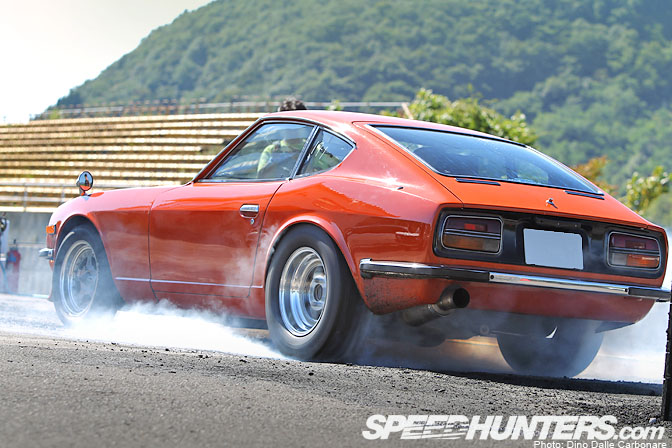 This is because the event was set-up by one of the best magazines on sale in Japan, G-Works, a publication that was reinvented about two years ago when the publishers of Option bought the rights to the old and then defunct Auto Works. The content is pure old-school, with a few exceptions here and there, totally geared towards power and performance.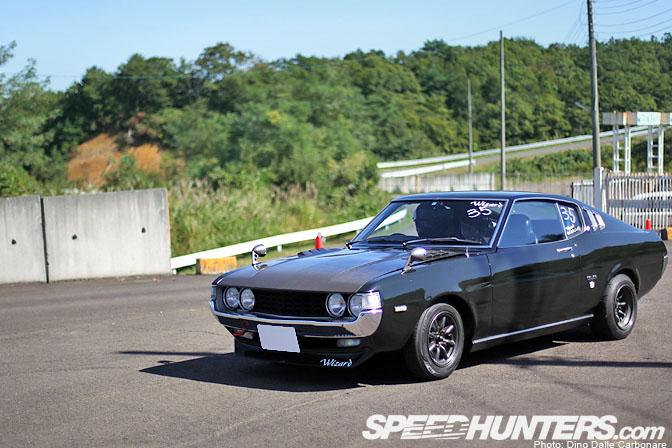 A lot of owners of cars from the seventies and eighties are still very much into zeroyon and I'm so glad this event came around just as we launched our Drag-themed month here at Speedhunters!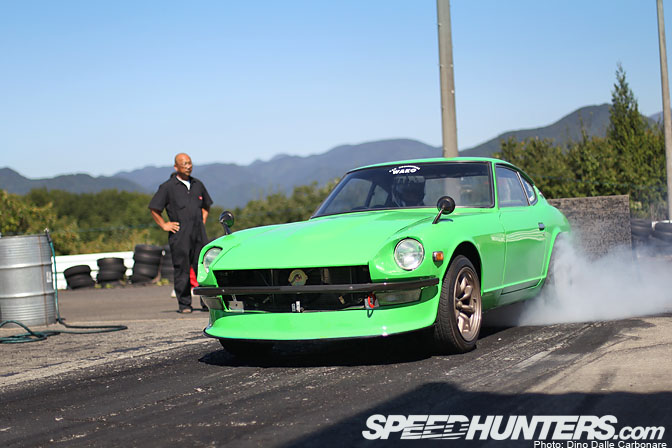 Excited to finally cover something that didn't involve grip or drift, (no offense to anyone, but we all need a bit of fresh air once in a while!), I left Tokyo on Saturday morning a little before 6 to tackle the 250 miles to Sendai. I feared for the worst and imagined arriving in mid-afternoon, as the Japanese highway system is not where you want to be on a weekend! But I was pleasantly surprised as an almost complete lack of traffic allowed me to arrive at around 11 am, just in time to check out the practice session.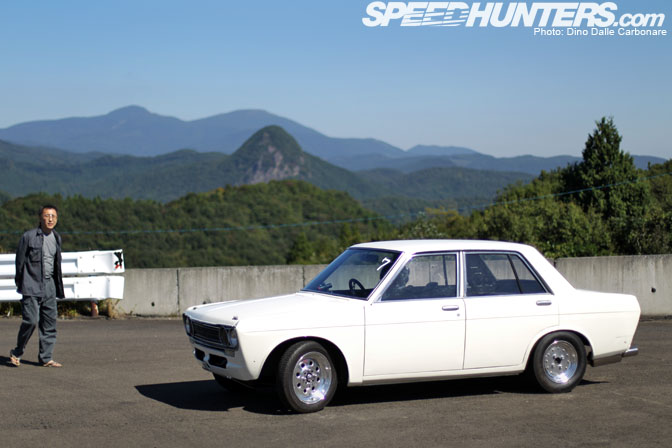 With 60 cars scheduled to compete, I wanted to get some practice in, as shooting drag racing has so far been something I've never really done before. The legal kind at least!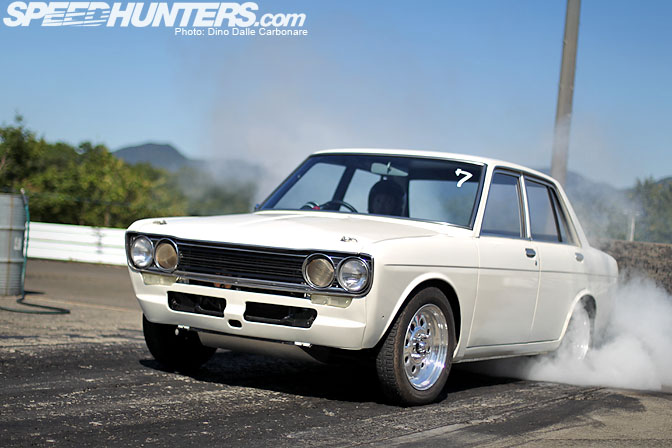 Seeing cars like this little Datsun 510, fitted with drag radials and pulling crazy burnouts…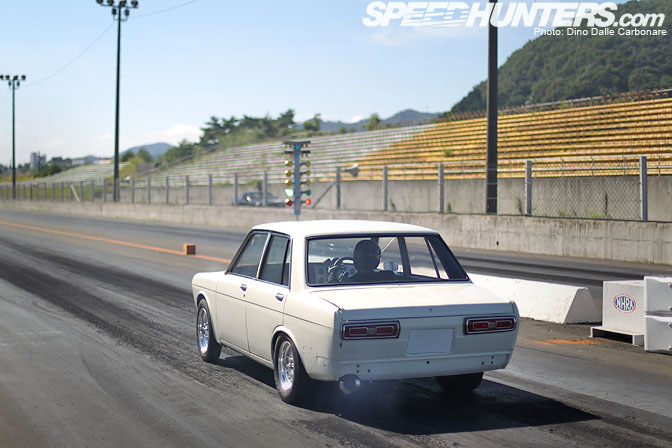 …before lining up for a run down the strip was very amusing to say the least.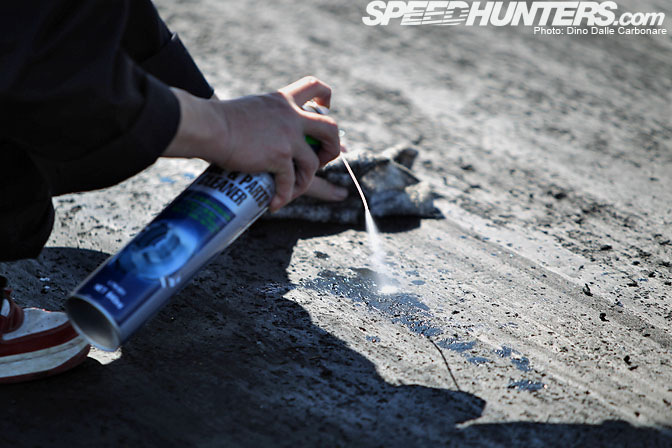 Running older cars means that a lot of the time oil or radiator fluid drips on the track. The marshals were always on hand with a can of "parts cleaner" (a spray degreaser) and a dirty towel to wipe clean the layer of rubber on the track.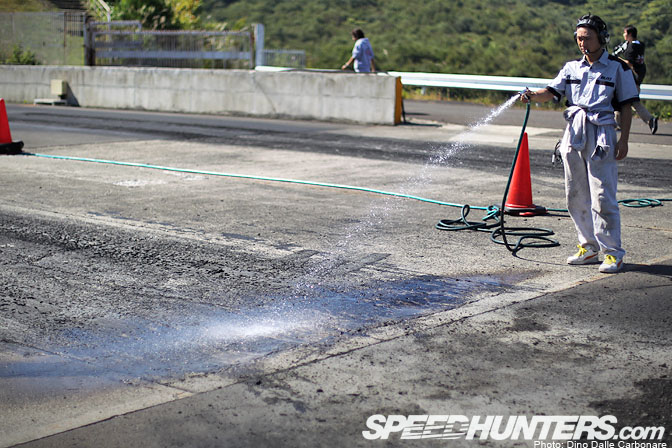 Got to wet the surface where the burnouts are done to make it easier to break traction! The person in the picture above wearing the Blitz overalls is quite an internet sensation, not that he knows it. This is Suzuki-san, the owner, builder and driver of the Scorch S15 time attack car I featured earlier in the year. No this is not his part time job…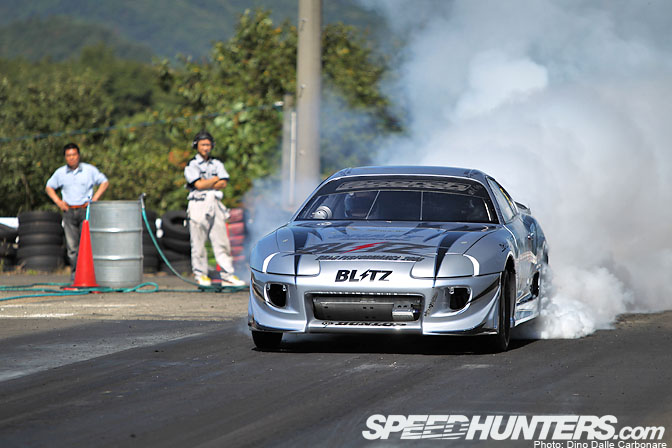 …he was there with his friends from Scorch Racing and Blitz to put this monster through its paces!!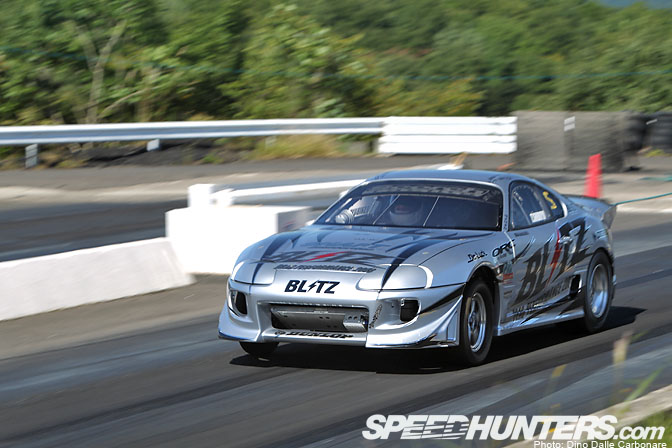 This car was originally shown at the Tokyo Auto Salon in 2008 but only now have the preliminary tests started.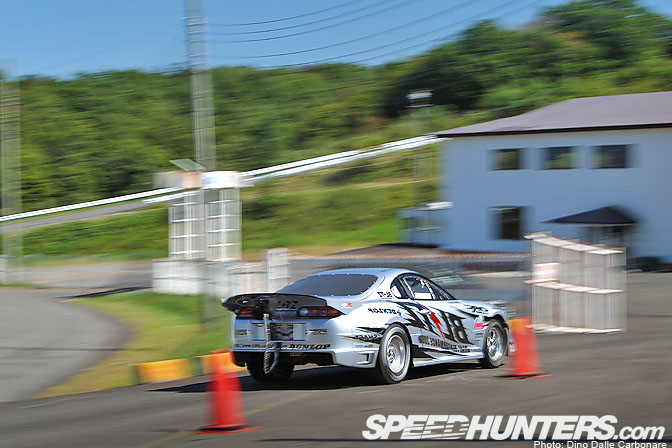 Not a lot of people are building dedicated pro drag cars in Japan so this is indeed a very special car. You can expect to see a feature on it in the next few weeks.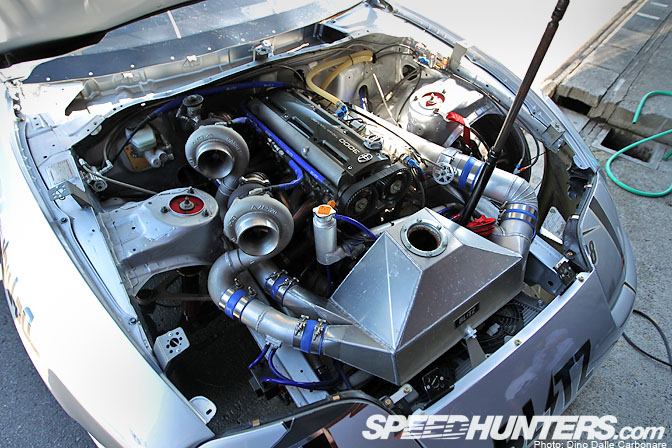 Under the hood, believe it or not, is a fully stock 2JZ. Only the camshafts have been changed. Best time on the day was a 9-flat, but there are still many issues with the launch that need to be addressed.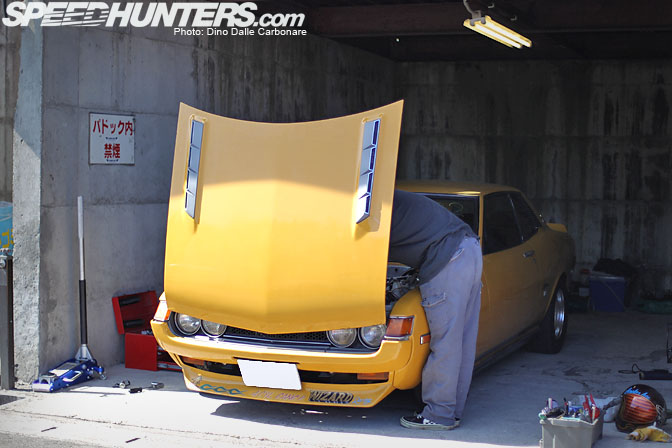 A lot of owners came up early to get their cars ready and set up for the Sunday. This A20 Celica stayed most of the day in the pits, the owner trying to find a good setting for the Solex carbs.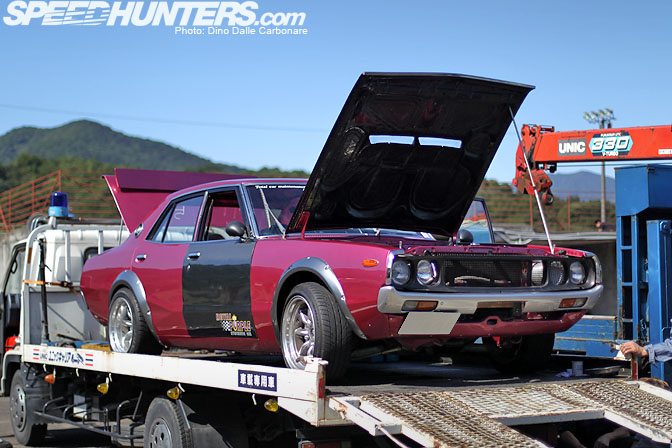 Don't mistake this purple C210 Skyline 2000 GT for a bosozoku car, everything on the day was purely performance oriented which you can probably gather from the carbon doors!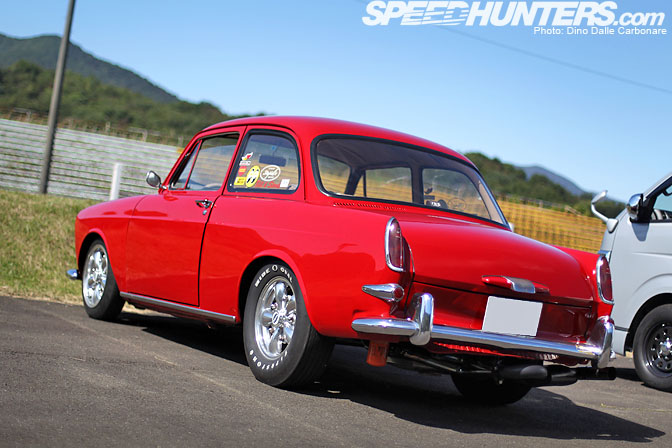 Something not so Japanese stopped by for a look, a VW 1500 Notchback running a very authentic drag stance.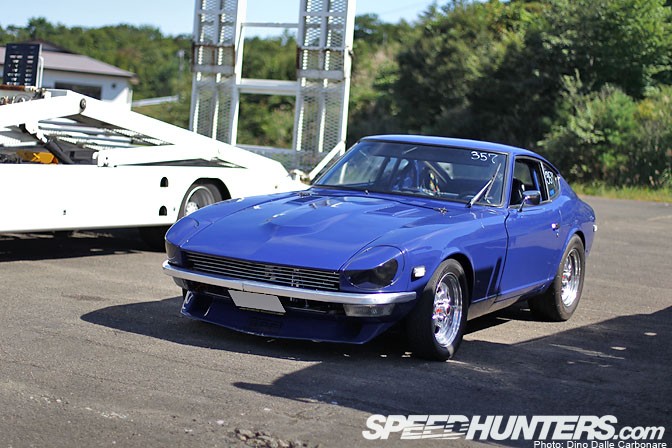 S30s seemed to be by far the most popular platform on which to build mighty fast drag machines. I've never heard such extremely tuned L-series motors. The sound was unbelievable!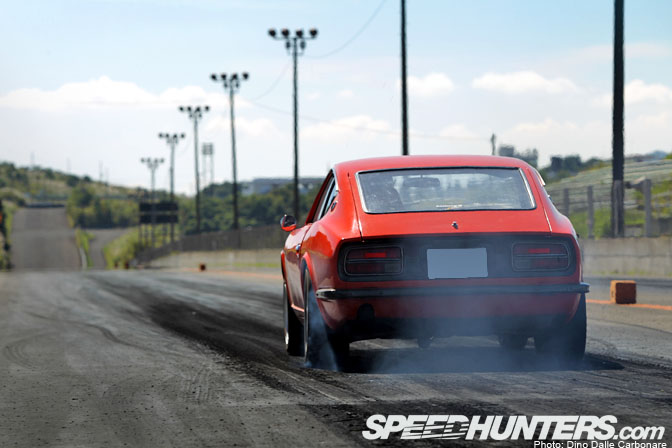 Little wheel-spin on take off.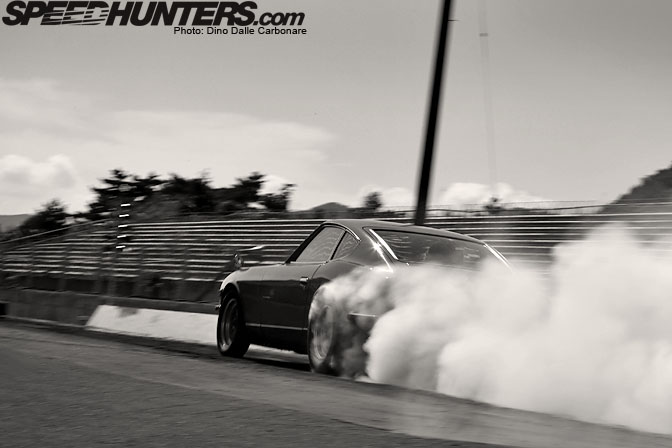 This is only a little taste of what I have lined up for you from the G-Works drag meet…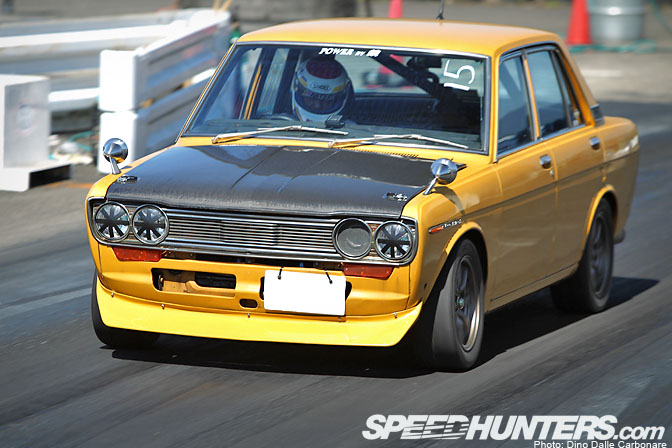 …so make sure you come back soon to get a full-on glimpse at a scene that not so many people outside Japan get to see, which will include cars so impossibly cool, you just wouldn't believe!
-Dino Dalle Carbonare