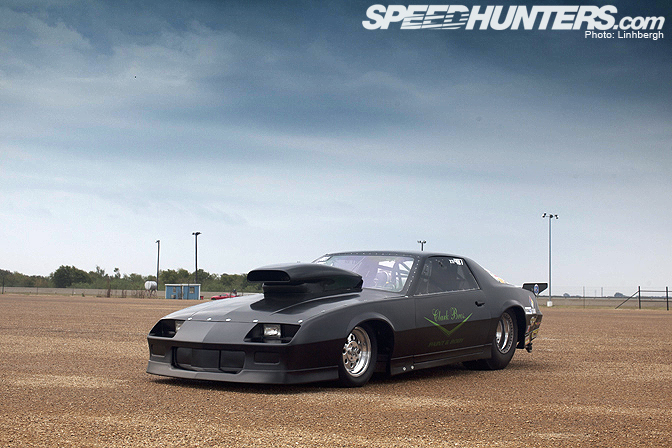 While walking the rain soaked ADRL paddock of Texas Motorplex, I saw many amazing drag machines. Many sported very bright liveries that were either airbrushed on or had some amazing paint work. But for some reason, this flat black 3rd generation Camaro stuck out to me as the most badass looking out of the whole paddock. It could be those dormant post-apocalyptic Mad Max fantasies bubbling up after seeing this car, or it could've been the dreary day that drew me to this murderous looking Camaro.
Either way, this car is beastly.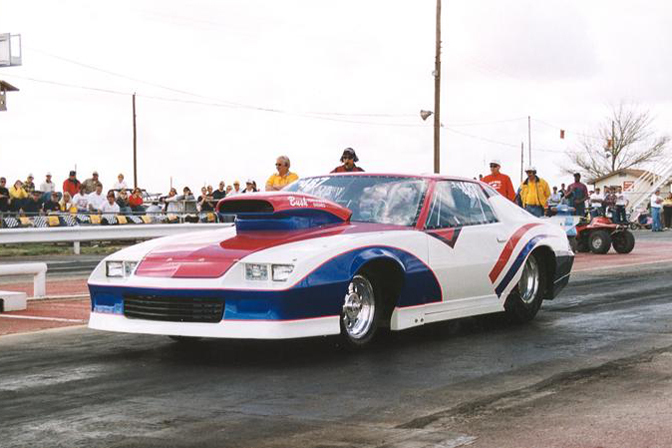 I kept thinking that car's owner and driver was a chain smoking, alcohol abusing, permanent 5 o'clock shadow wearing, leather jacket toting gentleman of grit and testosterone. But when I met H.T. Wilson, I was greeted with a soft spoken and humble Texan from Fort Worth. He was flanked by his wife and family. It was a family affair to be out on the drag strip! This was a far cry from my wild imagination and I welcomed it. Getting your face punched in from a gritty Mad Max-ian man by asking if you can shoot their car would not be fun.
HT shared a photo hung up inside the trailer of the car a while back before it became all flat black'd out.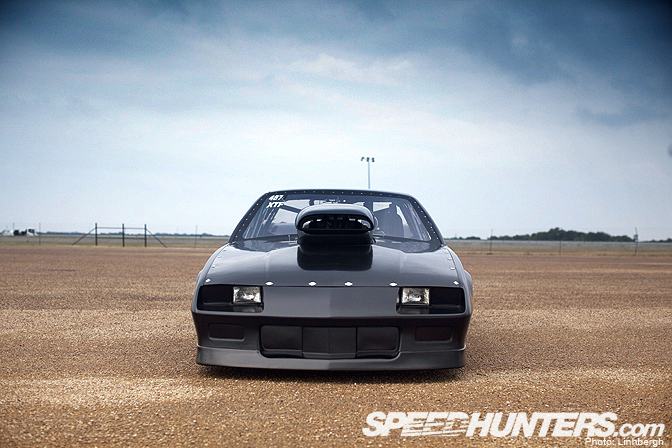 I'd have to say the latest incarnation is, by far, much meaner looking. It's a drag car you definitely wouldn't want to mess with!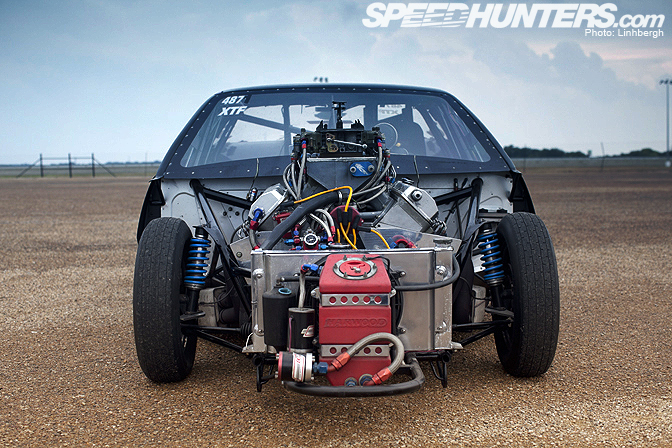 A drag car is always about the engine. Everything else is just sprinkles and cornflake in comparison.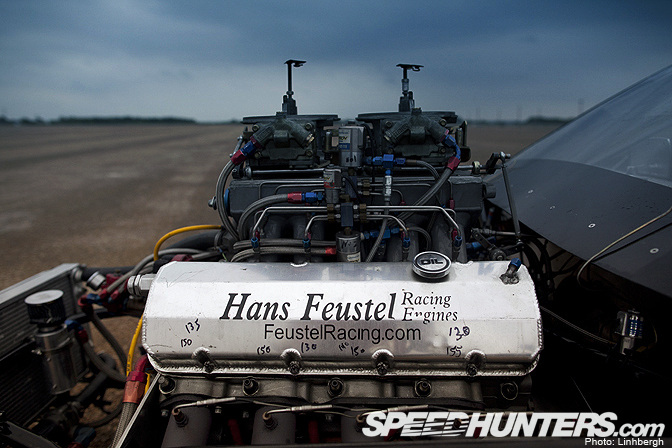 And in the engine bay (and I use the term engine bay loosely) features a 738 cubic inch (roughly 12 liters) Hans Feustel Power V8.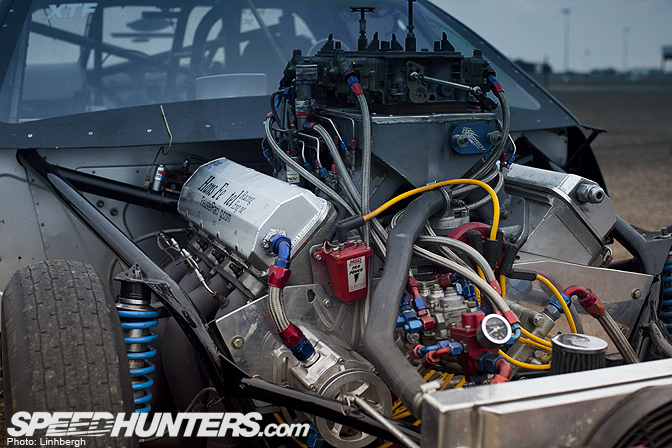 The massive V8 features two 1100 Holley Dominator carburetors, CFE sheet metal intake, Donovan aluminum block, and three stages of nitrous.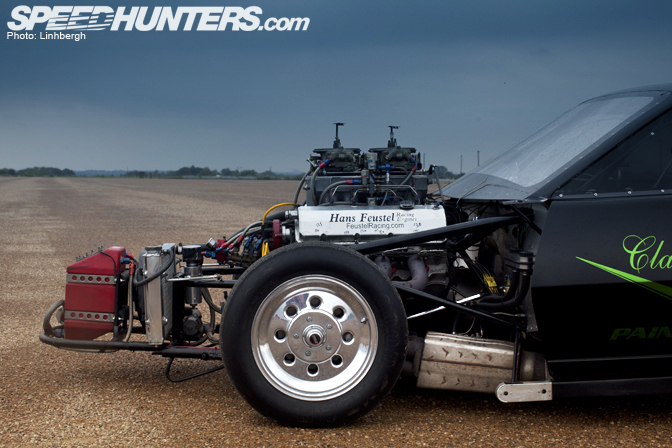 All those things put together gives the engine 2000 horsepower with NOS and 1300 foot pounds of torque!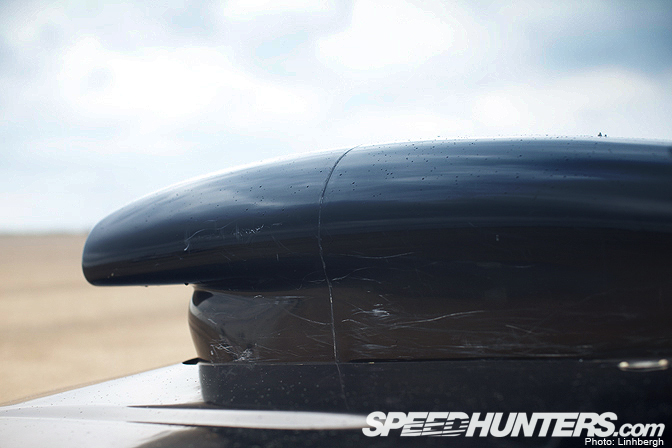 It looks like the scoop has seen quite a bit of action. The front end, doors, hood, and scoop are fiber glass pieces from Hairy Glass.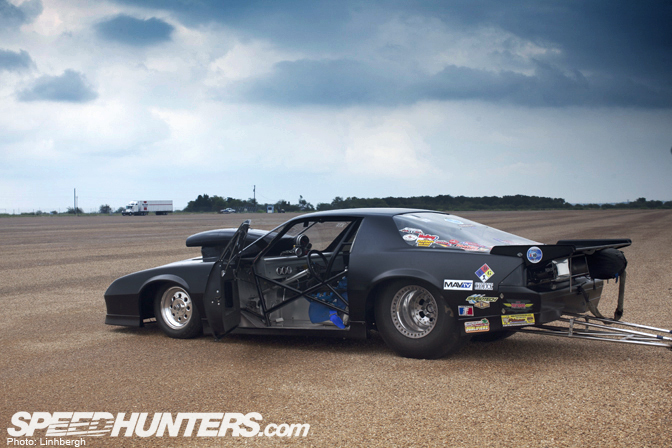 Opening the door reveals….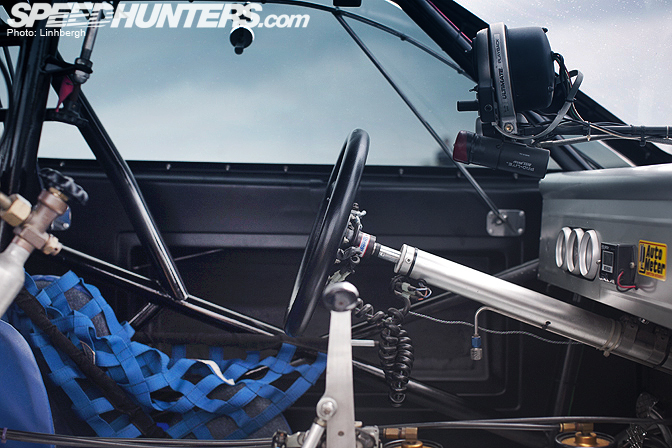 …a furnished office space that takes the utilitarian approach yet keeping contemporary by with clean modern lines.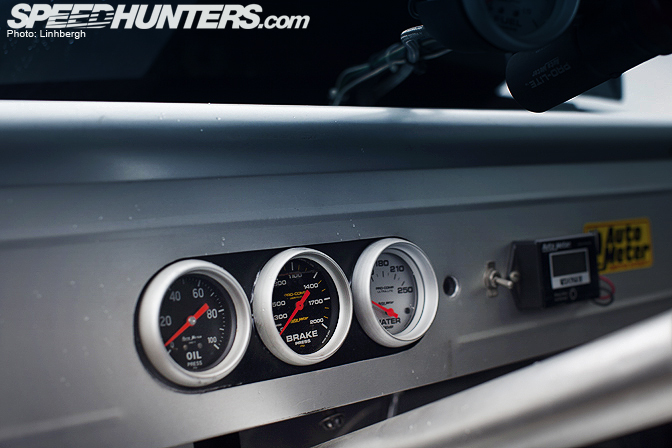 In other words, its a cockpit that has everything the driver needs. Nothing more, nothing less.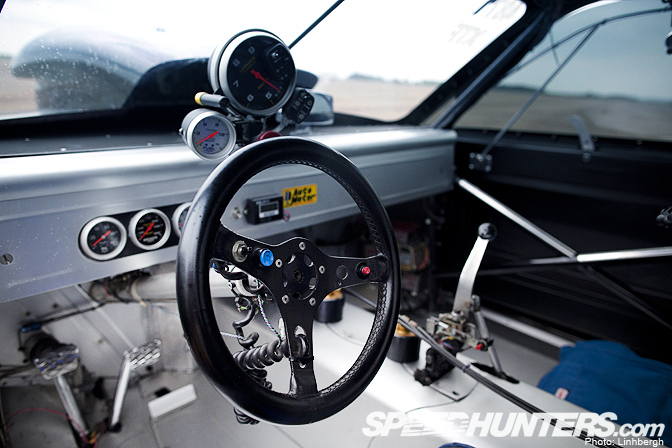 The steering wheel houses the three buttons. Each button for each stage of NOS. Ten bucks says that the #3 button actually activates the hyperdrive device.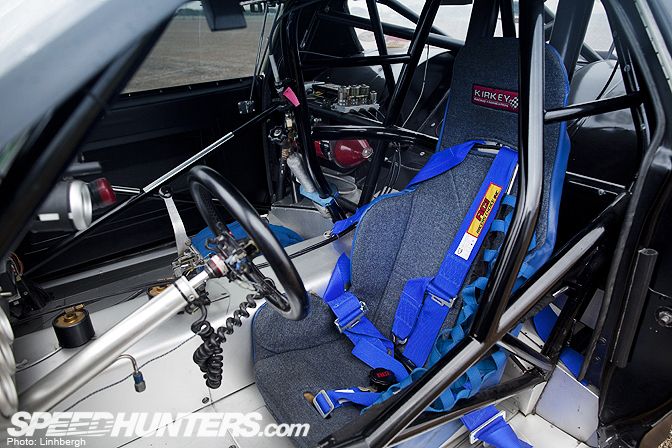 A Lenko 4 speed mated with a 9″ Crower triple disk clutch sends the power to the rear tubs.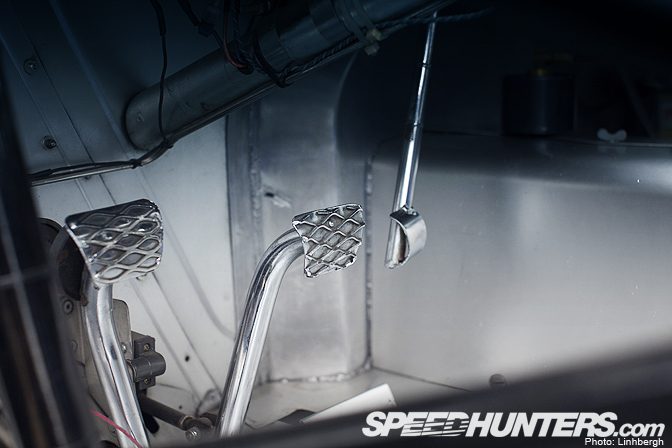 A set of beautiful stainless steel pedals.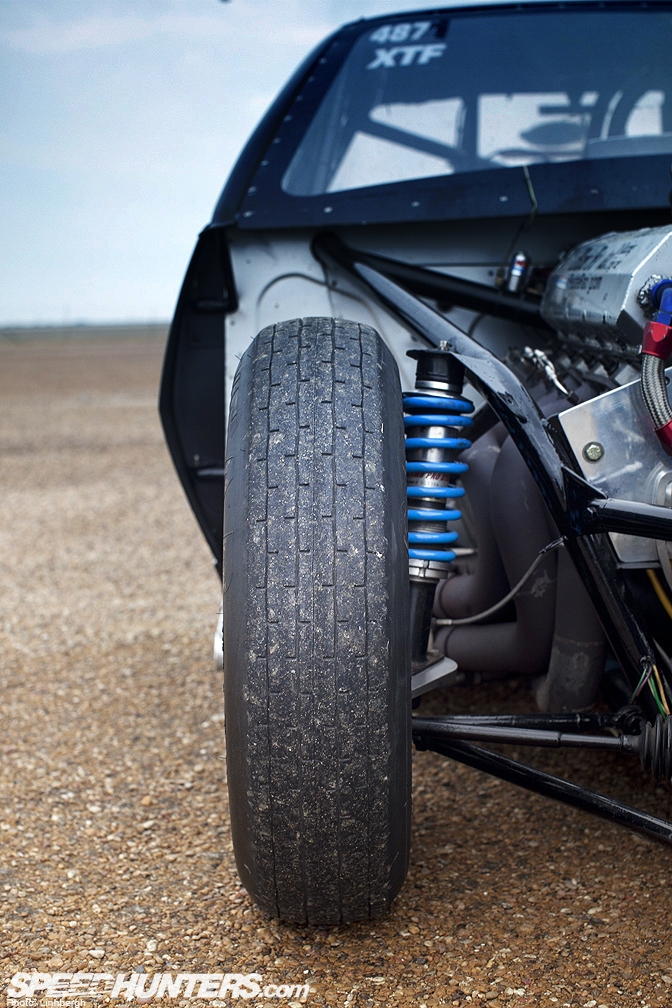 This Camaro uses Lamb struts and brakes in the front. and is rolling on a set of 4.5×15 Weld wheels. The rear suspension is using a set of Koni shocks.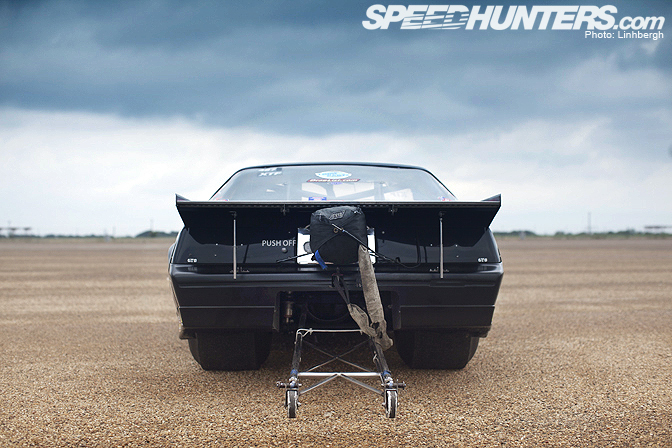 The rear wheels are also a set of Weld wheels but much, much wider and wrapped with 33x16x10.5 Mickey Thompson drag slicks.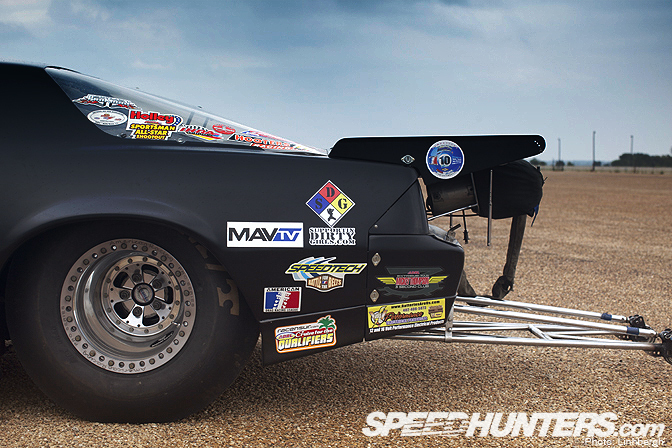 I love the sticker bomb in the back of the car. It's a great reminder of where the modern day practice of sticker bombing on RWD sports cars came from originally.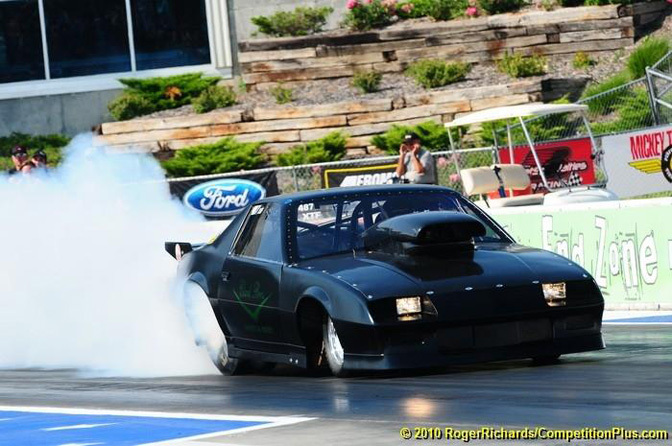 Because of the rain throughout the day at Texas Motorplex, the event was cancelled and there was no racing to be witnessed. HT Wilson's wife sent me a few photos of the car in action taken by ADRL photographer, Roger Richards.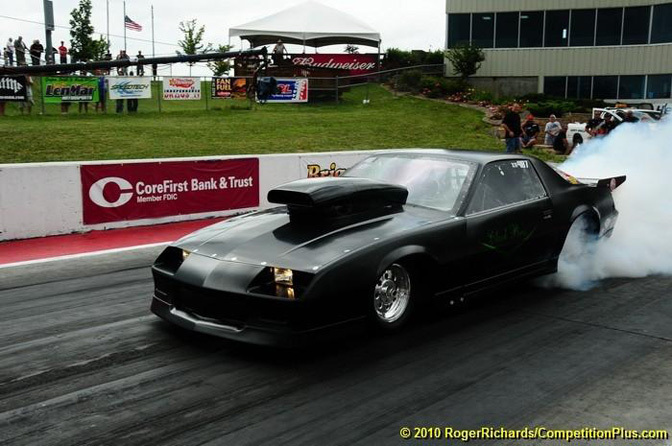 I couldn't help but to include two photos of the car burning out. If the Knight Rider's car, KITT, had the amount of raw horse power that this Camaro has, this is what it'd look like going after baddies. Burn outs. ALL. THE. TIME.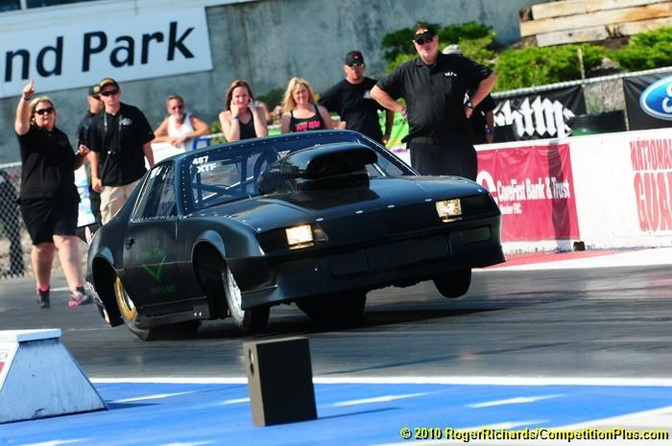 ….and off it goes! This is what 2000 released horse powers looks like frozen in time.
This car has won numerous Outlaw Top Sportsman and IHRA Top Sportsman events. HT currently competes in the ADRL Extreme 10.5 class and Texas Outlaw Pro Mod Association.
HT's best ET in the Camaro was a 4.34 1/8th mile at 168 mph!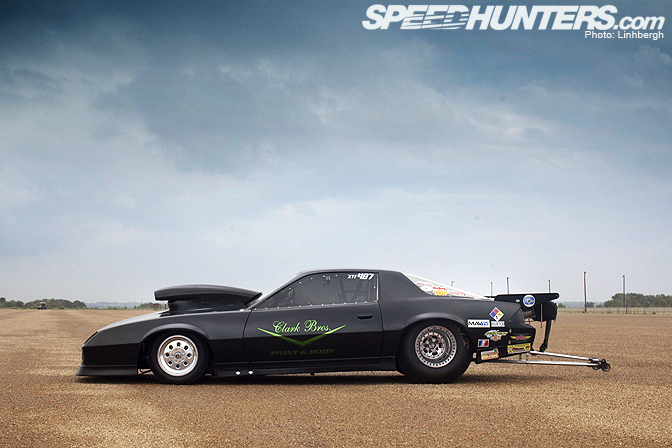 Before drag month, I, like many other young-ish auto enthusiast never would've divulged into the world of drag racing. Why? For the simple thinking of "Drag racing isn't cool, its just going in a straight line for 5 seconds! How can that be cool?"
And oh how I was wrong. The passion, dedication, and level of competition from the street to the pro level is something to hear and experience. It's cars like HT's door slammer Camaro that makes drag racing cool. It's not a tube chassis with a plastic shell over it, its a real 1989 3rd generation Camaro through and through.
It's also a Camaro that does an 1/8th of a mile in 4.3 seconds. Just sayin'.
-Linhbergh
Engine:
- 738 cubic inch, Hans Feustel power
- 3 stages of nitrous
- Lenco transmission
- 2X 1100 Holley Dominator carbs
- CFE sheet metal intake
- Donovan aluminum block
- Moroso single stage external oil pump
- Barry Grant fuel pump
- MSD 7AL2 ignition system
- Paint and body work by Clark Brothers Paint and Body of Arlington, Texas.
Suspension:
- Pro 4 link
- Koni rear shocks
- Lamb struts/brakes
- Pro gears
- 9 1/2″ Strange Ultra center section
Drivetrain:
- Lenko 4 speed
- 9″ Crower triple disk clutch
- Trik Titanium can 
Body:
- Hairy Glass front end/doors/hood/scoop
- Weld wheels
- 4.5X15 Goodyear
- 33X16X10.5W Mickey Thompson
Crew Chief: HT Wilson
Crew: Michelle Wilson, Justin Frost, Natalie Morris
Additional photos from Roger Richards