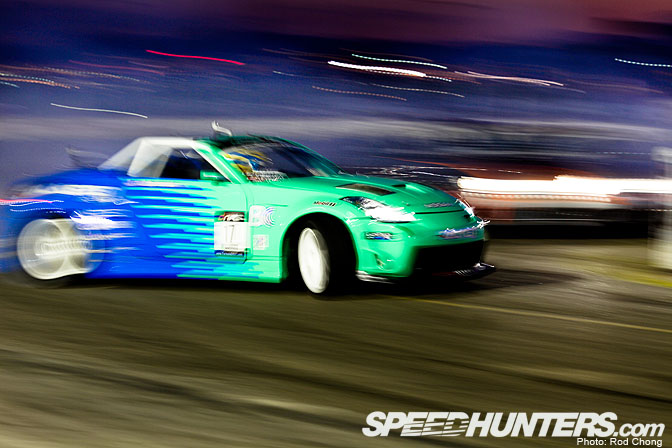 Yo Speedhunters! I have the lucky duty of driving the Falken Tire Nissan 350Z in Formula D. The 2010 season has been a bit of a struggle to say the least. My championship hopes were gone at this point in the season, so I was "all in" going to Las Vegas. I had nothing to lose, but a lot to gain for myself and Team Falken. This event was crazy, from the temps to the insane schedule that had us practicing from 9pm-1am, and eating dinner at 3am. Vegas…Where anything goes!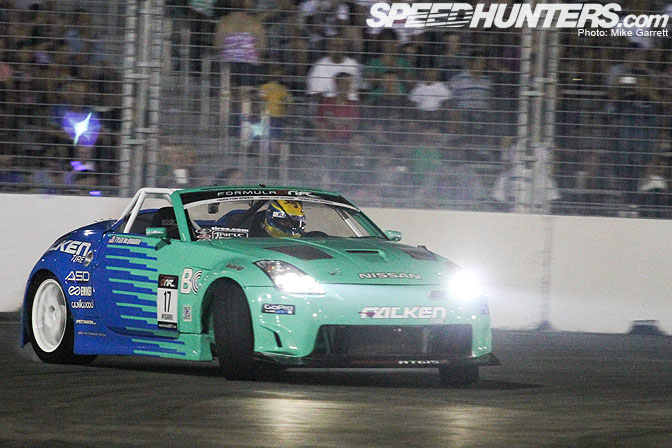 ASD / Team Falken and I decided to go a different direction with the
setup for the Las Vegas round. I just feel like I haven't gelled with
the car like I did last year, so we are going to try and find a setup
that works better for me. We tried something much different and man did
it work! I immediately felt like I was back to my old self. I was able
to run consistent lines and had the highest entry speed all throughout
practice.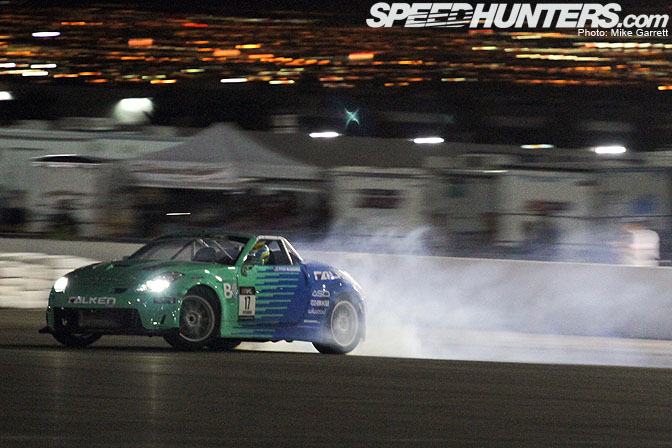 I knew I had a very good shot at getting the top spot in Qualifying but my technique has always been to be somewhat conservative on my first run to just guarantee myself a spot in top 32. There is nothing worse than going big on your first run and making a mistake that gives you a 0. What's even worse, is to wait around an hour or so before you can go again. Too much time to think about it!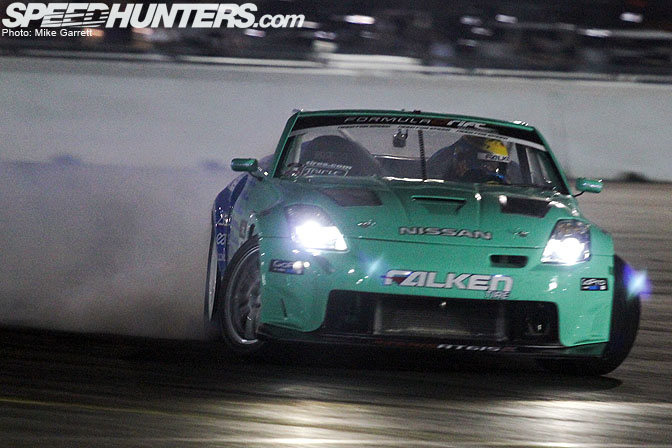 So, my first run was just that… conservative. It put me in the show and gave me the chance to just have at it on my second run.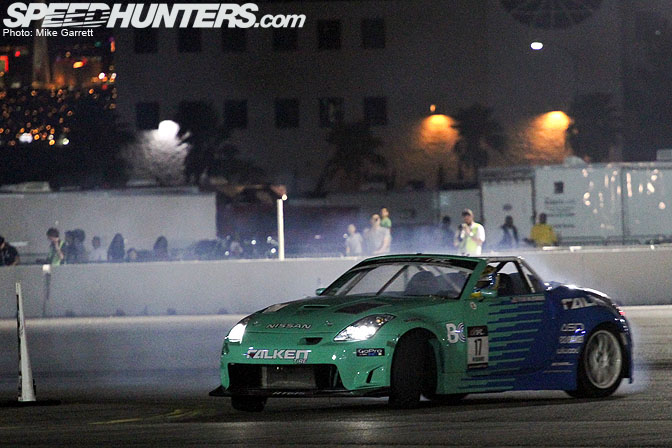 My intention for the 2nd run was to go big! We knew the track temp
had cooled off a bit since my first run, which means the car will be
tighter or have more grip. I went into turn one as fast as I could go, and as soon as I initiated I knew the track was tighter than I thought
it would be. So instead of my car floating to the outside clipping
point, I had to work to get it out there. I got it out there but it
didn't have that top qualifier look to it.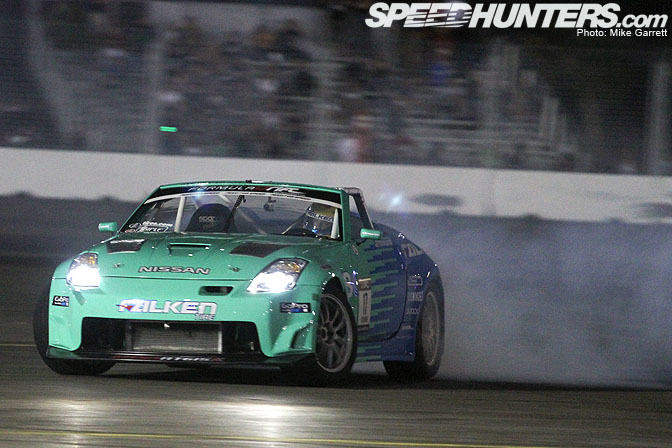 The infield section of the course is pretty straight forward (not literally). Your run is all about turn one and what's done is done. At this point but I'm just trying to end my run clean, hit my marks, and move up the Qualifying order.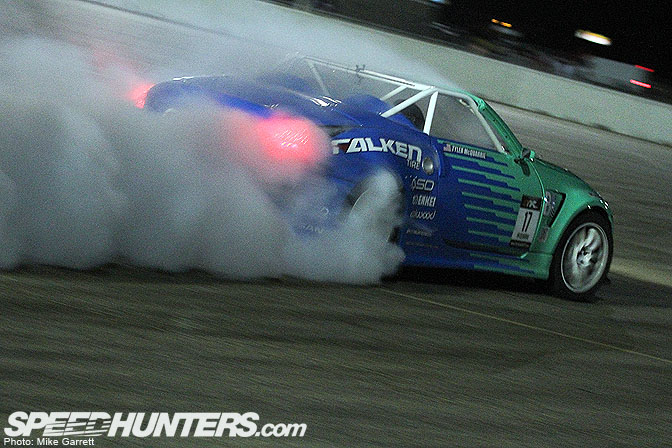 As I end my second run, I know that I left some on the table because the track tightened up, but it was much better than my first run. As I made my way back to the pits, my spotter Clay got on the radio and told me that I scored an 87.4, which at the time put me in 4th. When it was all said and done I ended up 6th. It was not quite what I was expecting or capable of, but it was a nice solid effort.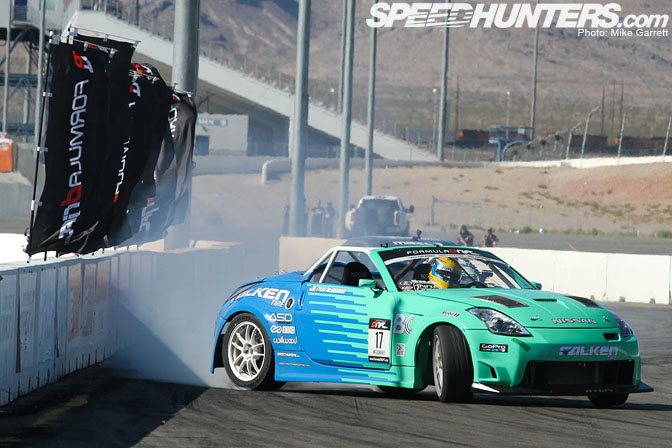 Saturday practice was at 4pm and this was the earliest we had run so far by 3 hours. It was 110F outside and the track temp was 140F! To be honest, this practice session was a bit of a waste because the conditions are nothing like this at night when we run. I only did a few runs to wake up so I'm ready for top 32.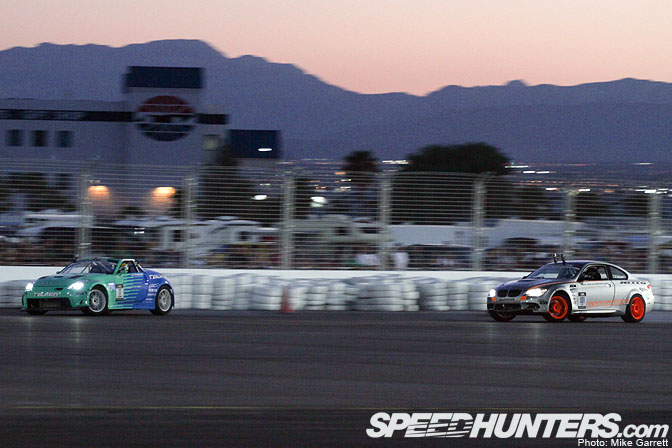 My Top 32 battle was with Michael Essa in his clean BMW 3 series V10. I've gone up against Essa a few times and the last was here last year in the Great 8. They have all been very close battles, so I knew this was not going to be an easy win. I also knew that my lead run was a little stronger than his so it was going to come down to my follow run. I didn't need to go crazy on my first lead run because I know from our notes that I'm 3-4mph faster than Essa going into turn 1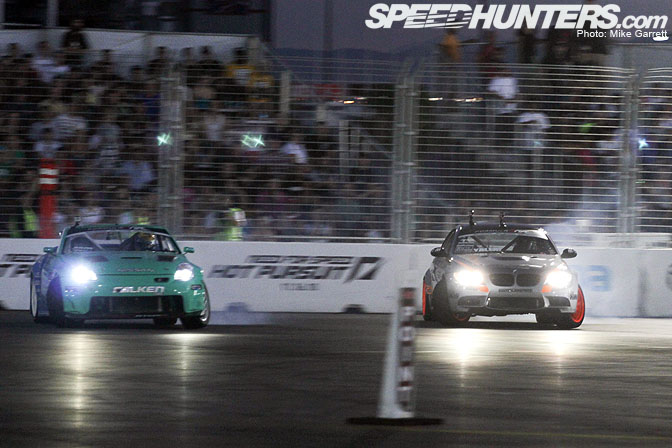 I wasn't too surprised to see him close up on me here because he has been running a little shallow through turn 1 and I knew the judges could see that. Our data also showed that I was 6mph faster than him in the infield section so no matter how close he got to me here, I could pull away from him.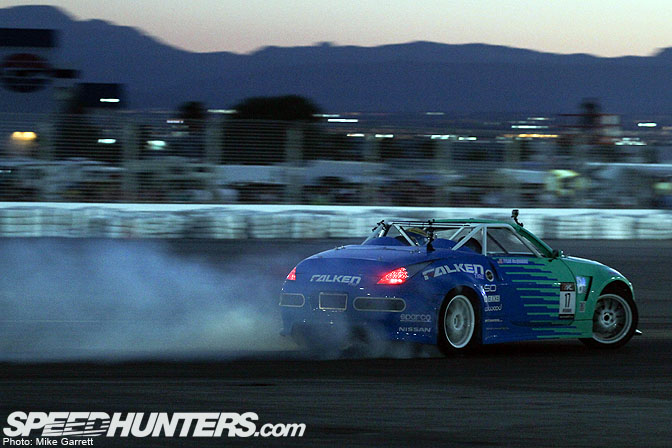 I was able to pull out a gap on him by the end of the run just as I had hoped for. The easy part was over and now on to the very important follow run, which can make or break my weekend.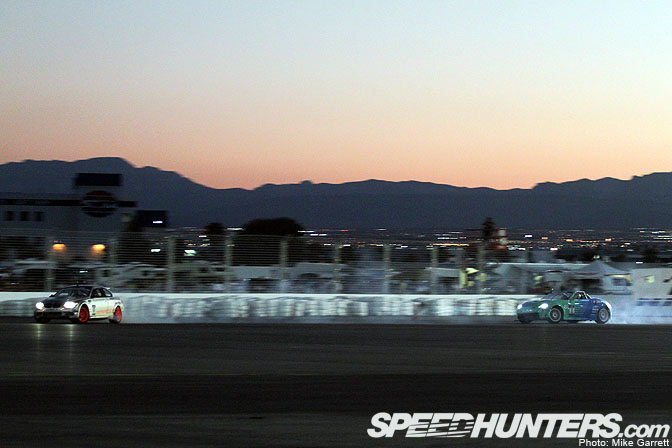 Here we are in turn 1 with a HUGE gap. Leading up to this picture, we left the start line and got up to speed, but right before we initiated I ran up on him too early and had to back off. I simply back off too much, which crated this gap. I wasn't too concerned because I felt I could close it up in the infield.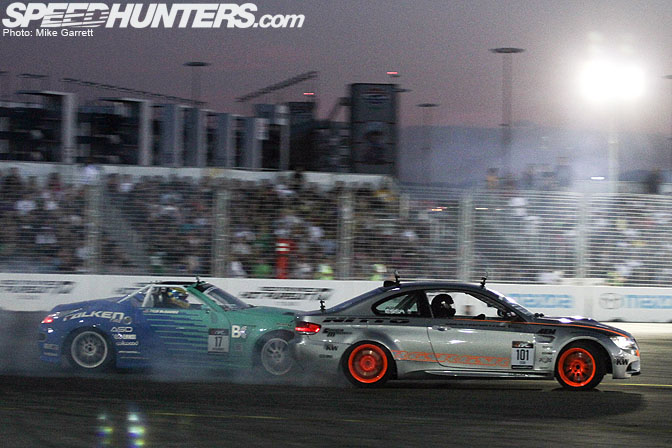 My only shot at beating Essa at this point was to be all over him, which I hope will make up for the gap in the beginning. My Falken Tire 350Z is very fast through the infiel,  but luckily for me it's also very easy to drive it at a slower pace and sit on his bumper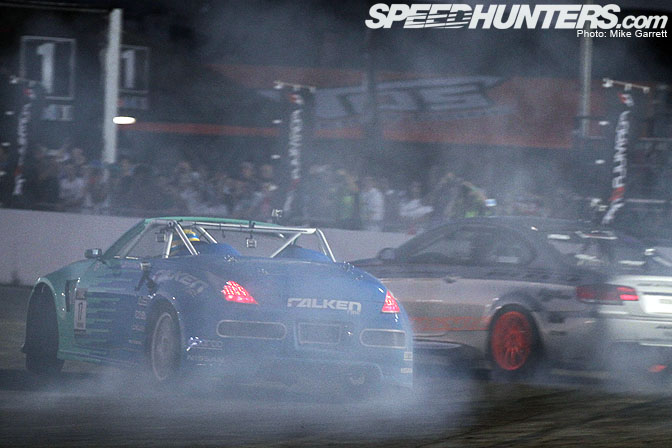 Side by side through the finish…But that gap in the beginning was too big for the judges to look past. They were very clear in the driver's meeting that they wanted to see us together in turn one and I wasn't. One more time is called!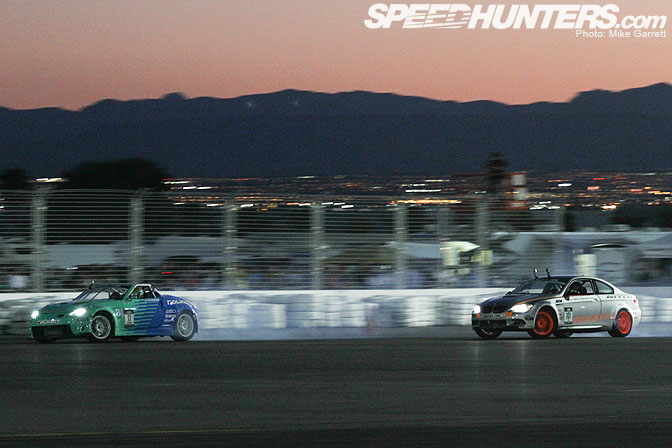 I pushed a little harder on my OMT lead run knowing Essa knew what to expect after our first battle. I also expected him to push harder too.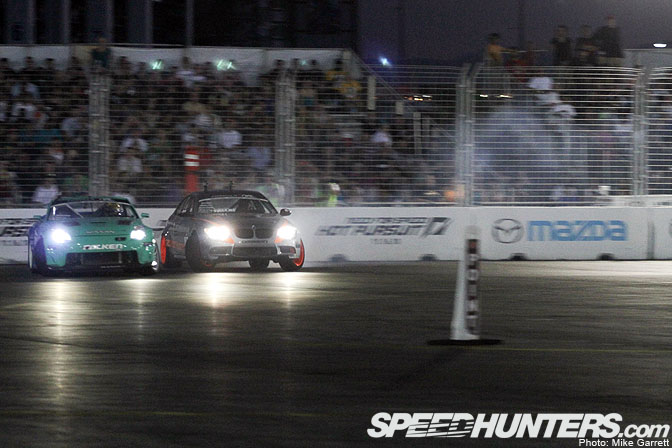 And push he did!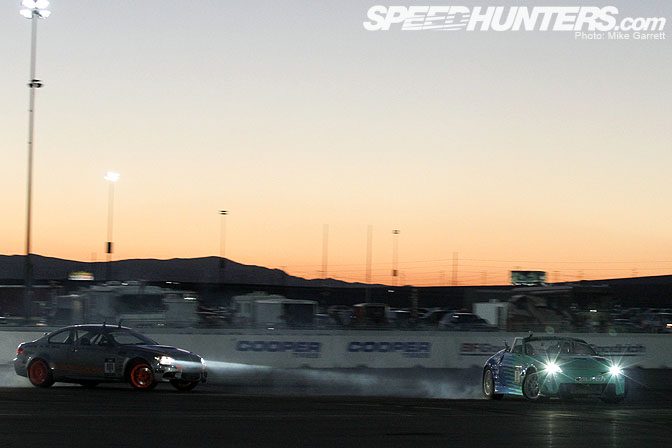 Like the first run, I slowly pulled out a gap on him throughout the rest of the run. This will give me the slight advantage going into my follow run.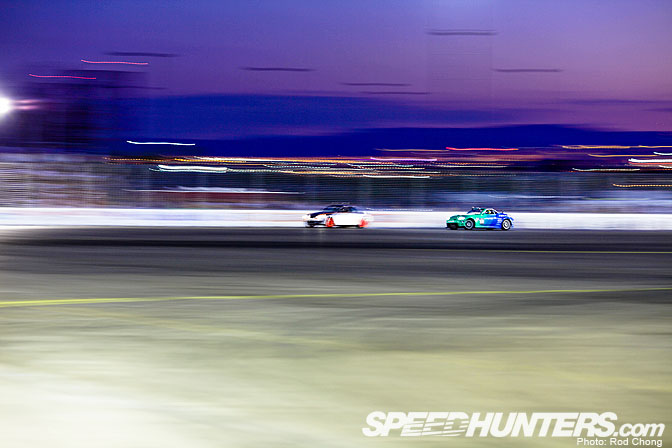 The only thing I need to change on my follow run to get the win is to
be on him going into turn 1. As you can see, I'm much closer on this run
compared to the first run. I still didn't want to be right on him where
it would force me to make a mistake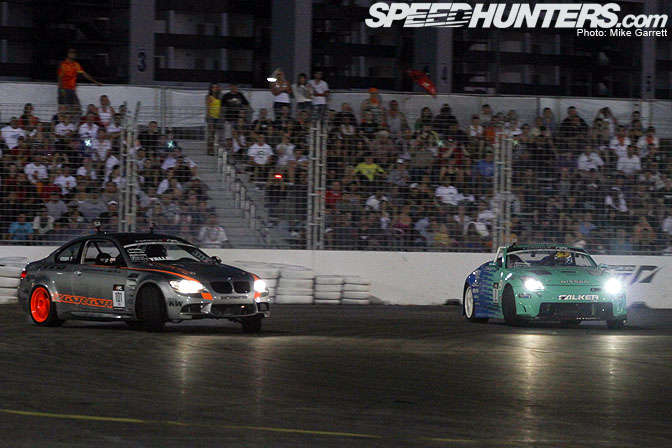 Essa was pushing hard on this run, but pushed a little too hard and went a bit wide going into the infield. It was a little tricky because I had to slow up a ton to not pass him. In Formula D the judges don't want to see you pass unless the other driver goes way off course and this is one of those situation where I'm thinking "should I… shouldn't I"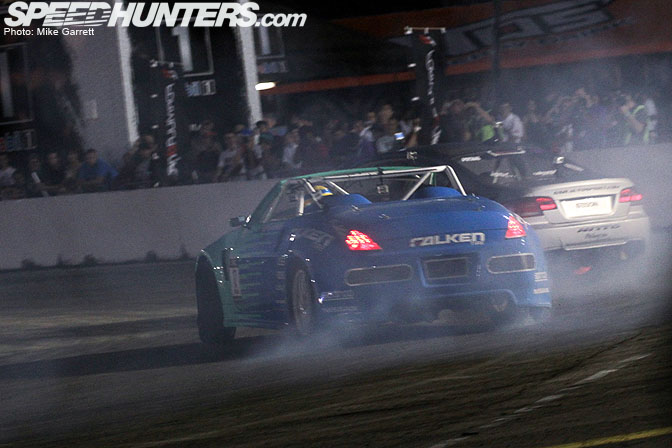 My Falken 615 K's have been giving me such good grip in these crazy
hot conditions. I'm able to close up on him at the crack of the
throttle.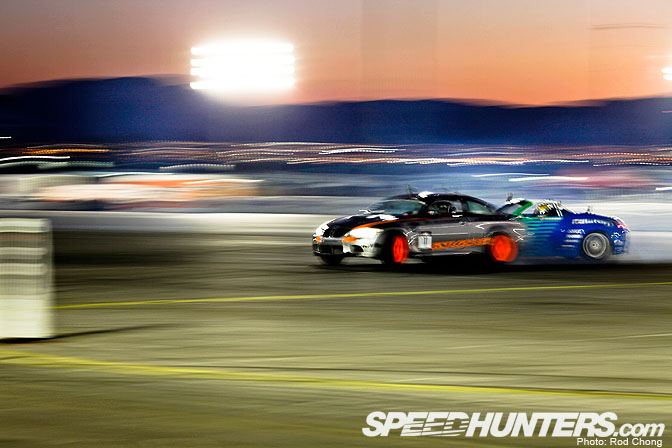 I wanted to make sure I got this one, so I closed up as close as I
could. Essa put up a good fight, but the win went to me. This year I've
been known to push a little too hard in top 32 and it's caused me to
make some mistakes. My new approach for top 32 is to just do enough to
move on and if that means I have to do a OMT, so be it. In the end, I
took the win and am moving on to the top 16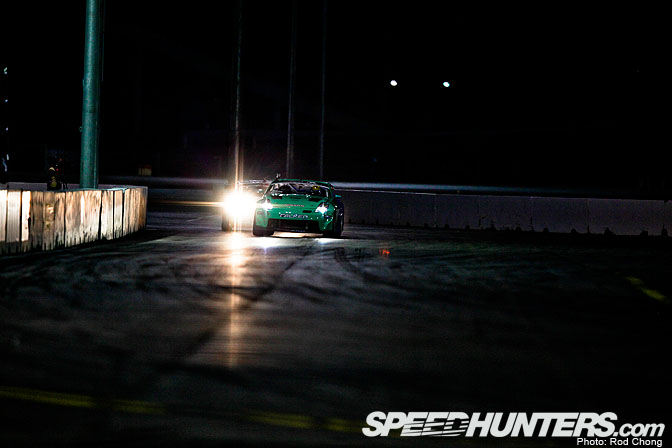 My toughest battle would come early in the Top 16 against my Falken
Teammate and friend (that's what I let him think) Darren McNamara. I
wish you guys could have heard all the trash talking going on between us
before this battle. All of the drivers on Team Falken give each other
so much crap, but it's something similar to the trash talking you would
have between your brother, or sister in Dmac's case.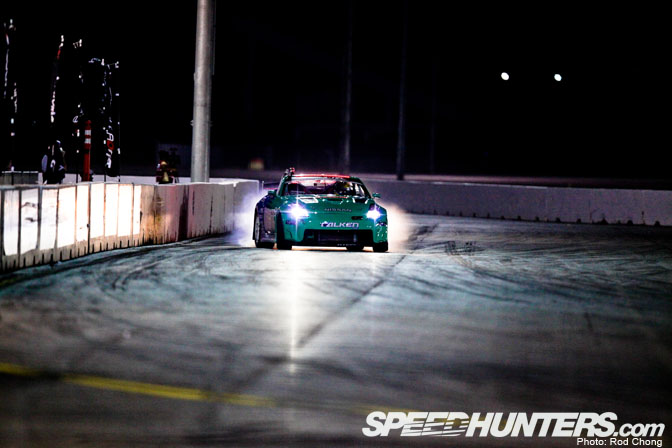 DMac is one
of the best tandem driver's out there. I was treating this battle like I
would treat the finals, "all in". In this pic we are entering at 90+MPH
and notice how you can only see my car. It's because DMac is right on
me.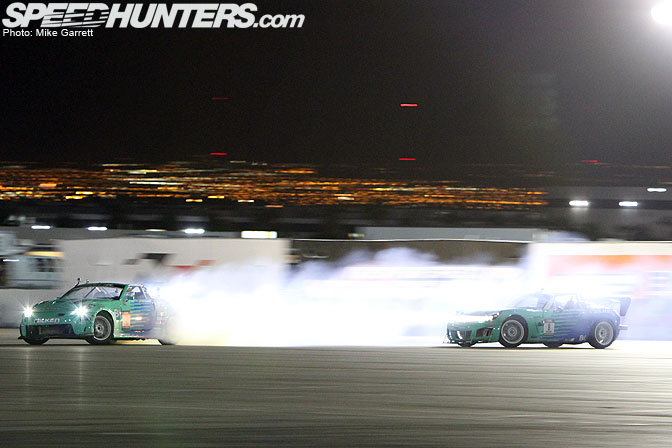 I'm on the gas hard and trying all I can to gap him. Our lines and
speeds are identical through turn one, which is why I'm trying everything
I can to just gain a little advantage in that section.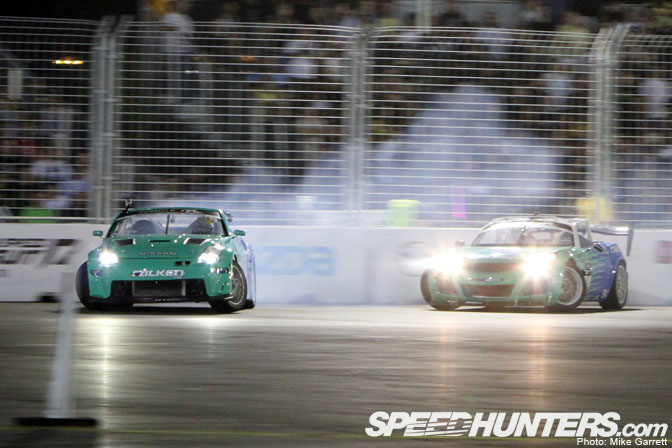 DMac was able to close on me a bit as we slowed up to turn into the infield.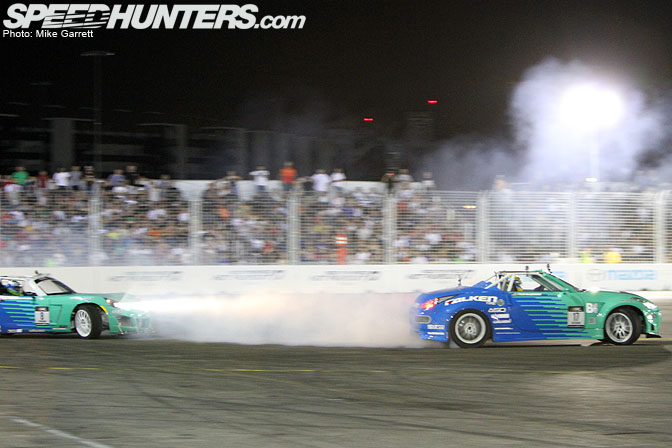 DMac's car has the name "bullet", so I know my car is working well when I'm able to pull away from that beast.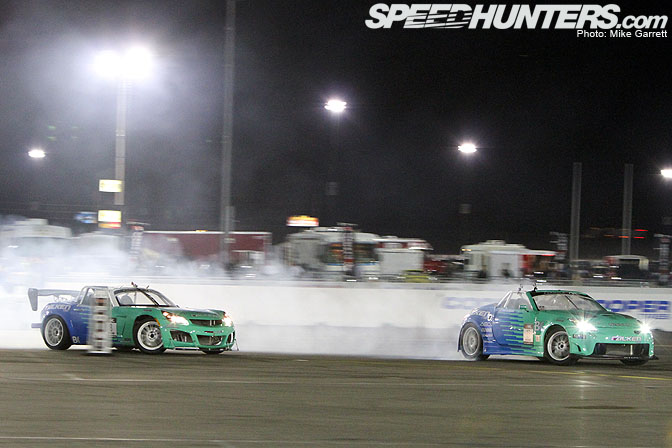 I'm driving like I'm getting shot at! It is working because I feel like I had a very solid lead run against DMac.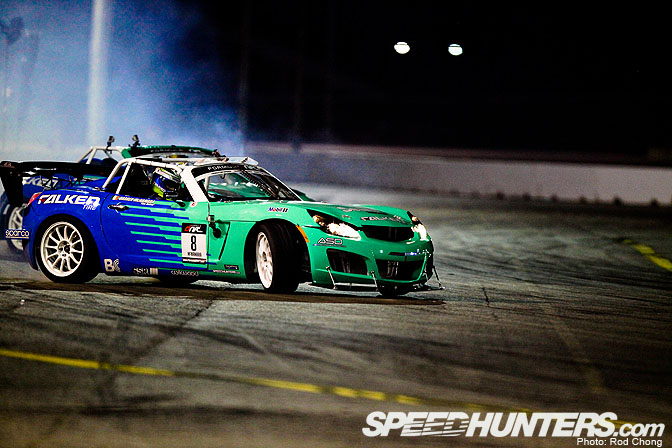 Darren's turn to lead and once again we entered on top of each other… so to speak. I also knew that DMac's strongest point of his run was turn 1. So If I could stick to him there I would have a good shot at pulling off the win.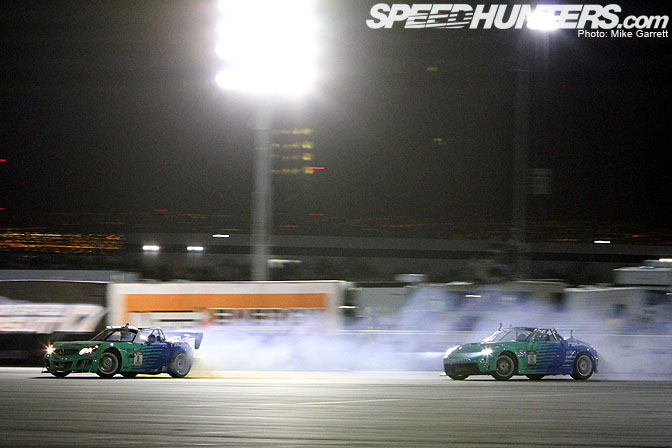 The "bullet" edges out a little bit on me here, but I'm not concerned because my plan is to close up in the infield.
This is exactly the shot I need to see from in my car! Nice and close.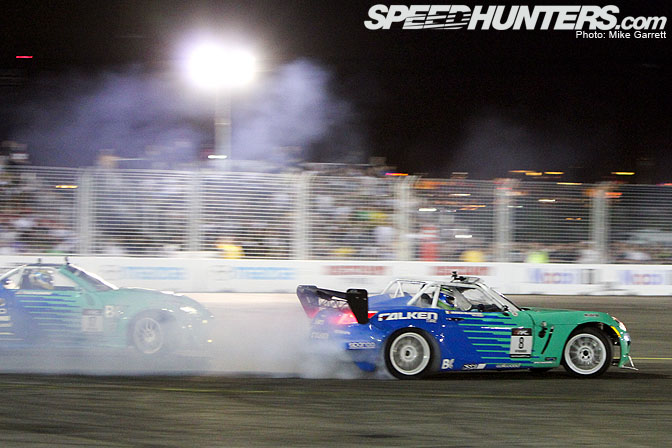 Kablam! There is the shot I'm looking for. I was able to close up on him in the section. The fact that I can do that against Dmac is a testament to my engineers Ian and Clay. They gave me an awesome set up, which made it fun to drive again.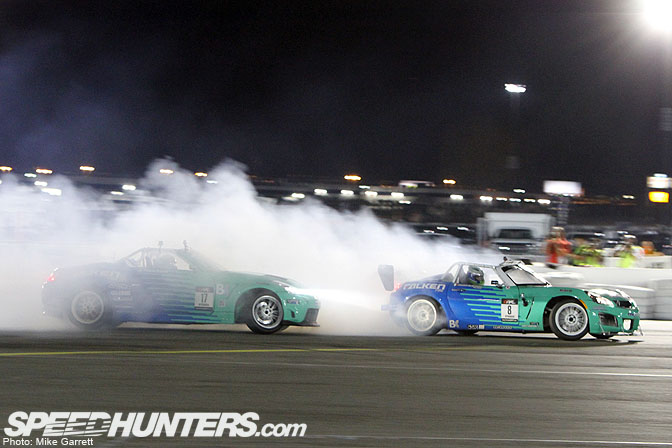 DMac trying to smoke me out here but I was able to stay nice and
close. We rolled back to the start line to get the verdict and to be
honest, I knew it was going to be close and thought we were going to go
OMT. The judges said I did a better job using him as a movable clipping
point, so they gave me the win. This was a HUGE win because I knew my
toughest battle was probably over until I got to the final.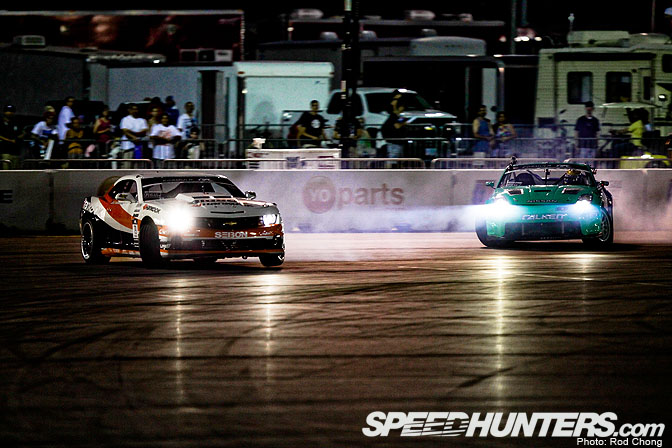 I had another tough battle in the great 8 against the number 2
qualifier Conrad Grunewald. Conrad and I have similar racing and
instructing backgrounds, so we always want to have the highest speed. I
remember him coming up to my car in practice and yelling "***, you
have the highest speed". I think I motivated him for qualifying because
he edged me out for the top spot in the speed department. I knew our
battle was going to be a fast one.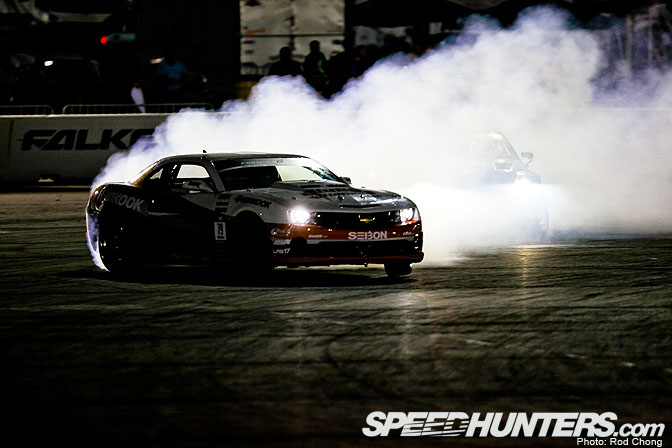 Conrad's car puts up a ton of smoke. I think you can see me back there… Anytime you go up against a car like his, you can't see much. Most of your time behind them is spent reacting off of memory and timing. You also get brief glimpse of where you are at when you transition from corner to corner. Those brief glimpses are usually just enough to let you know that you are on target or enough to let you know that you are screwed!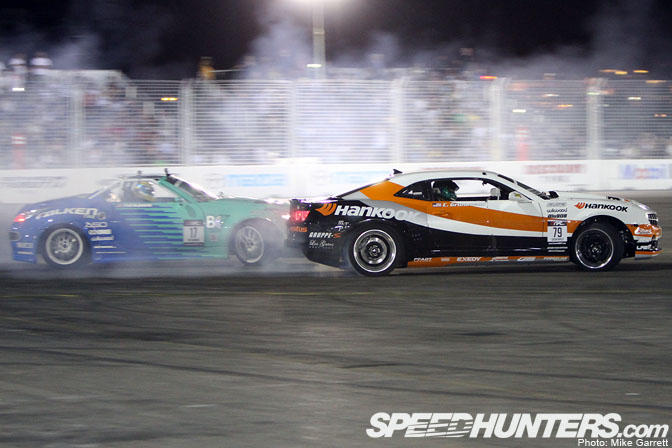 Like all my other battles, I was able to close up on Conrad in the infield. It is also easier to see the car in front the closer you are. This part of the track really sets the tone for the rest of the run and I was able to stick to him throughout the run. Feeling good with my follow run on this one!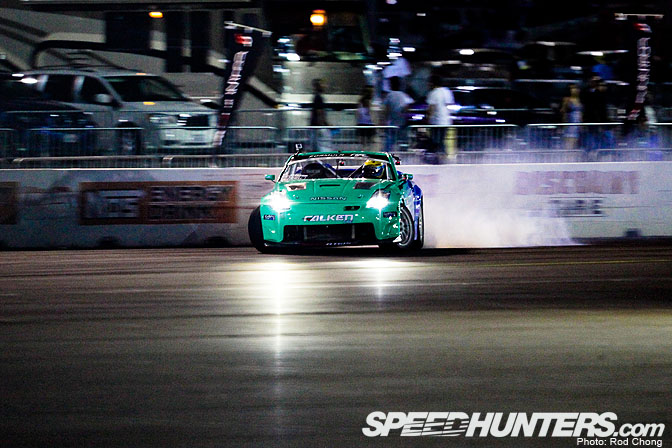 Again, I knew our runs were so similar in turn one. I drove in there as hard as I could and even gave the wall a little Falken kiss. I was really amazed all weekend that no matter how hard I drove into turn one, I never felt like I was going to run out of room (hit the wall). I think they should move the start line back next year haha.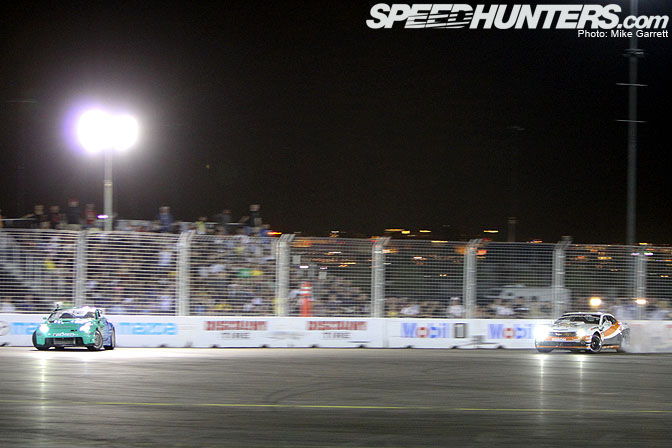 I think I even surprised Conrad on how hard I drove in there, which gave me a pretty big gap. I was feeling good, having fun, and had nothing to lose! It's Vegas for god's sake!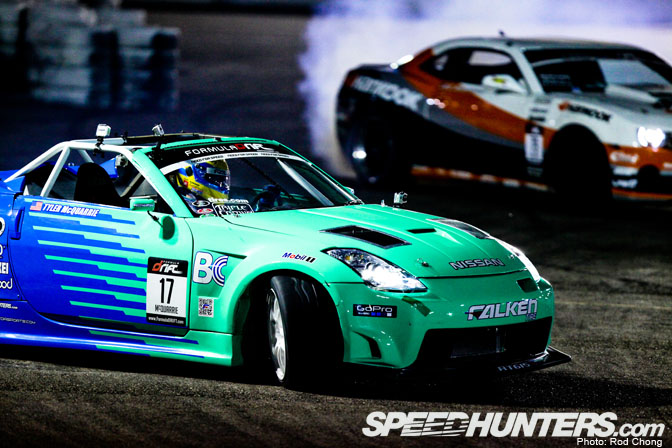 One of the hardest things in drifting is making up a deficit that was there in the very beginning. All I had to do at this point is hit my marks. I'm sure Conrad was thinking "Tyler spin… spin… spin…"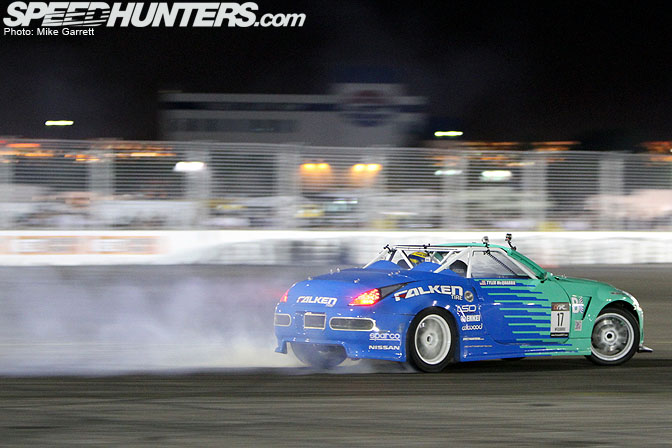 The win goes to me and I'm moving onto the final 4.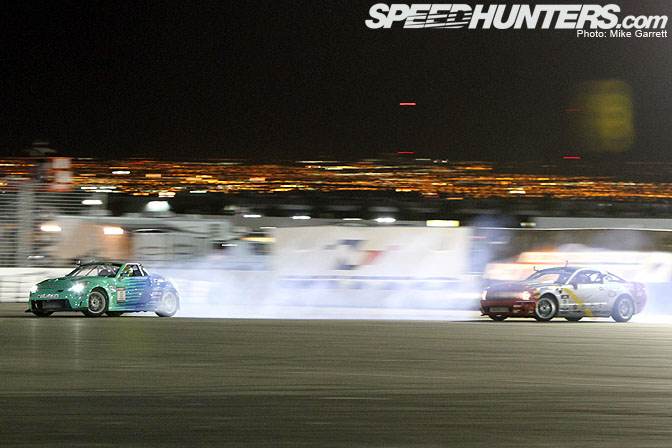 I was stoked to meet Tony Brakohiapa in the final 4. We both are
instructors at the Jim Russell Racing School at Infineon Raceway and I
have seen firsthand how hard he works to get to the Formula D events. He
has been looking good and consistant all weekend, which makes it much
easier to follow. I also know I have a slight advantage over him in
speed but he is going to drive the crap out of that Mustang.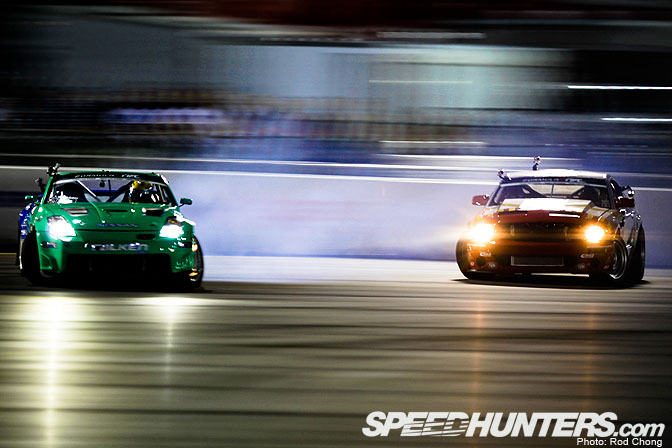 We both drove into turn one hard and Tony is not afraid to lean on the other driver, so I was waiting for a little tap…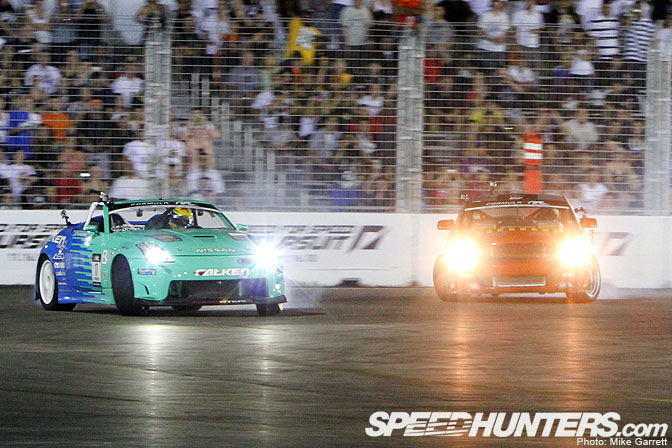 Coming into my best section of the track I was thinking that I would pull him more than I did. I think Tony has been making good changes to his car because he has gotten much faster. He stayed closer to me than most, so I knew that my follow run had to be strong.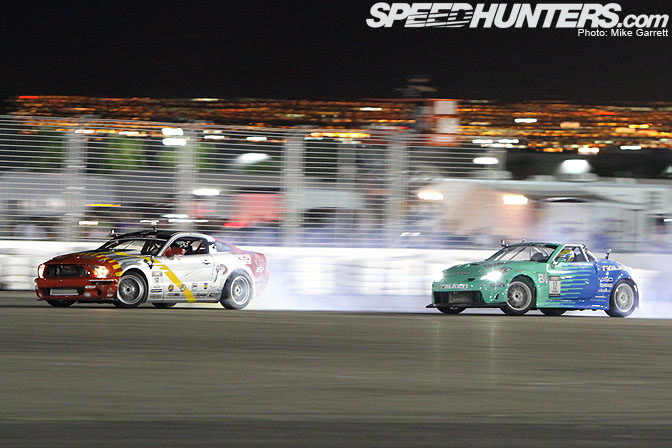 Our line and speed were pretty much the same going through turn one but my car had a little more side bite, which allowed me to close up just after this shot. Tony had grazed the wall a few times this weekend and I was just waiting something to go flying off because it looked like his body work was staying on with gum.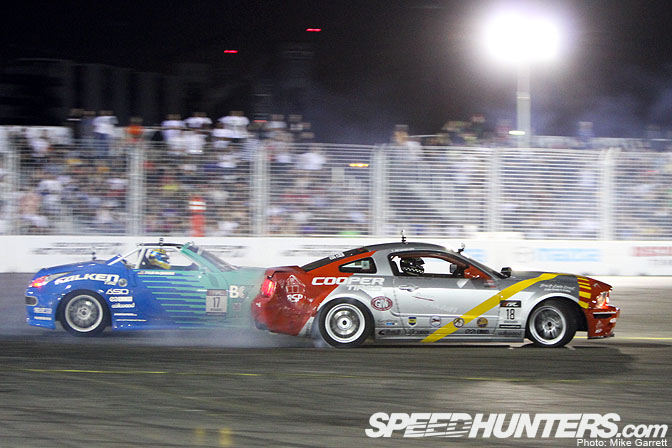 Thanks to the forward bite my car has, I was able to just sit on his
rear quarter panel. I remember thinking at this point of the track, that
the win is mine because I was doing a better job of staying closer to
him. Just need to finish the run first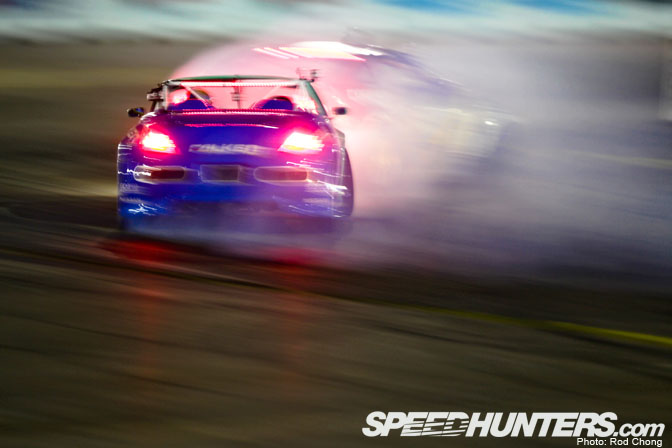 I'm trying to loosen up the gum holding on his bumper on here in this shot. In the end, I got the win! I'm guaranteed a spot on the podium and it's a great feeling to be back on there after a rough season. But my job is not done yet… I want to win this thing!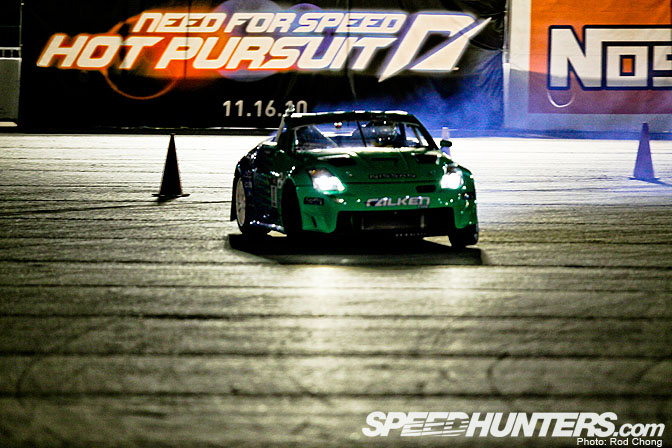 For the finals, I'm meeting one of my best friends in Formula D, Dai!
Dai's crew chief Scott came up to my car and asked me to give Dai the
pace cone, and I said HELL NO! JK , but then quickly changed my answer to
"of course"! So I knew there would be no games on the line and we would
just roll off together and get up to speed. We did just that, but just
that… We rolled off but never got up to speed and I knew he was having
some problems.
We almost came to a stop at the pace cone and then Dai
did a u turn back to the pits. I remember thinking "crap" and then I
soon realized I needed to just finish the run.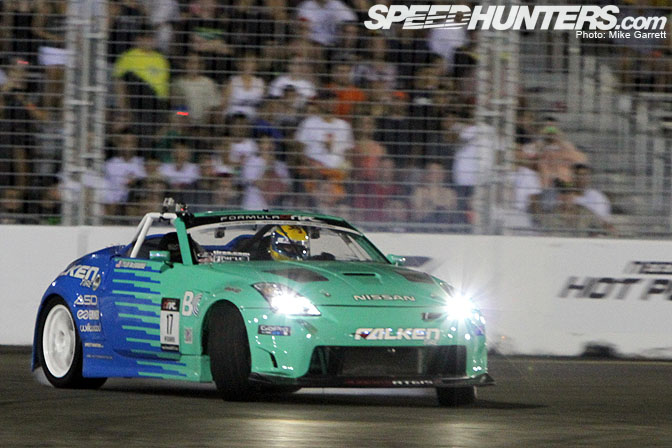 It was a little odd being out there by myself in the finals and not the way I wanted it at all! I rolled back to the pits after this run and drove up next to Dai and he just had his hands up in the air, saying he wasn't sure what was wrong with his car. I was told over the radio by my team to go wait at the line. Dai came running up to my car and pretended to be in his car next to me, like we are going to run or something. Dai told me they were done and congrats. I was bummed for Dai.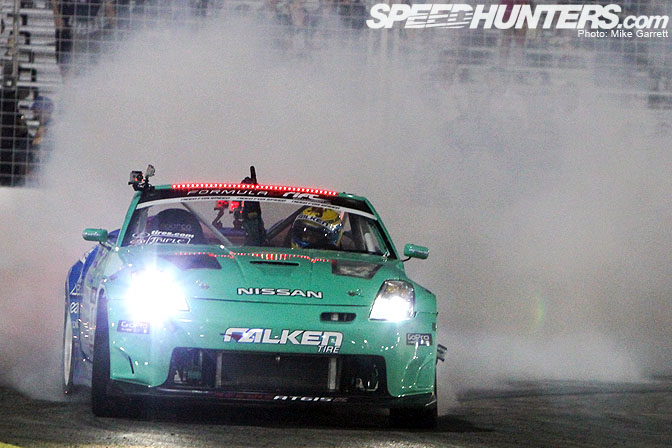 The win goes to me! Not at all the way I like to win, but I was
just feeling it all day and beating everyone I went up against was part
of my plan. This result is truly a testament to all the hard work and
dedication from ASD, Falken Tire, BC, and GoPro. I really needed a good
result and it's such a great feeling to leave Vegas a winner! I beat
the house!!!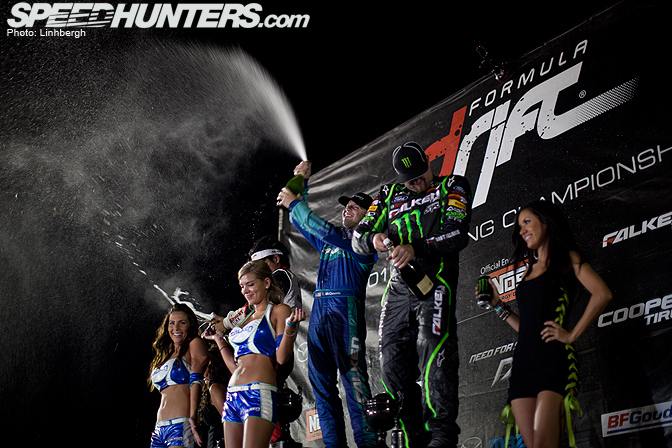 And to top it off, Falken Tire swept the podium for the second time!
So stoked for Team Falken and the awesome season we are having. Everyone
on the team deserves the success that has come our way. I'm thrilled
that I can check another in the win column for Team Falken, which
means four out of the five Formula D rounds have gone to Team Falken in
2010. Crazy, but not surprised.
-Tyler McQuarrie