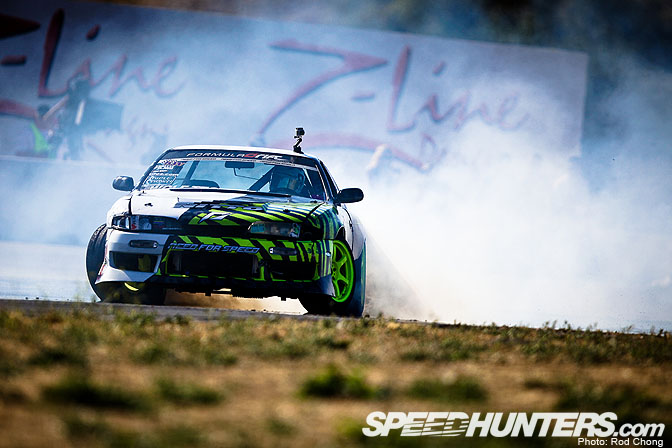 Just around this time last year, Matt Powers drove his green S14 harder than he ever has and made it into the top 4 at Irwindale. This year, he's had the opportunity to attend every round of the Formula D season and has experienced the trials, tribulations and triumphs that come in doing so. 
We had a chance to sit down with him in the wine country, of Sonoma, to talk about his first year as a professional, and his Sonoma experience.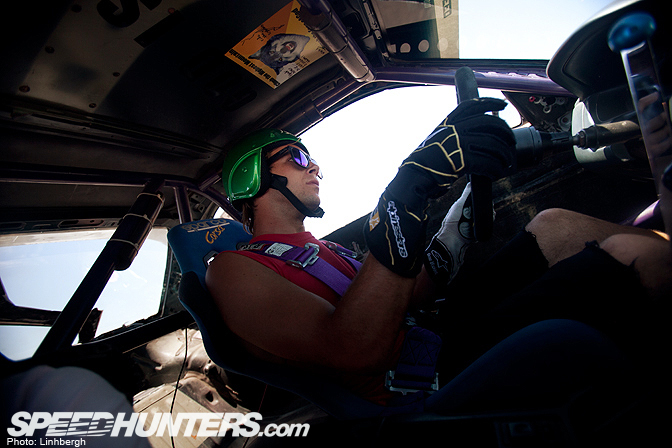 Speedhunters: For those who have no idea who you are, who the heck are you?
Matt Powers: Hello. I'm Matt Powers.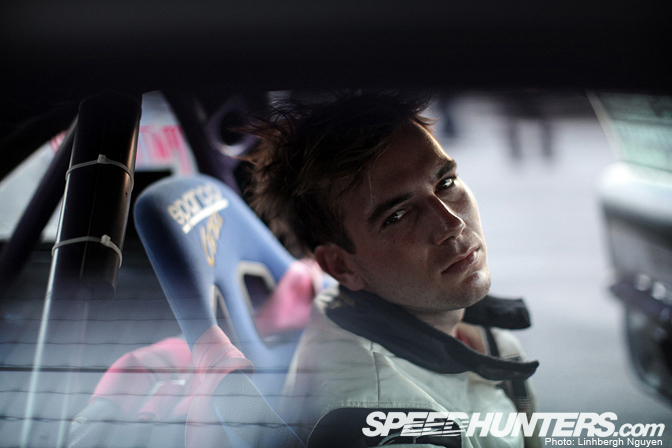 Speedhunters: We've already had an interview with you almost a year ago. How has your year been since Irwindale last year? 
MP: Ya, last year Irwindale was my first big SpeedHunters interview. I'm definitely in a totally different space and have a different attitude now than then. I've been super busy with drifting and my car this year just learning and gaining as much experience as I can. It was awesome to make it to the east coast and northern events for sure. It's also been a challenging year but super fun and very memorable.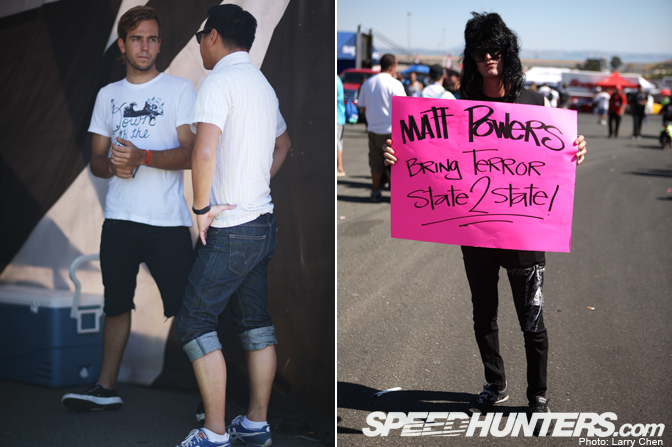 Speedhunters: Do you feel you grown as a competitor and as a driver?
MP: I know I have for sure. Sometimes I get frustrated because, in terms of finishes, I'm roughly in the same position that I was in last year. Yet, I know I have learned a lot about competing and I am improving in my driving as well as my car. The car is becoming drastically better from round to round. I'm also getting a lot more comfortable on the professional level courses, with competing in general, and lining up against the big guys. But I must acknowledge that I still have a long way to go.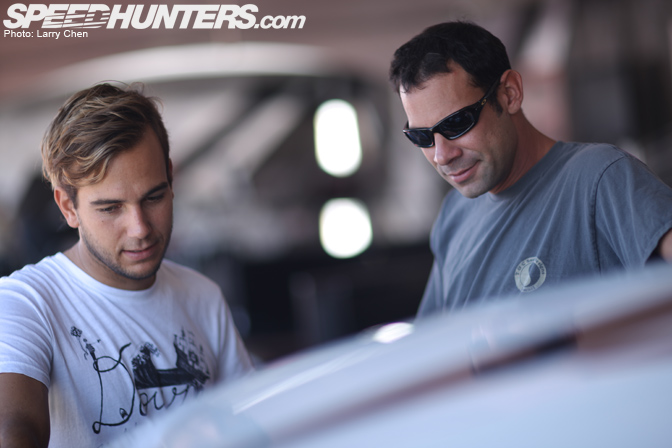 Speedhunters: What was the biggest challenge for you this year?
MP: There was nothing that was extremely challenging, I don't think. Managing my whole program, however, even though its smaller level one, is quite exhausting and time consuming. Another thing that has taken up a lot of time is trying to improve the car over the course of the "season", as well as during the preseason. A lot of the good information is quite esoteric and difficult to obtain. I also think learning how to push myself and focus as a driver during competition and each individual run, without overdoing it, has been a difficult yet important development for me this year.
Another thing that has proved challenging is coming up from being an amateur drifter. To me, it seems an easier transition to come from another type of motorsport or from being a professional in another country, in terms of general experience, help from other drivers and teams, obtaining sponsors, and so on. That said, though, I'm proud of the accomplishments I;ve made, and the relationships I've forged with other drivers, sponsors, and teams, coming up through the drift scene in the US and now competing on a professional level.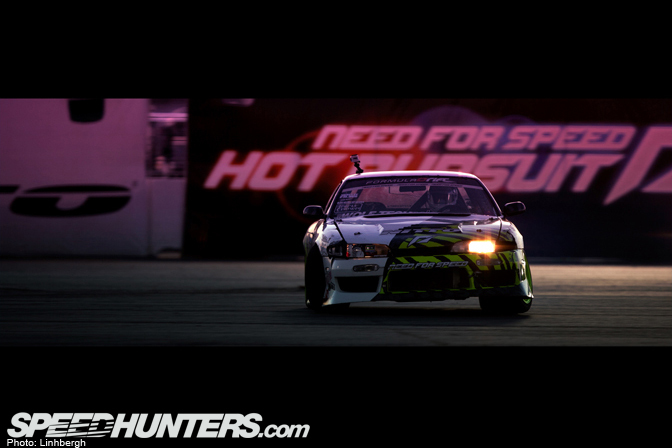 Speedhunters: It seems as though your car is getting a bit higher per round, are you starting to compromise the style that you've become known for the sake of becoming competitive?
MP: Car style is not what I want to be known for. I would like my car to look as cool as possible granted, but this is a competition, not a car show. When that is a critique someone levels against me I want to say I don't take them very seriously in their opinion of or understanding of professional drifting.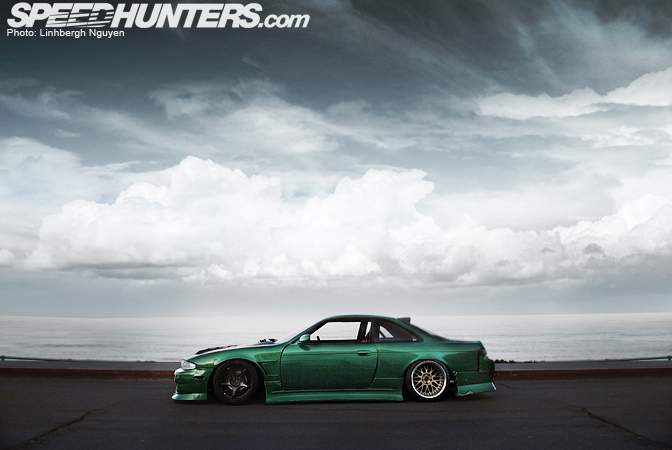 Last year when my car was super low I didn't criticize other cars, I just did and still do my own thing. I want to do well though and will do what it takes to do so. I think having the most impact and looking best on the track–in real life–is more important than looking good in a photo–a fraction of a second abstracted from life–or while in the paddocks. I think personal outlook and style should be noted too, not something so crude as just the way a car looks. Lately, I've been comparing professional drifting to professional surfing a lot and its starting to be an influence on my larger "vision" of the relationship between pro drifting and myself.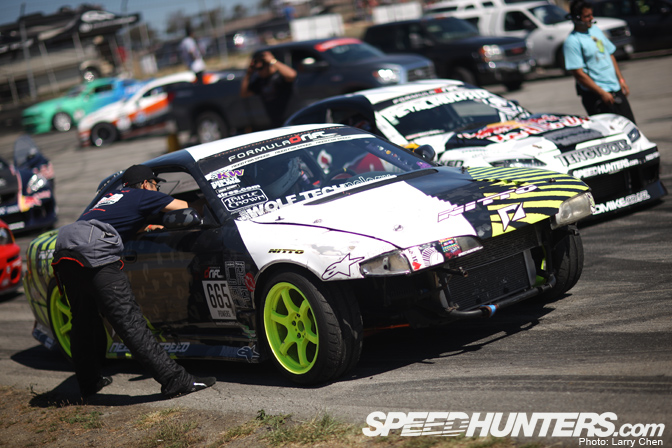 Speedhunters: What do you like most about Formula D?
MP: On the whole its really fun and a good scene. I like pushing myself and doing new things. The actual competition is starting to weigh more and more heavily into my overall experience of the weekend now as well. Just having new experiences and the future being so open is awesome.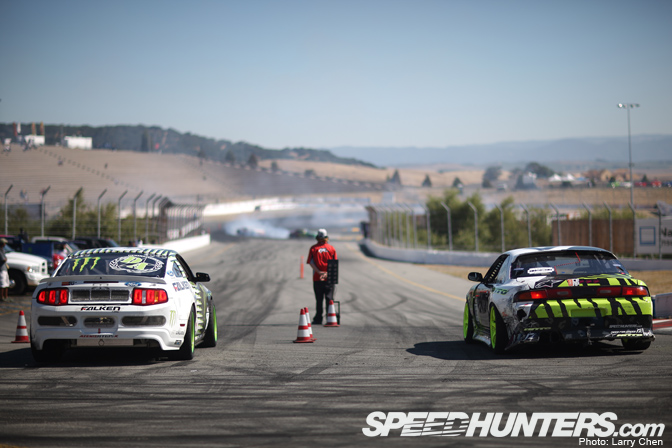 Speedhunters: Is there anyone on the FD grid that sticks out to you the most as a person, driver, contributor, manager, fan of the sport?
MP: Hmmm, I don't know… A lot of people put in a huge effort. I like JR's attitude. He lacks resentment which is both hard and important, I think. I have been liking Dai's driving a lot lately. He is also very cool and his car is my favorite in the field. I'm hoping to give him some surfing tips in exchange for drifting ones. I like Mike Kojima's, of MotoIQ, facial expressions and manner of speaking. It always makes me laugh. I like Tanner Foust's driving a lot right now too. I guess I just look at everyones team dynamics, as well as their logistics and reinterpret them to try to get serious ideas about how to manage my own program.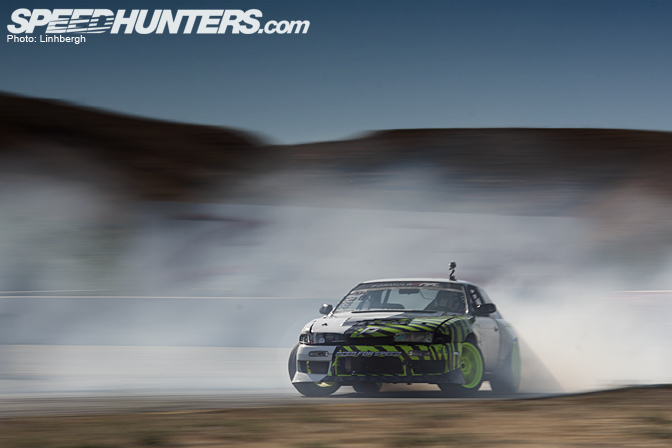 Speedhunters: What was the hardest thing you've ever had to do in your drifting career?
MP: The actual competition is pretty hard. Also this year has been pretty hard in terms of energy expended and working within my budget. A lot of very late nights and energy drinks. I'm pretty much a one man show. Though, my friend Nate spots for me but I don't have a pit crew. This year I've devoted everything I can to my drifting in Formula D. I've moved into the garage at my friends house to save money and ultimately focus towards FD. But it's two blocks from the beach so I guess I can't complain haha. Choosing my sponsors and new direction for this year was also a very big and largely thought over decision.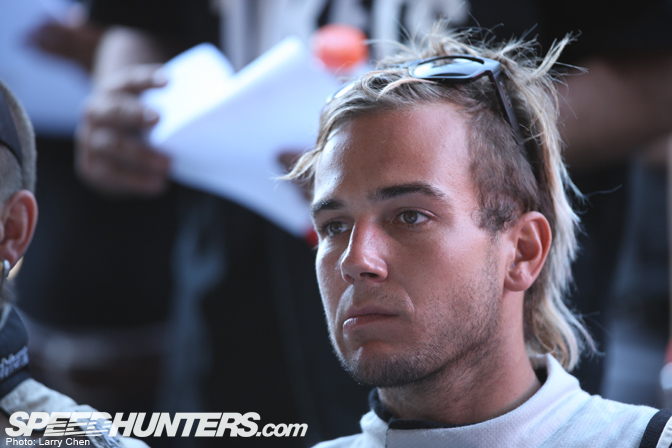 Speedhunters: What do you dislike the most about Formula D?
MP: How weighted the emphasis is on results. It is important but there are other important factors too. But here, I don't mean Formula D but, more generally, professional drifting. Some driver might be in the top 16 or top 10 in the rankings but this doesn't necessarily generate interest. I can think of multiple people in the top 16 who create less interest and get less media than myself (24th). I don't think there is anything wrong with this. In pro surfing there are tons of pros who don't even compete. In fact, some of the biggest surfers have taken breaks from the tour or dropped off it. I also think the expectation of the drivers attitude and public image is so different than other professional lifestyle sports like surfing and snowboarding. I guess its a totally different field. But the "athletes" are expected to be so much more professional and dorky than in other sports. The branding seems different, I guess? I'm lucky to work with Need for Speed as they are super cool about this and are really stoked on the personality aspect. Or maybe it's just me thinking that surfboards are cooler than cars? I don't know.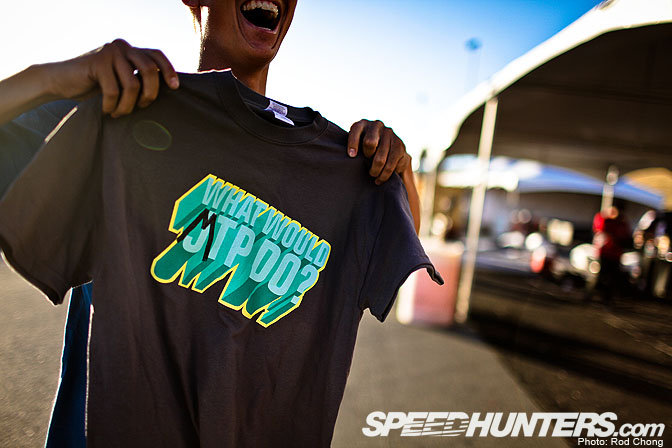 Speedhunters: Do you have any rivals on the 2010 grid?
MP: Not really. I always mess with JTP about qualifying rankings, aggressive entries and what not, but It's not very serious. It's just so easy to push his buttons. I think the biggest rivalry right now is between JR and Dai. Dmac and Tanner had a good one going too.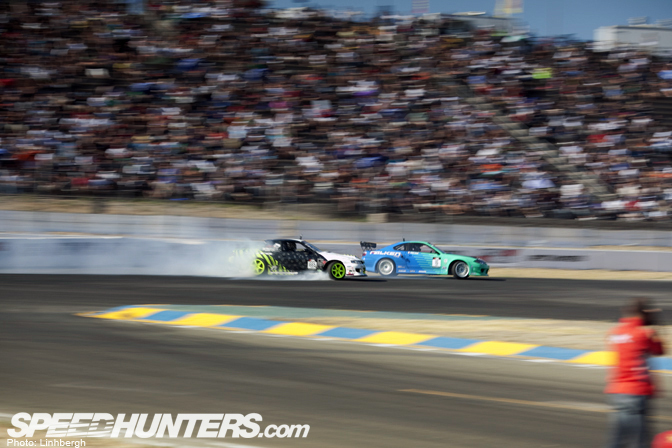 Speedhunters: How do you like the Sonoma round of Formula D?
MP: I love Sonoma. Along with Vegas it is my favorite track. I qualified 12th there last year too.
Check out this video from Mark Lenardon recapping my weekend in Sonoma.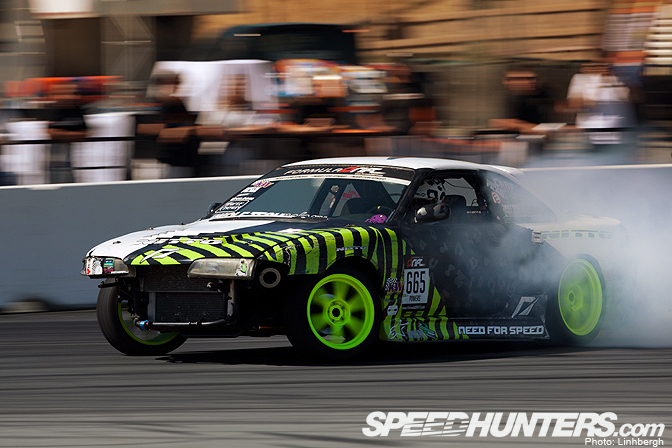 Speedhunters: Discuss your qualifying runs.
MP: My first qualifying run was kinda a mess with a huge correction. My second qualifying run felt way more aggressive and much cleaner. Yet, my first one scored higher. I was really confused and a bit upset at the results. I ended up talking to the judges after to figure out what the deal was. I think a lot of people had similar feelings during the day.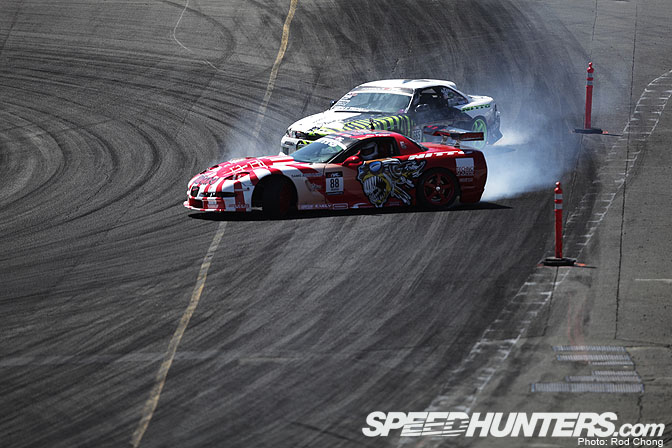 Speedhunters: Discuss your Top 32 battle.
MP: My top 32 battle was with Alex Pfeiffer, in the Tanaka corvette. They are also part of team Nitto. So, I knew he would have good grip and be fast. I've run against that car before (when Conrad was driving it) and I know it's crazy fast. Before we matched up, I told him I would launch a little before him off the line and just floor it since that car is so much faster. Otherwise, he'd have to go so slow. And it's boring for him and the fans. This worked out well. I was right there with him at the entry, then he spun. Well he didn't totally stop but I thought it was a spin. At that time I radioed Nate really concerned that maybe the judges wouldn't think that was a spin for some reason.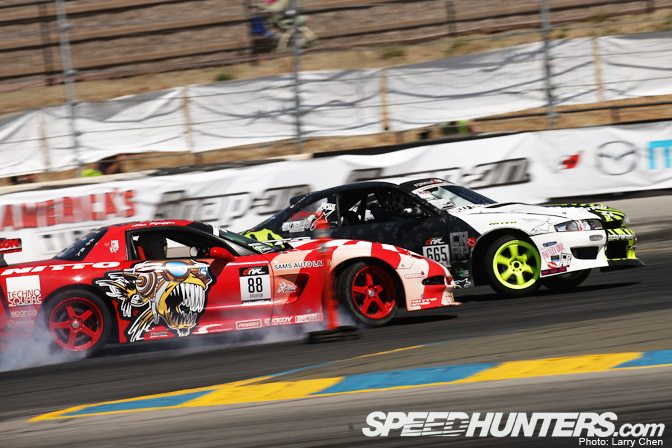 I didn't want to sandbag on my lead run so I threw it in hard. Alex chased me really well the whole way but it wasn't enough to recover from his spin.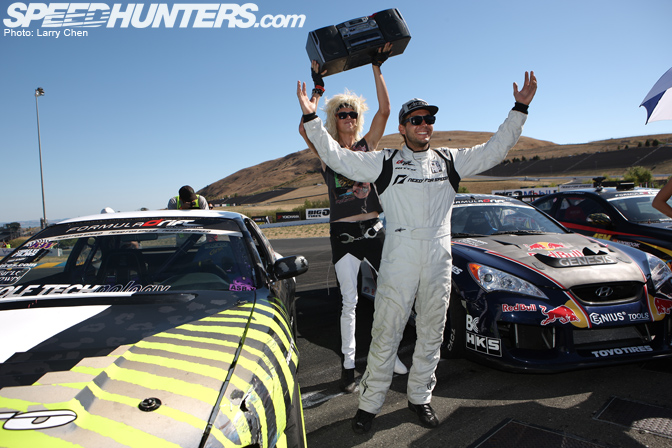 Speedhunters: How did it feel to finally break into the top 16 for the first time this year?
MP: It felt really good. I was frothing. Much more excited to make it this time than when I did last year in Irwindale. I was just thinking "finally." A lot of people said congrats and were also stoked for me. I think 16 is a bigger deal this year than it was last year.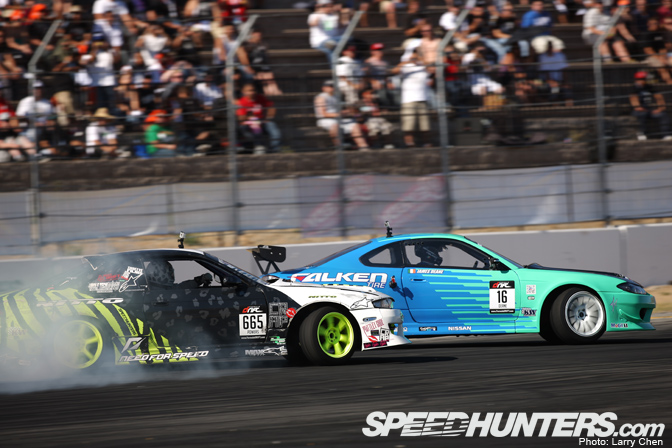 Speedhunters: Discuss your Top 16 battle.
MP: I was paired up next with James Dean. His car is a bit faster. But overall, I think the chassis are pretty evenly matched. Heading into the drivers introduction I noticed my volts were low (10). I freaked out because I knew that's not enough to keep my car running when it hits boost. We ended up having to run only on the battery and having to borrow a new one from Forsberg and Kevin Wells (thanks!). But I knew it wouldn't last very long since my system wasn't charging the battery at all so I was a little freaked out. I also had new tires that I decided not to do a burn out on, to break them in, so I could save the limited battery for the run when I needed it most.
It was time to go. I initiated hard behind Dean with a significant amount more angle than him and started to close on him hard. I ended up washing out behind him and dropped two wheels in the dirt. At that time, he was able to pull a large gap on me. I basically had a huge correction from trying to push it hard and also being freaked out combined with new (not broken in) tires. I was so excited to drive hard after watching top 16 all year and how hard everybody is pushing it.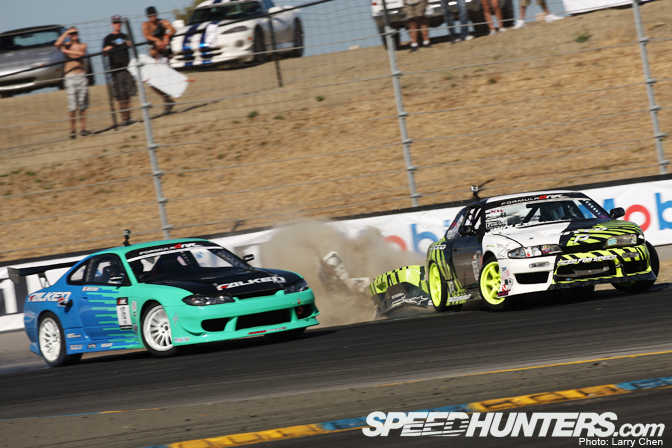 It was finally my turn to go put on an amazing show. Just a little too hard given the circumstances, I guess. Leading, I knew then I had to do something awesome for my only hope. So, I just threw a huge early entry with a ton of angle. I think it was one of the best entries by anyone all weekend (check out Mark's video above). But Dean kept his cool behind me with less angle but with no errors and got the win. I really wanted to meet Forsberg in the top 8.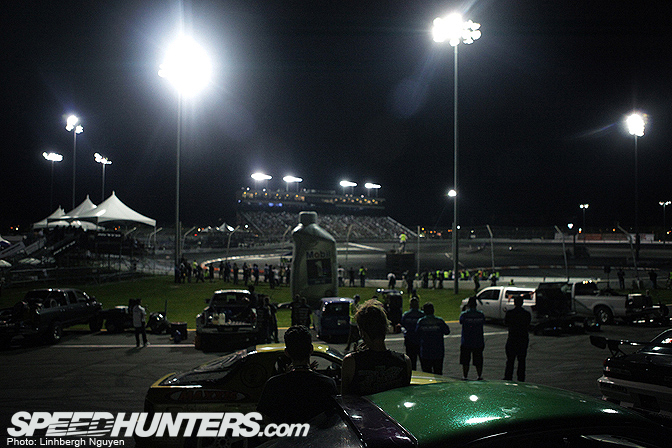 Speedhunters: We're now coming into the final round of the 2010 season, what preparations are you doing mentally and to your car for Irwindale?
MP: Very small change for the car. Nothing major. I have to fix the charging system too still. Mentally, I don't know. I just went on a surf trip to El Salvador which was awesome. Just trying to relax and have fun. I'm also going to China for the WDS event. I have to have my car all set and packed before I leave to help me relax leading up to Irwindale. I got 4th there last year. So, I know I can do well at Irwindale. I just am going to try to be really aggressive since its the last event of this season its not as big a deal if I blow my motor or crash badly.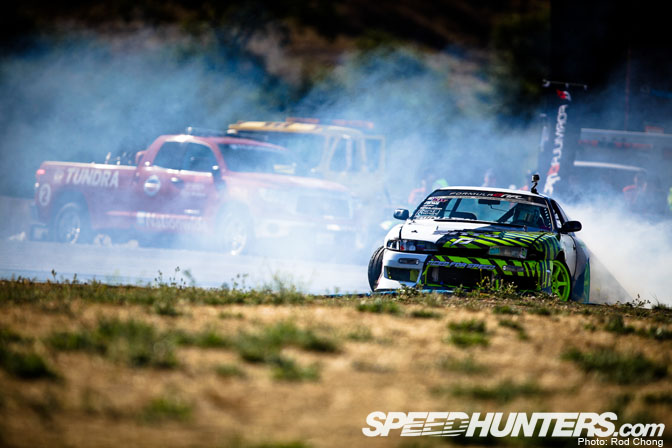 Speedhunters: Where do you see yourself next year and in the years to follow?
MP: A lot is still up in the air. But probably still managing my own program, albeit a hopefully larger scale one, better car, pit crew, etc. I'm either going with a v8 setup for next year or trying to do anti-lag or something on my KA. I feel as though I'm at about the limit of reliable power with my current setup and definitely want to step it up for next year, so we'll see. I'm shooting to finish in the top 16 overall next season. I just started to get my website going, driftparty.com, so that will be a focus of mine next year as well. In general, I am just going to rape and pillage everything.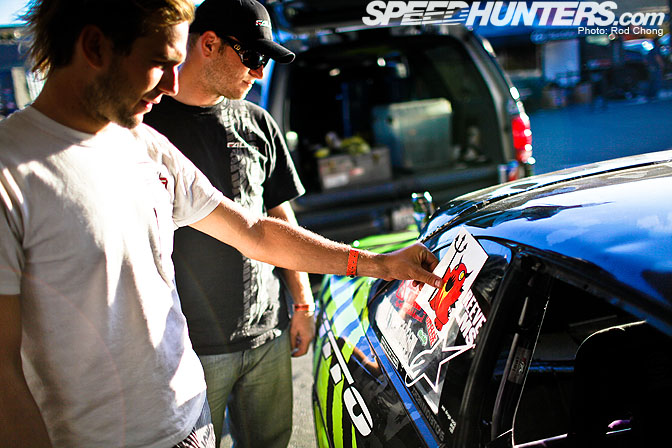 Speedhunters: Any final words before we end?
MP: Thanks for reading and thanks to my friends and to my sponsors for an awesome year: Need for Speed, Nitto tires, Alpinestars, Jim Wolf Technology, Part Shop Max, KW suspension, and Drive Shaft Shop.