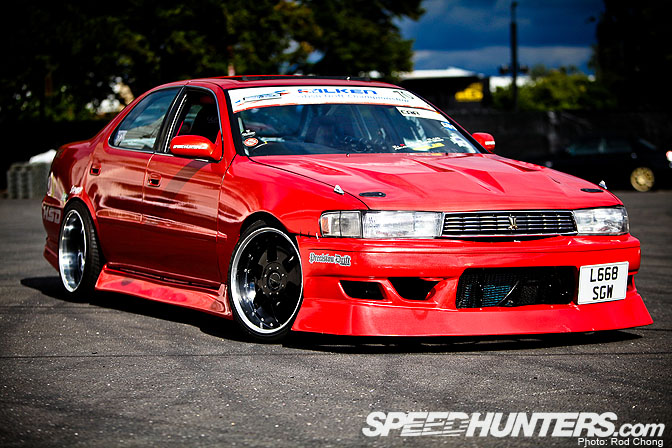 I'm now back in Vancouver, having crossed the planet to be reunited with my lady and leather couch! Fantastic! It's been a heady few weeks with back to back trips to Utah, Nevada, London and soon California and Portugal… I think I'll need to sleep for several weeks once this round of travel is done.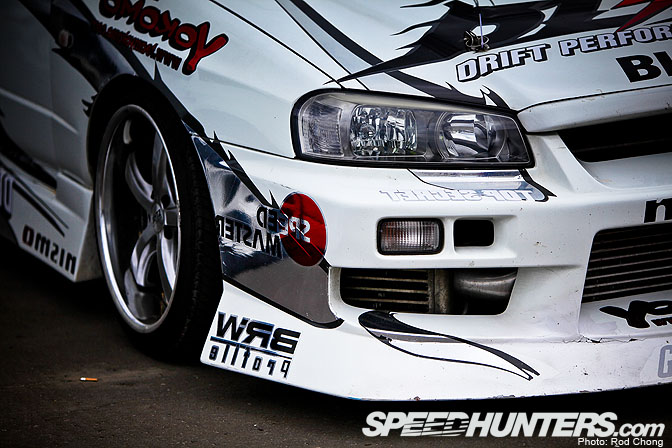 So two days ago, I had dinner with a few people from Nissan Europe at a fancy restaurant in London. We got to discussing European drifting and how the community is rapidly evolving to a level on par with any scene around the planet.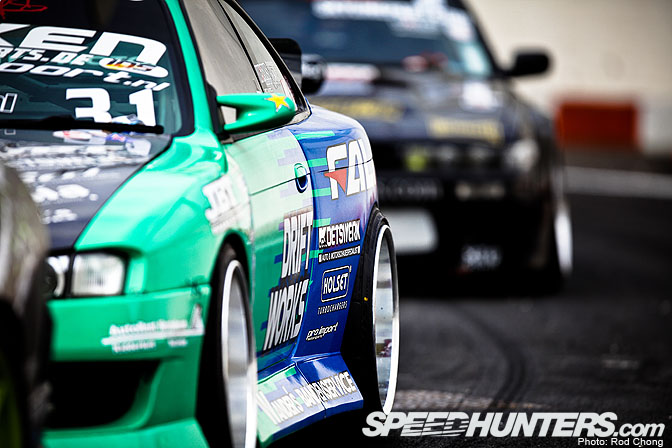 So help them visualize this better, I pulled out my iPhone and showed the Nissan crew this very set of photos from JDM Allstars Wembley.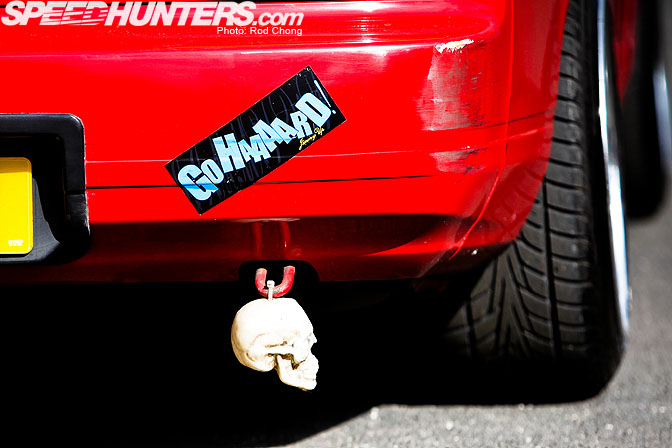 It allowed them to see the UK drift culture that exists around the S-Chassis…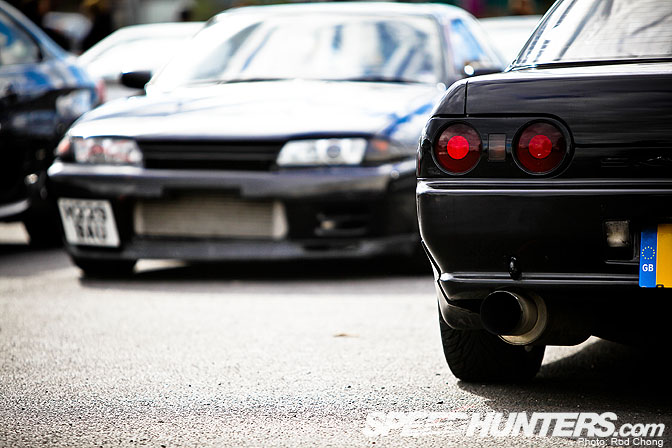 And the whole UK cult of the GT-R…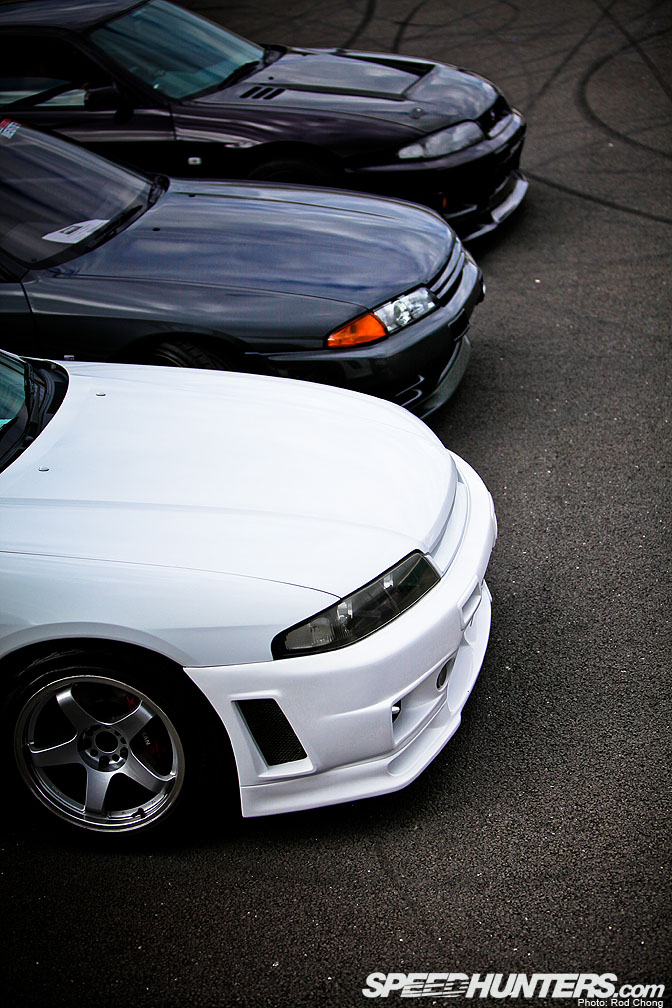 … Which was out in force in the Wembley parking lot.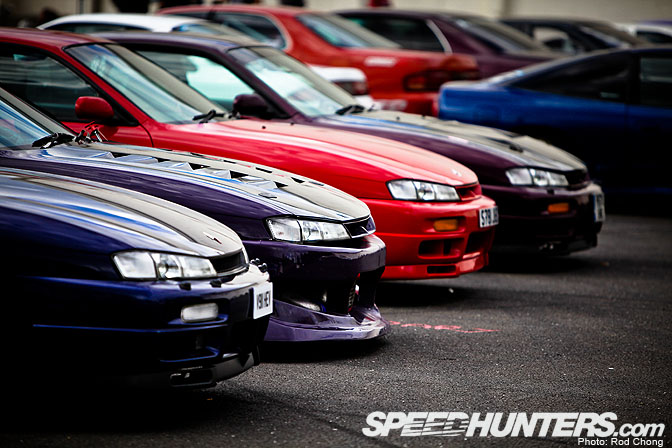 I found the car show quite interesting to check out.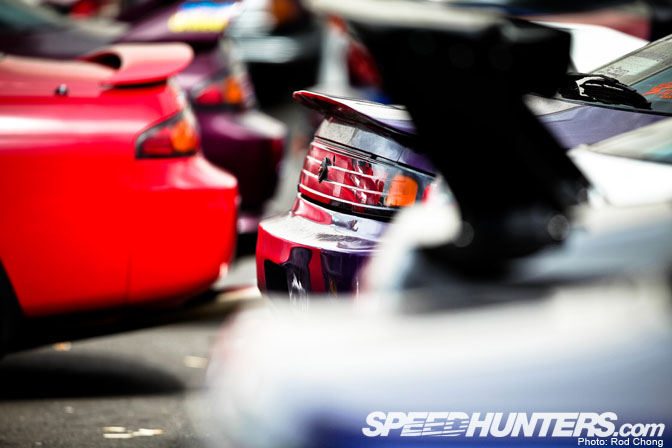 There were many elements in common with the North American street drift scene.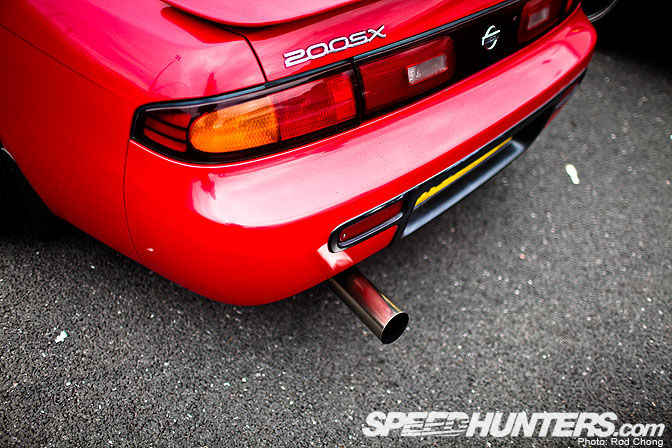 I suppose this is the nature of the global world we live in. People from all corners of the globe are constantly influencing each other.
BTW Notice that a S14 is called a 200SX in this country.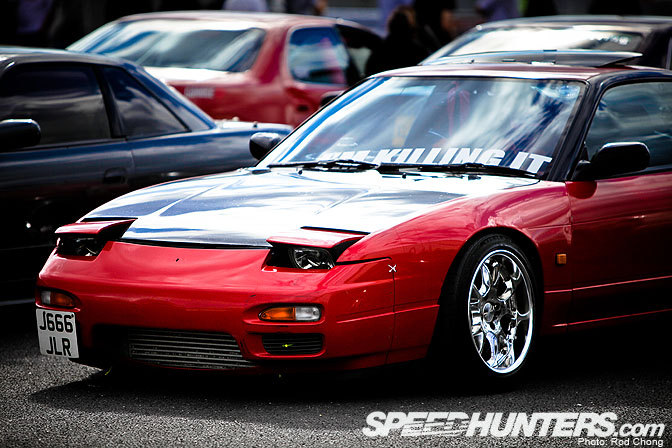 The slogan on this S13's windshield is a perfect example of cross-culture influence.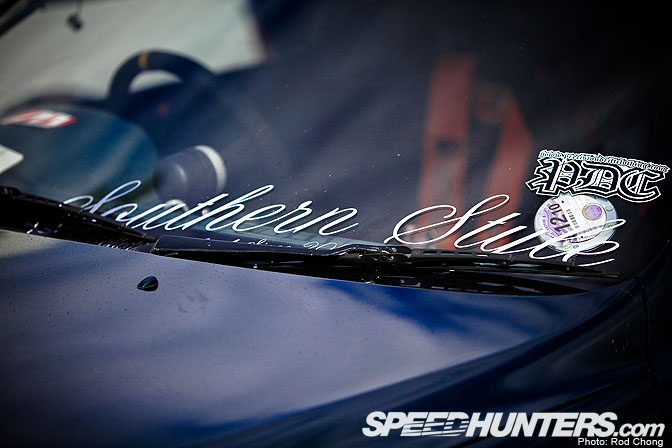 It's been a couple years since I've been to a European drift event, and it appears like the scene has progressed quite a lot in this time.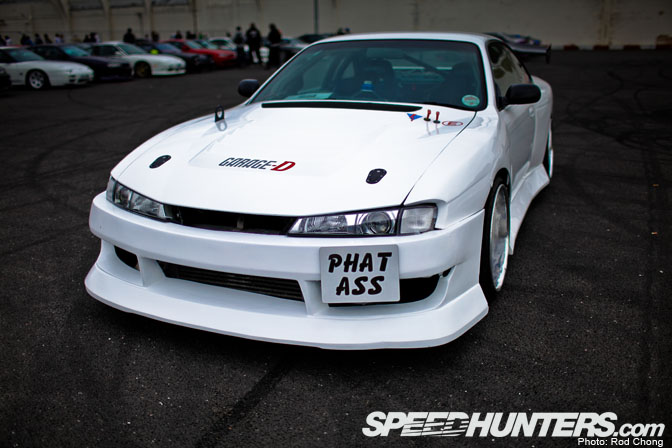 Street drift style is coming on strong in the UK, with an increasing number of cars being built to good aesthetic standards.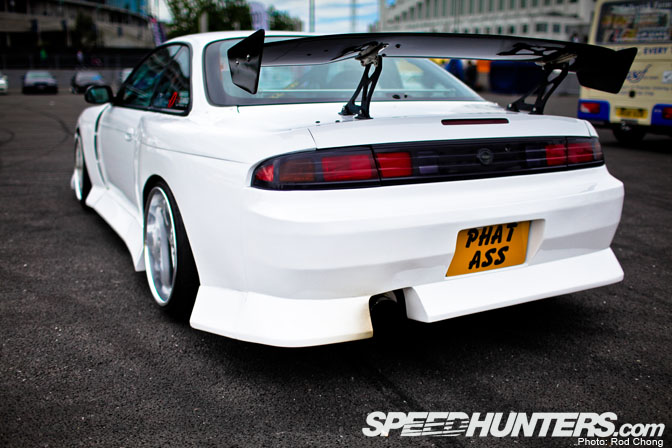 Most of the competing cars are street legal to boot. It seems like a wildly modified machine is pretty easy to road register in the UK, unlike most other countries.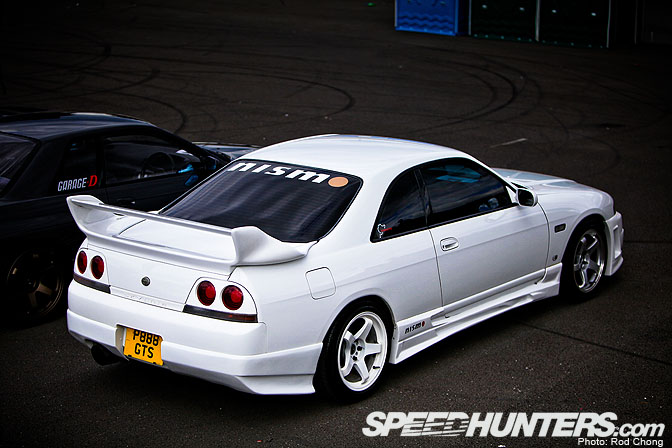 Let's take a look at a few more of the Skylines. This is a community which definitely does NOT exist in any comparable way on my side of the Atlantic. The UK Skyline scene is miles ahead.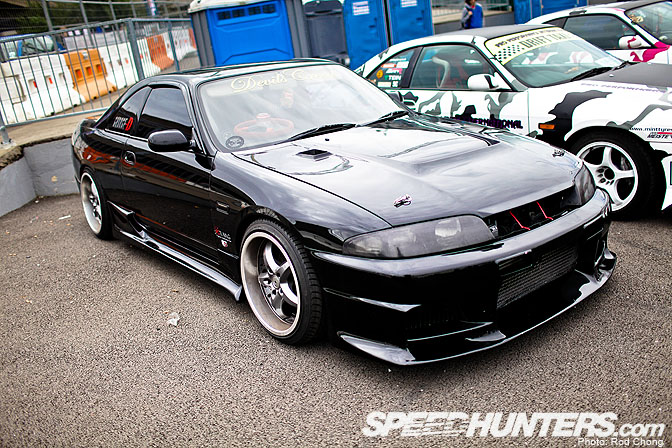 This R33 was looking pretty mean. It was one of my fav machines in the parking lot.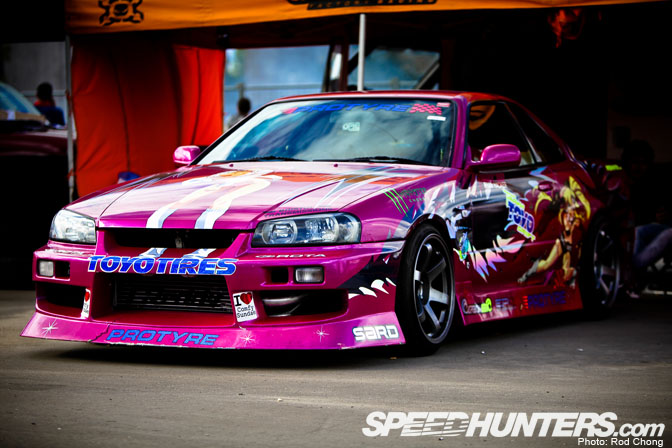 I'm sure a few of you will have some commentary about the rims on this ER34…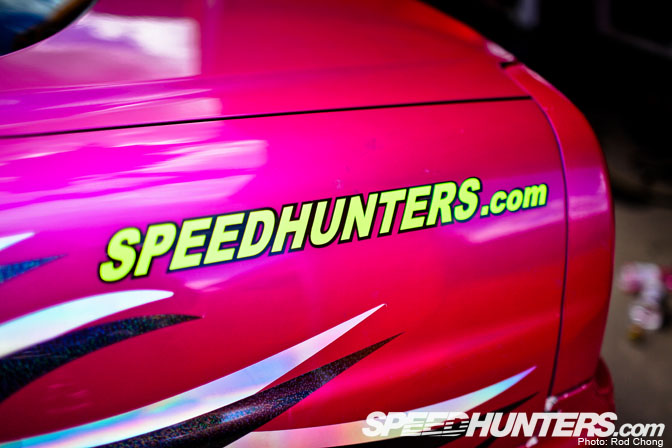 But I was intrigued that the owner of the car had printed their own Speedhunters logos. Hey guys I can send you some REAL logos if you get in touch!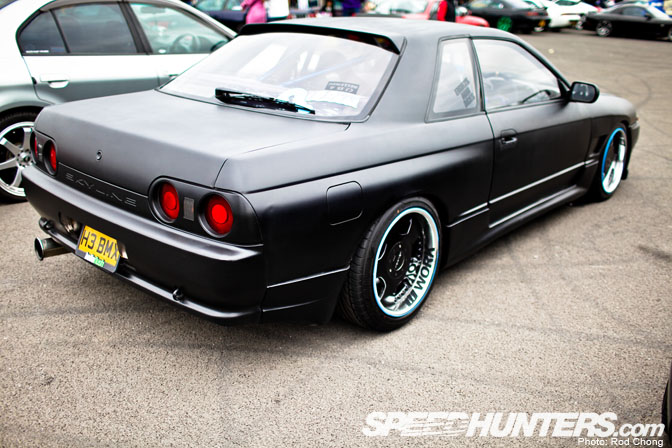 The flat black paint on this R32 was good enough to warrant a snap… but what really took my interest…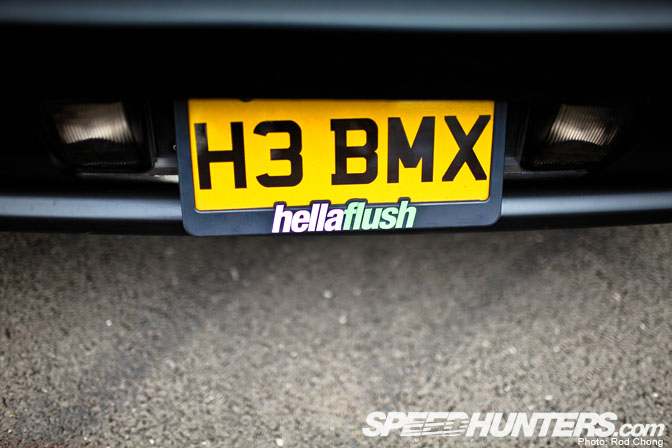 Was that the owner had gone to the trouble to import a Hellaflush license plate frame. It seems like the whole Fatlace/Hellaflush namesake has made a bit of an impression in the UK… I'll return to this theme in Part2 of this article.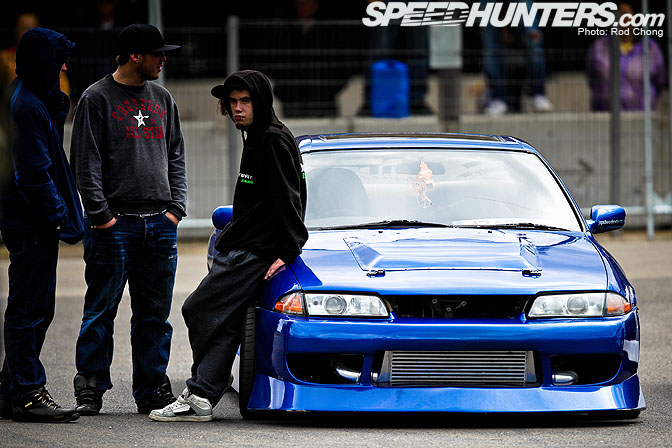 These guys must have been wondering what I was shooting haha…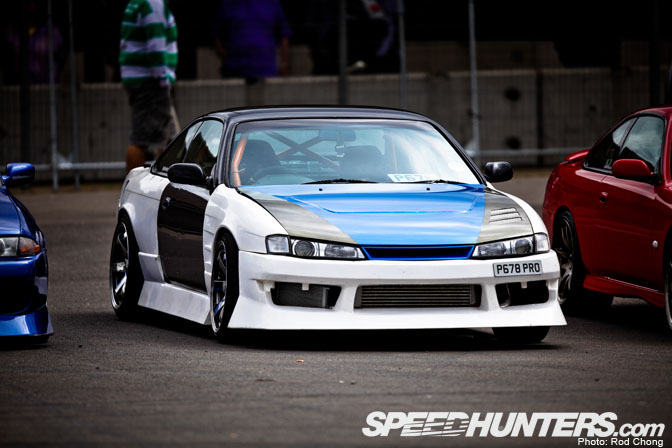 Their R32 was parked up next to this unfinished S14A. lt looks to have some potential.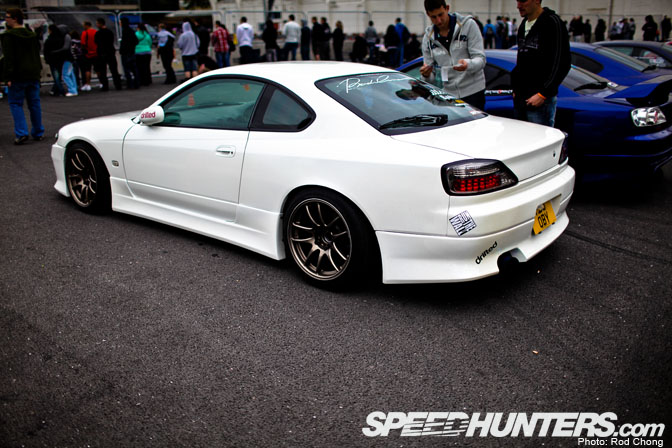 It's funny… for me this S15 is exotic machinery as they are so unbelievably rare in North America.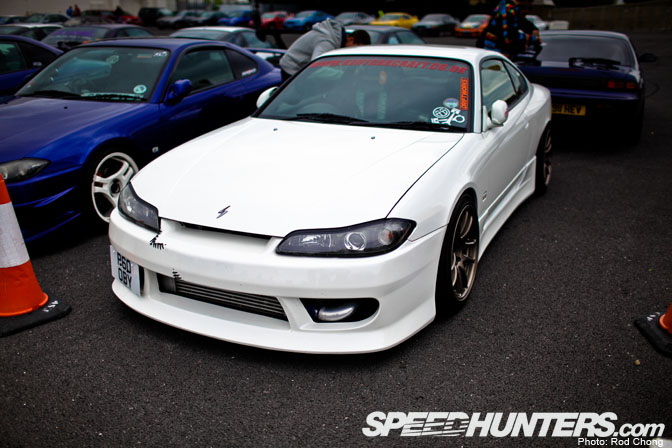 It's a simple yet effective take on a S15.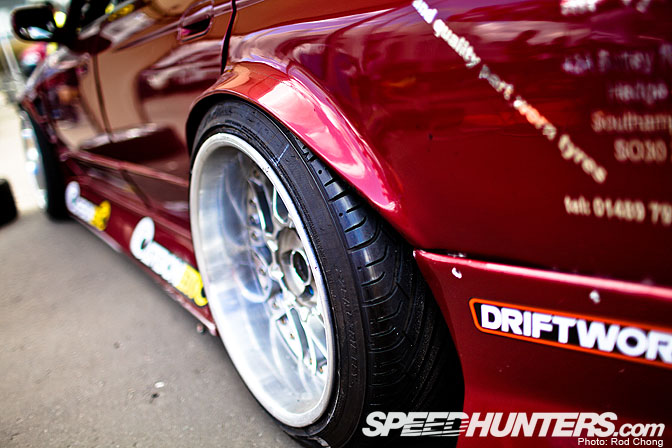 Let's look at a few of the JDM Allstars drift cars.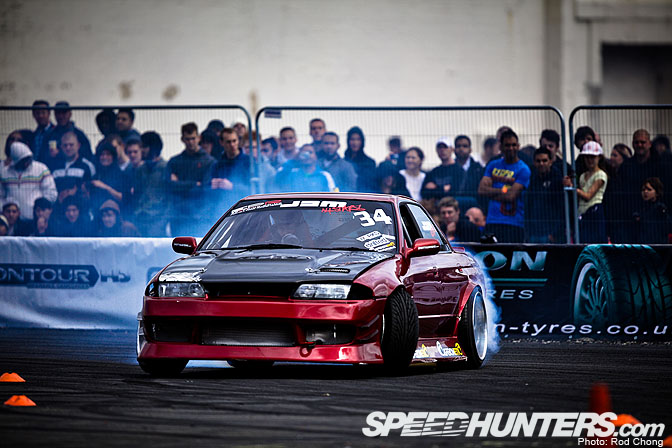 This ER32 was sporting some nice dish and stance. I think Ross is going to try and shoot a feature or spotlight at the Trax show this weekend.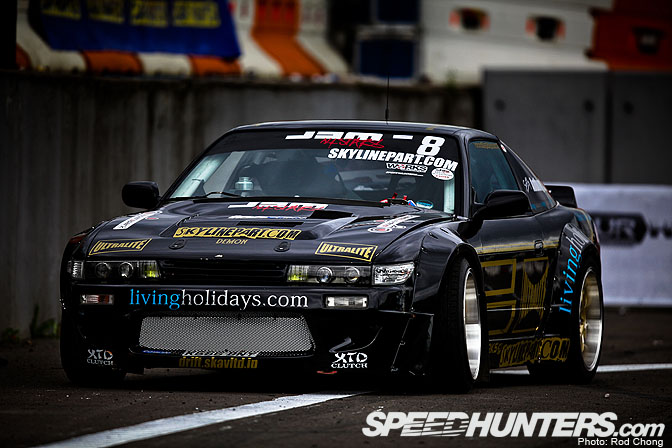 Rocket Bunny FTW! This car looks as amazing in the flesh as it does in photos.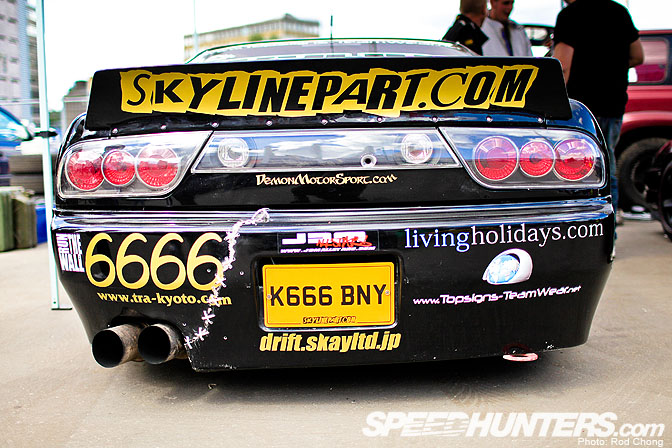 It was sporting new SR20 power, but unfortunately it went up in smoke over the course of the weekend.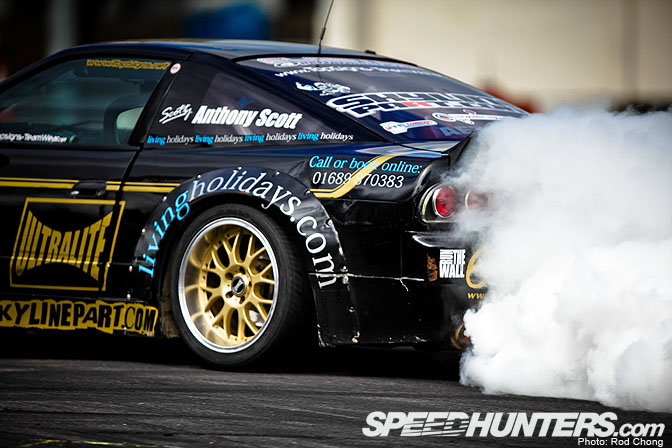 Ouch.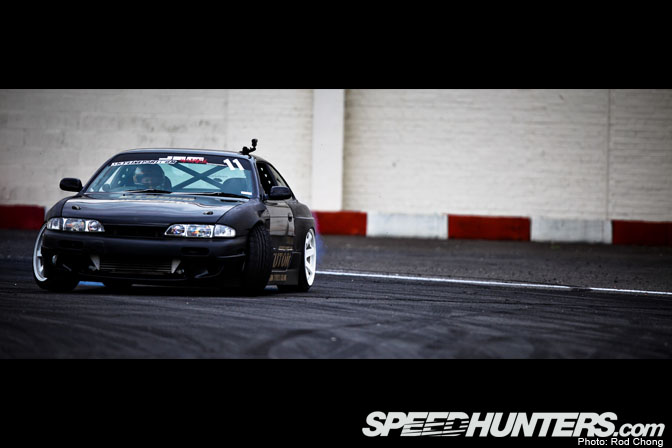 Matt Steele is also repping the Rocket Bunny style on his S14. There's just something so right about these body kits.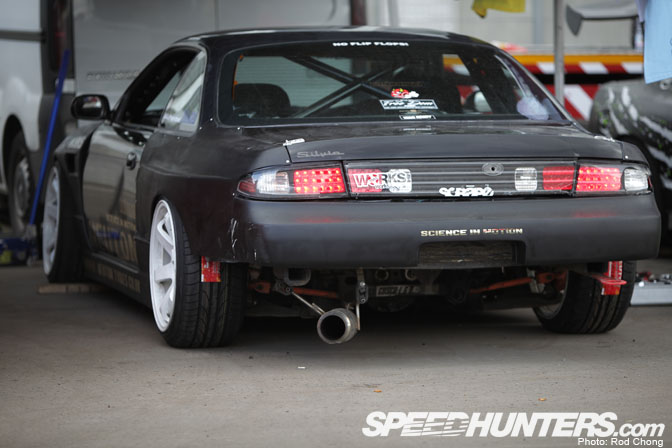 He's sliced the rear bumper, which reminds me a bit of Super GT race cars.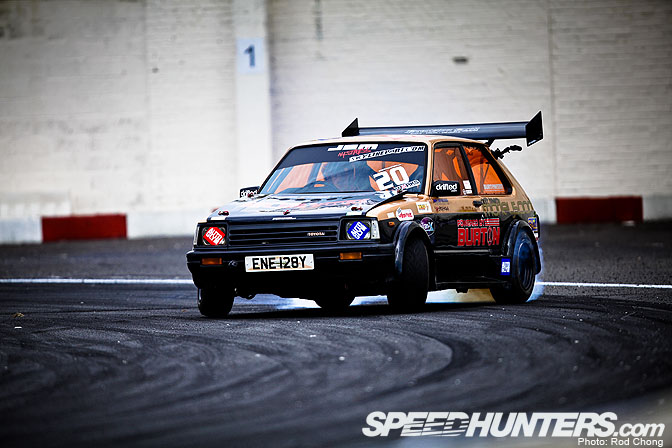 Stiggy!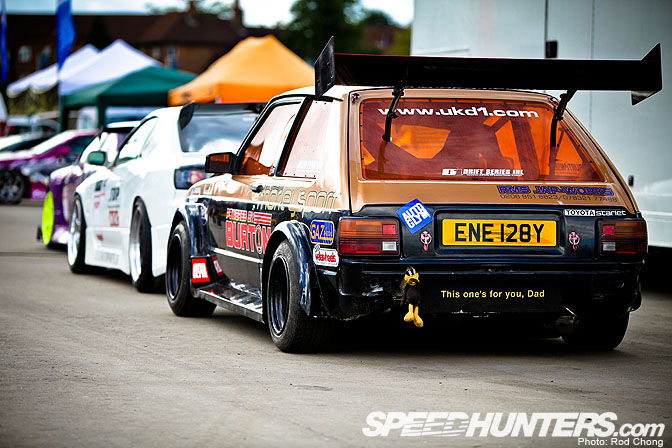 This was definitely one of the coolest machines competing in Wembley. Too bad he went out of the event so early.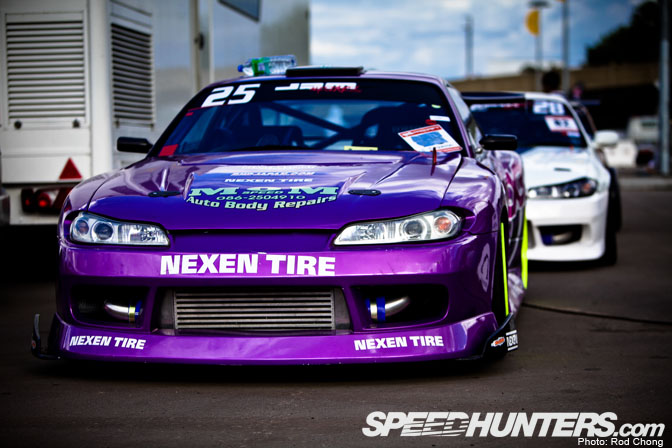 This is Christy Carpenter's 1JZ powered S15. I didn't tell the Nissan crew about the Frankenstein heart transplant though.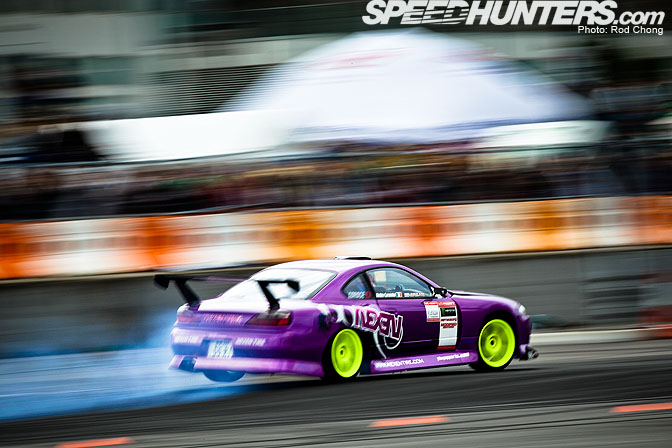 It was one of the nicer looking S chassis in the competition. Here's a quick action shot of it doing some three wheeled drifting.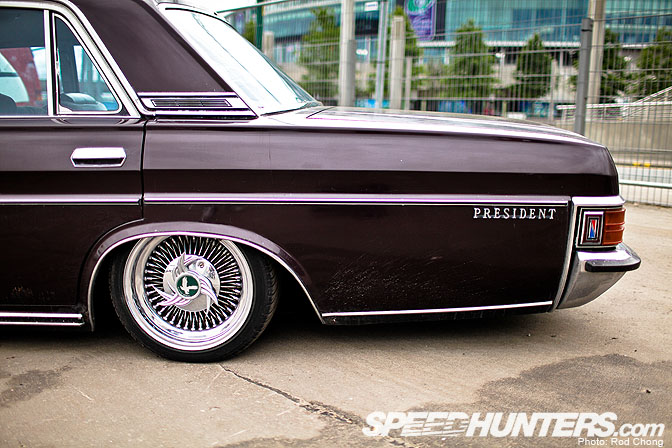 The famous Driftworks S15 was no where to be seen at Wembley unfortunately. Engine gremlins kept it away.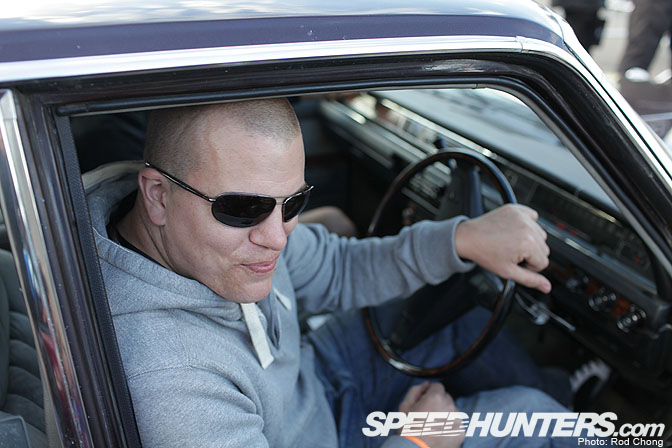 But Phil Morrison was looking suitably gangster without it.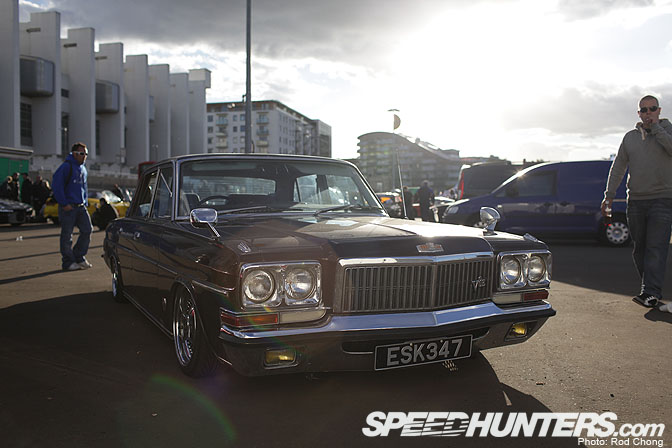 His rough-neck image was helped by this amazing lowrider Nissan President.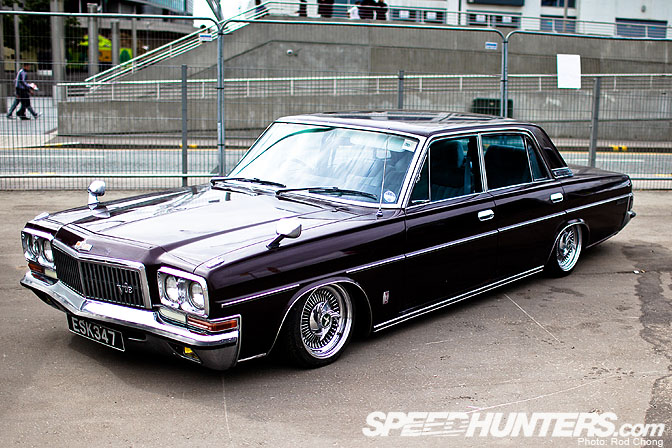 This is as cool as retro gets… Especially with the help of a full hydraulic system.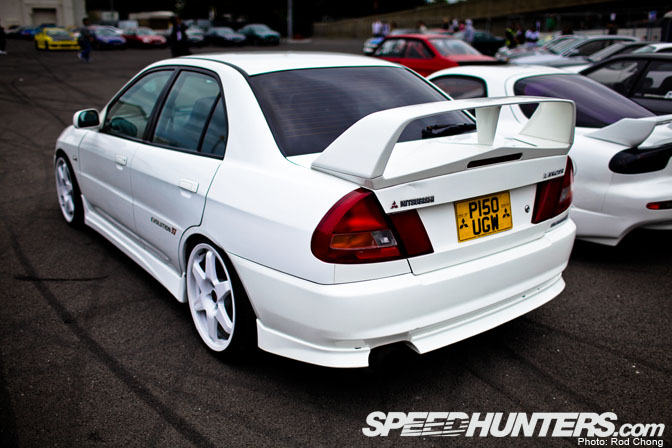 Let's look around the parking lot some more.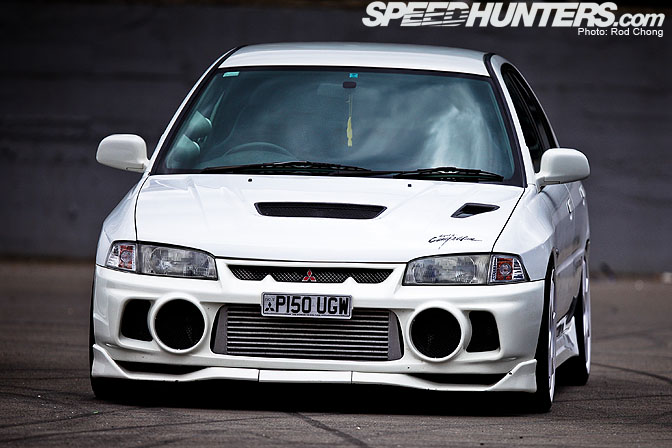 These older Evo models were never imported into my neck of the woods… So again, I had to stop to take a second look.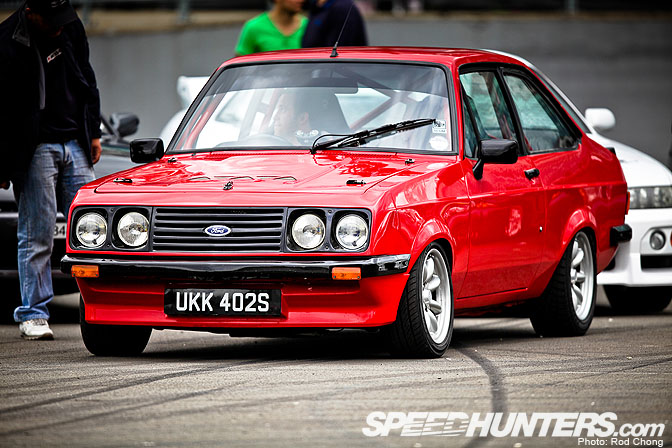 This Escort was unbelievably clean. You may have noticed that we uploaded a shot of it to our facebook page live from JDM Allstars last weekend.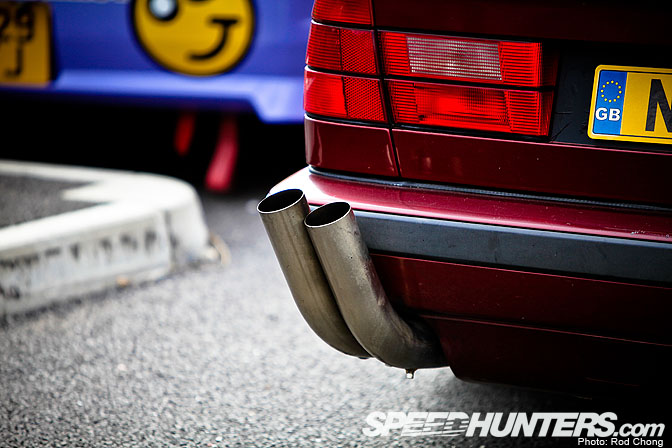 I'll be back soon with another look around the spectator area and paddock from JDM Allstars Wembley, including a special look at the drift stickers at hand.
Talk soon.
:R