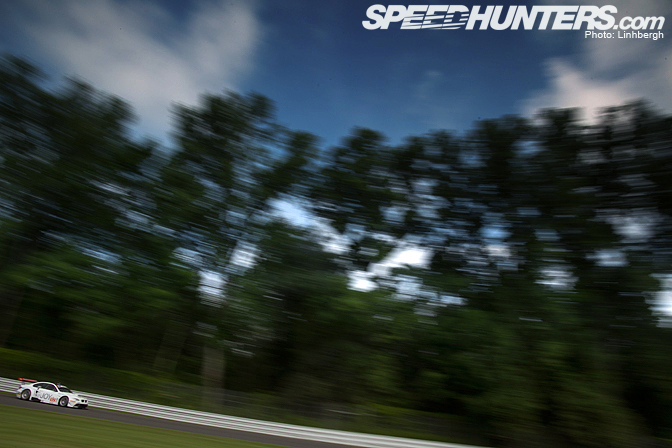 Tommy again – Hopefully you guys enjoyed the blog from Miller Motorsport Park and the photos from Rick Dole. The crew packed up our M3 GTs and headed home to Rahal Letterman Racing in Hilliard, Ohio, but only for a few days. We're in the meat of the season now; we've got more than half of the season in an 8-week span. Lime Rock Park in Connecticut was home of round 5 of the American Le Mans Series.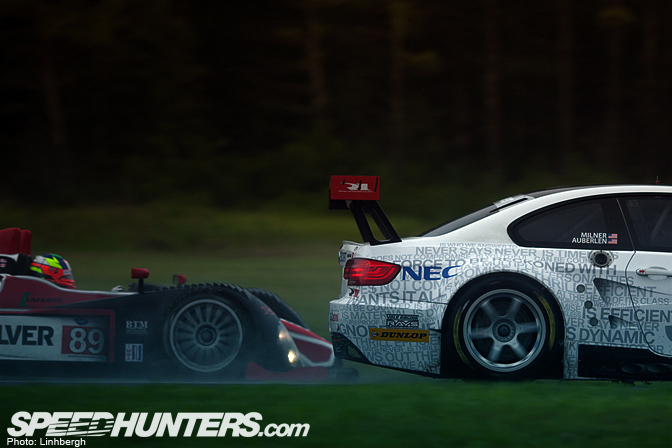 The team only had a few days to tear down the cars which includes completely servicing all of the higher wear parts. Everything from simply changing the fluids to servicing axles and changing gears. However this time the team had the task of fitting all new bodywork to the 2010 ALMS BMW M3 GTs.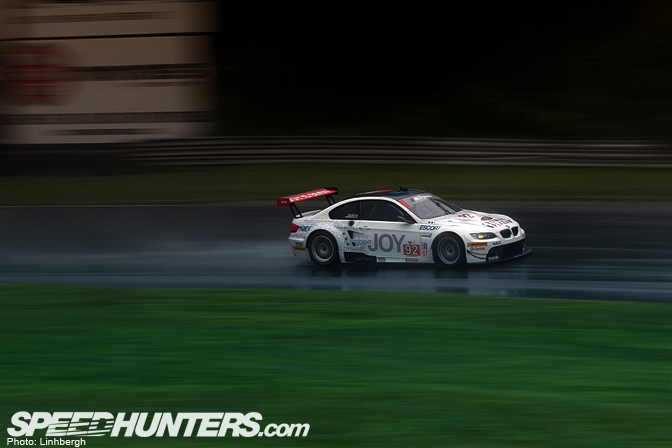 This is the same spec bodywork as they use in the LMS in Europe on the BMW Motorsport cars. The biggest difference in all of that swapping of parts is that we should now have some more downforce as compared to the first gen bodywork and Lime Rock is the perfect track for that extra downforce…especially when it's wet. More on that later.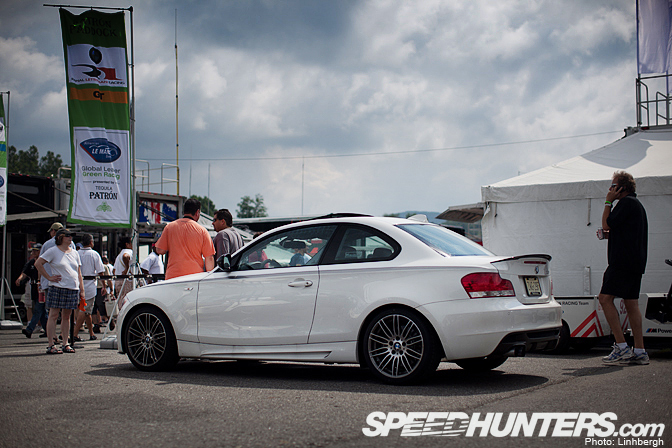 My race weekends rarely start with racing anymore. In Utah it was a magazine shoot. Here in Lime Rock it meant arriving on the Sunday prior to the weekend to BMW of North America's HQ in Woodcliff Lake, New Jersey and specifically to visit the Accessory Product Manager – Exterior & Performance, Eric Riehle. He had three BMWs outfitted with BMW Performance accessories for the 1 Series, 3 Series, and X6.
Worth mentioning is the building we were in is the East Coast location for all McLaren F1 service. There were two in there at the time getting serviced. I've driven the race car version but it's pretty neat to see the street car counterpart, especially two of them torn apart getting serviced.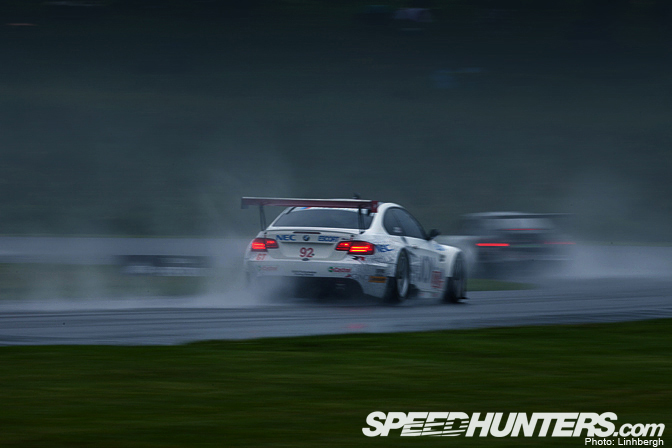 Anyways, Monday was spent at BMW doing video and then Tuesday it was up to Lime Rock Park in the three BMW Performance cars for more video and fun. Really had fun driving the different cars and I got to keep the 135i for the weekend. Such an awesome little car.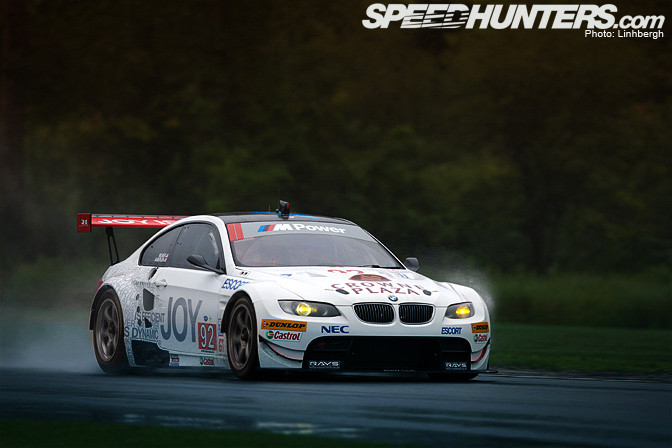 Our first day of practice was… soaking wet. We have accumulated very limited time in wet conditions in our cars. Some people believe in doing very little in terms of setup changes for the rain, and some have big ideas to change camber, toes, bars, springs, dampers, and on and on. We left our cars pretty much as they would run in the dry and threw on our Dunlop wets.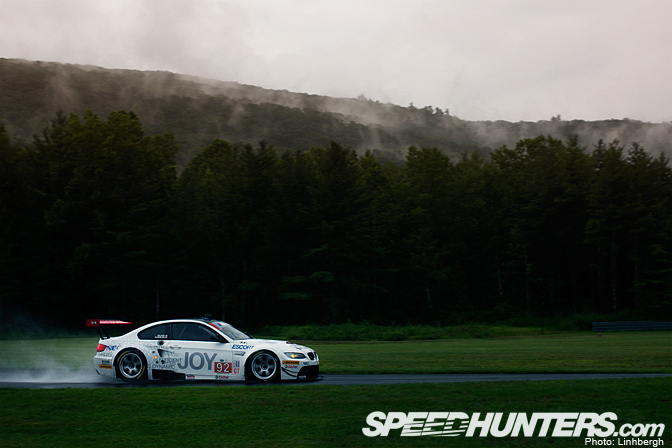 Practicing in the rain has to be one of the most universally disliked things to do in racing. From the fans who are out there getting soaked, to the drivers, to the team owners. It's a necessary evil on a day like this because qualifying would likely happen in the wet and our qualifying position is crucial on a track as small as Lime Rock. You don't want to push too hard because one small mistake can easily send the car off into the tires and a lot of work for the crew.
Racing in the rain however is just a huge equalizer and I enjoy that quite a bit.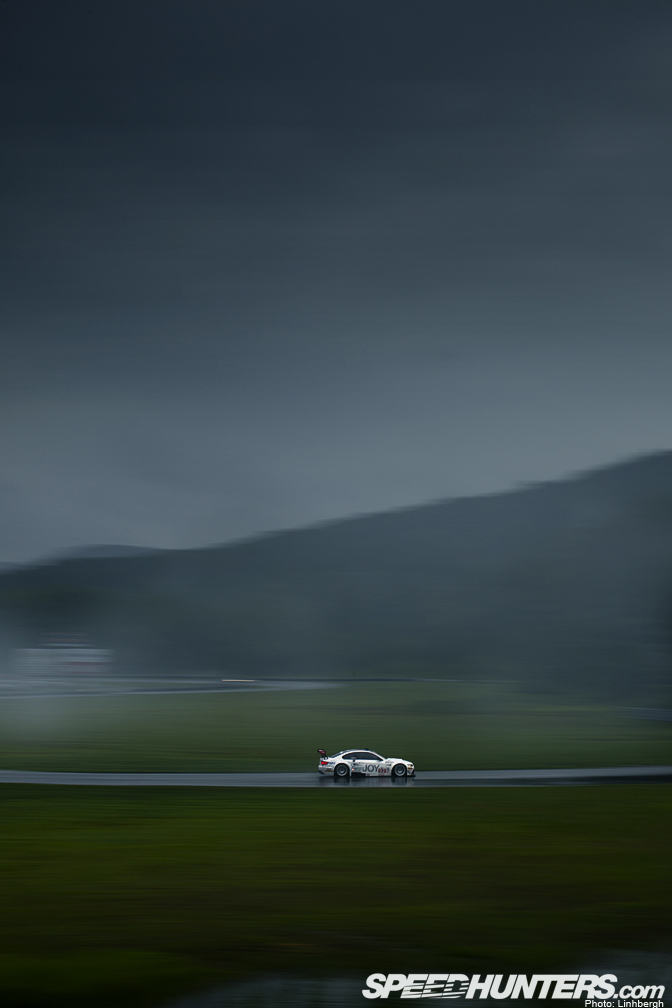 We had two different wet compounds to try from Dunlop. We split our strategy in practice and had the No. 90 car on one compound and we were on a new compound from Dunlop. Given the learning curve, we were a little off the pace of the competitors.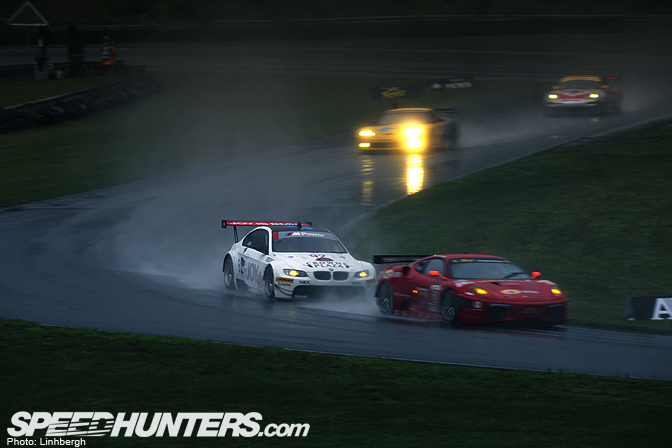 We had a couple hours in between our first practice and our second practice to think over our setups and what we wanted to do as far as setups. There was some hope that the weather would clear for the afternoon but it was becoming pretty clear that it was going to be very wet for the second practice and qualifying.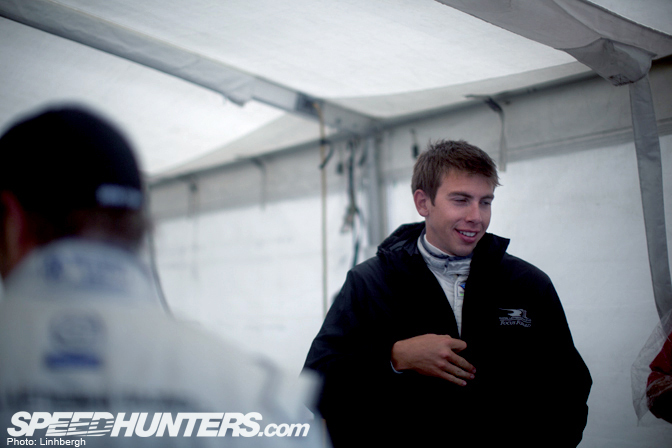 We came to the second session with some more wet-like setups on the cars and we still struggled to find the laptime. We had improved but it felt like we were just ice skating out there in comparison to our competitors. For the first time this season, both cars were sitting pretty far down the order. We aren't used to that.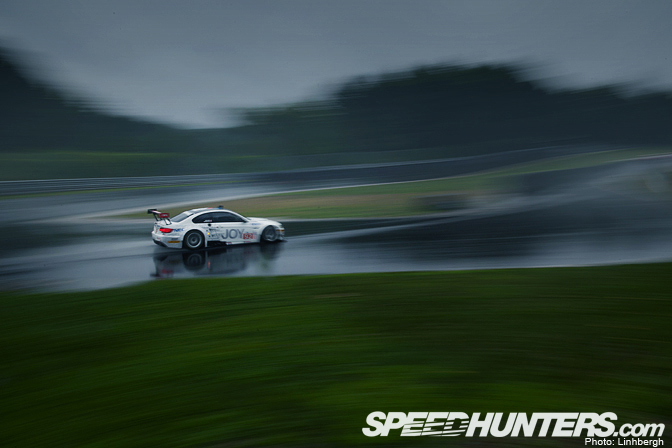 We needed to improve the car somehow. Usually, the drivers don't have a lot of say in what changes exactly get made. We can certainly lobby for more wing or give our input as to what we think we need. Usually our engineers are on top of it and know what to do to fix whatever issue we're describing to them.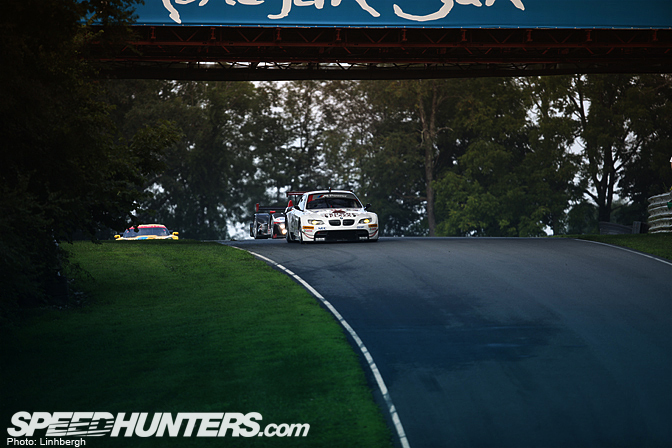 This time however, I had to really speak up and look for a big change. We were sitting pretty far down the order so we had nothing to lose. Bill was in the car so I was just on the sidelines watching but I asked to have the rear swaybar disconnected. When I was out earlier, I had very little grip putting power down. Disconnecting the rear bar will definitely, as we've seen before, give us a lot more grip there. The first response I got from the engineer was that it would hurt the balance too much. So I asked again, pointing out how far off the pace we were. Still nowhere. One more time and I was little more forceful.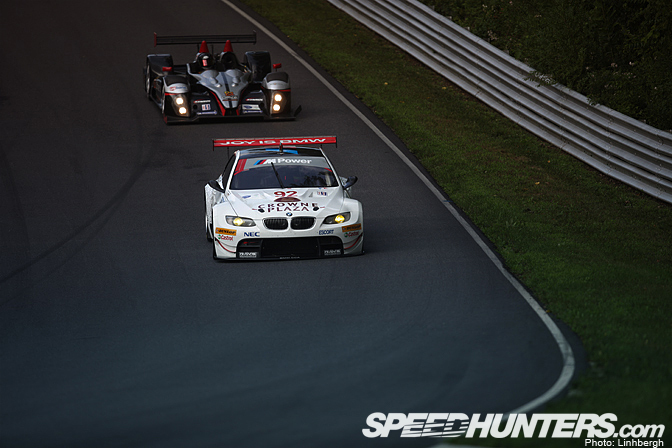 The change was made and… 1.5 seconds quicker on the first flying lap. RLR's GM, Scott Roembke, "Good job Engineer Tommy." As soon as that lap time popped up, which put us now mid-pack, the No. 90 car was on pit lane for the same change. So we were closer heading into qualifying but still quite a bit off the pace. We tried a few more things in practice but nothing was as big as that bar change.
Some in-car from Friday Practice
I lucked out and Bill had the duties of qualifying the car. He did his best, which unfortunately in these conditions, was only good enough for 9th. The No. 90 car didn't get a chance to really even get a lap in and would find themselves buried with the GTC class cars.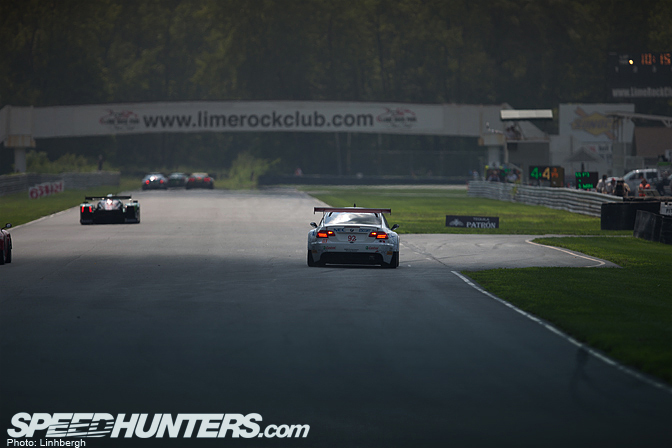 Wake up and what do I see?! YES! Dry weather. Walk outside and what greets me? 100% humidity and HOT. Whatever, I'll take it. I felt confident we'd have fast cars if it was dry. Luckily, the ALMS added a warm-up for the weekend, so we were able to head out there and try the cars in the dry. I put a lap up early on that put us P1 for almost the entire session until the very end when Dirk just squeaked a lap out quicker. The timing screens looked way better, BMW 1st and 2nd and the morale around the team you could tell was better.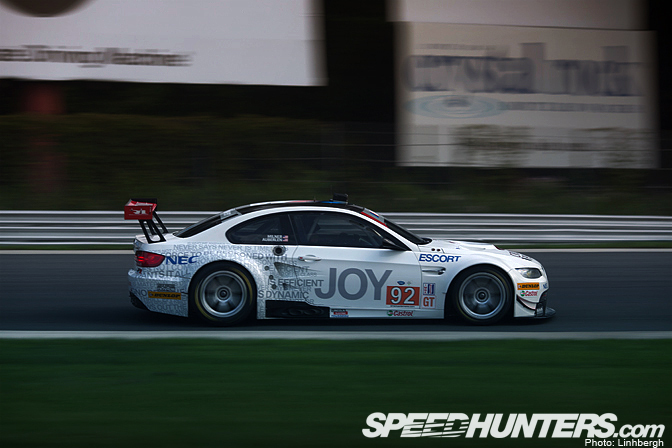 Minor changes for the cars, and then it was go time! I would have the duties of starting the race and therefore the duties of driving the car to the front without any damage.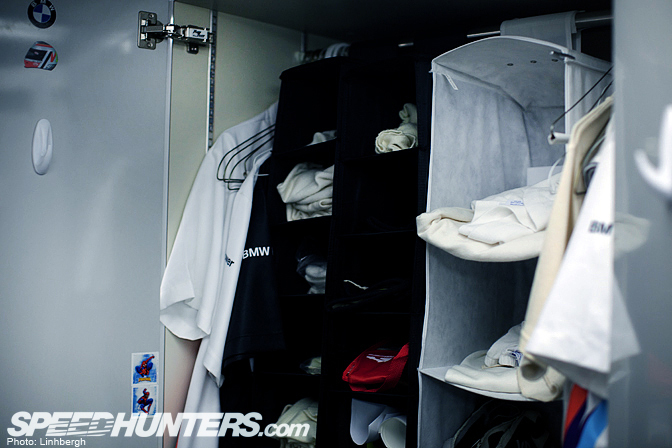 Linhbergh decided he wasn't creeping enough and took a look into my locker. My home at the track. I share a cabinet with Dirk and we took a trip to Bed, Bath, and Beyond after the first test we had in '09 because Dirk wanted to get some candles or something… naaa, not really, just these hanging dividers. All of my nomex, gloves, visors, drinks, etc. go in one of the slots along with my helmets, suits, etc. My life is in that cabinet.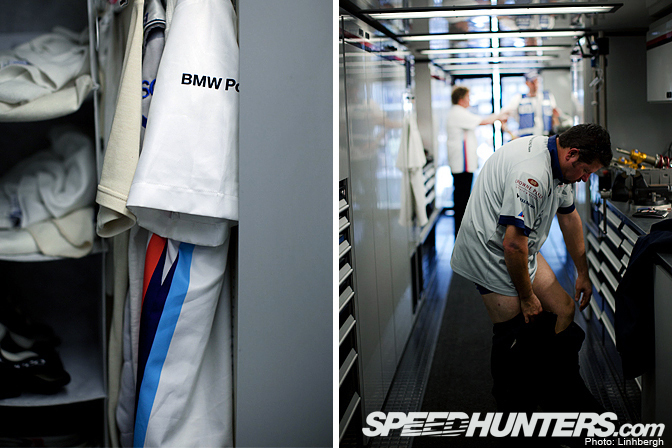 A lot goes on in the main transporter. It's where we get changed, talk about the cars, where we stare out of the back glass and stare at girls as they walk by (just kidding Ev!), and as you can see, where the crew gets changed too.
There's a lot going on in the trucks. You can see past Mike's head a few sets of Ohlins dampers getting ready to be put through its paces on the shock dyno by Uwe. Lots of spare parts, springs, etc. Pretty busy place most of the time and smells especially bad when all the crew guys are in there getting changed.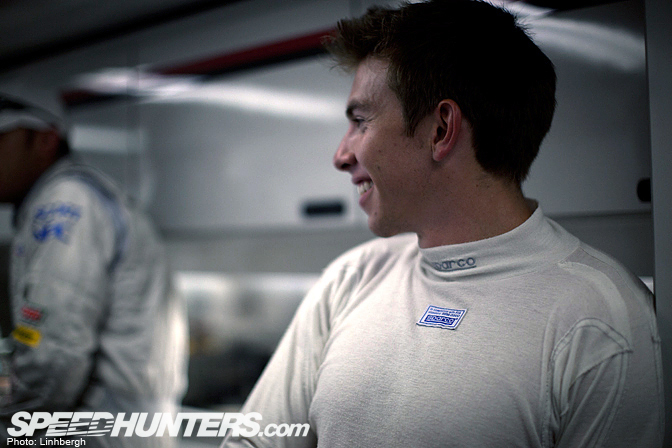 Just me hanging out after warmup, getting ready for the race. We had a few commitments before the race, so the down time here was nice before the hectic schedule leading up to the race.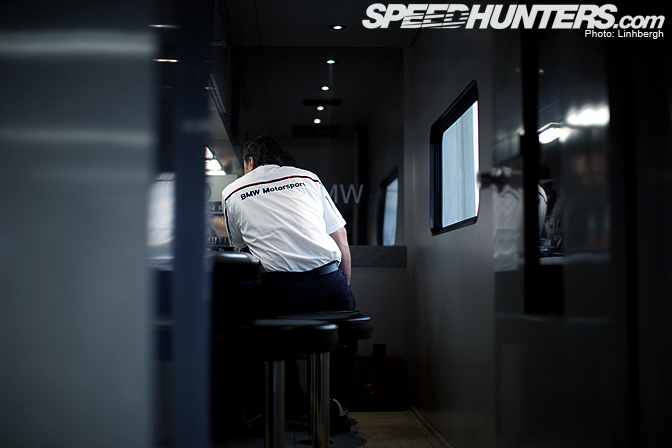 Where all the magic happens… for our engineers. They live in this room at the front of the main transporter, pouring over their computers and data trying to find the perfect setup changes for the cars. It's also where our 4-hour debriefs happen after every track session. They're more like an hour each but when you're hungry they feel like forever. After all, lunch is our most important item on the schedule. At least for me and Joey.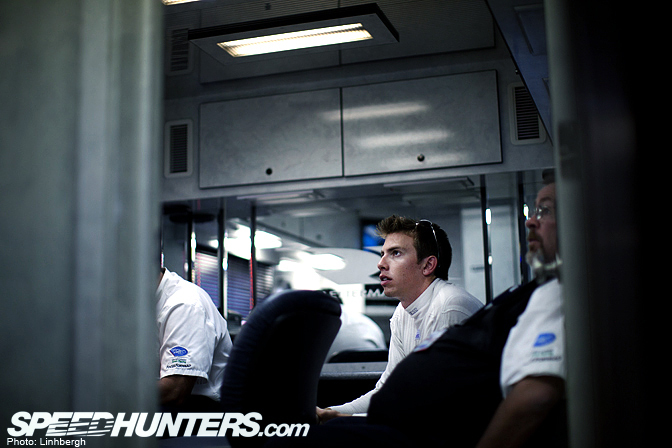 Sitting with RLR GM Scott Roembke, watching some F1 qualifying on race day next door to the engineers office. This is the drivers lounge area and just about everyone elses. We rarely sit in here since there are usually 5 or 6 others doing PR work, or other more important things than what us drivers would be doing.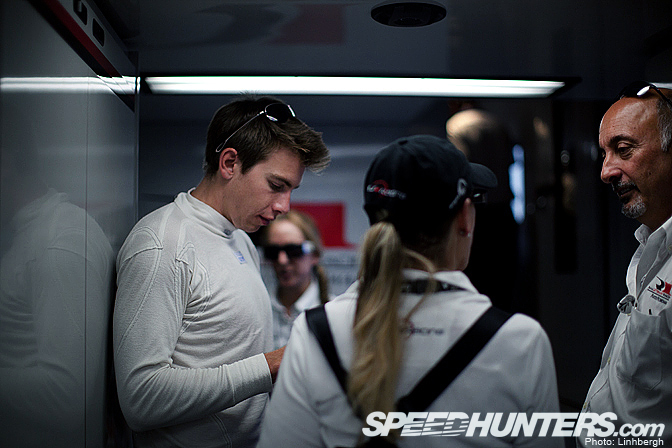 … and a chat with the Boss man, Bobby Rahal and Robin Osborne from Avnet, formerly Bell Micro, who has to be one of the best sponsors in the ALMS. Looking forward to working with Avnet!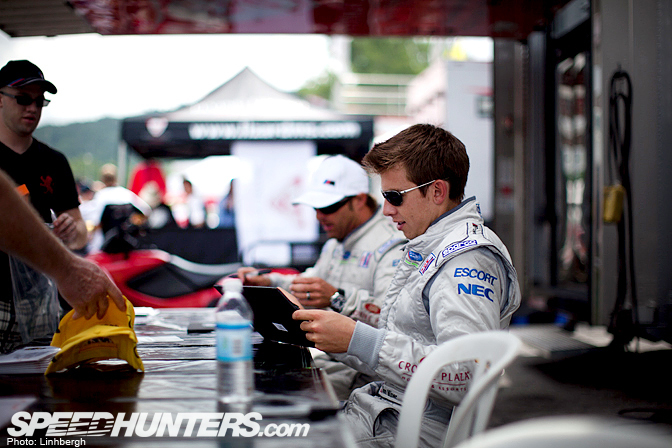 Obligatory autograph session shot made possible by a crouching Linhbergh. Gotta get those extreme angles!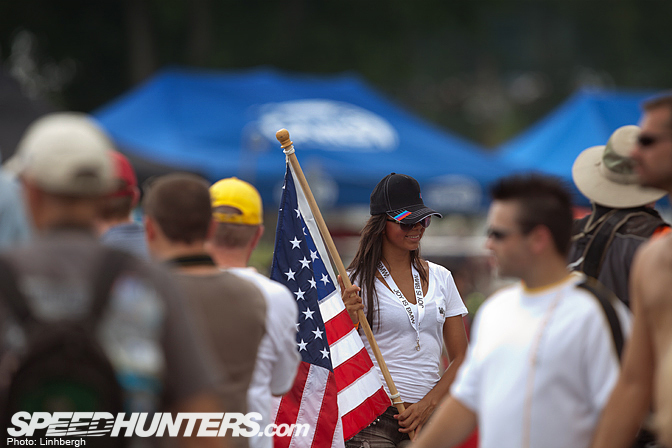 No. 90 car had a nice flag girl. I'd rather have our grid spot than her as the flag girl any day. I couldn't even see them on the grid from where we were.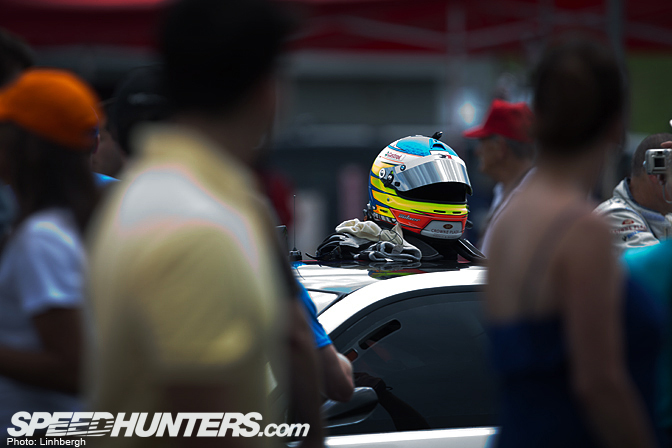 Being the home race of BMW, a lot of the fans who come out to the grid are BMW owners, drivers, wives, kids, supporters, etc. I had some nice chats with a lot of fans and even Rich Brekus, who has worked for BMW for as long as I can remember, and was a big part of the BMW NA racing program with my father's team in the 1990's.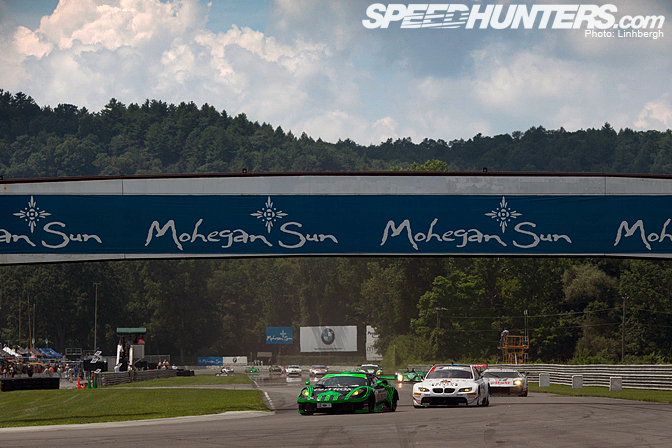 The goal for the first part of the race for me was to get to the lead pack, quickly. Once I got around the Ferrari pictured above, the gap to the leaders was about 10 seconds. It didn't take long to catch them and as soon as I did, a yellow came out. The first bit of the race is a bit blurry as there were a couple yellows early on. I think the first yellow we stayed out, as it was too early in the race to get much of any benefit to pitting, and it was the second yellow that we pitted to top up.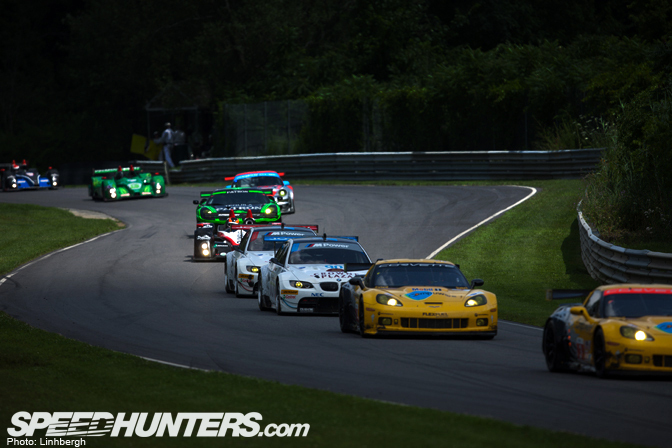 During that yellow, the whole GT field pitted, and as I was heading down pit lane, both the No. 45 and No. 62 cars' teams sent their cars out of their pitbox right into my path. I had started to turn right to make my entrance to our box and then had to abort right at the last minute. The end result was the No. 90 car and the Patron Ferrari I had passed jumped back ahead of me.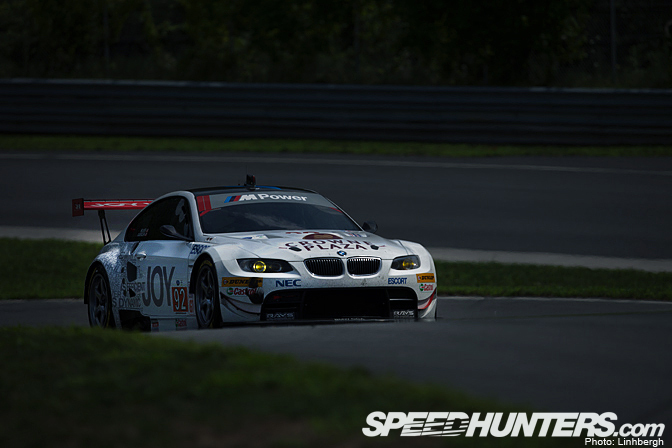 After the restart I went back to work getting past the Ferrari and then close up on Dirk in the No. 90. I was quicker than Dirk early on but wasn't quick enough to really be in a position to pass. Especially that early in the race it wasn't worth making any pass that I was sure I could complete without any issue. My goal all along was to keep the car in touch with the leaders and make sure it was in good shape for Bill for the dash to the end.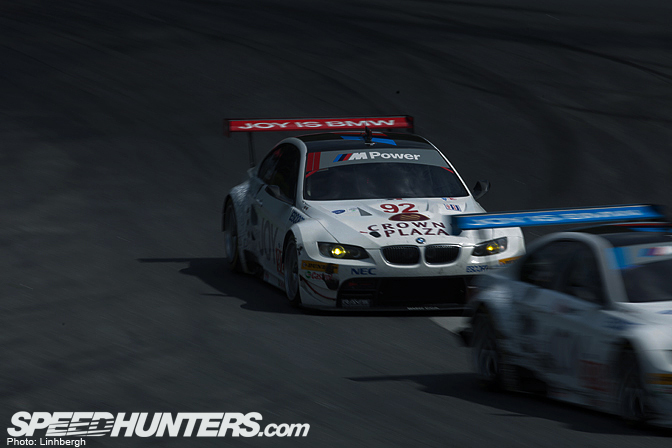 There was one final yellow and the one or two GT cars ahead of me and Dirk pitted and we stayed out, putting us 1st and 2nd. Once it went back to green, Dirk and I would run nose to tail for the next 1h10min's. Each lap I was doing was a qualifying lap. I wanted to put as much pressure on Dirk as I could, I wanted that spot back. Neither of us budged.
At this point, some of our closest championship rivals had problems. We needed to take advantage of this opportunity to score as many points as possible.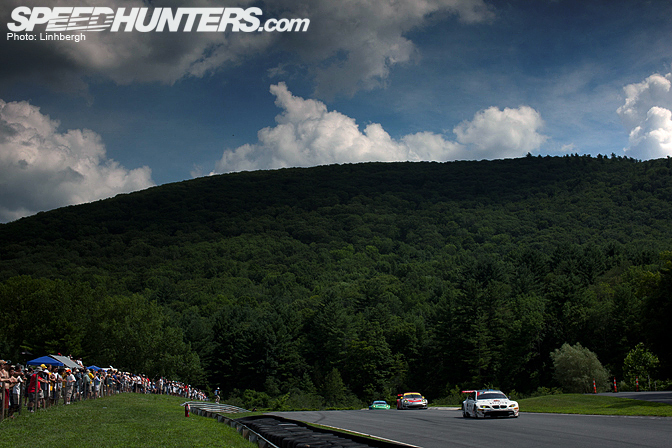 I had some pressure from behind from the No. 45 Porsche of Bergmeister, who had gotten into the car after the start, but wasn't ever a real threat. He was there and a mistake would have likely meant he would get by. It was getting really hot in the car but I just focused on chasing down Dirk.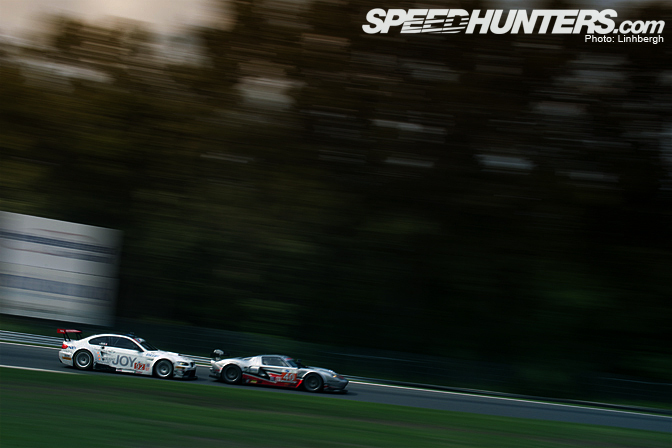 Traffic at Lime Rock is a big deal and when you are chasing someone or being chased, the traffic can help you or hurt you. Luckily for me the traffic didn't hold me up too much but it also didn't hurt Dirk or Bergmeister. So we stayed pretty much within a couple seconds of each other for an hour.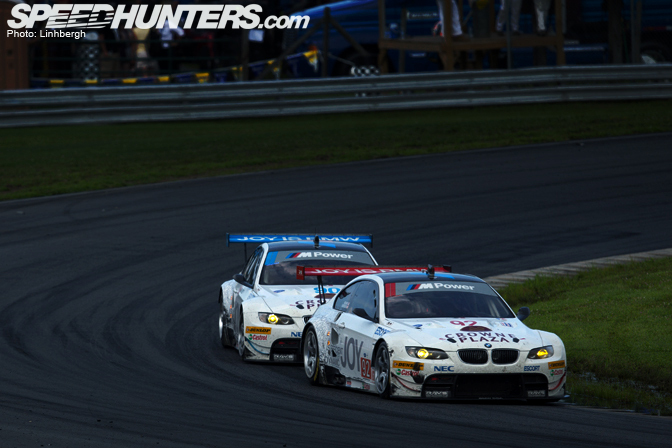 Dirk was the first of the two of us to pit for our full service stop. Tires, fuel, and finally a driver change. I'll say this was the first time I've ever felt slightly phased by the heat in the car. I started to feel the hair on the back of my neck standing up and getting chills. Luckily I only felt this really with about 5 laps to go in my stint so I knew I was OK. I just had to make no mistakes for a few more laps but keep pushing hard. We went two laps longer than Dirk did before pitting and when it all shook out, Bill came out ahead of Joey. We got our spot back.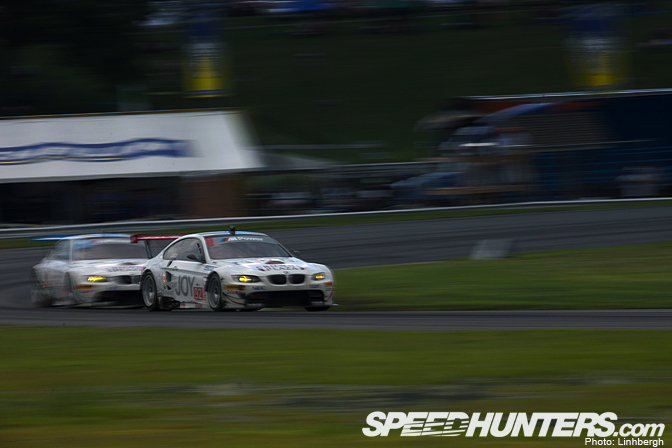 Watch in-car video of Bill and Joey racing hard.
As that video indicates, the racing between the two friends was really really close. Sometimes making contact, but only lightly and briefly. As everyone knows, the most important rule in racing is don't take out your teammate.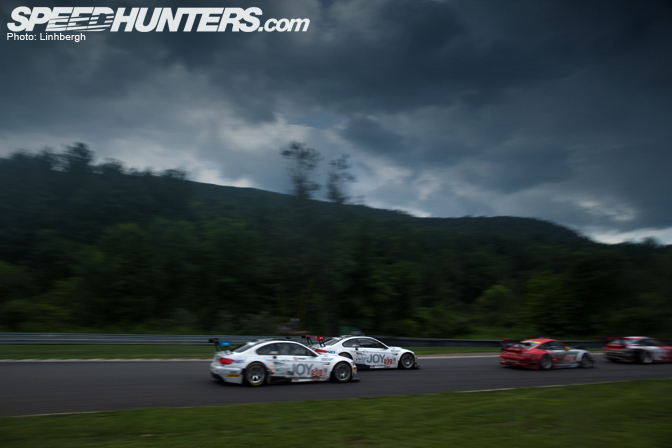 As the pit stops shook out, because the No. 45 Porsche pitted on the last yellow and we didn't, their last pitstop was 5 or 6 seconds shorter and put them out ahead of Bill and Joey. The gap to the No. 45 was only a few seconds but the traffic for Bill and Joey just seemed to continually hurt us and help the No. 45. Bill and Joey battled for the entire hour that was left in the race and in the end Bill was able to hold off Joey to take 2nd place.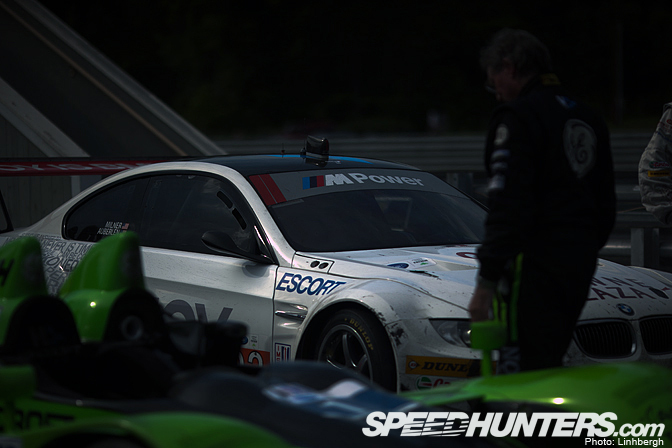 That was the most disappointing 2nd place. Lime Rock is BMW's home track and we were quick in the morning session. When I turned the car over to Bill the car was in the lead and we had the legs on the No. 45 car. Unfortunately our strategy was just a few seconds slower than the No. 45 car's strategy was. Saying that though, we wouldn't have been 1-2 going into the last pitstop if we had pitted.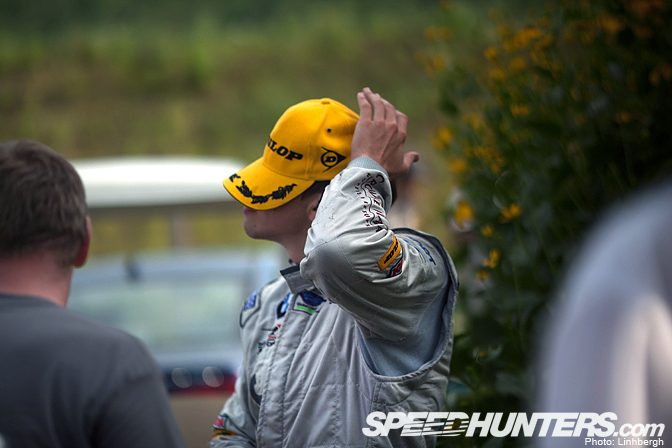 I've been racing in the ALMS since 2006 and have yet to win. The last year and a half has been great time and we've done pretty well but I want to win one, bad. We're doing everything right and that's all we can do. It's going to have to fall our way one time.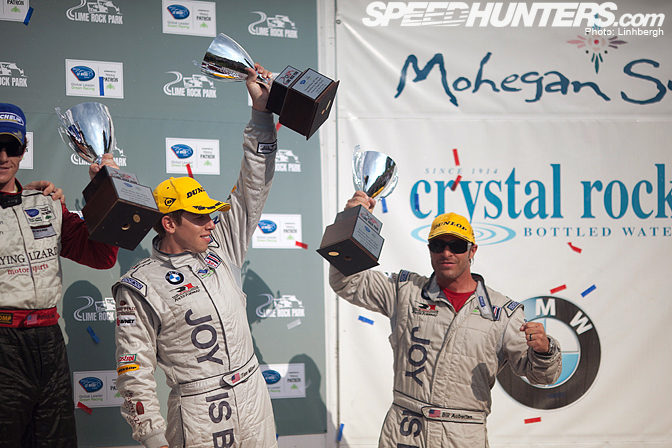 We arrived at Lime Rock with the Manufacturers and Team Championships and 3rd in Drivers Points. We leave Lime Rock 2nd in all three now. We're only 1 point from leading the Team and Manufacturers Championships and 14 points out of 1st now to the No. 45 car. We need to keep scoring points no matter what, but we need to start winning these things.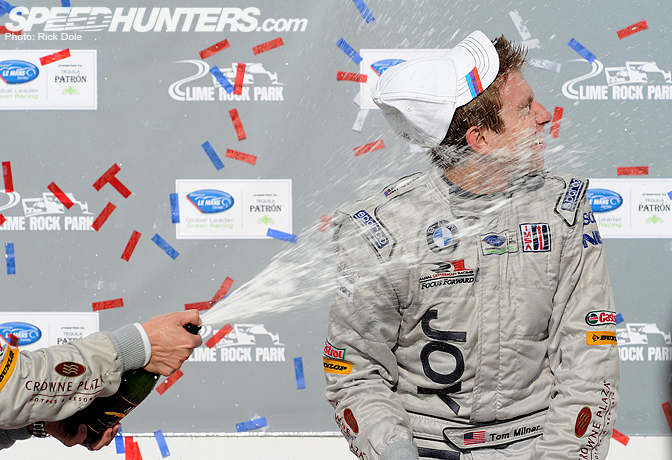 On to Mid-Ohio this weekend! You can catch the race live online and watch us go for that first victory this season.
-Tommy