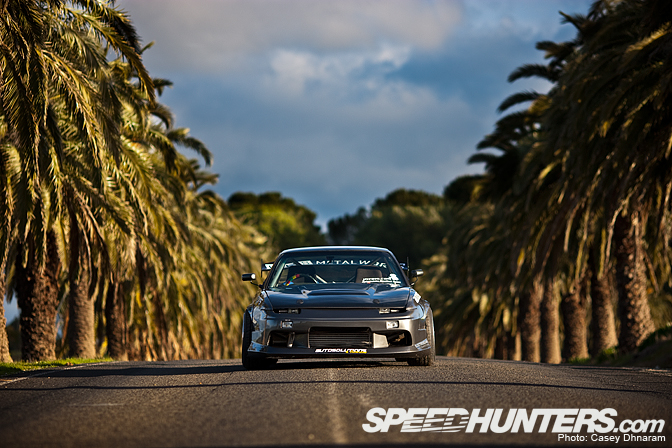 A couple of weeks ago, I flew down to Adelaide, South Australia, where I met Jake Jones, for the G1 Extreme Drift Competition. Whilst making the trip on the interstate we both thought it would be ideal to feature his RPS13 drift car. It is always a bonus when the owner of a car has a rough idea on
location for a shoot. Jake had a few spots in mind which were a huge
help for me as I had never been to South Australia before. Speaking
with Jake a night prior to the photo shoot, he mentioned the 'Barossa Wineries'. I have to say, driving into the 'Barossa' I was almost speechless, I sometimes forget how beautiful Australia really is. Hectares of green vibrant fields aligned with vines and the long straight roads lined with pine trees were almost too good to be true.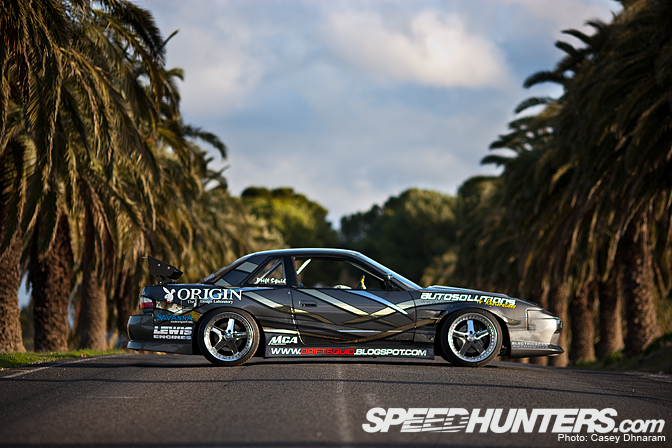 We arrived to the Barossa Wineries mid to late afternoon, there was still a fair bit of traffic around which was unpredicted. Luckily, we unloaded the car off the trailer by the time the traffic had died down. That left Jake and I to do what we needed to do! Parking the car on the road and placing it perfectly in the middle of this well set road, looking through the viewfinder it just looked amazing.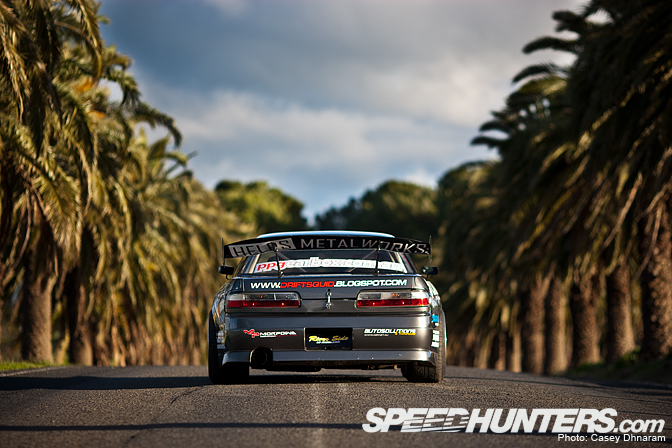 Taking in the first glimpse of this car in real life is nothing compared to a regular street car to what I was normally used shooting. This car is a track car and specifically built for that purpose only. We where both lucky enough that hardly any cars were around so we could unload the car onto the road. The first thing that grasps out at you is the large Origin wide body kit followed by the DMAX rear wing, these modifications really give the car that aggressive look.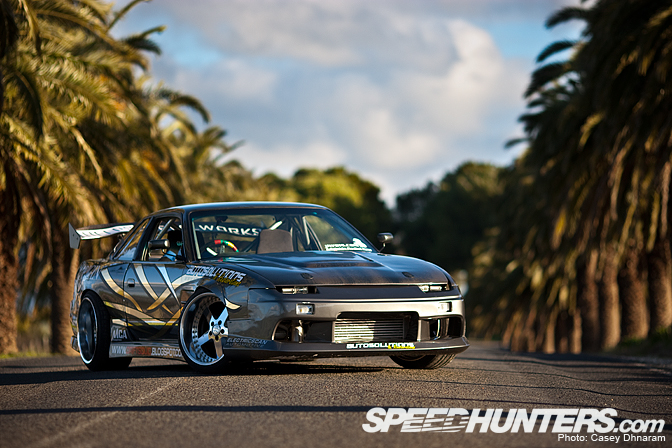 The car is fitted with Work Equips, 18×10 -30, 225/40/18 on the front, with a 15mm spacer to clear the brakes. The rear is 18×11.5 -10 with 265/40/18s.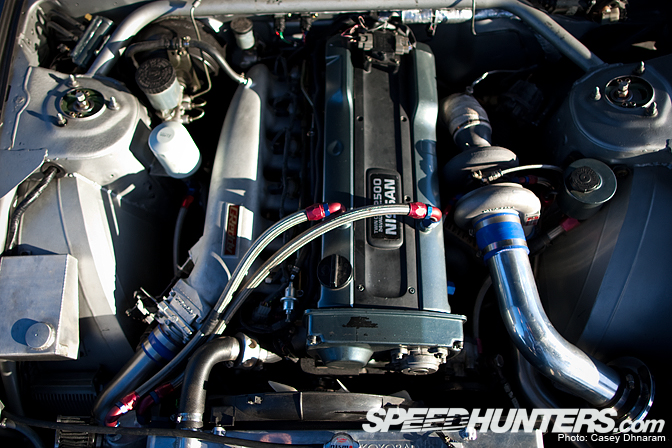 So, let's get down to business. This RPS13 is currently running an RB25 block, RB25 rebuilt head with GTR cranks, rods, pistons, rings and bearings. The motor is sweating out a whopping 300+rw/kw on the 'safe' tune which is all managed under a trustworthy Apexi Power FC.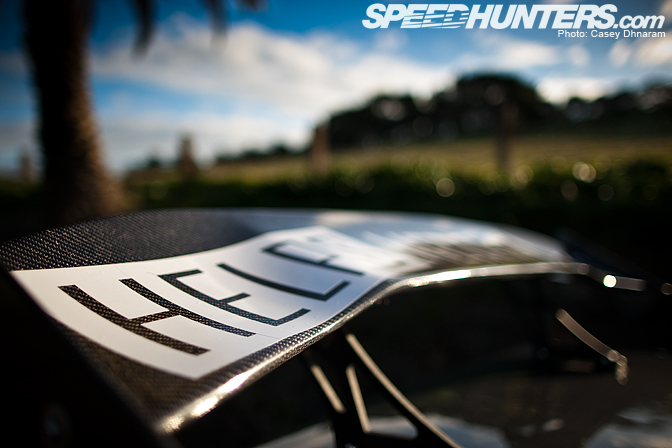 When having such power under your right foot, you need the grip for it to be put to the ground. Down force plays a big roll in this department and this is when such a large wing comes in good use.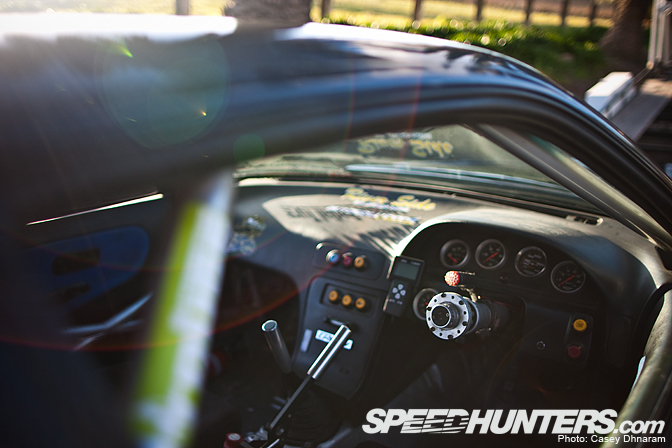 This is where work is accomplished. The interior setup is very simple, yet elegant. The stock cluster has been removed and replaced by a set of Autometer gauges to keep this 300+kw monster under control. A Bride driver seat with a 3" harness keeps Jake Jones strapped tight when sliding.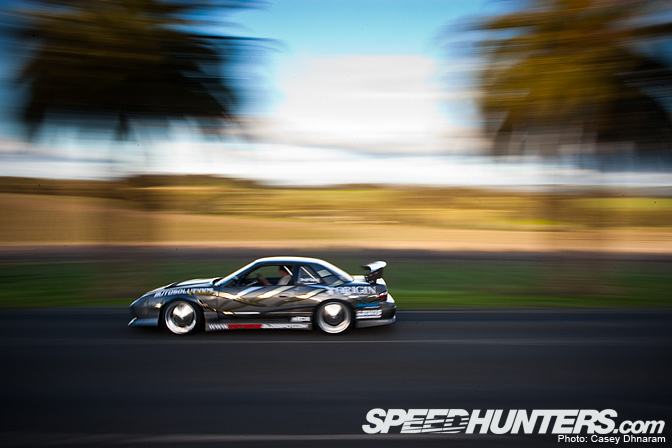 The howl of a RB25 sounds sensational with a 3" straight pipe while going up and down the road. You can hear it echoing for miles down the long continuous fields….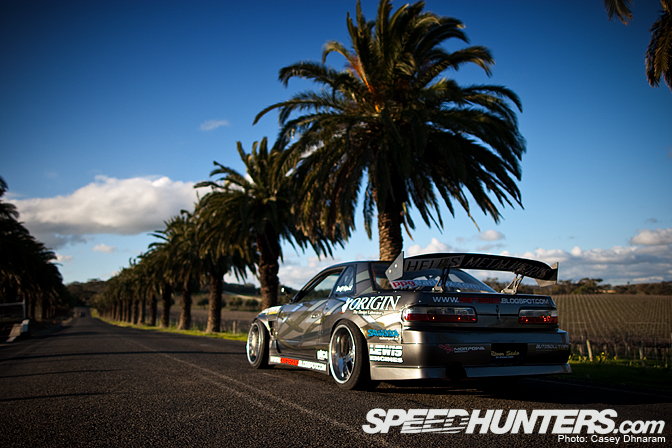 A new major sponsorship came on board with Jake Jones in 2010 is Origin Australia. They designed a specific livery for Jake's RPS13 which runs over the majority of the exterior, along side the rest of Jake's sponsors such as; KC – Body/Paint, Autosolutions & Restorations, MCA Suspension, ElectricScan Automotive, Helps Metalworks and finally PPG Gearboxes which have hooked Jake up with one of the newest PPG Helical cut dog box.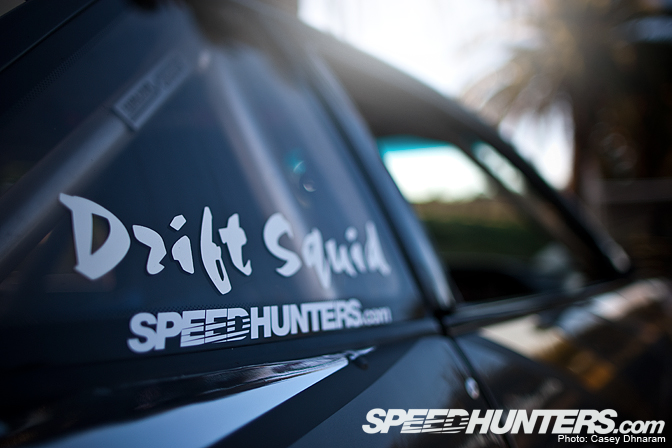 Jake being a huge Speedhunters reader and fan, it was essential to put a sticker on the car! He happily quoted, "This is by far the coolest sticker on my car, I finally have one!" Let's hope his sponsors don't see this!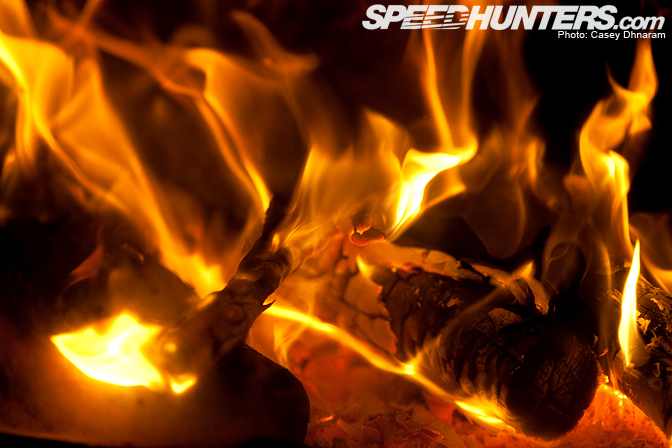 The nerves started to build after we finished with photo shoot when we arrived back at Jake's. Things where starting to heat up in the Jone's residence… literally.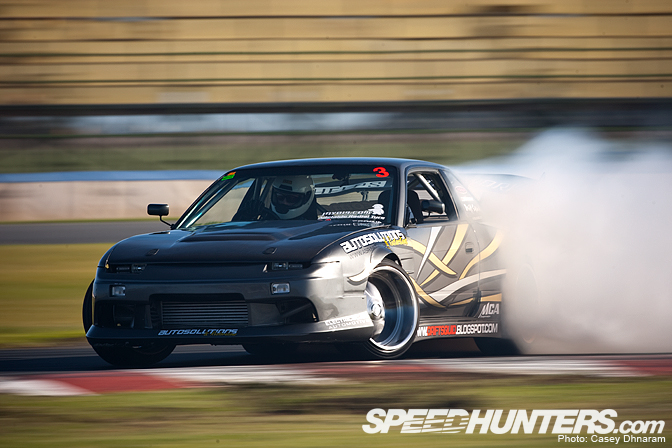 Experiencing the car in real life was one thing then on the streets at a beautiful location is another. Then on the track, on gate at the top of 3rd gear demolishing 265 wide tires was just a completely different level. The G1 Competition was upon us and the practice sessions had already begun. Jake hadn't driven the car properly prior to this event. It was the first time out with the new gearbox too!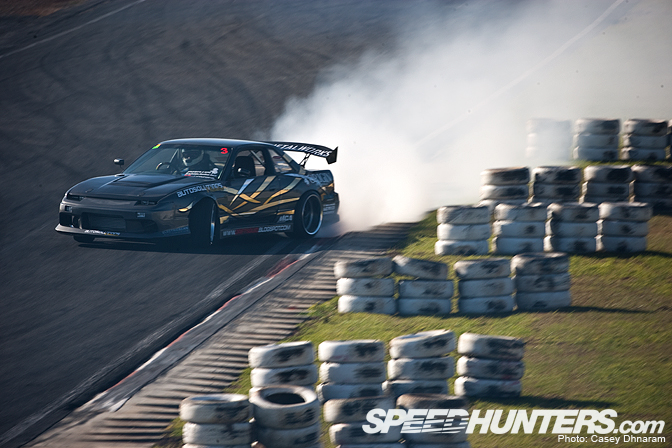 The car looked very aggressive shooting down the main straight at Mallala Raceway layering the tire wall in smoke. Speaking with Jake after the practice he mentioned that the car was performing perfectly. He was always very impressed with the new PPG gearbox.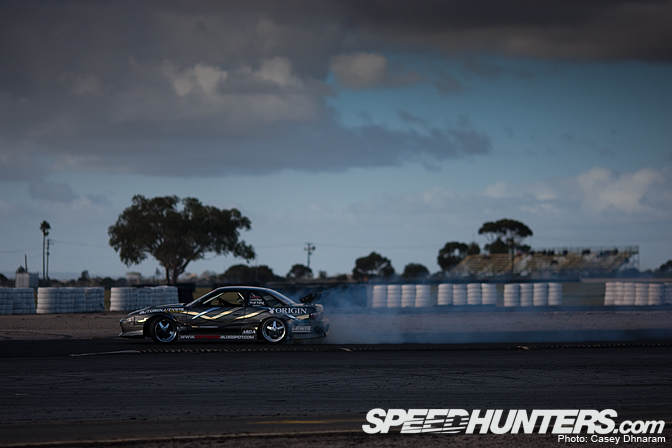 He dodged his way through Top 32, Top 16, then to the Top 8. Unfortunately, Jake came into the 5th corner a little too hot and ended up throwing the car a tad too much which caused him to spin out and loose the battle. Jake was eliminated in Top 8. Quite a good effort seeing how the car was somewhat new to him.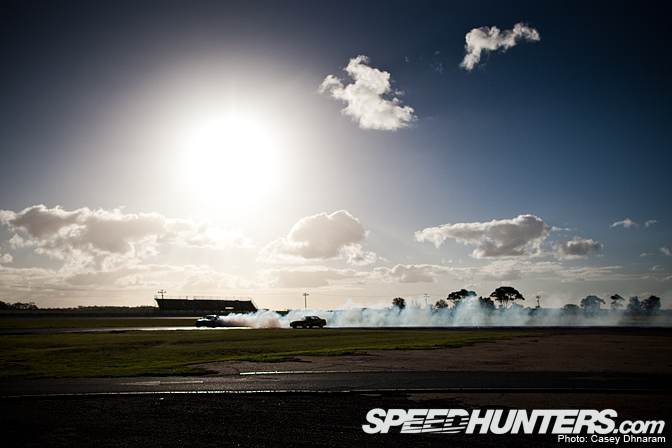 He put up good battles until he got knocked out. It was just a shame
that little mistake forced him to fold his cards and to be drawn off
the table for the G1 competition. It was great to hear that the car
performed the way Jake wanted and that nothing got broken. A rarity for drifting!
I'd personally like to say a huge thank you to Jake Jones and his
family for accommodating me while I spent the time that I did in
Adelaide. It is always a great experience travelling around Australia
and seeing how different states run things. It was a pleasure shooting
the car and the event!
Modification List:
Engine:
RB25DET Block
RB26DET Head
R33-GTR Crank
R34-GTR Rods
GTR ACL Forged pistons, rings and bearings
Nitto Oil pump
RB25DET Head rebuild
Greddy Intake manifold
Tomei Cam gears
Custom rewired engine bay
Trust TD-06 25G
Trust 50mm External gate
Nismo 550cc Injectors
Standard RB25 T/B
Helps Metalworks cooler pipes
Helps Metalworks Intake
Helps Metalworks Oil catch can
Nismo 1.3bar radiator cap
Custom Oil cooler
Remote Oil filter
Helps Metalworks Steam pipe exhaust manifold
3" Straight exhaust
RB26 Apexi Power FC
Custom engine mounts
Drivetrain:
RB25 ORC 659d twin plate clutch
Braided clutch line / brakes
RB26 PPG Helical cut dog box
Polyuerethane Gear box mount
GTR Tomei 4.11 2 way mechanical differential
R32-GTR rear half shafts and hubs

Suspension:
MCA Custom coilovers
NP Wonder Nnuckles
NP Offset rack spacers
NP Wonder LCA
Adjustable camber arms
Adjustable toe arms
Traction control rear arms
Helps lower arm bar
Helps suspension bracing
Tension-castor rods
R32-GTR brakes / front crossed drilled
R32-GTR calipers
Braided brake lines, front and rear.
Wheels & Tires:
Work Equip 18×10 -30 – Front (15mm spacer, to clear the brakes)
Work Equip 18×11.5 – 10 – Rear
225/40/18 – Front
265/40/18 – Rear
Interior:
Detachable wheel hub
Custom L Whip shifter
Hydraulic Handbrake
Bride Drivers seat
Standard passenger seat
3" Harness
Walker Chassis roll cage
Helps Metalworks extended cage through to engine bay and full tube front end
Custom water squirter box
POV 1.5 in car camera setup on roll cage
Full interior rewire
Full push button dash
Autometer Gauges, Oil press, temp, Boost, Water and Pyrometer.
Paint & Body:
Custom KC Silver
Origin Front fenders
Origin Rear over fenders
Origin Urban side skirts
Origin Urban front bar
Origin Urban rear bar
Origin Carbon bonnet
DMAX Rear wing
F1 Styled mirrors
Custom front flares
Sponsors:
KC – Body & Paint
Autosolutions & Restorations / Lewis Engines – Engine / Mechanical work
MCA Suspension – Suspension
Origin Australia / Savanna Motorsport – Body kits / Panels
ElectricScan Automotive – Auto Electrical
Helps Metalworks – Fabrication Work
PPG Gearboxes – Driveline
Stay tuned for a feature article on G1 Drift Competition.
- Casey Dhnaram.