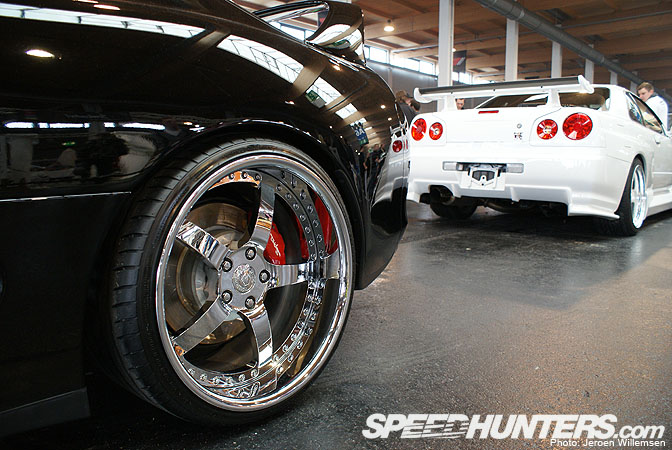 Lets quickly start with part two of my coverage of the Tuning World Bodensee. Some of the comments in Part 1 stated that the cars I showed were typical German, flashy paint jobs, undrivable ride heights. But let me tell you it wasn't all about show cars, I'm sure you will agree after seeing these next few shots.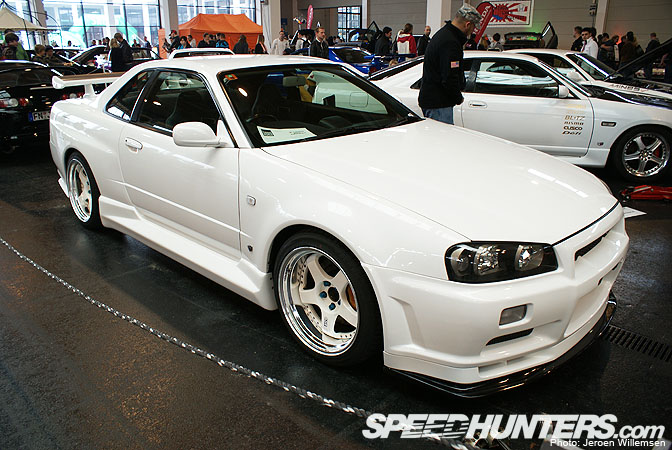 A Nissan Skyline R34 in white never fails to amaze me. Especially when it is equipped with white 18" 3 piece SSR Professors.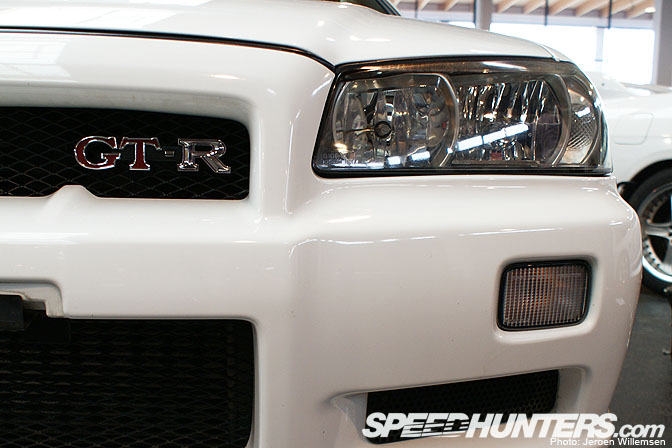 The old school GT-R emblem was a nice touch.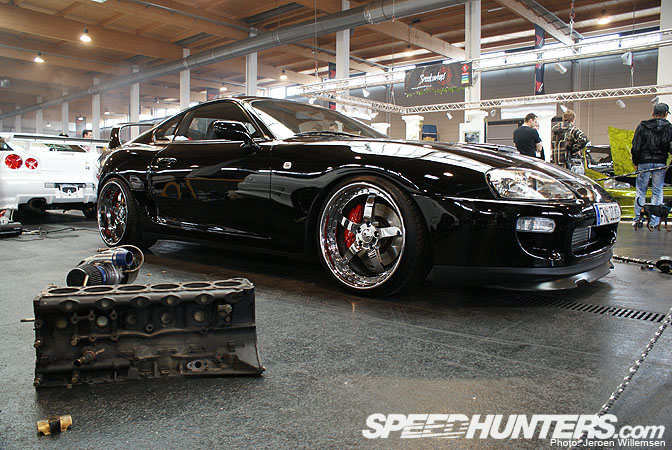 The only Supra I found was also one of the nicest ones I have seen in person. A Toyota Supra doesn't need much to grab your attention but a nice set of chrome wheels doesn't hurt either.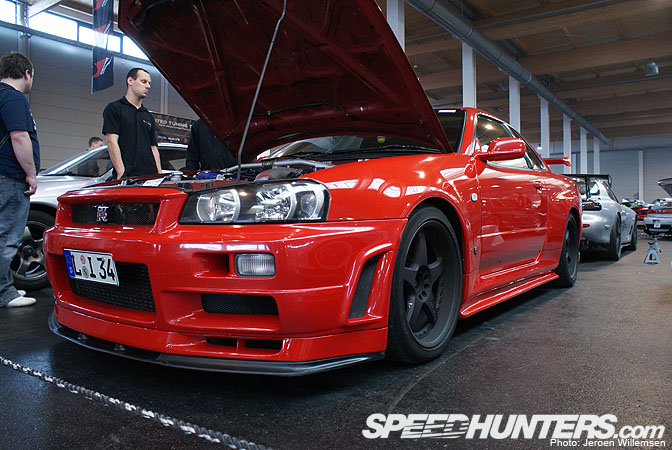 Red on black? Yes please. This combo looked great in the flesh. The wheels are some older Nismo GT3s in 18".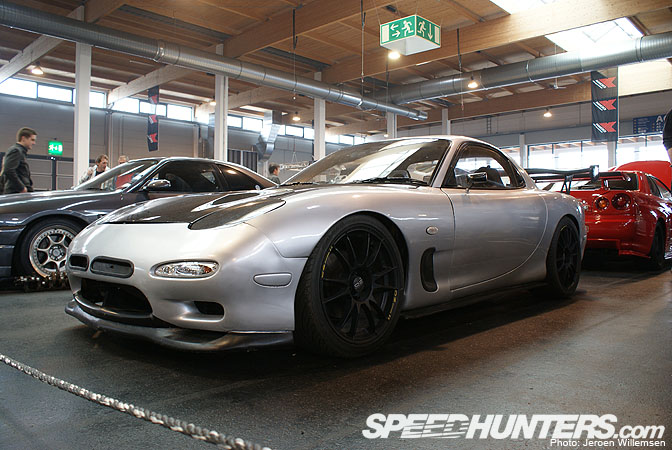 I had to choose between this RX7 and another one that was full with stereos and video screens. So it's obvious which one I liked better. The car had some carbon pieces including the hood and the spoiler.
Wheels are made by OZ and are called Superleggera, again a set of very lightweight wheels that can make a real difference on the racetrack.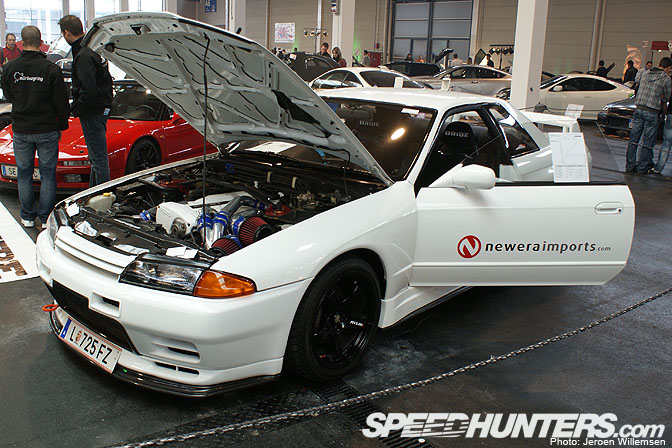 This R32 had been imported by Newera imports and it had been tweaked by ATR Racing in Switzerland. The power graph looked very impressive with 460bhp and 493Nm at 5722Rpm.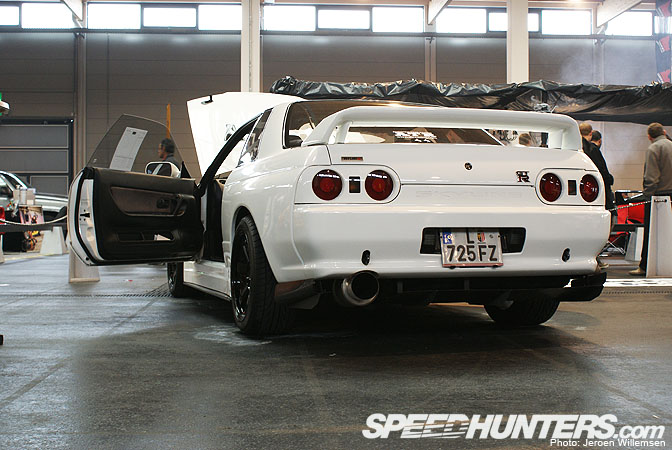 Exterior wise it was all about performance with a carbon diffuser, carbon front splitter and Nismo lmgt4 wheels.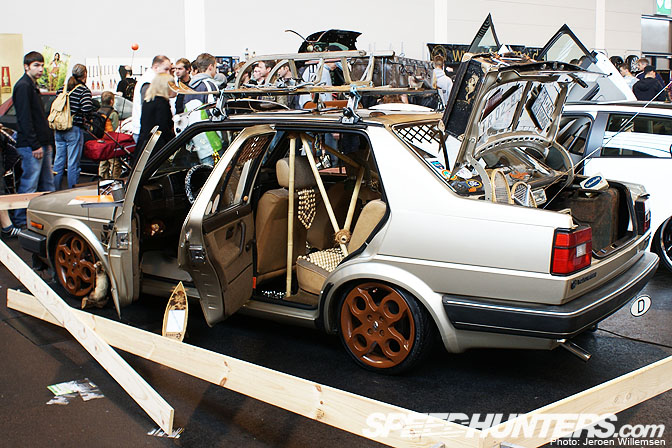 Time for something different on the complete opposite of what we have seen so far. This Volkswagen Jetta was filled with lots of details, like a bamboo roll cage, leather suitcases, an old sled, you name it, it was there.
Wheels are from a Renault, not sure which one.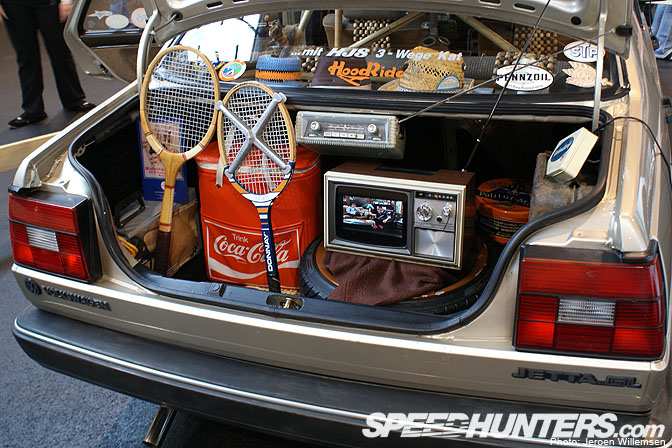 It even had this working old school TV in the back.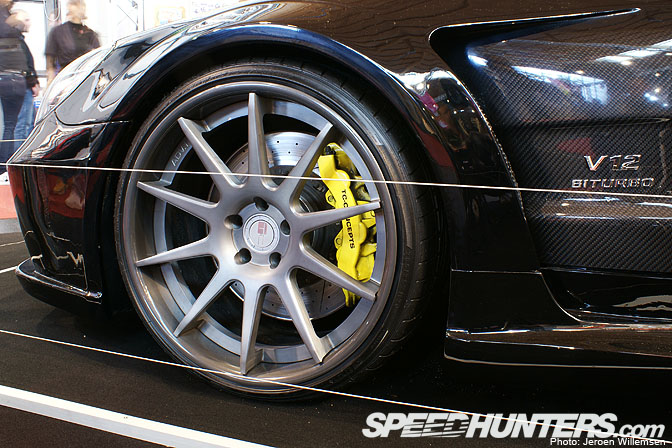 Okay back to reality with this Mercedes SL V12 Biturbo. It had a lot of cool parts like the unpainted carbon front fenders and hood. Wheels are made by ADV.1 behind them are massive 6pot brakes.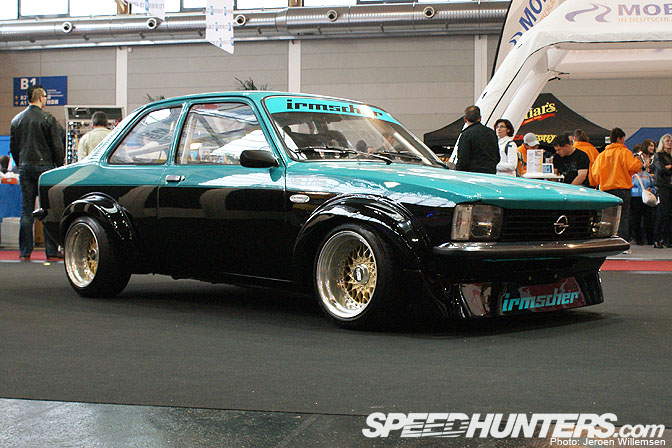 One of my favorite cars on the show floor was this Opel Kadett C. I will have small spotlight about this car in a separate post.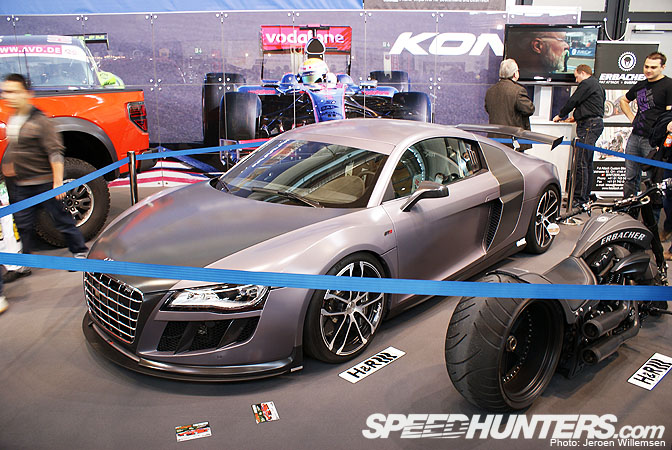 Ah yes the ABT R8 GT-R. ABT managed to shave almost 100kg of its total weight thanks to some carbon parts like the hood and bumpers. The power has also been increased to 620bhp instead of 525bhp.
On the TV in the background you could the 24hrs race on the Nürburgring, too bad I didn't see our own Need for Speed Z4 GT3.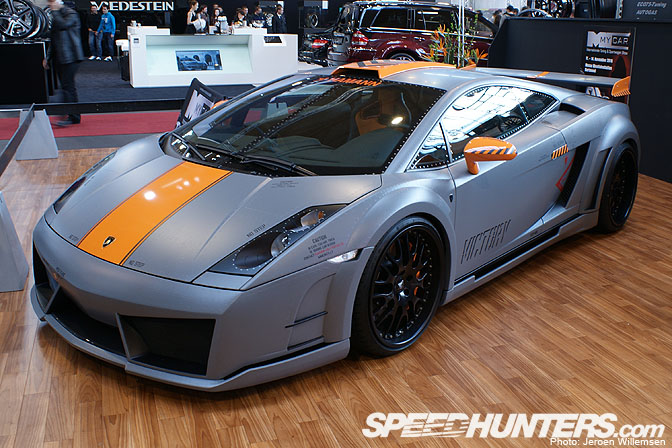 Another heavy weight in the supercar category was this Lamborghini Gallardo made by Hamann. This wouldn't look out of place in the Gumball3000 rally.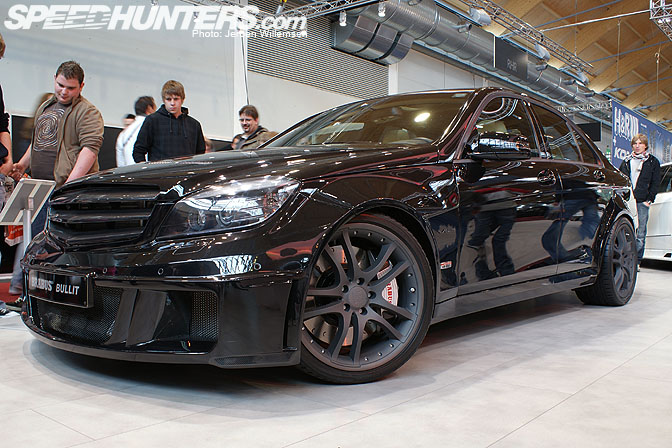 This Brabus built Mercedes C-class has been nicknamed the Bullit. It is capable of a top speed of 360km/h thanks to its 750bhp 6.3 liter V12 engine. The price? A little over 400.000 euro.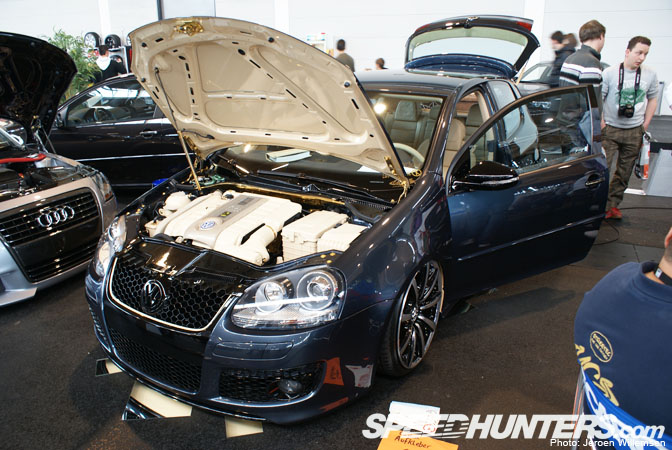 I really loved the color combination on this Golf mk5. The blue contrasted nice with the beige from the interior and engine bay. The owner also added some gold details.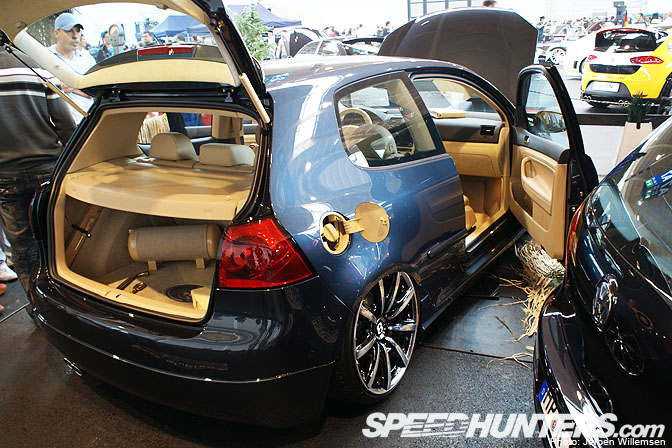 The car had been dropped on airbags.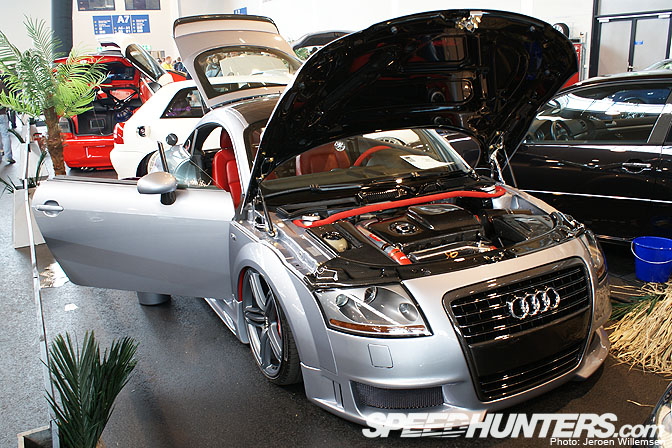 One very good looking Audi TT with a uprated turbo system and carbon bits inside the engine bay.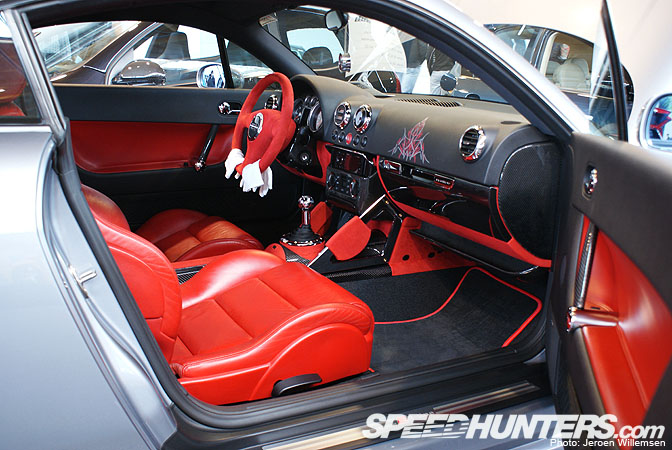 The steering wheel could only be handled with the white gloves. Again the theme of the red and gray from the outside continued inside the interior.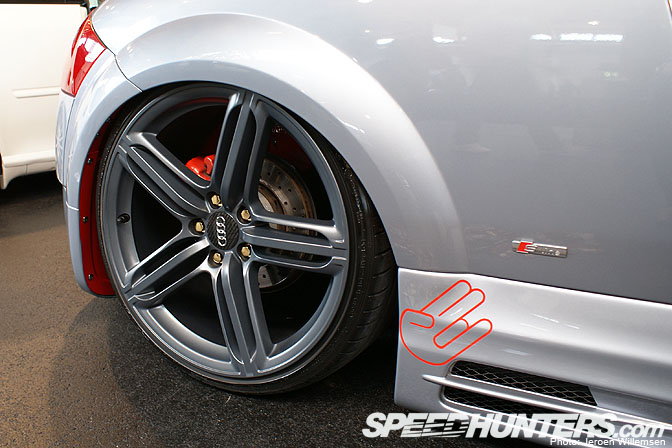 The wheels looked exceptionally good on this TT and again we see some red touches inside the wheel well.
That's it for part 2 in the third part I'll have a special from Japo Motorsport with a very special Mitsubishi EVO.
-Jeroen Willemsen