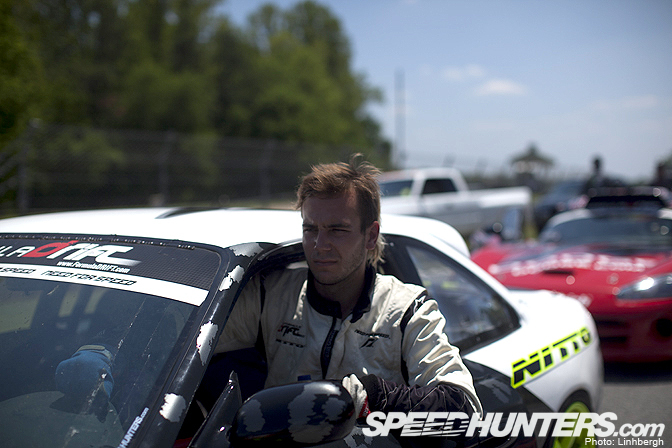 I am a cowboy, on a steel horse I ride….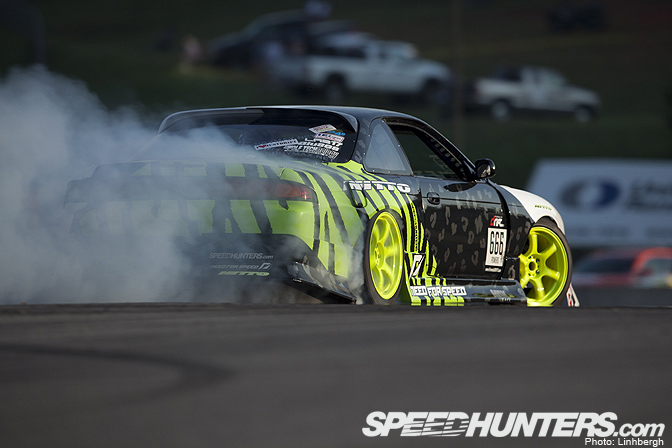 What's up SpeedHunters? Atlanta was an awesome trip! We survived the event, fun times, and the drive. Now I'll tell you about the event a little bit.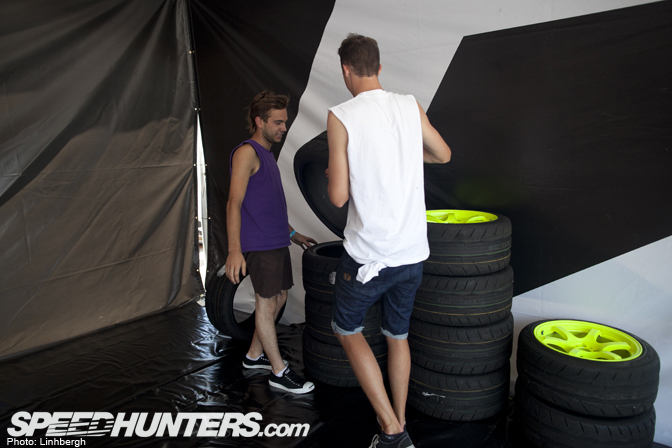 We got in fairly late on Wednesday and had to work on the car. I was super tired because I had just gotten back from a drift event in China on the same day we left for Atlanta. Thursday we set up our pit area and aligned the car.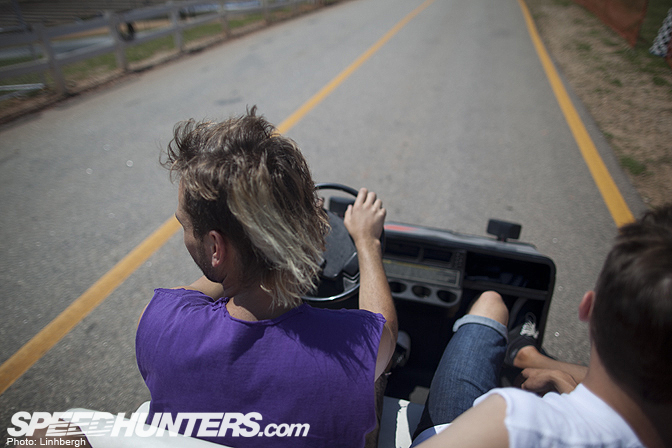 I was also excited at the opportunity to drive the Nitto golf cart. I was kind of let down though. Golf carts are funny and you can do some interesting maneuvers with them but they are pretty slow.
The Mad Powers pit area that Need For Speed supplies to me is pretty cool. I get a lot of space compared to last year which is a big help. This year I really focused on having a lot of spare parts, which came in handy during the crash. In that box there is everything from a spare turbo, to spare hubs, a diff, electric fan, etc. We were able to fix stuff from the crash without borrowing anything.
Thursday practice I wanted to work on doing exciting entries and figured I would fly off track into the kitty litter at least once, so I decided not to run any aero.
Then I went off, which was exciting, and I laughed as I saw Linhbergh running over to take some photos!
I couldn't make any of the east coast events last year so I had only seen this course on video. I was surprised how small the horse shoe is.
Deal With it!
More bubbles. At Irwindale last year I caught myself blowing bubbles underneath my helmet while drifting the bank. I usually don't chew gum. Here I am also rocking my CRAP sunglasses
Rad as sh*t.
I think Courtney is hungry here? Maybe she needs a snack.
Exiting the first big turn I would down-shift from 4th to 3rd.
Coming through the ring right here I would sometimes I have to give it a few good clutch kicks to keep it in the powerband since this section of the track was so slow.
The hardest part of the track for me was the up-shift from second to third while coming back down the hill here. It's quite a stretch and my power band is so peaky now that I have to shift later and turn in fast at the part where I have the least angle in the whole course.
I think Atlanta is a pretty cool track for the fans because it has a
fast and big entry. And depending on where you sit, you can get pretty
close to the action. I don't know if it's because of this or just
southern people that make the fans so crazy and awesome in Atlanta.
Plus, there were a ton of girls compared to the west coast events.
The scenery is pretty cool, as is the whole area really. It's pretty much a huge forest and there are small access roads that connect different sections of the track that run through the woods with big elevation changes. The whole track has crazy elevation changes.
I try to put random cool stickers on the car. This was my second bumper since I blew up my first one at Formula D team drift. I like the kiss marks more than the last design. Smooch.
My first qualifying run was going well until I went to up-shift to third coming back down the hill, and my rear end went over the rumble strip right at that same moment, and I thought I had mis-shifted. I pulled it out of gear and put it back in third and straightened in the mean time. I got a score of 40 which definitely was not going to make the cut to the top 32.
The Nitto NT05's want the car to be in big angle.
I was relaxed and feeling good after I had made top 32 with my second run here and was messing around a bit at the drivers meeting.
Blowing bubbles.
Letting Linhbergh catch a glimpse of my chest hair…
…and giving Rhys Millen wet willies.
I crashed Friday night during top 32 practice. I had some initiations that felt pretty exciting during the earlier practice then flaked on them during my qualifying runs. I knew that I definitely wanted to be putting down really exciting runs so my plan was to just throw the car really hard. Most people also e-brake at Road Atlanta so I was trying a feint/clutch kick entry to try to make it more exciting but its less predictable. My first run in the session I flew into the kitty litter again destroying my front bumper. My next run, I feinted and went too far and I didn't even start my transition until I was in the grass. I ended up hitting the wall with the front, then rear of my car, then doing a 180 in the opposite direction. We were up until about 4am at the track working on it. And no, we did not do wheelies on golf carts for 30 minutes after we were finished!
Here are some of the parts I broke from the crash. I ended up breaking front lower control arm, bent front subframe, broke tension rod, rashed front wheel, broke rear wheel, bent rear lower control arm, kinked the rear upper control arm, bent the toe rod and traction rod as well, along with a few of the mounting points on the sub-frame bent, broke rear window in half, and broke miscellaneous body panels.
The body damage was easily hammered out. Then the quarter panel went back on to make it look fairly nice again. Only one chunk was missing which I covered with the 11 sticker.
We got back to the track as early as we could to fix up the rest of the car. Max put a big Need for Speed Sticker over the rear window to cover up the zipties holding it together now.
Then we took the intercooler off because I thought I felt some air blowing out of it. I definitely felt something but it might have been from somewhere else. Sam Hubinette's mechanic tig welded some questionable spots for us.
The last thing I had to do was re-align the car. Tuerck was hanging out so he helped me hold the toe plates. I gave him the dumb side (just holding the plate and slipping the tape measure end in the slot) because I figured he hadn't done this in a while. Haha!
A lot of people were curious about the crash and came up to talk to us while we were working on it. I guess I was riveting the window back in around this time. Also, since this was my first time to Atlanta I met a lot of new people that follow Formula D that I haven't gotten to meet before, hopefully New Jersey is the same way.
Nasty Nate ordered me a salad and French fries for lunch, along with a lemonade. He took one health class this past semester and is now my dietitian.
Getting back on track I was anxious to see how the car would be and was also excited to be back out there after all the work. A lot of people were pretty surprised to see it out there too.
First run out I was running with Darren. I know he is really good at tandem, but I had no idea how the car was going to feel, so I asked him to give me a little space.
He didn't really as you can barely see his car here! But, my car was good to go and I was back in action so I was pretty happy.
My aero and front end kept falling off all over the track on Saturday after the crash.
During the next run, my car started to cut out while Mike Essa was following, which was especially worrisome because I hadn't followed anyone all weekend. I ended up fixing and looking over the car until practice ended.
You better lock up your daughters; you'll never know what we'll do!
I got an extra walkie-talkie for Nasty Nate and I think it helped out a lot. Before my top 32 runs he hyped up the crowd and the Team Rowdy guys he was with, and had them yell into the radio channeled to my helmet. They sounded like a bunch of wild animals mixed with motorcycles.
My plan for my runs with Robbie was to enter in third instead of short shifting to fourth like I had been doing on my lead runs. I hadn't gotten any practice following the whole weekend though because of the crash, so I wasn't sure how it was going to go.
I remember thinking about the end of the first turn: "Wow, this is going pretty well."
I know Joon hit him exiting the horse shoe so my plan was to leave a little space here so I wouldn't get choked up for the downhill.
It worked pretty well, but his car has a lot more forward grip than mine.
Leading, I just wanted to put down a clean run since I knew I did well following.
He was pretty close to me in some sections but others I was able to create a decent gap.
In the horseshoe I just tried to be as fast as I could.
Exiting the horse shoe to the downhill was where I was able to create a decent gap.
Here, I am just focused on making the up-shift as clean as I can.
Right about this point, Robbie was able to catch up pretty quickly.
Waiting at the grid after I knew, at worst, that it was going to be a one more time, if not me advancing, so I was feeling good. I gave him thumbs up because I knew we put on a pretty good show and he also seemed excited. The judges ended up voting all differently than the other and a one more time was called.
Following the second time he created a larger gap on me on entry but then during the horse shoe I caught up pretty quick.
Throughout the exit of the horse shoe, I was definitely closer than last time.
Leading and entering the horse shoe I wasn't really focused on line or anything in specific, just trying to be clean and fast.
My line through the horse shoe was a little inside which I think ended up being why I lost.
Here are my top 32 runs with Robbie from JerseyStreets.tv
Surely I hoped to advance, but overall I was pretty satisfied by knowing we put on a good and close battle. Robbie was super cool after and was very complimentary and excited about my driving even though he had beaten me. I was pretty happy and inspired about this too. Overall Atlanta was a ton of fun and I am looking forward to more good times in New Jersey!
-Matt Powers