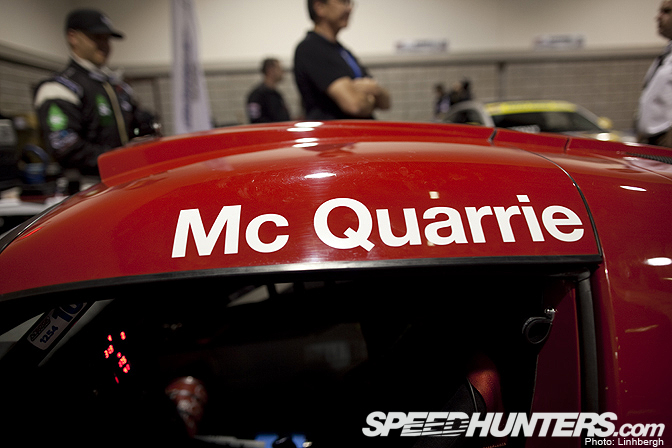 Hey Speedhunters, Tyler McQuarrie here.  Most of you know me as the driver of the Falken Tires Nissan 350z in Formula D.  The weekend after round 1 Formula D, I "flipped the switch" for the Long Beach Grand Prix and raced the LPL Lotus Exige in the World Challenge GTS class. The switch was not a hard one since my background is in racing.  I have been lucky enough to race Formula Vauxhall in England, ALMS, NASCAR Grand National West, USAC Sprint cars, Touring cars, and even have a few Championships to show for it.  This was my first time racing in the World Challenge, however, and my first time racing at Long Beach.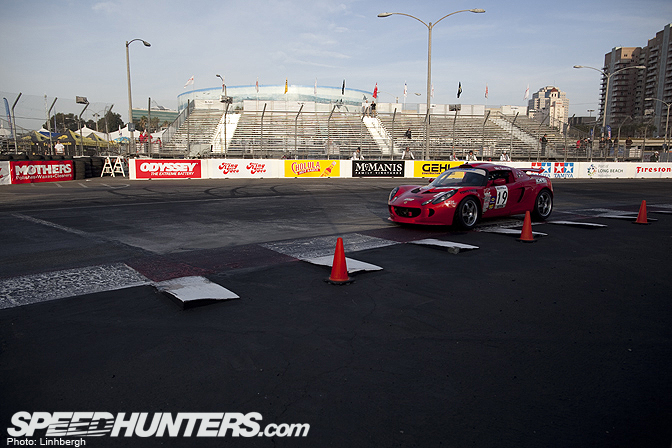 Our first practice on Friday was very early, which was pretty cool. The sun had just barely came up and we were already ripping down the streets of Long Beach. Another cool thing about racing at Long Beach was that this race was on my "Bucket List". Long Beach, in my eyes, is the Monaco of North America and it's an honor to be racing at this track. Although we only had 4 laps, we still ended up 2nd quickest out of the 12 cars in GTS class morning practice. This was my first time racing at Long Beach but not my first time around the track. Over the past couple of years I have given rides in the pacecar at this event. I also spent a lot of time on a simulator before the race, so it helped me get up to speed fast. This was the first time that a Lotus Exige has raced in the World Challenge, so we were not sure where we would stack up. The practice was a very good indication that we could be competitive as well as a breath of fresh air for the LPL team, who spent the last 6 weeks building the car.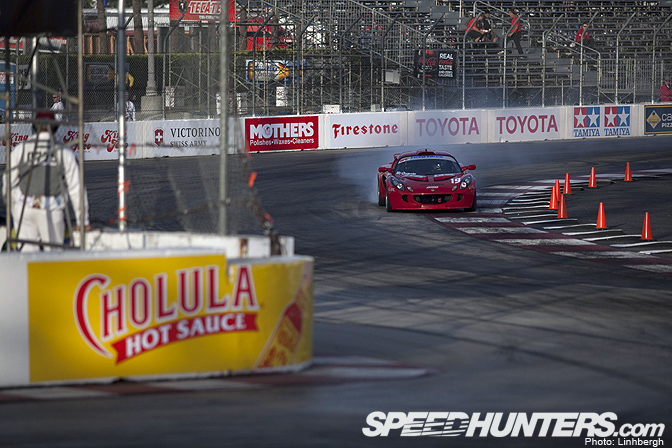 How Ironic…The drifter's car is smoking through turn 10 in the first practice. This was not tire smoke, it was the gearbox letting go, which is known to be a very weak link in the Exige. A pretty big set back for us because we only got 4 laps in the first practice and track time is very limited during this event.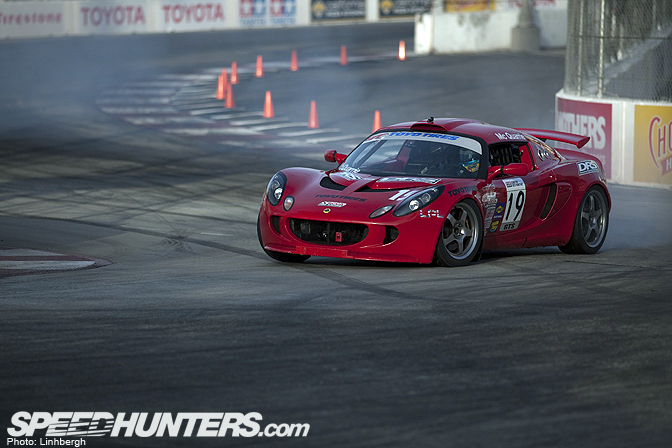 I was asked many times throughout the weekend if I got the urge to drift the car through turn 10, which is the Formula D course. The answer to that question is NO. It never entered my mind once. My mind set when racing is totally different than when I'm drifting. When racing, you are trying to get everything out of the car without over driving the car and it becomes a very fine line that you try to ride. In drifting, you are past the cars limits 100% of the time and the further past it the more impressive it is. It's no different than asking a Basketball player "if you're playing golf, do you ever want to dunk the golf ball in the cup"?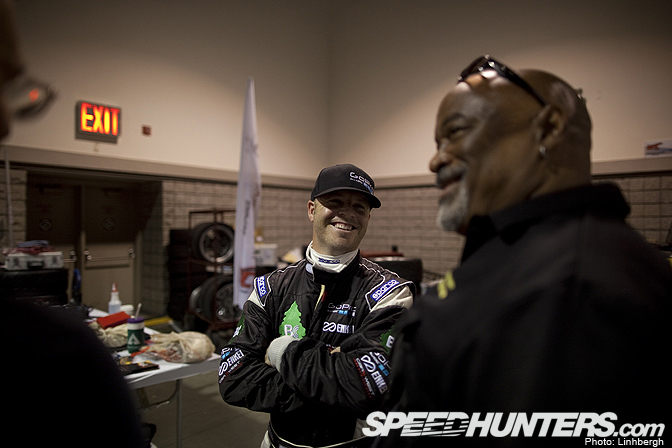 Bill Wood stopped by after the first practice. He has been covering race events for a long time and also started to cover drifting over the past couple of years. He thought it was pretty cool to see a so-called "drifter" come in here and go toe to toe with the racer's. Most people in the paddock know that I have a racing background but some people thought I was just a drifter. I had good fun with those people and let them think that a drifter was beating up on these guys. It was classic!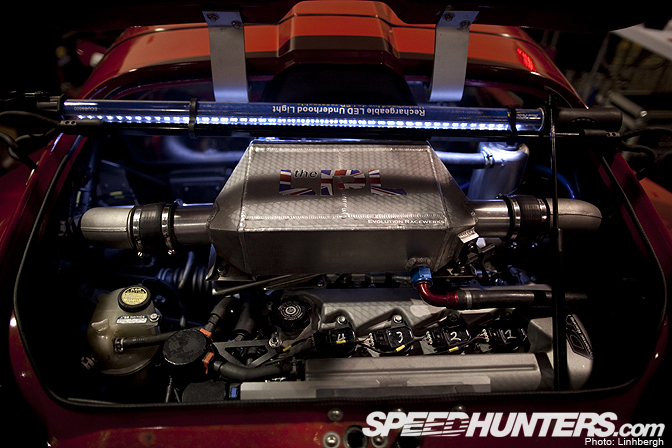 The Lotus Exige S is powered by the Toyota 2zz super charged motor. DRS does all our motor work and they did a great job to get all they could out of the motor.  We were very limited by the World Challenge with what we were able do to the motor. I thought the 2zz motor was really going to hurt us around the Long Beach course, since the straight is so long, but DRS was still able to get 270whp out of it. Even with the Exige weighing in at 2100lbs, it proved to be a quick package.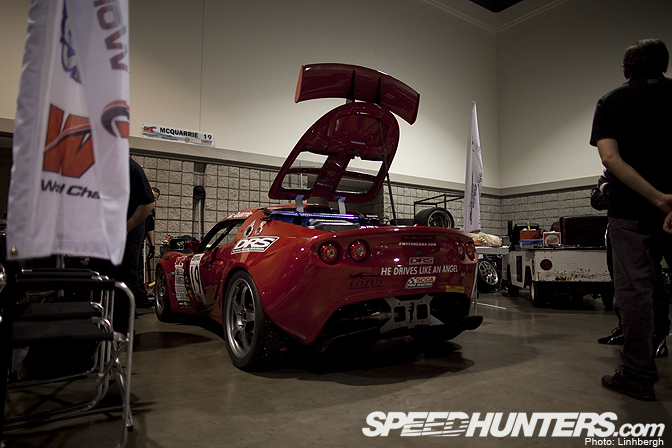 The Long beach event is unique on so many levels. Because of limited space, they pit us in the convention center.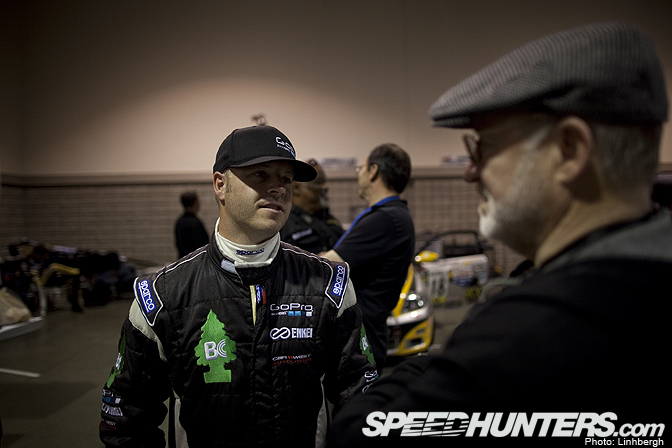 Here I am talking with my number 1 fan, My Dad. He got me into this whole mess by taking me to races as a kid. From there, he got me into karting, has been coming to all my races and drift events ever since. Even traveling all the way over to Europe for every race I have done there. He has also been coming to the Grand Prix of Long Beach for 30+ years, so it was very cool for him to see his son running the event.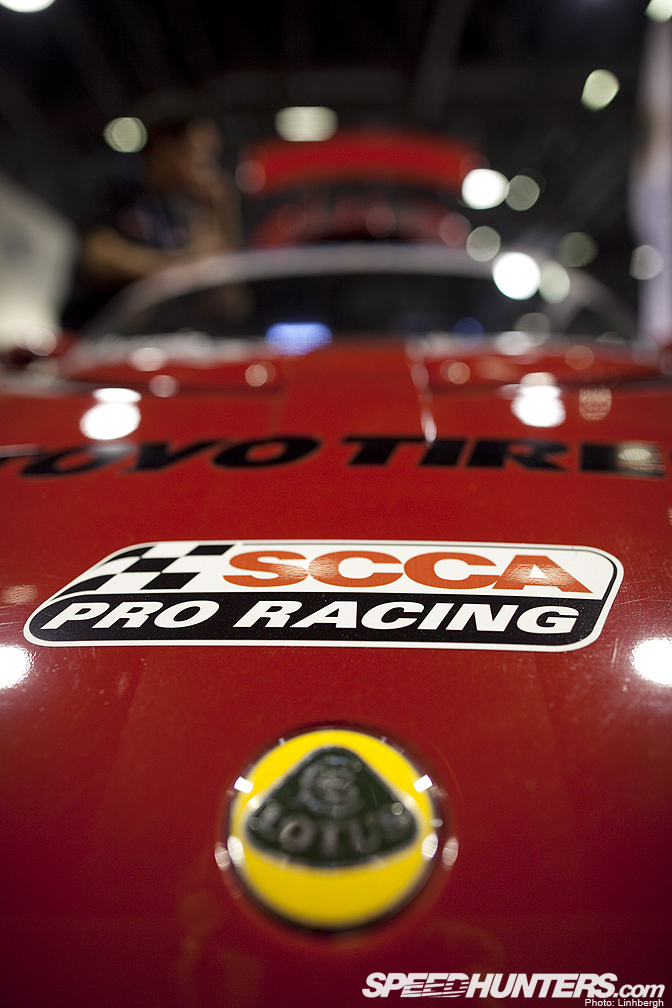 It's hard to make it in the racing world without the support of your family. I don't necessarily mean financial support, but emotional support. My family helped where they could on the money side but in terms of racing money it wasn't much. Their support came more from being at events and believing in me, which goes a long way.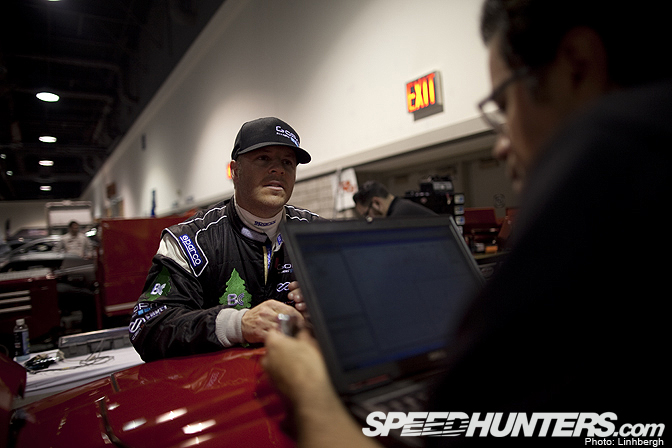 After every session I go over data with Chris from DRS. Data is one of the most important tools that we have to tune the motor, chassis, and my driving.  Chris is focused more on the motor while I focus more on my driving and the chassis. I can look at every lap and the data will tell me exactly why I was quicker or slower. It will also show us if the changes we are making to the car are help or hurting us. The data is very black and white, and in a sport that has thousands of variables, you could get very lost without it.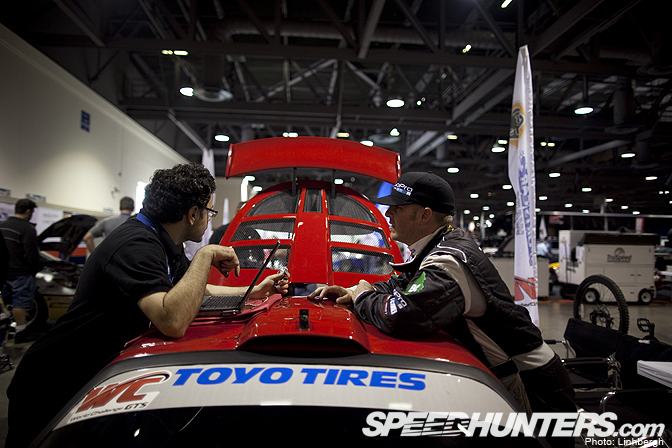 Still going over data…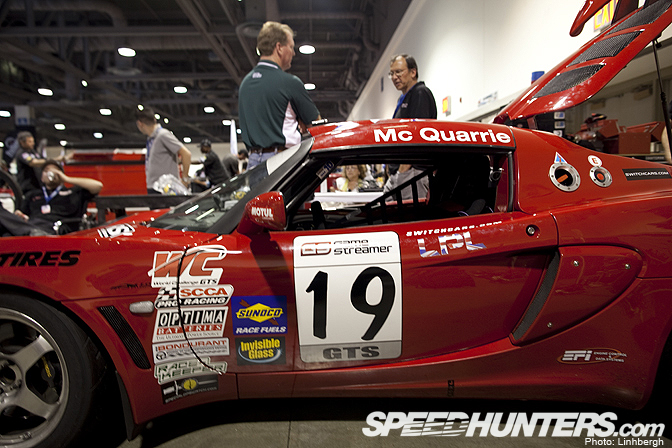 LPL Team owner, Tom Hughes (in the black shirt), had a vision of running in the World Challenge. It went from a concept to reality over a few short months. Thanks to his hard work and dedication to this program, I had a shot to race at Long Beach.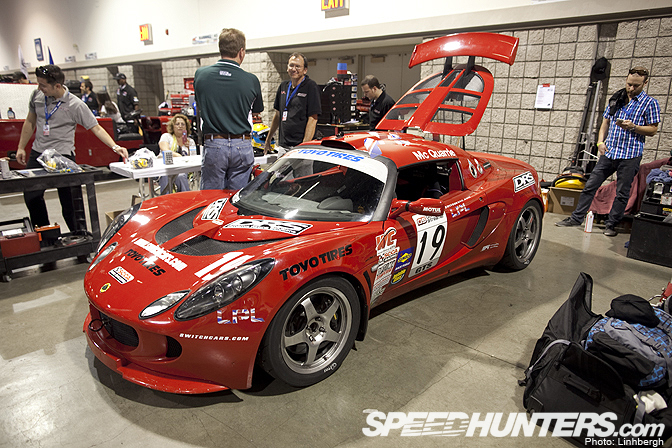 He is heavily involved in the Lotus Challenge Series and the Lotus community.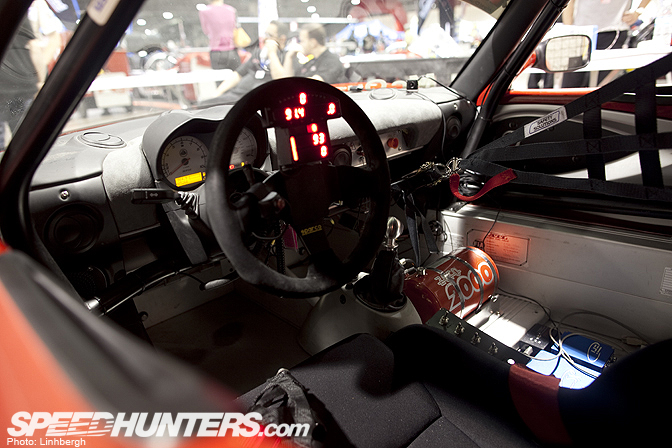 My office for this race. The display on the wheel gives me all the info I need to know while I'm on track. Shift lights on top of the wheel with a lap counter just below that, current best lap on the left and my predicted lap on the right. Just below that are speed, oil pressure, and water temp. I can also toggle to other pages in the display which follow other parameters.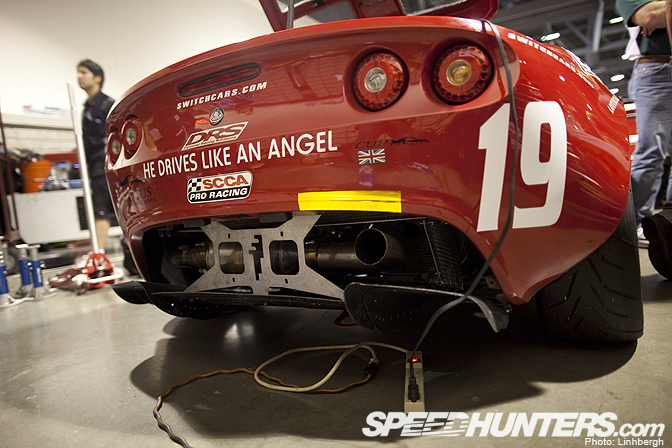 The back of the Lotus got a lot of attention and not just because I was out front! People would walk up to the back of the car and you could hear them mumble, "He drives like an Angel". I'm not even sure I know the whole story, but during one of the many late nights, the LPL team asked how they were going to get the car done and someone said I was going to come down from the heavens and drive the car like an angel… I think it was a state of delirium due to lack of sleep.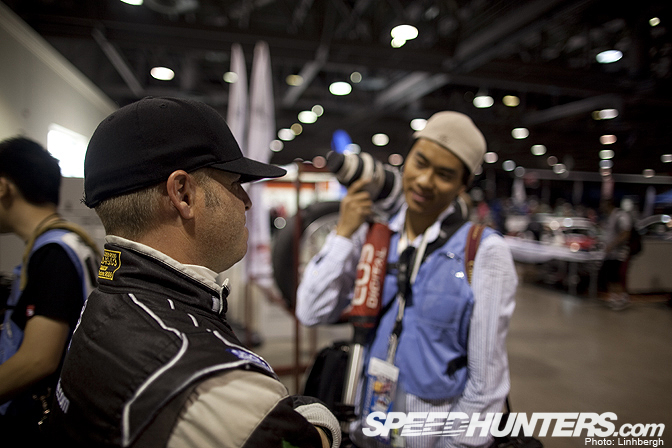 Getting ready to go qualify and I had some concerns at this point: our spare gearbox that the team put in was the stock box, which means stock ratio.  This meant that all my gearing was going to be different. I had an idea of the new gear changes I needed to make for every corner, I just wasn't sure if the motor would pull the taller stock ratio, and the only time to test it was during qualifying. Either way, I knew we had a good shot at pole.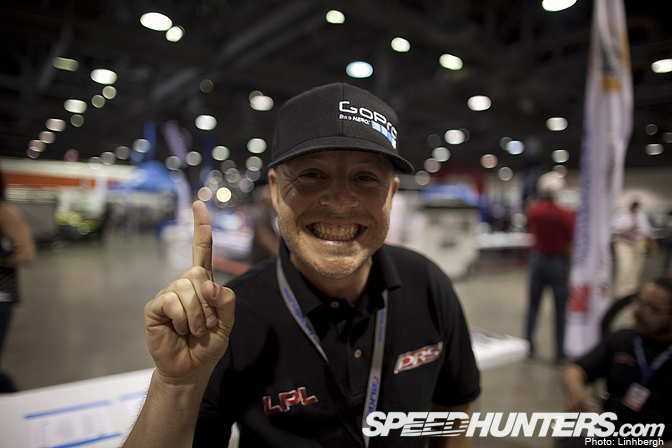 We just got pole! This is huge for the LPL team on so many levels. They got the car 6 weeks before the race and worked their butts of to get it there, and many times during those 6 weeks we thought the car couldn't make it. We also beat out Peter Cunningham in the Real Time Acura for pole. He has a hand full of World Challenge Championships under his belt, so this already felt like a win for us.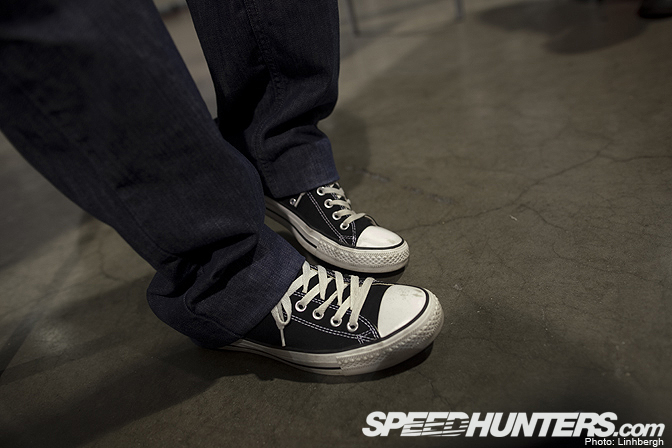 My money makers…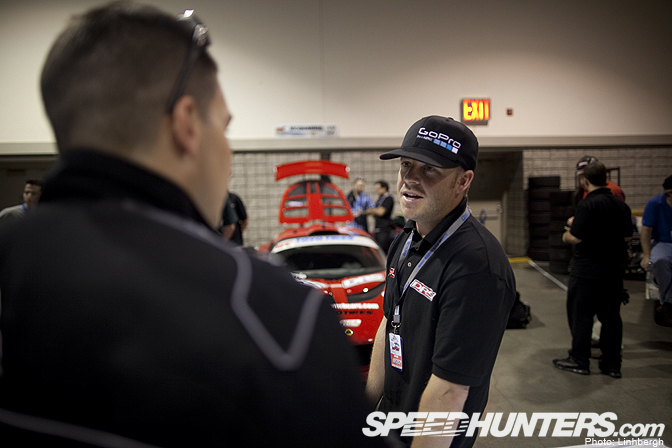 I was a little concerned before the race, simply because we have not run the car for more than 15 minutes at a time, and had even had some mechanical problems with that. The race is 50 minutes long and that would truly test the car. I didn't even practice a standing start in the Lotus, so even that was a big unknown.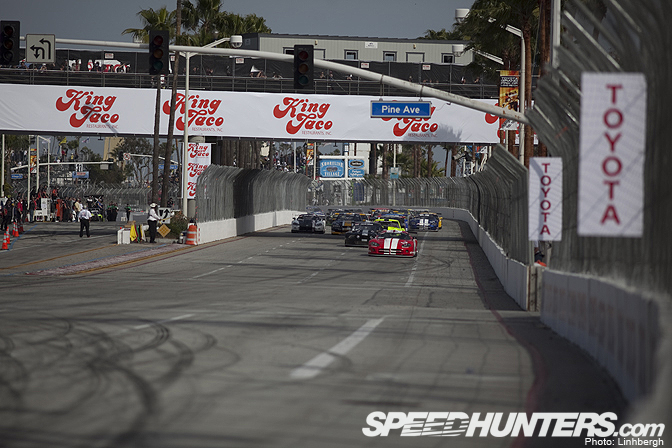 My plan at this point was to get a good start and create a good gap between Cunningham and myself over the first couple laps… If I could do that, I felt like I could pace the race and preserve the car to get to the end.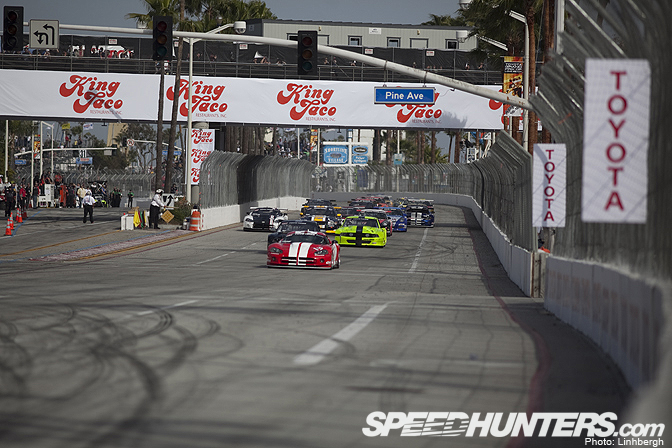 The calm before the storm. Nothing cooler than hearing total silence, then seeing 36 cars coming down the straight at over 160mph… Well I guess it's cooler being in the pack of cars coming down the straight. My first standing start in the Lotus was AWESOME! I got by 2 GT cars on the start and started to plan my attack for turn 1. Everything is working out so far.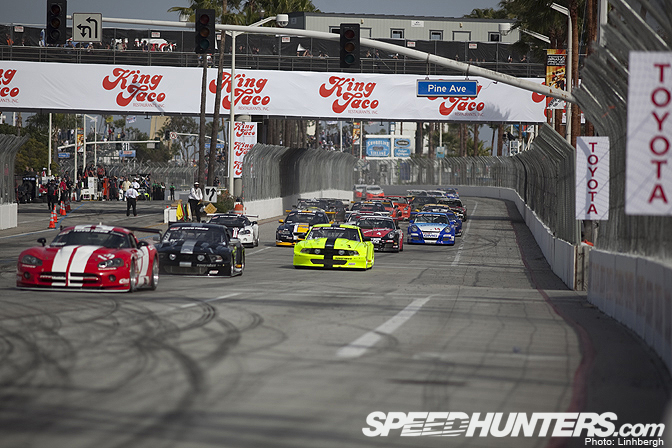 This is probably the most dangerous part of the race.  All the drivers are amped up and wanting to gain a couple of spots. Aside from my plan, my main goal is to protect all for corners of my car and get through turn one clean.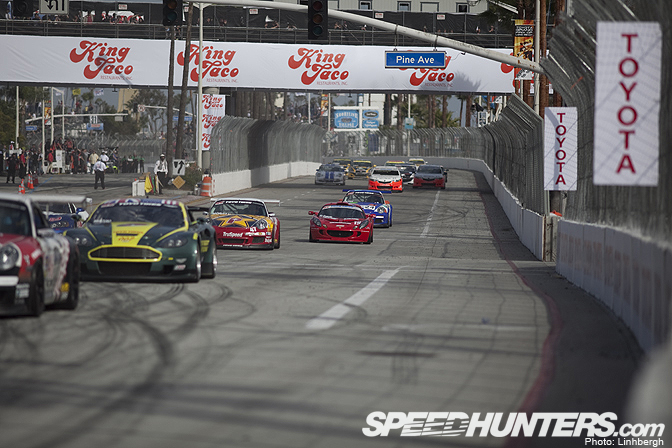 There is a pretty big bottle neck effect going into turn one at Long Beach. I'm getting ready to duck out to drivers left and get a couple of GT cars on the brakes. Also, notice the separation between the GT field and the GTS and TC field. I'm up with the GT cars and my main competition, Cunningham in the white and orange Acura, is way back. I nailed the standing start! I can thank drifting for that.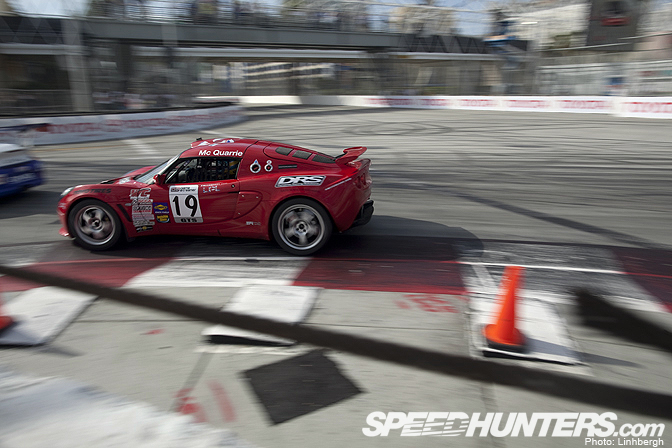 This turn one on lap 2, and my car was looking clean with no real big issues on the first lap. The plan is still coming together. The GT cars got by me down the straight, but I was still nipping at their heels with a pretty big gap back to 2nd place in GTS. I know the Porsche and Vipers I got by on the start did not like seeing my LITTLE Lotus in front of them, but I sure thought it was funny!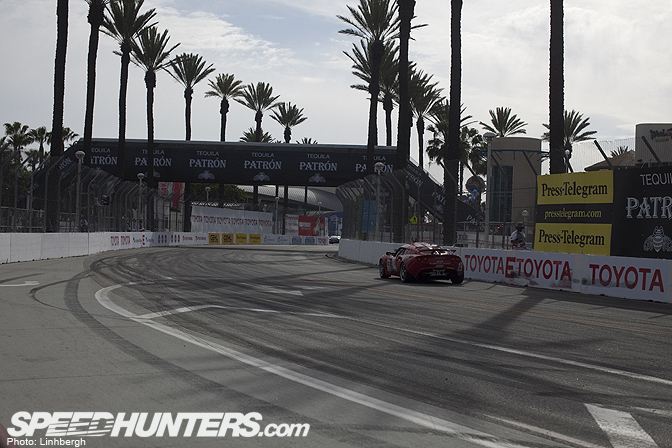 This picture says it all about my race after the first few laps. I think you could hear me whistling as I went by… The problem at this point was that I lost my radio communication with my pits. I knew I had a big lead but was not sure by how much. I tried to look at the Jumbo TV as I came down the straight every lap. Very early in the race I looked up at the TV and saw a Real Time car coming into the pits with the hood up, so I turned my race pace down to preserve the car. Everything was working according to plan and I was just hoping the car would last.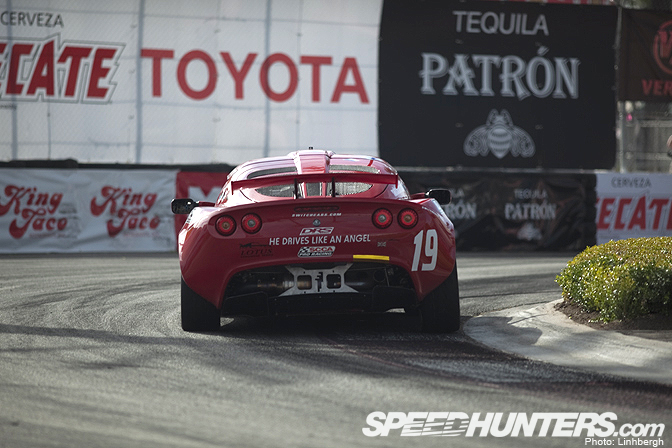 The fountain corner at Long Beach is my favorite turn by far. Turn one is a fast 4th gear corner that leads you down a short shoot, then down to 3rd gear into the fountain corner. I felt like an angel driving through there.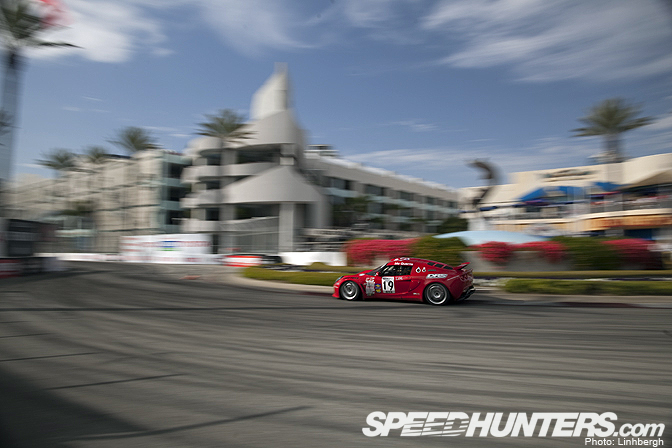 Coming out of the fountain I'm hard on the gas but the wall on the exit comes at you quick. It causes the back end to step out a bit and really helps you setup for turn five. An awesome section of the track and the Lotus is so light and nimble, which makes it great to drive through here.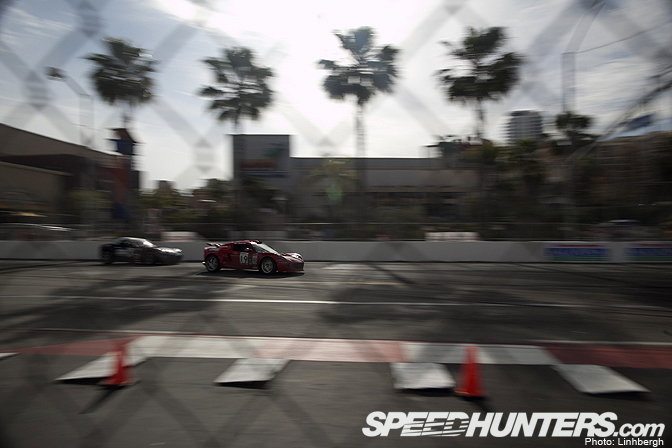 Oh look… another car! No, it was just lap traffic..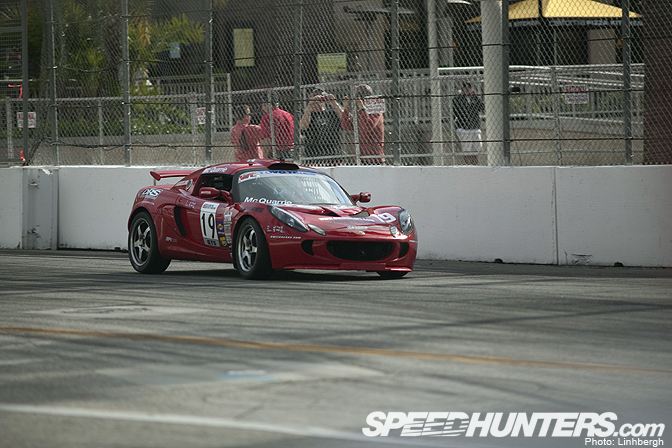 I turned down my race pace to about 2-3 seconds off of my Qualifying time. This can be tricky because it gets you out of rhythm.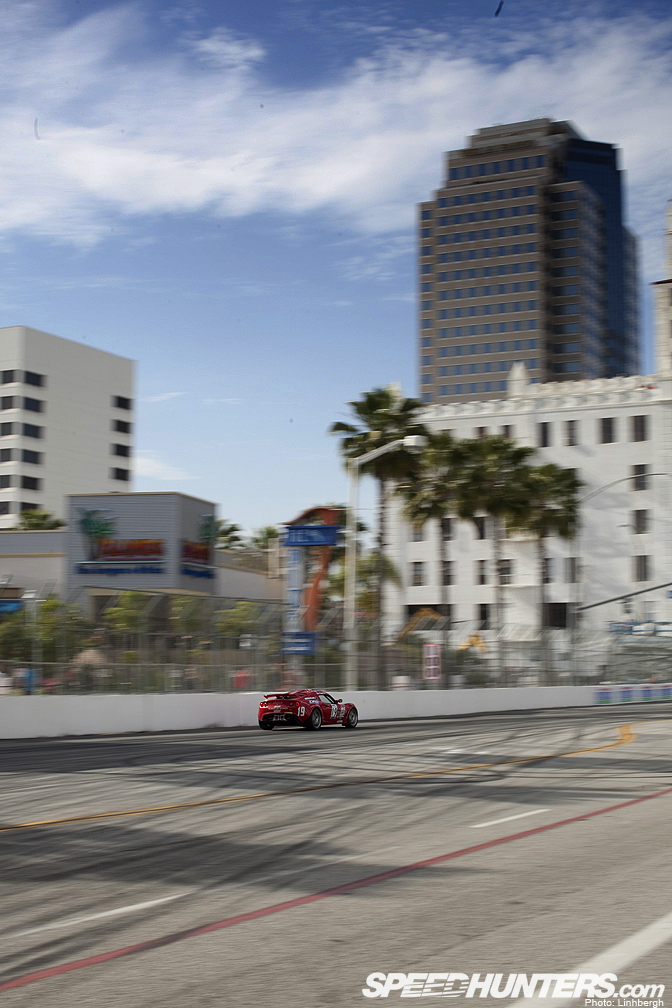 I was just trying to get the car to the end but with no radio it was tough to know how much more of the race there was.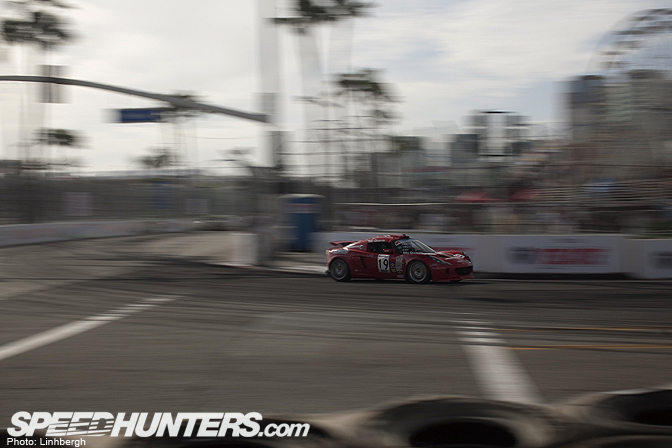 I remember seeing the white flag and thinking that the race went by quick. I also remember thinking, "No way!!! We are going to win Long Beach!!!".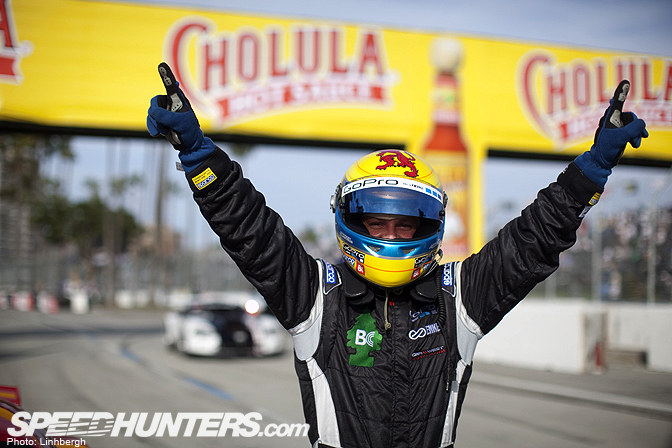 We Won the Long Beach World Challenge GTS race! Every part of our plan fell into place. Such a great feeling to be on top at Long Beach and no better way to thank the LPL team for all their hard work than to hand them a win!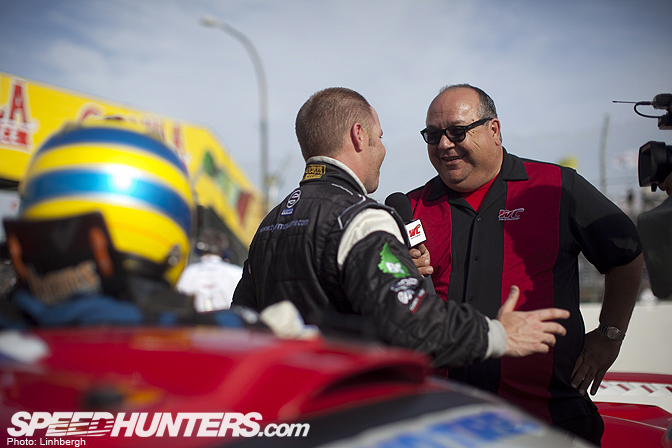 I was interviewed by Tom after the race and he said I drove like an angel.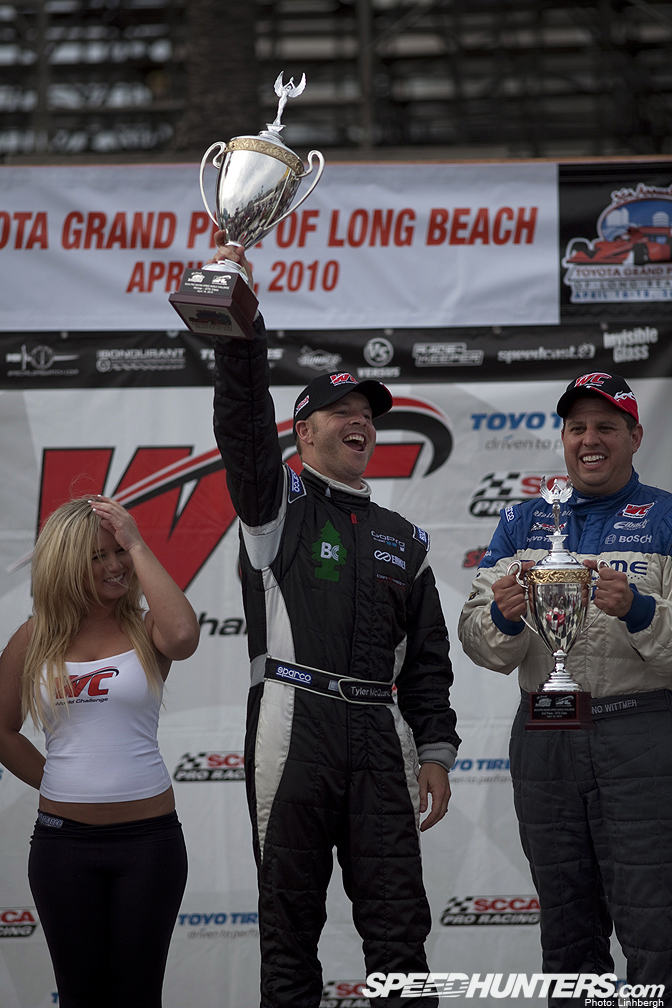 Racing at Long Beach was awesome, but standing on top of the podium at Long Beach was amazing!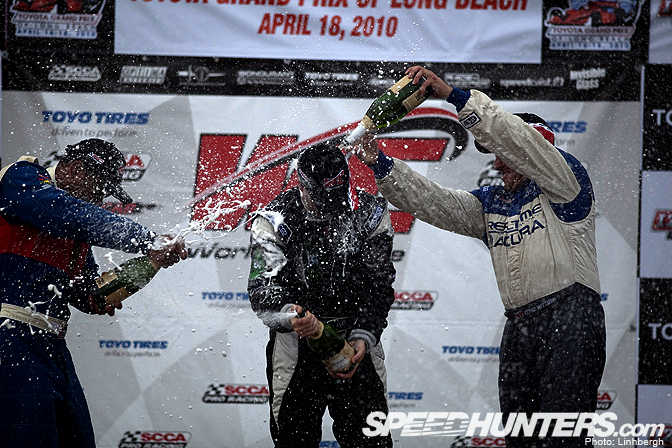 Lotus has a very rich racing history. And just after the race I was told that this is the first win at Long Beach for Lotus since Mario Andretti did it in 1978!  I plan to race the Lotus more in World Challenge this year and hope to bring the LPL team more victories. Fingers crossed that this will turn into a full race schedule along with my full drift schedule… That would be amazing!
-Tyler McQuarrie