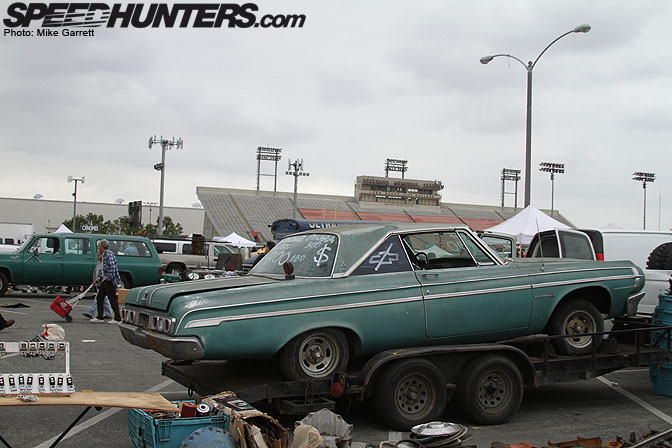 The roads of Southern California are filled with vintage cars of all types, from lowriders and hot rods, to restored muscle cars. A question that might come to mind is just where people find the parts to build these things.
Well, a good number of them come from the car-specific swap meets, like the ones held at the Long Beach Veterans Stadium each month.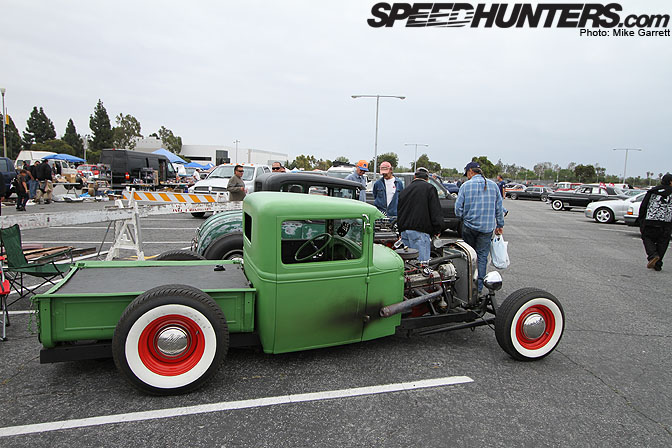 I'd been meaning to get out to one of these since I moved to LA last year, and earlier this month I finally got the chance.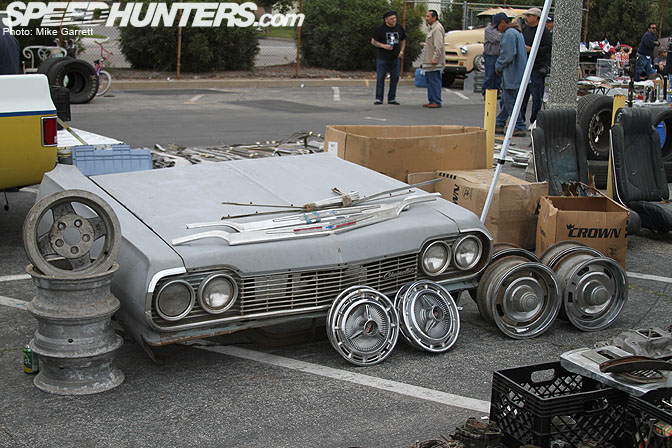 On the Sunday morning after Formula D Long Beach, I tagged along with my brother and his friend to have a look. We didn't show up until about 10am, and in the world of swap meets, that's way too late. The real bargain hunters usually start showing up at about 6am.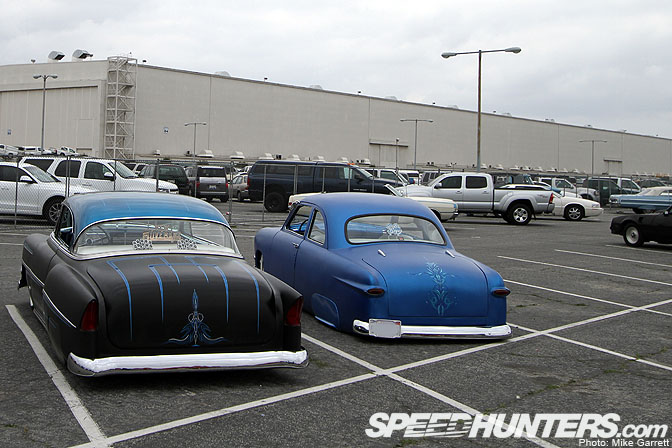 Even though we arrived late and the forecast was calling for rain, there was still plenty to see. I started off by taking a stroll through the "cars for sale" area.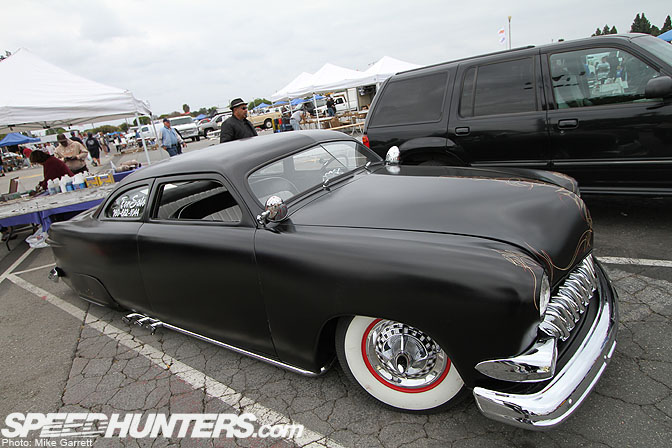 These swaps draw quite a variety of vehicles, from traditional style customs…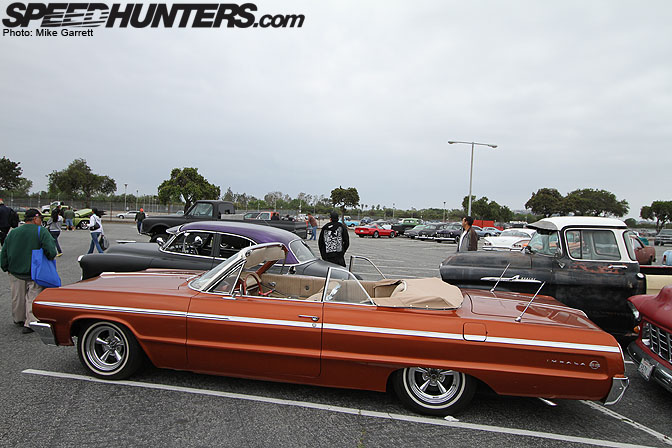 …to lowriders of various eras.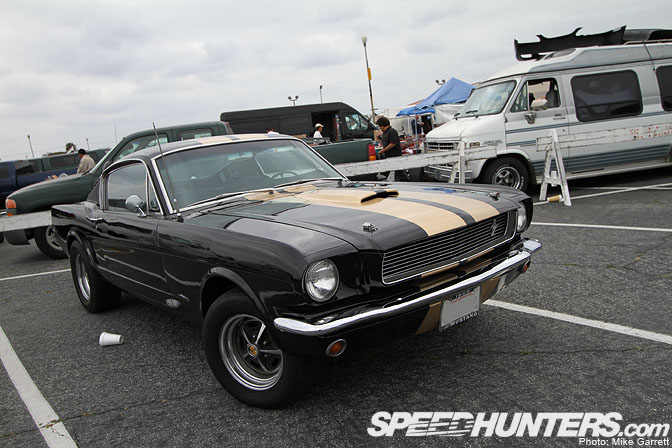 Plenty of high-dollar collector cars as well. How about this '65 Mustang fastback? Not sure if it's a genuine GT350H or just a replica, but it's damn cool.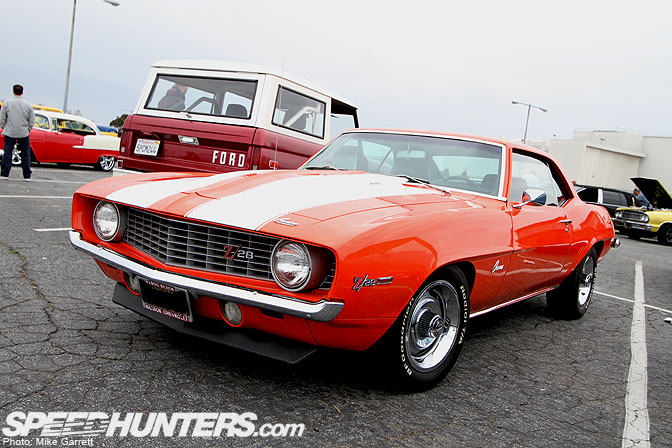 A '69 Camaro Z/28 in flawless condition. Don't even want to think about what this one's worth.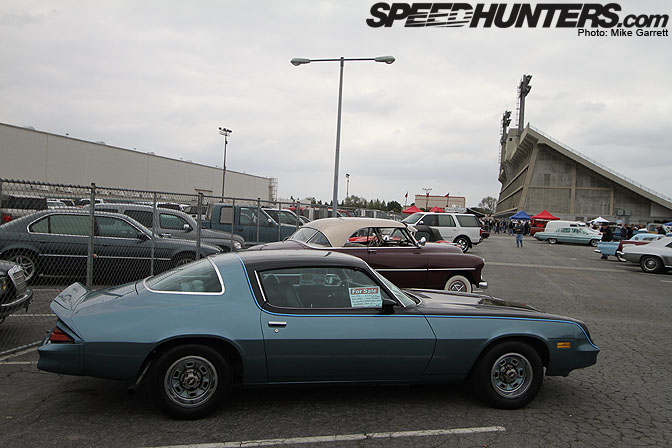 Another, slightly more affordable Camaro – a completely original 1978 RS model.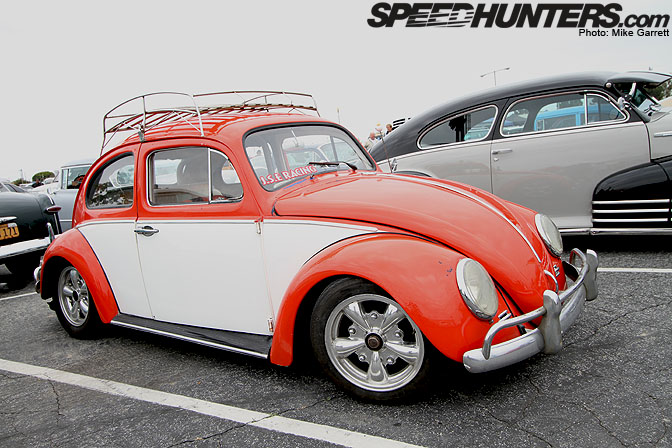 Also spotted this dropped two-tone bug mixed in amongst the bigger American cars.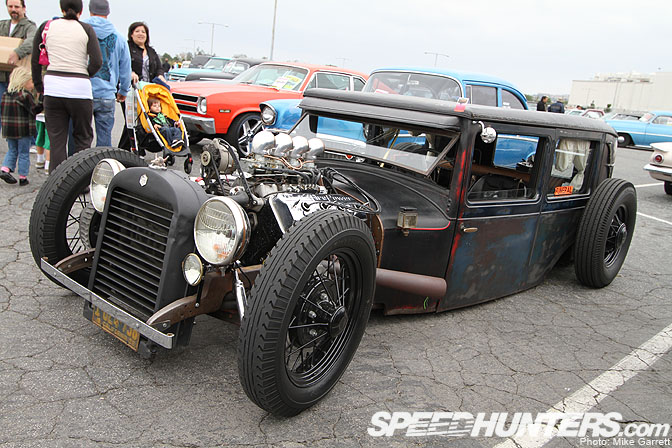 This evil-looking rat rod seemed to be getting the most attention of any of the cars. People love these things.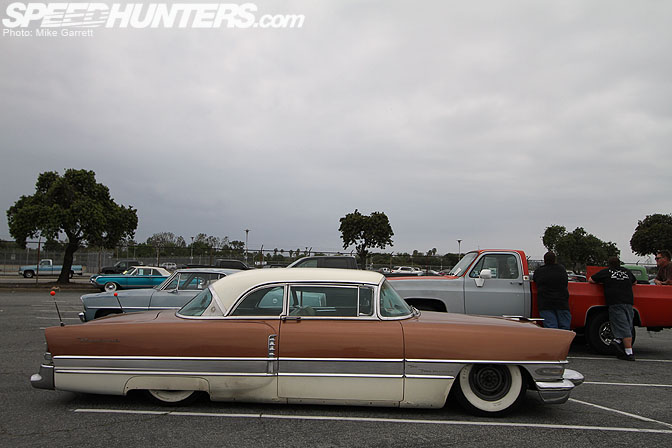 My favorite car of the day though, was this slammed mid-fities Packard Four-Hundred.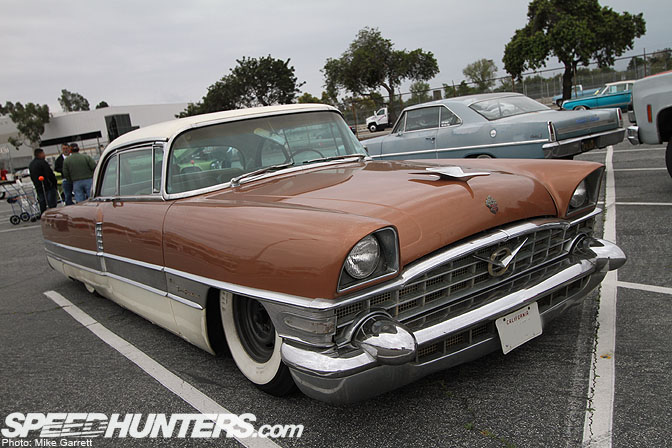 It really doesn't get any more unique than this.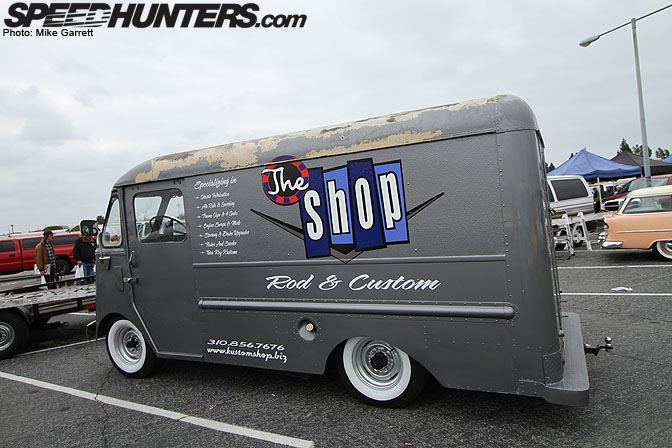 Although this period delivery van is pretty unique as well. Back in '60s these things were popular among road-tripping hippies.
Now for a quick look at the swap meet itself. Here you could find everything from automotive books…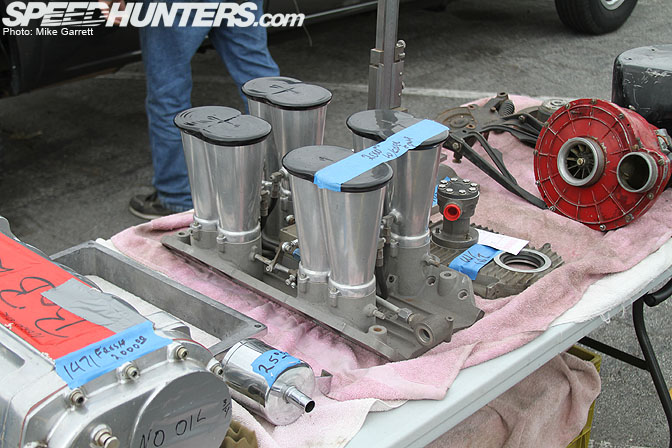 …to serious race parts.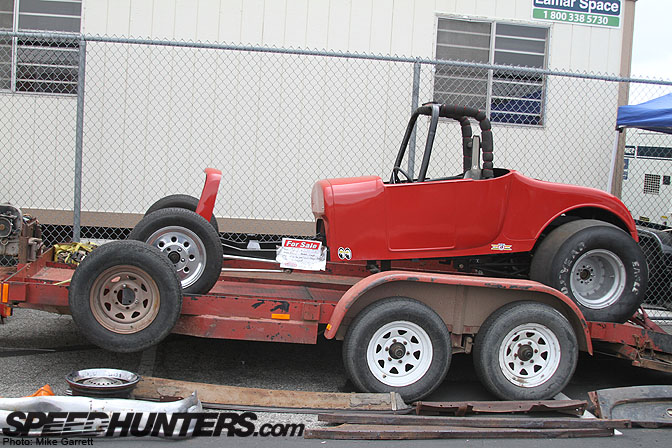 Along with a perfect chassis for those previously mentioned race parts.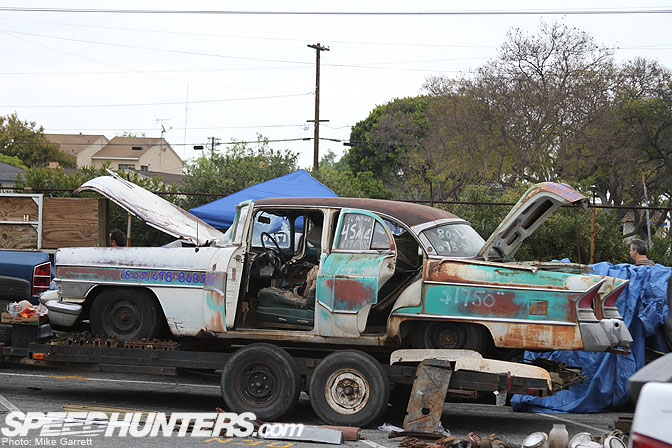 Here's another Packard, requiring just a bit of work. How cool would it be to drop in a fresh drivetrain and just cruise this thing as is?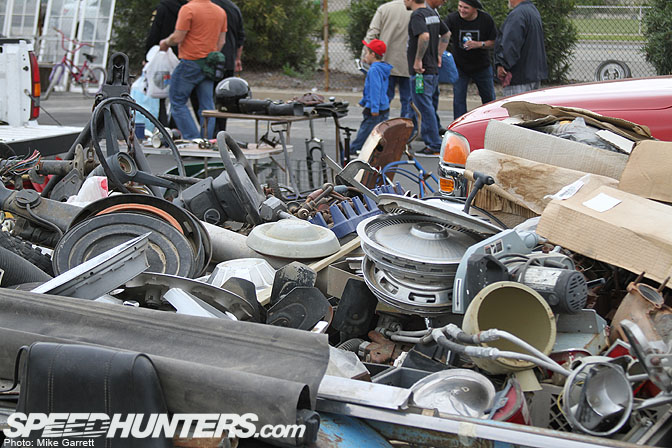 I'm sure any spare parts you might need can be found in this pile…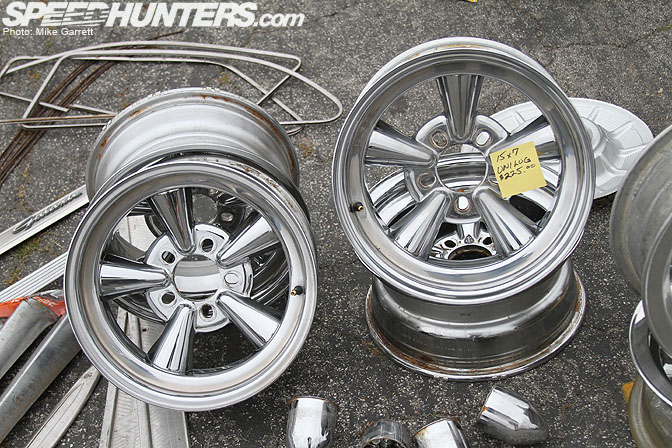 $225 for a set of 15×7 mags. Seems cheap compared to what old JDM parts go for, eh?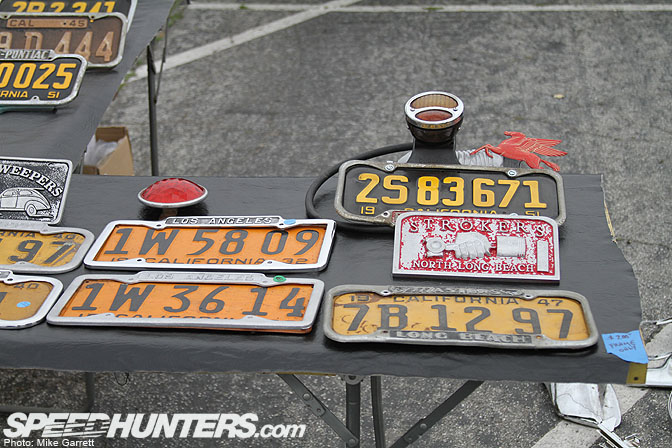 Cool selection of old license plates and club plaques here.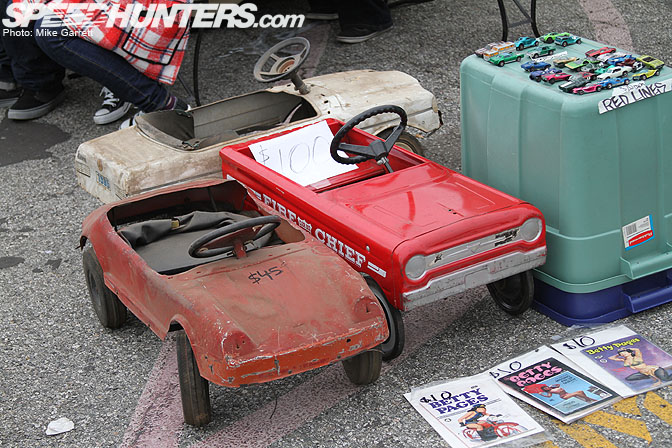 Anyone else have one of these when they were a kid? So many memories playing in the driveway.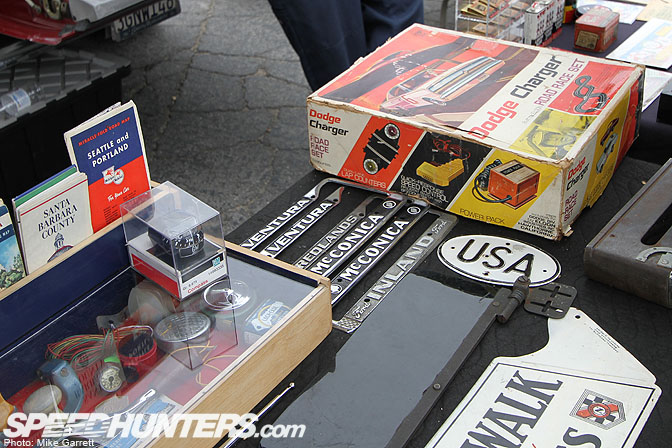 Man that Dode Charger Road Race Set is awesome. I have a feeling it's worth just a bit more now than it was back in the '60s.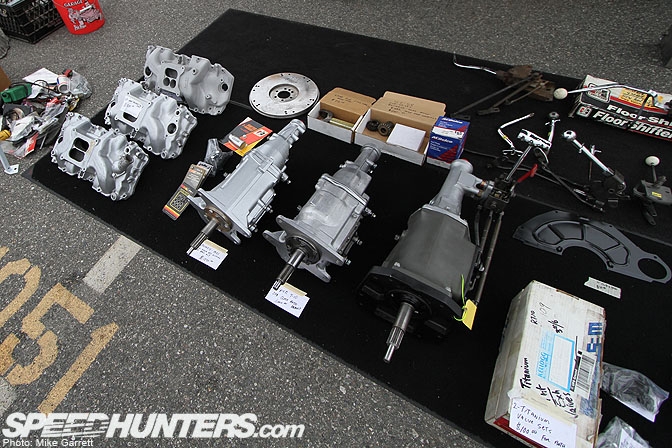 Anybody need a Muncie or Super T-10 four-speed transmission?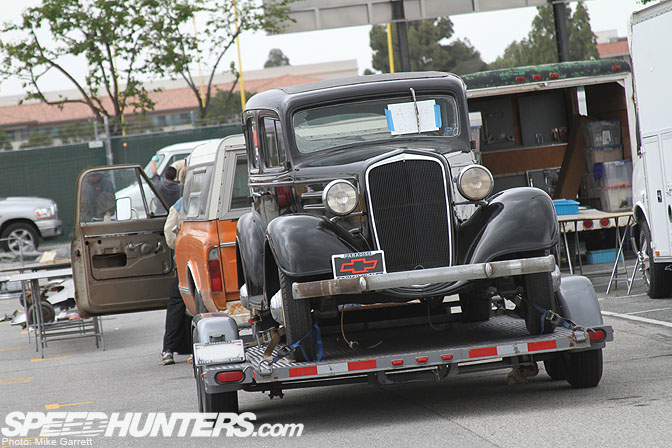 Hope you enjoyed this look at what's a common occurrence here in Los Angeles.
If you'd like to check out the Long Beach Hi Performance Swap Meet for yourself, you can find a schedule on the offiical site.
-Mike Garrett