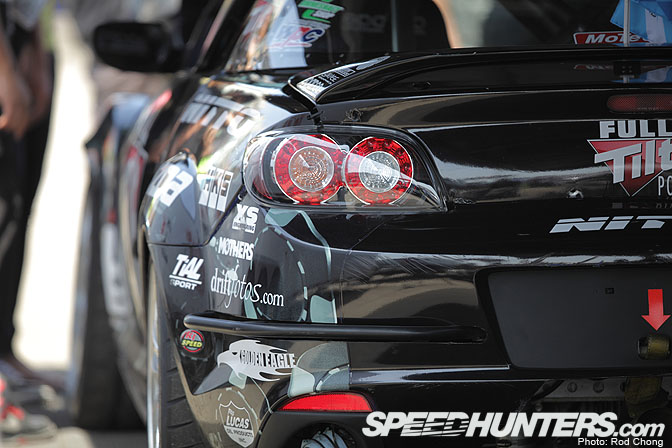 First of all, I would like to thank from the bottom of my heart Speedhunters and the fans for this opportunity to share my experience at Formula Drift Round 1! I greatly appreciate your support!
The Full Tilt Poker Mazda Nitto RX-8 feels amazing and Bergenholtz Racing did a phenomenal job in building this powerful Tri Rotary beast! It's my first time engaging with a 600 horsepower vehicle with a HKS sequential transmission. How the vehicle reacts during initiation, transition, and throttle modulation is completely different from that of the LS Auto/CFR S13.5's from last year. After a couple of test sessions, I was able to control its raw power and, therefore, felt more confident breaking it in during FD's media day on Tuesday. B.R. made it their priority to structure the cockpit to my liking so that it felt like home whenever I drove. Ron actually took measurements of the LS Auto/CFR 13.5's cockpit in order to have the RX-8's cockpit match up to a tee. Also, having the cockpit decked out on Sparco products, such as its Rev racing seats, steering wheel, and 5 pt. harness, as well as myself geared up in Sparco's race suit, shoes, gloves, and helmet makes it that much more thrilling and the moment complete.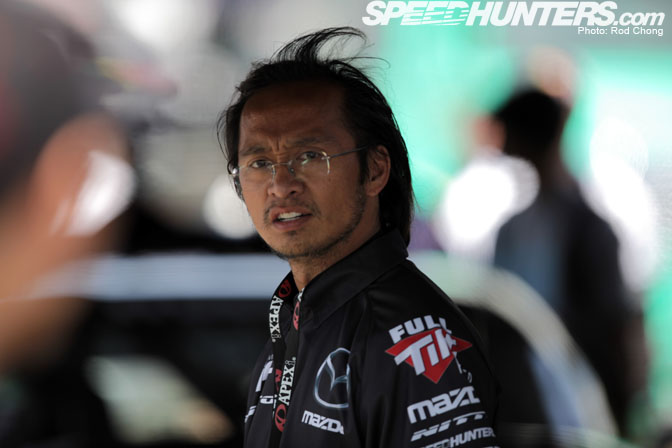 It truly is an honor working with Ron Bergenholtz! As team manager, he works on the RX-8 non-stop, organizes the trailer, runs around SoCal like a chicken with its head chopped off picking up parts, keeps everyone up to date, looks out for the well-being of each and every member of the team, preaches to them that success in this industry isn't as important as humanity and balance while, simultaneously, fathers 2 (soon to be 3!) energetic little boys and romances his wife to remind her that he has never stopped loving her. Ron Bergenholtz is an intelligent, articulate, goal-driven, and passionate man who wears his heart on his sleeve. There are no gray areas with him; he's direct and intentional so what you see is what you get. I'm very blessed and grateful to be driving for Ron!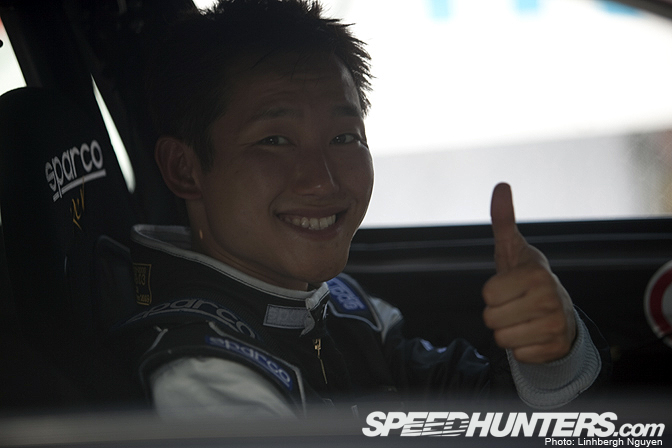 It's difficult to stop smiling when I'm so excited about being out on the track to attack the course. I get an adrenaline rush when I'm inside the RX-8. I could be sick or dealing with life's unpleasantries, but, as soon as I get into the car, my objective is clear and everything else fades into the background. I enjoy every moment and cherish them all!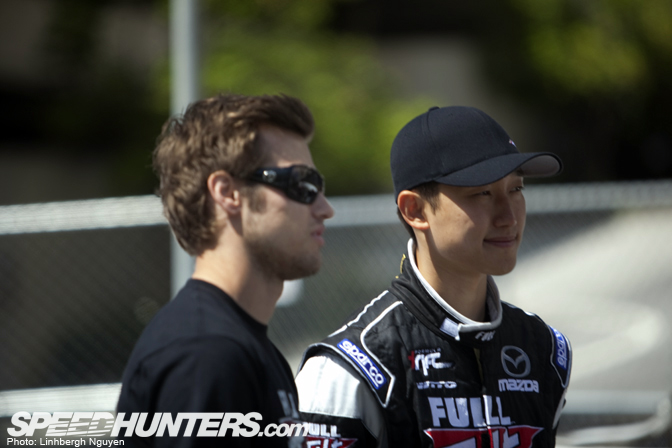 This is my Crew Chief Brian Benson whom I met for the first time in 2005 at one of Drift Association's events. He was a staff member then and an avid drifter himself. It's an advantage to have a crew chief who has had experience behind the wheels of a drift vehicle because he is familiar with the sights and sounds of the car. I appreciate how he never fails to ask me how the car performed and how I felt driving it after each and every run so that if there were an unintended setback, he would make the appropriate rectification posthaste. Also, he's always thinking about the next big project for the car and his ideas are amazing! If manifested, it'll probably revolutionize the industry.
All-in-all, aside from his creativity and intelligence, Brian is man of admirable work ethics, and is stubborn and funny. He, like Ron, is dead honest and, again, like Ron, is dedicated to his work, which is also his passion.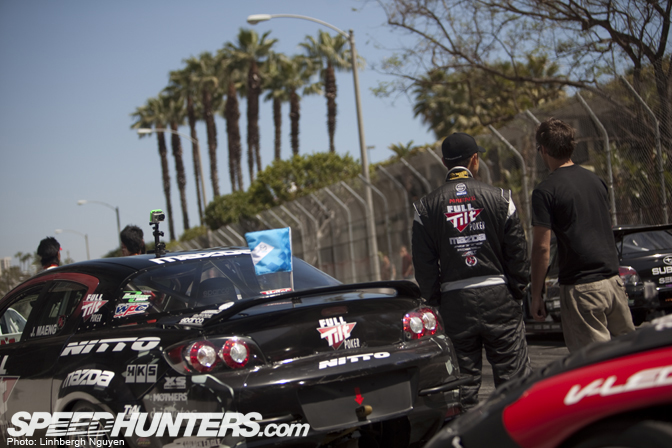 Here we are, Brian and I, lined up for Friday morning's practice and I asked him how he felt not sleeping the last 3 days. He simply replied with a big smile that he felt great. The line was long so we savored the oceanic breeze that filled the moment.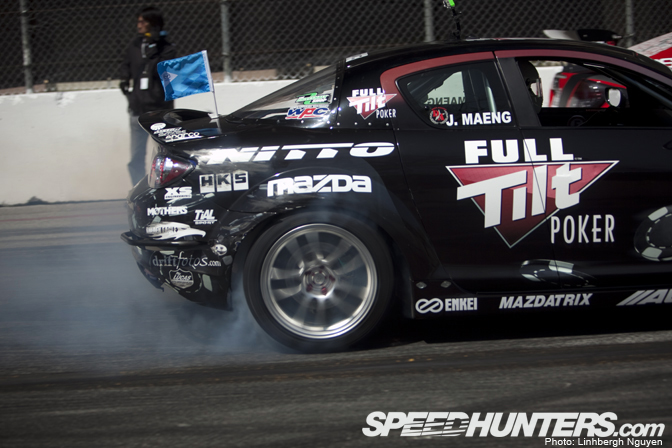 Warming up the high performance Nitto NT05 tires wrapped around the light weight Enkei PF01 wheels on grid while anticipating the chance to test out the bash bars, which Bergenholtz Racing engineered, in the rear. It has 5 inches of travel to prevent the disruption of the drift's momentum if the rear were to come in contact with the wall. With the new ACT clutch setup and the LS Automotive Driveshaft the RX-8 felt much smoother and more reliable in transferring all the power onto the track.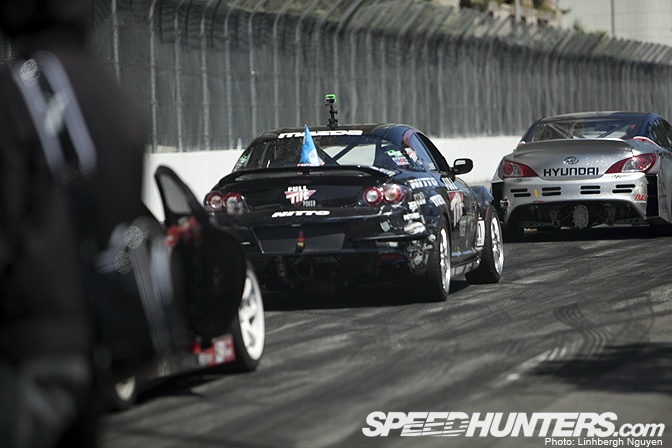 Still in line but inching closer to the front. At this time, my mind is flooded with reminders, techniques, anticipation, etc. but, mostly, I'm forming a method as to how to execute swinging hard with good speed and massive angle at the appropriate places along the course. As soon as I'm satisfied with a game plan, I'm running it in my mind over and over again until my turn approaches to actually run.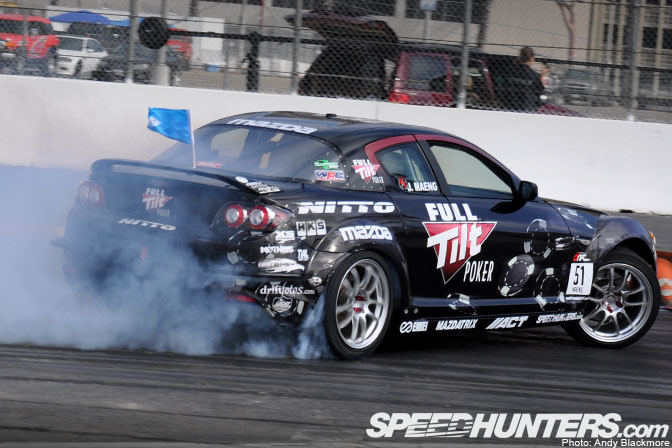 On my very first run of the day, I took it easy to feel out the track conditions. It felt loose for the first couple runs but, once the pavement was laid out with rubber, it was on for some awesome drifting!
During this shot, I was on 3rd gear. 
Taking it step by step is key during practice, especially at Long Beach, because it's a tight course and, therefore, doesn't allow much room for error. So, I inferred that increased velocity is needed for the transition into 4th gear to work my way out towards the outer clipping zone #2.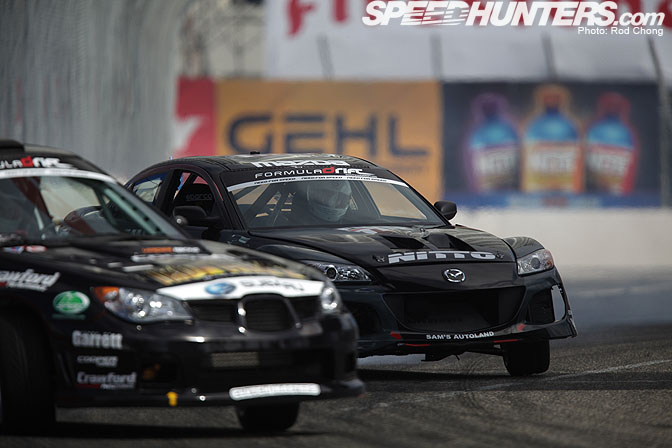 At this time, I was still in pursuit of familiarizing myself with the complete functionality of the car but the Full Tilt Poker Mazda Nitto RX-8 felt phenomenal chasing Stephan Verdier during practice. The sound emission of the Mazda Trix 3 Rotary and Mazda Speed turbo setup is the anthem of my passion for this sport. The more I'm on throttle, the more I feel free and euphoric!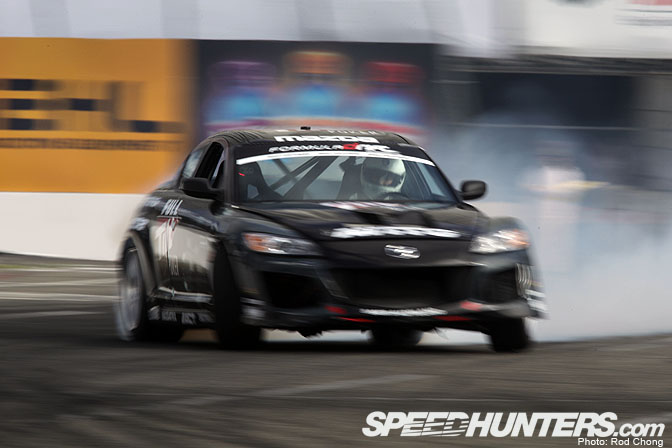 This was it, my 1st qualifying run. On the straightaway I shifted my way up to 3rd gear, e-braked initiation, throttled heading towards transition for the 1st outer clipping zone, shifted to 4th, modulated the throttle mainly in the high RPM's, aimed to hit the 2nd outer zone and inner clipping point, down-shifted to 2nd and made it through the last hairpin. It wasn't the best run and my score of 48 confirmed it. I was shocked, but, at the same time, I realized that I had no alternatives but to push that much harder during the 2nd qualifying run. Yeah, a score of 48 wasn't going to cut it.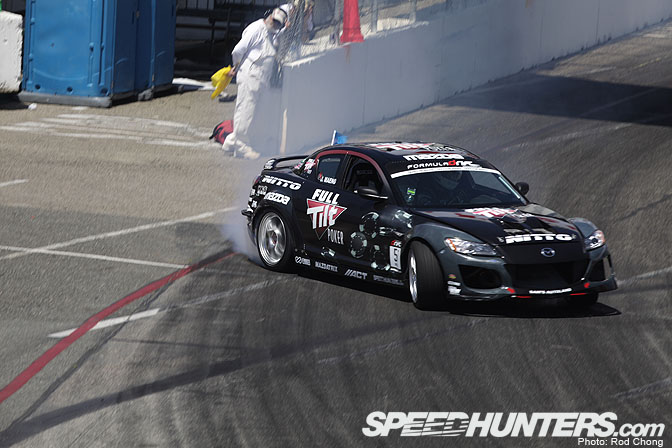 On the 2nd qualifying run, I was on a mission to achieve a higher score. I got a lot closer to both the clipping points and zones running a solid line. After I passed through the last hairpin, it was a solid run compared to my 1st run. At the drivers meeting, it was announced that I placed 28th with a higher score of 64. Truthfully, I expected a higher score than a 64 and, therefore, felt disappointed with my standing. However, I didn't allow the score to deter me too much and remained focused on my subsequent battle against the 2x Champion Tanner Foust for the main event! Even the gentleman holding the yellow flag on the track stopped by the pit area to check up on me and wished me luck after he was told that I was in for the main competition. Gosh, his gesture of kindness and concern motivated me to not disappoint him. It's fans like him who inspires me to drive hard!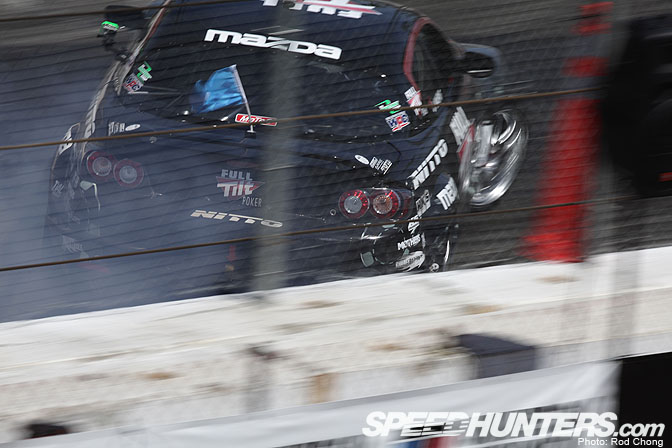 Derek Ige from Mazda Speed is the brain behind the idea to mount the blue Mazda flag on the trunk of the Full Tilt Poker Mazda Nitto RX-8. Thanks for the flag and your expertise on the vehicle!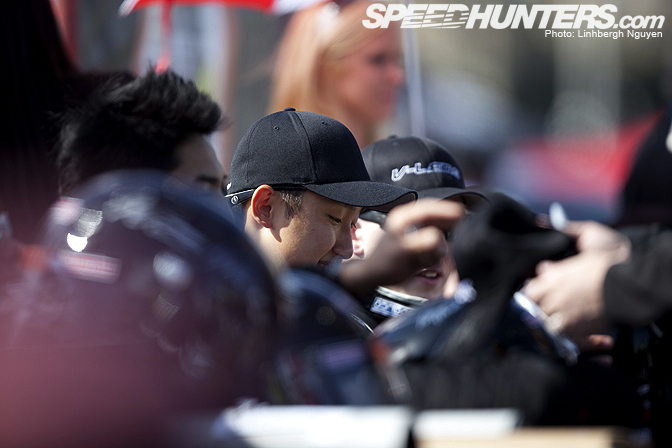 During the autograph session, we had the opportunity to sign all sorts of goodies like helmets, shirts, hats, a center console off of a fan's car, our hero cards, etc. It's great to meet with all the drift fans in person and thank them for their support! I can't speak on behalf of the other drivers but I believe that I couldn't have done it without the fans' enthusiasm! Thank you for constantly supporting my decision to be a professional driver!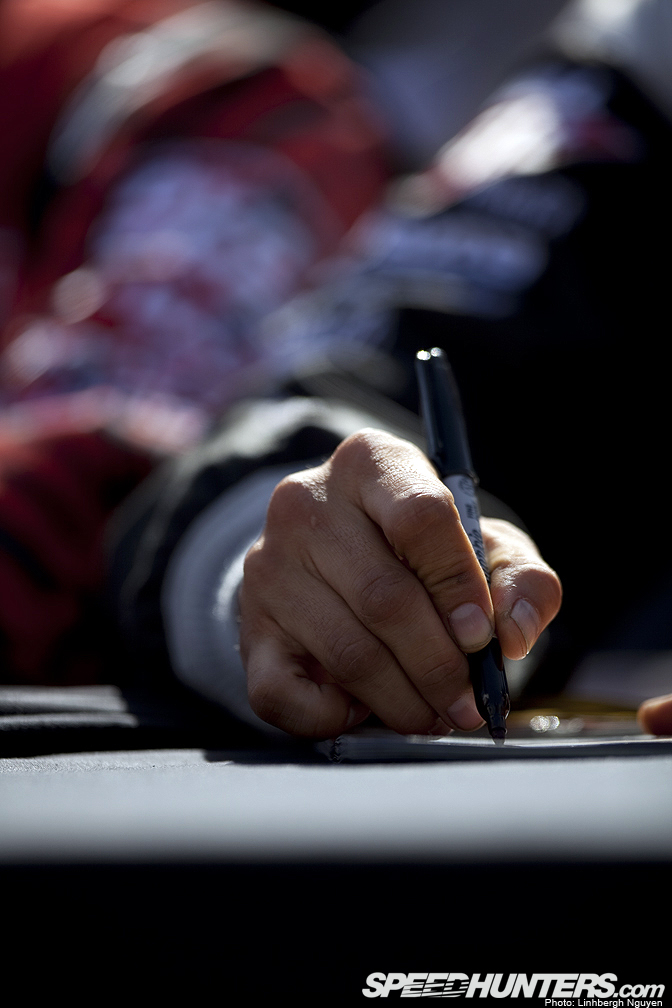 It's a must to have a sharpie in your pocket at all times during the Formula Drift rounds for there always awaits an excited fan in want of an autograph.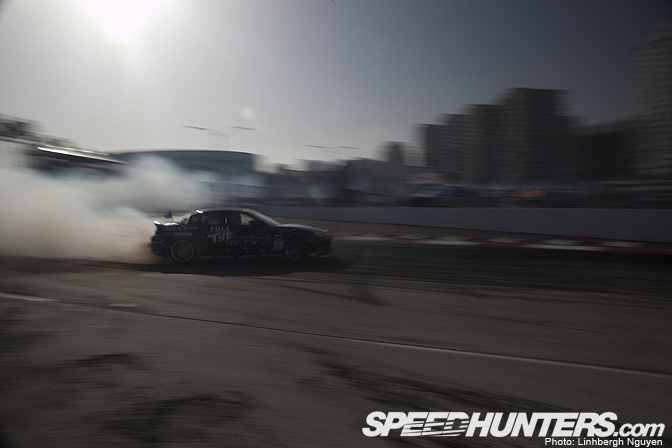 Every time I get into the Full Tilt Poker Mazda Nitto RX-8, it reminds me of how blessed I am to be incorporated into a team that works diligently, efficiently, and effectively. For example, after the motor blew during Media Day, the team stayed up for 3 consecutive days to repair the damaged motor so that the car would be ready to compete on Friday. Although time was against us, I had total faith in the team and knew that it was going to turn out just fine. In the midst of chaos, there was so much positive energy emitted from the team that we forgot to eat breakfast; yet, it felt like we had the best breakfast ever. After the 1st run during Friday's practice, Ron and Brian ran over from the grandstand to pre-grid to check up on me and the condition of the car.  That 1st run felt like what happened in Avatar when Jake Sully catches and tames the predator of the sky, the Great Leonopteryx.  As corny as that sounds, that's exactly what it felt like. It felt exhilarating.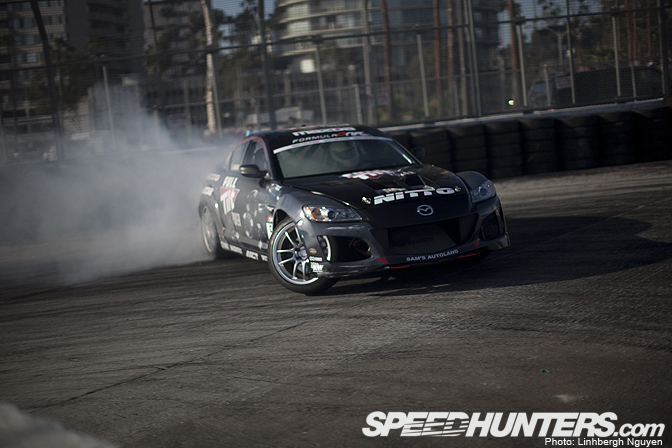 Amy and Derek were my spotters for the event. Both of them provided a lot of critical information that I wouldn't be able to obtain from inside the car. We compare and contrast each other's observations and notes so that the area where I lack angle, speed, and/or proximity to the clipping points/zones, they supplement and confirm them. As a result, it is possible to get mad angle like the one depicted in this shot, which underscores the fact that it is beyond the driver and the car to make a drift happen. The motions made on the track are a consequence of team collaboration.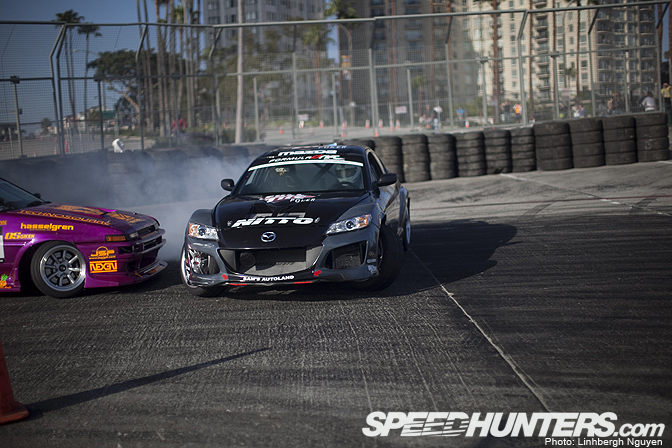 During Saturday's practice, the wise AE86 driver, Taka Aono, chased as I led and, as we approached the last hairpin, I encountered the area with so much speed that it caused the car to create too much angle, which then forced the car to come to a near halt. This shot captured that moment to a tee. When I saw that Taka barely missed me, my natural reaction was to throttle and spin around him without contact. Taka is so wise and skilled in the art of drifting that he instinctively knew how to handle the situation. Taka saved the day! Thank you Taka!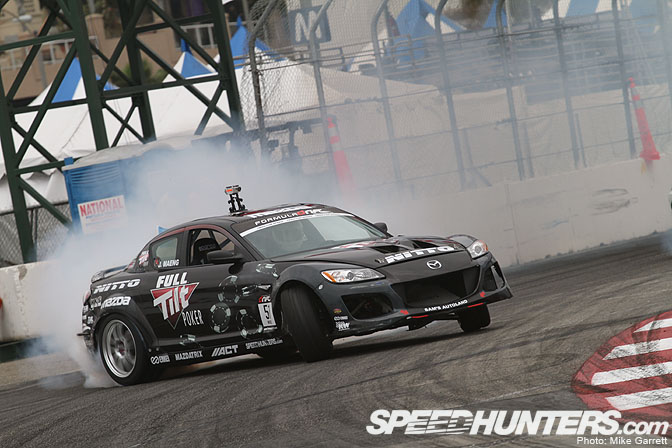 On the day of the main event, the team decided to head out early to the track in order to make a few adjustments on the KW suspension, feed the RX-8 with LUCAS Oil, and double check and analyze the data on the Motec M800 (Ed Bergenholtz is a genius when it comes to data analysis and anything computer-related). Meanwhile, I jogged the track to loosen up my muscles because the last thing I wanted to deal with was a cramp while driving. I've experienced that before and it's not fun.
In 2007 and 2008, my plan was to make no modifications and, basically, adapt myself to the car. Little did I know then that by doing so I was limiting my style and room for improvement. Countless teams are modifying their cars in order to meet the demands of the competitive track layouts. The drivers, too, aren't holding anything back; it's all or none. The combination of super modified cars and fearless drivers make FD the series that is the most thrilling and amazing.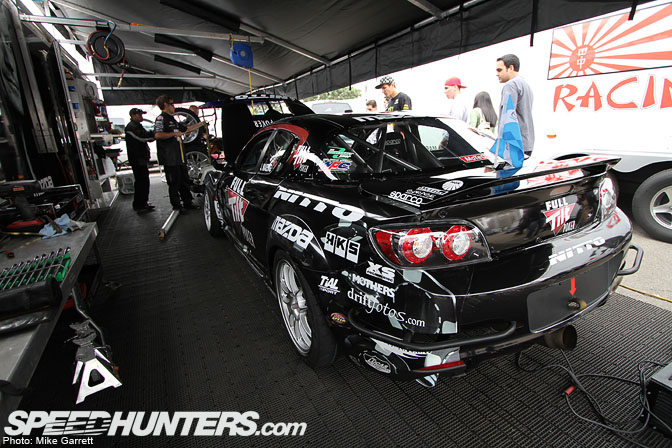 This picture captures the diligence, efficiency, and effectiveness of the team. They just don't rest, especially when it's crunch time. They are constantly moving, fixing, adjusting, securing, mounting, checking, redistributing, exchanging, cleaning, taping, rotating, bolting, zip-tying, etc. They won't waste a moment; they won't allow it. If an improvement can be made, then it's going to be done. They are extremists and the composition of the car is a reflection of that. The Mazda RX-8 is running strong!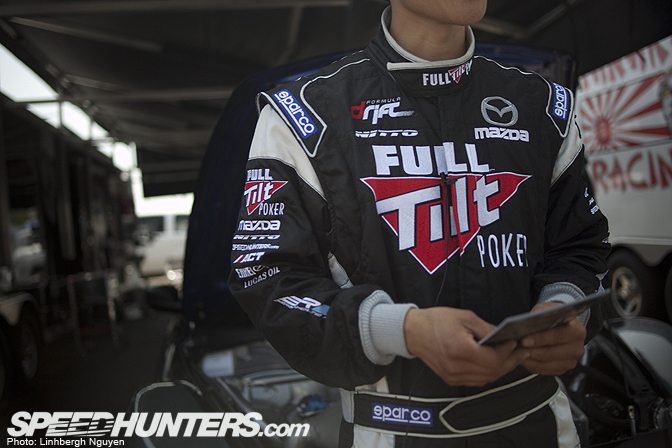 Allen @ Sparco USA was nice enough to deliver the new Sparco suit along with the team jerseys to the track. It came out well and fits perfect.  The dominating image in this picture is the Full Tilt Poker logo as well as Mazda's and Nitto's. The software company Full Tilt Poker is the title sponsor for the team. With all of our partners and fans, they make it possible for us to get out to the track and compete in the Formula Drift Championship! We are grateful for them!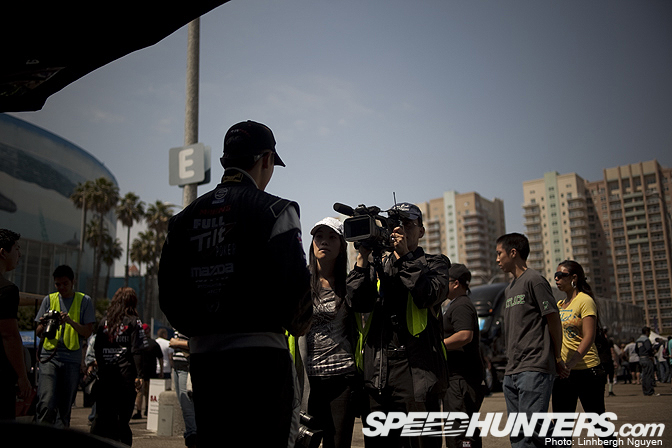 The man on the right with the gray shirt is a fan of drifting and he came down from Frisco to check out the event in Long Beach. Although I eagerly wanted to greet him, I had to finish my interview with the media. Thanks Mike for waiting patiently!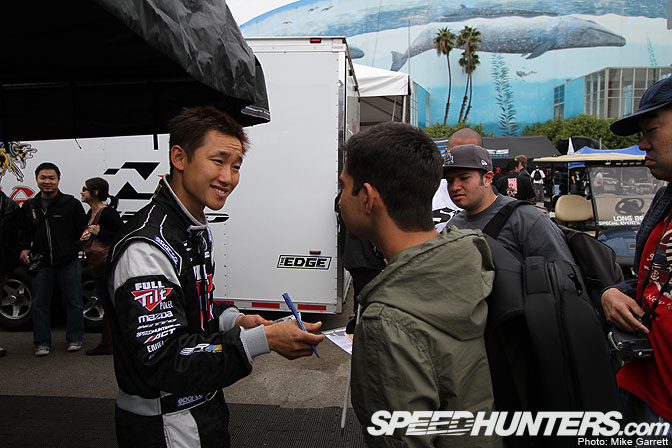 It's important to me that I meet with every fan that stops by the pit area because I want to reach out and share our love for this sport. Greeting them with a smile, offering hero cards, taking pictures together, and answering their questions are all part of the fun. I enjoy every moment.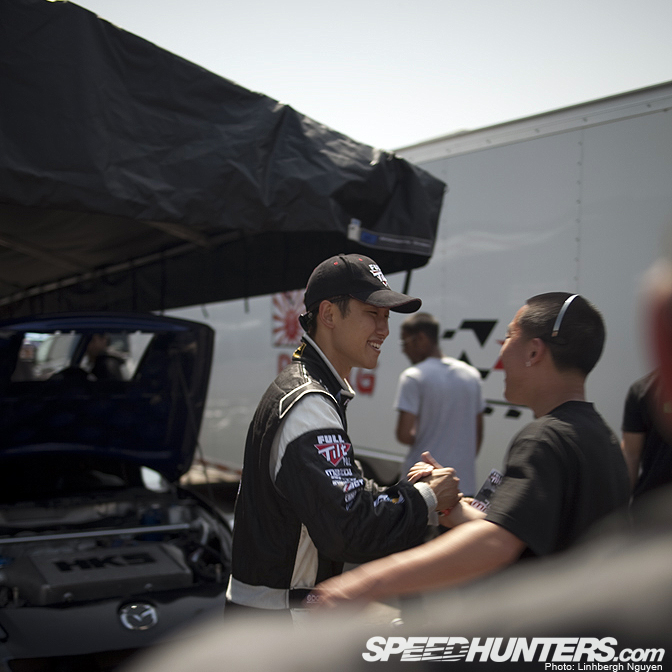 As evident, I get really excited when I reunite with my hardcore fans. Although we keep in touch via cyberspace, I only get to see them once or twice a year so, when they come out to support me, it's like icing on the cake.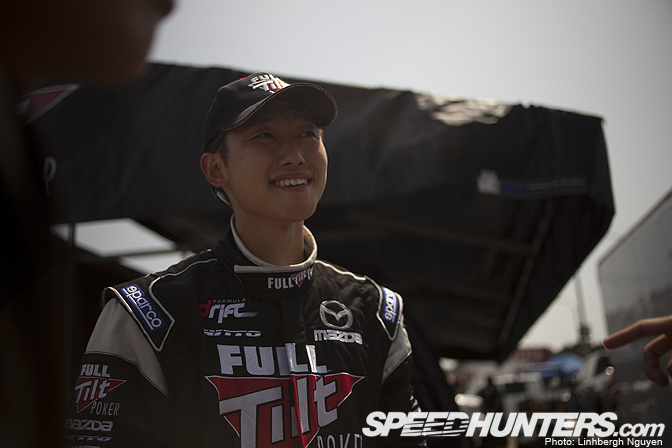 It was such a beautiful day at the track! Sounds of the engines roaring and people's enthusiasm surrounding the environment remind me that what I dreamt as a child is now my reality! When I'm cognizant of the moment, it's a reflex to look up to the sky and say a prayer of gratitude.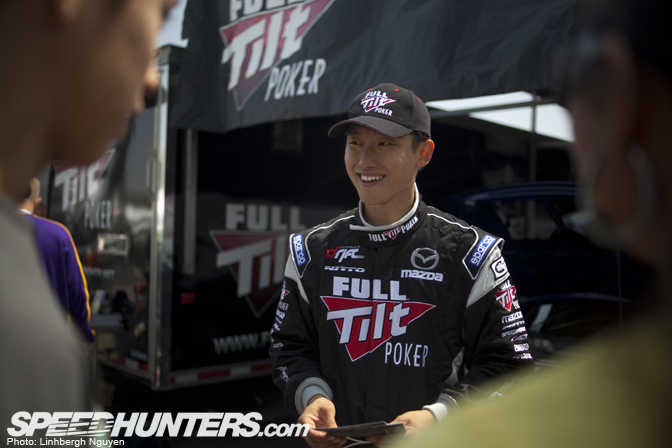 I'm sharing the good news of what it's like to be a driver for Bergenholtz Racing this season and introducing the fans to the Mazda RX-8! I could never get used to the feeling of having a herd of people waiting to meet me. In the beginning, they were scattered along the perimeter of the pit area but, eventually, they figured it out on their own to form lines. Thank you Fans for waiting awhile to say Hi! It's always great to see you all!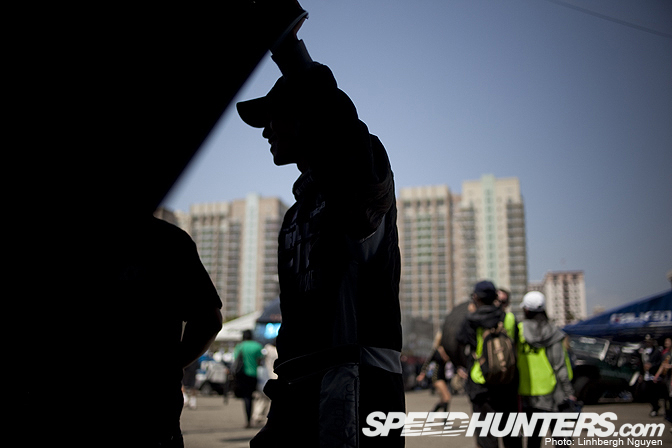 During the breaks I'm usually hanging out with the fans and giving them a tour of the Full Tilt Poker Mazda Nitto RX-8. They love it and are inspired to build a drift machine of their own to pursue drifting.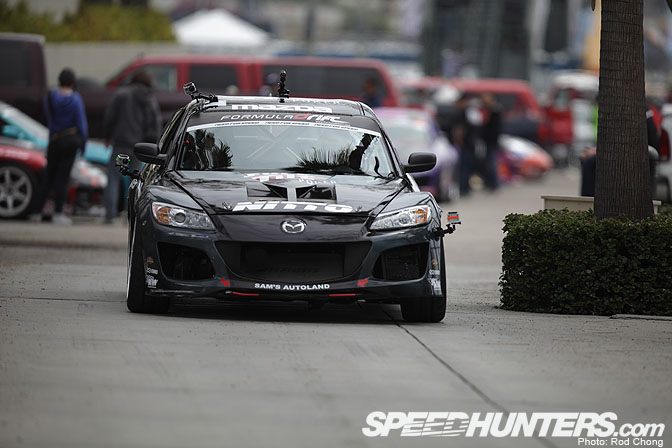 Driving out to pre-grid to prepare for the top 32 battle. The team did everything conceivable to prime me and the car for the battle against my fellow ACT driver Tanner Foust. My game plan was simple: don't hold anything back and go all out. I was confident that we were capable of putting up a good fight to advance to Top16.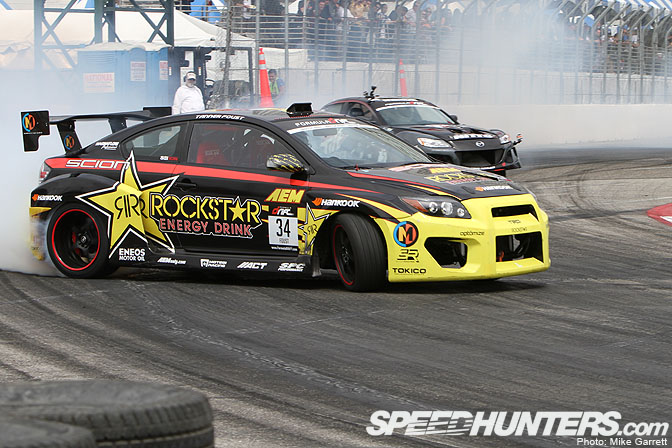 I lined up with Rockstar Energy Drink Scion TC Driver Tanner Foust at the light. He out-launched me right at the starting line, which created a gap between the two of us that the Full Tilt Poker Mazda Nitto Rx8 could not catch up no matter how much I put the pedal to the metal. I could not believe how much that V8 Nascar-powered Scion TC jumped me off the line. It was like running a drag race in the beginning.  This gap gave Foust the victory over the 1st run.
During the lead run, although it felt like it was my best run thus far in the event, it wasn't good enough to overtake Foust's lead. We are seriously going to make adjustments to the Full Tilt Poker Mazda Nitto RX8 to prevent situations like this from reoccurring. It was a fabulous weekend overall! We did our best and that's what counts! We'll get'em next time! See you at Formula Drift Round 2 in Road Atlanta!
Here is a video that Jay Joo from 29Frame put together
-Joon Maeng