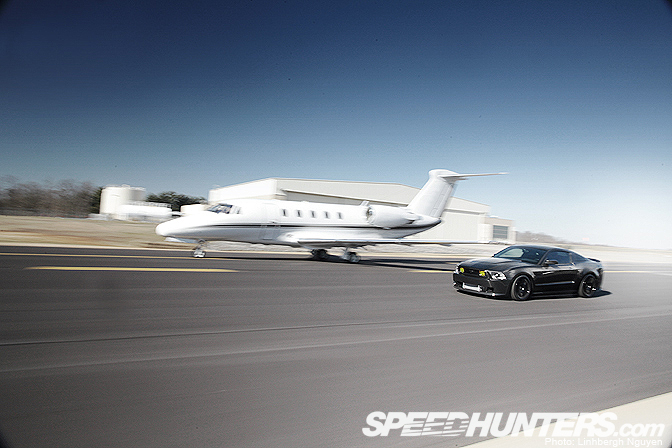 The Mustang RTR-C is simply a far-fetched dream of mine that came true thanks to the hard work and dedication from everyone that I teamed up with for the project. While it started as a one-off SEMA project and a sick street car for me to rock, it has spawned into something much bigger and has turned into the inspiration of me wanting to create the more affordable Mustang RTR and the overall RTR brand.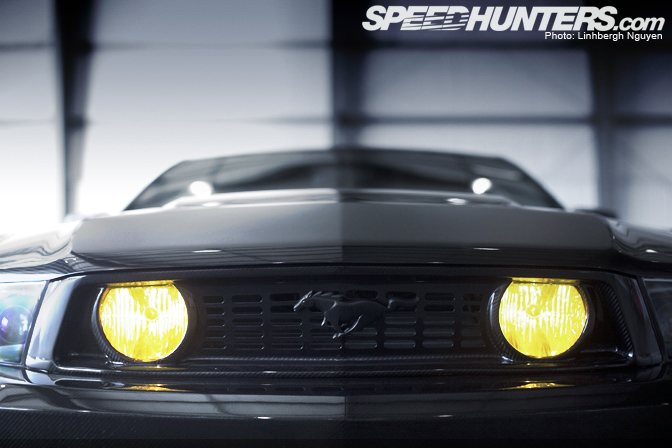 My initial vision was pretty simple, I wanted to build the most badass modern Ford Mustang street car/weekend warrior that one could imagine. A car that any automotive enthusiast could not help but love. A machine you could cruise around town with your better half and something with power that could give you whiplash.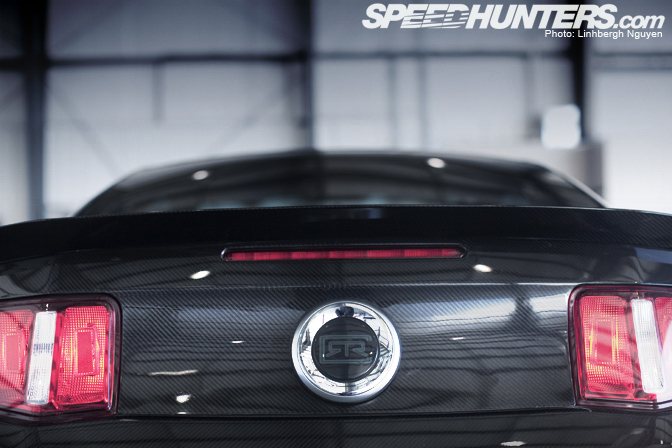 The fully adjustable suspension components and in-dash adjustable shock dampening enable the car to be setup for casual street cruising or full-blown track action and the response to the car has been overwhelming since it's SEMA debut. It has been everywhere online; in fact, Autoblog dubbed the RTR-C "The Best Mustang of SEMA".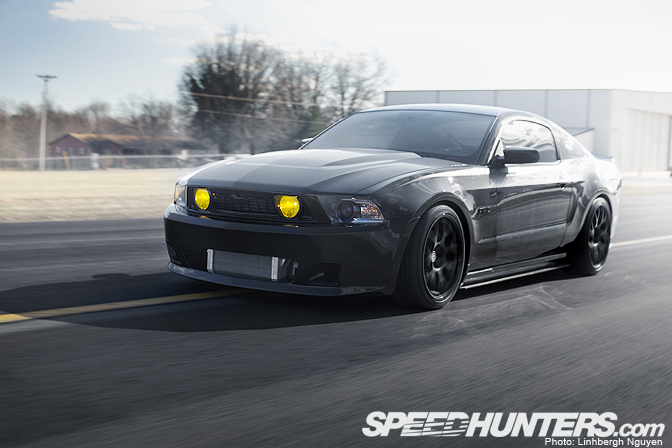 The fact that is was the runner-up here on Speedhunters in the "2009 Demo Car of the Year" category was the icing on the cake and just simply flattering. Stay tuned for a full feature in Mustang 5.0 and a review in Car and Driver in the near future.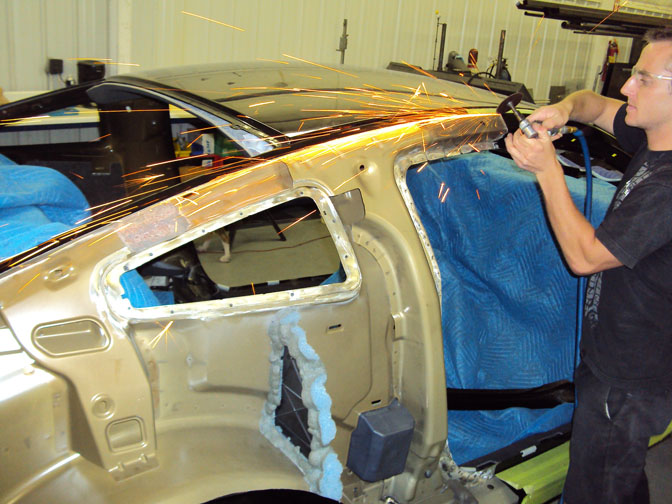 The Mustang RTR-C starts out as a showroom stock Mustang GT. It is then taken to Autosport Dynamics (www.ASDmotorsports.com) to start it's transformation. (I would like to share more of these pictures, but I don't want to clutter Linhberg's artwork with these.) Perhaps I will do a buildup feature in the near future.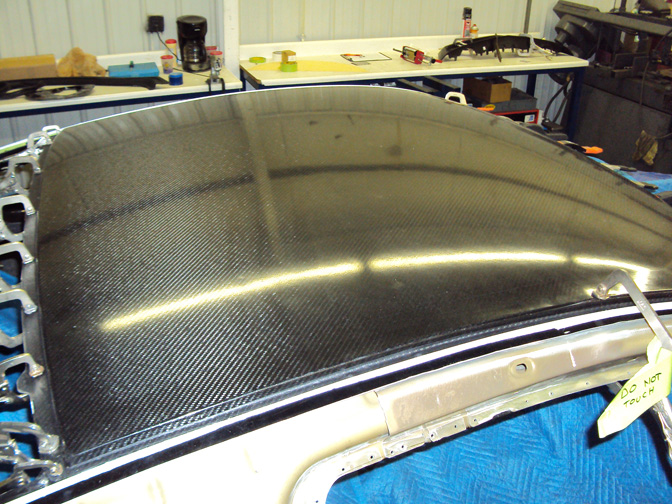 Everything including the roof is then replaced with the highest-quality, lightest, and strongest carbon fiber out there. This is not your average "carbon fiber" which is fiberglass with a layer of carbon over it . Only the "real deal" for this machine!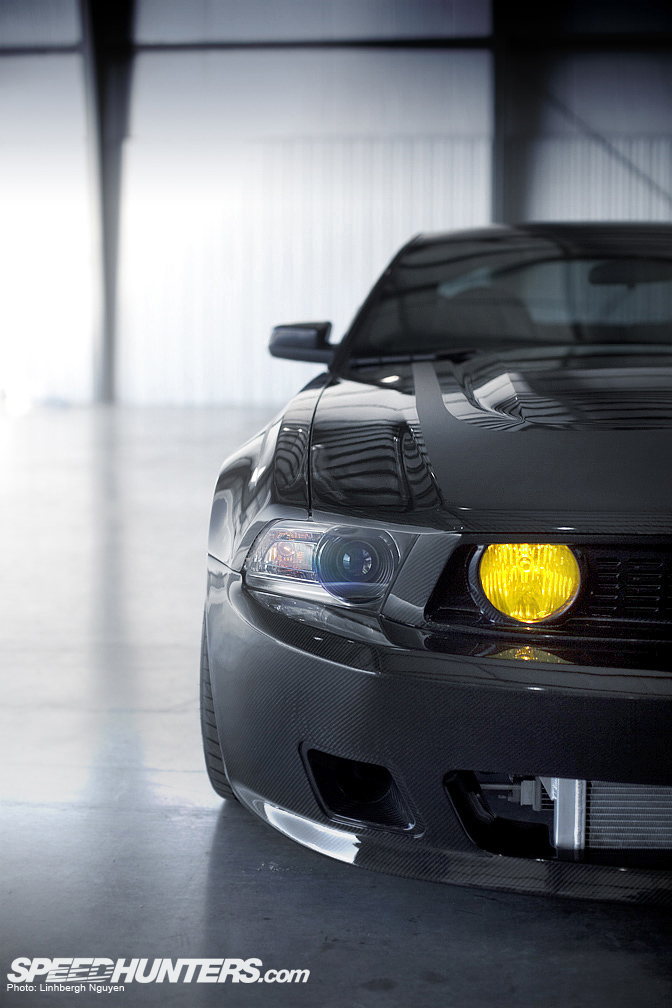 Absolutely no expense was spared and attention to detail was the theme during the build of the RTR-C.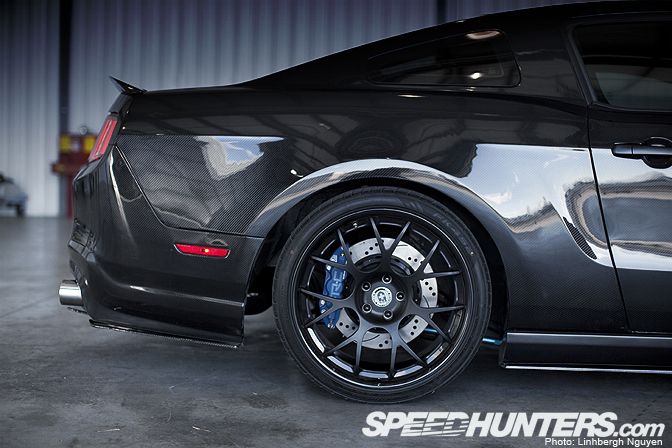 The 20×11 HRE CF40 wheels wrapped in Falken rubber dwarf the 4-piston Wilwood brakes and 14 -inch rotors in the rear. If you look close you can see the anodized blue adjustable lower control arm peeking through.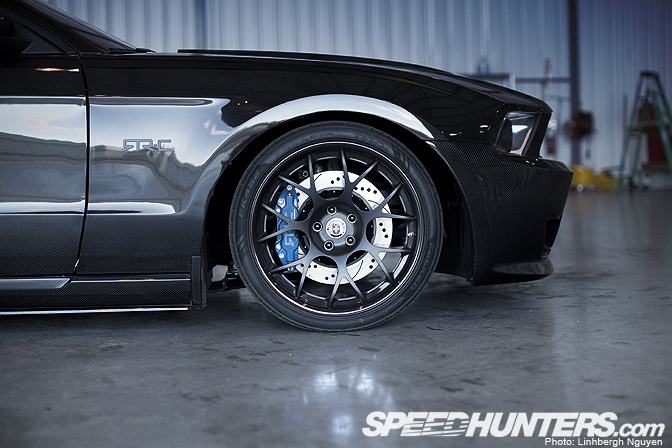 The HRE wheels actually are made with a 100% carbon fiber hoop with a forged aluminum center. 19×9.5 are what was chosen for up front. They are crazy light at just 18lbs. The braking on this car is obviously pretty serious from the pictures. The Wilwood 6-piston brakes up front and 14-inch rotors are most likely the culprit for me almost smashing my head on the windshield the first time I touched them (not joking).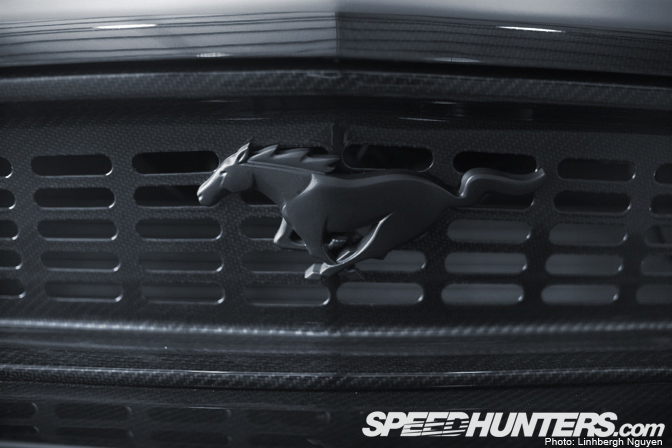 Behind this carbon fiber grill rests the heart of the RTR-C, as well as an over-sized radiator. This is equipped with a 4.6L 3-valve motor with a Ford Racing Superpack Supercharger kit with an upgraded heat exchanger pushing over 550HP. All of the RTR-C's to be built will come with the new 5.0L 4 valve motor and a Ford Racing Supercharger to put out an estimated 650+ HP.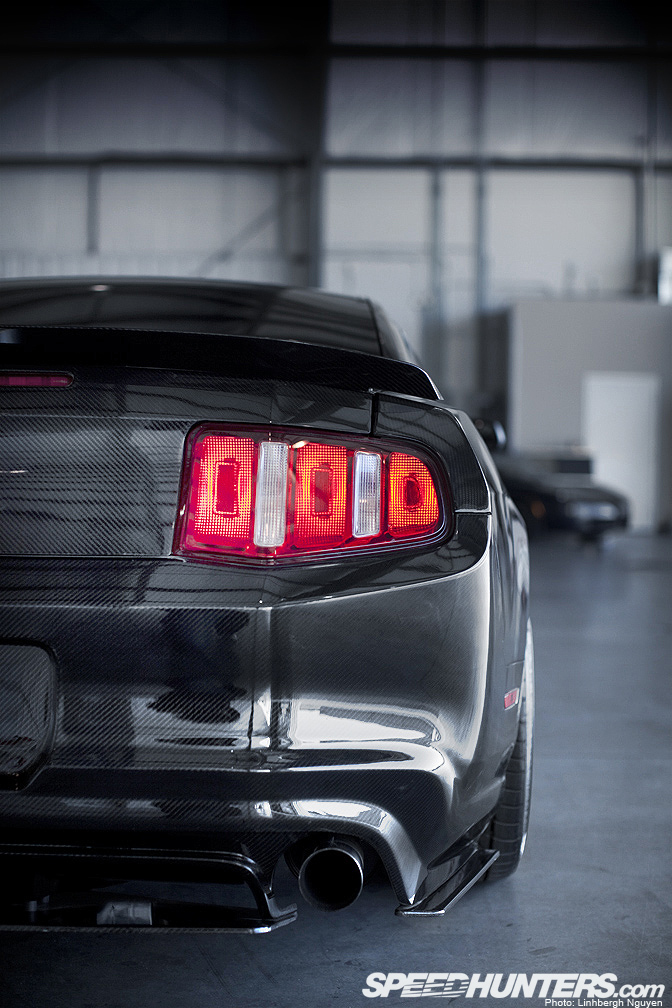 That is obviously a ton of HP for a car that weighs 3355 lbs wet. When considering all of the performance components and adjustability of the suspension "on paper", it is possibly the most insane street trim Mustang ever offered. It should put down some serious numbers on the track and I can't wait to test it!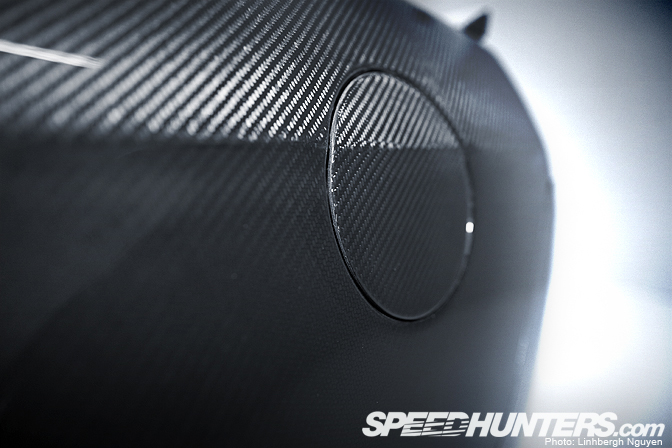 The quality of the carbon work is hands-down top notch. When we were finalizing the build plans I was 100% stuck on making the weave of the carbon line up throughout the entire car, including all seams and spaces.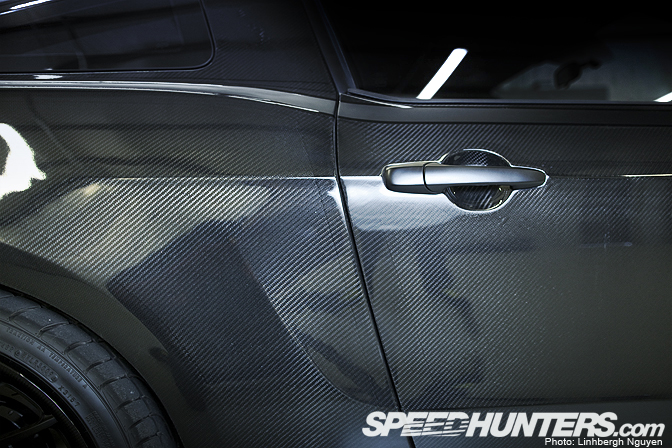 As you can see the team made it happen. That request was inspired by the Pagani Zhonda. Pictures really don't do justice.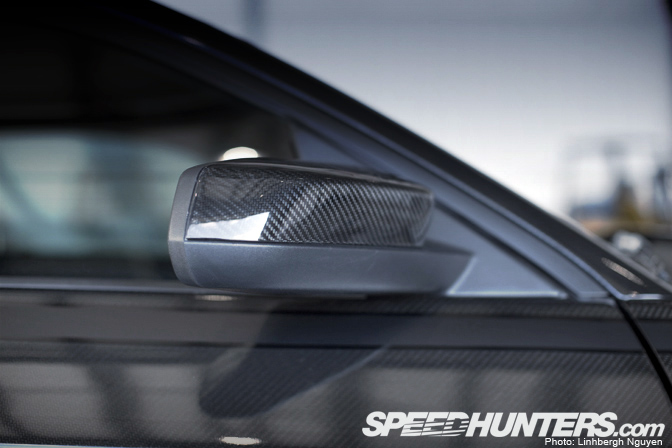 If you love carbon like I do, you can seriously stare at this car all day just like a fire.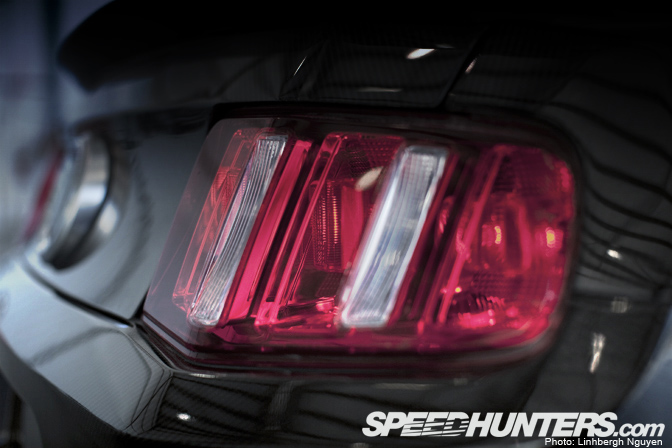 Like an open fire it is extremely captivating, pictures just cannot do it justice. (Sorry Linhbergh!)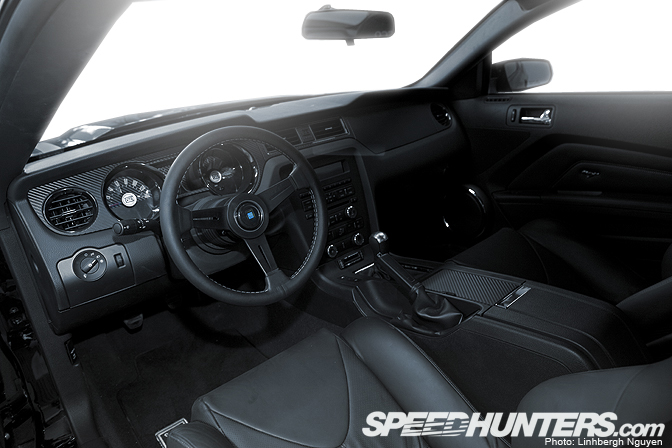 The interior was designed to let you know you are in a serious machine, but not to scream it at you. I wanted it to be simple, classy, and modern. The carbon fiber adjustable leather seats were custom made by Sparco specifically for the RTR-C.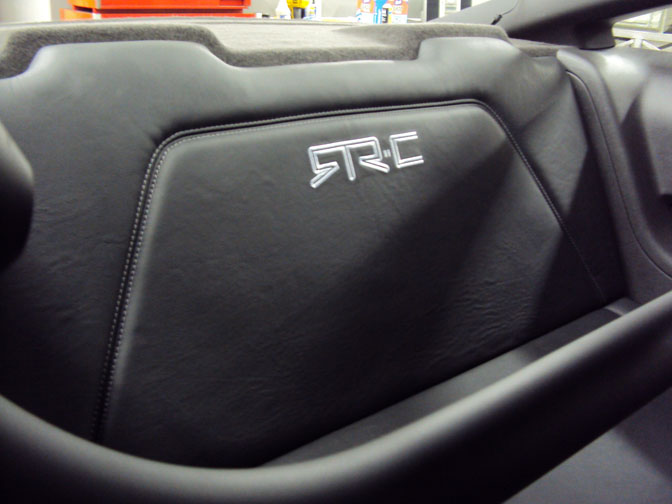 A leather-wrapped and stitched rear seat-delete keep RTR-C owners from putting babies in the back seat, and the harness bar ensures your harness's will be holding you tight!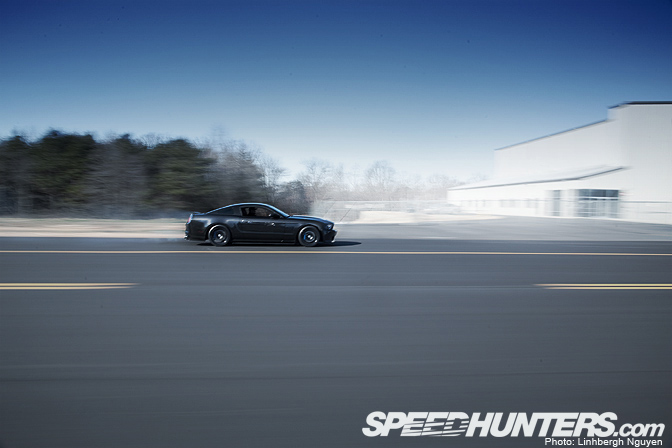 Up to this point I have not been able to drive the car hard. It will be going to Ford Racing for a tune then hitting the proving grounds shortly there after for some suspension tuning. Did I mention I cannot wait!?!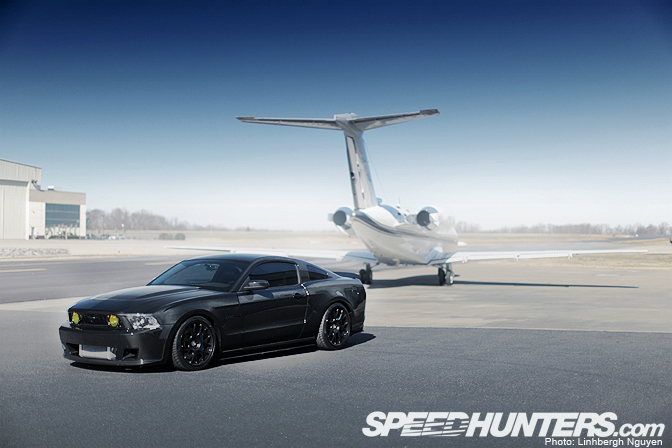 Initially the car was going to be a one-off street car for me to enjoy. However, once the finished product was revealed, I felt it wasn't fair to not offer the car to the world. We decided to offer limited-production of ten that will be built-to-order starting in April 2010 selling for $135k each. Based on the bill of materials, it's actually pretty "cheap"  for what you get. More information can be found at MustangRTR.com.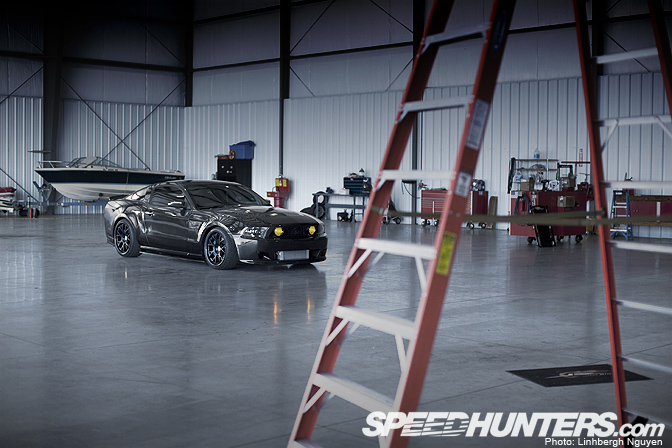 Not the worst sight to see in your garage.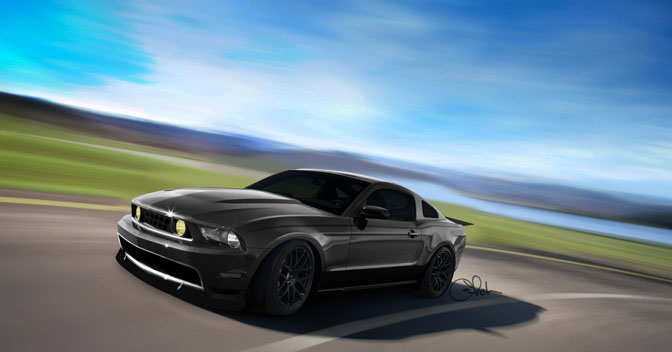 Here is the final rendering by Caleb Clark completed just prior to the start of the project. It is mind-blowing crazy to look at this picture and realize it went from this in January 2009 to a finished product that drove into SEMA November 2009. There is no possible way that would have happened without the dedicated team at ASD and everyone else that helped out with this project.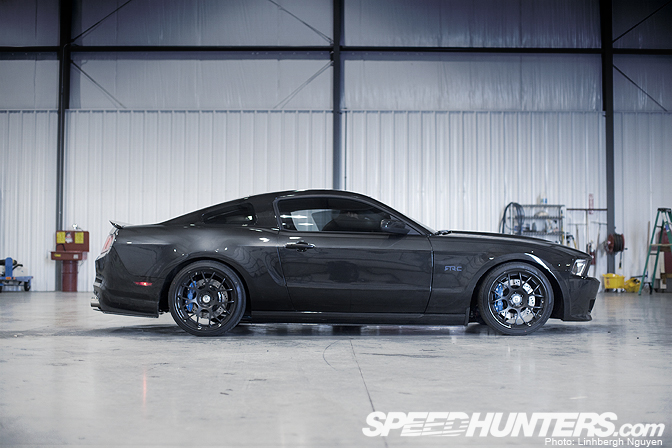 To see the RTR-C go from my brain to paper through the actual build process to the finished product has been an truly incredible experience. Through all the insanity, my least-favorite part was writing the checks to make it happen……..
Special thanks to Linbergh for leaving his warm California home and freezing with us to take these pictures.
– Vaughn Gittin Jr.