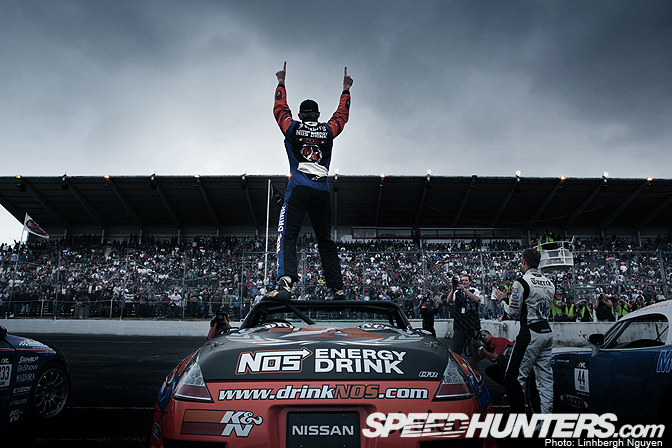 "…there was a moment of
infidelity. I cheated on you. I met a camera that was a bit older, more
mature, and had much more experience under its belt. I was drawn to it…."
I woke up suddenly. Drenched. Cold sweat enveloped my body as I shivered uncontrollably. I kept telling myself that it was all just a dream but the words still echoed in my mind; repeating itself over and over. It was just a dream, Linhbergh.
As I gathered myself, I sat up, reached for my 2009 photo album that was under the night stand and started to recollect about the year that has just passed and the year that I spent with someone quite special.
Formula D, Evergreen Speedway, Seattle, Washington, USA: My camera and I had the chance to follow Formula D driver, Chris Forsberg, around for a day and we sensed that there was something in the air that gloomy day in Seattle. The shutter clicked as Chris apexed on top of his car for his ritualistic cheer at the top 16 opening ceremonies. Chris was different, he had the drivers championship in his sights, and we were there to capture his very own 'battle of Midway' –his turning point.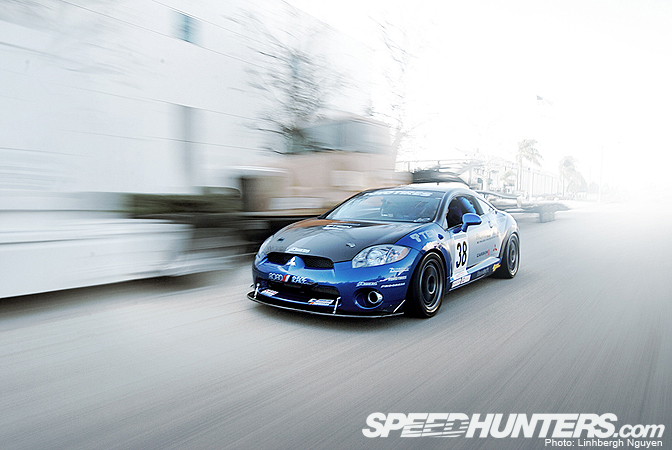 Road Race Motorsports Eclipse, Santa Fe, California, USA: ….But I'm getting way too ahead of myself. The year started off innocently enough. I remember fondly of an old ex, my dear Nikon. Each day that we spent with each other was light hearted, fun, and even educational. The day that we spent with the Road Race Motorsports Eclipse proved to be quite a challenge. At that time, my dear, Nikon, wore a zoom lens with a nonfunctional focus motor but we persevered and got the shot that we wanted. This shot is the result of that.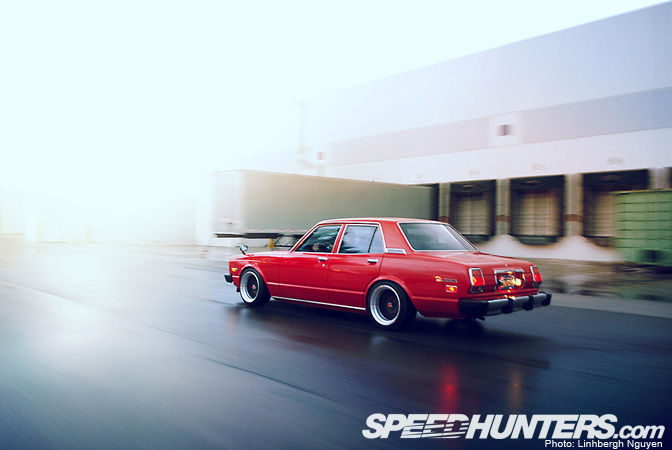 PJ Bonofico's Lowdown Cressida, Fullerton, California, USA: After that episode with a non-functioning lens, I spoiled my dear Nikon with a full fledged working on. This Cressida tracking shot was made possible by slower shutter speeds and yes, the spoiler of all spoilers, auto focus! There was definitely something about that Nikon. It was a fling of pure lust but like most flings, its luster loses its shine if there's no soul…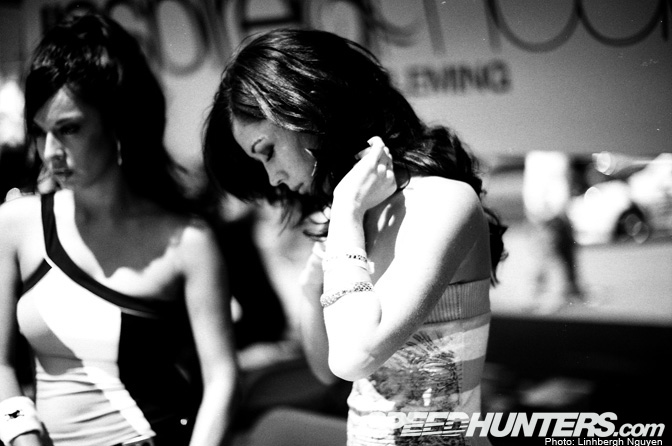 Formula D, Long Beach, California, USA: Film. Magic. It was pure lust. But why am I thinking these thoughts?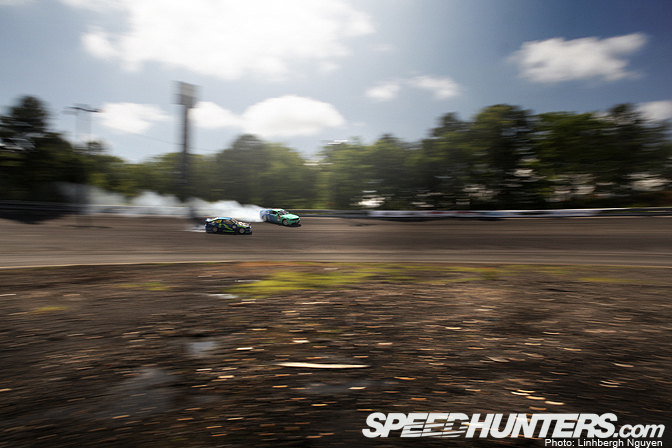 Formula D, Wall Township, New Jersey, USA: Right after my current camera and I met, we had our first trip away from the Californian sun together and straight into the garden state of New Jersey. The Wall Speedway was a lot like Irwindale in the sense that it had a fantastic cambered high speed bank with some nice technical bits in the middle. The thing that set it apart from Irwindale was that it was actually media friendly –my camera and I loved it. Tracking Vaughn Gittin' Jr. and Tommy Suell take on the bank without a k-rail in front of the both of us made is a feel a bit spoiled. Complaints? No way.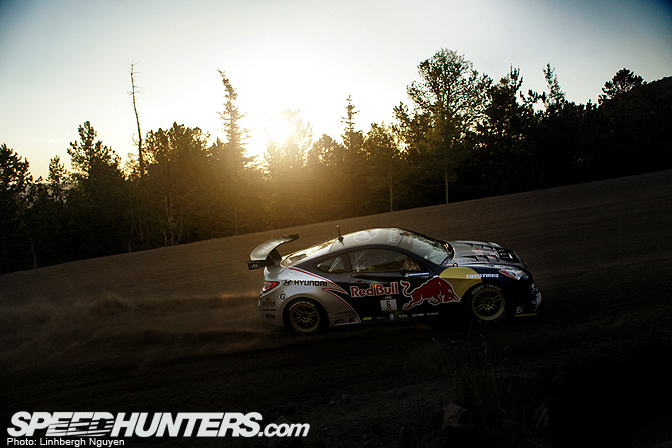 Pikes Peak Hill Climb, Colorado Springs, Colorado, USA: Going to bed at 11pm or even at midnight then waking up at 2am to get up a mountain before the sun rises is something you can't really get used to. The surprising thing was that my dear camera and myself did not groan one bit when we rolled out of bed. It was purely a mechanical process.
RIght as the sun started to peak over the trees, Rhys Millen flew by. It is shots like this that remind me, and my wonderful partner, that it is always, always worth it to wake up before the sun gets up. You can never be let down by any sunrise.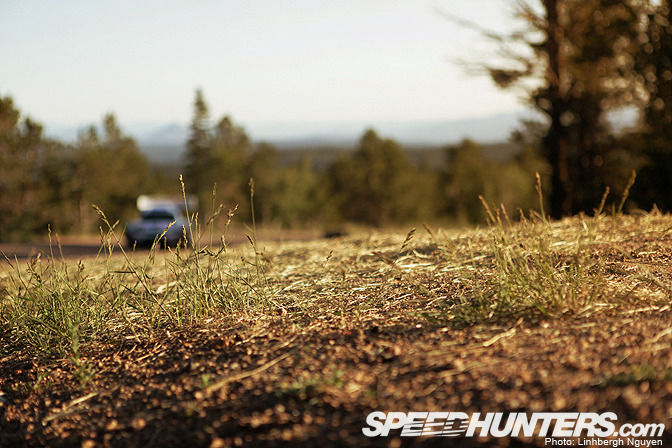 Pikes Peak Hill Climb, Colorado Springs, Colorado, USA: This is a shot just seconds before Monster Tajima's splitter flies dangerously close to my neck. We weren't brave enough to be like those photographers and fans from those WRC Group B videos, but almost getting our heads sliced off then getting pelted by rocks and pebbles at an extremely high speed is close enough I'd say….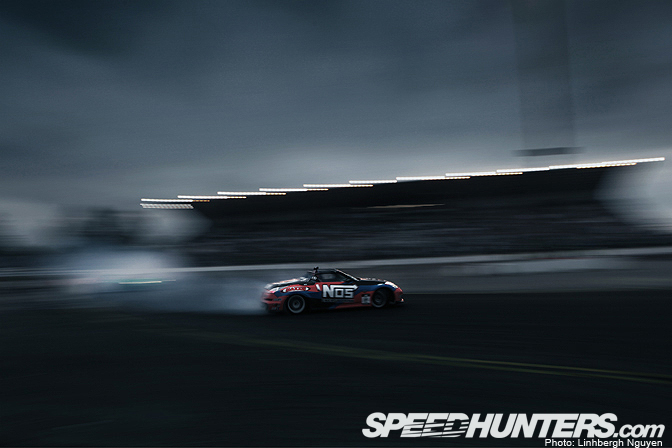 Formula D, Evergreen Speedway, Seattle, Washington, USA: Every time I glance at this shot, I find it to be very haunting. Maybe because I sat with Forsberg before the Top 16 opening ceremonies and noticed that he had a very quiet and intimate moment with him and his car. Or maybe it could also be the fact that staying competitive has a lot to do with the battle between you and yourself. Either way, haunting and lonely are the words that come to mind with this photo….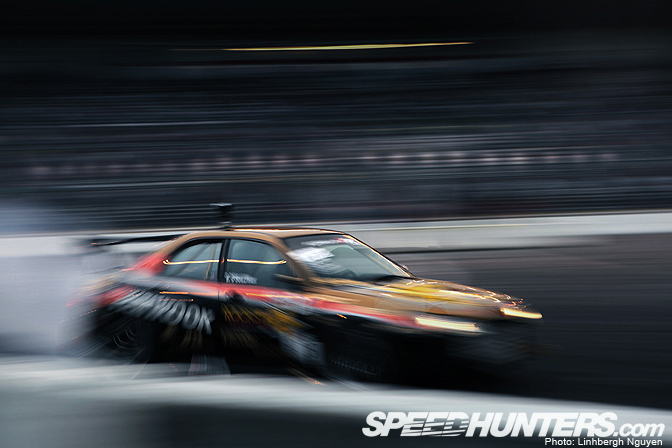 Formula D, Evergreen Speedway, Seattle, Washington, USA: My camera mentioned to me once that there must be some sort of voodoo or spell that has been put upon us. We always get lucky and get great shots of Eric O'Sullivan and his Hankook STI.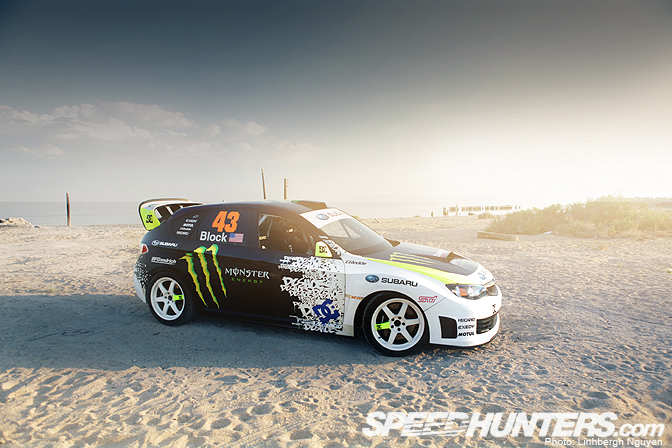 Ken Block & The Gymkhana Subaru, Salton Sea, California, USA: This is, clearly, one of the most iconic cars (and livery) of 2009. Is it as popular as its driver or more so?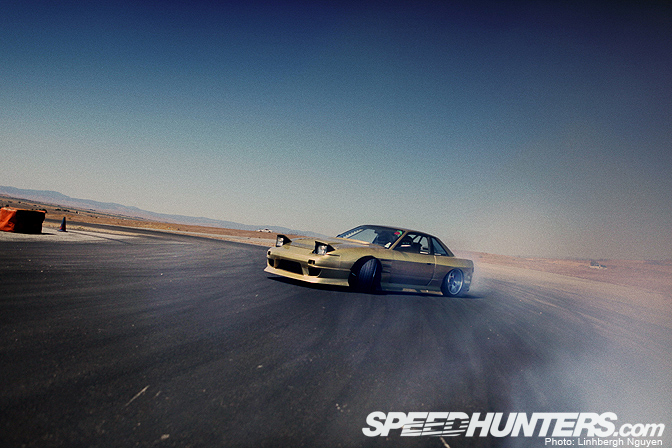 All Star Bash 2009, Rosamond, California, USA: I always find myself doing utterly stupid things for a shot. This shot is by far not as dangerous as the Monster Tajima shot (which I spoke about earlier), but it is stupid. Hanging my precious out the window sideways at 60+ miles per hour with NO camera strap? Totally dumb, but totally worth it. My dear camera was not pleased….
I slept on the couch that night.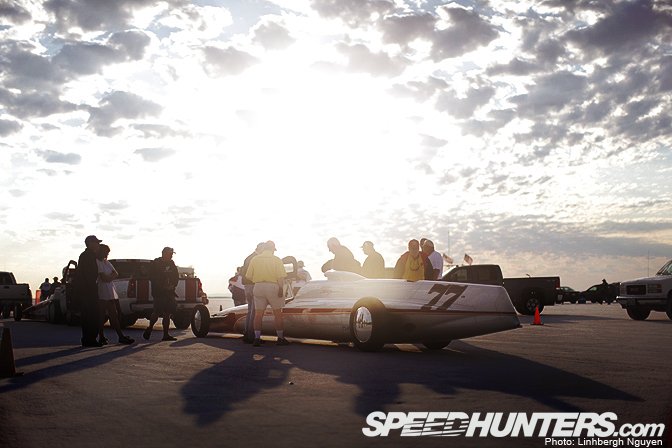 Bonneville Speed Week, Wendover, Utah, USA: There's not much I can say about our experience at the Bonneville Salt Flat other than that there really is no place else like it. Will Roegge's film, Four Hundred (which I also think is his best film of the year), is a great glimpse into the experience of being on The Salt.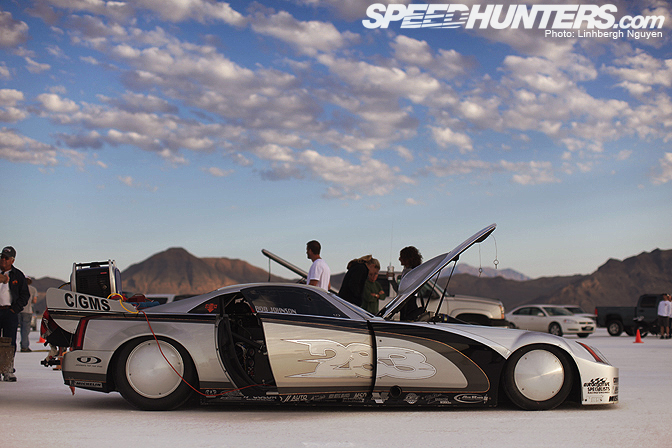 Bonneville Speed Week, Wendover, Utah, USA: There are tons of fantastic machines all to feast your eyes on at Bonneville. This elongated Cadillac CTS-V instantly became one of my favorites there. Oh what I would do for a slammed, extended nosed CTS-V to drive on the street!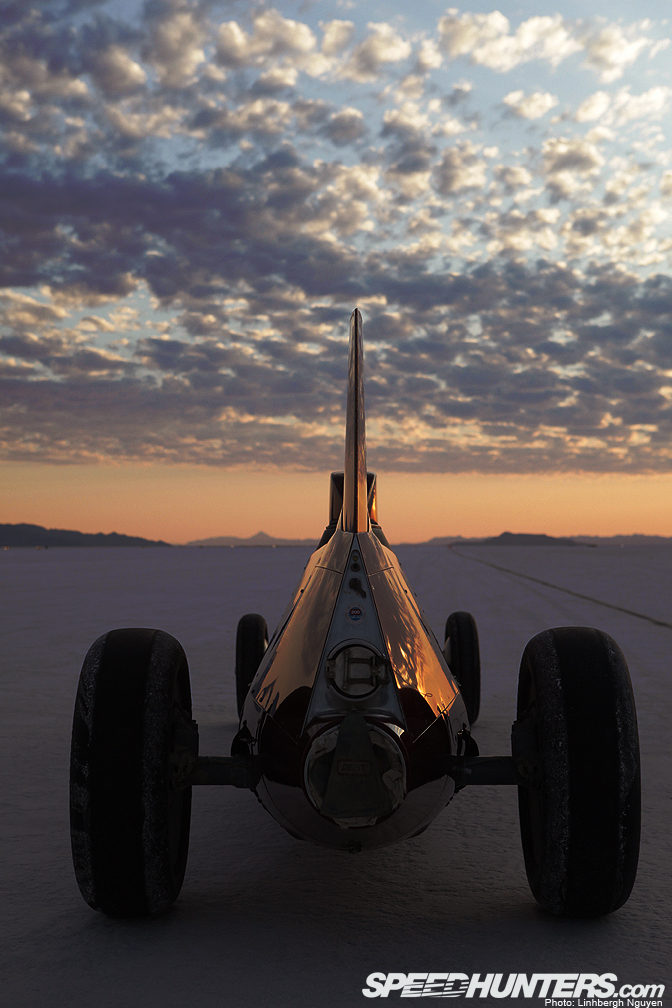 Bonneville Speed Week, Wendover, Utah, USA: The two biggest characteristics that you walk away from your experience of Bonneville is: the salt, and the sky. Those two things dominate your eyes and your mind while you're out there. No matter what time of day it was, the sky never strayed too far from being stunningly beautiful.
I do have to mention that the sunrises were out of this world.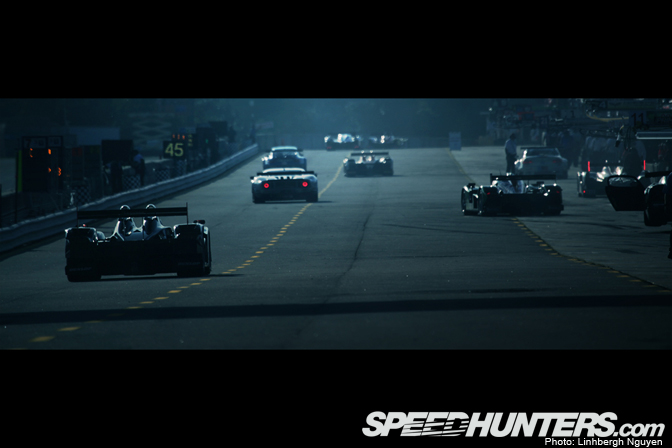 ALMS Petit Le Mans, Road Atlanta, Braselton, Georgia, USA: There may be no place like Bonneville, but there's no wheel-to-wheel racing experience like the Petit Le Mans. The ten hours of visual onslaught, menacing sounds and smells of Road Atlanta are things any gear head should experience.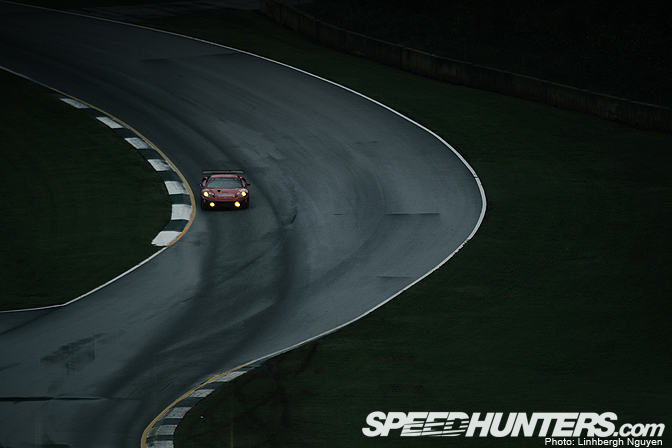 ALMS Petit Le Mans, Road Atlanta, Braselton, Georgia, USA: A lone Risi Competizione Ferrari 430 coming down the Esses.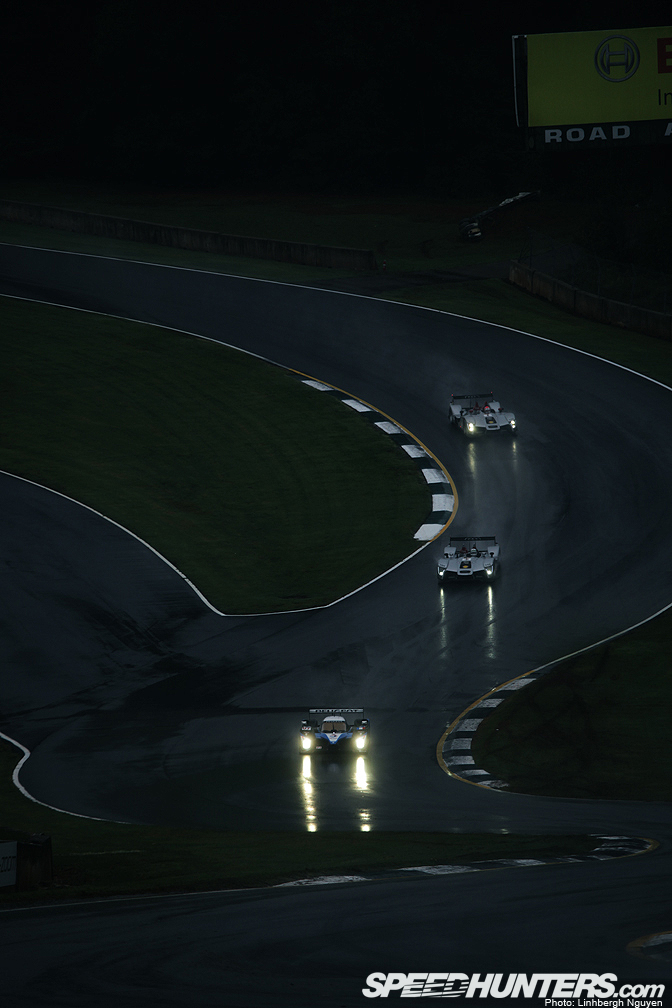 ALMS Petit Le Mans, Road Atlanta, Braselton, Georgia, USA: One of the two Peugot's leading the race while holding off the two Audis as much as they can.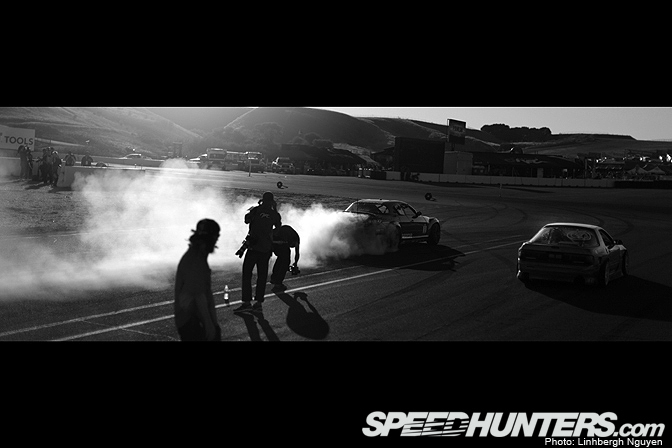 Formula D, Sonoma, California, USA: Tire smoke never gets old.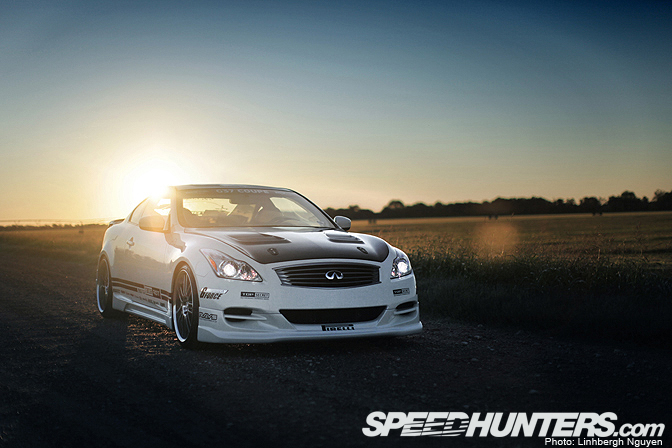 Top Secret G37, Houston, Texas, USA: Another gorgeous sunrise spent with a fantastic car built by a legendary tuning company. I really don't think sunrises can ever get old….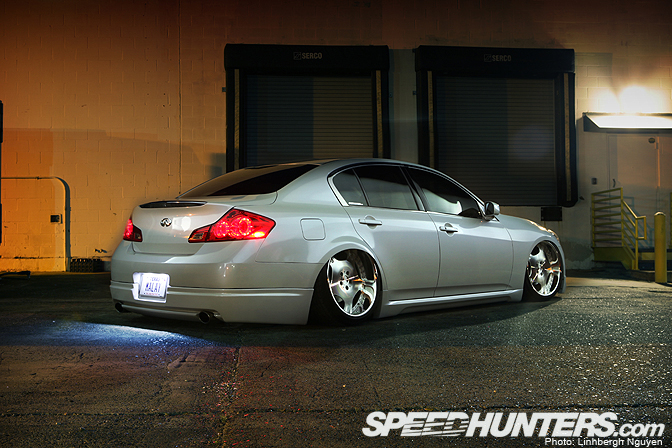 Zeem's Scraping Infiniti, Houston, Texas, USA: I mostly shoot in natural light, but this shoot was an exception. There was no light capture, so artifical lights were employed. My camera and I stepped out out of my element, it felt a bit weird, but the results made us happy enough.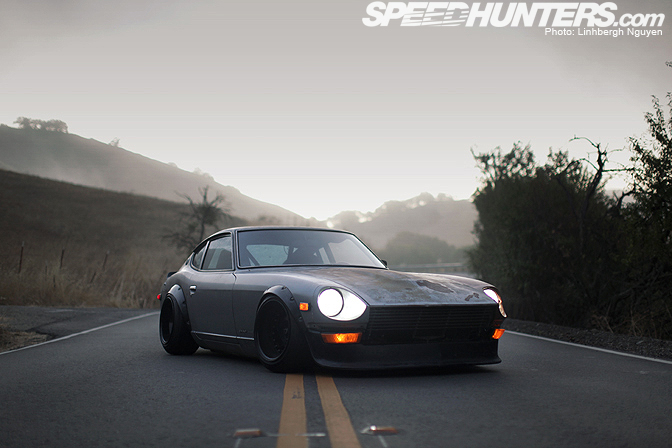 That 240z, Milpitas, California, USA: When I laid my eyes on this 240z at the Japanese Classic Car show, I instantly knew that the rest of the show would not be able to match up to the awesomeness that this car exuded. What a car!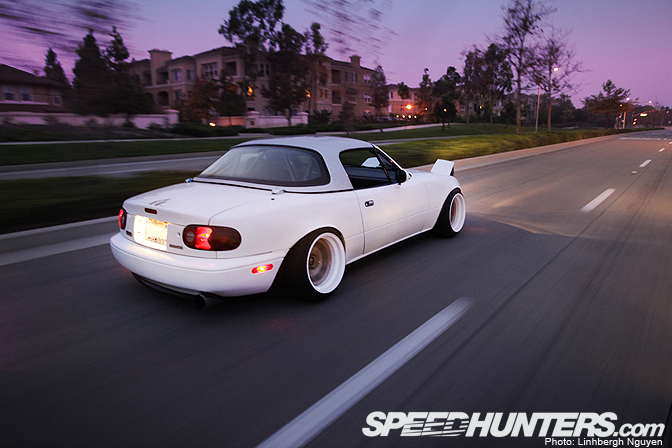 "The Standard" Miata, Irvine, California, USA: I'll always have a soft spot for Miatas.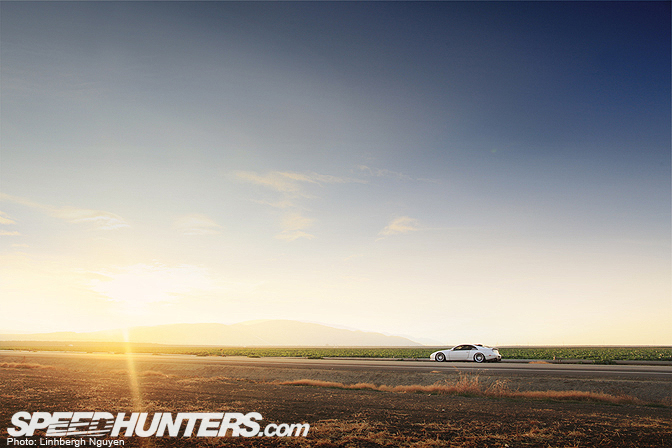 Edgar's Z32, Bakersfield, California, USA: There are times when the location of a shoot becomes its own entity in a photo. Stepping back and taking a photo of a stunning vista with a car reminds me that the landscape we drive on is just as important as the cars themselves! The backdrop of the central Californian agricultural landscape with the contrast of the modern and white Z32 somehow just worked.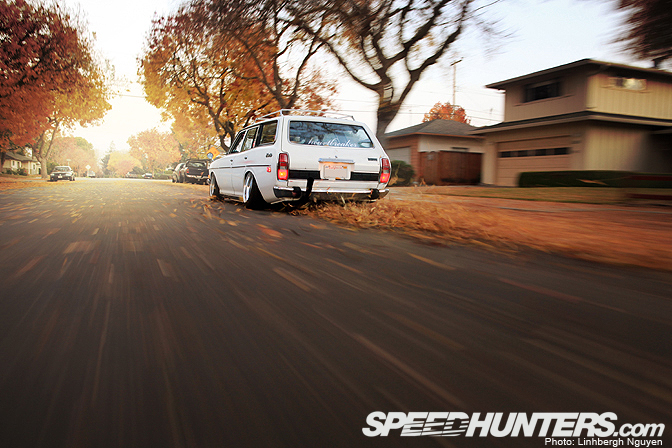 Justin's 610 Wagon, Sunnyvale, California, USA: This car, those leaves, that street. Imagine being the one hanging out the car witnessing that 610 wagon roll down such a street….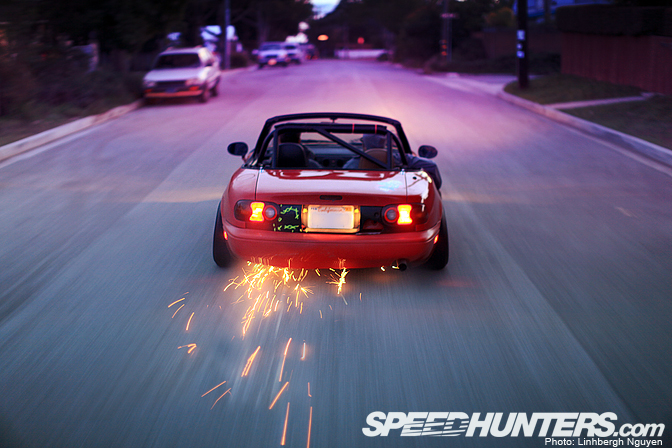 Harrison's NA6 Miata, Santa Barbara, California, USA: This is a shot I've always, always wanted to do. Was it worth getting pelted with a scolding hot shard of metal at 30+ miles per hour? Yes. Yes it was.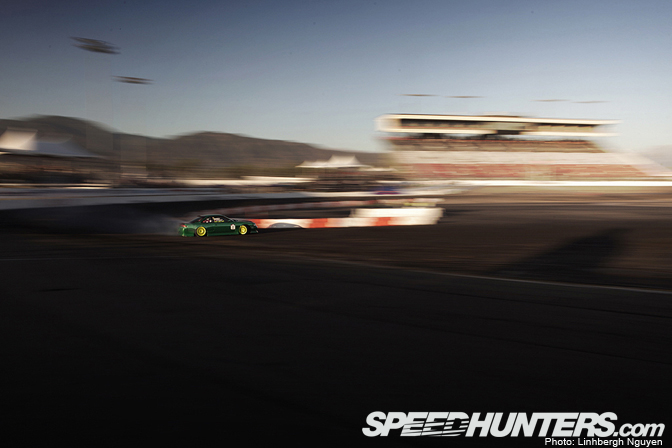 Formula D, Irwindale Speedway, Irwindale, California, USA: I'm drawn to these lonely shots of drivers out there in a seemingly empty space.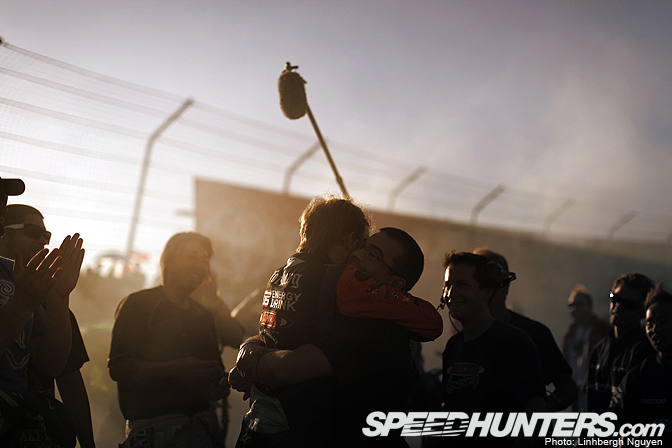 Formula D, Irwindale Speedway, Irwindale, California, USA: When I went back home from Irwindale to look through all the images from the day, this one really stuck out to me. There's something really powerful with this photo that really resonates with me. I wouldn't say its my best image of the year, but it is close…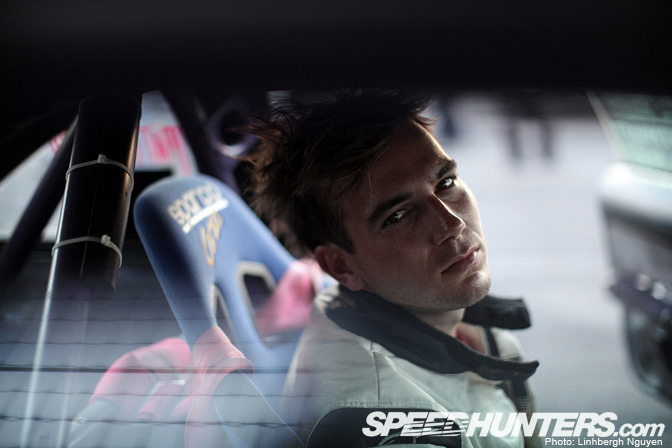 Formula D, Irwindale Speedway, Irwindale, California, USA: ….but if I had to pick one photo this year that I liked the most, this one is it.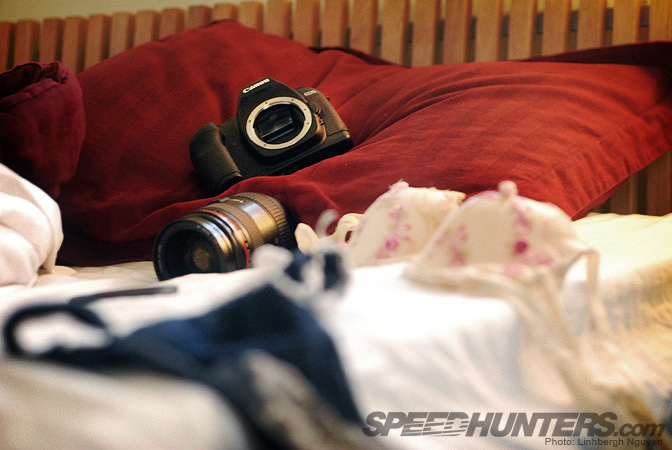 As I turned the last page of the album, I slowly closed the book, looked out at the window and saw that the sun was just starting to peal back the darkness. I couldn't help but smile at the thought of the countless number of breath taking sunrises that my dear camera and I have witnessed together this year. It's been a year that has been more than just sunrises and sunsets. We met some very wonderful and unforgettable people, was able to experience things which we've both only dreamed about together, and were able to capture some seriously awesome automobiles in the process. 
I turned my head and saw that my dear camera laying peacefully next to me looking as comfortable as ever. I warmly smiled again. What a year it's been. I laid down warm with the thoughts of the year and the thought that I spent it with someone truly special. I closed my eyes and I reminded myself that the whole cheating thing was just a dream.…

As I wiggled about getting comfortable, I felt something poking my back. I grabbed whatever it was and lifted it into the dimly lit room to identify it. My heart froze.
It was a roll of film.
-Linhbergh Nguyen