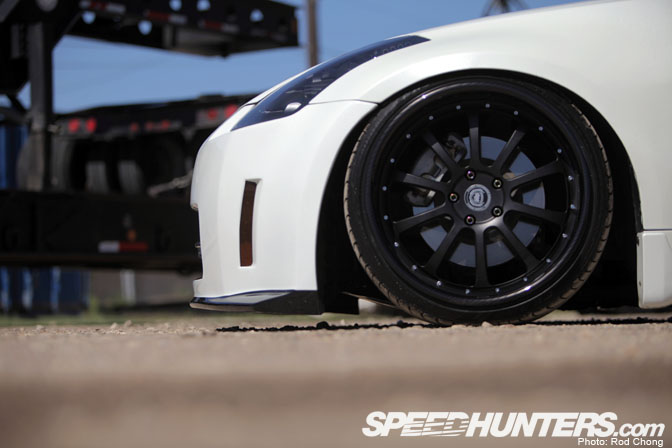 VIP Style… Drift Style… Hella Flush (?) style… Lux Style… Time Attack Style…  JDM Style… These are all different labels which have been thrown around the US import car scene in the past few years. Once a style gets solidified, a rule set gets made and standards are created for what one should and shouldn't do with a car build.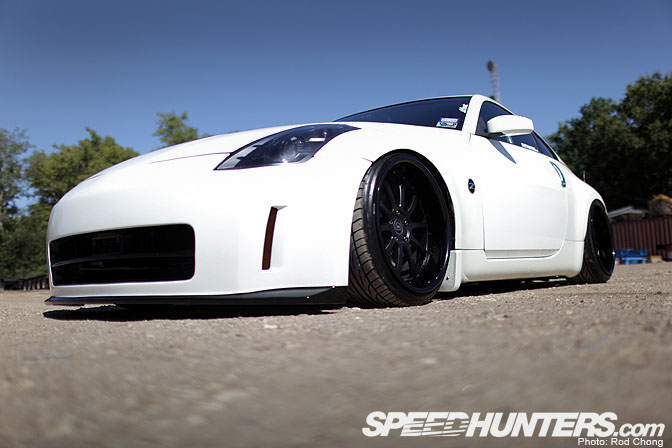 However, every once and a while a car will come up which makes you scratch your head.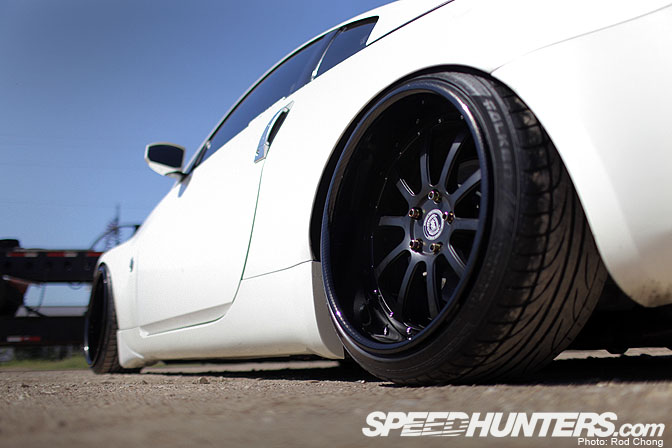 This 2006 Nissan 350Z is certainly Hella Flush approved, but it's clean and elegant like a VIP/Lux style machine…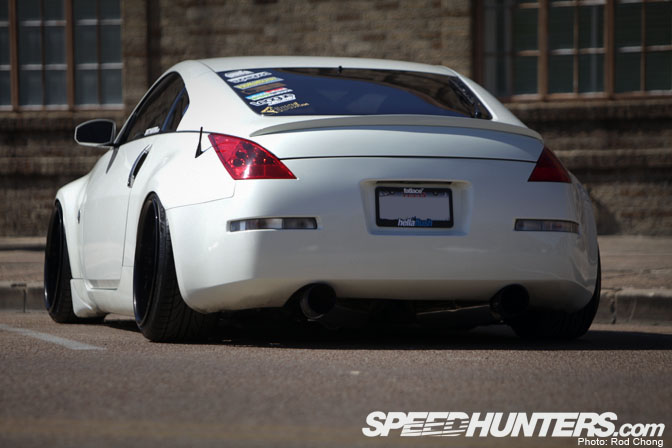 … But it's been built with drifting in mind and has a future in store of being driven sideways in local Texas grass roots events.
Genre classifications aside, what I can tell you is that Edafe Omosowofa's San Antonio based 350Z looks absolutely bad ass creeping down local Texas roads. All other regular "applicance cars" look quite ridiculous and unstylish next to this low slung Z33.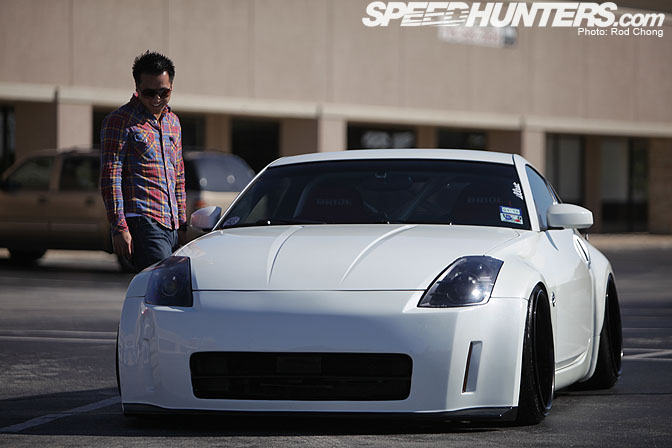 It's all about the stance! I managed to capture the moment where fellow Speedhunter, Linhbergh Nguyen first set eyes on the dropped Nissan. That's a look of pure love there!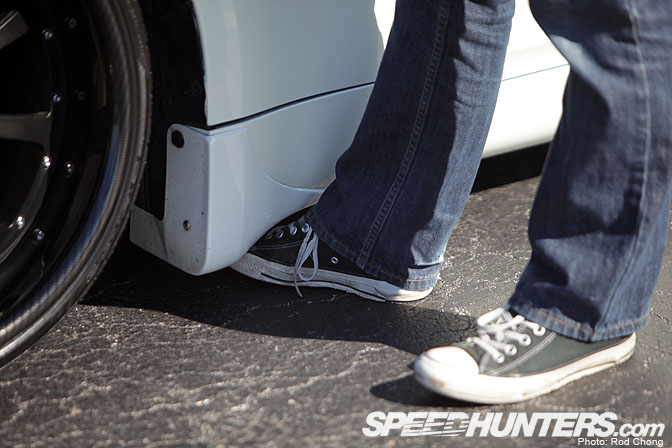 And it passes the Linhbergh shoe test! According to the young man, if you can barely get your shoe under the side of the car then you know it's sitting proper.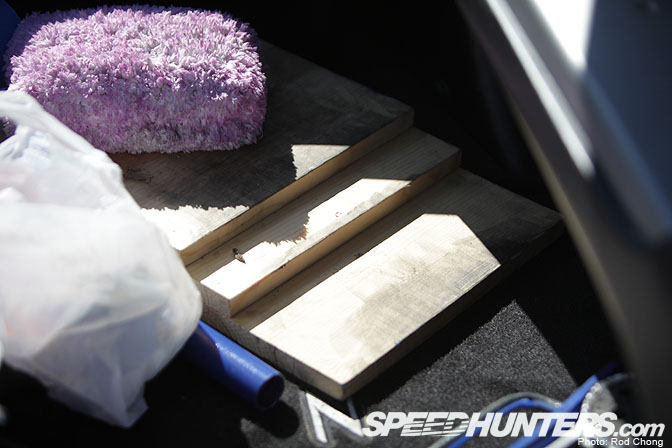 Linhbergh also pointed out to me these boards are also a sure sign of hardcoreness. They are needed to get a coil-over car into driveways and over tall speedbumps.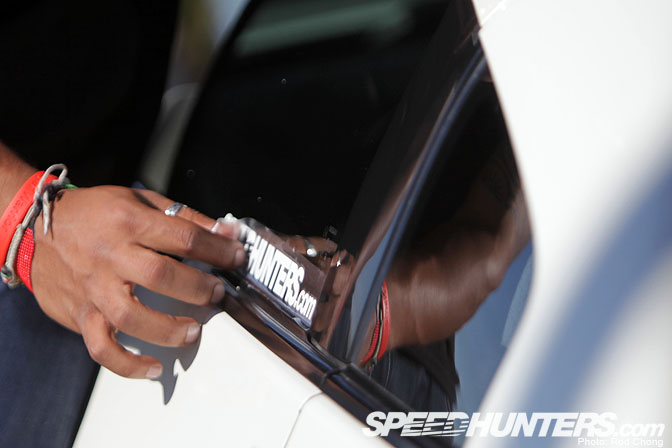 Our Houston Texas hosts at Access Zero printed a stack of special large size Speedhunters.com stickers. So we had to make sure Edafe was sorted out with some of these limited edition items.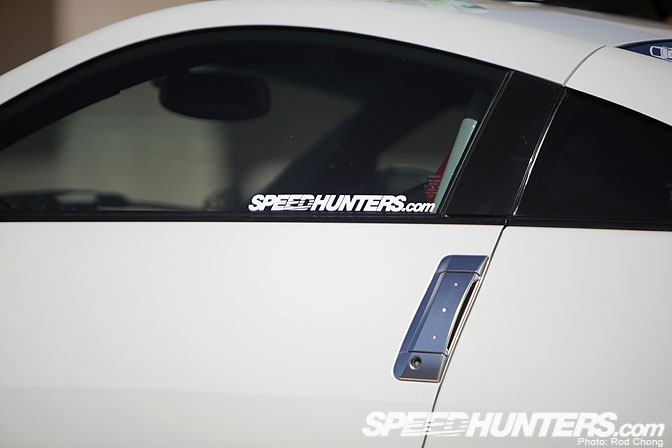 Looks good! No we don't send these out in the mail (although we are looking for a merchandising supplier), but we do usually take stickers with us to events, so if you ever see us on site with our cameras, ask us for a sticker!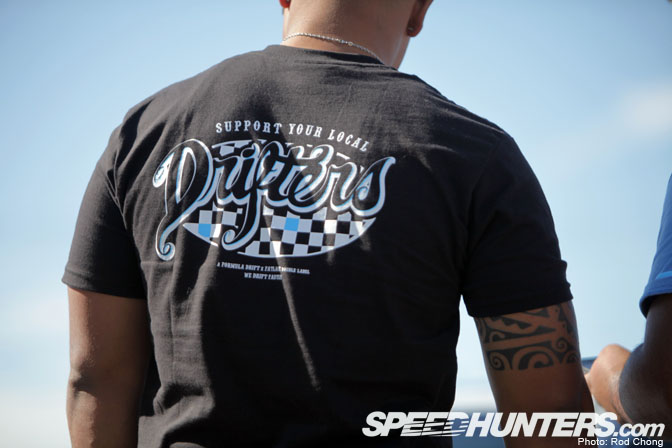 This photo gives an indication as to where Edafe's head is at…
… he's a drifter and this is what the car going to be used for.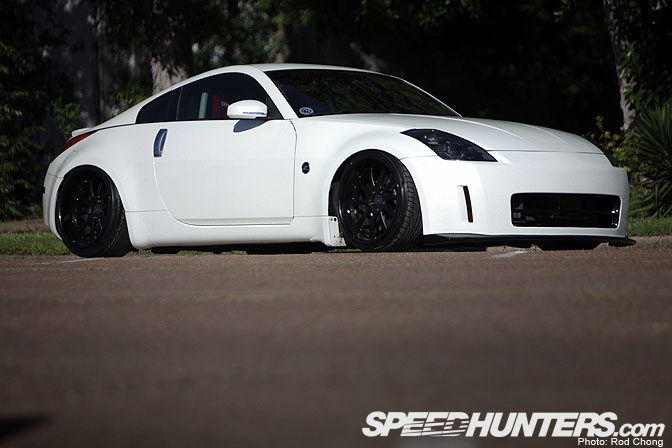 So this helps us classify this dropped 350Z… it's a drifting machine. Amazingly enough Edafe bought the car new in 2006 with this build in mind. From the onset, he planned out a hardcore street drift car build. It was going to have amazing stance, aggressive wheel fitment and have a black and white theme. The car was also going to be free of any sort of body kit, instead the stance and the clean looks were going to provide the impact.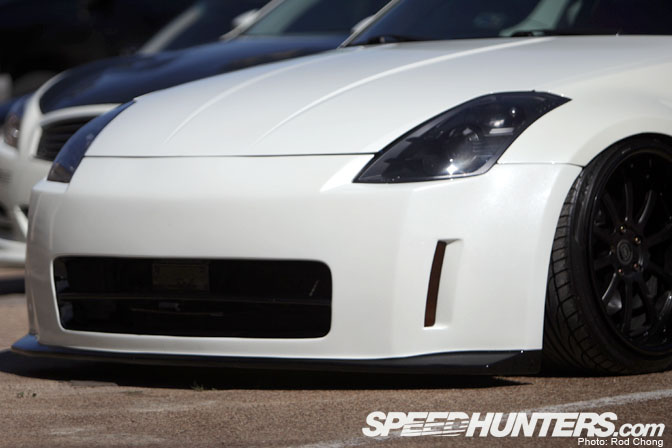 The 350Z has yet to hit the tracks, so it doesn't display the raw texture and grit that well abused drift cars normally show.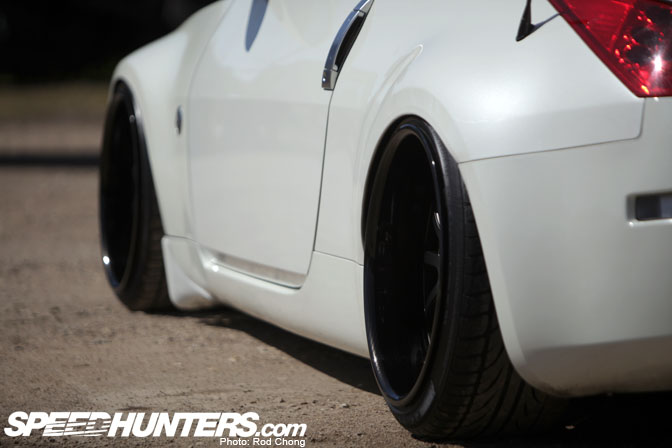 Rest assured this Nissan is not going to look like this for long! Edafe is fully prepared to thrash this car in the pursuit of sideways motion.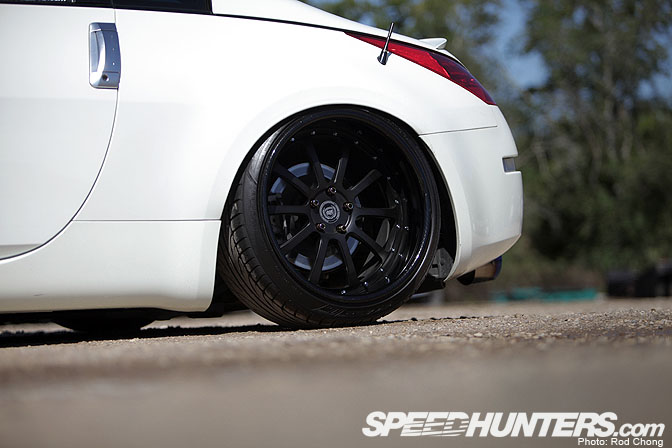 Let's look at the wheels. After considering various options from J-Line and Work, he settled on the DPE St-10 series with carbon fiber lip. Rear wheel size is19x11 with 0 offset.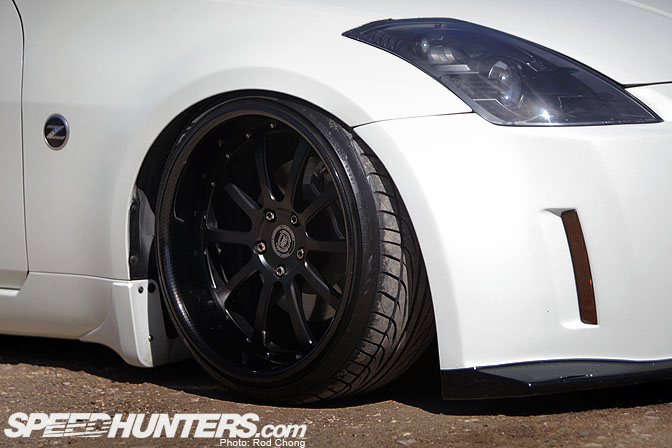 Up front the wheels are sized at 19×10 also with 0 offset.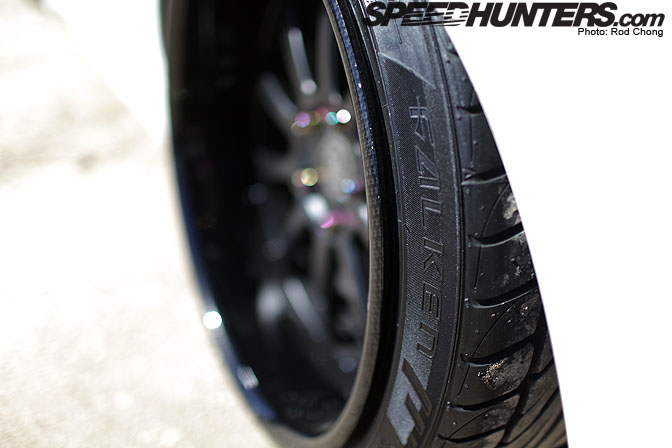 The tires are Falken 452s with the rears sized at 245/35s, while up front the Z33 is equipped with 225/35s.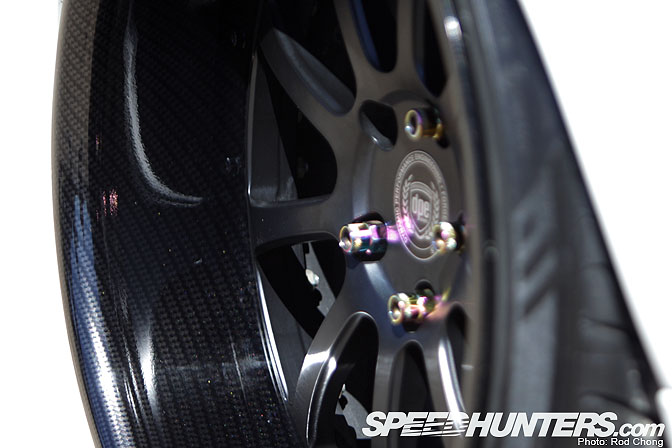 Here's a closer look at those carbon fiber DPE wheel lips… For drift days a new set of Equips with flat black centers and glossy black lips are planned.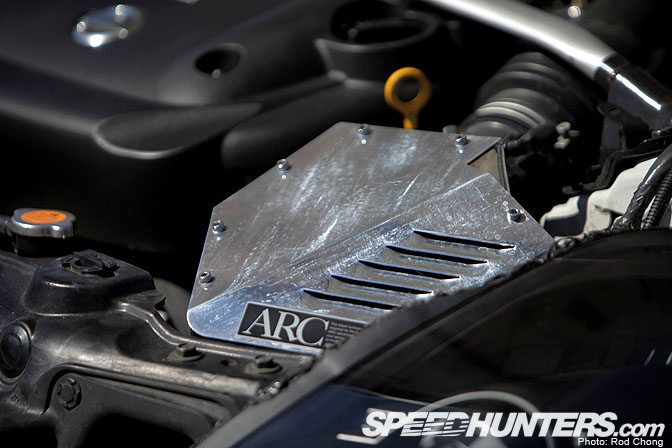 With the exception of this ARC Intake box, the engine is stock for now although Edafe is planning a LS2 swap as soon as his bank account will allow it…. hey isn't that against the rules?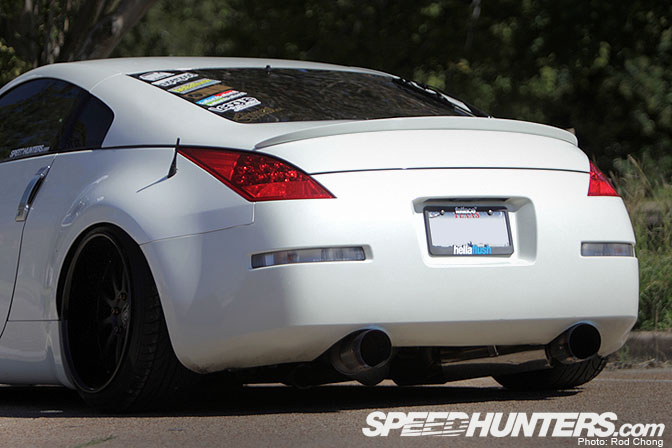 Under the back of the car we can see a X02 exhaust.
BTW the diff is about to get welded shut so Edafe can hit up some drifting events. He'll eventually replace this set up with a LSD, but for now this is all he can afford.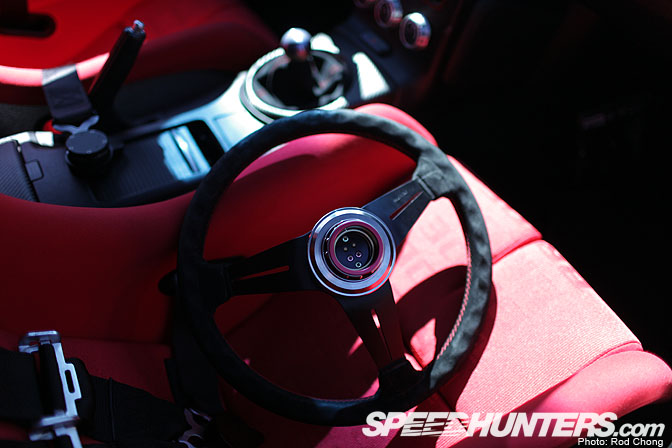 Interestingly, the only way to get in and out of the driver's seat involves taking the steering wheel out.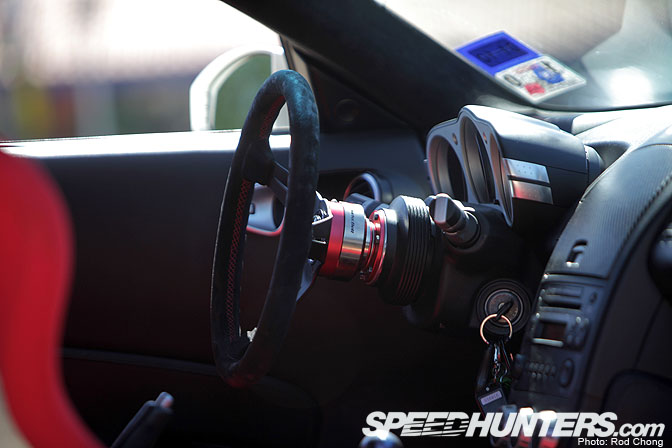 The release system is by Works Bell with the wheel being a Nardi 350mm complete with Black Suede finish, accented with red stitching. Other cockpit mods include an ARC titanium round shift knob with black suede and red stitching shift boot and a Nismo short shifter. The entire roof lining and pillars have also been lined with black suede.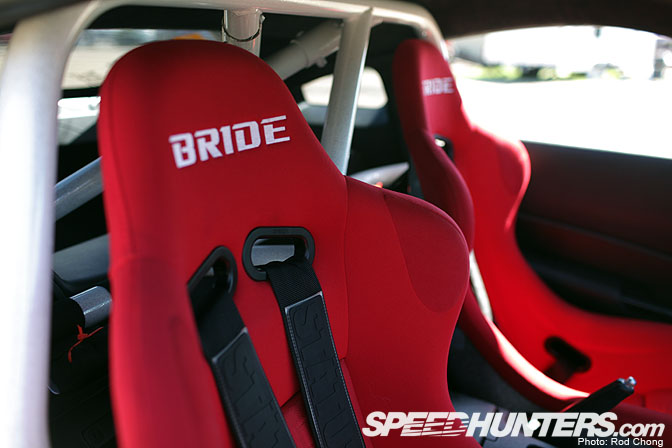 Two Bride Red Zeta III type L racing seats keep driver and passenger snug while a Kirk Racing 4-point with X-Brace roll cage takes care of safety.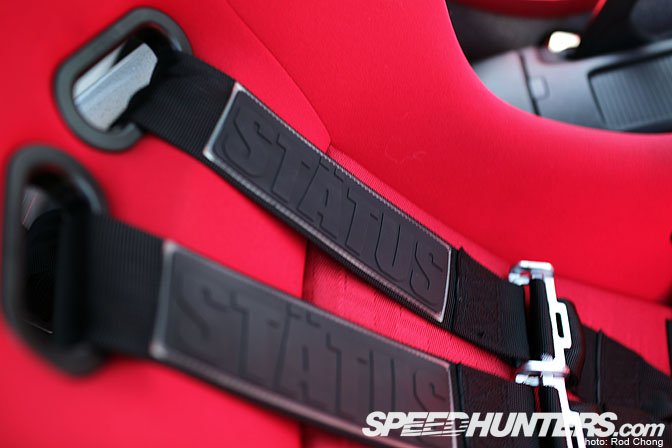 Once you tighten the Black Status Racing 4-point harnesses it's quite amazing just how tightly bound to the car you are. I'm a pretty slim guy but could barely fit into the seat… I don't see how any one much larger than me would be able to sit in this car!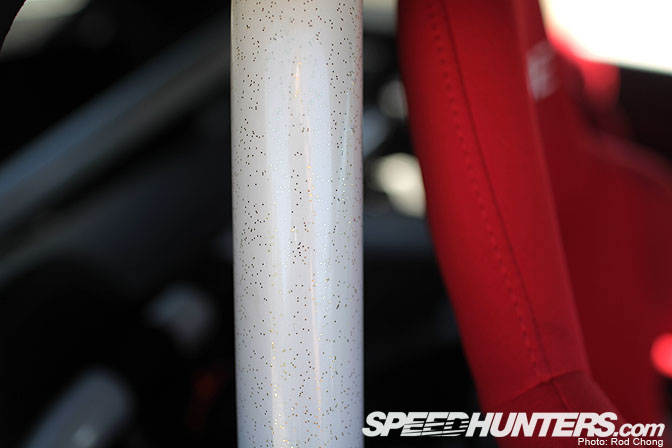 Like the metal flake? The cage has been painted a custom pearl white with gold flakes. It's a nod to the wilder, more outlandish side of drift car style.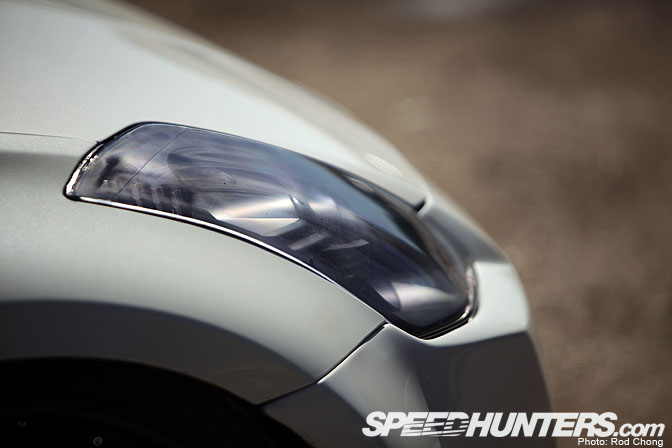 The headlight surrounds have been custom painted black.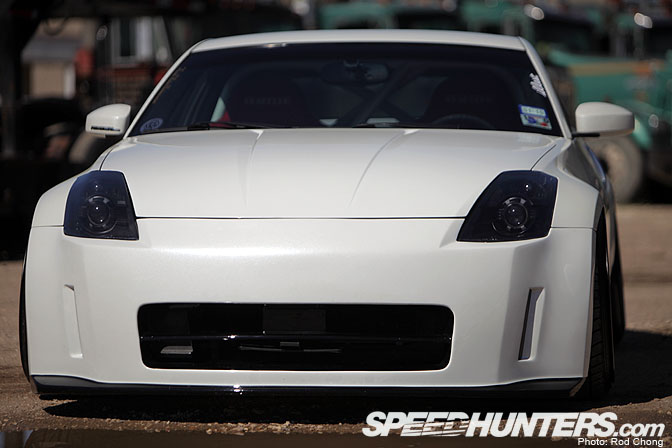 This pulls the black and white theme to the front of the car and continues the strong graphical style. The full Polyurethane Nismo style front bumper is from Aerosync. Unlike a fiberglass unit, it can take the occasional knock and scrape without cracking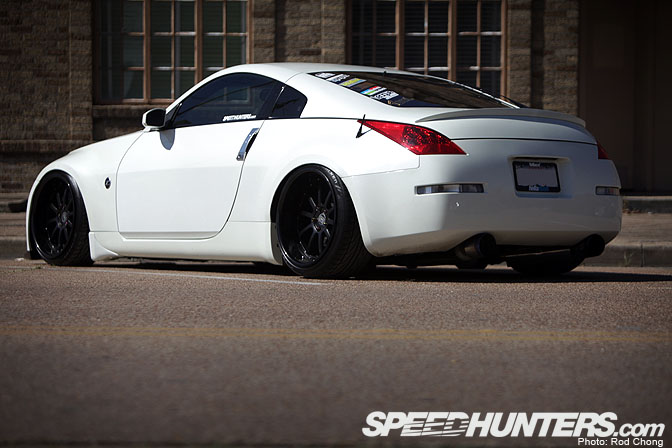 I asked Edafe what cars were his inspiration for this build and interestingly enough he cited Tommy Roberts' now dead S13 and Matt Powers' low line S14 as two key inspirations for this car. He also mentioned another drifter named Gleb Antonov who recently appeared at Irwindale in a baby blue S13.
It's interesting to see how the street drift style from Matt and Tommy's iconic cars continue to influence new car builds around the world, especially as this Z33 is a slightly different take on things.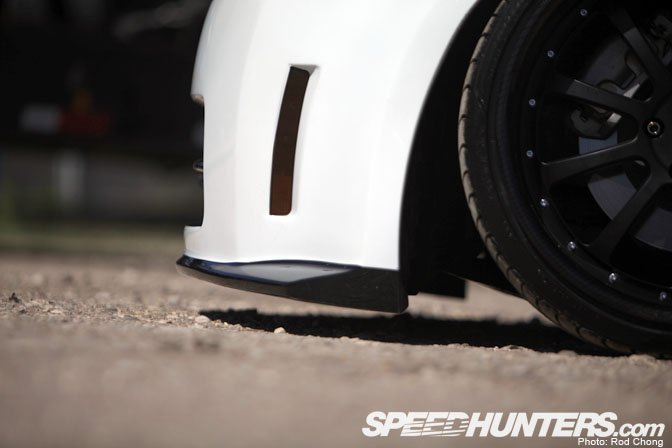 So what's it like to drive in a car with has so little ground clearance?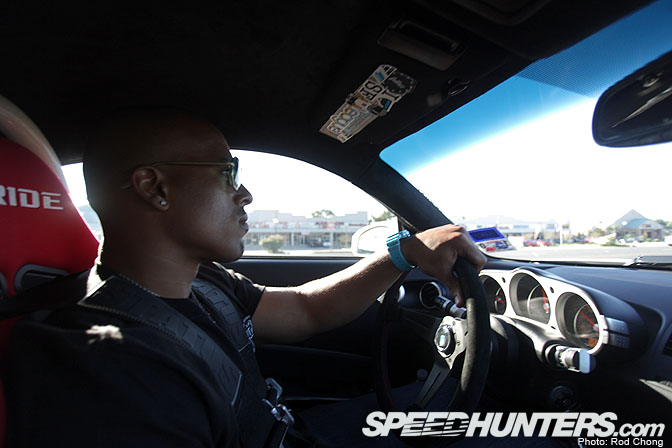 In talking with Edafe, he only takes this car to places he knows he can get in and out of. He normally has to limit his driving routes to roads which are compatible with his 350Z's ride height. … but in spite of these limitations this car is Edafe's daily driver.
BTW  the Stance Gr+ suspension set up rides pretty smooth. It's not a particularly harsh a ride at all….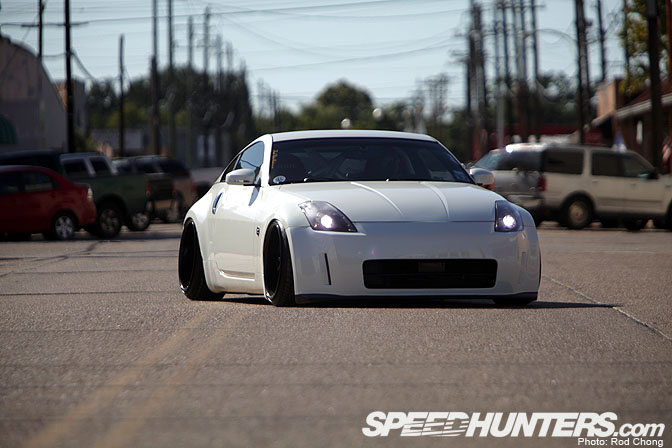 So there you have it. A car that manages to bridge the hardcore edginess of street drift cars with the elegant refinement normally associated with luxury oriented builds. I feel a bit bad this car is going to be thrashed and abused in a life as a drift machine…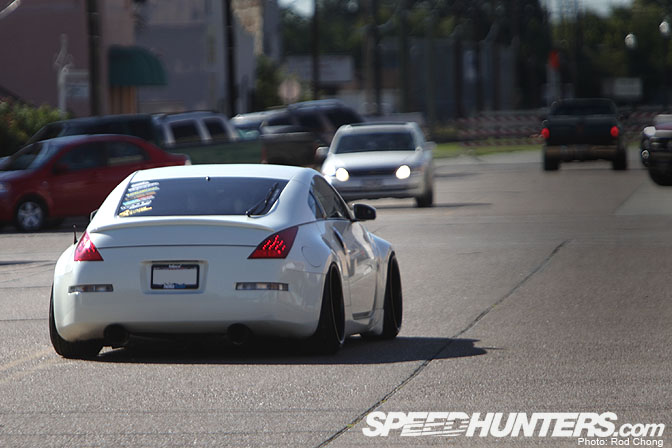 … But then again that's the spirit of drift!
Rod Chong