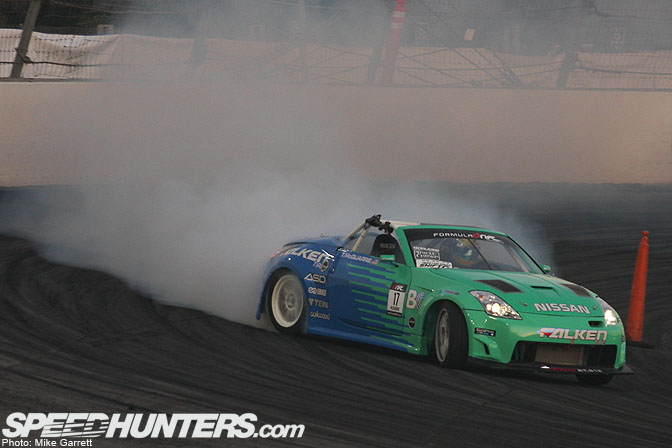 Yo Speedhunters! I'm Tyler McQuarrie, driver of the Falken Tire Nissan 350Z. I just wrapped up my first season with Team Falken and ended up getting my best finish in the Formula D Championship since I started drifting back in 2004. I've driven for many teams and tire manufactures but none of them come close to Team Falken. I am honored to call myself a Team Falken driver
It was also the first year for the Falken Tire Nissan 350Z. My car was built by ASD based in Charlotte, NC and their work is second to none in the Formula D paddock. It is very typical in Formula D for a car to need a year of development before it's ready to reach the podium, but we went out and proved everyone wrong. We all worked very hard to develop the car as fast as we could and it only took us two events to get on the Formula D podium. That is truly a testament to Team Falken and ASD.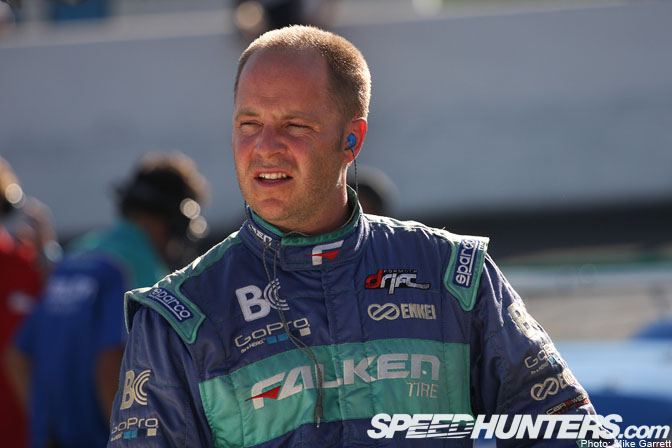 Many people think of me as a drifter, but I like to think of myself as a racer that drifts. My background is racing. I started racing karts when I was 14 and made the move to Formula cars a few years later. I won the Formula Russell Championship in 1998 with the most wins in the series history. That year I became only the 3rd American to win the World Scholarship in England. The other American's were Danny Sullivan and Jon Beakus. With that, I raced Formula Vauxhall in England for a season, which was such an amazing experience. Lack of funds forced me back to the states and I spent time in US Formula Ford, ALMS, NASCAR Southwest Tour, USAC Sprint Cars, US Touring Cars, Time Attack, and of course Formula D.
Drifting fell in my lap in 2004 when my sponsor asked me to try it. I took to it like a duck in water and have not looked back. I spent two years driving for Yokohama with Jasper Performance in a Toyota Supra. In 2006 I moved over to the RS*R Honda S2000 on Federal Tires but they shut their doors after that season so I was forced to look elsewhere. I found my home for the next two years on the Hankook JIC Team driving a Nissan S15 and the famous Hankook JIC Porsche GT2. When Falken came to me at the end of 2008, it didn't take me long to make the move to their camp. Team Falken has so much potential and the thought of being part of that was exciting. I'm at a very happy place and surrounded by good people.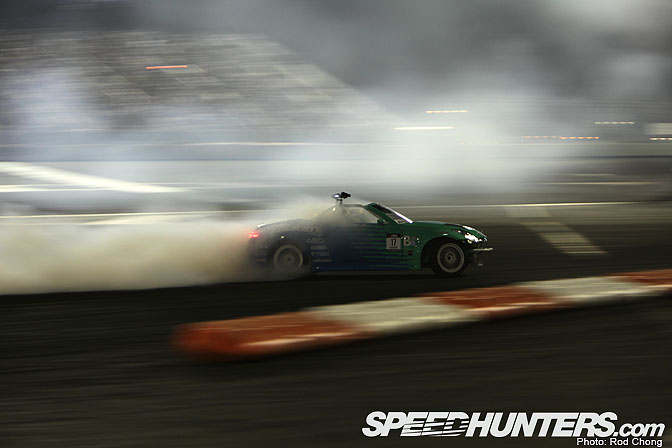 Going into the last round at Irwindale, I was sitting 5th in points, but only five points out of 3rd. Not bad considering that we missed the last round at Sonoma due to a mechanical problem. I have had a good season up to this point but I'm not ready to settle with 5th in the Championship. I was determined to get back up to 3rd if not 2nd in the Championship.
Irwindale is a very special track in the drifting world. It is our Indy, Monaco, or Daytona. I like it simply because it's fast, which is why I like any oval track we go to. I have always loved coming and driving here but the track has never been good to me. I feel like I have the resources this year to change that.
Coming into this event, I have nothing to lose but a lot to gain. My plan was to go all out and hold nothing back, but my main goal was to finish the season in the top three in points. I had to beat Samuel, J.R., and get to the final 4 in order for me to reach my goal.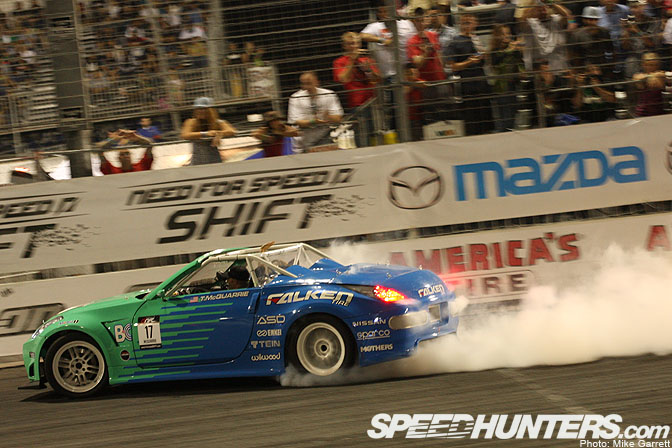 The Falken Tire 350Z built by ASD is hands down the best drift car I have ever driven. Performance was everything on this build and it started with the chassis. Everything in front of the front shock tower was cut out and replaced with a light weight front clip. The same was done behind the rear shock tower. This was done to save weight but also built for a quick fix in case of a crash. This beast weighs in at 2311 lbs. ASD custom made the sway bars, front spindles, and control arms. The Z has Tein Dual Control EDFC. It also has a 4 speed Mid Valley dog box with a quick change rear end. This enables us to fine tune the gearing in less than 5 minutes.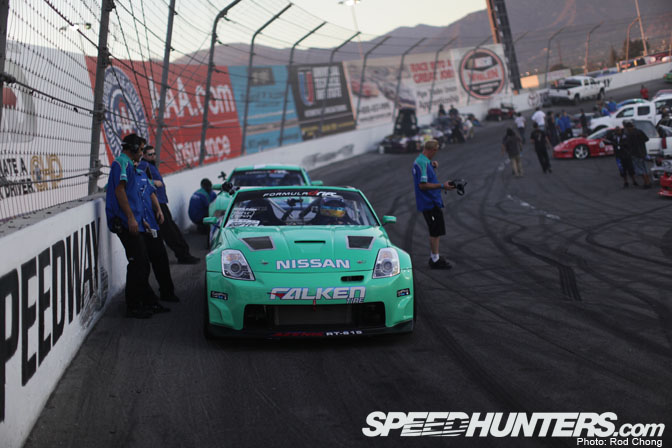 The best part about this car is the motor. The ASD guys crammed a 410 V8 sprint car motor in it. 720 hp and 680tq @ 4,000 rpm's. The power is awesome but the torque is more impressive. The days of clutch kicking from the motor bogging down are long gone. The blonde skinny Kiwi to the right is Ian Stewart, owner of ASD. To the left is Skip my mechanic, both of which worked and ran NASCAR Sprint Cup teams. Pretty cool they made the switch to drifting!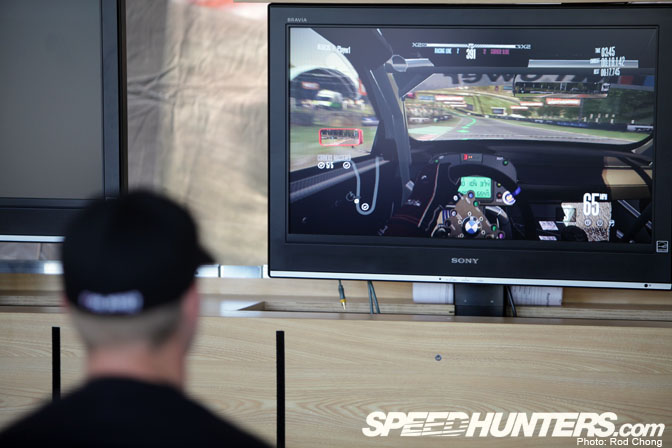 Here I am wishing that I could be driving this car like Tommy Millner. This is a competition between all the Formula D drivers playing the new Need For Speed "Shift". The qualifying round was on Brands Hatch Indy track, which I ran in real life. The track in the game is pretty spot on!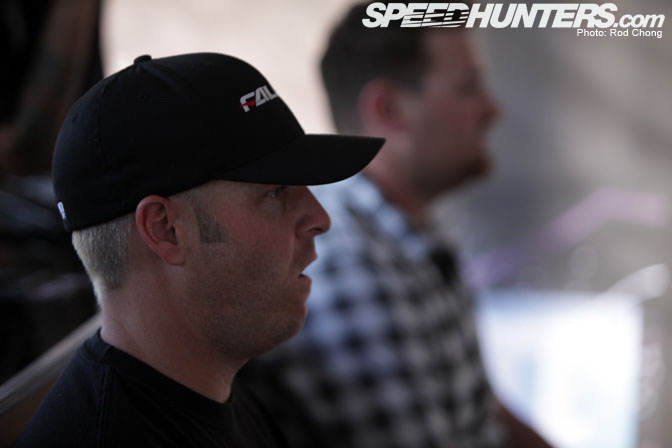 This is my "O" face… I mean "Game" face. I wonder if I make this face under my helmet while I'm driving? I spend a lot of time on computer simulators but not much time on game consoles. I think "Shift" has changed my mind. During the qualifying round, I was just trying to get a clean lap in. Apparently that was not enough because I came in 4th.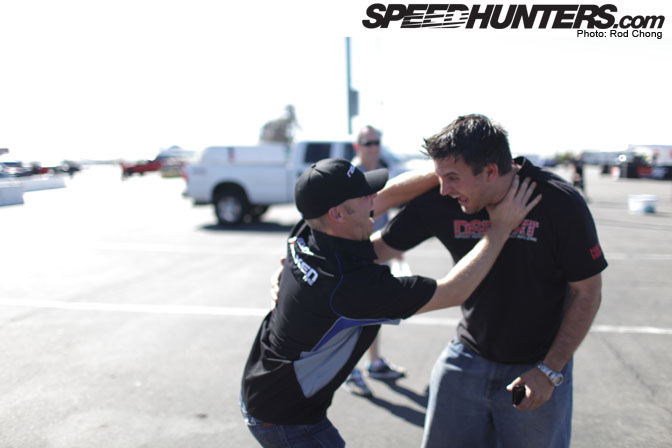 This is me trying to kill an illegal alien from Australia, Andrew Hawkins. He does all the videos for DSport magazine. Yes, he came all the way from Australia to cover the last round of Formula D. That says a lot about the coverage that FD is getting around the world. A very cool time to be in drifting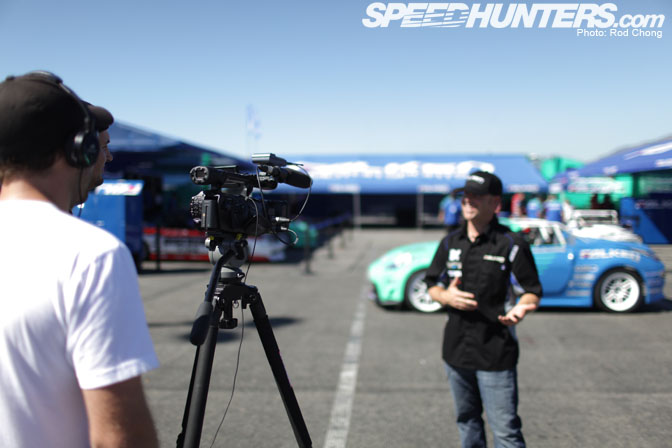 Here I am shooting a feature on the Falken Tire 350 Z. Driving is a very small part of a Formula D weekend. Media interviews take up a large portion of my weekend, which I don't mind at all but sometime their timing is pretty bad. My job is to get my sponsors as much exposure as possible, whether it's on the track or off the track.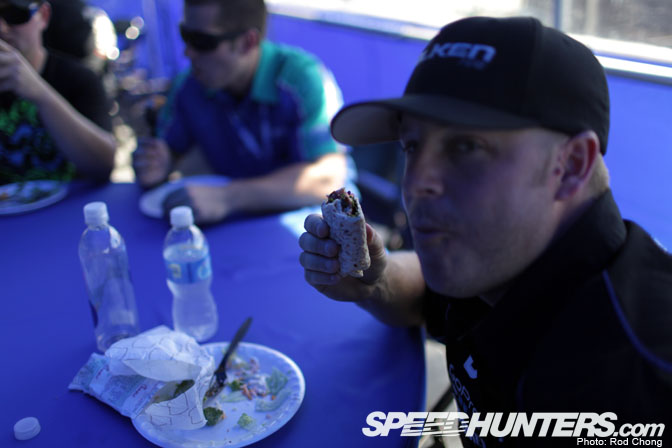 Taking some time in between practice and qualifying to grab a quick bite. Falken has an amazing pit area. They have two rigs with room for five cars, a fan / DJ area, and my favorite spot the hospitality area. Falken goes out of their way to make all the drivers, crew, and guests feel as comfortable as possible.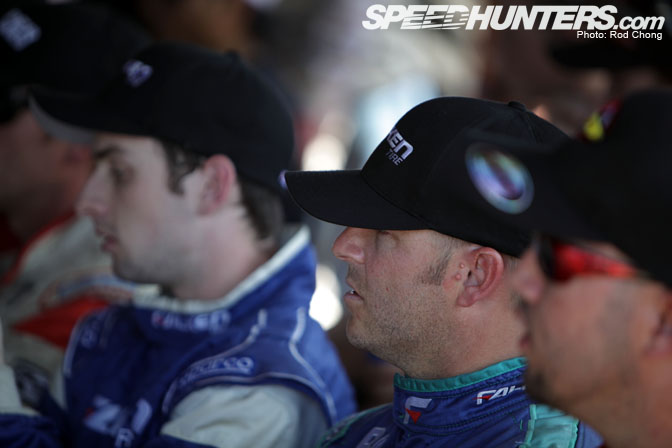 Every event we go to, it is very important to listen to what the judges are looking for. The criteria never changes, but how you prioritize that criteria does change from event to event. Also knowing where the speed guns are at will change how you do your run. Coming from racing, it has taken me a long time to get used to getting judged. Racing is very black and white with a checkered flag. Drifting can be very grey…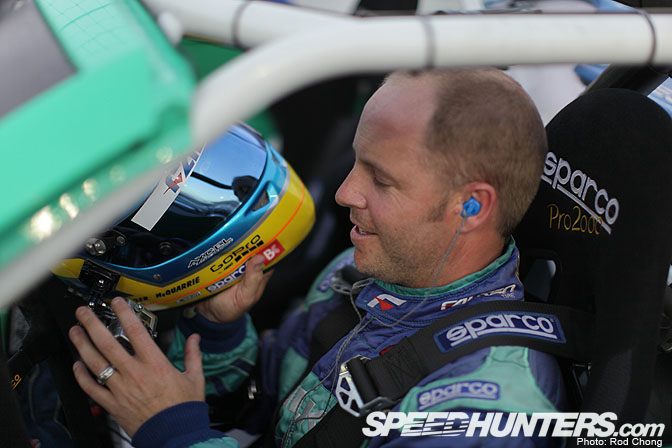 As I got ready to qualify, I still was not feeling good with the car. We had been chasing a steering problem all weekend. The steering was getting bound up on the bank and not returning like it should. Not the best problem when drifting inches at a wall at 100+. The ASD guys changed the steering rack, pump, and fluid. My toes are crossed at this point! The points chase is also very close so this qualifying run is more important than any other this year.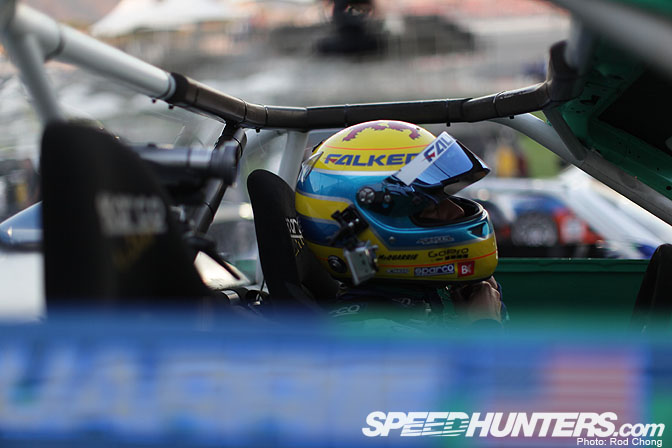 I like getting in the car a few minutes before my run to get focused. Drifting can be very mental, so I like to plan out my run in my mind before I leave the start line. I like to think of my entry speed, type of entry, and all the marks I need to hit on the run. For me, it's all about hitting your marks and minimizing mistakes on the run and with that you should get a good score.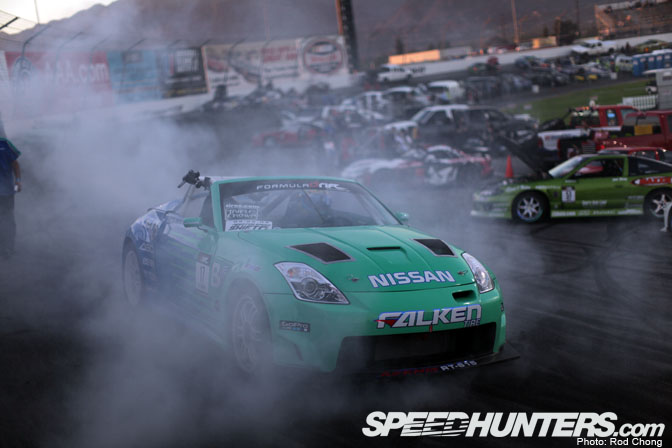 The Falken RT 615 is an amazing tire! We have tons of data on tire temp and related grip. The track temp and the desired grip that I want on that run will dictate the type of burnout I do. This is before my first qualifying run so I'll do a burnout and my mechanic Skip will check the tire temp and tell me if I'm good to go. Since speed is a factor in qualifying, I'm looking for some good grip so a short burnout is needed here.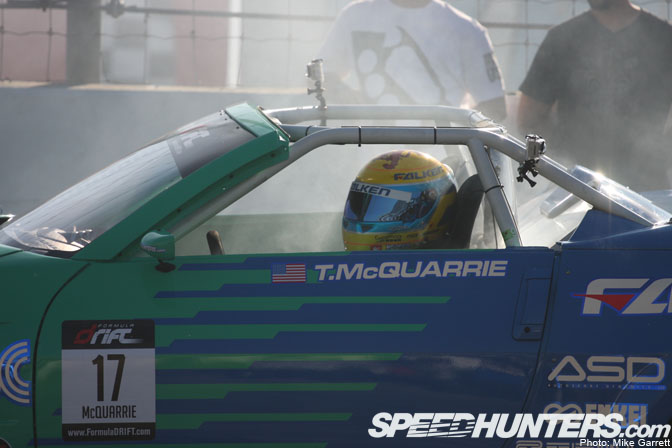 I just did my first qualifying run, which was on the conservative side and put me 16th. I'm getting ready to do my 2nd and last run. I'm pumping myself up here to lay it all out, since I need all the points I can get. I have nothing to lose at this point since the first run put me in the show. I'm also thinking about what spots on the track that I need to pick it up and what spots I need to leave alone to give me that killer run.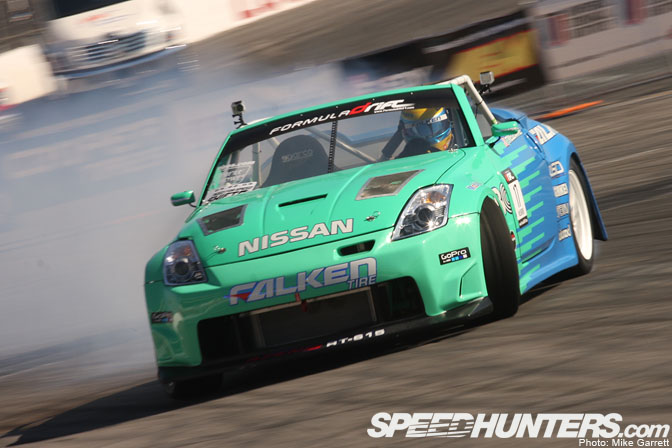 Like I said I had nothing to lose on my second run, which I didn't. I didn't gain anything either, because I pushed a little too much coming off the bank and hit one of the clipping points, so I got a zero on that run. It is a very fine line between nailing run and getting zero. I'm just hoping that the points chase is not that close at the end of the event that I will look back at this run as the deal breaker.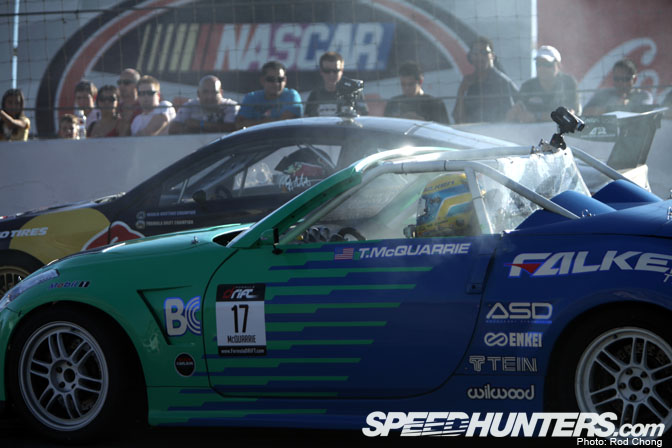 My first battle in top 32 was former Formula D Champion Rhys Millen. He is looking much better in his new car and is not an easy first battle. We have data on every car in the field from their line to their trap speeds. I know exactly what Rhys is going to do. Our lines are very similar but his speeds are much lower than mine, which can be difficult to follow. I'm leading on the first run and my plan is to have a clean fast run. If I can create a gap between Rhys and I, that will give me the advantage going into the follow run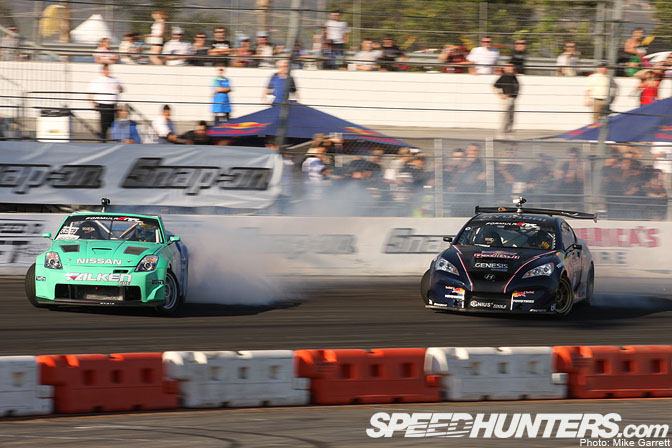 This is as close as he could get to me and I even pulled out a bigger gap before the end of the first run. All I need to do in order to move on to the top 16 is mirror his run and get as close as I can.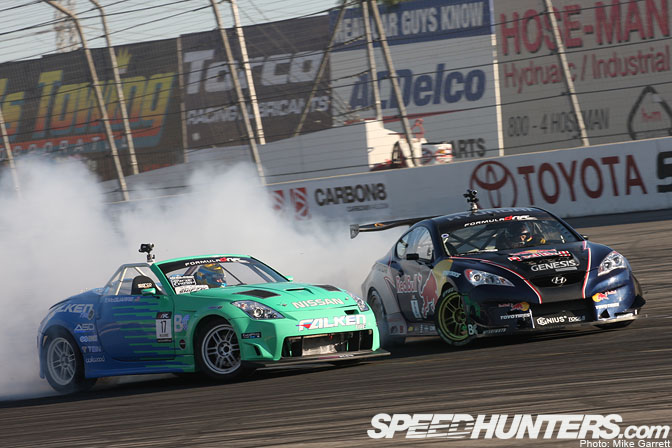 A picture is worth a 1000 words…The win went to me and I'm moving on to the top 16! Rhys is a good friend and very strong competitor. He is also an ex-champ, so beating him felt very good for me and Team Falken.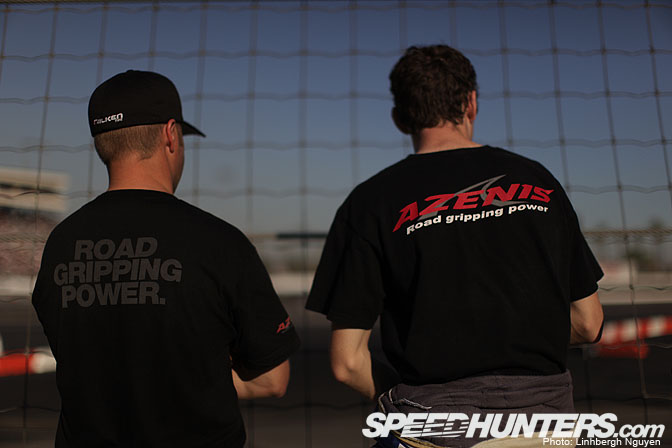 When I'm not in the car, I try and watch my competition. You can learn a lot on changing track conditions. You can learn a lot on your competition as well. Most of the drivers are very consistent with their style of driving. I look at the top 32 ladder and I can see the possible match ups through the event so I focus on those drivers. My teammate Darren McNamara is doing the same. We have gotten along very well this year and I'm glad to call him my teammate. What you can't see in this picture is him crying because I beat him in the Championship.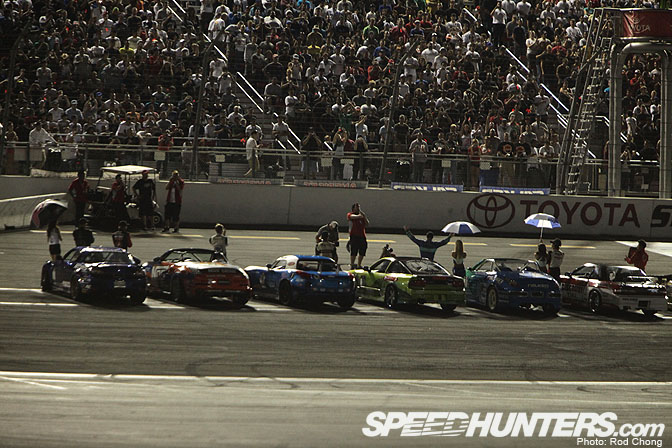 Top 16 driver intros were awesome for a couple of reasons. First, Irwindale was sold out and standing room only, which made it the biggest drift event ever. Pretty cool to watch drifting grow into the sport it is today. Second, my teammate J.R. who was 4th in points was knocked out of top 32, which means that I now move up to 4th in points. This event is going as planned.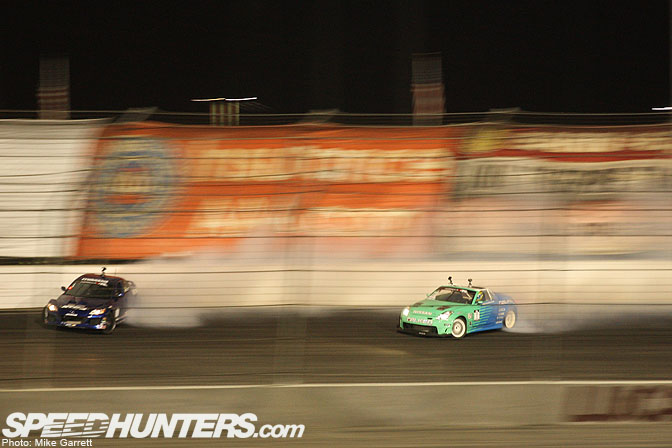 In the top 16 I was matched up with the number one qualifier for the event, Justin Pawlak. He has been killing it all weekend. The funny part is that we had been talking so much smack towards each other all weekend in good fun, little did we know that we would line up against one another. His line was spot on but I knew I had him by four mph on the bank and three mph on the infield. I gave him a little gap going into the oval so I could close up on him coming off the oval.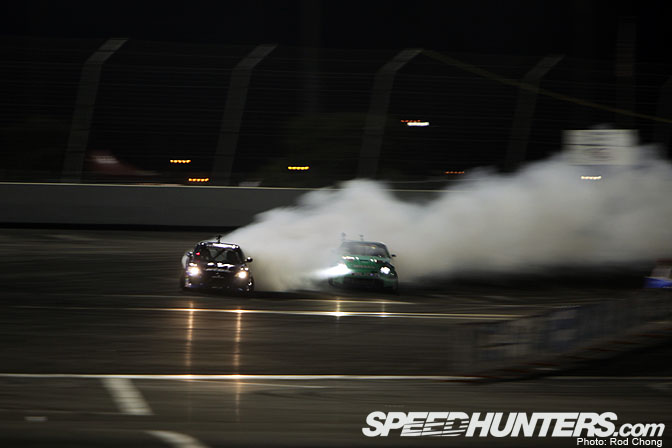 My plan was working out and I caught him at the perfect time coming off the oval. Now I just need to mirror his run and stay close without gripping up. Both our cars make a lot of smoke so it becomes difficult to see, but I knew I could trust Justin's line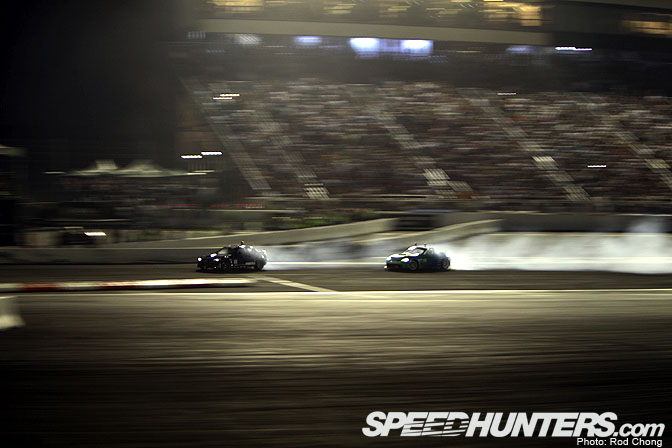 Coming into the infield I back off a bit because I knew I was three mph faster. If I give him a little space here, I can close up on the last couple of corners.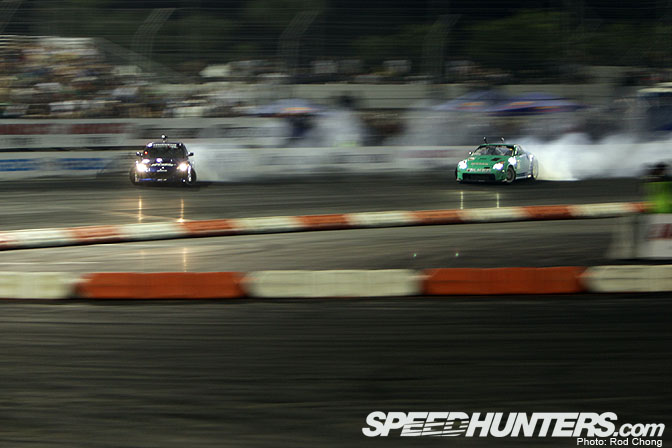 Justin had a great line but I'm ready to close the gap.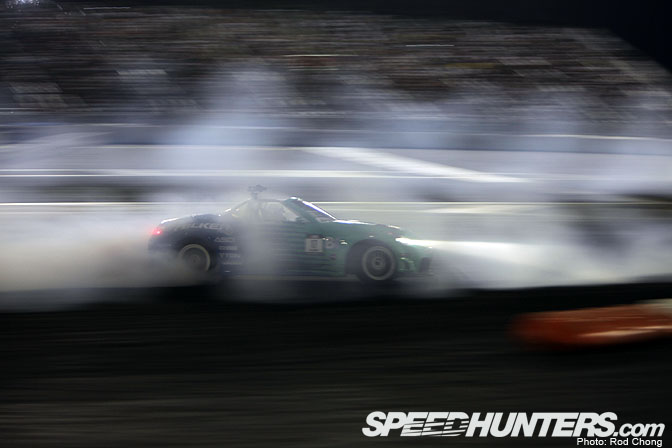 Here I closed up behind him and tried to get underneath him, but ran out of room between his car and the barrier.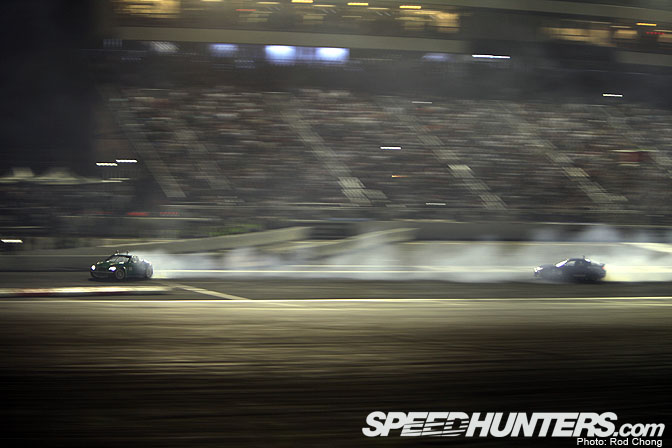 After having a good follow lap, my plan for the lead run was to just do my thing and go all out. With that I should be able to create a gap and hopefully the win could be mine. The judges saw it the same and gave me the win!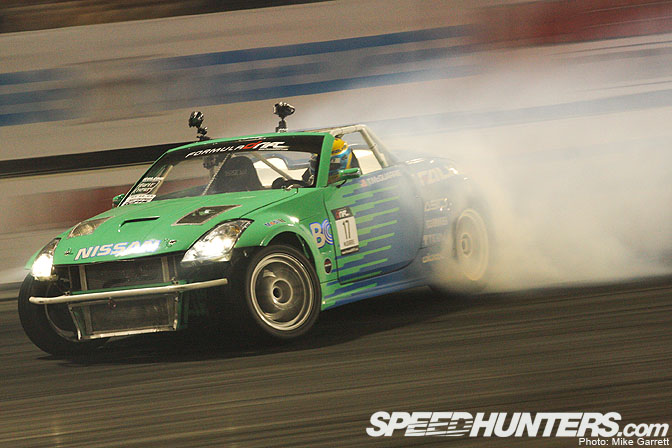 Every event we go to, the Falken Tire 350Z gets better and better. At this point in the event, I'm feeling very confident. This car is working so well and there is no better feeling as a driver to have yours working like this. It is doing everything I ask it to do. It is a testament to Team Falken and ASD.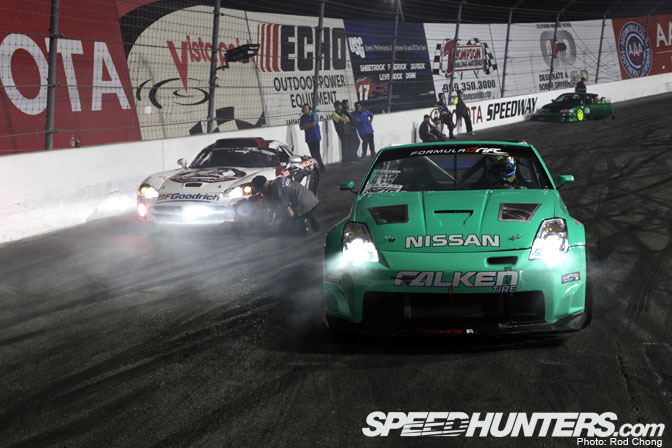 This battle was crazy on so many levels! Samuel is driving the Shaun Carlson tribute Viper. Shaun was a good friend to all of us and I think everyone in Formula D wanted to see this car do well this weekend. At this point in the event, I'm sitting forth in the championship and Samuel is four points ahead of me in third! Whoever wins this battle gets third in the Championship. This is huge. I remember sitting on the line telling myself "This is your entire season right here! Do this!" I knew I could do it because I beat Samuel at Seattle which is the same type of track. His car is very fast in a straight line but I knew I could close up on him in the infield.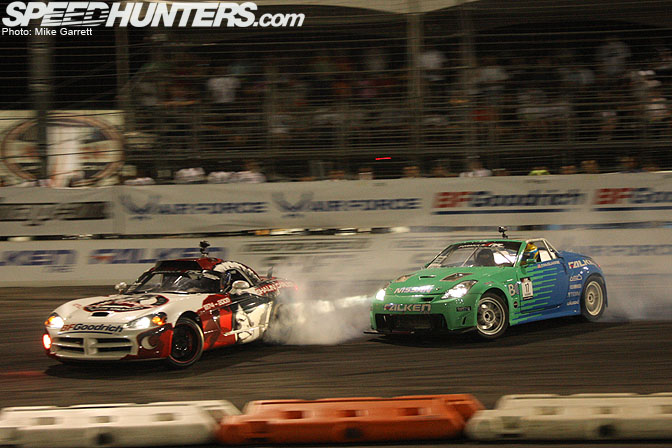 I closed up like I thought on the infield. I even had to left foot brake to stop from getting into him. I remember staring at his car thinking this is mine!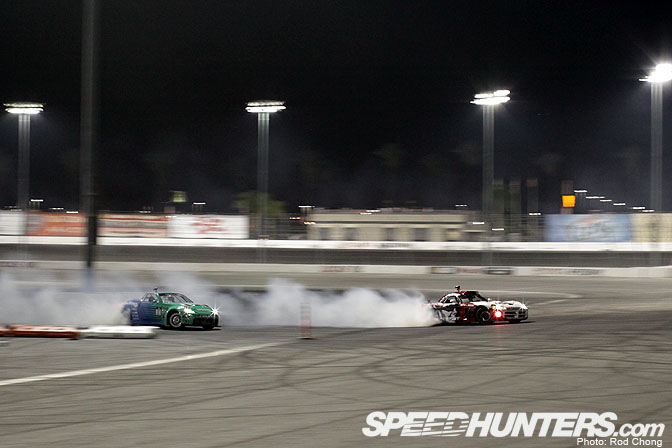 My follow run could not have gone better. I was in the same position as the last round. I have the advantage going into my lead run, which is good because it all in my hands.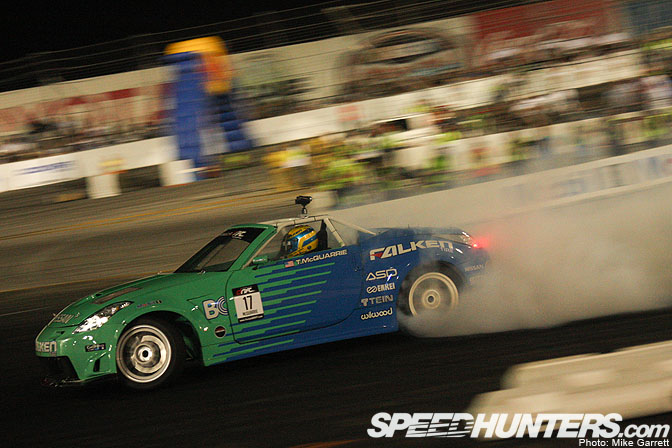 On my lead run, Samuel was all over me going into the bank, but once we got in the bank I started to pull away. I drove as hard as I could and by the end of the course, I had a pretty big gap. I knew it was mine!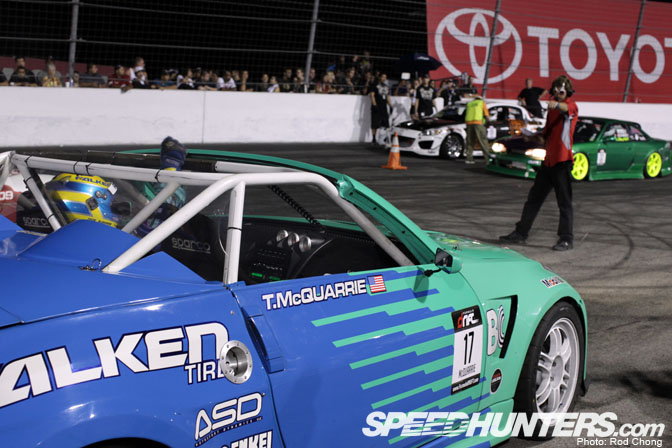 I remember sitting there just waiting for Doug to point at me and call me the winner. Once he did, I had just locked down third in the Championship. What a great feeling to have the season I did in my first year with Team Falken and the 350Z. The most memorable moment of the night happened just after this when I got out of the car. Wheelz, one of Samuel and Shaun's long time crew members came up to me. He told me, "If Samuel can't win; Shawn would want you to win. He thought the world of you". It gave me chills and gave me the power to get to the finals for Shaun!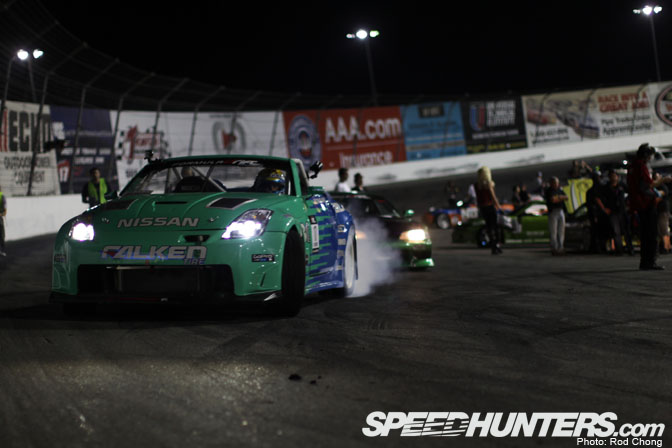 Next up was Matt Powers in the final four. I did an extra long burnout since his car is much slower. The longer the burnout, the less grip I will have and will make it easier to follow him.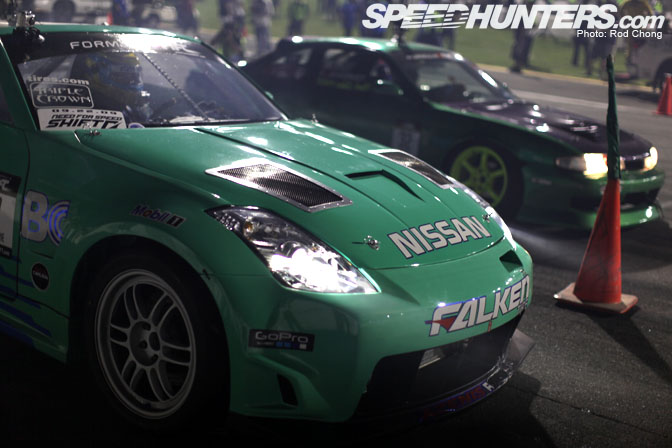 Matt has had his best event of his career and by no means am I looking at this as an easy win. I knew he would struggle to stay close to me on my lead run. I also knew I would struggle on my follow run. So, it was anyone's battle to win.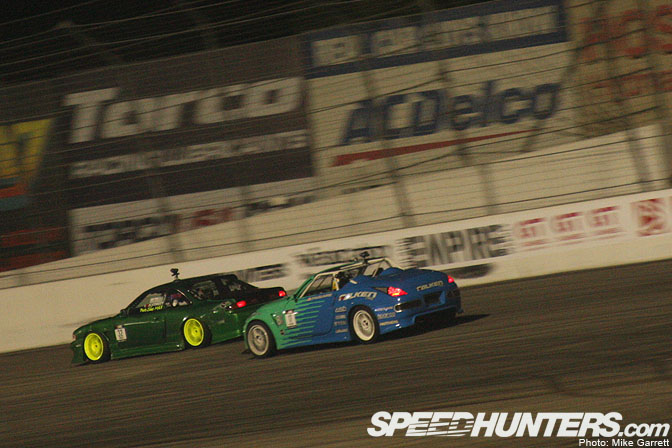 I had a good lead run and this was the make or break point. I had to stick to him even though his car is slower. I was ready to grab the side brake and left foot brake like crazy!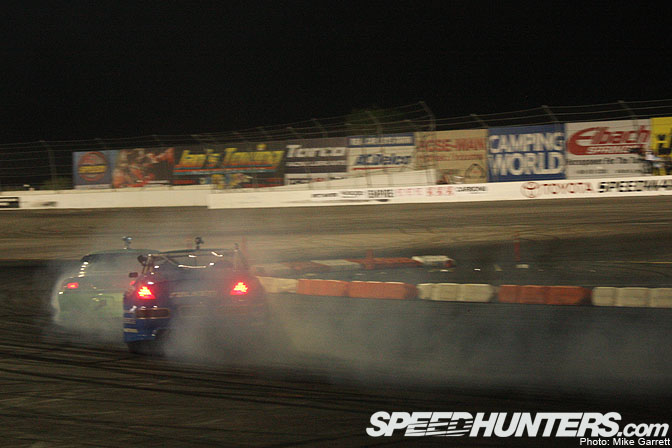 I adjust the brake bias during runs so that I can left foot brake like I am here. It helps me stay on the gas to keep the back out but prevents me from picking up speed. Hats off to Matt! He took down a lot of drivers and got his best Formula D result. Finals here I come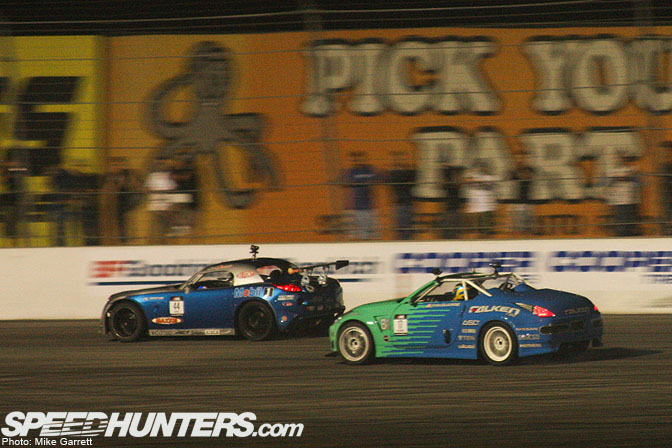 You are looking at second and third in the Formula D Championship. Nothing to lose for both of us and our car's are very similar in speed. I wasn't even thinking what's on the line, a win at the "House of Drift". Just another run to me. His car is fast in a straight line, so he pulled out a gap before we got into the oval. I slowly pulled him back in. I was on him as we crossed the finish line. Ian from ASD came on the radio and said, "this is yours, just have a clean fast run" When I led, we were together going into the bank but I drove the bank harder than I have all weekend. I pulled out a pretty good lead. I drove the crap out of the Falken Tire 350 into the infield and…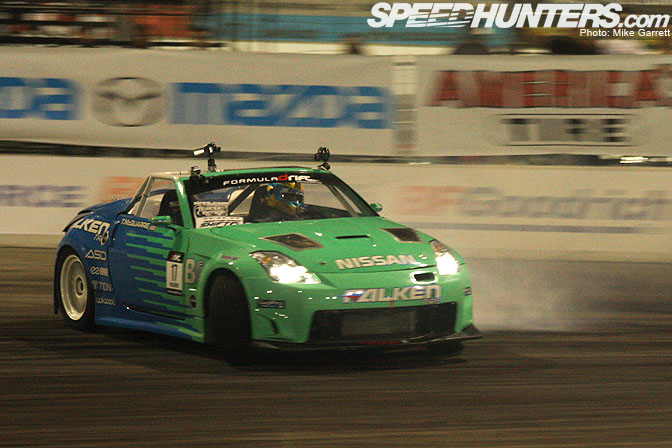 I came into the infield with a few miles an hour more than I have all weekend. I quickly realized that I was going to hit the wall with the rear of the 350 Z. I thought I was going to hit hard so I wanted to prevent the front from being sucked in so I got on the gas as I hit the wall to drive through it. Well, I didn't hit as hard as I thought and me getting on the gas like I did caused me to spin. That left me pointing back towards Ryan as he drove by me to the win. Congrats to Ryan for winning The House of Drift!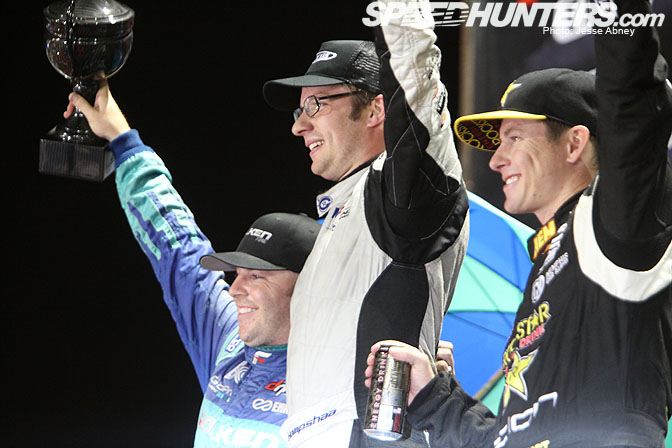 What an amazing event! To overcome the steering problems we had at the start of the weekend and get the result we did, it was truly a team effort! I have always loved driving at Irwindale but it has never been good to me until now. Looking back at the ladder I had to go through to get this second place made it feel even better. Ex-champ Rhys, number 1 qualifier JTP, two time champ Samuel, and top privateer Matt Powers!
I've had a crazy year on and off the track. Starting with the birth of my Daughter Maclaren (my wife gave the thumbs up on the name if we could change the spelling). Then my Step-Daughter had a Kidney Transplant in June. To top it all off, Maclaren had hip surgery last month and is in a body cast for three months! My wife and I have spent more time in a hospital over the past year to last a life time… I hope. It made my success on the track that much better.
The only event I would love to have back is Sonoma. My car didn't even run there due to problems with the coil. So, out of the six events we ran in, I made it to the final four 4 times and out of those four times I made it on the podium three times. With my third place finish in the Championship, I became the highest finishing Falken driver in the Formula D Championship ever.
I'm very excited for 2010 because I will be returning with the same potent 350 Z. I can't wait to fight for the Championship from the word go at Long Beach.
Thank you so much to Falken Tire for believing in me enough to bring me on the team a year ago. Thank you BC, GoPro, Sparco, Enkei Wheels for all sticking by me through all the hard times in years past. A big thanks to all the ASD guys for building me such a kickass car. I owe this season to you guys and your hard work.
Thanks Speedhunters for all you guys do. You guys rock! Thanks to the readers for checking out my driver blog.
-Tyler McQuarrie