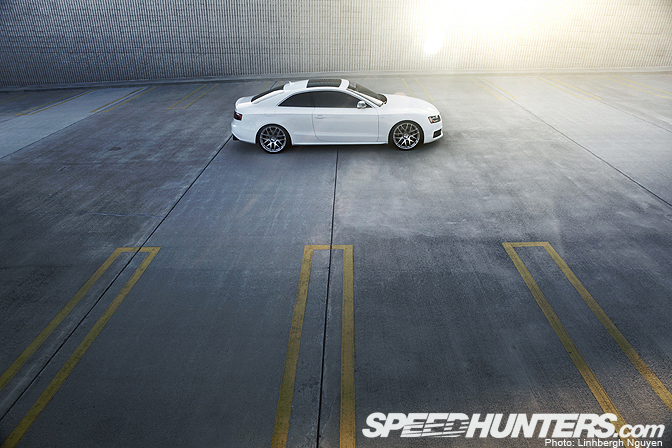 Just imagine that you're a racing driver. On the weekends, you drive
some of the most top notch Porsches all over the world, and at all the
hottest tracks in the world. You've driven the likes of Silverstone,
Brands Hatch, Spa-Francorchamps, Nürburgring, Laguna Seca, Sebring,
Fuji Speedway, and Monaco in your racing career. But after a weekend of
living at one hundred miles an hour, what car do you go home to? You
need a car that is luxurious, smooth, classy, and has a air of high
speed elegance to it. This Audi S5 modified by GMG Racing is a perfect
candidate.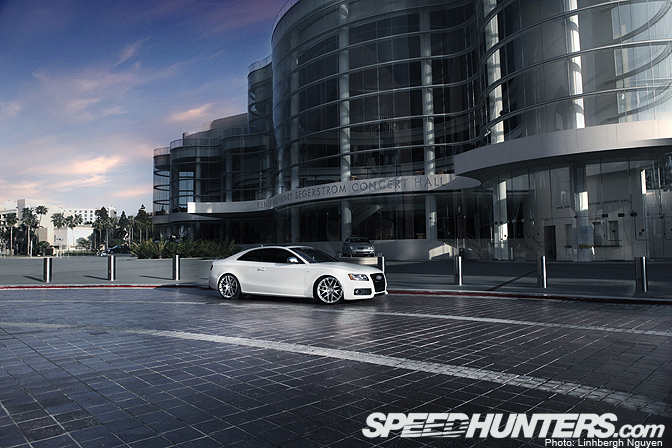 On those weekends that you're not racing, you can take that lucky lady
to a night on the town. A lady of such exquiste taste, who is with you,
a man of equal taste, will not feel any bit out of place sitting in the
passenger seat of this car. With its elegant drama, a stock Audi S5
already looks like a rolling theater production. But with the GMG S5's
lower stance, it is an opera house on opening night the moment the
curtains go down on the epic closing act. The heavenly sound of
applause is the only soundtrack that follows this car.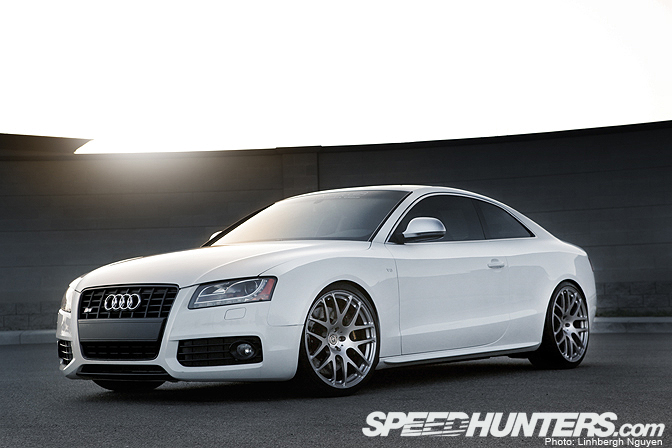 Little is done to the exterior to ruin Audi's elegant styling of the
car. Like subtle makeup on an already gorgeous girl, what was added was
to enhance its beauty. GMG Racing blacked out the front grill, added a
carbon front splitter and a rear carbon diffuser –merely just simple
eye shadow, eye liner, and lipstick.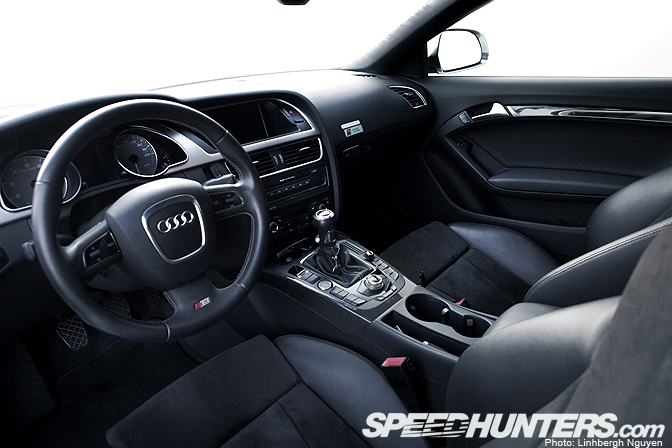 As you can see the interior was left untouched. There was no need to
change Audi's already tastefully decorated interior. High quality black
plastics, black leather, brushed aluminum, and suede seats reverberate
with classiness.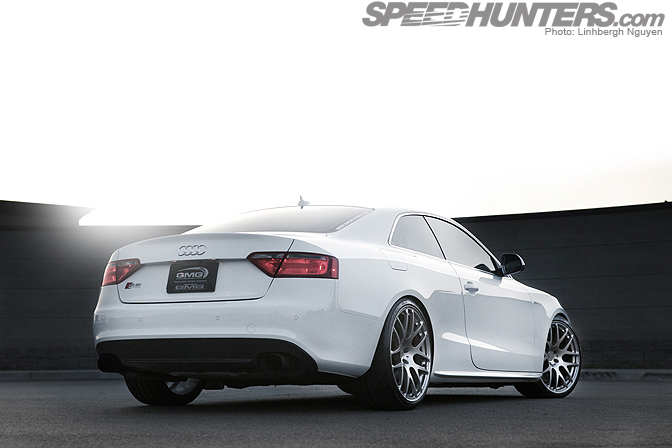 The 4.2 liter V8 has been kept basically stock. But a ninety-one octane
fuel software has been added to give an additional 30+ horse power to
the ~350 horses it has stock for that extra little umph! It's engine
note has been enhanced by GMG's World Challenge sport exhaust –a
symphony is the sound that exits this car at wide open throttle.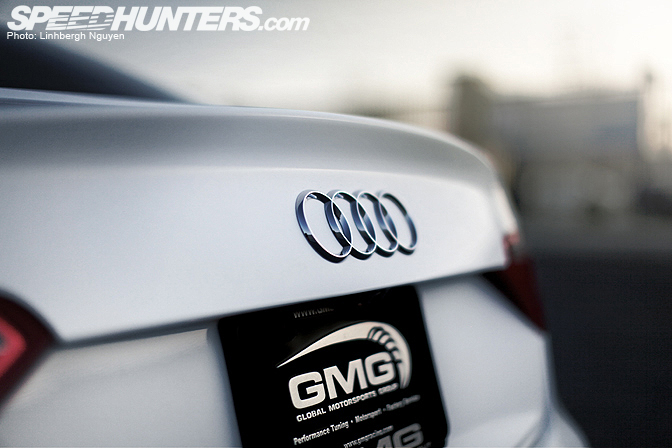 These four rings symbolize luxury, classiness, elegance, quality, and
has that air of historic racing pedigree embedded between those rings.
You can almost hear the sound of Armageddon coming from the Gruppe B
Quattro, or feel the years physical brutality with the A4 touring cars,
or feel the confidence that comes from utterly dominating Le Mans the
past few years with its R8 and R10 diesel prototype cars.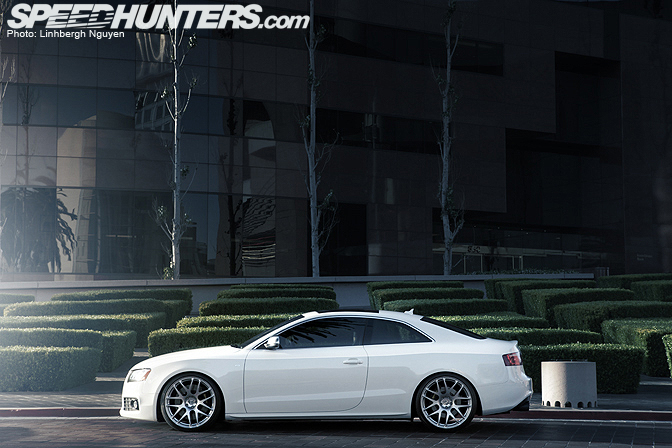 This is a car that would make any valet parking attendant's jaw drop
–especially when you get out, walk around to the other side to help
that lucky lady, in her red silk dress, out of the car.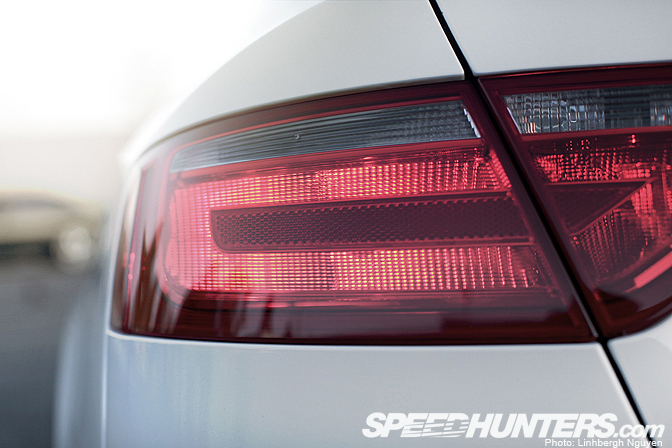 Each piece of this car has been meticulously designed as a true exercise of style. These minimalist rear tail lamps are amazingly beautiful.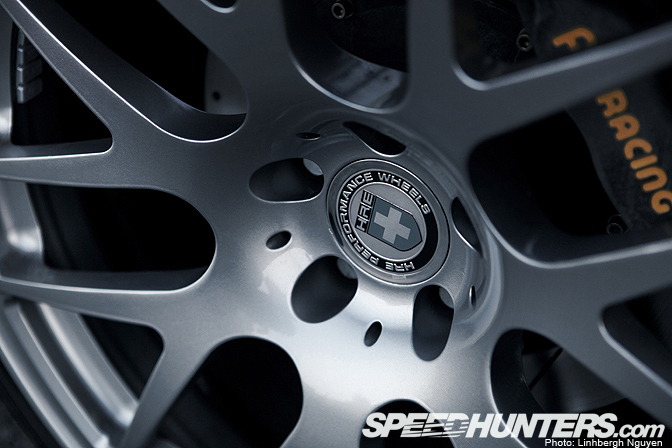 The S5 is Rolling on a set of HRE P40 19×9.5 built to GMG
specifications with a GMG specific custom color and AP Racing brakes
peeking from out from behind the spokes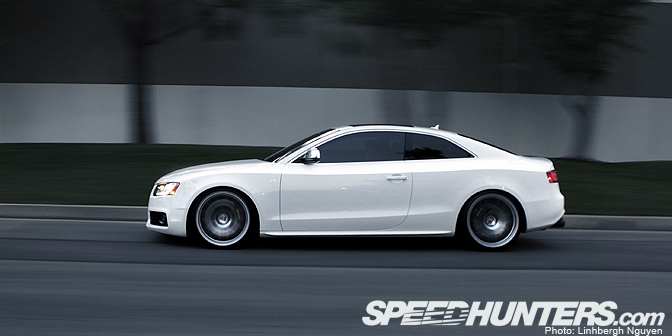 This is a car that moves with absolute pantomime and panache. The
suspension is sportier with its Moton shocks, but yet, it holds that
grand tourer feel of comfort and buttery smoothness. You will
definitely feel like a royalty as your pound away long distances.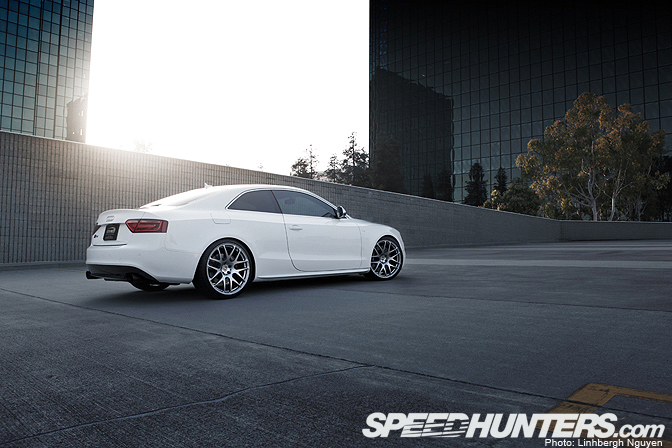 You don't have to be a world class racing driver to appreciate what
GMG's World Challenge S5 has to offer. Once you see this in person,
climb into the driver seat to hit the flashing START button,
you will understand instantly. You don't have to be a person with a
privledged background to own one of these, but this car will definitely
make you feel like you're oozing with class. It caresses you. It teases
with sweet nothings into your ear. Begs you to close that door, and
strap your seat belt, because well, you're about to get the ride of
your life.
-Linhbergh Nguyen
Special May Volkswagen Features on Speedhunters
GMG World Challenge (WC-S5) S5 Complete Spec List:
Performance:
– GMG WC Sport exhaust system with thermal coated tips (Oval tip system)
– GMG WC Sport down pipes
– GIAC 91 octane program (+30 hp on 91 octane fuel)
- GMG WC carbon engine cover
Suspension:
– GMG WC  Sport Lowering Springs 1″ drop custom made by Eibach to GMG's specs
- GMG WC Sport Sway bar set 2 way front and 2 way rear
Brakes:
– AP racing front 15″ 6 piston
– AP racing rear 14″ 4 piston
– Castrol SRF brake fluid
– Steel braided brake lines
Exterior:
– GMG Blacked out grille
– GMG carbon font chin splitter
– GMG carbon rear valance
Wheels & Tires:
– HRE P40 19×9.5 built to GMG spec
– Custom color GMG specific
– Michelin Pilot Sport 2