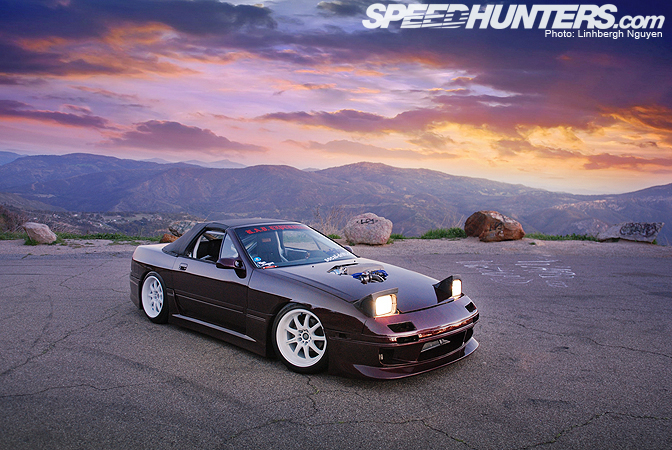 Darkness still blankets the world when you wake up and get out of bed.
The minute that your toes touch the floor, you're wide awake. There's
no sensation of grogginess or tiredness. As you wipe your eyes, the
thought of how the rest of the world still sleeping at this very moment
flashes through your mind. It makes you smile, and you quickly get
dressed. The attire does not matter since your destination does not
require for your pre-dawn fashion senses to awaken just yet. As you
step outside, you shiver at the sudden temperature change. You find
your car patiently waiting for you. You sense that, for some reason,
your car knows exactly why you've woken up at this time of day. You
quickly glance up at the still blackened sky as you climb into your
car. You fire up the engine and glance up at the sky once more. But
this time, there's a hint of blue growing towards the horizon…
You know it is going to be a gorgeous morning.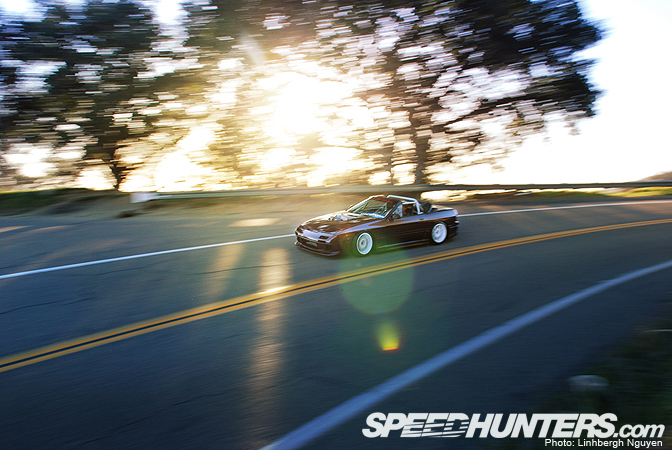 Getting up, before the rest of the world gets up, to just drive is one
of life's most pleasurable moments. But imagine for a second that
you're Jeff Guillotte, a grassroots drifter from the San Diego area. And the car you wake up to is a convertible
Artvin Red painted 1989 Mazda RX-7. A car where that spinning triangle
doodad has been ripped out and replaced with a 5.0L Ford V8! Imagine
driving this RX-7 down your favorite country road at dawn, with the
untamed music of 7200 angry RPMs echoing landscape. Really, take a
second and just imagine that.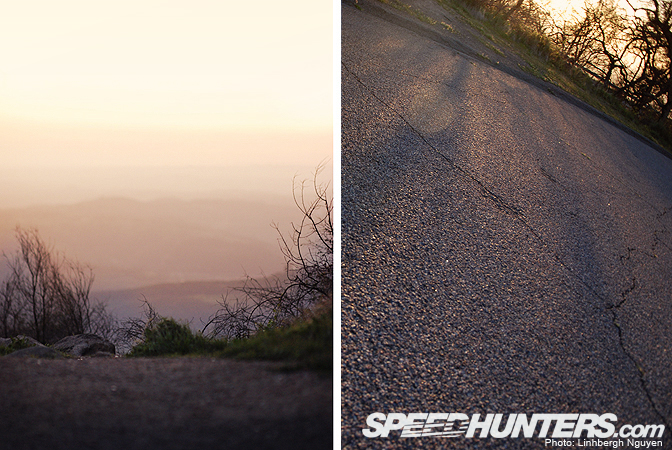 There's just something magical about driving for the sole fact of
driving. When your motor is singing it's favorite tune during that
quietest of quiet mornings, your mind is at its most clear and
tranquil. You can mentally file and sort things away with astounding
productivity. Epiphanies and inspiration can materialize by just
depressing that gas pedal a little bit closer to the floor. If you were
to drive this V8 RX-7, top down, on a beautiful morning, there would be
a smile beaming from ear to ear.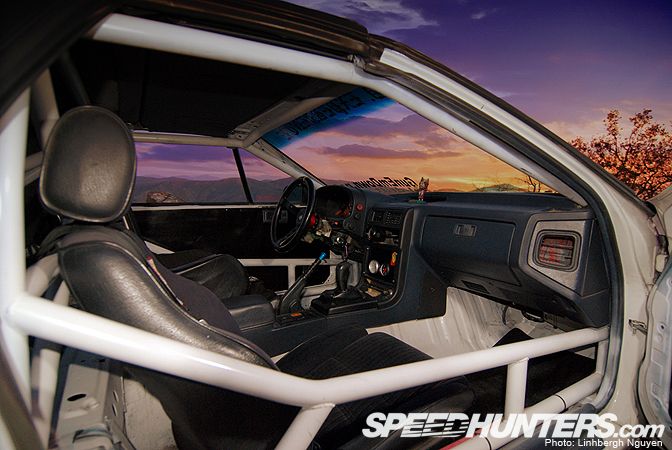 This car may have that street drifting style, but it was never intended
for street use. Jeff built this car for the sole purpose to attend
various drift events around southern California and while looking
badass in the process! Take note of the white roll cage in the
interior. It is there for one reason alone: to be able to live the
ricer dream and tandem at these drift events.
Oh, and it's also installed to keep Jeff safe…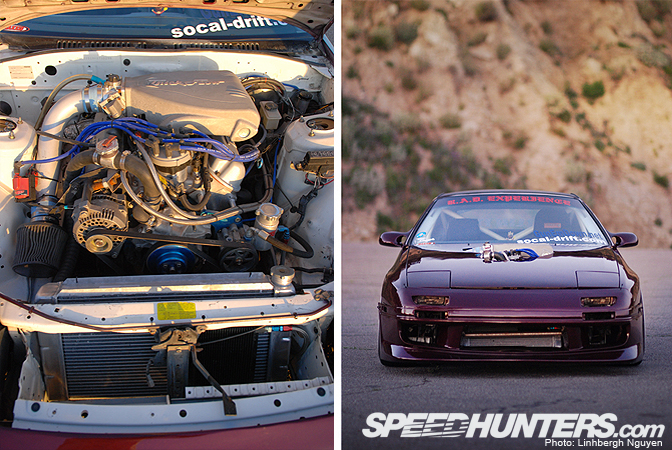 Now, rotary heads: has Jeff blasphemed the church of triangles by
installing this Ford V8? As a non-purist, I believe this car has not
withered its roots completely. This car still retains that sense of
being a Japanese muscle car but is given a bit more "oomph" that it can
use! This car produces an opera of noise that even the likes of
Pavarotti would be applaud.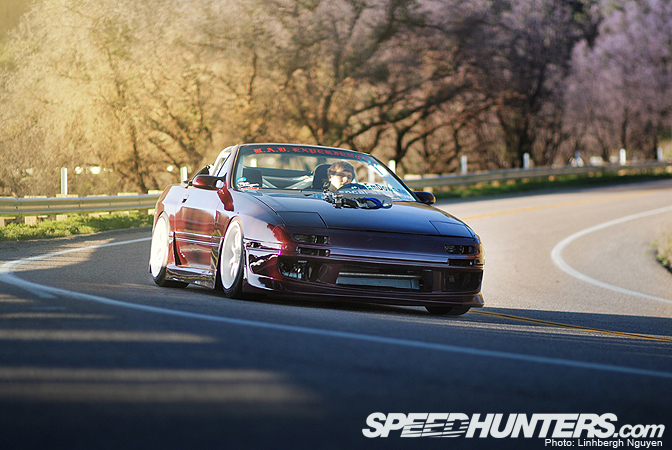 The one thing that this car has lost by the heart transplant is that
precision light-weight sports car feel that rotary'd FC RX-7s were born
with. This car is now an untamed beast that can only be operated by
coal miners or oil rig workers –only the manliest men of men. And
unlike most modern drift cars that are worked on with mathematics and
laptops, this car can only be worked on by smashing things around the
sledge hammers, chain saws, fork lifts, and, of course, spit. This is a
white collar car that dyed its collar blue.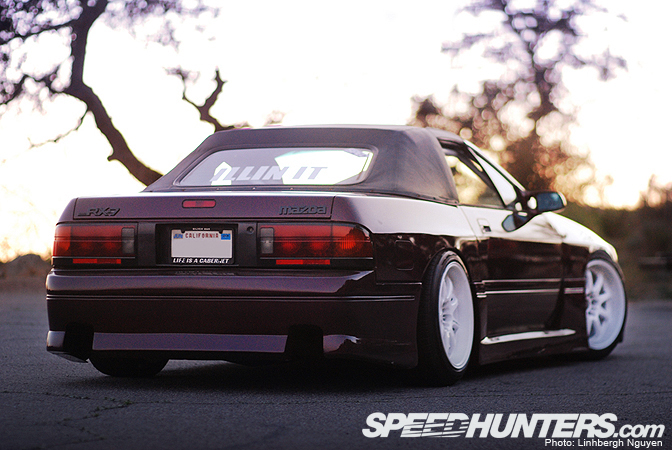 Can we take a minute to admire this amazing stance and wheel
fitment? Seeing this
car move about with such pantomime was a sight to behold. The white
Work XD-9s paired the violet colored paint is an amazing match. It
really does look as
good as it sounds.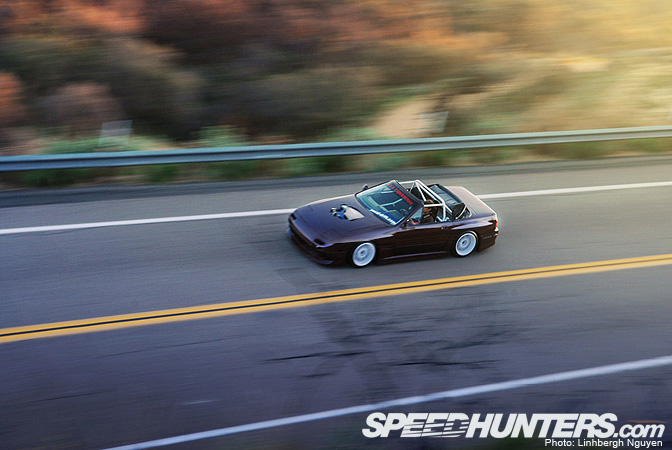 Imagine that is you driving that RX-7 on that stretch of road…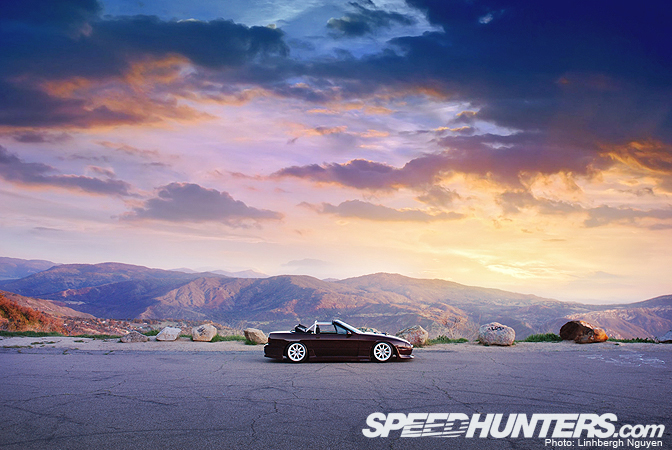 Life,
somehow, runs a little bit slower when you're driving spirited down
your favorite stretch of road. You learn to appreciate life at this
slower and more relaxed pace. Some of us may only live for being trying
to be the fastest the track, or build cars only to look as hard as
possible while parked. But, we all can agree on that the reason why
we're into cars is because we really do enjoy driving whatever
four-wheeled contraption we drive no matter what time of day. This RX-7
is no different. It may have a different heart beating inside it, but
this beautifully crafted machine will still put that smile on your face
–even sitting as a passenger.
This car definitely turns up the volume to eleven.
-Linhbergh Nguyen
Special April Drift Features on Speedhunters
Complete Spec List:
Engine:
- Ford 302 Roller Block (1986)
- Accel DFI Gen 6 ECU
- Trick Flow Twisted Wedge Heads
- Trick Flow Stage 1 Cam
- Trick Flow Track Heat Intake
- ARP Engine Hardware
- BBK Long Tube Headers
- BBK H-Pipe
- 24lb Injectors
- 70mm Throttle Body
- Summit Aluminum Rad w/17" Electric Fan
- 140amp Alternator
- MSD 6AL Ignition
- MSD Blaster Coil
- Accell EFI Distributor
- Walbro 255 Fuel Pump
- Taylor 10.4mm Wires
- Prothane Motor Mounts
- Edelbrock High-Flow Water Pump
- Custom KRC Power Steering Pump
- Custom Steel and Aeroquip PS Lines w/ AN PS Cooler
 
Drivetrain:
- Tremec 3550 Trans
- Prothane Trans Mounts
- Wilwood Hydro Master & Slave
- S4 TII Differential and Axles
- Kaaz 2-Way LSD
- MMR Solid Diff Mounts
- Spec 6-Puck Sprung Clutch
- Hawk HPS Brake Pads
 
Suspension:
- Stance GR+Pro Coilovers (9k/7k)
- Racing Beat DTSS Eliminators
- Mazdatrix Angle & Bumpsteer Kit
- TC Sportline Rear Camber Bar
 
Wheels:
- Work XD-9 17×9 +17 (Thanks Dane)
Exterior:
- Origin Stylish Aero
- Mazda 23e (Artvin Red) Paint from 00' SE Miata
 
Interior:
- Kirkey Racing Seat
- RJS 3" 5-pt Harnesses
- Cage by Scott from Placar in Temecula
- Momo Wheel
- Ball-Lock Quick Release
- Aerospace Components Tie-Down
- Optima Yellow Top