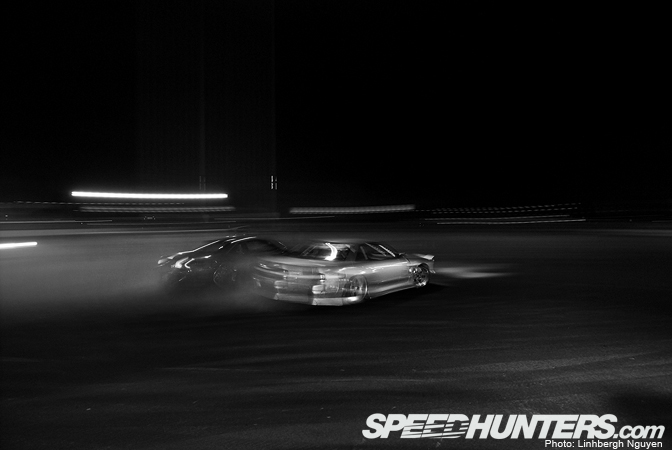 Car shows, since its inception, have always been about more than just
the cars that are showing. They've been testosterone-fests of music,
high-energy, and hot women. Hot Imports Nights at the Angels Stadium of
Anaheim was no different. But it had the trump card that made it an
amazing event: drifting exhibitions with some familiar FormulaD faces,
and a couple of new drivers! I decided to shoot the event in all black
and white to give the scene a different take on its sensory assault of
colors, noise, and of course, scantily clad women.
The photo
above is of rising FormulaD drivers, and really good buddies, Tommy
Roberts, and Matt Powers from the drifting exhibition. These guys know
how to put on a show!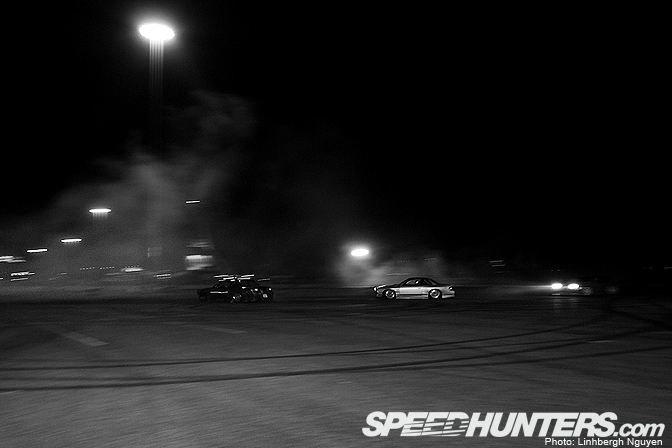 Matt Powers, Tommy Roberts, Chris Forsberg tearing it up, and totally
know how to put on a show. These guys kept it close and kept it
intense. The crowd loved it.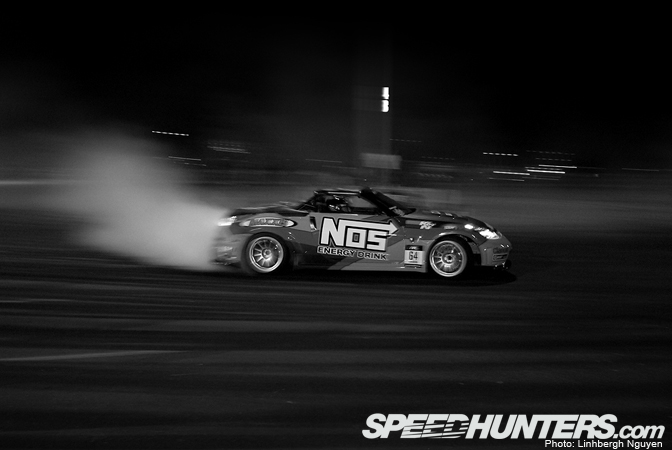 Chris Forsberg's V8 350z was the star of the exhibition. The crowd
could not get enough of this V8 pornography for the ears and smoke show.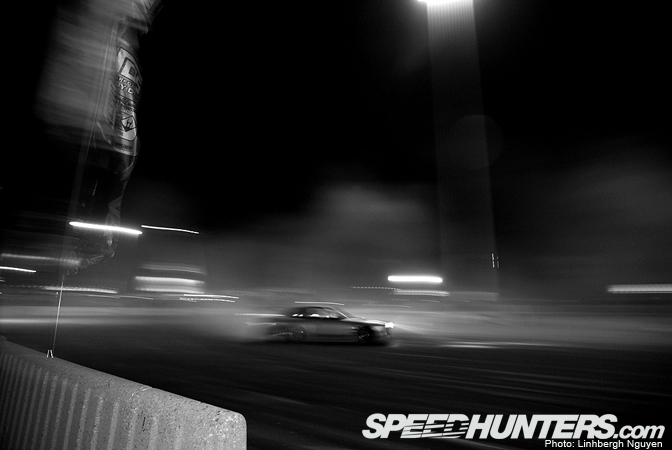 Wide. Open. Throttle.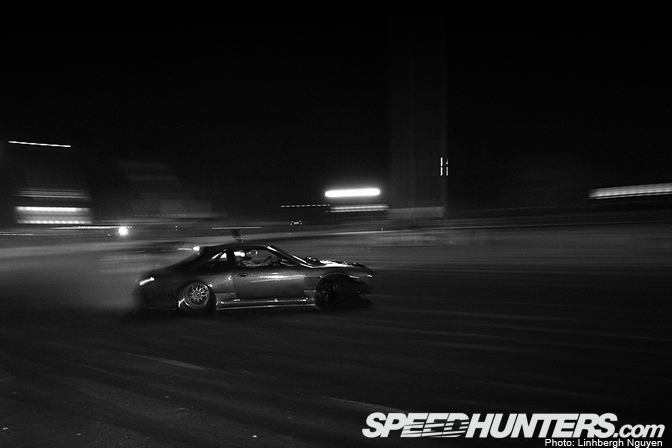 If you look really hard at the front wheel, you get the sense of how
much angle and speed Matt Powers is throwing his laid out Nissan S14
into the bends. In the words of young Anakin Skywalker: "This is
intense!!" We'll be featuring this car next month, so keep and eye out
for it!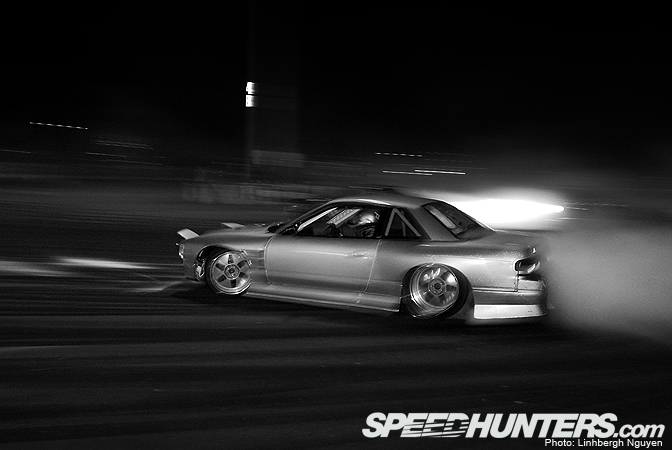 Tommy Roberts' seriously slammed Silvia with amazing gold flake and matching helmet! Stylin' at its finest.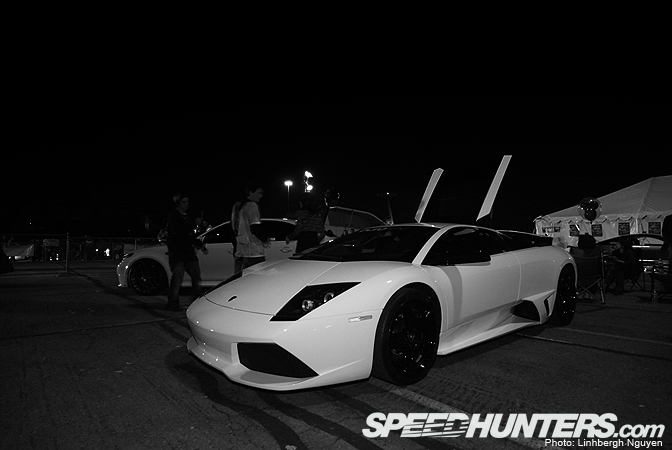 Hot Import Nights have always been about hot cars and hot woman. I'm
sure the owner of this Lamborghini Murciélago LP640 lives the HIN lifestyle
daily.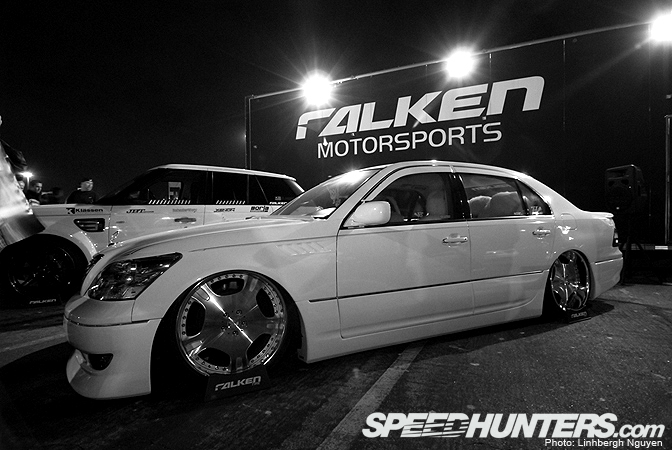 I am, personally, not the biggest fan of bagged out V.I.P cars, but I
will not deny the magic of a perfectly laid out Lexus LS430 like this
one.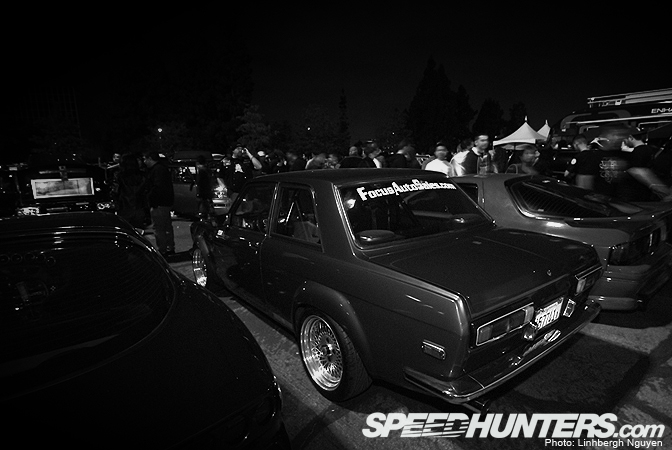 The Focus Auto's Datsun 510 is the calm oasis in the loud sea that is
HIN. Its classic body and understated modding made it stand out from the
rest.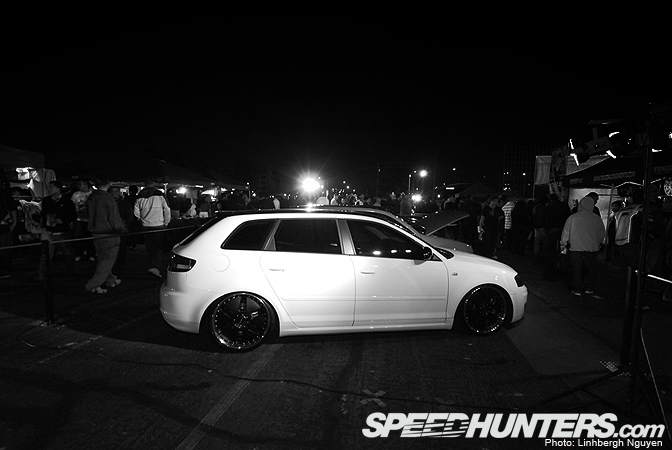 Check out this Audi A3 with it's sweet, sweet stance!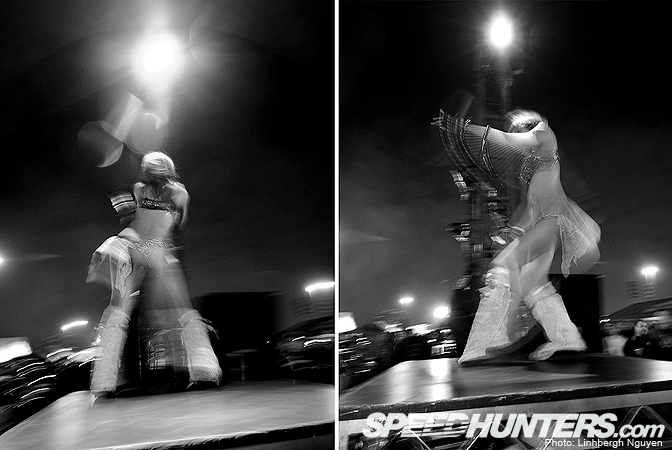 It was hard to tell that the world is in such bad economic shape at an
event like this. People came out to attend by the thousands, vendors
and sponsors spent a ton money to put on and promote this event. Why
are such events are put on? It is to entice attendees to keep buying
their parts, spending money on their cars and thus, stimulating the
economy. I don't see this as a bad thing at all. So girls, dance the
night away, you're helping us out one dance at a time!
-Linhbergh Nguyen