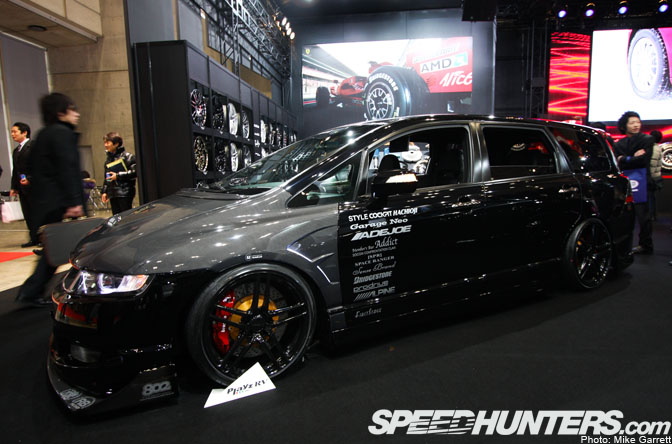 No coverage of Tokyo Auto Salon would be complete without a look at one of the most popular parts of the show, the vans. These fixed-up people movers are becoming even more popular in Japan as people grow families and move into more practical vehicles. The number of vans or van-like vehicles on sale here is staggering, with most makers offering several different vans. You can check my old 101 post for more on Japan's vanning movement. These customized vans might be overlooked by a lot of the foreign visitors to Auto Salon, but a closer look will reveal some really cool stuff.
For example, take the turbocharged RB1 Honda Odyssey seen above. This is thing is just as cool as anything else at the show. Besides the turbocharged motor, this Odyssey is equipped with Tein suspension, Brembo brakes, 19" Prodrive GC-05K wheels, Mugen aero parts plus a carbon hood and front fenders from Takero's. Interior modifications include standard vanning goods like custom leather Recaros and a full in-car entertainment system playing Namie Amuro music videos on and endless loop. The build was done by Style Cockpit Hachioji and displayed in the Bridgestone booth.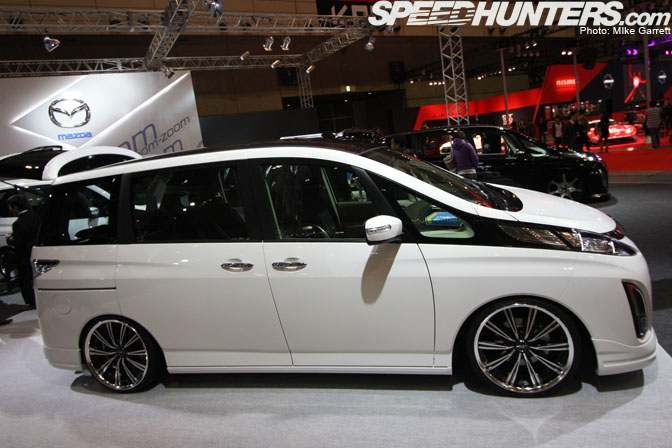 One of the popular models at TAS '09 was the Mazda Biante, a JDM-only van that debuted last year. Mazda had a few customized examples in their booth, including this version done by Wagonist Magazine. It's sad that stuff like this will probably never make it outside of the Japanese market. Check out how cool the Biante's stock headlights look.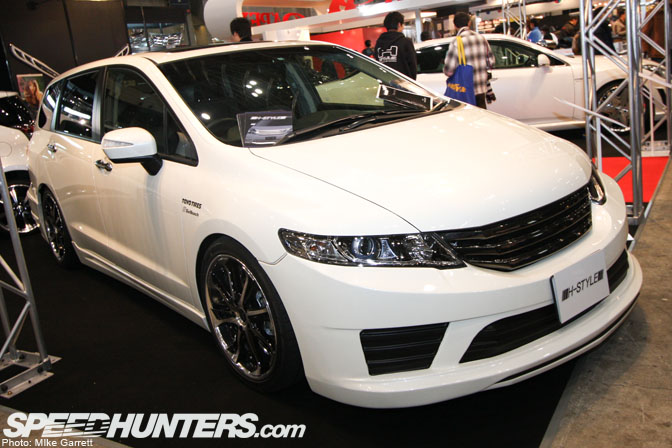 The new JDM Odyssey hasn't been on sale for long, but a few customized examples are already turning up. This one is from H-Style. Honda didn't want to mess with success, so the styling of the new Odyssey isn't a huge change from the old model. Good choice.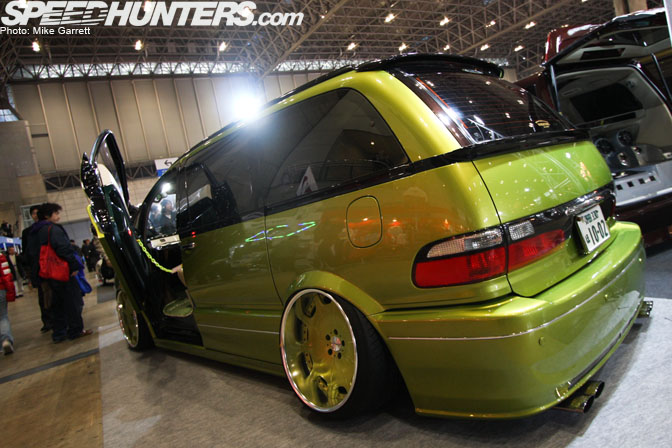 Not all the vans at Auto Salon were late models. This Toyota Estima built by B-DASH was representing the always popular TCR chassis. Again, we are seeing more color-matched wheels (and lambo doors).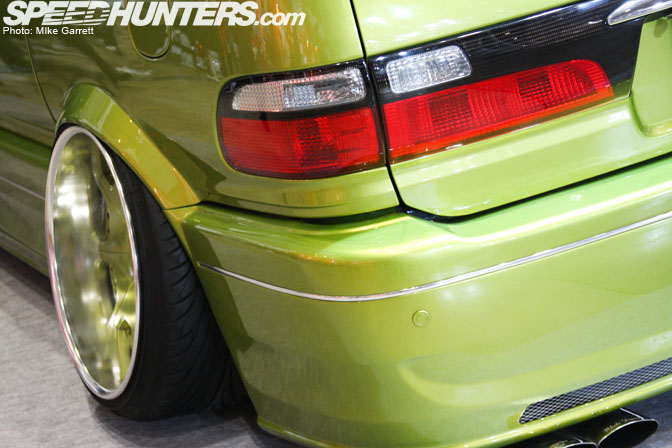 Nice wheel fitment. As you'd expect, most of the really low vans at Auto Salon are on custom air suspension.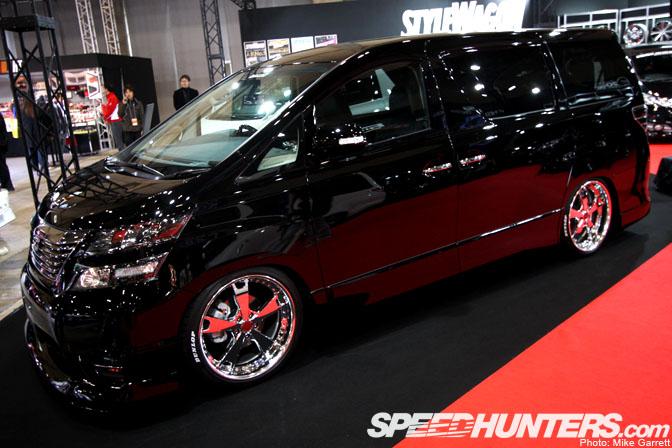 Style Wagon Magazine had a huge booth full of customized vans. One of my favorites there was this Toyota Alphard. Another thing I'm seeing more of is tires with white lettering. This isn't just on vans, but on everything. Top Secret has been doing this for a while now.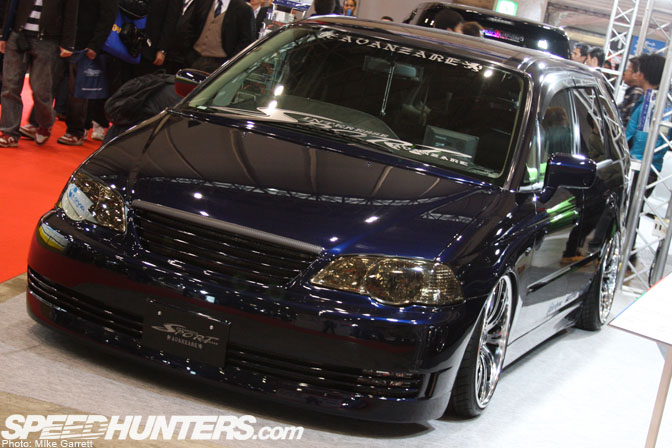 Here's an older body style Odyssey displayed by Avanzare.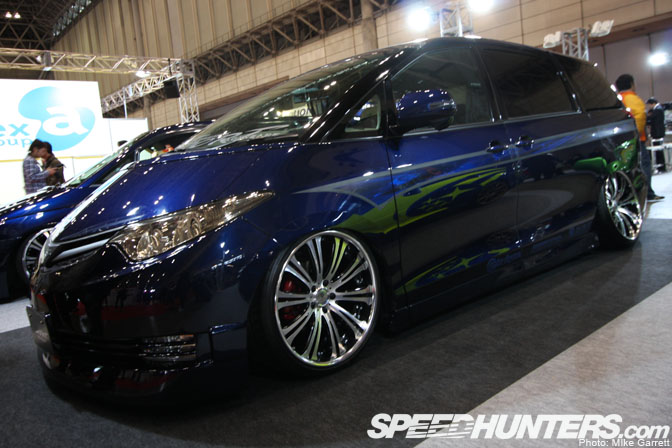 And a matching Toyota Estima.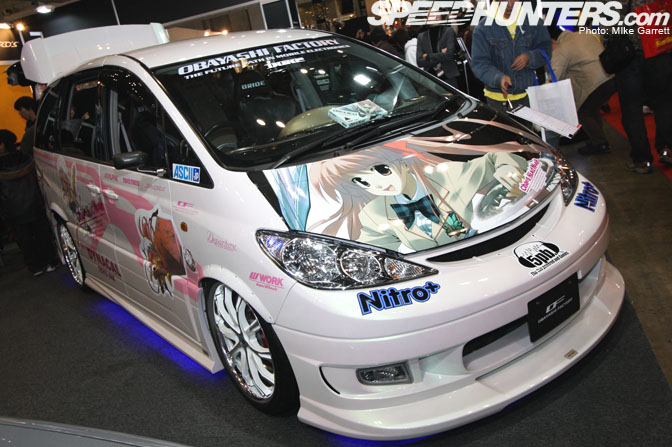 When vanning meets ita-sha, you get something like this. No comment.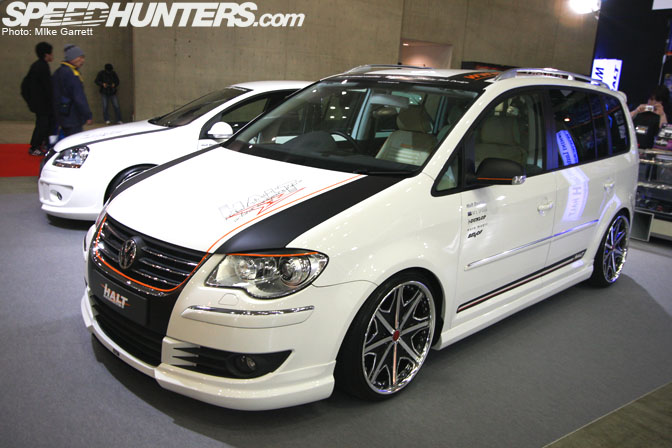 Outside of a few of American and Euro examples, the Japanese vanning scene consists mostly of domestic models. I did manage to find this nice-looking Volkswagen Touran on display in the import building though.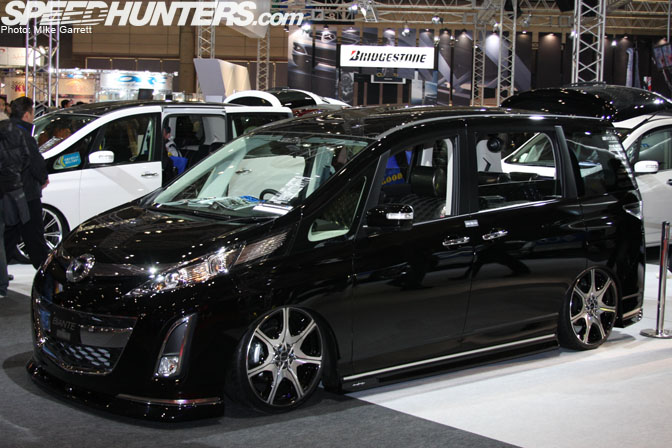 Another custom Biante on display in the Mazda booth.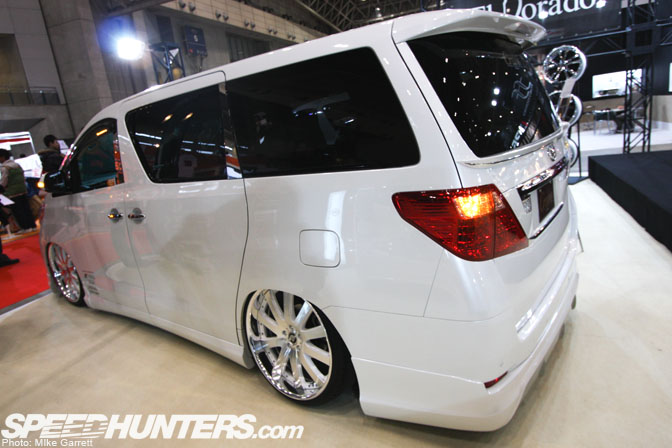 El Dorado showed this late-model Toyota Alphard with their "Crave" aero parts.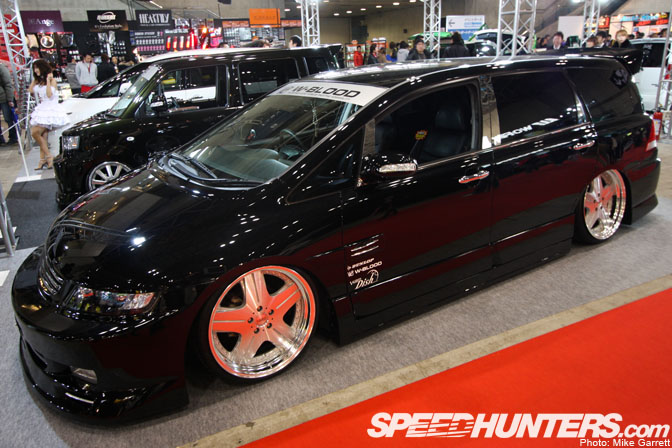 The W-Blood Odyssey is done with more of a traditional VIP look.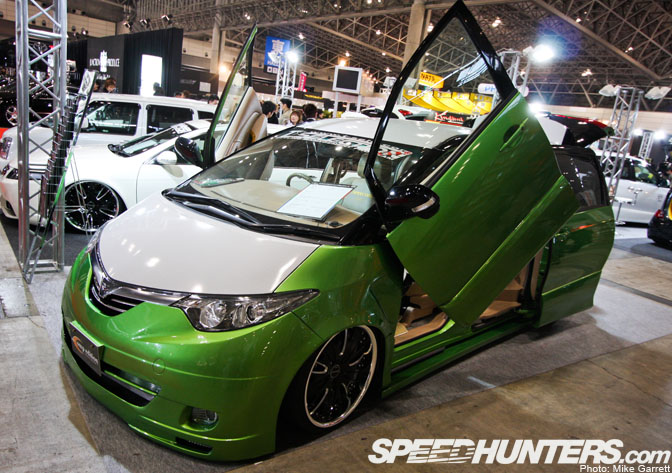 T-Selection brought their green ACR Estima, a recent cover car on Style Wagon magazine.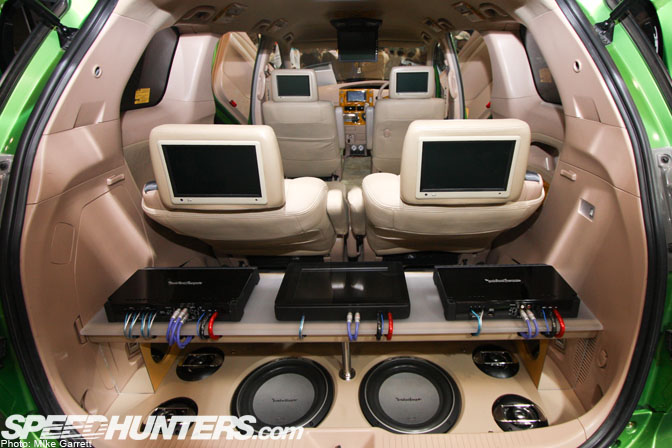 Here's a view inside the T-Selection Estima's interior. Big stereos and lots of screens is pretty typical in the vanning world. Basically they are the same as SUV's in the states.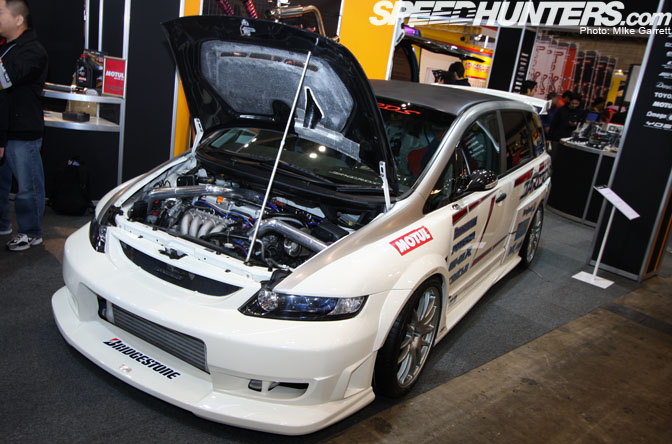 And finally, the Takero's time attack Odyssey. No leather seats or tv screens here. This thing has been around for a while now, but it hasn't got any less impressive.
OK, time to get to work on the Toyota post…
-Mike Garrett