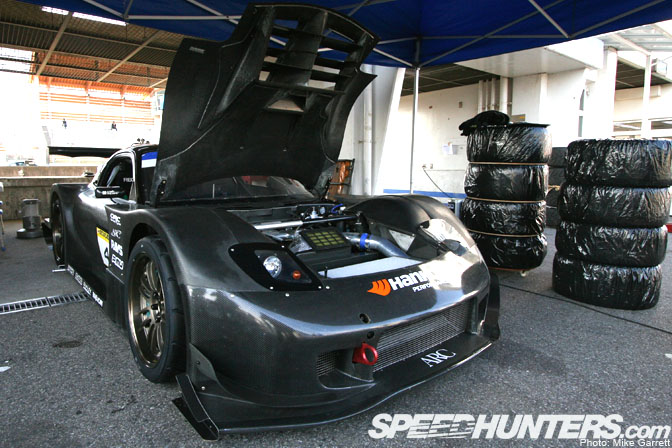 When I was a kid, my absolute favourite place in the world was Westwood Raceway. It was quite an amazing location, carved into the side of a mountain outside Vancouver, Canada. In the late 70s and early 80s, I used to spend a lot of time there, as my father and I used to race gokarts. I was fairly quick in my time, but I didn't really like racing that much to be honest… I found it to be quite stressful. For me, the most fun part about being at Westwood, was watching the car races. After each gokart race, I'd run over to the side of the car circuit to take in the sights and sounds of the trackside action. It's funny how so little has changed in all these years!
Now I have a distinct memory that there was one very small and fast red car (I think it was a R100) that seemed to make ten times as much noise as any of the other cars.  Every time it flashed past, I had to cover my ears as the howling noise was threatening to pulverize the inside of my skull. Why was such a small car making so much noise?. "That car is a Mazda rotary" it was explained to me…."this is why it makes so much noise"…..
Of course, I didn't really understand what a rotary engine was until a few years later, but from that point on I did always make a mental note of Mazdas.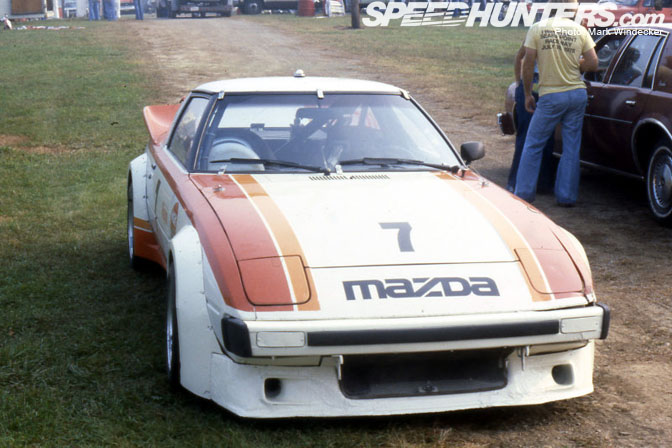 Mazda is one of a select few automotive companes that focused on long term racing programs to establish the pedigree and reputation of their name. A good example was the launch of the RX7. Right from the first rollout of the first generation SA22C RX7, Mazda hit the race tracks.
Seen here at the Mid-Ohio IMSA race in 1979, Mazda took the runner up spot in the GTU Driver's Championship at their first attempt. They also won the GTU class at the 1979 Daytona 24 hours – quite an achievement for a brand new car. From 1980 through 1987, Mazda RX7s were unstoppable in the IMSA GTU category and took the championship spoils seven years in a row.
I actually remember reading the magazine review (Road & Track?) of Mazda's 1979 Daytona success. It was quite distinctive as it used paintings from the race instead of photos. Does anyone else remember this? Or were you all in diapers then?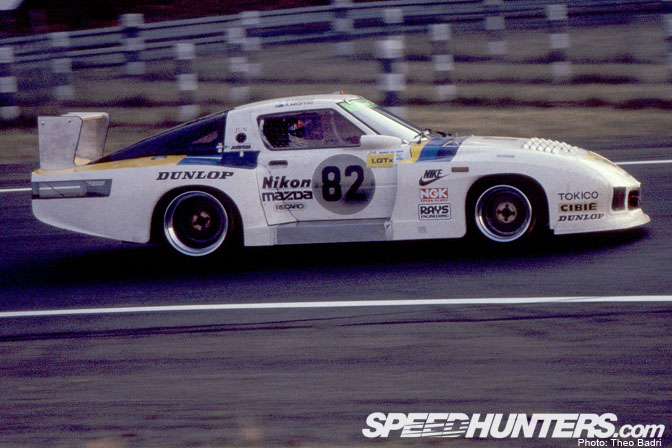 RX7s also made a big impact in European racing in the early '80s. Although Mazda had to wait many years to find success at Le Mans (pictured), they did win the British Touring Car Championship in '80 and '81, as well as overall victory in the '81 Spa 24 hours.
This particular car was driven at Le Mans by Allan Moffat , Yojiro Terada, and Takashi Yorino to 14th overall in 1982. The ex-pat Canadian, Allan Moffat also won the 1983 Australian Touring Car Championship at the wheel of an RX7.
Would you consider the RX7 to be a touring car? It seems a bit odd now,as to me this is GT car, but back in the 1980s, GTs, Coupes, and Saloons raced together in touring car series around the world.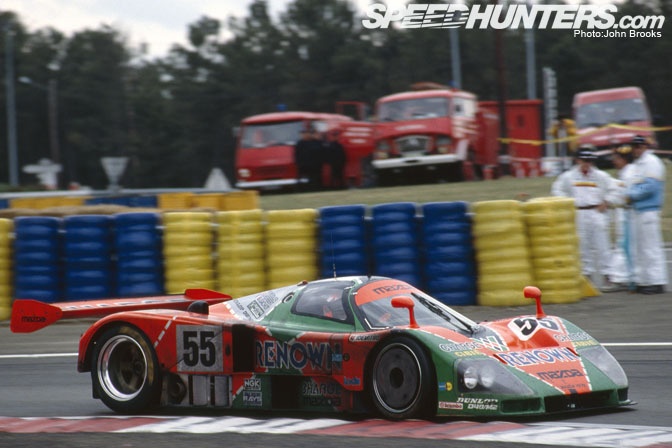 Know the saying: "Good things come to those who wait"? It took Mazda a long time to transform themselves from an also-ran, to take overall Le Mans victory in 1991. Amazingly, they are the only Japanese manufacturer to ever win the world's most famous endurance race and beat the top European sports car teams at their own game. John Brooks will be opening up his memory and photographic banks to us to retell the tale of this historic victory.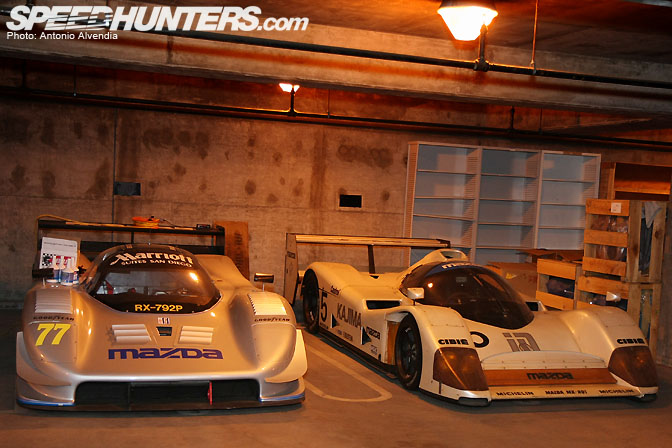 Antonio has been hard at work getting ready for Mazda Month on Speedhunters. He managed to talk his way into the top secret race car storage area at Mazda USA's Irvine California HQ a few weeks back. Check out these two gems: the RX-792P IMSA GTP racer and the MXR-01 3.5L Group C car.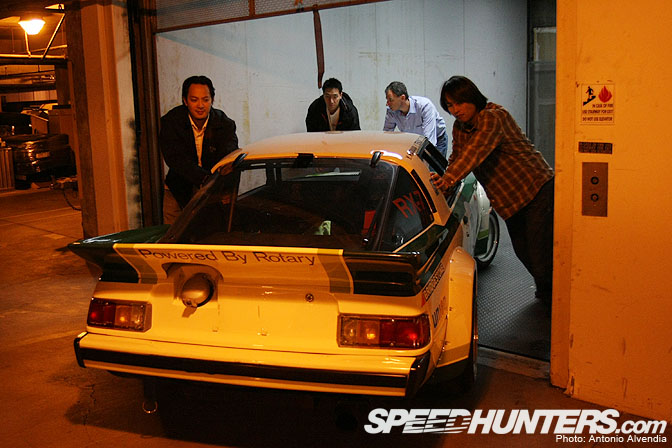 Mazda also pulled this piece of living motorsports history from their vault for Speedhunters: an original 1979 season IMSA GTU RX7 racer … Watch out for the full story from Mr. Alvendia in the coming weeks.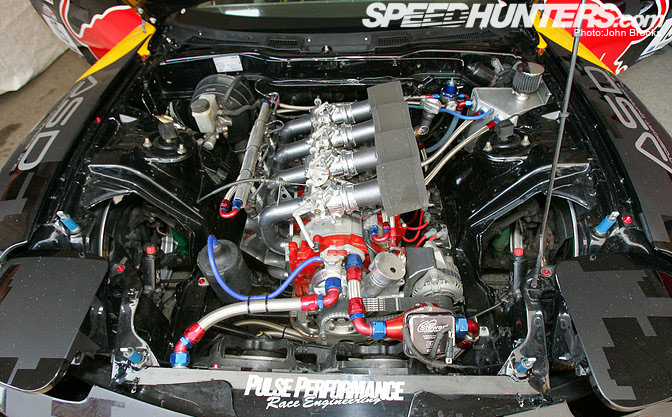 John Brooks is also prepping up a full feature on the car that wowwed everyone at the Red Bull Drifting World Championship: Mad Mike Whiddett's crazy four rotor FD.
I'm also planning to meet up with Mike in his native New Zealand in a few weeks time to get the inside line on the New Zealand scene….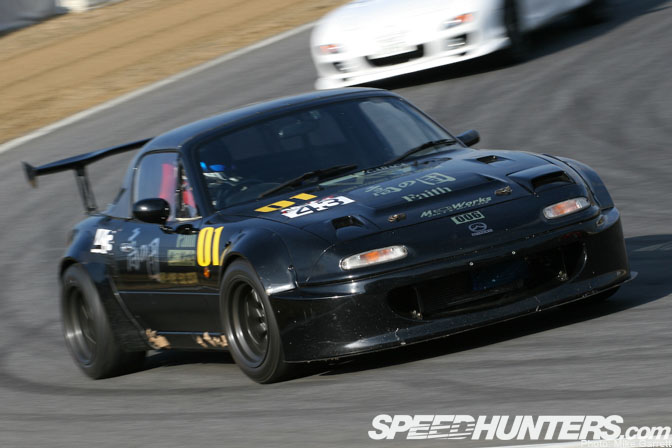 No Mazda Month would be complete without homage to Mazda Roadster tuning in Japan. Mike Garrett will be investigating….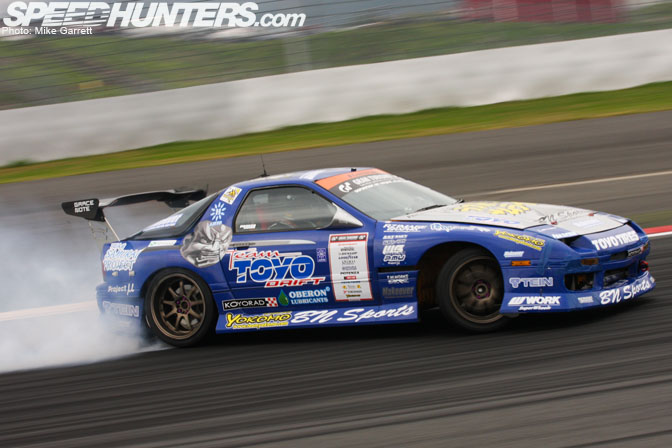 We'll also attempt to catalogue and itemize the role of the Rotary in drift culture around the world…. Mike is preparing his thoughts on the matter…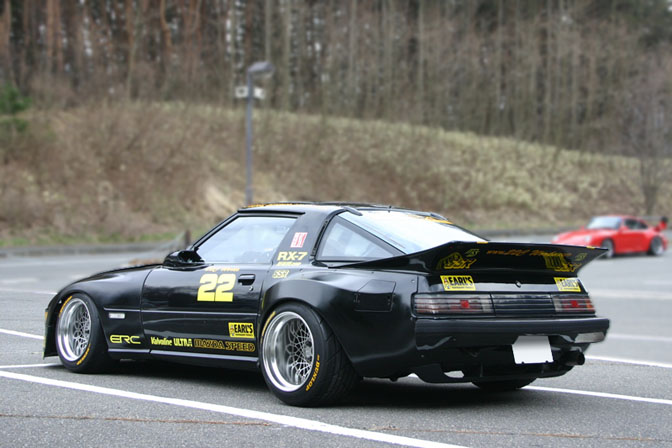 … and finally we'll be searching the internet to find some of the coolest Mazda street cars out there. I recently dug up this wicked IMSA styled wide body SA22C on the Dori Kaze forum…
BTW if you have a nasty, low and wide Mazda you think should grace the pages of Speedhunters, then drop us a line: info@dev.speedhunters.com.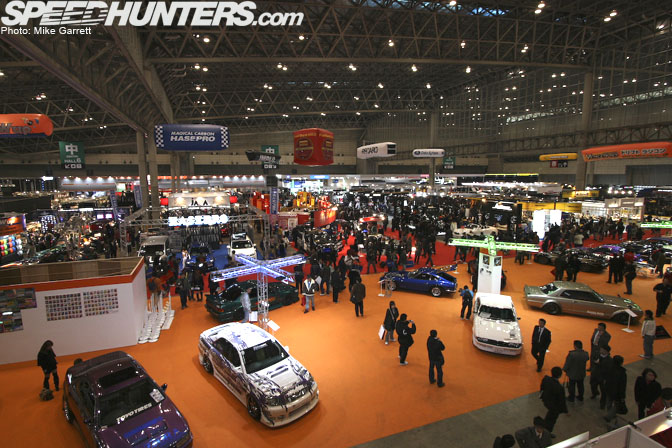 In other news Mike Garrett is gearing up to bring you full coverage from the floor of the Tokyo Auto Salon. I wish I could be there but I'm going to be busy….

… in Birmingham at the Autosport Show. This is the world's most important motorsports show so we thought it would be a good idea to cover both this and TAS on the same weekend.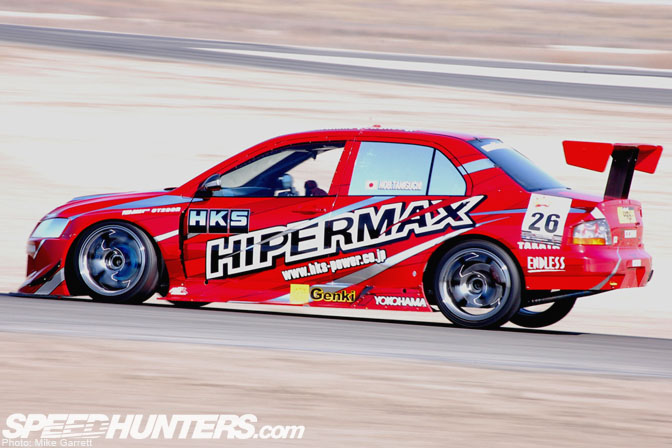 Mike was perhaps feeling a little left out of the end of year stateside action: SEMA, Superlap Battle and Red Bull, but he certainly is going to be having a very busy January. He'll be heading back at Fuji Speedway to cover the HKS Premium Day event….. I hear Option Magazine will be running a big Time Attack competition there; will HKS bring their CT230R (pictured) out of retirement to defend HKS' honour?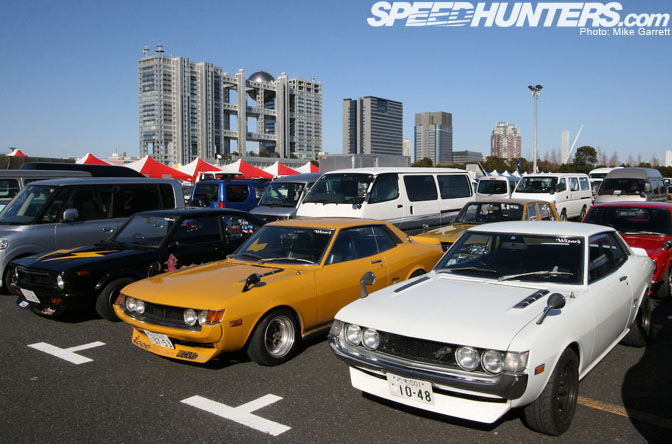 Mike will also be at the JCCA New Year Meeting… Japan's top classic car car show…..I'm sure many of you are looking forward to this.
Speaking of classics, Antonio is planning to attend the Grand National Roadster show in Pomona California,  as part of his very public schooling in the world of Rods and Customs…Although we are definitely not into the smoothster style, billet laden hot rods that usually win this show, we'll make sure Antonio covers off the traditional and suicide styled machines. I'm also interested to see if there will be any cars at the Grand National show which blur the line between lowrider and custom. There were a few of these cars on display last year and I'm curious if there is a new SoCal car style coming…..
January 2009 is looking to be a cracker!
We'd also like to extend our best wishs to you and extend our most heartfelt gratitude for your continued support of the Speedhunters project. Looking back at 2008, it's hard to believe that one year ago, Speedhunters was just glimmering of an idea… I'm quite astonished at just how much momentum we've been able to build since we launched the site this past May.
Here's to the New Year!
Best,
:Rod