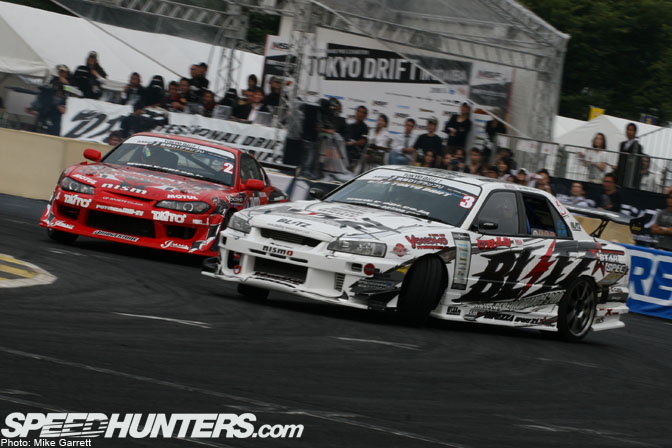 Because it is Nissan month I thought it would be a good idea to let you choose which Nissan you think is the best car in the 2008 D1GP season. I'm not interested in which car has the most top 3 finishes or the car with the most horsepower. I just want to know which one is your personal favorite.
The car in the opening picture has seen a lot of transformations and belongs to crowd favorite Ken Nomura. Of course it's my favorite car because I have driven his Street legal version for a few years, it just so happens that I sold the car a week before our Nissan month. I will be on the lookout for a new car, but I'm not sure which model it's going to be.
… Anyway, let's have a look at the other D1GP machines so you can let us know which is your favorite car.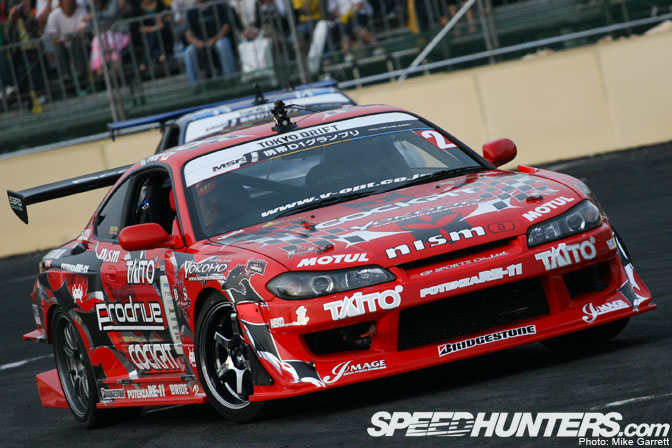 This S15 was previously owned by the now famous rodeo drifter Kazama when it was green. Yoichi Imamura is now driving the car for Auto Produce Boss after they purchased and painted it red; they also added the GP Sports bodykit. The car is running a stroked SR20 that produces 580bhp. The most impressive part on this car is the HKS sequential transmission to ensure fast gear changes.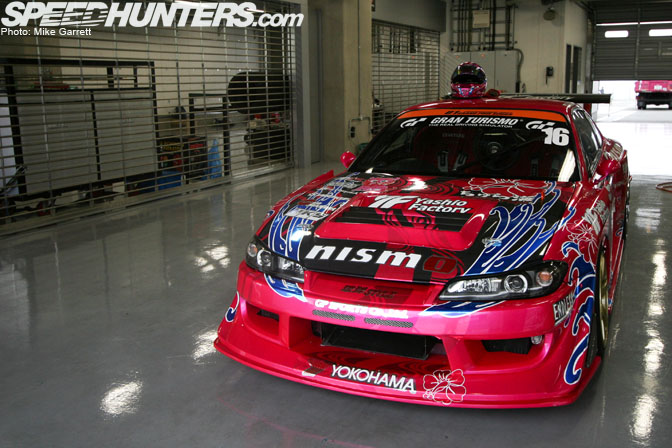 Here we have another favorite of mine, the Yashio Factory pink S15. The car is driven by Yashio's head honcho Kazuyoshi Okamura and features a SR20 power plant.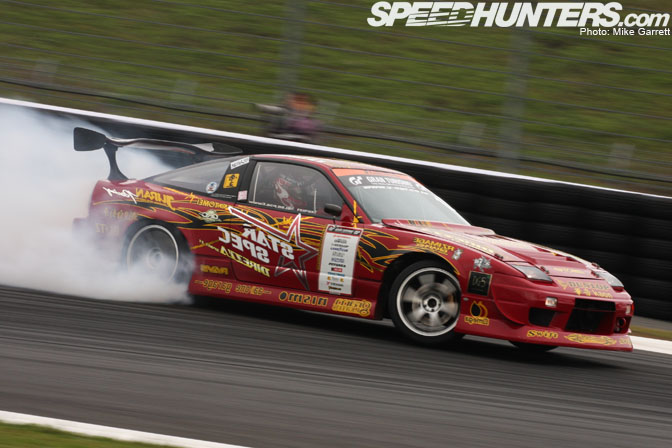 Yoshinori Koguchi is behind the wheels of this Nissan 180SX. On the outside we see a BN Sports bodykit and engine-wise it's running a stroked SR20 by Tomei and a Blitz K5-660R turbo responsible for 530ps. I have noticed that Koguchi is a real crowd favorite, and why not, he is the one that is keeping the 180SX alive amongst the high powered grid.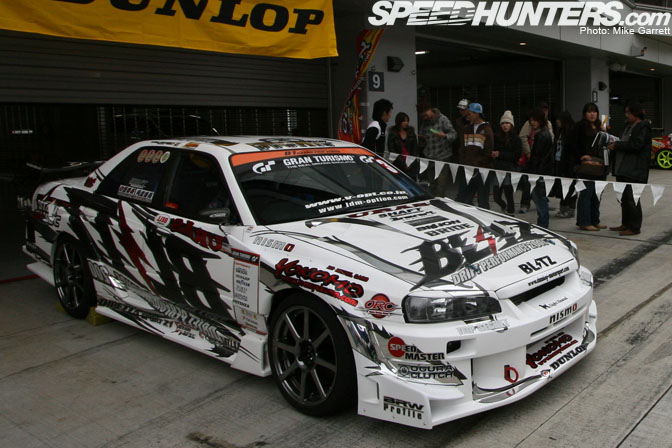 Yes, this is my personal favorite, he certainly gets my vote. The ER34 driven by 'Nomuken'. I have met him twice and was able to talk to him once with Toshi Hayama as a translator. He is a real cool guy and really takes time for you even though he doesn't speak English. The car is running a RB28 thanks to a Nismo stroker kit. Because the car is sponsored by Blitz it has to have a turbo from that same company, in this case they used the K5-700R. The engine now produces 580ps and that's more than enough to propel the 1280kg car to dizzying speeds.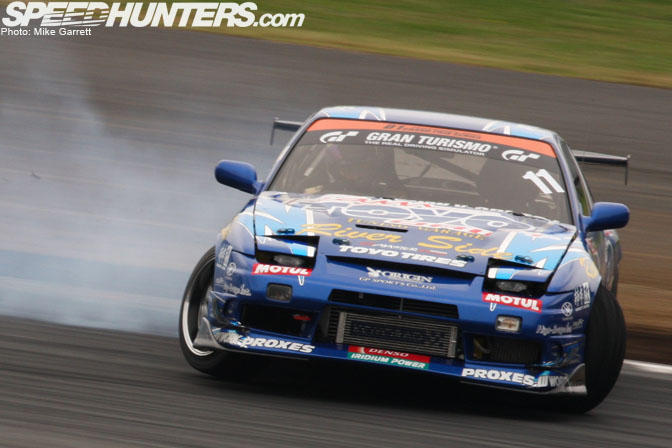 This S13 'one via' (180SX nose and S13 rear) belongs to Atsushi Kuroi and features a fully tuned RB26. The car belongs to Team Toyo that is the biggest team active in the D1GP; they only use S-chassis cars.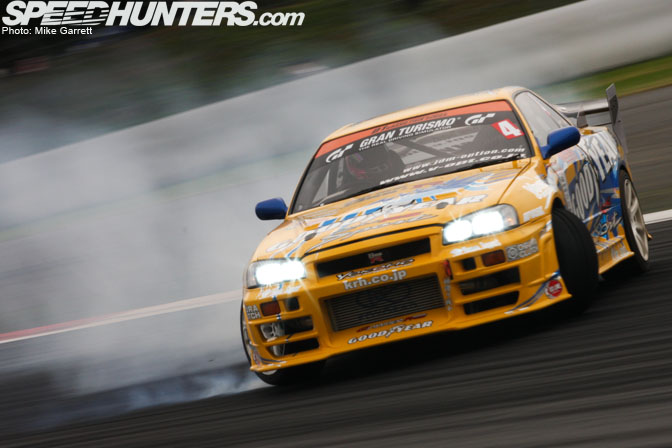 The Bee*R R324 Skyline for Team Goodyear. The car is famous for its R34 front end conversion and it's high pitch sounds that emanates from its exhaust. The car is powered by a RB26 and reaches 544ps thanks to a HKS T04 turbo.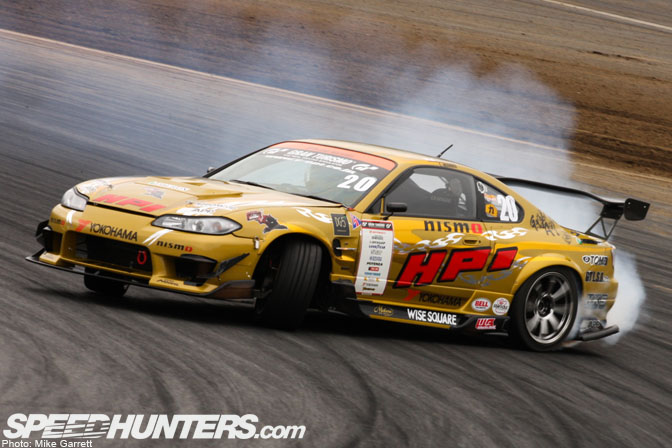 I really like the color of this car, It's the S15 build by HPI and is driven by Chikara Mizuhata. I'm not yet really familiar with this car or it's driver but I'm sure you guys can educate me on this.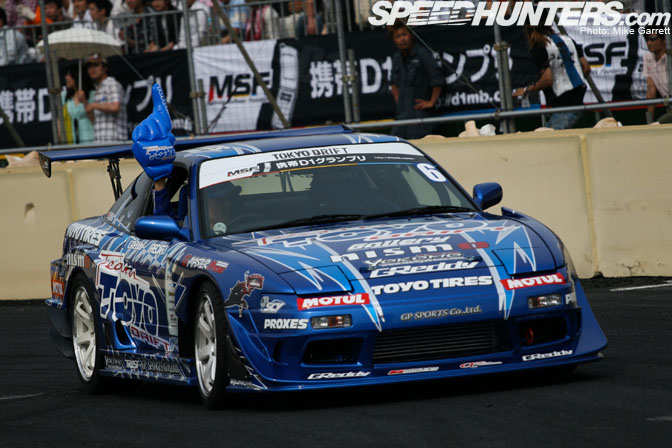 This GP Sports 180SX belongs to Masato Kawabata. Before this 180 his weapon of choice was a baby blue S15 sponsored by Greddy. There's something about this car that I really like but I can't put my finger on it, I guess it's the total package.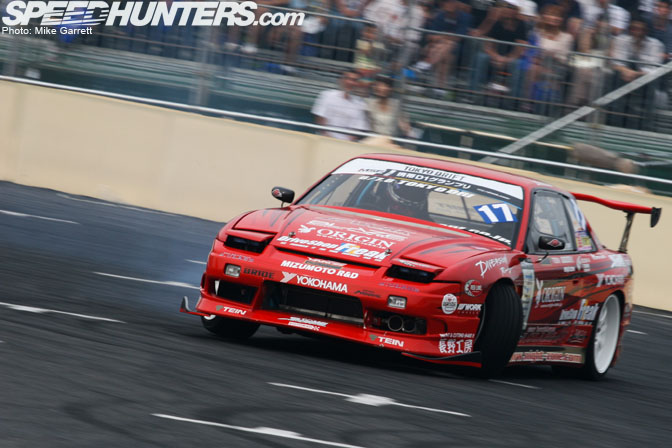 Another S13 one via, this time driven by Akinori Utsumi. The car has some nice Origin Aero. It looks like it is getting some serious lock. The engine is a SR20 which is being force fed through a TD06-25g turbo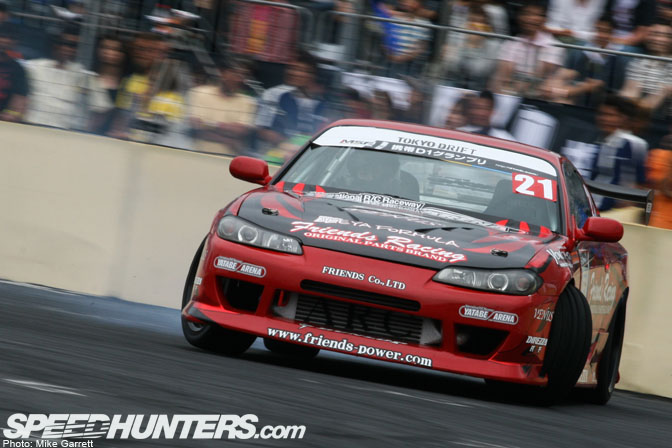 The Friends Racing S15. Driver of choice is Toru Inose. Engine wise, it's using the same TD06 turbo as the S13 that belongs to Team Diversion. Friends Racing also build the 1000ps Lexus GS that saw action in the Street Legal class.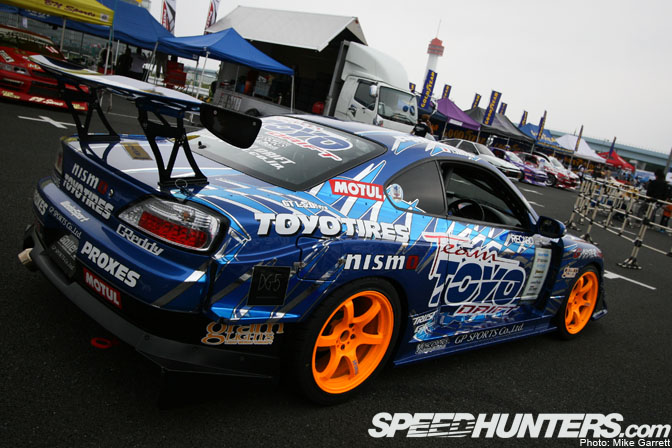 I will end this first User Ranking post with this S15 driven by Tatsuya Sakuma for Team Toyo. It has the GP Sports widebody kit that seems very popular amongst the D1GP teams. I'm not a real fan because of the straight lines, thereofr it doesn';t flow real nice with the bodylines of the S15. This is the old car that belonged to Kawabata before he switched to the 180SX
So now it's time to cast your vote: which Nissan did you cheer for in the 2008 D1GP Season?
-Jeroen Willemsen