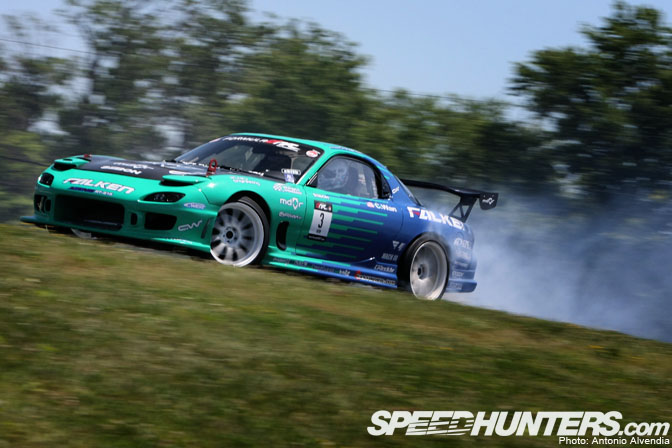 As I write this, it's super late at night; we're all tired and sunburnt from yet another long day at the racetrack, shooting images and video of Formula D New Jersey, at Englishtown Raceway. I'm sitting in the lobby of our hotel in New Jersey, using the hotel's wireless internet to upload photos to the site, while the rest of the Formula D people – staff, drivers, judges, etc are all sitting around with me, watching the LA Lakers play the Boston Celtics. Since I don't really care about sports that don't involve cars, I'm sitting here updating photos to Speedhunters.
Above is a photo of Calvin Wan drifting through the left-hand uphill crest. I think this particular corner is real cool, because it's at the end of a super long curve, where all the cars need to initiate drift early and hold their drift for a lonnnnnnnnnnnnng time, up this crest, then decelerate heavily without losing momentum. Some cars were even falling off the other side of the hill! I was thinking of posting some pics of the guys who fell off the hill, but I didn't wanna embarrass anyone, hehe… there's still 2 days left in this event, and I don't want to get yelled at in the pits or anything! LOL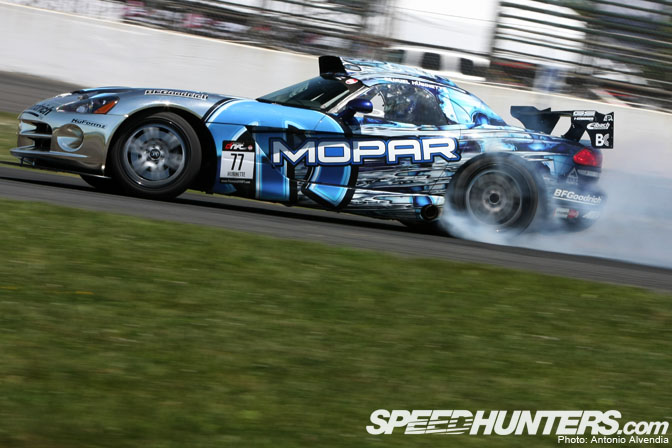 Samuel Hubinette was obviously running pretty consistently at this event, holding his drift continuously throughout the whole course – most drivers weren't able to achieve this! Props to Samuel, he is definitely proving his driving skill to everyone. No wonder he was crowned the first champion of the Formula D Series.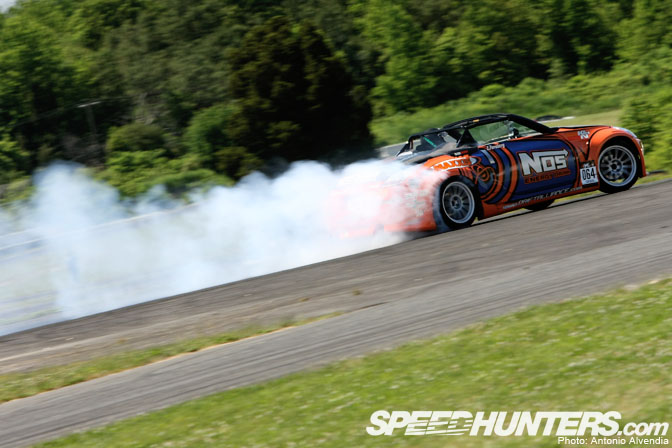 Chris Forsberg was also rocking super consistent runs, with big smoke throughout the whole course! I expect big things out of Forsberg at this event! I like his new wheels too! Much better looking than the black wheels he used to have – now you can see the detail in his wheels as he passes you! Good job Chris.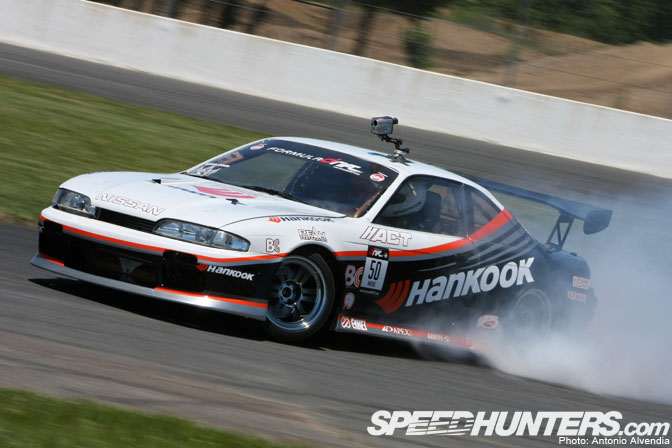 Joon Maeng is definitely one of the nicest guys in the Formula D series; he is always smiling! However, I don't think he was smiling at the end of the day today, when he blew the engine of his zenki S14. I hope the Peak Performance team are able to get his car back together in time to drive the event on Saturday.
Okay, that's enough from me, time for me to go upstairs and knock the hell out! We need to wake up early tomorrow to get to the track! Hopefully we don't get lost this time – we always seem to have the worst luck driving in New Jersey. It's hard to see road signs at night because of inadequate lighting, and you can't really turn right at most of the intersections! It is soooo confusing driving here; I think the civil engineers who designed this place should definitely be fired! Damnnnnn…
-Antonio Alvendia