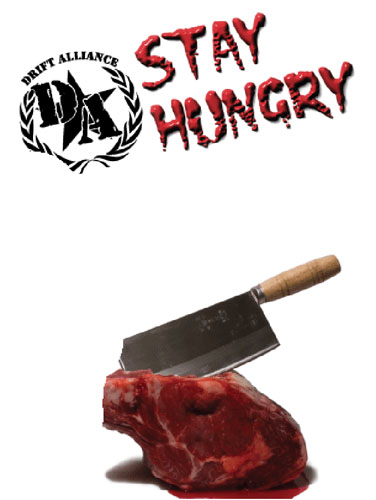 The rest of the Drift Alliance boys and I decided to premiere the new Drift Alliance DVD Stay Hungry in Atlanta while we were out there for Formula Drift Round Two. We held the premiere at Midtown Art Cinema just outside of the city. It was a badical movie theatre – so classy in fact that they served beer and wine. Nothing but the best for Drift Alliance. We went all out for the premiere – red carpet, satin ropes, the whole enchilada. It was absolutely everything we wanted it to be and more. Family, friends, and media were on hand to witness the world premiere of the best drifting DVD ever produced! Producer Andy Laputka really outdid himself this time. Do yourself a favor and buy it!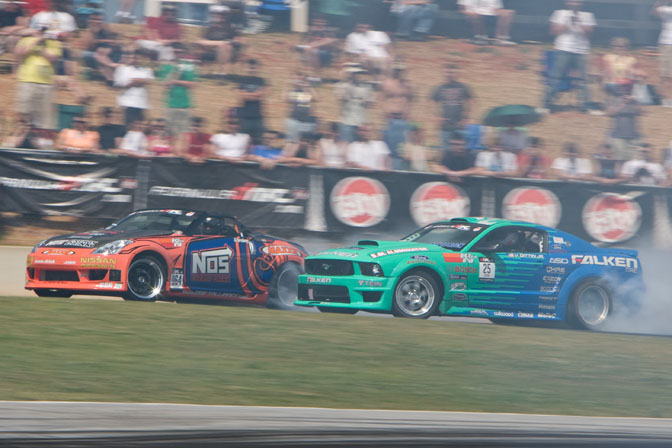 The entire weekend at Formula D Round Two in Atlanta was insane! I felt great during practice and the Falken Tire team and the Autosport Dynamics guys had my car moving!  Friday's practice was some of the most fun practice I have had in a while. Chris Forsberg and I were out there driving on each other's doors showing the crowd what was to come of the weekend.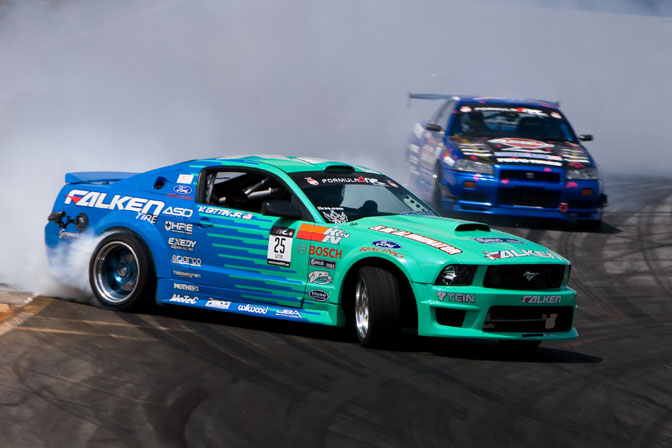 As usual the crowd in Atlanta had a lot of love for me and the Falken Tires Ford Racing Mustang. On my first qualifying run I set the bar for the rest of the qualifiers. When I left the line for my second qualifying pass I was sitting in 3rd and I wanted to be back on the top of the pole. I entered the first turn with insane speed (95mph – the fastest entry speed of the weekend). I got that first spot I wanted until Tanner decided he was going to try to one-up me. He got me by 0.25 points. PUNK!!!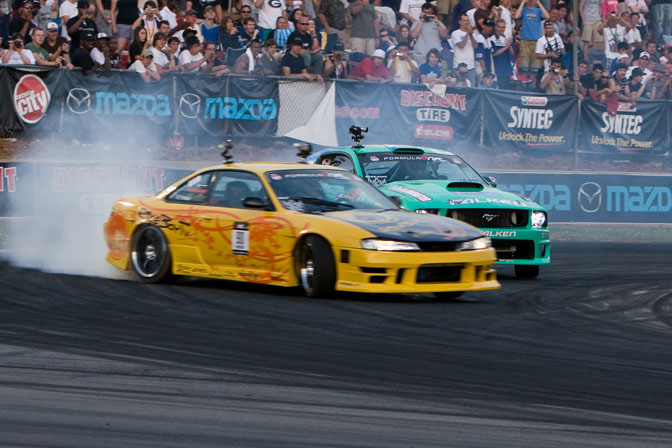 My first tandem battle had me lined up with rookie driver Pat Mourdant who was about 16 mph slower then me in qualifying. I knew this run was going to be interesting; running with slower, less consistent drivers is actually much more of a challenge then running with the top drivers in the world. While leading I received a huge advantage, but while following I had to hold a super deep angle to avoid making contact in the entrance to the horseshoe. When I flicked the car back, I dropped two tires off course and received a zero.
Luckily my huge advantage called for a one more time. After the next pair of runs I was advanced to the Great Eight. Pat is definitely a future star and I look forward to battling him again when he gets some more experience under his belt!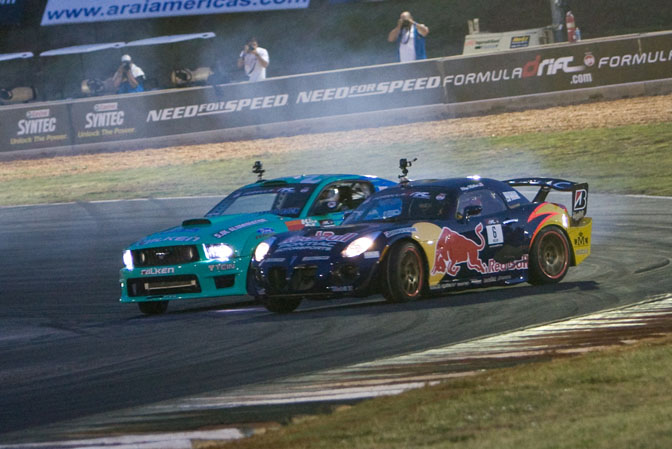 My second battle lined me up with Rhys Millen, who I was eager to battle again since Irwindale 2006 when we had an insanely close run and a faulty valve stem caused me to run with one flat tire giving him the win. The first run I led and entered early for serious intensity. I knew I had to do something serious, as Rhys was on fire all day.
My run was a bit too fast and I just barely dropped two tires at the entry. It was such a close call that the judges had to refer to replays to confirm. It sucks when technology bites you in the ass! But I'm sure I'll be on the other side of the stick at some point down the road, so props to FD for making that investment for us!
Following Rhys the second run I was forced to implement my new "Get Serious Rule" (see my previous post for details). I literally stuck the Mustang on Rhys's door. I was so close I knocked my mirror off and left an 18 inch round Falken tire circle on his door. But Rhys "maned" it out and stayed in drift after the tap. I was given a 8-7 advantage on the battle, however, because of the tire drop, Rhys proceeded to the next round. I hung out with the other losers on the top of hill and watched Rhys proceed to win the event. The better news, however, is that Ryan Tuerck, another Drift Alliance brother, placed third and got his first ever FD podium!
During the trophy ceremony, a corner worker brought me my mirror that had come off when I tapped Rhys. I borrowed some lipstick from my awesome girlfriend Abby and wrote Rhys a little note on it that read "Thanks for the kiss" and stuck it in his car. I figured he could put it on his mantle and cherish it forever! He said he's going give me his mirror in Jersey when he taps me, so we will see! LET'S DO THIS!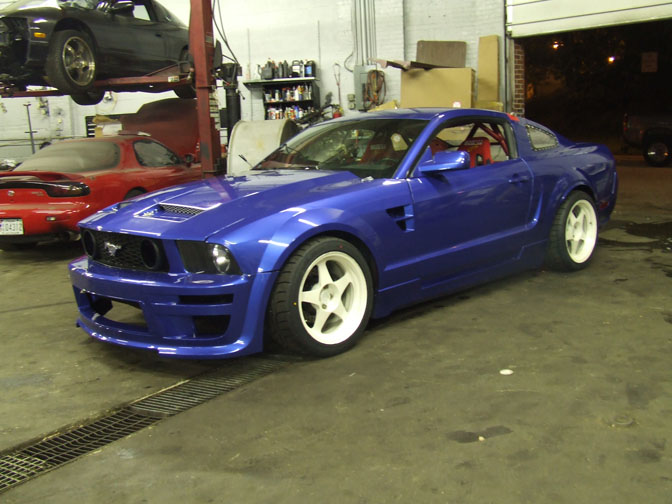 Onto a new topic, here is a picture of my new practice\ demo car in its current state. I will be adding my personal style to the car ASAP. Overall the car was very well built. It is a 2005 with a 4 valve Cobra motor with a Ford Racing Whipple Charger, caged, spot-welded, Fiberglass everything. 
My goal with this car is to have a reliable car to practice and demo with
that handles like my competition car. My dream is to style this car so that it
transcends the "domestic market style stereotype" to a sick car that makes Mustang
owners proud, import fans blown away, and me proud to call it mine! While I have
been driving a Mustang for four years, this is my first Mustang I personally
have owned. I look forward to putting a lot of pride in this car.  I will keep
updating my progress in this blog so be sure to check back for updates!
-Vaughn Gittin Jr.