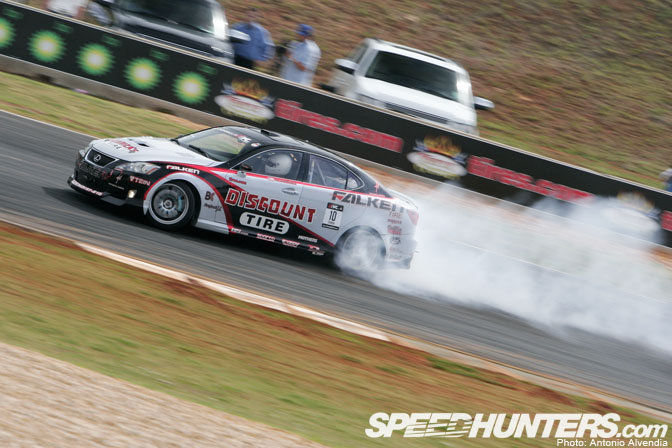 It's no secret that I love Lexus brand vehicles. So of course I was excited when I heard that Discount Tire Direct and Falken Tire would be working together to campaign a Lexus IS350 in the Formula Drift Series.
When I first saw the mockups of the graphic scheme (it was shown to me by a Falken employee before the car had its graphics applied), I wasn't too thrilled to be honest. I dislike the arch looking graphic on the side of the car, it doesn't do any justice to the car's naturally beautiful body lines. Oh well, without going into too many more details, I was hoping for something that looked a bit more JGTC style, or WRC, or even BTCC. However, this graphic scheme seemed to grow on me over the past year that Hiro's been driving the car. I don't know… maybe it's just because the idea of seeing an IS350 in mid-drift is so cool to me?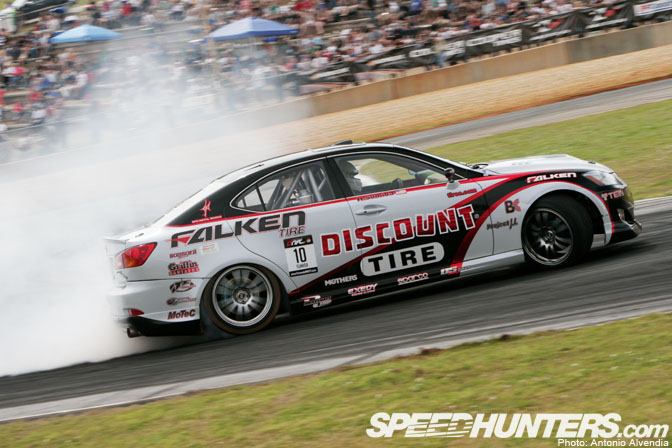 When it first debuted, Hiro Sumida and his car builder, Scott Dodgion from SPD Metalworks in Placentia, CA, proudly unveiled the IS350's gleaming 2JZGTE engine – modified with a GReddy TD07 turbo setup, which helped the 2J make 650 horsepower.
As much as hardcore Toyota enthusiasts like Hiro and I love 2JZGTE engines, Hiro admits, "It's just kinda heavy up front. You know, the 2J has a big iron block, so it was really hard to set up the suspension for drifting. With so much weight up front, it's easy for the car to spin, and it was really unpredictable in the transitions." Hiro continued to explain, "when I tried to flick the car really hard, I didn't have enough control with it… and when the car was near a full lock situation, the front was so heavy, it just couldn't stay at full lock… it just spun out. And I was even running 24.0kg front springs!!!" (This is super stiff! In comparison, my own AE86 has 8.0kg front springs, and some people think that is stiff!)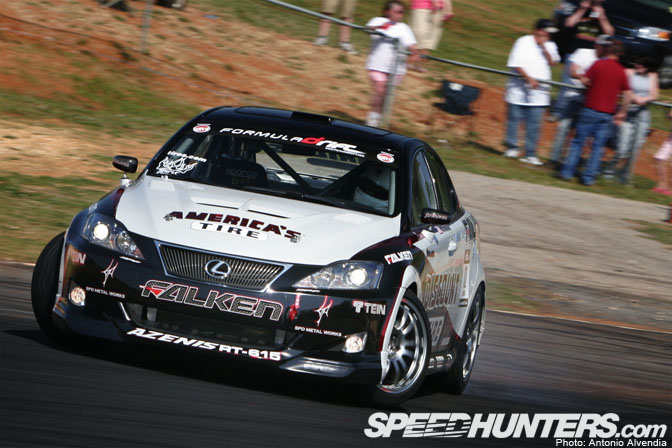 Enter Hasselgren Racing Engines and the 2008 Formula D Championship season. Hasselgren Racing Engines is a name familiar to those who follow the Toyota Formula Atlantic Series. Hasselgren was "engine builder of the year" for I don't know how many years (because I still haven't gotten my Hasselgren 4AG shirt…ahem! *cough*cough*).
Hasselgren's proposed solution to Hiro's heavy iron block problem was to swap out the motor for a custom Hasselgren-built V8 engine. Since the Hasselgren V8 has an aluminum block, it helped the car's weight distribution. Even though Hiro was reluctant to get rid of his beloved 650hp 2JZGTE, Kevin Chen from Hasselgren promised, "Our V8 will give you 700 horsepower… No problem… No problem!"
At the start of the 2008 Formula D season, Hasselgren wasn't finished building up Hiro's V8 race engine, so they elected to swap in a temporary Hasselgren V8. Hiro told me that they didn't even dyno the temporary V8 engine in the car, but he thought it felt like it had around 450 or 500 horsepower. "Now that it has the lighter aluminum V8 engine," Hiro added, "it takes more angle and is more forgiving in the transitions! It's a little easier to drive now!"
Even though the IS350 only had the temporary 450hp V8 installed during the Road Atlanta event, Hiro's car sounded sooo different from before! The IS350 passed me as I was shooting trackside, and as it passed, I was amazed because I thought it sounded almost like JR Gittin's Mustang… but not as loud! Just imagine what Hiro's IS350 is gonna sound like once it has the real 700 horsepower Hasselgren V8 in it… that thing's going to sound ridiculously loud!
I can't wait to see all the smoke…
-Antonio Alvendia