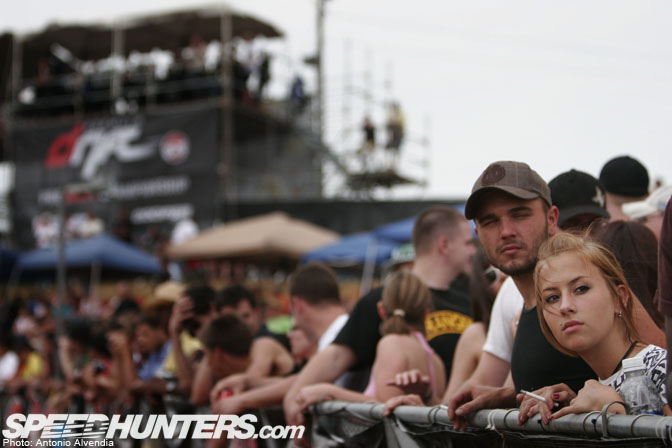 Formula Drift at Road Atlanta is a bit different than the other events in the series. You can definitely feel the difference when you're there.
From the look and feel of Road Atlanta's unpaved parking lot (people have to park in the dirt or in the grass, so don't bring your limited Nike Dunks to Road A!), to Road Atlanta's version of Formula D grandstands (a steep dirt hillside), you can tell that the horseshoe section of Road Atlanta used for drifting is more of a track for drivers than spectators. Don't get me wrong. By all means, Road Atlanta is a very professional level motorsports complex – the track plays host to all sorts of racing, from SCCA to American Le Mans to the annual Mitty classic car event that we always read about in Grassroots Motorsports Magazine. Of course they have a big professional grandstand area, and a big, air conditioned media center… but it's just that those portions of the track aren't anywhere near the Formula D action!
I've come to every single Formula D event at Road Atlanta. I was there since the beginning – the very first Formula D event ever. To me, FD Atlanta feels less like a structured motorsports event, and more like a tailgate party of sorts… you have all sorts of different ethnicities of fans out in the grass (or dirt), but what really stands out to me is the large number of shirtless Southerners (unfortunately, they're mostly male) in big lifted trucks, parked out in the dirt with their tents and lawn chairs, downing massive amounts of beer from their fully stocked coolers. It's certainly not a bad thing – actually I think it's kinda cool (the tailgate party, not the shirtless guys). I like seeing contrasting elements in the different Formula D events… and the Atlanta event certainly has it's own vibe to it. It's something that most magazines don't show… but since I personally think it's interesting, and this is the internet… here goes! Check it out through my eyes… Welcome to the Durrty South!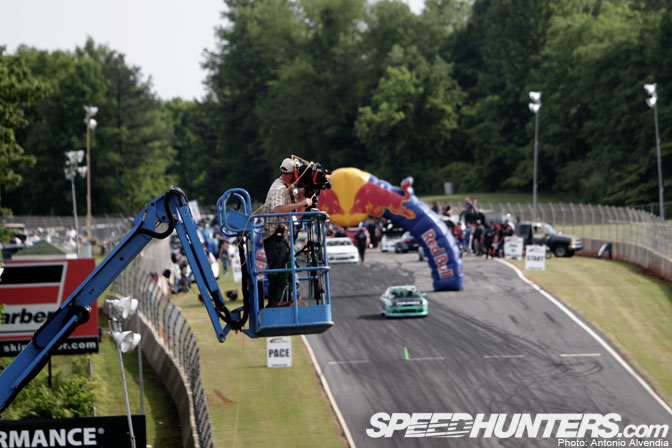 One interesting thing about Road A is the grid is on top of the hill, and the drivers drag race each other down the hill, towards a left hand sweeping turn! Sometimes the guys will lose or lock up their brakes and go straight ahead into the gravel trap! If I remember correctly, the first run at the first Formula D was like this, and Benson Hsu's S13 Sileighty was the first car into the gravel of Road Atlanta… but it certainly wasn't the last!
In this pic you can see a Formula D TV camera operator filming Ross Petty's run from high above, in a crane! I'm sure it would be a super cool looking shot, but what happens if he needs to go to the bathroom? Better hold it!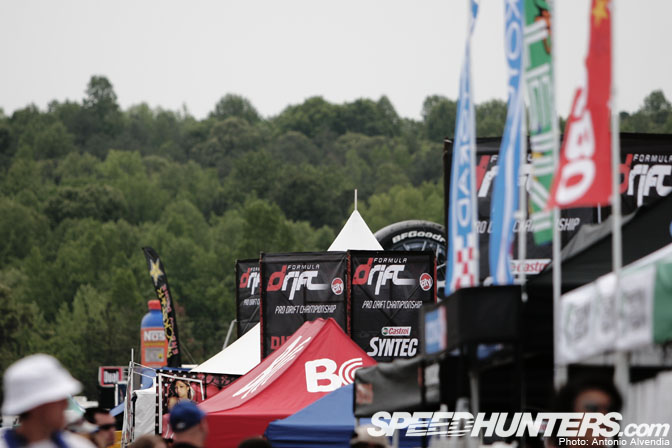 Back at the pit area, the vendor booths were bustling with spectators!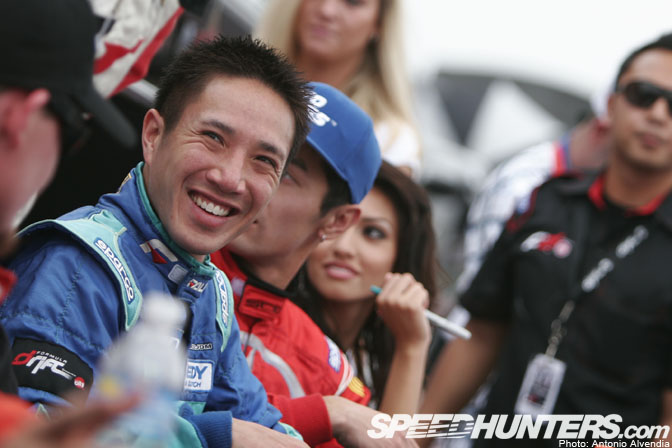 The driver autograph session on the morning of the event was super packed! Fans of all sorts of ages and ethnic and economic backgrounds lined up to get their books, program guides, and magazines signed by all the drivers in the lineup. Pictured here is our fellow Speedhunter Calvin Wan, Ken Gushi, and Catherine, the 2008 Miss Formula D.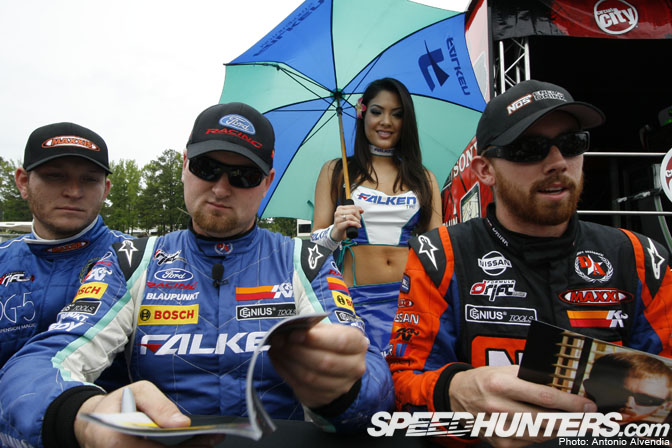 Wait, this is Formula D, right? Then how come it looks like a Nascar autograph session right now?
Pictured here are some members from the Drift Alliance crew – (L-R) Justin Pawlak, Speedhunters blogger Vaughn Gittin Jr, and Chris Forsberg. And let's not forget Randyl, the Falken girl in the back. How does she always keep sneaking her way into my photos? Oh, I know. It's because she's hot.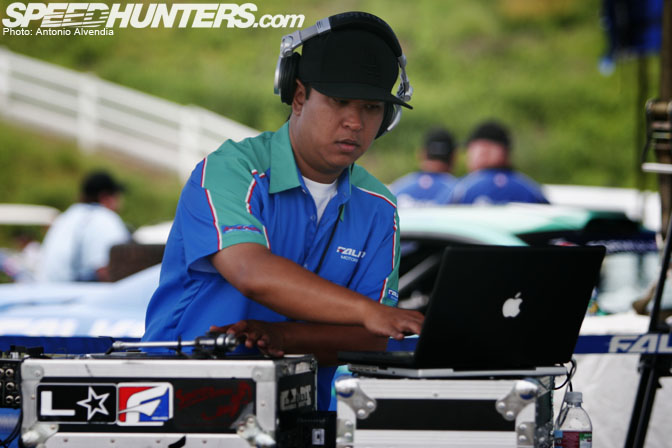 Yes yes yall, and ya don't stop… here's DJ A1 on the wheels of steel (and the Serato) at the Falken booth, always spinning hip hop and funky soul beats to get the crowd hype!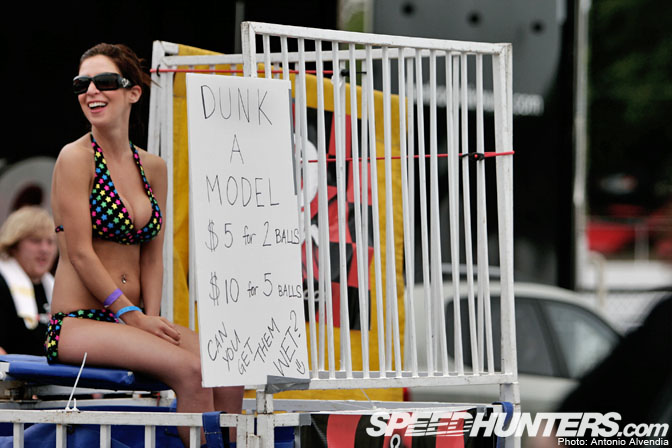 People were paying to dunk this girl in a cold water tank. She falls in the water if you hit the red/black target with your ball! If you had 5 bucks to spare, would you hit it?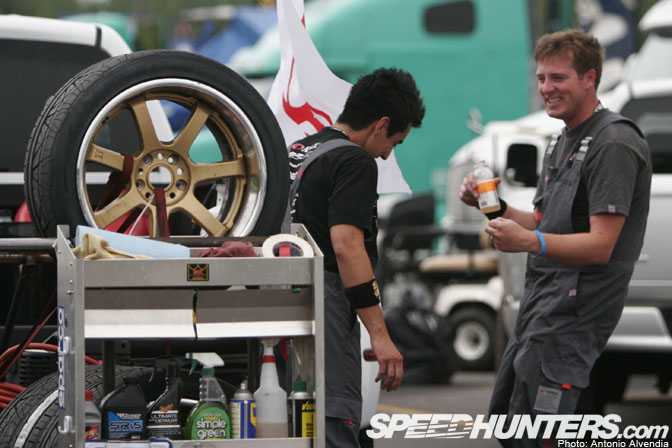 While Ryuji Miki prepares to drive his car up on the starting grid, Keith and Chuck from Apex Integration are joking around and taking it light! That's right, Formula D events are fun, even if you're working!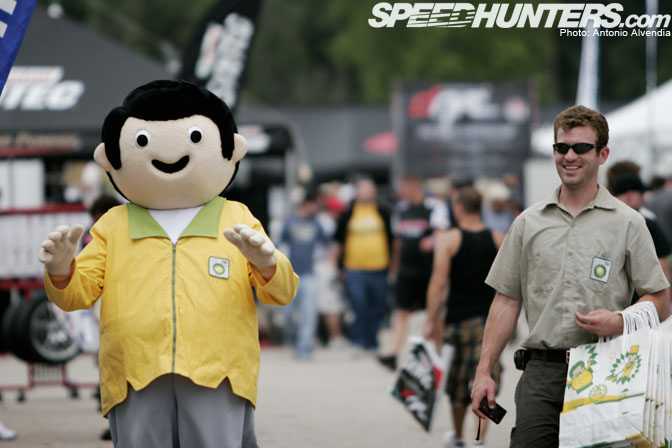 The BP guy dressed in yellow looks so cool and funny. I wanna invite him to my next birthday party.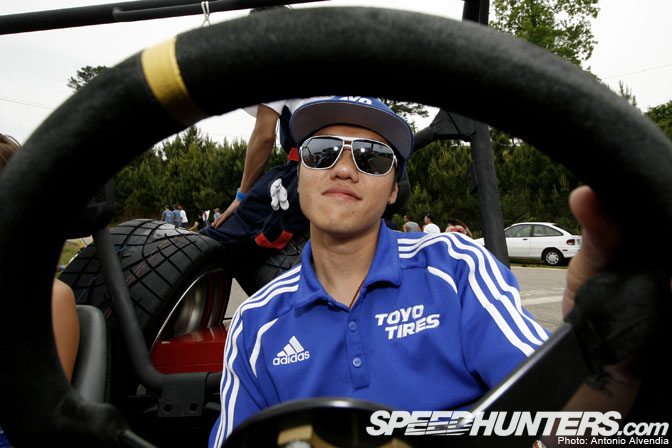 Back at the track after a short hiatus, Kelvin Tohar from Toyo Tires shows us who's boss with his big Yamaha ATV track support vehicle. It has a suede Sparco steering wheel and quick release hub, and custom Fabtech suspension. Much cooler looking than our rental golf carts. Kelvin is on top of his game!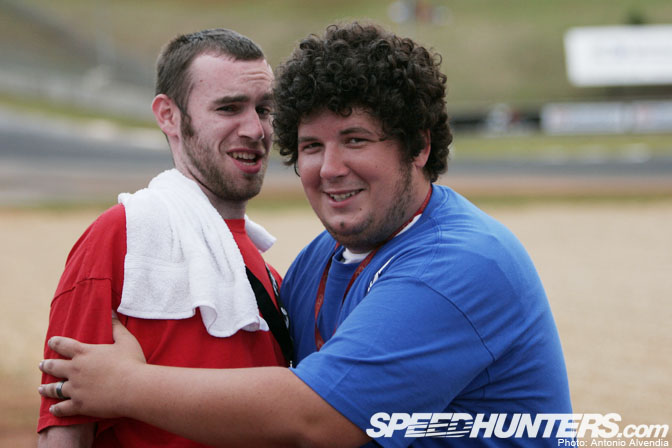 Look guys, it's the Formula D version of Superbad! (I love that movie!) Man-hug action shot of Jacob from Everything Drift, and Brady from S3 Magazine. Haha!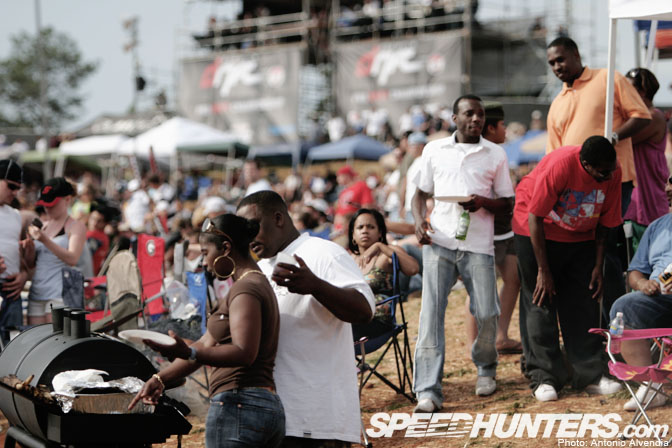 What! Only in Atlanta! I spotted smoke coming out of this big black barbecue grill in the spectator area, and I immediately started taking pics! All of a sudden, some big guys from the group approached me and asked me (in a Jamaican accent), "Whatcha doin bwoy?" "Uh… taking pictures for uhm… our website… uhm… Speedhunters.com..?" was my reply. And before I finished answering, the nice lady in the brown shirt walked over to me with a plate of Jerk chicken! Awesome! They were making Jamaican jerk chicken! It tasted amazing – better than most of the Jamaican restaurants I've been to in Atlanta and Miami!
When I asked them "How on earth did you get Formula D to let you setup your vendor booth right in the spectator area," they laughed and replied "Nah bwoy, this not no vendor boot! This food is just for us! Every ting!" I can't believe they brought out that huge grill and all that meat and everything just to make lunch! That's so cool! Those Jamaicans sure are pretty committed to making their food! I'm so glad I met them, they were so cool!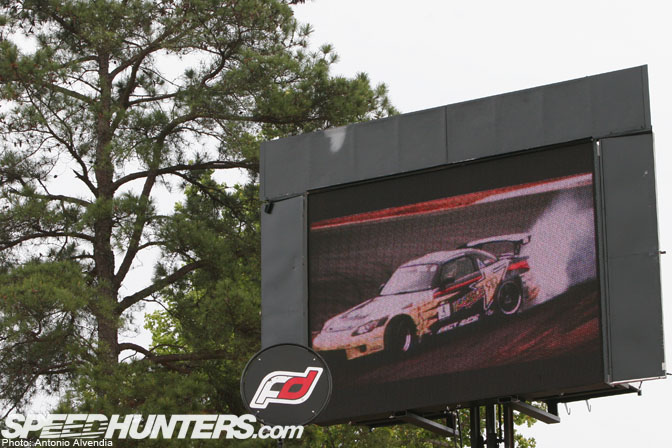 Always keeping the Formula D crowd entertained was the Belle 1 jumbotron, which was elevated amongst the trees, high above the Road Atlanta spectator area. The jumbotron played live video broadcasts of the individual runs and tandem drift battles for everyone to see, while mixing in music and commercial messages from sponsors during downtime. Pretty cool!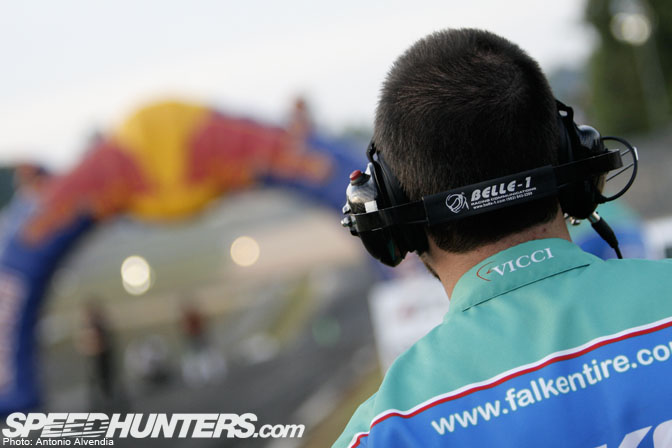 On the other side of the grid, Kevin Jones from Falken uses Belle-1 race radios for the crucial radio communications between Falken drivers, support staff, and the trio of race rigs back in the pit area.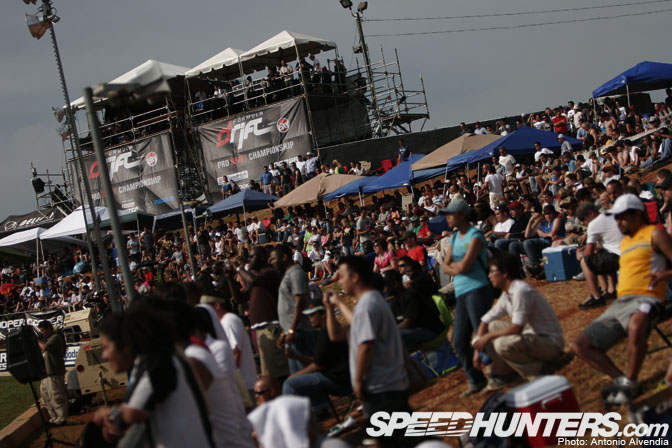 The spectator area of Road Atlanta was definitely packed! I was told that the attendance this year was larger than any other Formula D event held in Atlanta ever. Whoever did the local promotions for this event needs to be congratulated! What a great event. I can't wait for the next Formula D event… New Jersey, here we come!
NOTE: BIG THANKS to John Choi and Ed Hernandez from Falken Tire Corp, and Cody Wellons from S3 Magazine!!! My cameras completely broke at Formula D Atlanta, and they were both gracious enough to let me borrow their personal digital SLR bodies so that I could continue shooting the Formula D Atlanta event with my lenses. Without the help of friends like these guys, I wouldn't have been able to bring you any photos from Atlanta. Thanks alot guys, I really appreciate it! You saved my life!
-Antonio Alvendia