Soukoukai magic
It seems to be all over before it's actually even started. That's the feeling I always get with Battle Evome: four short time attack sessions held at Tsukuba in January and February. There are lots of other similar track-day (soukoukai) events, but not many can boast the participation of some of the best amateur racers out there; guys that drive some of the most inspiring grassroots grip-oriented rides of the Kanto region. This is precisely why I was just not going to miss the last event of the year.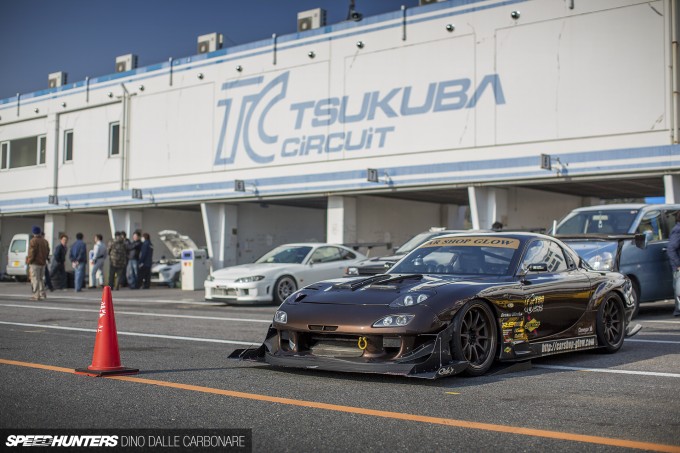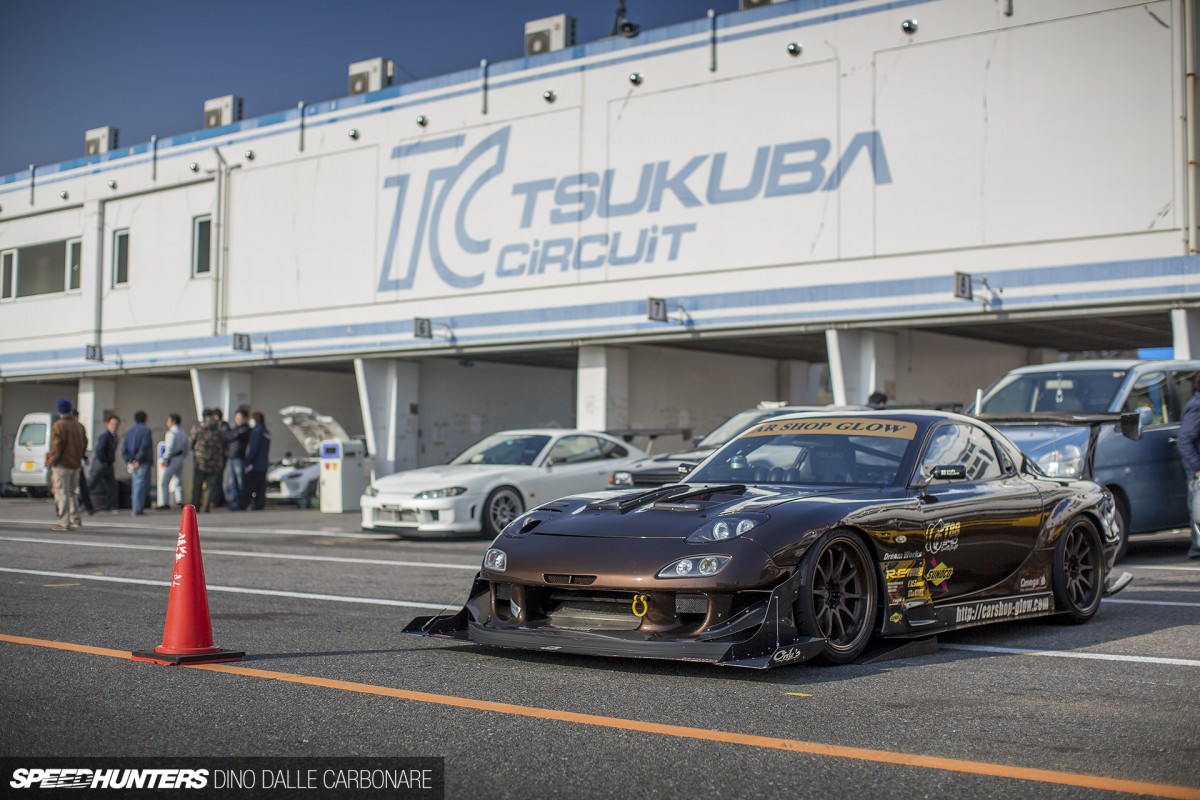 Now held on Wednesdays and only for a very short hour, Battle Evome has felt a little different this year, and that's probably due to the fact that Under Suzuki and the Horikoshi brothers with their Exceed Moat S14 didn't participate. The reason behind that is that both of them are really stepping things up for 2014 and their cars are in the midst of some pretty big upgrades. But not to worry, because this allowed me to focus my attention on some of the other usual entrants.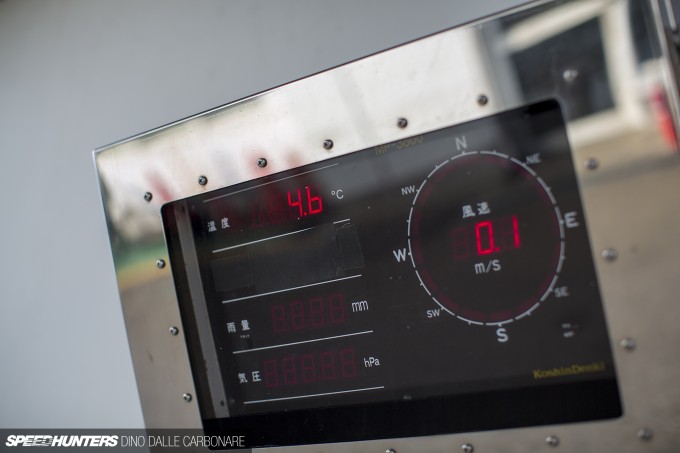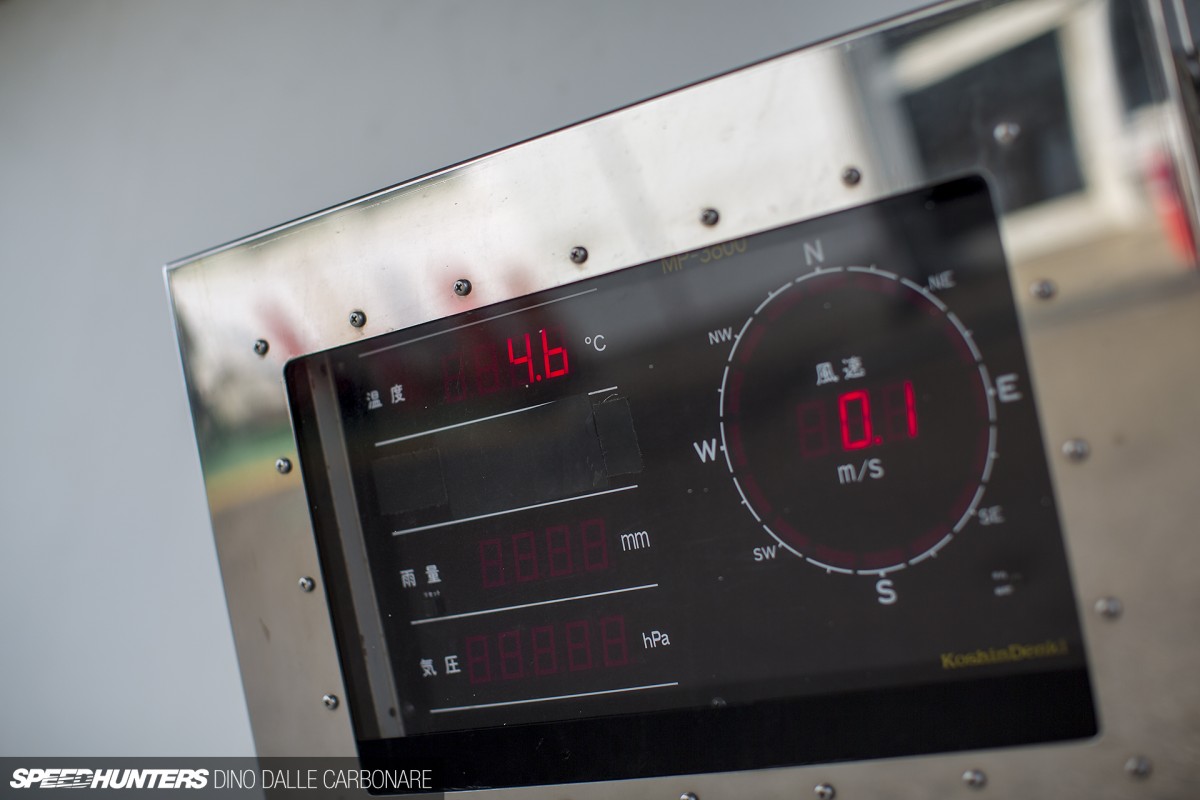 By the time the session started at 9am, Tsukuba's little weather station display was reading 4.6°C, not as cold as some of the other time attack days I've been to, but great enough to keep those highly modified engines nice and cool. The sun was out too, which meant the track and therefore the tyres would warm up to the right point and not overheat quickly. Tsukuba may be short, but it puts tyre compounds through some pretty testing heat cycles.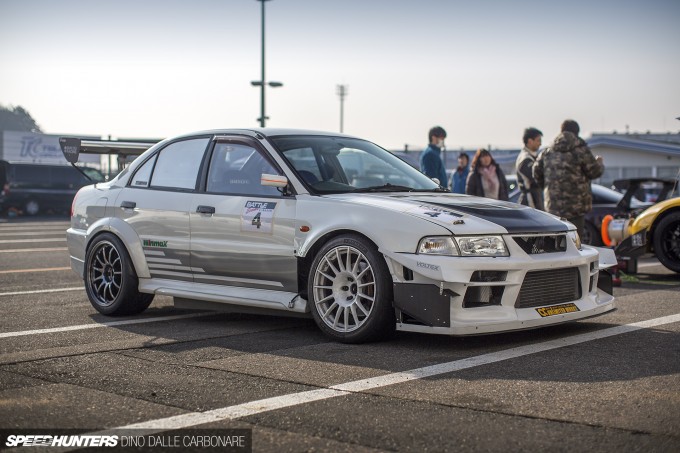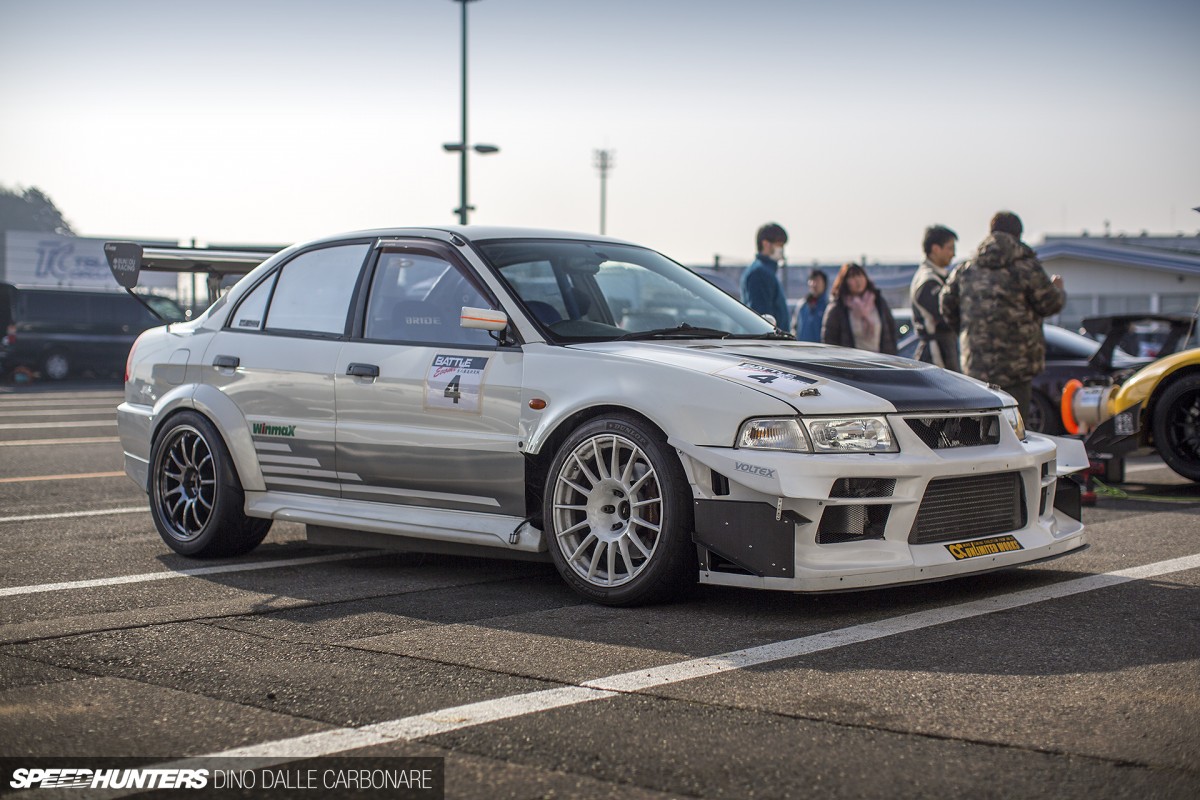 With most of these sessions having between 10 and 20 entrants, it always means I have more time to spend per car. This allowed me to take a closer look, indulge in the car's details and these days that means more aero than straight-out mechanical modifications. While this Evo 5 built and tuned by Unlimited Works may have AWD to its advantage, it looks like the owner has started to play with airflow too, or rather harnessing it to develop downforce.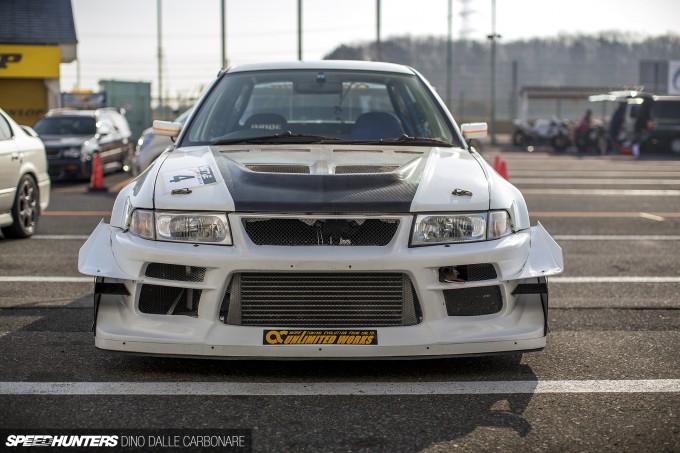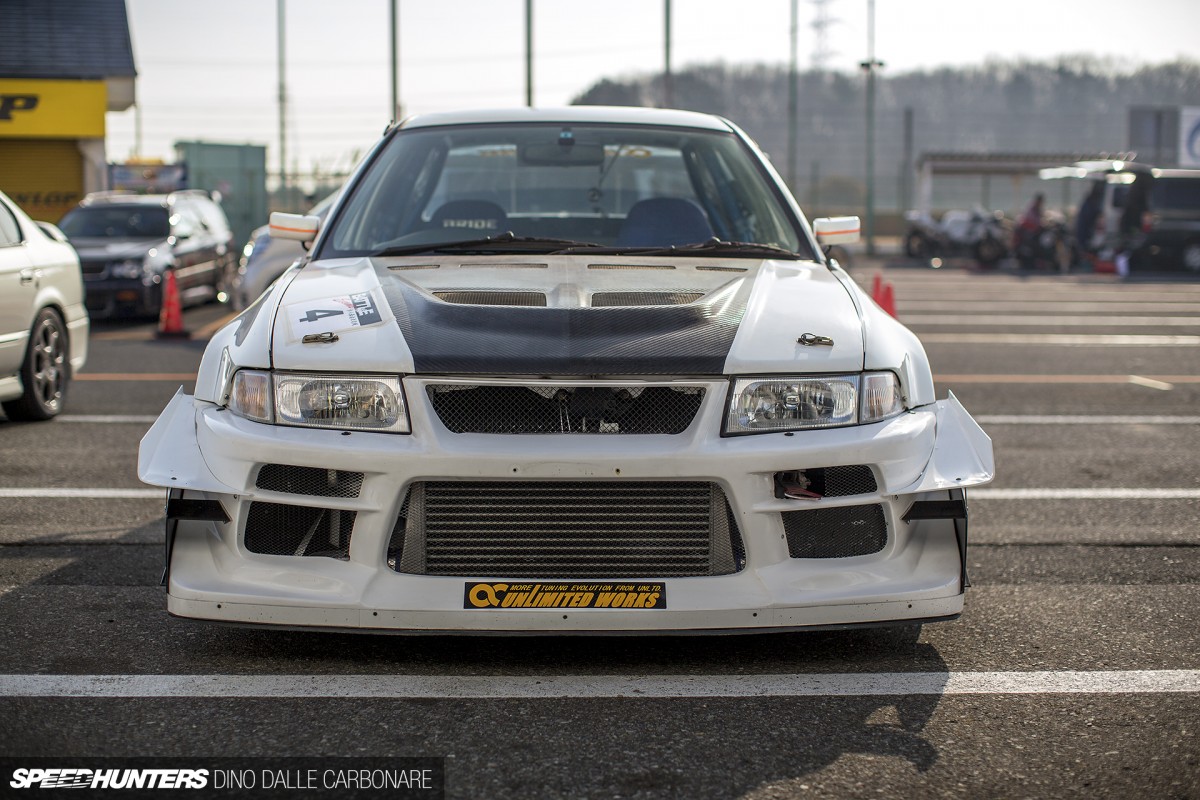 Along with spaced out and cut front fenders to clean the flow of air exiting the wheel wells, a series of canards were added to the aftermarket bumper. That joins an undercover that seals the front section of the CP9A.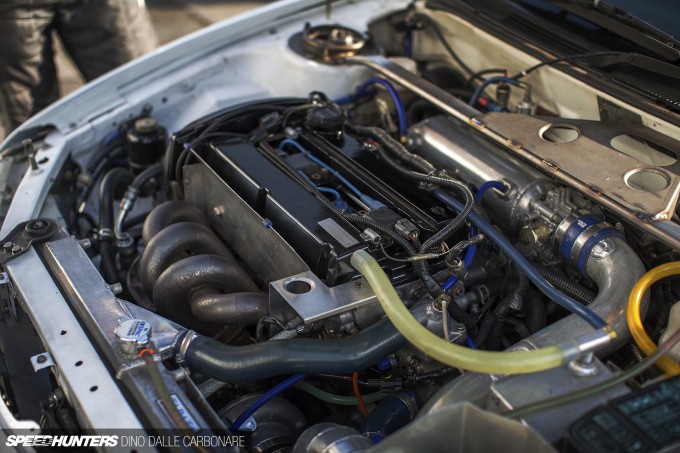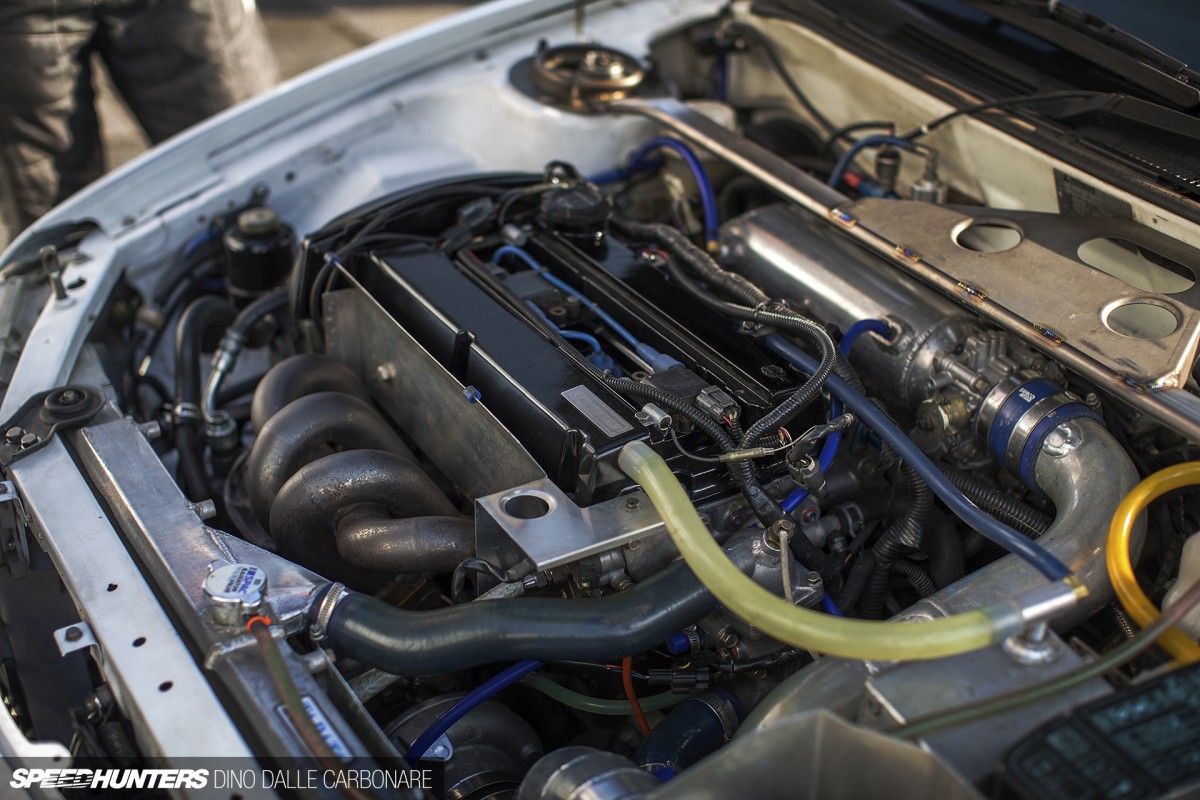 The power and torque from the tuned 4G63 can then be unleashed earlier and more efficiently as the car sticks better to Tsukuba's smooth tarmac.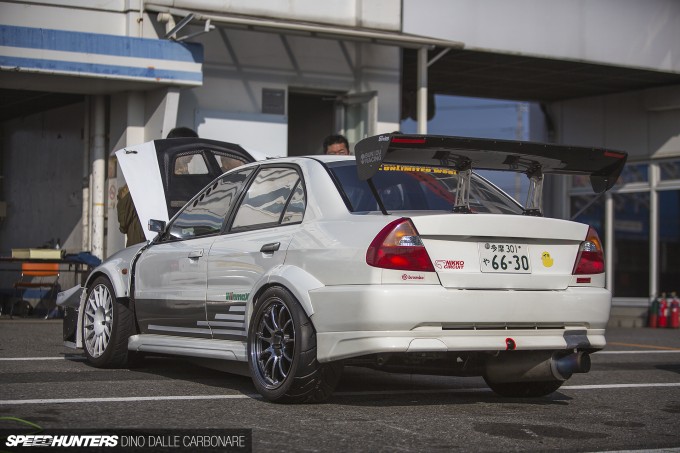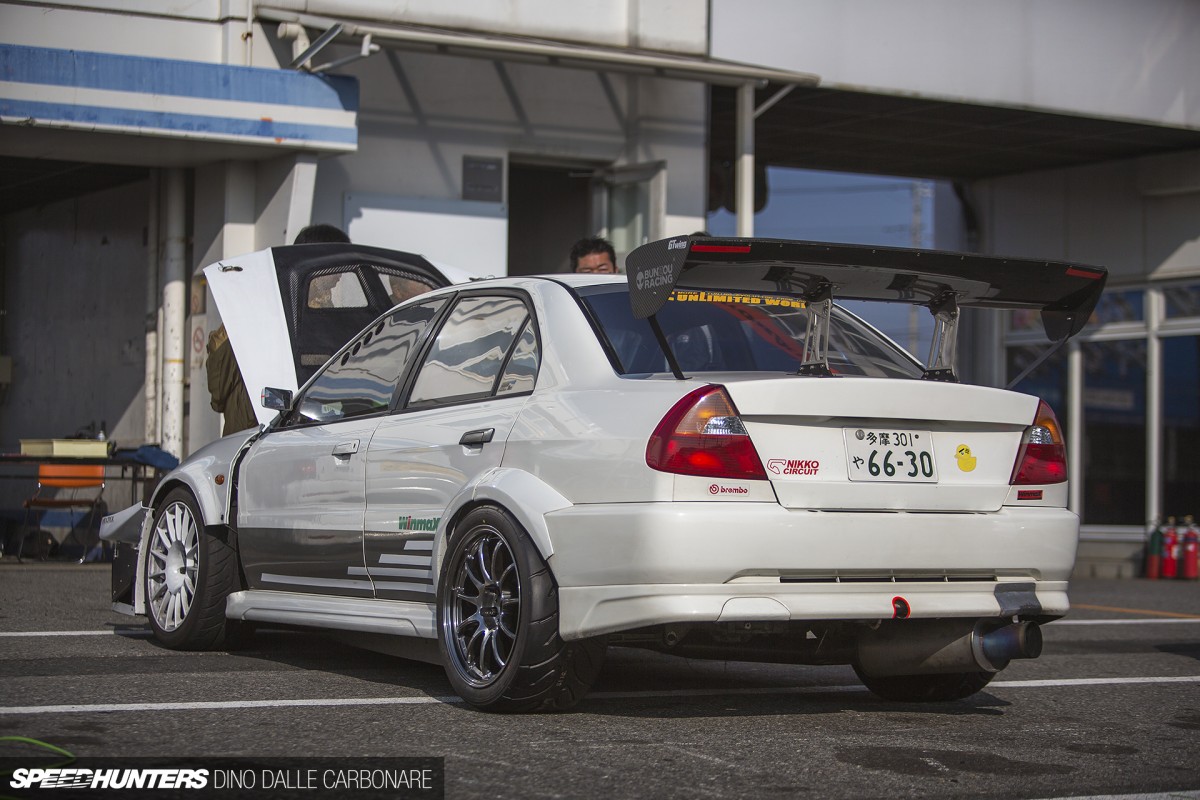 Rear downforce is always a must of course and that big carbon wing really comes into play at the top of the back straight: the fastest point on the track and one where a lot of time can be lost if you're not able to bring a lot of speed into the final turn of the track.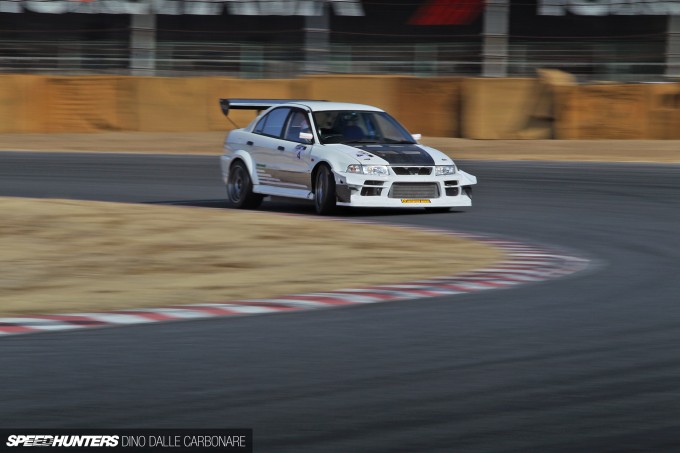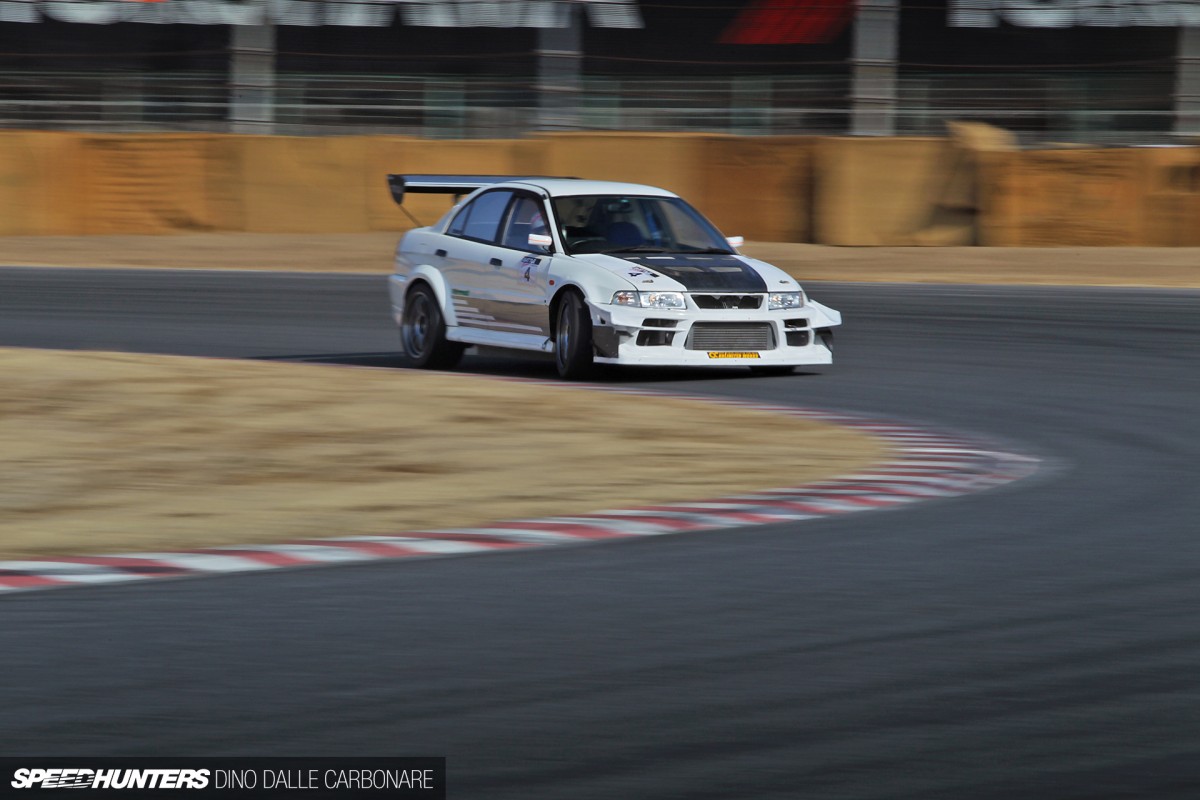 The driver recorded a best lap of 57.702 and you can see him here making the most of the grip the Dunlop Direzza semis provide as he exits turn 1.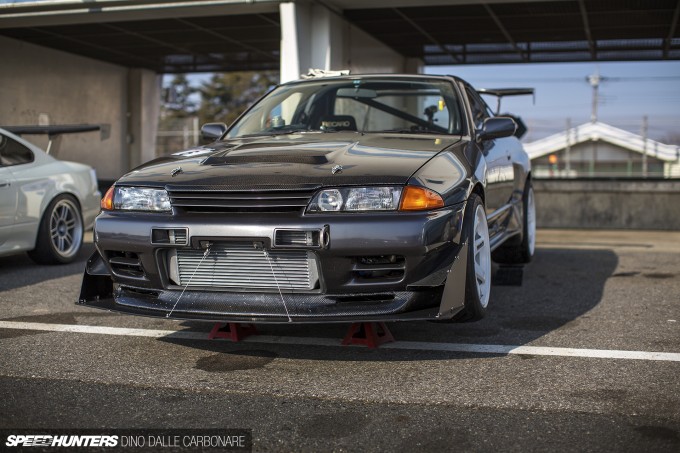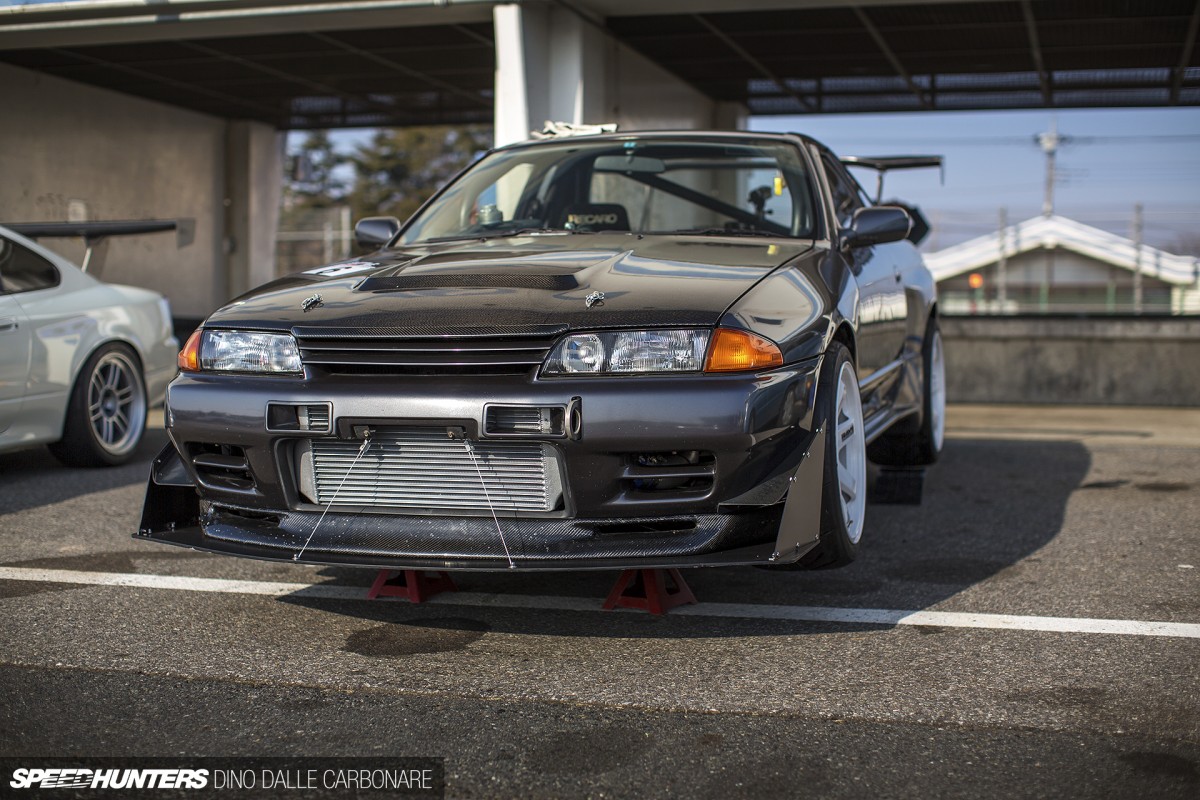 This is the same Auto Gallery Yokohama BNR32 that we saw earlier this year at the second round. This car sounds as menacing as it looks, the big single turbo really making that external wastegate scream away under full acceleration. I think once I fit the Tomei turbos to my GT-R, the next step after that will definitely have to be a single. I never thought I would hear myself say that! The 57.774 sec lap it managed on the day was a little off the 57.371 sec from round 2, but still pretty damn consistent.
Rotor-heads, enjoy!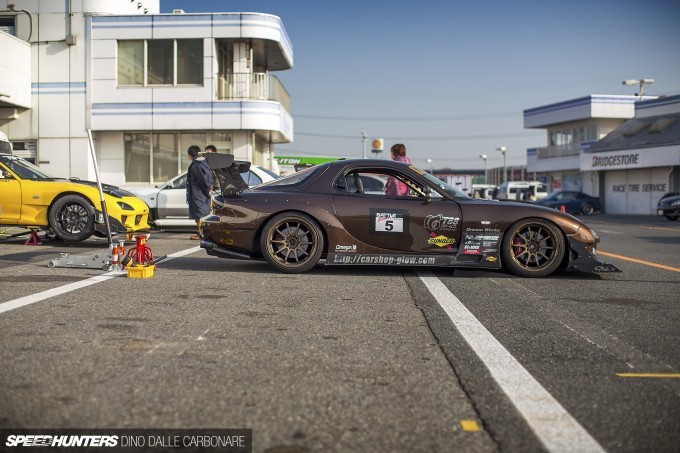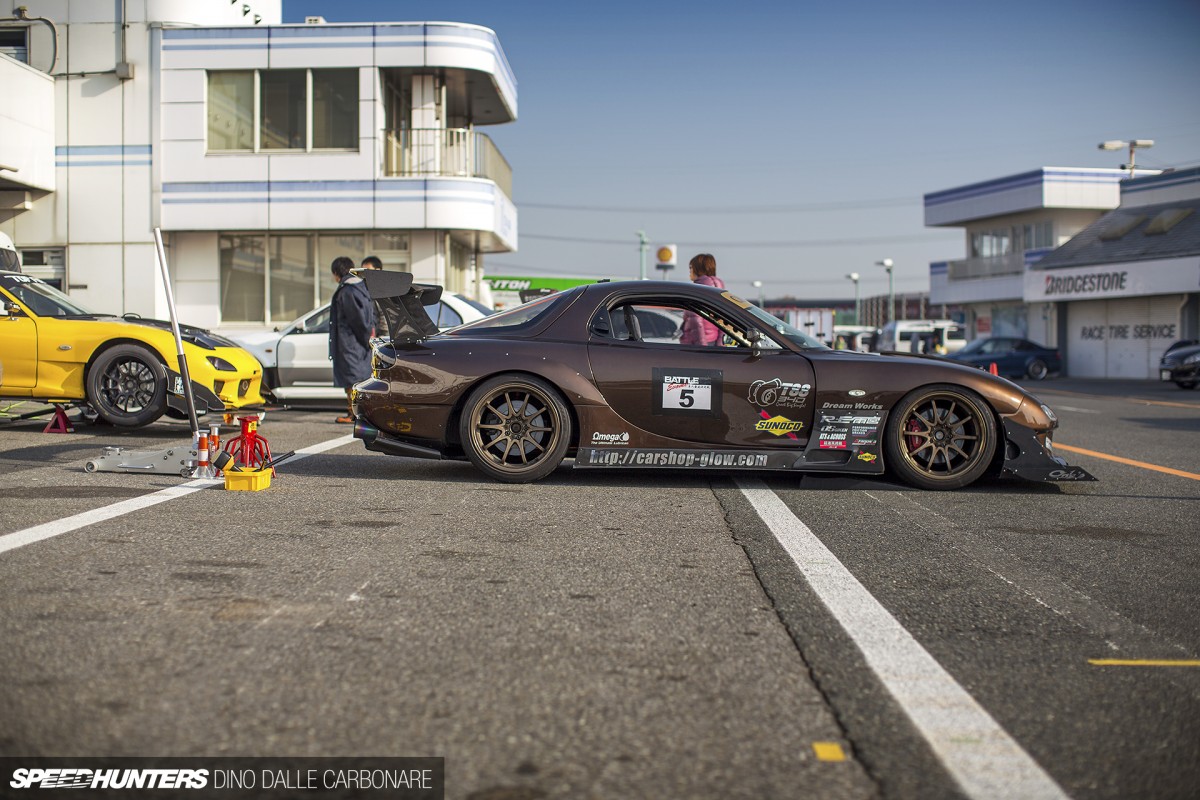 If I had to pick one of my favourite privately-owned FD3S out of all the RX-7s I've come across in Japan, this one from Car Shop Glow would be right there at the top. I don't know what it is that appeals to me so much: probably the metallic brown color they have chosen for it, all the carbon aero additions or the CE28Ns it usually runs.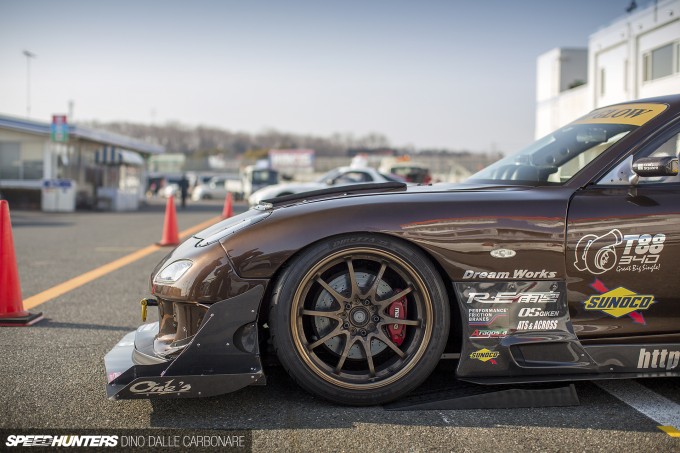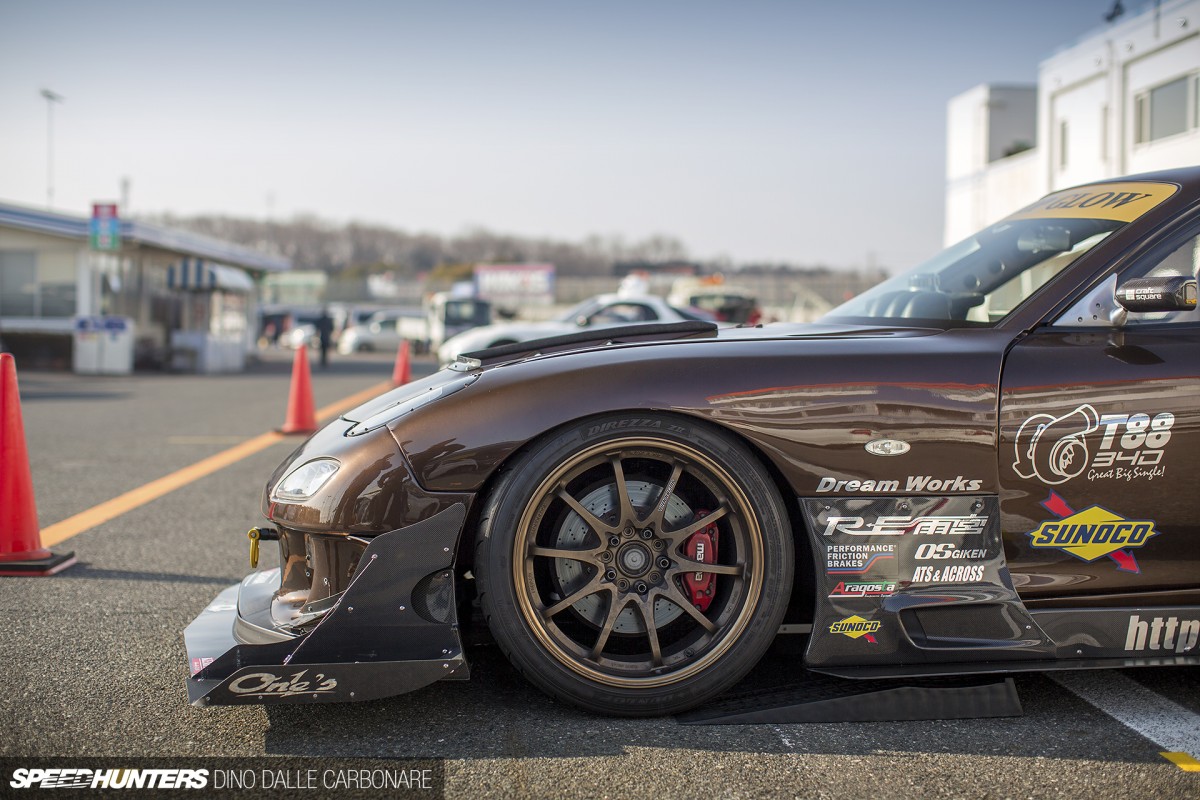 Whatever it is, it just all works so well. And the thing that gets me the most is that even though it runs a big Trust T88 single and delivers more than 500hp to the rear wheels, it's still running the stock Mazda calipers. That's because the FD isn't a heavy car to start off with, plus thanks to the stripped-out interior, it has shed substantial weight.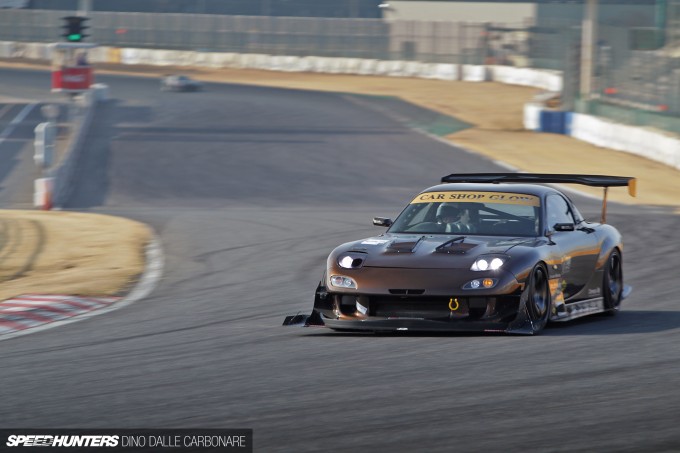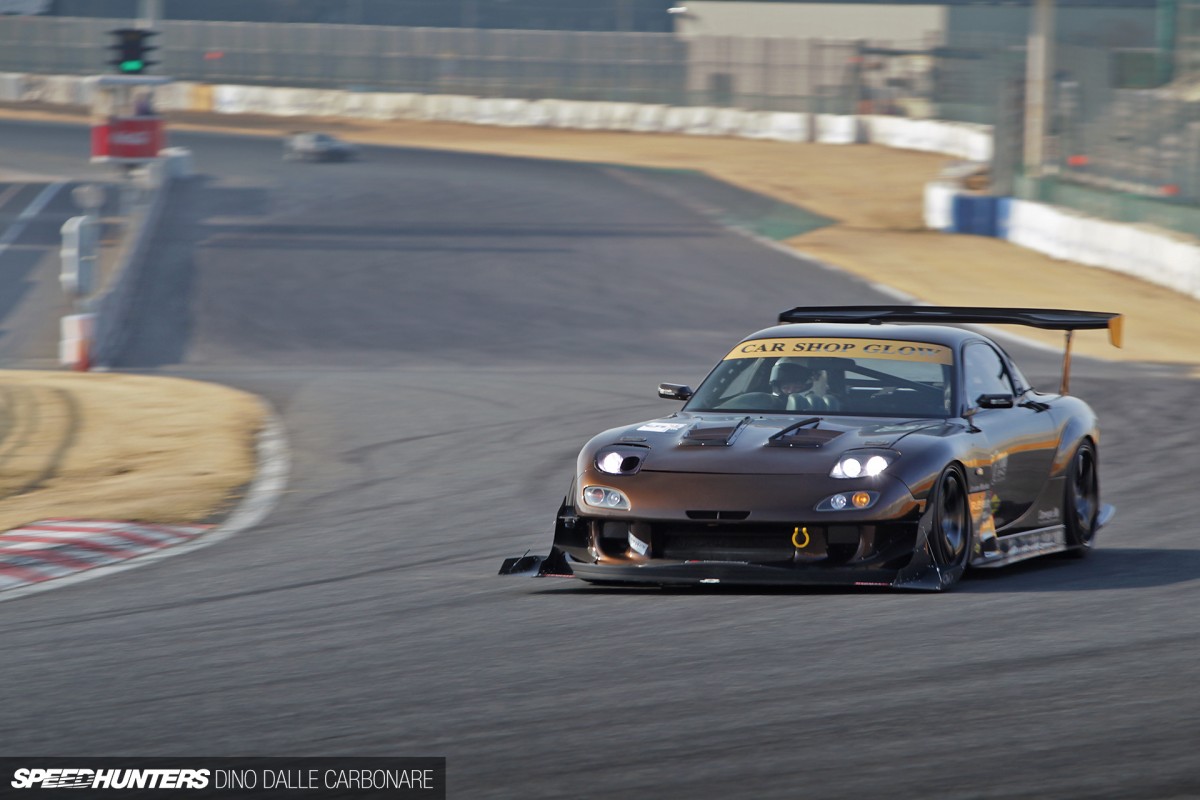 That made it the fastest car that day, posting a 56.463 sec lap. Among this group which includes Under Suzuki and his 52-sec S15, that number might not have quite the impact it deserves, but if you've been following my various posts from Tsukuba grip events over the years, you will know just what a big deal that actually is!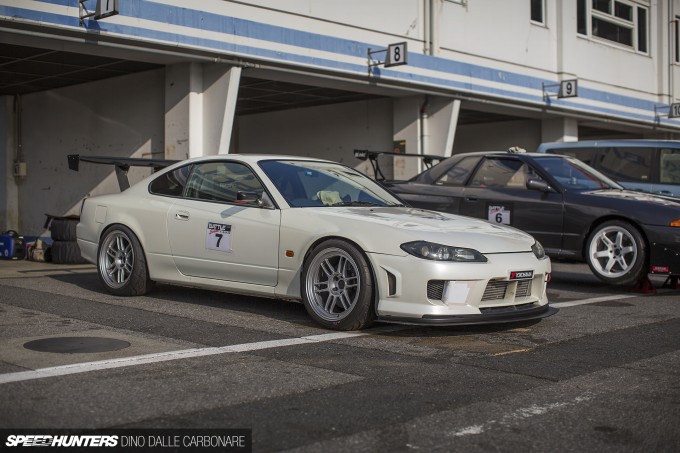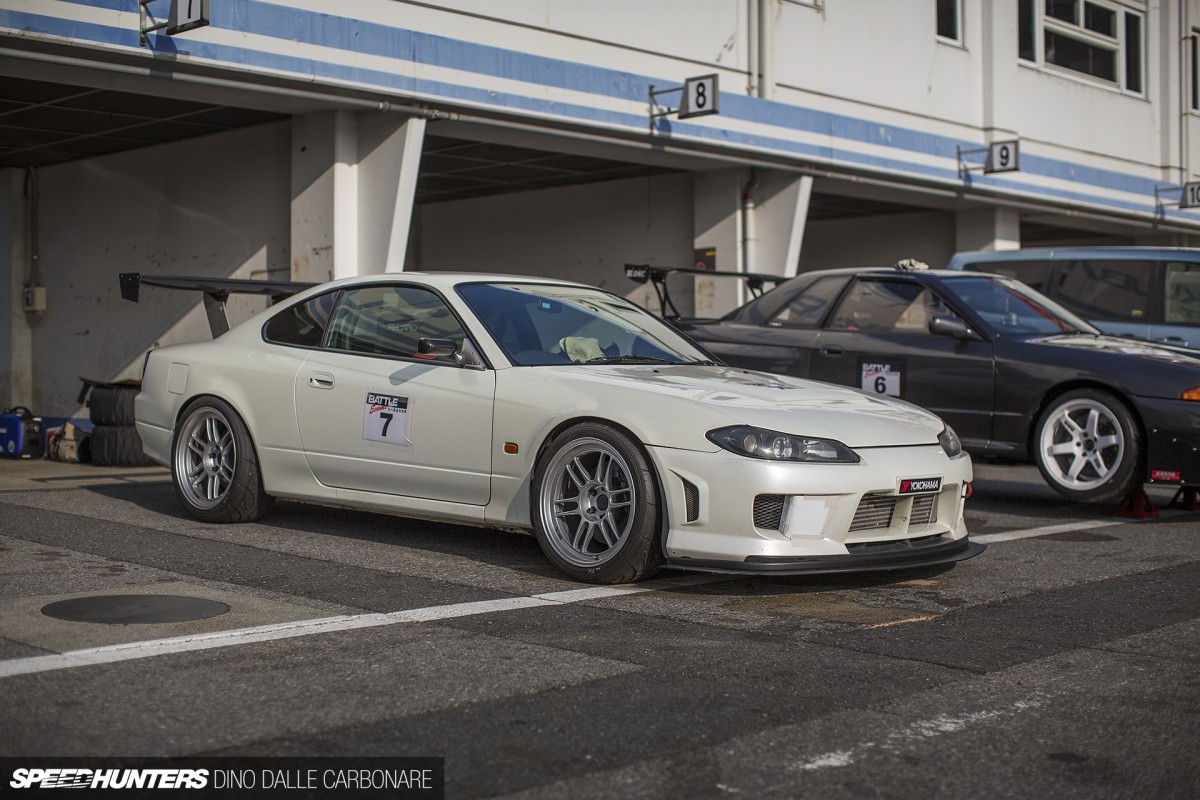 Next to the AGY R32 was this unsuspecting S15. I say unsuspecting because aside from a few obvious front and rear exterior modifications and additions, it looked almost, dare I say it, sedate.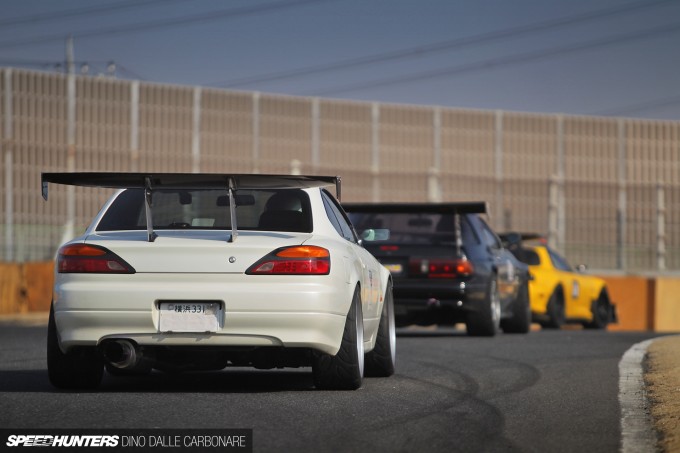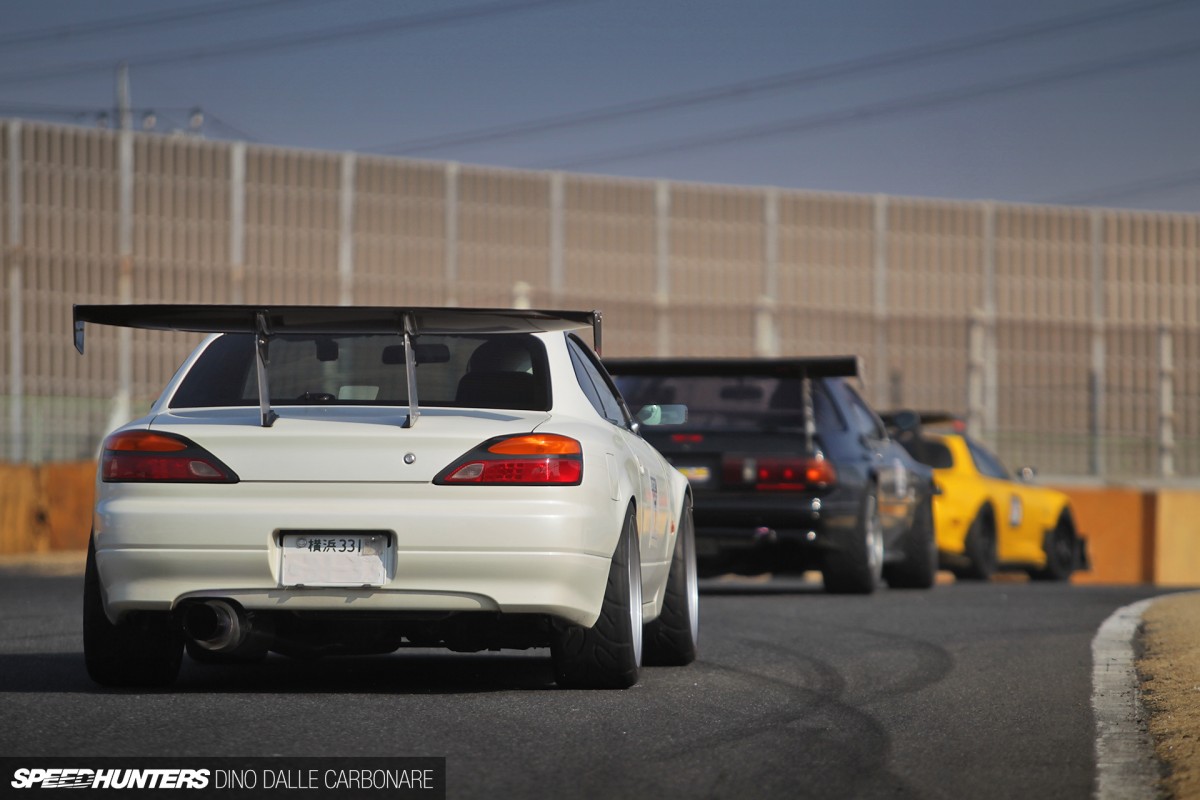 But if it's entered in a Battle Evome event, you know it's anything but! 58.236 sec was its fastest time, about 7-8 seconds faster than what a stock Spec-R can probably manage. Oh, and as you can see, it's still street registered meaning it gets driven to and from the track.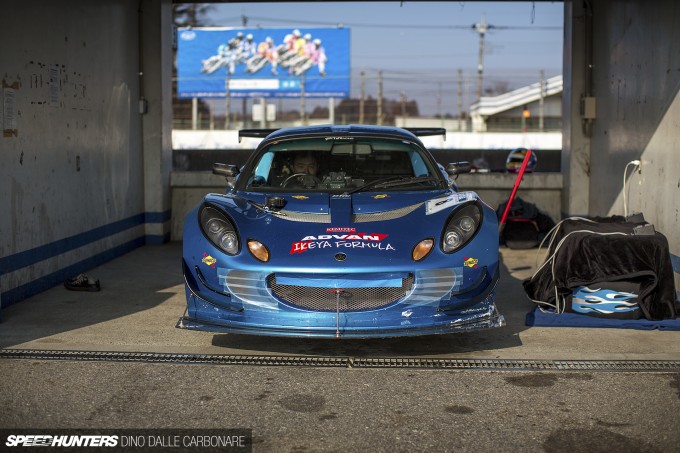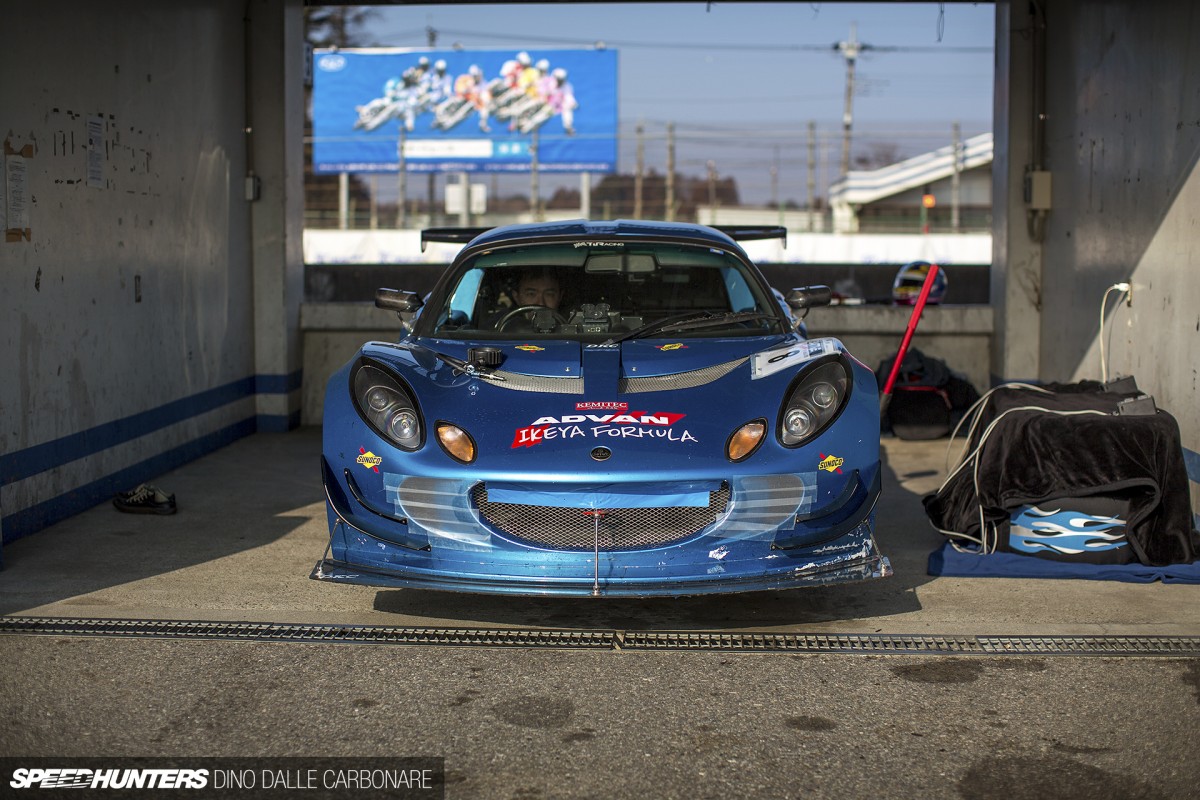 As you can see in the pit garage that the owner of this Ti Racing-prepped Exige rented for the day, a lot of guys show up with tyre warmers so they can maximize the performance of their tyres right from when the sessions start. Some people even create their own warm-up contraptions; I've seen everything from hair dryers being used, all the way to a kerosene-powered heater! The little Exige managed a 59.216 sec lap.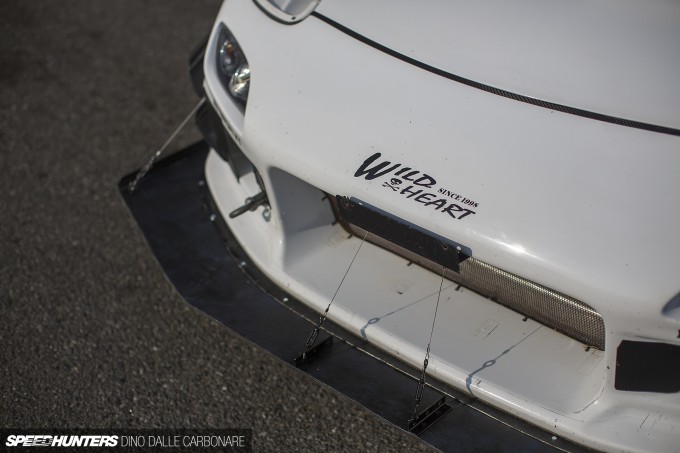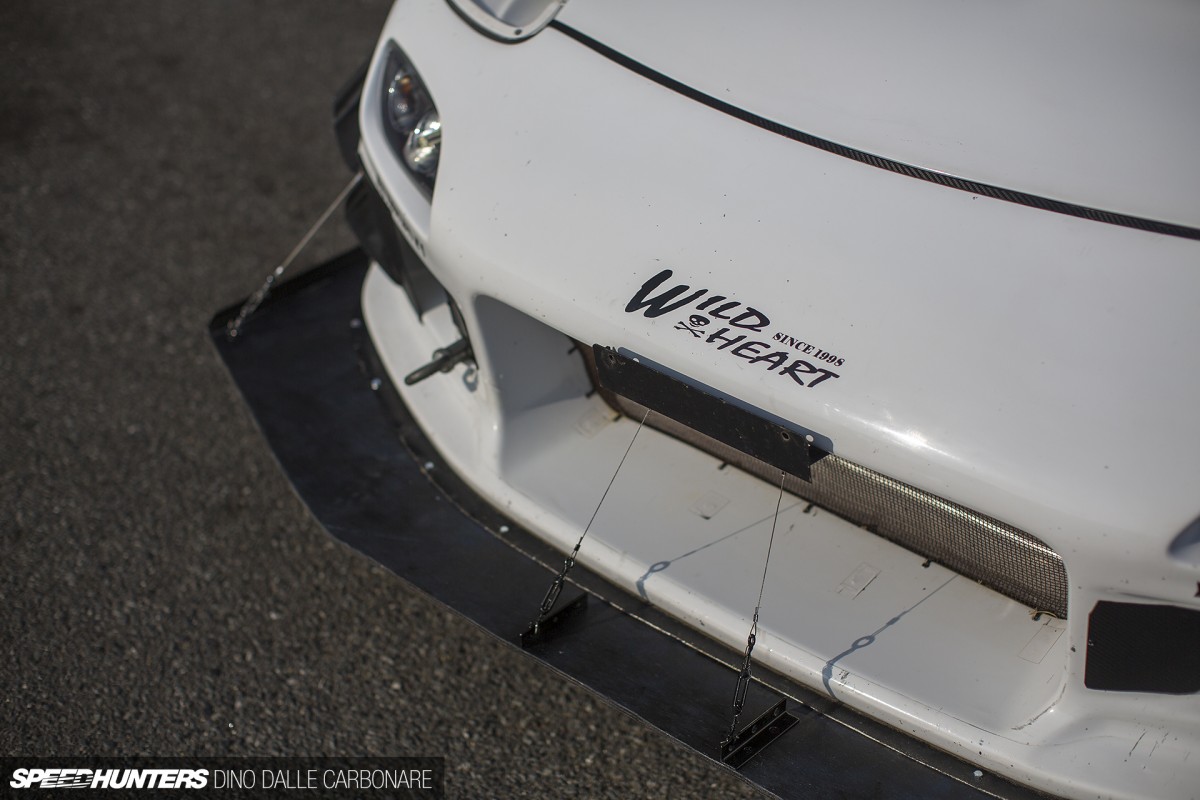 Much like the previous round I covered, rotary guys must really be liking this post too as there was plenty of Wankel-powered madness to indulge in.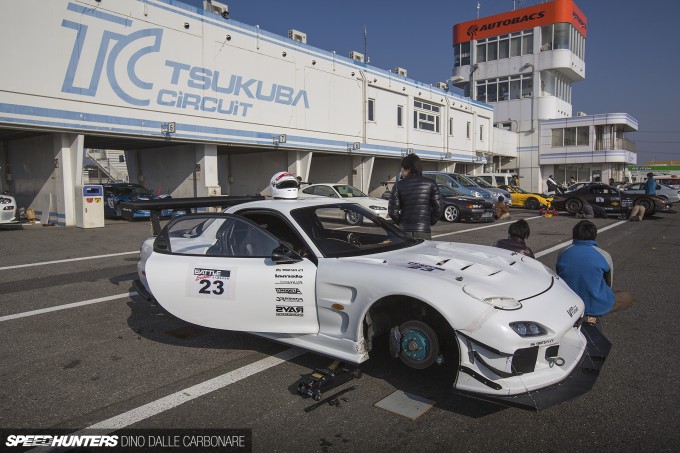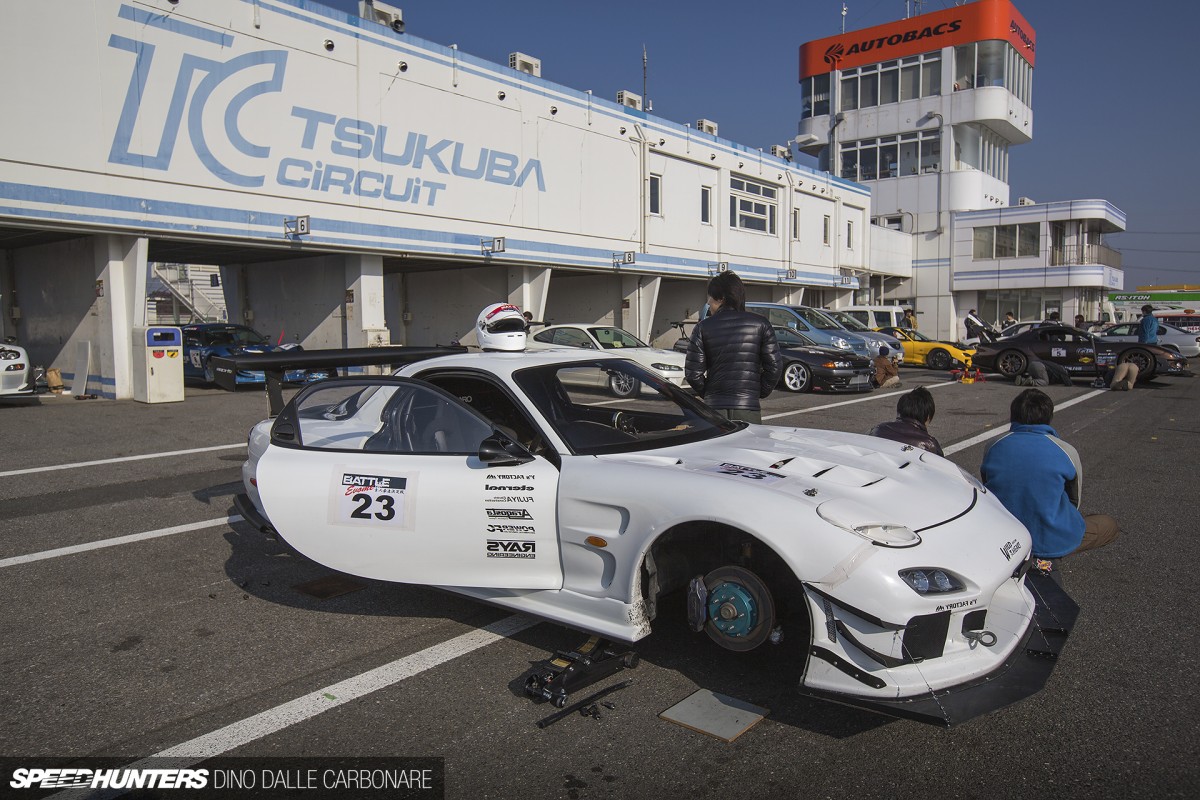 Along with the Car Shop Glow FD, the Wild Heart guys were back out with their white 7. This car isn't quite as wildly tuned as some of the other rotaries that participate in this event, but it still managed to get a 59.567 sec. A few tenths slower than last time but that seemed to be the case for most. With spring in the air, the temperatures weren't quite as low as most would have liked.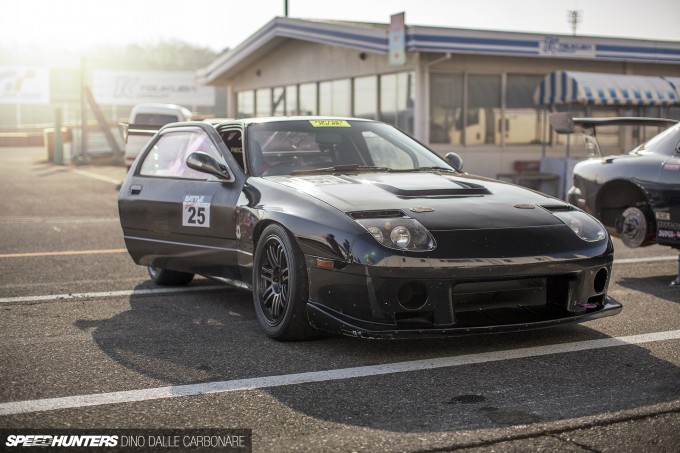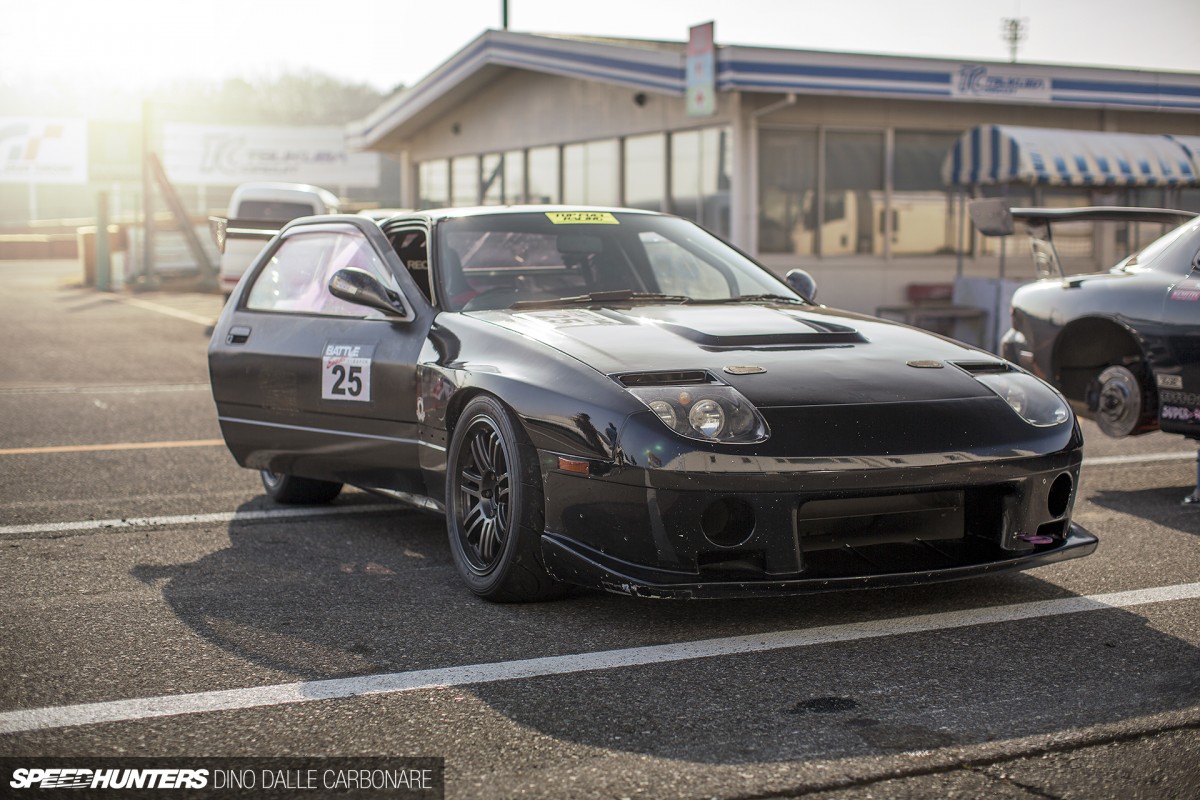 It was super cool to see an FC there too: one that was sporting a fixed headlight conversion and what can only be described as a very functional sort of exterior with exposed carbon fiber doors and plenty of paint chips to add to the aggression!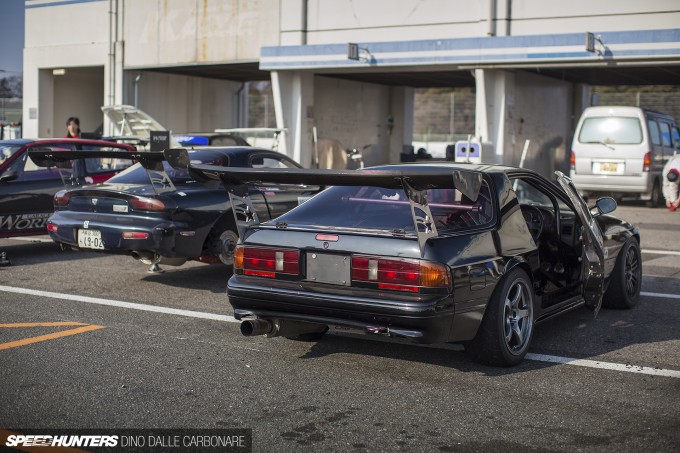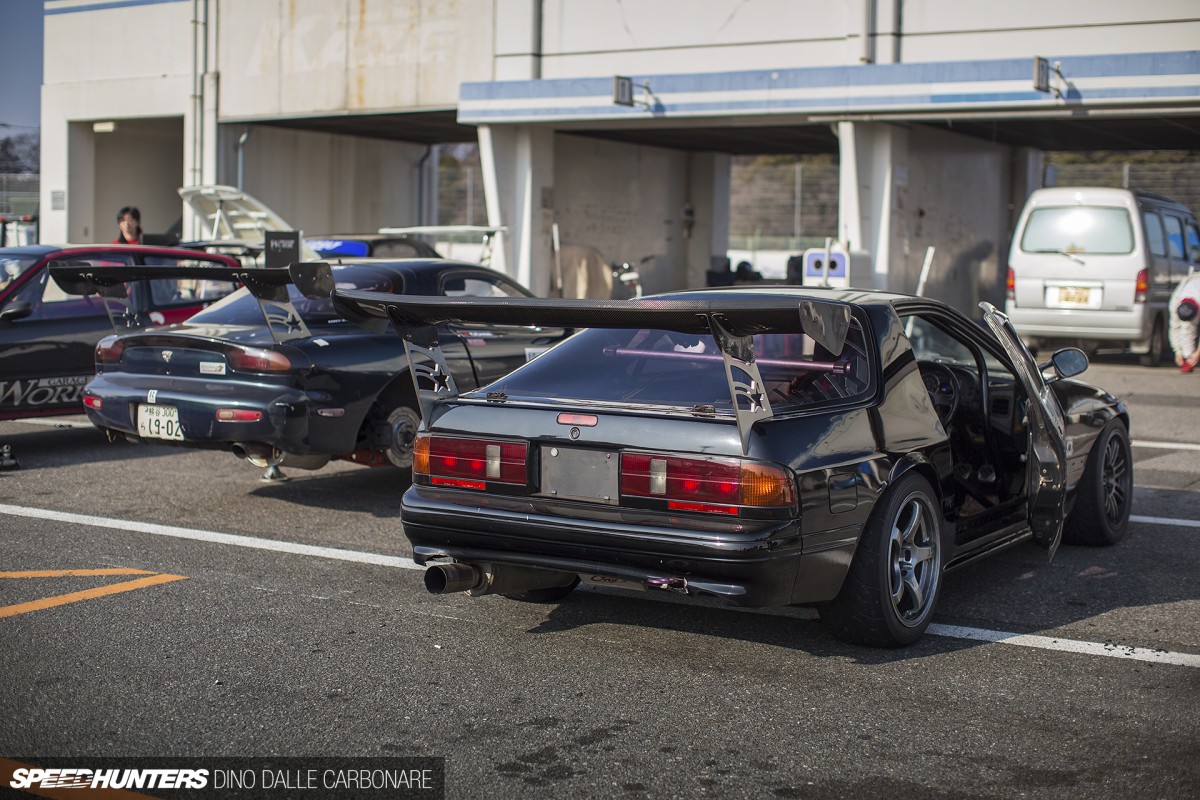 I don't know if it's the Porsche 924/944 looks or the sheer potential of this older version of the RX7 that attracts me so much to it. It's always really done it for me.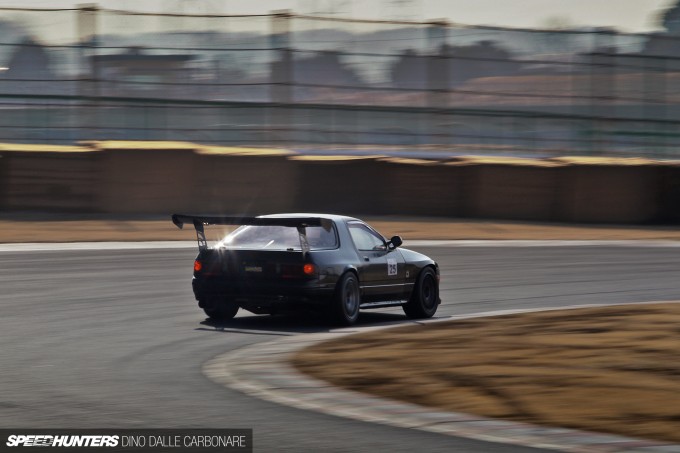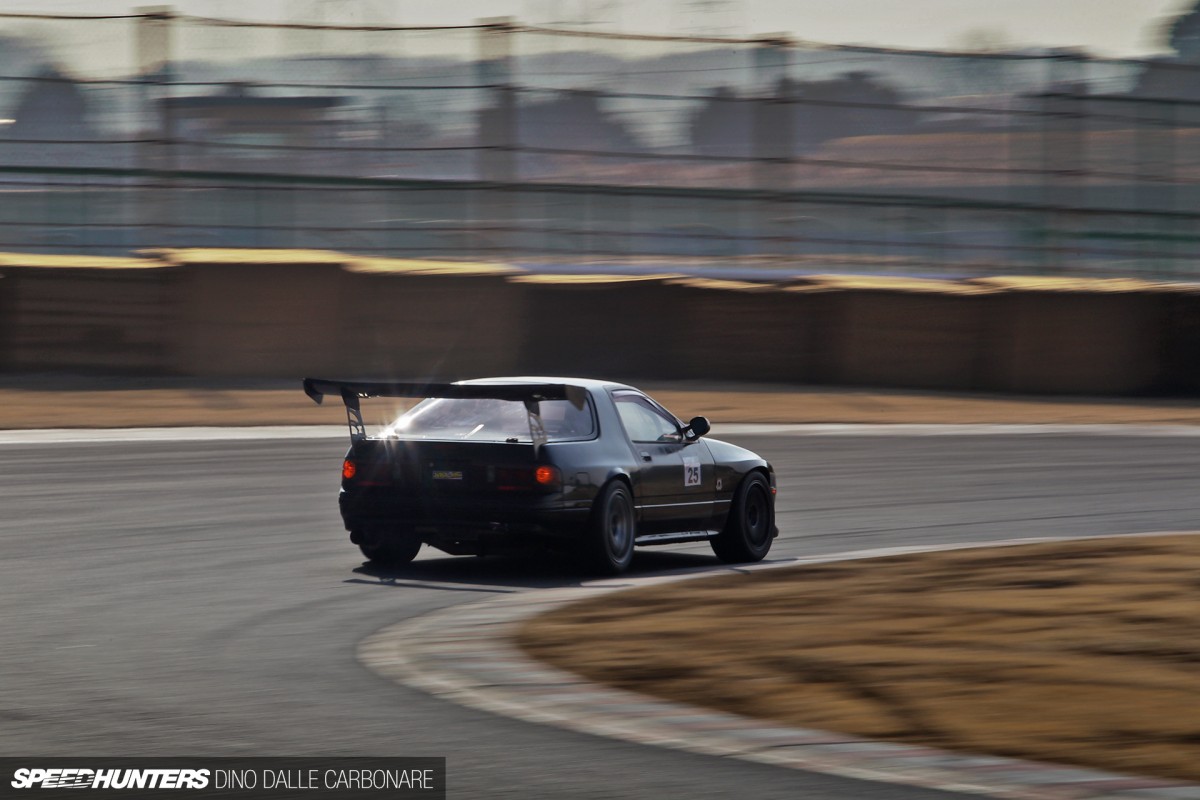 Much like most of the cars present, this was a sub-minute car, second fastest in the second group of cars with a 59.246 sec.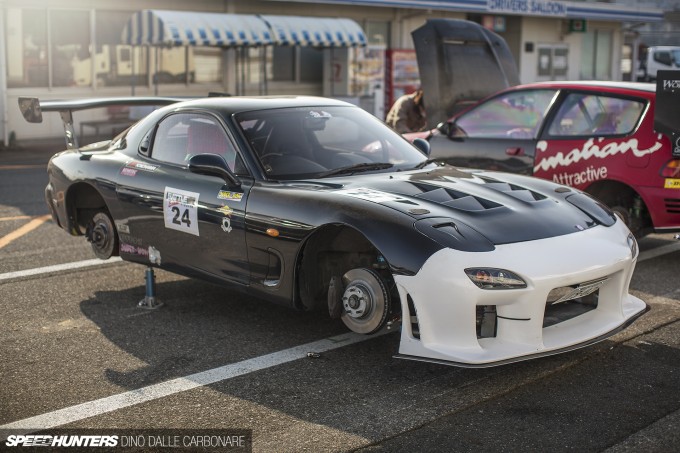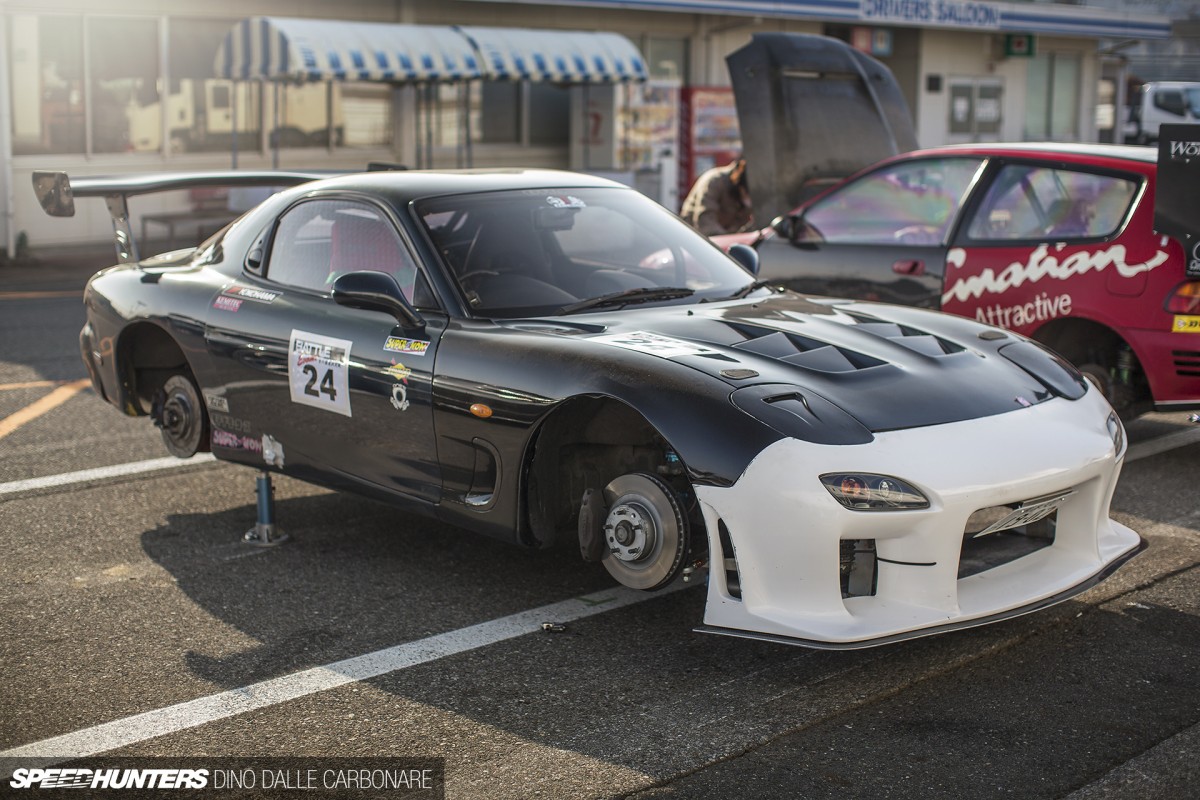 You've gotta love the work in progress look! This white-faced FD was the slowest that day, but I really hate using that word because a 1:01.094 lap is probably faster than most modern day supercars could manage at Tsukuba! And if you look closely, this is another FD that's running the stock calipers.
Honda power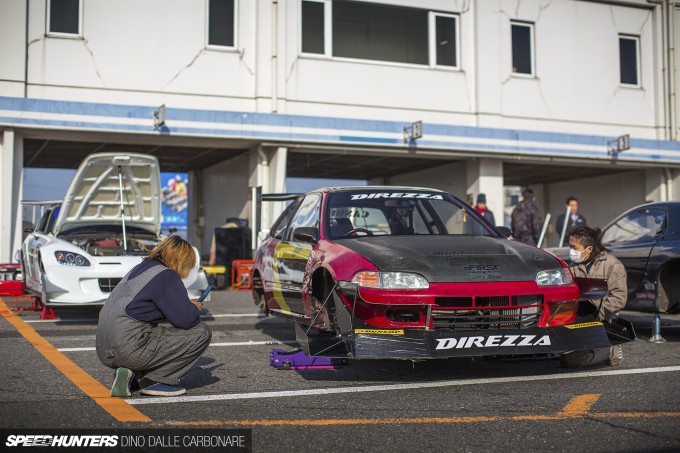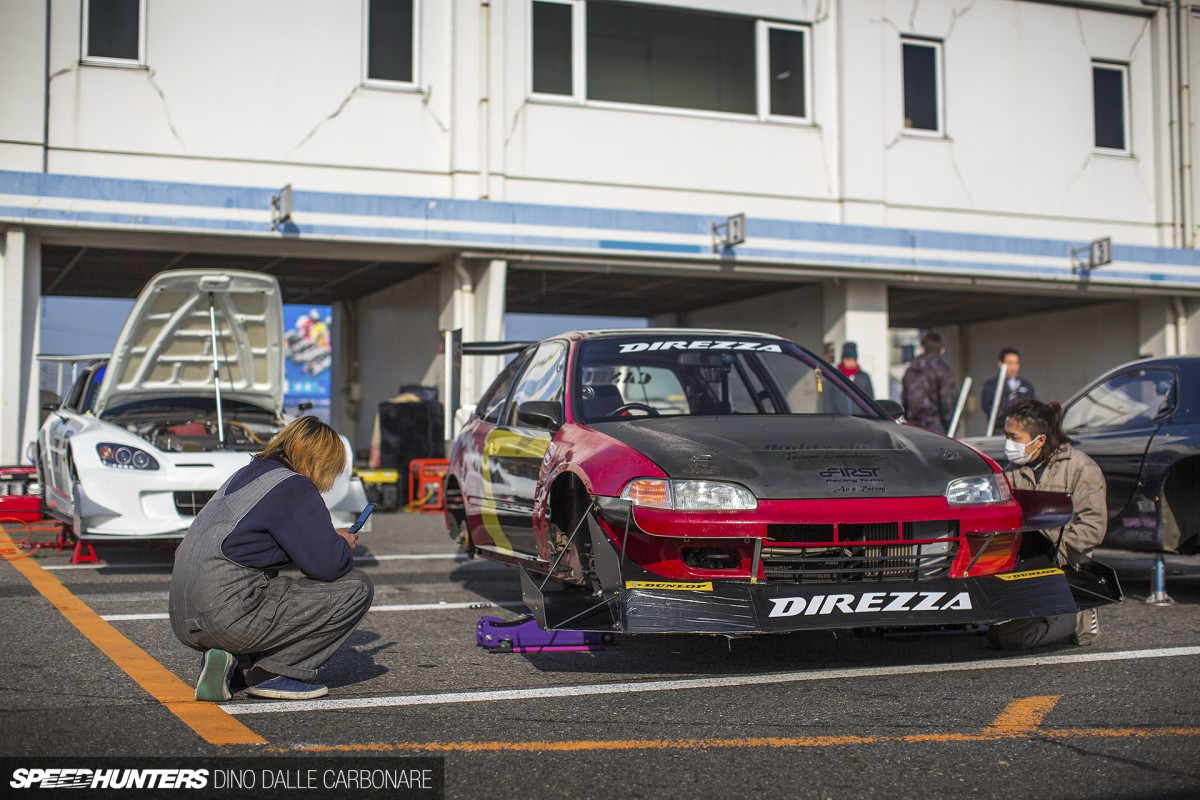 Garage Work from Chiba were back out at Tsukuba but this time showed up with another EG6. If this car doesn't embody the whole grassroots grip scene in Japan, I really don't know what does. These are the kind of cars that remind us that on-track racing really is accessible to anyone and to any car.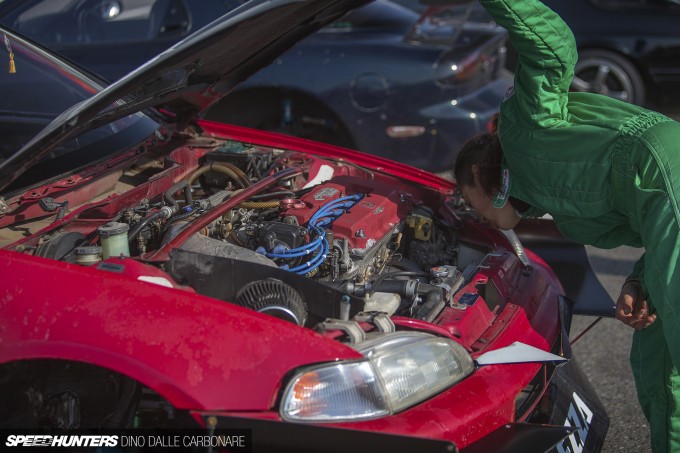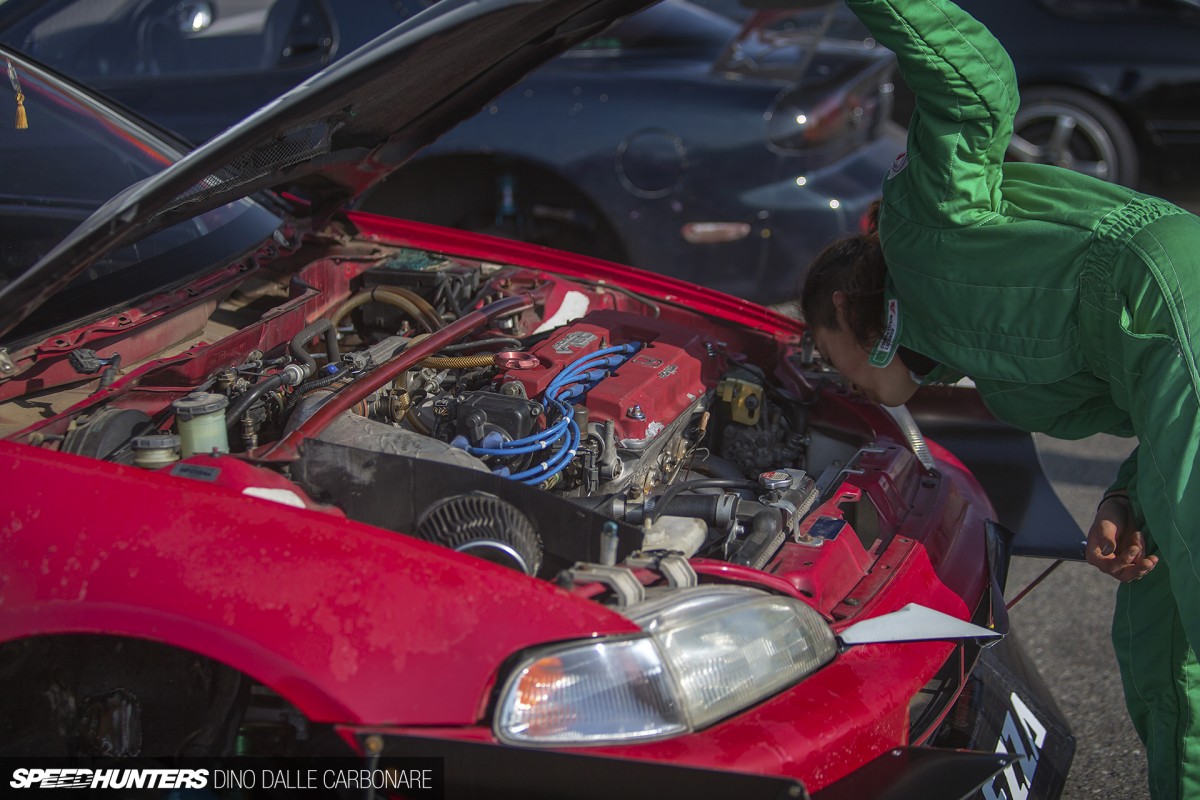 You just have to think outside the box a little and make the most of what you have. So along with a boost in power, it's aerodynamics that everyone continues to experiment a lot with.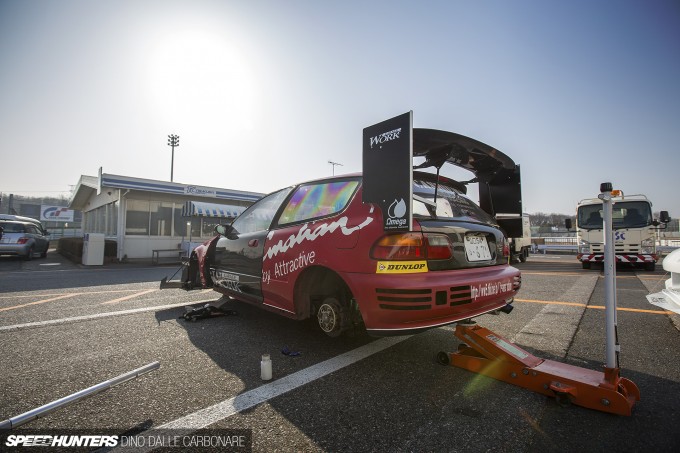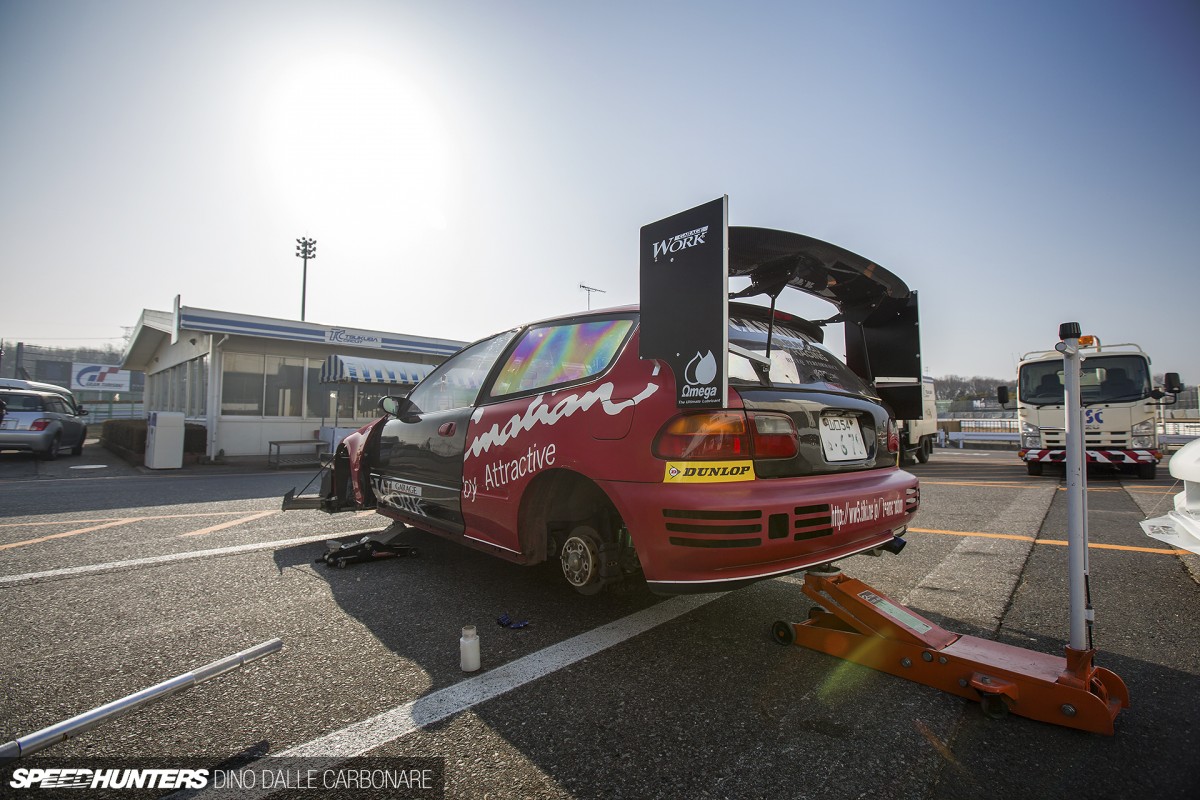 This EG6 was running the obligatory GT-wing, in this case fixed onto the carbon fiber hatch. To cut down on drag, a series of openings have been cut out of the rear bumper.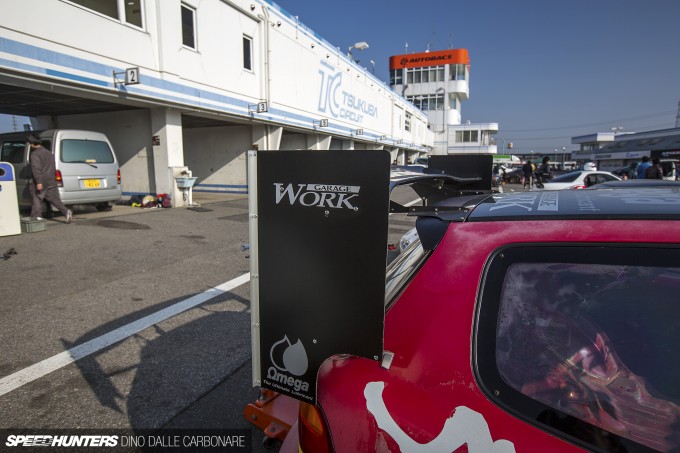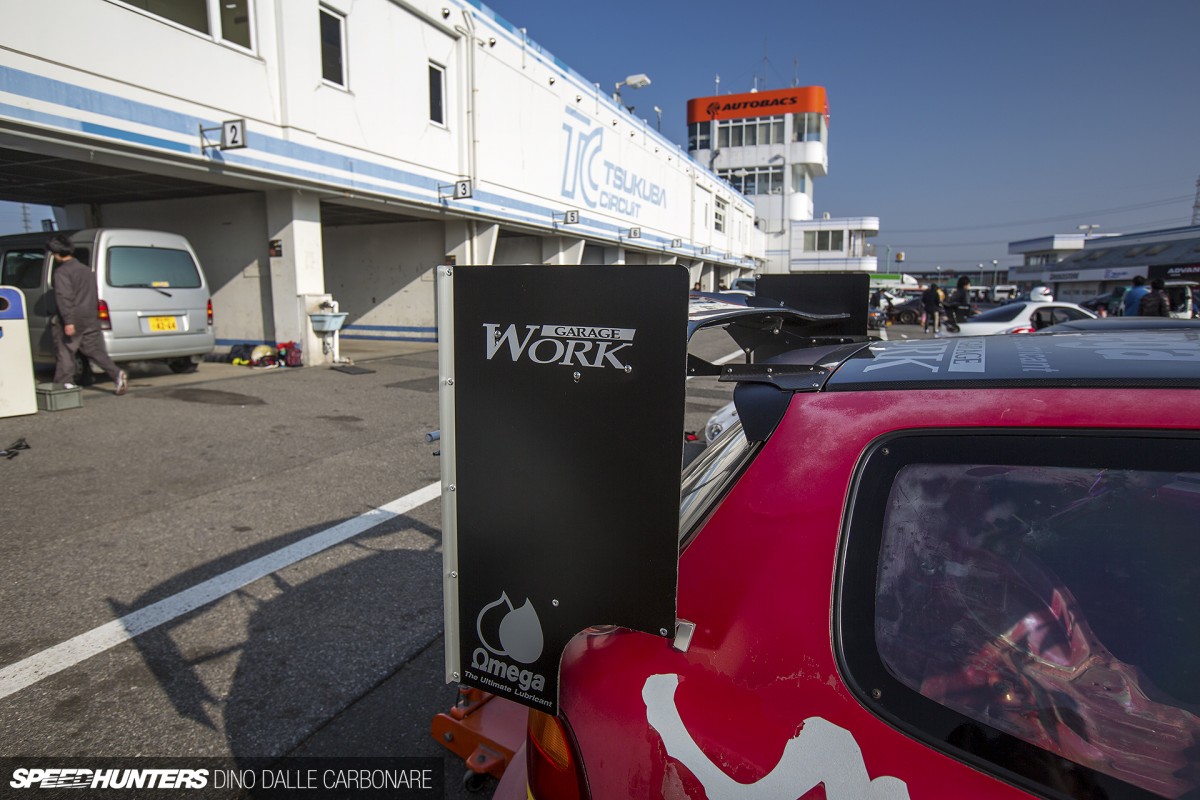 What makes the rear especially interesting are the massive end caps on the wing which extend downwards and are secured to the side of the car with a pair of brackets. Who cares if you can't open the back any more, right? If you look closely there are also aluminium gurney flaps running down them.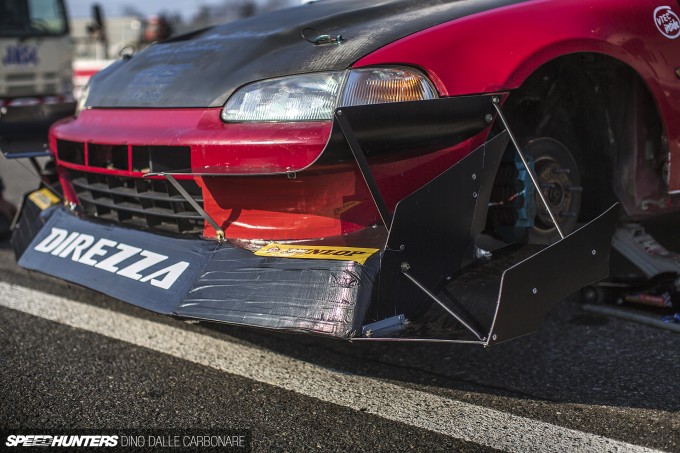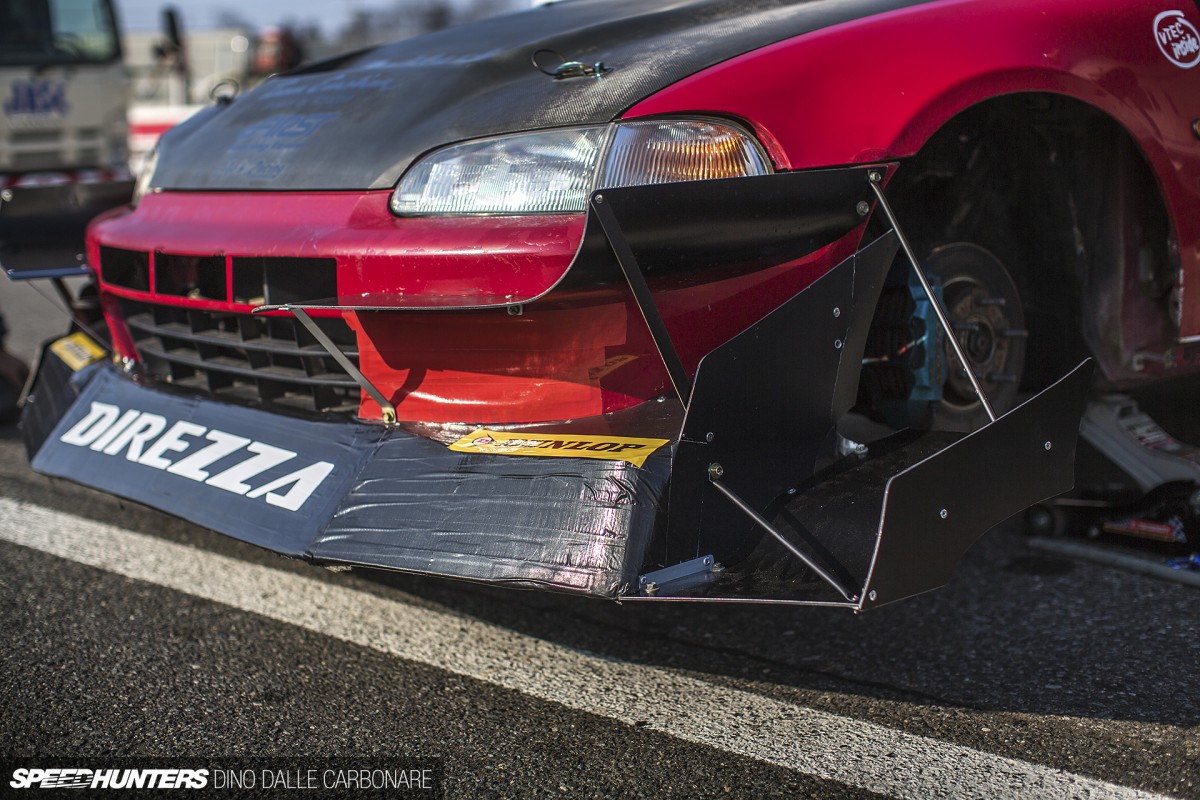 The front treatment may look a little ghetto, but that's the whole cool thing about this scene – the continuous experimentation that people do: they come up with ideas, make them a reality and test them out on the field. It doesn't really matter how you get there; the important thing is to try.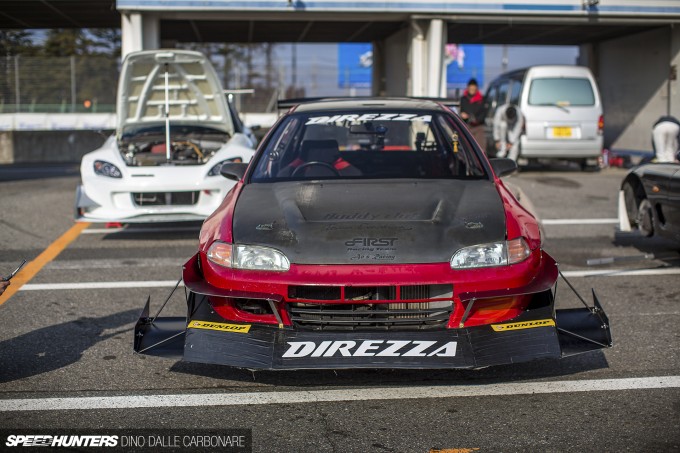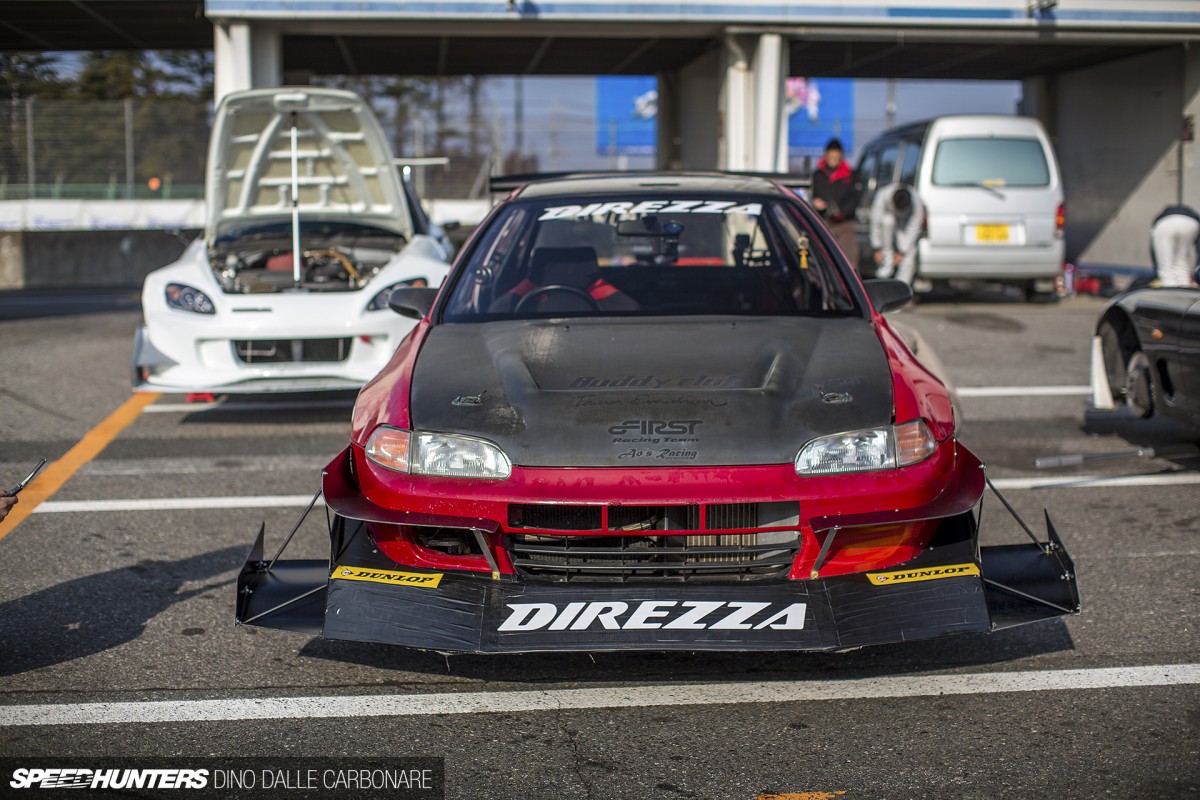 It certainly gives the Civic quite the bump in aggression!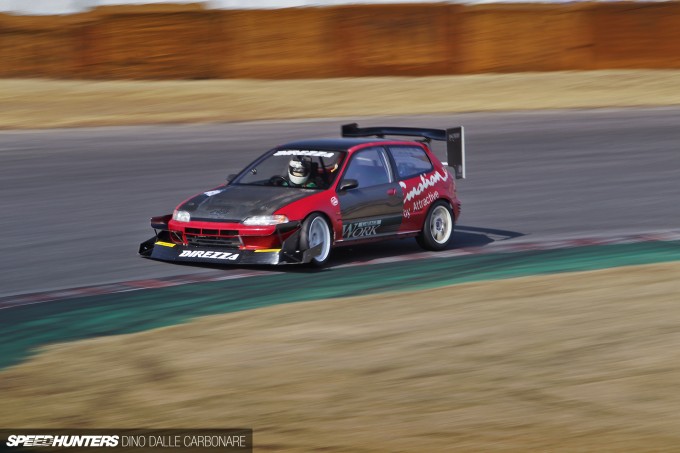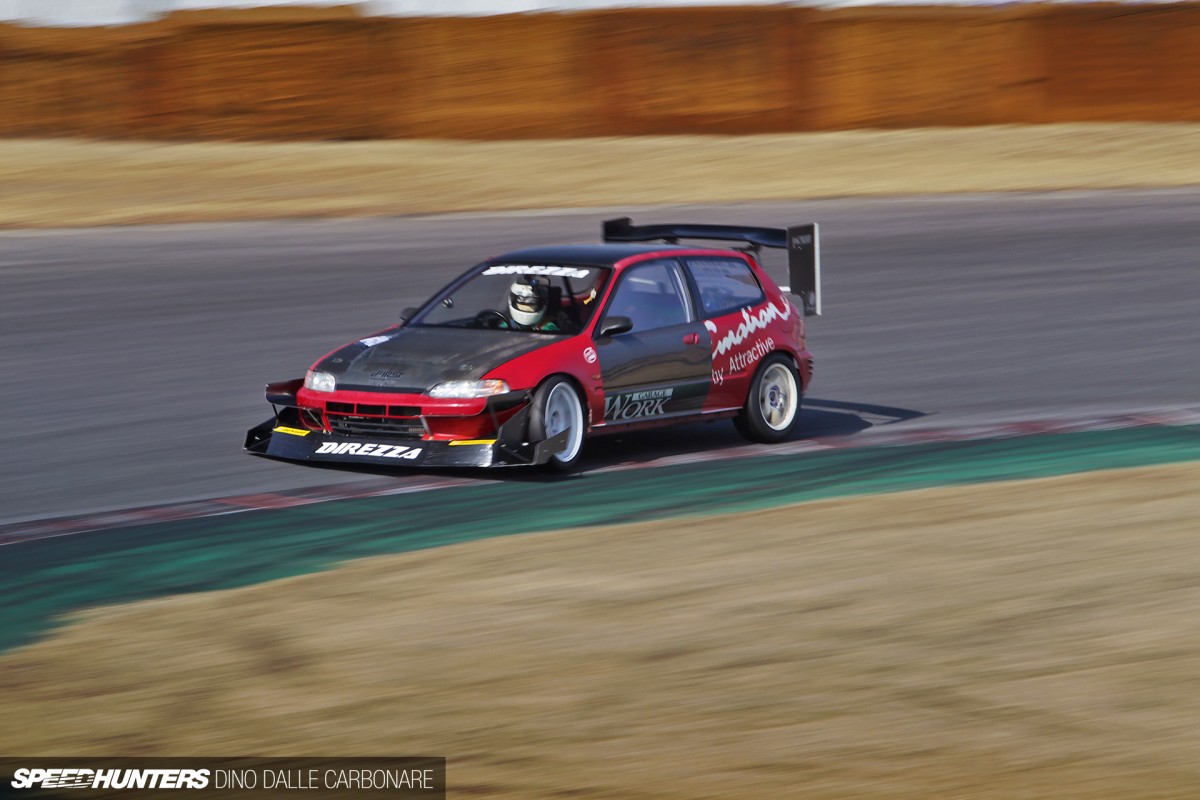 It didn't quite crack the 1-minute barrier but the 1:00.733 is a damn good time to start working from. I can't wait to see if these guys manage to improve on it – after all, they've already created a 58-sec EG6!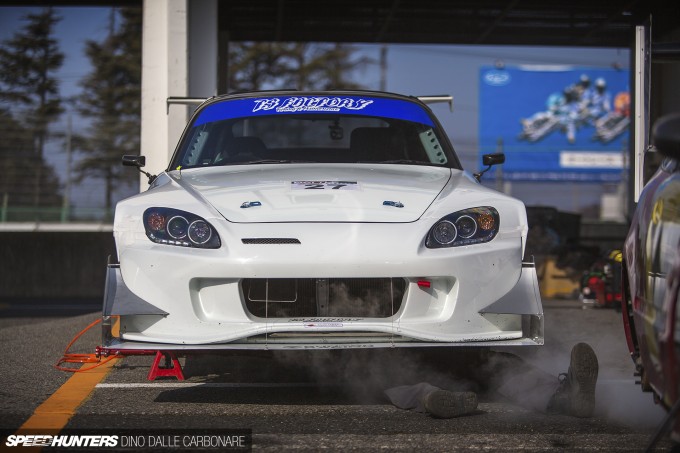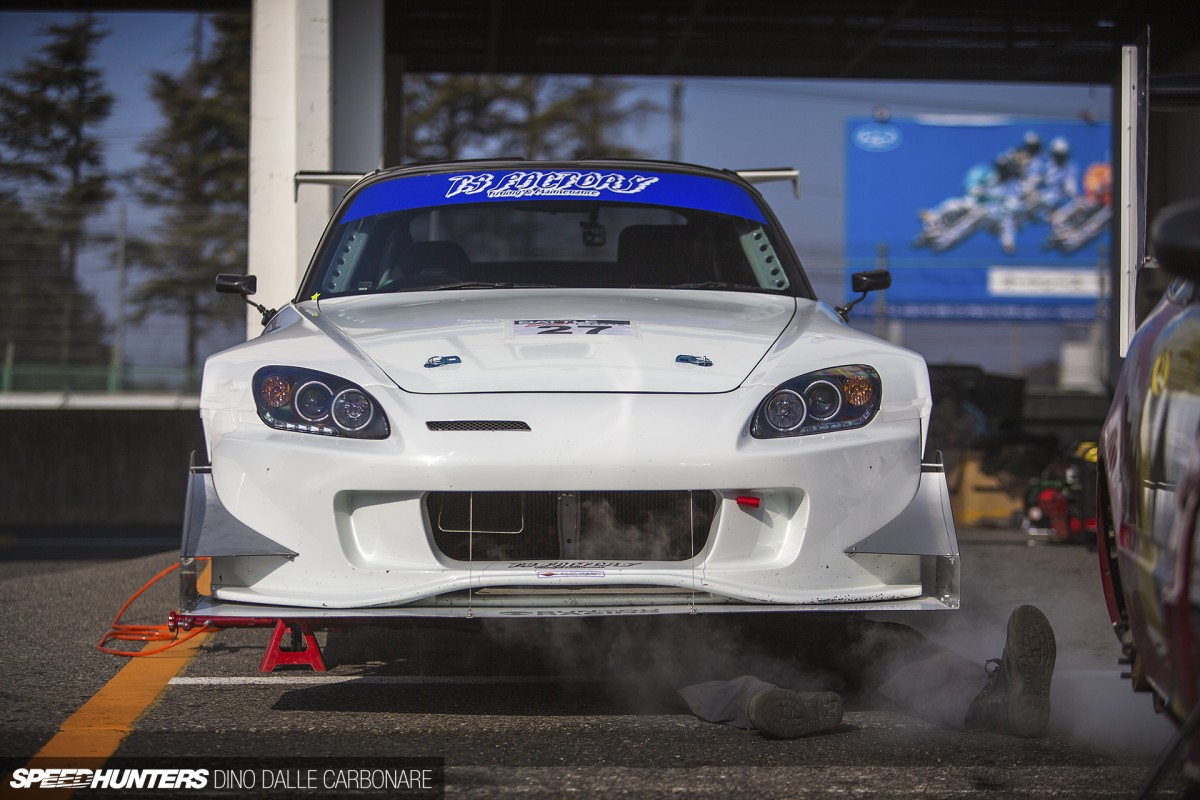 Right behind it was this serious-looking S2000 – and yes that's a guy under there getting fumigated from the fumes the still-cold EG6 is pouring out.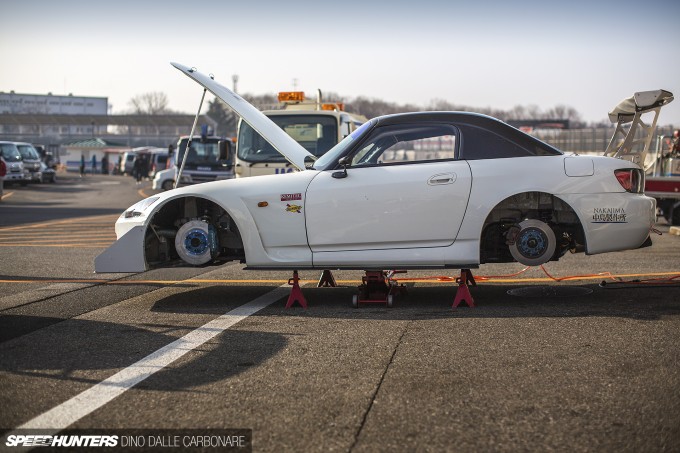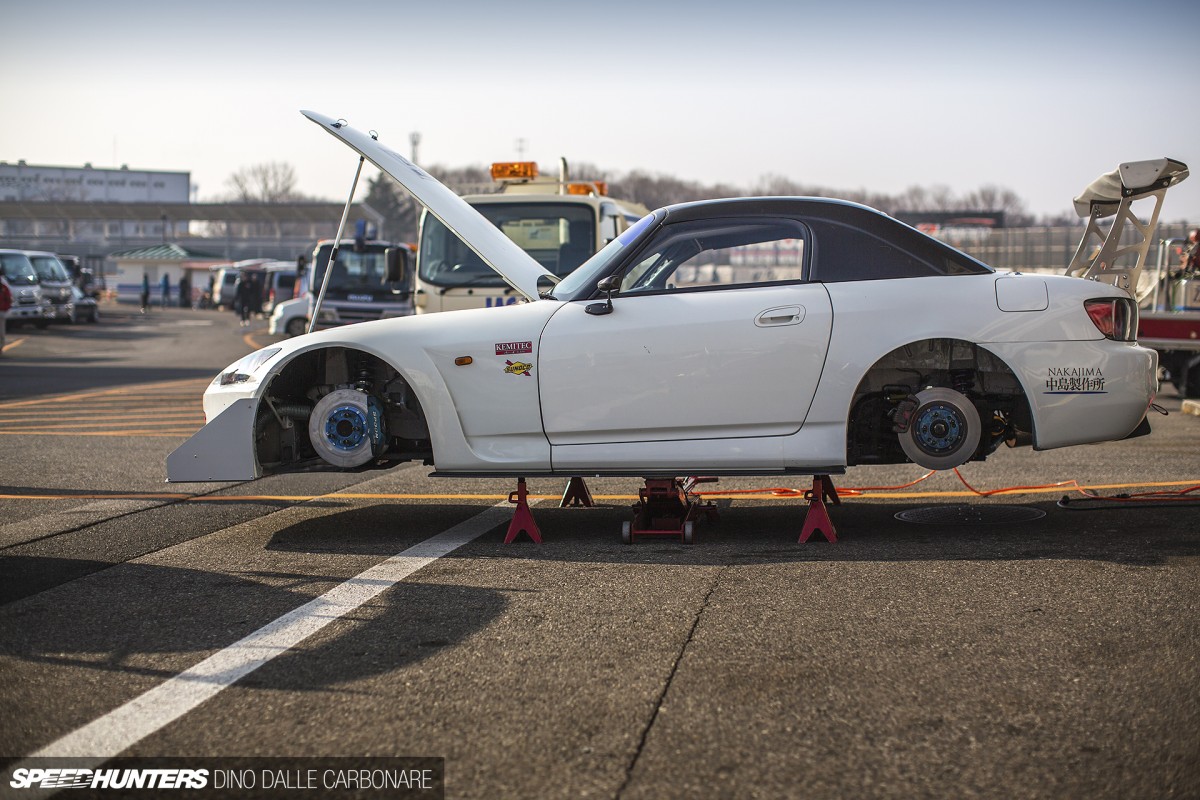 It ticked all the boxes with plenty of exterior additions to make its passage through the air more effective: bumper, fenders, front lip, splitter and canard section and of course the wing. Spoon brakes up front, like on the red Civic, are there to help it shed speed off quickly and efficiently without fade.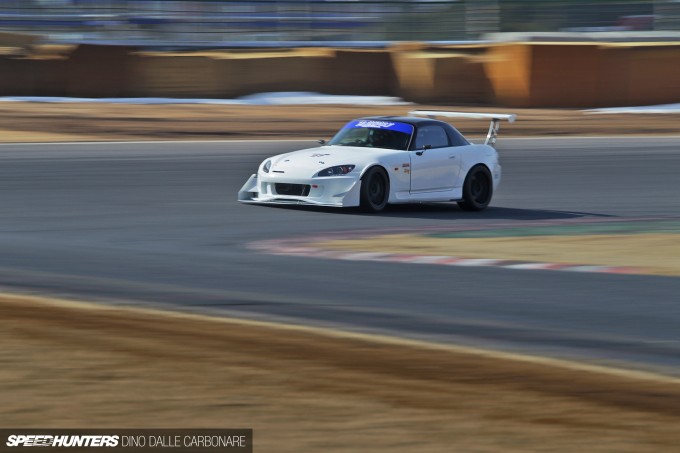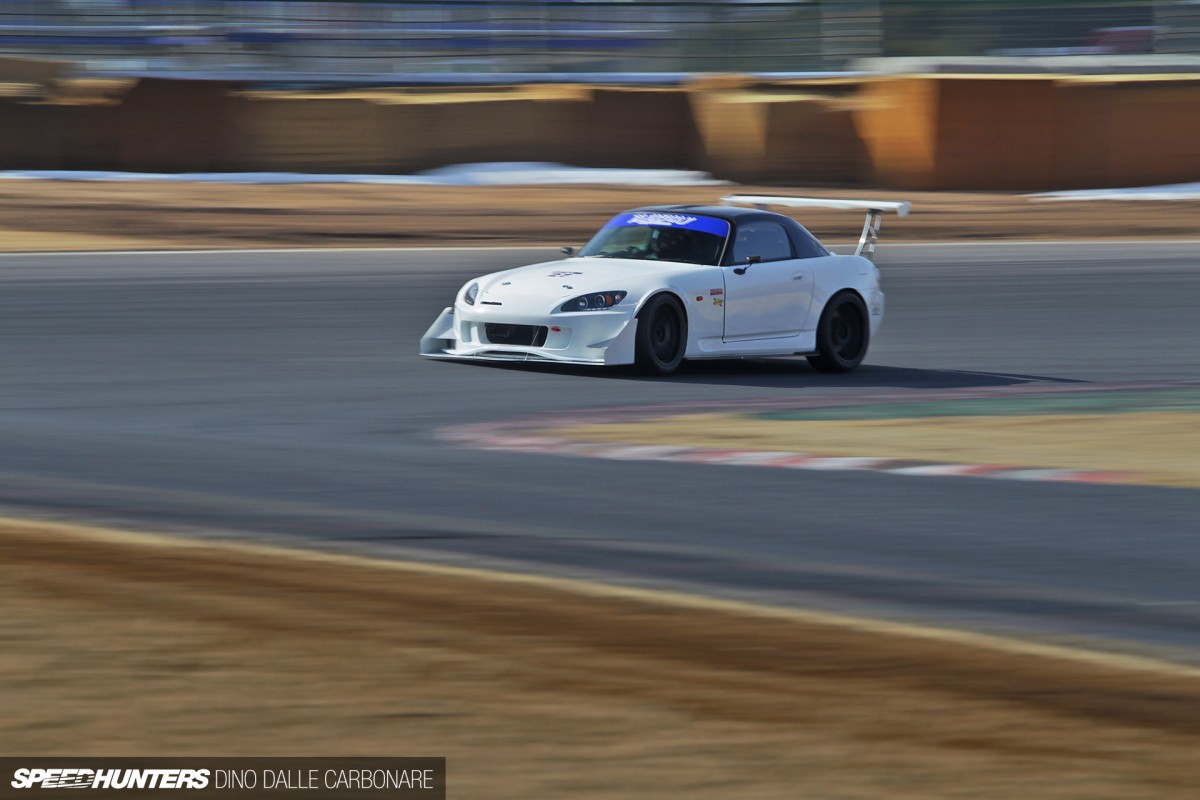 Despite a pretty stock-looking engine bay, the car continued to edge close to the 1-min flat benchmark, each lap the time improving. Its best of the day was 1:00.314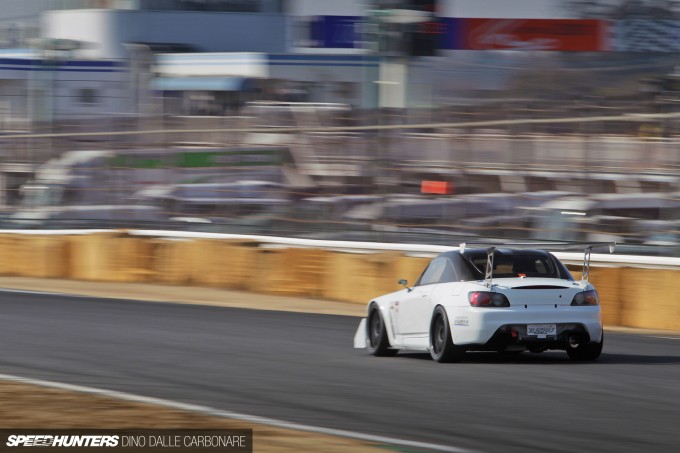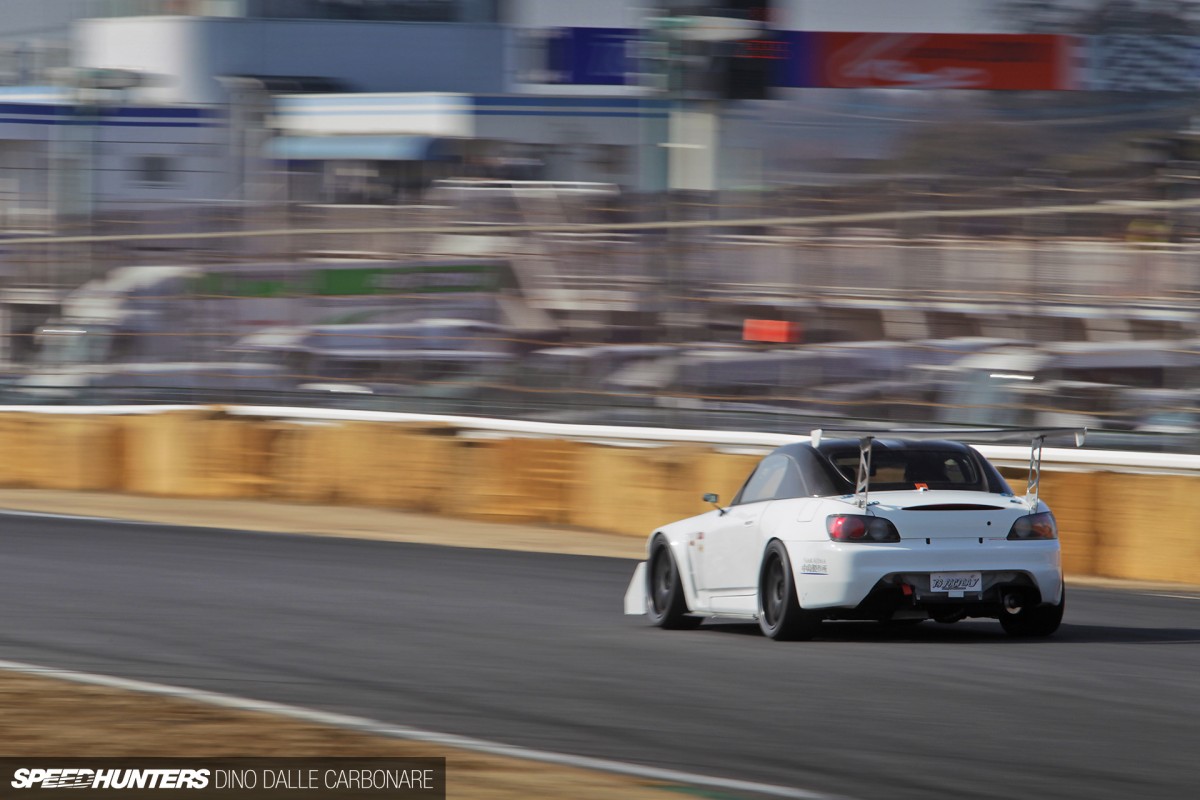 It looked like a ton of fun to throw around with impressive front end bite and turn-in, even through the slower corners and plenty of adjustability from the rear end when exiting on power.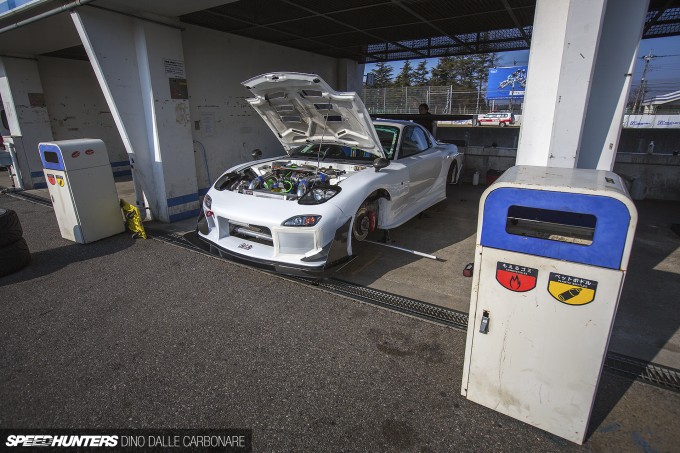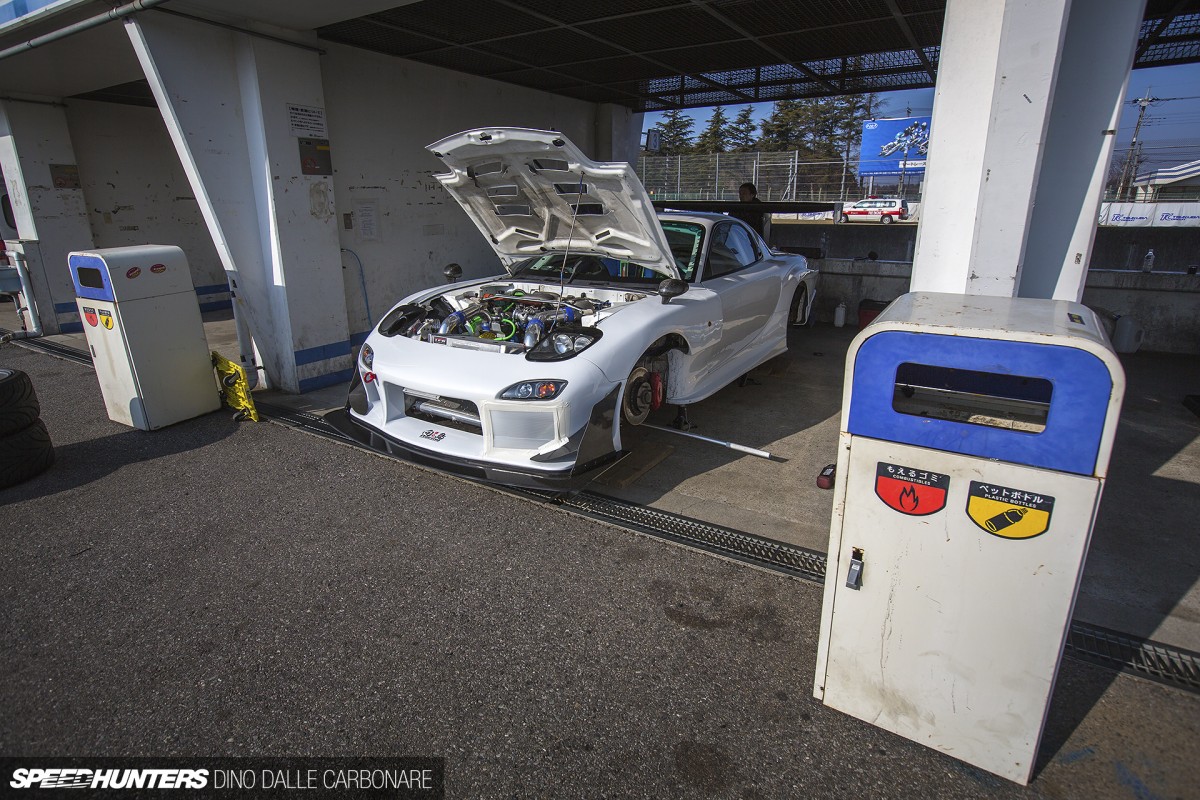 A few garages down, the Top Fuel-tuned Tatsukuro RX7 was back for more. I knew it was edging closer to a 58-sec lap at Round 2 in January so I was really keeping my eye on it. Thankfully I managed to walk past it while its bonnet was open.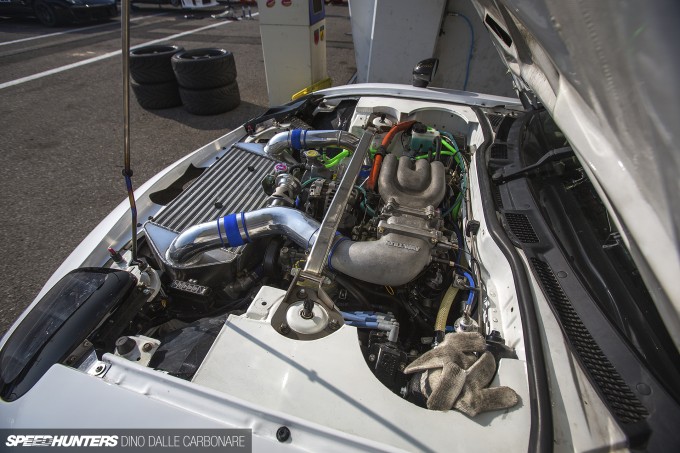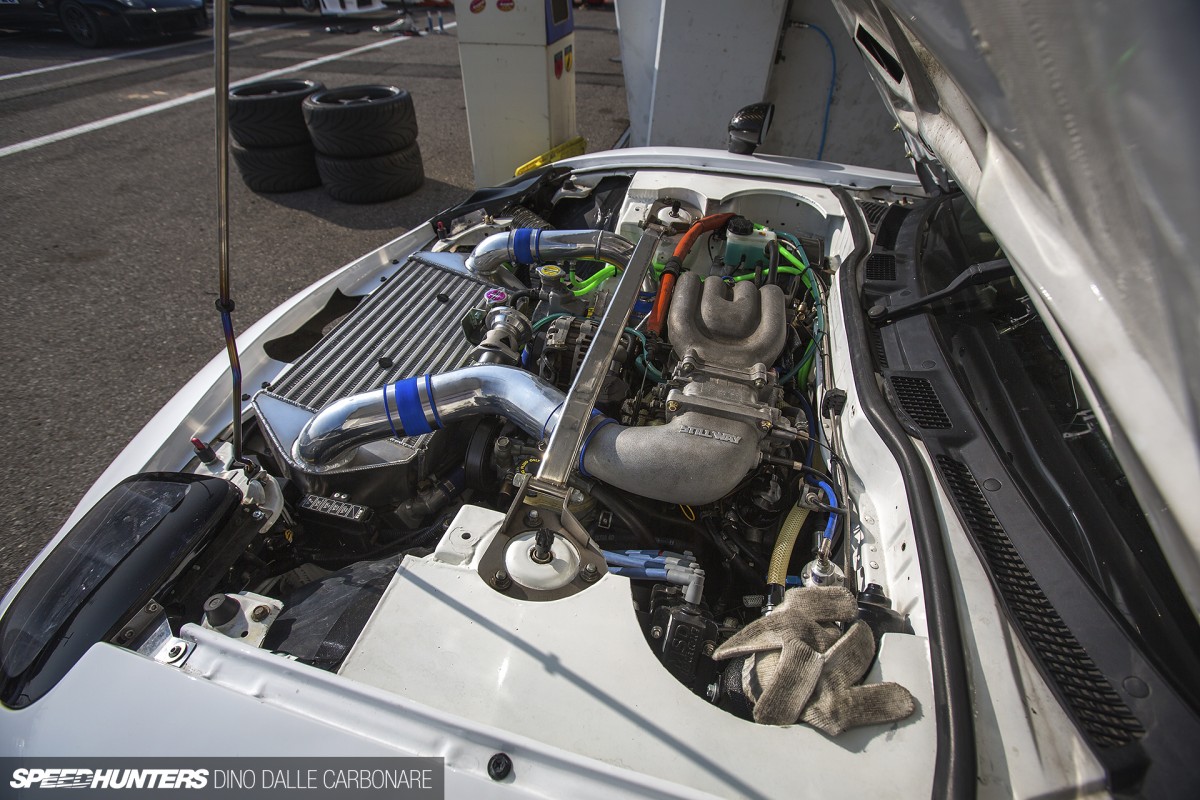 It's always interesting to see the little differences in tuning each owner or shop goes for and what I noticed straight away was that this 13B was running a Stillway intake elbow which you just don't see that often. Like the Feed or other branded items, the idea there is to not only increase the overall volume of the chamber, but also create a smoother flow towards the throttle.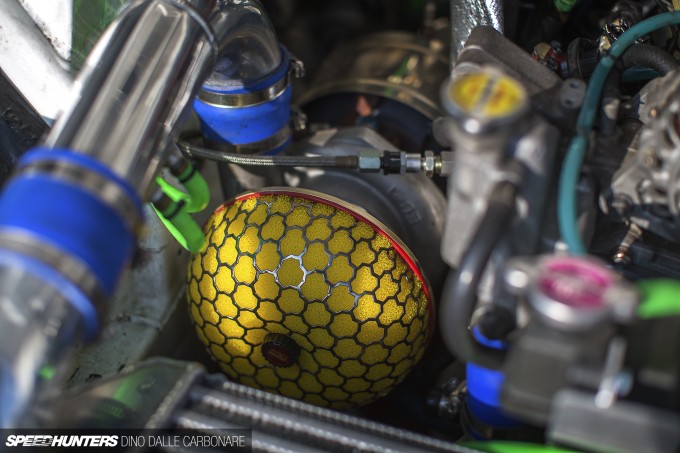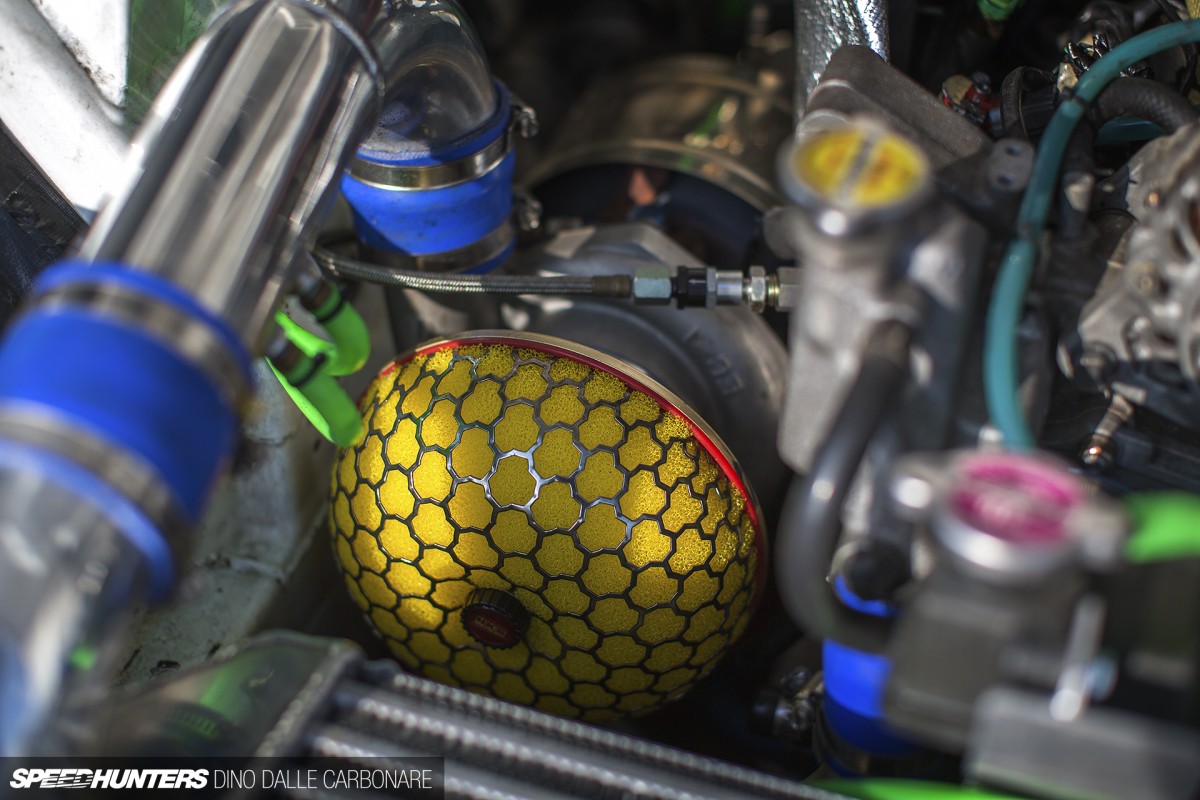 Boost is supplied by a mid-sized Trust T67 and cooled via a nicely laid-out V-mounted intercooler to help keep piping at its shortest. Like a lot of guys that day, the times didn't improve. 59.348 sec was what it managed, so just a little slower than the 59.210 sec from last time.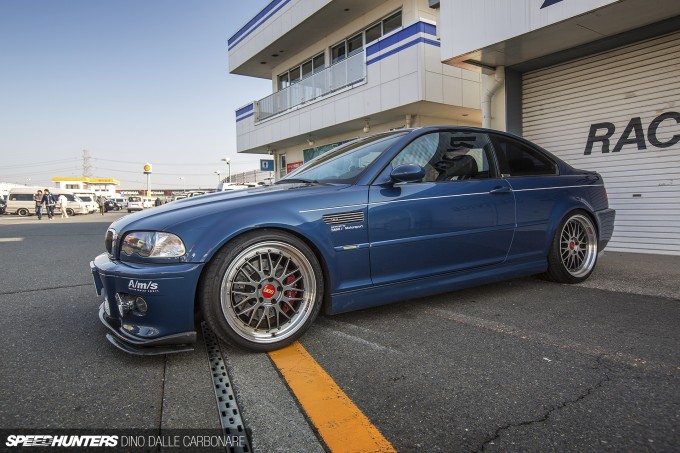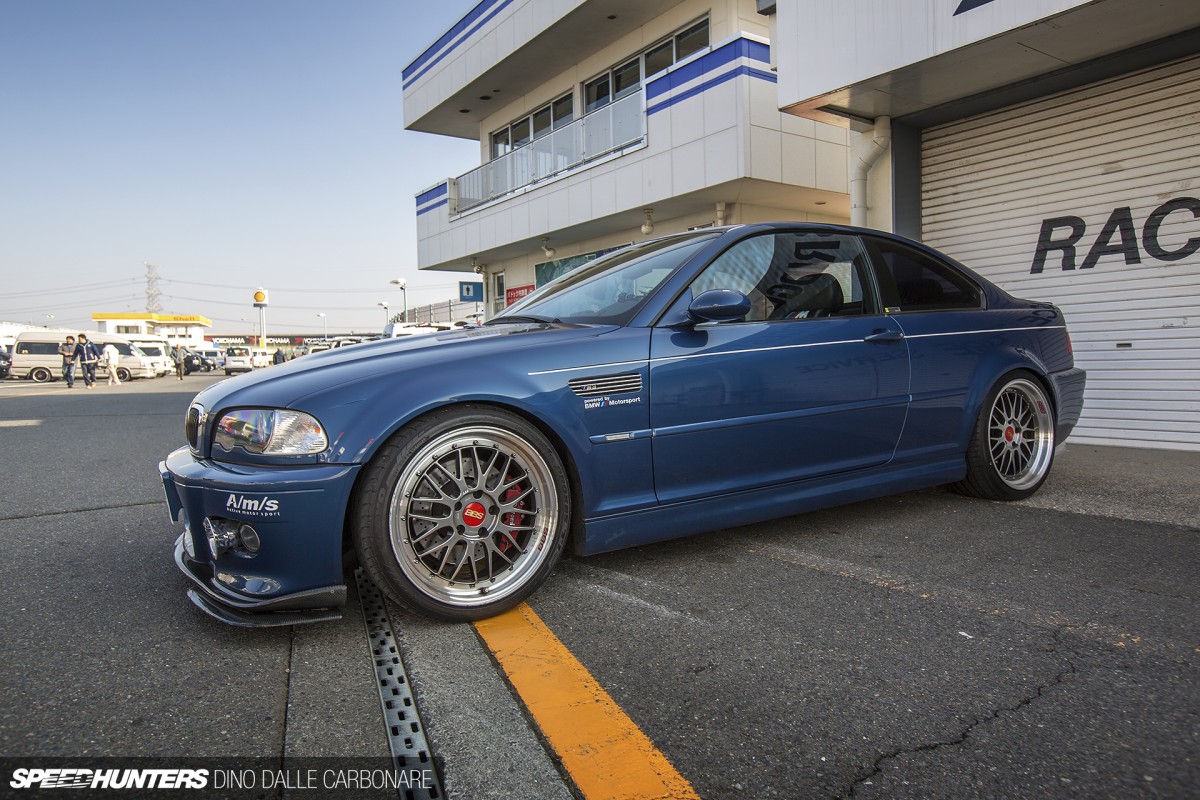 This nice E46 M3 wasn't actually participating in the Evome soukoukai but I've noticed the car parked at Tsukuba every time the event is on, so this time round I just had to show you guys at least one shot. BBS x M3 is a match made in heaven!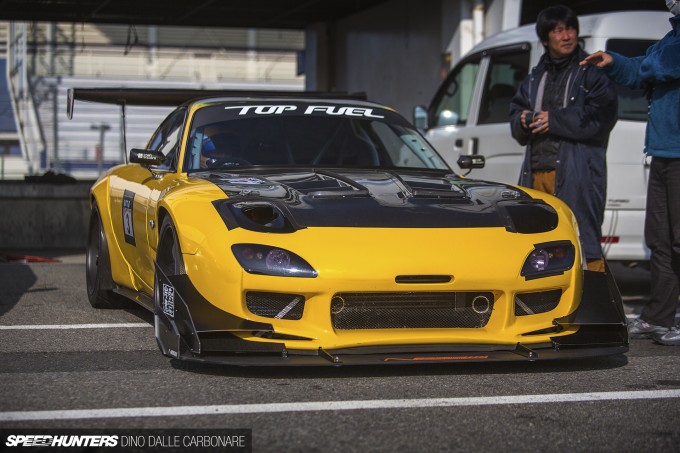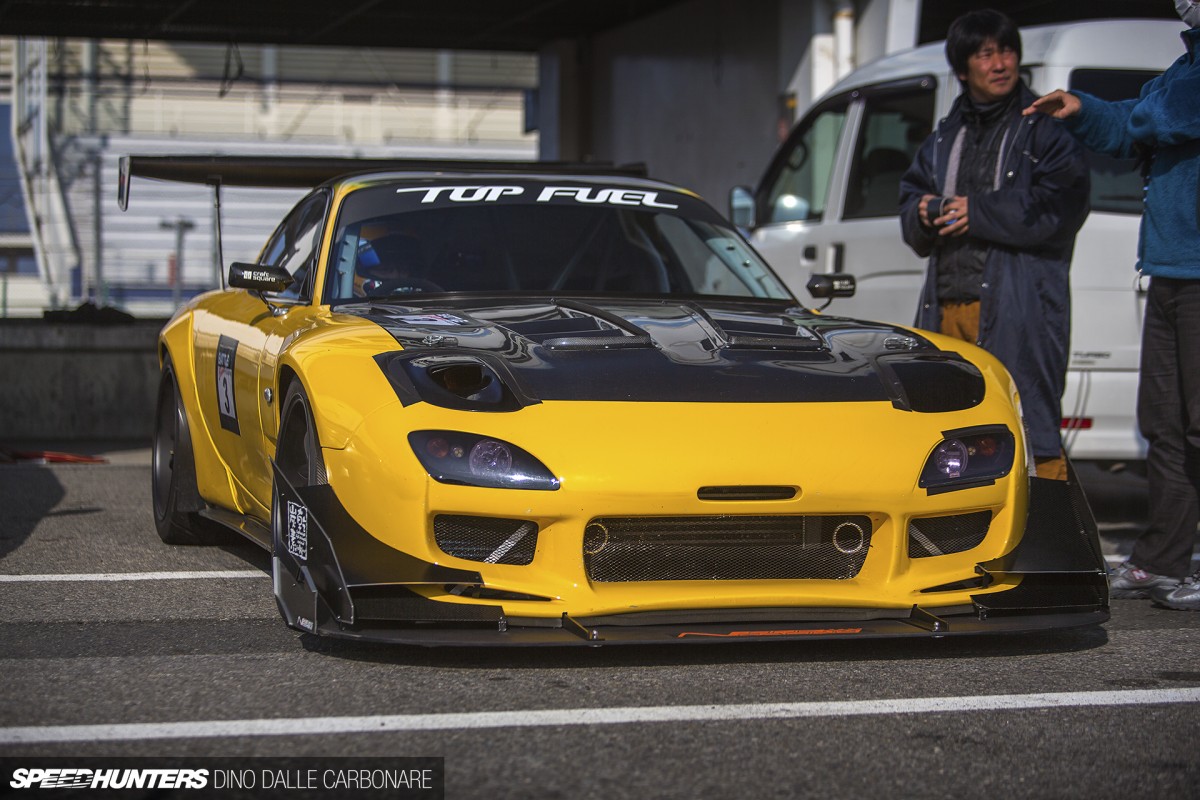 The Top Fuel Racing yellow FD was not having the best of times either, more than one second off the lap it set in Round 2. 57.505 was all it could manage – maybe another hint that the weather is just getting too warm for optimal Tsukuba time attacking! A lot of people say that Tsukuba is a unique circuit when it comes to temps: the lower they are, the better!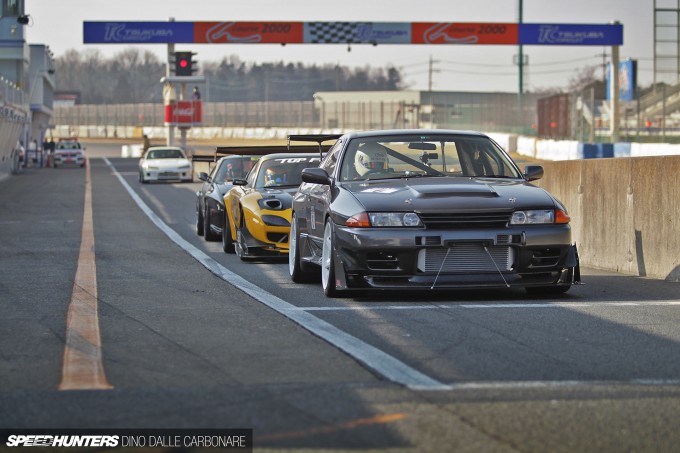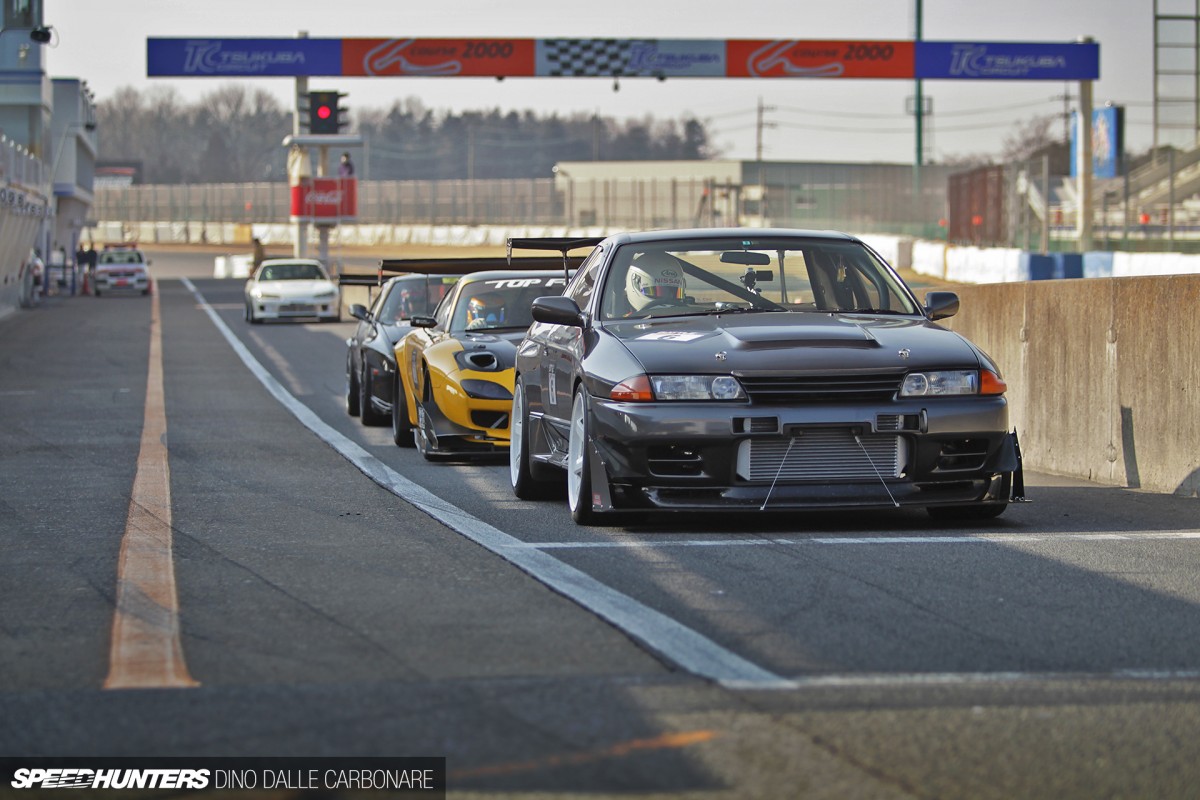 Still, it doesn't matter if the fastest laps aren't set every time, just attending this spectacle is as satisfying for the casual onlooker as it is for the drivers themselves. As I stood there shooting, enjoying the sounds and smells of properly thrashed cars – that concoction of race fuel, mixed with hot exhaust gasses and the odd puff of tyre smoke – well, let's just say there's nothing quite like it.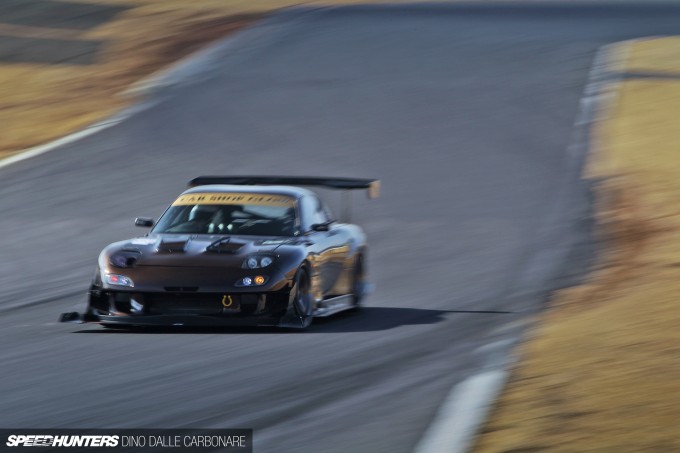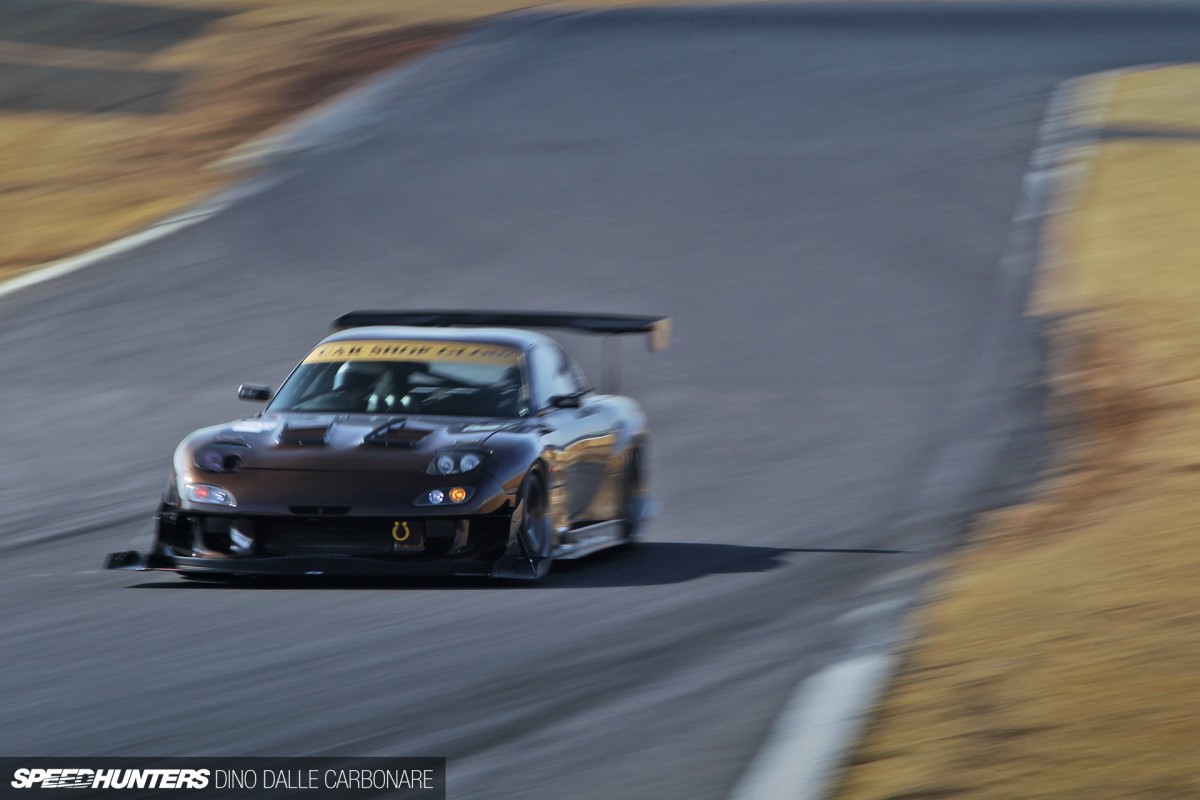 All I could think about was getting my car finished and taking it to a track day myself!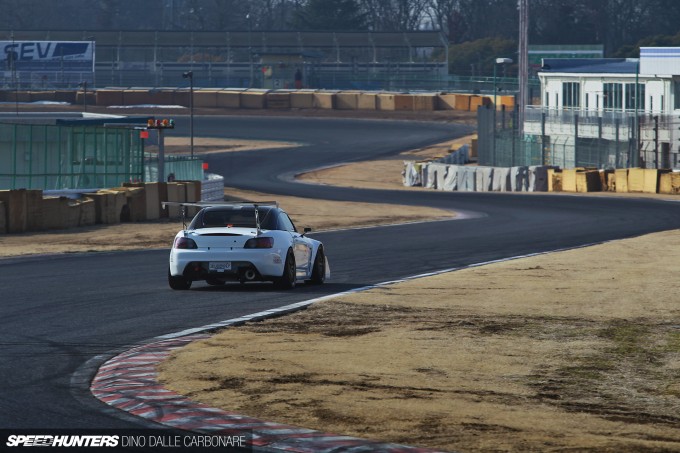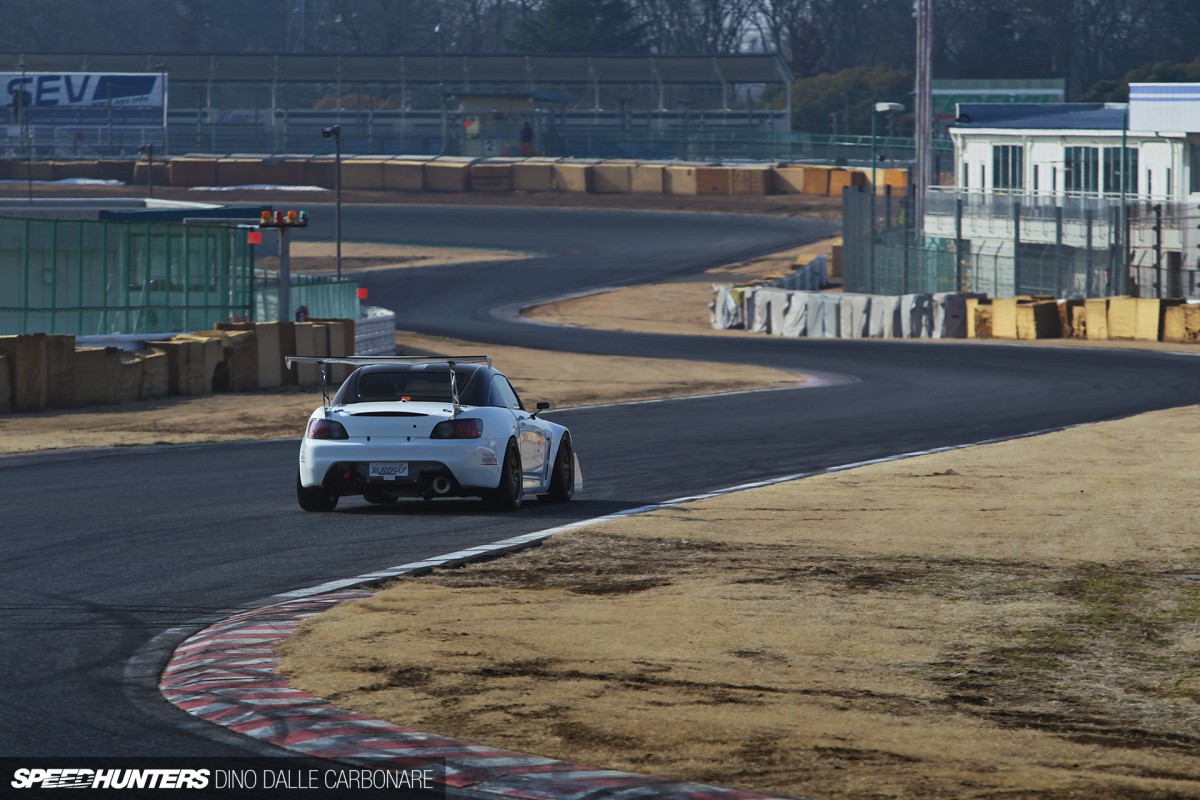 That's the essence of grassroots right there if you ask me: that tangible feel of it all, the 'I could do that too' thought that continuously runs through your head! It doesn't matter if an event has 10 or 100 cars, it doesn't matter if records are or aren't broken, just being there and taking it all in is more than enough for any enthusiast! Battle Evome, we will miss you. 2015 can't come soon enough!
Dino Dalle Carbonare
Instagram: speedhunters_dino
dino@speedhunters.com