Time attack mode engaged
Short, but to the point. That's probably the best way I can describe the Battle Evome series. Like the drivers and cars that participate in it, these series of soukoukai events couldn't possibly be more focused. They're only held in January and February because the best possible time to extract a fast time from a car at Tsukuba is during these two months: the coldest of the year. The best time to do this is very early in the morning so the session only runs for one hour, from 9am to 10am. Drivers flock into the Tsukuba paddock in complete darkness and begin the process of getting their cars ready. They only have a few chances to unleash the full potential of their often home-built machines, and making sure everything works as it should is half of the job.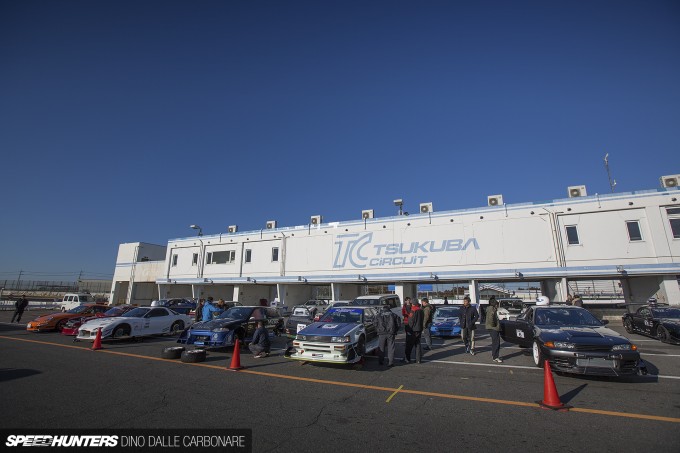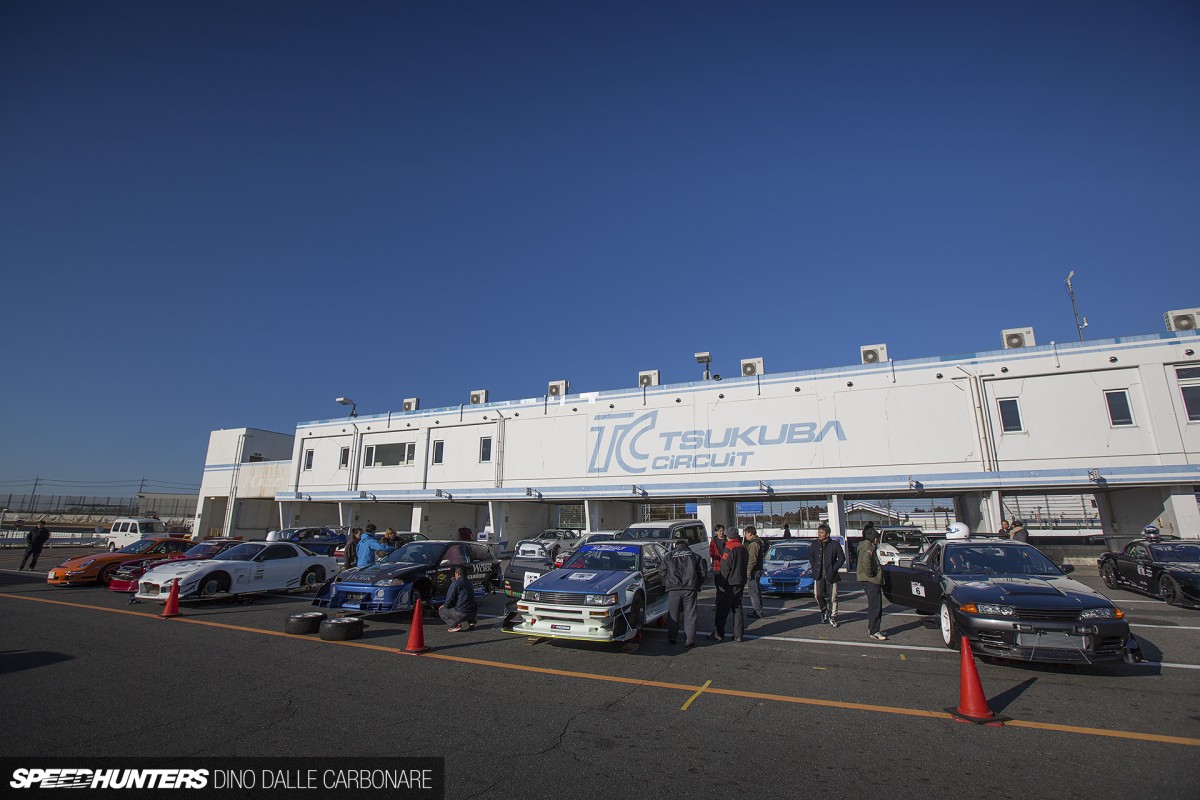 There are only four Battle Evome sessions and as ever, I always try to make one each month. For 2014 the organizers have decided to move the event to Wednesdays, rather than Sundays, and while the turnout was a little on the light side this time, as ever it was all about quality.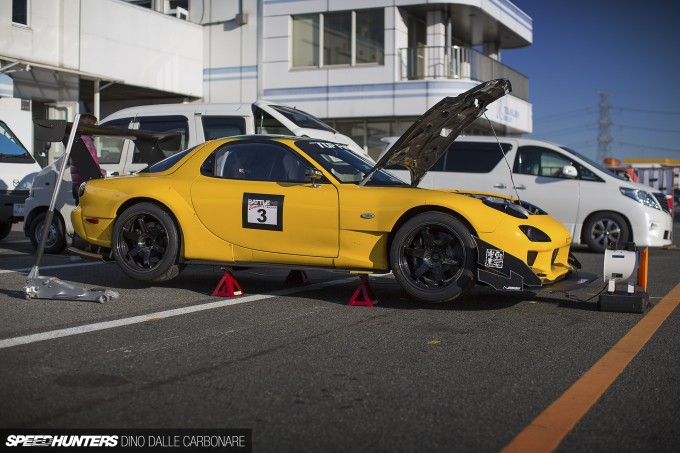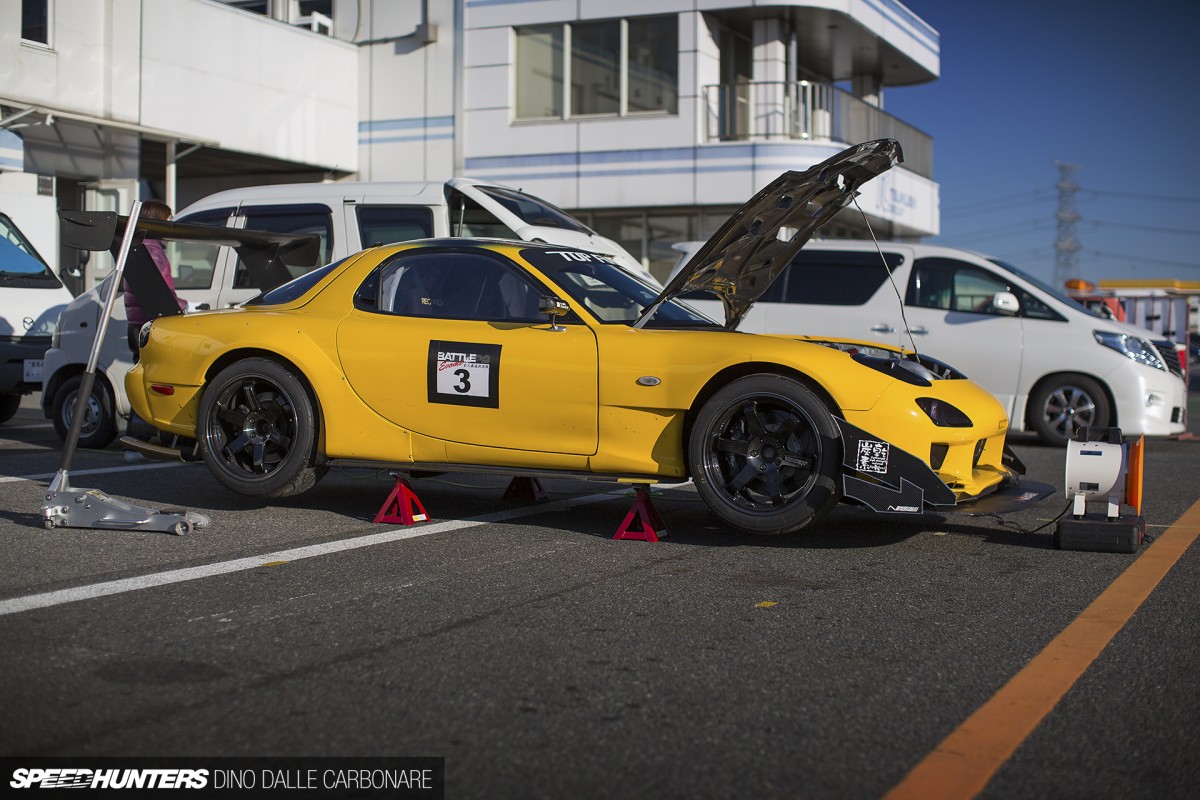 It was great seeing familiar cars like this yellow Top Fuel-prepped FD3S, but more specifically checking out if any changes or upgrades have been made in the year we haven't seen them.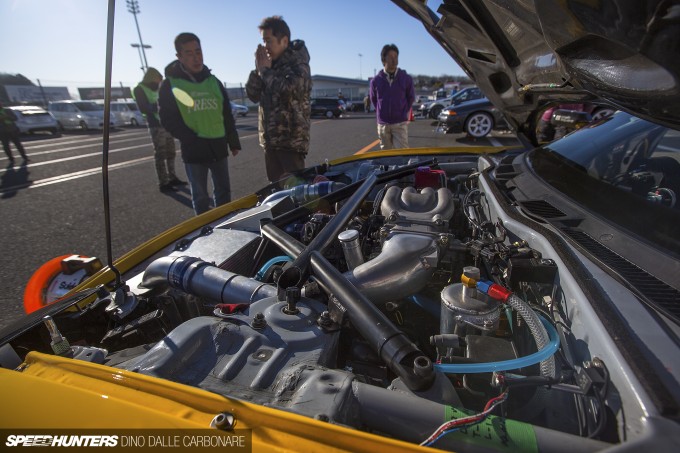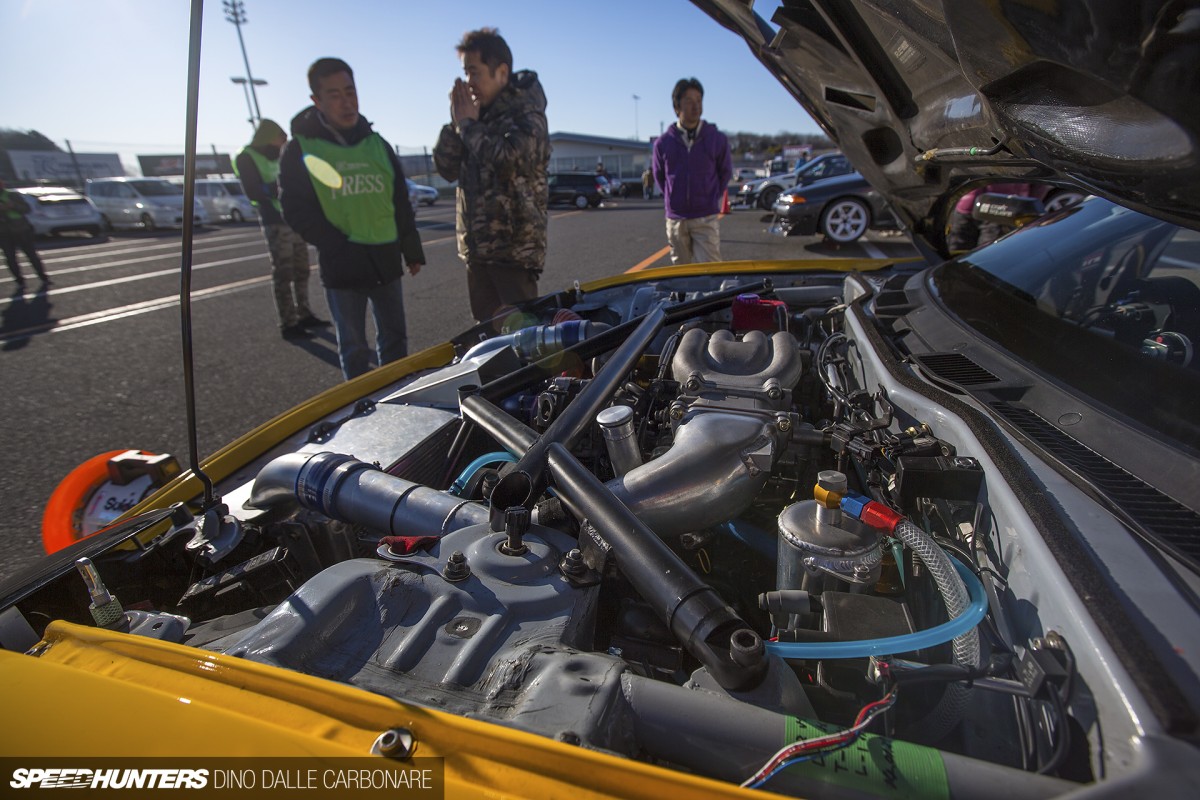 What caught my eye on this particular RX-7 was the rather beefy strut tower bar which connects the suspension turrets on two points but also extended onto the pipe frame that has been cut and welded between the firewall and turrets. It then triangulates to a single point where it attaches to additional bars that connect to the front subframe. Under the hood it's business all the way; nothing is for show so you won't find meticulously polished piping and miscellaneous gear, just to-the-point upgrades like a big capacity intake elbow and an even bigger single turbo conversion.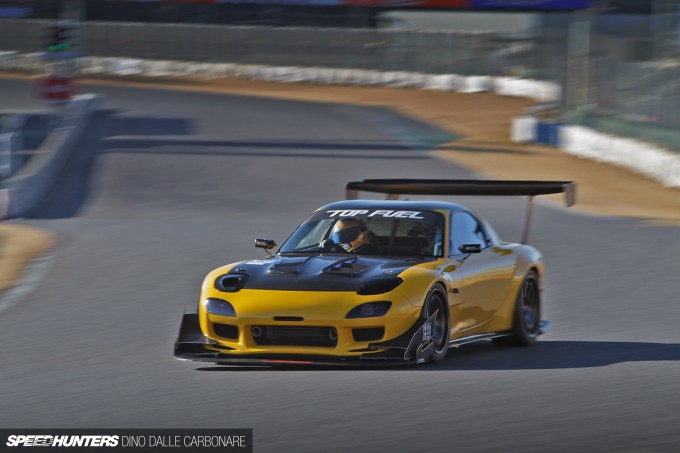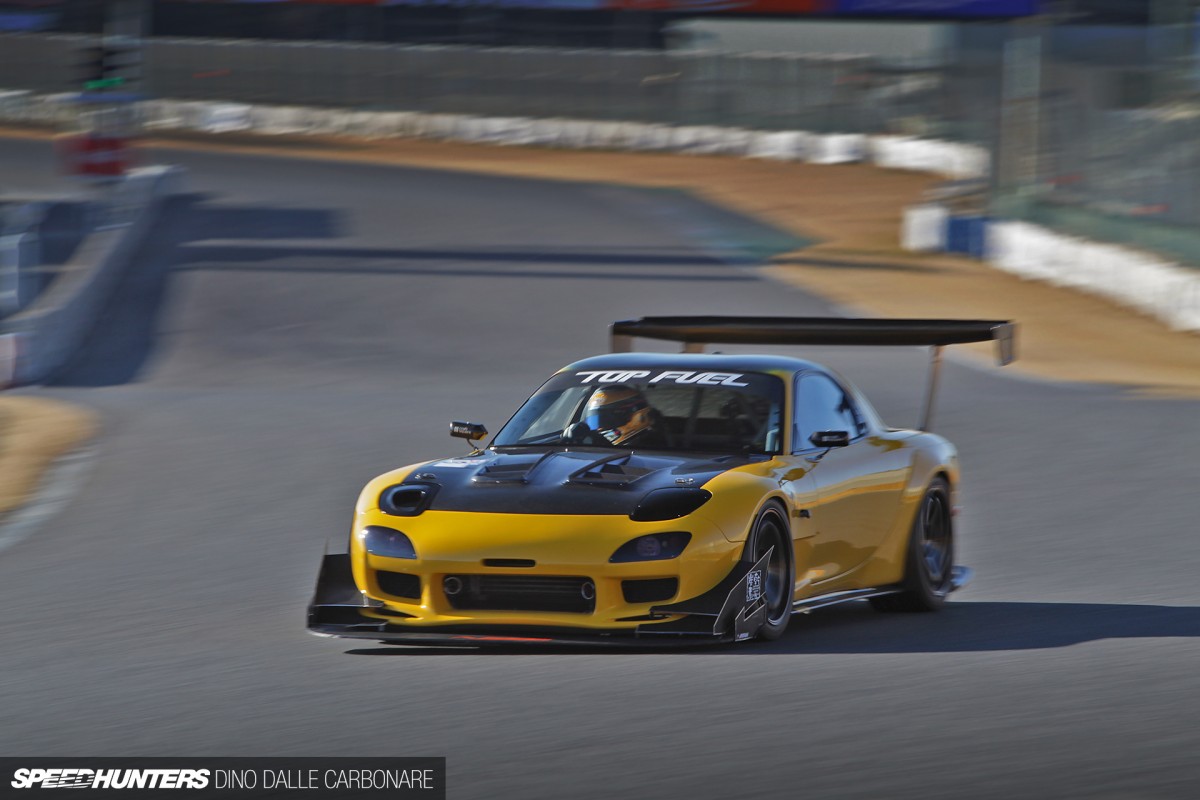 Mated to the ever-improving aero, its driver was able to put down a very solid 56.398 sec lap which was the second fastest time of the day. Right in front of it with a 56.044 was 0,1t orange FD which was usually always surrounded by lots of guys working on it in the paddock so hard to get a clear picture of.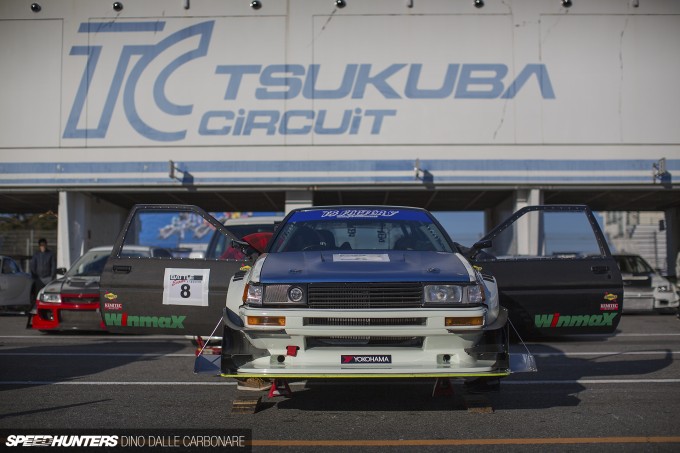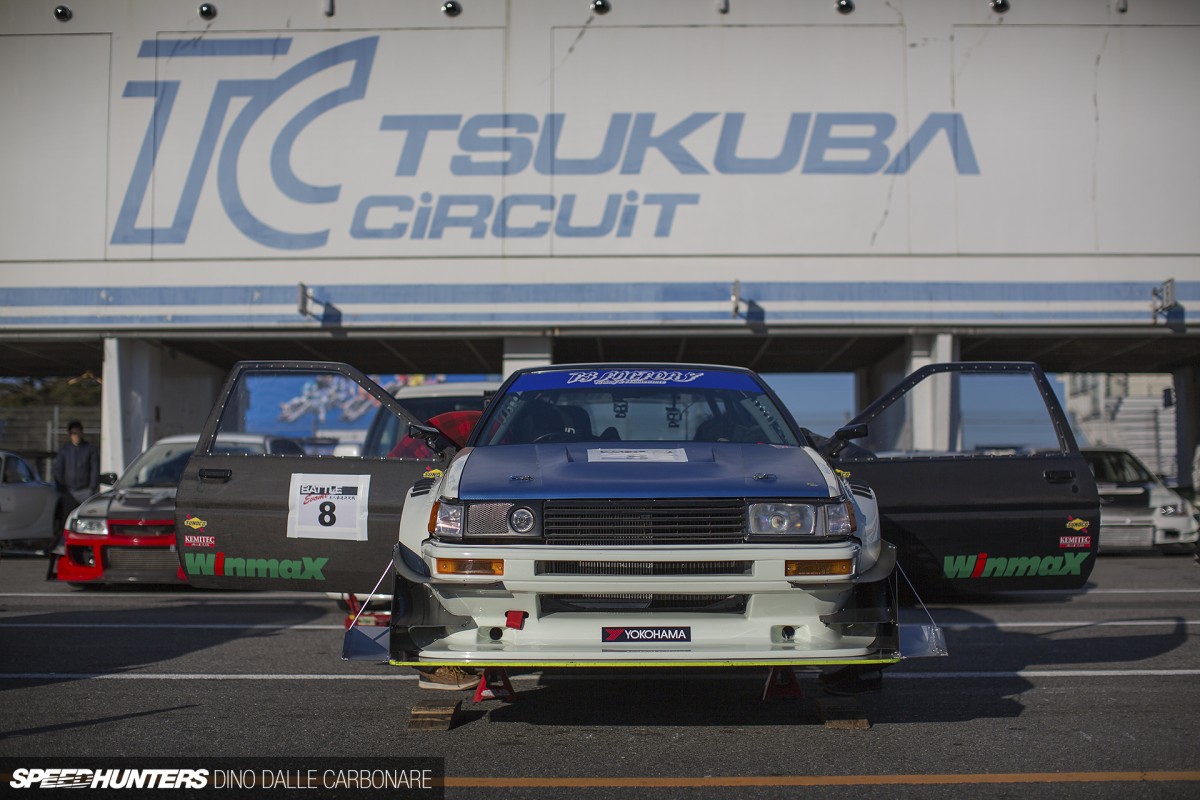 While a lot of the cars present we've been seeing for years now, it's always cool when new ones drop by, much like this TS Factory N2 AE86 Levin.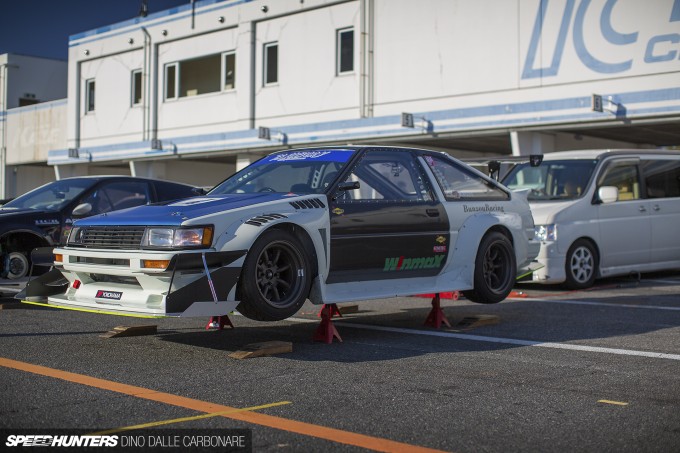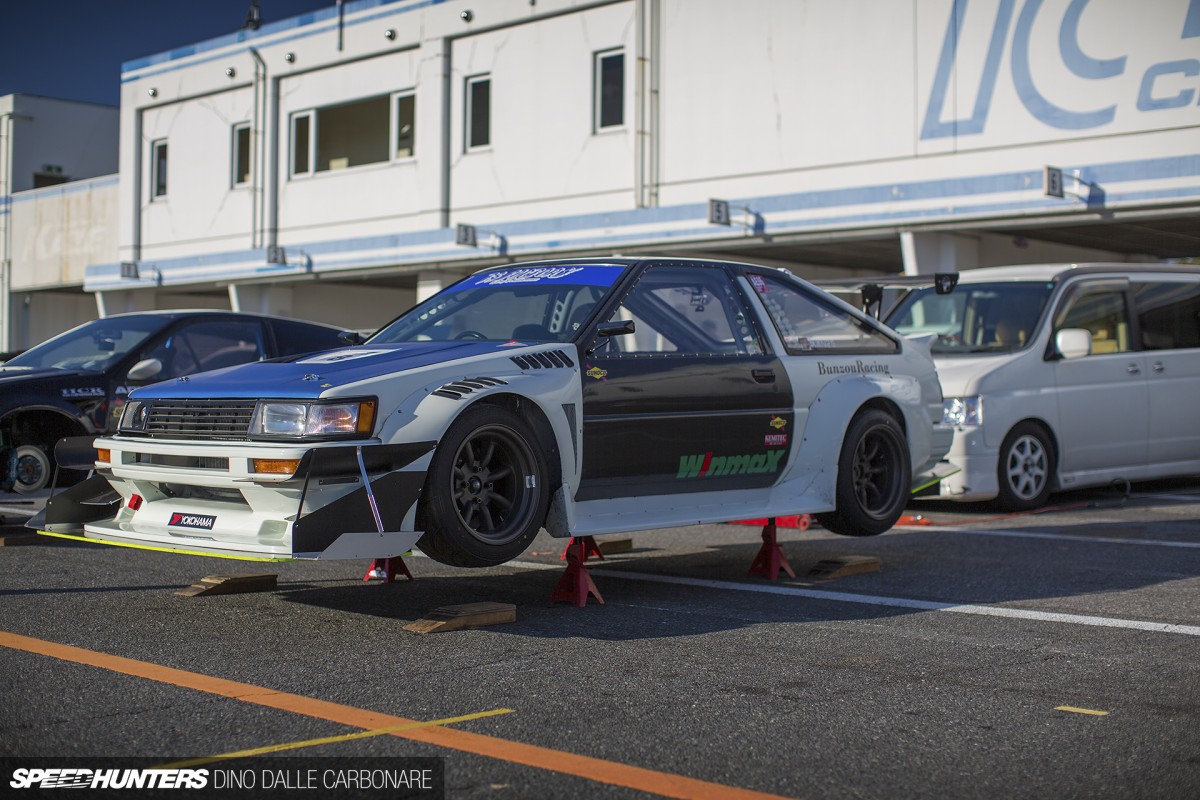 It doesn't take a genius to figure out that this car is a serious piece of work. There's obviously been lots of thought and testing put into that front end aero package as well as lots and lots of weight reduction; two aspects that are always especially important on 'power-challenged' vehicles like the little hachiroku. But hats off to these guys because they obviously know what they were doing; posting a 58.254 sec lap in an AE86 is one massive achievement, and it's also the new Tsukuba record for hachis! Congrats to the team!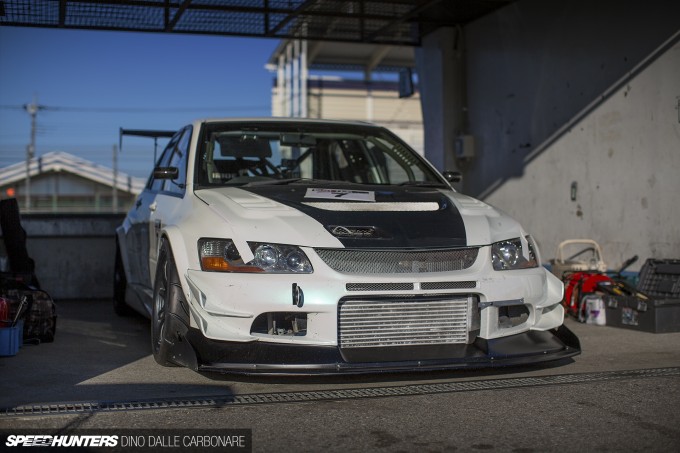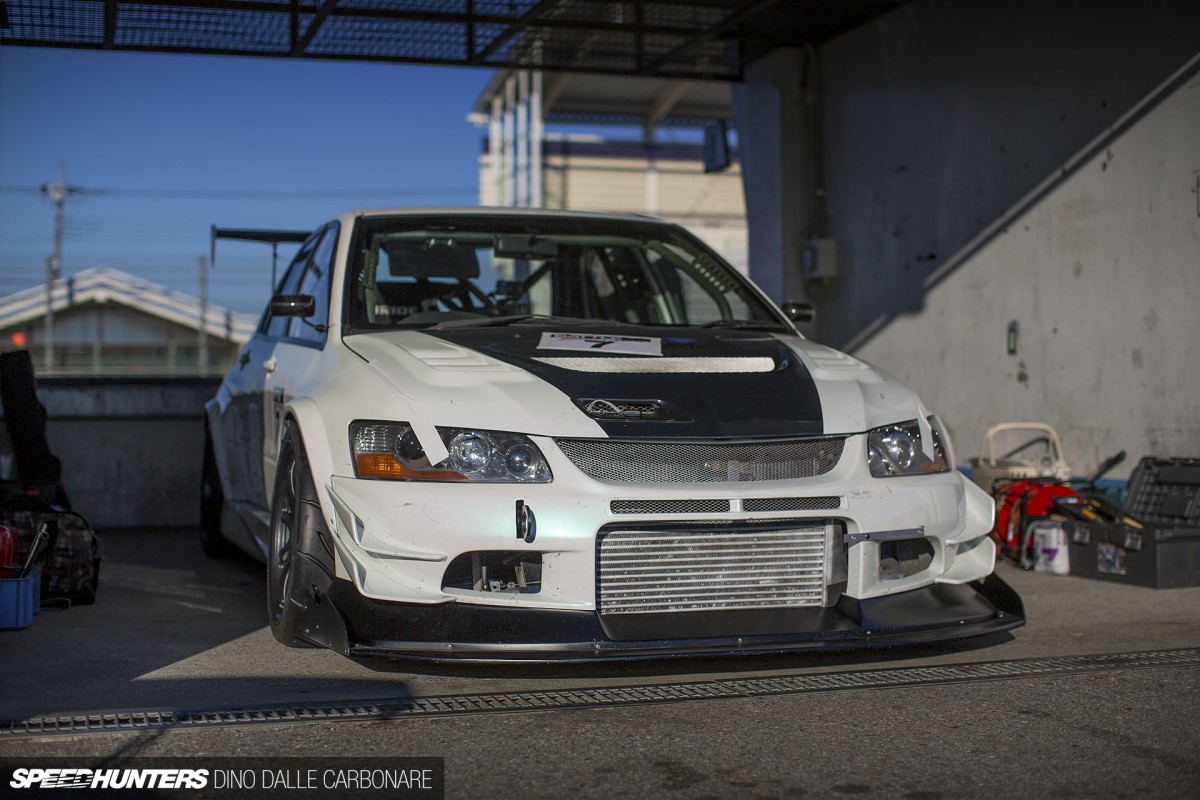 I really think we've been ignoring the Lancer Evo as of late, and after seeing some impressive builds at TAS this year, I do plan on featuring more (I hear Suzy cheering), and this is definitely one car that deserves a proper in depth-look – the Totomaru Evo 8.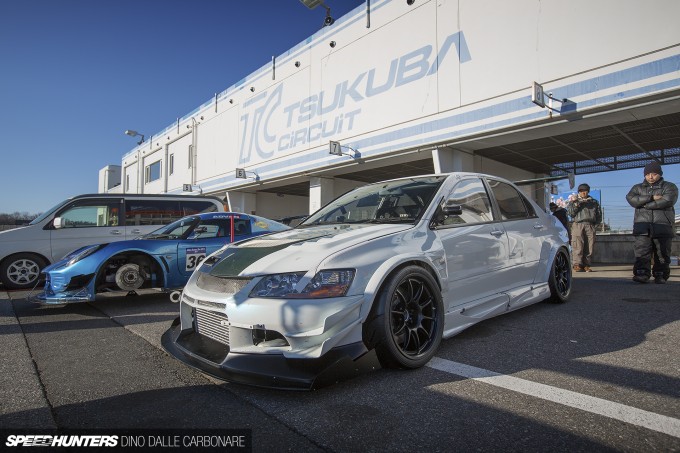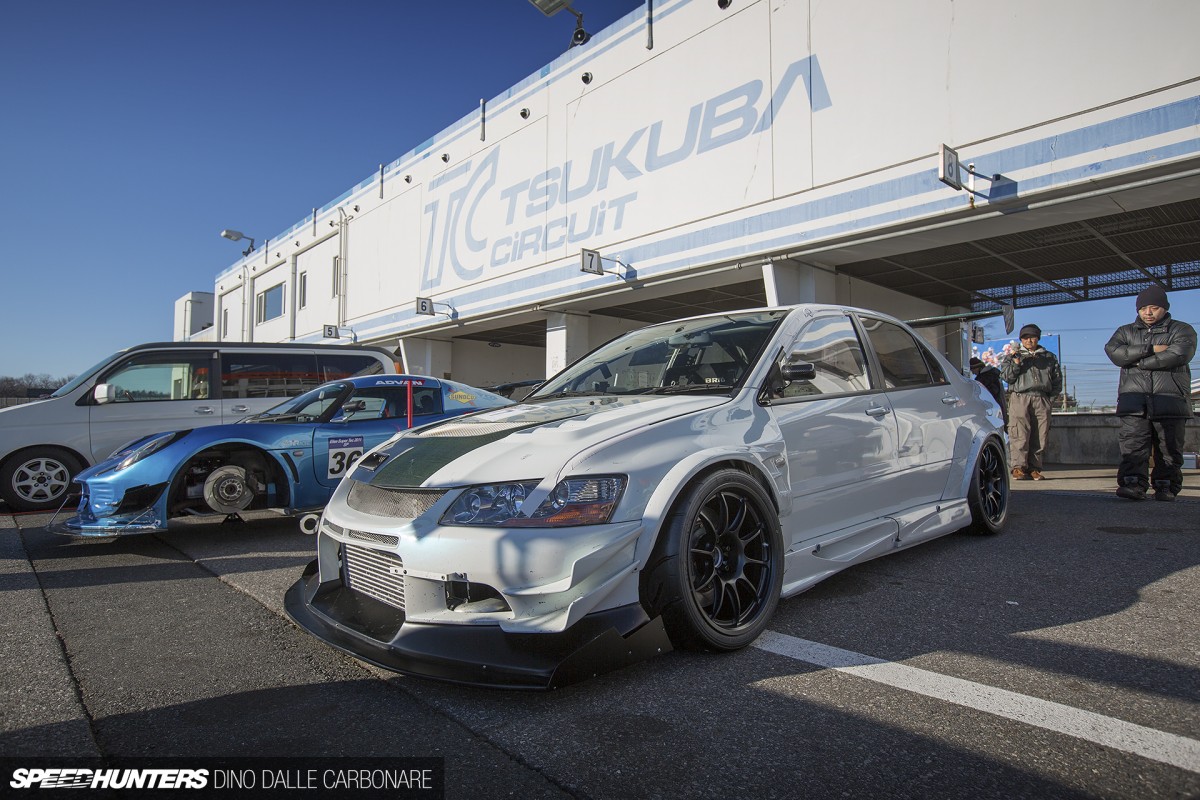 Like a lot of the privateer time attack racers that participate in this event, the car is driven to the track, abused and then driven right back home.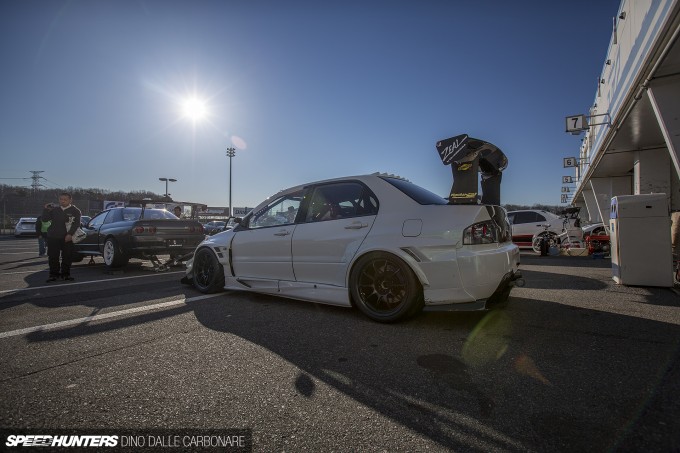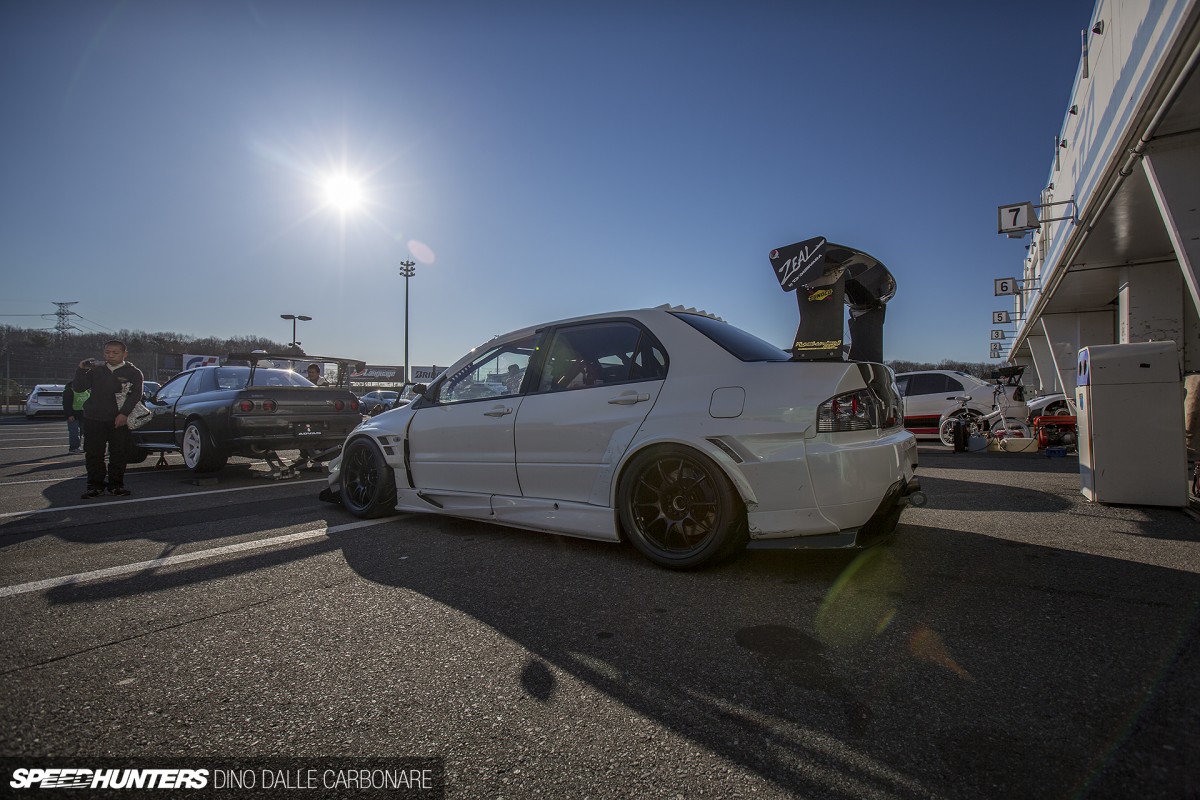 That makes it all the more special if you ask me. I mean, can you imagine seeing a car with a crazy wing like that out on the street? If it was driven on the roads of any other country, the owner would probably get his car confiscated and put in jail! One reason Japan is Japan I guess.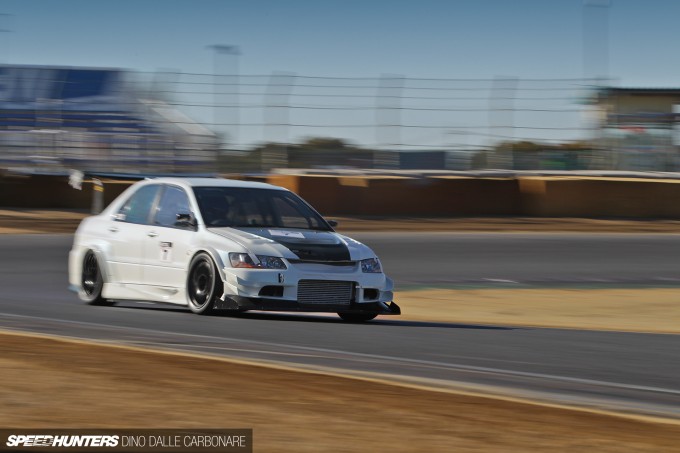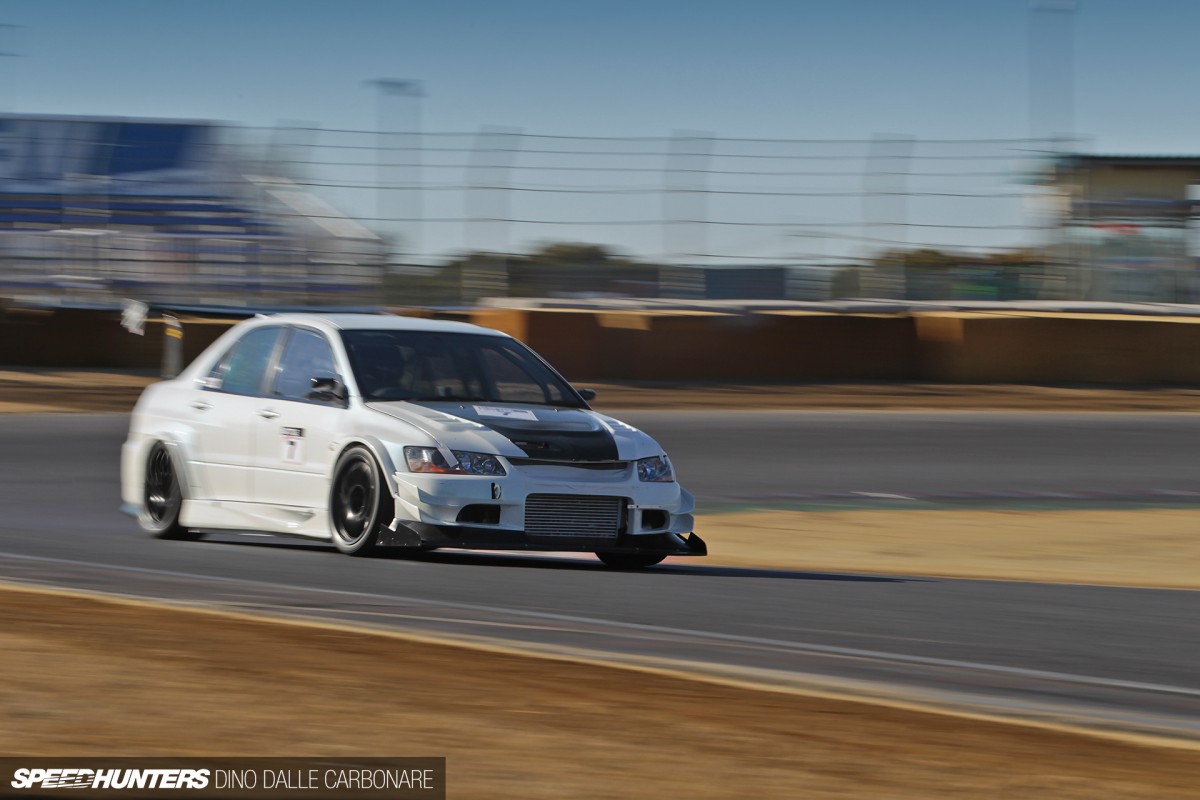 58.114 sec was the best time the owner put down, and it will be cool to see if he manages to improve this in the remaining two sessions in February.
Functionalism at its best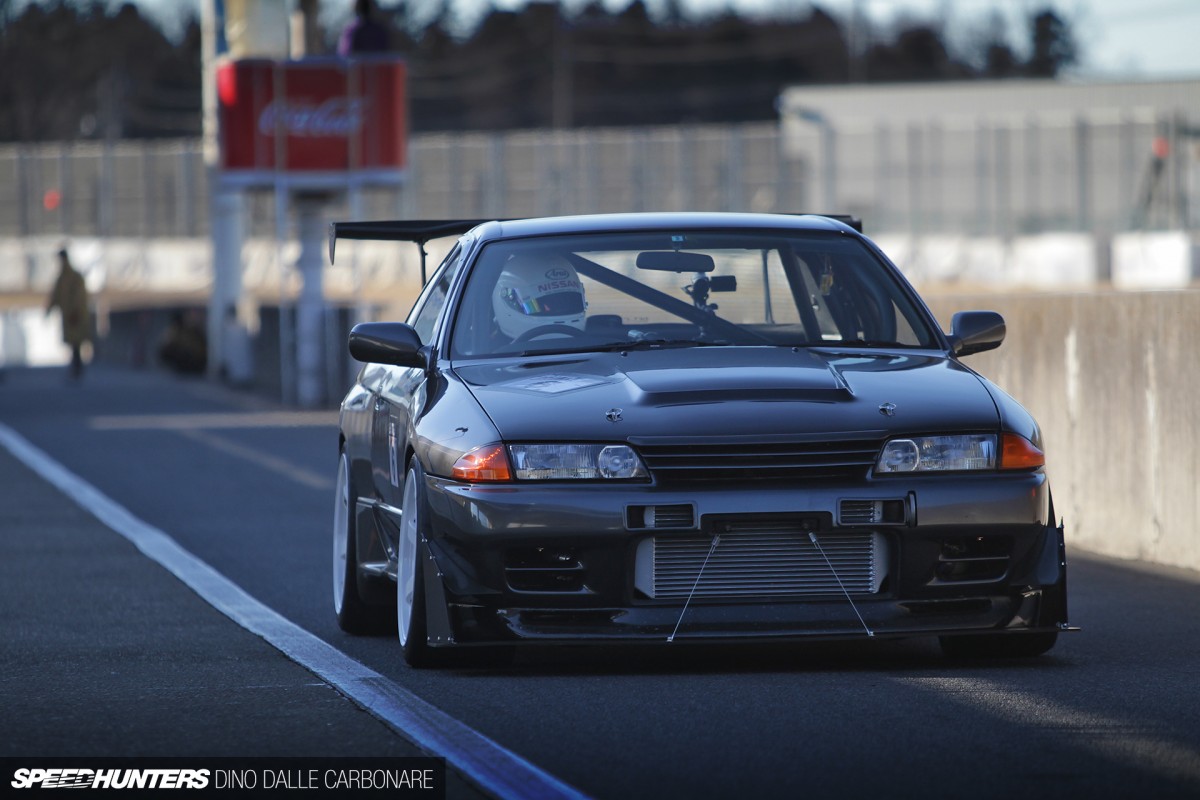 These events are all about the variety of cars and while there are always quite a few GT-Rs to look at, this Auto-Gallery-Yokohama-built BNR32 was the only Skyline there.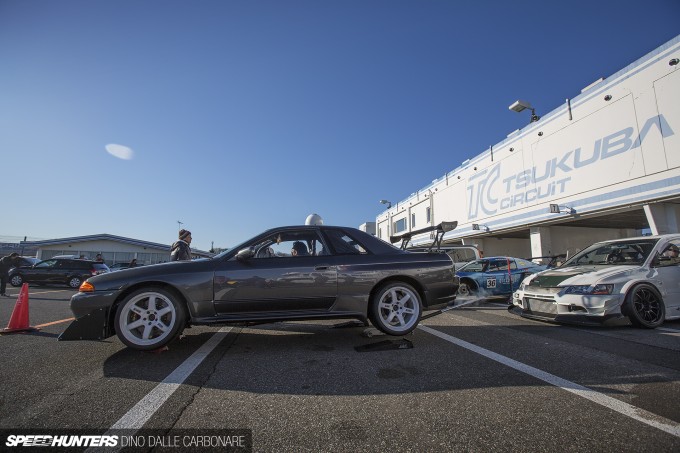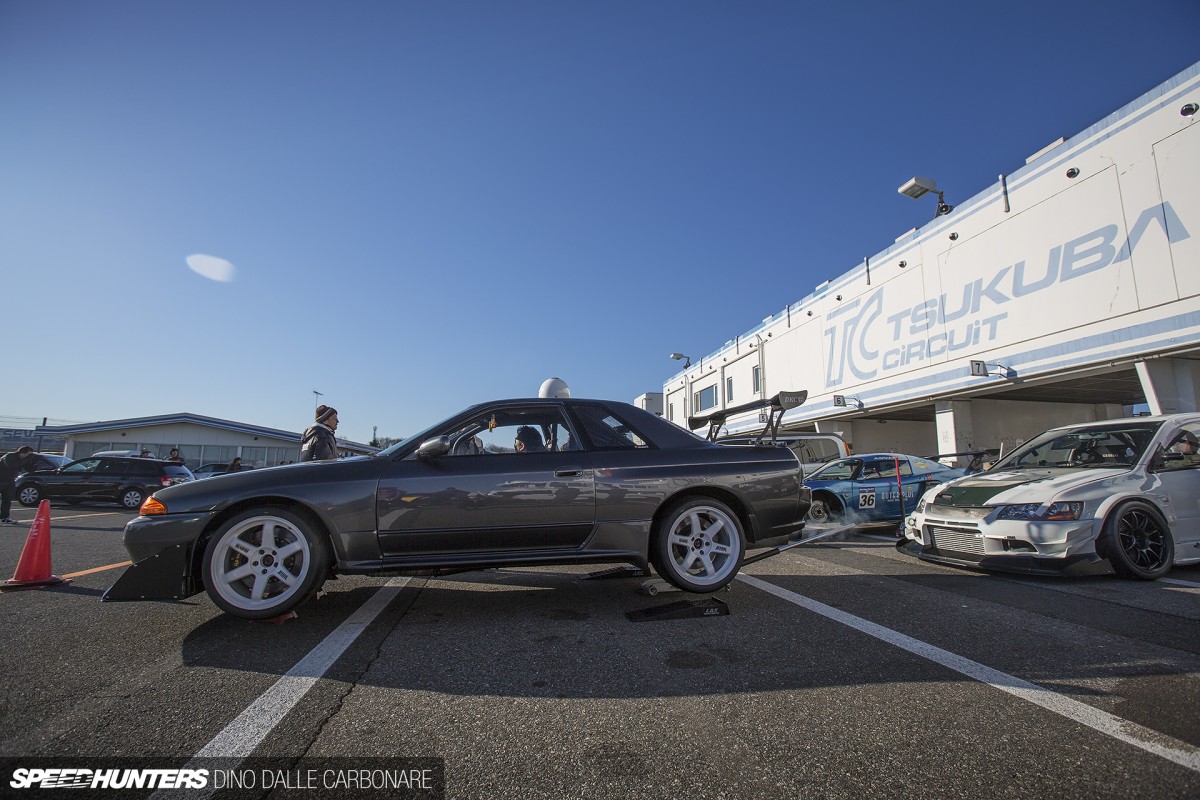 For the hour that I shot the paddock prior to the track being opened at 9am, the car was slowly warmed up, which included lifting it with a pair of axle stands and a jack and letting out the clutch in second gear to put some heat into driveline components as well.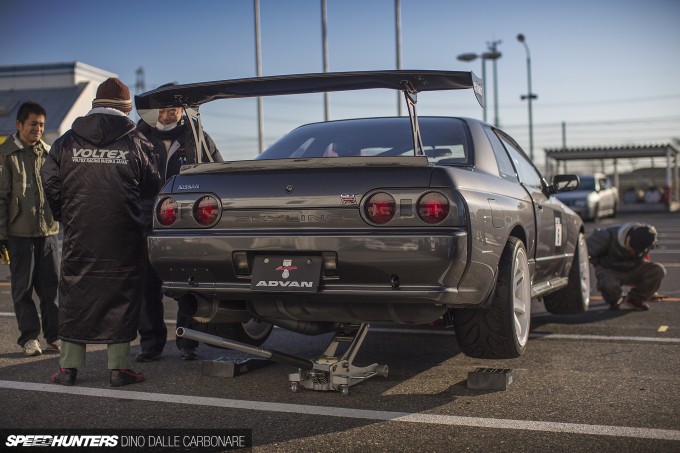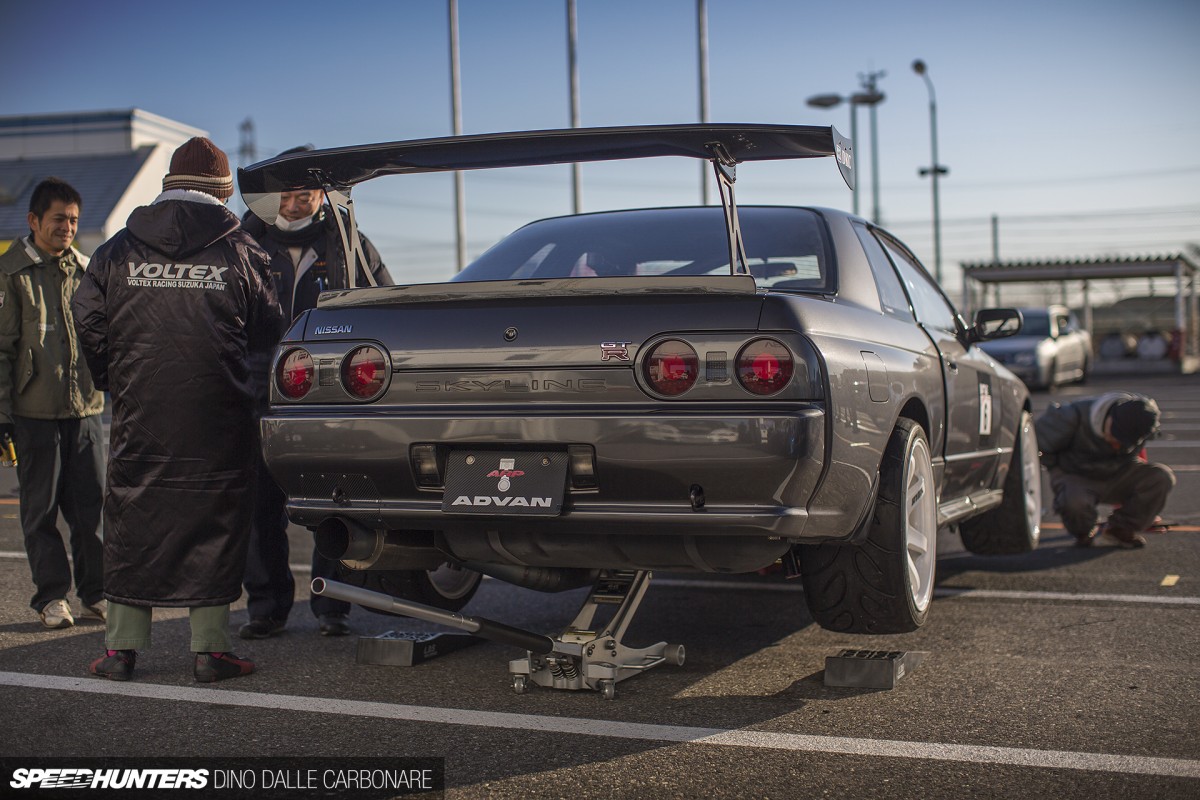 My love for the Skyline grows stronger every year I think, the san-ni and san-yon in particular really hitting the mark (sorry R33 owners!). And I blame it on these events. I mean look at the stance of this thing! Just sitting there, almost a completely stock body, but equipped with massive 295-semis all round and big front and rear aero additions. It's the pure definition of badass if you ask me!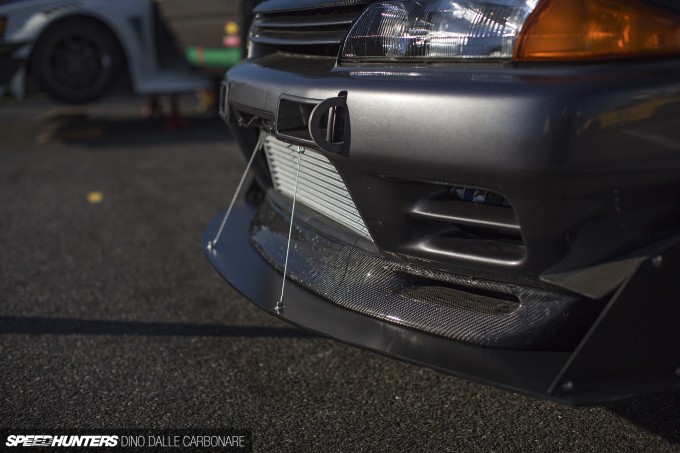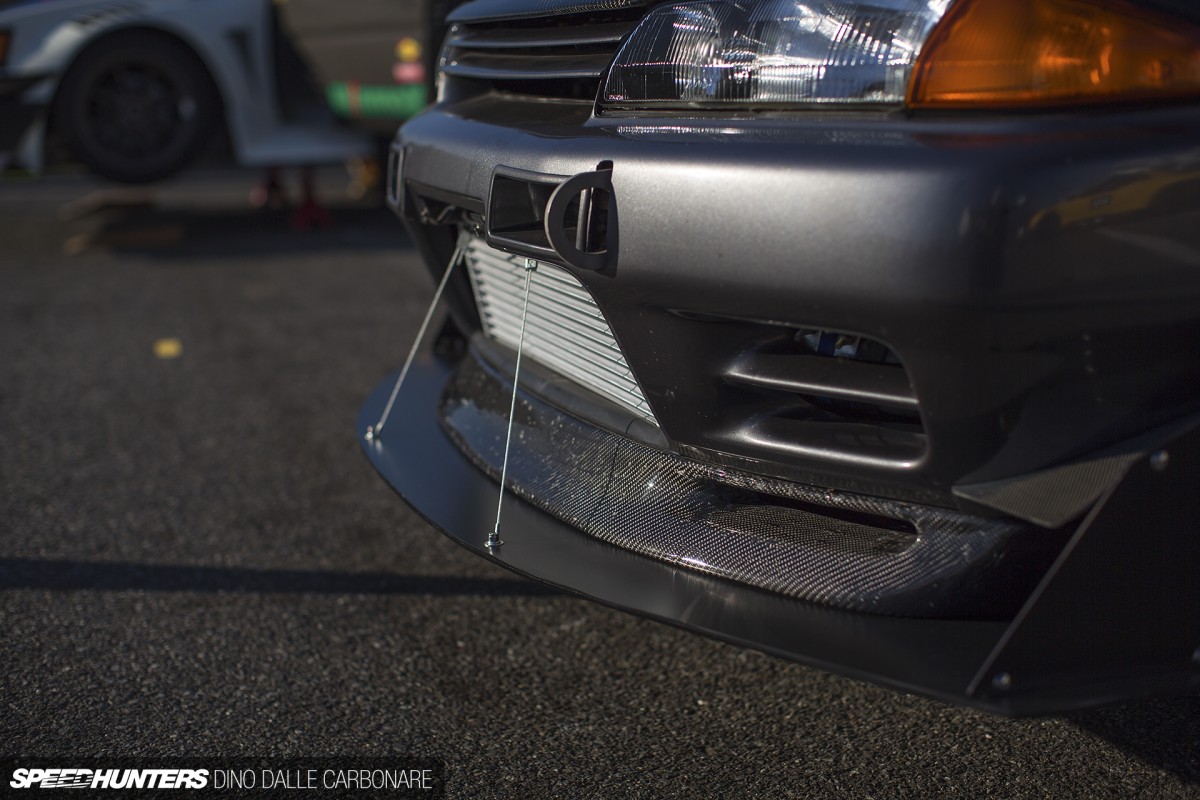 As a GT-R owner you can't help yourself and squat down around the car, checking out all those details; the little things that owners do to their cars due to a need to test out an idea or because they know that it makes a difference.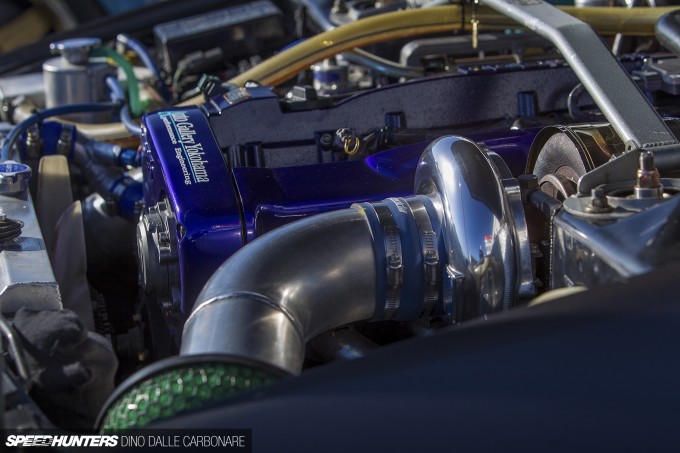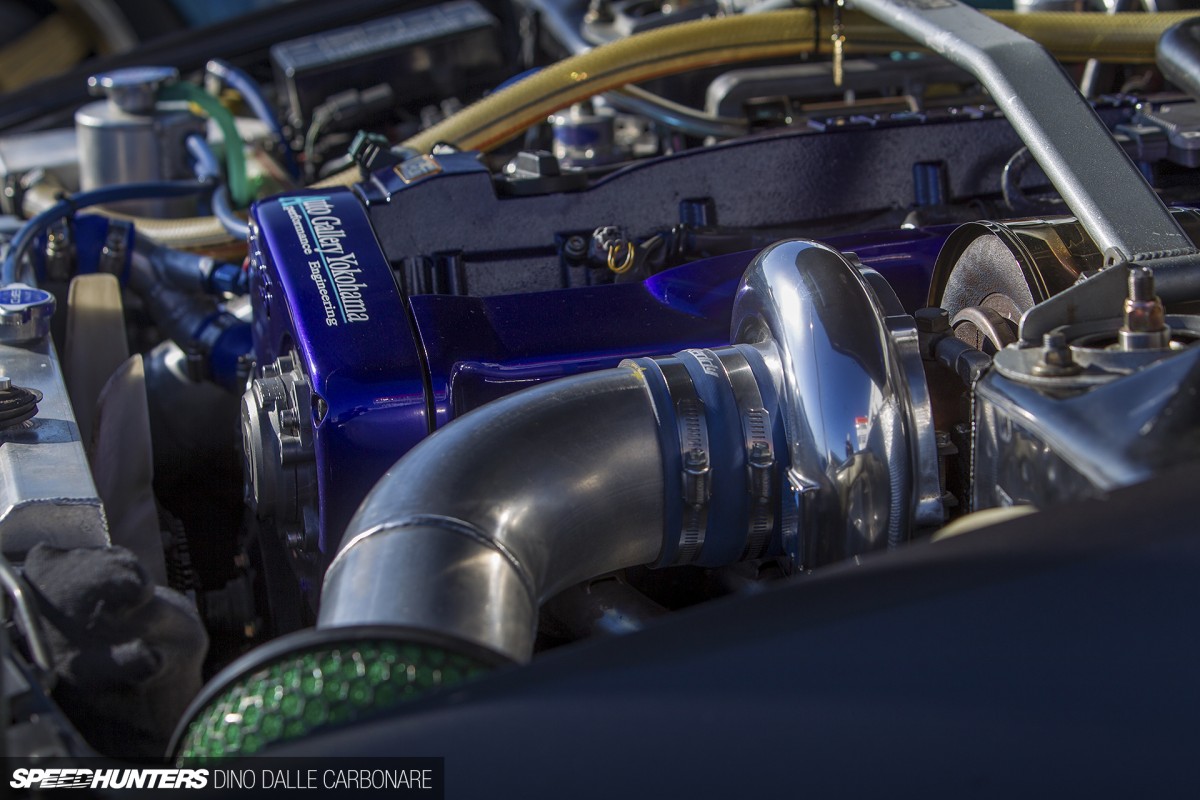 This is especially true when it comes to the engine and it's interesting to see how – as turbo technology as well as engine tuning knowhow continues to improve – more and more people go for the big single conversion. Back when my interest in time attack started, I remember a lot of big tuning names stating that for small circuits like Tsukuba and for use on tight and technical touge, the twin set on an RB26 will always be best. Whether you agree with this or not, it's just great to see things evolve; I mean, these are twenty-year-old cars for crying out loud! And people are still loving them so much that tuner and parts makers continue to push themselves to come up with new and exciting parts and solutions.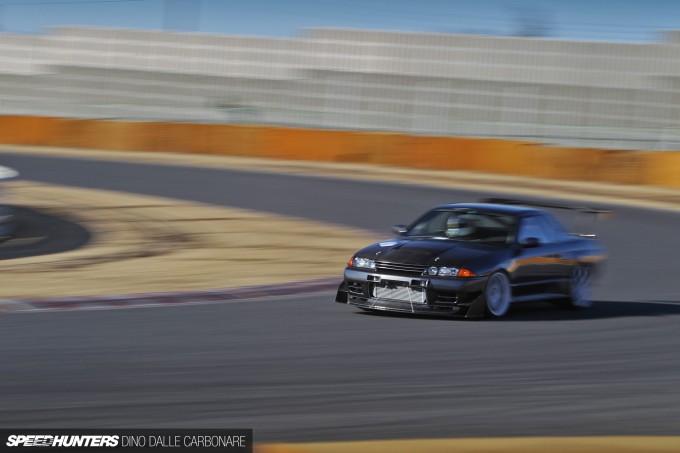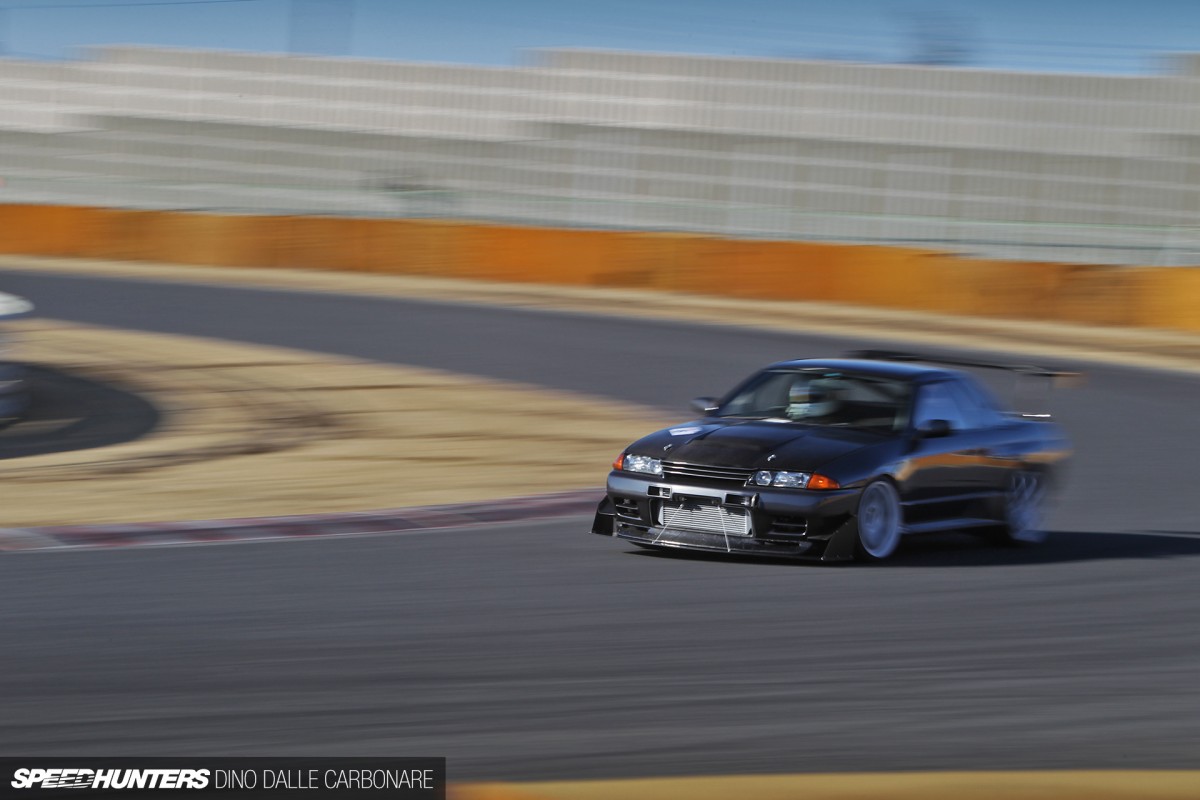 This 32 recorded the third fastest time of the day: a 57.371. This is the sort of time the legendary Mine's demo car used to run!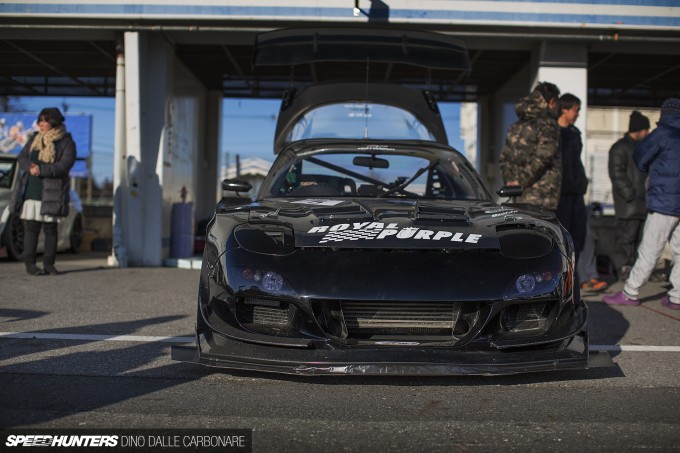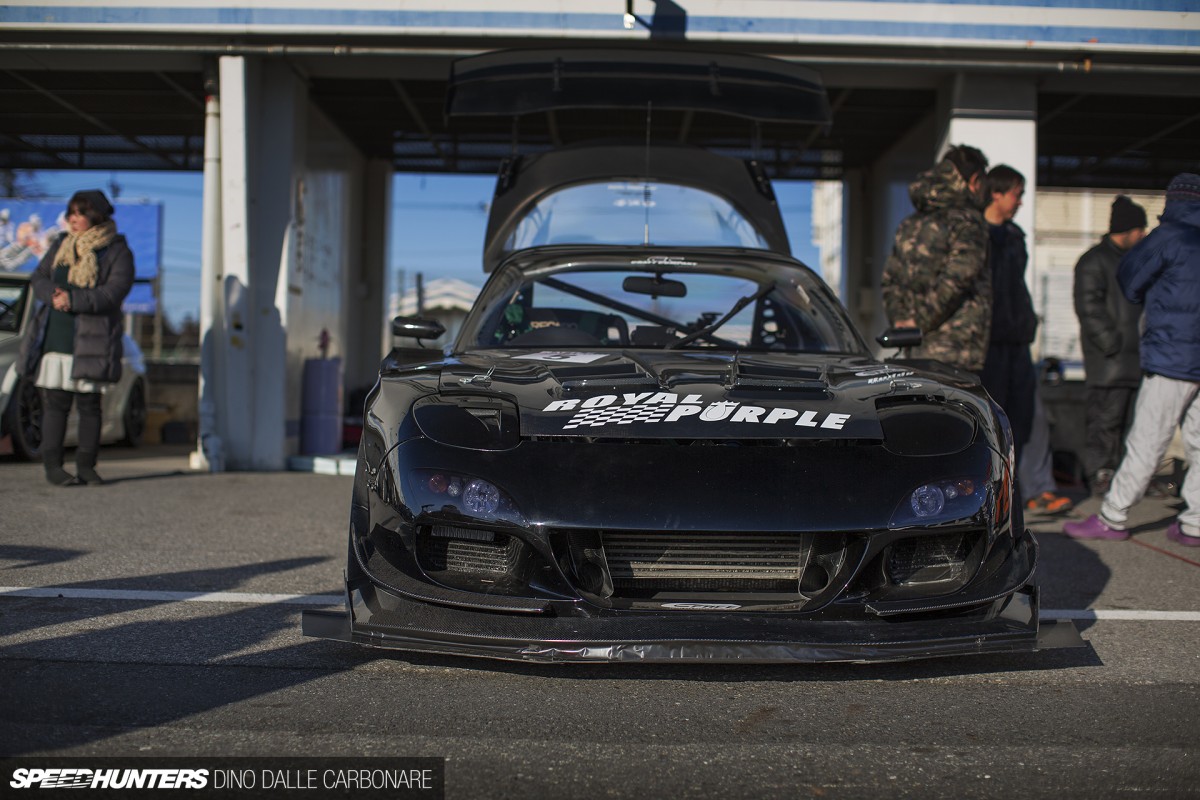 Right behind it was this TCP Magic kitted Rems Redtree FD3S, a menacing addition to the line-up in the paddock.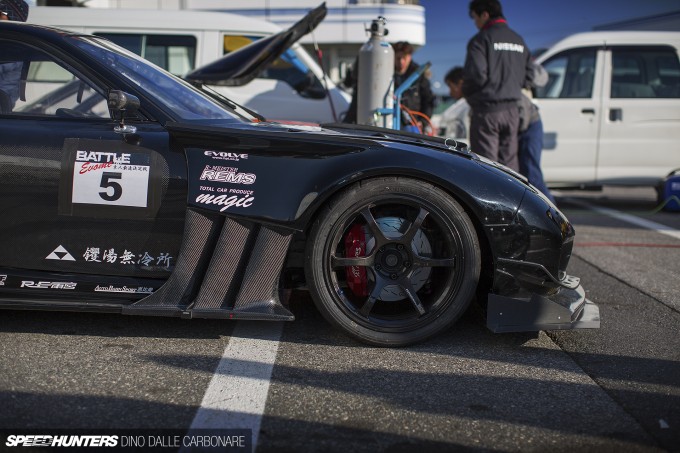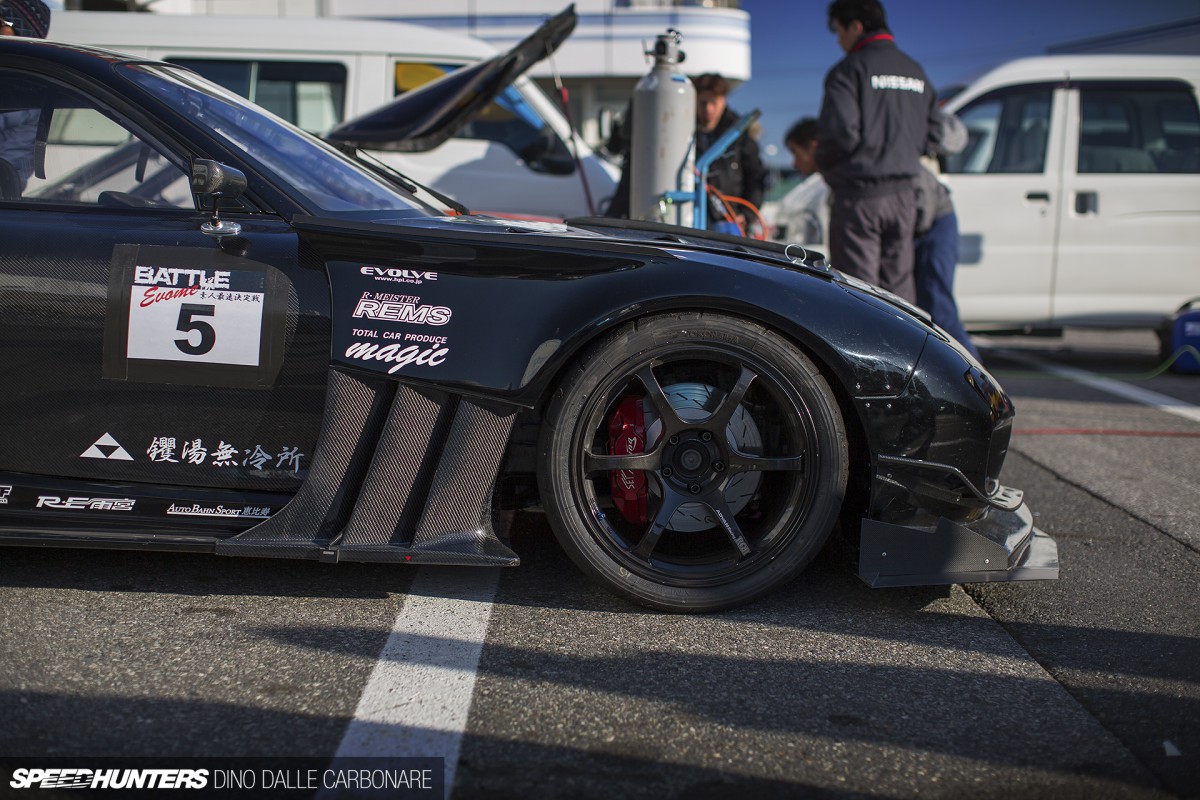 These are some of the coolest front fenders around for the FD, a car that even more so than the GT-R, still has an incredible following with an ever-growing list of parts being churned out for it. Plus the black on black look with those Yokohama RGIIs was to die for. 57.886 sec was its best time.
FF attack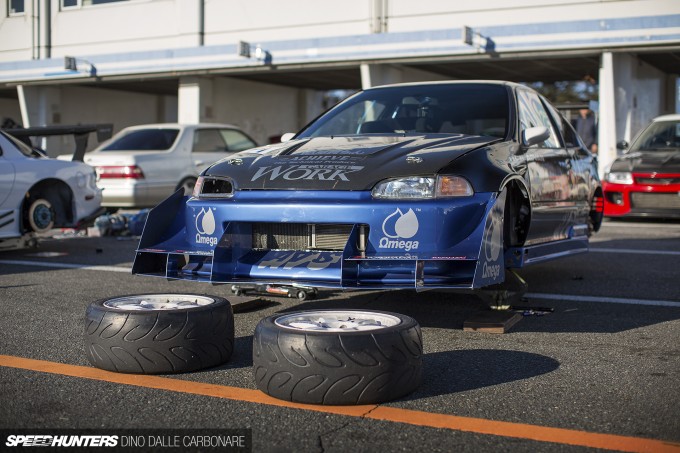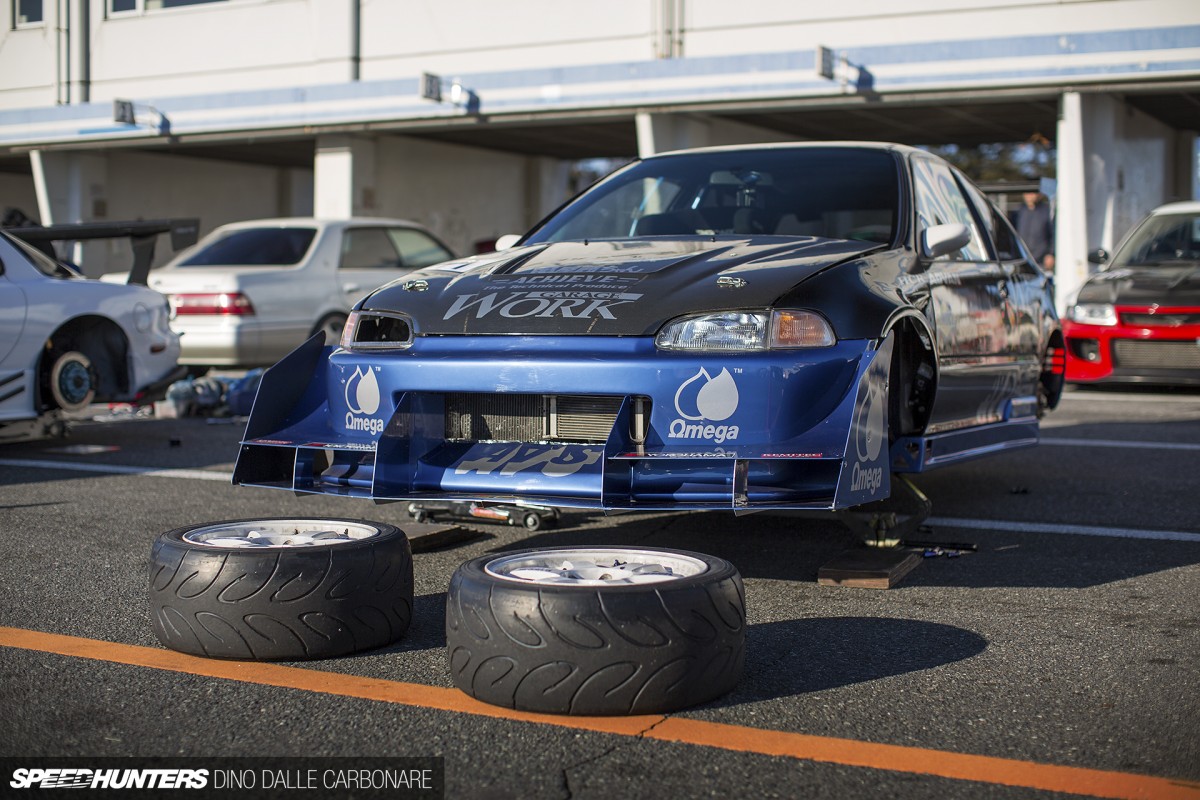 I love seeing how the development of the Garage Work EG6 Civic never ceases to stop. For the 2014 season, the car now sports an all-new front spoiler/canard/splitter assembly which is supposed to generate a bigger amount of front downforce as well as improving high speed stability and turn-in.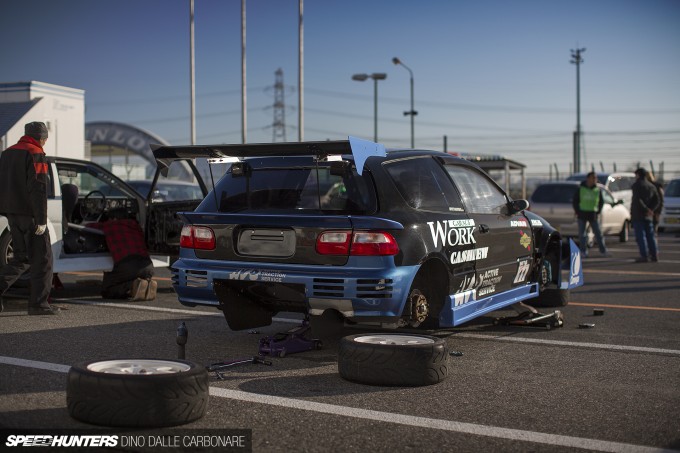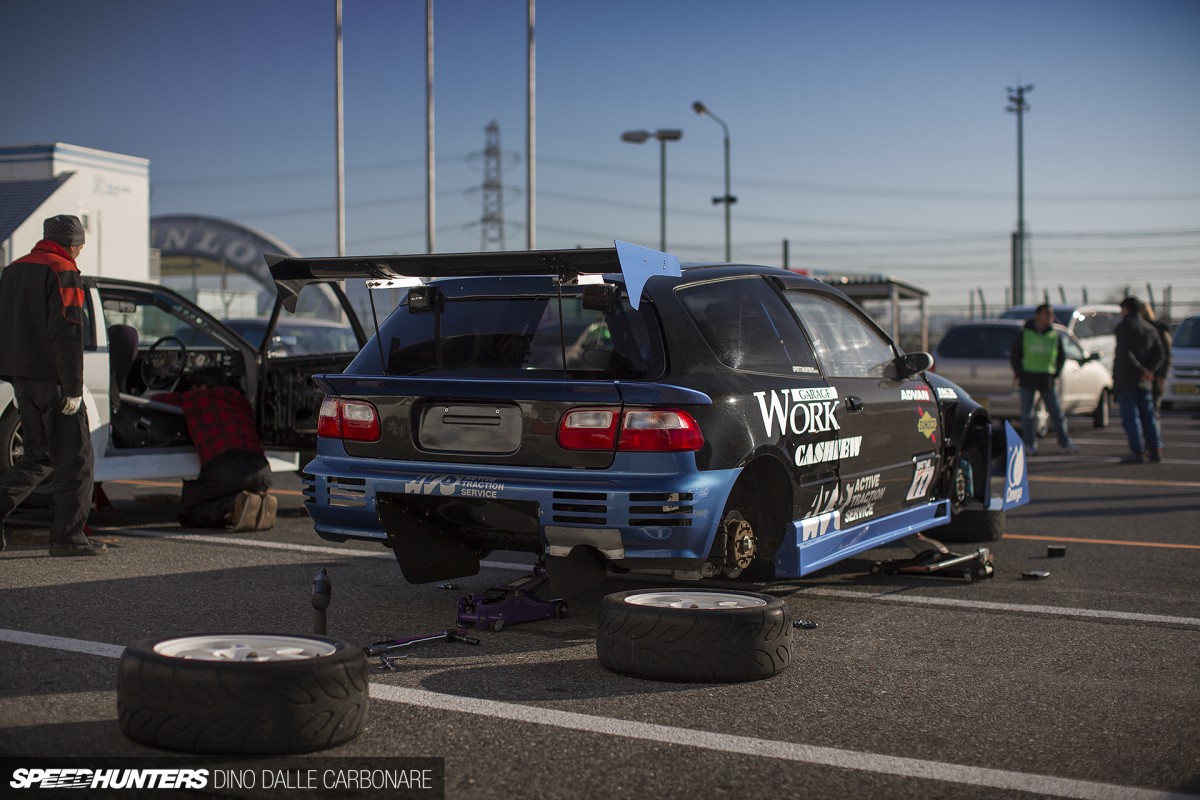 A new pair of side skirts have also been added, along with a three-piece lip spoiler attached onto the carbon rear hatch. This all joins the rear diffuser/extractor that we have seen in the past.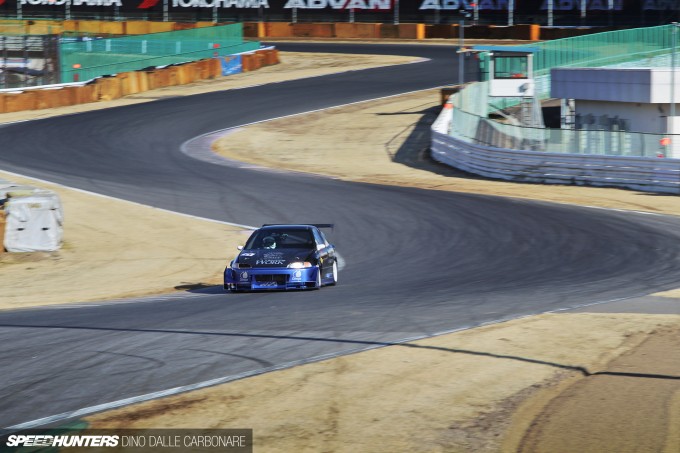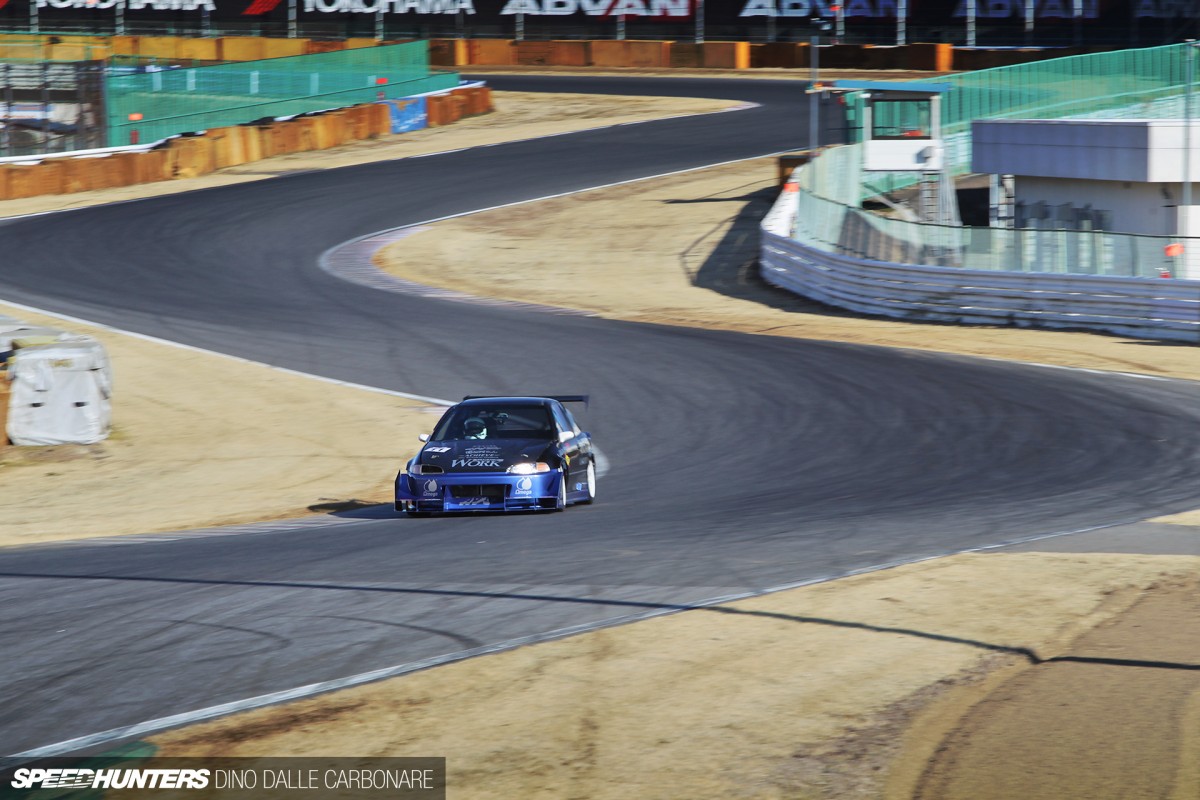 Their goal was to get into the 58-second bracket and they've achieved that beautifully, posting a 58.421 sec lap! That's almost a second off the time we saw them get last year, and with two more Evome sessions to go, this stands a pretty good chance of being improved upon.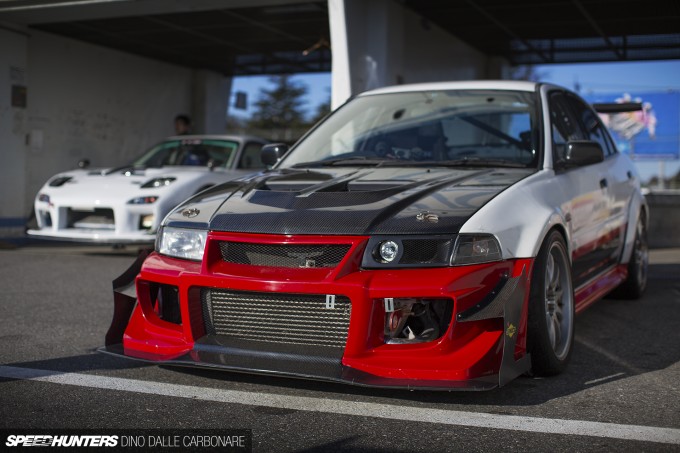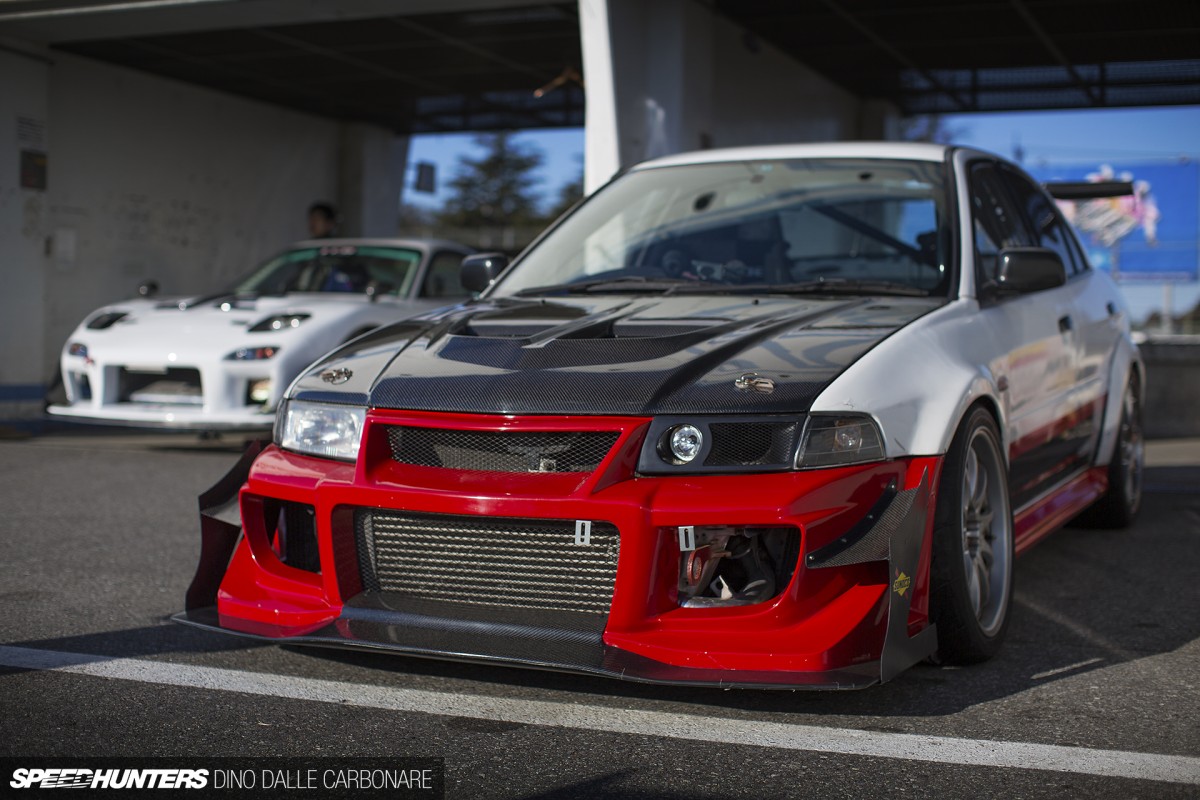 The TFH Evo 6.5 hasn't really changed since the last time we saw it, but when your street-registered time attack car looks as wild as this there isn't much you need to change. Best on the day for its driver was a 58.594 sec. In fact half of the cars present were running in the 58-seconds, and that my friends is just insane!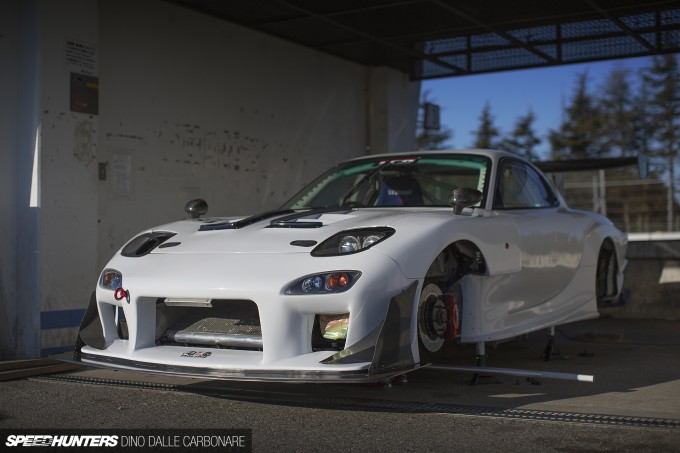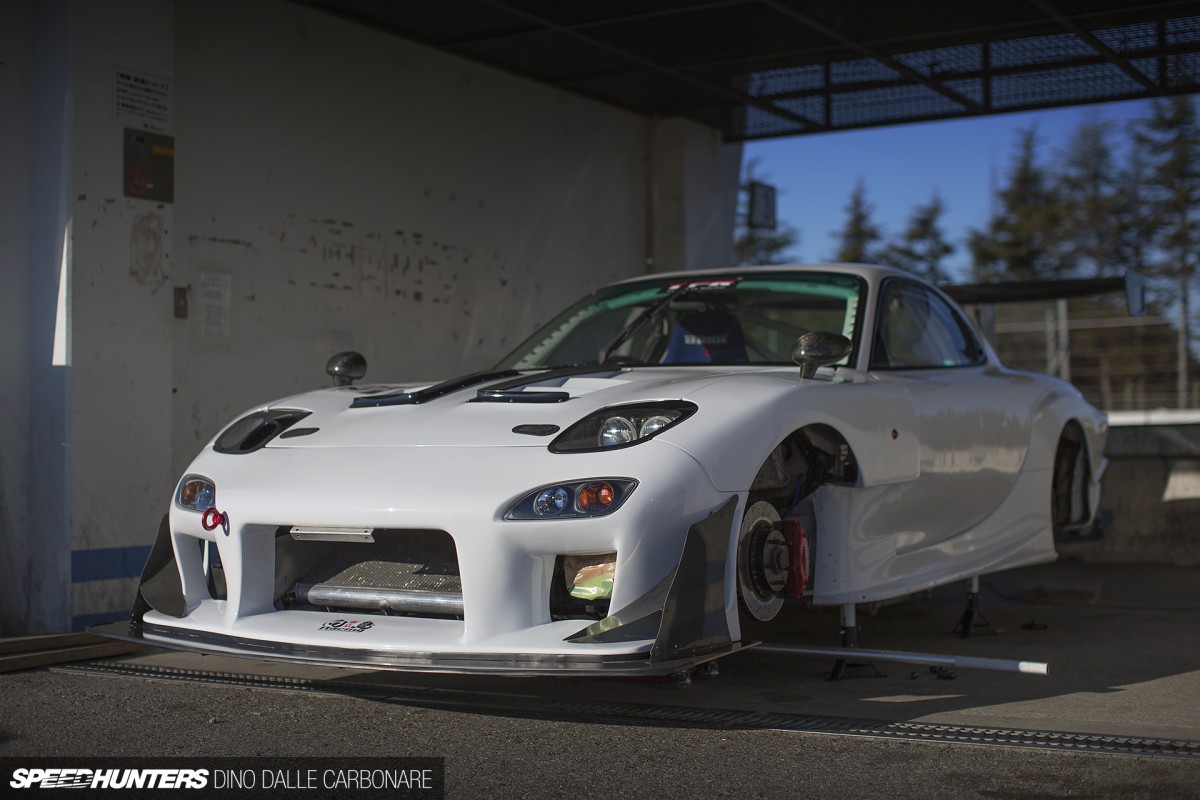 You rotary guys must really be liking this post, so I might as well show you another RX-7: this time, the RE-Amemiya kitted Tatsukuro FD3S, seen here sitting wheel-less in one of the pits.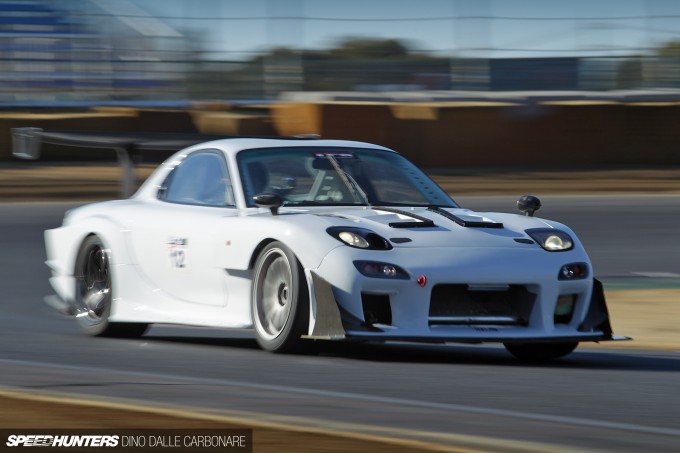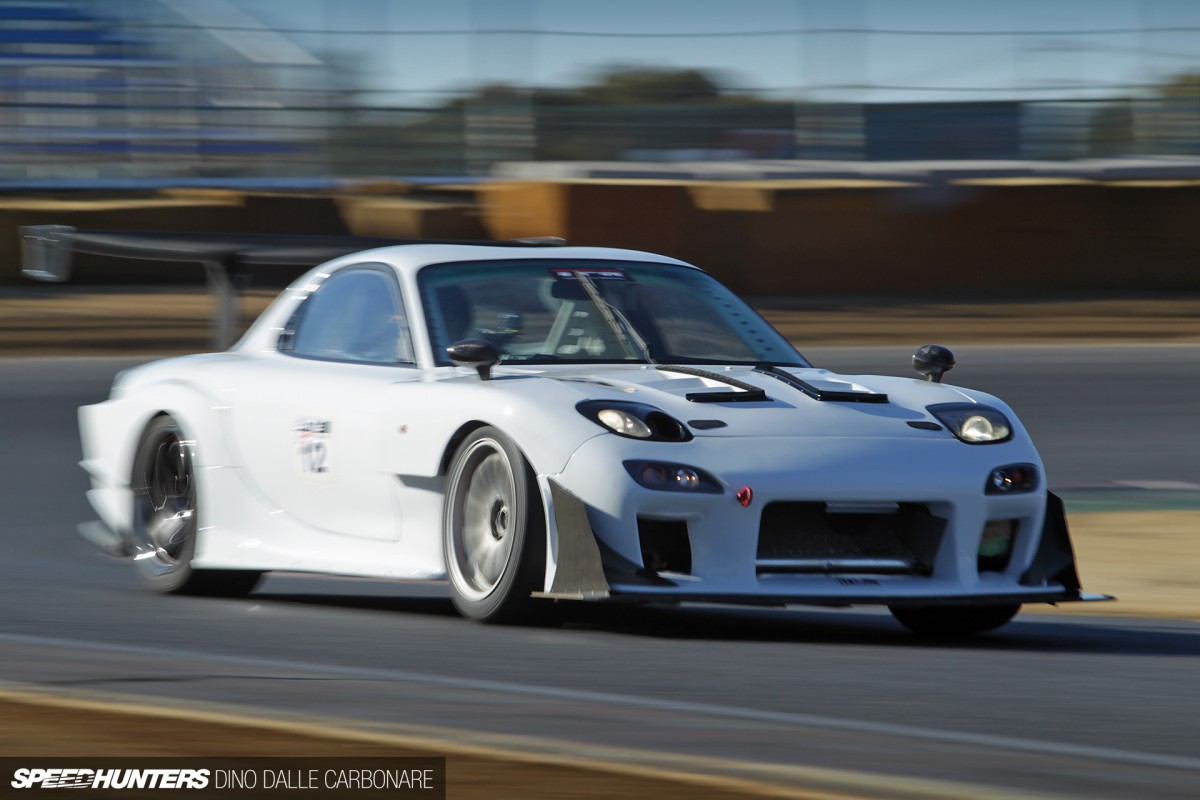 The best it managed on the day was a 59.210 sec, and I'll definitely be keeping my eye on this car at the last event of the year next month as I know it's capable of a 58-sec lap!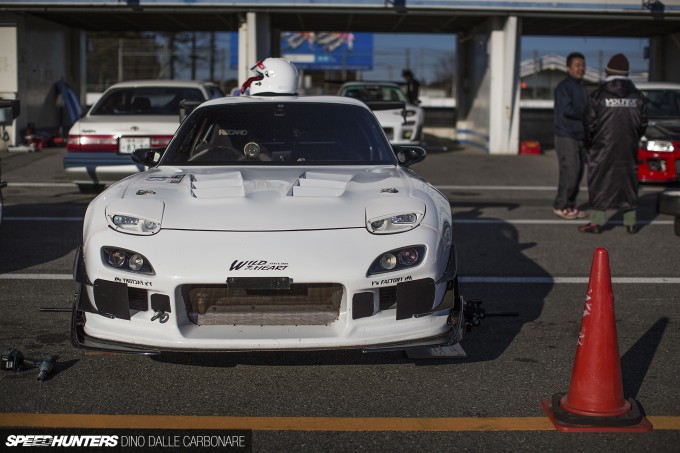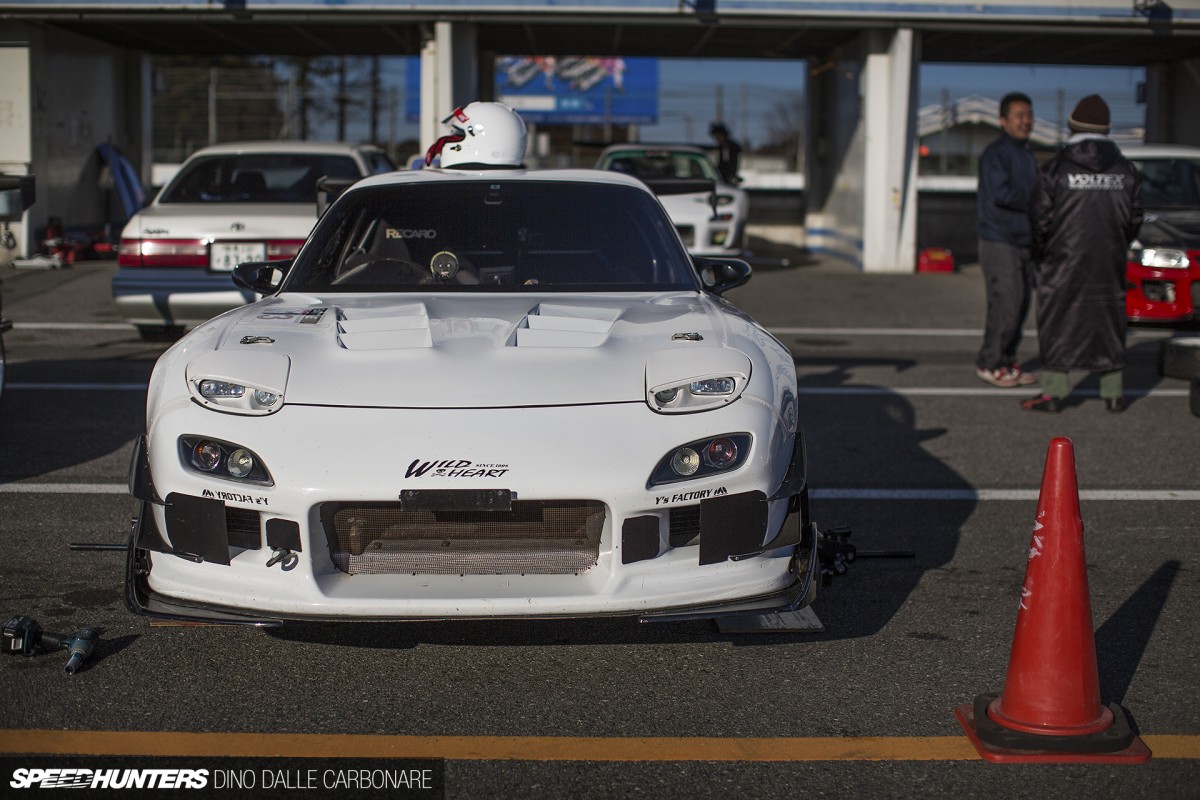 What the heck, I might as well show you one more. A more narrow and simple interpretation of an FD courtesy of Wild Heart. 59.311 sec was its best time.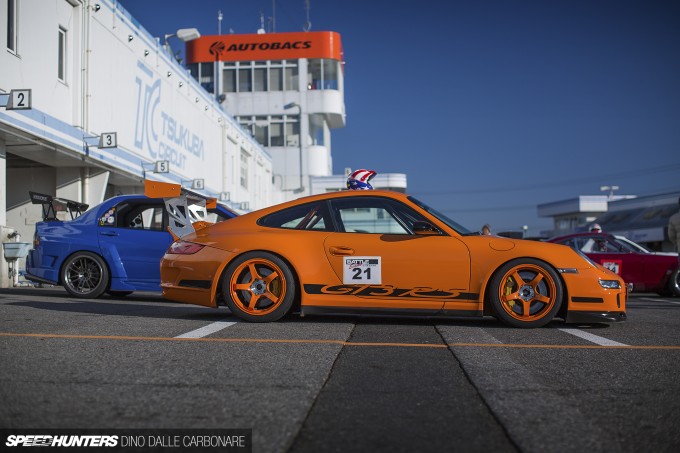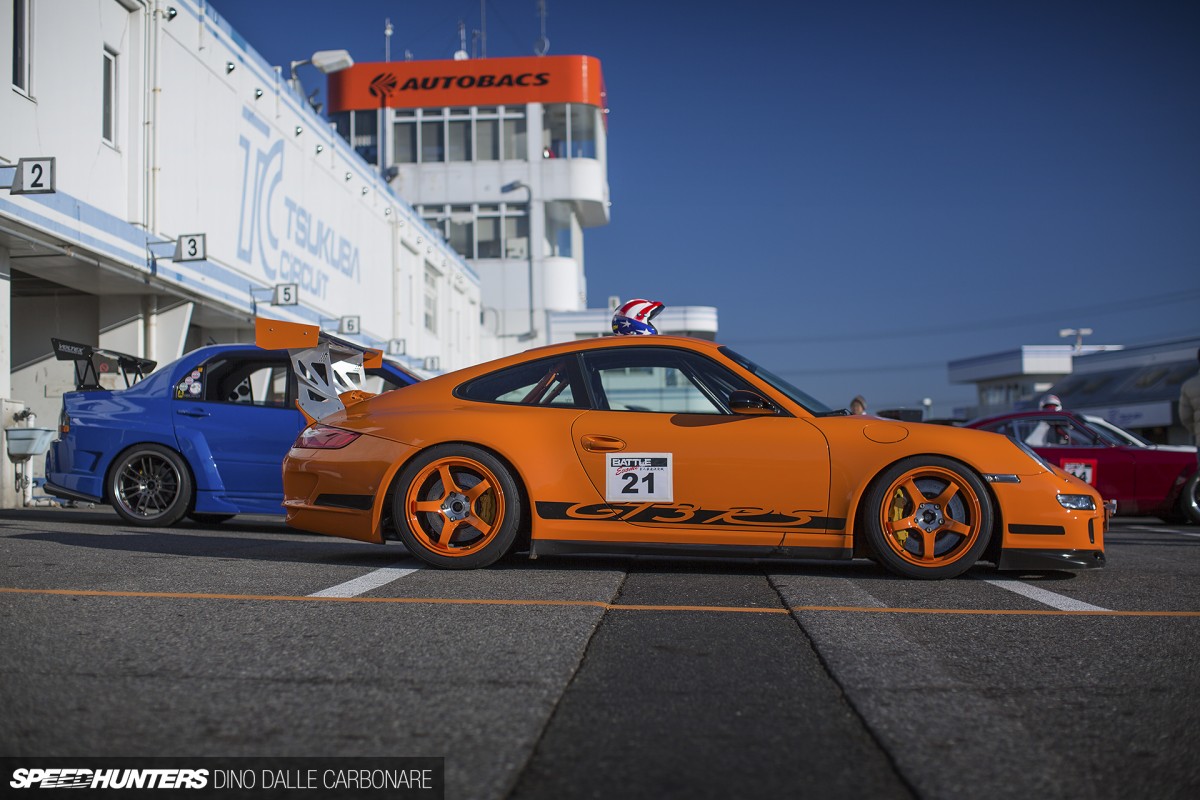 And so we move onto another welcome new addition: this orange on orange 997 GT3 RS. There's no hiding the fact that the Japanese love their Porsches, especially the GT3s, but it's not that often I see them hitting Tsukuba, most preferring the faster and wider track at Fuji Speedway.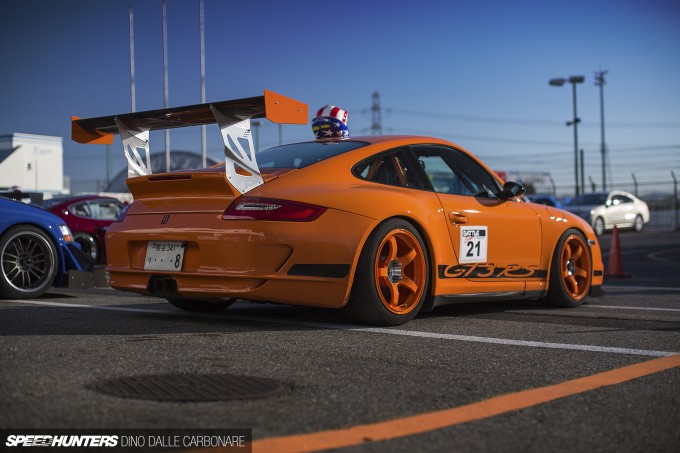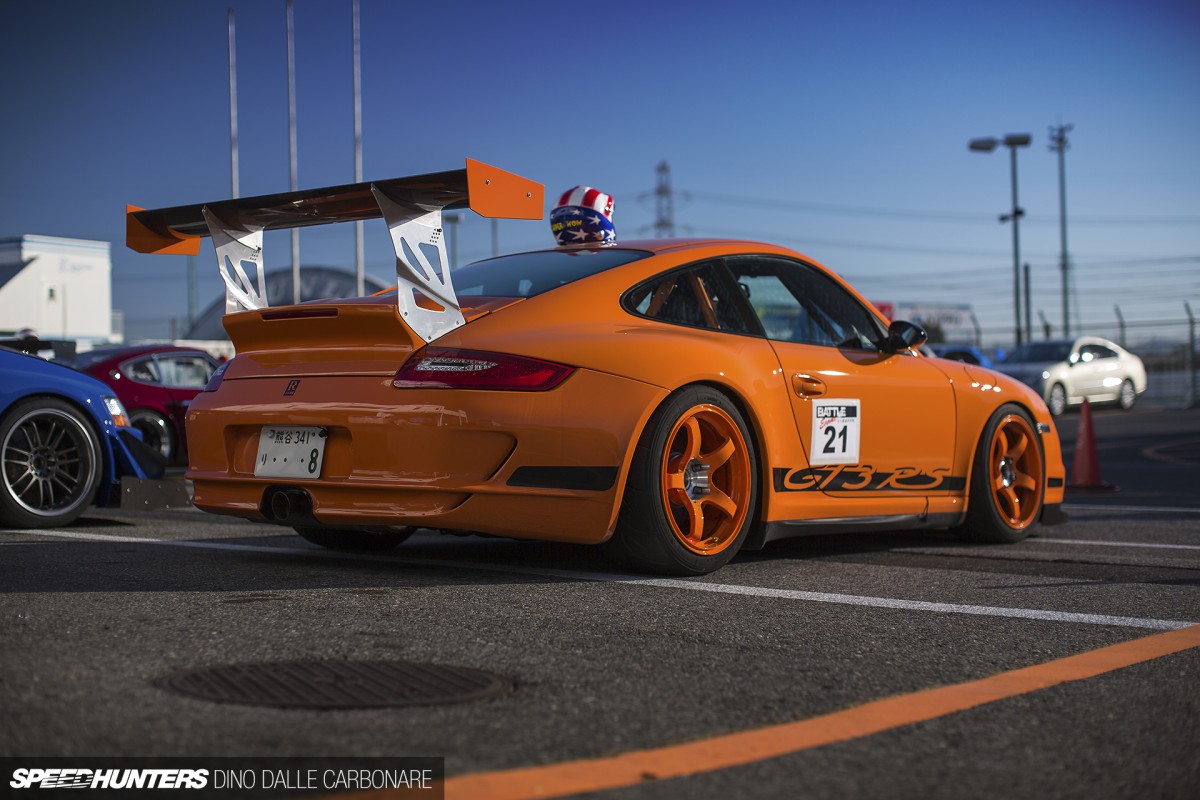 I have a very soft spot for these cars. Much like the Battle Evome event itself, they're extremely focused, built for the sole purpose of offering the most undiluted, direct and satisfying driving experience possible all mixed with plenty of reliability. This is a car you buy and you enjoy, not needing to worry about a long list of modifications you must do to render it perfect. Of course, this being Japan, even the most complete sort of track cars surely can't be left untouched, so the owner fitted a color-matched set of Advan RSs and a single-exit exhaust system which redefines the term 'not for road use'.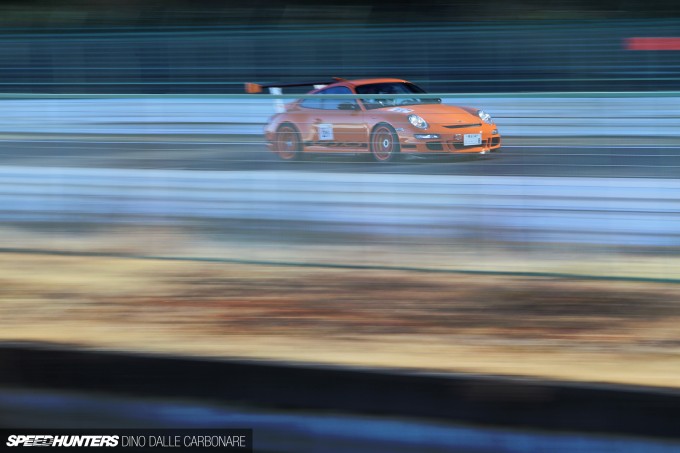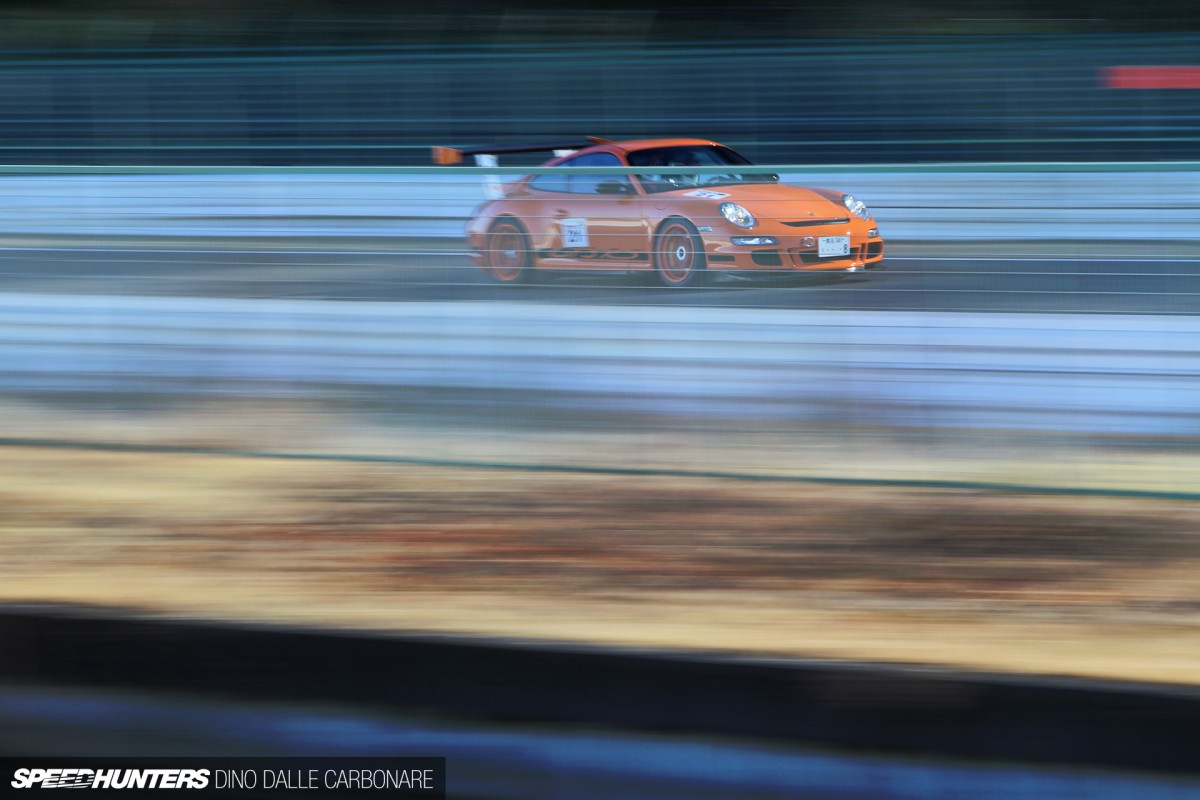 1'00″759 was its top time, and it sounded absolutely glorious achieving that minute-flat lap!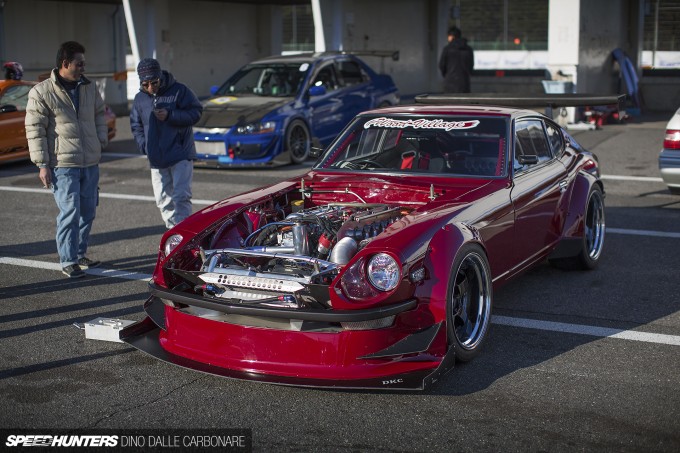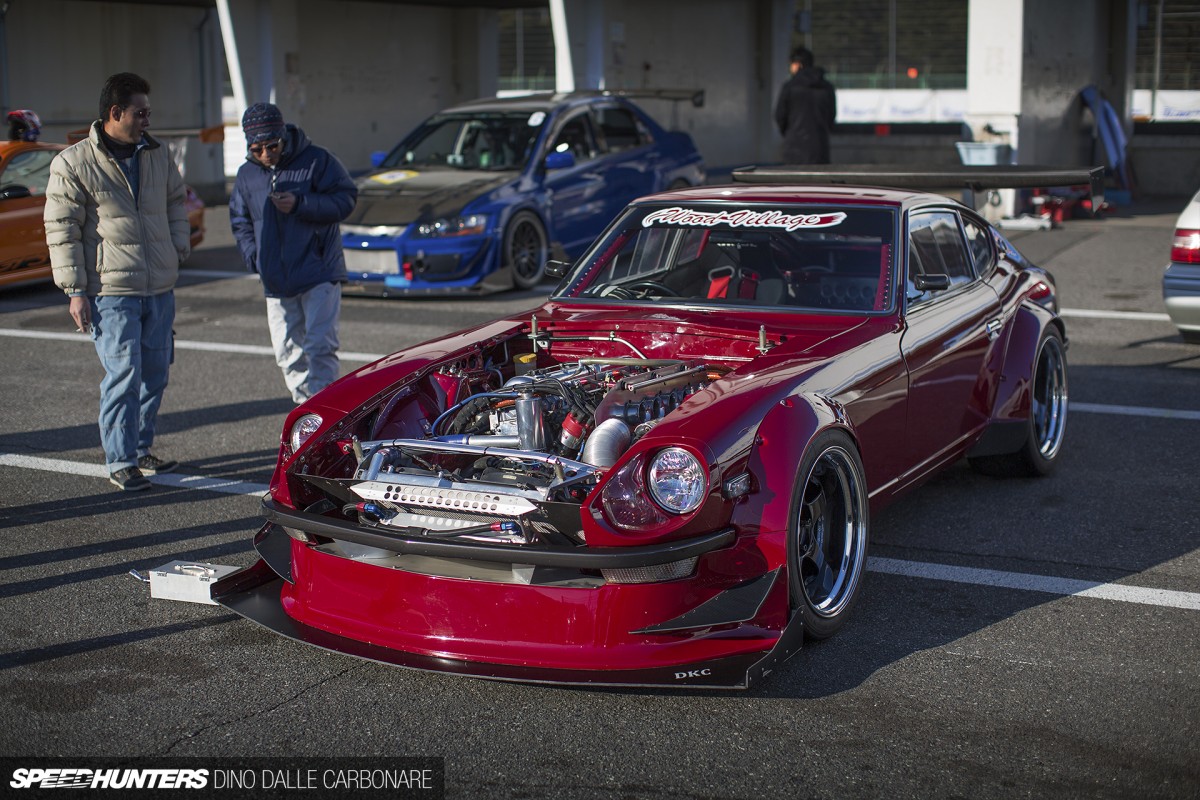 Sadly there aren't that many vintage cars that participate at this event – mind you, R32s and FDs should probably be considered vintage by now – except for the Wood Village S30. Over the years, the car has been improved, mainly with aerodynamic additions like the slightly longer lip and the carbon canards to help balance that massive GT wing it's always ran.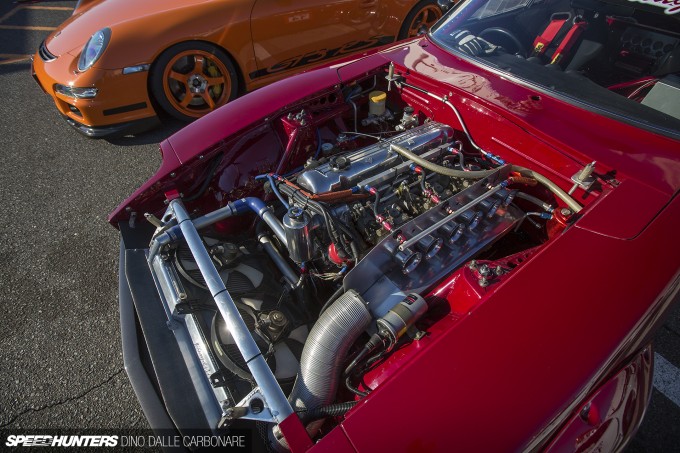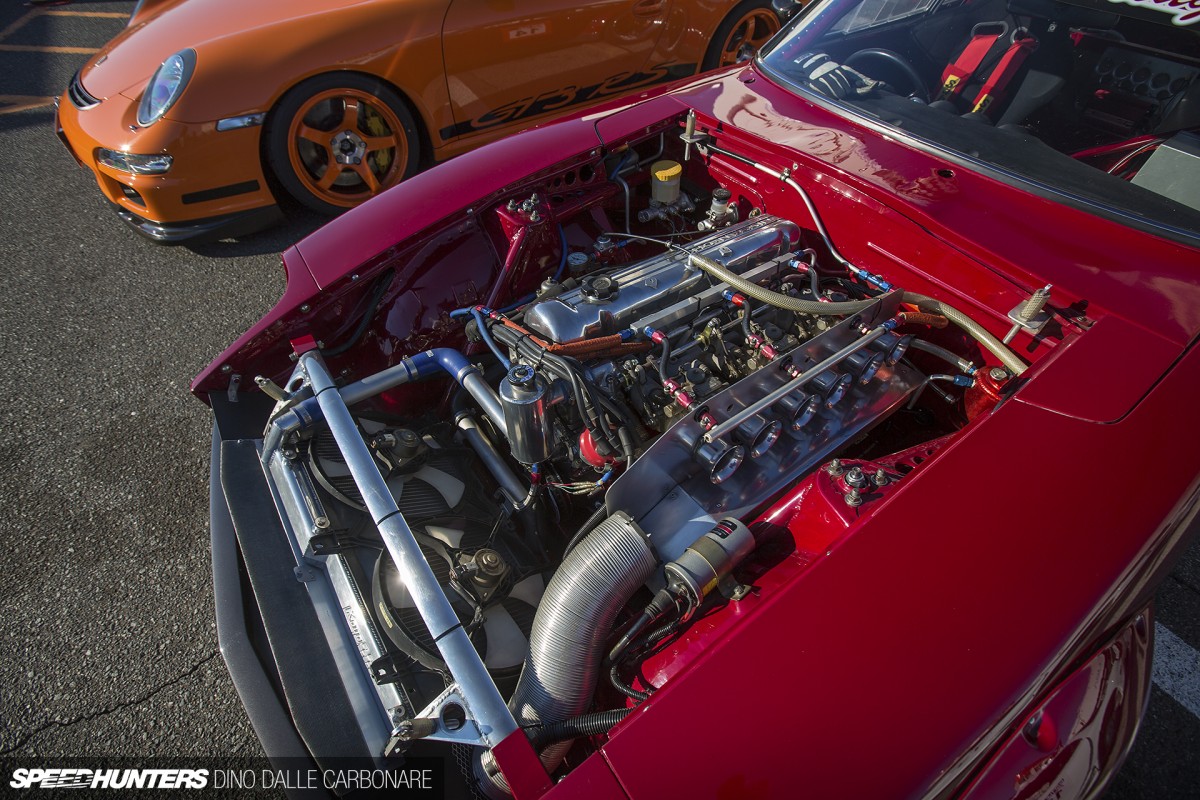 With a fully built, and superb-sounding L28 on carburetors, this old Z was able to keep recording 1-minute flat laps, the fastest of which was a 1'00″371. Not bad for a car that's forty years older than the orange thing sitting next it!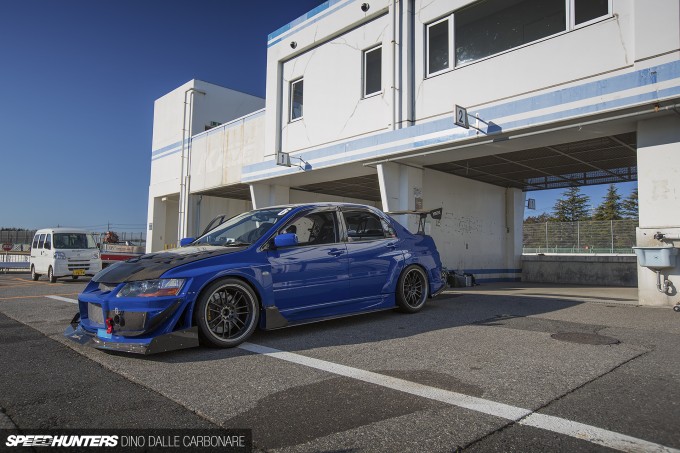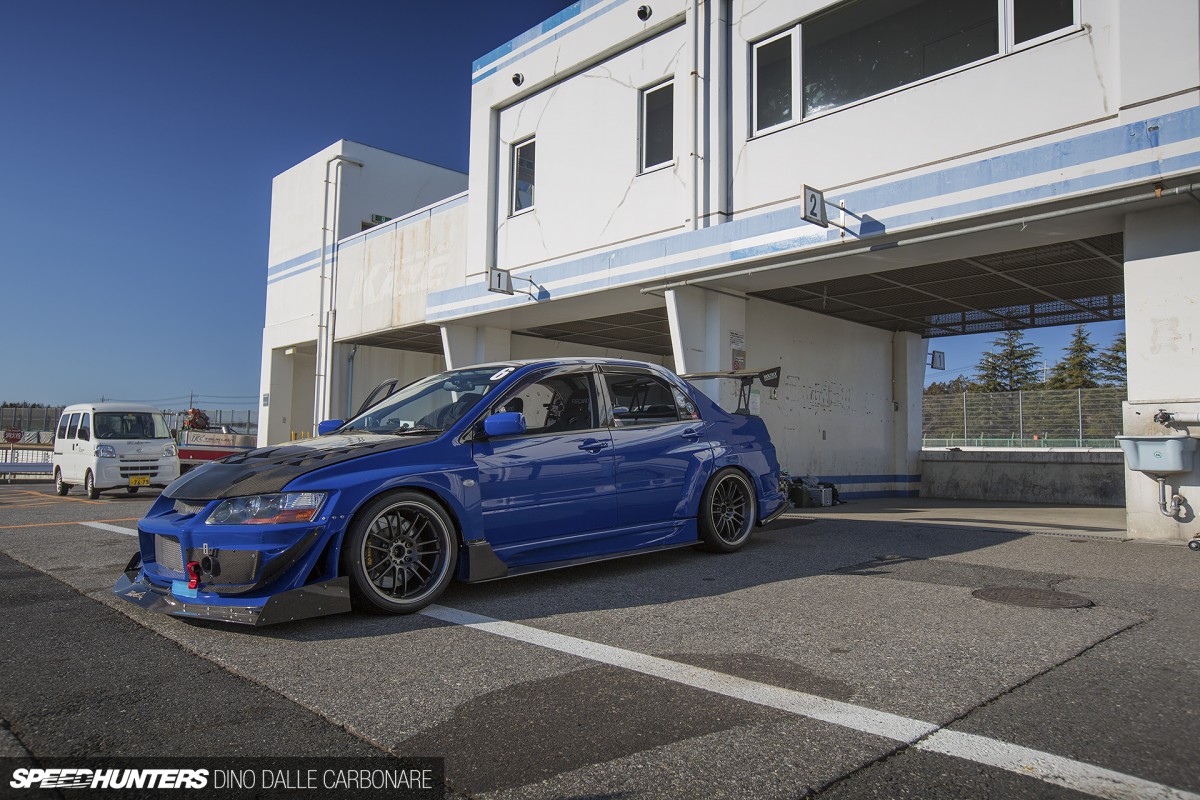 This widebody Varis CT9A may well be one of the nicest street spec Evos I've ever come across, mixing such a great combination of aggression and functionality. Unfortunately, the owner only took it out for a couple of laps before retiring it and calling a flatbed to take it home. Play hard and stuff will break I suppose.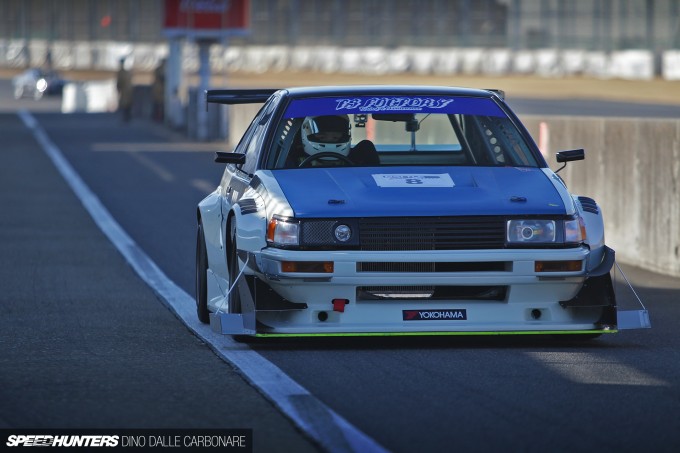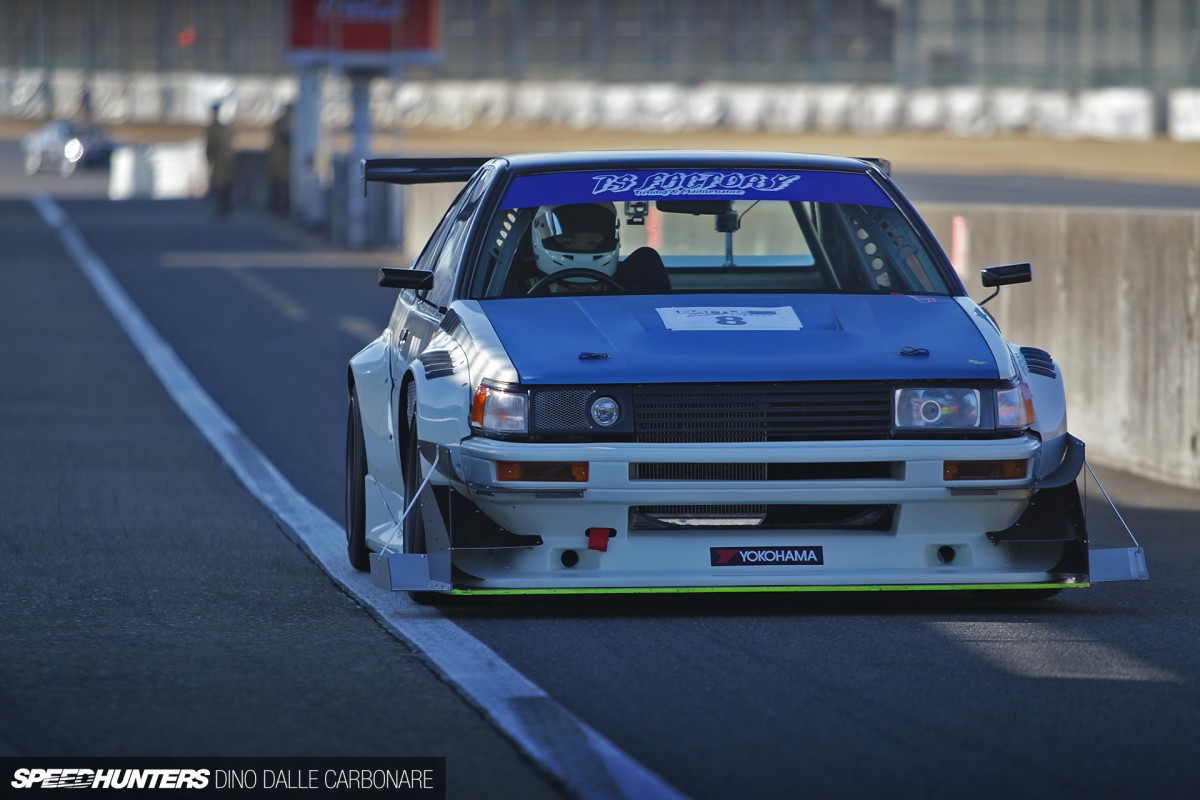 An hour literally went by in the blink of an eye, but I hope this first Battle Evome coverage of the year gets you in the mood for more. I'll be attending the fourth and last session of 2014 next month when Under Suzuki will return with his once again improved and possibly more powerful S15 for a crack at that Tsukuba record he well and truly owns!