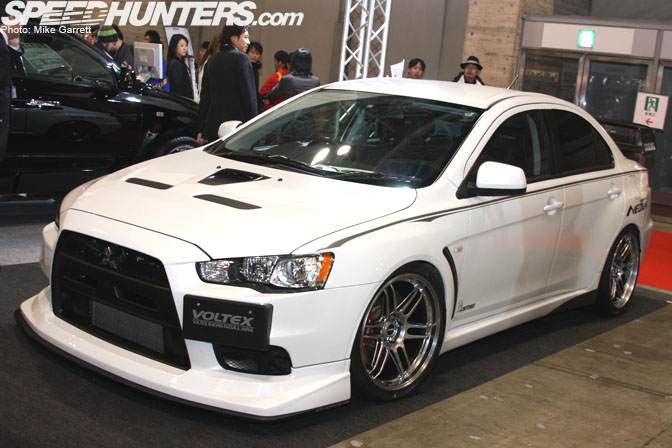 Continuing on with my "themed" Tokyo Auto Salon posts, I thought I'd cover the selection of tuned Mitsubishi Evos found in the halls of Makuhari Messe. The Evo X has been on the market for a bit over a year now, and was by far the most popular Evo model at this year's show. There were also a handful of older Evos out there as well. I figured I'd open with the Voltex Evo X demo car, as it was in my opinion, the best looking X at the show.
Not only do the Voltex aero parts look great on the Evo X, but you can bet they are just as functional as the rest of the Voltex line. The wheels are again AME Tracer XM-02's, one of the popular wheels at this year's show.
I'm probably leaving a few out, but these are the Evos that struck my eye.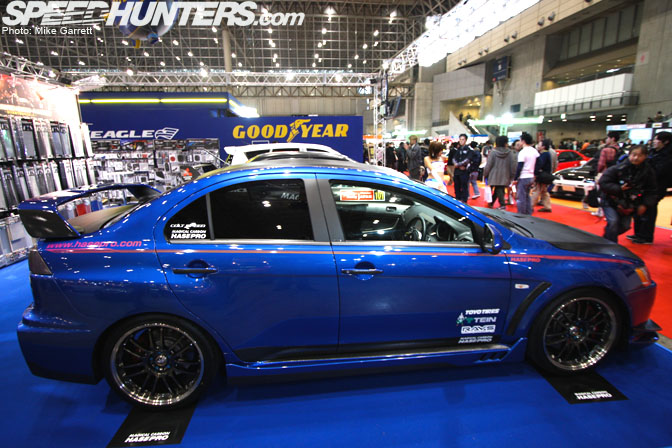 Hasepro might not be as well known as some of Japan's big parts companies, but their new complete aero kit for the Evo X was getting a lot of looks at Auto Salon. I think their campaign girls also helped draw people in…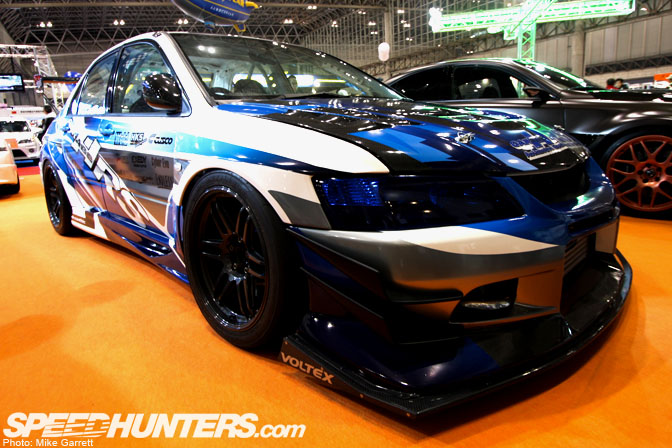 The Garage HRS Evo 9 time attack car was on display in the Option booth sporting a new blue livery. Hopefully this car will be popping up some track events soon as I'm anxious to see how she runs.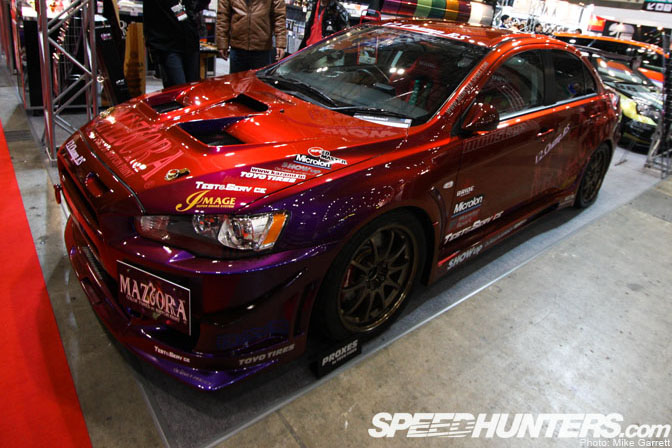 Maziora is a regular at Auto Salon, and this the year they brought an Evo X coated in their signature color-changing paint. The car was cool, but I thought they could have chosen some better wheels than the high offset bronze CE28N's seen here. They are kind of overwhelmed by the body, but maybe that's what they were aiming for?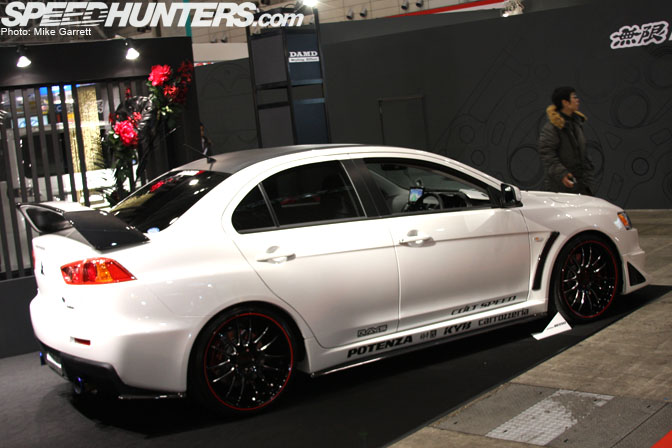 Here's DAMD's new aero offering for the Evo X, one of the more aggressive designs out there.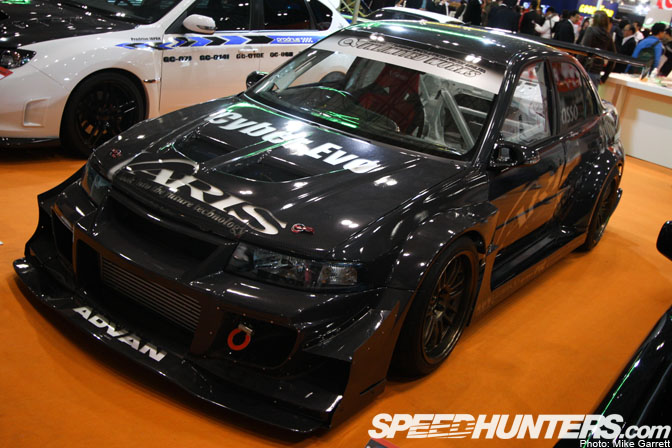 Also on display in Option area was the VARIS MKSport CP9A Evo time attack machine. I'm sure you have seen my photos of this car flying around Tsukuba Circuit to the tune of 56 second lap times.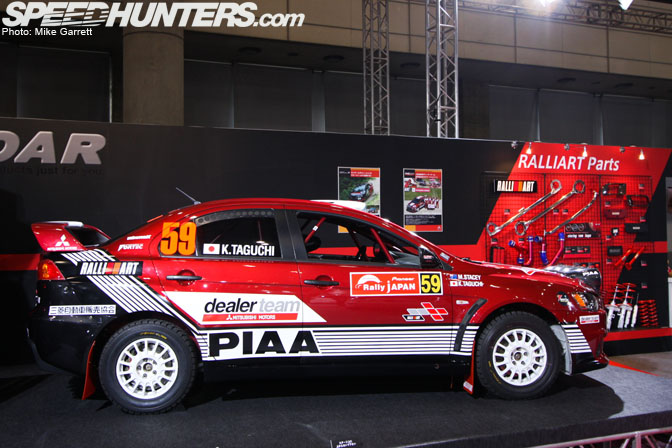 Mitsubishi's booth wasn't anywhere near as big as it was last year, but there were a few interesting cars like the Evo X rally car.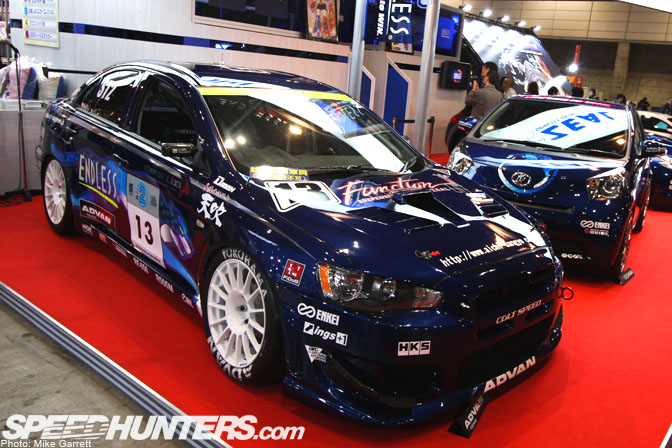 Endless had several cars in matching livery, including the Evo X Super Taikyu race car.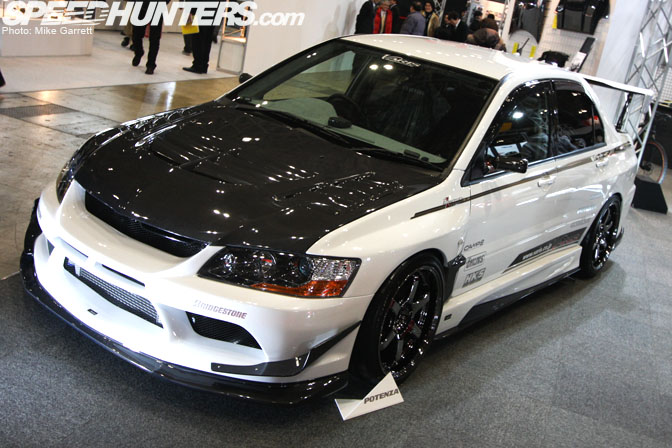 VARIS displayed their new Extreme aero kit for the CT9A Evo, proving that the previous chassis still has a ton of potential left in it. I think this car looks awesome.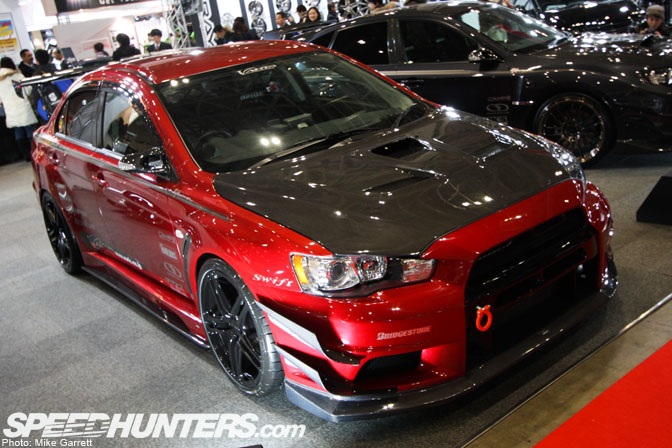 They brought their Evo X demo car out as well.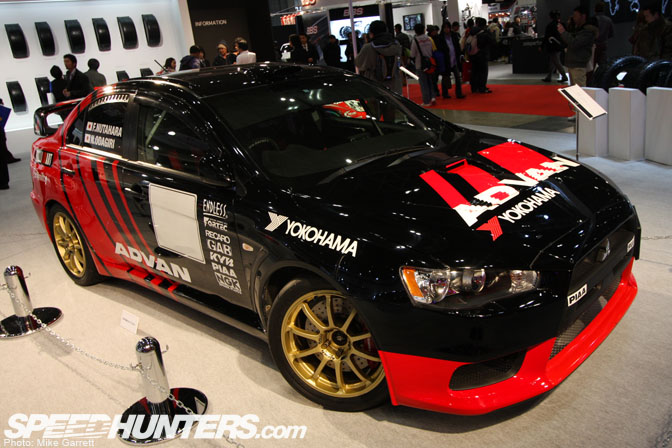 The X looks great in the classic red and black Advan racing livery. This car was part of the Yokohama Tire display.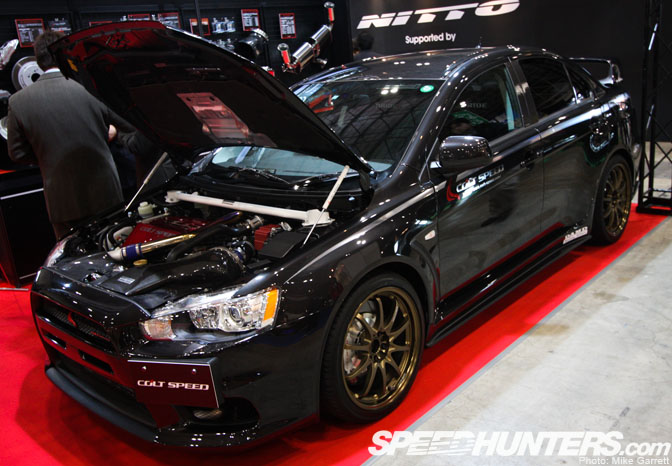 Here's the Evo X from Mitsubishi specialist Colt Speed.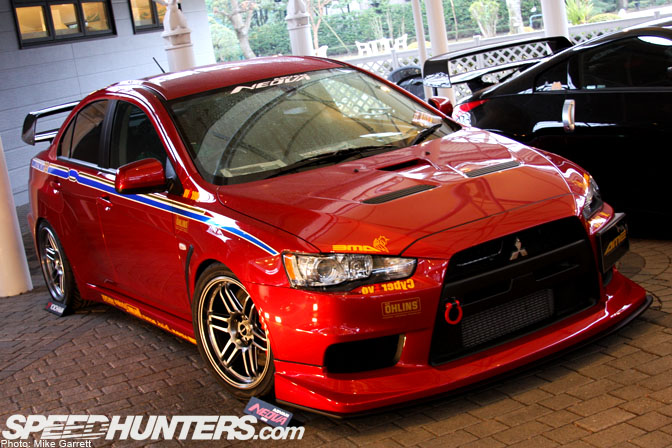 The Unlimited Works Evo X demo car was on display at the AME event on Friday.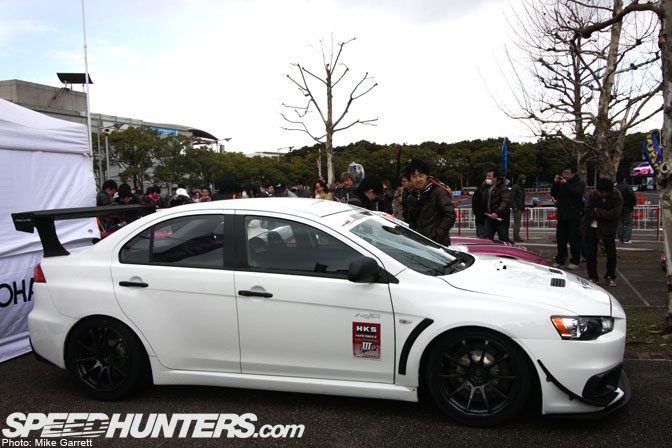 And finally, the car that gets my award for "Best Evo at Auto Salon '09", the HKS CZ200S Evo X. It was hidden away outside near the D1 area, and actually looks pretty inconspicuous without any loud graphics or other shiny bits. Looks can be deceiving though, because last week HKS brought the car to Tsukuba Circuit where it ran a 59.495 with NOB Taniguchi behind the wheel. That makes it the fastest tuner Evo X in Japan by a wide margin. Even more impressive is that it's still a street car through and through. It retains the full interior with no rolld cage AND it runs on Advan Neova street radials.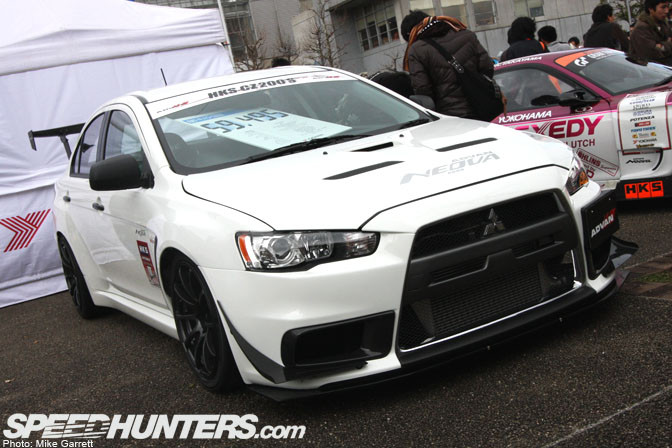 As you'd expect, it's loaded with HKS parts like a V-Cam set-up, R-Type intercooler, F-Con V computer, a one-off exhaust, and Hipermax coilovers. I'm not sure what HKS's secret is, but this car is pretty damn amazing. I'm sure it will get even faster with time.
So there you have it, the Evo's of Tokyo Auto Salon 2009.
-Mike Garrett