2023 Intro
In last week's Throwback Thursday post, we mentioned briefly how BenSopra was one of the first companies to go wide with an R35 GT-R, but is not one that comes to mind when you think of overfenders on Nissan's halo performance car. Back in 2013 though, it was another car that put BenSopra on the tuning world map – the Nardó Special 380SX.
This was Speedhunters' biggest car feature story of 2013, and for good reason. BenSopra's Kazunori Ueta took an RPS13 Nissan 180SX, fitted it with a wild, custom wide-body kit and re-powered it with a hard-tuned 4.0L VR38DETT making 1,100+hp. Did we mention it was built for top speed and drift?! There really is nothing not love about this build, so let's wind the clock back 10 years to revisit it…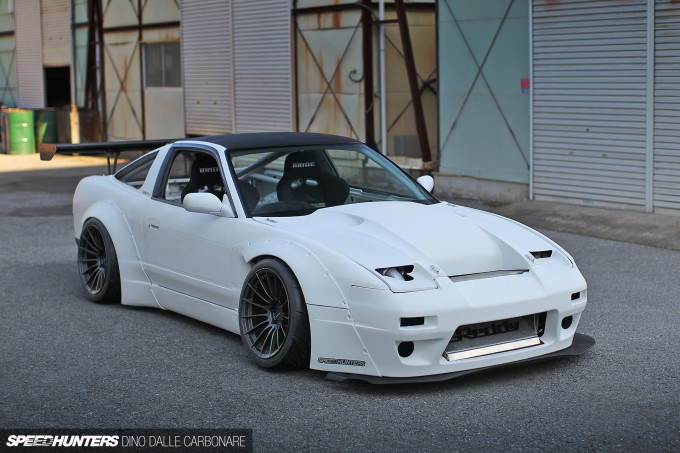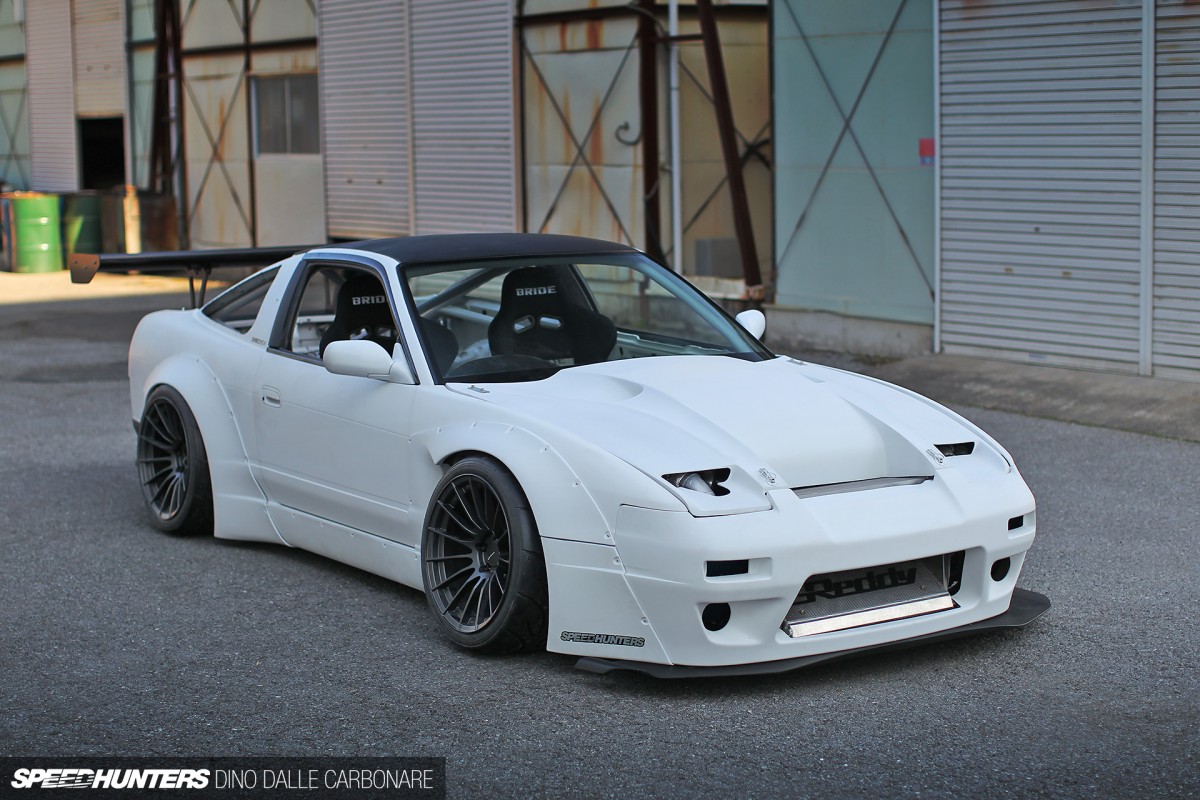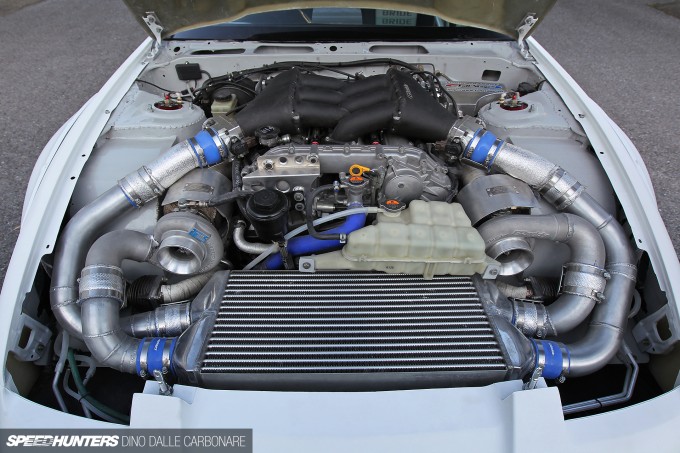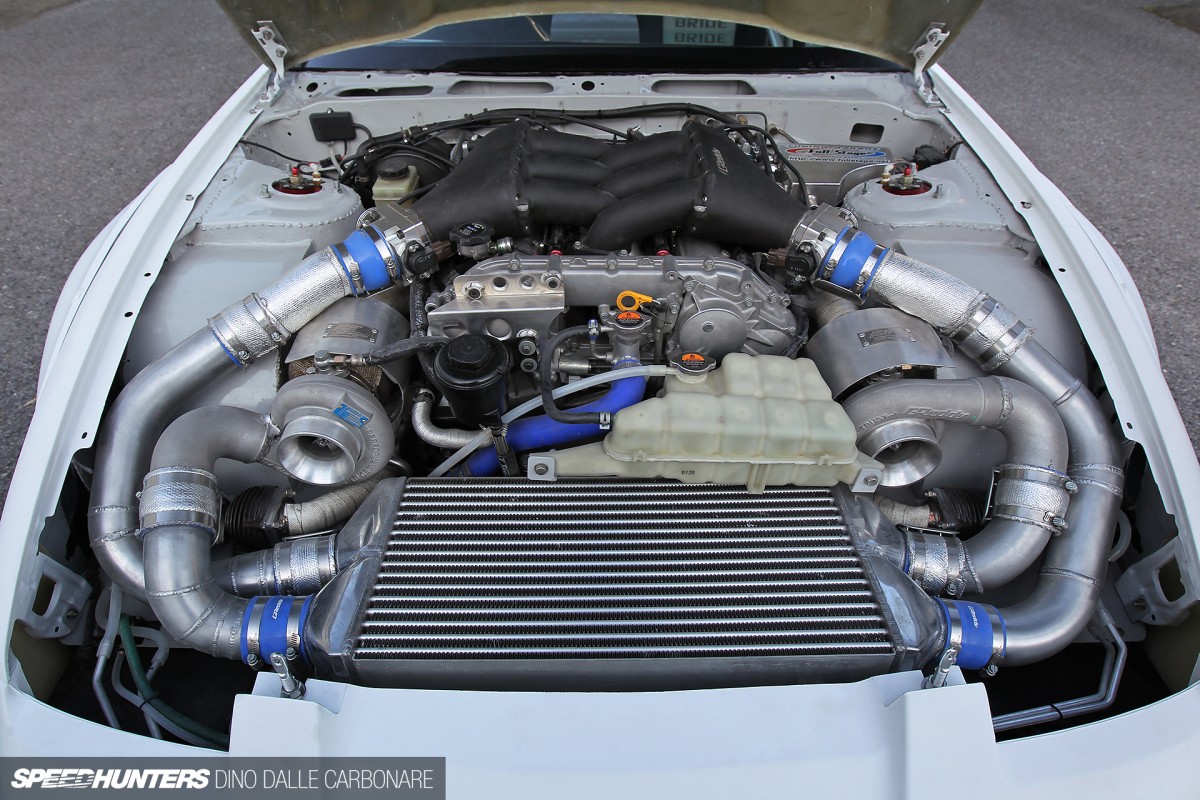 Speed Challenger
It was about three months ago, on my last trip down to the Kansai area of Japan, that I realised I was standing in front of the car of 2013. As Ueta-san of BenSopra ran the plans he had for his 180SX-based project by me, it quickly became obvious that there wasn't going to be one single car at the 2013 Tokyo Auto Salon that would come close to matching the sheer awesomeness of this machine.
Needless to say, I was right. BenSopra did it last year with their GT-R. This year it's the turn of the Nardó Special 380SX.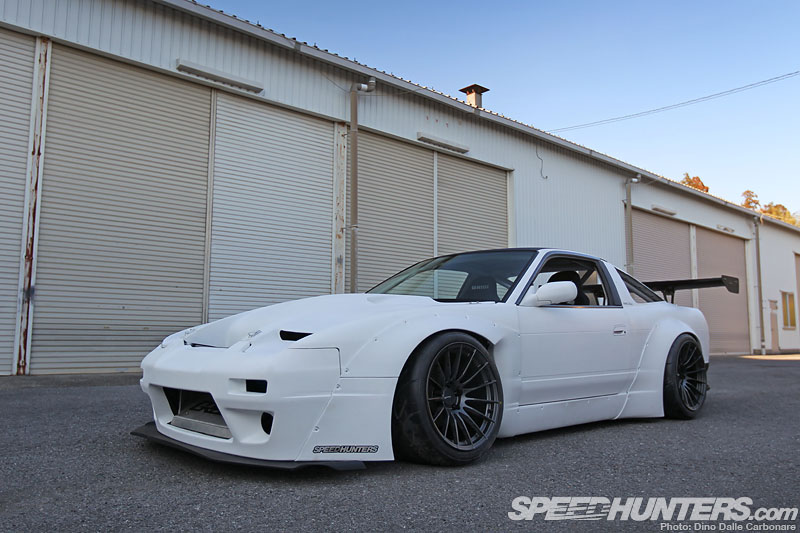 After what must have been a very long drive up from Kyoto, Ueta-san and his mechanic arrived at the Trust HQ just outside Narita last Thursday, the day before the start of the Tokyo Auto Salon.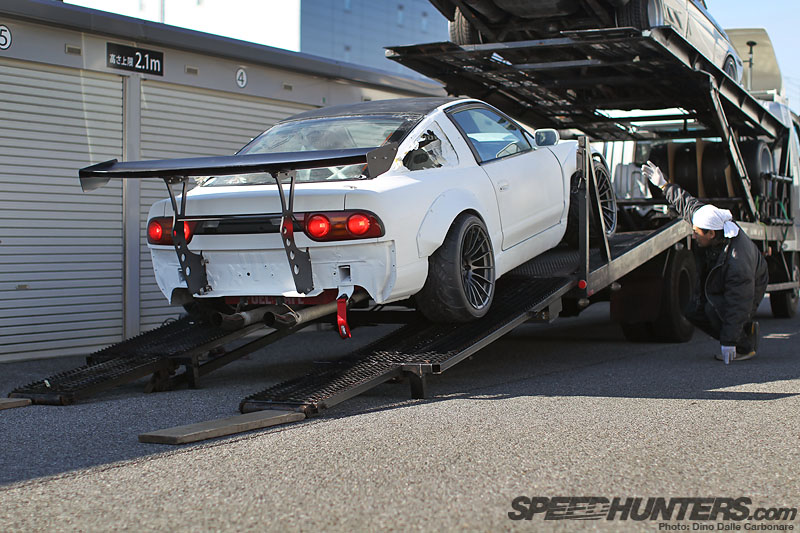 They had just finished the car the night before, and rather than heading straight to the Makuhari Messe they were kind enough to meet me at Trust so that Sean and I could shoot the impressive creation.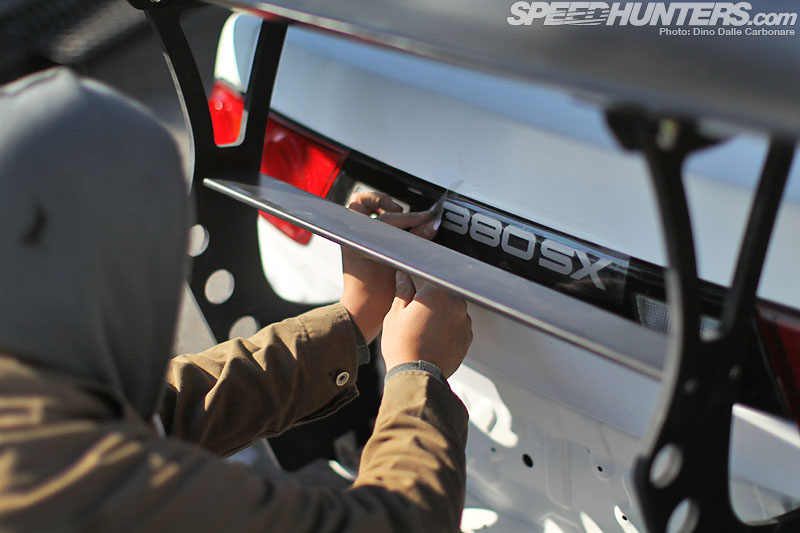 Once the car was unloaded from the transporter there were still some small touches that needed to be made, including applying a few stickers like this custom-made 380SX one. The car would then be stickered up at TAS that night by Art Factory, the same guys that do about 90% of all the graphics for Japanese tuner and drift cars.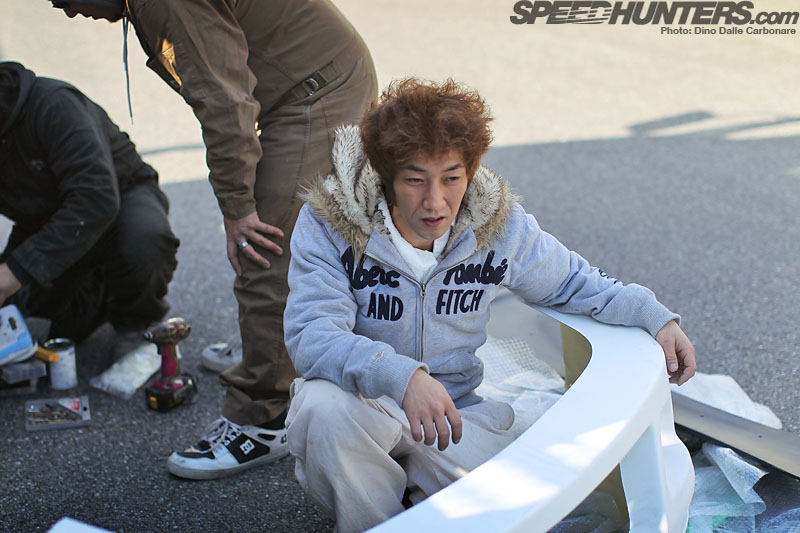 Miura-san has also driven all the way up from Kyoto, skipping a night of sleep in the process. Riding six hours in his very firm FR-S had given him serious back pain, but there was no time for rest – the one off BenSopra aero he had created still needed some work. The front bumper needed to be bolted to the splitter and the carbon fiber rear diffuser assembled and fitted to the car.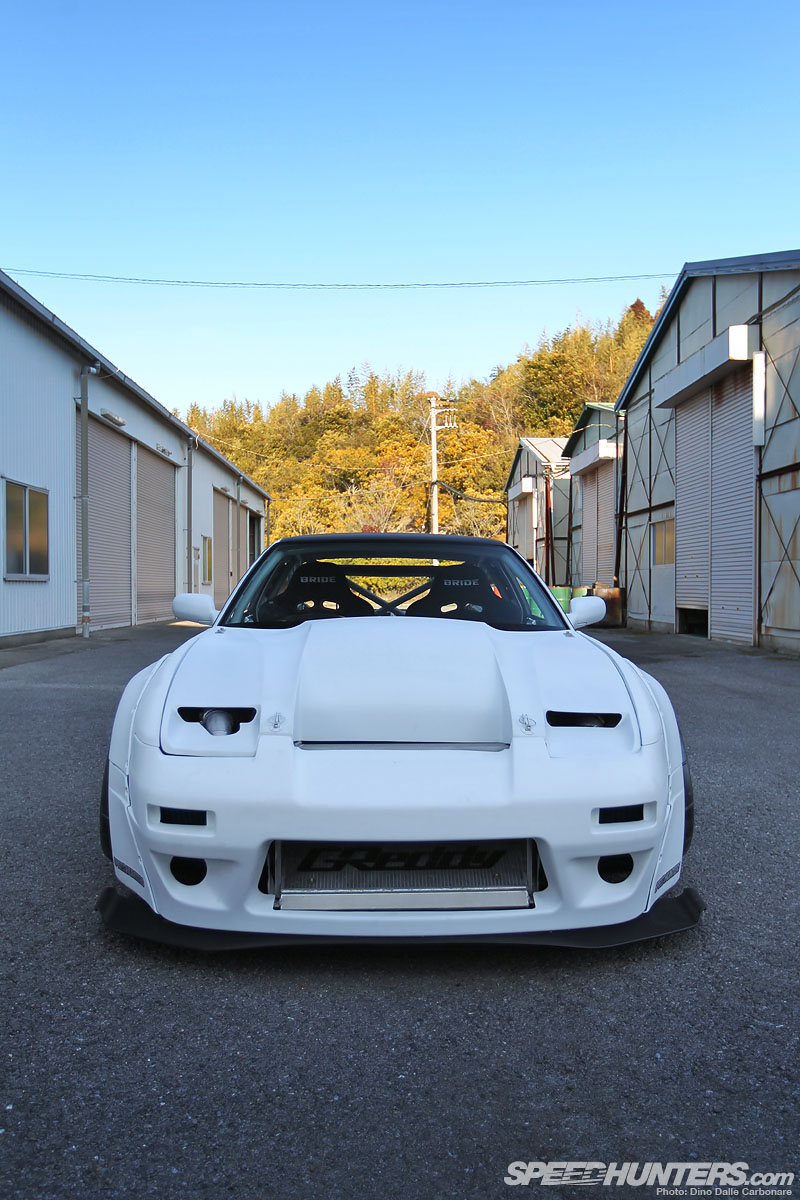 It all took some timem but Sean and I were patient because we knew we would soon have full access to the car that will go down in history as the most extreme Japanese tuner projects ever created.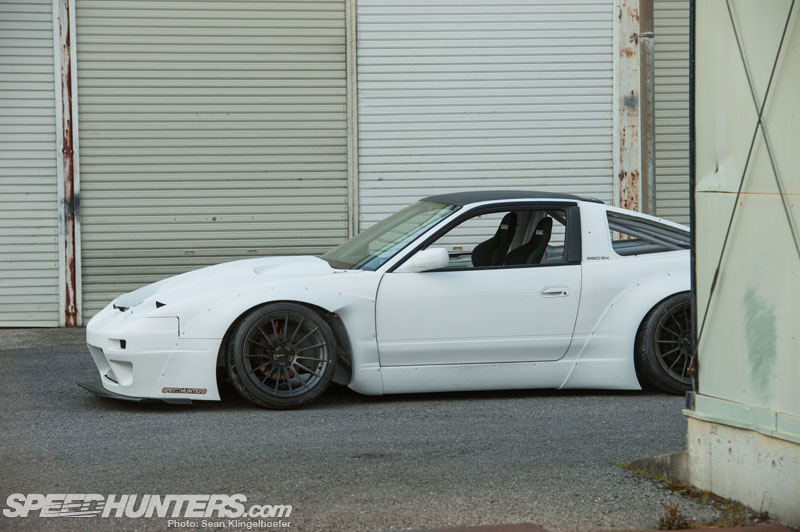 Of course, what makes this car very special is that it combines a very fresh aero treatment…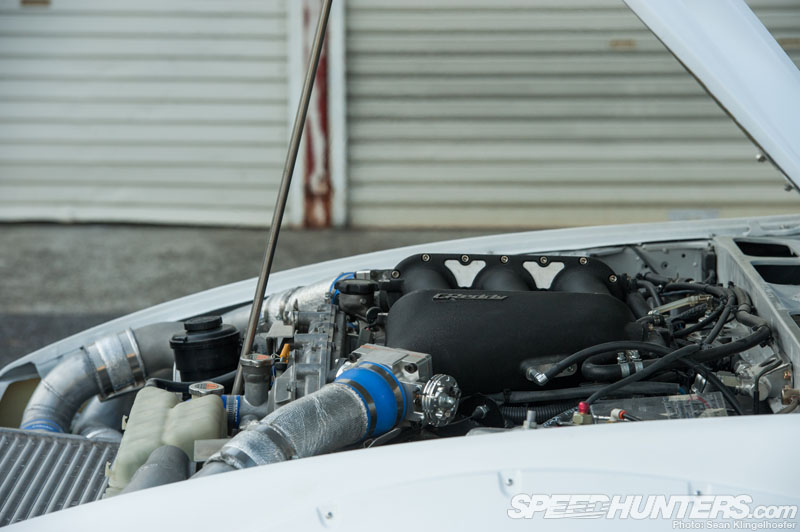 …with one of the wildest engine swaps ever attempted in a Nissan RPS13.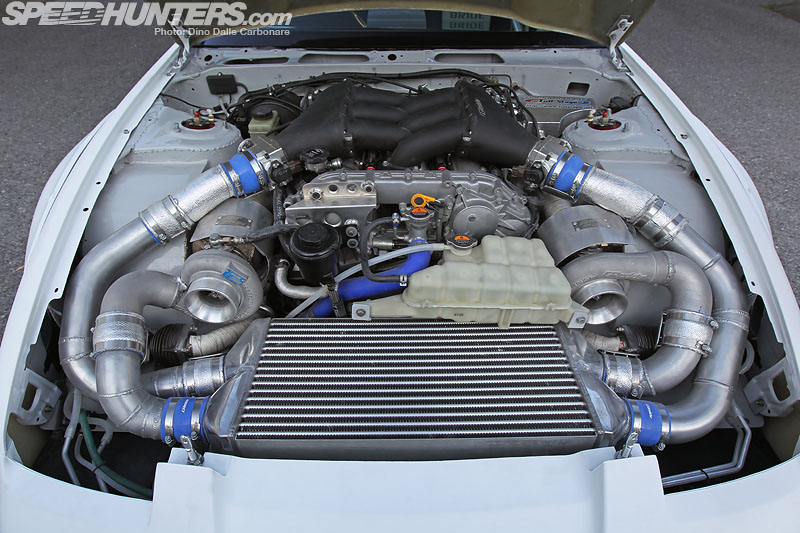 The whole engine and drivetrain was literally ripped out of the ex-Blitz R35 GT-R that BenSopra based their 2012 project car on and then custom fitted into the much smaller 180SX engine bay. As Ueta tells us, it was a three-month long headache, but thankfully they had the masterminds at Trust to lend a helping hand. After creating the custom engine and transmission mounts to hold up and position both the VR38 and the Holinger sequential transmission in place…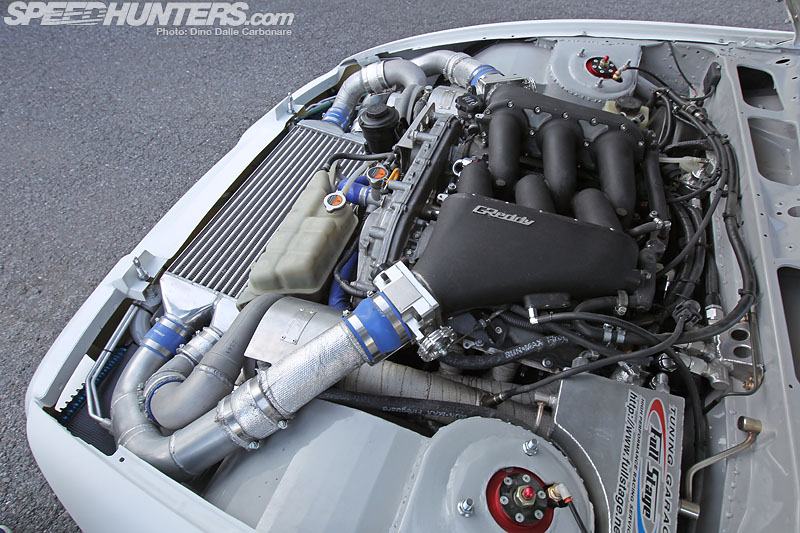 …it was over to Trust for a lot of custom work. The engine was firstly refreshed and fitted with a Trust 4.0L stroker kit and then dropped back in place in its new home.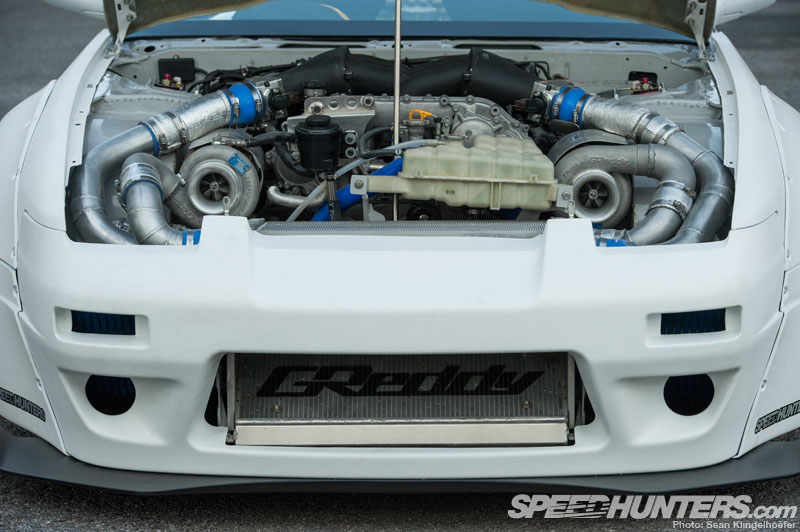 With two big TD06-25G blowers and a planned v-mount intercooler and radiator setup, there was a lot of work that needed to be done…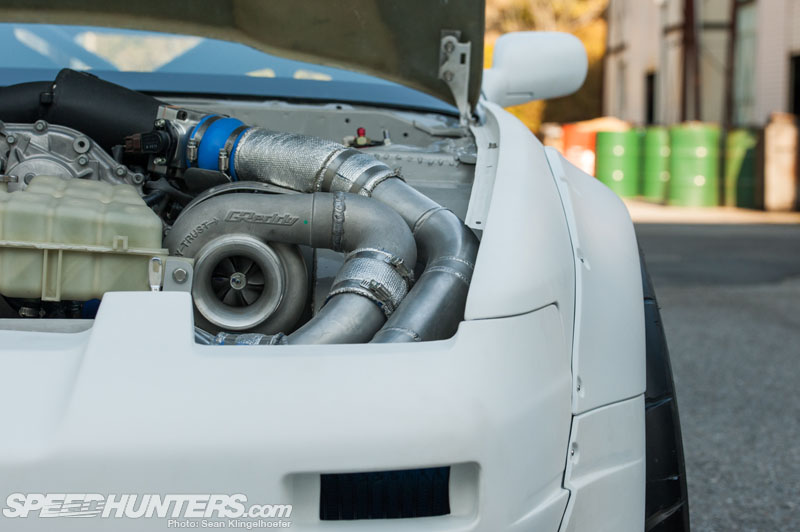 …and it all started off with a pair of custom fabricated stainless steel exhaust manifolds to position the turbines…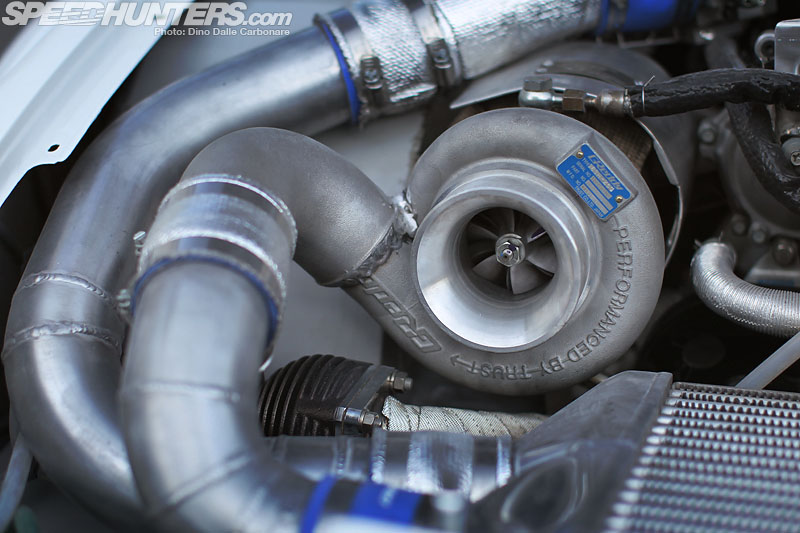 …in a top-mounted layout, right next to the two banks of the engine. The external Trust wastegates are right under each TD06, within easy reach if the spring needs to be changed. More custom piping followed, this time aluminum that would plumb the whole intake system to the…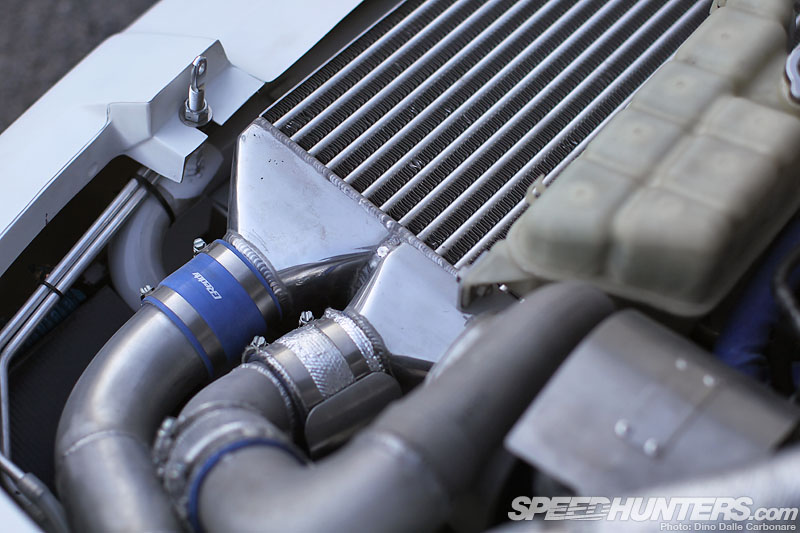 …horizontally positioned twin-entry intercooler. To allow this to fit the front section of the chassis and radiator mounts had to be cut away, and a custom subframe fabricated and bolted in place at the same time the chassis was being prepped prior to the build.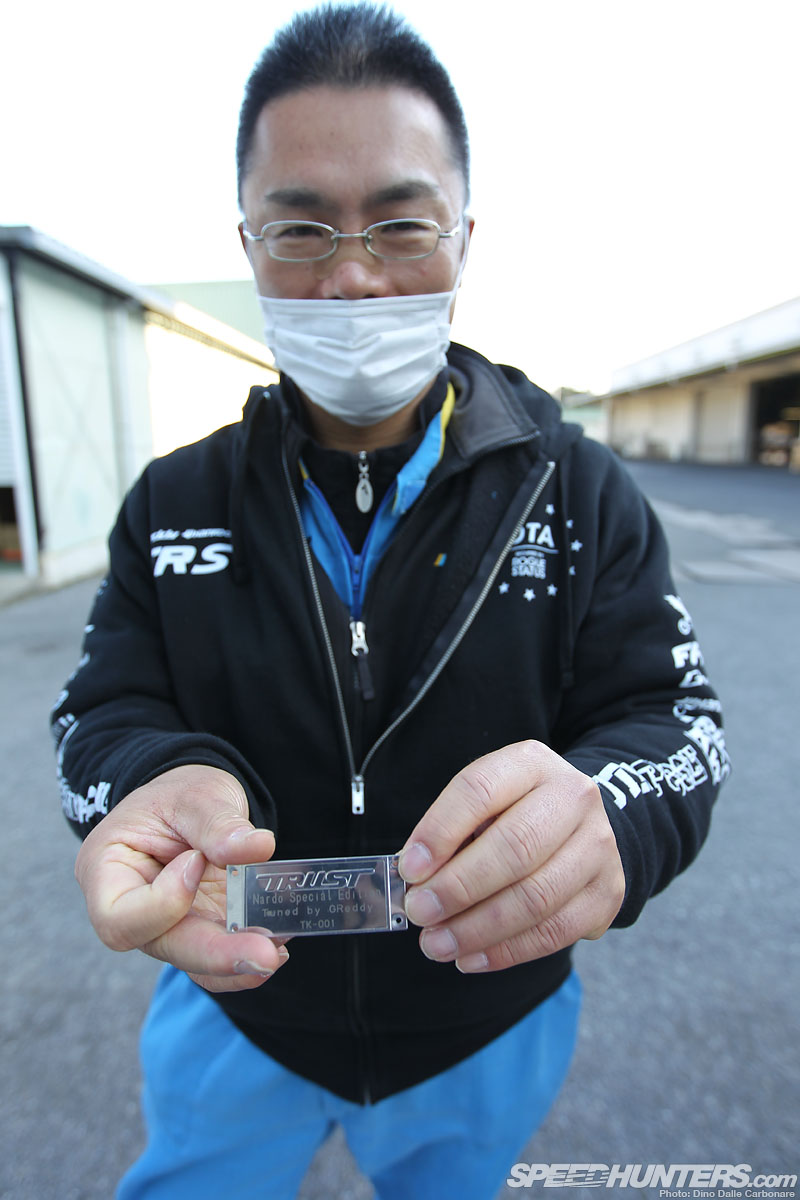 Toru Kawashima from Trust, the man responsible for all the custom work and fabrication, is seen here holding up a 'Nardo Special Edition TK-001′ plaque he made up for the 380SX.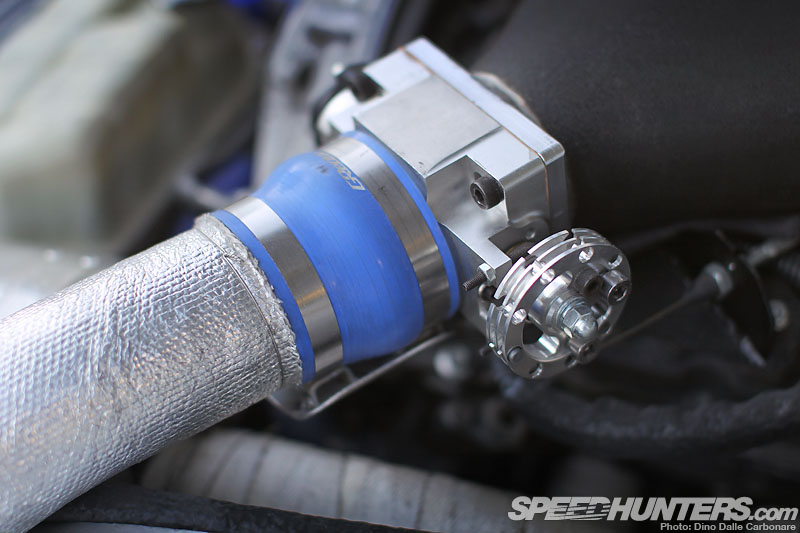 Once the intake charge has been compressed and cooled it's throttled through these billet 90mm mechanical throttles, supplied by Osaka GT-R specialist Full Stage…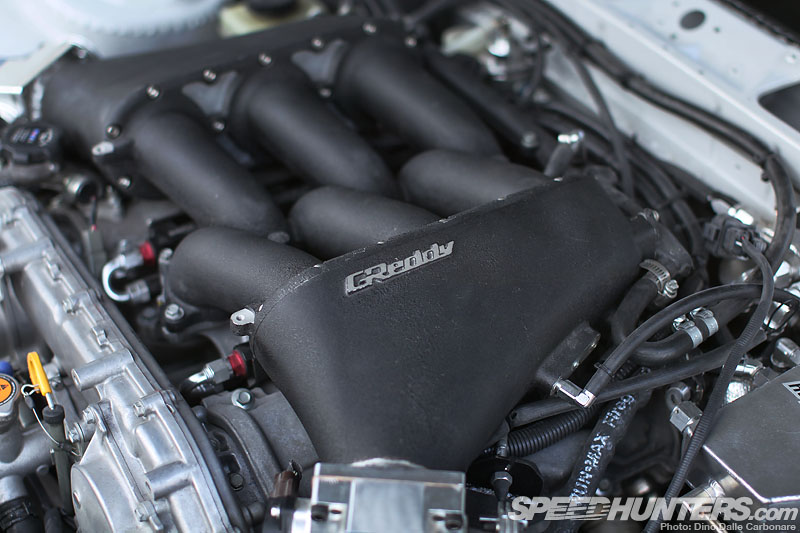 …and directed into the engine by the Trust large capacity intake manifold. If by now your are wondering what the point of all of this is, well there is a reason this 180SX chassis needs the 1,100 or so horsepower it is currently running. In a few months this car will be driven by Ueta around the famous Nardó high speed ring in the south of Italy where it will be attempting to get as close as possible to the 400km/h mark (248.5mph). The event is being organized by Option magazine who has also invited tuners like Phoenix's Power and Top Secret to join with their top speed R35 GT-Rs.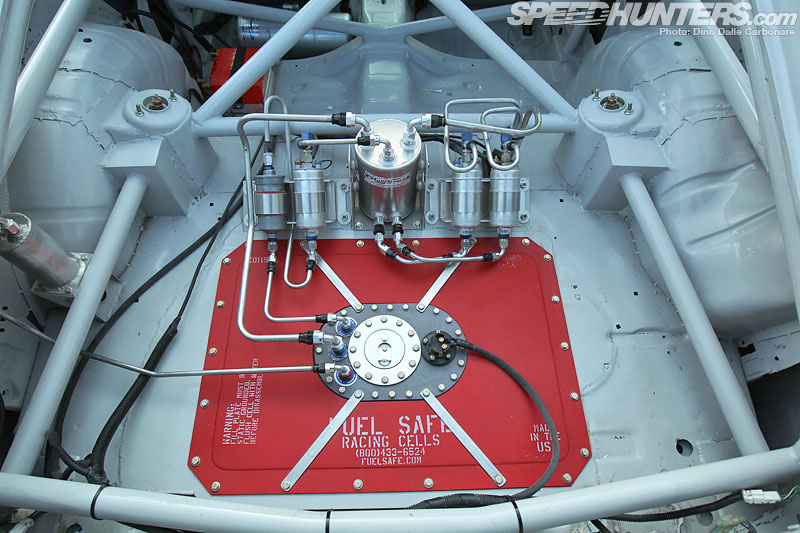 As you can imagine, when the throttle is pinned to the floor this tuned VR38 has a pretty massive thirst for high octane fuel, which is contained in the 40L ATL fuel cell…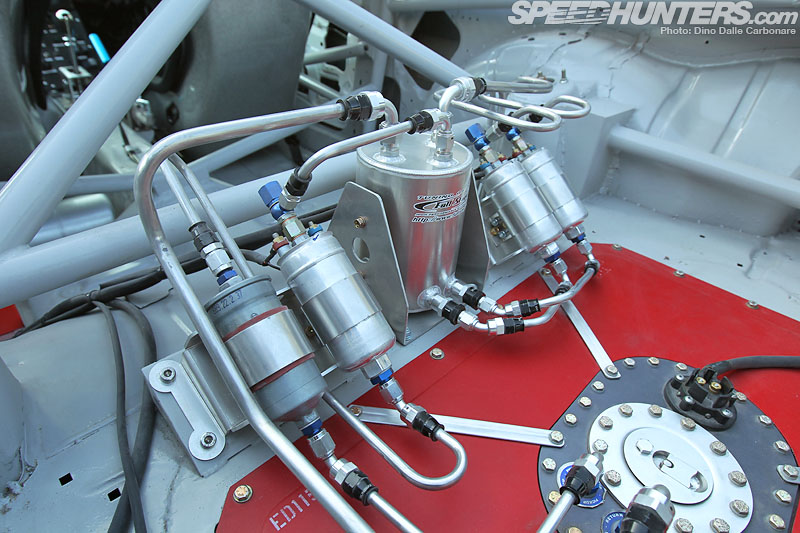 …and sucked out and appropriately pressurized by a pair of Bosch Motorsport 044 fuel pumps.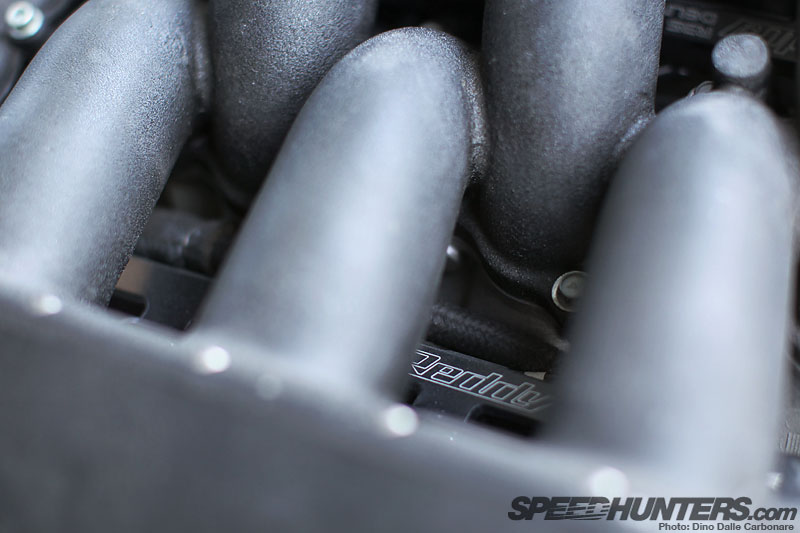 It is then sent via braided lines to the Trust/GReddy fuel rails and onto the 1000cc/min injectors which will be pretty much maxed out during the top-speed attempt.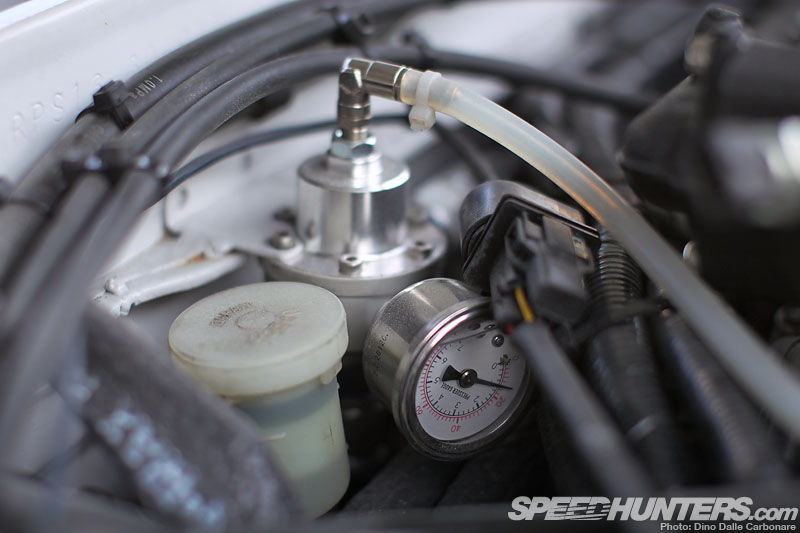 This fuel pressure regulator keeps everything in check. A pair of Trust GREX 13-row oil coolers keep the big V6 within operating temperature…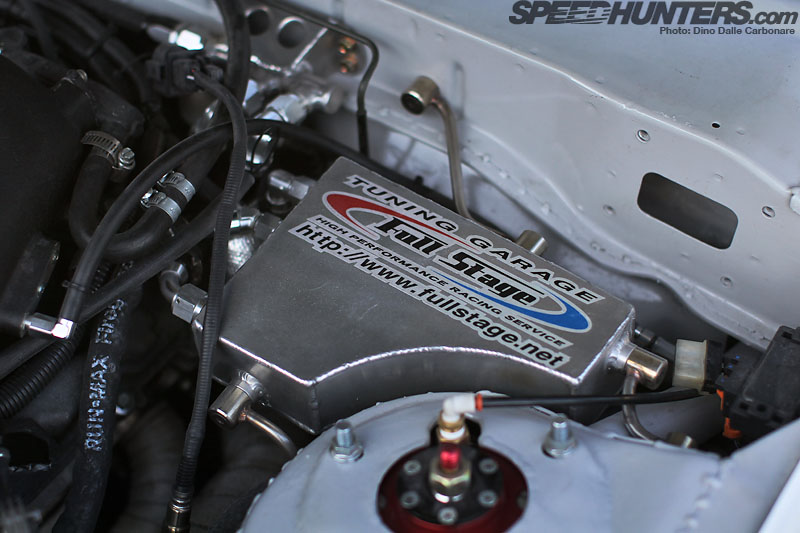 …while this custom made Full Stage oil separator tank catches all those nasty blow-by fumes.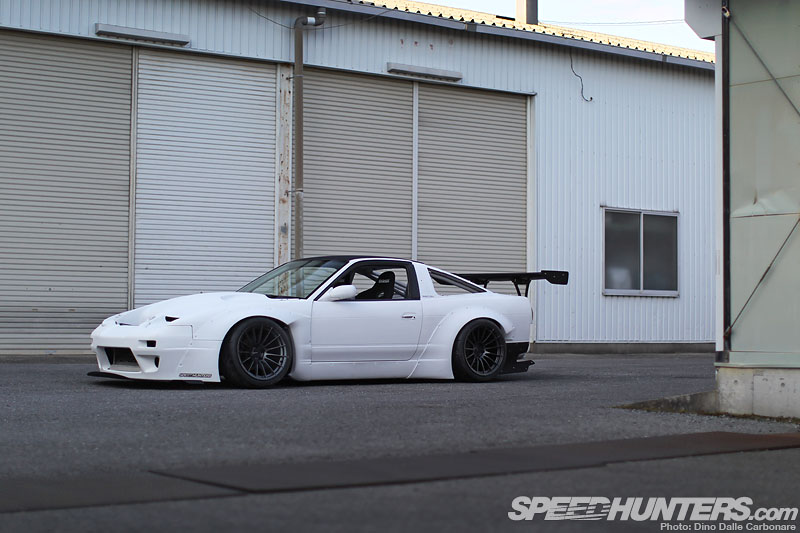 During the shoot the car was set to a more show car ride height, easily achieved through the custom air suspension that Full Stage built for the project.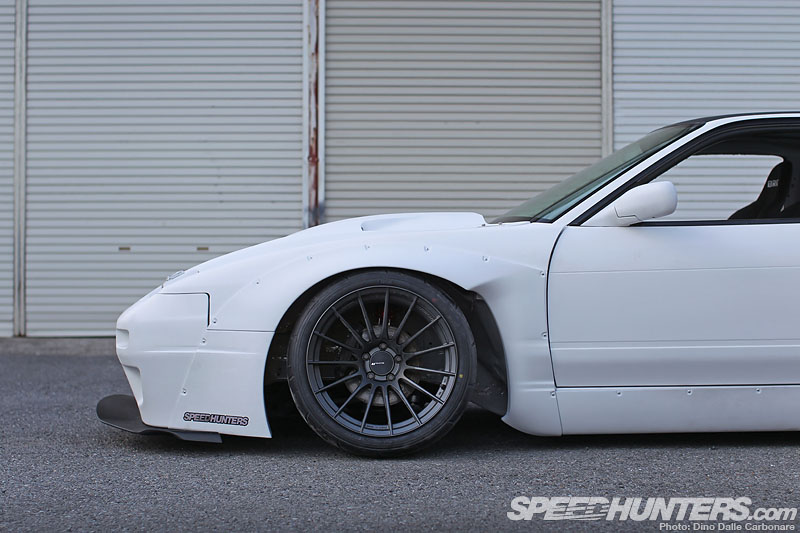 These, much the Roberuta air cups that a lot of people use in Japan, feature a regular adjustable coilover damper layout with a top-mounted air bag to allow the car to be lifted and dropped by a couple of inches.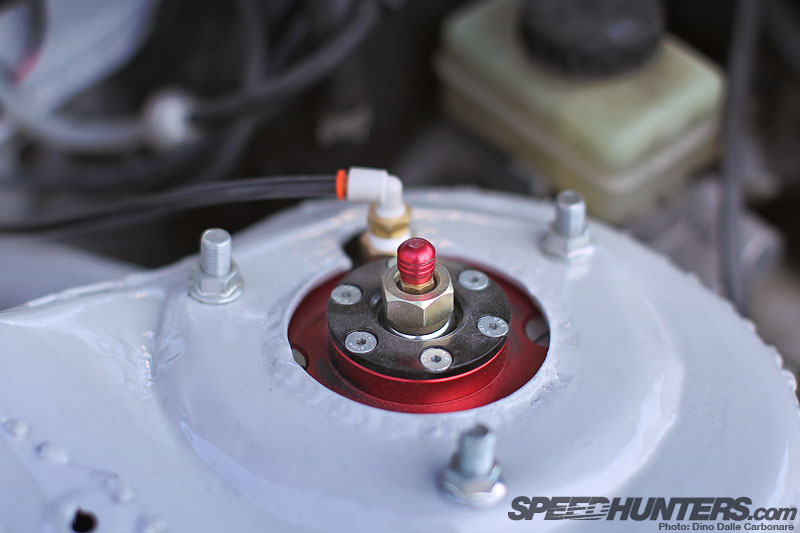 Ueta says this suspension will allow the car to be far more stable at high speeds, which will help with stability around Nardó.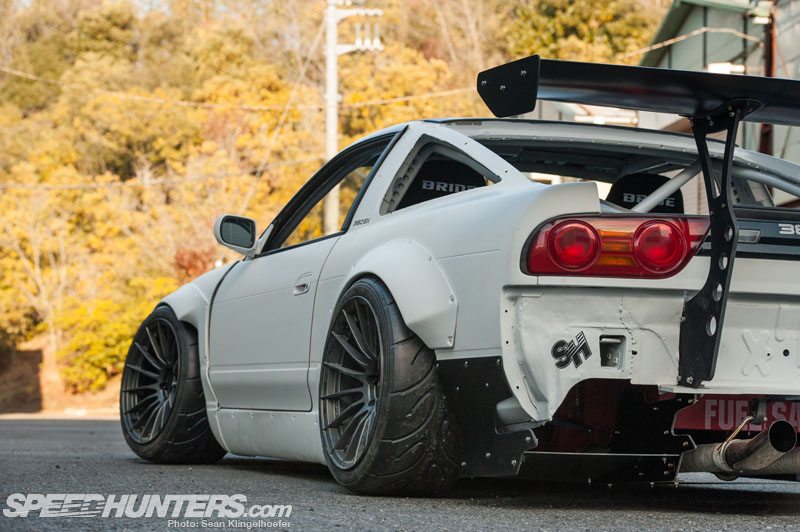 This is of the nicest angles to appreciate the BenSopra overfenders that Miura devised for BenSopra, having similar rear recesses that expose the tires, as done on the FR-S aero.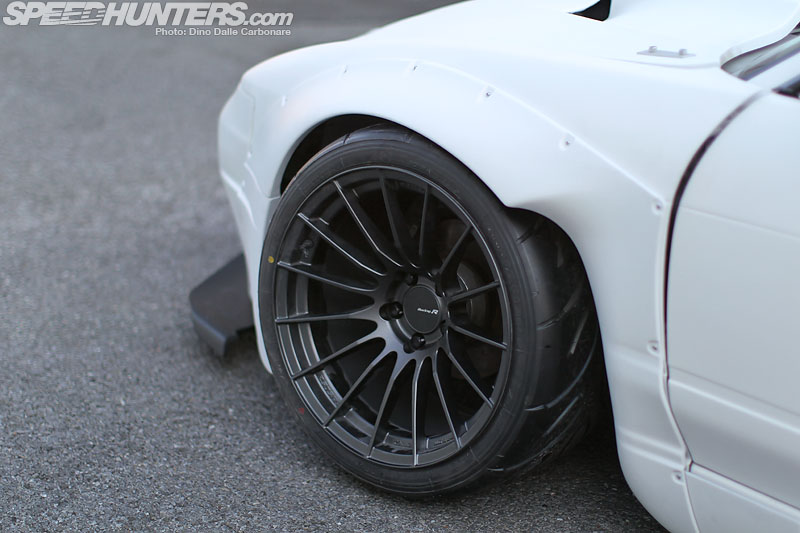 The wheels of choice for this project are satin black 18-inch Enkei RS05RRs, measuring a massive 11-inch across at each corner. They run Yokohama Advan A050s semi-slick rubber, 295/30R18 all round, which will hopefully hold up to the abuse of multiple high-speed attempts.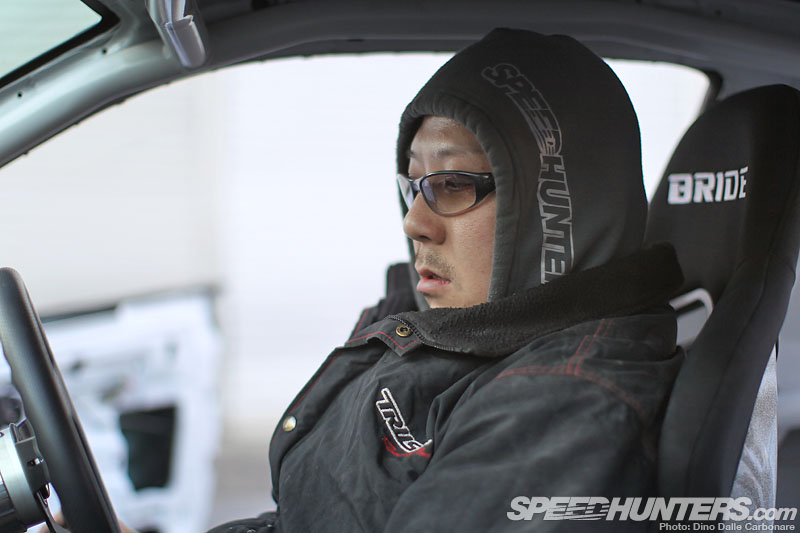 Ueta is confident the car will be able to reach some pretty impressive numbers in Italy, thanks to its custom gearing, and will potentially be the fastest car there.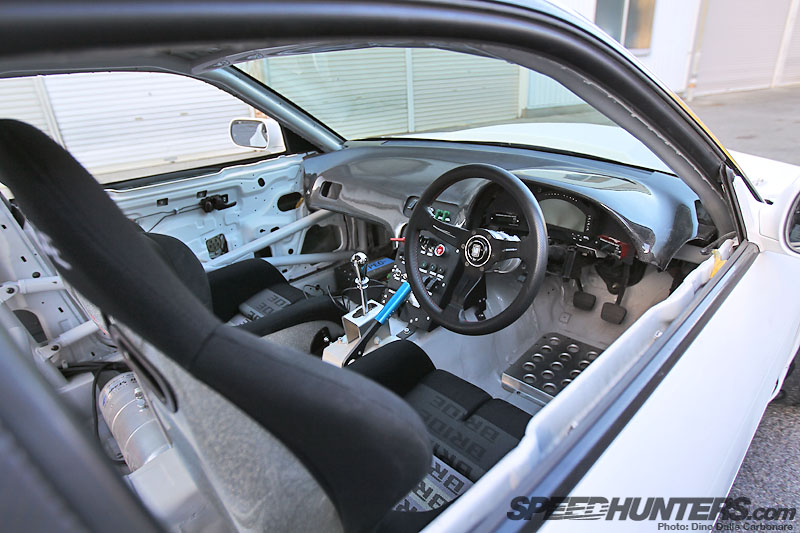 A little peek through the driver's side window reveals a very race-oriented interior. Aside from the custom carbon dashboard that BenSopra created, the 380SX has no trim to speak of…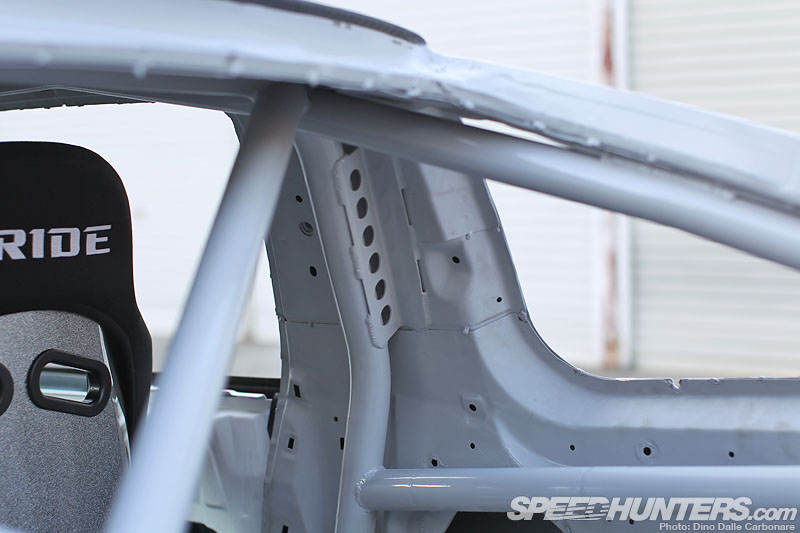 …as it was all removed and thrown in the trash when the chassis was sent to Saito Roll Cage prior to the build actually starting. There it received a multi-point cage created to not only boost torsional rigidity, but also offer high levels of safety.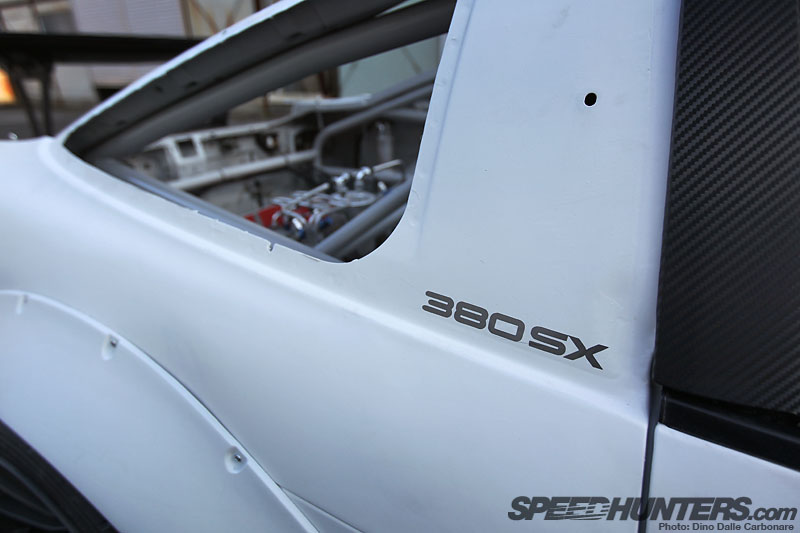 Ueta purposely didn't fit the rear gate and side windows so that showgoers at Tokyo Auto Salon would be able to have a good look inside and appreciate all the work that has been done to the shell.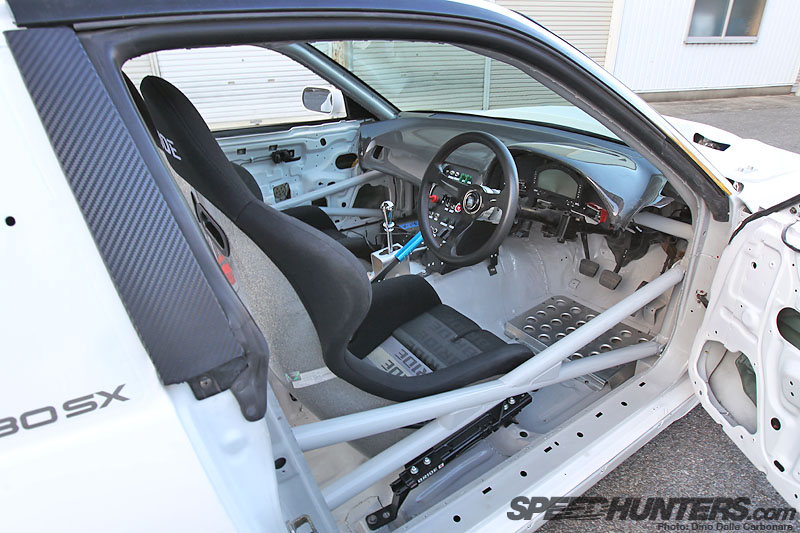 Ueta will sit in the Bride Zeta III bucket when piloting the car…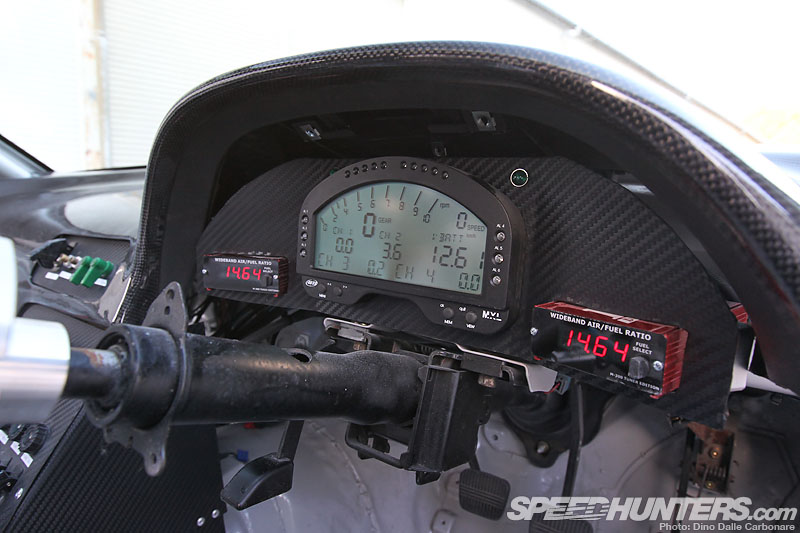 …and will be able to keep an eye on a ton of parameters and readouts through the AiM digital display. There are two wide-band lambda meters, one for each bank of cylinders, the easiest way to notice if any potential problems with the engine arise.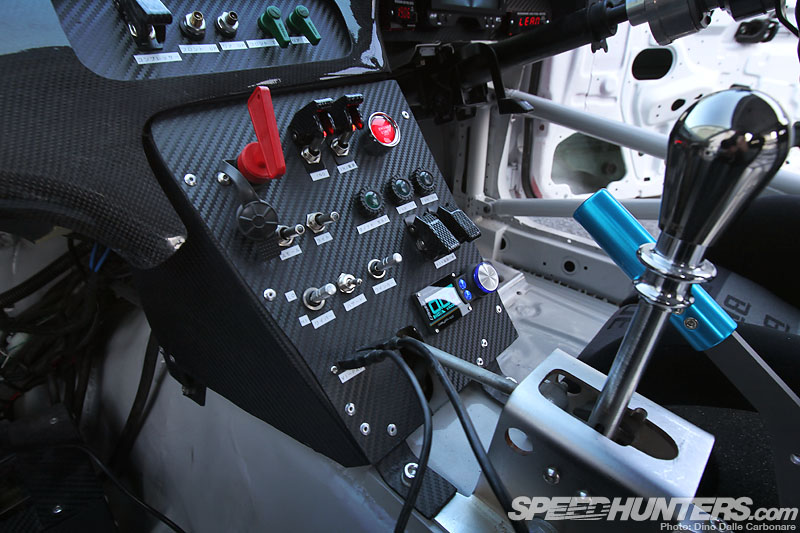 The custom carbon-look center console is where all switchgear has been laid out on…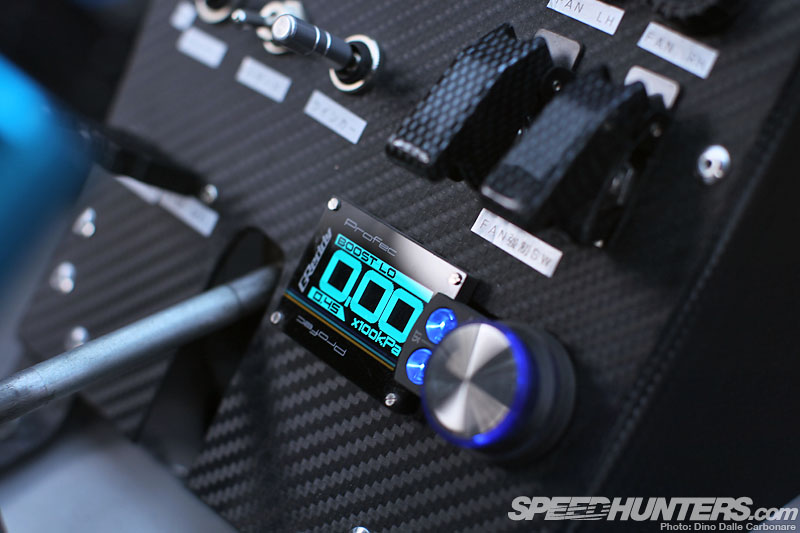 …including Trust's new Profec boost controller which looks like something from the future.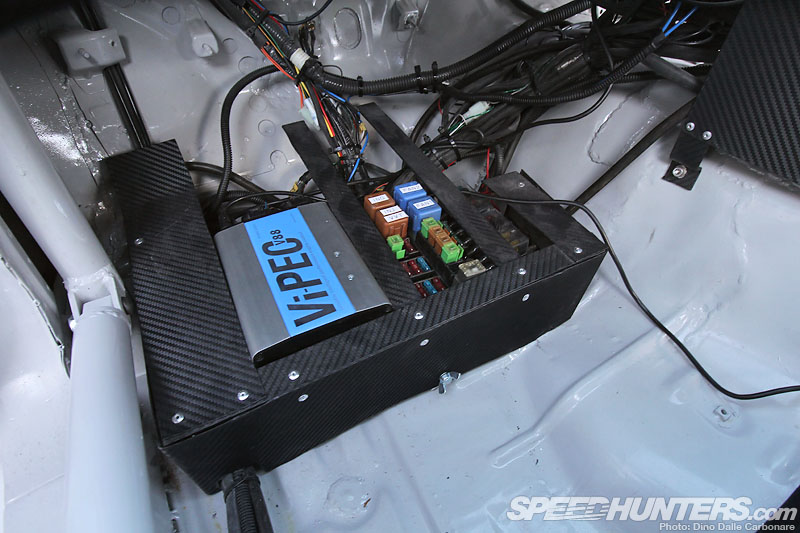 Engine management is handled by this Vi-Pec V88 standalone ECU which has so far been set up with a base map. Ueta would have loved to have all fuelling and ignition maps sorted out for when the twin TD06s will run full boost, but there isn't a roller or hub dynamometer out there that can read the actual torque numbers the tuned VR churns out. They have seen 120kg/m (86 lb/ft) on one dyno, but then error messages followed as the system maxed out. They are left with no choice but to finalize and fine tune the mapping on the street.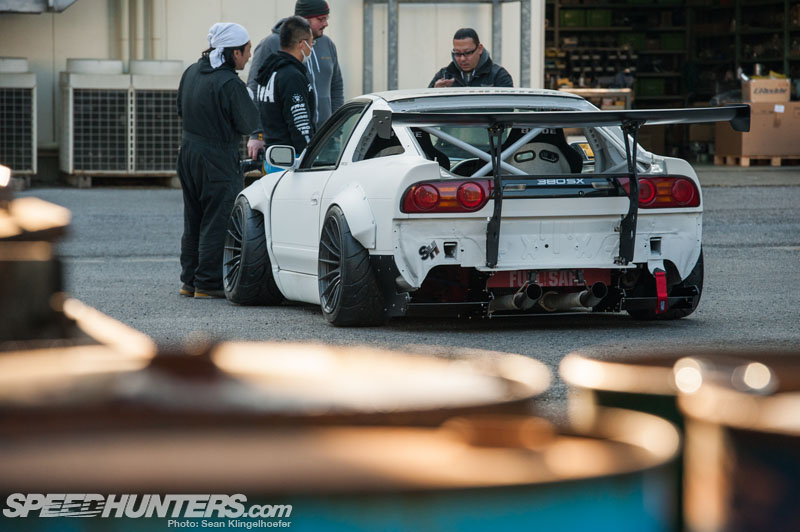 It was truly fascinating listening to Ueta talk about the car and what he hopes to achieve with it. In the short year and a half BenSopra has been active he sure has made a big impact on the Japanese tuning world.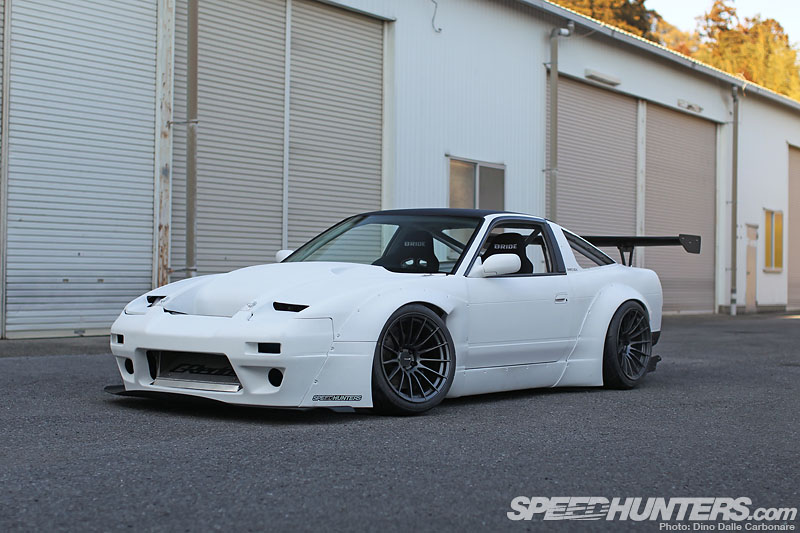 I couldn't stop looking at the 380SX, sitting there with its massively wide stance, almost awkwardly styled hood that just barely clears the massive twin-turbo V6 that sits under it…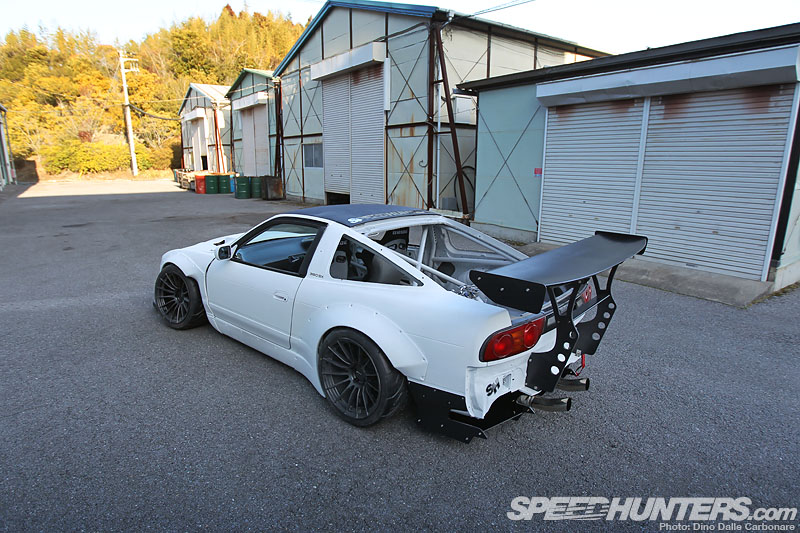 …and of course that raw rear end.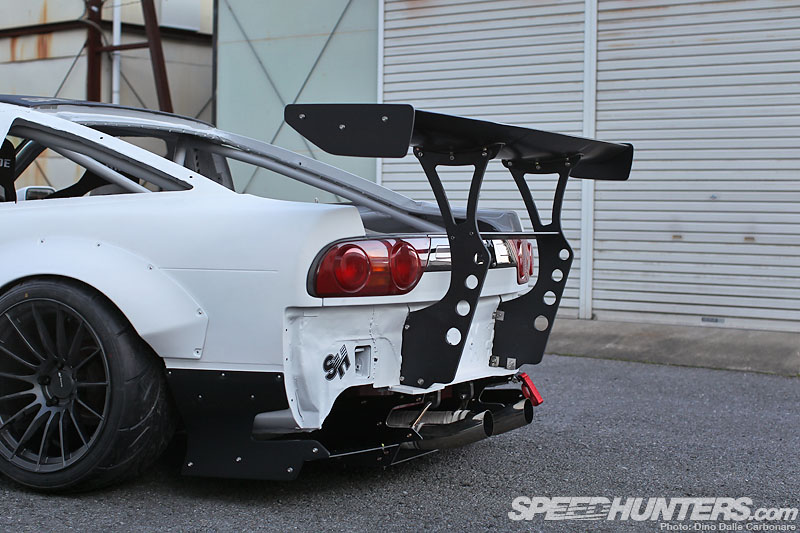 The rear spoiler with the big centrally-mounted stays has become a defining factor of both BenSopra and TRA Kyoto, and along with the carbon multi-piece diffuser will help keep the rear end firmly pressed onto Nardó's black top as those rear A050 attempt to harness the 1,100+hp. The BNR34 rear end is equipped with an ATS carbon LSD that should help get the best out of the sticky tires.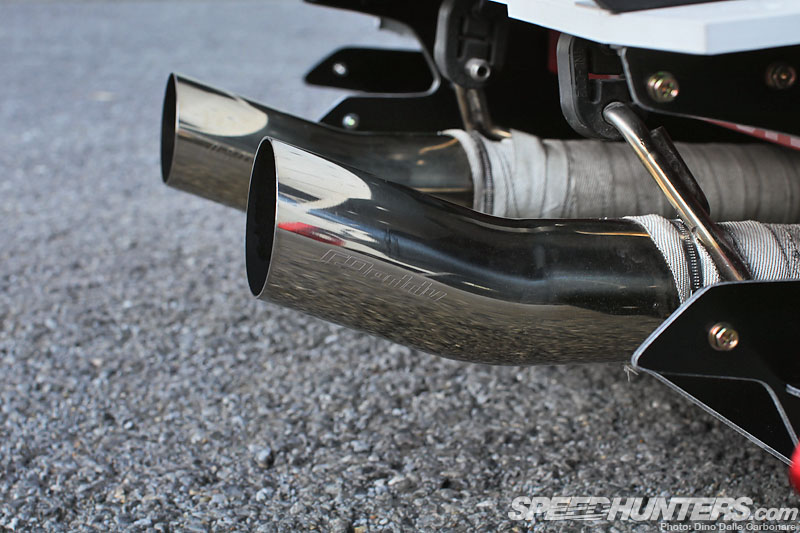 Along with all the work under the hood Trust also fabricated a one-off, full-straight exhaust system which exits centrally through the diffuser. I thought the BenSopra R35 was loud until Ueta started driving the 380SX around the Trust HQ!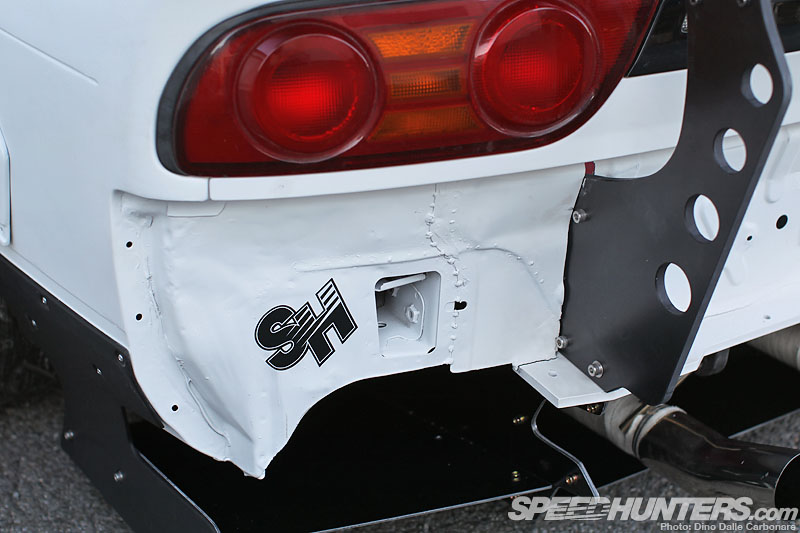 The rear bumper wasn't completed in time for TAS, leaving the chassis exposed. I actually quite like the way the car is at the moment; it somehow looks more functional without a bumper.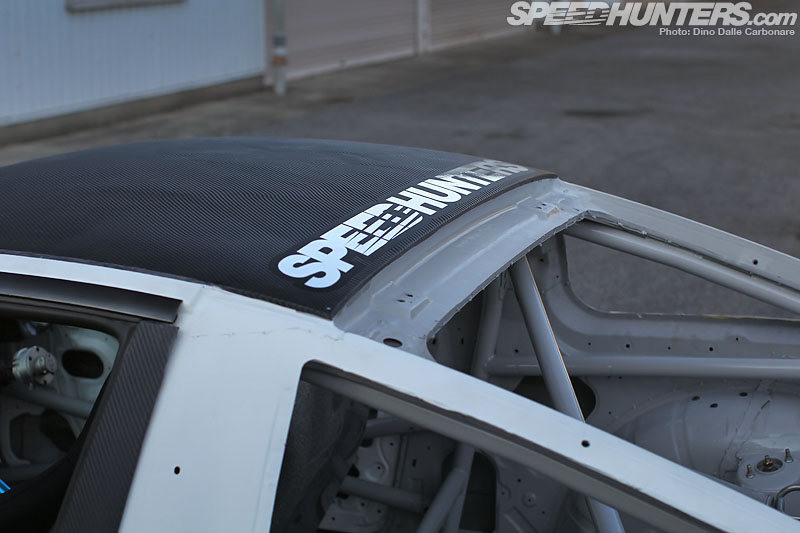 To give a little contrast to the flat white body, the roof was wrapped in carbon-look vinyl. The large Speedhunters sticker is there to help with performance of course.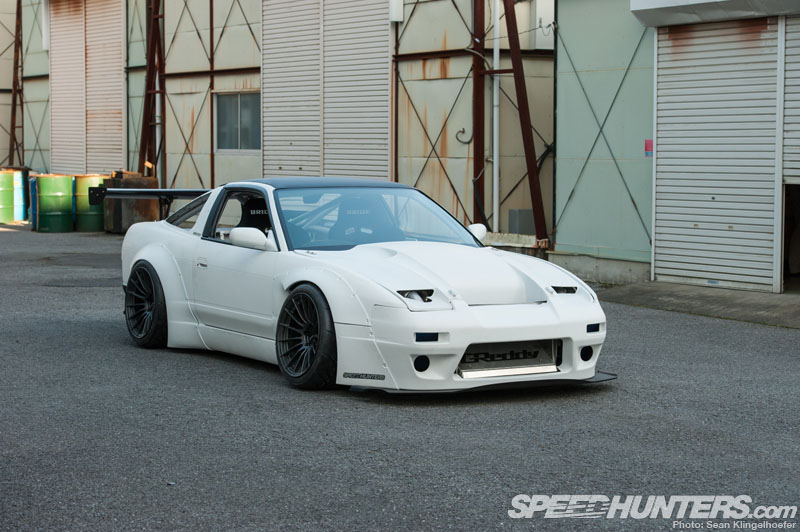 The next days will be crucial for Ueta and his mechanic, as they need to finalize the setup and do all the engine mapping before the car is loaded onto the container and shipped off to Italy.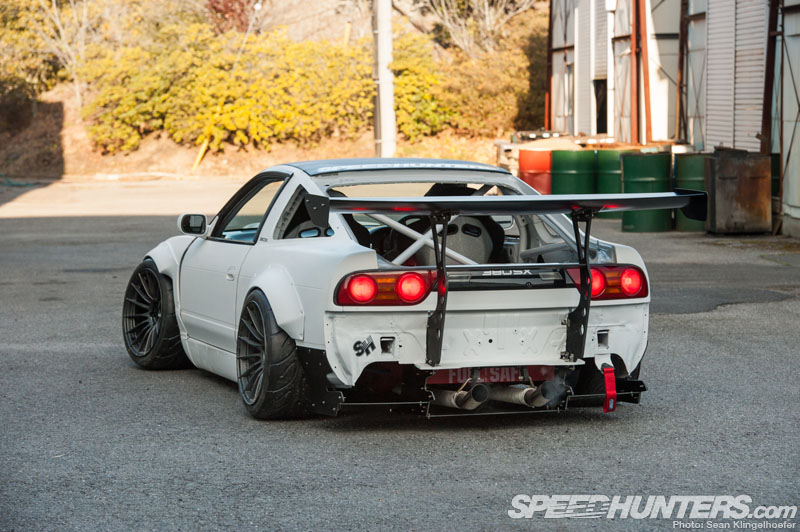 If for some reason they don't make it in time, BenSopra will just have to wait for the next Option event that will be held there.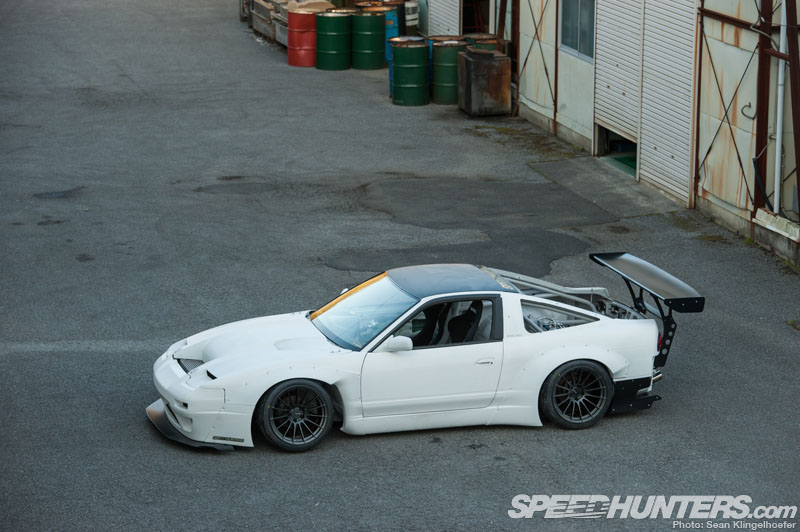 Knowing Ueta, if the car won't make it to Nardó, I'm sure he will hit a few tracks here in Japan and drift the hell out of it. After what he has told me time and time again, the cars he has so far built have been done for pure fun, so why not enjoy them.
Dino Dalle Carbonare
Instagram: dino_dalle_carbonare
dino@speedhunters.com
Additional Photos by Sean Klingelhoefer