With a time of 7 minutes and 23 seconds, this is the fastest Volkswagen Golf Mk2 to ever lap the Nürburgring Nordschleife.
Do I have your attention? Good, because whilst it may look a little rough around the edges, Nigel Pinder's Volkswagen Golf CL is one of the most remarkable cars I've ever experienced in person.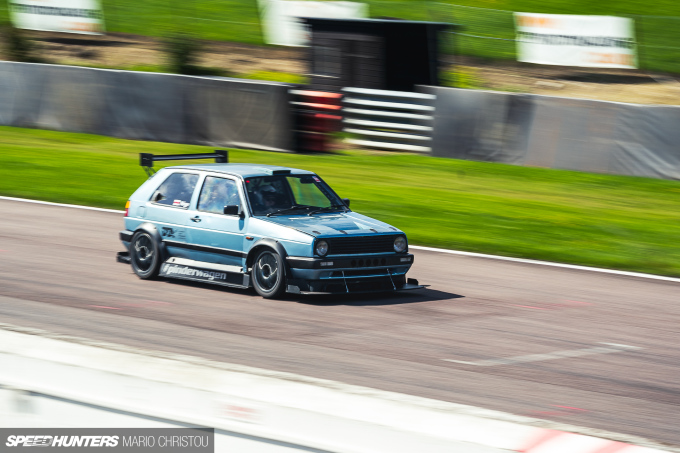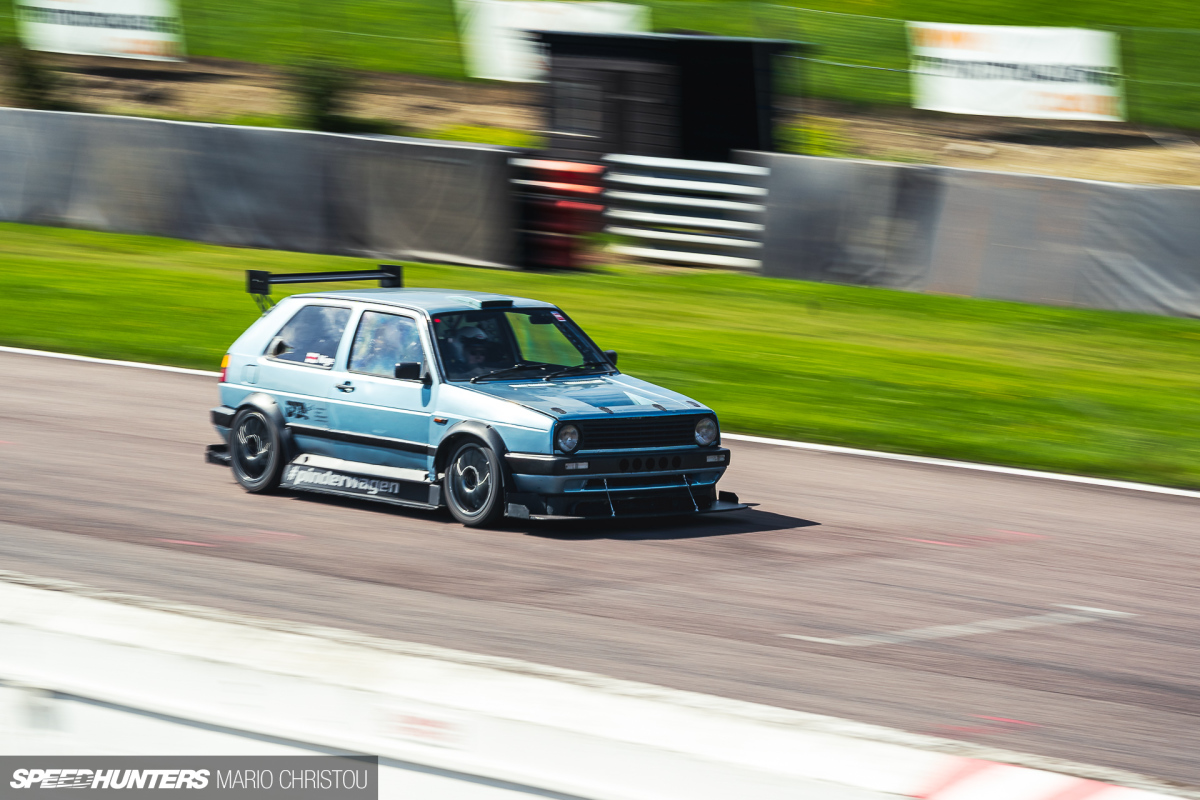 Nigel's first experience of 'The Green Hell' happened back in 2006 in his family car, a 2003 Mazda 6 estate. After just a few meandering laps, he'd caught the bug. Realising pretty quickly that the poor Mazda wasn't really suitable for the job, he set his sights on either an E30 BMW 316 or a Mk2 Golf.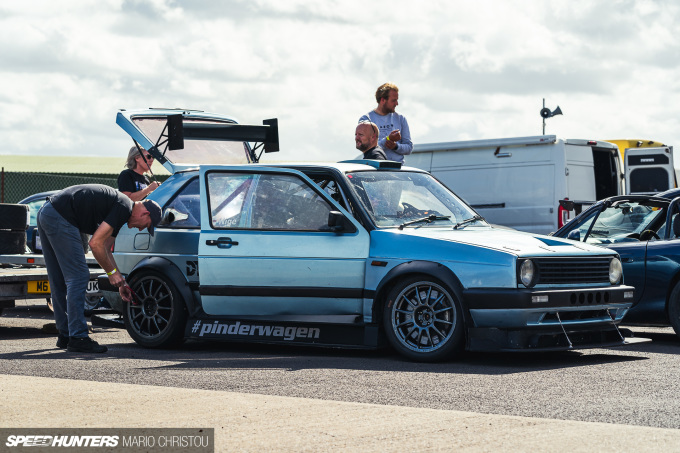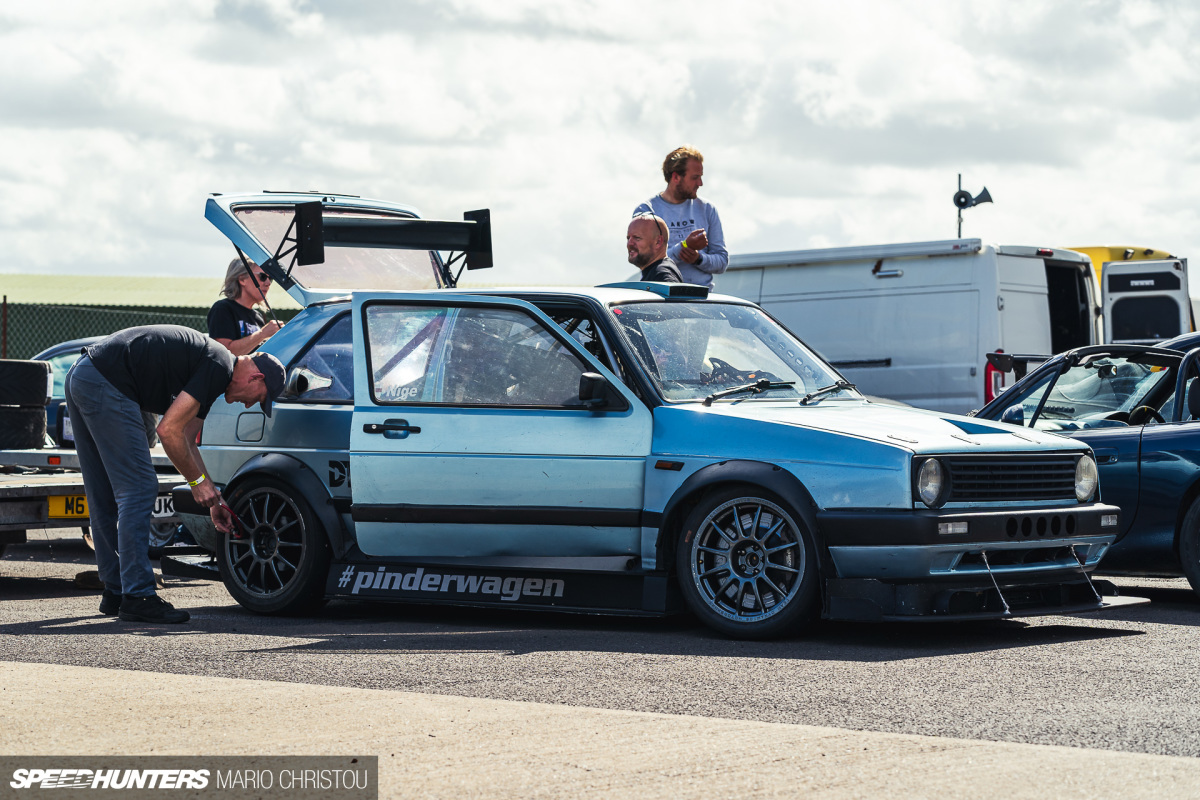 The front-wheel drive safety of the Golf won Nigel over, with the added point of: "If I hated it I could just sell it and buy an E30 anyway."
Clearly, Nigel did not move over to an E30, though his first Golf met its demise at the 'Ring around Easter in 2007. The car you see before you is Nigel's second Mk2, and the result of 16 years' worth of research and development.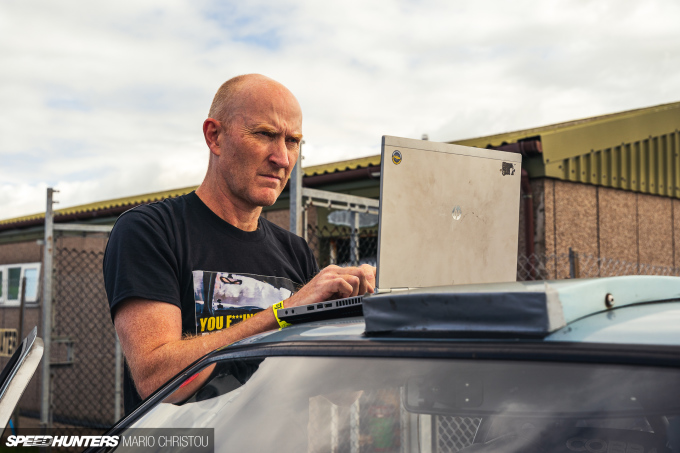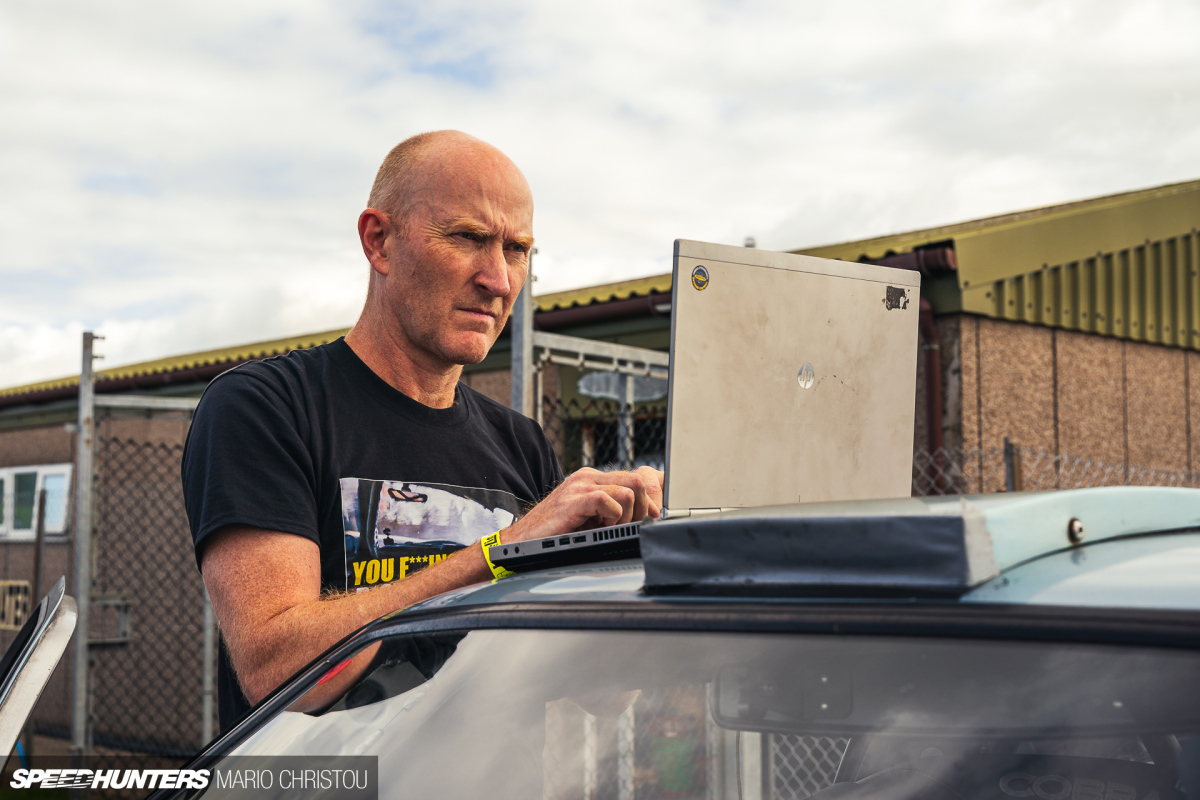 Nigel and the 'Pinderwagen' are somewhat of a legendary pair in the UK track day and Touristenfahrten (TF) circles, so when the chance came up to spend a day with the two at Thruxton Circuit, I wasn't going to pass it up.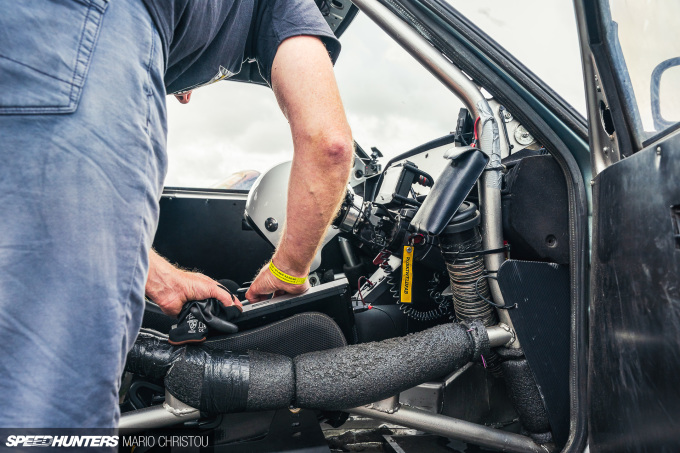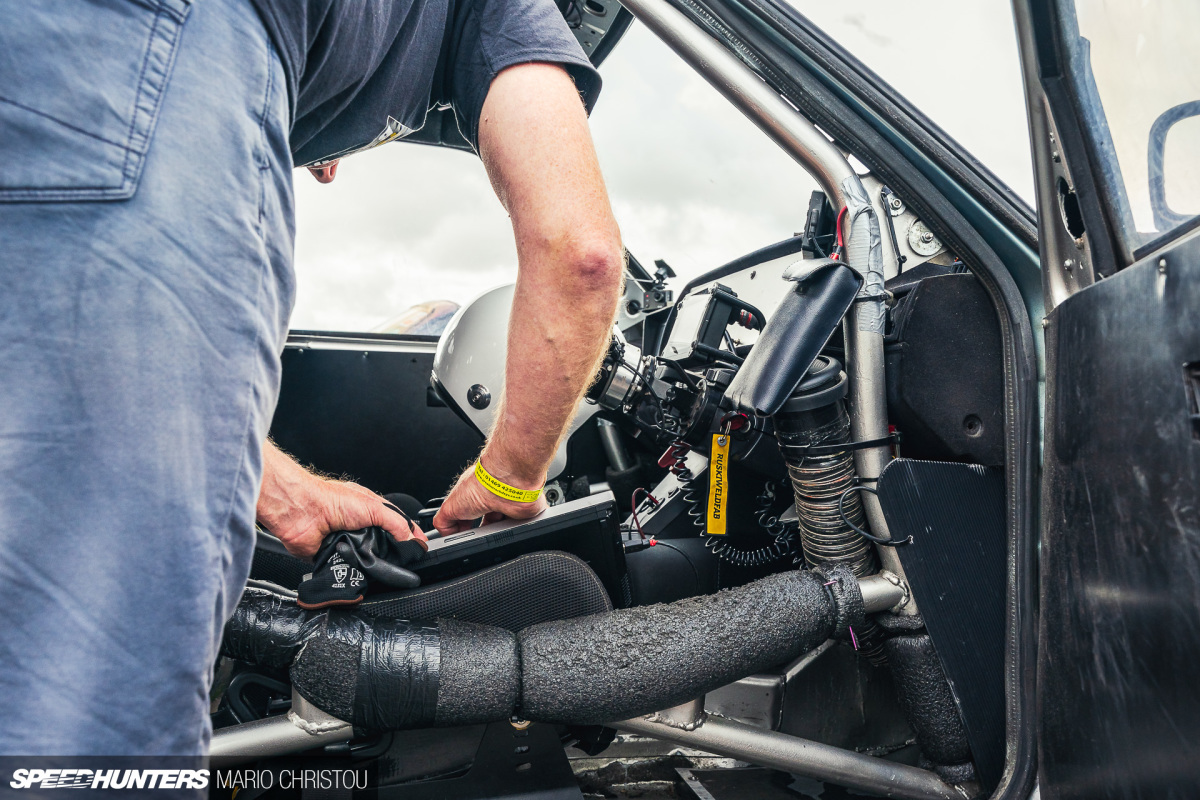 Two things were apparent from the off: One, Nigel is a lovely chap and, two, you can tell he's been attending track days in the Golf for close to two decades.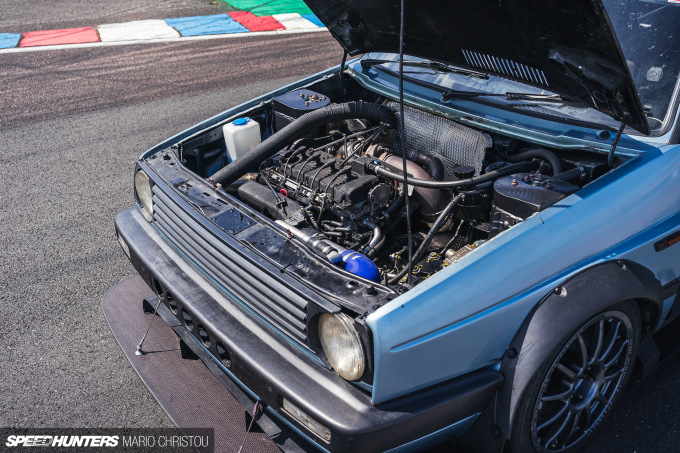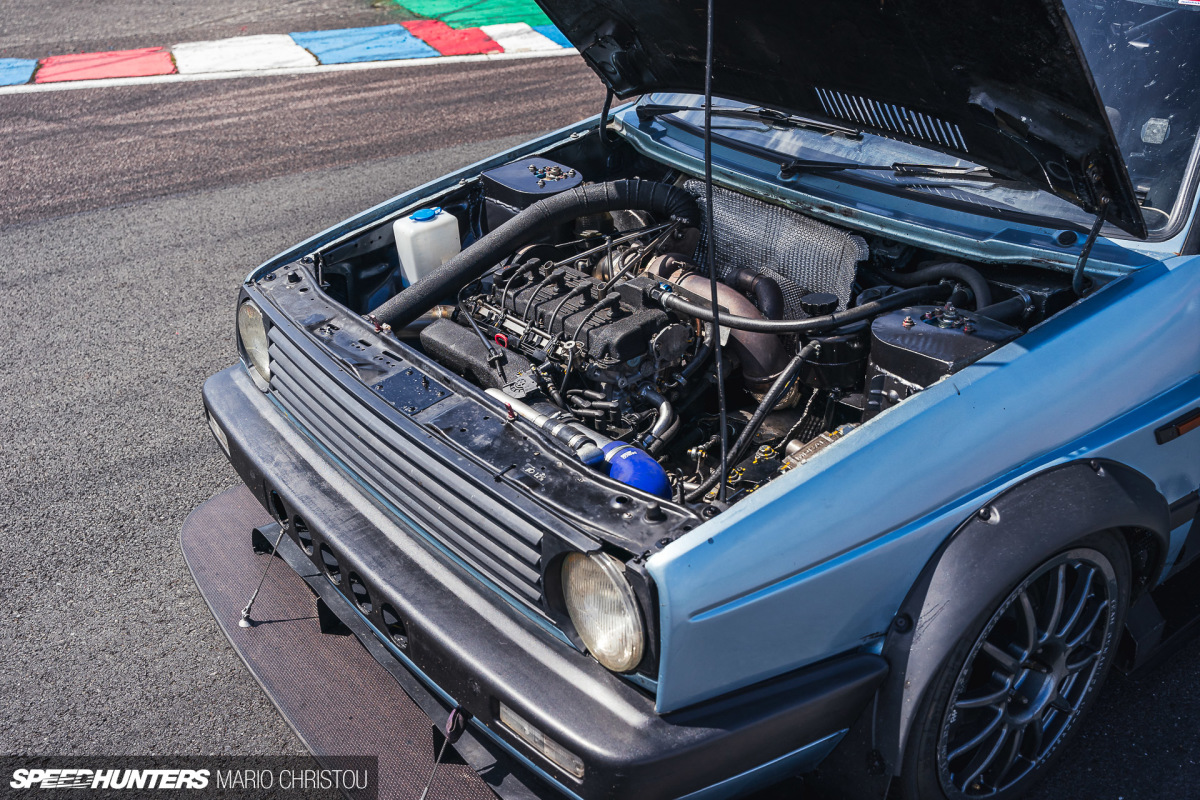 At first it was 'just' a Mk2 Golf with a Mk3 Golf GTI 2.0L ABF engine, which aside from the addition of a standalone ECU and Suzuki GSX-R throttle bodies remained fairly standard until being turbocharged in 2014. The reason for the latter? Some friendly in-family rivalry.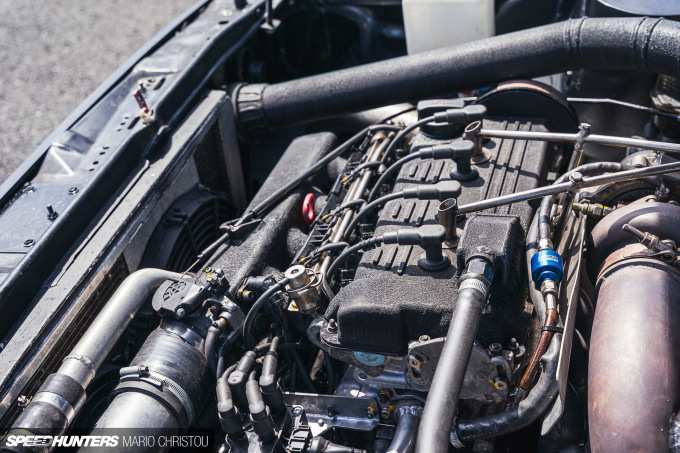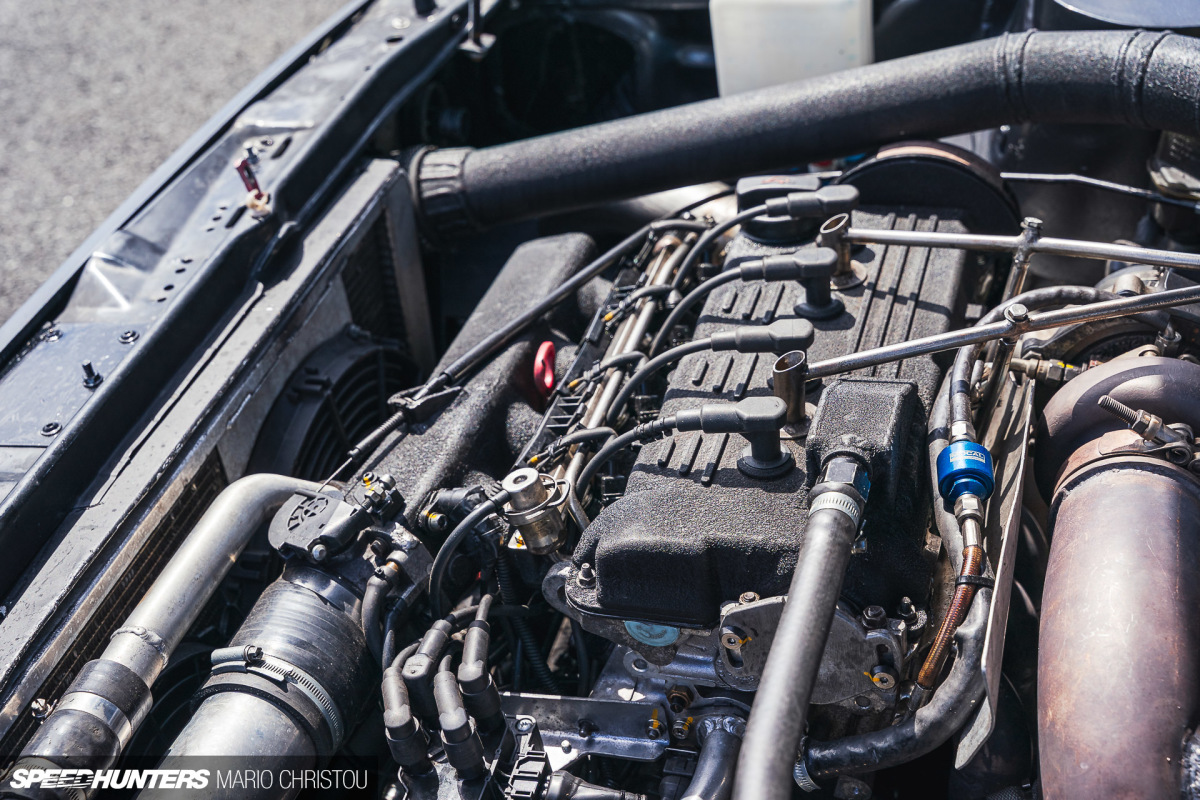 "I had plateaued around the 'Ring with a time of 8:20 the same year my son took his E36 328i track car," says Nigel. "Within five laps of trying the E36 I'd managed an 8:04, and I was torn between getting into something different or turbocharging the Golf."
Today, the engine is a lot different to when it was initially turbocharged, though. The block, cylinder head and crankshaft may be standard, but the rest of the build is comprehensive. Wiseco forged pistons are mounted on Integrated Engineering rifle-drilled connecting rods with ARP bolts, while ARP head studs keep everything in one piece.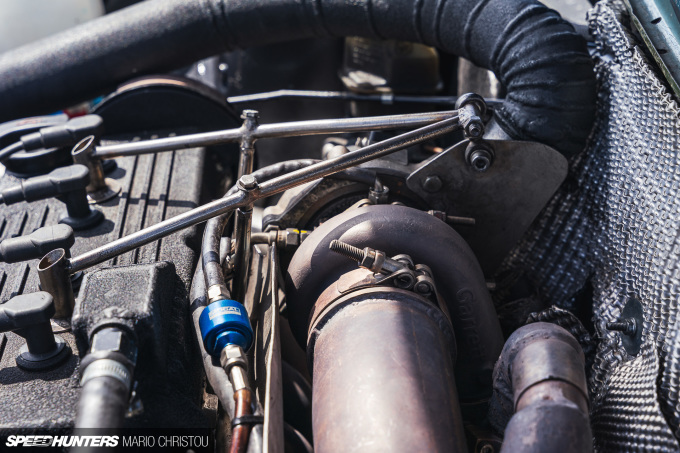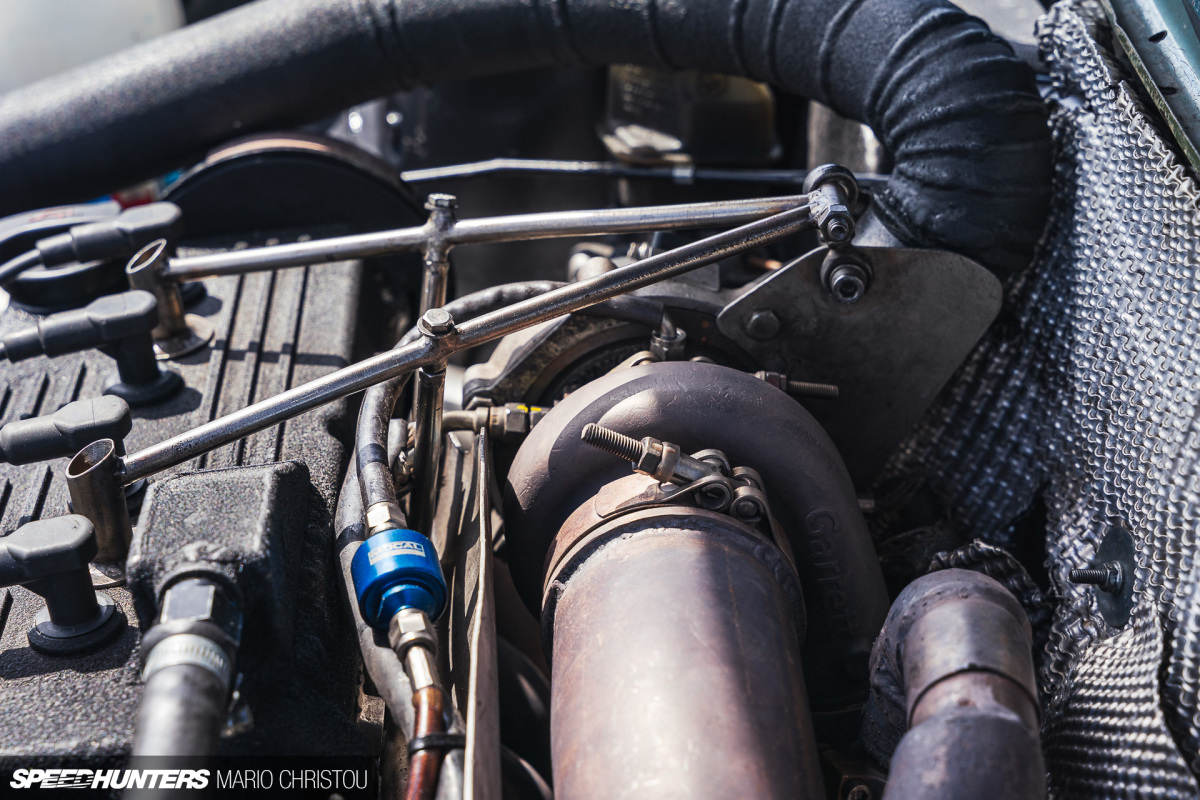 The turbocharger is a hybrid Littco-Garrett G25-660 plumbed up to a custom KR/1.8T intake manifold and ABF throttle body via the custom front-mounted intercooler, with a combination of 2.5-inch and 3-inch pipework. A DTAFast S80Pro ECU controls ignition, fuel and boost, while a custom SCH40 steel manifold and 3-inch system take care of exhaust gases.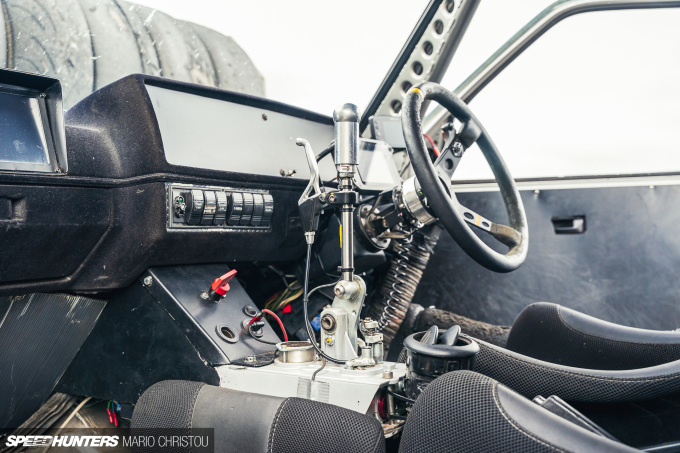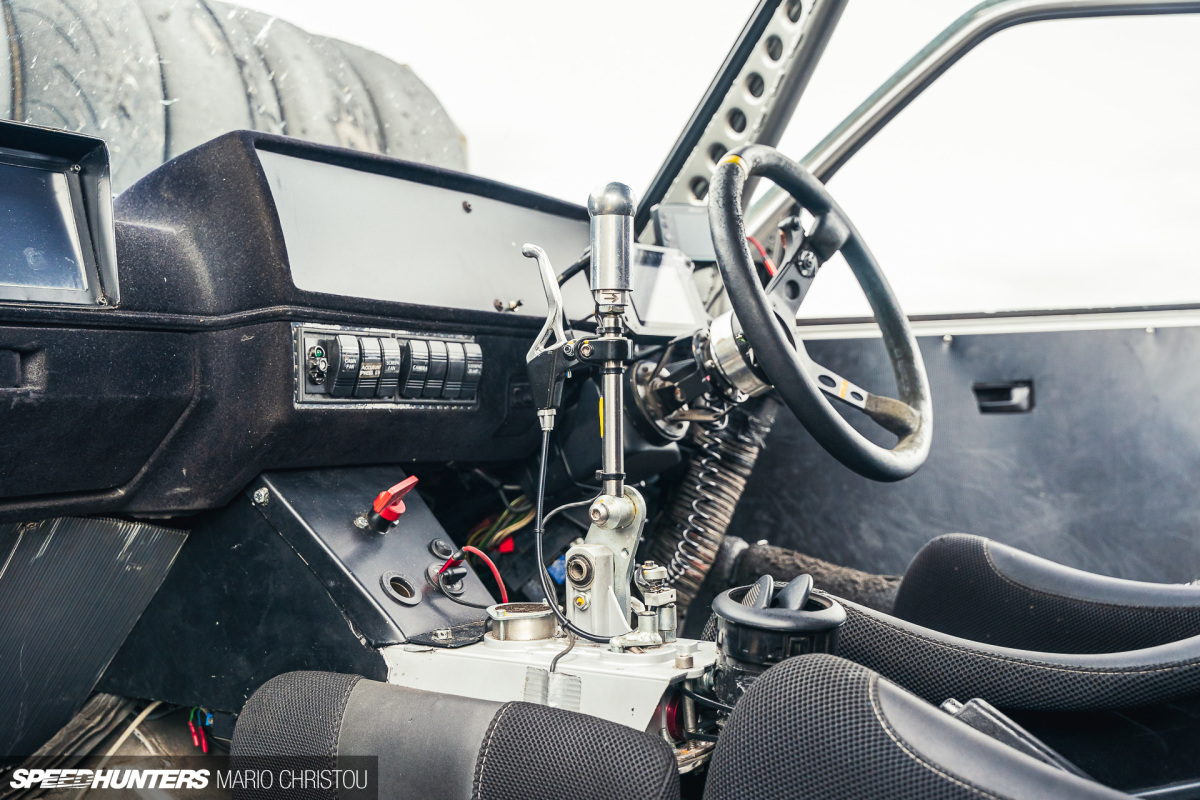 Power reaches the front wheels through an SQS Racing 02Q 6-speed dog-gear manual transmission with an SQS SeqShift mechanism, which essentially converts the traditional H-pattern into sequential shift. A lightweight flywheel, Alcon paddle clutch, SQS plate-equipped limited slip differential and custom driveshafts reinforced with Golf R32 components complete the package.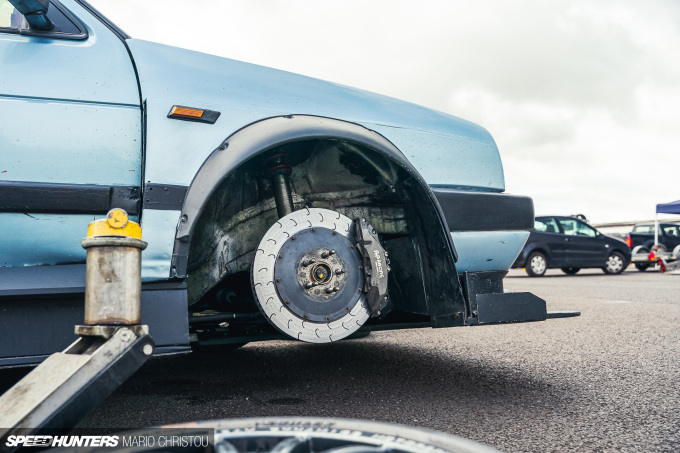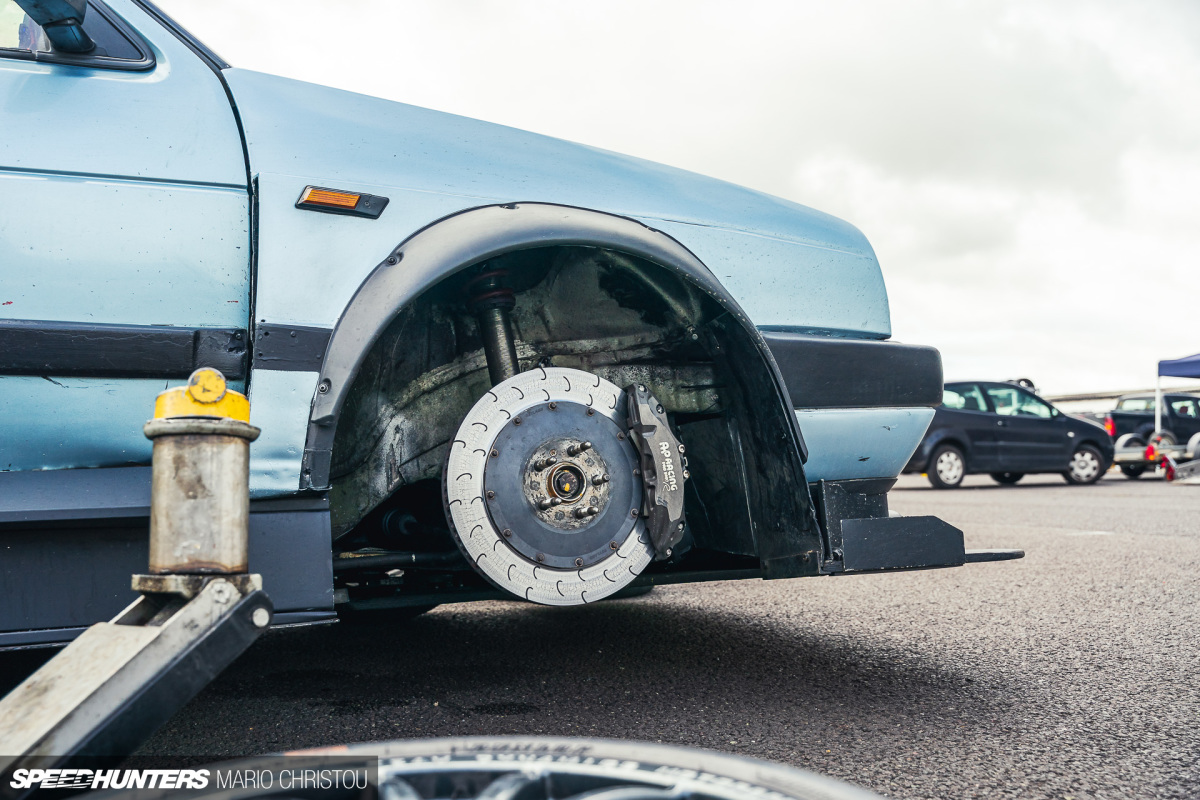 Suspension and chassis-wise, the Pinderwagen has had as much work as Nigel has been able to do to overcome the fact that "at the end of the day it's a 30-year-old Golf – there's only so fast it'll go!"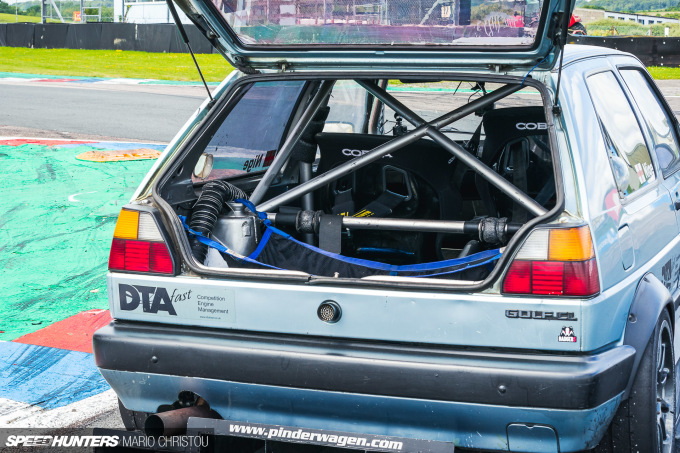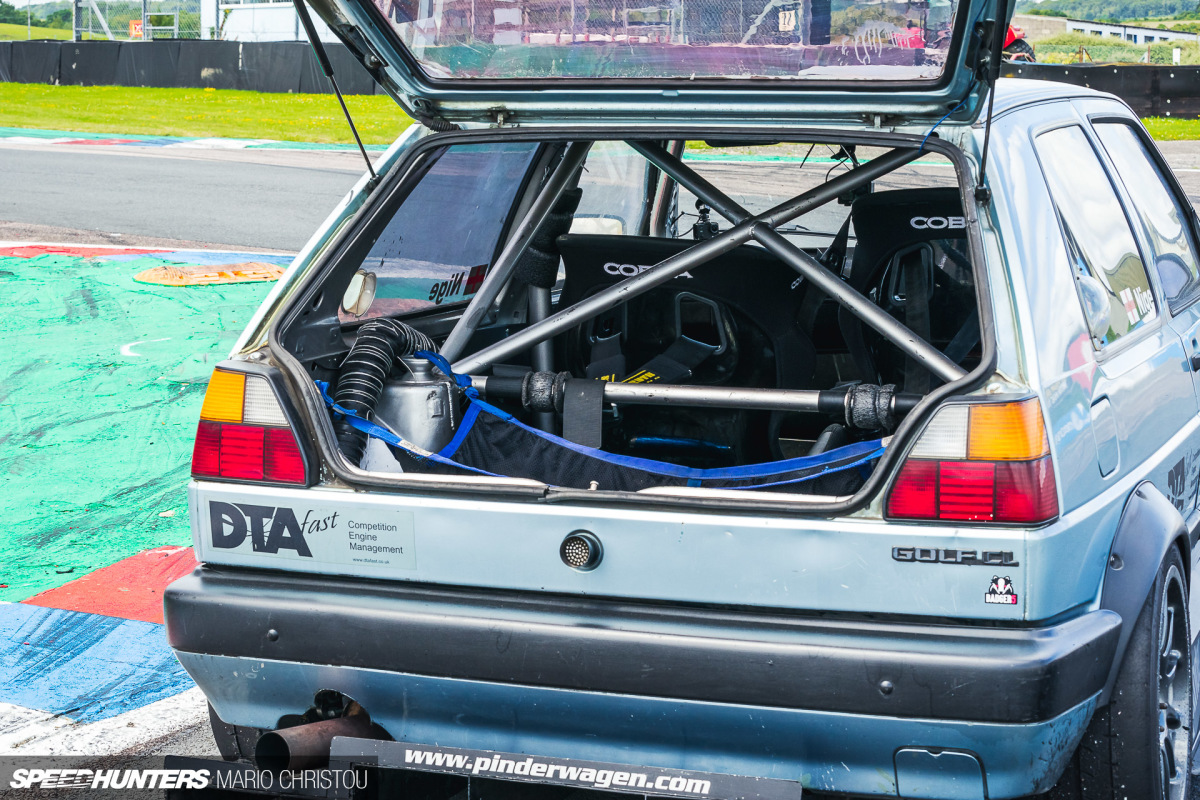 The shell has been strengthened and stiffened with a combination of multi-point roll cage and reinforcing the chassis legs in the engine bay. The front stitch-framed subframe has been braced to remove as much flex as possible under load, in addition to polyurethane bushes throughout the car.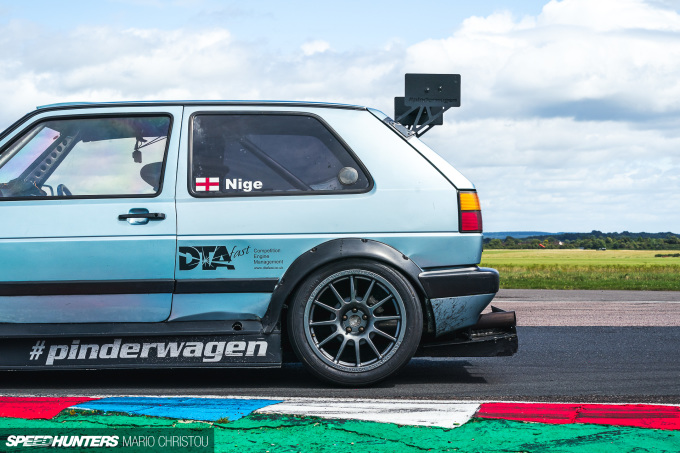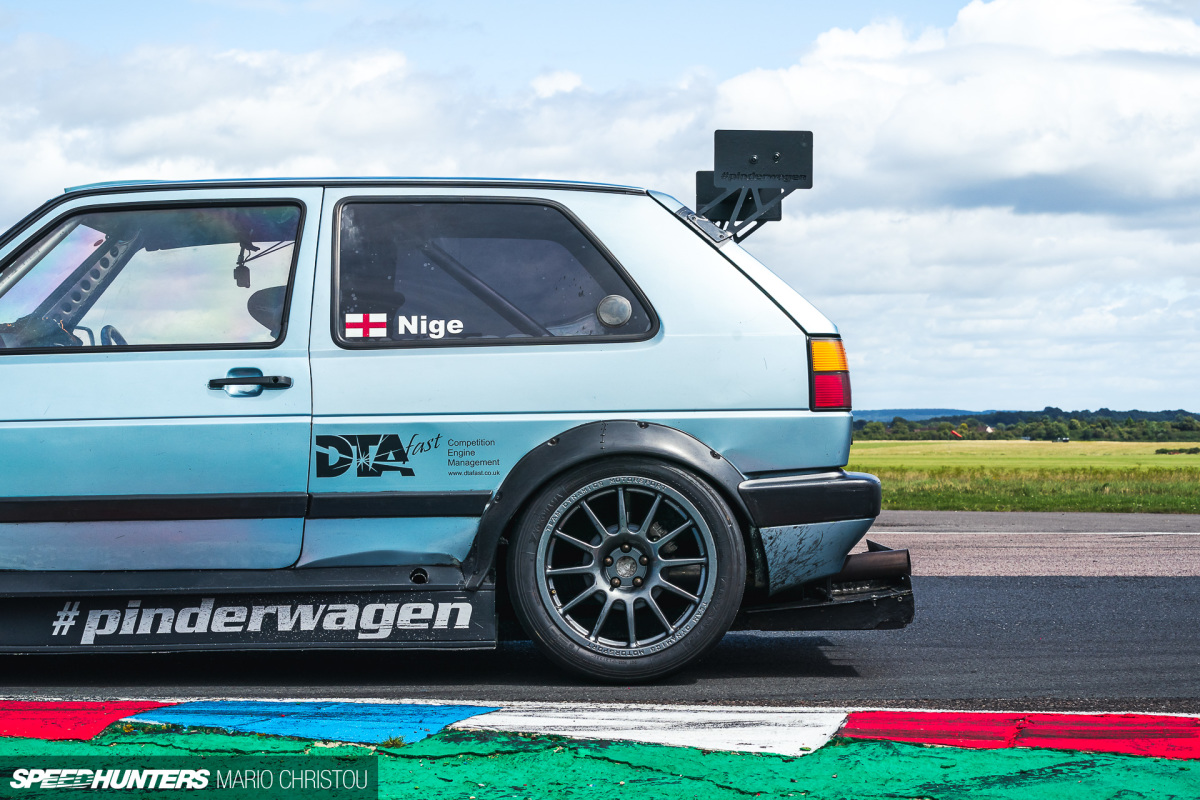 At the back, the stub axles have been spaced out by 25mm and replaced with newer VW Polo items for better durability, while at the front a combination of extended lower wishbones give increased caster at 7.5 degrees versus the factory 1.5 degrees for more camber when turning.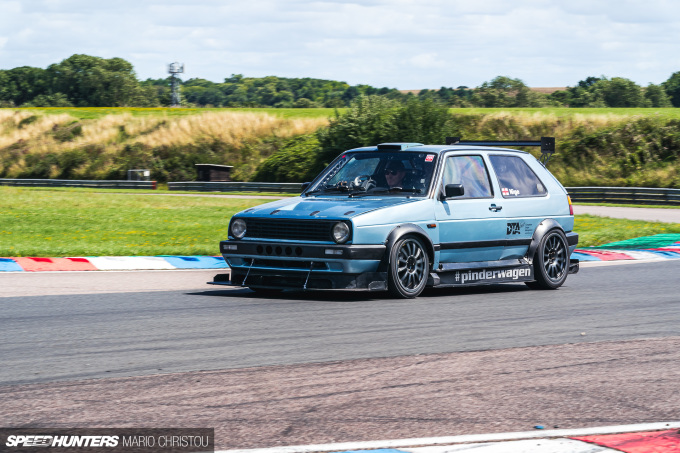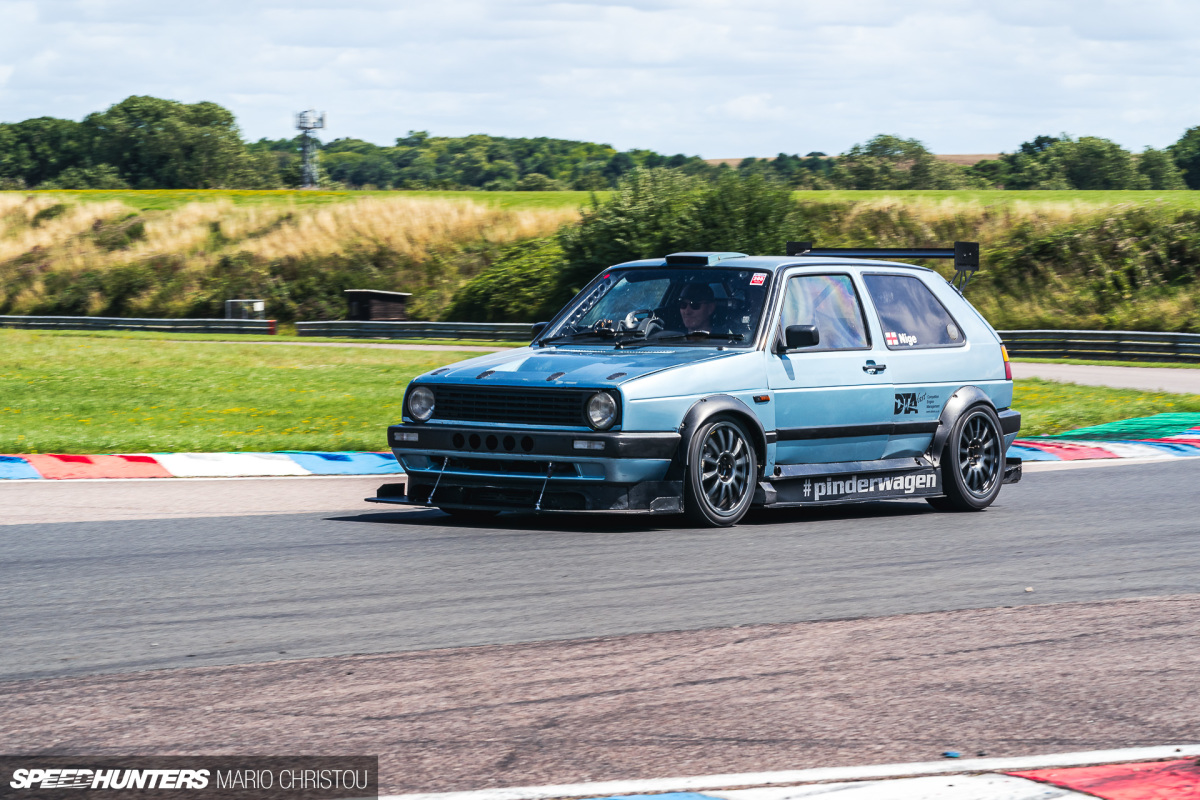 This has been done alongside spherical joints and an upgraded Vauxhall steering pump and steering rack from a Mk3 GTI for more precise and reliable cornering, going hand in hand with the KW Clubsport coilovers running Eibach Pro Race springs in custom extended, reinforced and slotted strut towers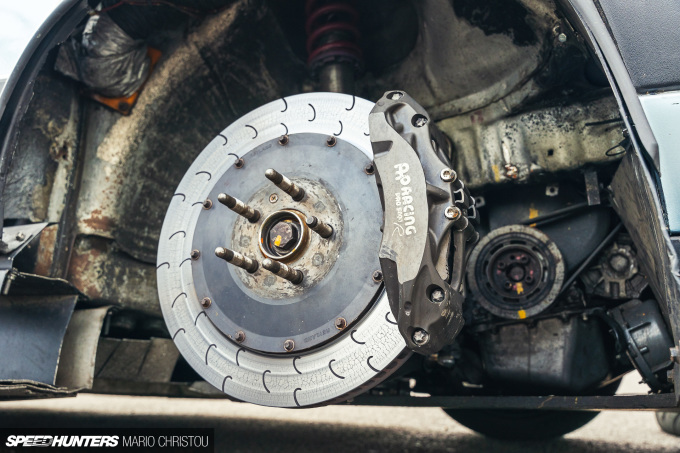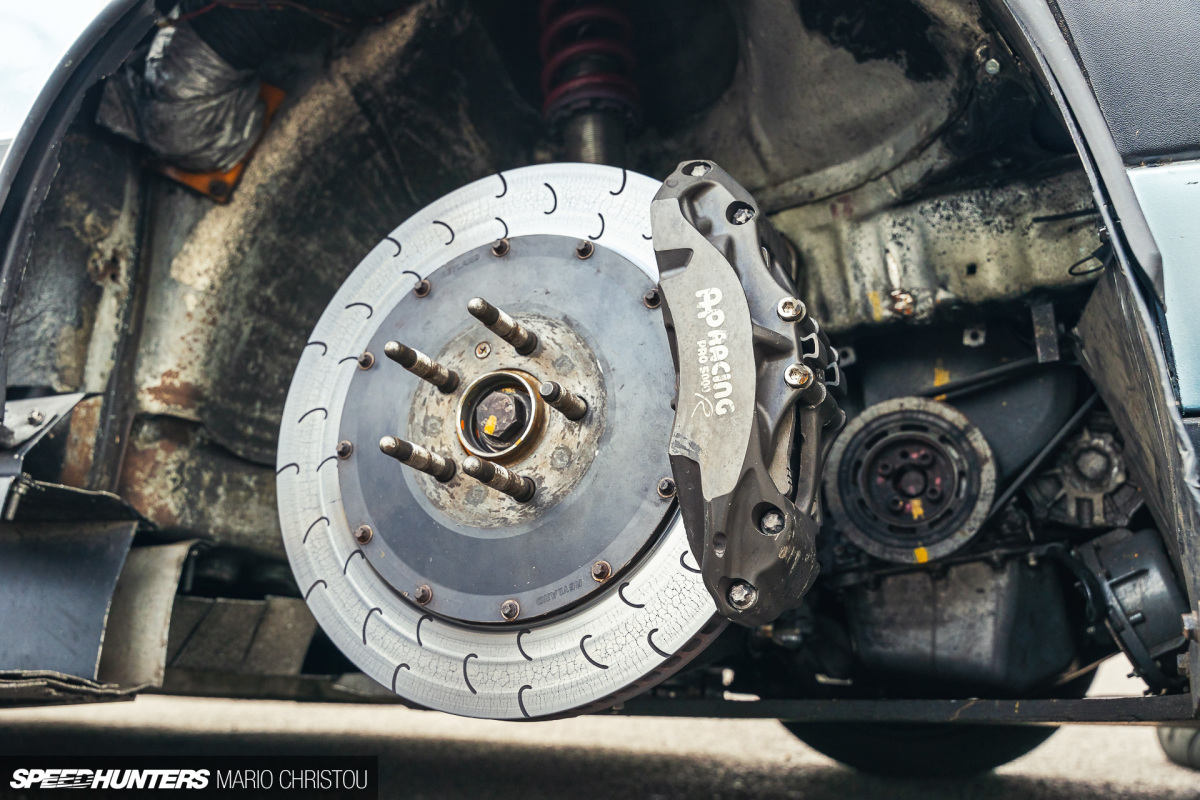 AP Racing CP9660 callipers and Reyland floating discs at the front are, admittedly by Nigel, overkill in a package as light and manoeuvrable as the Golf. But with safety and reliability on the 'Ring being the priority, I'd argue any drawbacks are far outweighed by the benefits.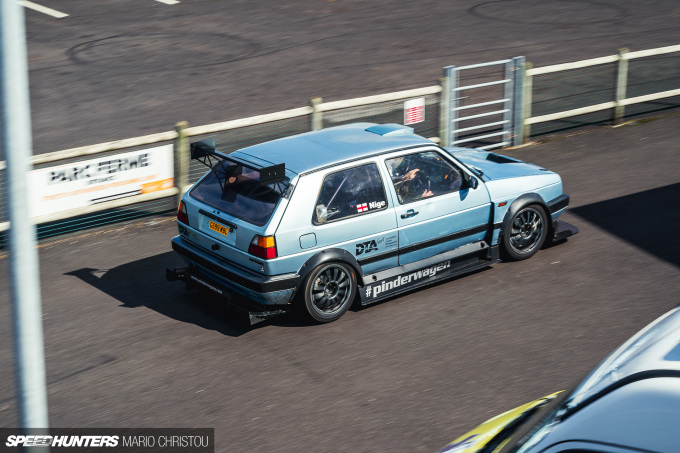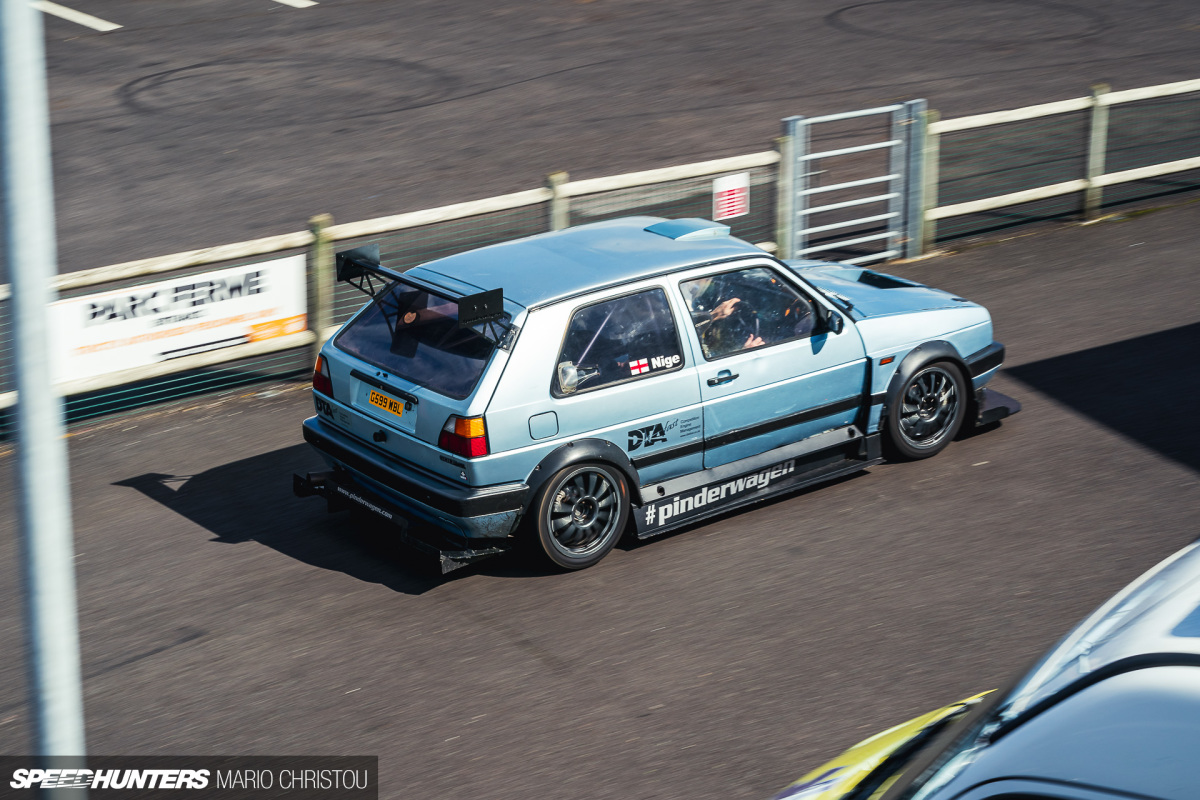 The real talking point of the Golf – aside from its sheer speed, of course – is the aerodynamic package, which has been honed and developed by Nigel with the help of some proven testing techniques, technical literature and his dear wife, Louise.
Armed with a copy of Competition Car Aerodynamics by Simon McBeath, Nigel got to work on his first front splitter and air dam concept, which he notes did make a noticeable difference in the speed he could carry on track. "The first splitter looked horrendous; I just thought I'd see if it works… and it did!" Nigel says.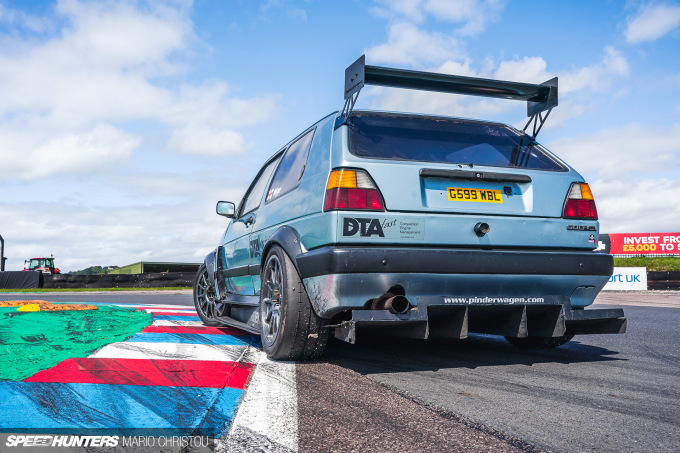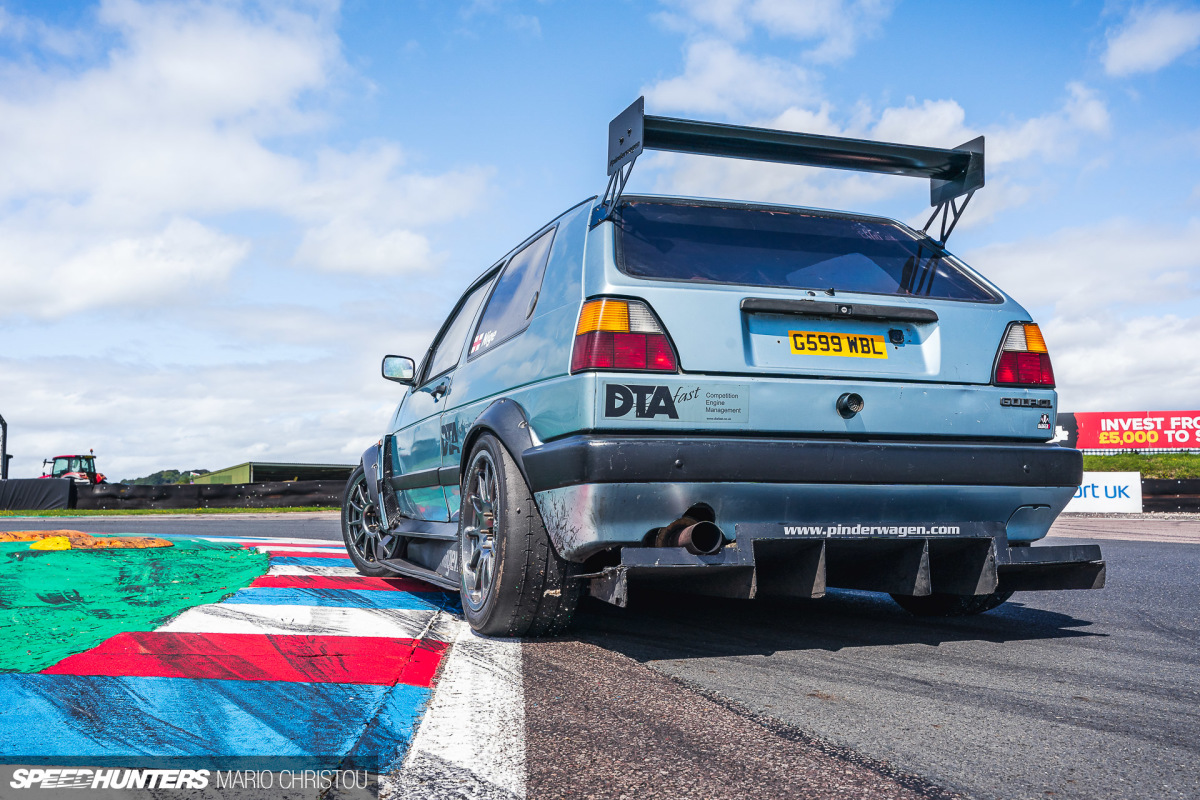 However, after a few tweaks, a rather scary moment at Silverstone Circuit – where the rear end of the Golf tried to overtake the front – taught Nigel the importance of aerodynamic balance. Sessions on track with strings of wool taped to the side of the car and Louise taking photos at various points on the track to find pockets of 'dead' air and wind flow have culminated in what you see here. "I'm on version six of the front splitter now, and version three of the rear diffuser," Nigel added.
I can tell you personally that at speed you can really feel just how planted the Golf is around corners and fast sweeping bends. At high speeds in particular, it's the Golf's flat floor that makes the difference. Nigel mentions how even against "sleeker" cars with similar power, the Mk2 continues to pull away due to its lack of underbody drag.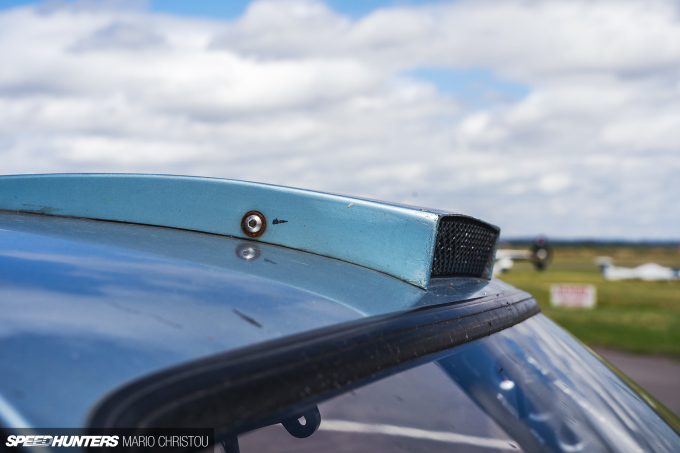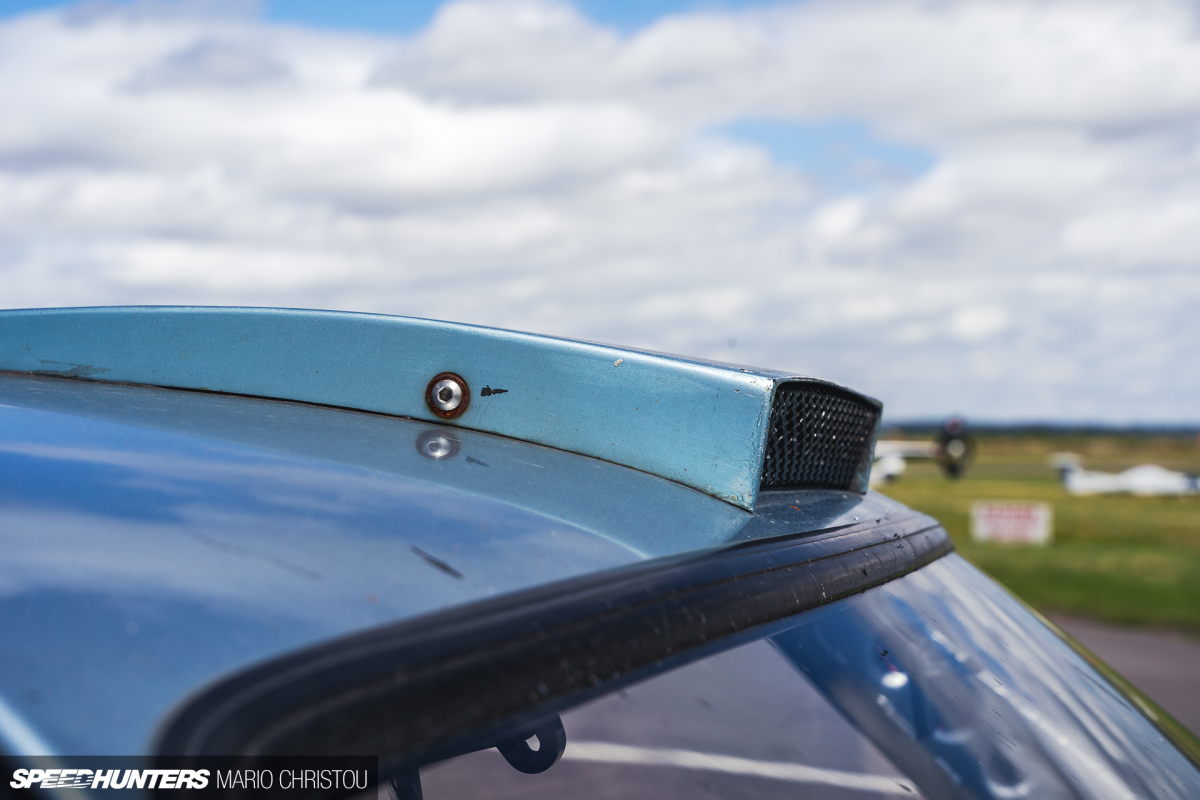 Even with a fully stripped car, Nigel wanted to retain some degree of comfort for his trips and track sessions with passengers, such as his wife. The roof scoop directs air at Nigel whilst the NACA ducts and ducting throughout the car retain cabin airflow.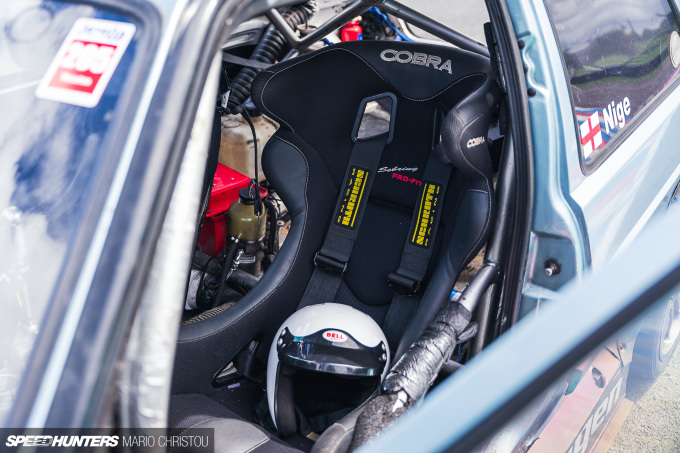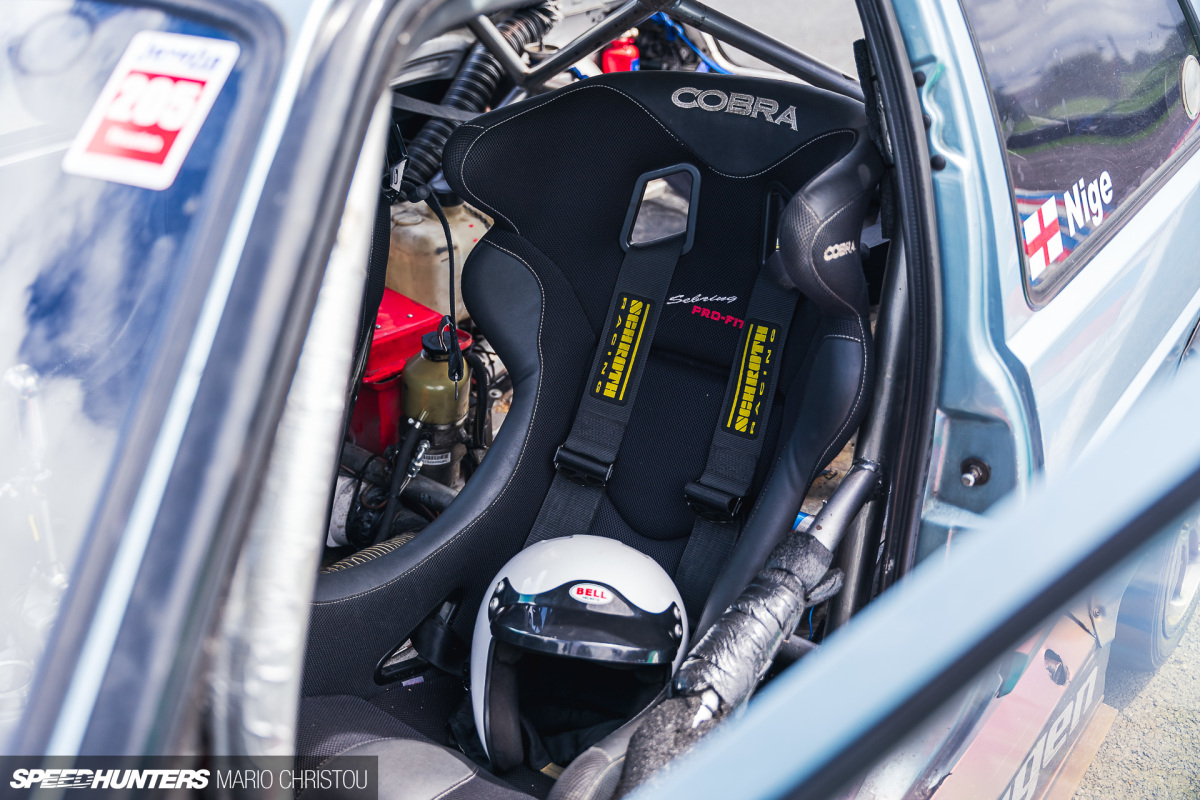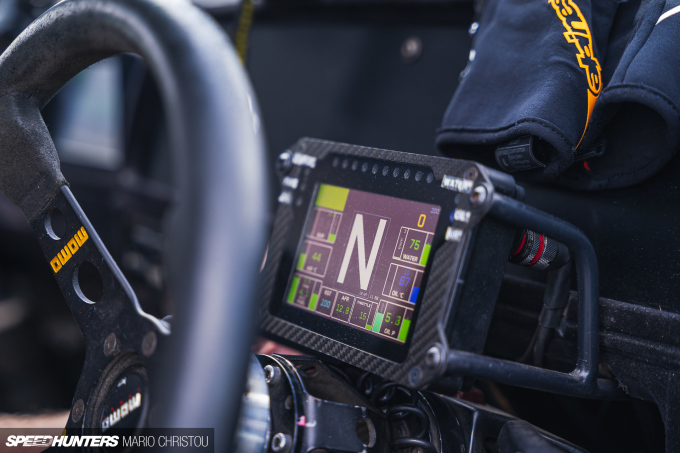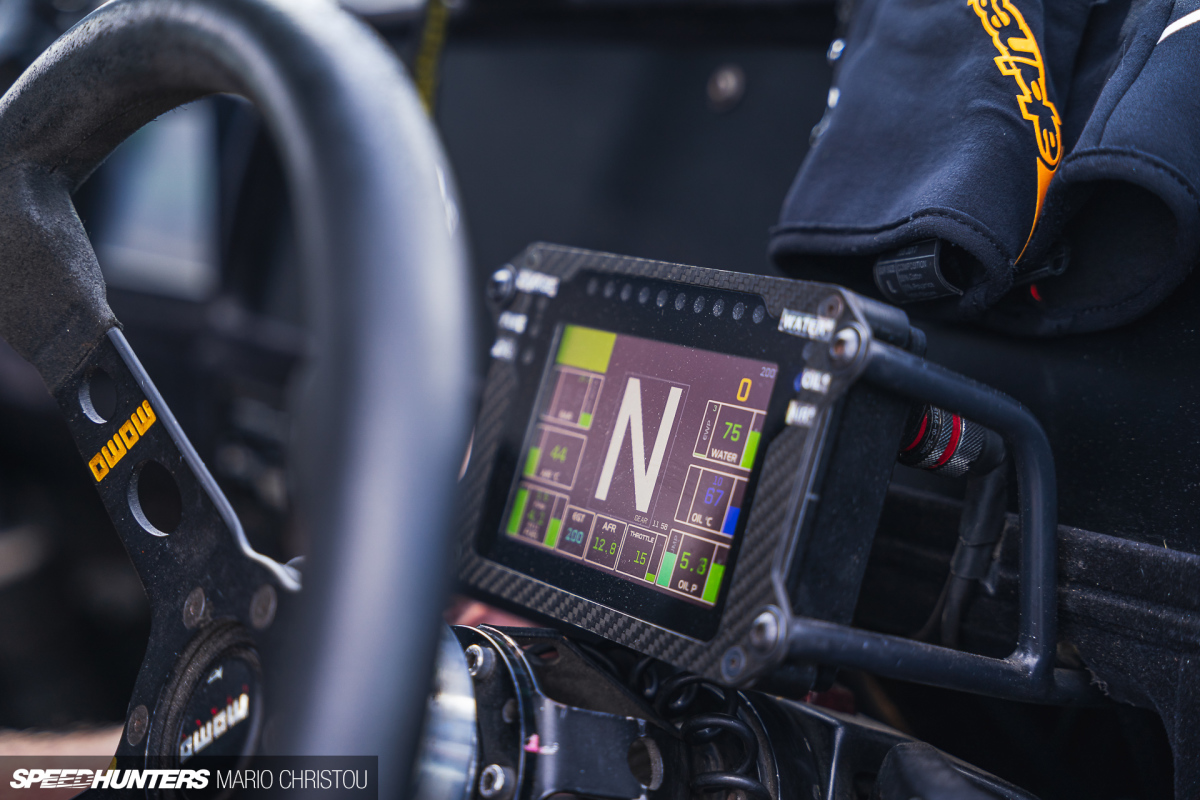 A very driver-focussed cockpit with multiple digital readouts for driver and passenger keep Nigel informed about the Golf's condition, while the passenger display keeps the victim occupant informed about how fast they're being hurled into corners.
With very changeable weather conditions at Thruxton Circuit, Nigel switched twice between semi-slicks, slick tyres and his wet weather Michelin Pilot Sport 4s, all mounted on 17-inch Team Dynamics wheels in 17×8-inch, and 17×9-inch for the rear full slicks.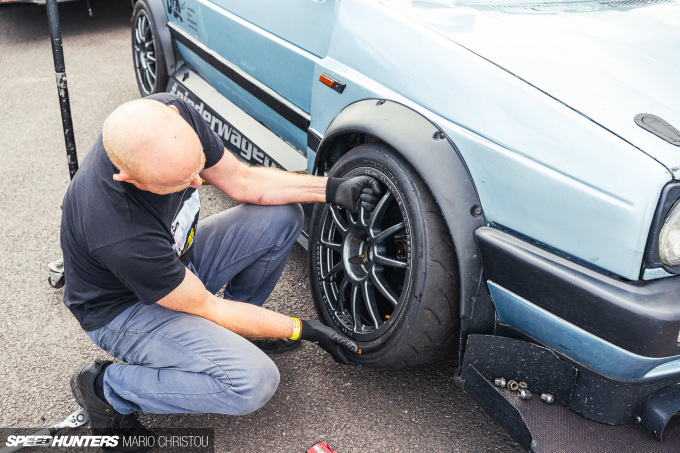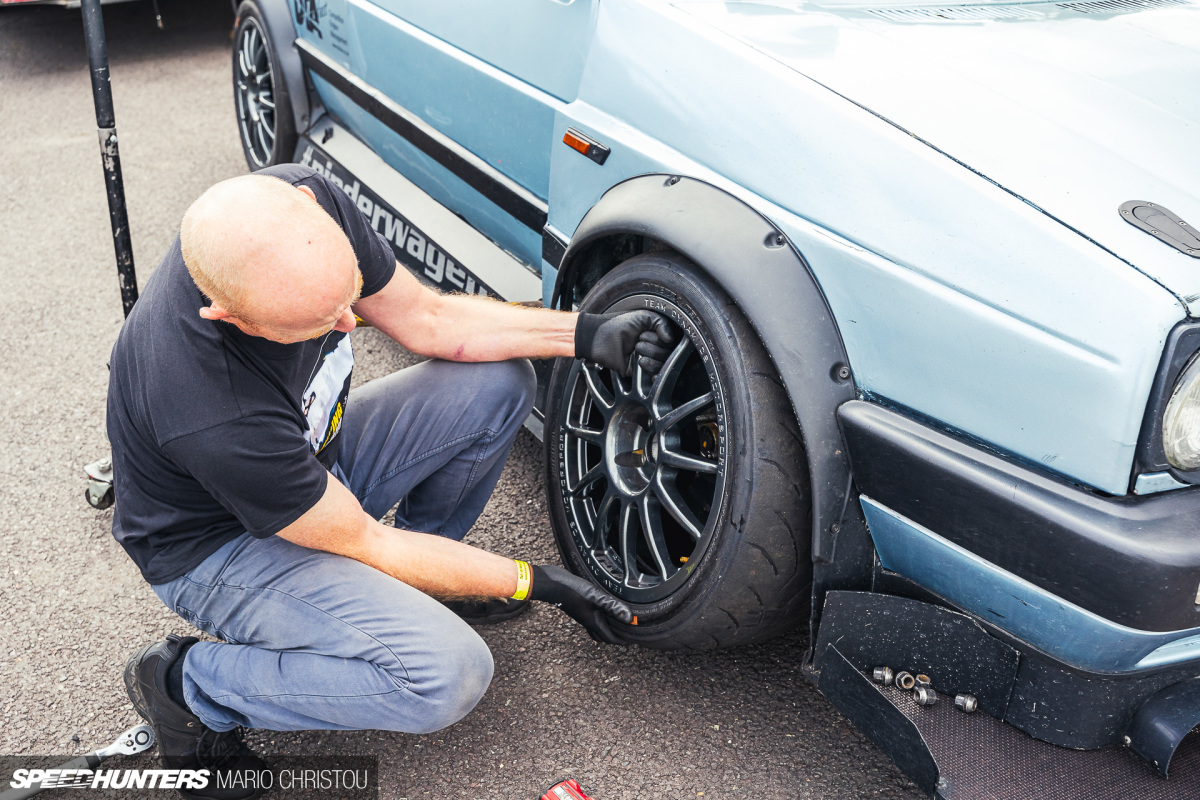 What stuck with me the most from our day at Thruxton wasn't just how blindingly fast and capable the Mk2 is as a track tool, nor was it Nigel's skill behind the wheel. It was his can-do, well organised and positive attitude.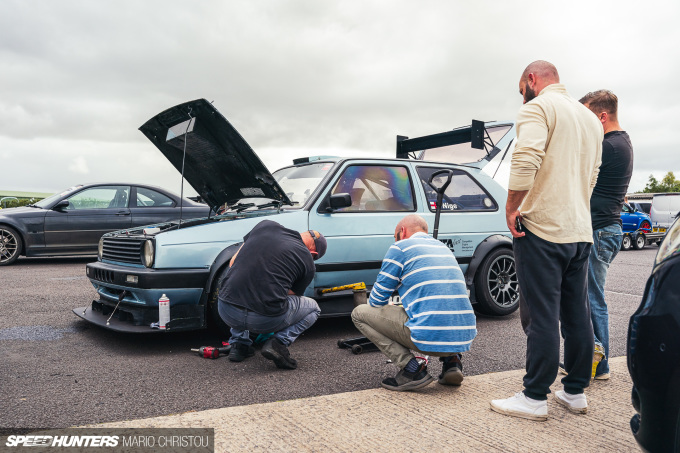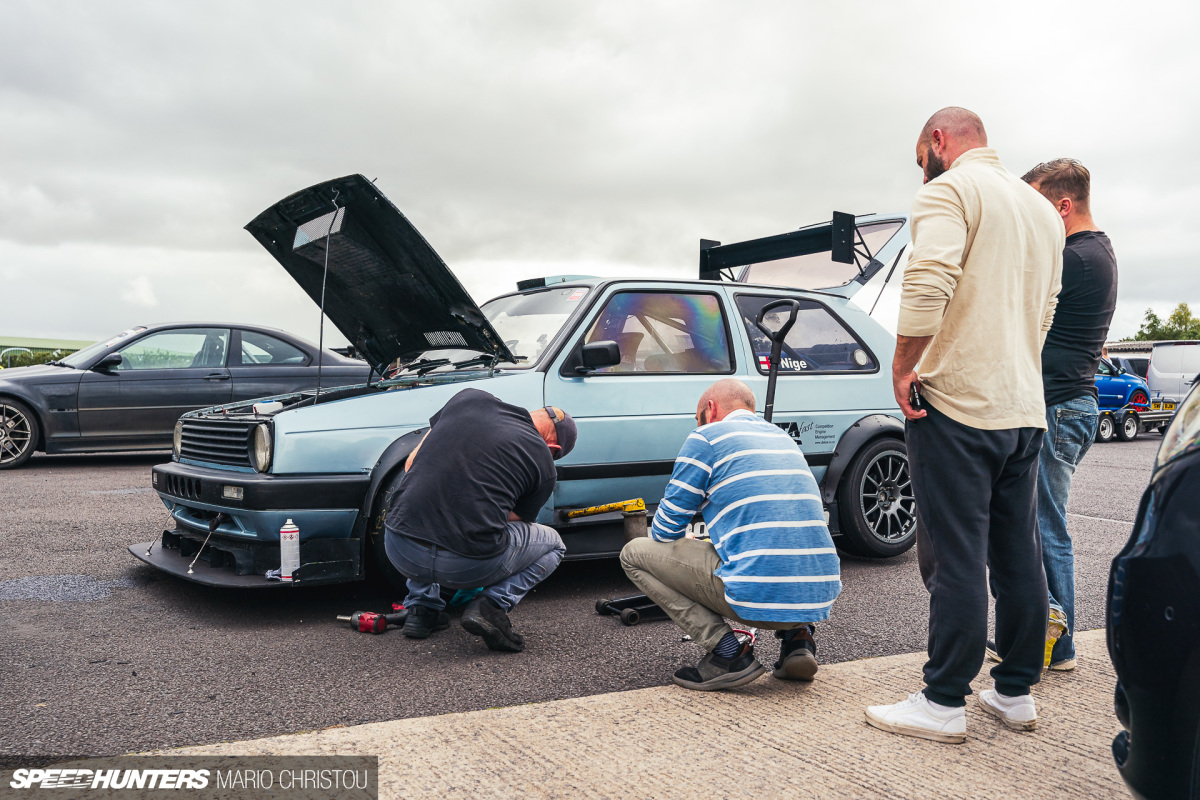 Nigel's approach to track days and the lifestyle that surrounds them is about as wholesome as it comes. He regularly attends track sessions with his family, making whole trips and experiences out of it. They've spent entire summers camping at the Nürburgring, doing track laps and exploring the region.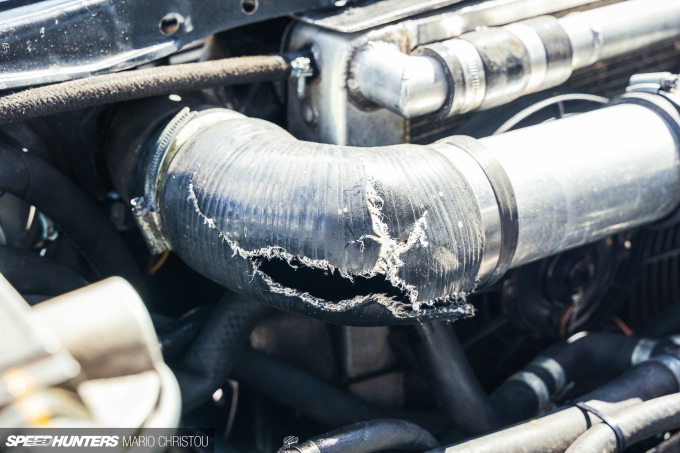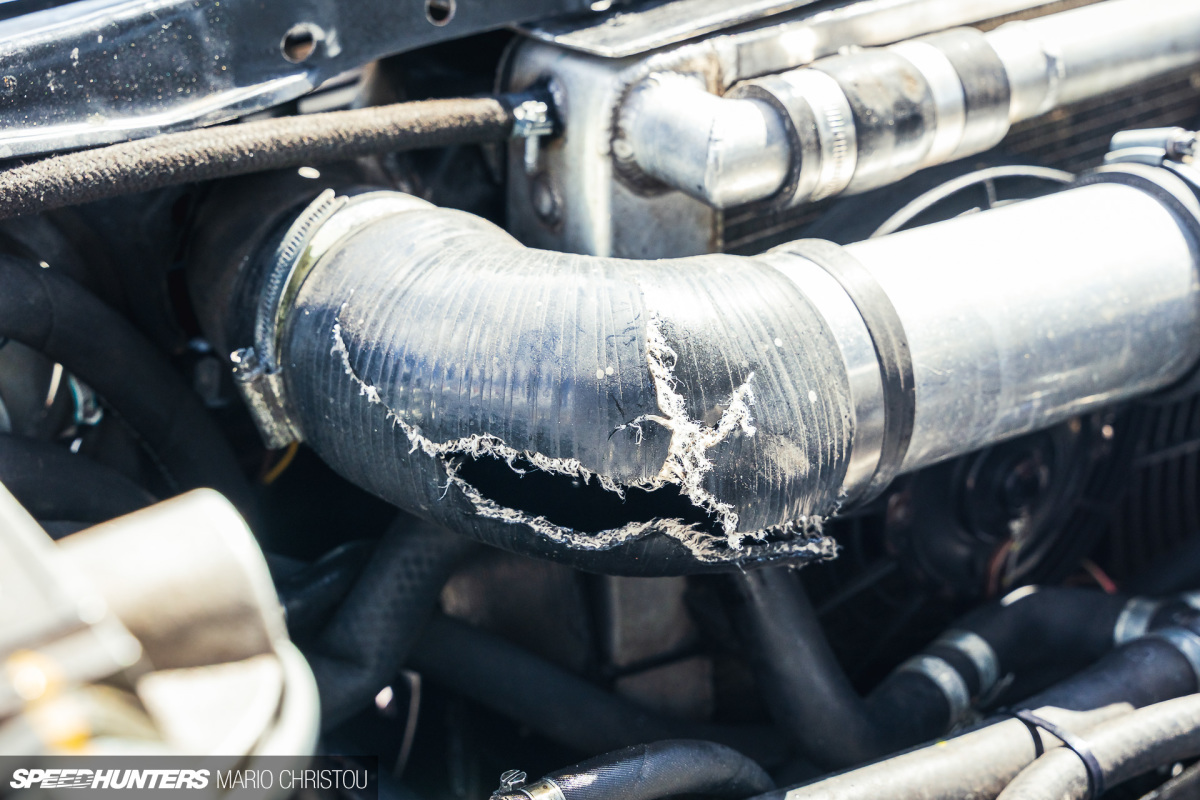 Even on the day, a silicone boost hose literally exploded in the engine bay on our second lap out. Instead of being disheartened about it, a new hose was sourced from a nearby performance workshop and the track action continued.
Side note: This particular workshop is a gold mine for a BMW nerd such as myself and might warrant another trip…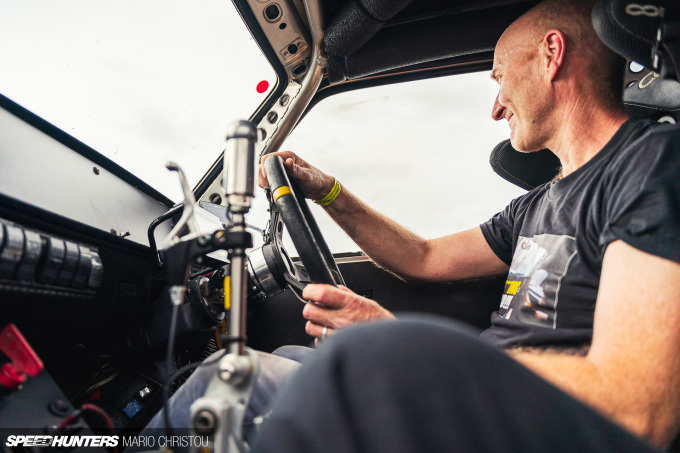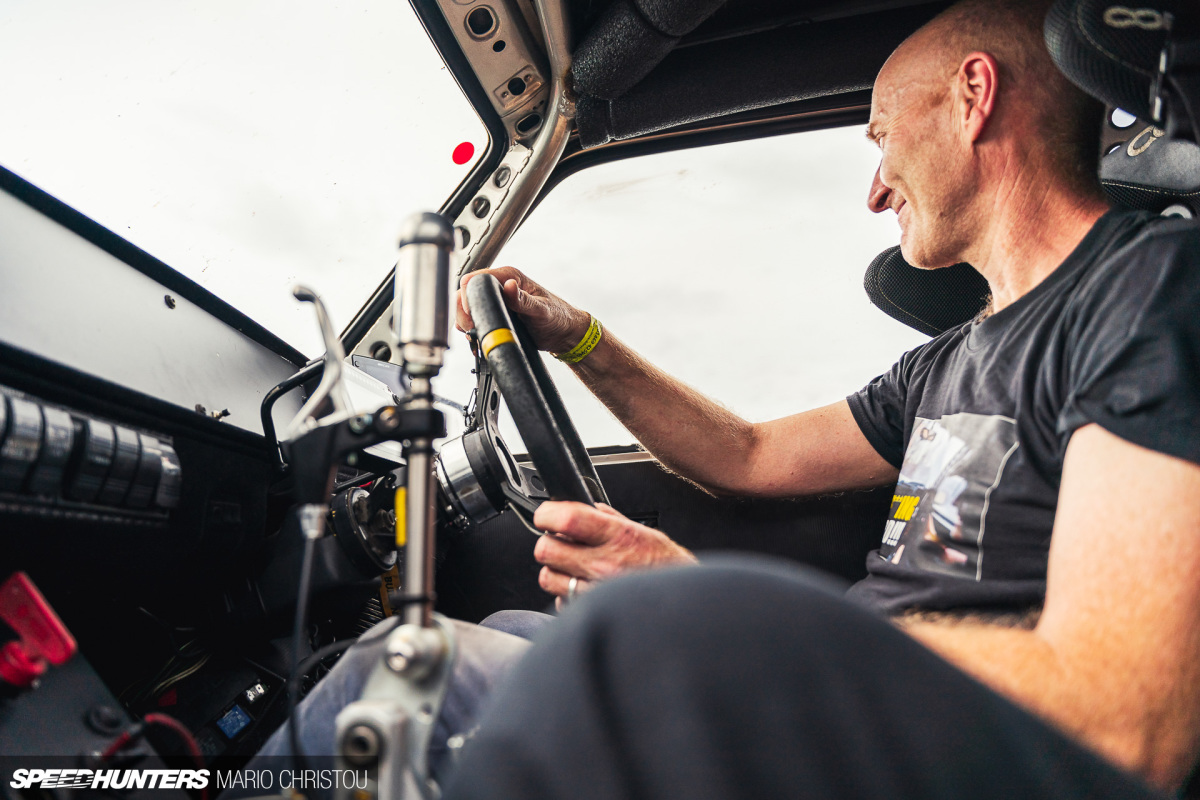 More than happy to answer questions and chat with passersby, and preferring to share his track sessions with a passenger over heading out on the circuit by himself, Nigel is a true gentleman and represents the best of what track day culture is about.
I'll leave you a gallery below with some highlights from the day. Thanks to Nigel and the Pinderwagen, it's one I won't forget.
Mario Christou
Instagram: mcwpn