If you cast your minds back to my event coverage from the The Elite Showcase and Bandung JDM Fest in Indonesia earlier this year, you'll remember that I was blown away by the quality of the modified and custom cars on show. This archipelagic state in Southeast Asia has a thriving scene, and that was totally reflected in what I saw on the show floors. Of all the amazing builds showcased at these two events though, one car that attended both really stood out above all others – and not just because of its color.
Ok, so the bright green paintwork may have initially caught my eye, but it only took a split second look into the engine bay to know that I needed to shoot this very cool Mitsubishi Lancer Evolution V GSR.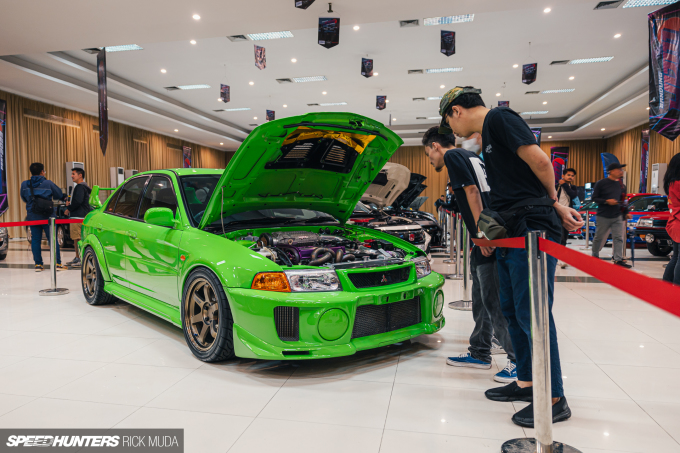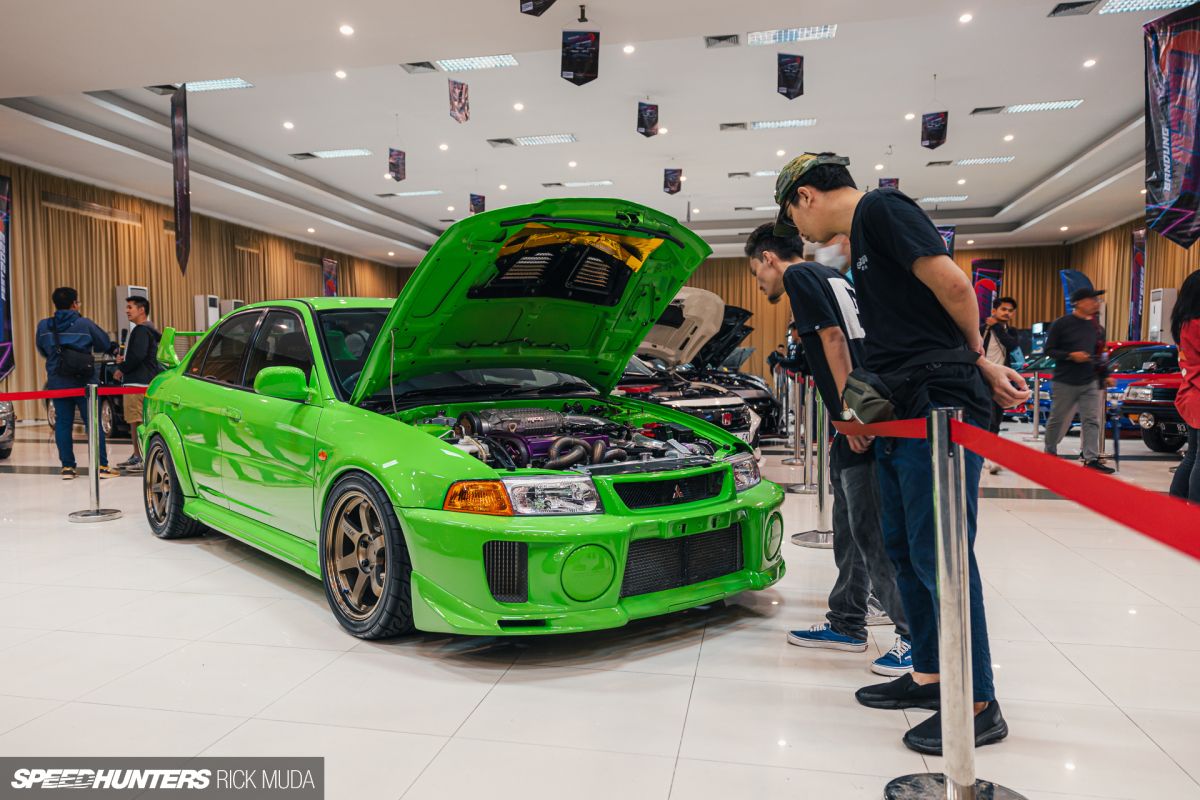 The Evo is the work of Andre Pratama from MCRacing in Jakarta. While it's technically not an MCR demo car (it's owned and was commissioned by one of Andre's good friends), it might as well be as it lives at the shop full time. It even has a name: MCR-Green.
Andre is no stranger to Evos. He's well known in Indonesian tuning circles for his work on Mitsubishi's rally-bred performance sedan, and the MCR logo can be found on a number of high-horsepower Lancers, most built for local quarter mile drag racing. While the green machine isn't short on power – Andre says 600 ponies now live in the engine bay – this is a street car through and through.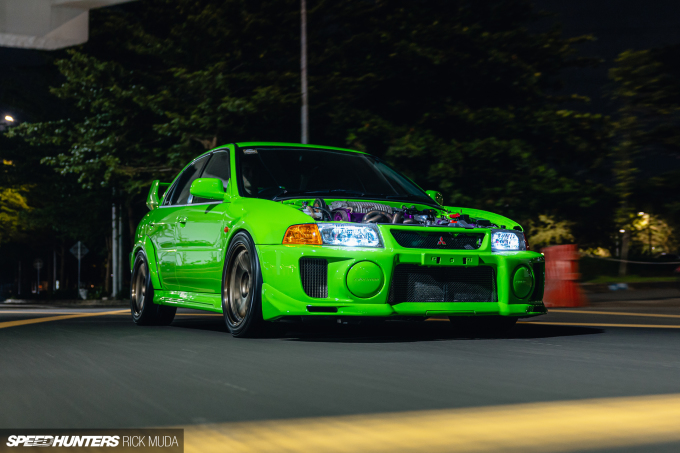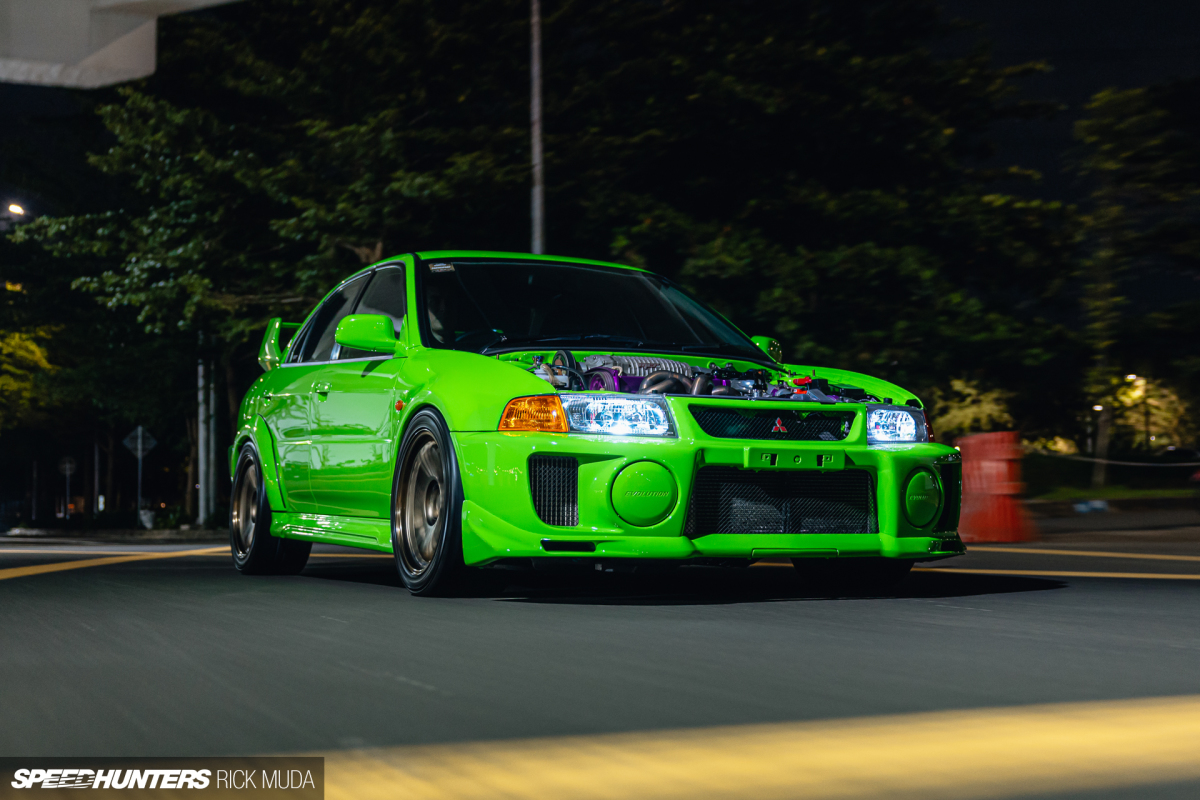 Before we get to the bay and take a closer look at the defining aspect of MCR-Green, let's take a look elsewhere around the car, starting with the simple but very effective stock exterior. Well, stock Evo V bodywork at least.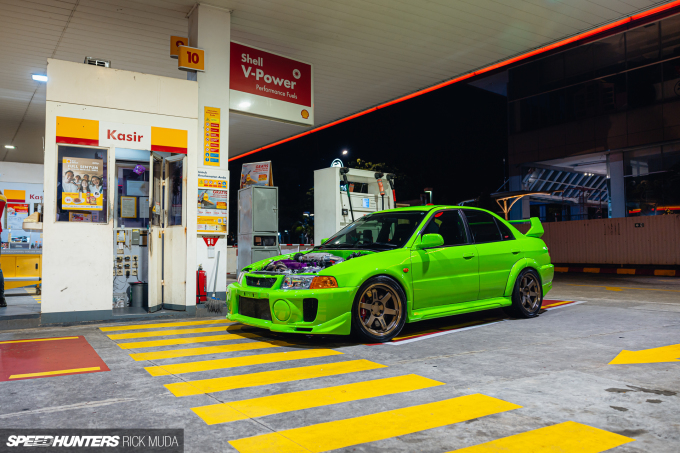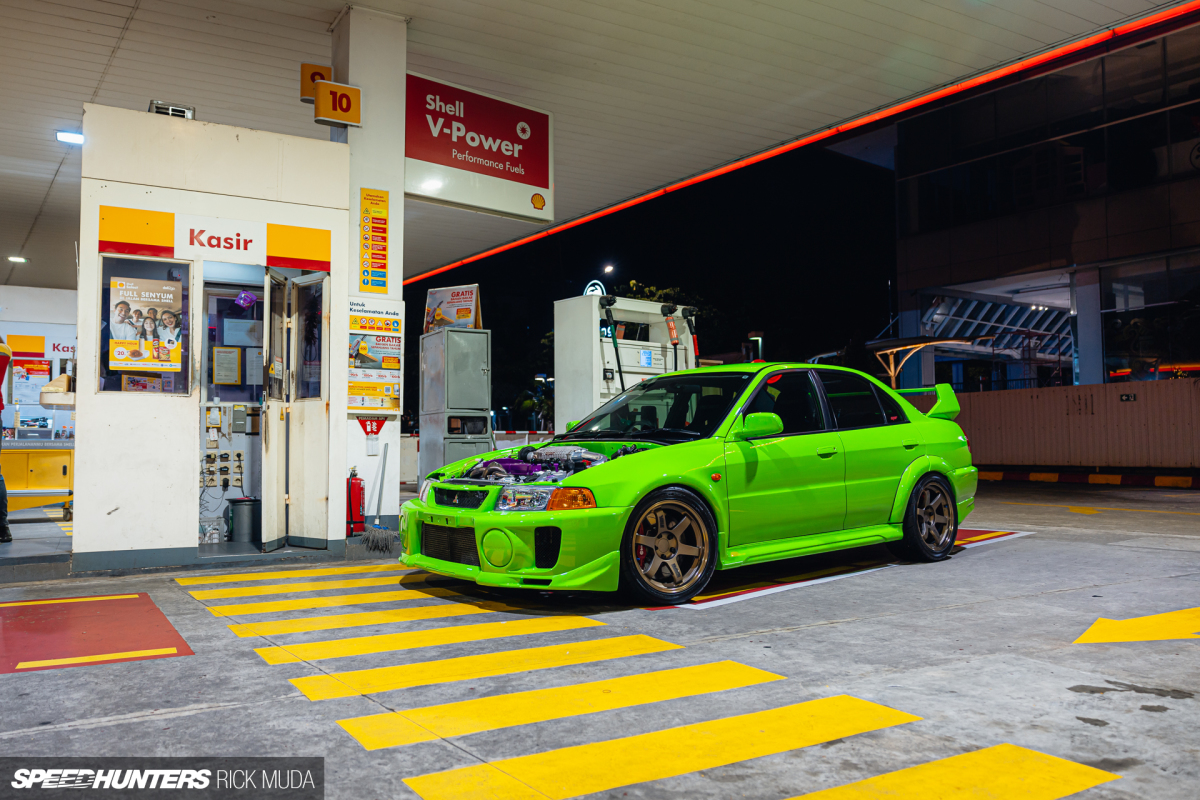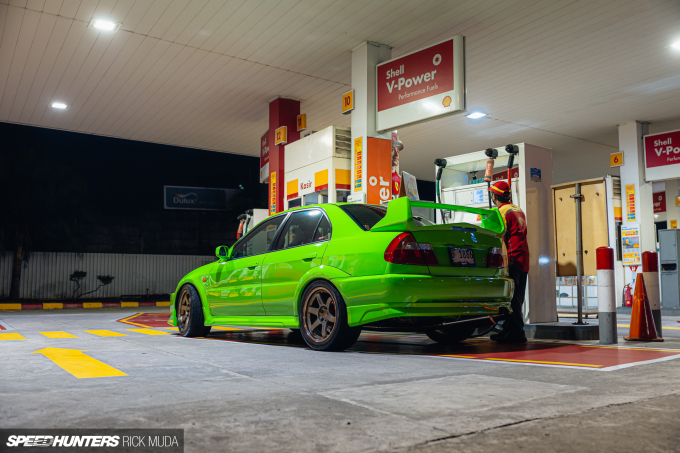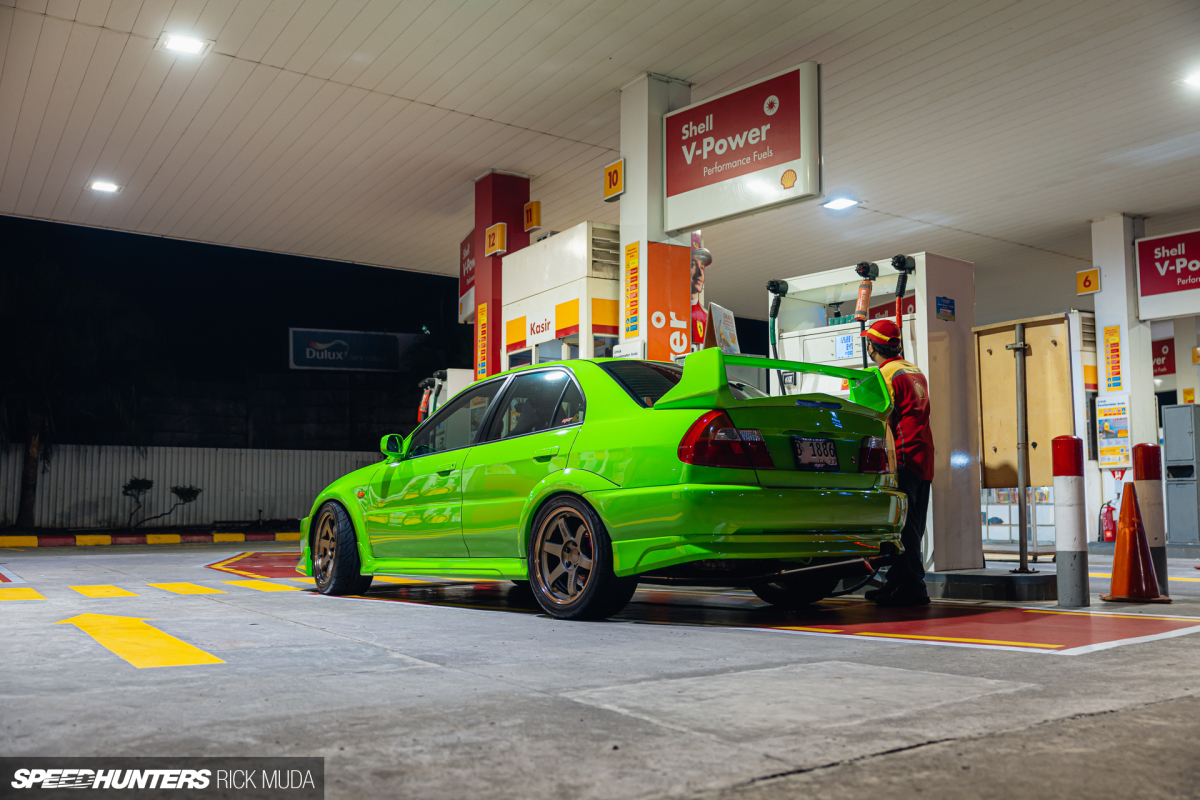 Mitsubishi blessed the fifth-gen Lancer Evolution with muscular lines right out of the box, so Andre and the car's owner saw no need to rework them. The paint, however, is a different story. The lime green is a custom touch that works a whole lot better than it seems it would.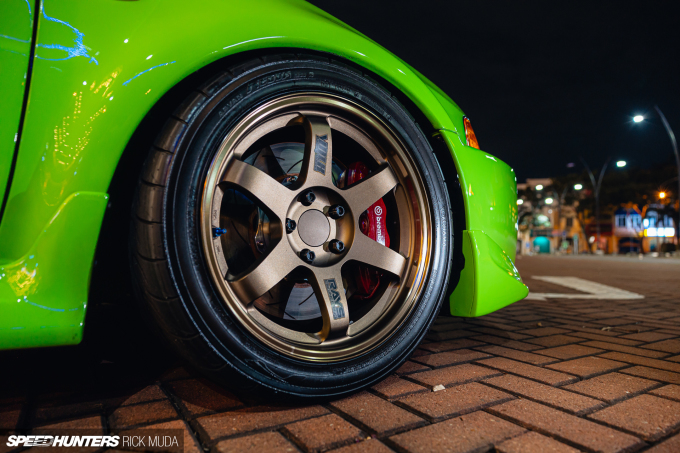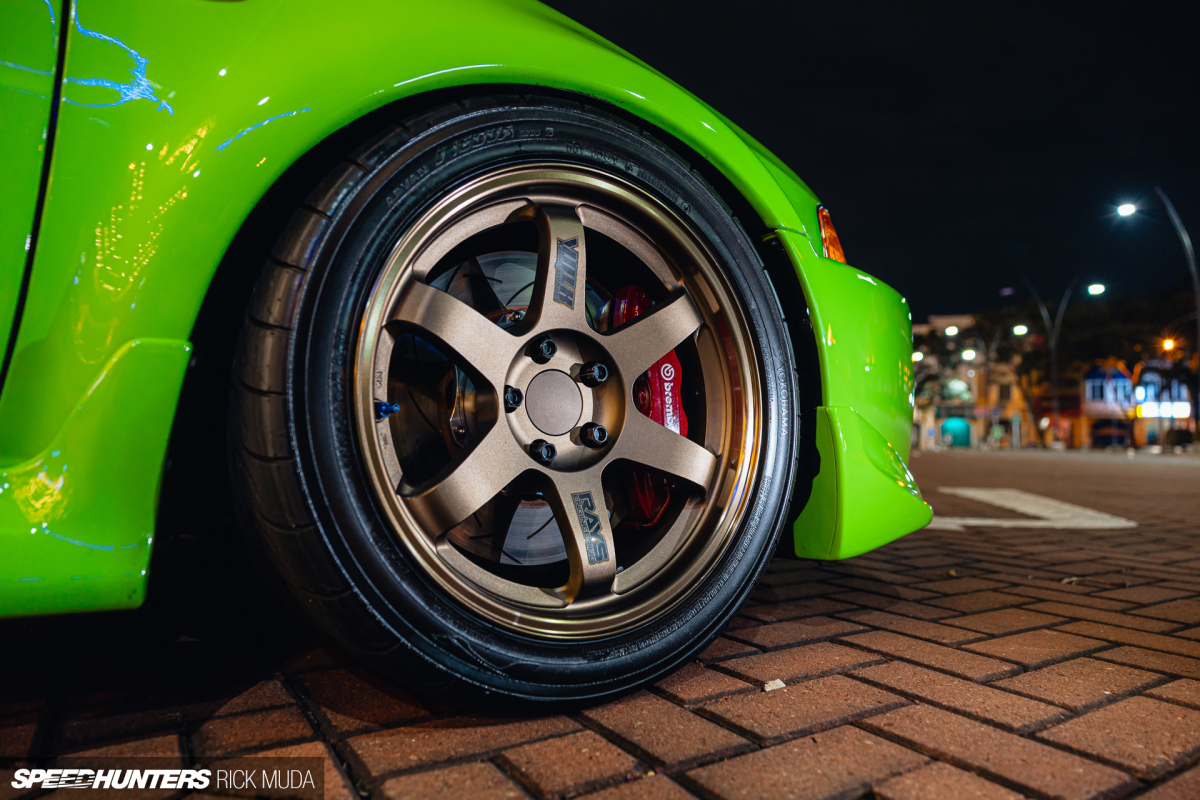 And then there are the wheels – perfectly fitted OG bronze anodized Volk Racing TE37s from RAYS, measuring 17×9-inch +22 at all four corners and wrapped up in Yokohama Advan Neova tires. Does a better combination even exist?!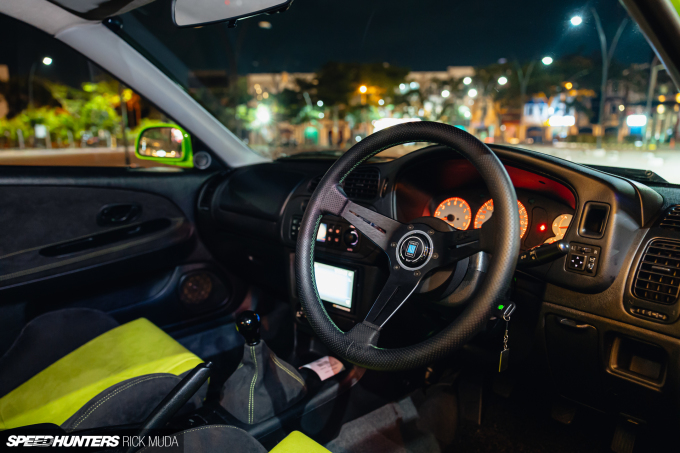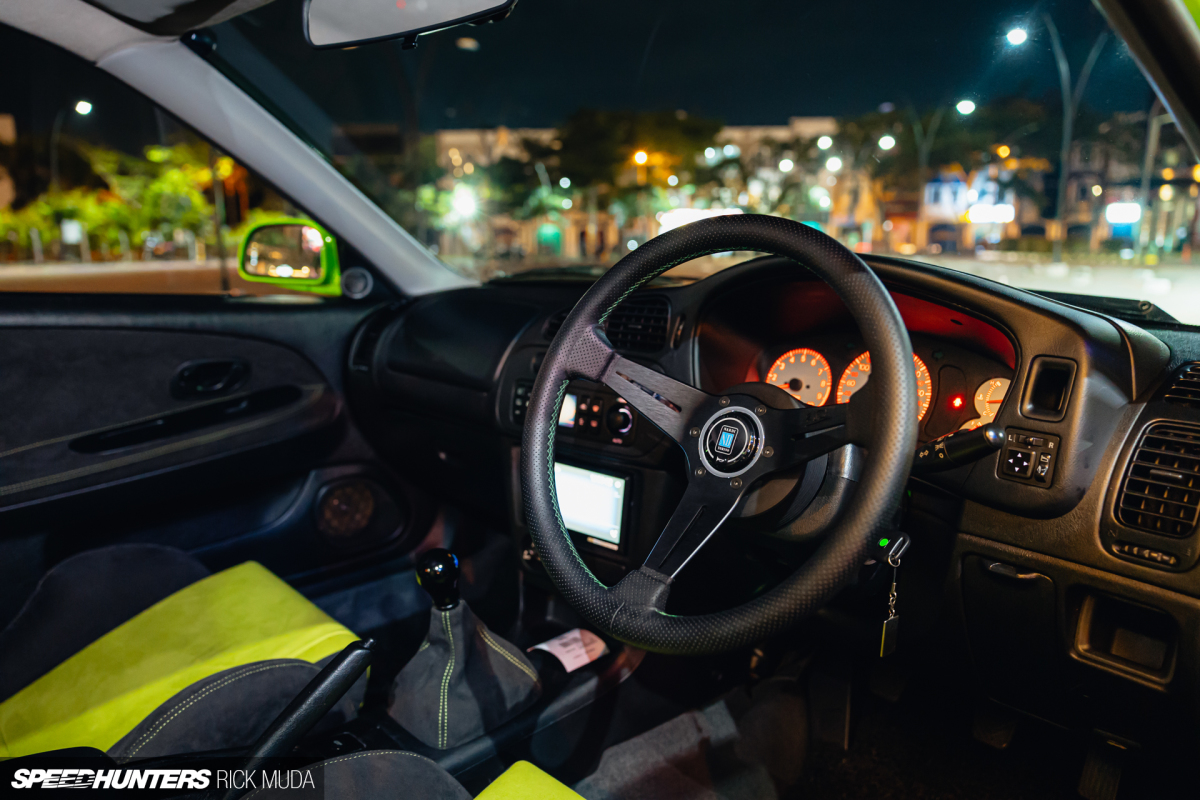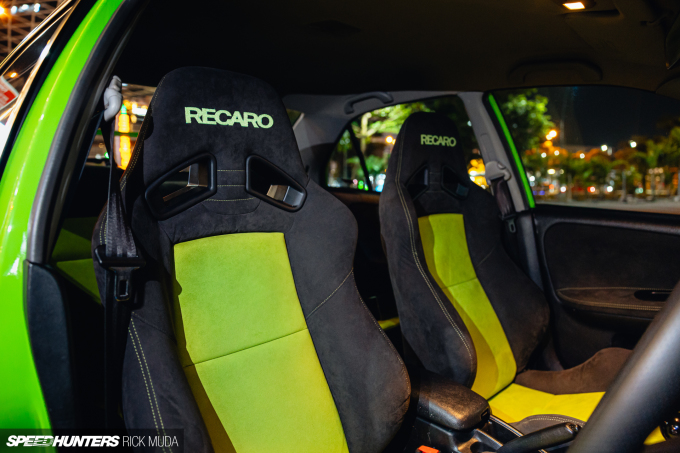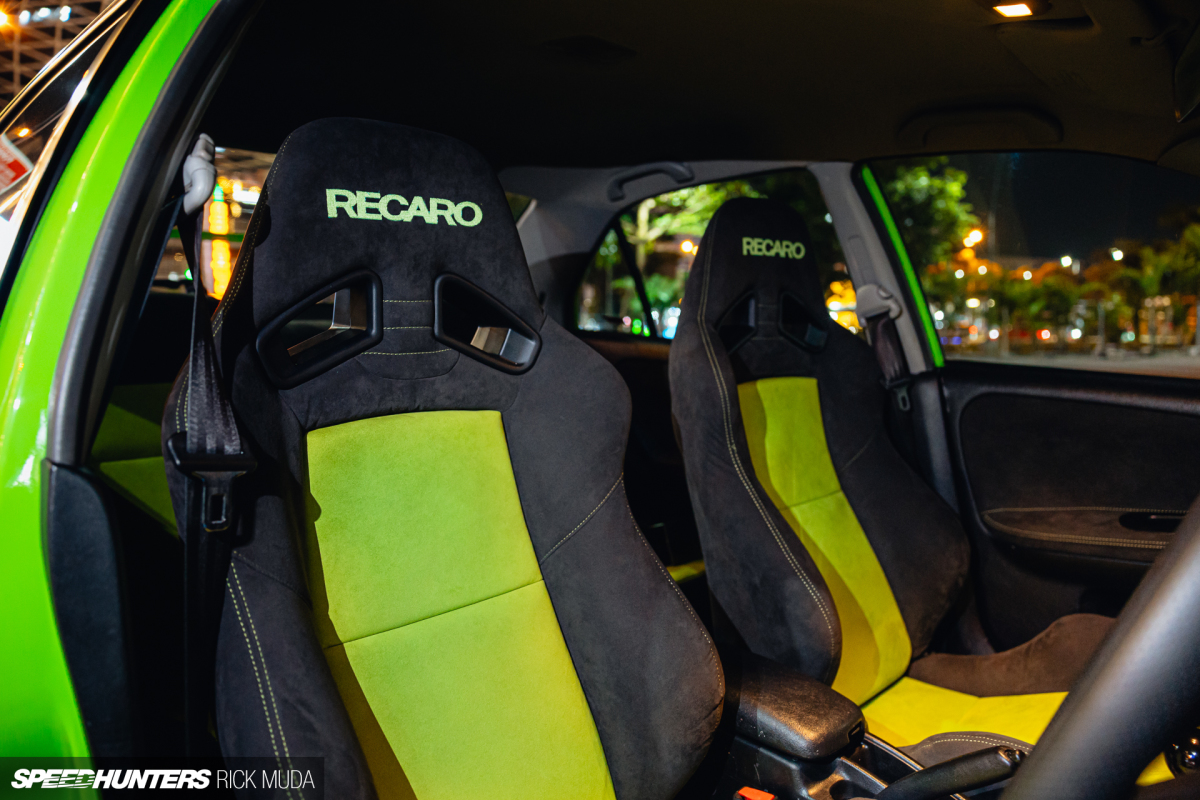 I'm a sucker for clean, minimalist interiors, and MCR-Green's cabin is so nice it almost looks like some kind of 'trim to sample' factory spec. Custom reupholstered Recaro SR7 seats with green inserts, a custom shifter boot and Nardi Classic steering wheel with green stitching are the main features, but diehard Mitsubishi enthusiasts will surely appreciate the brand new Ralliart instrument cluster. Andre couldn't leave it stock though; its tachometer face has been replaced with a Ralliart CJ4A Mirage MIVEC cluster equivalent that reads to 10,000rpm.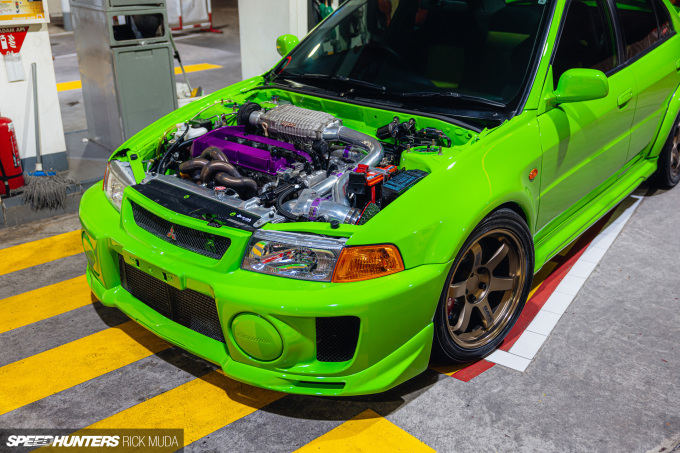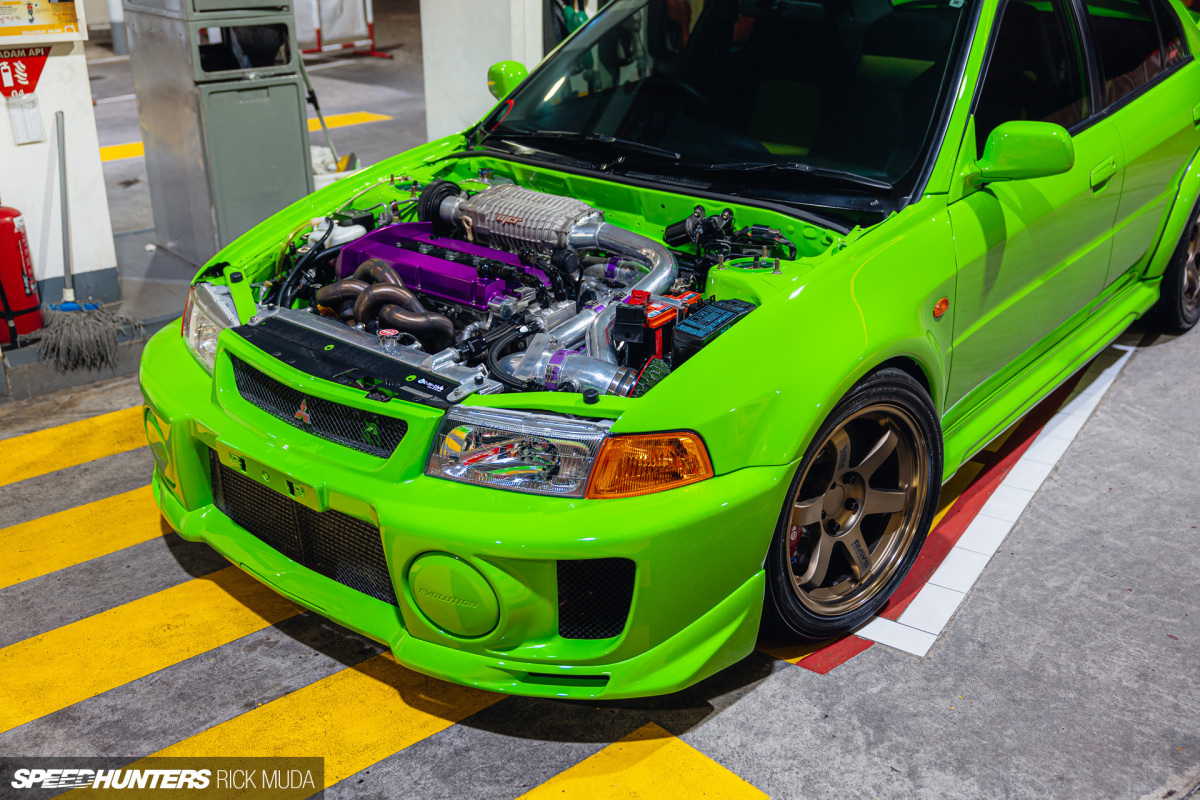 That brings us nicely to the engine, which although doesn't quite rev to five-figure RPMs does hit the high fours, while making plenty of power from the other end of the meter. It does this with twin-charging.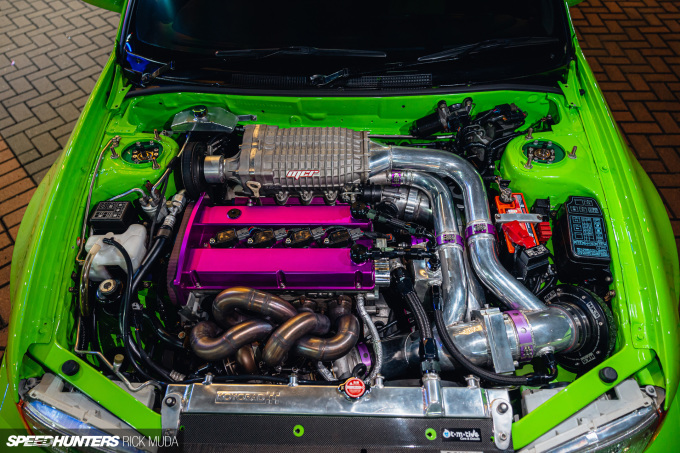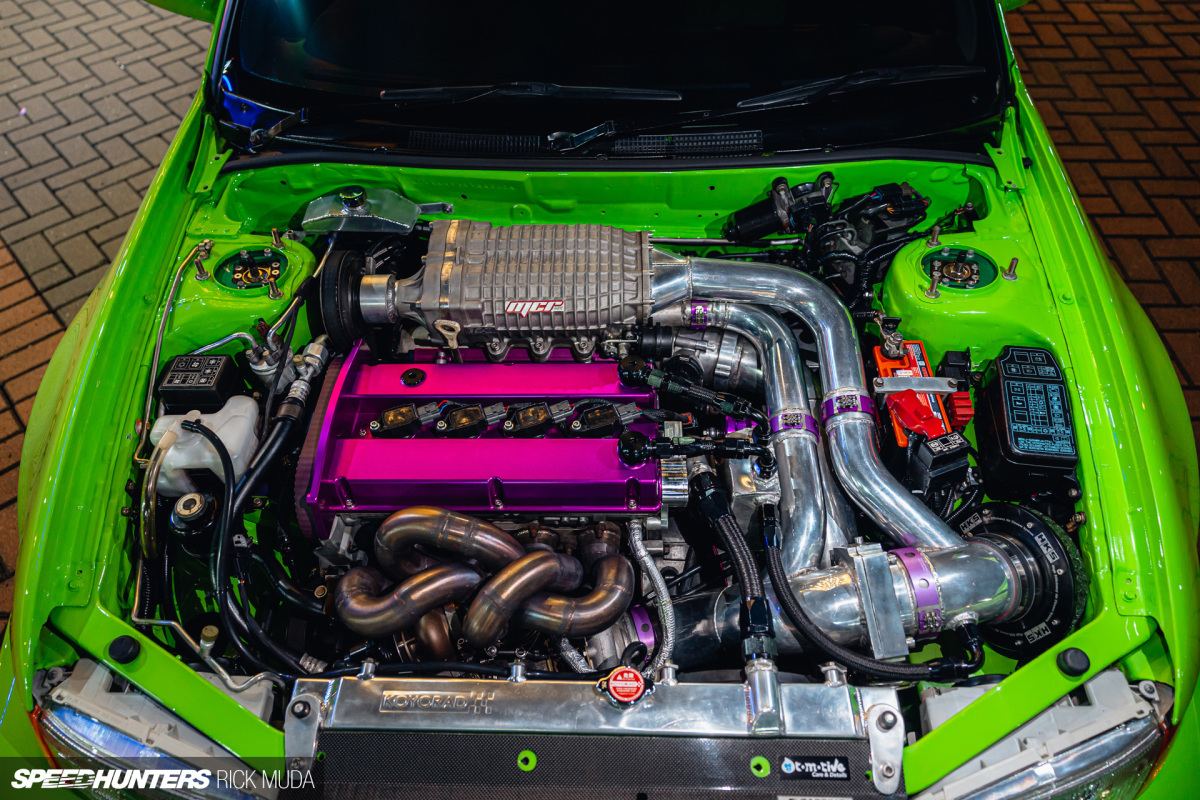 The Evo V's 2.0L 4G63 engine is factory turbocharged, and in stock specification output a JDM-regulated 280hp – or thereabouts. By swapping the original TD05 turbo for a large Precision 7685 (GT42 style) and turning up the boost, MCR-Green's engine is making more than double that power on pump gas. You'd expect some lag with this sort of setup, but the Norris Designs V3 Bolt On Supercharger Kit eliminates it altogether.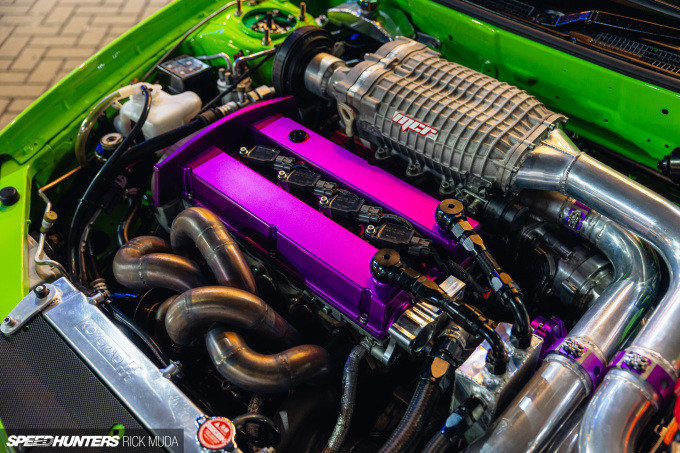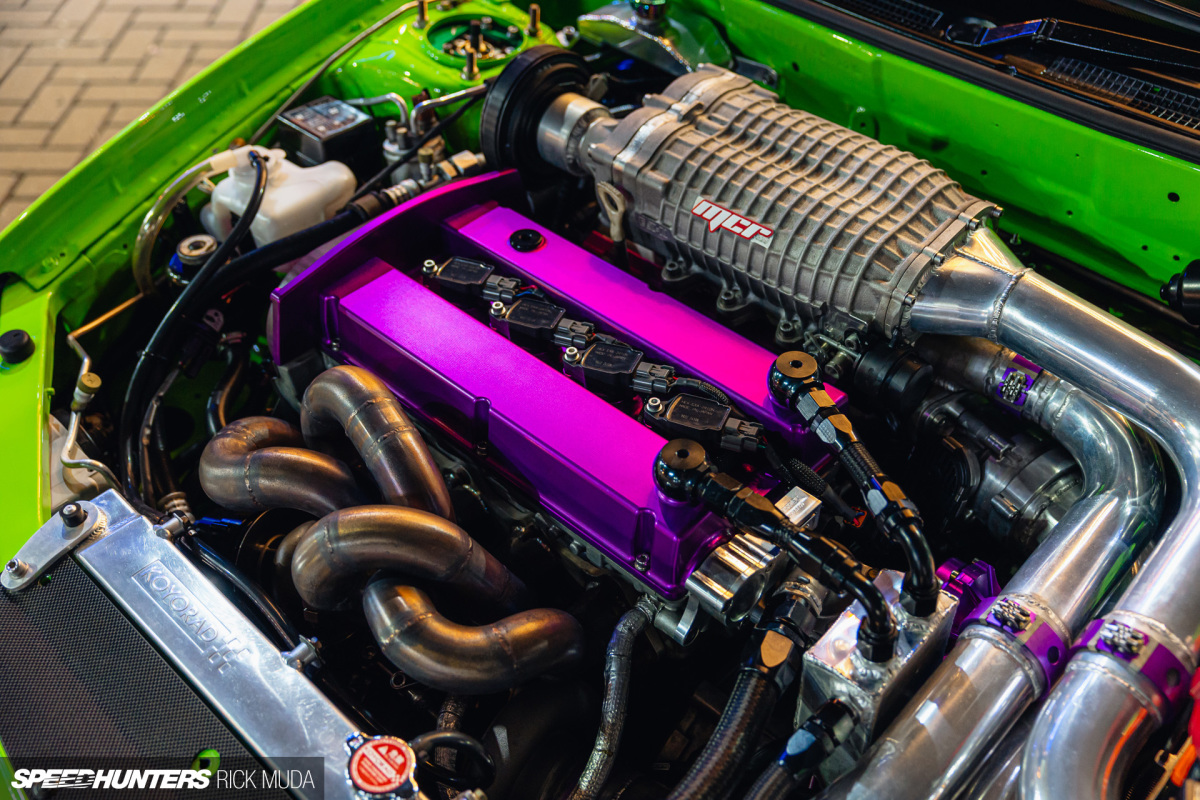 When Andre ordered the kit from Norris in the UK, he didn't really know what he was getting himself into. There aren't too many twin-charged Evos around, and it was definitely a first for Indonesia. In preparation for the install, the engine was rebuilt and increased to 2.1L through a stroker crank, CP forged pistons and BC Racing H-beam rods. Up top, the DOHC 16V cylinder head was treated to GSC Power Division billet camshafts, valves, springs and titanium retainers.
The turbo sits on a custom MCR exhaust manifold, and is plumbed with MCR charge pipes using AdelWiggins clamps. There's an HKS front-mount intercooler in the mix, plus a Bosch Motorsport drive-by-wire throttle body, custom MCR stainless steel exhaust system, and AEM Infinity engine management – Andre's favorite.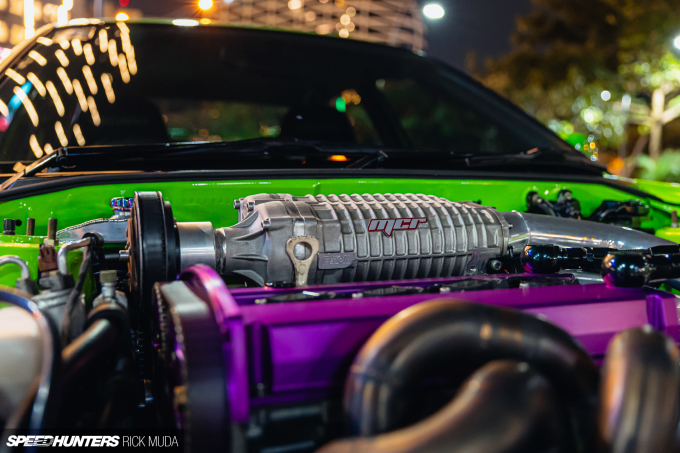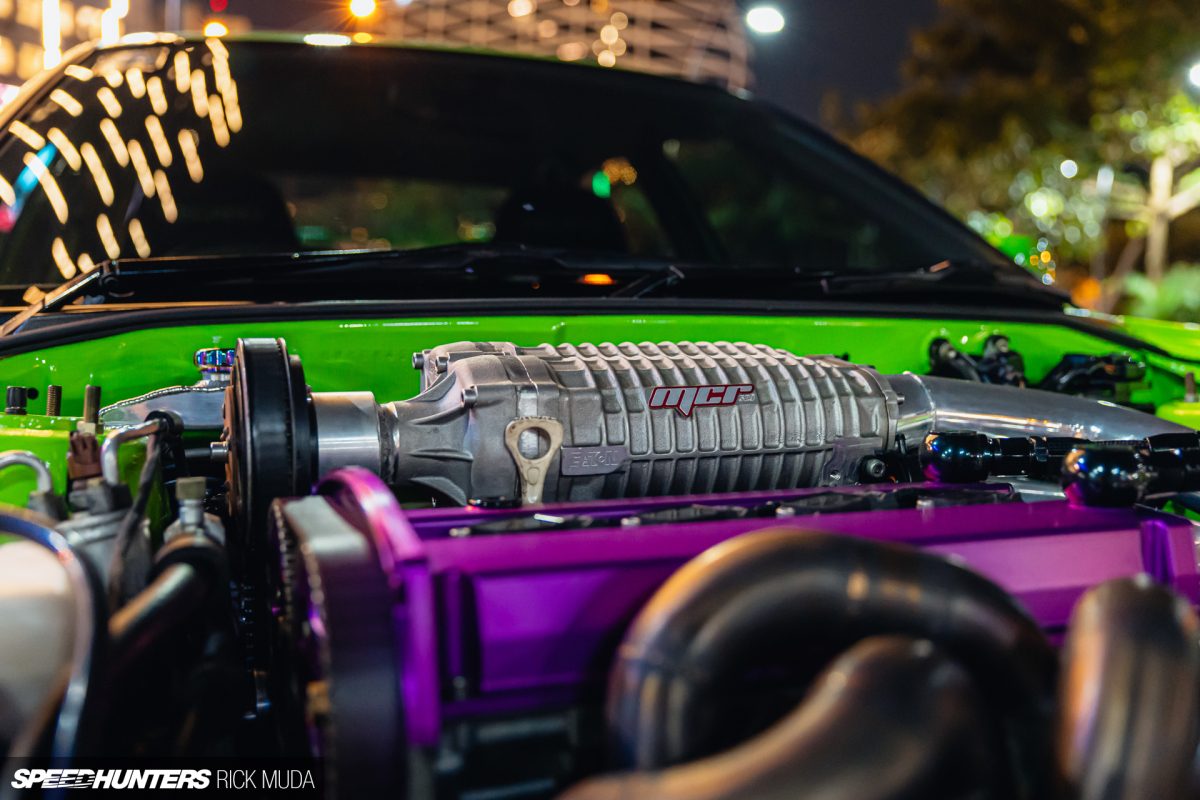 What's very cool about this twin-charger setup is the way it operates. Unlike other kits which run in a compound configuration, the Norris Designs upgrade allows the Eaton-based supercharger to run at lower RPMs before bypassing the blower by the way of a butterfly valve so the turbocharger can take over.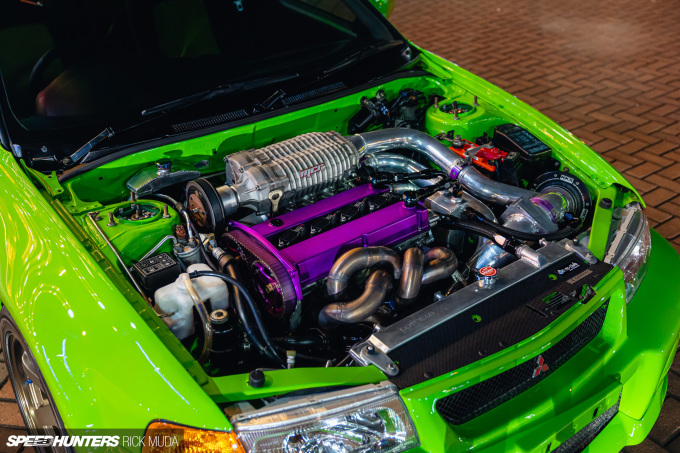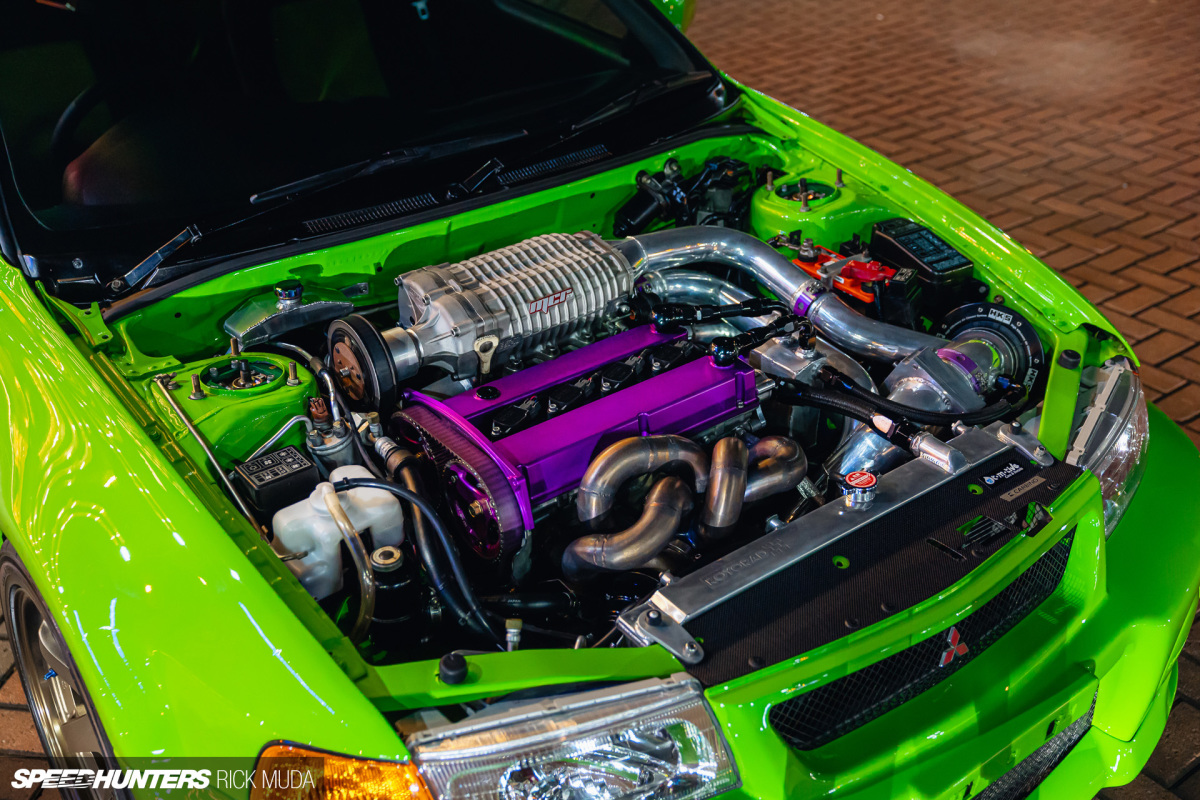 From idle through to 5,500rpm the valve is closed, so the supercharger is doing all the work but the turbo is still spooling. After 5,500rpm, the valve opens allowing turbocharger boost to enter the engine while a magnetic switch on the supercharger disengages its pulley. The result is not only a linear power-band all the way up to 9,000rpm, but an engine that sounds simply incredible.
Getting the 600hp to the wheels is a close-ratio Lancer Evolution RS 5-speed gearbox with a Kansai Service final drive and an OS Giken triple-plate clutch, plus RS differentials with Cusco LSDs.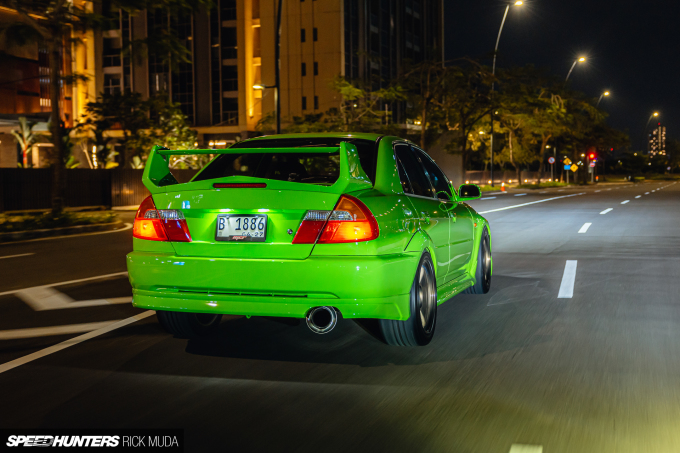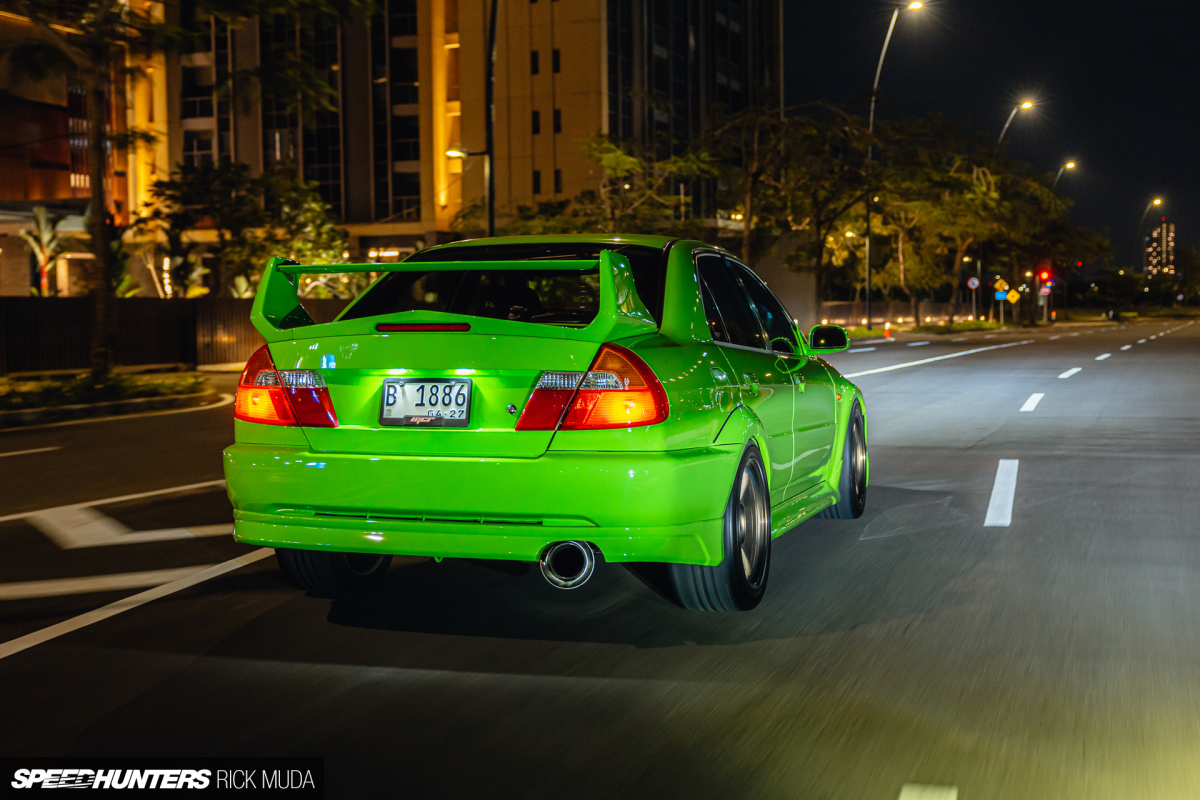 Improving the handling is Tein 2-way adjustable coilovers with Swift springs, and a Brembo Evo X front brake upgrade featuring 355mm discs, 4-pot calipers and Endless pads. All suspension bushings have been swapped for new polyurethane equivalents.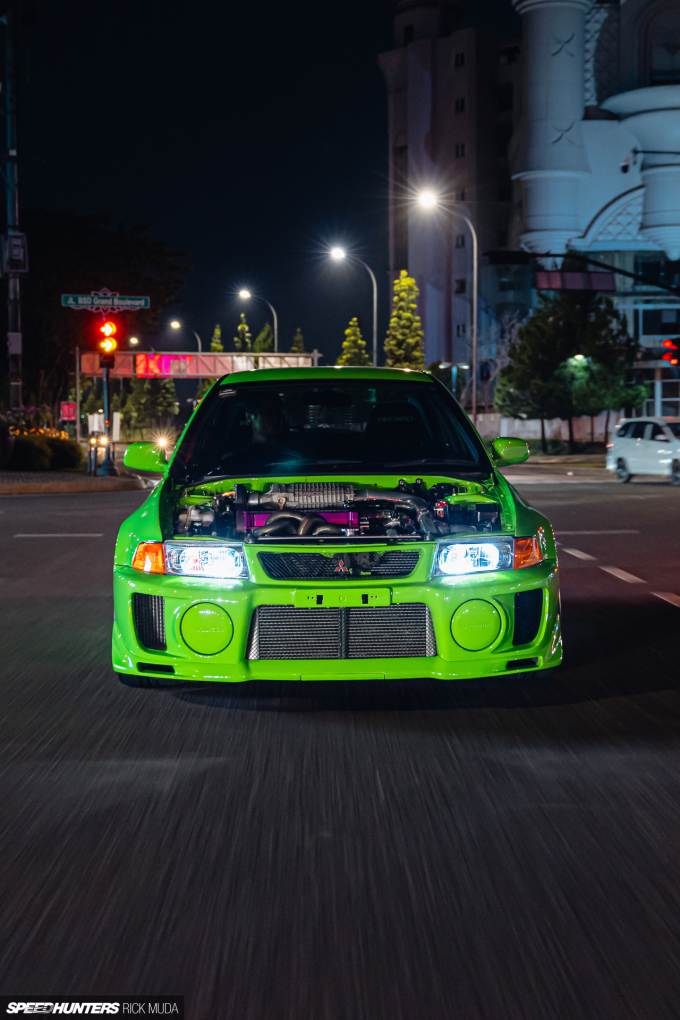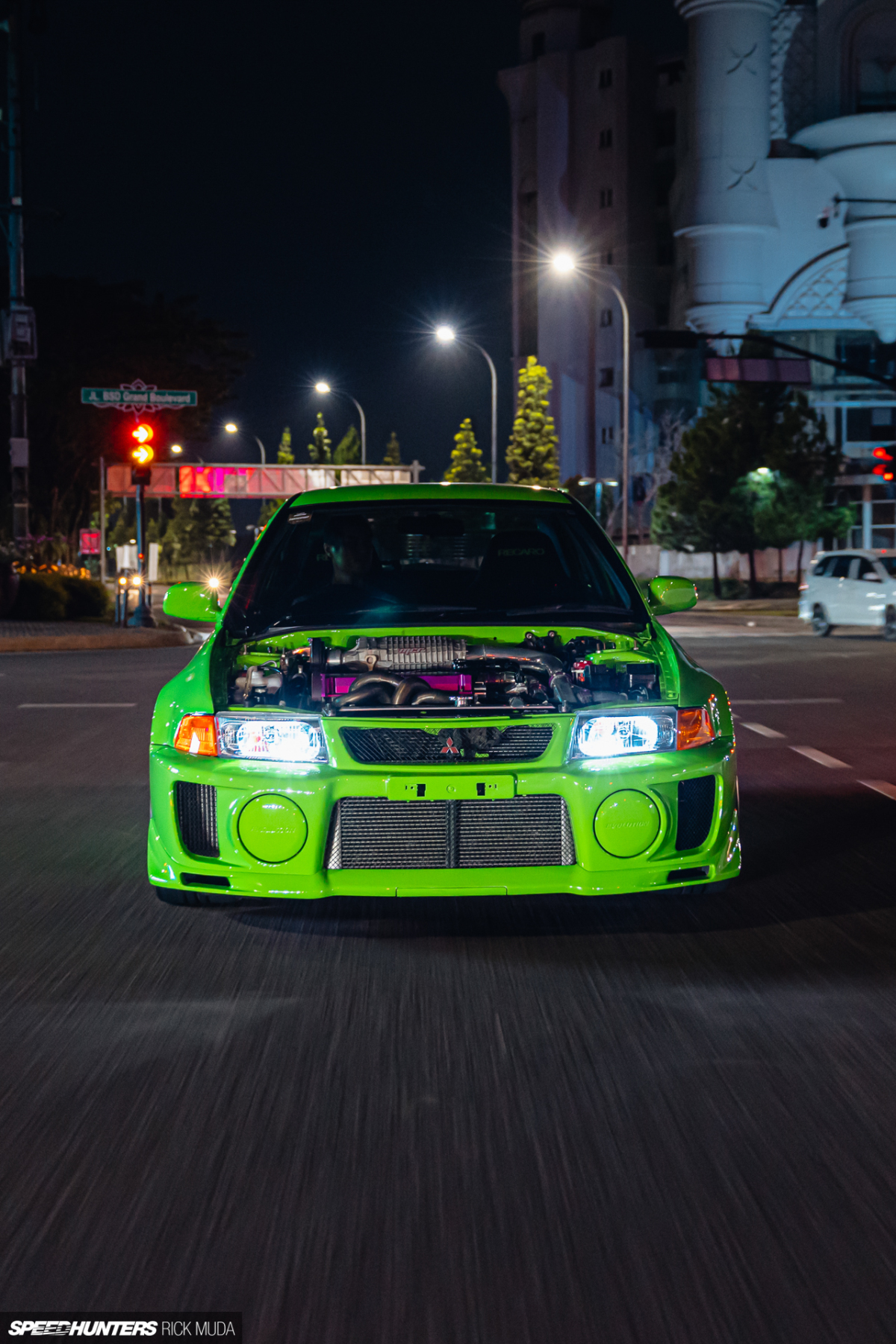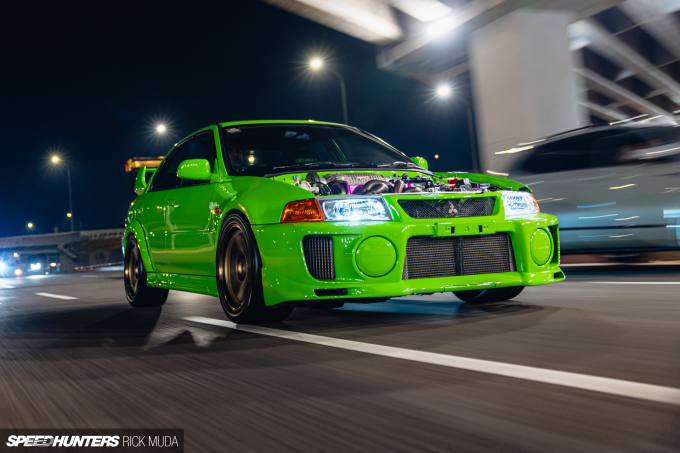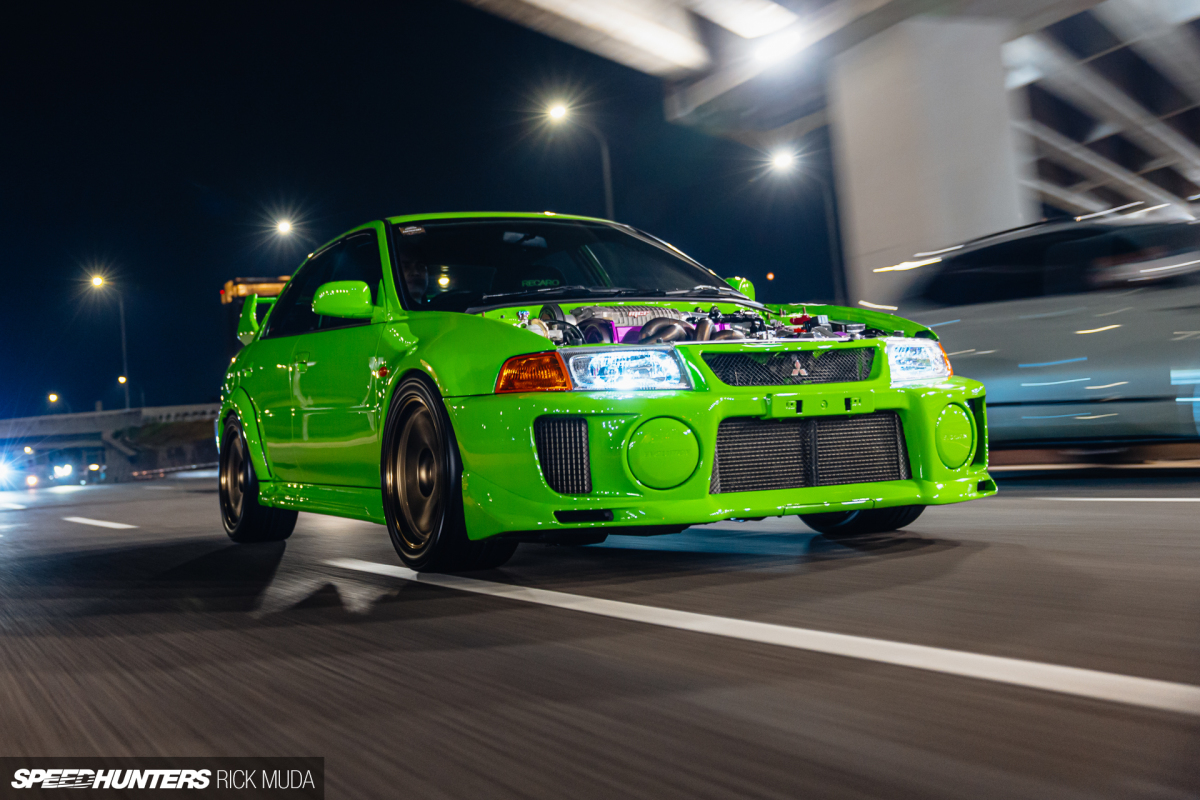 From start to finish, Andre put a huge amount of effort into MCR-Green, and the result is an amazing Evo V street car with all the creature comforts (air conditioning – an absolute must for Indonesia's tropical climate – and power steering still present), and all the performance for local roads you could ask for. I have nothing but major respect.
Rick Muda
Instagram: ardskellig